Camping de Vittel, 270 Rue Claude Bassot, Vittel, Tel 0329080271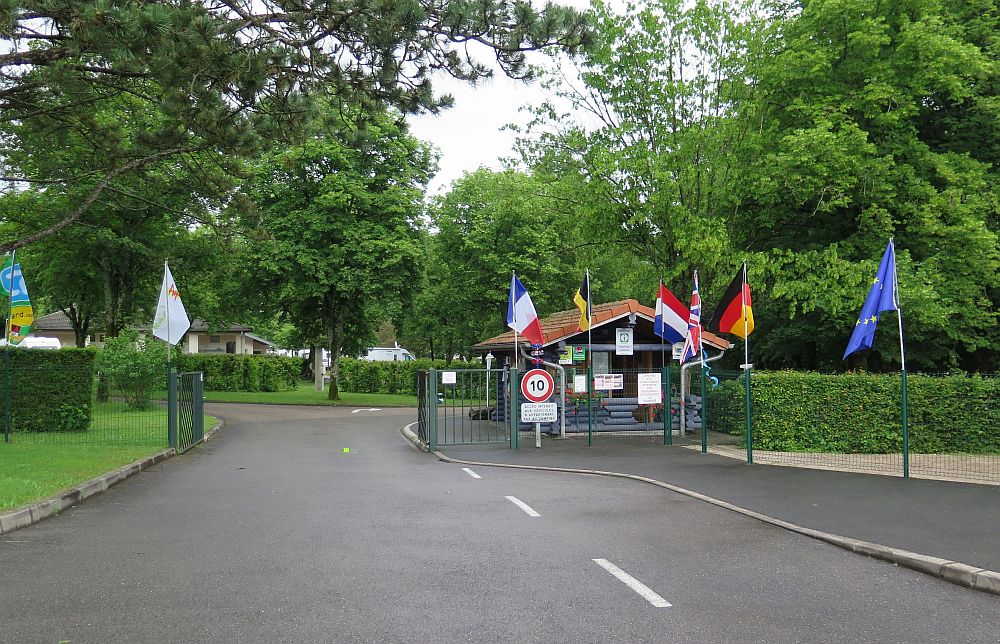 To Find Site:- From Centre Ville follow camping signs for Camping Stand de Tir (old name).
Camping de Vittel is situated on the outskirts of the Spa Town of Vittel, also famous for its bottled mineral water. Despite its urban setting the actual campsite is quite peaceful. If you arrive during the lunch time closure you can enter and select your own pitch. Please take note of any instructions on the reception door which gives an indication of which pitches can be used. There are around 120 pitches mostly delineated by hedges, some are completely on grass where others have an area of hardstanding which is very useful, and welcome, in wet weather. They vary in size but most are quite generous. In a separate area are about a dozen mobile homes which are available to rent. Electric points are convenient to all pitches. They use CEE17 blue connectors and are rated at a useful 10 amps. Best to check for the correct polarity. Water taps are dotted around the site but grey waste water and chemical toilets can only be emptied at the motorhome service point near the site entrance. There are two toilet blocks. The main one being nearer to reception is very modern but the toilets are not seated and paper is not provided. The second, and older block, is further into the site. It does have seated toilets but again no paper provided. Both blocks have dishwashing facilities. For children there is some play equipment and an area of grass that could be used for ball games. There is a free to use WiFi point around the reception area. At the back of the site is a television room. A bread van calls at reception each morning at around 8.30am but does not tour the site. The site is in the ACSI discount scheme and accepts payment by credit card.
We found the lady on reception very helpful, especially in finding us a pitch where we could get a satellite signal, she also spoke very good English.
The town centre of Vittel is a reasonable short walk from the site. Reception will give you a map of the town. A circular walk will take you to the Spa area and the lovely gardens and then back through the town centre to the campsite. For eating out there are restaurants in the town and for shopping there is an Aldi a short walk from the site and across town a Carrefour Market.