Camping du Port de Plaisance, Route de Paris, 80200 Peronne, Tel 0322733636.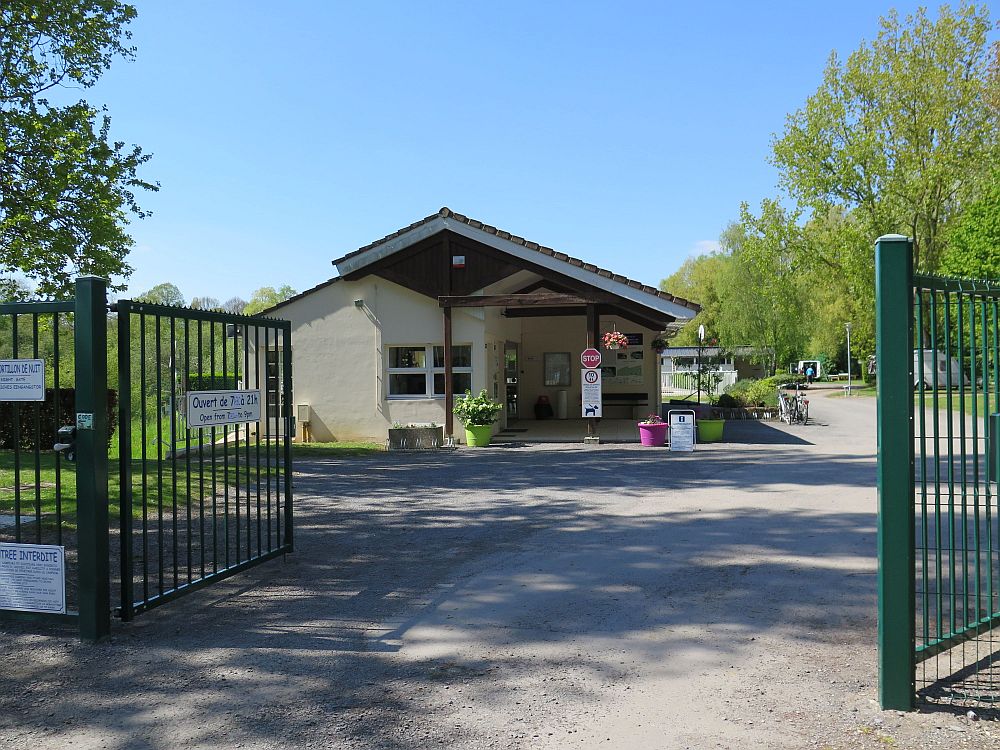 To find site:- Leave A1 motorway at junction 13 and follow D1029 to Villiers Carbonnel. At roundabout turn left onto D1017 signed for Peronne. The campsite is on the left just before the bridge crossing the Canal du Nord and is well signed.
A nicely landscaped campsite on the edge of the town of Peronne. It is bordered on one side by the Canal du Nord which still has some barge traffic to add to the interest. There are just over ninety grass pitches of varying size, some are small and suitable for perhaps tents whilst others are large enough to cope with the largest outfits. Like a lot of French sites the grass is often worn away because of the long term use of ground sheets. There are a few permanent caravans on site. The position of electric points relative to pitches is a bit mixed. Some pitches will require a long lead to reach. There are a mix of connections with either two pin continental and CEE 17 blue connectors. Ampage is rated at 6amp and 10amp but the lady on reception was a bit vague as to how to tell the difference. Water taps are dotted around the site. There is one central toilet block which whilst kept perfectly clean is not the most modern but it does have seated toilets and paper provided. It's possible that if the site were full the facilities could struggle. Also contained within the same block is a laundry and dish wash area. The motorhome service point is next to the toilet block. For children there is a play area and during the main season a small swimming pool. Reception incorporates a small shop and bread can be ordered the day before. Next-door is a bar which overlooks the swimming pool, which was not open during our stay and yet to be cleaned. The site does have site wide WiFi available which was free during our stay (early May) but chargeable if you buy access online. It was pretty slow depending on time of day. Being in a semi urban environment there will be some road noise but this will lessen the further into the site you go. During the low season this campsite accepts the ACSI discount card.
The site is within walking distance of Peronne which is about a mile and a half to the centre. It has all the facilities you would expect from a town of that size. The area for miles around Peronne was the centre of the Battle of the Somme and in the town in the Castle is a museum devoted to the First World War. The site is also a handy base for touring the various battle areas. For shopping there is a Lidl on the approach to the town and not far from the centre at the other end of town is a Carrefour Connect small supermarket.