Camping Frankenhohe, Fischhaus 2, Schillingsfurst. Tel 098685111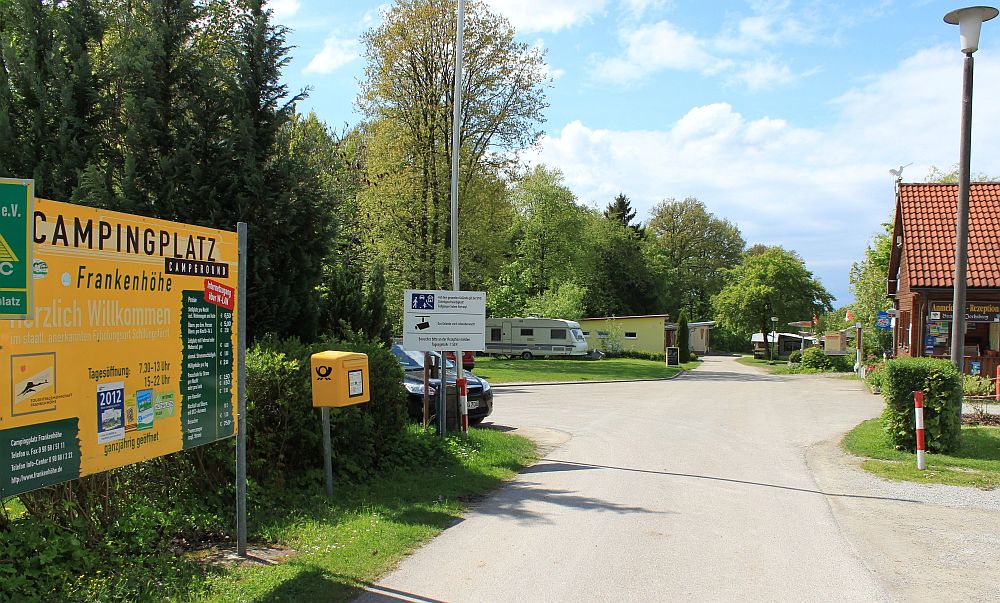 To Find Site:- Leave A7 autobahn at junction 109 and head towards Schillingsfurst. Take right turn towards Dombuhl and site is on right in a couple of kilometres and is well signed. From this direction there is a sharp right turn into the site entrance so be prepared to pull out to get a good entry into site. The site has a strict 13.00-15.00 pm lunch time closure policy.
This somewhat rustic campsite is situated about a mile from the town of Schillingsfurst. It has the usual mixture of seasonal campers and tourist pitches and seems a bit higgledy-piggledy. The pitches are unmarked which could lead to a free for all at busy periods. Some of the site is slightly sloping. At less busy times there seems to be plenty of room. Electric supply is rated at 16 amps and CEE17 blue connectors are used. Water taps are dotted around the site. Conversely the main toilet is of an excellent standard with unseated toilets with paper provided in the cubicles. There is a second toilet block further into the site which looked as if it was undergoing refurbishment during our visit. Behind reception is a small bar/snack area. WiFi is available via Hotspots.de and time can be purchased either at reception or online. Tenters have their own area with a small covered area for cooking/eating in poor weather. There is a motorhome service point with fairly easy access although hoses are securely fixed so if you want to use your own hose you would have to connect to the adjacent tap. For children there is some play equipment and also a hut which contains a pool table and table football. During the low season the site accepts the ACSI discount card.
In my view this campsite is fine for an overnight or short stay. Although a longer stay would allow you to visit many of the nearby places on the Romantische Strasse and to be fair we found it quite a peaceful place. For shopping there is a supermarket in Schillingsfurst. Also within a couple of hundred metres of the campsite is a swimming lake complete with changing facilities.