Camping La Spiaggia, Via Europa, 22-06065 Passignano sul Trasimeno, Tel +39 075 827246.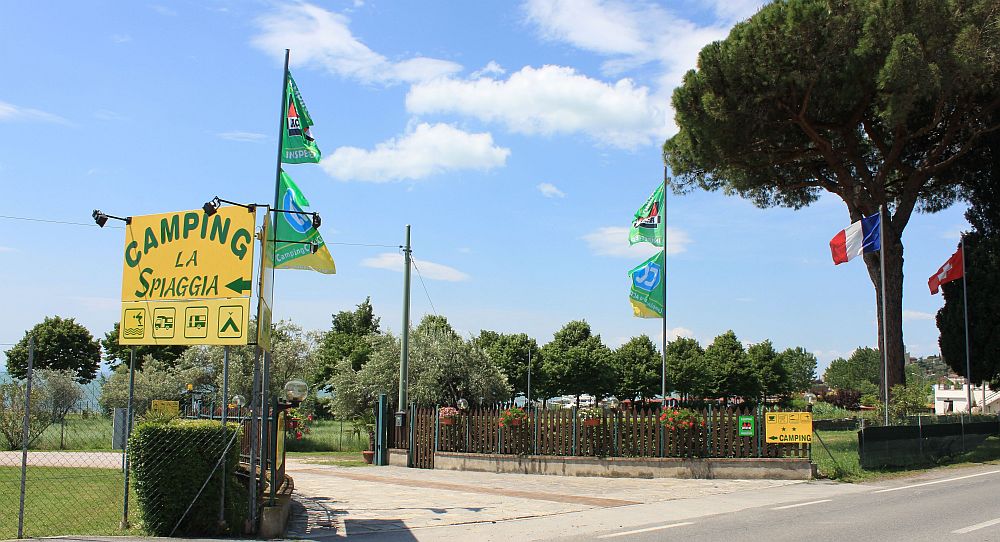 To find site:- Leave A1 motorway signed for Perugia. After about 20 miles take the Passignano Est exit. At end of slip road turn right towards town. After crossing railway level crossing La Spiaggia is the second campsite on the right and is well signed.
Camping La Spiaggia has a lovely situation on the shores of Lake Trasimeno a short distance from the centre of Passignano sul Trasimeno. The people that run the site are friendly and helpful a speak good English. Itís a fairly small site with just over 50 pitches all of which are for touring units, there are no statics on site. The area on the lakeside is kept free of pitches to allow campers space to relax near the Lake. The pitches vary in size but most are quite well sized although the position of some of the very mature trees can make getting the best out of the size a bit difficult, especially those pitches near to the lakeís edge. Pitches are on grass but because of use on some pitches the grass has been destroyed leaving a compacted earth surface. Water points are dotted around the site. Electric supply is rated at 6 amps and connectors are standard CEE17 blue plugs. Best to check for reverse polarity. The toilet block is of a good quality and kept clean although a bit gloomy if the sun is not out during the day. The disappointing aspect is that, in both ladies and gents, of the five toilet cubicles only two have pedestal toilets and the rest are Turkish hole in the ground type. The pedestal toilets do have seats but no paper is provided. Washing machines are provided at an extra charge but no tumble dryer. In the low season bread can be ordered at reception the day before. The site does have a bar, shop and swimming pool but only the bar was open at the weekend during our stay towards the end of May. Given the tree cover on site setting up a satellite could be a challenge, the best places are either near the swimming pool or those pitches overlooking the lake. Free WiFi is available and reception will issue you with a code. It seems to cover most of the site although I did find it a little inconsistent particularly during the evenings. There is a little railway noise but we did not find it very intrusive. La Spiaggia accepts the ACSI Card in the low season.
This is a good spot to just relax by the lake. However excursions to Perugia and Assisi are possible from the site. The town of Passignano is about 1km away and the railway station a bit further. Boats leave the town for the islands in Lake Trasimeno. There is a new supermarket on the way out of town and a couple of filling stations.