Camping Le Brabois, 2301 Avenue Paul Muller, Nancy, Tel 0383271828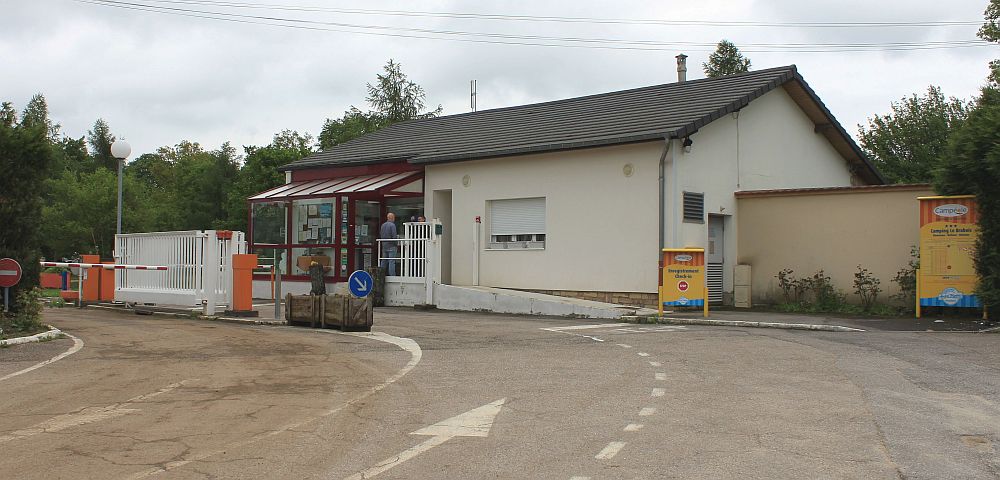 To Find Site:- Exit A33 at junction 2B (Brabois) and then follow campsite signs.
This campsite is situated on the edge of Nancy with good bus communications with the centre of the City. There are around 185 touring pitches which are individually marked out by log divides. They vary in size from about 70sq mts to 100 sq mts. After very wet weather the pitches do tend to get churned up and motorhomes need to take special care in such conditions. Electric points are dotted around the site and in some places a long lead may be required. There seems a little confusion on the actual ampage as some suggest its only 6 amps where as the ACSI book say 15? We were able to run the heating on full power which suggests more than 6amps, and yes it was that cold! They accept CEE17 blue connectors but it is best to check for reverse polarity. The provision of water points seems somewhat sparse although there is always the toilet blocks. The only grey water disposal seems to be at the motorhome service point, as is the chemical toilet disposal. The toilet blocks are modern and of a good quality with seatless toilets but paper provided in the cubicles. In the high season the site operates a snack bar and shop and out of high season a few essentials are kept in reception and bread can also be ordered. The campsite has a WiFi facility which is only available in the area around reception. It is currently no charge which perhaps is just as well as I did not find the connection very reliable. Out of the high season the site accepts the ACSI discount card. Whilst twin axle caravans are accepted there is an exceptionally high extra fee of €27 a night which I suspect is meant as an discouragement. Despite the the exceptional bad weather conditions we found the site staff were very helpful and concerned that we had found the right pitch.
This site is ideal for visiting Nancy and there is a good bus service from near the campsite and tickets can be purchased at reception. Just check the route numbering as one of the buses going into the city does not return via the campsite! Reception will give you a time table which will help explain the system. Place Stanislas in the centre of the City is a quite stunning Square and well worth a visit.