Camping Les Portes de L'Anjou, 9 Rue du Camping, F-49430 Durtal, Tel 0241763180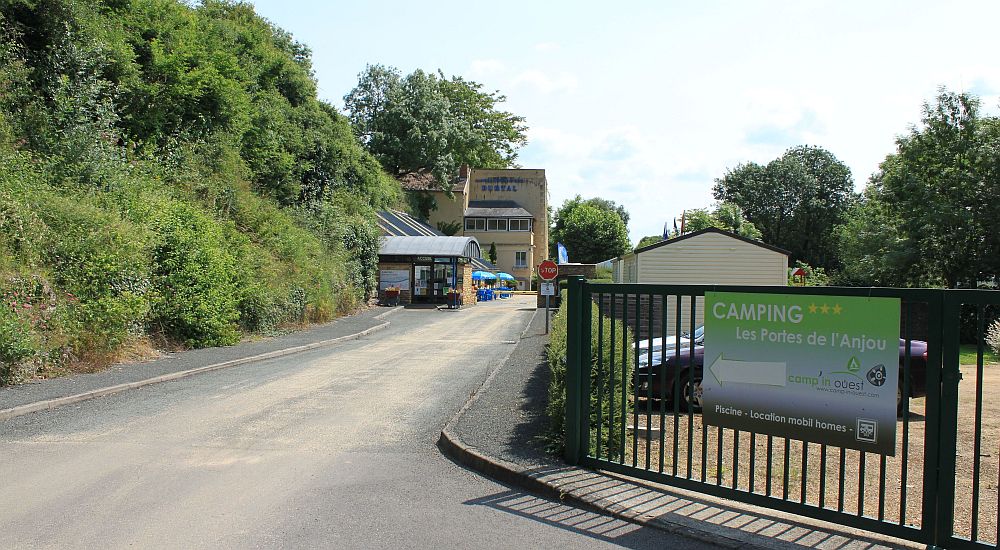 To Find Site:- The best approach to this campsite is to leave the A11 at junction 11 and take the Durtal bypass D652 towards La Fleche. When you get to the D323 turn right towards Durtal. Watch out for left turn down the hill which is signed to the campsite. The access road is not wide but should not cause an issue.
Camping Les Portes de L'Anjou is situated on the banks of the River Loir in the town of Durtal not far north of Angers. Not much English is spoken on reception. There is direct access to a path along the river from several points through the campsite. It is a long thin site stretching to the left and right of the site reception. It is more than likely that it is an ex Municipal campsite. The pitches, all on grass, vary in size but most are quite generous. Some are in little cul de sacs so without a mover access to these pitch could be difficult. However there are plenty of alternatives. Pitches seem to be allocated when booking in although you can ask to move if the allocate pitch is unsuitable. Also payment for short stays is expected on booking in which is a little unusual. Electric points are convenient to most pitches although a longer lead may be required for some pitches. They are rated at 10amps and use CEE 17 blue connectors, although best to check for reverse polarity. Water points are a bit sparse on the ground but there are a few dotted around. Grey water waste can be disposed of at the motorhome emptying point and either of the two chemical emptying points. There are two toilet blocks, the older one at the town end of the site which is of a good standard with unseated toilets but paper provided. The second block nearer reception is newer and of an excellent standard. Next to reception is a bar/snack/takeaway although interestingly bread cannot be ordered. The site has free WiFi but this is restricted to the area around reception. For children there is a small playground and also a small kick about area. Access to the Municipal Swimming Pool is also free for campers on application to reception. During the low season the site accepts the ACSI discount card.
This site is useful as a stopover or for a longer stay. The centre of Durtal is just a short walk from the campsite and there are some small shops there. For more serious shopping there is a Super U nor far from the centre. Pick up a town map from reception which shows an interesting walk around the historical sites in the town.