Camping Lindlbauer, Kreuzfeldstrasse 44, Inzell, Tel 086659289988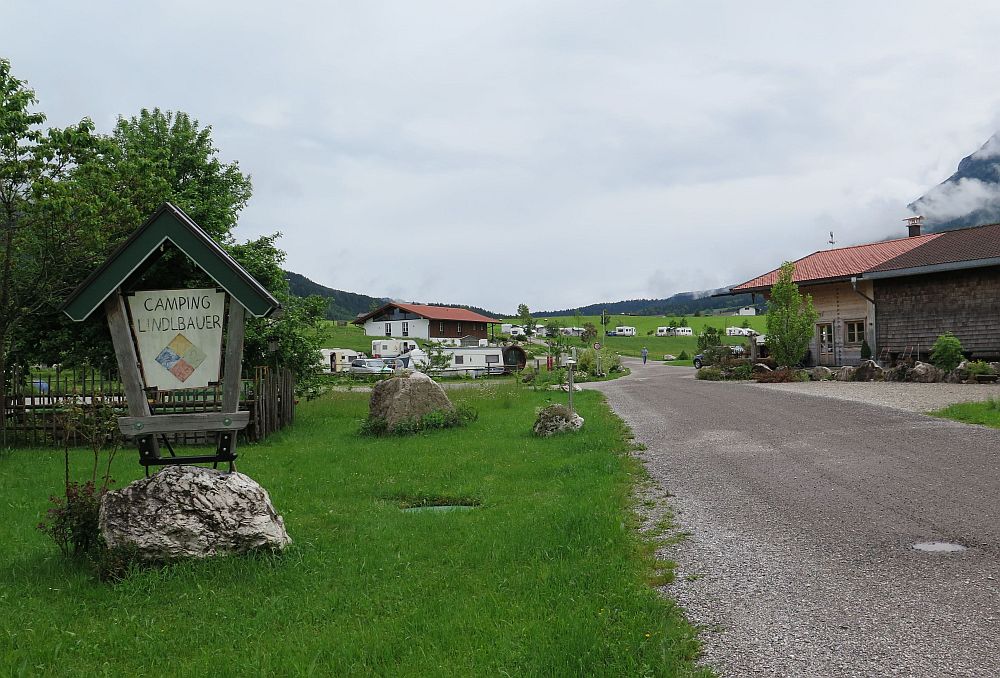 To Find Site:- From the west leave A8 autobahn at junction 112 and follow road 306 to Inzell. The site is well signed in the town.
This site is situated on the edge of the small Bavarian town of Inzell at an altitude of nearly 700 metres. It is framed by mountains on all sides so a very attractive setting. The campsite itself seems almost the have no delineation from the surrounding countryside. It is a fairly new campsite and has been designed for all year use. The 90 pitches have all weather surfaces of rough chipped stone. They are set out in terraces which all have easy access with plenty of room to manoeuvre. Pitch size varies from around 80 to 120 square metres, the larger pitches commanding an extra premium. All pitches have access to fresh water and waste water disposal, although in the winter months the water may be turned off to prevent freezing. The motorhome service point is situated near the entrance of the site with a wide drain point. Electric points are also convenient to all pitches and are rated at 16 amps and use CEE17 blue connectors. Electricity is metered and controlled by reception. If you use the ACSI discount card you have a nightly allowance of only two kilowatts before the metering kicks in. There is one main toilet block with really excellent facilities. The showers have opaque glass doors and are very large and include a wash hand basin. The toilets, which are on the lower floor, are seated with paper provided. There are also private bathrooms to rent. The block also contains a washing up area, a laundry room with two washing machines and two tumble dryers. There is also a drying room. Whilst the toilet block does have disabled facilities it is quite a steep road up to the block from the lower terraces. For children there is an adventure style play area. There is site wide WiFi at €3 a day however it was not very reliable or fast during our stay. We also had a reasonable phone signal should you wish to use that instead. English is spoken at reception by all the staff I came in contact with. Opening hours of reception are rather limited closing for a three hour period from midday and then only open until 6.00pm. Reception is supposed to have a café but with the opening hours it's probably of limited use? Electricity is generally only available once checked in by reception as its metered so alternative fuels would have to be used in the meantime. For those arriving late there is an area in front of reception where outfits can be parked carpark style at a special lower rate. Whilst the ACSI discount card is accepted it applies to the pitches on the lower part of the site. As with other sites in this part of Europe there are a lot of add ons which tend to take the price a long way above the headline ACSI price band. Given that the site is popular, and not just with German guests, it would be nice to have some information in alternative languages.
The campsite is within easy walking distance of Inzell. There are also many easy cycling routes in and around the town. Reception will give you a map. The site also gave us tickets for the local swimming pool although I am not sure we ever saw it open! There are lots of cafes and restaurant in the town. For food shopping there are three supermarkets, Norma, Edeka and Penny the latter seemed the best for meat. There are bus services in the town.