Camping Miramare, 29 Punta Sabbioni, 1-30010 Venezia - Ca'Savio, Tel: 0039 041 966150
www.camping-miramare.it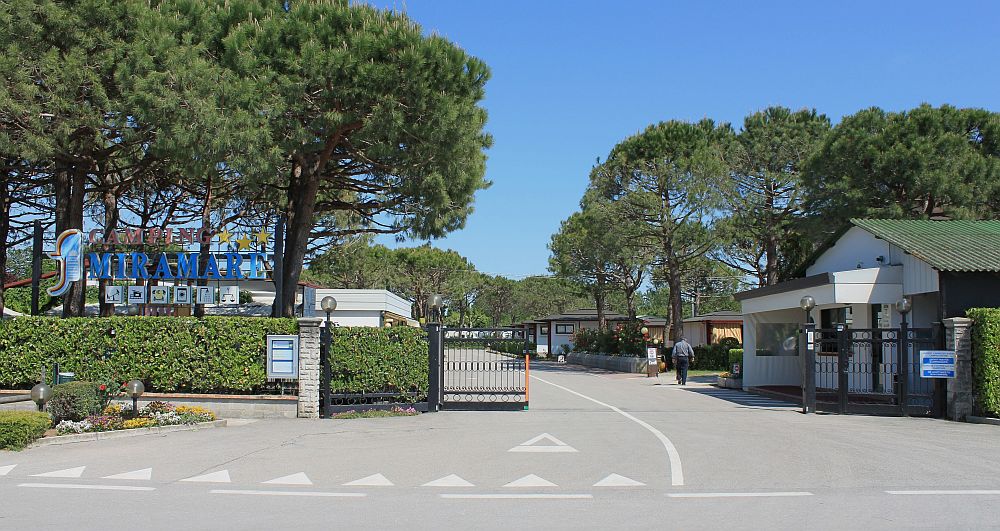 To find site:- Follow the road around the Lagoon passing through Jesolo and Cavalino. Pass the Ferry landing stage at Punta Sabbioni and the site is a few hundred yards further on, on the left and is easy to see.
We have stayed at this campsite three times over the past 20 years. It is an excellent campsite if your main interest is visiting Venice and the Islands as it is only a 10 minute walk from the ferry at Punta Sabbioni and provides a peaceful retreat compared to other sites nearby. Over those 20 years there have been many changes both internally and externally. Until the building of the Venice Barrage there was a lovely view across the Lagoon to Venice but this view is now obscured. Work is still ongoing although we were not bothered by noise during our stay. The number of pitches has increased since our last visit and now total around 220 for touring units plus a large tent field. Touring pitches vary in size although on average they are around 80 sq. mts although there are some larger ones further into the site. However the campsite does not have all areas available all the time but opens up extra sections as demand increases. The site also has some rental units and bungalows for hire. Electric points are rated at 6 amps and accept CEE17 blue connectors. There are water points dotted around the site and good to see notices, in several languages, pointing out that they are only to be used as drinking water taps! There are two toilet blocks, although only one was fully open during our stay. It was of a good quality and contained seated pedestal toilets with paper provided. Chemical points have been improved and motorhome waste and water top up facilities have been provided. There is a small children's playground near to the entrance. Receptions sell tickets for the ferry and it is a good idea to get them from the site (same price) as it can be a bit of a scrum at the ferry ticket office. Opposite the reception is a well stocked shop and next to that a TV room which also doubles as a place to use the internet. Use of the WiFi, which is not site wide, has a flat rate charge of €5 regardless of length of stay. Next door to the campsite is restaurant. The campsite will accept payment by credit card but there is a minimum spend of €100 to use this facility. The campsite is not in any of the main discount schemes but it does offer discounts for stays of longer than 5 days as well as a senior's discount. For those that might find the walk to the ferry difficult there is a free shuttle bus service to the terminal. Miramare has recently (for the 2015 season) added a swimming pool to its facilities.
Apart from crossing over to Venice there is also an excellent bus service along the road to Jesolo. For shopping there is a small supermarket in Ca Savio and a larger one at Cavalino. There are numerous fuel stations along the main road. There is excellent provision of cycleways from the campsite including to the beach on the Adriatic about a mile from the site.