Camping Municipal De L'Ile D'Or, 7 rue Mariniers, 37400 Amboise, Tel 0247572337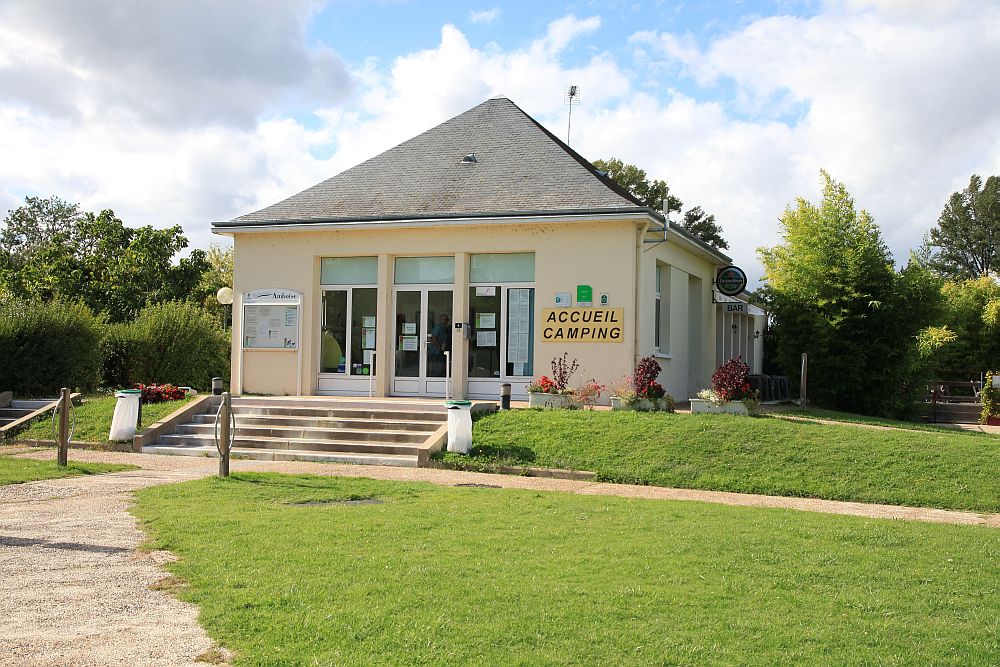 To Find Site:- Leave A10 autoroute at junction 18 and take D31 towards Amboise. Just before river bridge turn right onto D952. As you enter Amboise watch out for D431 and at roundabout turn left over bridge. The campsite is on the island between the two bridges and is well signed. At sign turn left and follow signs to campsite. The initial approach is narrow so check nothing is coming in the opposite direction as they have priority. There is ample parking outside Reception.
This is a large Municipal campsite located on an island in the River Loire at Amboise. There are about 300 pitches all of which are on grass and most are of a generous size. The ground is a bit lumpy and you may need to level. We arrived after some serious rain but found the ground quite firm. If you want to use a satellite dish make this request when booking in as pitches are allocated just to make sure that you get a more open pitch. Electric points are convenient to most pitches. They are rated at 5 amps and use two pin continental connectors so you will need an adaptor. You may find reverse polarity but it is not universal. There are a series of water points running centrally through the campsite. There are three toilet blocks of various vintages. During are stay only the one at the far end of the campsite was open so a long walk from the furthest pitches. The quality is to a very good standard but the wash and shower facilities are unisex. Toilets are accessed from around the outside of the building and are seated but no paper provided. Chemical waste points are situated at each toilet block and a motorhome service point is at the central toilet block. WiFi is included with the campsite fee and is site wide. There is a bar/restaurant adjacent to reception. Some English spoken at reception depending on who is on duty.
The main attraction of this site is its easy access to Amboise and its impressive Chateau which is within walking distance. In the town there are many places to eat. For food shopping there is a small Carrefour City store. Next to the campsite is a large municipal park with various facilities.

Next door to this campsite is a Motorhome Aire which can, perhaps, take about a dozen units. Access is via a barrier and a gate and payment is by credit card at the machine at the entrance. There is a service point with fresh water and waste point, there also appears to be electric points. The Aire can be used for short term parking to visit Amboise. The cost is €13 a night which is not much less than the adjacent campsite, certainly out of the main season, where you also have the benefit of showers and toilets.