Camping Municipal Le Pont d'Allagnon, Rue Rene Filiol, Lempdes-sur-Allagnon, Tel 0471765369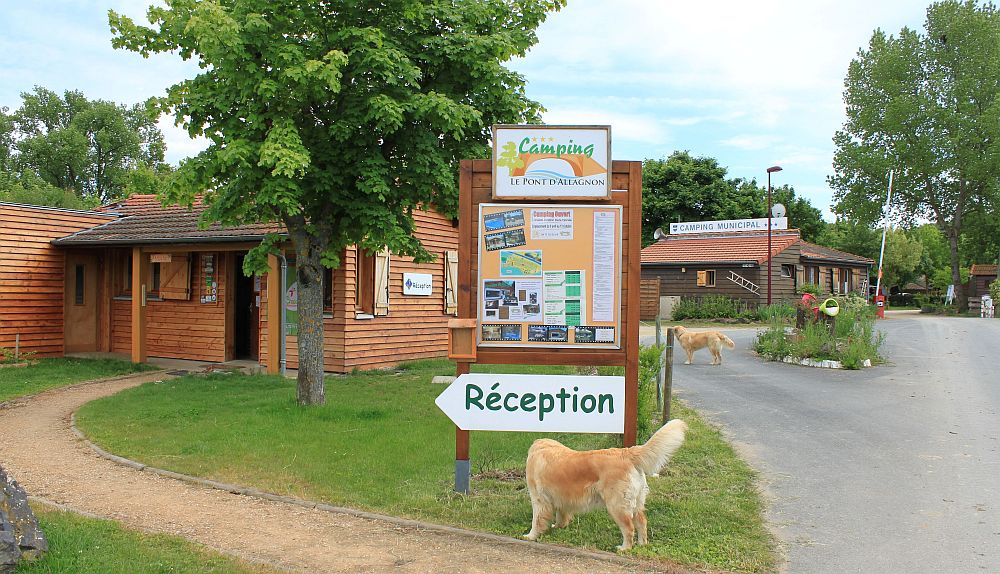 To Find Site:- From the north exit at junction 19 on the A75. Follow signs to campsite. From the south you have to exit at junction 20.
This is a nice Municipal Campsite on the banks of the Allier River. It has about 60 touring pitches, all on grass divided by hedges and most of a good size although most have a slight slope. If reception is closed the form seems to be that you find a pitch and return to book in at 4.00pm. Electricity points are handy to all pitches and are rated at 10 amps but use the old Continental two pin connectors and it is best to check for reverse polarity. Water points are dotted around the site. The single toilet block is OK but could really do with a makeover as its showing signs of age. It has a mix of seated standard and Turkish toilets. Paper is provided but out side the cubicle. Grey water waste seems only possible at the chemical disposal point. The site has various play equipment for children. At the rear of reception is a snack bar. The site also has a small swimming pool. WiFi is available, free of charge, although officially only in the area around reception but I found I could get a reasonable signal using my signal booster on our pitch. Immediately outside the entrance is a motorhome service point and a single unit parking place. This site accepts the ACSI discount card at the lowest rate which makes its particularly good value. The ACSI book suggest the site is only 500 metres from the A75, it may well be but we were not disturbed by any sort of road noise.
Whilst this site seems to be used mainly as a stopover site close to the A75 it could be a good base to explore the area. From the campsite you can take the footbridge over the river and into the town where there are several small shops including a Casino food store although many of the shops seem to be closed on a Monday.
Special Note:- Before coming to this site we looked in on another campsite a little further north called Les Loges at Nonette near junction 17. We were not impressed as it seemed very unkempt and access to the site is difficult. The toilet blocks were equally not very impressive.