Camping Municipal de Montech, 82700 Montech, Tel 0563311429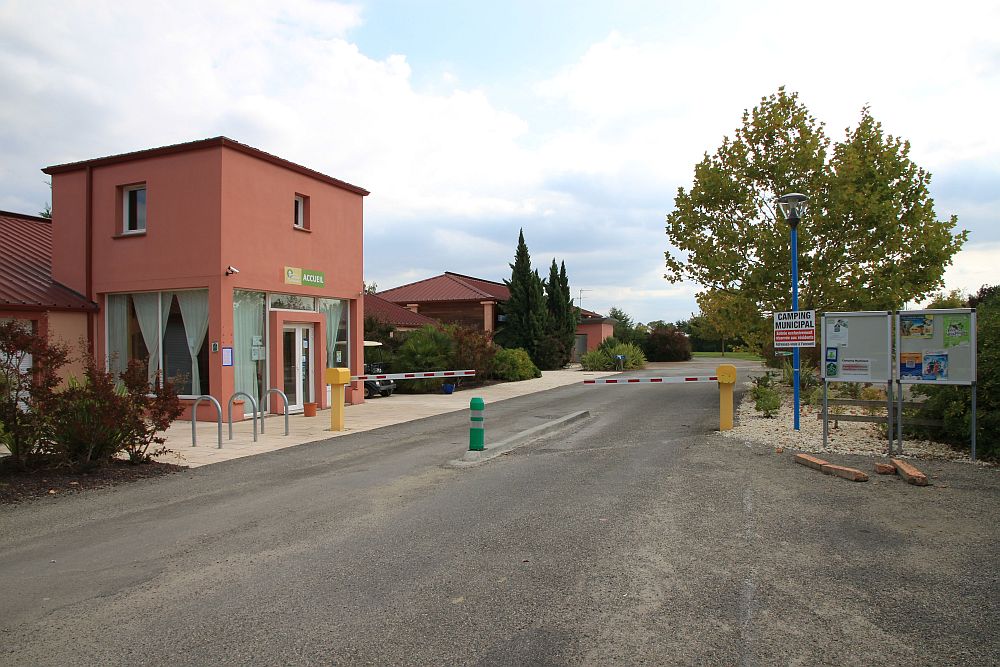 To Find Site:- Leave A20 at junction 65 and head towards Montauban. Watch out for turning to left at traffic lights and take D928 to Montech. On the final approach to Montech turn right at traffic lights immediately before bridge and follow signs to campsite. Approaching through Montech turn left immediately after canal bridge and follow signs to site.
This large Municipal campsite is situated adjacent to the canal on the edge of Montech. Our visit was in late September so obviously not the busiest time of year, the campsite remains open until the end of October. When we arrived there were, perhaps, only half a dozen genuine campers on site and the rest of the clients seemed to be made up of people working from the site. The 200 or so pitches are all on grass and even at the end of the season they were in good condition and firm but some levelling might be required. Most are quite generous in size. There are different categories of pitches, some with electrics and water connections, some with electrics and those without any facilities. In addition there are a number of mobile homes on site and some of the pitches are taken up with seasonal campers. Electric points are handy to the pitches and accept CEE17 blue connectors but you may need to watch for reverse polarity. Ampage is reported to be quite high, we certainly had no problems using several appliances at the same time. I was not aware of any water points around the site except at the toilet blocks probably because so many pitches have their own tap, likewise there is no grey water waste emptying points except at the chemical emptying points also at the toilet blocks. The motorhome waste point near to reception could also be used for wastemasters. From a motorhome point of view the service point does not seem too practical as larger motorhomes might have difficulties getting close enough to the drain point. Also the tap for refilling tanks whilst it has a stand screw fitting it is a push style tap which is not so convenient. There are two toilet blocks which given the size of the site could be under strain during the main season. In terms of quality they are functional rather than luxurious with pedestal seatless toilets and no paper provided. Other facilities on site include a swimming pool, a TV room and, in season, a snack bar. The WiFi is limited to the area around reception, it is quite fast, and is free but limited to 45 minutes per day. You can override this by using a different e-mail address! The opening hours of Reception and a bit hit and miss, certainly in the off season, although there is a phone number you can ring and if they are out working on site they may well ask you to go and set up and come back later to sort out the paperwork. Little English is spoken at reception. This campsite is good for a short stay and as an overnight stop, especially as it is convenient for the main A20 route. Generally the site is quite peaceful but there is some road noise at certain times of day if you are pitched near the road.
Perhaps the main point of interest in staying at this campsite is its closeness to the Canal Lateral a la Garonne and if you have bikes there is a lot to explore. Quite close to the site is the Pente d'Eau which is an inclined plain used to bypass several locks. Montech is within walking distance and there is a restaurant at the boat moorings by the bridge. For shopping and fuel there is a new Intermarche a short distance away in the direction of Montauban.