Camping Robinson, 22 Quai Plaisance, Marseillan Plage, Tel 0467219007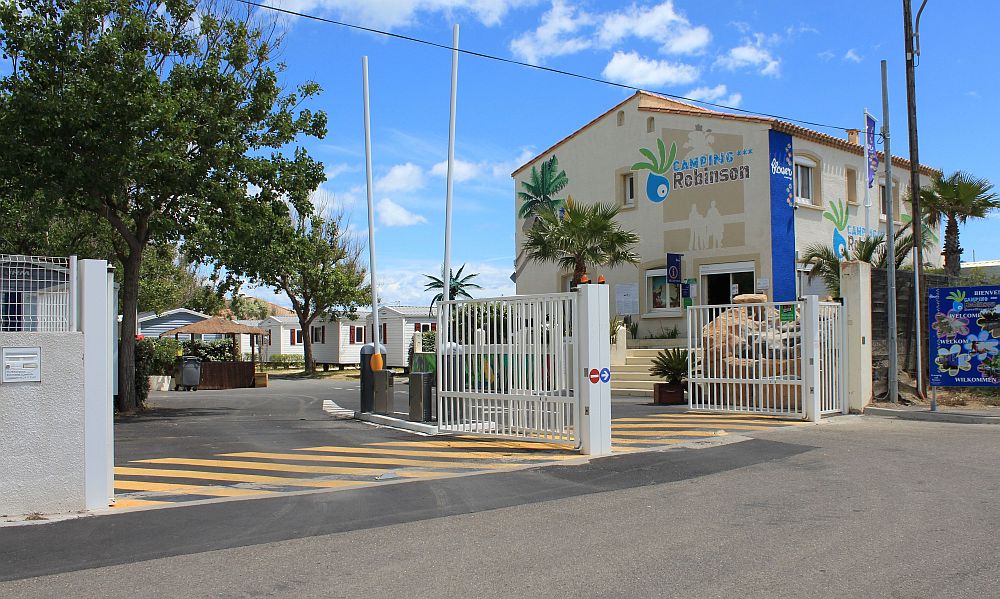 To Find Site:- From Agde take D612 towards Sete. In Marseillan Plage continue on D612 and cross canal bridge, in about 300 metres turn right and follow signs to Camping Robinson.
Camping Robinson is a rather unpretentious campsite with direct access the beach at Marseillan Plage and is part of the Flower Group. Like a lot of campsites near the coast it has a mix of touring pitches and mobile homes. The pitches are in the main grass and compacted sand divided by trees which also give shade but make it difficult if you want to get satellite TV! They vary in size but most are of reasonably size, they tend to be longer than they are wide. There is a separate section overlooking the sea for which there is an extra charge. The only advantage might be is that they have a hard surface as the height of the sand dune prevents a view out to sea! Electric supply is a useful 10 amps and use CEE17 European blue plugs. Water points are dotted around the site. The toilet blocks, one large and two small ones are functional rather than being luxurious. They have seatless toilets with no paper provided. Overall you get the impression that they could do with a major upgrade but you have to balance this against the relatively low nightly price of the campsite out of high season. There is a motorhome service point for fresh water replenishment and waste water disposal. Bread can be ordered the day before for collection from the small site shop which has a range of essential supplies although opening ours are limited in the low season. Next to this is a snack/bar which again keeps limited hours out of high season which seems to mean weekends only. For children there is a playground and an enclosed basket ball court. This can create some noise to adjacent pitches but no more than the seniors playing Boules in the afternoons! There is site wide WiFi but contrary to the ACSI book is not free and in fact is the opposite, pretty expensive, a weeks pass costs Ä19 and can be purchased from reception or online, I also found it fairly slow at times. ACSI discounts are available during the low season which makes for economic stays during those times. Date of visit late May 2013.
Up-Date September 2015. We returned to Camping Robinson for a week in late September just before they closed for the winter. We had previously tried to get into a site in the town but that was full. Even Robinson was busier than it was when we were there in May 2013. Changes that we noted were that the WiFi is now free. Additional play equipment has been installed in the play area. Unfortunately yet more static accommodation but this seems to be a trend everywhere. With the better exchange rate it was excellent value at under £12 a night with the ACSI Card for a site right on the Meditterainian.
There are many excellent cycle ways from near the site and are only limited by your capacity to cycle distances. It is an easy walk into Marseillan Plage where there are lots of restaurants. For those that donít want to drive to a supermarket there is a handy Spar supermarket in the town centre. For more serious shopping and fuel there is a large hypermarket as you approach Agde. Most will be attracted to the miles of golden sand that stretches along the coast in this area.