Camping Village Mugello Verde, Via Massorondinaio 39, 50037 San Piero Sieve, Tel 0039 (0)55848511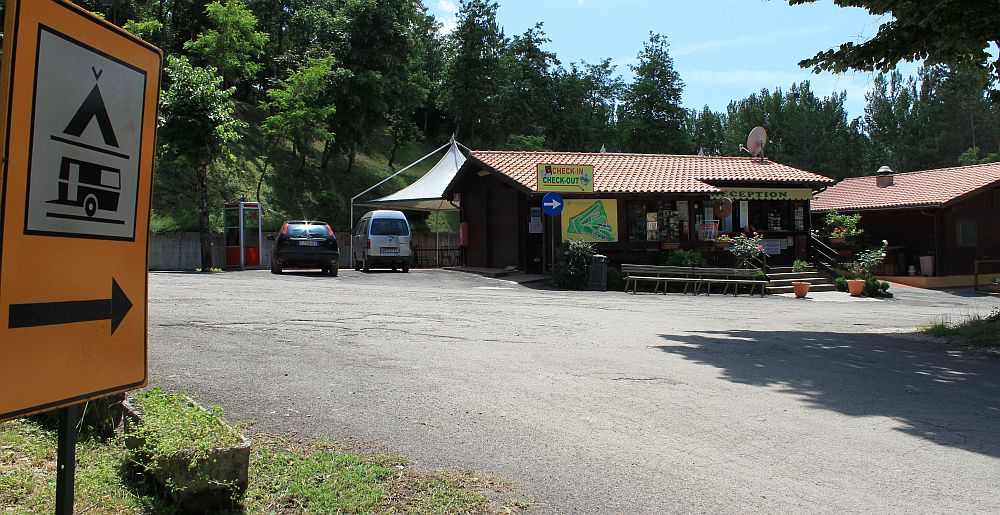 To Find Site:- Exit A1 at Barberino and head towards Borgo San Lorenzo, also follow signs for Mugello Autodrome. The site is well signed along this road. On approach to San Piero a Sieve turn right after Tamoil service station and immediately right again into site access road.
Camping Village Mugello Verde is a rustic and peaceful campsite situated about 20 miles north of Florence in pleasant hilly countryside. The site road forms a large S from reception to the top of the site. This road is quite steep in places especially near the main toilet block. There are about 100 touring pitches with reasonable access but more are available if people were willing to go off the tarmac road onto the terraces, but perhaps only suitable for tenters and small camper vans. They vary in size and anyone with a larger outfit wanting to put up a full awning could struggle to find a suitable pitch. Many of the pitches are longer than they are wide. Some fore and aft and side to side levelling will be required on some pitches. There are a few scrappy permanent vans but not that many. The mobile homes and other units for hire are situated on the lower part of the site nearer to reception. Electrical connections are by way of CEE17 blue connectors and are rated at 6 amps. There are two toilet blocks which look to be of the same vintage. The one right at the top of the site was closed during our visit. The main block is at the start of the touring pitches. Whilst kept clean the actual toilets and showers could do with refurbishment. Toilets in the menís are an equal mix of Turkish and pedestal , the latter having seats and paper is provided. The ladiesí block has only one Turkish style toilet, plus five pedestals. The block also contains washing machines and dryers which accept coins rather than tokens. There are few water taps around the site and the main source of water is the toilet block which means it is an uphill struggle with water containers to some pitches. All the other facilities are based around the site reception, this includes a restaurant/bar and small shop. There is a nice swimming pool next to the Bar and a tennis court behind this. WiFi is available, at an extra charge, although not site wide. The ACSI Card is accepted in the low season. This campsite is fine for a stay either over night or of a few days. Date of visit early June 2012
This site could be used as a base to visit Florence and there is a limited bus service from the site entrance, the site will provide details. For motorsport fans the Mugello Circuit is about 4 miles away although there seems no access on non-event days. For shopping there is a supermarket in San Piero a Sieve about a mile from the site.