Camping Waldsee, Badstrasse 37, Wallesau, Roth, 0049 (0)9171-5570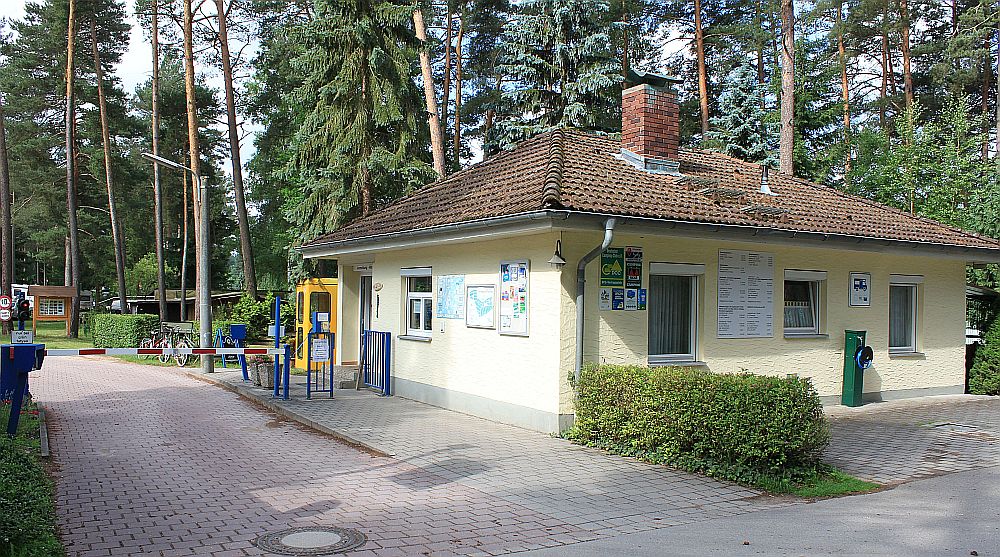 To Find Site:- Leave A9 autobahn at junction 56 and head towards Hilpoltstein and then Eckersmuhlen. In Eckersmuhlen follow signs to Wallesau and turn left in village at camping sign. Campsite is at the end of this road. Be careful with following sat nav directions as it may well take you along unmade up roads from Hilpoltstein/Hofstetten. The campsite closes between 1.00 and 3.00pm but there is parking outside of the entrance.
Camping Waldsee is a typical German rustic rural campsite set in a pine forest. The 60 plus touring pitches are mainly near the reception although some are situated amongst the many permanent caravans on site. Pitches are a bit ad hoc but there is usually plenty of room for van/awning/car. There are some serviced pitches for which there is a modest Ä1 a night extra charge. There are a few cabins for hire. Electrics are via CEE17 blue plugs and are rated at 16 amps, although it might be best to check for reverse polarity. With the ACSI Card there is a 4 kW daily allowance for electricity after which 50 cents a kW is charged. The main toilet block for tourers is in the centre of the site and contains all the usual services. They are of a nice standard with all pedestal seated toilets with paper provided. Showers require a token to provide hot water and these are supplied if using the ACSI Card or available at an extra charge if not. There is a second similar block further into the campsite. Also in the centre of the campsite is a small restaurant/bar serving a fairly basic menu but it seemed good value. Reception contains a basic shop and also information on the surrounding area. Site wide WiFi is available at an extra charge. Campers (and the public) have access to the lake for swimming and non-powered boating although the water did look a bit murky! I donít think I would recommend this site for anything other than an overnight stop or perhaps a couple of days and I think I would suggest avoiding weekends if you enjoy peace and quiet. There is nothing wrong with the facilities or the site but we found some the regulars somewhat thoughtless, in terms of noise and BBQ smoke!
There are lots of opportunities for cycling and forest walking from the site. The small town of Roth is about 8 kms from the site and is worth a look and it also has shopping opportunities and fuel stations. Nurnberg is about 25 kms from the site and has many interesting museums.