Caravan Diary 2005
Huntingdonshire March 2005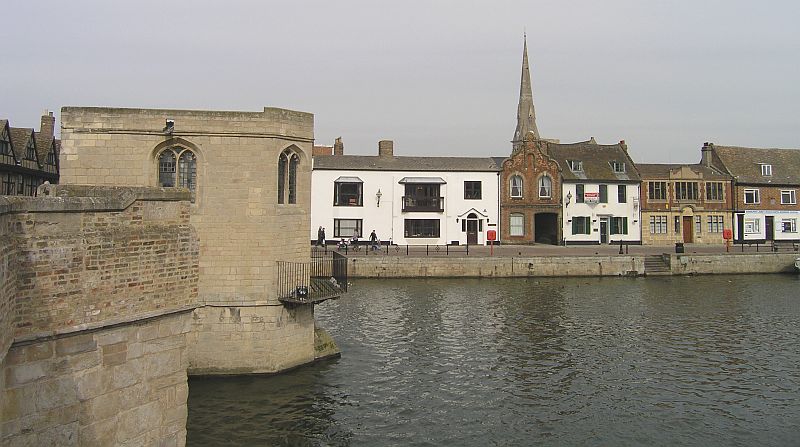 Our last trip away in the van was in November 2004 and the main winter months do seem to drag. We have tended to avoid Easter, usually because work often gets in the way and campsites are so full. Therefore we decided the week before Easter would be our maiden trip of the year. We added an extra day to our weekend to make it worthwhile, so Sunday 20th March through to Wednesday 23rd March seemed a reasonable break! It was an early start but not to get the van out but to watch the second Grand Prix of the year from Malaysia. Another good result from Red Bull Racing (formally Jaguar Racing). Not sure what's happening to the Red Baron but I can't see Ferrari being happy with not winning races for much longer! Perhaps the new rules are working.
The promise of better weekend weather had not materialised and Sunday started dull. At least our journey was not far although had it been as the crow flies it would have been even quicker. Our destination was the village of Pidley, about 4 miles from Huntingdon, and a relatively new campsite called Stroud Hill Park. An interesting campsite in several ways. Firstly it was the first 'Adults Only' campsite we had stayed on. Not because we wanted nothing to do with children, it was just the location. I have heard that on some campsites of this ilk the owners turn out to be very fussy people but the owners here could not have been more relaxed. The campsite has also turned out to be a labour of love as the main amenity building consists of a barn lovingly created by the owner to a historical design. He ordered the timber from abroad, had more work done here in the UK and then set about building it himself. When you look at the detail you can but marvel at the work and craftsmanship that went into it. Inside apart from containing the reception, shop and toilet/showers it also has a rather lovely Bar/Restaurant all done to a quality you rarely see on a campsite and no doubt designed to appeal to the discerning camper.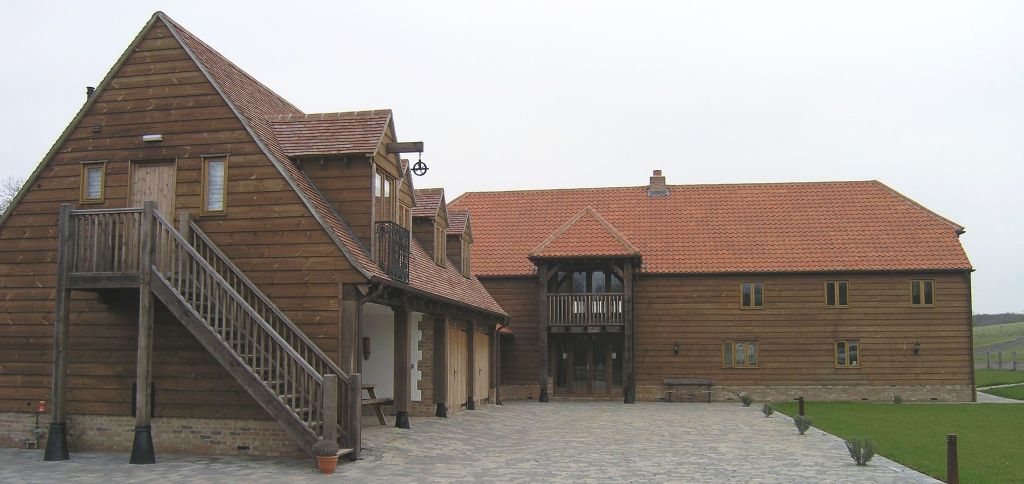 Monday was a lot brighter although there was a brisk wind. We thought we should get out and explore whilst the going was good. First port of call was Huntingdon, the birth place of Oliver Cromwell. We parked down by the River Great Ouse and walked through the water meadows to the Town Bridge. The bridge is just about wide enough to allow two cars to pass. To separate pedestrians they have built a rather hideous modern footbridge alongside the medieval bridge. Huntingdon has most shops that you will need and there are some interesting building,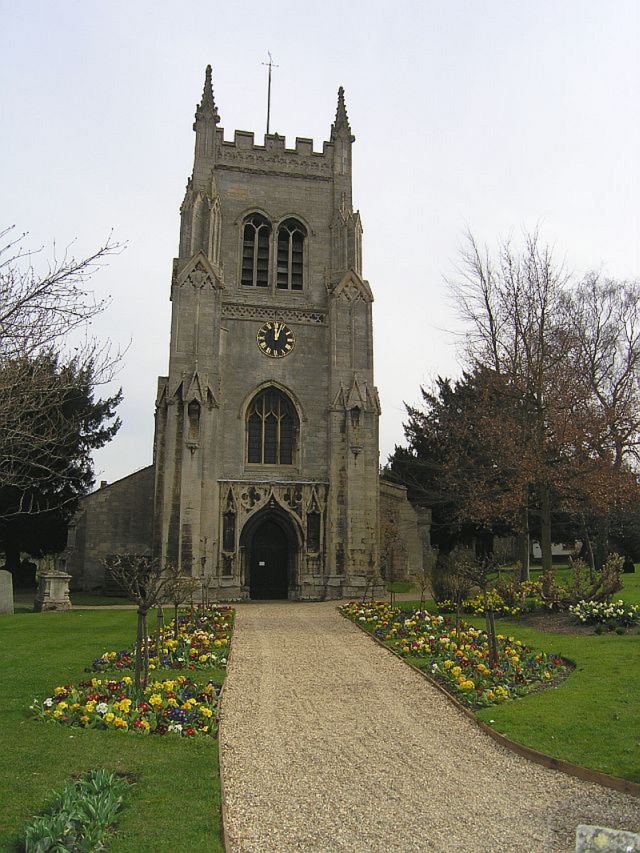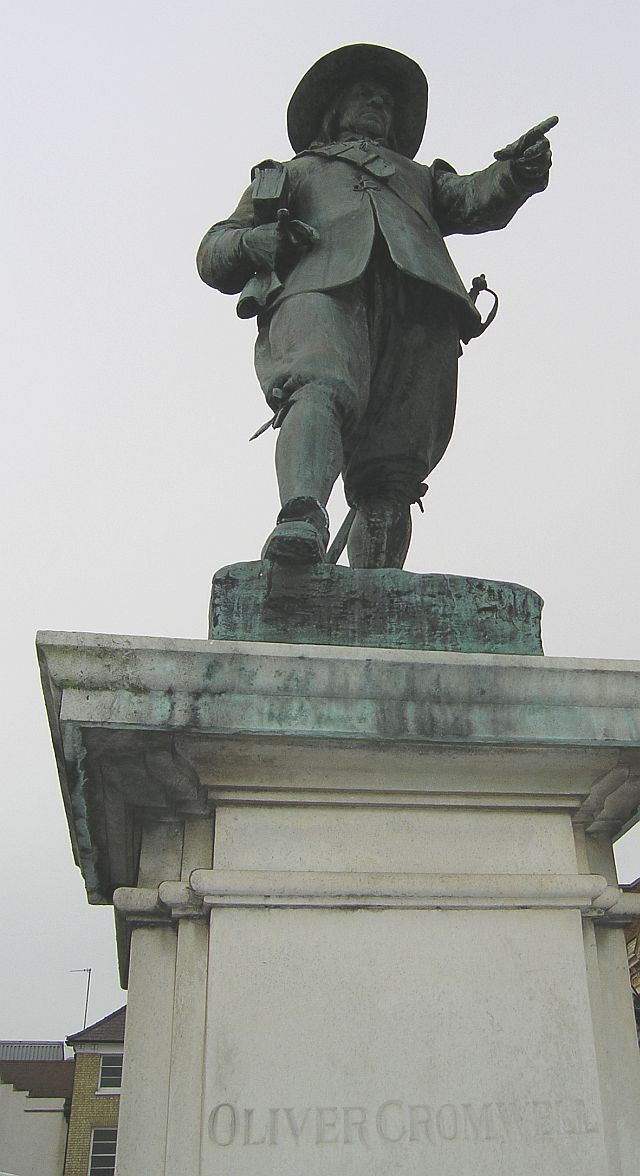 After Huntingdon St Ives was a much more interesting place, although even more difficult to park in! The bridge with the Chapel is pedestrianised so don't try and drive over it. We happened to be there on Market Day which as markets go is quite impressive. You can walk along the quay towards the bridge.

Tuesday was a fairly lazy day but in the afternoon we did go back to Huntingdon and the Huntingdon Garden Centre, which as such places go is quite impressive. It also has a rather nice tea room/restaurant which was useful as the weather had gone a bit dull. As so often happens our departure day, Wednesday dawned bright and sunny and in just over an hour we were back in MK and within seconds Margaret had the washing machine on!!!!
North Wales April 2005
Sunday 10th April, our second trip away this year and for slightly longer, 5 nights in North Wales at the Caravan Club site called Lady Margaret's Park at Chirk. This is at least the second time at this site but I was convinced it was the third time but, as yet can't find any record!!!! I was surprised that traffic on the journey was not too bad. We used the M6 Toll for the first time, I am just glad that French Motorways are not as expensive. £6 for a single journey is quite expensive but you do get a good quality road. In fact I thought I was driving on the wrong side!!!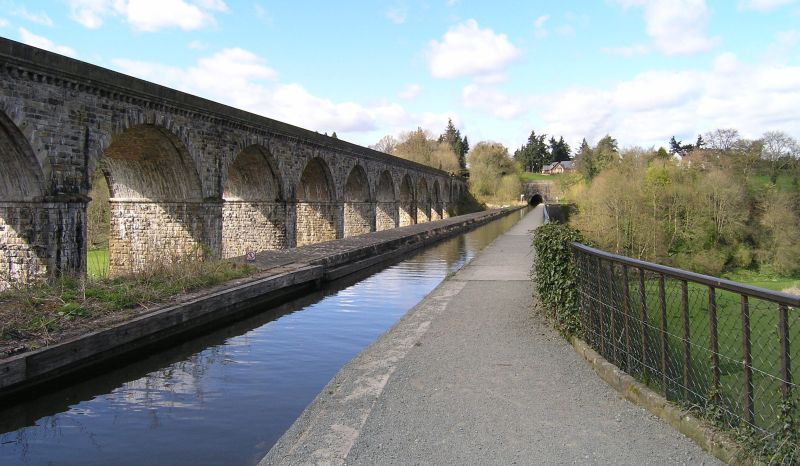 Wales is not famous for it's weather but we had sunshine on most days. Monday was a lazy day with just an excursion into Chirk, originally on the main A5 it has now been bypassed. There is not much in the village apart from a couple of shops, although the War Memoriam is of quite interesting design. A short walk from the village is the Chirk Aqueduct which carries the Llangollen Canal. alongside is the railway viaduct. We walked back to the campsite through Chirk Tunnel.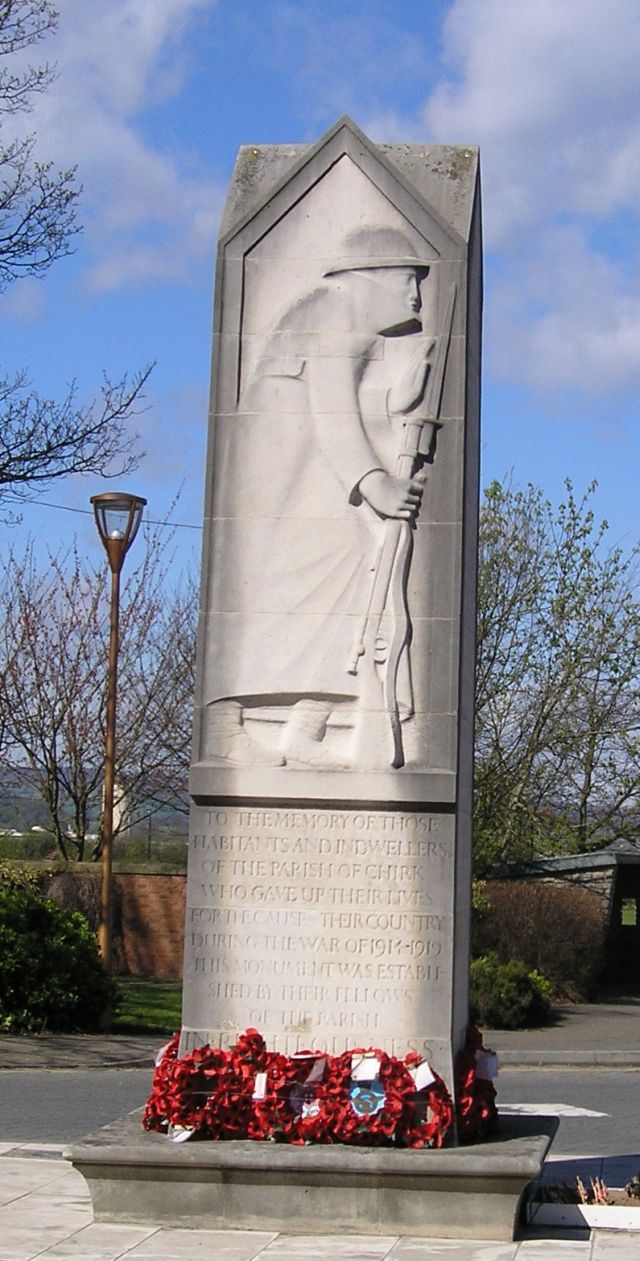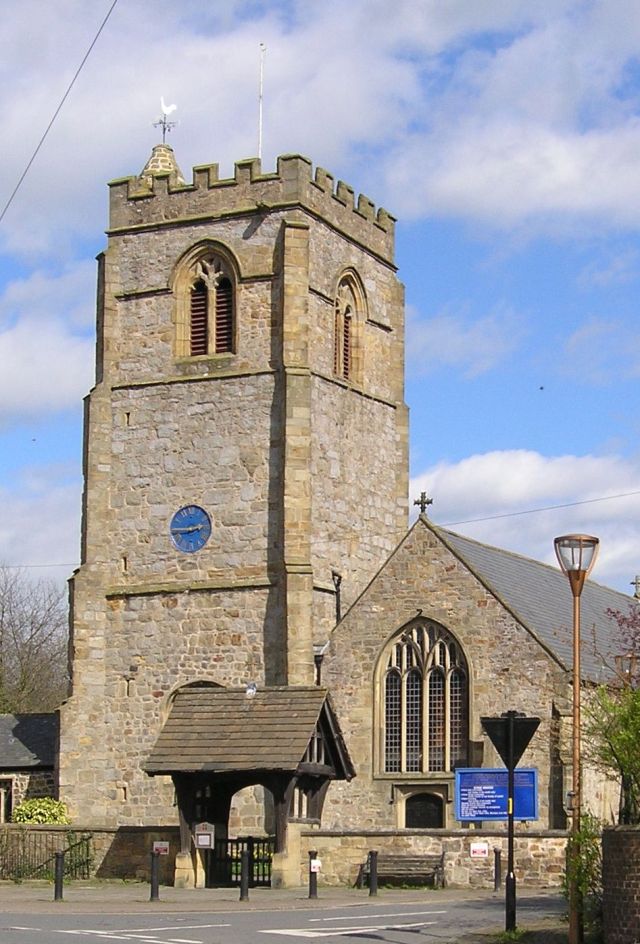 Ever since 'The Prisoner' I have wanted to visit Portmeirion. Tuesday sounded quite promising weather wise so we made the decision to drive the 50 odd miles out to the coast. Our route took us to Betws-y-Coed and then onto Capel Curig where we stopped to view the lake, which many years ago we had been passing in a storm and had witnessed Lightning right into the lake.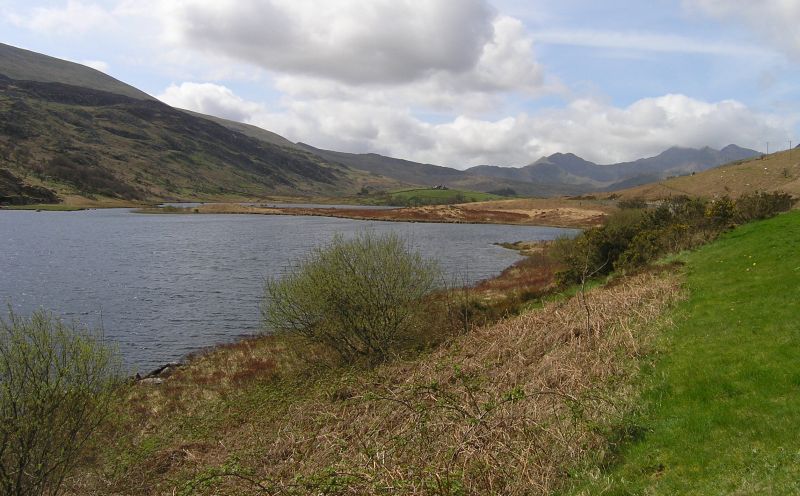 We stopped at another spectacular view point high above another lake. It was amusing to see a colony of Chaffinches squabble over a the remains of a packet of crisps!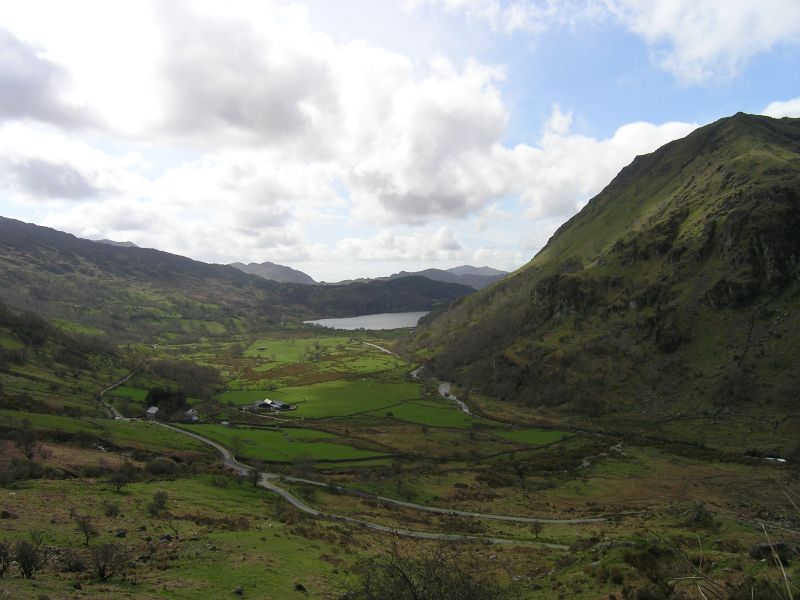 We continued our journey across North Wales, which was not without incident as a passing Landrover walloped my car mirror as we passed. No real damage except to polish out the black mark.
There is plenty on car parking at Portmeirion and entrance to the village is £6 per person. The village is real because it is a place where people live and work but in some ways seems like an elaborate Folly! It was created by the architect Clough Williams-Ellis and was constructed between 1926 and 1976. His daughter founded the world famous Portmeirion Pottery. The village is also famous for the location of the cult 1967 television series called 'The Prisoner'.
Below are a series of thumbnails to click on to get a larger picture so you can get a flavour of the place.
Our journey back to the campsite took us around Bala Lake. An exhausting worth while day.
The following day our excursions were limited. Firstly to the Pontcysyllte Aqueduct which carries the Llangollen Canal over the River Dee at a height of 126 feet. Not perhaps in the same league as the new Millau Bridge but considering it was opened 200 years before the modern offering still in a league of its own.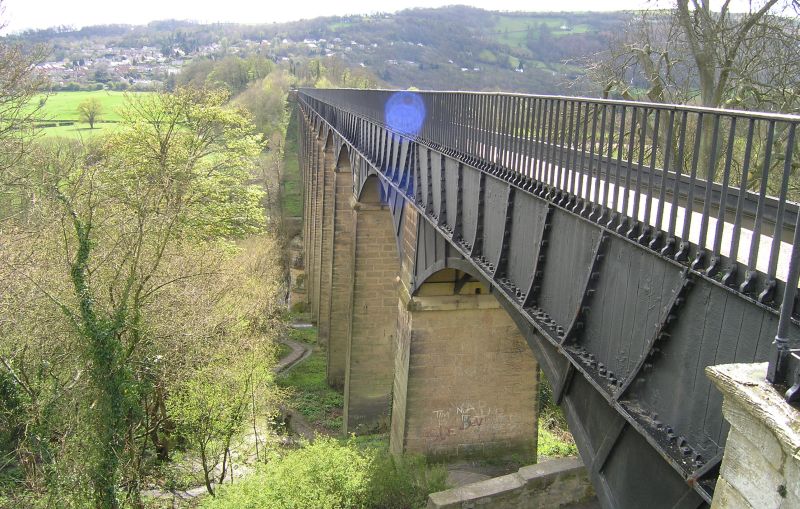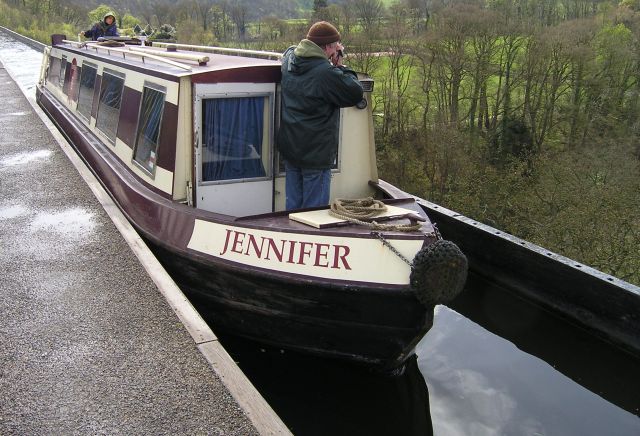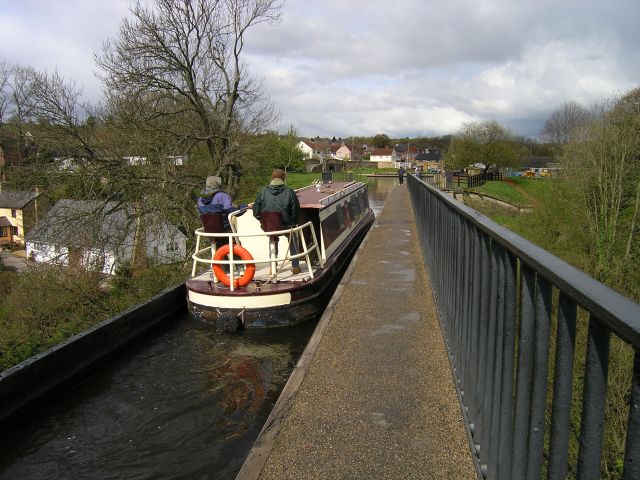 Memories of our first crossing of this aqueduct by boat over 35 years ago came flooding back. That was in the days when we were into boats and canals but not caravans! The town from which the canal takes its name was next on the list. As a place it seems more famous than the reality deserves. Apart from the canal, river and railway there is not much else there. It was even difficult to find somewhere nice to have a cup of tea. It is of course strategically astride the A5 which no doubt made it an important watering hole in days gone by. In wandering around the road behind the river I did come across an interestingly designed caravan - perhaps the way forward!!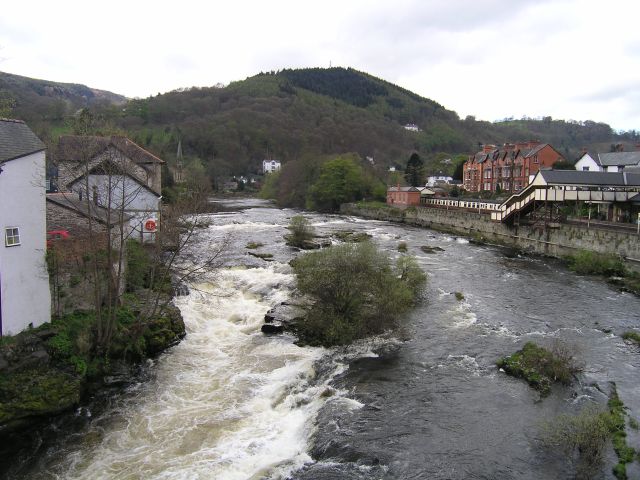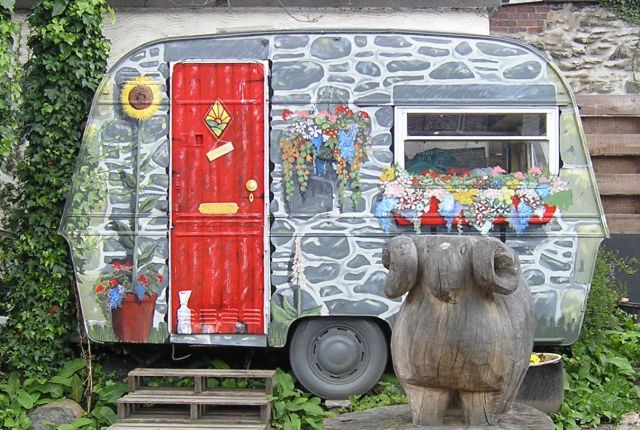 During our stay at Chirk we had been quite lucky with the weather with most days having some sunshine but Thursday, our last day, was overcast. We decided to visit the local Garden Centre, always a good place to get a cup of tea! Mind you the place was full of pensioners, now hold on a minutes that's me!!!

Mollington early July 2005
Over the years I had seen a campsite advertised called Mollington's but now is called Anita's. The beauty for us is that it is only 37 miles from where we live which is a handy distance for just a weekend. We left home fairly early because we wanted to set up in time to watch the French Grand Prix. Having said that there were reminders all the way along the route about the British Grand Prix a week later. I could not imagine towing a caravan any where near Silverstone on Grand Prix weekend! The village of Mollington is right next door to the campsite and in fact there is a short cut from the campsite via the Church into the village. We of course went the long way round! When we arrive on site I followed the sign for reception except everything was shut up. There was a note on the door to seek out Ivor whose caravan was sixth on the right. By the time I had returned to the van he was already chatting to Margaret. We walked round the site to look for a pitch and found a free one up near the Rally Field. Ivor said to see him later about payment as he was going out.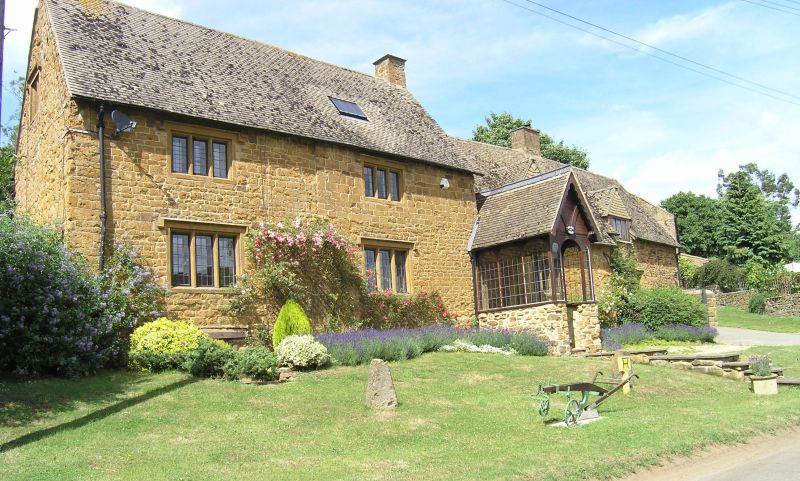 Sunday was a beautiful day and I always feel guilty when I watch a Grand Prix. Once it was over we did manage a walk into the village. There are some original old buildings but there has been quite a bit of development with new building made to look old. Mind you a very convenient place to live if you work in Banbury. The village does have a pub but it did not seem clear when it opened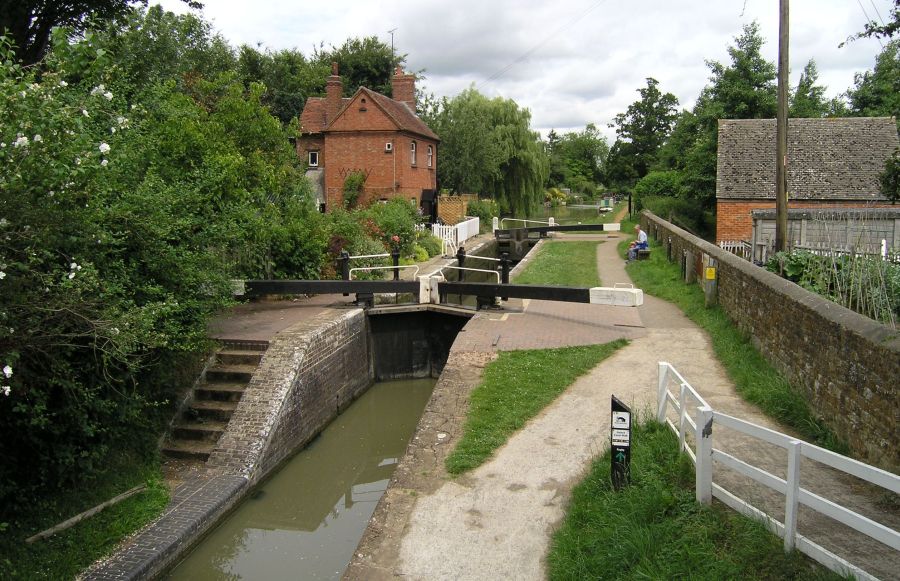 On Monday the weather was not so kind, being overcast with a threat of rain. Cropredy is under two miles away and we wanted to reacquaint ourselves with the village that in the past we had only known from the Oxford Canal. There is a nice car park not far from Cropredy Bridge, the scene of a famous battle between Roundheads and Royalists. Alongside the canal is a handy SPAR shop and likely the nearest shop to the campsite. We had a nostalgic walk along the canal, still as attractive as we remembered it. We had lunch a little further up the canal before returning to the campsite.
Hillside, near Salisbury end July 2005
Although Milton Keynes is only around 100 miles from Southampton it is a mighty boring journey when you have been doing it for the past 26 years! I should explain, 26 years ago we moved from Southampton with our then 23 month old Paul and his 10 week old brother Simon to a new home and, for me, a new job in Milton Keynes. Having left the relatives behind we feel that we need to see them occasionally, especially Margaret's mother who is 80 years old and about to go into hospital for some tests. As we get older the round trip to Southampton gets pretty repetitive. We therefore decided to incorporate a visit to Southampton with an extended weekend away. We stayed at the Caravan Club site called Hillside, near Salisbury, as this seemed reasonably near. On the Monday we drove the 25 miles to where she lived and took her out to lunch, all very civilised.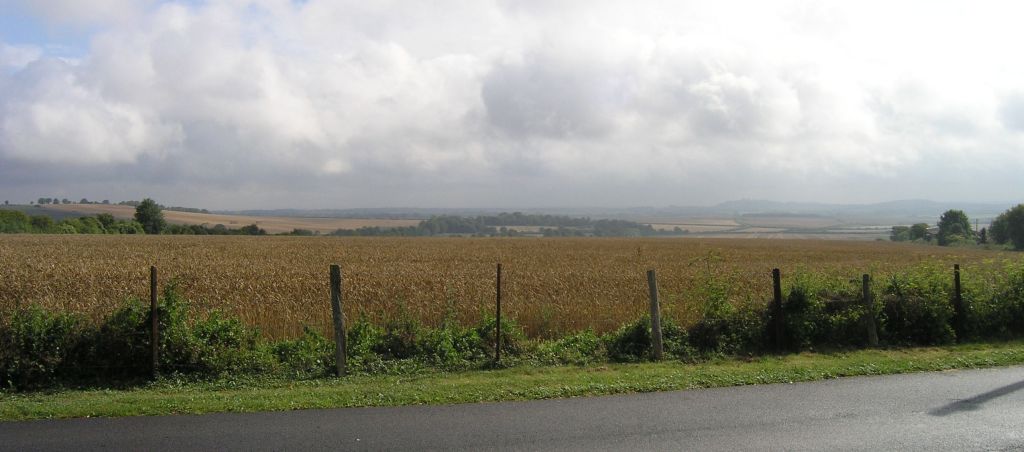 Not far from the campsite is the Army Air Corp, which of course means helicopters! From the entrance, in clear conditions, you can see their base across the fields towards the Wallops. If you are lucky you will get an impromptu flying display. Even better when they do it in the dark, its rather like fireflies in the darkened sky.
On Wednesday it was my 59th birthday so what better excuse than to go out to lunch. My sister Pat, who lives in Hamble, joined us. Its always difficult to decide on somewhere to eat when you are unfamiliar with the area. Club sites often have books in their information points on where to eat, but not at Hillside. I knew there was a pub on the main road about a mile away but the wardens wife recommended the Silver Plough at Pitton. As it happened Pat had been there 30 years previously! I have now joined the ranks of the fans of the Silver Plough. Apparently it was a favourite watering hole of Sir Edward Heath whose funeral was held in Salisbury during the week we stayed at Hillside.
Sandringham October 2005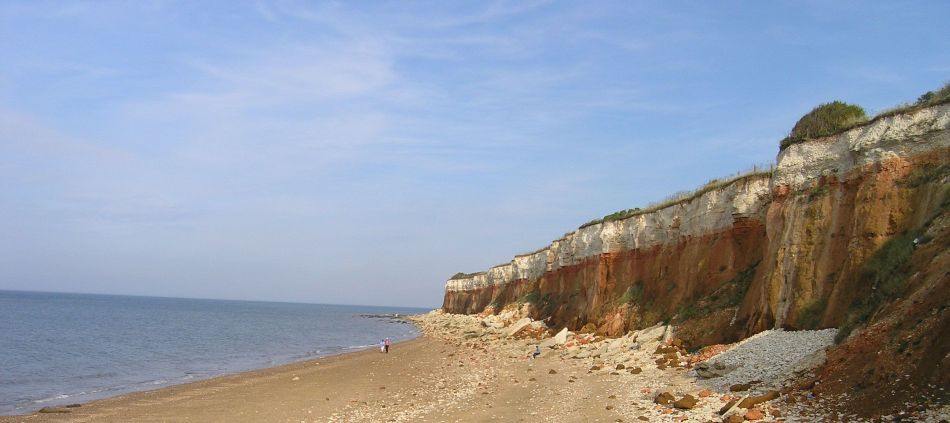 No problem with getting up early this morning, it was the Japanese Grand Prix! Sandringham is only a couple of hours away so there was no point in leaving too early. Anyway I was waiting for Simon to come across to the house as he was going to lend me his new Sat Nav, a Garmin Street Pilot. Oh what fun, when I got it working correctly, me, rather than the machine. A dip into a lay-by and a quick phone call to Simon got me going again! Very strange this Sat Nav. A ladies voice (another one!) says in .4 of a mile enter roundabout and take second exit, she is quite firm. On the plus side she does not argue with me and just recalculates the route if I make a mistake! Funny thing was it crashed on me about two thirds of the way there so had to revert to the old model who holds the atlas on her knee and does argue!
This was our third visit to Sandringham in the past 10 years so we were no strangers to this Caravan Club site. The campsite is surrounded by tall mature trees so you know you are in the middle of a forest. Sunday was bright so we were able to set up including the Caravanstore. The TV hook-up gave as perfect pictures on all 5 channels.
The weather forecast had been good but we did not expect the temperatures to be in the 70's which took us a bit by surprise as we only had Autumn clothes. So taken aback we did hardly anything but by mid afternoon decided that we should at least try and walk to the Sandringham visitors centre. We had done this several times before but on this occasion we had lost all sense of direction. We did eventually get there, fortunately before the cafe closed so we enjoyed our cup of tea and slice of cake whilst wondering how easy it would be to find our way back! We sort of retraced our steps but went the long way round but as soon as we saw the sigh to the C&CC campsite we knew where we were. The path the CC site goes down the side of the C&CC campsite dropping down through the woods and into the Caravan Club site.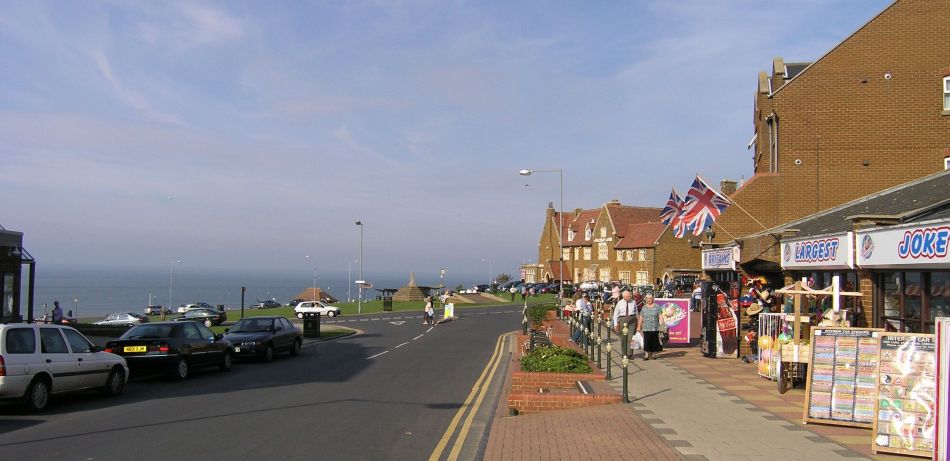 Tuesday, weather wise carried on the same way with temperatures up to 26 degrees, hardly the seasonal average! You can't stay at Sandringham without a visit to Sunny Hunny as Hunstanton is affectionately known. Looking around there were not many people under 50, us included. Somehow can't think of myself as that age. Hunstanton seems to have been smartening up its image recently by improving the park and some nice touches in the town. It might not achieve the same sophistication of the many small French seaside resorts but at least they are trying. What better than Fish and Chips out of the paper sitting looking out over the sea on a balmy Autumn day.
Just outside Hunstanton is Norfolk Lavender where you can by plants of sizes and varieties as well as oils and almost anything to do with lavender, and its free to visit.
The good weather lasted longer than the forecast suggested but by Wednesday evening it had started to rain and continued in the same vein on Thursday. The trouble with rain and a caravan is that you have got to force yourself to get out and about. We decided on the short drive up to Heacham Beach. Now there is nothing really here except for miles of shingle, a cafe and some time warped dwellings! Mind you its the only place I have seen a Heron dive into a dyke and come out with a fish in its mouth! We walked along to look at a campsite, well really a mobile home park. They seemed quite tightly packed together but it was neatly done. What interested my was the advice they offered to potential purchasers of new mobile homes set out on boards on the side of the office. I thought this was an excellent idea as it went through the pitfalls and asked all the questions people should anyway, very upfront.
Friday, going home day, of course dawned bright and sunny! Thought we would give the Sat Nav another go but made a mistake in not previewing the route before setting off. My route would be via Ely and Cambridge but the Garmin wanted to take me via Peterborough. I am sure I need more experience before I can decide to invest my own money in one!!