Caravan Travels in the UK 2019
Cambridge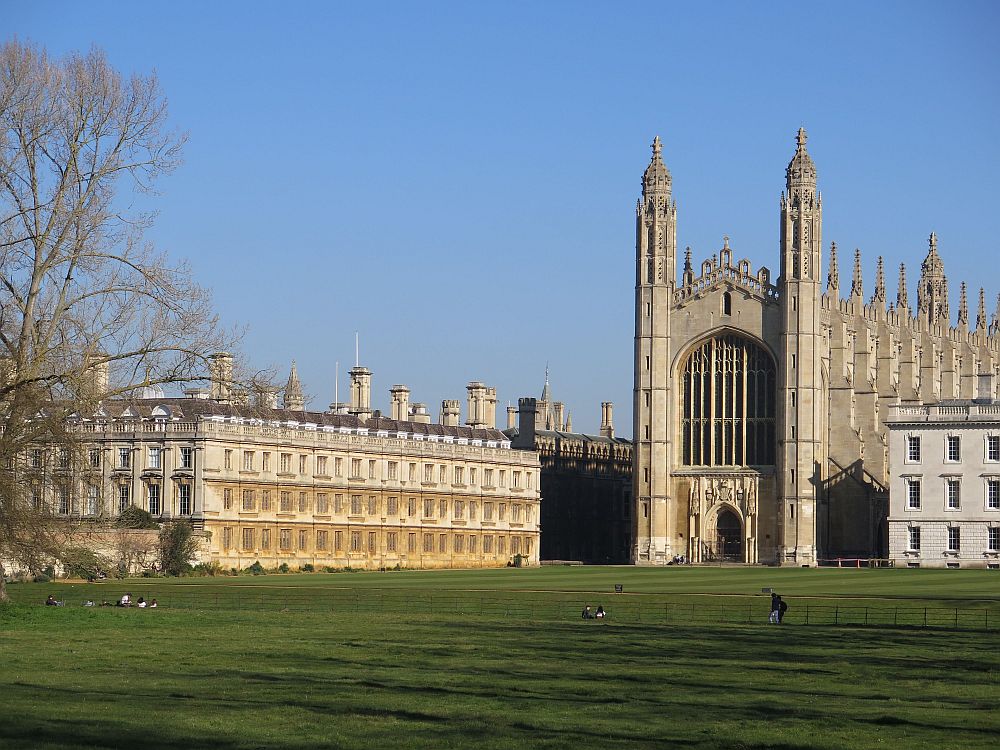 Sunday 24th February. Our first trip away in 2019. We seem to have had a fair bit going on this year up until now so difficult to string together enough consecutive days for a trip away. We found the days we needed and arranged a four day trip to the CMC site at Cherry Hinton on the edge of Cambridge. We have been to this site a couple of times before but it has been ten years since our last visit.
The talking point of the moment is the weather and for a change for all the right reasons!!! Some might say that our weather patterns are all over the place at the moment with the Gulf Stream dragging hot air up from the Canary Islands. So it was that we set off from MK in glorious sunshine with the outside temperature showing as 16 degrees on the dashboard. Our usual route from home is to use the A509 which runs parallel to the M1 which it then crosses to become the A421 all the way to Cambridge if you ignore a short stretch of the A1! The A509 is currently being converted to dual carriageway but there is not a lot of evidence, apart from some groundwork's, not a lot happening as yet. There was a surprising amount of traffic around as our journey progressed although only a few wagons. The suggested route to the site has changed since our last visit. You are told to travel around the top of Cambridge on the A14 and drop down to the site via Cambridge Airport and Fulbourn. We made it without much difficulty but would be uncertain about going back the same way on to the A14 on a weekday!
The Cherry Hinton site is much as we remember it from ten years ago when we were last here although I think some parts may have grown up a bit. Unlike many sites there is no easy access if you make a mistake as there is nowhere to turn so you have to hope there is a free pitch to reverse onto. Thanks to the lady in reception we were able to change from our booked awning pitch to a non-awning pitch and found a nice one in full sun and near the toilet block to boot.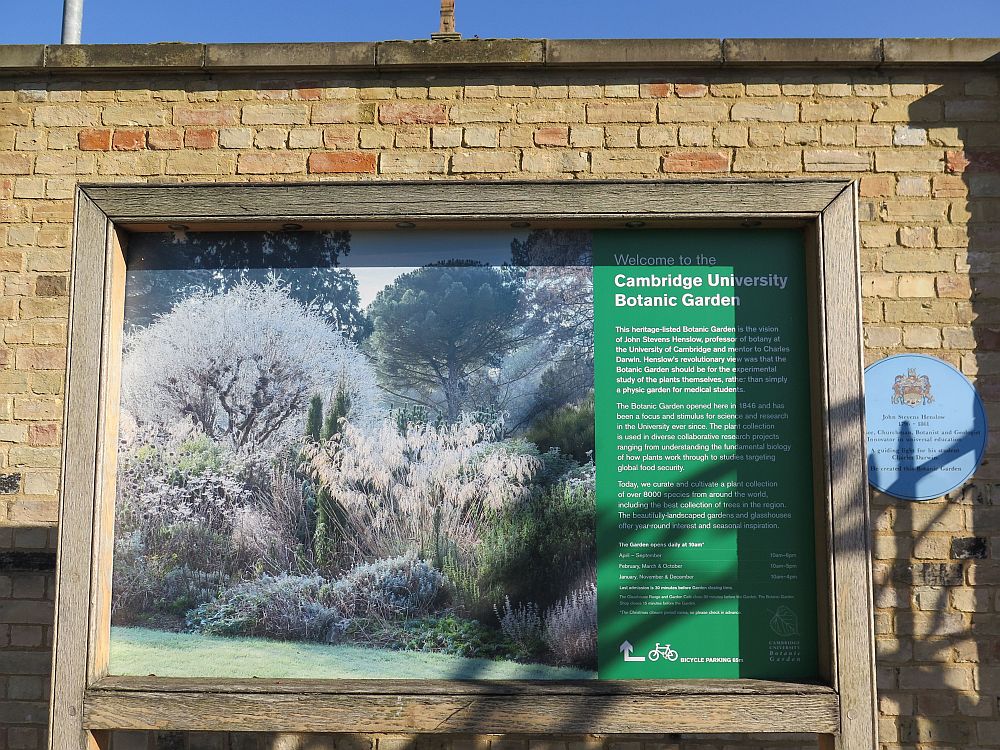 Monday 25th February. Another brilliant day weather wise, cloudless skies all day. The dilemma is what to wear because when you leave it could still be quite cool but within an hour a fleece could be a hindrance! We caught the bus into Cambridge today. En route we stopped off to visit the Cambridge Botanic Gardens. They have an interesting feature called the Winter Garden which demonstrates that you can have colour in the garden during the winter. It was also interesting to see all the Snowdrops that had gone over so soon, no doubt due to the milder weather this year. The Gardens are obviously popular with the public. There is a rather good café that did a rather nice bacon and egg sandwich! Fortified we set off to find the River Cam which was a shortish walk from the Botanic Gardens. There were even a few punts on the river, mind you given the number of punts stacked on the banks it would be chaotic when they are all on the river! Cambridge is a place that buzzes with young people, 80% of the population seems to be under 25! You could be rubbing shoulders with a future Prime Minister, a famous future scientist or a World Leader such is the talent you could be standing next to. Before making our way back to the bus we called into the Grand Arcade for a cup of tea.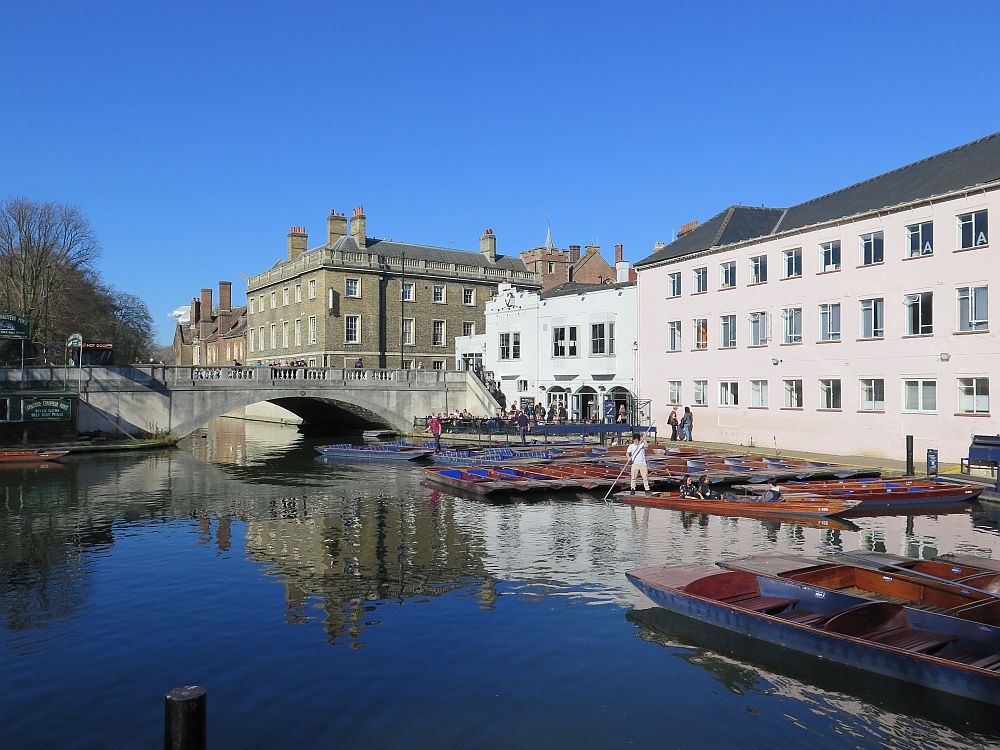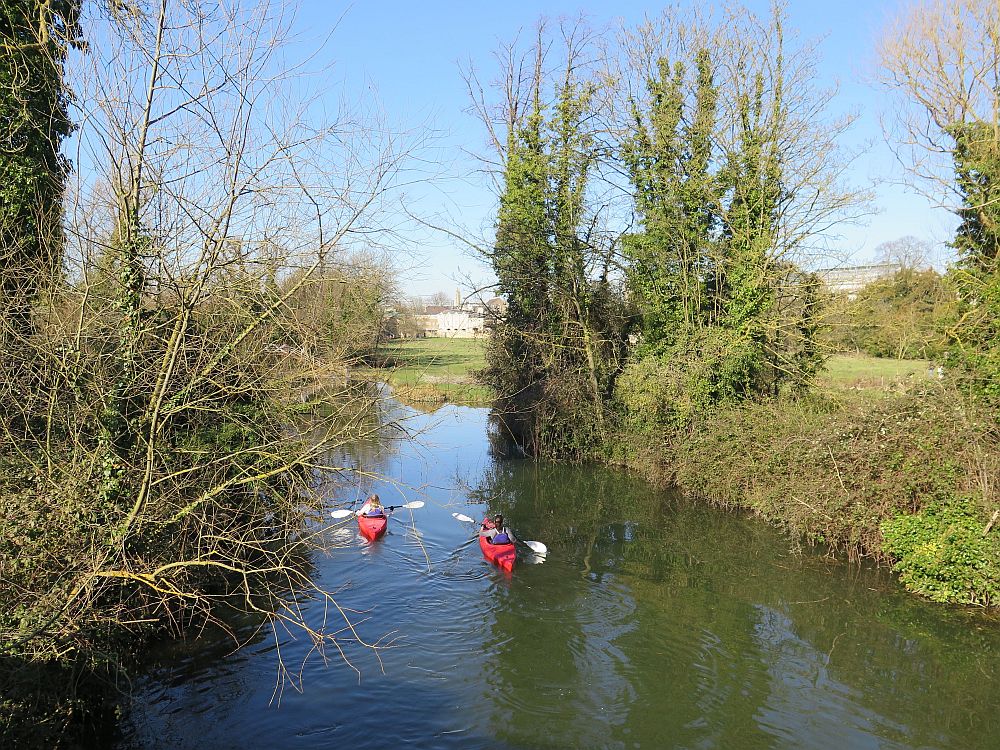 Tuesday 26th February. What can I say the amazing weather continues with clear blue skies and warm sunshine. Back into Cambridge today to explore a bit more. To be honest, unless there is a particular need, we are not crack of dawn people and it is often late morning when we get round to going anywhere. As we approached the bus stop we saw our bus sail by. Fortunately it is a ten minute service so not long to wait. Quite hot in the direct sunshine as we waited. The bus dropped us off outside the Grand Arcade so it seemed a good excuse to nip into JL for a coffee and a scone. The plan was to find the "Backs" so that we could view the other side of all the famous colleges. What we soon discovered was that many of the colleges were closed to the public. This is perfectly understandable from an academia point of view but it also means that the public are denied access to many of the riverside walks nearest the colleges. There are some where access is possible, like Trinity but other entrances to the Parkland were guarded by Porters there to stop the public. This means that you have to be prepared to double back on your walk in order to make progress. The plan had been to make our way round to Jesus Lock on the River Cam but still suffering the effects of yesterday's explore we decided to call it a day. Such a shame that the Council and the Colleges can't get together to grant more access without it interfering the students studying.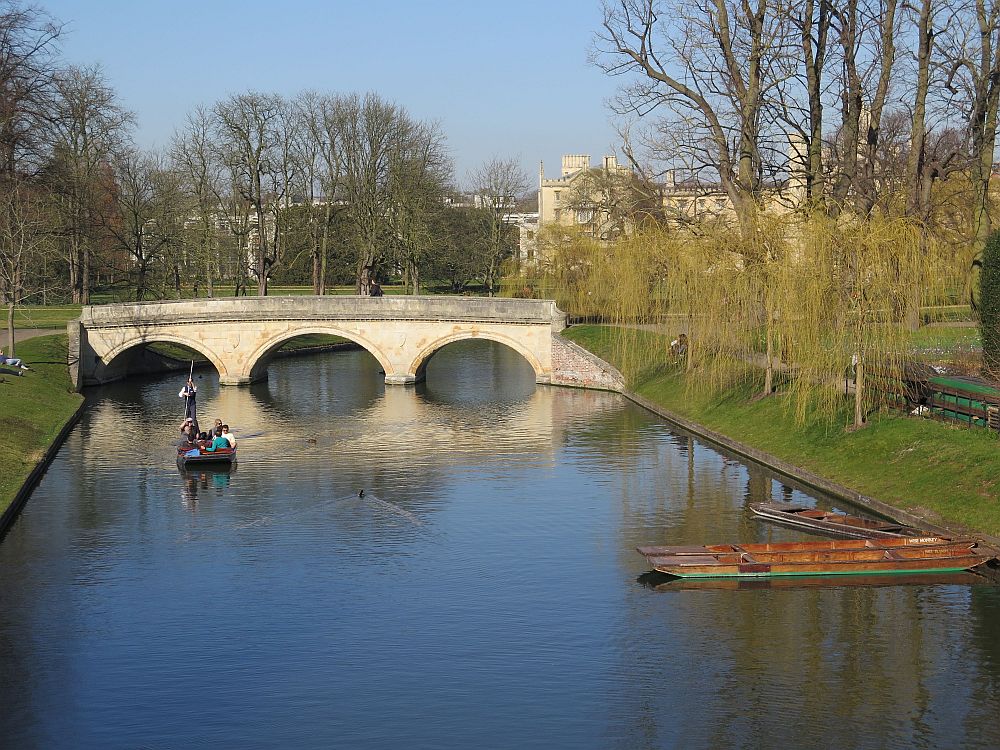 Wednesday 27th February. At the risk of being repetitive we awoke to another brilliant sunny day, obviously cold at first but the unseasonable heat builds during the day. Margaret is sitting outside reading her book at midday. According to the forecast this might be that last day this week of such wonderful weather but we go home tomorrow so not so important! We are having a lazier day today as hiking round Cambridge for two days running has taken a bit of a toll on our knees! I suppose a problem with shorter breaks away as you feel you need to cram in as much as to can, perhaps on a longer holiday you can afford to be more measured?
Late afternoon we walked down to Cherry Hinton. I seemed to recall from previous visits there being more there but either we were looking in the wrong place or my memory was faulty! One thing that was still there was the Robin Hood pub where we enjoyed a very nice meal at reasonable cost.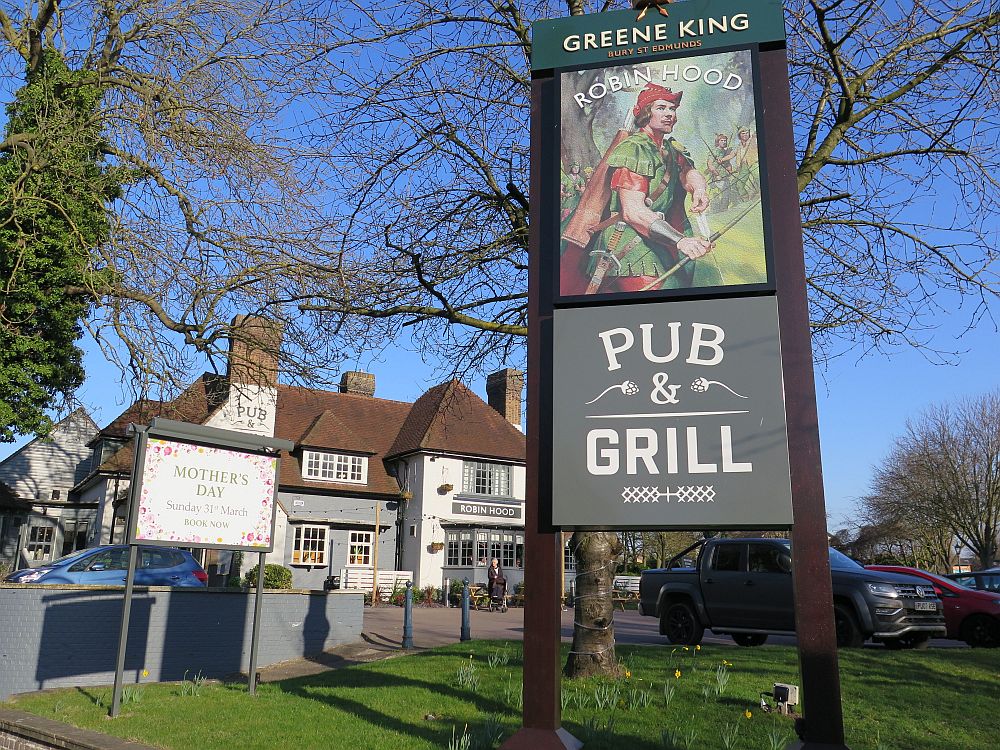 Thursday 28th February. Much duller today as we prepare to leave the site and noticeably cooler. We decided to risk not using the Club route instructions and instead followed the road out to Trumpington and south to the M11. It seemed a perfectly good route outside of the rush hour. About halfway home it started to rain which resulted in lots of muck being thrown up onto the motorhome so that will need a good clean!
This break away has is a bit of a Swan Song for our current Bailey 740 SE motorhome which we have owned for the past six years. In a little over a week we will swap it for a new motorhome which will be a bit more compact but hopefully still spacious enough to be comfortable. Not once in the six years, and 446 nights, of ownership have we taken the current motorhome off site as we have deemed it to be too large. Perhaps with the new one we will be a bit braver in that respect?