Caravan Travels in the UK 2019
Cambridge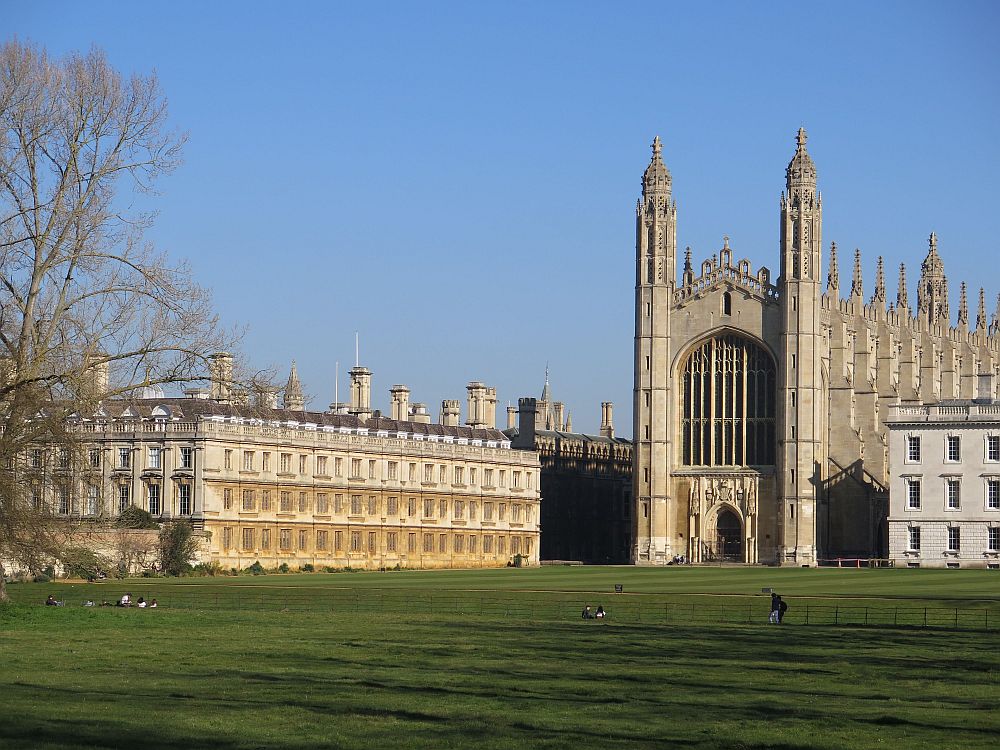 Sunday 24th February. Our first trip away in 2019. We seem to have had a fair bit going on this year up until now so difficult to string together enough consecutive days for a trip away. We found the days we needed and arranged a four day trip to the CMC site at Cherry Hinton on the edge of Cambridge. We have been to this site a couple of times before but it has been ten years since our last visit.
The talking point of the moment is the weather and for a change for all the right reasons!!! Some might say that our weather patterns are all over the place at the moment with the Gulf Stream dragging hot air up from the Canary Islands. So it was that we set off from MK in glorious sunshine with the outside temperature showing as 16 degrees on the dashboard. Our usual route from home is to use the A509 which runs parallel to the M1 which it then crosses to become the A421 all the way to Cambridge if you ignore a short stretch of the A1! The A509 is currently being converted to dual carriageway but there is not a lot of evidence, apart from some groundwork's, not a lot happening as yet. There was a surprising amount of traffic around as our journey progressed although only a few wagons. The suggested route to the site has changed since our last visit. You are told to travel around the top of Cambridge on the A14 and drop down to the site via Cambridge Airport and Fulbourn. We made it without much difficulty but would be uncertain about going back the same way on to the A14 on a weekday!
The Cherry Hinton site is much as we remember it from ten years ago when we were last here although I think some parts may have grown up a bit. Unlike many sites there is no easy access if you make a mistake as there is nowhere to turn so you have to hope there is a free pitch to reverse onto. Thanks to the lady in reception we were able to change from our booked awning pitch to a non-awning pitch and found a nice one in full sun and near the toilet block to boot.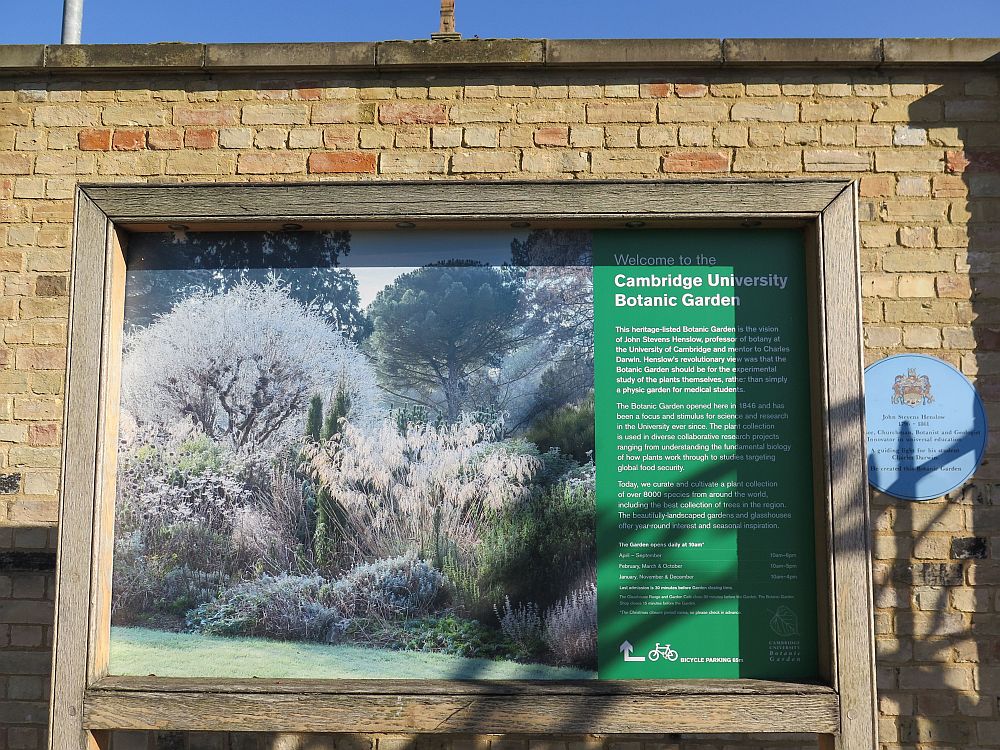 Monday 25th February. Another brilliant day weather wise, cloudless skies all day. The dilemma is what to wear because when you leave it could still be quite cool but within an hour a fleece could be a hindrance! We caught the bus into Cambridge today. En route we stopped off to visit the Cambridge Botanic Gardens. They have an interesting feature called the Winter Garden which demonstrates that you can have colour in the garden during the winter. It was also interesting to see all the Snowdrops that had gone over so soon, no doubt due to the milder weather this year. The Gardens are obviously popular with the public. There is a rather good café that did a rather nice bacon and egg sandwich! Fortified we set off to find the River Cam which was a shortish walk from the Botanic Gardens. There were even a few punts on the river, mind you given the number of punts stacked on the banks it would be chaotic when they are all on the river! Cambridge is a place that buzzes with young people, 80% of the population seems to be under 25! You could be rubbing shoulders with a future Prime Minister, a famous future scientist or a World Leader such is the talent you could be standing next to. Before making our way back to the bus we called into the Grand Arcade for a cup of tea.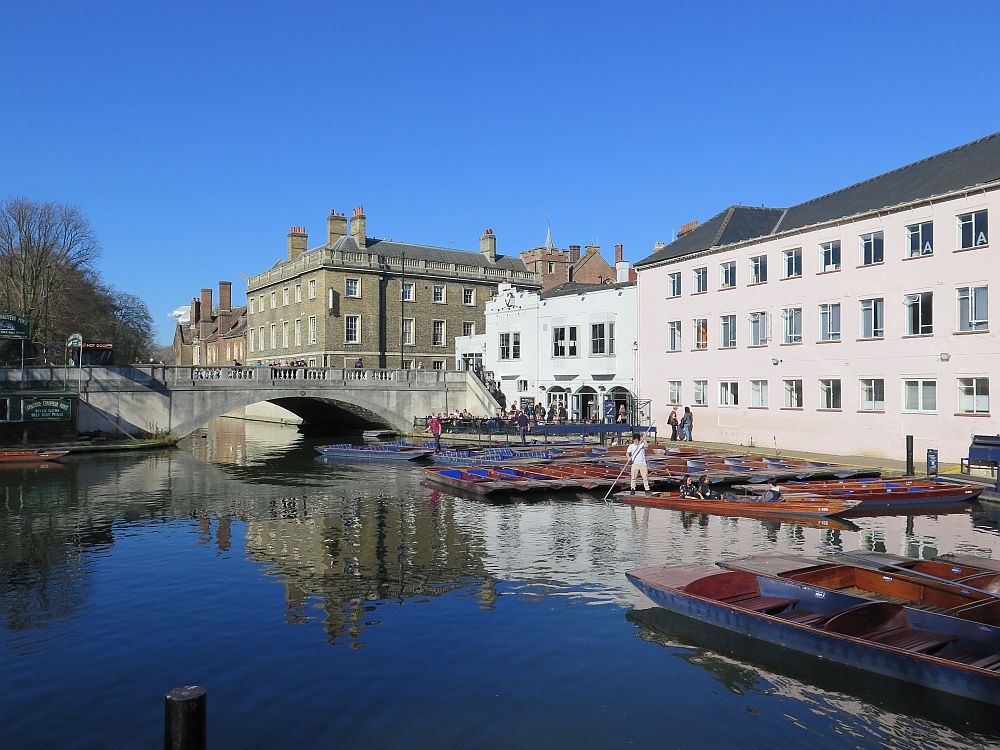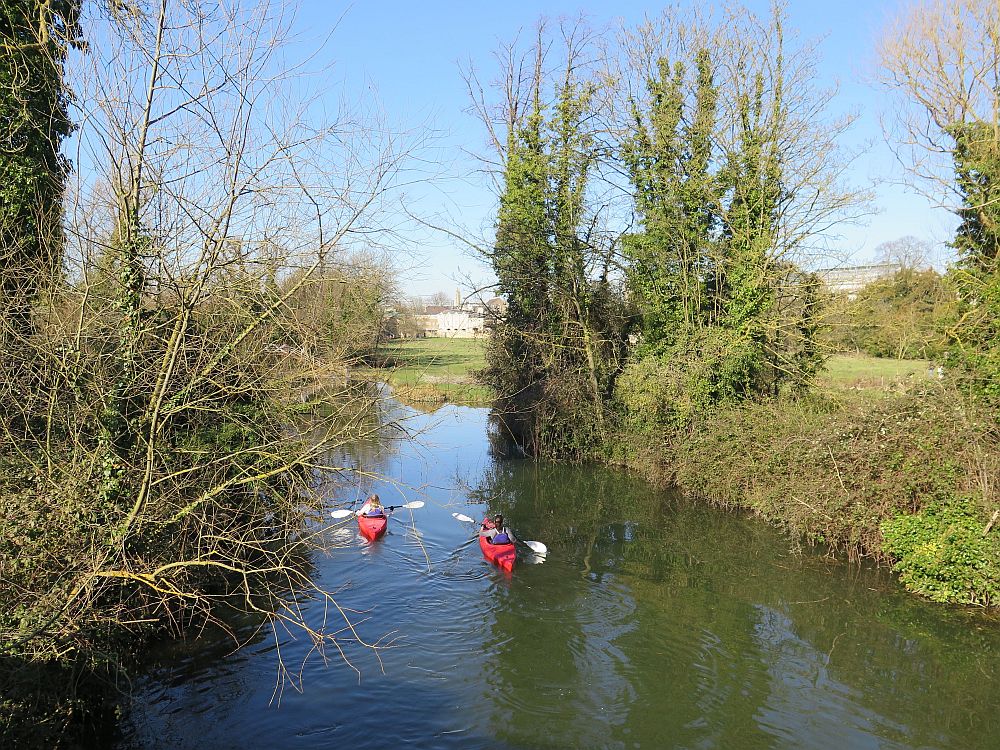 Tuesday 26th February. What can I say the amazing weather continues with clear blue skies and warm sunshine. Back into Cambridge today to explore a bit more. To be honest, unless there is a particular need, we are not crack of dawn people and it is often late morning when we get round to going anywhere. As we approached the bus stop we saw our bus sail by. Fortunately it is a ten minute service so not long to wait. Quite hot in the direct sunshine as we waited. The bus dropped us off outside the Grand Arcade so it seemed a good excuse to nip into JL for a coffee and a scone. The plan was to find the "Backs" so that we could view the other side of all the famous colleges. What we soon discovered was that many of the colleges were closed to the public. This is perfectly understandable from an academia point of view but it also means that the public are denied access to many of the riverside walks nearest the colleges. There are some where access is possible, like Trinity but other entrances to the Parkland were guarded by Porters there to stop the public. This means that you have to be prepared to double back on your walk in order to make progress. The plan had been to make our way round to Jesus Lock on the River Cam but still suffering the effects of yesterday's explore we decided to call it a day. Such a shame that the Council and the Colleges can't get together to grant more access without it interfering the students studying.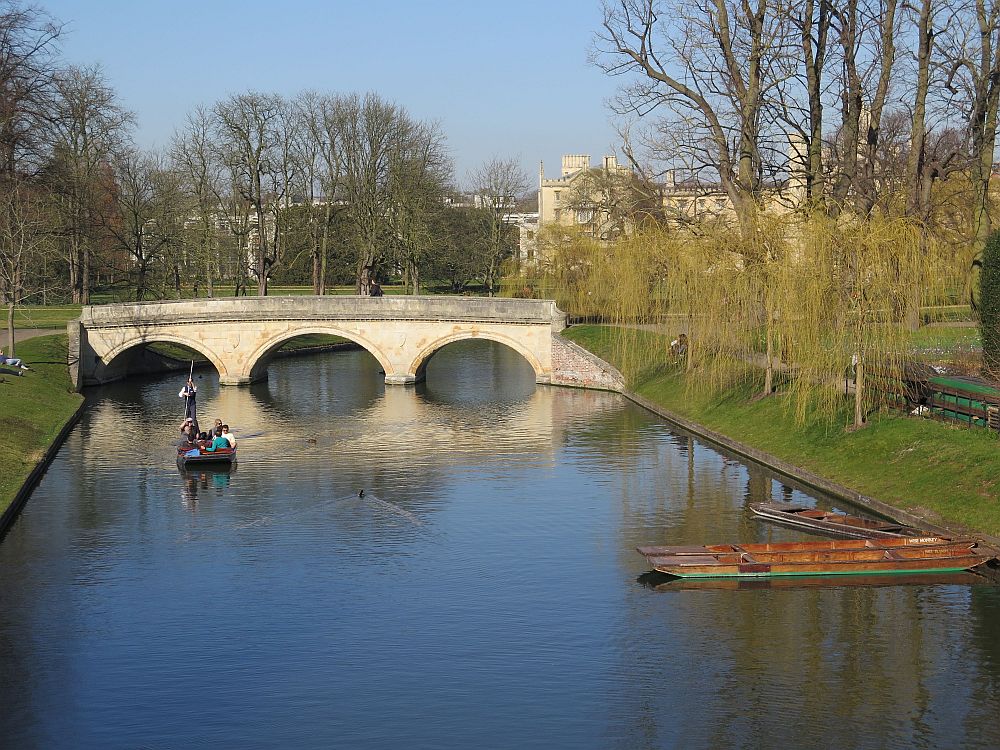 Wednesday 27th February. At the risk of being repetitive we awoke to another brilliant sunny day, obviously cold at first but the unseasonable heat builds during the day. Margaret is sitting outside reading her book at midday. According to the forecast this might be that last day this week of such wonderful weather but we go home tomorrow so not so important! We are having a lazier day today as hiking round Cambridge for two days running has taken a bit of a toll on our knees! I suppose a problem with shorter breaks away as you feel you need to cram in as much as to can, perhaps on a longer holiday you can afford to be more measured?
Late afternoon we walked down to Cherry Hinton. I seemed to recall from previous visits there being more there but either we were looking in the wrong place or my memory was faulty! One thing that was still there was the Robin Hood pub where we enjoyed a very nice meal at reasonable cost.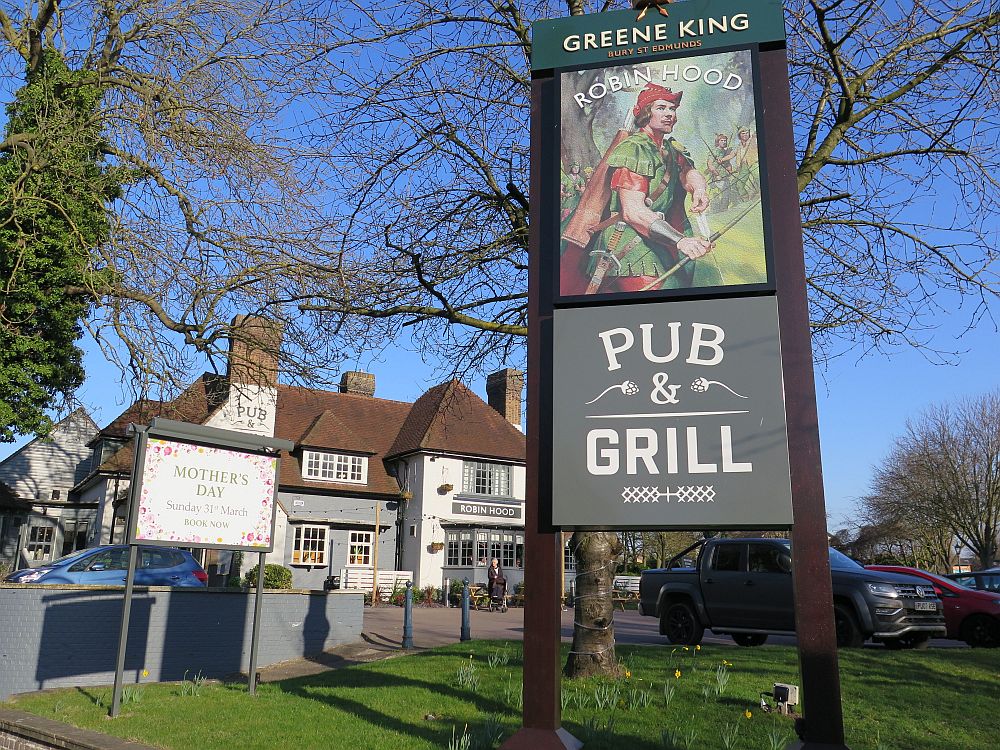 Thursday 28th February. Much duller today as we prepare to leave the site and noticeably cooler. We decided to risk not using the Club route instructions and instead followed the road out to Trumpington and south to the M11. It seemed a perfectly good route outside of the rush hour. About halfway home it started to rain which resulted in lots of muck being thrown up onto the motorhome so that will need a good clean!
This break away has is a bit of a Swan Song for our current Bailey 740 SE motorhome which we have owned for the past six years. In a little over a week we will swap it for a new motorhome which will be a bit more compact but hopefully still spacious enough to be comfortable. Not once in the six years, and 446 nights, of ownership have we taken the current motorhome off site as we have deemed it to be too large. Perhaps with the new one we will be a bit braver in that respect?
Moreton in Marsh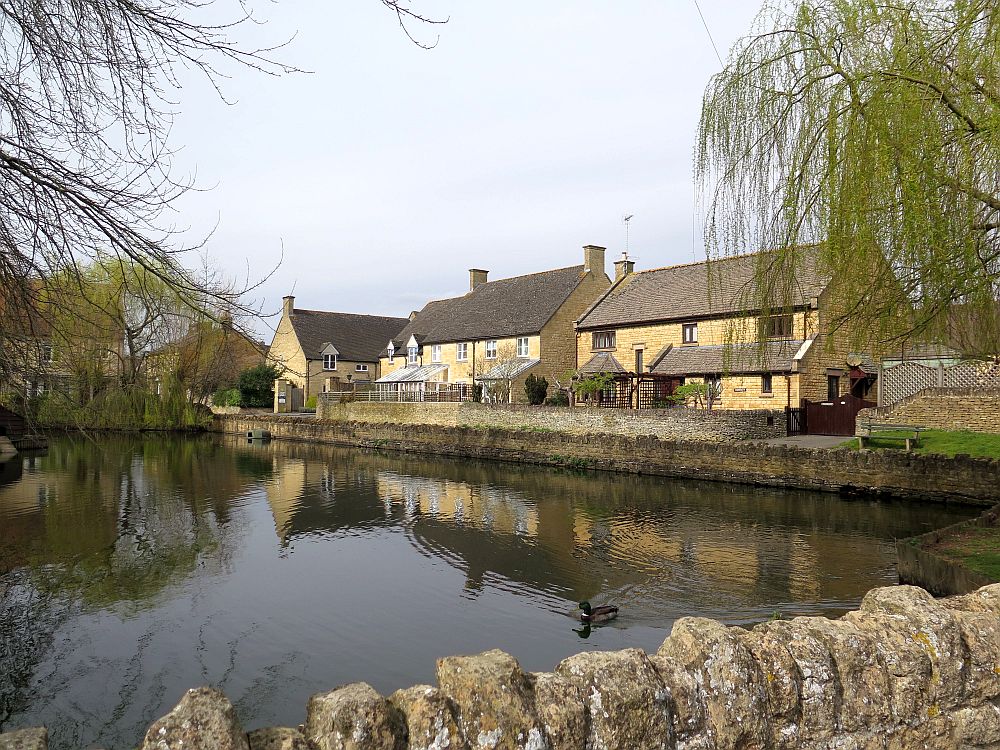 Friday 22nd March 2019. This is our first trip away in our new motorhome so we plan not to travel far to the CMC site at Moreton in Marsh. It is a site we have been to many times before. Given that the old motorhome was so much bigger than the new and we had done the same route before it was not without a degree of nervousness that we made the journey. We even attempted to have a coffee stop at Buzzy Beans but the layby south of Adderbury was so full we couldn't park! We arrived at the site unscathed at not long after midday so we joined the initial rush of weekend arrivals. There were plenty of free pitches but they are a bit on the small side here at Moreton in Marsh.
After some lunch we decided to have a wander around the site. Several Club sites now have camping pods and the like. Here at Moreton in Marsh they seemed to have moved to a new level with a group of ten Glamping Pods. Difficult to work out how much the investment cost but I suspect there wasn't much change out of half a million pounds. That is a considerable investment. I suspect some caravanners and motorhomers might question whether that investment was spent in the right place? After all this site is crying out for its own investment. The quality and size of the pitches is way below the best in the network. There are no serviced pitches which are very popular now and of course the motorhome service points have not been converted to the new open grid type dump points.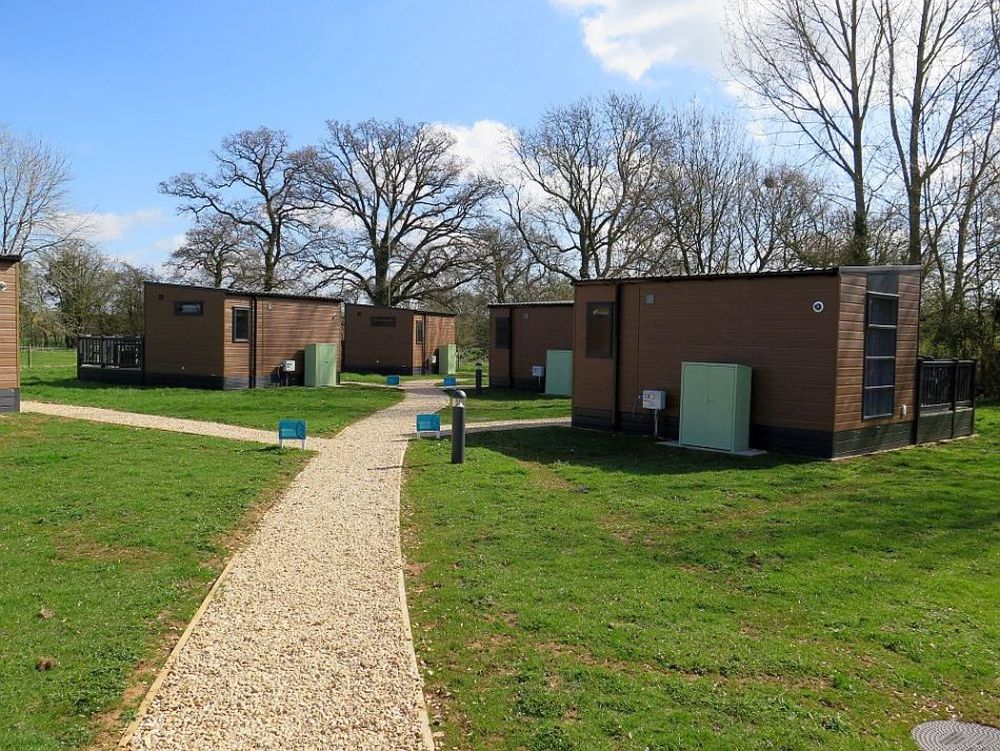 Saturday 23rd March. A much sunnier day today, although there was still a chill wind. Strangely what I mentioned yesterday about the motorhome waste points, I think someone must have been listening as notices have appeared all around the site saying that work will start on Monday to convert the current motorhome waste point to the drive over variety, but only on the western side of the site. So half good news, however the notices were more of a warning of disruption and noise rather than being celebratory! OK for us as we leave on Monday! On second reading I am not sure if it is only one being converted or both?
In the morning we walked into Moreton in Marsh. It is always a pleasant place to visit and it was busy with visitors. We walked up through the town to the Budgens at the far end of the High Street where we got a bit of shopping and had a coffee. It was interesting to observe how many of the customers were using Waitrose "bags for life", obviously a lot of local frustrated Waitrose customers in Moreton in Marsh!
Back at the van I set about the usual services. The new van is quite different from the old one in how things are set up. Firstly there is no facility to use an Aquaroll so unless filling up at a service point I now use a watering can to top up with. This is no hardship, just a bit different. One of the biggest difference is that we are , after nine years, back to making up beds. This obviously takes up a bit more time but I am sure we will get into a routine.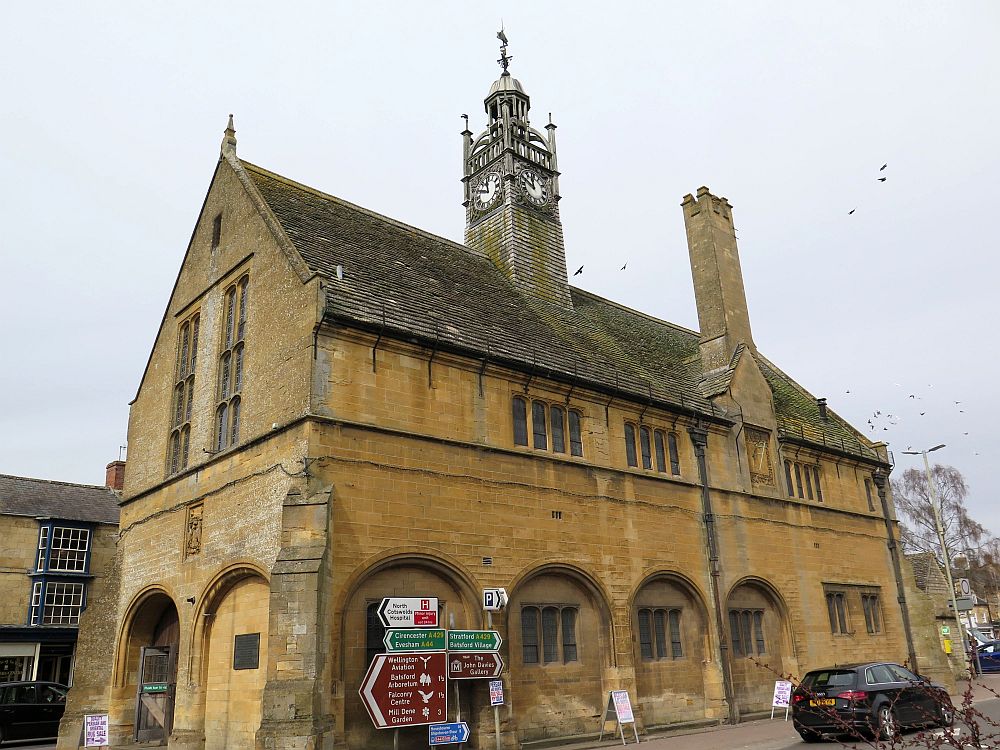 Sunday 24th March. Beautifully sunny day today but still a chill wind, at least it allowed us to sit out for a while. Apart from a couple of walks around the site that was the extent of our exertions today! The point of this short trip away was to familiarise ourselves with the new van which we are gradually getting to terms with. I had a bit of a wobble this morning when I thought I was going to get a cold shower! The orientation of the shower mixer, despite being the same model as the previous van, is different so not so easy to work out how far it needs to be turned to get hot water. Margaret managed perfectly well!!! Something we never did in the last van but with this one we have been leaving the heating on overnight. I thought the internal temperature sensor was over reading although when I tested it against a standalone one it was only by a degree or two. As a consequence I have found you need to set the required temperature a little higher than you would think necessary. In time it will all become second nature and as spring and summer progresses less required. Haven't completely fathomed out how the programming of the heating works yet!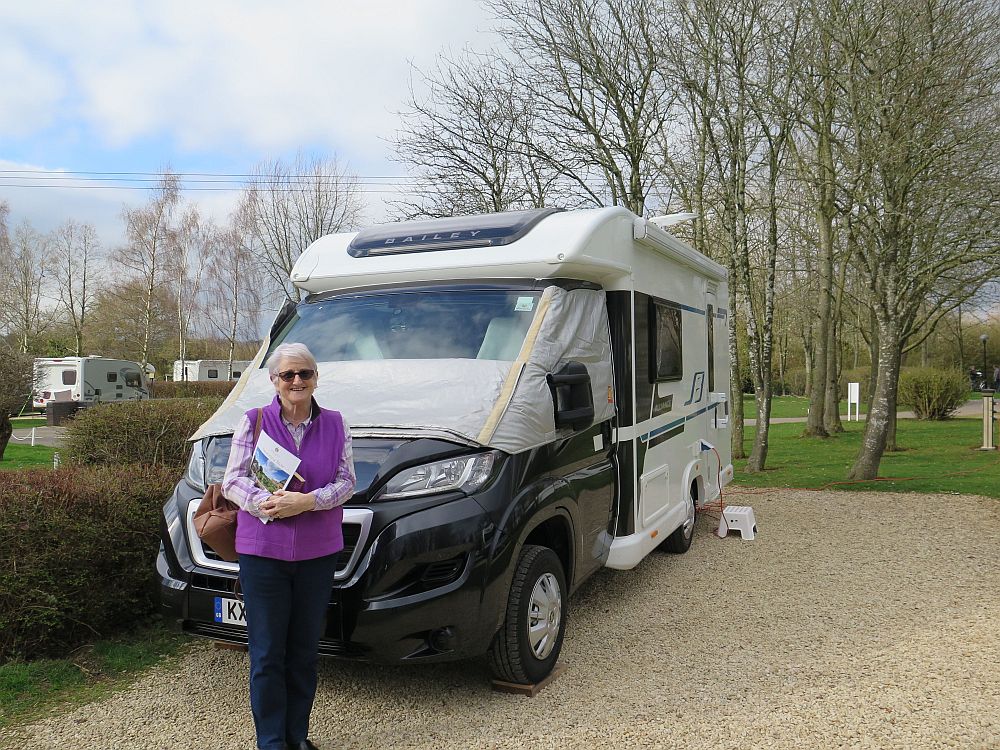 Monday 25th March. We go home today. On the theme of getting used to the new motorhome another major change is moving away from a fixed bed to two singles. This of course creates more work but after three nights we seem to have got a system which doesn't take a lot of time.
By the time we had left the site there was no sign of the previously mentioned work starting! We decided to take a slightly different route back home via Banbury. On reflection I don't think it is any better and I don't think we will use it again. We left the M40 at junction 10 and decided to try the Cherwell Valley Services. They do have quite a big area devoted to caravans and motorhomes but, of course, it is a long way from the actual services. We got home just as the bin lorry arrived so I backed up on the pavement to allow him room.
Taunton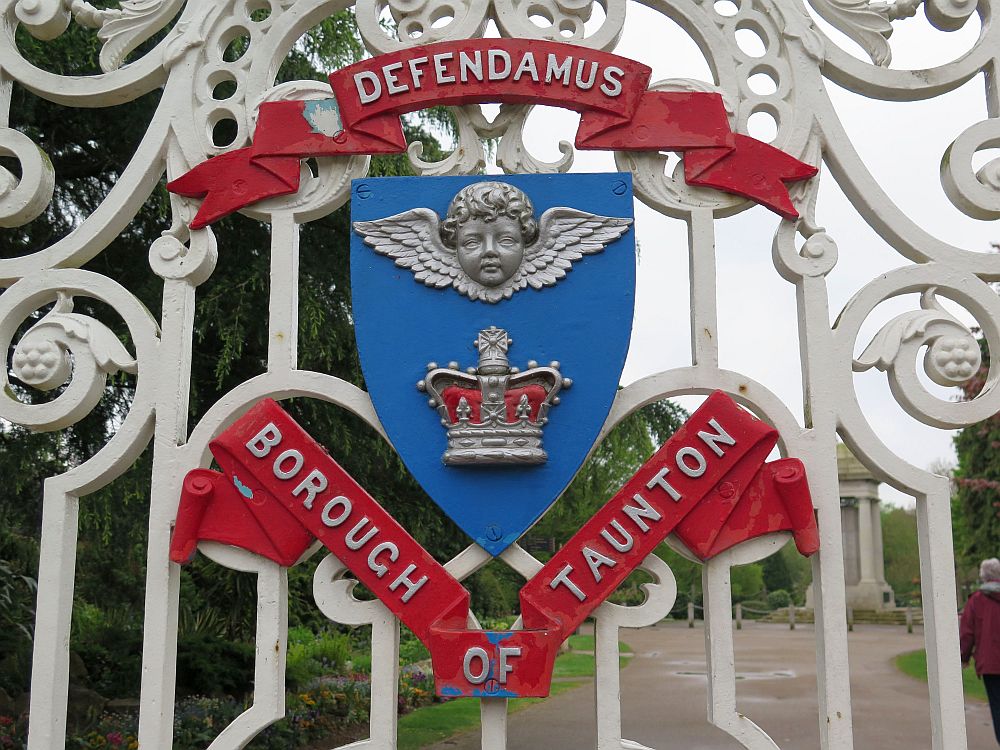 Sunday 28th April. It's been something of a week! A few days ago we were in the throes of having a new central heating boiler installed. It was a big job and took three days which meant there was little else we could do but keep out of the way of the engineer! One downside was having to be up and ready for the engineer to arrive by 8.00am, quite a challenge when we are usually only just thinking about getting up by then! With the work finished and some clearing up done we could at long last concentrate on our trip to Taunton.
Back to the getting up early theme we were ready to leave by 10.00am. It was a familiar route from MK down to Oxford and then off on the Swindon road to join the M4. Because I am unsure of the economy of the new van I decided to top up with fuel at Buckingham en route. We made a stop at Leigh Delaware services for a coffee. The M5 past Bristol was very busy but as we got further South it got a bit quieter. A comfort break at Sedgemoor. It was good to see proper caravan/motorhome parking. We eventually arrived at Cornish Farm at around 2.30pm. Wasn't particularly taken with the warden but then we are only here for two nights!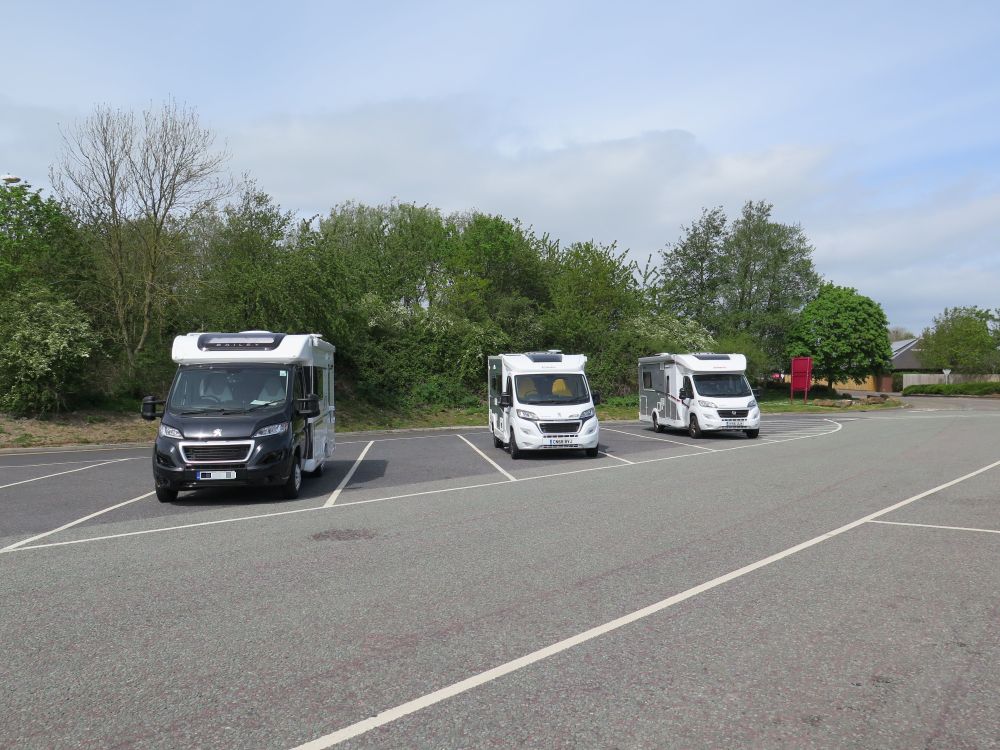 Monday 29th April. Another early start today as we had to drop the motorhome off at VanBitz to have an alarm fitted plus something called a Battery Master which keeps both batteries topped up when on mains or when producing electricity from the solar panel. At least we only had to drive a couple of hundred yards to get there! We went through the work with Nick from VanBitz and agreed where various LED's would be put. Obviously VanBitz don't want customers hanging around all day so they give customers a lift into Taunton. It's quite a lot of time to kill but first off we discovered Vivardy Park which as well as being a formal park also has a golf course and a large high level adventure playground. Walking back into town we stopped at a specialist tea/coffee shop for a coffee and a toasted tea cake, breakfast seemed so far away! Taunton has a pretty good range of shops. We did think to re-visit the rather good museum in Taunton but we found that on Monday it was closed. By now it was lunchtime so we had a meal on a pub chain famous for good value meals! Two mains and drinks £17! Still only 2.00pm but we decided to get a taxi back and walked down to the taxi rank. Five years ago we paid a tenner for a taxi ride back to VanBitz so we were a bit concerned that it might cost even more but it cost just less than eight pounds! Mind you that eight pounds paled into complete insignificance compared to the bill we were about to get for the work being done on the motorhome!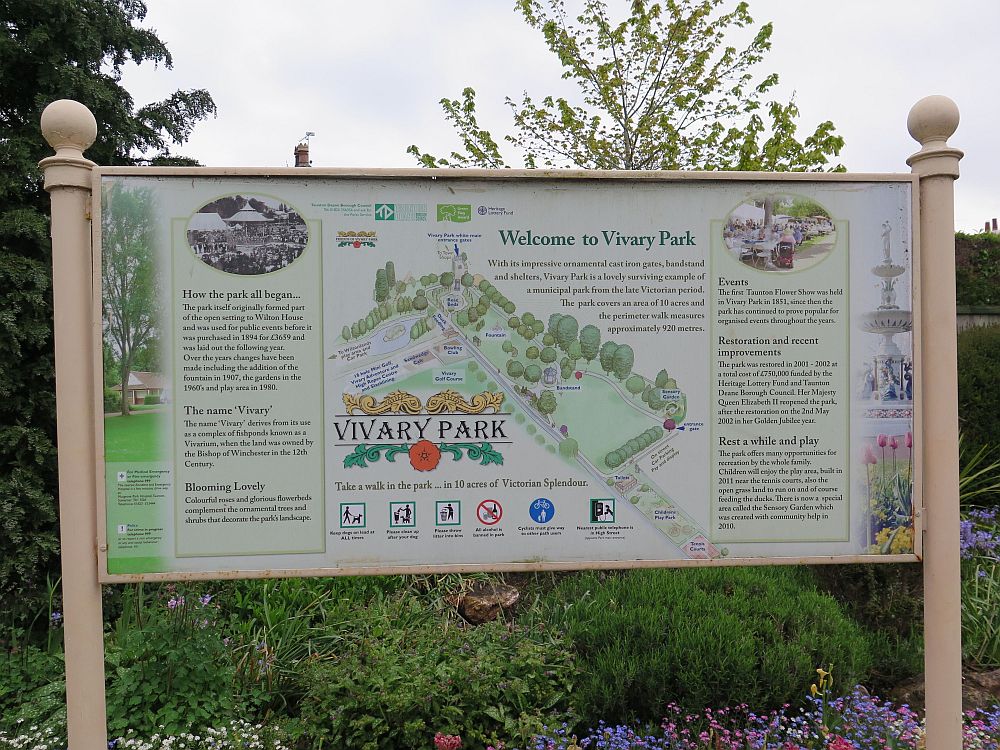 Cirencester
Tuesday 30th April. We left Cornish Farm today and we headed for the CMC site at Cirencester which is a 90 mile journey. After a couple of stops we arrived at the site around 12.30pm. We had booked a service pitch so that we had the opportunity to test everything out on the van. The problem was that the pitch had quite a slope on it and despite using a leveller we could do with more. Just don't know how a hardstanding pitch can be made which is not level! The weather was better today and a bit warmer. Using the roof top aerial I could not get all TV stations so decided to try the bollard co-ax connection. I immediately run into a difficulty as there was an F socket type connection into the van. Having had a hunt around I managed to find a suitable connection. Not all channels perfect but we managed.
Wednesday 1st May. Well, we made the decision to go home two days earlier than planned. For the last two weeks I have had a nasty cough and nothing I do seems to have any positive affect on making it better. Given that such things shouldn't go on for so long without further investigation I went off to Reception to let them know. Unfortunately we will lose one nights site fees but that is better than losing two! (went to the doctor on Thursday who confirmed an infection so decision proved to be the right one!)
Rather than head back via Swindon and Oxford we took the road north via Moreton in Marsh. Thereby lays a problem. The inbuilt sat nav had proved pretty good up to this point but putting Moreton in Marsh as a waypoint seemed to confuse the sat nav! It wanted to take us east quite a bit further south of the town. Just as well we knew the route. Some of the roads being suggested were totally unsuitable! Just past Deddington we called into the layby where Buzzy Beans sells coffee before completing the journey home.