Caravan Travels in the UK 2019
Cambridge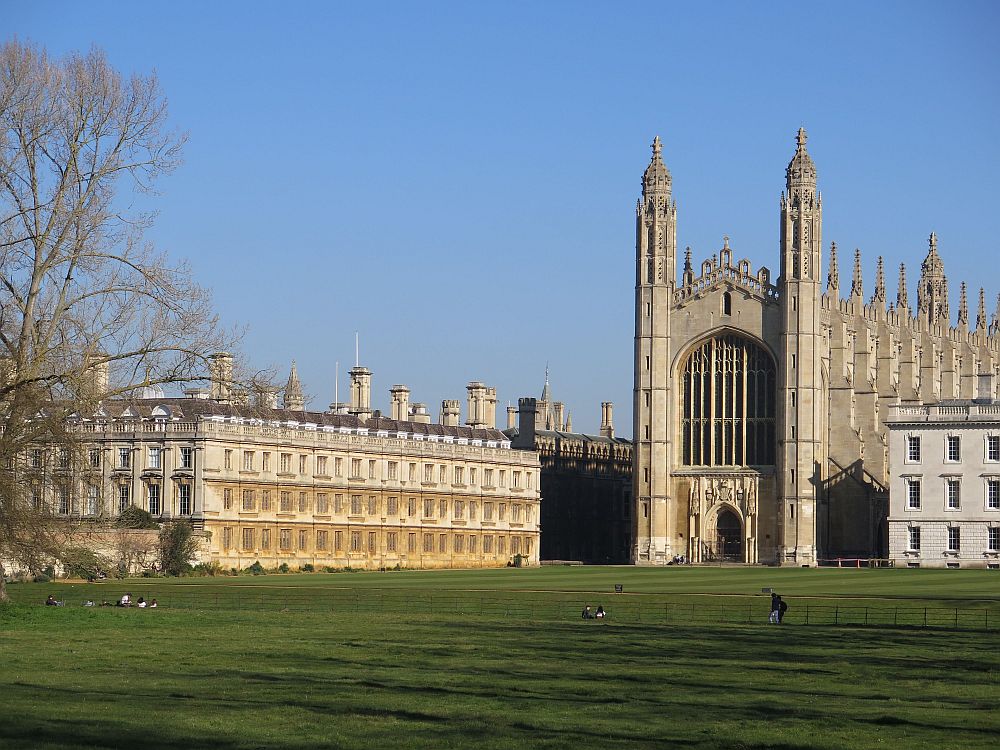 Sunday 24th February. Our first trip away in 2019. We seem to have had a fair bit going on this year up until now so difficult to string together enough consecutive days for a trip away. We found the days we needed and arranged a four day trip to the CMC site at Cherry Hinton on the edge of Cambridge. We have been to this site a couple of times before but it has been ten years since our last visit.
The talking point of the moment is the weather and for a change for all the right reasons!!! Some might say that our weather patterns are all over the place at the moment with the Gulf Stream dragging hot air up from the Canary Islands. So it was that we set off from MK in glorious sunshine with the outside temperature showing as 16 degrees on the dashboard. Our usual route from home is to use the A509 which runs parallel to the M1 which it then crosses to become the A421 all the way to Cambridge if you ignore a short stretch of the A1! The A509 is currently being converted to dual carriageway but there is not a lot of evidence, apart from some groundwork's, not a lot happening as yet. There was a surprising amount of traffic around as our journey progressed although only a few wagons. The suggested route to the site has changed since our last visit. You are told to travel around the top of Cambridge on the A14 and drop down to the site via Cambridge Airport and Fulbourn. We made it without much difficulty but would be uncertain about going back the same way on to the A14 on a weekday!
The Cherry Hinton site is much as we remember it from ten years ago when we were last here although I think some parts may have grown up a bit. Unlike many sites there is no easy access if you make a mistake as there is nowhere to turn so you have to hope there is a free pitch to reverse onto. Thanks to the lady in reception we were able to change from our booked awning pitch to a non-awning pitch and found a nice one in full sun and near the toilet block to boot.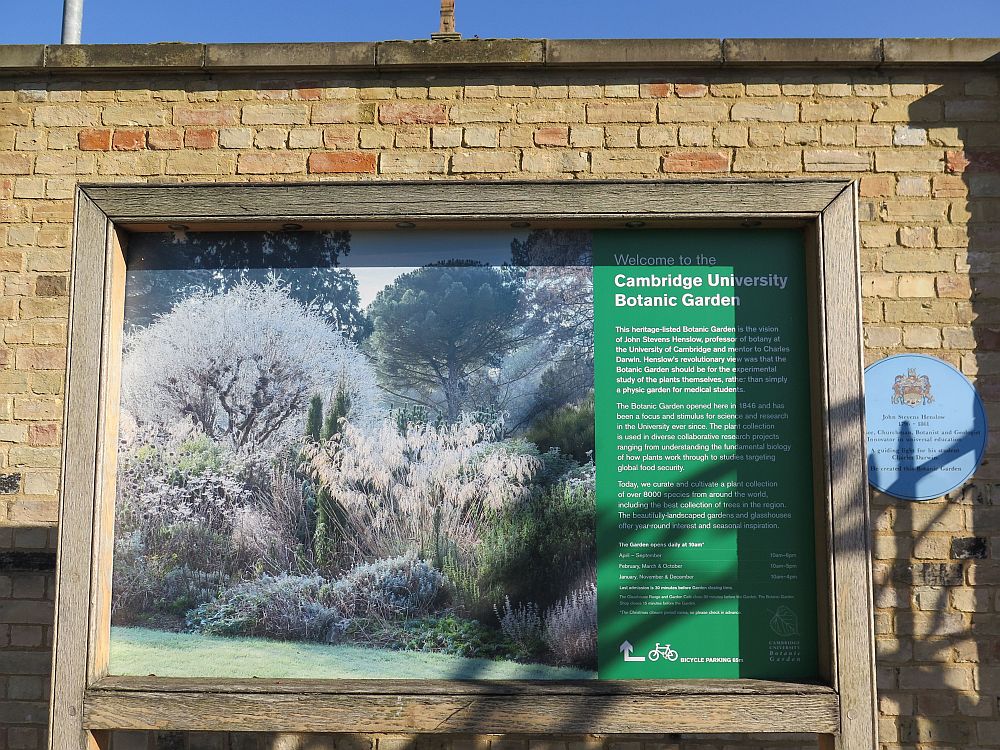 Monday 25th February. Another brilliant day weather wise, cloudless skies all day. The dilemma is what to wear because when you leave it could still be quite cool but within an hour a fleece could be a hindrance! We caught the bus into Cambridge today. En route we stopped off to visit the Cambridge Botanic Gardens. They have an interesting feature called the Winter Garden which demonstrates that you can have colour in the garden during the winter. It was also interesting to see all the Snowdrops that had gone over so soon, no doubt due to the milder weather this year. The Gardens are obviously popular with the public. There is a rather good café that did a rather nice bacon and egg sandwich! Fortified we set off to find the River Cam which was a shortish walk from the Botanic Gardens. There were even a few punts on the river, mind you given the number of punts stacked on the banks it would be chaotic when they are all on the river! Cambridge is a place that buzzes with young people, 80% of the population seems to be under 25! You could be rubbing shoulders with a future Prime Minister, a famous future scientist or a World Leader such is the talent you could be standing next to. Before making our way back to the bus we called into the Grand Arcade for a cup of tea.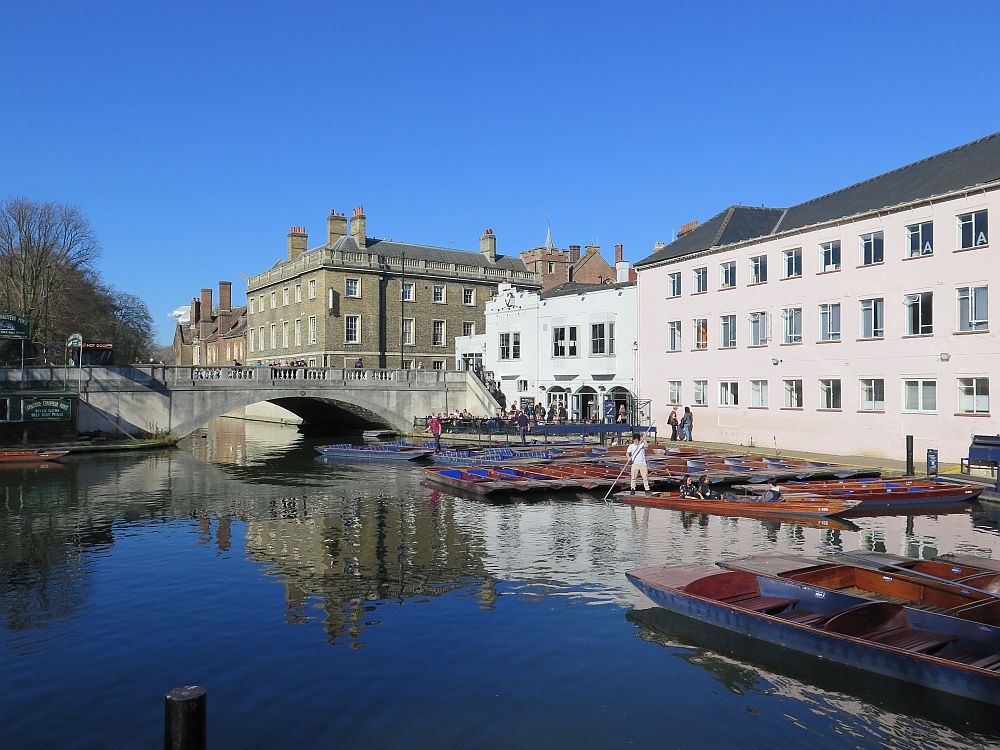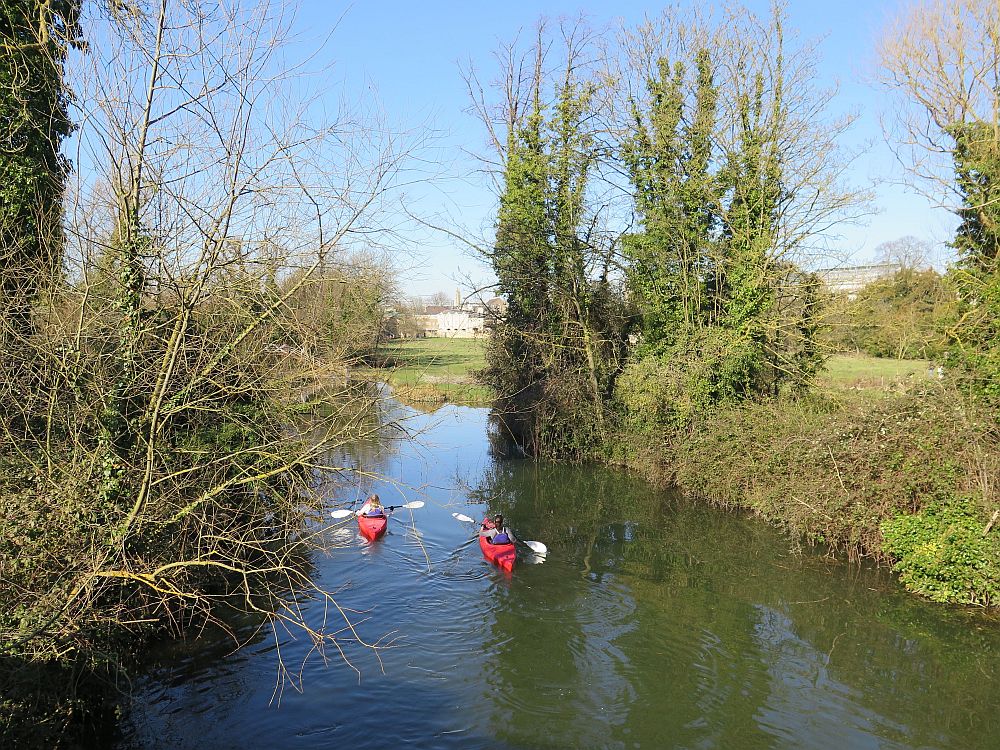 Tuesday 26th February. What can I say the amazing weather continues with clear blue skies and warm sunshine. Back into Cambridge today to explore a bit more. To be honest, unless there is a particular need, we are not crack of dawn people and it is often late morning when we get round to going anywhere. As we approached the bus stop we saw our bus sail by. Fortunately it is a ten minute service so not long to wait. Quite hot in the direct sunshine as we waited. The bus dropped us off outside the Grand Arcade so it seemed a good excuse to nip into JL for a coffee and a scone. The plan was to find the "Backs" so that we could view the other side of all the famous colleges. What we soon discovered was that many of the colleges were closed to the public. This is perfectly understandable from an academia point of view but it also means that the public are denied access to many of the riverside walks nearest the colleges. There are some where access is possible, like Trinity but other entrances to the Parkland were guarded by Porters there to stop the public. This means that you have to be prepared to double back on your walk in order to make progress. The plan had been to make our way round to Jesus Lock on the River Cam but still suffering the effects of yesterday's explore we decided to call it a day. Such a shame that the Council and the Colleges can't get together to grant more access without it interfering the students studying.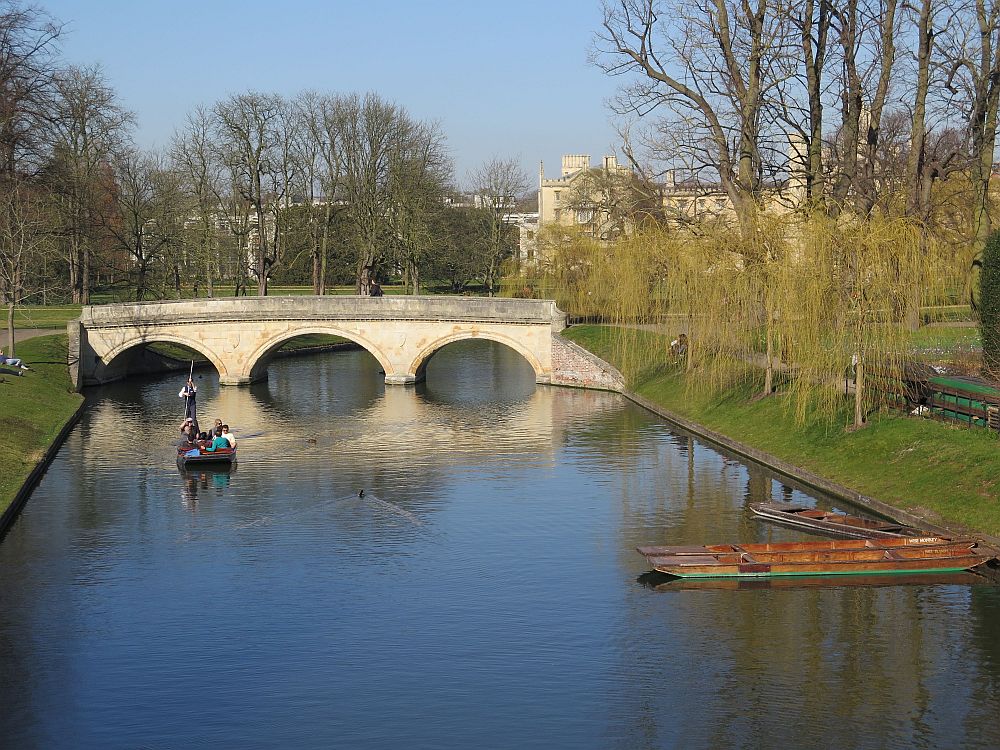 Wednesday 27th February. At the risk of being repetitive we awoke to another brilliant sunny day, obviously cold at first but the unseasonable heat builds during the day. Margaret is sitting outside reading her book at midday. According to the forecast this might be that last day this week of such wonderful weather but we go home tomorrow so not so important! We are having a lazier day today as hiking round Cambridge for two days running has taken a bit of a toll on our knees! I suppose a problem with shorter breaks away as you feel you need to cram in as much as to can, perhaps on a longer holiday you can afford to be more measured?
Late afternoon we walked down to Cherry Hinton. I seemed to recall from previous visits there being more there but either we were looking in the wrong place or my memory was faulty! One thing that was still there was the Robin Hood pub where we enjoyed a very nice meal at reasonable cost.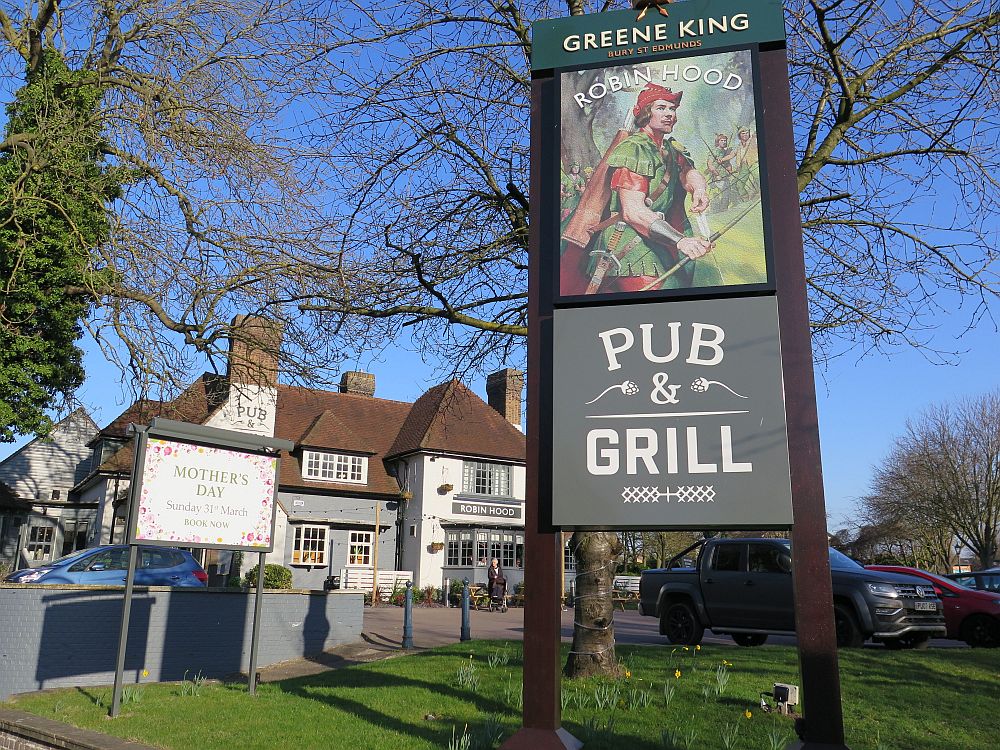 Thursday 28th February. Much duller today as we prepare to leave the site and noticeably cooler. We decided to risk not using the Club route instructions and instead followed the road out to Trumpington and south to the M11. It seemed a perfectly good route outside of the rush hour. About halfway home it started to rain which resulted in lots of muck being thrown up onto the motorhome so that will need a good clean!
This break away has is a bit of a Swan Song for our current Bailey 740 SE motorhome which we have owned for the past six years. In a little over a week we will swap it for a new motorhome which will be a bit more compact but hopefully still spacious enough to be comfortable. Not once in the six years, and 446 nights, of ownership have we taken the current motorhome off site as we have deemed it to be too large. Perhaps with the new one we will be a bit braver in that respect?
Moreton in Marsh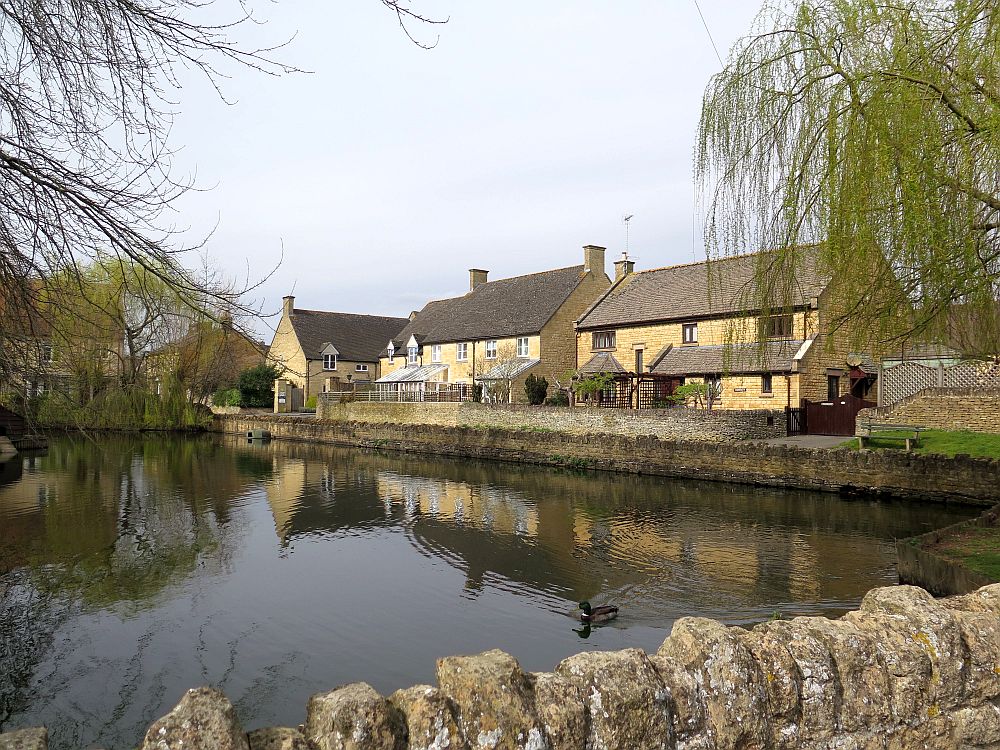 Friday 22nd March 2019. This is our first trip away in our new motorhome so we plan not to travel far to the CMC site at Moreton in Marsh. It is a site we have been to many times before. Given that the old motorhome was so much bigger than the new and we had done the same route before it was not without a degree of nervousness that we made the journey. We even attempted to have a coffee stop at Buzzy Beans but the layby south of Adderbury was so full we couldn't park! We arrived at the site unscathed at not long after midday so we joined the initial rush of weekend arrivals. There were plenty of free pitches but they are a bit on the small side here at Moreton in Marsh.
After some lunch we decided to have a wander around the site. Several Club sites now have camping pods and the like. Here at Moreton in Marsh they seemed to have moved to a new level with a group of ten Glamping Pods. Difficult to work out how much the investment cost but I suspect there wasn't much change out of half a million pounds. That is a considerable investment. I suspect some caravanners and motorhomers might question whether that investment was spent in the right place? After all this site is crying out for its own investment. The quality and size of the pitches is way below the best in the network. There are no serviced pitches which are very popular now and of course the motorhome service points have not been converted to the new open grid type dump points.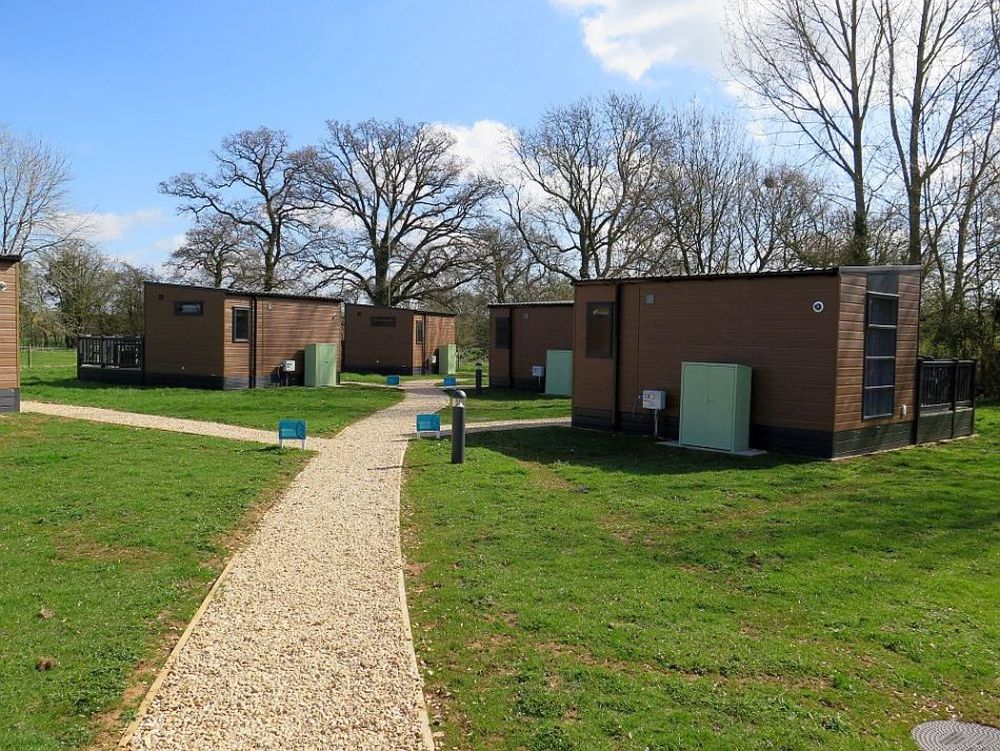 Saturday 23rd March. A much sunnier day today, although there was still a chill wind. Strangely what I mentioned yesterday about the motorhome waste points, I think someone must have been listening as notices have appeared all around the site saying that work will start on Monday to convert the current motorhome waste point to the drive over variety, but only on the western side of the site. So half good news, however the notices were more of a warning of disruption and noise rather than being celebratory! OK for us as we leave on Monday! On second reading I am not sure if it is only one being converted or both?
In the morning we walked into Moreton in Marsh. It is always a pleasant place to visit and it was busy with visitors. We walked up through the town to the Budgens at the far end of the High Street where we got a bit of shopping and had a coffee. It was interesting to observe how many of the customers were using Waitrose "bags for life", obviously a lot of local frustrated Waitrose customers in Moreton in Marsh!
Back at the van I set about the usual services. The new van is quite different from the old one in how things are set up. Firstly there is no facility to use an Aquaroll so unless filling up at a service point I now use a watering can to top up with. This is no hardship, just a bit different. One of the biggest difference is that we are , after nine years, back to making up beds. This obviously takes up a bit more time but I am sure we will get into a routine.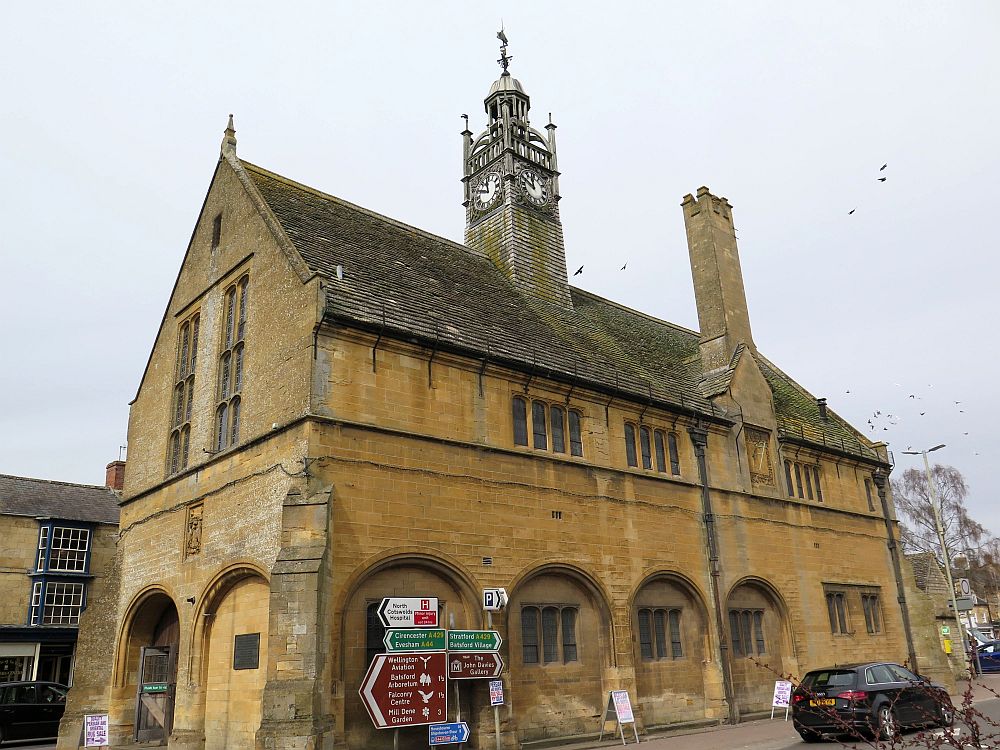 Sunday 24th March. Beautifully sunny day today but still a chill wind, at least it allowed us to sit out for a while. Apart from a couple of walks around the site that was the extent of our exertions today! The point of this short trip away was to familiarise ourselves with the new van which we are gradually getting to terms with. I had a bit of a wobble this morning when I thought I was going to get a cold shower! The orientation of the shower mixer, despite being the same model as the previous van, is different so not so easy to work out how far it needs to be turned to get hot water. Margaret managed perfectly well!!! Something we never did in the last van but with this one we have been leaving the heating on overnight. I thought the internal temperature sensor was over reading although when I tested it against a standalone one it was only by a degree or two. As a consequence I have found you need to set the required temperature a little higher than you would think necessary. In time it will all become second nature and as spring and summer progresses less required. Haven't completely fathomed out how the programming of the heating works yet!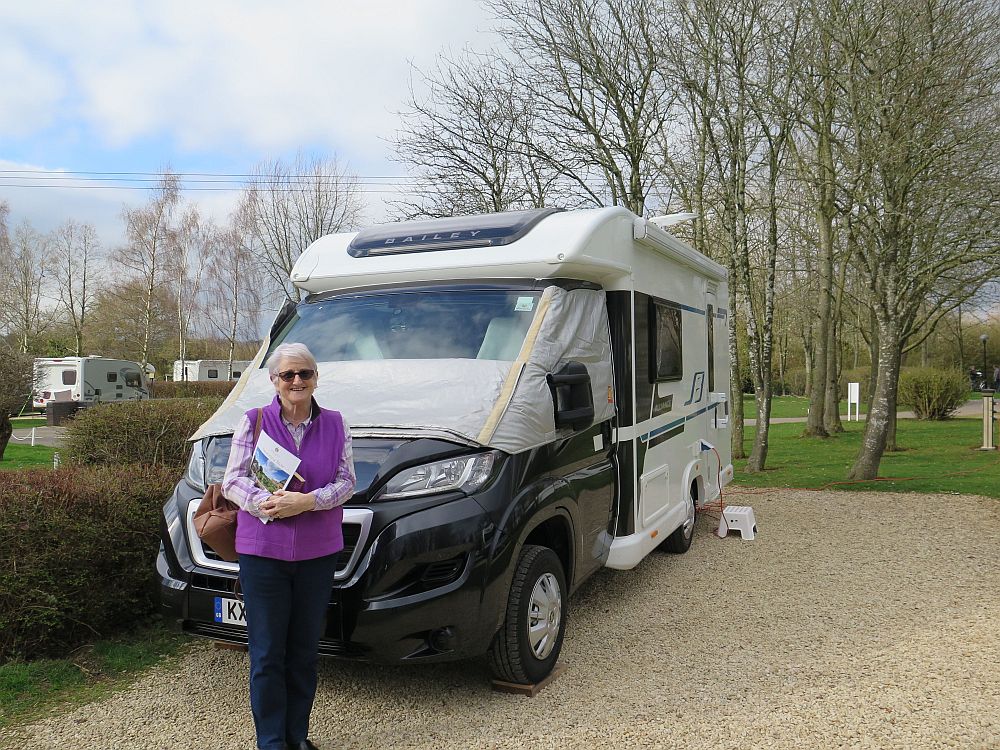 Monday 25th March. We go home today. On the theme of getting used to the new motorhome another major change is moving away from a fixed bed to two singles. This of course creates more work but after three nights we seem to have got a system which doesn't take a lot of time.
By the time we had left the site there was no sign of the previously mentioned work starting! We decided to take a slightly different route back home via Banbury. On reflection I don't think it is any better and I don't think we will use it again. We left the M40 at junction 10 and decided to try the Cherwell Valley Services. They do have quite a big area devoted to caravans and motorhomes but, of course, it is a long way from the actual services. We got home just as the bin lorry arrived so I backed up on the pavement to allow him room.
Taunton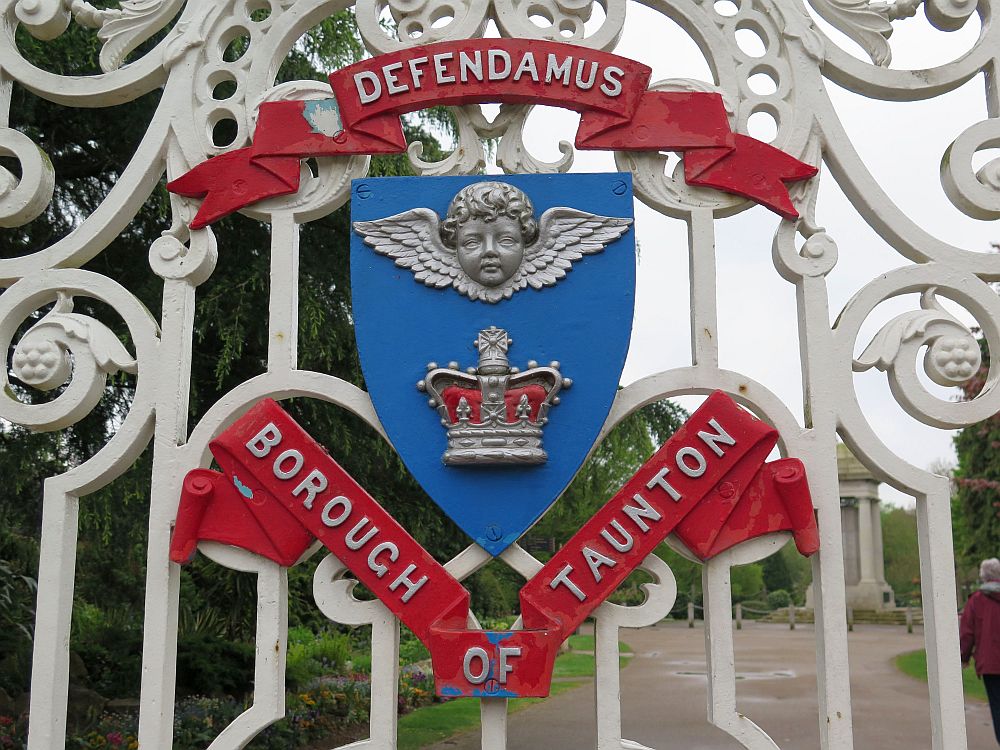 Sunday 28th April. It's been something of a week! A few days ago we were in the throes of having a new central heating boiler installed. It was a big job and took three days which meant there was little else we could do but keep out of the way of the engineer! One downside was having to be up and ready for the engineer to arrive by 8.00am, quite a challenge when we are usually only just thinking about getting up by then! With the work finished and some clearing up done we could at long last concentrate on our trip to Taunton.
Back to the getting up early theme we were ready to leave by 10.00am. It was a familiar route from MK down to Oxford and then off on the Swindon road to join the M4. Because I am unsure of the economy of the new van I decided to top up with fuel at Buckingham en route. We made a stop at Leigh Delaware services for a coffee. The M5 past Bristol was very busy but as we got further South it got a bit quieter. A comfort break at Sedgemoor. It was good to see proper caravan/motorhome parking. We eventually arrived at Cornish Farm at around 2.30pm. Wasn't particularly taken with the warden but then we are only here for two nights!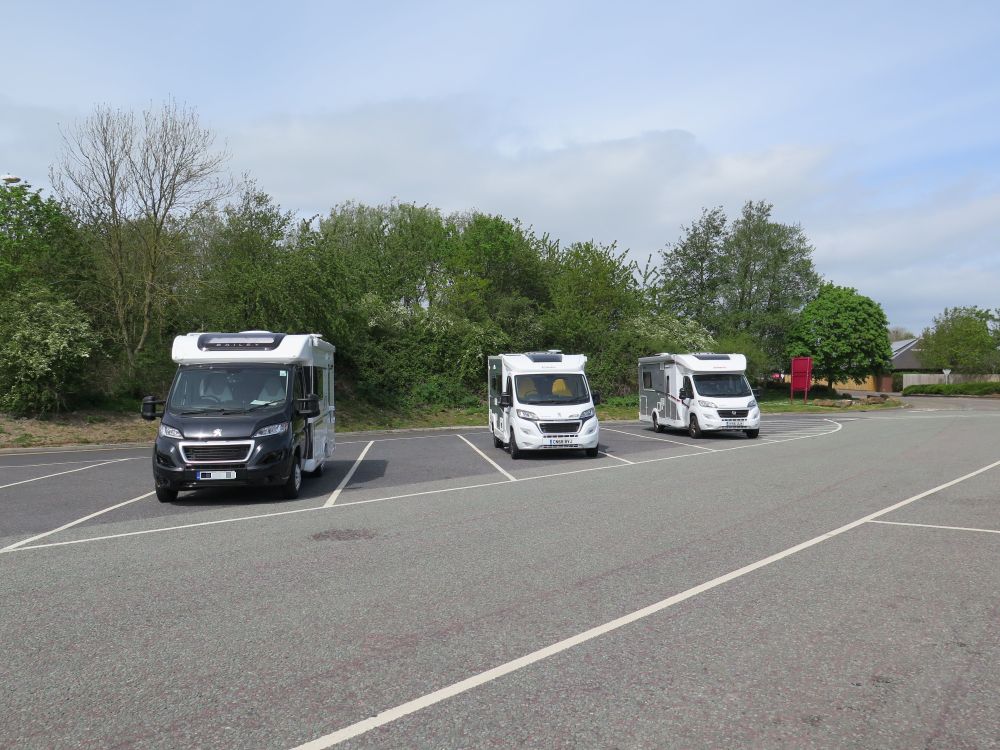 Monday 29th April. Another early start today as we had to drop the motorhome off at VanBitz to have an alarm fitted plus something called a Battery Master which keeps both batteries topped up when on mains or when producing electricity from the solar panel. At least we only had to drive a couple of hundred yards to get there! We went through the work with Nick from VanBitz and agreed where various LED's would be put. Obviously VanBitz don't want customers hanging around all day so they give customers a lift into Taunton. It's quite a lot of time to kill but first off we discovered Vivardy Park which as well as being a formal park also has a golf course and a large high level adventure playground. Walking back into town we stopped at a specialist tea/coffee shop for a coffee and a toasted tea cake, breakfast seemed so far away! Taunton has a pretty good range of shops. We did think to re-visit the rather good museum in Taunton but we found that on Monday it was closed. By now it was lunchtime so we had a meal on a pub chain famous for good value meals! Two mains and drinks £17! Still only 2.00pm but we decided to get a taxi back and walked down to the taxi rank. Five years ago we paid a tenner for a taxi ride back to VanBitz so we were a bit concerned that it might cost even more but it cost just less than eight pounds! Mind you that eight pounds paled into complete insignificance compared to the bill we were about to get for the work being done on the motorhome!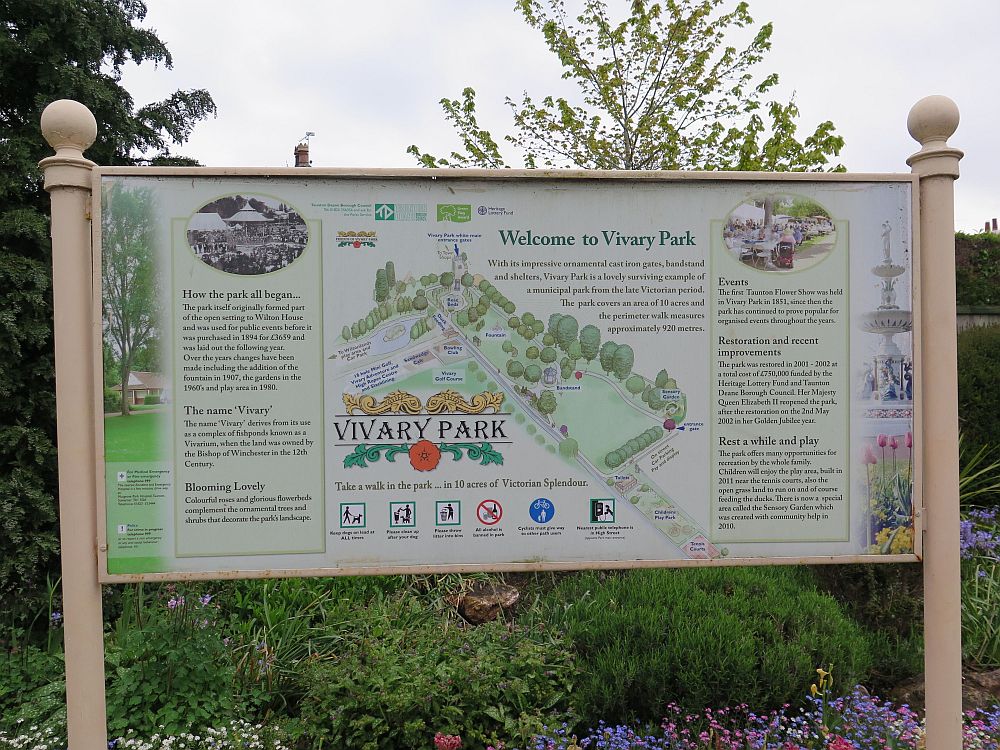 Cirencester
Tuesday 30th April. We left Cornish Farm today and we headed for the CMC site at Cirencester which is a 90 mile journey. After a couple of stops we arrived at the site around 12.30pm. We had booked a service pitch so that we had the opportunity to test everything out on the van. The problem was that the pitch had quite a slope on it and despite using a leveller we could do with more. Just don't know how a hardstanding pitch can be made which is not level! The weather was better today and a bit warmer. Using the roof top aerial I could not get all TV stations so decided to try the bollard co-ax connection. I immediately run into a difficulty as there was an F socket type connection into the van. Having had a hunt around I managed to find a suitable connection. Not all channels perfect but we managed.
Wednesday 1st May. Well, we made the decision to go home two days earlier than planned. For the last two weeks I have had a nasty cough and nothing I do seems to have any positive affect on making it better. Given that such things shouldn't go on for so long without further investigation I went off to Reception to let them know. Unfortunately we will lose one nights site fees but that is better than losing two! (went to the doctor on Thursday who confirmed an infection so decision proved to be the right one!)
Rather than head back via Swindon and Oxford we took the road north via Moreton in Marsh. Thereby lays a problem. The inbuilt sat nav had proved pretty good up to this point but putting Moreton in Marsh as a waypoint seemed to confuse the sat nav! It wanted to take us east quite a bit further south of the town. Just as well we knew the route. Some of the roads being suggested were totally unsuitable! Just past Deddington we called into the layby where Buzzy Beans sells coffee before completing the journey home.
Beccles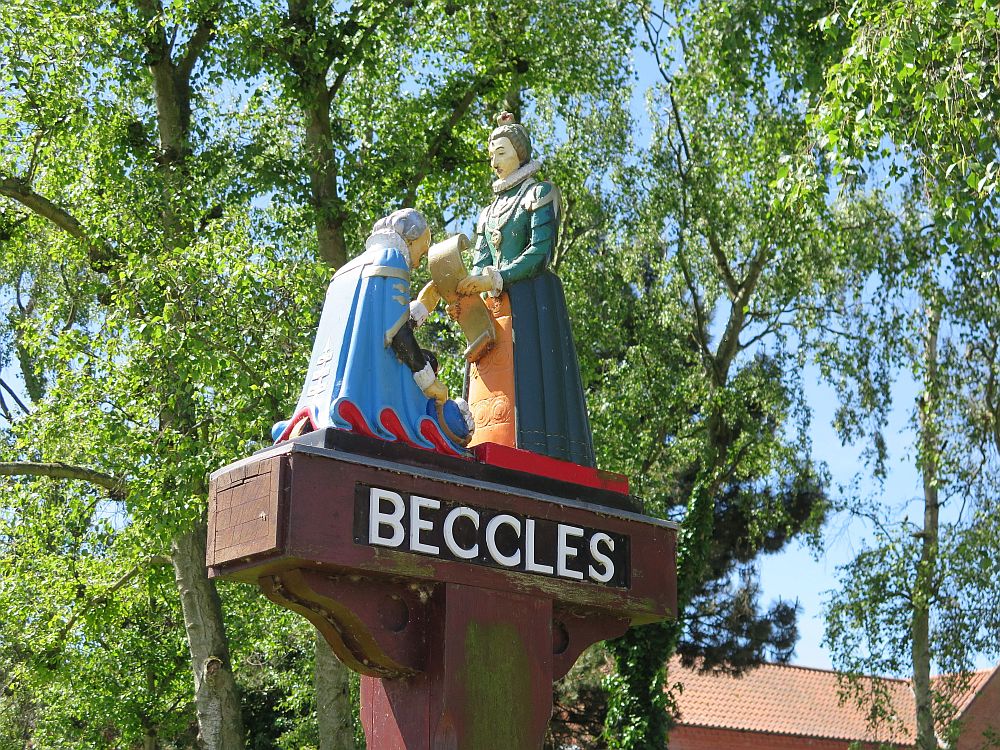 Friday 31st May. Do you ever feel things conspire against you? The last trip didn't turn out as expected as I was ill and we had to come home early! Between that trip and this we have been redecorating the parts of the house where the old central boiler was and painting its new home. We have had a family birthday so getting away earlier has proved difficult. We have also been having problems with our internet supplier where we nearly lost our 40 year old cherished landline number! Fortunately that was restored just before we left today. To cap it all, yesterday evening I broke a tooth! So first job this morning was to get to the dentist for an emergency appointment. Fortunately my usual dentist had, had a cancellation so by 9.00am I was back home.
Despite this it didn't seem to delay us which was good and we were away from home by about half past ten. We were heading for Beccles in Suffolk to a CL in a boatyard on the River Waveney. It's a long time since we used a CL which incidentally was also a boatyard! Sixty pounds for four nights seemed an absolute bargain compared to the prices of some Club sites in what is a school holiday week! We always take a double intake of breath when heading for the A14 round Cambridge but I suppose because of the school holidays it was not too bad. The same couldn't be said for the west bound traffic! The real problem really is the lack of service areas. There is one called Newmarket Heath which really has no parking for anything larger than a car. From Bury St Edmunds the route is the A143 which like the curates egg is good in parts.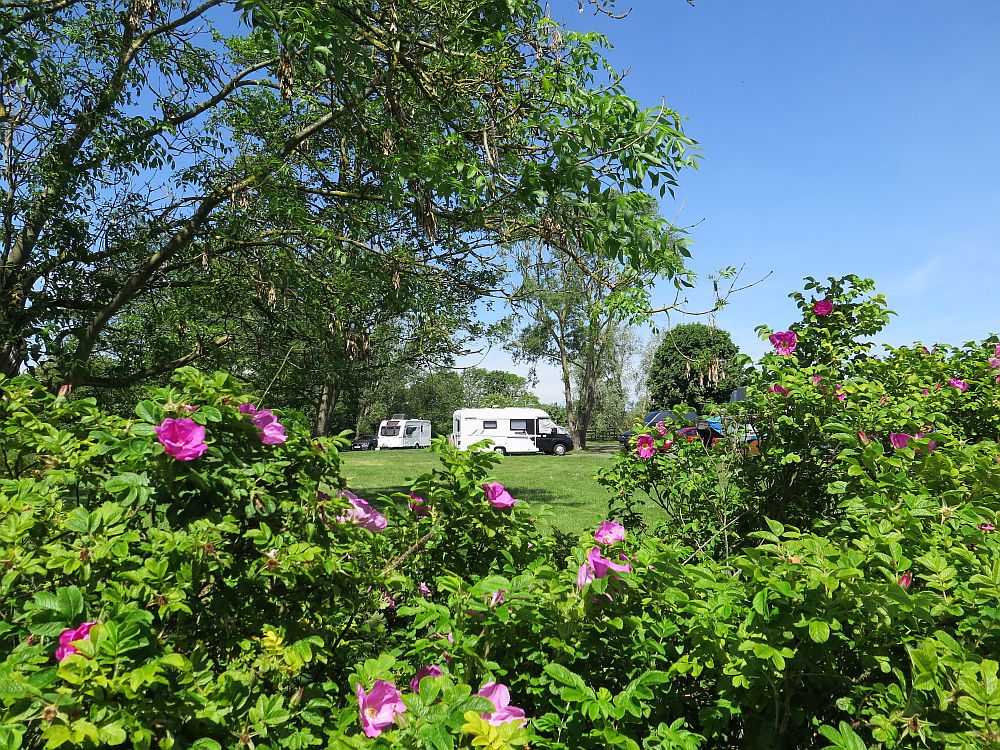 We arrived at the CL at just before 2.00pm. Simon the owner showed me round and was OK with me parking the motorhome front wheels on the hardstanding of the car park. We are one of four units on the CL. Whilst some purists might say that Beccles is not strictly the Norfolk Broads the Waveney is part of the river system associated with the Broads. Some people seem to like CL's out in the middle of the countryside, miles from nowhere. That is not for us, we want CL's that are within walking distance of something as this one is.
Saturday 1st May. We awoke to a beautifully sunny day. After breakfast we walked into the delightful small town of Beccles. I somehow doubt it looks much different to what it did 100 years ago? An interesting mix of styles including from the Dutch which is quite common in the East of England. Firstly we had a walk round to the Yacht Station. As far as I know this is a purely Norfolk Broads phenomenon as there are several dotted around the Broads system. Basically they provide overnight moorings for all the hire craft from all around the Broads. One of the first holidays I had was on the Norfolk Broads when three of us lads hired Delight 11 from Herbert Woods at Potter Heigham. This was the first of quite a few holidays on the Broads, the last one when Paul was about three and Simon about one, we weren't sure at that stage whether water and young lads mixed!!! After that it was caravanning and as they say the rest is history.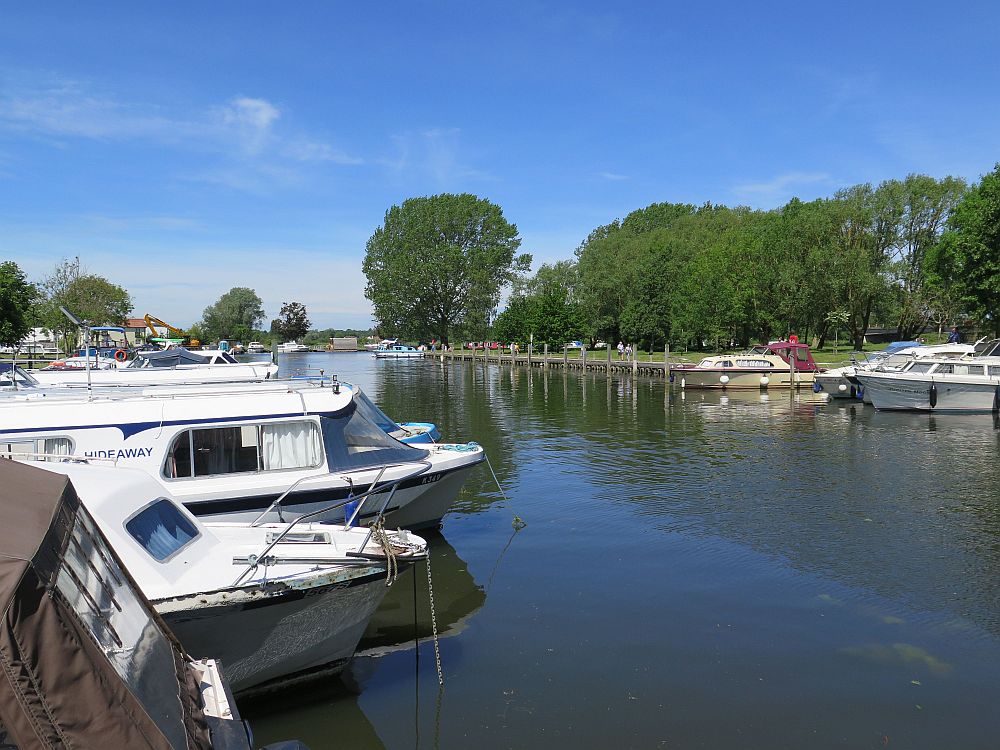 From the Yacht Station walked up into the town which was a steady uphill climb in the heat. There is a small bus station area as you enter the town centre and we were surprised to find a red London Routemaster bus parked there. Closer inspection showed that it was picking up wedding guests from the town! Beccles seemed quite a busy little place. Interestingly the church bell tower is separate from the church and is Landmark which can be seen from a long way off. By now we needed a coffee but we had almost given up hope when we came across a rather nice coffee shop in a building which had previously been a men's outfitters and tailor. They had thoughtfully kept some of the props as interior decoration. Continuing our exploration we came across a supermarket that at first we thought was a Tesco but it was in fact Roys. Now Roys of Wroxham are well known in these parts so we had a look round and got a few bits. Now laden with shopping we made our way back to the CL and spent a relaxing afternoon sitting under the sun shade!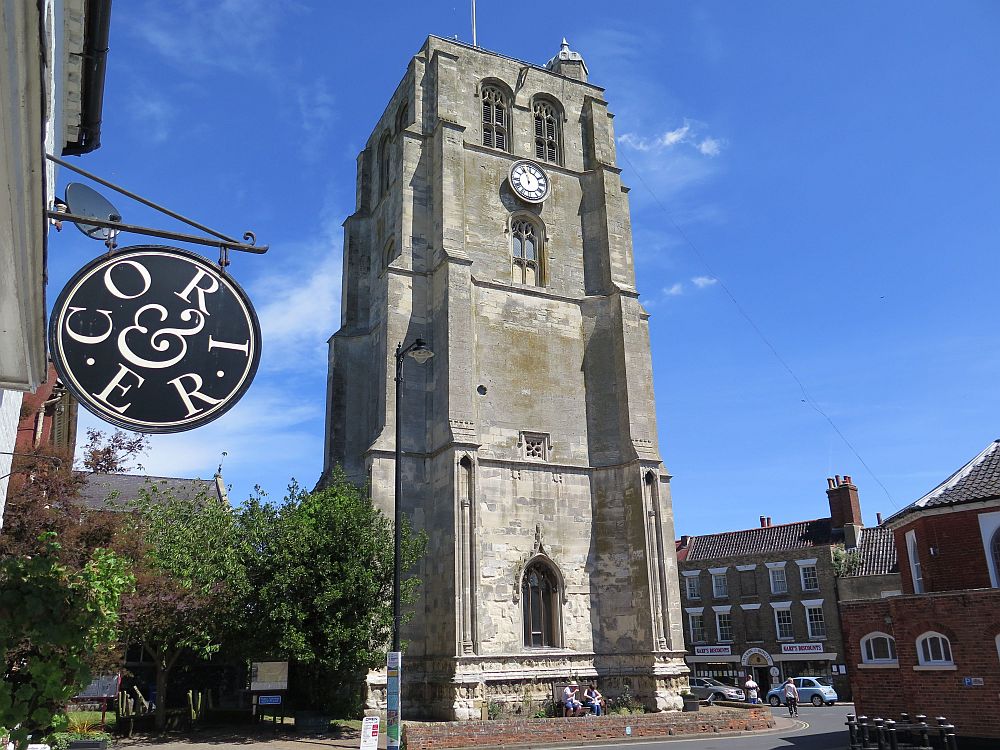 Sunday 2nd June. A really hot day today and muggy. We didn't wander too far, just back down to the Yacht Station to have a look at the comings and goings of the boats. We picked up a coffee at the Station which to be truthful was not very nice, perhaps it was the polystyrene cup! We walked up to the main river which was quite busy with boats. One thing surprised us was that some of the people from the large hire boats were our age and clearly many had problems getting on and off their boats. I suspect they still think of themselves as teenagers!
Back at the CL we had a problem finding somewhere in the shade as it was a bit windy to put the canopy out so we moved to the perimeter of the CL where these was some shade from the trees. It was just a shame they decided this was a good day to cut the grass rather than leaving us in peace to enjoy our Sunday afternoon! There are only three units on site at the moment, two caravans and ourselves. The couple that arrived yesterday are here for two weeks. I think the last time we spent two weeks in one place was 2002! Contrary to William Henry Davies poem we do have time to stand and stare. I noticed that every time the people opposite us (they left today) went out, either by foot or car they would lock the caravan and then deposit the respective keys into the unlocked front caravan locker. It had me musing why they would do that, surely caravan keys are not so bulky that they can't be carried with you?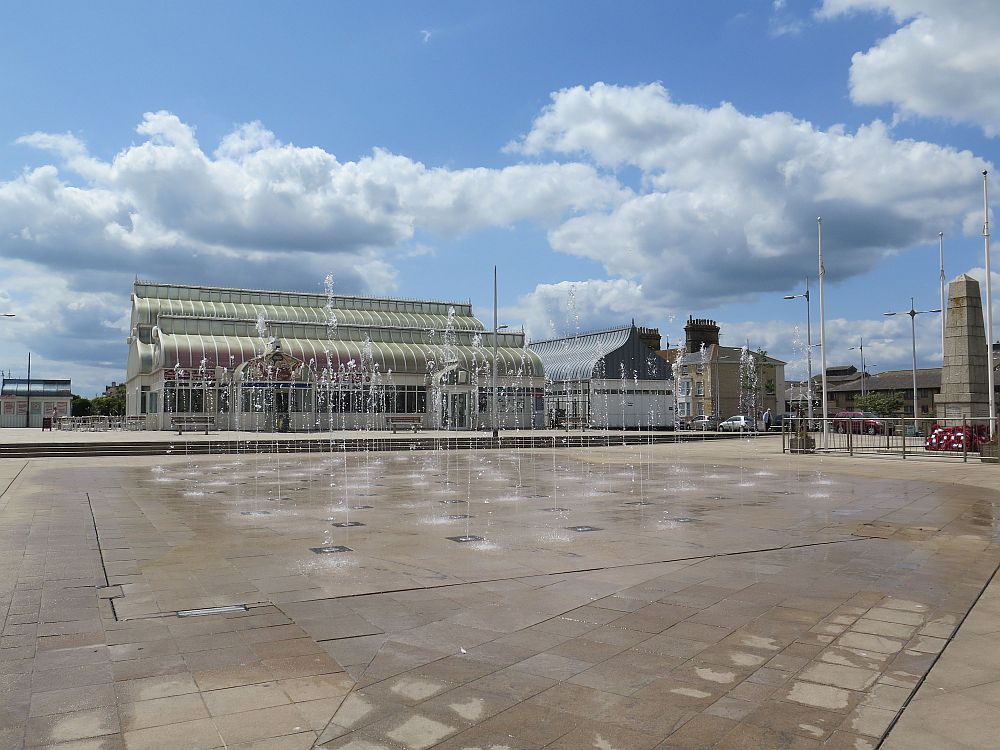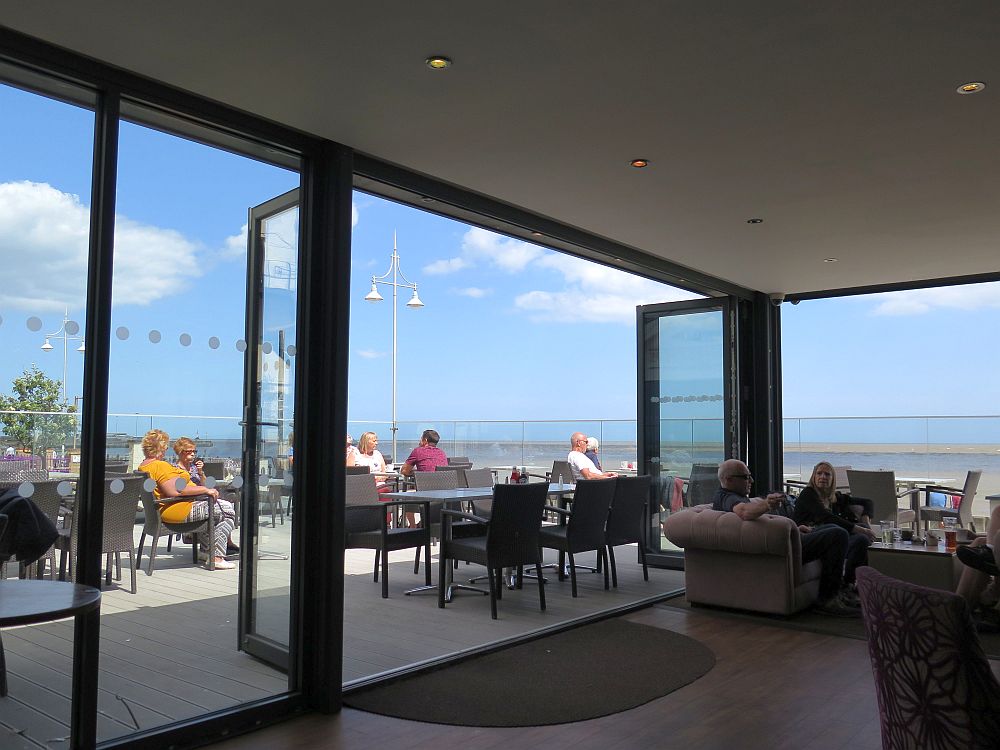 Monday 3rd June. Another nice day today weather wise but fortunately not so hot. We took the bus into Lowestoft today. The town is only about eight miles away as the crow flies but as the bus is not a crow it did have an X service number which I had always understood to be a fast service? How wrong I was, it went round so many estates en route it took an age! I am sorry to say that we found Lowestoft quite a dreary place. Even the Seagulls have no respect as they nest on ledges of buildings that have seen better days. Interestingly they even made use of those long spikes, designed to keep them off, as foundations for the nests!!! However crossing the Bascule Bridge to the South Beach makes a massive transformation. The lovely wide promenade, ironically part financed by the EU in this most Brexit of places! Beautiful sandy beaches, although no longer rated as a Blue Flag beach. We were rather taken with a restaurant called The Hatfield Hotel which had taken full advantage of its position overlooking the sea to build a modern restaurant where we decided to have a meal on our way back from our walk along the prom.
Tuesday 4th June. Time to go home. We had been lucky with the weather during our stay. We decided to try an alternative route home and travelled via the Norwich bypass rather than retrace our earlier journey across from Bury St Edmunds. Whilst slightly longer it was certainly a better road and probably a bit quicker. Fortunately no hold ups on the A14 at Cambridge either! As we moved west it did start to rain but it didn't last and by the time we got home we were able to unpack in the dry.
Three Week Tour to Yorkshire, and other places.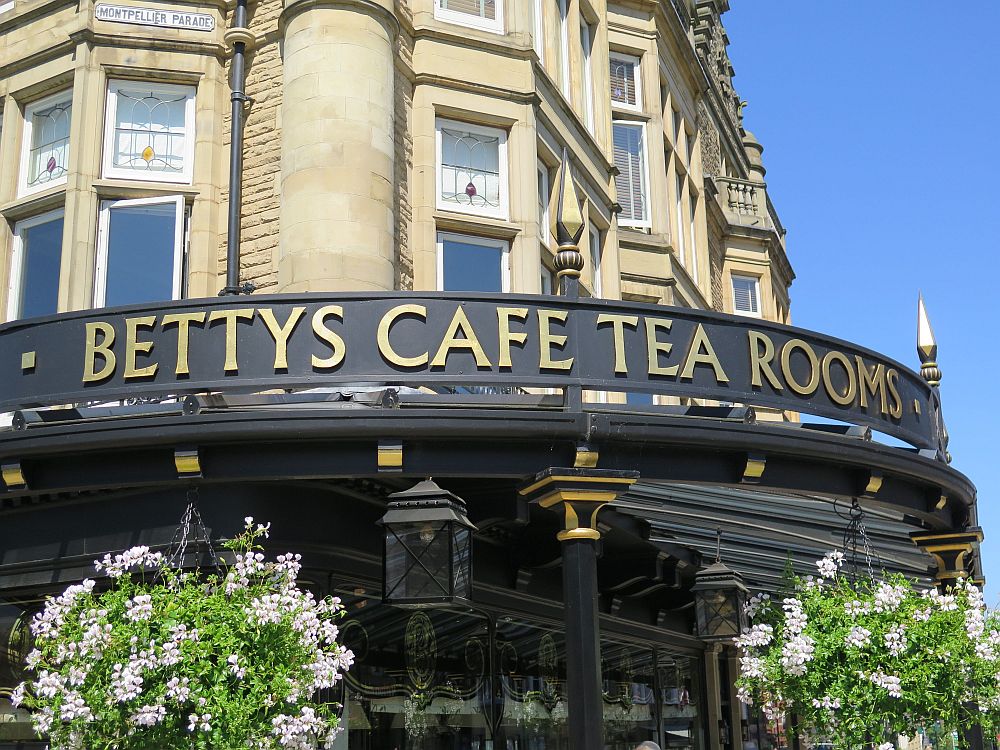 Wortley Hall
Sunday 16th June. We are off on a three week tour of Yorkshire, Lancashire and finally the Peak District. Today we are heading for a CL at Wortley Hall near Sheffield. We were ready to go by 10.00am which is quite slick for us! The route is mainly M1 but rather than join it at junction 14 we head across country to junction 15 hoping to avoid the current roadworks. This was only partially successful as the roadworks extending a few hundred metres beyond the junction! The weather continues to be mixed and we had lots of showers and some really heavy rain en route. We left the motorway at junction 35A and took the Huddersfield road and we were soon in the village of Wortley where we turned off to Wortley Hall.
We don't usually stay on CL's (certificated locations) which are small five van sites, often on farms but also in people's gardens if they have enough room. In this case it's in the grounds of Wortley Hall which is a Country House converted to a hotel/conference centre. In the 1950's it was purchased by the Trade Union Movement as an educational, conference and holiday centre. We had to pay and collect the key at the main reception before we could access the site. The CL has been nicely done with individual gravel pitches complete with electrics and a separate fresh/waste water area. There are large Rhododendron bushes everywhere and I imagine they must look wonderful when they are in full flower. They have started to go over now so it seems we are a bit late!
Monday 17th June. Unfortunately the weather has not improved a lot, it's still cloudy with some rain showers. Despite this we felt we should have a try at walking around the grounds which we did. There are many magnificent trees around the estate and if you were a tree hugger you would need long arms! Can't quite make up my mind what the aim is with the gardens whether it's managed informality or perhaps a lack of resources to restore the gardens to their previous glory. We paid a visit to the Hall where we had a sneaky look round. The Hall is still used for Trade Union meetings and training, there were a couple of events posted on the notice board. We retired to the Fire Brigades Union Bar where we enjoyed a light lunch and a beer, all very civilised. On the CL four of the five pitches are now occupied. I was a bit surprised when we arrived yesterday that we were the only ones here but two units did arrived after us.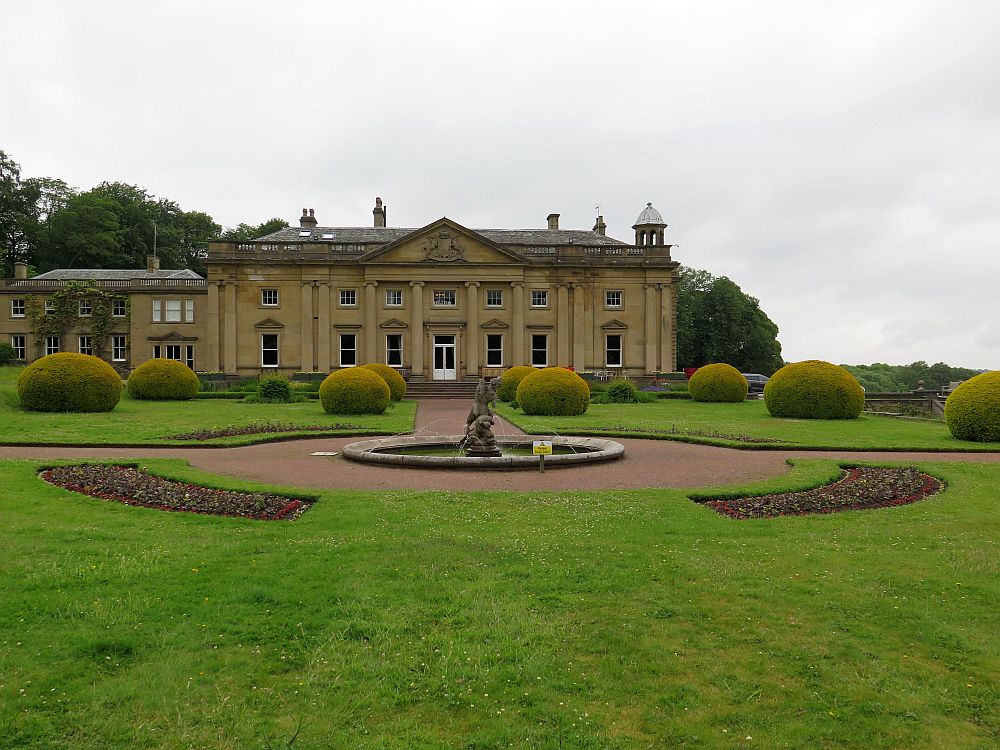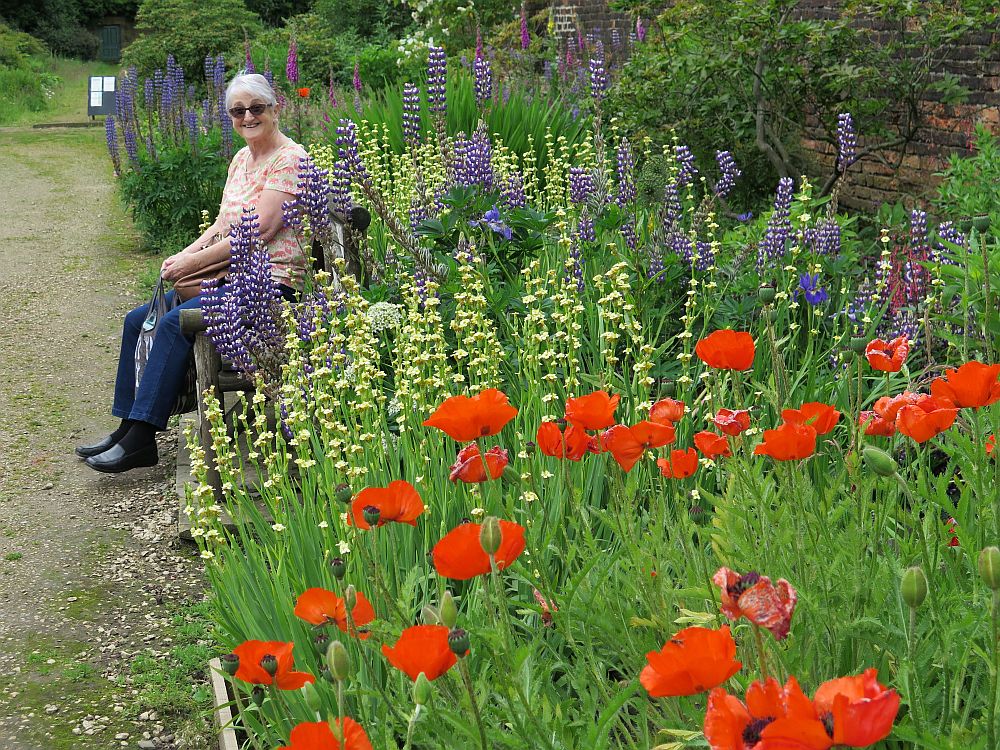 Tuesday 18th June. Weather a bit better today with some sunshine although heavy rain and thunderstorms are forecast for later. Being that it was dry we decided to walk into the village which wasn't that far but all up hill. Margaret struggles a bit in these circumstances but we made it! Wortley is not a very large place but there is a pub, a general store come post office come café! There is also a small Farm Shop. On the wall around the church was a plaque saying Wars Graves Cemetery but having a look round we could find no indication except for a plaque in the Lynch Gate to war dead. Having been unable to solve the puzzle we retired to the coffee shop. We looked in on the Farm Shop which looked quite nice and I was tempted by the rabbit pies but Margaret was not so keen!
We made our way back to Wortley Hall, now taking advantage of it being downhill. The Hall is much busier today so I image those courses for the various unions are taking place today, I did observe someone wearing a GMB tee-shirt. We sat in the gardens for a while and as tempting as it was to have another lunch in the hall we firmed up our resolve to return to the van. En route we diverted to have a look at the walled garden which is behind the CL. We walked around the perimeter of the orchard where some noisy geese where in residence, no hope of keeping our presence secret! Beyond was an area under cultivation for growing vegetables. Talking to one of the gardeners he said that some of the vegetables are used by the Hall but the bulk of what is produced is taken to Sheffield for use by several charities. This is our last day here. We would have enjoyed it even more with better weather but I still think we have seen a lot. Without taking the van offsite the options are fairly limited as the bus service in the village is pretty infrequent.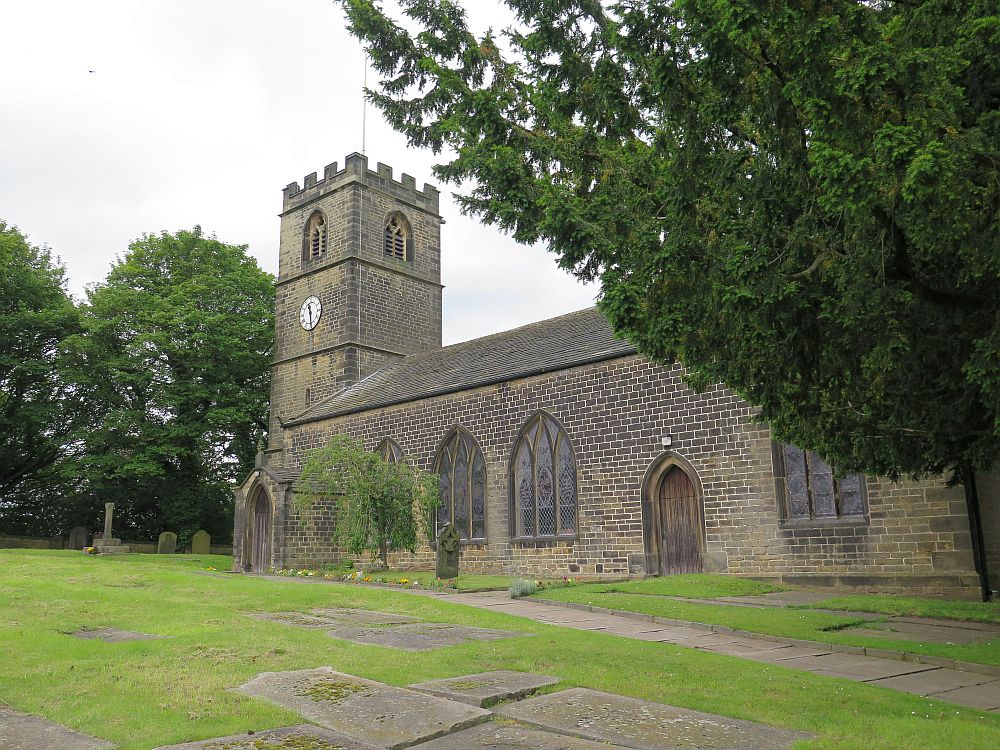 Scarborough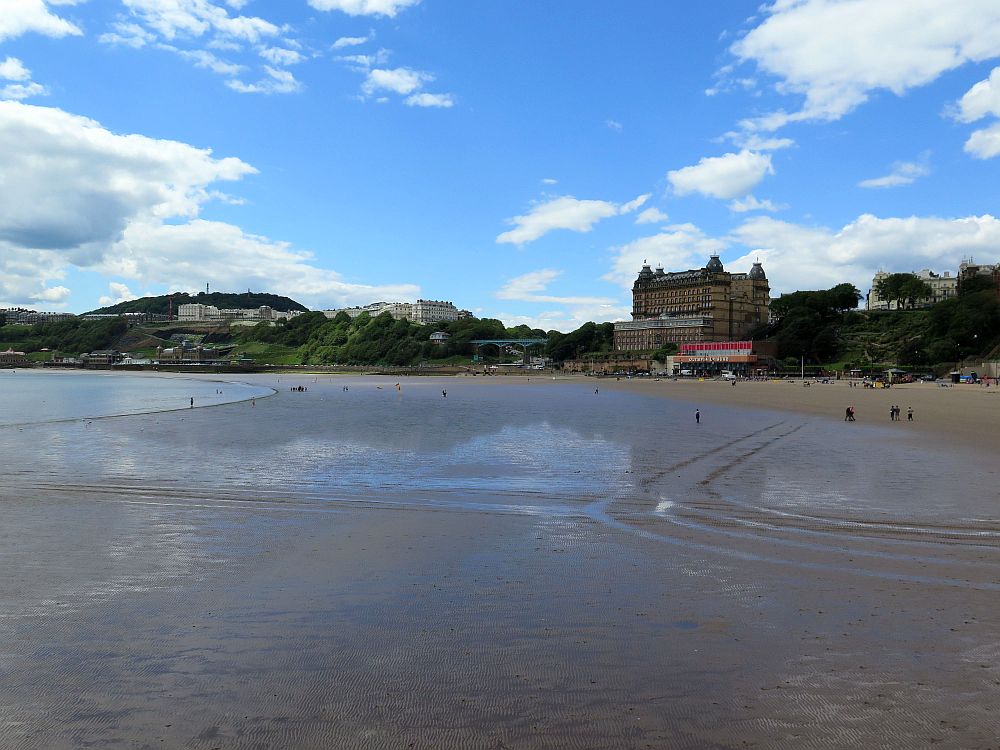 Wednesday 19th June. Today we left Wortley Hall and we headed for the new CMC site called Cayton Village between Filey and Scarborough. It was brighter weather wise than the forecast suggested and we even avoided the thunder storms. Unfortunately as we travelled further east it started to rain. We were in danger of arriving early so we diverted to the Morrisons near the site for some shopping. Cayton Village is a recent acquisition by the CMC having previously been a commercial campsite. Clearly there is work to do and apparently the Club have plans to completely overhaul the site. We had a wander round in the afternoon and it is easy to identify what work needs doing. I suspect the toilet blocks will be the main feature of any upgrade as they don't seem sufficient for the number of pitches. Whilst we were setting up we heard a noise which was continuous and couldn't work out what it was. After a while we realised that it was the water pump running but not pumping water! We stripped off the bunk cushions so that I could get to the pump. I even put my hand in the water tank to see if anything was causing the problem to no avail. Checking the handbook it suggested that a voltage drop could cause the factory settings to alter. We had been off grid a while whilst at the supermarket and as it was raining it's doubtful the battery would have had much charge. The book suggested a tweak to the pressure valve which fortunately seemed to do the job!!!
Thursday 20th June. Weather was a bit better today although there were a few showers still about. We decided not to go too far so we walked into Cayton. We did a bit of shopping when it started to rain again which in some ways was a bit of serendipity as we spied The Farrier which is a pub come restaurant come coffee shop so we decided to have a coffee. Nice to find a place that is a bit more upmarket. Back at the site it is a bit surprising how few of the pitches are taken. The Club took over this site in February 2018 and I suspect it has only been fully under the control of the Club since the beginning of this year.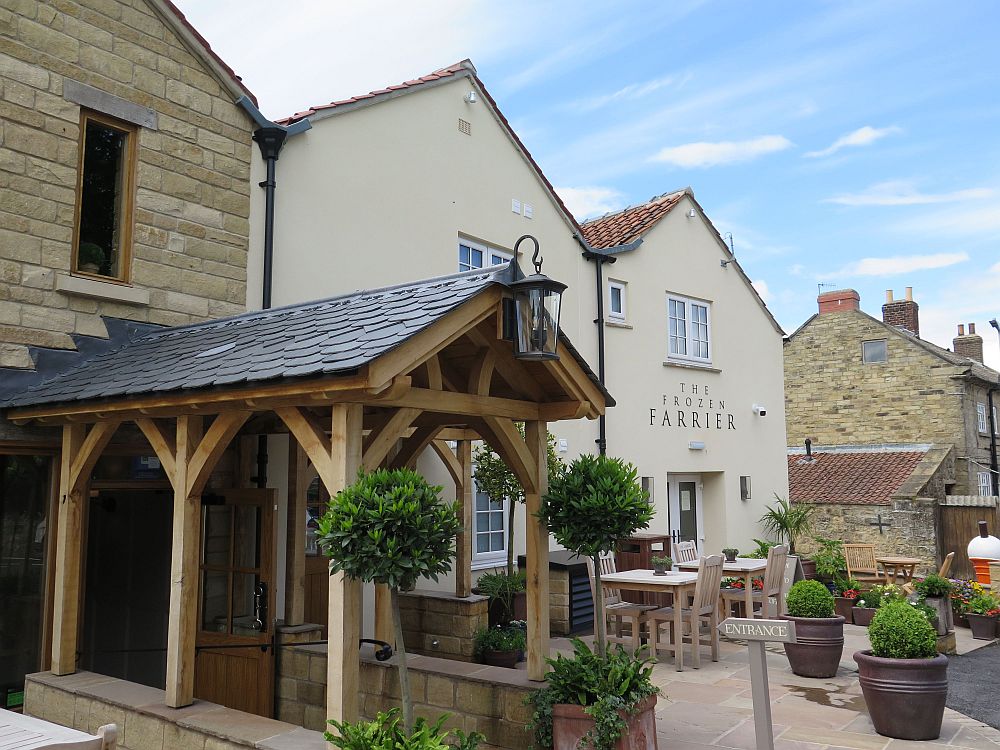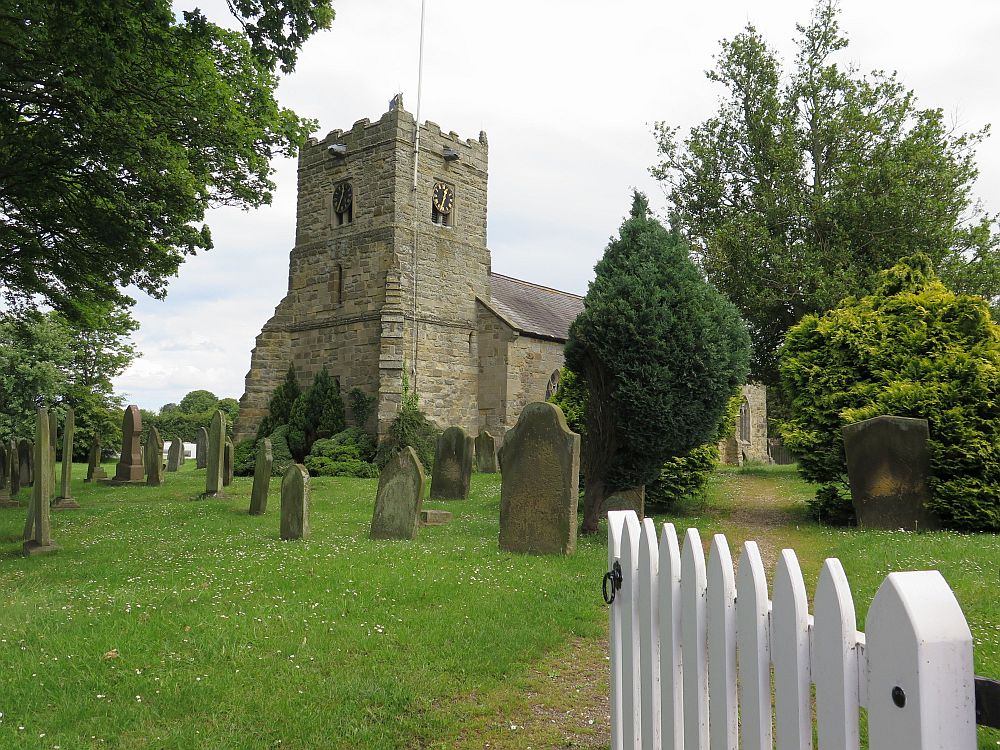 Friday 21st June. We took the bus into Scarborough today, handy bus stop right outside the site entrance. The weather has improved and it has been a sunny day although not as warm as you would think. We got off at the rail station and started to walk down through the main street. It was good to see lots of people around. Scarborough is a lot grander than many other seaside towns we have visited. There is clearly more to it than just a seaside town. First stop was Boots to buy some batteries for Margaret's blood sugar monitor which stopped working this morning which was causing some stress! We wandered further down through the town and found somewhere to have coffee. No problem with the coffee or teacakes but we did rather feel we had intruded into a group of regulars who had their favourite places!!!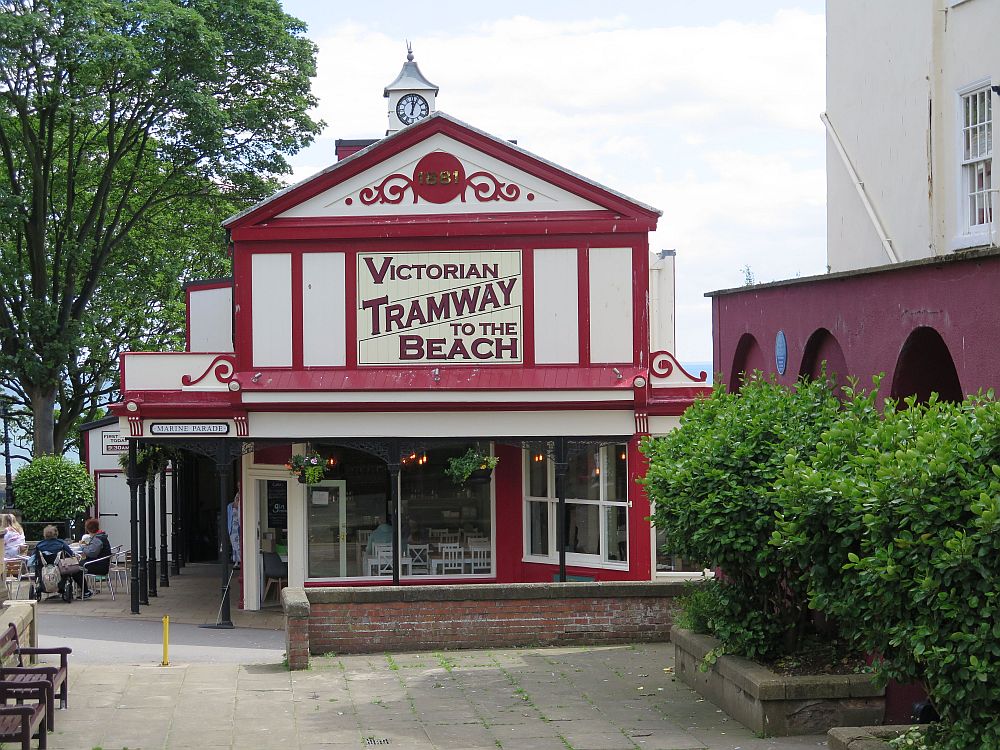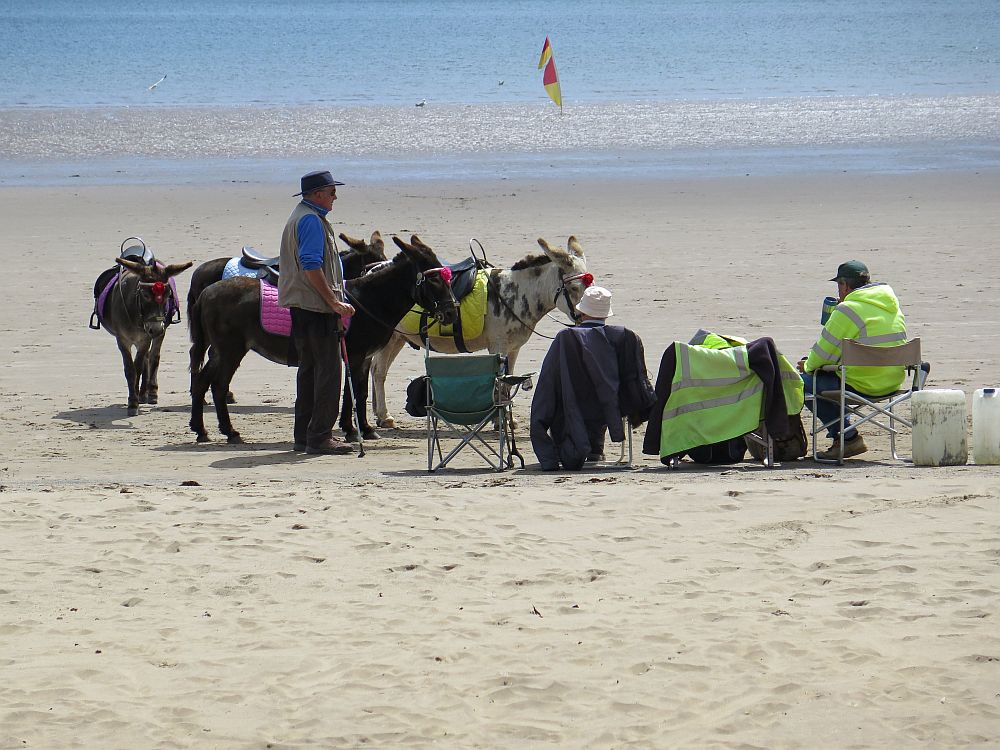 Next to the Grand Hotel is the Cliff Railway that takes you down to beach level, worth the pound each! The last time we were on such a railway it was in Graz in Austria! Scarborough is set on a wide Bay, some would say two bays if you count the one to the north which we didn't get to see. There is a great expanse of sand and it's easy to see how it became so popular. We walked around to the Harbour which still seems very much a working one from a fishing point of view. The northern breakwater of the harbour was the turning point of our walk so we made our way back into the town using the Cliff Railway – we may have made it down via the steps but I doubt we would have made it up!!! We treated ourselves to a meal before making our way back to the bus.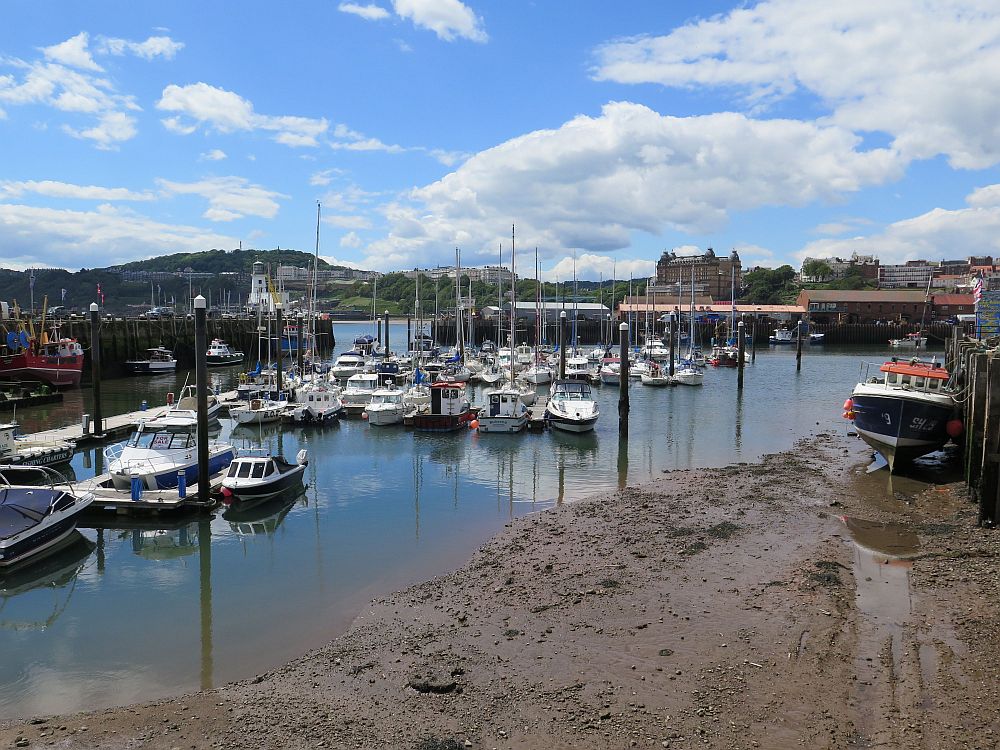 Saturday 22nd June. The day started quite dull but fortunately the sun came out when we were ready to go out. Today we took the bus in the opposite direction to Filey. Interesting en route that we passed so many other campsites, most of them static parks, but some with a mix of touring as well. I didn't know a lot about Filey except that it was once home to a Butlin's Holiday Camp but this closed in 1983! It is not as large and grand as Scarborough is although it does have Victorian Royal Crescent which was a developed in the mid eighteen hundreds as a quieter alternative to the busy Scarborough. Charlotte Bronte moved to Filey after her sister Anne died and had lodgings in the house which is now a café where we had a coffee. The Royal Crescent gardens that follow the cliff for some distance were busy today with various stalls selling craft items. Many of the flower beds are sponsored by local organisations. Towards the end of the gardens we took the many steps down to the promenade. Coming in the other direction were two kids who bounded up the steps as if they were running on the level! Oh how life changes as you get older!
Filey is set out around a large bay with a lovely sandy beach. It has a nice long promenade. Whilst there is the usual seaside paraphernalia on the whole it seems quite genteel. We made it almost to the end where we treated ourselves to some chips which we sat and ate them in one of the shelters. There is still a chill wind which encouraged us to eat them before they got cold. This was followed by an ice cream so a proper seaside day out! The only problem with being at seafront level was that we had to climb back into the town and to find the Bus Station for our return trip to the campsite.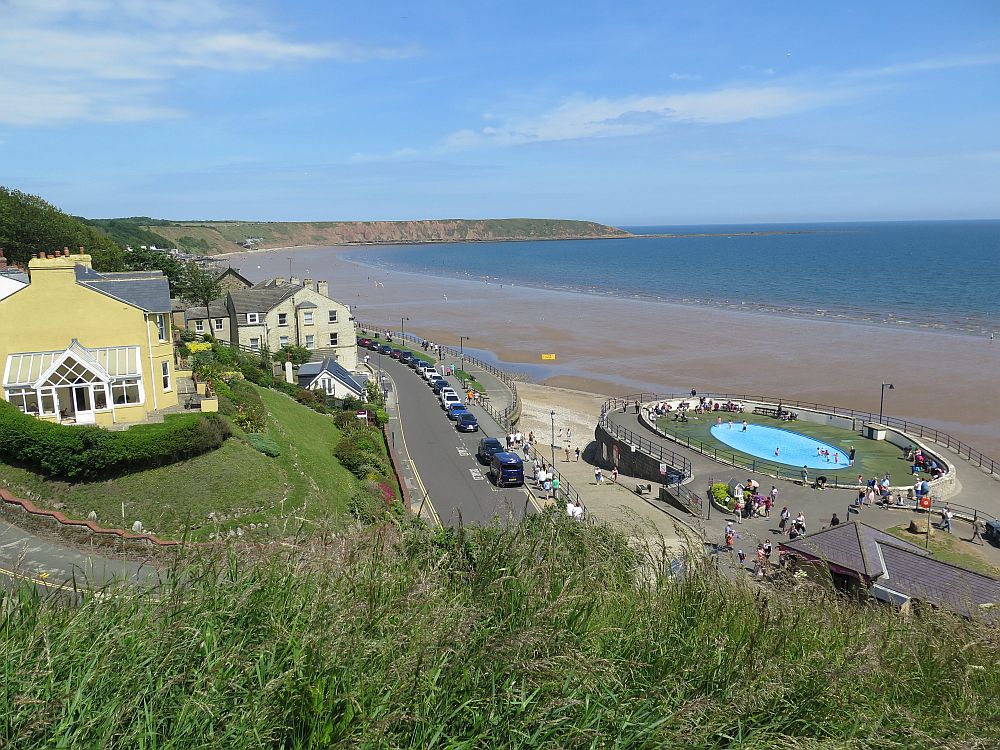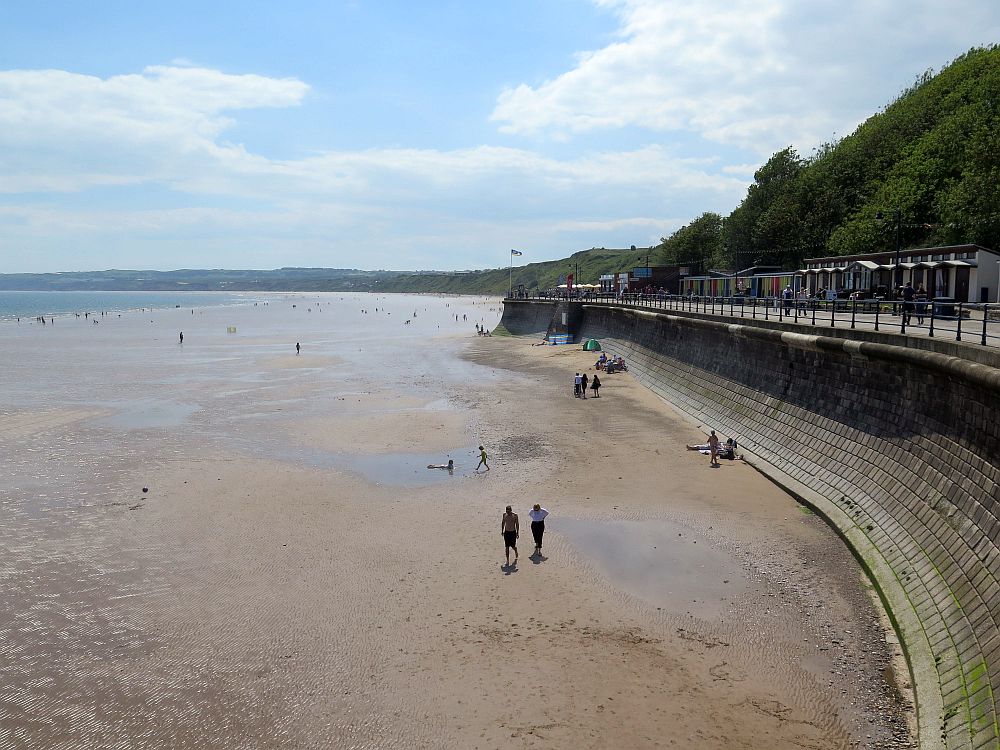 Sunday 23rd June. As most mornings on this site the days seem to start dull and then improve which was also the case today. If anything it was not as warm as previous days with quite a cutting breeze. As this is our last day here before moving on we decided that we would have a restful day. We did walk back into the village for a couple of items but otherwise we spent the day at the van.
Harrogate
Monday 24th June. Today we moved from near Scarborough to Harrogate. Initially the weather was quite good but it worsened around York, even some thunder but a lot of heavy rain. Fortunately during the afternoon it cleared up to quite a nice evening. After leaving the site at Cayton we stopped at the Morrisons again to stock up with food and other essential supplies! Our new site is the Harrogate Caravan Park which is next to, and owned, by the Great Yorkshire Showground. Once settled in we had a walk just out of the site to a Farm Shop called Fodders. All lovely stuff but of course at farm shop prices. They also have a café so I expect that will be used at some point during our stay. Just as a point of reference the new motorhome passed 1000 miles today, still a bit to go before its run in!!!
Tuesday 25th June. What an awful day weather wise, it has been raining all day. There seemed little point in rushing off anywhere so a lazy morning was spent at the van. In the afternoon, only so to break the boredom, we wandered at to the large Sainsbury's near to the site for something to do. This did involve a cup of tea and a cream cake!!!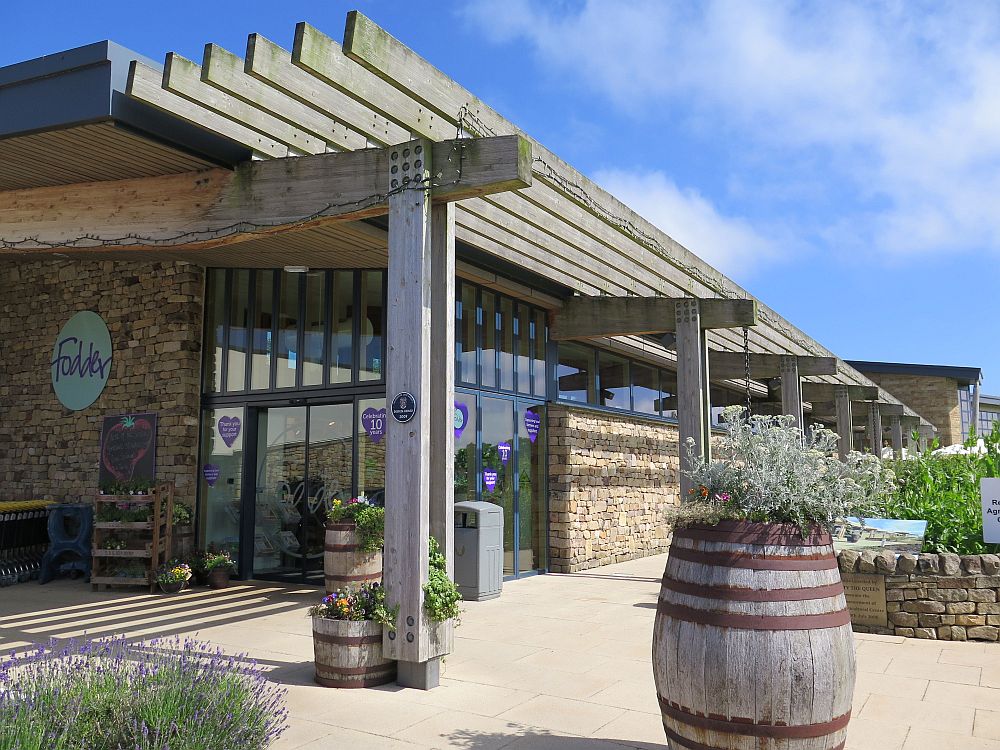 Wednesday 26th June. We have not been far today was we had some visitors. Some friends that we had more or less lost touch with over the years, perhaps only seeing each other a few times over the last 30 years. They used to live near us in MK, in the early days, it was a place for aspiring managers and they moved north whilst we stayed in MK. In the early days we virtually started caravanning together and even ventured abroad together for the first time. They recently called in on us in MK and we mentioned we were heading north so we arranged to meet. So today we met up at the site for a good chat. For lunch we moved next door to the Fodders Farm Shop Café. It was very busy and we had to wait for a table but it was worthwhile. It was good to catch up.
Thursday 27th June. Looking jealously at the weather forecast for Europe we were a bit surprised to wake up to a dull sky, fortunately it did clear before we went out and it's been a lovely day. We took the nearby bus into Harrogate today, not a particularly long journey. What a lovely place Harrogate is and their Parks Department need a pat on the back for their lovely displays in all the Parks. Fortunately it has a fairly compact Centre although it is a bit up and down but that also adds to the attraction. We wandered down through the shopping district towards the large war memorial and just across from that we spied Bettys Tea Shop which is synonymous with Harrogate. We knew it would be a bit more expensive than other options but you have to experience it once! Unfortunately there was a queue so we decided to explore more. We did a sort of circle around what is called the Montpellier Quarter and ended up back at Bettys. This time there was no queue so we made our way in. We had to wait a few minutes to be seated. I felt that I should have been more formally dressed but they accepted me! The service was attentive and the coffee excellent. Strangely what impressed me the most was that I was given a gleamingly clean knife which is unusual in many establishments as they come straight out of the dishwasher. Attention to detail I thought! OK it was a bit more expensive than you would normally pay but worth every penny. Perhaps one should mention that 2019 is the hundredth anniversary of the opening of Bettys.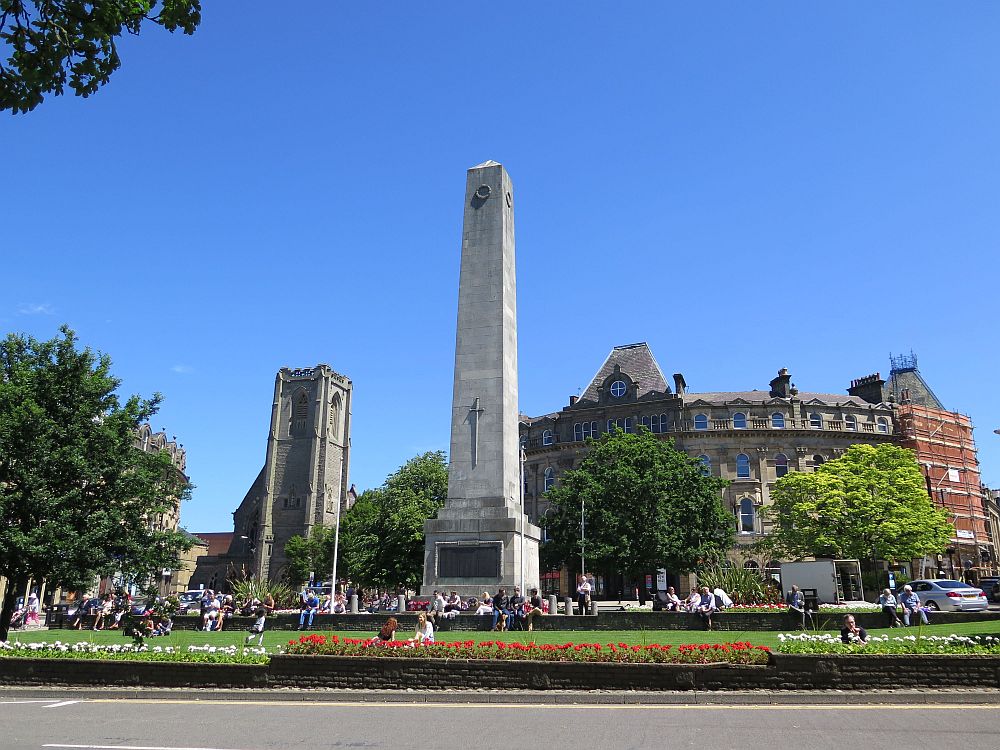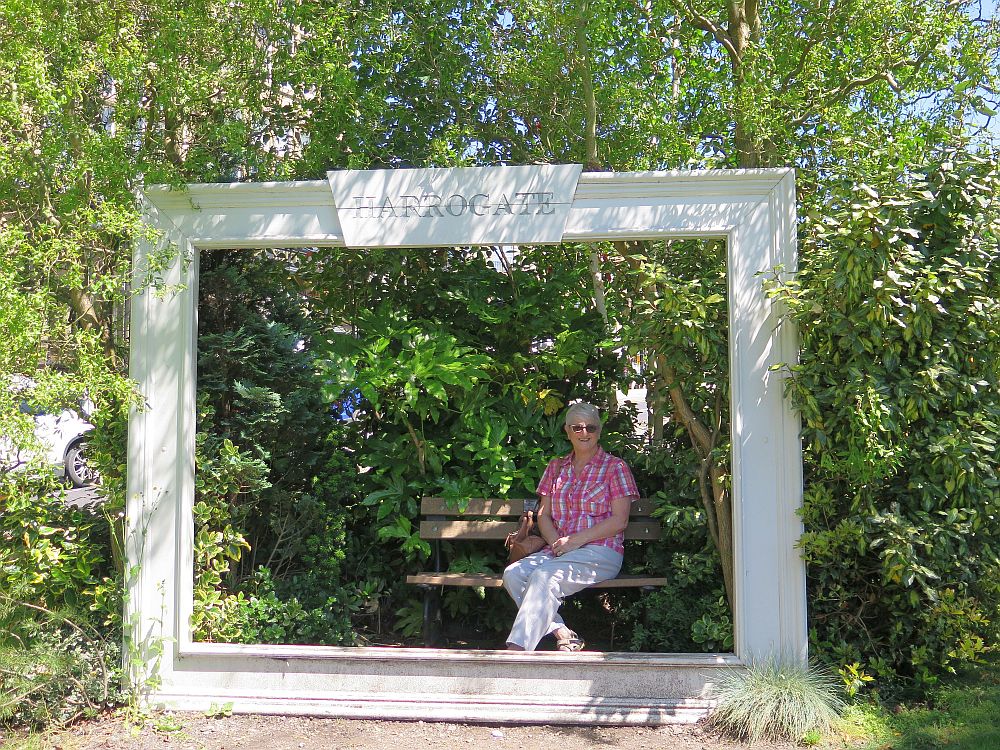 After Bettys we wandered down to the Tourist Information where Margaret was able to add to her collection of thimbles. Then around to the Pump House but we decided not to go in but carried on through Montpellier when we noticed an Opticians. We peered through the door and were invited in by the ladies in residence. What intrigued us was interior was of a certain vintage that made it look unusual. The ladies confirmed that it had not changed since the late 1800's, who needs to go to Specsavers! We carried on up through the Parks, admiring the lovely flower beds en route. Up into the shopping district where a busker was playing Streets of London by Ralph McTell. Having seen it sung by the great man and met him it struck a certain cord. Perhaps the lyrics are as relevant today as they were all those years ago! I have to say I like buskers and this one knew how to touch the heartstrings with his selection of songs. I always like to contribute whereas I won't to people just begging for money. Time to find a sandwich before making our way back to the site. We nipped into Sainsbury's on the way back for a few things. Back on the site it was quite hot in the sun so we had to wind out the canopy. The site is a bit fuller today.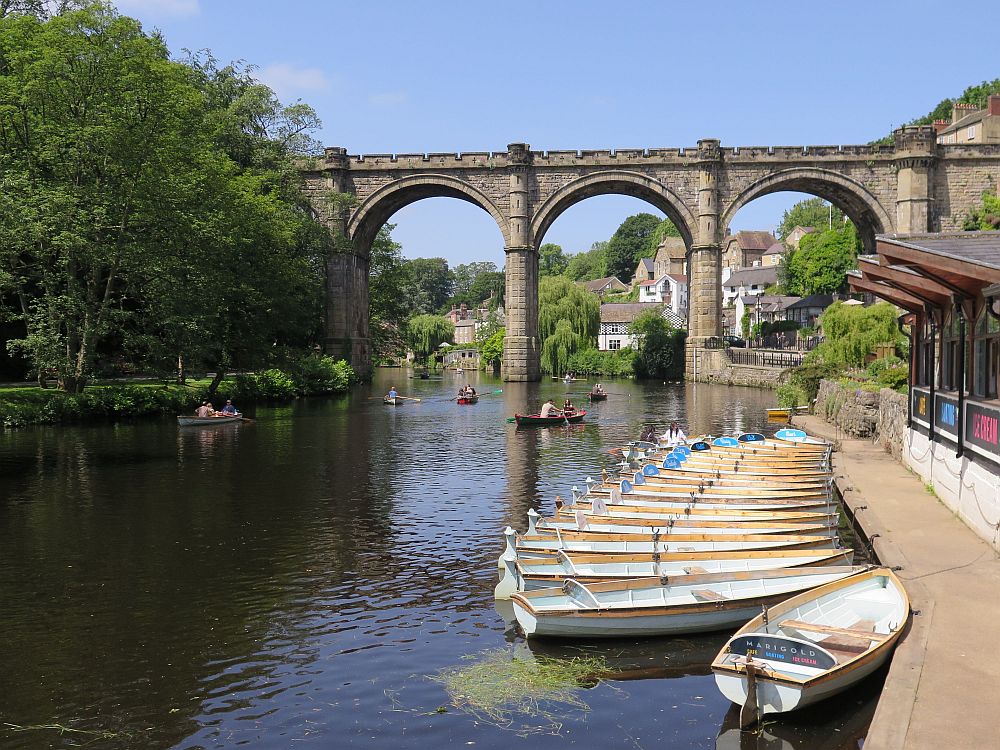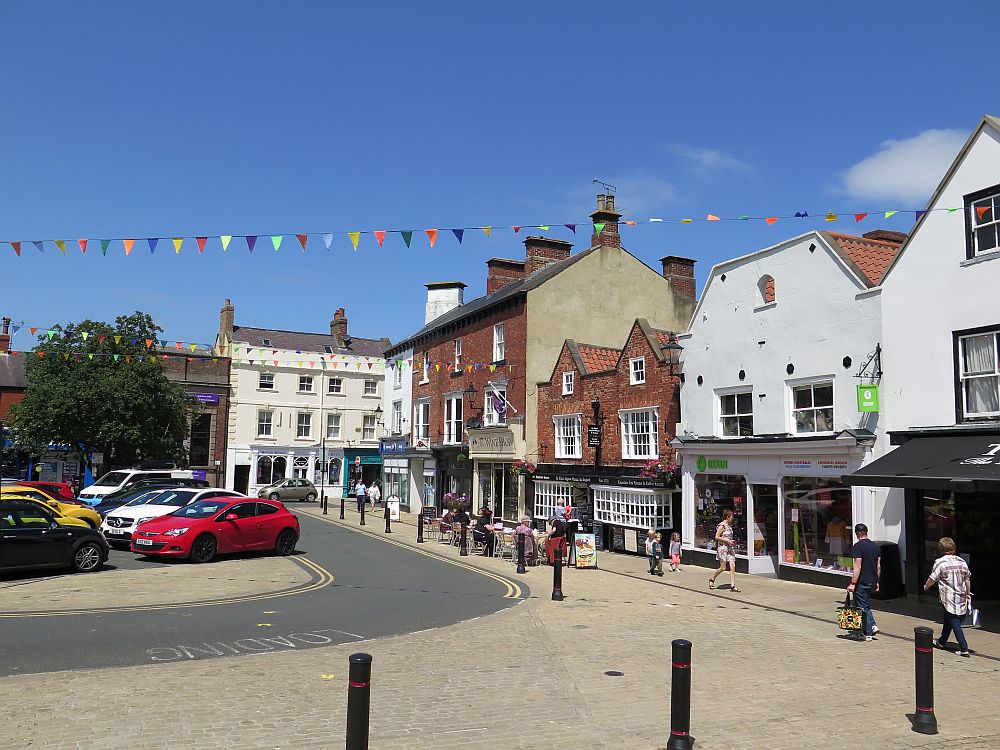 Friday 28th June. Today we decided to visit Knaresborough. This involved two buses, first to Harrogate and then a second from Harrogate to Knaresborough. Fortunately it was quite seamless as it was off one bus and on another. Knaresborough is quite a small place compared to Harrogate. It has a nice Market Square but I suppose it is the riverside which seems to be the signature view of the town. We had a coffee in a nice café in the Square before setting off to explore the river. I don't think we realised how downhill it was! Anyway we found the riverside but it was some while before we reach the iconic view along the river towards the railway bridge. Obviously a popular spot with lots of boaters on the river. Rather than go back into the town (a very steep climb) we made our way along the river to the road bridge where we caught the bus outside of the entrance to Mother Shipton's Cave. This is our last day at this site before moving on tomorrow. It has really filled up tonight.
Bury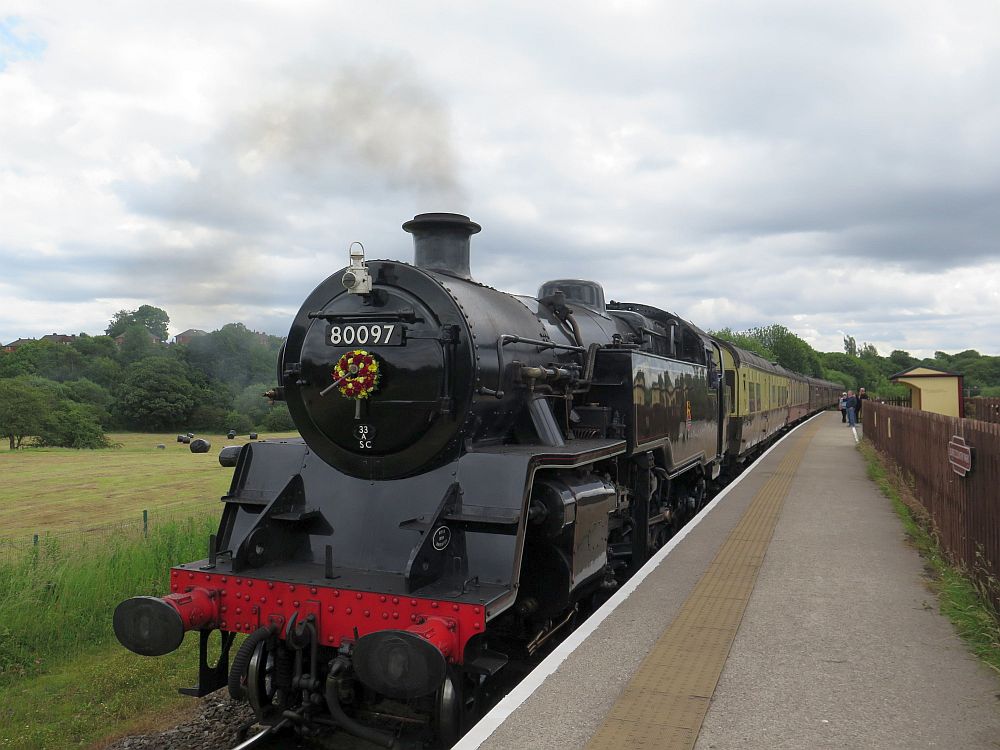 Saturday 29th June. Today we moved from Harrogate to Bury which involved crossing the Pennines. It does make you wonder if the Pennines weren't there whether Manchester and Leeds would just merge into one! We passed the famous Stott Hall Farm which has a carriageway of the M62 on both sides! For years it was thought it was the bloody mindedness of the farmer that was the reason for the motorway being built around the farm. Whilst that was a nice story it was in fact a geological fault that caused the problem and the reason why the farm was left where it was. We are heading for the CMC site called Burrs Country Park. The traffic in Bury was something of a nightmare but we eventually got to the site. The final approach is on a cobbled road and if your filling were fine before you got there they would probably been shaken out by the time you got to the site!!! When we arrived at reception we were given a site plan with the choice of eight pitches, so full was the site. As it happened we found a pitch that suited us near the facilities. At least all the pitches are on hardstandings on this site. This site is popular because of the steam trains that pass the site and since our last visit they have built an additional station to serve the Country Park, something to explore later!
Sunday 30th June. Halfway through the year today! Weather a bit better than expected in so far as there have only been a few drops of rain and it has generally been a mix of sun and cloud, albeit windy. We had a pretty lazy start to the day but after coffee we had a wander over to look at the new Railway Holt that has been built next to the site since our last visit, apparently with a largish contribution from the CMC. Burrs Country Park is hosting an event today, The Bury Agricultural Society Show. Surprising in a way that it is only being held over one day as a tremendous amount of work seems to have gone into setting it up. At £9 a head we decided to give it a miss as we continued our walk but it did seem popular. We continued up to the bus stop where the bus for Bury leaves from to make sure there have been no changes. Back at the site there has been a mass exodus today which could have caused a few problems with people attending the show but it seems to have been well controlled. Whilst not as many people have arrived the site is still busy. Had a walk round the site this evening and could see they are still dismantling the marquees from the Show.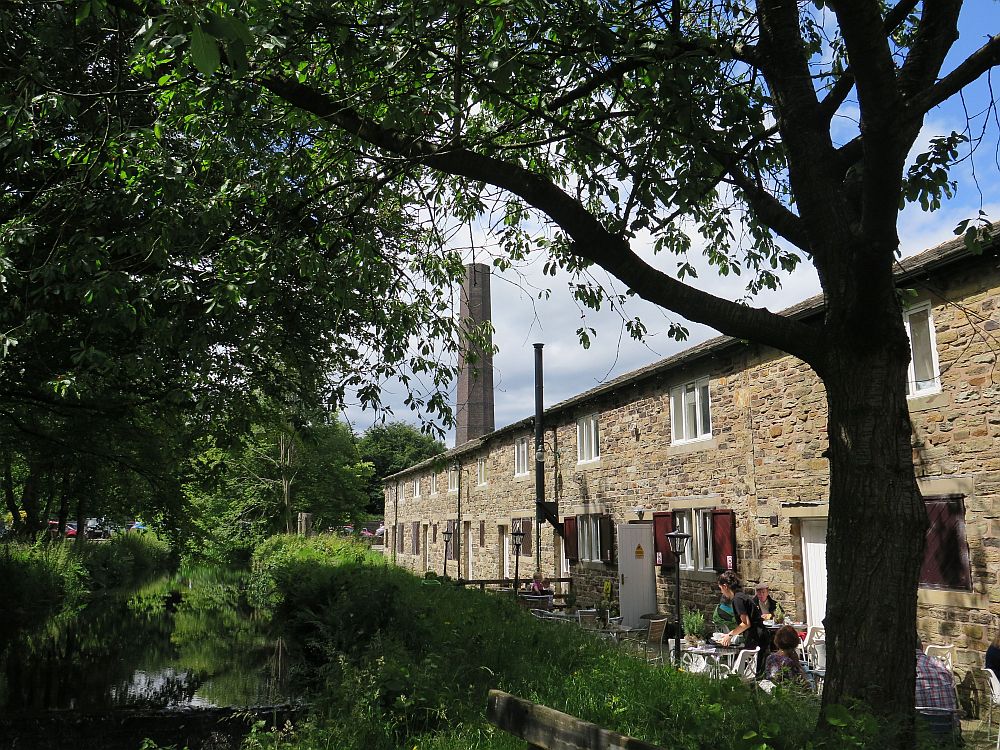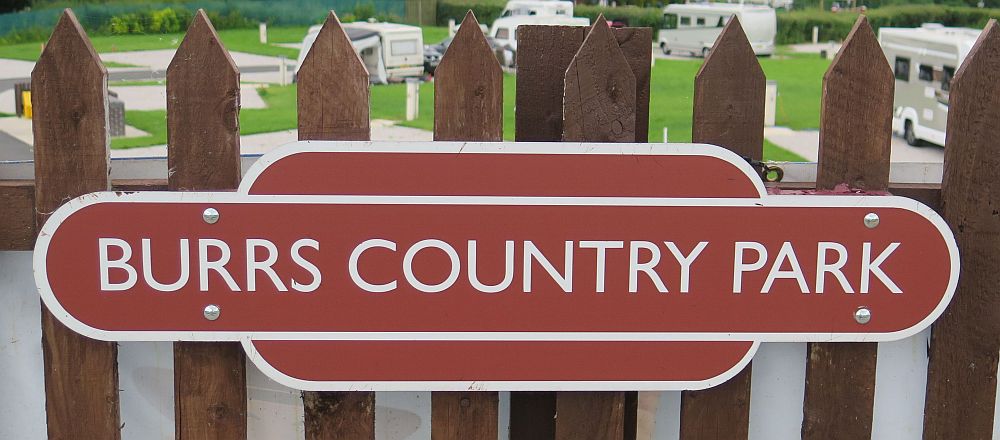 Monday 1st July. Very dull start to the day. Had half an idea about going to Manchester on the tram today but given the weather decided against. However we did need some shopping so decided to go no further than Bury. The bus into Bury is about a 15 minute walk from the site. It is only an hourly service so you have to plan! The bus dropped us off at the bus station in the centre of Bury and is only a short walk from its famous market. We found a Costa's for a cup of coffee and then had a look round the immediate vicinity. What we were looking for was a proper food shop. Further on from the bus station is a newer shopping development with an M&S Food Hall where we were able to get what we needed and the odd treat! By now it was raining and my Gore-Tex jacket was starting to resemble a Turkish Bath! We got back to the bus station in plenty of time for our bus and had a nice conversation with lady also waiting. She was going to Ramsbottom so quite a bit further than us. She seemed surprised that we were able to use our bus passes, perhaps because she is able to have wider use of transport in Greater Manchester, similar to London. Of course as soon as we got back to the van the sun came out!!!
Tuesday 2nd July. Our last day here at Burrs Park. Another cloudy start to the day but as in previous days it brightened up from about lunchtime. We have had a lazy day as Margaret had a bit of a restless night so she had a snooze in the afternoon, very civilised! Interestingly the site is quite empty with probably only half the pitches in use. One of the wardens mentioned to Margaret that it was very much a weekend site. I suppose I can see that perhaps the locality does not lend itself to spending a couple of weeks here especially as within forty miles you could be staying somewhere in the Peak District. The East Lancs Railway is a big draw but for the last two days there have been no trains which again encourage people here at the weekend as there are peak services.
Buxton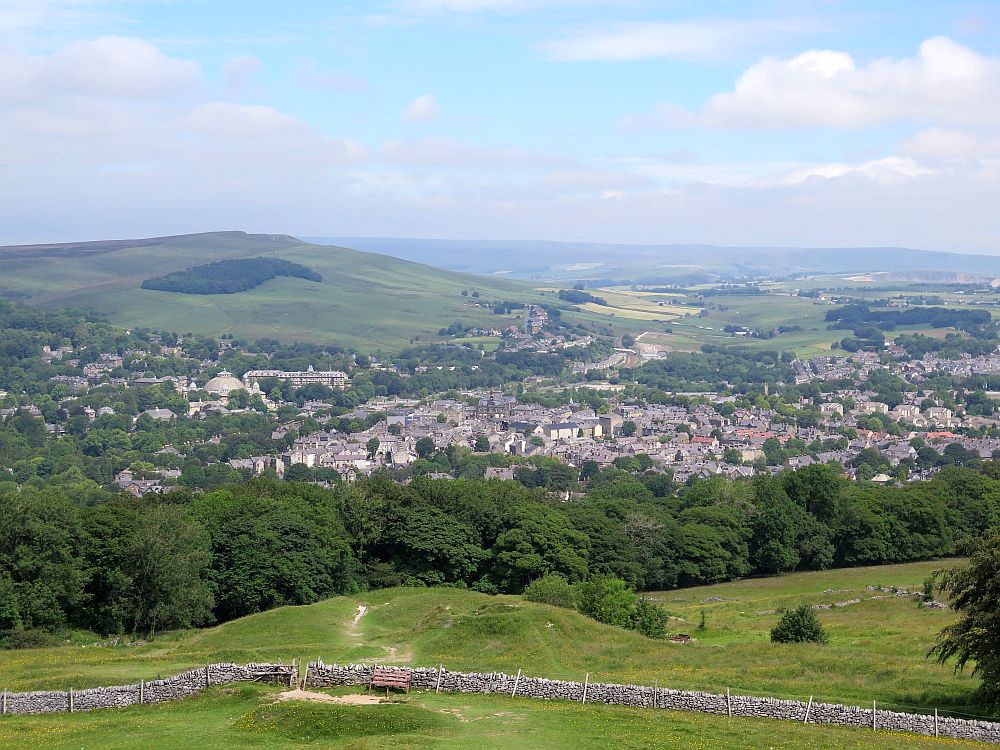 Wednesday 3rd July. We left Bury today and headed for our next stop at Buxton which will be the final site on this trip. The weather was much better today. It looked a complicated route despite only being just over 40 miles. As I am not overly confident in the built in sat nav in the motorhome I decided to check the route on my old TomTom and compare the two. Interesting two totally different routes! The Camper route was via Glossop so I added that as a way point to the built in sat nav. The trouble I find is that the built in one tends to cut corners off which might be fine in a car but could prove difficult in a sizeable motorhome! The first twenty miles were easy enough as it was mainly motorway but from the end of the M67 it got a whole lot more interesting as we cut across country via Glossop, Hayfield and Chapel le Firth to Buxton. Magnificent views as we crossed the Peaks.
The CMC site at Buxton used to be called Low Grin but was changed, along with others, to more properly identify their location. The site is set in a former quarry with high rock sides. We only discovered when we got to the site that there was no or little mobile signal so any hope of using my phone as a hot spot was out of the question. I felt I had no choice but to subscribe to the CMC WiFi offer. Trouble is that it is very expensive for short term use, £10.50 for a week, and so I opted for another annual subscription. I am now wondering if I have wasted £27.50 as connectivity here is very limited and pages take ages to load!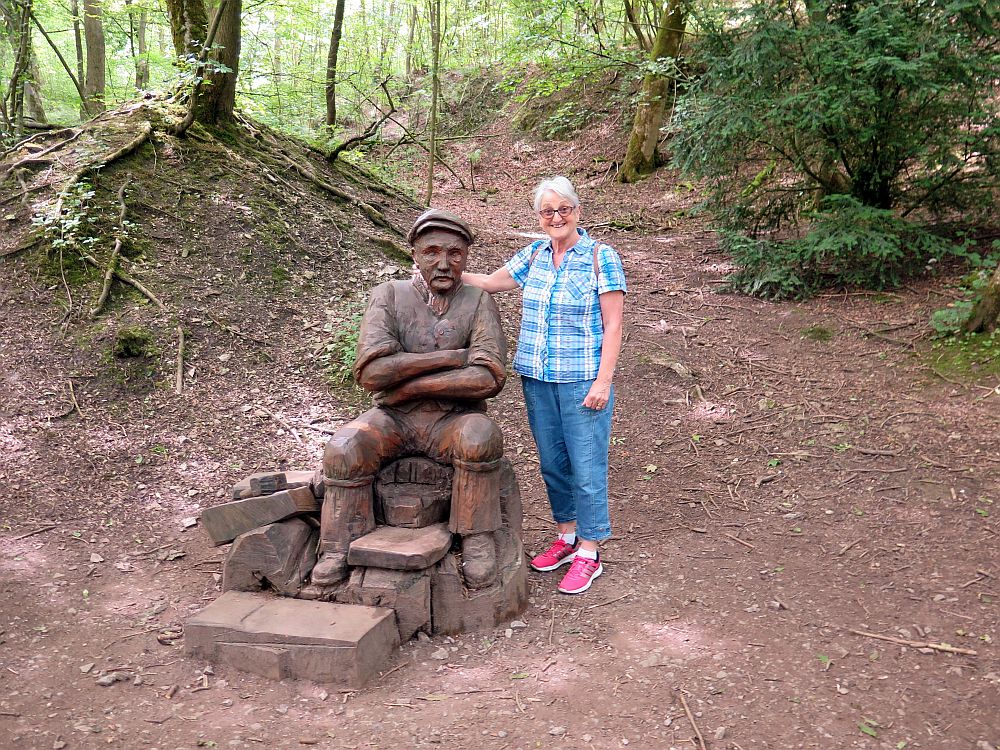 Thursday 4th July. It dawned a beautiful day today although there was still a bit of a chill wind. For what we intended to do that wind could be a positive advantage! The problem with the Buxton Club site is that it is remote from any form of public transport. So if you want to get anywhere you have to walk or take a taxi! We foolishly decided to walk into Buxton! The site provided a walking route which is initially a steep climb from the Country Park car park. At a tee junction in the path we could have diverted to Solomon's Temple but we took a left on a pretty steep downhill path which takes you down to the car park next to Poole's Cavern. What the site instructions did not say was that we were not even half way to Buxton. However the rest of the walk was a more gentle downhill until we got to lovely Pavilion Gardens. This leads right into the heart of Buxton. The famous Crescent is being restored which is making a bit of a mess of the centre.
After some lunch we needed some shopping and were pleased to find a Waitrose, fairly rare this far north! Now the problem was how to get back to the campsite. They had provided us with a phone number for a cab company. Fortunately they could get a cab to us in a few minutes and we were back at the site in no time. Even the cab driver said that they tend to deliver more people back to the site than actually pick up from the site! I think we were both proud of the fact that we had managed to walk so far today. I appreciate that some will take this sort of walk in their stride but for us it was quite a challenge. I tend the wear a step counter when I am out and about and today was one of the few that I managed to reach the 10000 mark. Thinking back to my younger days I would have probably done twice or more than that in step terms.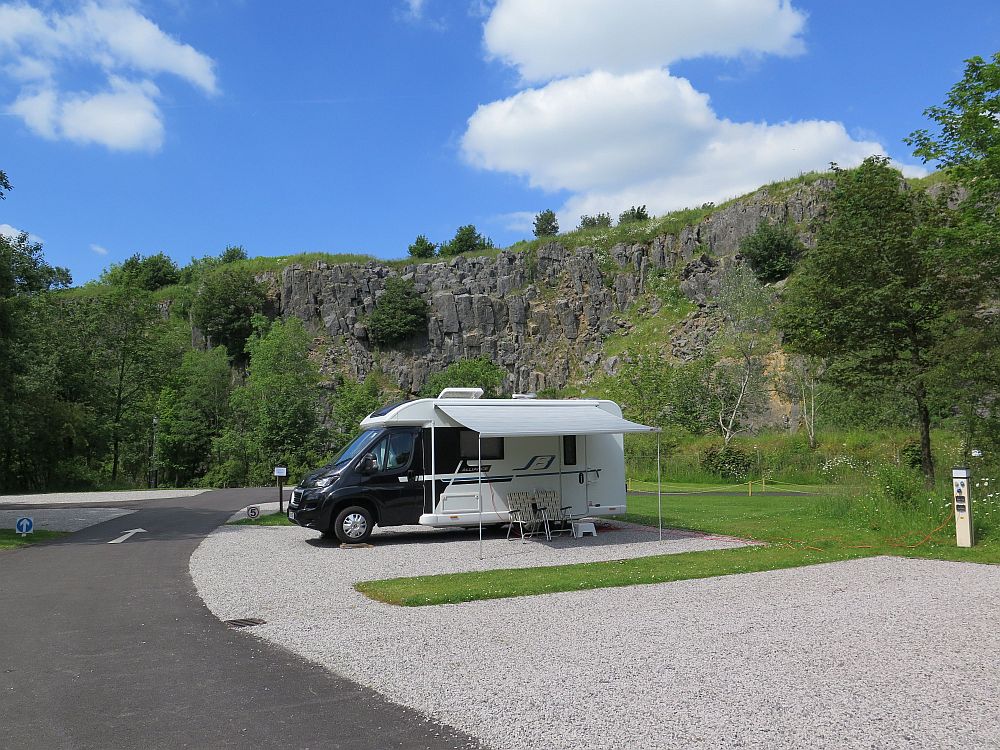 Friday 5th July. Another lovely day but not too hot. This morning, after breakfast, we rashly decided to walk up to Solomon's Temple which is a viewing tower come folly in the Grin Low Country Park. Given our walk into Buxton yesterday we were a bit concerned whether our legs would be up to the climb. The tower is 440 metres above sea level, although of course, we didn't have to climb that far!!! We took it easy and had a few rest stops en route but made it to the top. The tower is only twenty feet tall and was built in 1896. The two storey building has two floors and there is a spiral staircase up to the top with commanding views over Buxton. For some this would have been a gentle stroll but for us it was a bit more than that and we are glad we managed it. As perhaps an aside regarding the step count. Yesterday over 10000 but today up the tower 3000, and yet it felt like we had expended far more energy! Coming down, at least for me, a bit more difficult but we made it. Being a Friday the site has filled up quite a bit.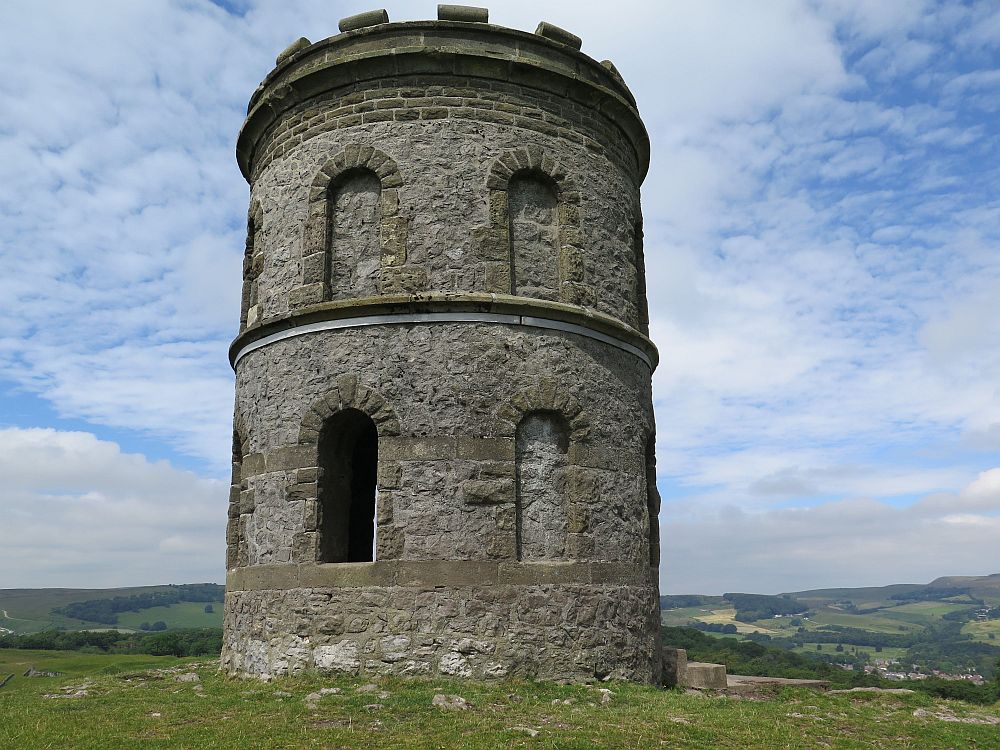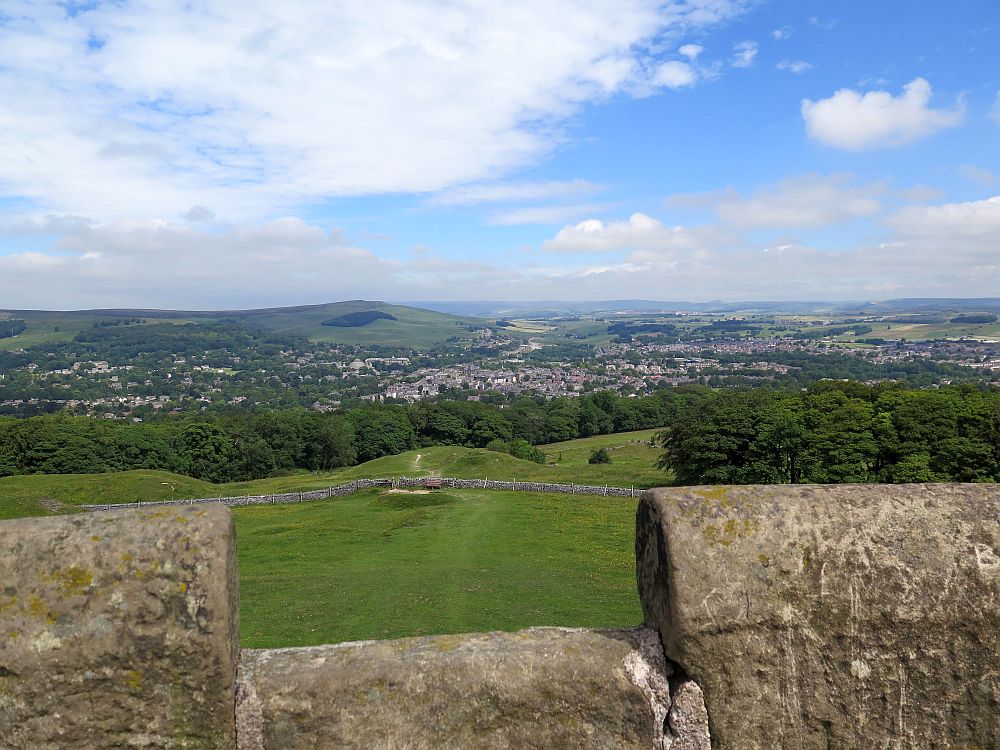 Saturday 6th July. This is our last day at Buxton and we didn't venture far but chose to have a lazy day at the van.
Sunday 7th July. Today is home day. We have an interesting journey ahead of us. There is a long climb out of Buxton but then downhill to Leek. We then went across country to Ashbourne and from there down to the A50 which took us to the M1. Whilst on the A50 a car pulled alongside and pointed up to the roof. I gave the thumbs up as a way of thanking him and pulled into the next emergency lay-by. One of the hatches had sprung open. Don't know how as we check them before departure. On our way again and a stop for a coffee at Leicester Forest East services. We quite like travelling on a Sunday as although the roads are busy there are less wagons which makes progress a bit easier.
This has been the longest trip we have done in the new van. The volume of washing seems to be an issue and where to store it but we are gradually finding work rounds to these issues. Other than that we managed pretty well and finding the sleeping arrangements quite comfortable with the added bonus we don't wake each other up in the middle of the night!
Cambridge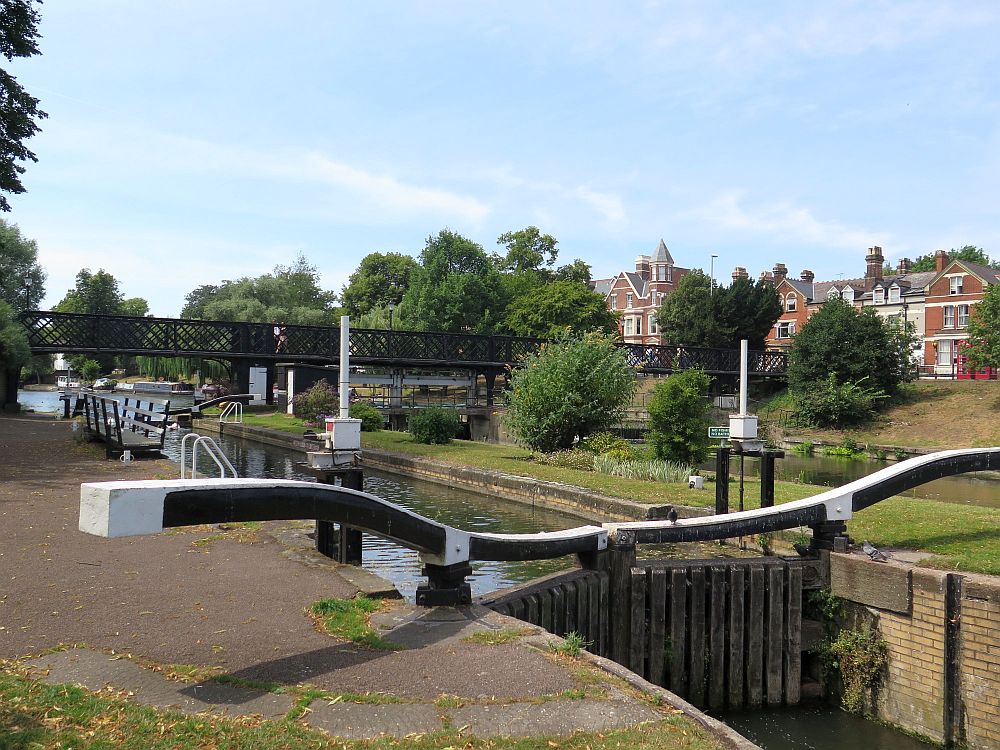 Sunday 21st July. We have sneaked away for a few days during the school holidays to Cambridge. It is a return visit to the Cambridge Camping and Caravan Club. The only problem is that they don't accept arrivals until 1.00pm which means a lot of hanging around. Although we use the route to Cambridge quite a lot we have yet to find somewhere to stop for a coffee so we had to make do with a layby to kill a bit of time. Even having done that we stopped at the American Cemetery just west of Cambridge but I didn't think we would get into the carpark as the entrance is very narrow. In the end we arrived a minute or two early which didn't seem to faze the site manager. The C&CC have stopped charging for Wifi so as I had an annual ticket they sent me a £5 refund which I was able to use to help pay for the site fees.
As is usual with C&CC sites you are allocated and you are escorted to your pitch. You are asked if you have any preferences and I wanted to be reasonably near to a water point. Margaret was not sure we had the best pitch but we are here and set up so only time will tell. We are en route to the toilet block so we do get people walking between the pitches but I am not sure how you avoid that! It is interesting to see the number of European campers here. Apparently some of them turn up without booking which can sometimes lead to disappointment. Weather wise it has been pretty warm but until the evening it was quite cloudy. Rumours are that over the next couple of days it will get much hotter!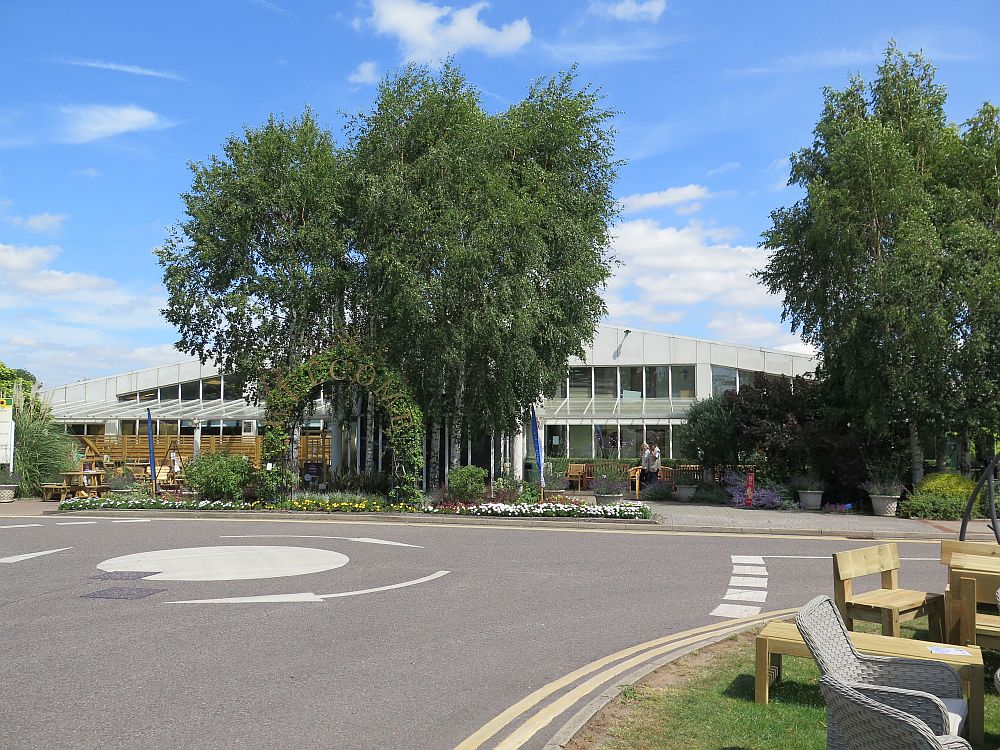 Monday 22nd July. Very hot today, late twenties with a prediction it will get even hotter over the coming days! We were up fairly late today so it was decided not to go into Cambridge. Instead we decided to walk down to the nearby Garden Centre, Scotsdale's. We have been here before and they have a superb selection of perennials. Unfortunately far too hot to carry any back to the motorhome! We did enjoy a coffee and a scone having found a table with an umbrella. By now it was really hot but we had to divert via the local store as I forgot to bring my breakfast cereal! Otherwise a lazy day trying to keep cool!
Tuesday 23rd July. It has been hot,hot,hot today, too hot to really do anything. We had originally intended to go into Cambridge today but the prospect in this heat was a bit daunting. So we basically spent the day trying to find a shady spot.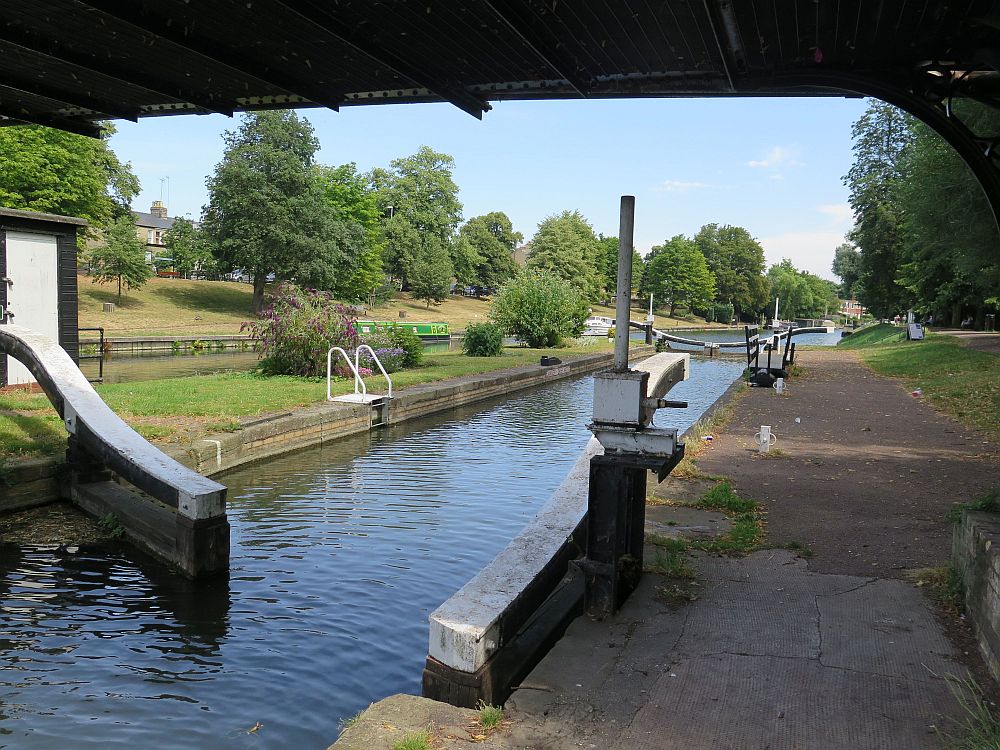 Wednesday 24th July. We had a big thunder storm with lightning and some rain overnight. It was a bit fresher this morning because the wind was at about twice the strength compared to yesterday. Any thoughts that the storm was going to make it a more comfortable today were soon dashed. We decided that we should at least make an attempt to visit Cambridge today. We caught the 11.30am bus from near the site entrance. I am pretty sure the route has changed since we last used this service a few years ago. It now goes through the estate that borders one side of the site – pity there is no gate onto that road as it would make it easier! It also passes the new Royal Papworth Heart Hospital which opened a short while ago. After a long and sticky journey we alighted near the Grand Arcade to have coffee in JL. Our plan was to try and explore a bit more of the River Cam and in particular Jesus Lock. After what seemed a long hike through the town we got to Bridge Street and took the path along the river. I say pathway but much of it is cantilevered out of the side of the adjacent buildings to provide access along the river. Earlier in the year I complained that Cambridge didn't seem to do much in the way to facilitate access but I am glad that in this case they have. We soon found Jesus Lock which is more or less the upper limit for navigation by larger boats although no doubt the more intrepid try a bit further but they have to run the gauntlet of the punts! The lock beams of Jesus Lock are unusual as they curve upwards unlike most locks where they are straight. Having sat for a while watching the scene we decided to make our way back. The heat was so oppressive we abandoned our original plan of having a meal in Bella Italia. We did stop at the Mitre Pub for a drink before finding a M&S Food Hall for cold foods we could eat back at the van. This is our last day here and tomorrow is forecast to be even warmer, at least we have air conditioning in the van whilst on the move! We were really not prepared for this heat and even forgot to bring a cooling fan with us, that will teach us!
Thursday 25th July. The wall of heat is still there as we get ready to leave. We scan the distant tree tops to see if there is any sign of a breeze but nothing that will ease the heat. There was a slight hold up on the M11 but otherwise the journey home was uneventful. We were even getting used to the air conditioning in the motorhome buy thank goodness we had it. We learnt later that today's temperature recorded at the Botanic Gardens in Cambridge was a new summer record for the UK, 38.7 Celsius.
September Trip to Scotland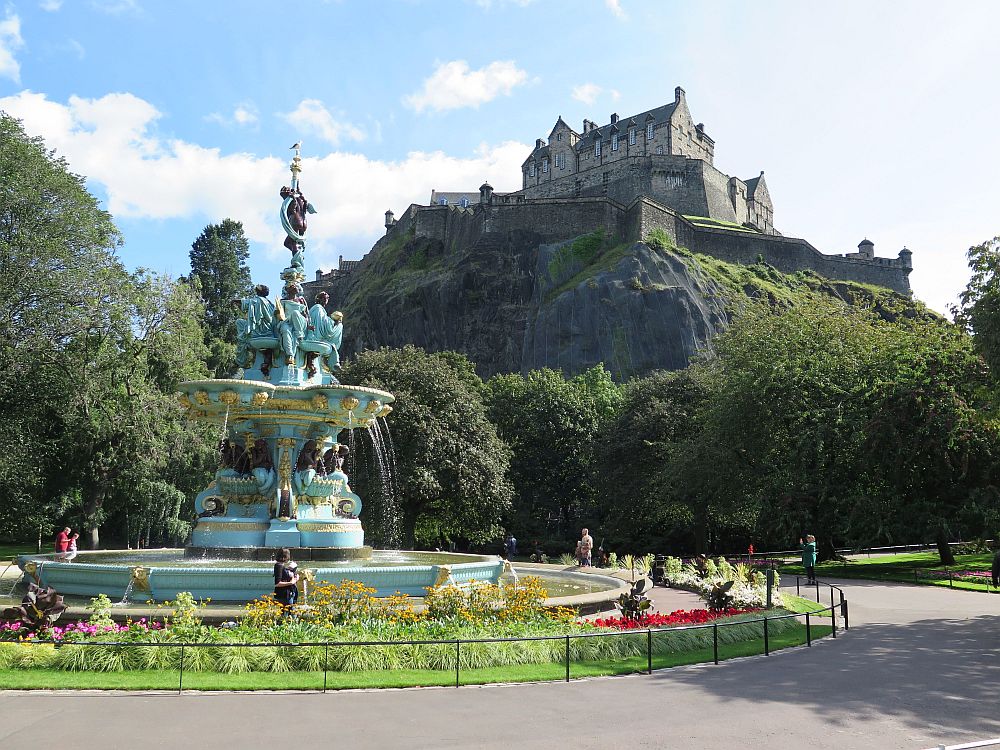 York
Saturday 31st August. Today we have embarked on a three week tour to Scotland. For the first stage of the trip we are heading to a small site near York.
I decided that we should start the holiday on a Saturday in order to fit in all the places and be back by a certain time because of various appointments. Was it a good idea? Not so sure about that as there seemed a lot more traffic than we usually experience travelling on a Sunday. It started to get worse the further north we got and rather surprisingly the M18 (once dubbed as the road to nowhere) was very slow. Even when we got on the A1(M) that was slow. Into the mix was heavy rain in an otherwise pleasant day. Fortunately by the time we approached York the sun was out again. We found the site reasonably well although it's not too obvious from the road. Cherry Tree Cottage seems a nice little site with about 15 pitches. Arrival is all a bit relaxed as we just picked up our paperwork at the entrance with information on how to pay. On that score I discovered something interesting. Payment methods are cash, cheque, prepaid or bank transfer. I thought I would try the latter to preserve the cash I was carrying. I tried the usual internet banking but that require my card reader which I had left at home, so that was a no go. I then thought, why not try the App on my phone, hey presto that worked fine, an authorisation was sent to my phone which I had to add to the transaction. Perhaps interest banking as we know it is on the way out!!!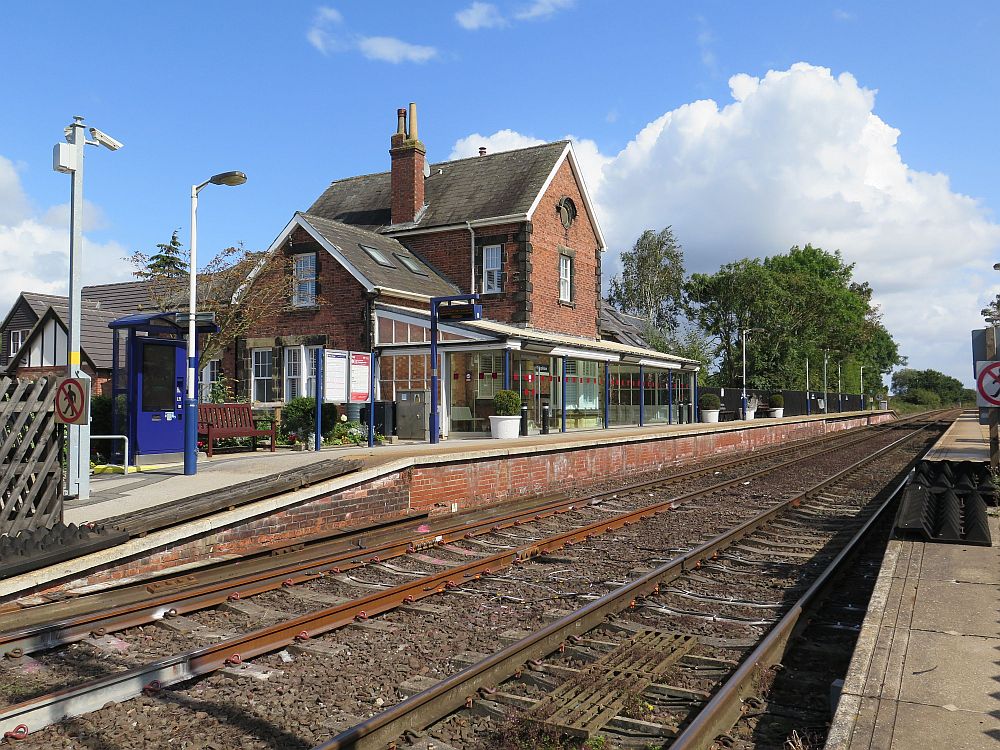 Sunday 1st September. Officially the first day of Autumn. Pretty nice day today even if about half the temperature it was a week ago! There has been the odd shower but they have soon blown over. We weren't in a particular rush today so decided to walk to the local Garden Centre. This involved walking up to Nether Poppleton and then Upper Poppleton, past Poppleton Station which took us down the York Western Bypass where the garden centre was next to the Park and Ride. Apparently it used to be a Wyevale and now a Dobbie's. Not a patch on the one we have in MK! We had lunch there aided by the free coffee via our Dobbie's card! It was interesting walking along the road where Poppleton Station is situated. The Station was opened in 1848 and I imagine many of the local houses date from around that time. Quite a few are detached, a few terraced and some strangely large semis! You can tell they were built by craftsmen as the brickwork is beautifully done. There and back was three and a half miles which is a fair distance for us but we made it. The site almost emptied out this morning and is now only about a third full.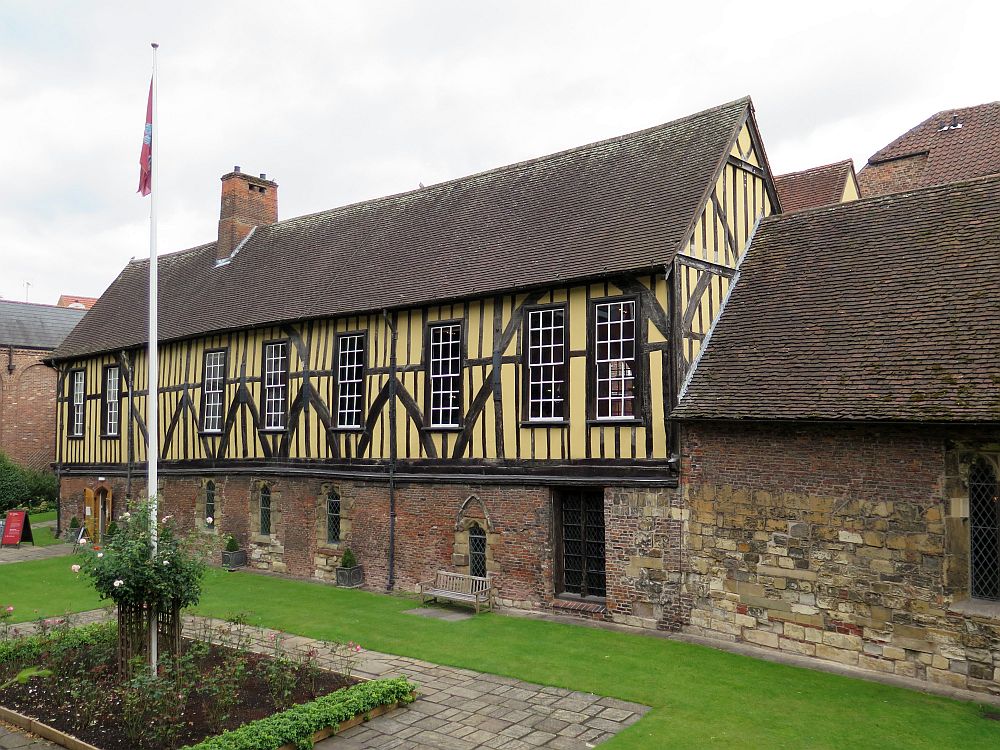 Monday 2nd September. First thing it was sunny this morning but went downhill since then. We caught the bus into York today. This was a rather expensive experience for us as a certain person, no doubt with Scotland in mind, left the English bus passes at home!!! I checked with the driver and the cheapest option (!) was two day tickets for £9. Once we had sat down a man from the back of the bus came up to us (a bit like the neighbour in One Foot in the Grave who appears from nowhere through the fence!) to explain that we had saved one pound by buying two day tickets. We got off the bus in Piccadilly and wandered up towards The Shambles the famous narrow streets in that part of York. It wasn't long before it started to rain. We would have visited the Minster but I find entrance fees to such things as cathedrals really over the top at £12.50 when I am unlikely to be in the place for more than thirty minutes! I know they need the money but they got none from me. By now we were getting wet so we decided to cut our loses and head back to the bus stop. Who should turn up but our friend from the bus advising us to visit the pub in Nether Poppleton and we would still be able to use our tickets to get back to the campsite!!!
Edinburgh
Tuesday 3rd September. Well we have arrived in Scotland, a bit on the late side but we arrived! We rolled into the Edinburgh CMC site at about 4.30pm. It was not that we left York too late, in fact we were away just after 9.30am. We did stop at Newton Aycliffe to fill up and do some shopping which may have delayed us a bit but at 220 miles it was a long journey. We stopped at the border for lunch as did many others even if it was only to take photographs! Weather has generally been a bit dull today with a bit of rain. We followed the sat nav through Edinburgh via Leith which was probably a mistake as it was very busy and very slow. However the route suggested by the CMC would have been longer and possibly just as slow but as we have done that before it would have been on better roads. We followed the A1 all the way from near York to Edinburgh. It is an interesting road and once north of Newcastle you often get glimpses of the coast and in some case you are pretty close to it. When we arrive we had a problem with the water pump again. It seems, that whilst travelling, it loses pressure. I did manage to get it working again but only by disconnecting a pipe to clear an air block.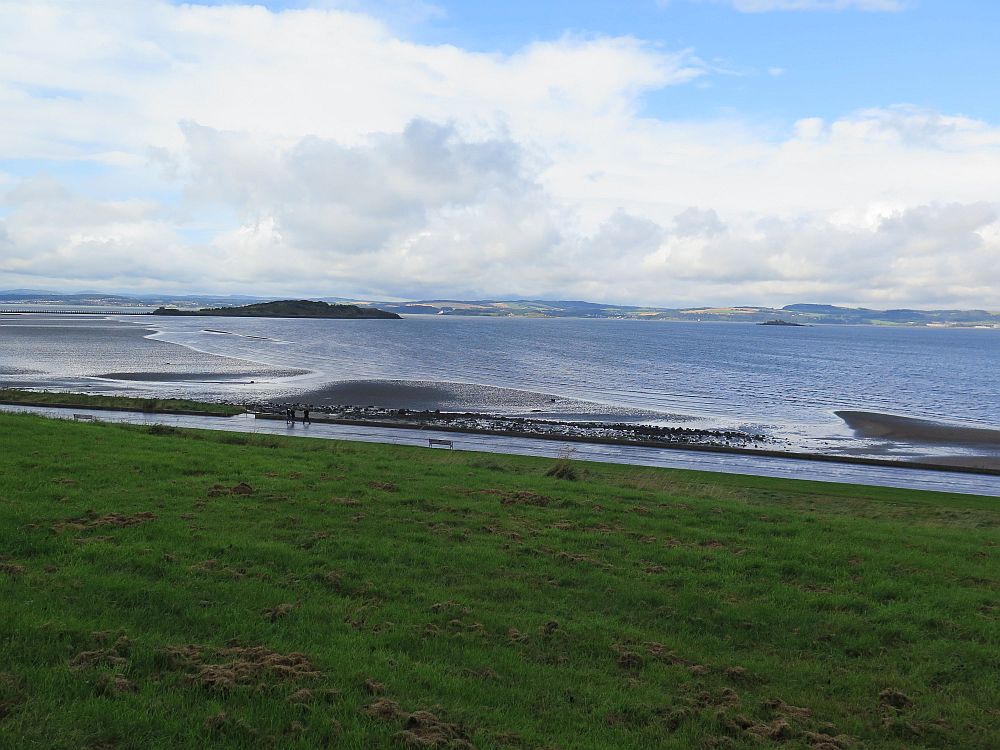 Wednesday 4th September. We were pretty exhausted from the long journey yesterday so had a pretty lazy day. Some might feel this was wasted time but it has been wet, on and off, for most of the day. We did don waterproofs and walked down to the esplanade which is not far from the site entrance. This site is very busy with comings and goings through the day it seems. Arrivals are allowed fairly early on which is different to most CMC sites. There are quite a lot of German registered motorhomes turning up. Almost as soon as they arrive they seem to be off to explore. I suppose given their limited time they have that makes sense.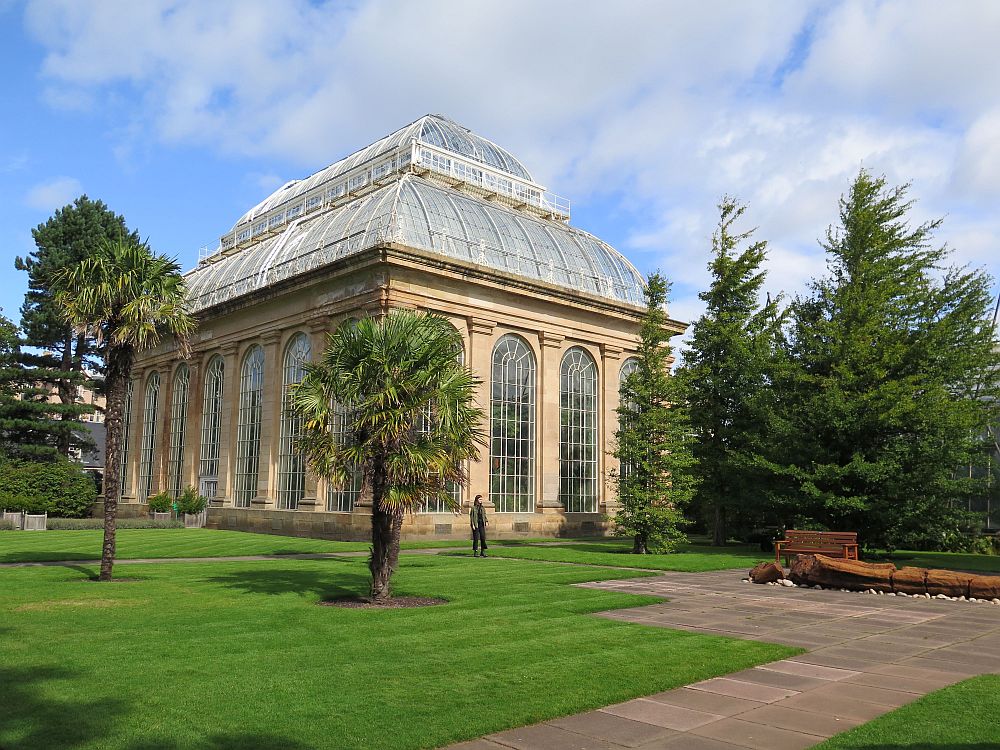 Thursday 5th September. Well it's not getting any warmer so we broke the fleeces out of storage today! At least it was dry and there were times during the day when the sun came out but it is far from warm. I suppose it's all relative. We decided to take the bus into the City today. That was after the three quarter of a mile walk to the bus stop! As an aside we have stayed at many sites near big cities in Europe and almost without exception they all have bus services running from outside the local campsite but clearly not Edinburgh! Our first stop was the Edinburgh Botanic Gardens. It was interesting to see flowers that had long gone over further south still in bloom. Surprisingly entrance was free, you only pay if you want to visit the glass houses. We then caught a bus into the Centre but because we wanted to visit Holyrood House we were unsure quite where we needed to get off. We stopped near the Royal Mile which confusingly seems also to be called the High Street! Having been here before we knew it was a long walk, albeit downhill so we nipped on a bus, why not we had a day ticket!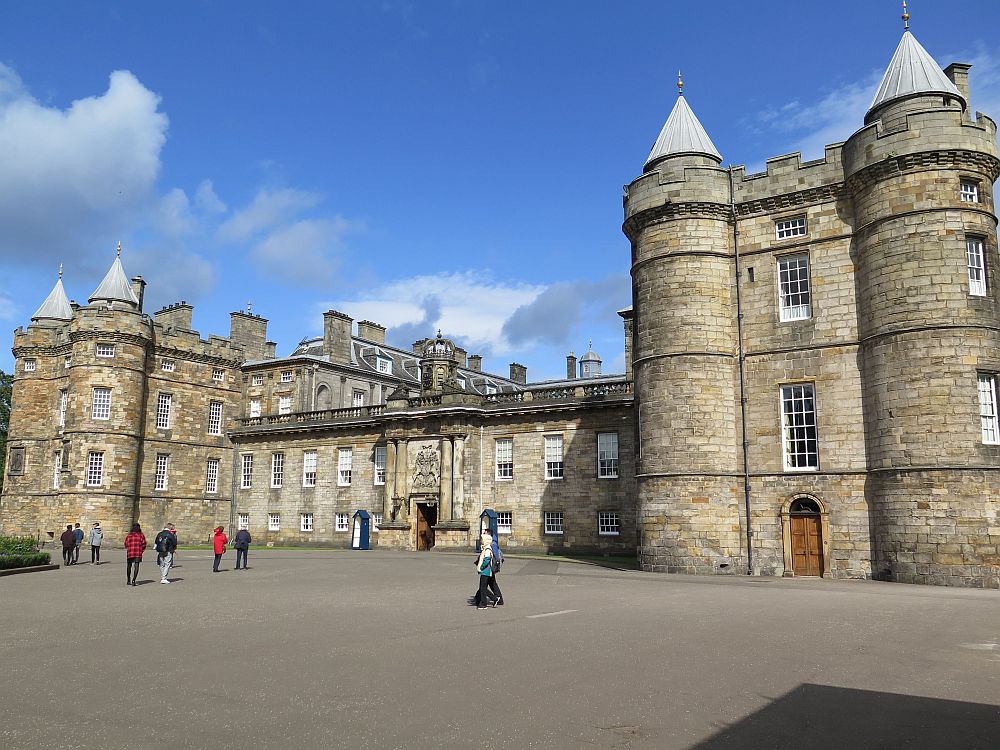 There was a noisy demonstration outside the Scottish Parliament. Wasn't quite sure if it was about Scottish Independence or Brexit or both? They seemed to be getting lots of support from passing motorists! Our business was on the other side of the road, at the Royal Palace. There were several options for the Palace but we chose the main house and gardens. There is certain sameness about such places in the way they are laid out. Interestingly the current Holyrood Palace was built alongside the (now ruins) of the Abbey built by the Scottish King David (good name). The gardens, whilst nice, prevented getting any nice photos from a distance as there were don't walk on the grass notices everywhere, not sure if there is still an "off with their heads penalty" if you disobey! After our tour we had something to eat in the café before making our way back to the bus. By now we couldn't face the length of the Royal Mile so we got a bus back about half way up and then a short walk before we found the stop for the number 27 and back to Muirhouse and the walk back to the campsite. Over 11500 steps today!
Friday 6th September. A lazy day on site today. I thought I would have slept well last night, given all the walking of the previous day but I think the noise from a very windy night and the planes flying into Edinburgh Airport through the night conspired towards me having a seemingly disturbed night's sleep. Weather has been a bit changeable today being dull first thing with periods of quite sunny times. The site will be pretty full tonight given all the new arrivals.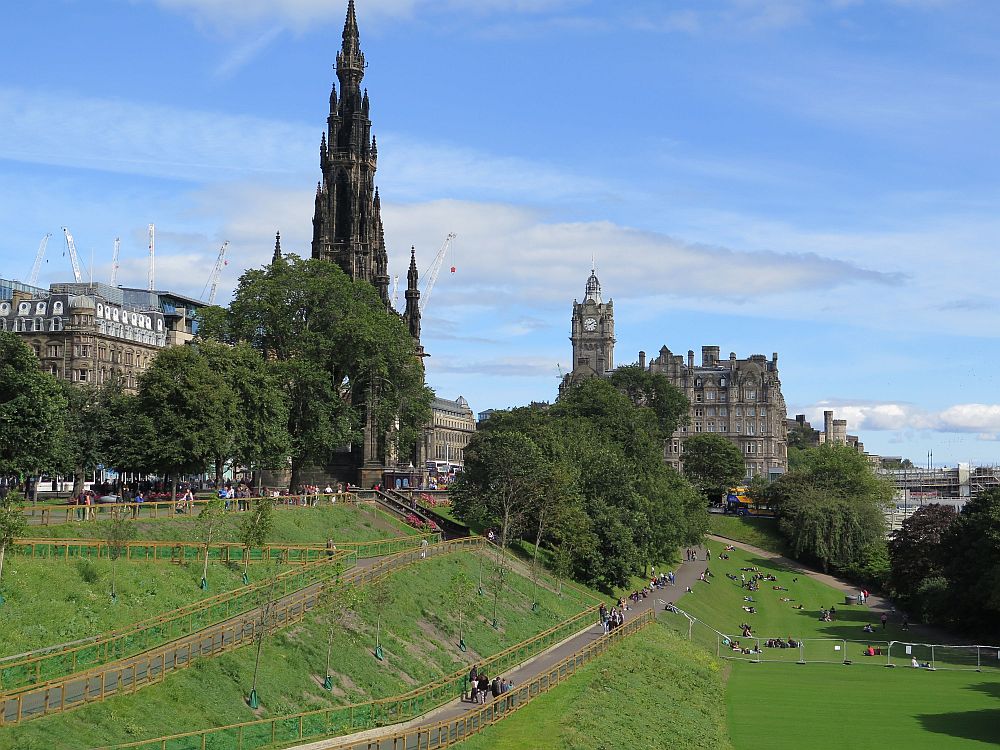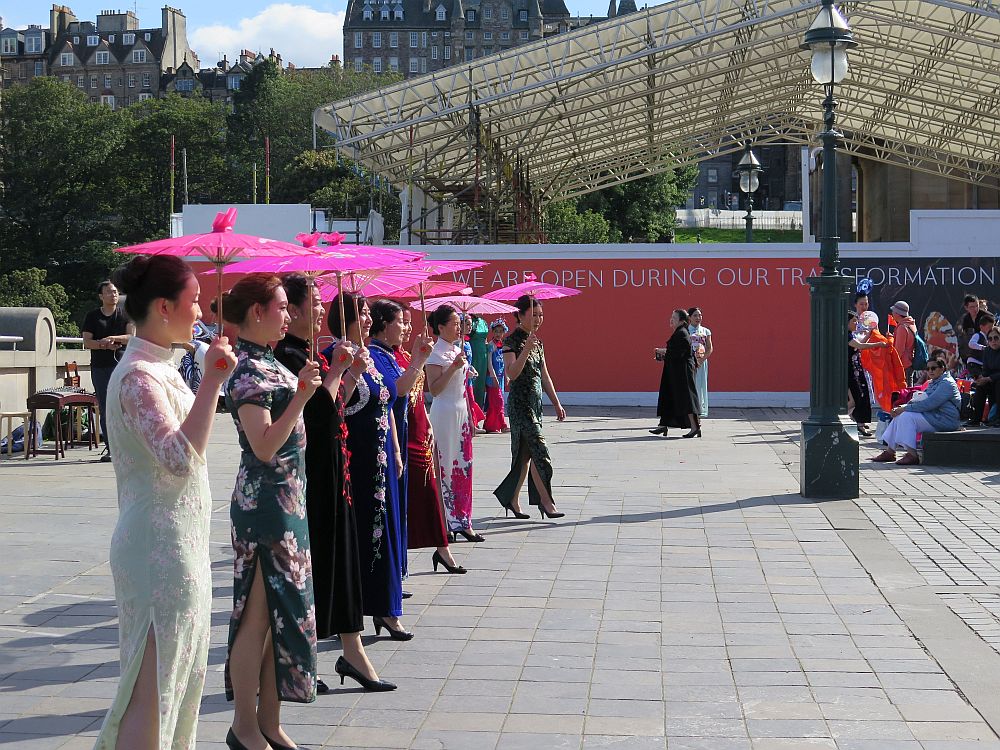 Saturday 7th September. It dawned a bright and sunny day today but still chilly by MK standards! We used the mini bus service into Edinburgh today. There are pros and cons to whether you use the bus or the mini bus. The latter is slightly more expensive but I can't see that as a deciding factor as it has the advantage of being door to door. It also has the major advantage as the nights draw in that you don't have to walk back from the bus stop in the dark. If there is a downside it is that the drop off point is at the top end of Princes Street although special arrangements can be made for other drop offs. The bus is better for those that are pretty fit as it's a fair walk to the bus stop. A day ticket will allow you to use all the buses in the main parts of the city which gives you a bit more freedom.
Princes Street was very busy as we made our way down towards Waverley Station. The last time we were here. Eight years ago, there was a lot of controversy about the new Tram system with costs going through the roof. Well it was good to see them running with no doubt all the troubles well behind them! We carried on towards JL where we had a coffee. There is always a lot going on in Edinburgh, almost as if they get withdrawal symptoms once the festival is over!!! Back past the station and we called in on the Scottish National Gallery. Outside there was a lovely display by some Chinese Dancers. The Gallery was free to walk round and has lots of paintings by famous painters including Leonardo di Vinci. The Castle Gardens were lovely in the sunshine and the flowers were really lovely. Back on Princes Street we found an Italian Restaurant for a meal before making our way back to the pick-up point. Edinburgh is a wonderful City of architecture.
Killin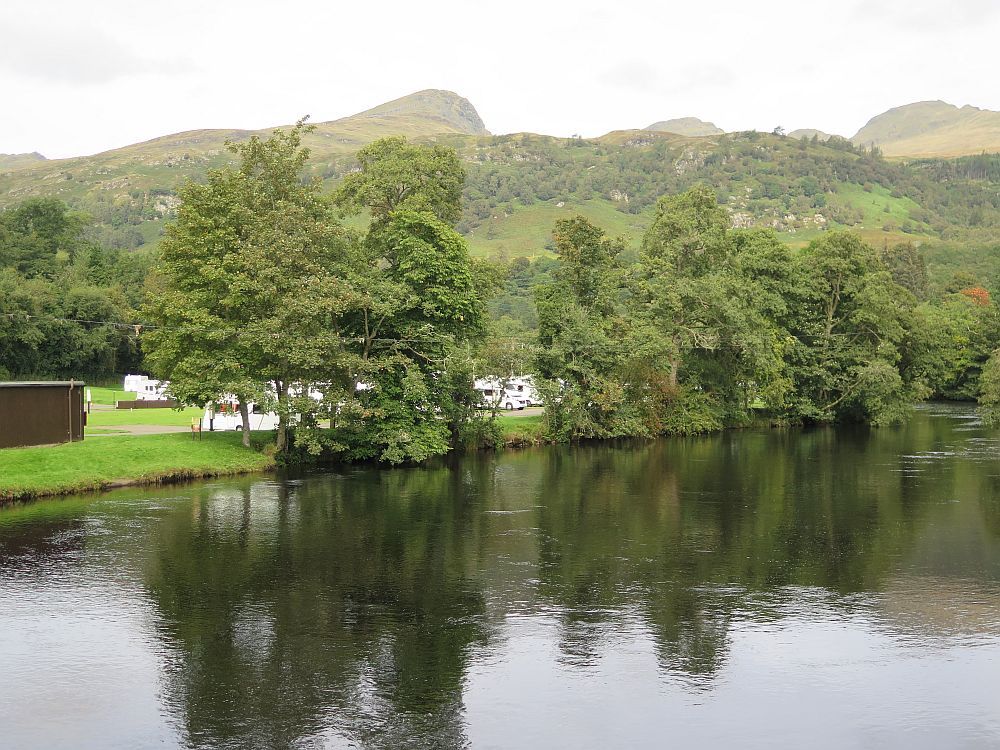 Sunday 8th September. We have made the relatively short journey of 85 miles from Edinburgh to Killin to the CMC site called Maragowan on the outskirts of the village of Killin. All of this was via a diversion to Falkirk where the intention was to stop at the Kelpies which are sculptures which are part of the Helix Falkirk Greenscape Initiative. There was no space in the free car park and the pay car park nearer to the sculptures was a flat fee of £5 for a motorhome which given that we were likely to be there for less than half an hour was outrageous so we turned round and made our way to Tesco where we filled up with fuel and did a bit of food shopping. It must have been twenty years since we were last in this area and I had forgotten how bad some of the roads could be! Anyway we arrived safely in Killen and to the site which is at the far end of the village. It's been mainly dull today although it was sunny first thing.
Monday 9th September. The mists rolling in from the Mull of Kintyre, with apologies to Paul McCartney. It's been a bit like that here today. There was heavy rain overnight which left a few pitches with surface water. It was a bit dryer by the afternoon so we walked into the village of Killin and up to the Falls of Dochart. I suppose there is an advantage with rain in this part of the country as it makes the Falls more spectacular! There were certainly a lot of people around. We walked back through the village picking up a few bits of shopping at the Co-Op.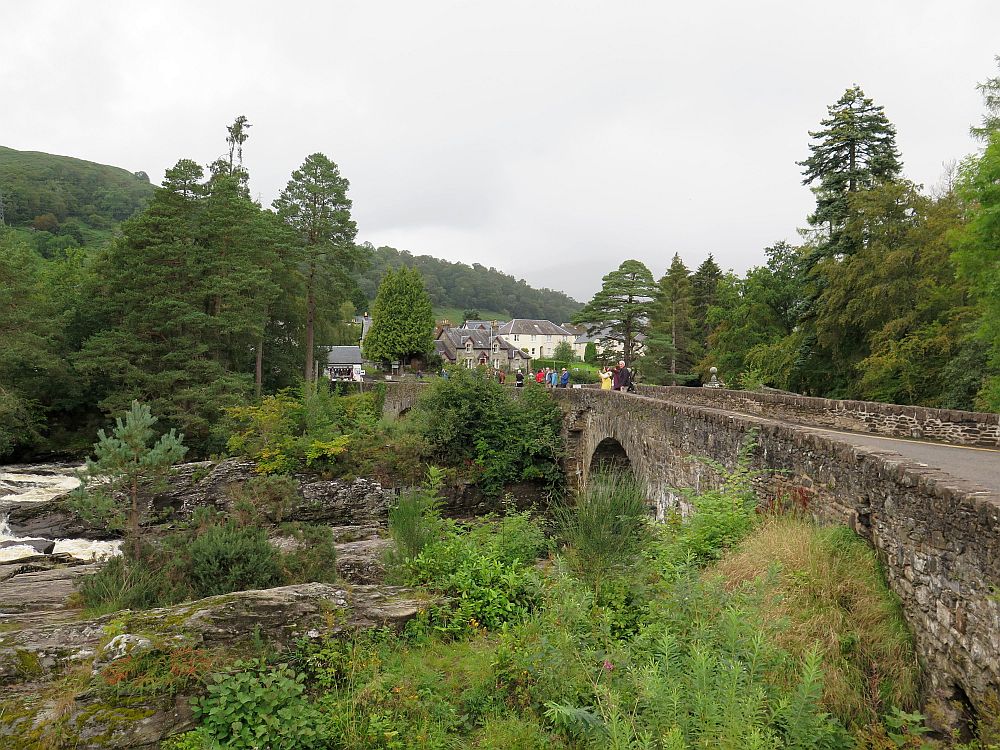 Tuesday 10th September. Weather wise it was a much better day today, we even managed to sit out for a while. We did walk into the village for a few things. We went to buy a newspaper and Margaret spied a book of "Oor Willie and the Broons", a cartoon album! She just had to buy it, never seen such a fast decision, never works like that in Fashion Department of M&S! Apparently Oor Willie was always featured in the Sunday Post which is really a Scottish Sunday newspaper but was also available in Newcastle where Margaret grew up. In the Co-Op we got some sandwiches for lunch and I was surprised to see Onion Bhaji sandwiches which I had to have and they were delicious. I also noticed that the sold beer in pint cans, never seen that south of the border! This is our last day at Killin and tomorrow we move on to Forfar which should be an interesting journey.
Forfar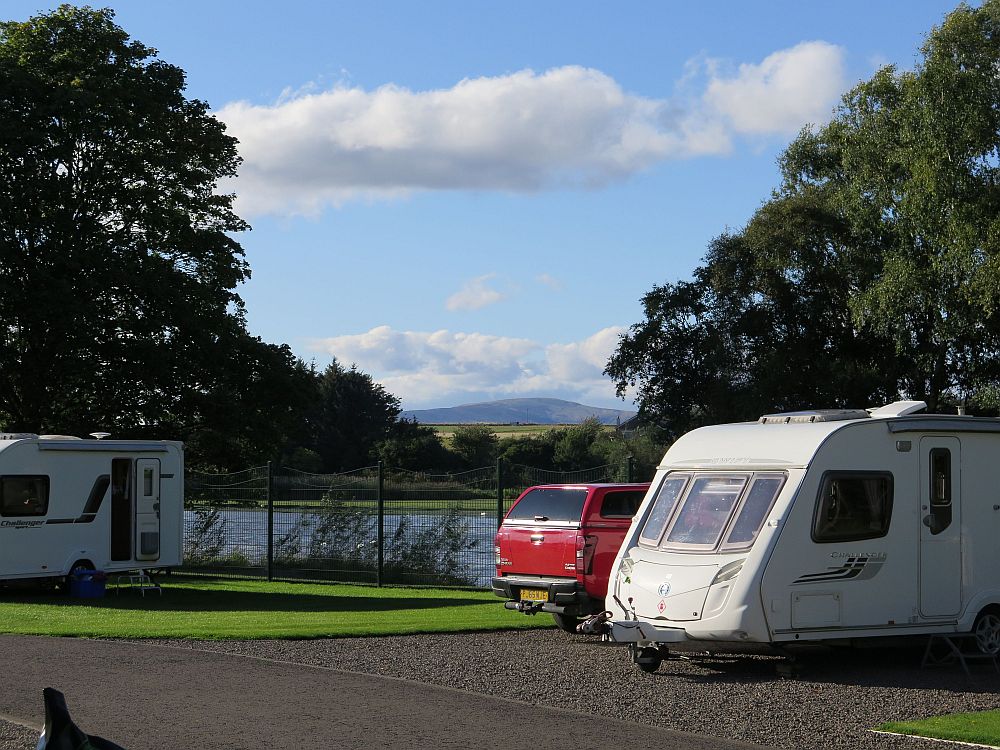 Wednesday 11th September. It started to rain just as we were about to leave Killin today. Fortunately it was short lived and it started to clear up into a better day as we progressed our journey. We knew we would be cutting across country on roads that could be difficult. As we were unsure on the built in sat nav we used it in tandem with our old Camper version on TomTom. Perhaps my mistrust of the built in one was a bit misplaced as they seemed to duplicate the same roads! Even so some of the roads were narrow which required careful navigation and often the need to slow right down to allow vehicles coming the other way to pass. People often talk of the roads in Cornwall but Scottish ones seem just as bad. It was quite liberating when we got to a major road about 50 miles onto our journey only to find ourselves behind a very slow tractor! We got to Forfar and followed the sat nav towards the site. We thought we knew where it was but there were no visible signs, that we saw, so we carried on, turning round at a roundabout. Coming the other way we saw a small sign with a caravan on it and fortunately this pointed us to the site.
Thursday 12th September. Weather a bit dull to start with which turned to rain later and then bright sunshine, well that's weather for you! We needed a bit of shopping and when we were looking for the site yesterday we noticed an Aldi quite close to the site so we walked there this morning. On the subject of not finding the site we had a closer look on the way out today on foot. There were some low stone signs to the Country Park onto which someone had stuck a smaller than A4 sign with a caravan printed on it so I am not entirely surprised we had difficulty. It would have been so easy for the local council to have put a brown campsite sign on the lamppost opposite the entrance!!!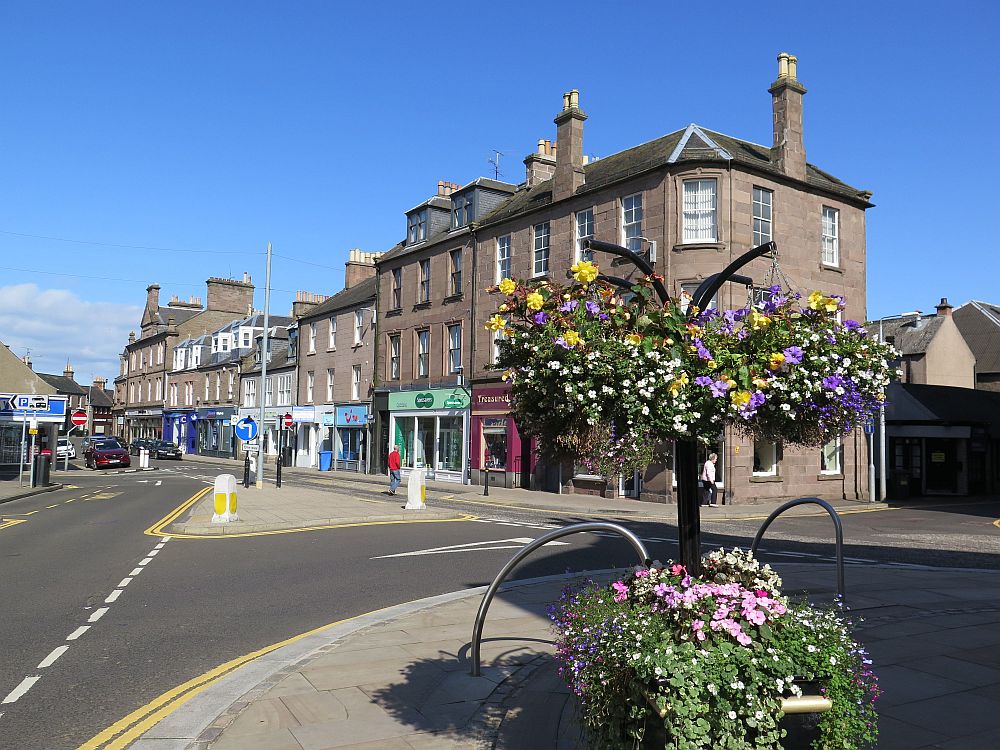 Friday 13th September. It's been nice day weather wise today. We walked into Forfar today which is not far from the site. Apparently it's the county town of Angus. Nothing spectacular about the town but pleasant enough. We stopped for a coffee and then went next door to the butchers to buy a couple of Forfar Bridie's which is a local delicacy, well more like a Scottish Cornish Pastie! On the way back to the site we called into Aldi for some milk as I discovered the site, unusually, does not sell it. I suppose understandably given that they can't compete on price. Site is again full tonight and I suppose for the weekend. We have been surprised how busy the site has been since we have been here.
Saturday 14th September. Been a lazy day today. The weather has not been great today so we decided to stay put in the van. This is our last day at Forfar and in Scotland before we move back into England.
Berwick upon Tweed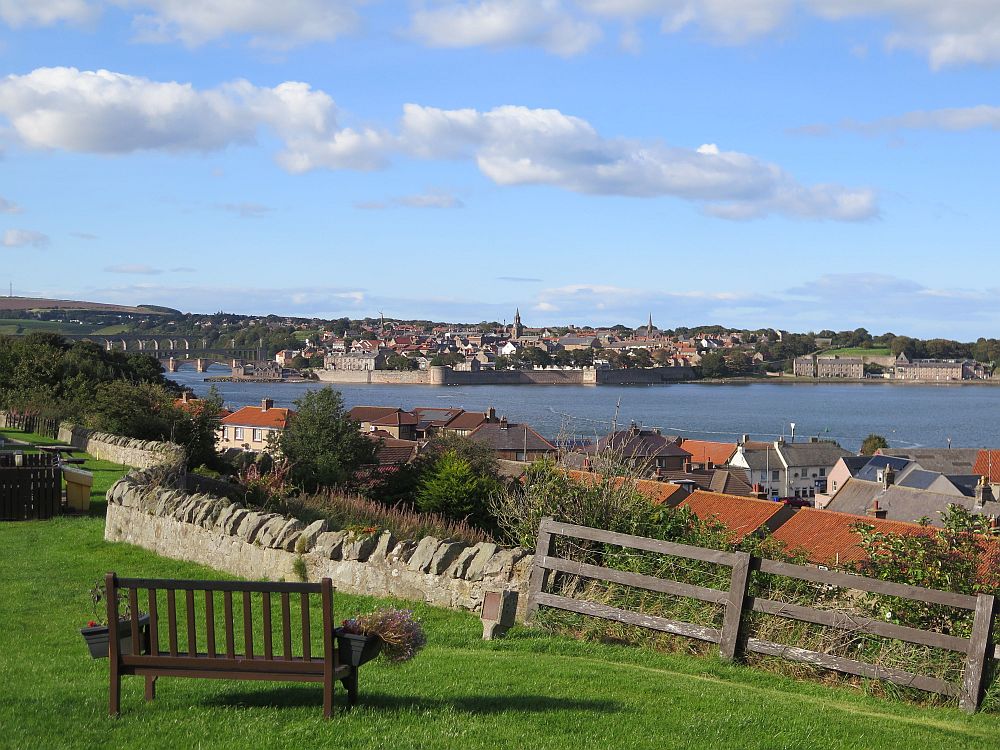 Sunday 15th September. I think I made a mistake in thinking that roads in Scotland would be quiet on a Sunday. OK, so hardly any lorries but otherwise masses of cars! Our route took us from Forfar south to Dundee and then to Perth and then south to Edinburgh which included the new Queensferry Bridge. Slightly reminiscent of the Millau viaduct but on a much smaller scale. No tolls which was good! We managed to find our way around the Edinburgh southern bypass and headed out onto the A1 south. We were heading for the CMC at Berwick upon Tweed. Before making our way to the site we stopped at the local Tesco to fill up with fuel and do some shopping. On the fuel score we seem to be getting around 30 miles to the gallon which is a 5 mpg improvement over the old motorhome which is encouraging. Sometimes it's better than 30 mpg but on the latest stint we did a lot of cross country slow and low gear driving. The new motorhome has now passed the 2000 miles so may still not be run in!!! We arrived at the site to find it pretty full with only a limited choice of pitches. We are right at the end of the site! Many of the reviews of this site complain about the noise of trains as it's alongside the main East Coast main line! It has been amazingly quiet since we arrived but I suspect there are engineering works in progress as we have not yet seen or heard a single train. No doubt this will change tomorrow with a vengeance! Weather had been a bit dull and cold until we arrived on site but late afternoon and evening was calm with beautiful sunshine. We have a nice view out over the Tweed estuary from our pitch.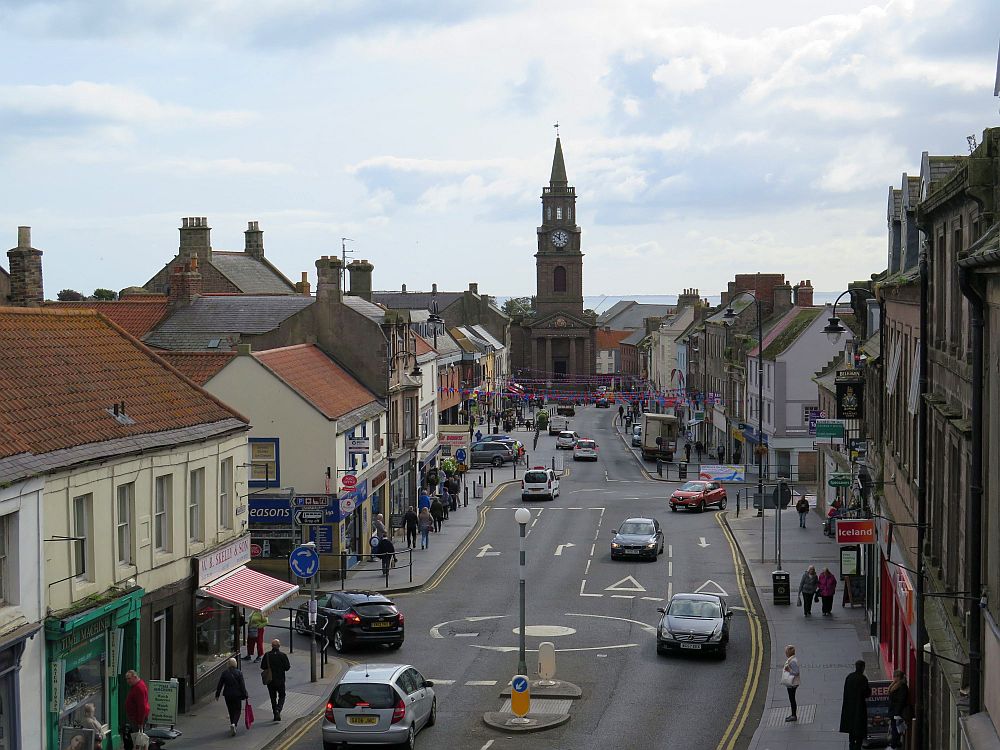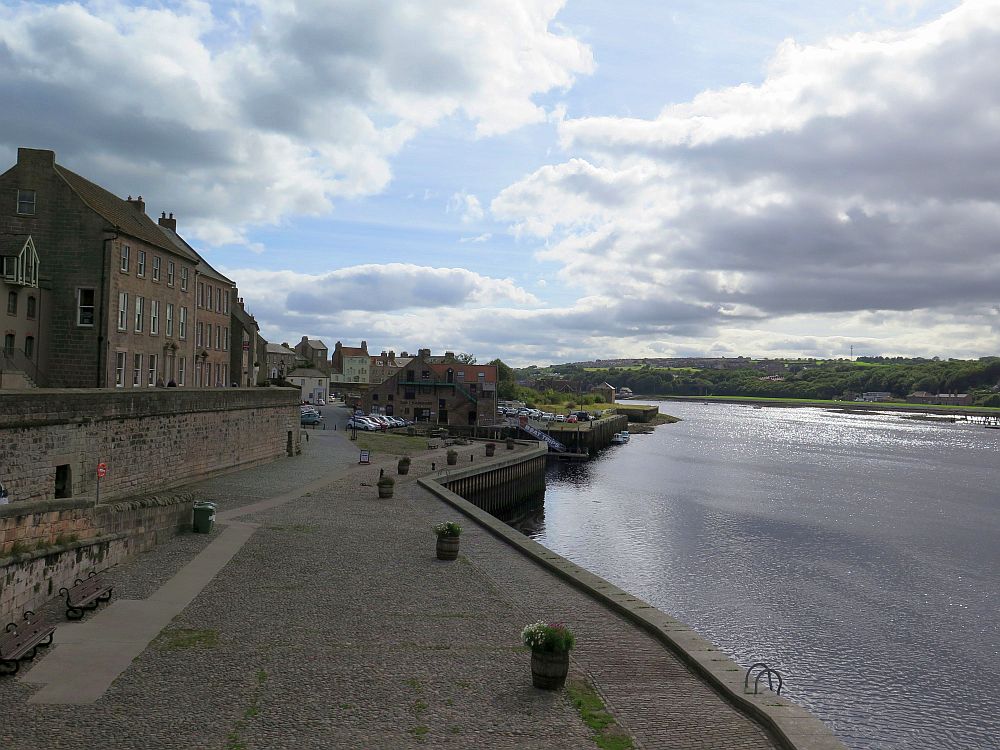 Monday 16th September. Well the trains are back but perhaps not as frequent as I imagined. I think the problem is one particular type of rolling stock makes more noise than other trains. A sunny day if a bit chilly. We took the bus into Berwick today, £6 for two returns. Even the driver was surprised we didn't have our Bus Passes!!! Before heading into the town the bus goes round the houses which was interesting as it climbs high above the Tweed estuary before heading into Berwick. The town is quite interesting and also busy. We were surprised how pronounced the Geordie accent was in Berwick, almost more so than Newcastle. We found the Ramparts which afforded a lovely view over the river bridges and the railway viaduct. Back down in the town we stopped for a coffee before exploring further and another part of the ramparts. We could see the campsite on the other side of the river. Having done a bit of shopping we made our way back to the bus. We decided to take the long way round via a place called Spittal. From the bus it looked an interesting place with very substantially built houses. Back at the campsite it has been a beautiful afternoon and evening.
Tuesday 17th September. It dawned a lovely day today although there was still a chill wind, definitely a fleece day! We decided to have a walk down to the Estuary. The seashore provides lovely views towards Berwick. Walking back to the car park we noted a sign indicating the Lowry Trail which we have seen all around Berwick. Apparently LS Lowry, the painter, was fond of Berwick upon Tweed and pictures of the town featured in his one man exhibition in London in 1939. The Lowry Trail around Berwick pin points places where he painted various paintings around Berwick. On the way back we diverted into Spittal which we had seen yesterday on the bus. We found a shop where we purchased some milk. What we really needed was a café but despite several pubs, none of them looked open, and none were advertising they did coffee!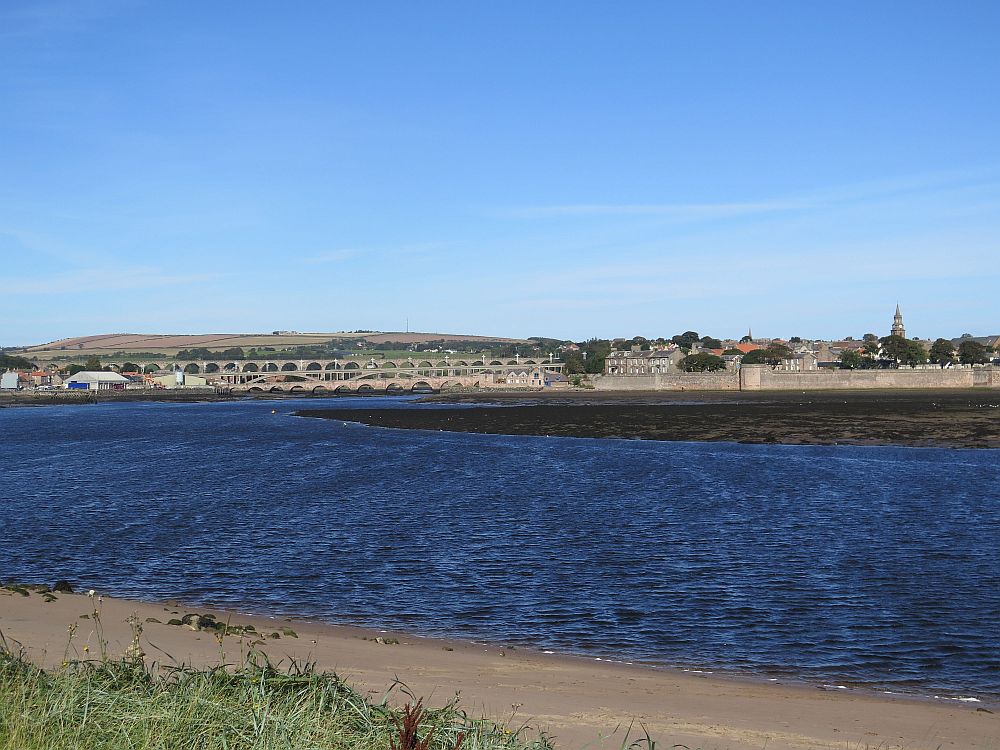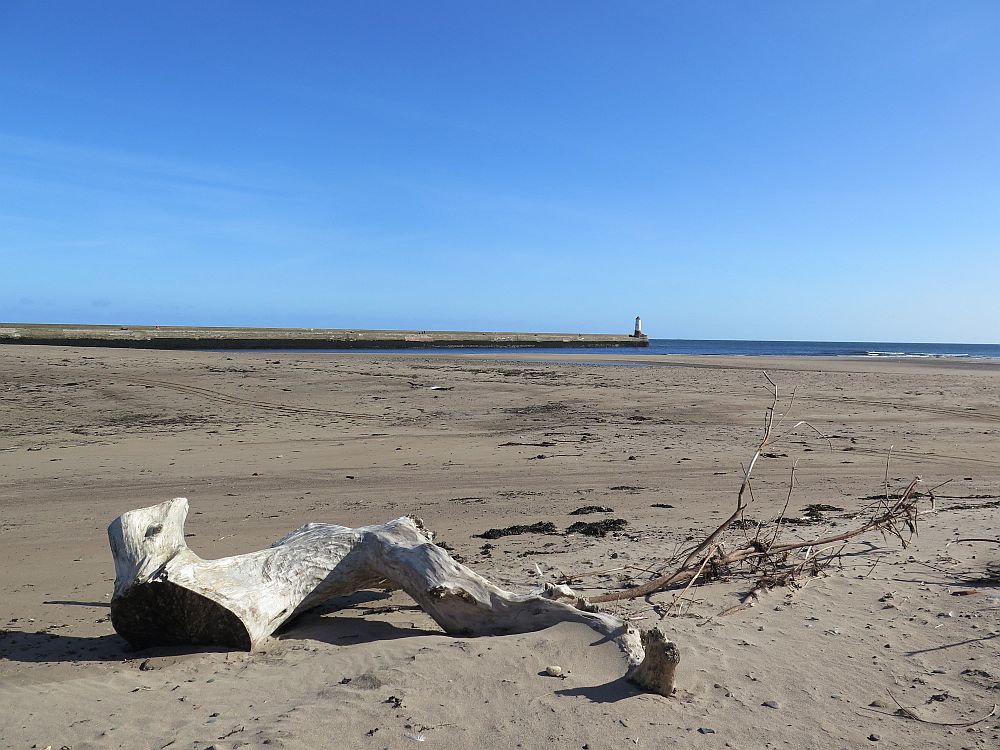 Wednesday 18th September. The sunshine of the last couple of days seems to have disappeared today, it's been cloudy for most of the day but fortunately dry. We decided to walk to the local ASDA as the route took us along the river. Not many people around, probably the weather but on a nice day I expect it's popular with the locals with the seats on the river bank looking over to Berwick. We did notice another stop on the Lowry Trail. We found the supermarket which fortunately had a café where we enjoyed a coffee and me a bacon bap! When we finished I checked the app on my phone for the next bus, 2 minutes!!! The bus got there before us but fortunately the previous passenger had kept the driver talking so we managed to catch it. I discovered today that I can't run! I can walk fairly fast but running seems out of the question. I think it's because I wear a support on my knee so I can't fully bend it. As we made our way up to the site there was already a queue of about half a dozen units at 12.50pm, official arrival time 1.00pm! A bit like the dogs on site not on a lead! You do wonder if any Club members actual read the rules? I had a colleague at work that often had to put people on the right path and she would often say that she thought she must be speaking in Swahili for all the good it did. This is our last day at Berwick as tomorrow we take another stage south.
Boroughbridge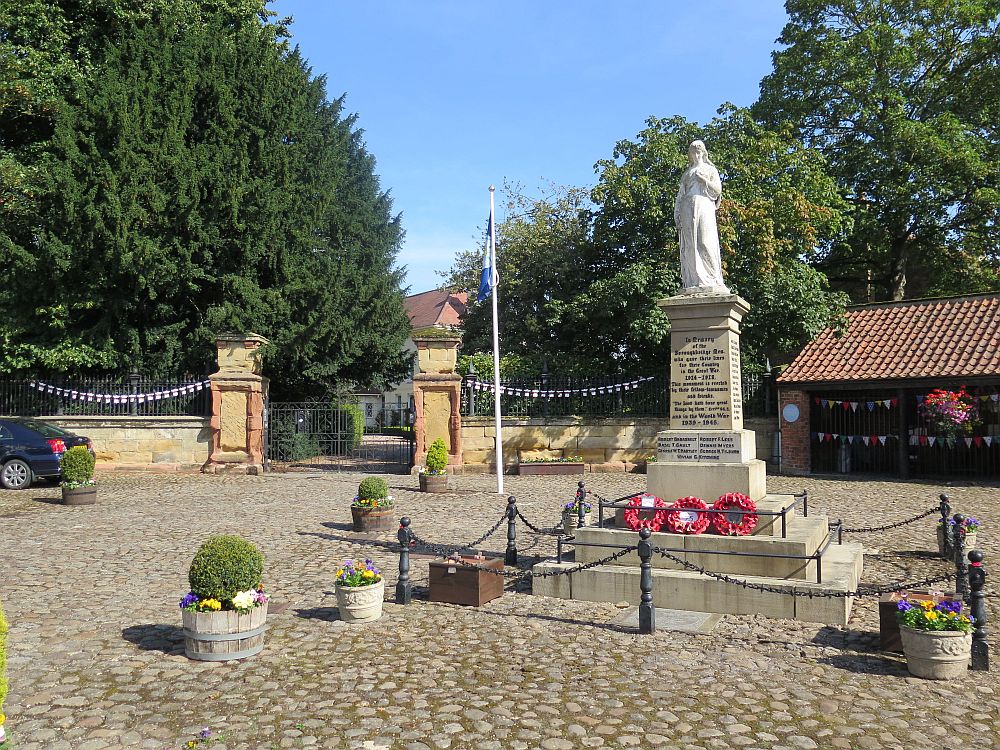 Thursday 19th September. We left Berwick today and headed south. As we drove it got warmer and warmer, 20 degrees the warmest it's been since we have been away! Mind you finding a place to stop for a coffee on the A1 was more challenging. We called into the Washington Services, caravan signs at the entrance but then no further signs so we found ourselves at the end of the parking so we went back on the A1. We pulled into Durham services, absolute chaos. OK so it seems to be under reconstruction but it was difficult to see where we could park. Rather than struggle to get into the lorry park where there was a queue we decided to try and find a space in the normal car park. This we did but I am always concerned about taking up more spaces than I should. At least I got a coffee and we were soon on our way. We arrived at Boroughbridge and the C&CC site at around 1.30pm and we were shown a few pitches from which to make a selection. I never quite know how the C&CC decide which pitches they should offer you. It would have been nicer to have had a pitch nearer the facilities but it never seems to work that way!
Friday 20th September. A really lovely day today with clear blue skies. Just about the right temperature for walking and that is what we did. We walked into Boroughbridge today. It was a good mile but we got there! On the way we passed the Devil's Arrows which are obelisks which are reputed to date from around 2000BC. Apparently the tallest stone is higher than Stonehenge but their exact purpose seems to be unknown. As we get into town we notice all the signs advertising road closures for next weekend's World Cycling Championships. We continue up to the bridge which I assume is the "bridge" in Boroughbridge. It was also the place of the Battle of Boroughbridge in 1322. It was all about a spat between King Edward II and his cousin Thomas, Earl of Lancaster, and the latter faced execution for his troubles! The road that crossed the bridge was, of course, the A1. The River Ure is navigable but the navigation does not go under the main bridge but a little further north along a short canal with a lock. Back into town we stopped in the square outside of Boroughbridge Hall before setting off in search of a coffee which we found at Plentys! The walk back to the site did seem a bit shorter but not much!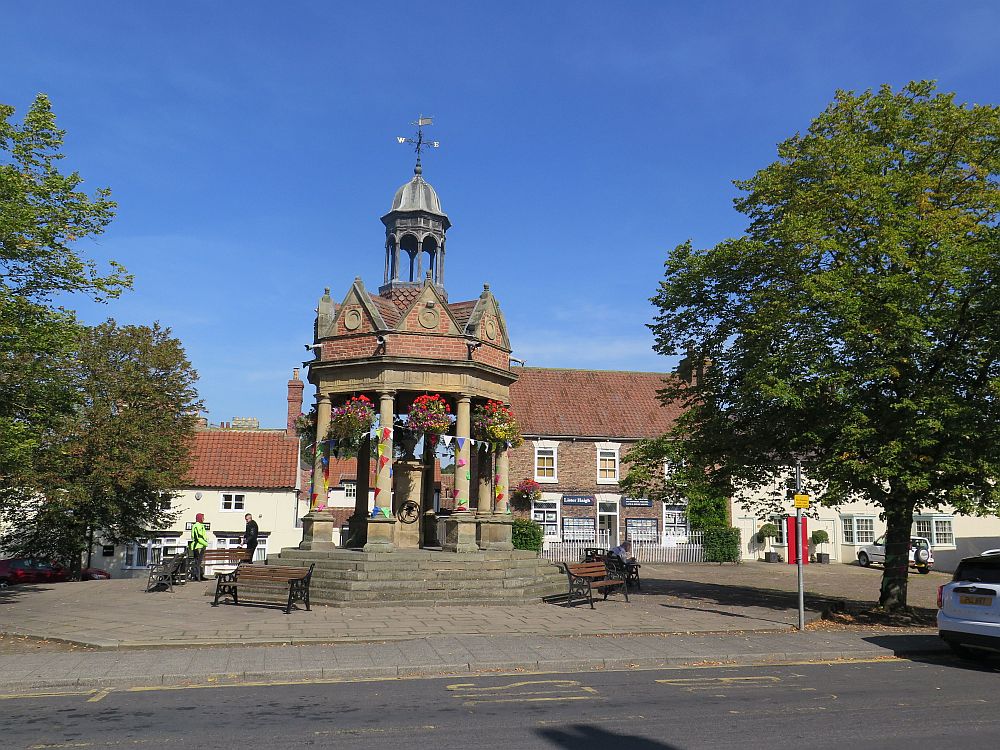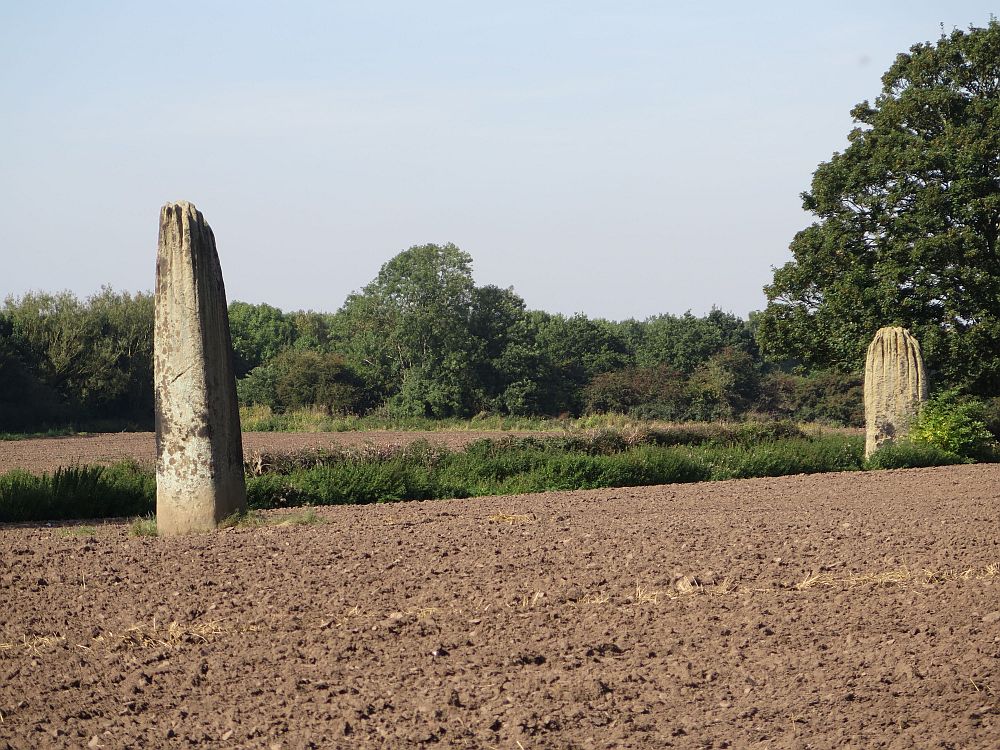 Saturday 21st September. Really lovely sunny day today, a bit more wind but also warmer. We have had a lazy day today as this is the last day of the holiday and we are back in MK tomorrow. It was surprising how many people left today. I suppose it depends on peoples work routines. We always worked on Saturdays so our holidays usually started on a Sunday. Despite the exodus a lot more people rolled in later. This is a pleasant enough site although the constant drone from the A1(M) is somewhat distracting!
Sunday 22nd September. Time to go home! The forecast for today is not good so I considered it lucky that as we packed up it was still dry and even a bit of sunshine. Going down the A1(M) and later just the A1 there seemed to be a lot of traffic about, not sure where they were all going. We started to go through a few bands of rain but when we stopped at the service for a coffee it held off a bit. The further south the more rain we go and when we turned off at junction 15 on the M1 the heavens opened. Fortunately it wasn't quite as bad when we stopped in Wolverton to fill up with fuel and by the time we got home it had dried up and we were able to get the motorhome put away and unpacked in the dry.
This was our second three week trip of the year, both funnily enough where we headed north rather than south. We covered a 1001 miles on this trip. We stayed at six campsites costing a total of £509 which averaged out at £23.12 for the 22 nights. Fuel costs were £188 and we returned economy of 31 mpg.
Cromer 2019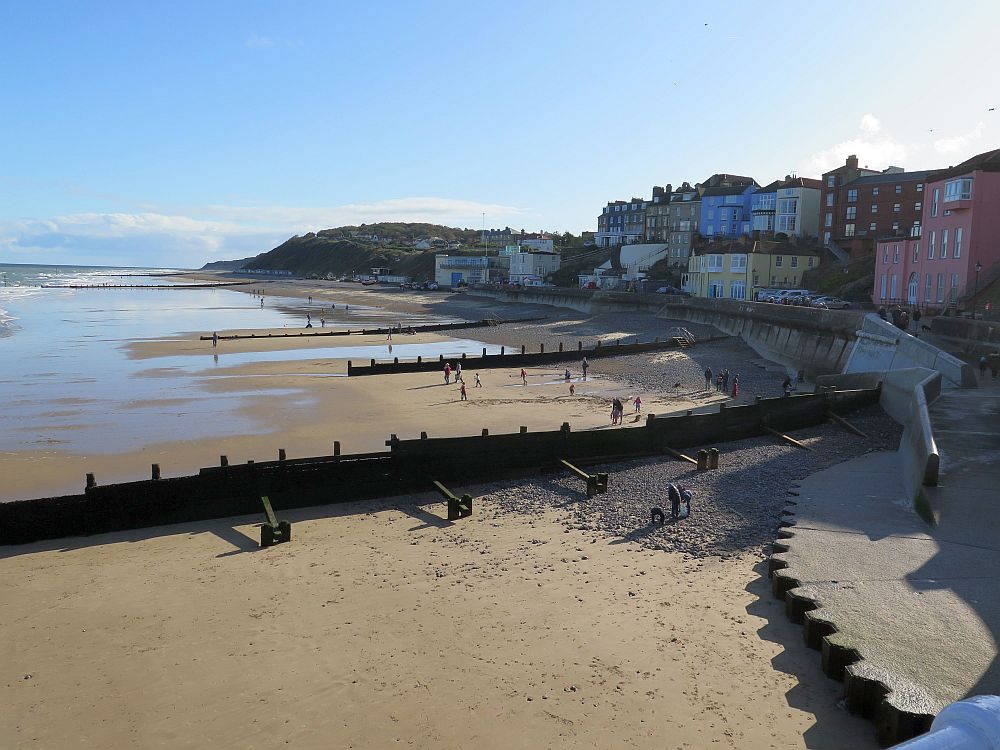 Sunday 27th October. After what seemed days of rain it at least dawned quite bright this morning, although first thing it was pretty cold. We are heading for North Norfolk today to the CMC site called Seacroft. Probably the weekend that the clocks change is not the best to set off on a journey? We set off just before 10 am. We made fairly good progress despite traffic being quite busy. We made a few attempts at stopping for a coffee but the majority of service areas on A roads just don't have the space for motorhomes or caravans. In the end we just pulled into a lay-by and made coffee from a flask we had filled at home. I had previously checked the route through Norwich and thought that on a Sunday it would be OK, big mistake. Despite the longer distance it would have been much easier to have used the new Northern Distributor road!!!
As we got nearer to Cromer the sat nav decided that we should go down some little roads which we ignored but eventually we did cut down past Felbrigg Hall before heading into Cromer and out along the coast road and to the site. I had always thought the October half term was always in the same week but different regions seem to have decided differently! So despite trying to avoid the half term holiday we seem to have ended up in the middle of it!!! So I suppose it's hardly surprising that the site is pretty full. None of the grass pitches are in use and according to the warden they have been out of use since the 1st October. I have booked a serviced pitch to guarantee a hardstanding so it seems I needn't have bothered!!!
Monday 28th October. We were a little caught out by the weather forecast today which was meant to be cloudy and sunny. I had been woken around 6.00 am by a call of nature and when return to bed I could hear rain, not heavy, but rain none the less!!! That and a nearby cockerel conspired to keep me awake! Because I feared after the lovely day on Sunday it would be cold overnight I had left the heating on. So why was the forecast so important? Well, one of the reasons for buying a smaller motorhome was to have the ability to take it off site rather than having to rely on walking or public transport. Despite having the new van since March we have yet to achieve that ambition but today was the day we were going to change all that. As an aside when we tried to use the electric kettle this morning but it decided not to work. It is ages old so perhaps doesn't owe us anything but why decide on today to go wrong!!! In a strange way it could have been a bit of serendipity, which I will explain later.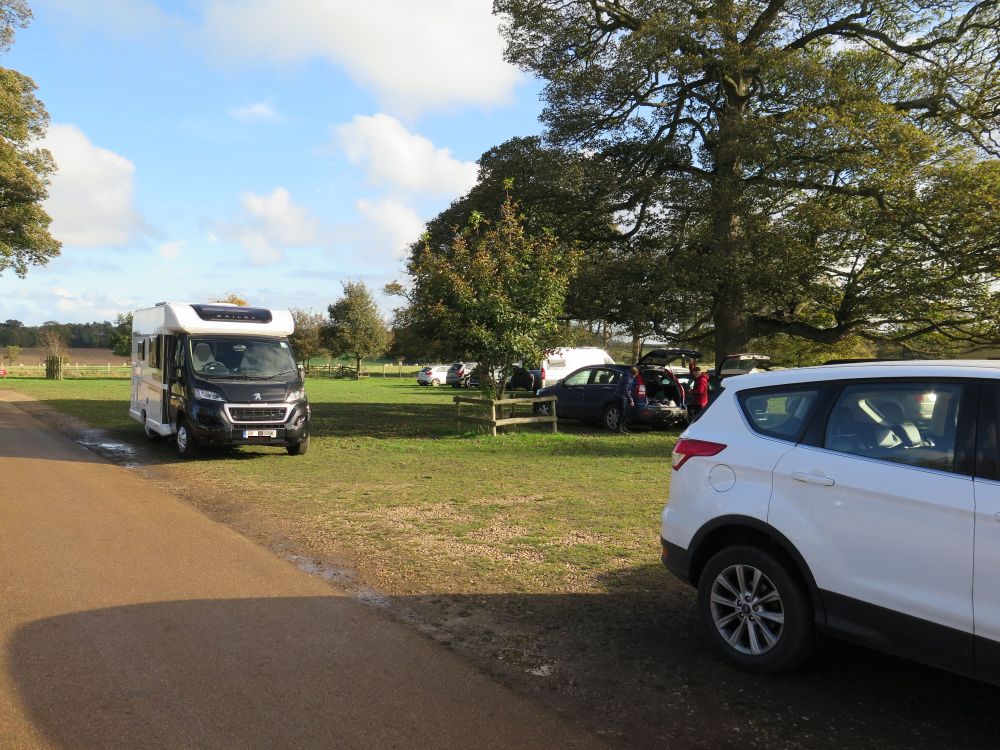 Our first foray into off site exploring with the motorhome was to be a visit to nearby Felbrigg Hall a National Trust property only a relatively short distance from the site. I had previously emailed The Hall to check if motorhomes could be accommodated and a helpful reply even suggest the best place to park which turned out to be spot on. We passed Felbrigg Hall on the way here yesterday but we decided to try our luck via West Runton where there is a very handy camping accessory shop. As luck would have it there was even a parking space free outside when we arrived! Now proud owners of a new £14.99 low wattage kettle we set off to complete the journey to our destination. The car park at Felbrigg Hall was very busy but we found a spot near to where the email suggested. It was still raining a bit but the sky looked as though it was brightening up, so fingers crossed.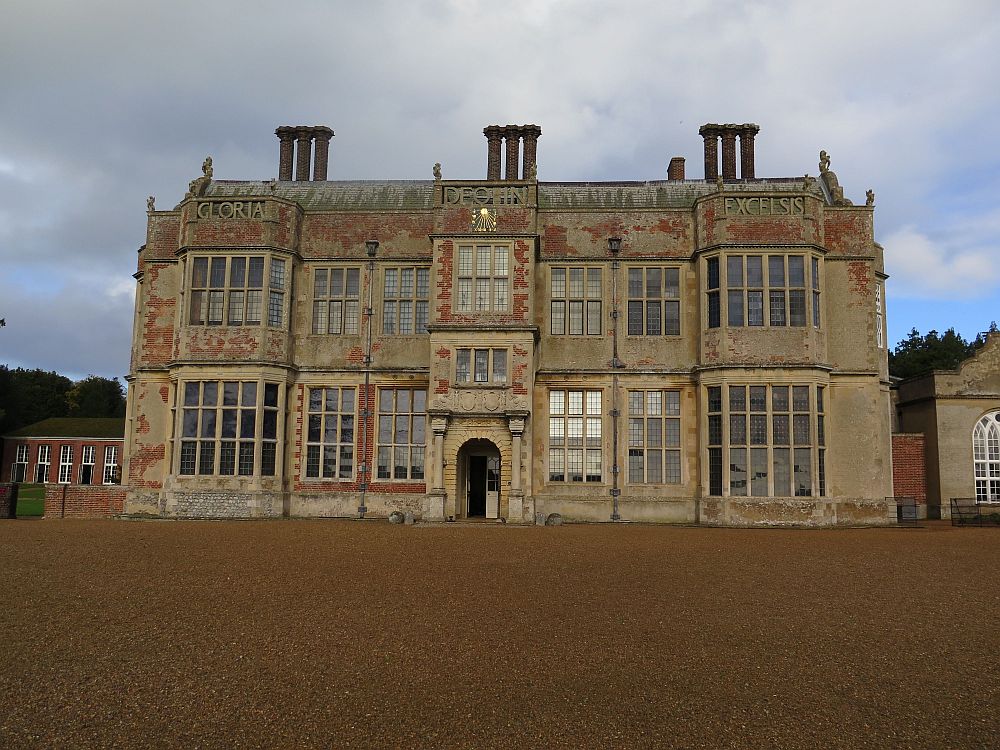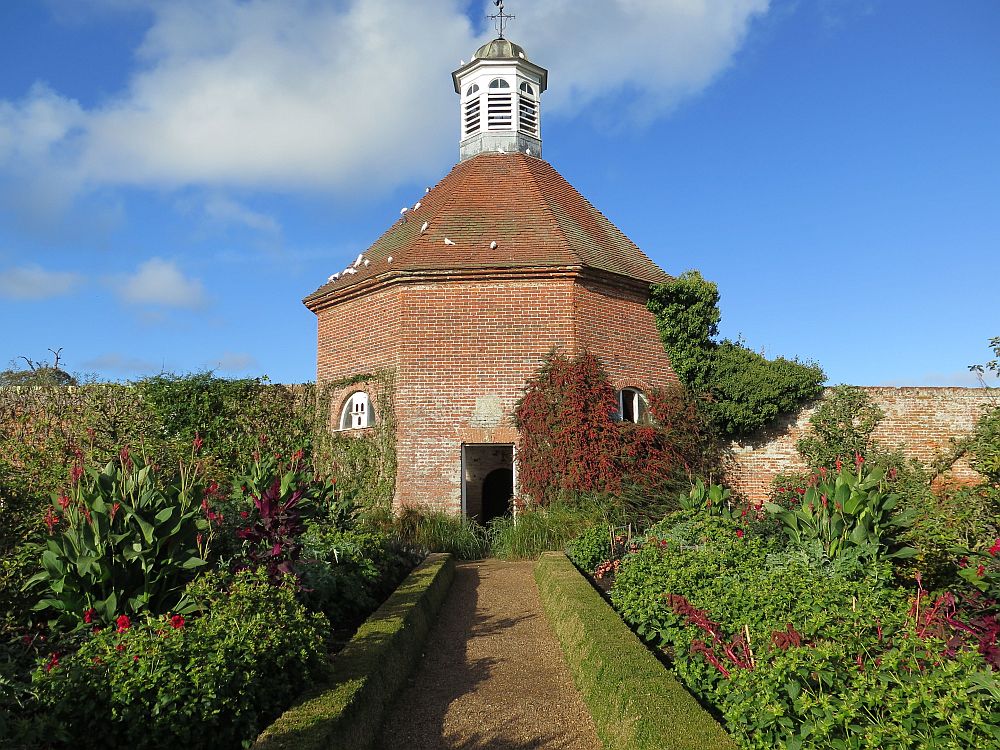 The National Trust volunteers were all lovely and very helpful. The Hall did seem more like a country house rather than a castle. Like all of these places the history of the owners through time is what generally adds to the spice of such places. The Hall like many country houses has been extended/rebuilt over the years. There are many expert staff on duty to explain all this. Like many of these houses it is the owners which are as interesting as the actual buildings. The Wyndham family owned the house for many years until one of them, who was considered mad, but in reality was probably autistic. Apparently he fell in with a prostitute who fleeced him out of his inheritance and it had to be sold. The irony was that a member of the family that purchased the estate then married into the Wyndham family so it all went full circle! The last owner of the Hall was very keen on books and loved the library of over 5000 books which had been collected over the centuries. One interesting snippet I picked up from talking to one of the volunteers was that books purchase abroad we sent back to the UK just as pages and were bound here. That might explain why books in so many libraries look the same!

Our busy day ended with a meal in the site restaurant.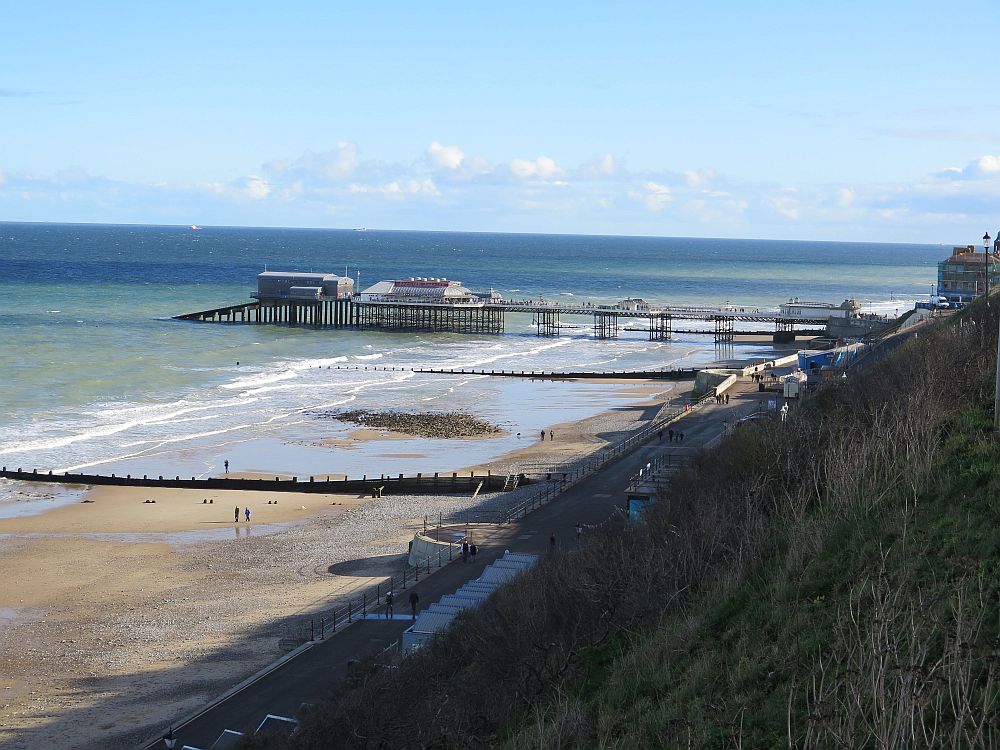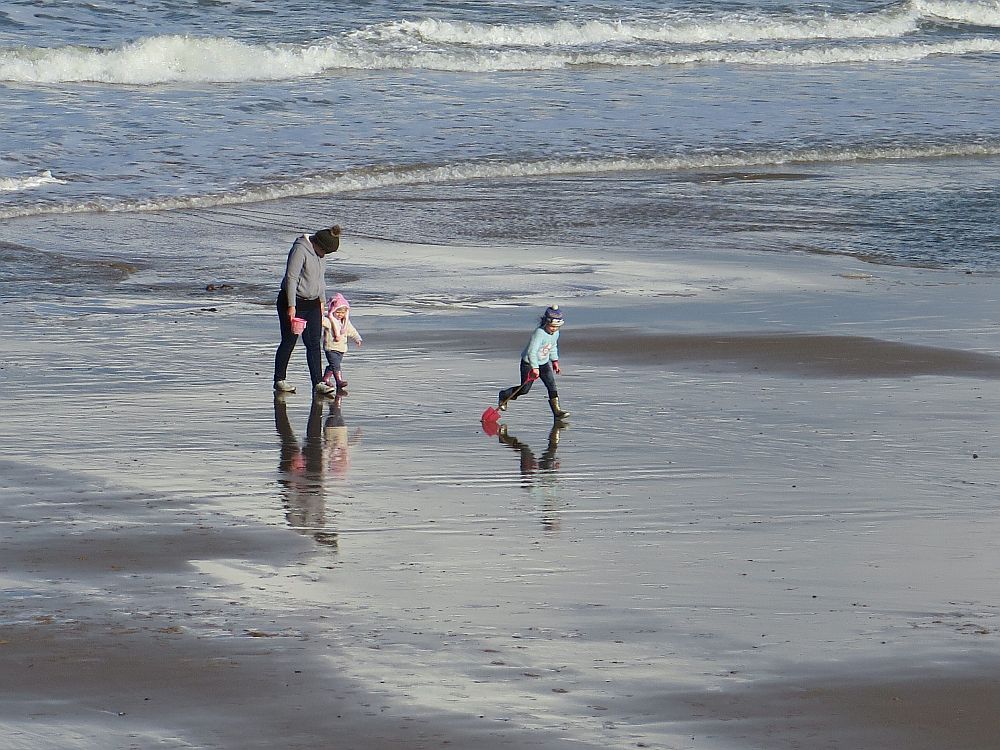 Tuesday 29th October. It dawned a lovely bright day with plenty of sunshine but chilly in the wind. We walked into Cromer through the cliff top car park and down to the Pier. They say the camera never lies but a picture of the beach could have given the impression that it was at least ten degrees warmer! We had a wander down to the pier and the RNLI Lifeboat Station was open so we had a look round. There is a viewing gallery around the actual lifeboat which is an all-weather Tamar Class. Back down the pier to the promenade and along to the Henry Blogg Museum to use the Rocket House Café up above. We have used this café before and it affords lovely views out to sea and along the shoreline. It always seems busy and we were lucky to get a seat. Having enjoyed our coffee we set back inland into the town. The impressive church looking even more so dappled by the sunlight. We continue on through the town towards Morrisons where we did some shopping before making our way back, on the bus, to the campsite.
Wednesday 30th October. Another reasonable day today but with perhaps a bit more cloud. After a fairly slow start we caught the bus into Sheringham. Supposedly market day but not that many stalls. Got into conversation with one stall holder who was questioning whether the market was actually worthwhile as he seems to sell so little and he said that other towns were similarly disappointing. Otherwise Sheringham is quite a busy little place. Not being unkind to Cromer but I suspect Sheringham is considered to be the more up market of the two, now that will get me into trouble!!! In the High Street there is a wonderful hardware shop which is truly an Aladdin's Cave, it does not suffer from the clinical displays of so many modern shops and despite its apparent chaos there is an order to things. Further down the street is The Courtyard, a few shops and a very nice café which we have used before. Refreshed from our coffee we wandered down to the sea front. We noticed a new Museum but when we got there it was closed! We did a bit of shopping on the way back to the bus and the site. The latter is still pretty full with hardly a spare pitch.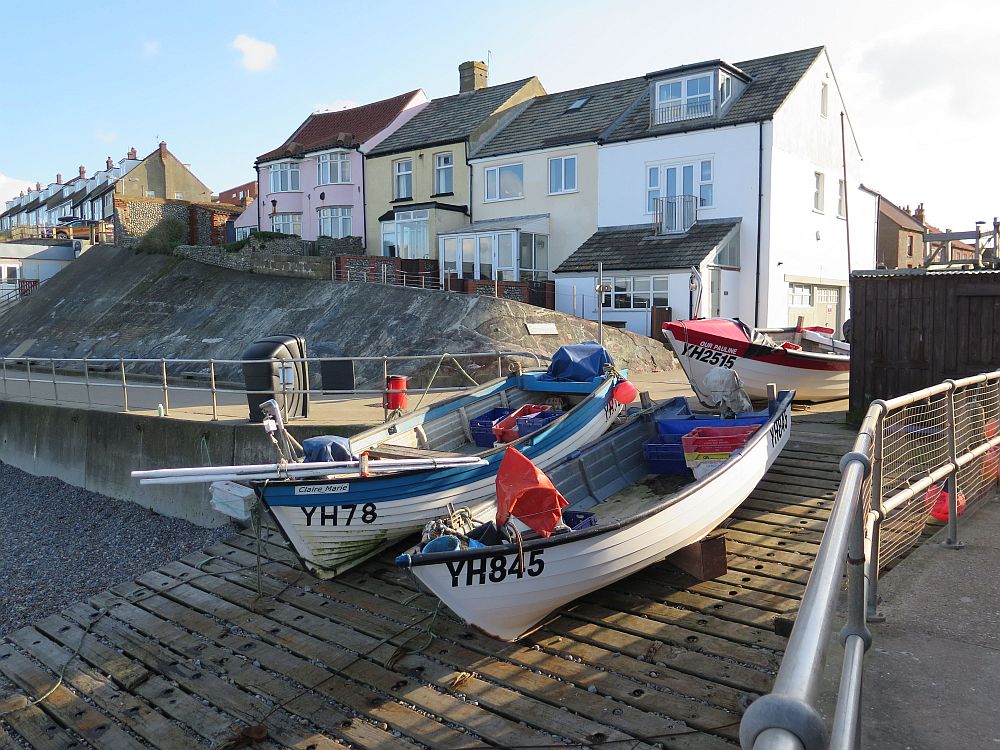 Thursday 31st October. All Hallows Eve and we are moving on today to the CMC site at Sandringham. A relaxing 44 mile journey with a stop off at the Fakenham Morrisons for a coffee and pastries! The sat nav tried to take us along a route we didn't want to go so we pressed on and eventually it decided to follow the route we wanted. We arrived at the site minutes after the midday deadline but we weren't the first! A jolly welcome by the wardens who had obviously spent a lot of time decorating reception for Halloween. The site is fairly full. When we were at the Buxton site I purchased the Club's WiFi access but since leaving that site I have never been able to make use of it. Apart from the feeling of a waste of money I don't understand what the problem is. Now that we have arrived at Sandringham with limited 4G connectivity it suddenly said "Welcome David" so goodness knows what is going on!!!
Friday 1st November. Obviously yesterday was the last of our sunny days as it's been wet and miserable all day so we decided to stay put. We also hadn't realised that Sandringham House was closed so even an outing to there was out of the question. So apart from the usual chores around the van and a walk around the campsite, a pretty lazy day.
Saturday 2nd November. Yet another enforced lazy day. Very heavy rain this morning although the predicted wind did not materialise until later. We had thought about taking the bus into Kings Lynn but didn't think it would be that much fun in the rain. Fortunately I had ordered a Guardian so had plenty of reading material. The site is still pretty full, although there are still spaces. Our last day here as we return to MK tomorrow, hopefully in better weather!
Sunday 3rd November. Still raining as we got up so we didn't rush to get away. By the time we were ready it had eased off a bit and there were just signs of the sun trying to struggle through the clouds. The sat nav wanted to take us on the A47 via Peterborough but we wanted to use the A10. OK it's a slower road but it seems more direct. When we got to the A14 at Cambridge the access onto the A14 was closed so we had the head east to the next junction which delayed us a bit. Having left the A14, and all the roadworks behind us, we were soon heading out on the A428 and we found somewhere to stop for a comfort break and a coffee. We have resorted to filling a flask with hot water as the possibility of finding somewhere to stop on route where we can buy a coffee seems almost impossible. We were amazed at how busy the roads were, Christmas Shopping perhaps? As we approached the M1 we decided to use the A421 which is in the process of being duelled which, when its finished, will provide a useful and quick access into MK's excellent road network.
Woodstock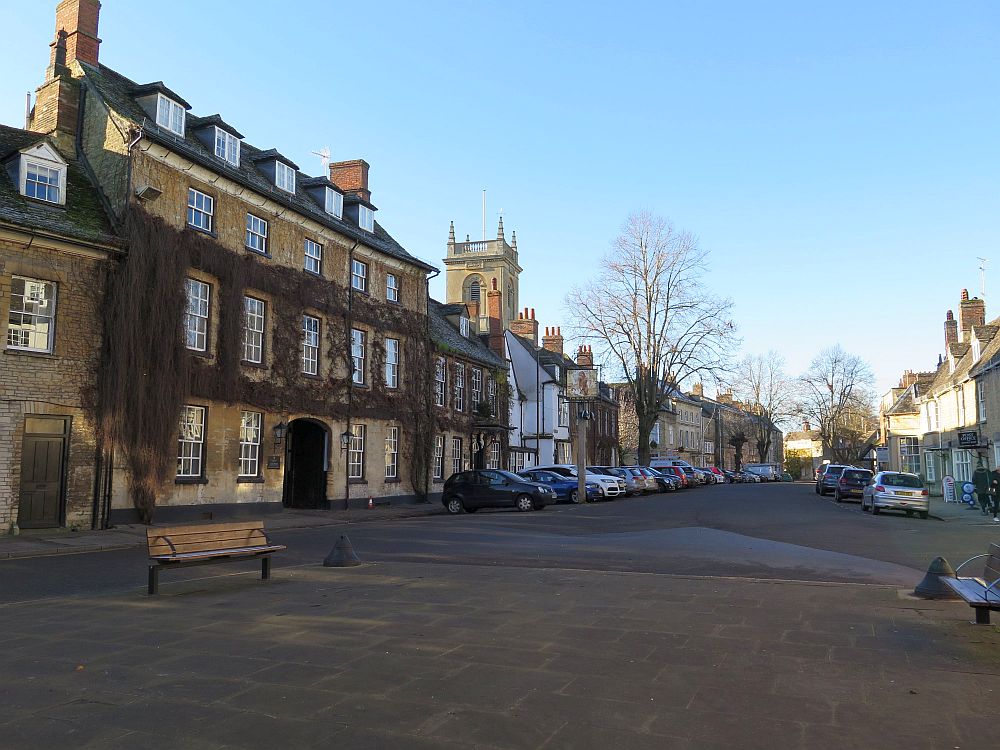 Sunday 1st December. Winter thus far has been quite mild, if a bit wet, but in the last week the temperatures have dropped with a frost most nights recently. In preparing the motorhome I was concerned about setting up the water system so one night I left the heating on, just in case! Margaret thinks there is just too much going on to go away at this time of year but it is also a time of year when so much is going on elsewhere! It doesn't help that we are in the process of having a new conservatory and kitchen which has added to the pressure!!!
Very cold when we were preparing to set off this morning. Not going very far, just to Woodstock near Oxford. All was going well until we were going round the Bicester bypass when suddenly a warning display popped up on the screen warning of low pressure in the nearside front tyre. The figure of 3.3 BAR was also flashed up. I prefer to work in PSI but needs must etc. I thought that 3.3 in BAR pressure was still quite high. I pulled into a layby to investigate. I checked the door pillar where the correct pressures are listed and it said 3.45 BAR was the correct pressure which seemed a small difference to set off the TPMS? Anyway I pumped some more air into the tyre which seemed to do the job and we set off with no more issues. A while back I had adjusted all the pressures and I seem to recall I had to let quite a lot of air out of that tyre so perhaps I over compensated? I will check again tomorrow. I did my best to check the tyre but couldn't see anything untoward.
The Bladon Chains site is not normally open at this time of year which given what goes on at Blenheim Palace, next door, at Christmas it seemed a shame. So this year it is opening until New Year, probably to judge popularity. It is not the best site in the CMC network with a lot of small pitches. Also the site suffers from a poor 4G signal and there is only a WiFi point, this despite there being a superfast fibre cabinet outside the site! More good news followed when we arrived at reception only to be told that one of the major attraction at Blenheim, the light show, was not open on Monday and Tuesday! Also access to the house was limited and we were advised to hot foot it to the Palace to ensure a slot for visiting the house!
After a bite to eat we walked up to Blenheim Palace which seemed a longer hike than we remember, mind you it was eight years ago we were last here. We might explore the bus next time! When you stay at Bladon Chains you can claim a discount of 30% off the entrance fees and that fee also converts into an annual ticket which involves having your photograph taken! Once we had our tickets we were then able to book our visit to the house whose theme this year is Alice (in wonderland?) We are due to go back on Tuesday. Having sorted everything out we checked out the Christmas Market before making our way back to the site.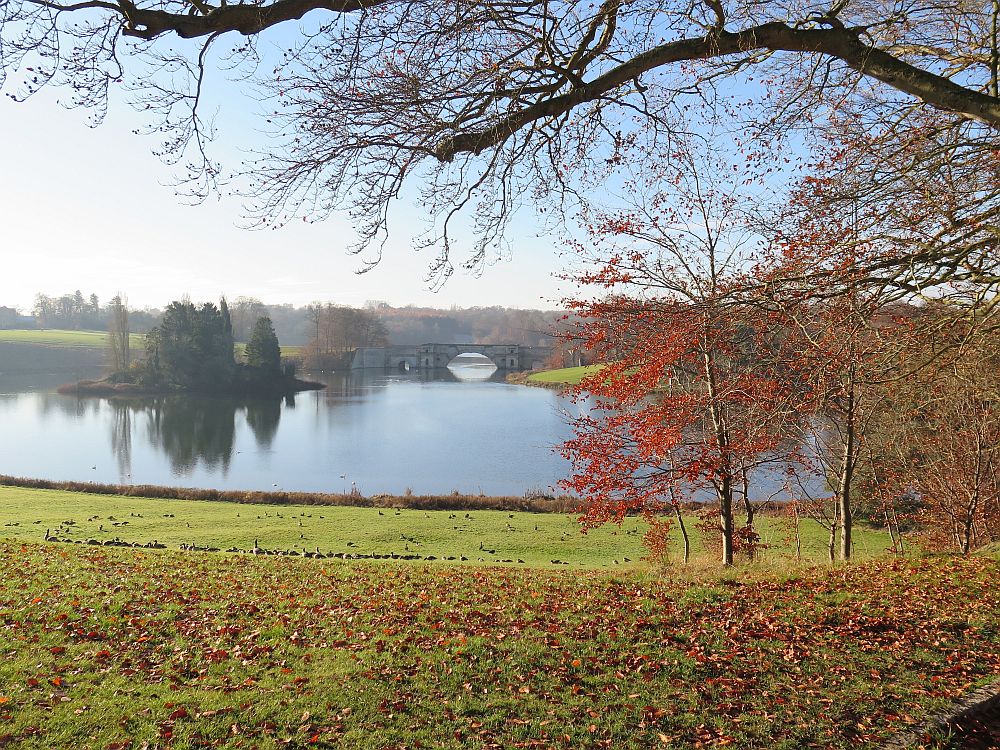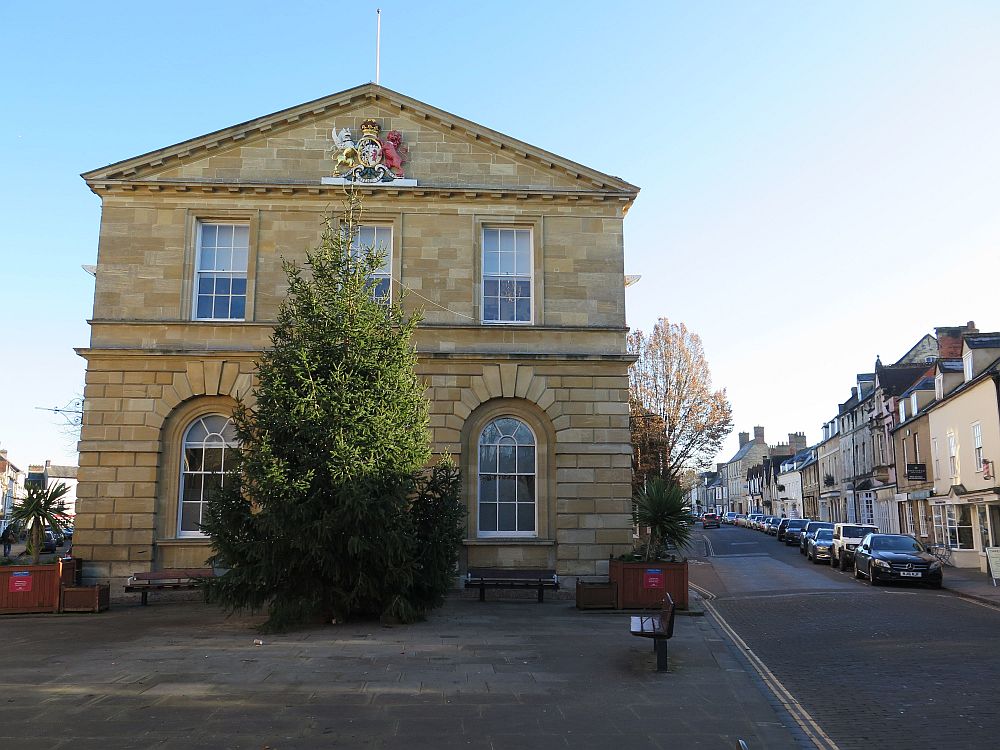 Monday 2nd December. A beautiful winter's day but the price was that it has been pretty cold, although in direct sunlight it was warmer. After the long walk yesterday we thought we would try the bus today. There are several bus services near to the site. Most go along the main Oxford Road but the Witney bus takes a short cut in front of the campsite and on weekdays runs every half hour. We were only going into Woodstock but at least it saved the walk. Woodstock is a lovely Cotswold town built of mellow Cotswold stone which glowed in the winter sunshine. We wandered up to the town entrance of the Palace and just inside the gate you have a lovely view over the lake to the ornate stone bridge. The town has a good range of shops and hostelries and a couple of nice coffee shops. We used Hampers which is a deli come coffee shop. On the way back we took the Oxford bus so a slightly longer walk back to the site.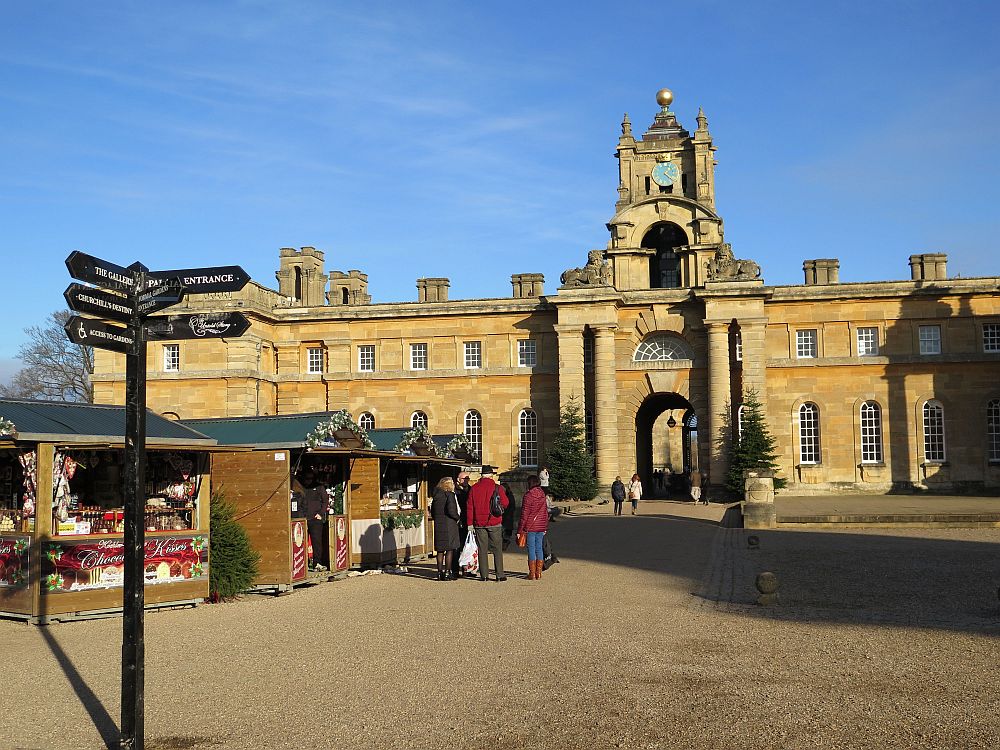 Tuesday 3rd December. Alice in the Palace today! This is the theme for the Christmas display in Blenheim Palace. We booked our tickets on Sunday in order to guarantee a place on the 2.00pm session. It took a bit longer for the sun to appear today but I think it's been marginally warmer. Strange when you measure improvements in the temperature by single degrees!!! We again caught the bus towards Woodstock and got off at the Palace entrance. Still a fair walk but at least the bus had saved us a bit. Decided on a coffee before doing anything else, still two hours before our allotted time. I am sure Margaret would have spent it all in the gift shop buying Christmas presents. Me I was looking at the prices and keeping my wallet firmly shut! Moving on to the Christmas Market which I felt had better stalls than at Chatsworth. All of them a magnet for Margaret but for me a photo opportunity. Blenheim Palace has this massive square in front of the main entrance overlooking the gates that lead to the bridge with the monument beyond. I imagine this was the route used by important guests visiting the Palace in its hay day. We went off to check where we needed to get into the Palace to see the display and then went off to discover a second eating venue, just by the formal gardens, where we decided to have some lunch.
Refreshed and ready for the onslaught of the tour we made our way to the entrance and climbed the steps. With the title of "Alice in the Palace" I suppose you don't need a degree to work out that it is based on the story of Alice in Wonderland! Stately homes lend themselves to this sort of display as they don't seem out of place. Lots of lights of course and children would be enthralled. Us adults of course will be keen to take photographs and I got the feeling of being out of place as I was using a real camera rather than a mobile phone! At the end of the tour you exit down a staircase, or should that be a rabbit hole!!! Out into the open air again with the sun still managing to light up the yellow stone of the Palace well on its way to sunset. Another look around the market before taking the road to the town exit so another chance to look back across the lake to the stone bridge. Through the town to the bus stop and back to the site.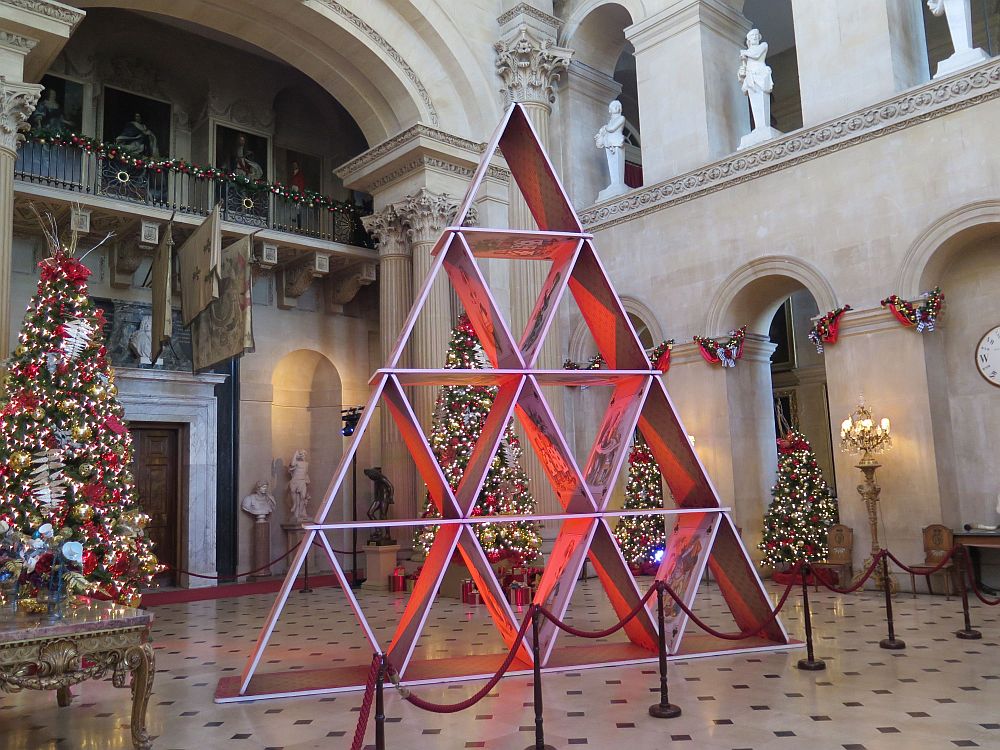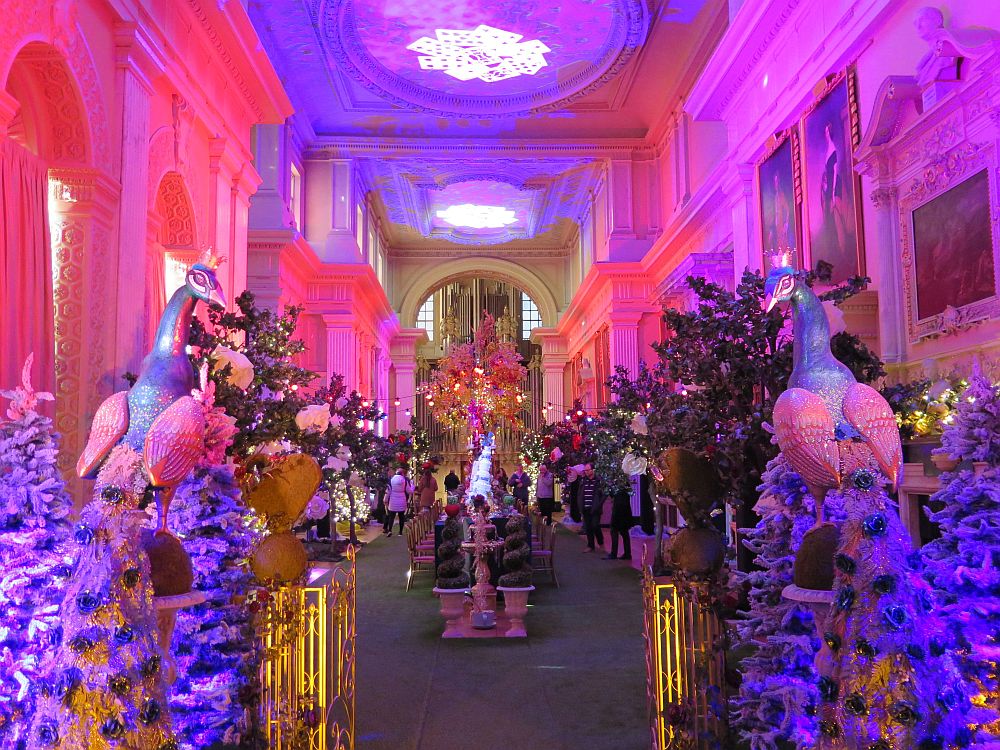 Wednesday 4th December. Another frosty start to the day, it was also quite misty that added to the atmosphere. We have been leaving the heating on overnight, albeit on a lower setting so we don't get up to a cold van. We walked down to Bladon village today to visit the church and Winston Churchill's grave. Apparently luminaries such as Churchill would normally be buried in Westminster Abbey but he had decided to be buried in the Marlborough family plot at Bladon Church. It is quite a simple grave just with his name and that of his wife Clementine. There is really not much else in Bladon, I sensed a note of disappointment in Margaret who I felt was expecting something like an M&S or at least a village shop! We did stop at the White House pub on the main road for a coffee before making our way back to the site. Although during this stay the days have been very cold we have been fortunate to have lovely sunshine most days and if you wrap up with warm clothing it can be really nice wandering around seeing things. We are clearly not alone as the site is busy with what seems all the hardstandings taken, so effectively full as the grass pitches are not in use. This is our last day here before returning home to MK tomorrow.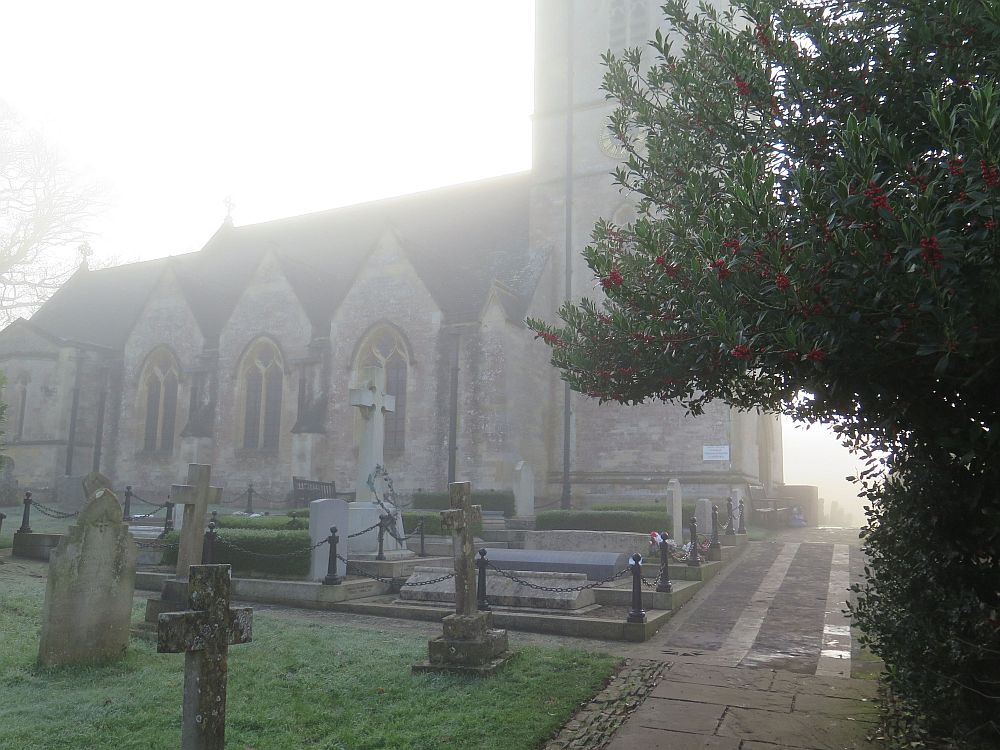 Thursday 5th December. We took a slightly different route back to Milton Keynes, well, as far as Bicester anyway. It had the advantage that it cut off Oxford so generally quieter than the main roads. As usual we filled up with fuel at a local Tesco before finally getting home. Fortunately no repeat of the tyre pressure warning so assume it was just me being over enthusiastic in reducing the pressures too far when I last checked? The van is now filthy and I will have to washed it in the next few days! Not only that but I will also have to drain it down just in case we get some hard frosts. That's it for 2019, Christmas and New Year now gets in the way!!!