Donaupark Camping, 3400 Klosterneuberg, Tel 0043 224325877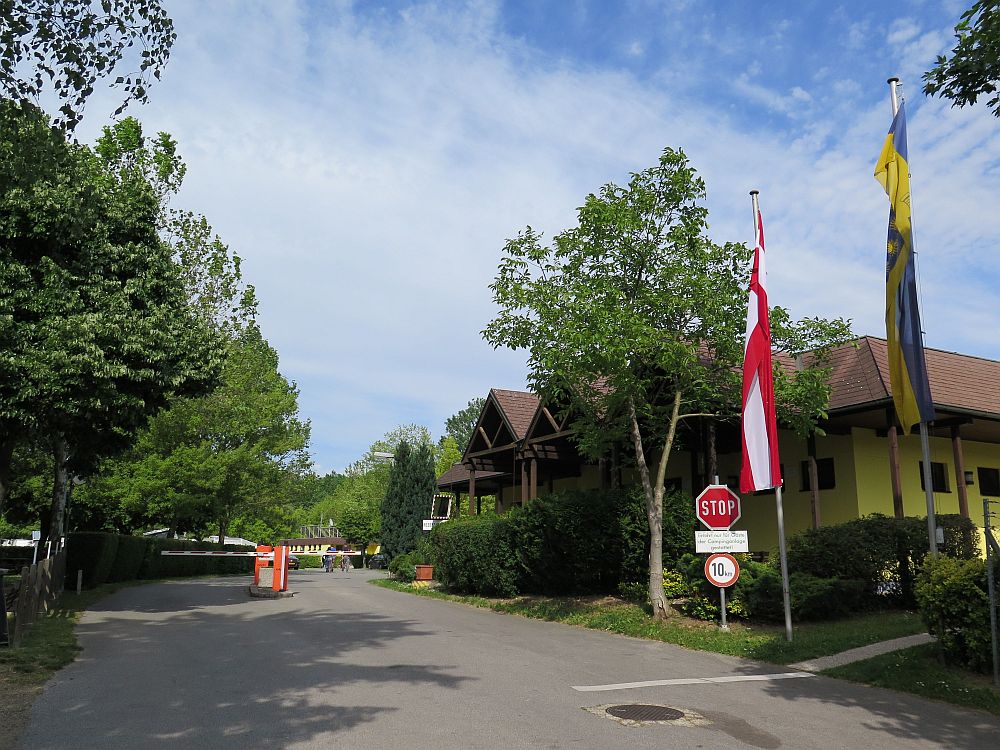 To Find Site:- From Vienna take A22 autobahn along northern side of Danube. At junction 7 take exit for Klosterneuberg. Be careful when exiting slip road as it's an immediate right turn onto the main road. Follow road to Klosterneuberg. In town watch out for railway station on right and turn sharp right under railway bridge and campsite is immediately ahead.
Donaupark Camping is a busy site set in an urban environment and the town is only minutes' walk away so you will experience some traffic and train noise. The mighty Klosterneuberg Monastery towers above the site and you occasionally get their magnificent peel of bells. There are around 125 pitches for caravans and motorhomes although if you have the latter take note of the signs which indicate which pitches which can be used as not all can be. There is a separate area for small tents immediately across from reception. None of the pitches could be described as large and if you have a longer caravan or motorhome check out the best pitches. If you intend to erect an awning getting a car on the pitch might be difficult. However there is an area near to the pitches for parking cars separately should that be necessary. There are about 10 pitches where you can drive through but these are not so wide so you won't have a lot of space around you. Pitch surface is mainly grass but this has been reinforced with open block runways for caravan/motorhome wheels or on some pitches have pea shingle added to the grass. Electric points are convenient to the pitches and use CEE17 blue connectors and are rated at 6 amps. Water points are near to the end of the pitch rows. There are two toilet blocks. The main one is in the same building as reception, there is a smaller one a little further into the site. Both have excellent facilities with seated toilets and paper provided. At the back of reception is a motorhome service point and chemical toilet emptying point. On site there is a restaurant/bar serving fairly standard campsite fair. There is also a small shop but we did not find it very comprehensive. Reception is very friendly and English is spoken by all the staff we came in contact with. They can sell certain transport tickets and can even book tickets for some events in Vienna. There is site wide WiFi which is free and of a reasonable speed. Immediately outside the site is a children's playground which can also be accessed from the site direct.
This campsite is ideally suited for a visit to Vienna which is a fifteen minute train ride away from Klosterneuberg and the station is virtually outside the campsite. Ticketing is slightly complicated in that Klosterneuberg is outside of the City Zone so you have to purchase tickets to Vienna (Heiligenstadt Bahnhof) and then buy another ticket when you get to Vienna to enable use of buses, trams and U-Bahn. The exception to this is if you buy a Vienna Card from the site for a minimum of 48 hours which covers all transport and offers discounts on many of the attractions in the City. The town of Klosterneuberg is well worth and explore, in particular the world famous Monastery. They are also famous for producing different varieties of wine which can be purchased from the monastery shop. There is a good choice of restaurants in the town, just check for opening days. For food shopping there are many small shops in the town and supermarkets on the outskirts. To the west of the town is a large Interspar.