Donaupark Camping Krems, Yachthafenstrasse 19, Krems, Tel 0273284455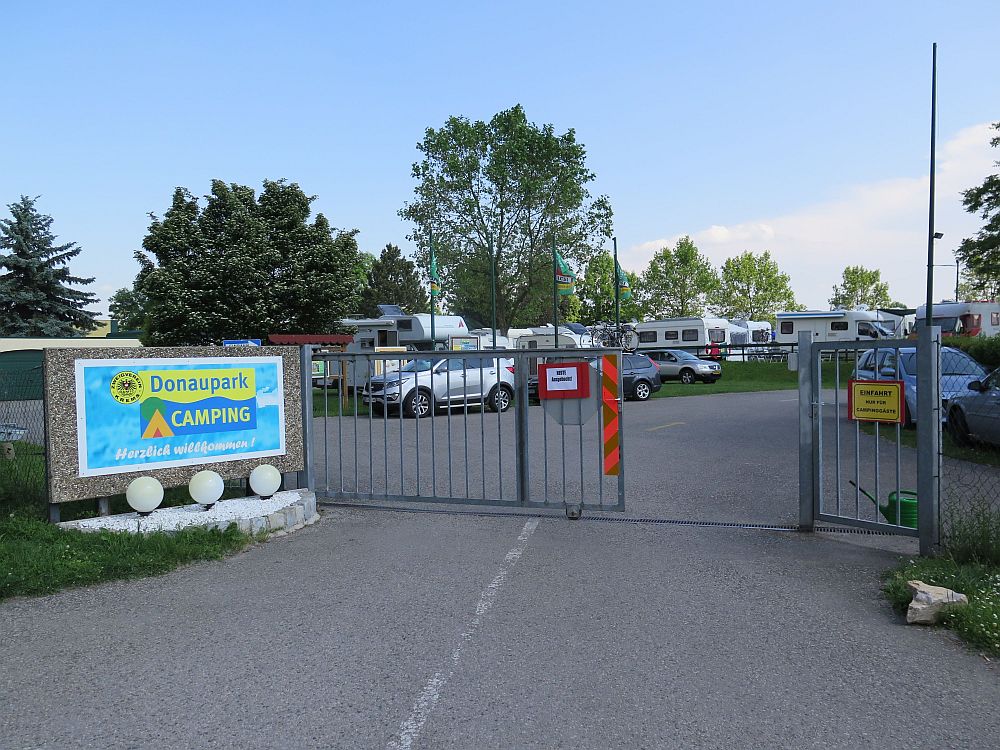 To Find Site:- From the direction of Vienna take S5 road in Krems. Having passed the Hofer supermarket on the right at the next roundabout take the third exit into car park of the Sciffstation and bare sharp left onto minor road which is adjacent to main road you have just come along, and follow round to campsite.
Donaupark Camping Krems is a fairly small site with around sixty pitches. It is very popular and you either have to arrive fairly early or book ahead in order the guarantee a pitch, particularly during bank holiday weekends. It is situated directly on the banks of the Danube between Krems and Stein an der Donau. Given its semi urban setting coupled with a degree of river traffic some noise will be experience but it is much quieter at night. All pitches are on grass and not overly generous in size. There is a separate area for tents. The average maximum length of unit is about eight metres, anything longer I would suggest discussing with the site. The riverside pitches are perhaps shorter than this. Electric points are centrally situated and have German two pin connectors and are rated at 6amps. The only water points are either at the toilet block or the motorhome service point and waste water only at the service point. Given the overall size of the site this should not pose a major issue. The toilet facilities are of an older vintage but none less perfectly serviceable with seated toilets with paper provided. There are also dish washing and laundry facilities. Reception has limited opening hours and is closed between 10.00am and 4.00pm, however there is usually someone around if you arrive outside these times. Next to reception is a bar serving drinks/coffee/ice cream, bread can also be ordered. There is site wide WiFi which is free but you have to have a code from reception. The site is in the ACSI discount scheme but by the time tourist and rubbish tax is added its usually another, €4 a night on top of the head line price.
The centre of Krems is about a kilometre and a half walk from the campsite and is well worth a visit, particularly the old town. There are lots of cycle routes, ask for a map from reception, including along the Danube. From near the site there are river steamers visiting towns upstream. There is also a railway station in the town which could provide further scope for excursions. For food shopping there is a Hofer supermarket across the main road from the site.