Fussen Camperstop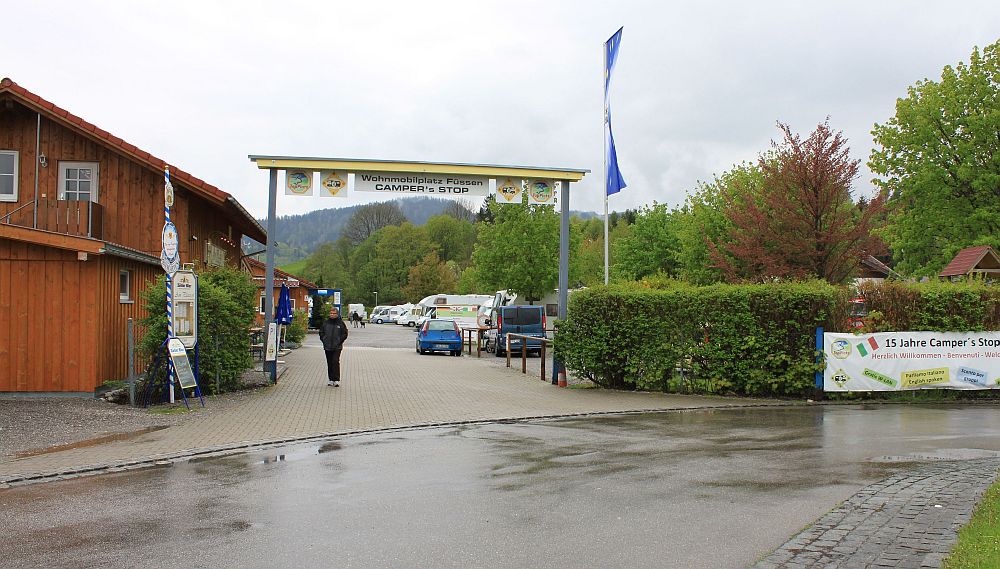 To Find Camperstop:- Leave A7 motorway and take road 310 towards the Foggensee. At T junction turn right and at the first roundabout take first exit. Take second left into Abt-Hafner Strasse and continue to roundabout and the Camperstop is on the left.
As a relatively new motorhomer this was our first experience of this type of place to stay. Basically it's a car park on a gravel surface for motorhomes so everyone is cheek by jowl although each space is clearly marked by old railway sleepers some park in the centre some to the side. The obvious advantage of this Camper Stop is the closeness to Fussen and the availability of shops in the immediate vicinity. It has many advantages of a campsite like a good toilet/shower block, although limited in numbers given the number of motorhomes at any one time. There is also a small restaurant/bar. The form when you arrive is to find a place and present yourself at reception at 6.00pm to pay. Whilst the headline price is a very reasonable €13 the extras add quite considerably to the cost of a stay if you make use of them. Electricity to my mind is extortionately expensive at €1 for 1.4KW. All very well if you have enough gas but if you rely on a good electrical connection it proves to be expensive, we used €10 worth during our two night stay many due to the cold and wet weather conditions! Likewise water supply is charged when filling on-board tanks although there is a tap to fill containers in the small washing up area for which there is no charge. I can understand these charges as people are free to come on site to make use of facilities without check. This Camper Stop has an overflow section a short distance away. As a bonus WiFi is free.
In better weather this would be a superb location to explore both the Lake and the town of Fussen with its public transport links to the likes of Neuschwanstein and Hohenschangau. For shopping there is a Lidl and Aldi within walking distance as well as a large OBI DIY shop.