Le Camping Municipal de Soissons, Avenue du Mail, 02200 Soissons, Tel 0323745269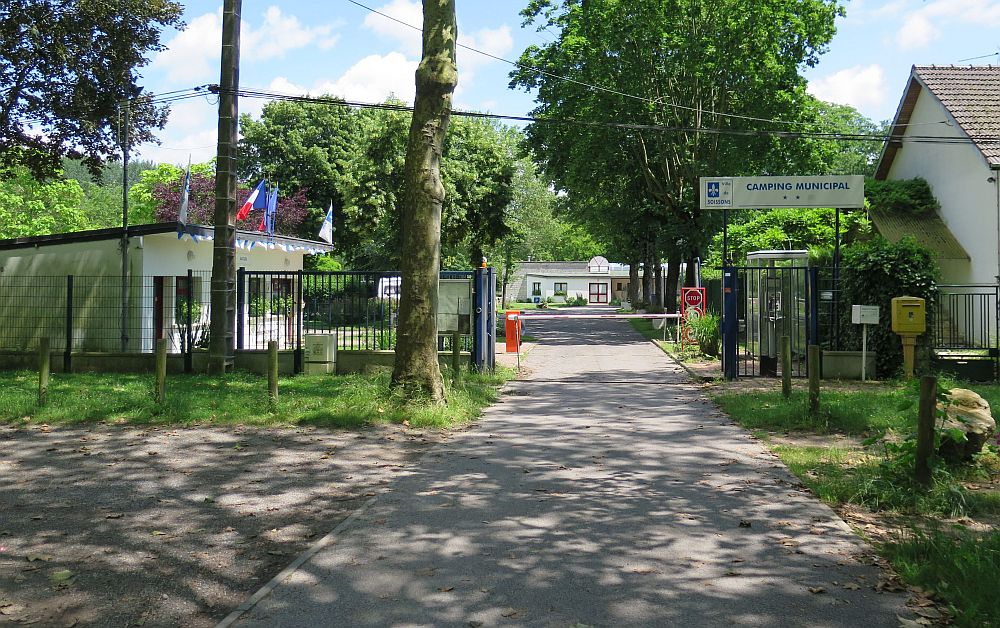 To Find Site:- The site is situated on the northern edge of the town next to a large swimming pool. It, and the swimming pool, are well signed from the centre of the town. The entrance seems a bit tight but its fine if you pull out into the opposite lane before finally turning in.
A fairly typical Municipal campsite although this one is open all year which is useful for people travelling to Spain during the winter.* It is situated in a semi urban environment although mainly between the river, swimming pool and municipal park across from the campsite. There are around 120 pitches in total all are on grass and delineated by hedges. Size varies but most are quite generous. Included in the total number of pitches are eight special motorhome pitches which have a metal all weather grid set into the ground. Electric points use CEE17 blue connectors and are rated at 6 amps. Whilst the points are convenient to most pitches we had to take our lead through the hedge to get to the box on the next row. Water points are set out around the site but grey water waste can only be disposed of at the motorhome service point or the chemical emptying point in the toilet block. There is one toilet block which is accessed by a key code lock. It has unseated toilets but paper is provided in the cubicles. There are also covered dish washing and laundry facilities. In terms of quality the facilities are functional rather than luxurious. However given that you are only paying £10 a night you can't expect the Ritz? For children there is a small playground. Free WiFi is available around the reception.
The town centre of Soissons is within walking distance of the site with its many restaurants and bars. Next door to the site is a large swimming complex. There are cycling opportunities from the site. In and around Soissons there are a number of supermarkets.
* It has come to my notice, since writing this report, that the local Council have decided to close this site over the winter months in 2016/17. At this stage it is not known whether this will become the norm for future winters. Best to check with the campsite direct for any change of circumstances.