Old Hartley CMC Site, Whitley Bay, NE26 4RL, Tel 01912370256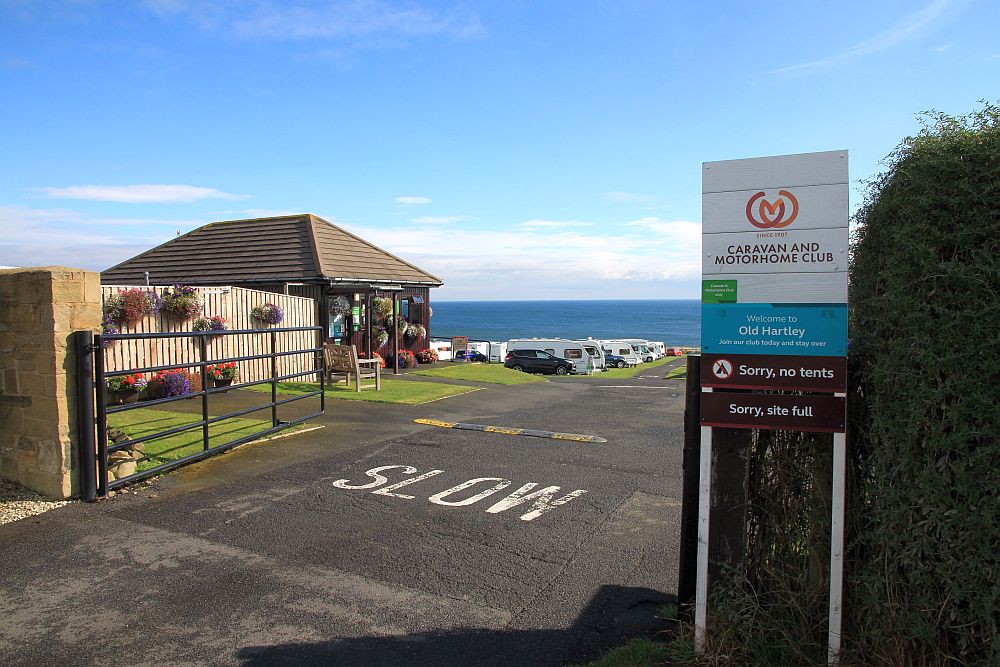 To Find Site:- From A1 and A19 follow signs Whitley Bay. At seafront take road toward Blyth. At the Hartley roundabout take third exit to site.
This site is situated on the low cliffs just north of Whitley Bay with magnificent views out over to St Mary's Lighthouse. This is a very popular member's only site which is open from early March to early November. There is quite a pronounced slope from reception down to the furthest pitches. In total there are 59 pitches all with hardstandings. However if you are used to other CMC sites the area of hardstanding is small and they have to be approached over grass. Larger caravans and motorhomes will overhang the hardstanding area. Some form of levelling will be required on almost all pitches. Awnings are not allowed on this site. On the plus side every pitch is capable of sea view. Electric points are convenient to all pitches and they are rated at 16 amps and use CEE17 blue connectors. Despite TV only being rated as fair there are no co-ax TV connectors on the electric bollards. We also found it difficult to get our satellite to lock on to a signal which I suspect was due the tall radio masts next to the site. This problem might be dependent on where you are pitched. The single toilet block is situated at the top of the site near to the entrance. It is clean and serviceable without being luxurious. Given the popularity of the site there will be times of day when it is under pressure. Included in the building is a separate disabled toilet, a small enclosed washing up area and a small laundry room. In front of the toilet block is the only fresh water supply and grey water disposal so a long way from many of the pitches especially as waste water has to be lugged up a steep hill! To the side of the toilet block is the motorhome waste point which is a bit difficult to get into and also requires heavy drain covers to be lifted. There are no facilities on site for children. There is site wide WiFi which I found to have a reasonably consistent signal but obviously restricted a bit in bandwidth. The 4G signal in the area also seems quite good. Reception sells a few essentials including gas.
This site has excellent public transport connections with a bus at fifteen minute intervals between Blyth and Newcastle. You can alight in Whitley Bay and join the Metro system. Within a short walk of the site is St Mary's Lighthouse which can be visited via a causeway at certain states of tide. You can also climb to the top for a same fee and 137 steps! There are good cycle routes from the site all along the coast. The beautifully restored "Spanish City" at Whitley Bay is now open and is worth a visit even if only to have a coffee. For basic food shopping there is a small Sainsburys, and an Iceland in Whitley Bay next to the bus stop back to the site. For those with transport there is a larger Sainsburys not far from the site. There are several places to eat locally the nearest being the Delaval Arms although I have personal experience.