Regenbogen Camp, Pforzheimer Strasse, Bad Liebenzell, Tel 07052934060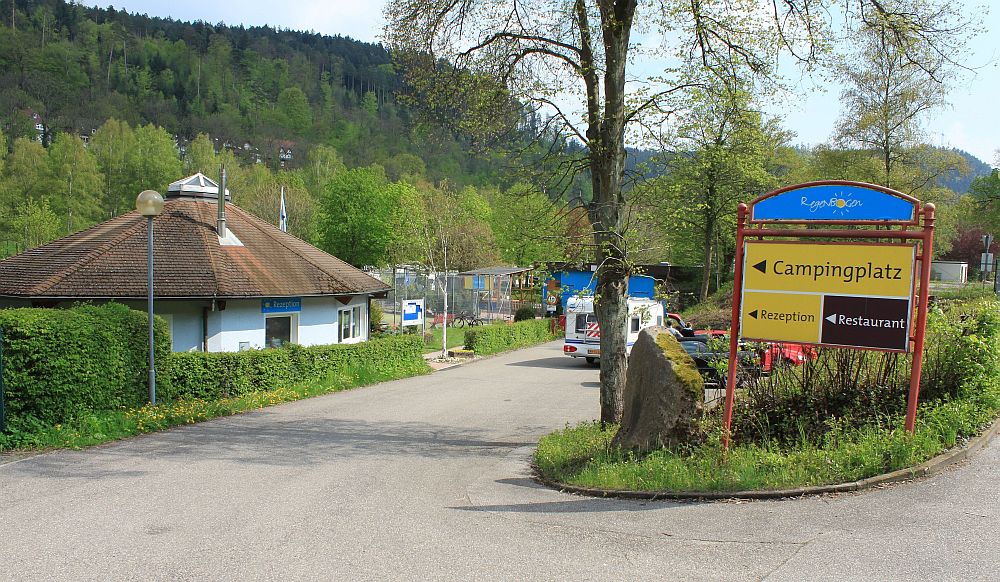 To Find Site:- From Pforzheim take 463 to Bad Liebenzell. ( You might want to ignore your sat nav as itís likely to take you down some narrow roads) As you enter Bad Liebenzell the campsite is on the left immediately after the municipal swimming pool. Unlike many German sites they do not close at lunchtime.
Regenbogen camp is situated on the edge of the Spa town of Bad Liebenzell so is conveniently placed for those wanting to provision up on the way through Germany. It is also an ideal spot to linger for a few days or longer, we found the campsite quite peaceful despite being busy at times. It seems that the site has been much improved in recent years since a change of ownership. There are around 160 pitches which are all on grass and of a good size. Like most German sites a fair proportion of pitches are taken up with seasonal customers although unlike some sites the seasonal pitches are maintained to a high standard by their owners no doubt encouraged by the site management. Electric connections are via CEE17 blue plugs and the supply rated at 16 amps which is fully inclusive in the per night price. Water taps are provided at regular intervals throughout the site. There are two toilet blocks, the one at the far end of the site is one of the originals and whilst perfectly clean and functional is somewhat dated in interior appearance. The second block of the same vintage has been converted into family bathrooms which can be hired separately. Adjacent to this is a completely new block of prefabricated construction but is top notch in the facilities it offers. All toilets are seated and have paper provided in the cubicles. There is a motorhome service point tucked away at the end of the site and not the easiest to get into by longer units. Although not open during our stay there appears to be a small bar/restaurant on site with a room for childrenís entertainment. Reception sells a few essentials. For children there is a play area and for older ones a tennis court and ball area. The site does not have its own swimming pool but of course the municipal one is right next door and a little further away is the Spa if you wish to spoil yourself. We were particularly impressed by the level of helpfulness provide by all members of the campsite team. During the low season the site accepts the ACSI discount card and payment can be made by credit card. The site normally offers WiFi but this was unfortunately not available during our stay. Immediately outside the campsite is a motorhome Aire which is available with electrics for a much reduced rate, however Aire users canít make use of the campsite facilities.
Bad Liebenzell is only a short stroll away from the campsite, most of the lower town is quite modern but the older part is up near the church. Reception will provide a list of the various Spas in the area and also town plans. There is quite a chunk of local tax added to the normal ACSI daily charge but this goes towards providing benefits to guests, in the form of a discount card, which far outweigh the initial extra cost. This includes the free use of public transport within quite a wide area and discounts at various establishments. Shopping from the site is easy as there is a Lidl right next door and a Netto the other side of the swimming pool. There is a filling station on the road opposite the campsite. There are lots of walking/cycling opportunities direct from the campsite