South Lytchett Manor Caravan and Camping Park, Lytchett Minster, BH16 6JB, Tel 01202622577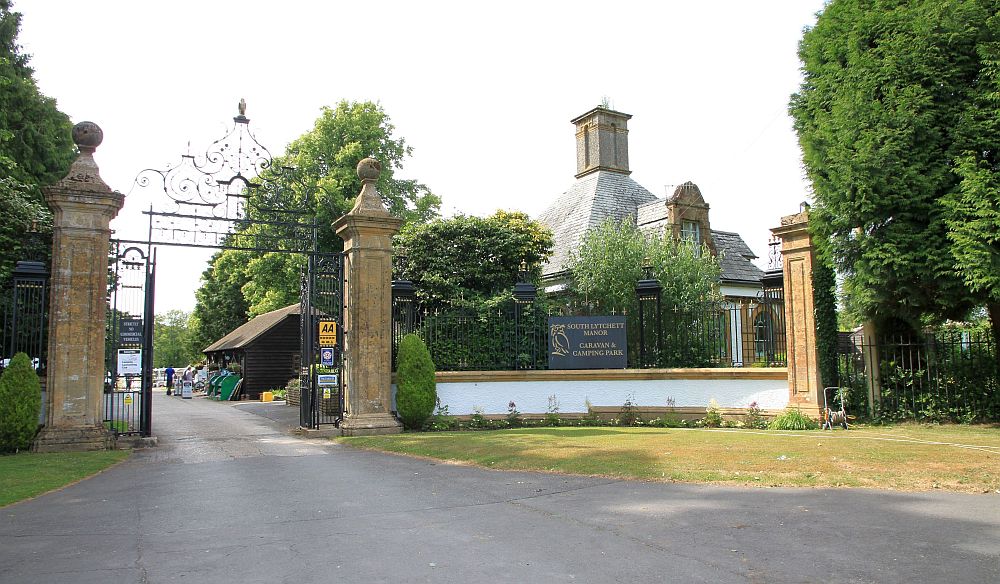 To Find Site:- Leave A35 at roundabout and take B3067 Dorchester Road. Continue through Lytchett Minster and about half a mile further on the site is on the left. The entrance is through an ornate gate which looks quite narrow but will accept all units of normal dimensions.
South Lytchett Manor Caravan and Camping Park Is a large and busy site situated on the outskirts of Poole and about half a mile from the village of Lytchett Minster. We received a very pleasant welcome from the reception team who gave us a run through about where everything was on the site. The campsite is open from 1st March until 1st January each year. There are around 150 pitches marked on the site plan set out alone a spine road that runs through the site. There are addition pitching areas set off of this road. The majority of pitches are on hardstandings (some with a vehicle sized concrete base) with a lesser number on grass. There are three categories of pitches, Deluxe which is fully serviced with water and waste, Superior with electric and Standard with no electrics. The electric bollards use CEE17 blue connectors and are rated at 10 amps. All pitches with electrics also have access to a TV hook-up which is free to use but you have to provide your own cable, also available to purchase from reception. There is a large grass field set out with electric points not marked on the site plan. Whether this is for rallies or just a general overflow area in the peak season I don't know but when in use would considerably increase the capacity of the site. Water points are dotted around the site but grey waste and chemical toilets can only be emptied at four points around the site so a fair walk from some pitches. The motorhome service point is in front of the main toilet block in the centre of the site and has good access for larger vehicles. There are three toilet blocks spaced some distance apart through the site, they are of an excellent standard. If the site was full I imagine they could be under pressure. As part of the site, there is a large field, opposite reception, which seemed to be used as a kick about area for ball games and also for dog exercise. As well as the kick about area children area well catered for with an adventure style playground and for older ones a games room. Reception sells a range of caravan accessories plus some food lines including freshly baked bread and newspapers and exchange gas cylinders. Opposite reception is an information hut with details of local attractions. There is site wide WiFi which is free but I found it was very inconsistent in connection terms. The 4G signal on site was reasonably good. Depending on where you pitched you may experience some noise from the nearby A35. We were pitched just down from the entranced which was far from peaceful at certain times of day. On booking the site requires a £50 non-returnable deposit and the balance must be paid 28 days before arrival date.
For those that don't want to take their vehicles off site there is an hourly bus service into Poole in one direction and Swanage in the other from a stop directly outside the campsite. From Poole bus station services run to Bournemouth. The railway station is also on the bus route. From the campsite there is no end of places to visit within a twenty mile radius. For shopping Poole will cover most requirements and there is an ASDA and a Sainsburys in the town centre and a Tesco a little further out, the later having good access to the fuel pumps for motorhomes-use the pay at pump ones for best access. For eating out Poole obviously has many restaurants, especially along the Quay, although closer to the site is the St Peters Finger pub which is about a half mile walk from the site. We had an excellent Sunday roast there and also took advantage of the free bottle of wine voucher given to us by the campsite. A short walk out of the site is a small craft centre and the café does cream teas and other refreshments. A voucher from reception will get you a free coffee or tea.