Stellplatz Graz, A-8054, Martinhofstrasse, Tel 06763785102
www.reisemobilstellplatz-graz.at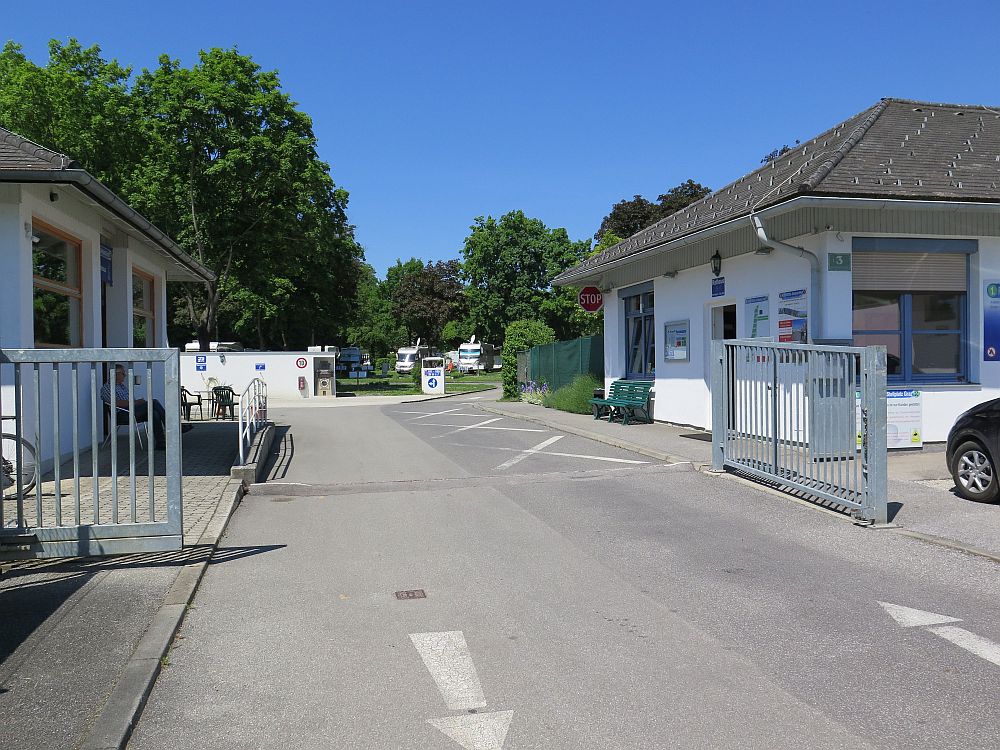 To Find Site:- Exit A2 Autobahn onto A9. In about eight kilometres the A9 branches off to the right but here keep left which will take you to a roundabout and take the second exit. Keep in left lane and at next roundabout take second exit which is three quarters of the way round. The slip road joins Karntner Strasse. Continue along this road until you reach a T junction where you turn left with a Hoffer store on your right. Passing a Billa Supermarket and petrol station on your right take next right and follow to T junction and turn left past swimming pool complex and site is immediately on the right.
This site was formally Camping Central and has recently undergone a conversion to essentially a motorhome Stellplatz. It does still have a smaller part of the site dedicated to caravan pitches but tents are not accepted. All the pitches are on grass but most have been overlaid with large granite chipping to give a more solid surface as the site is open all year. Despite the chippings the site maintains a green look and feel with many of the existing trees still in place. Motorhome pitches are about five metres wide and are divided by wooden troughs thoughtfully planted with herbs. Caravan Pitches are about seven metres wide. The site can accommodate large motorhomes. Electrical connections are convenient to all pitches and are rated at 6amps and use CEE17 blue connectors. The site has a superb waste point for motorhome which can accommodate up to four units at a time. There are two toilet blocks, one which appears to be refurbished and the other brand new and the facilities within are excellent with seated toilets and paper provided. There are covered dish wash facilities at each block and one even has two dishwashers! Washing machines and tumble dryers are also available at a reasonable charge of two euros per cycle. Reception is closed between midday and three in the afternoon but new arrivals are invited to find a pitch and return later to book in. There is a lot on useful information available from reception including details of transport and maps of Graz. Opposite reception is a room with coffee machines. There is site wide WiFi at a reasonable daily cost and I found the speed quite good. Dogs are welcome and there is no charge for them, they even have their own dog garden. There are no particular facilities for children. Despite being in an urban environment it is quite peaceful at night although during the day there is a little road noise and in the summer probably some noise from the open air swimming pool next door.
I am sure the main purpose for a visit to this site is its convenience close to the City of Graz. The bus stop is a short walk from the site and tickets can be purchased on board. The best option is the 24 hour ticket which gives you access to other transport within the city including the funicular railway up to the Schlossberg. The journey to the centre takes about fifteen minutes. For shopping there is a Billa supermarket a short walk from the site (accepts credit cards) and a further on a Hofer. Next to the site is a large open air swimming Lido. Check with reception for any discounts.