Travels in the UK 2017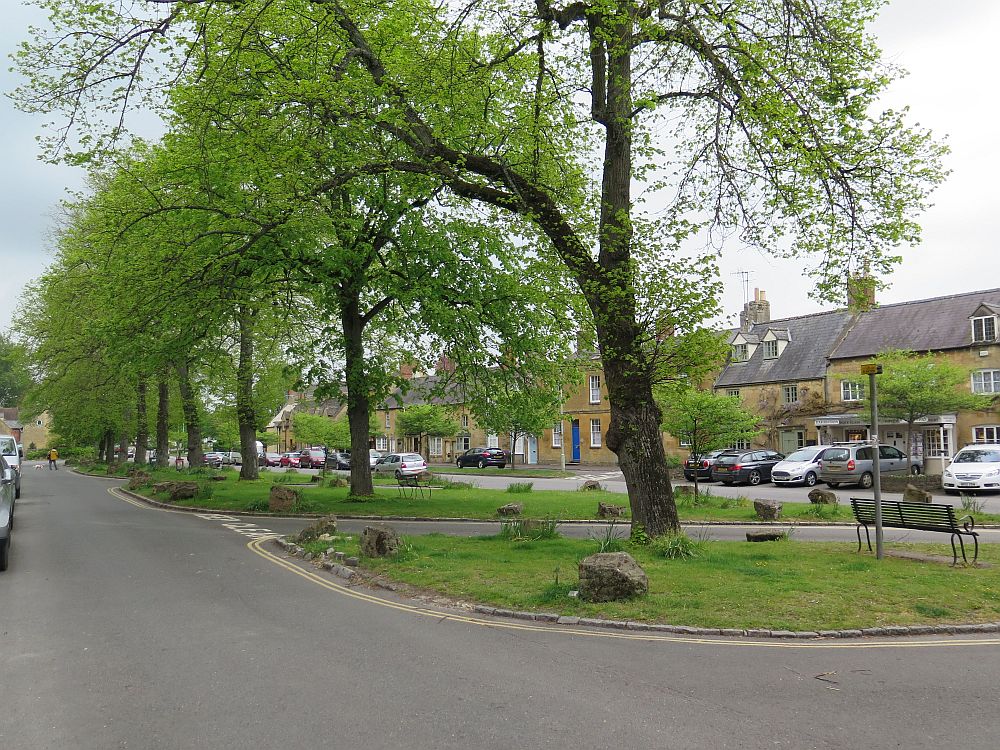 Moreton in Marsh
Friday 5th May. Today is our first venture out in the motorhome since last December. Unfortunately poor Margaret has not been too good having been hit with a lot of arthritis pain which has restricted ease of movement. They think she may be suffering from Rheumatoid Arthritis and she currently has an appointment at a local hospital to establish the problem, but not until June. This trip is a little bit of an experiment to see how she gets on for the three nights we are away.
At least the day dawned bright and sunny although still a bit chilly in the breeze. We are heading for Caravan and Motorhome Club site at Moreton in Marsh. This is a journey we have done many times in the past except now we detour from Aynho to Adderbury to avoid a narrow section of our original route via a narrow humped backed bridge over the Oxford Canal and Clifton. South of Adderbury on the A4260 we stopped in a lay-by at Buzzy Beans for a coffee. Buzzy Beans is a coffee seller run from the back of an Italian Ape three wheeler. Excellent coffee and he is clearly well known on this stretch of road going by the number of toots he gets from passing traffic. Being a public spirited kind of guy he even mows the grass verges of the lay-by in his down time. Worth a stop if you are passing. It seemed a slow journey, taking nearly two hours to cover fifty two miles.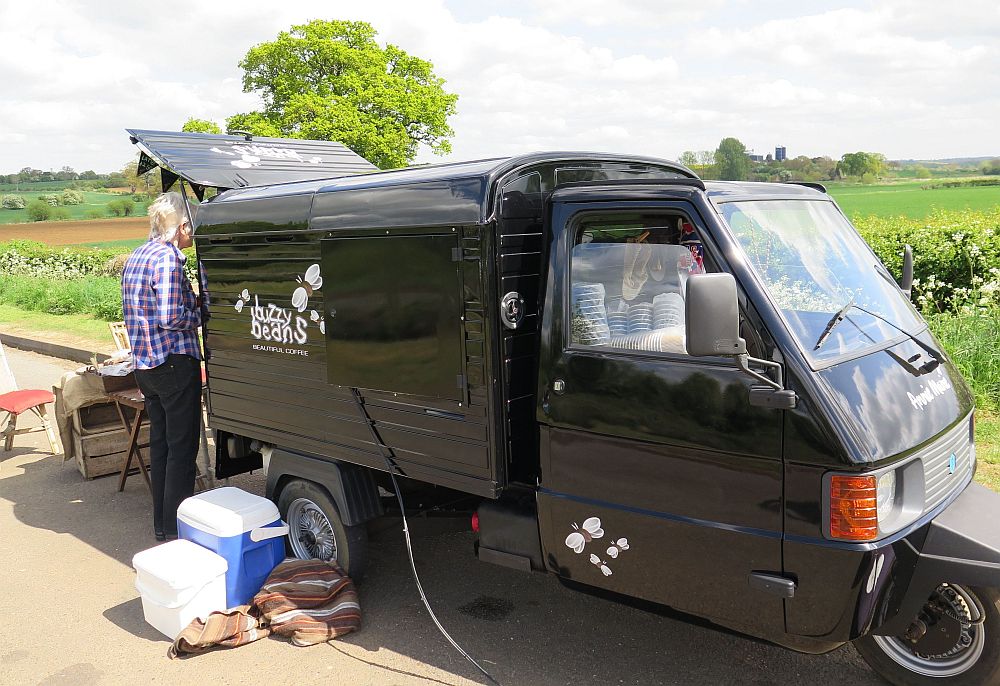 Once we had booked in we set about finding a pitch. Apparently 59 units were arriving today but then it is the weekend. Since our last trip away the Caravan Club has changed its name to the Caravan and Motorhome Club. Given that there are currently over 60 motorhomes on site that seems a sensible move although not universally popular, particularly amongst some of the dyed in the wool caravanners. Our hobby is evolving and current trends do point to the sales of motorhomes growing pretty fast in recent years where as caravan sales seemed to have reached a plateau and I suppose the Club see the change as preparing for the future. Personally I have no problem with that. Included in the change was a change of corporate colours which even I agree does not work that well and it will be interesting to see how long it is before they change that?
Saturday 6th May. Given Margaret's condition she needs space when she is asleep as the only anywhere near comfortable position is on her back. I elected to use the second bed which can be made up from the lounge area as opposed to the fixed bed Margaret was using. Now I like a firm bed but I had forgotten how hard a bed made from caravan/motorhome seating can be!!!! It was also a long time since I had slept in a sleeping bag, the same ones we used before we had a fixed bed caravan prior to changing to a motorhome, just as well we kept them! The next challenge was the shower. It seems to be the one thing that helps Margaret to get mobile in the morning so we changed our usual routine to allow her to get the maximum of hot water. I tend to use a mix of gas and electrics to get the best out of the system. It certainly seemed to have worked.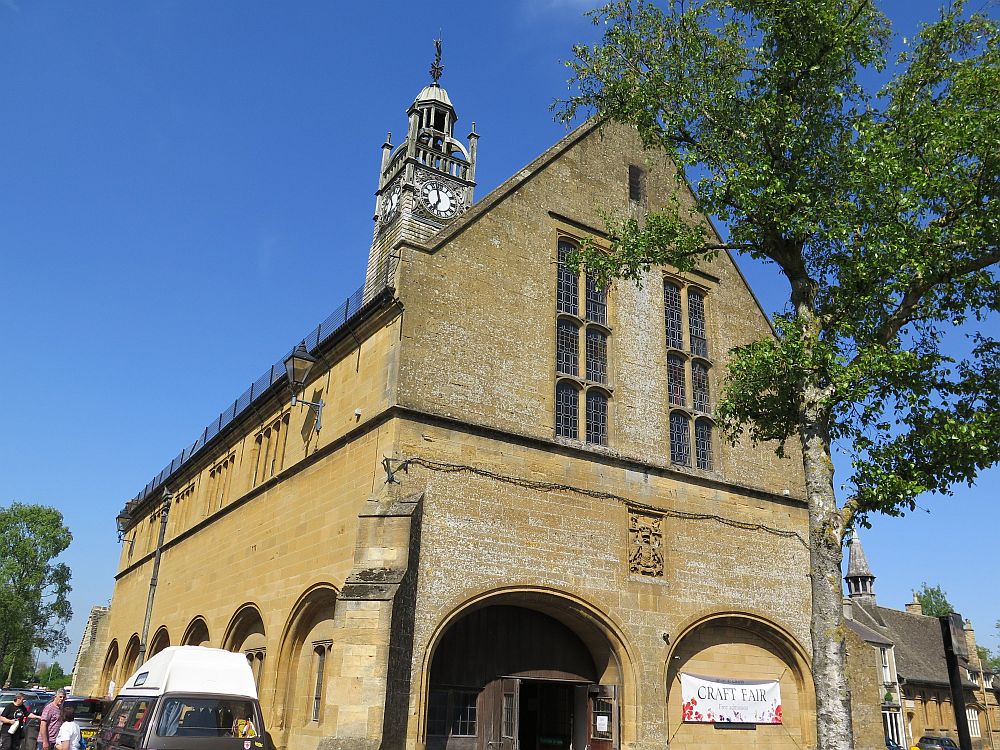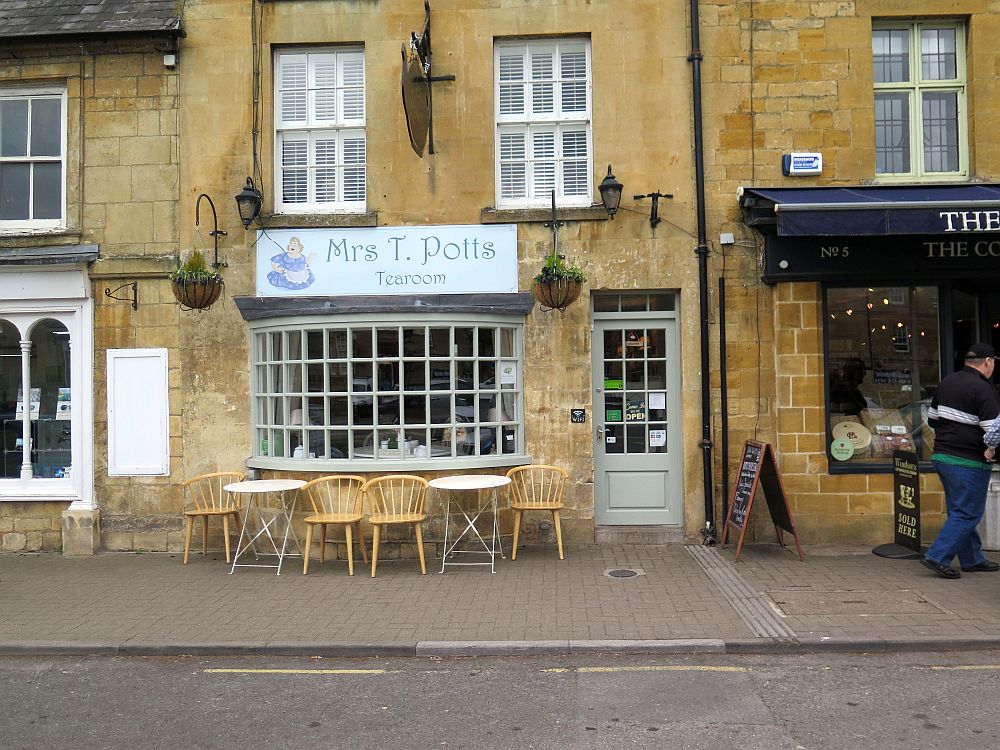 Weather wise it dawned quite dull with heavy high cloud, dry but no warmth. After breakfast we walked into Morton in Marsh. The town was quite busy with similarly wrapped up people having a wander around. We walked up to the station at the north end of the town and then doubled back to the High Street. There are a surprising number of tea rooms and cafes so difficult to choose but we found one that we liked the look of and enjoyed our coffees and the excellent scones on offer.
Back at the site there seems to have been a fair amount of movement with quite a few units leaving and more units arriving.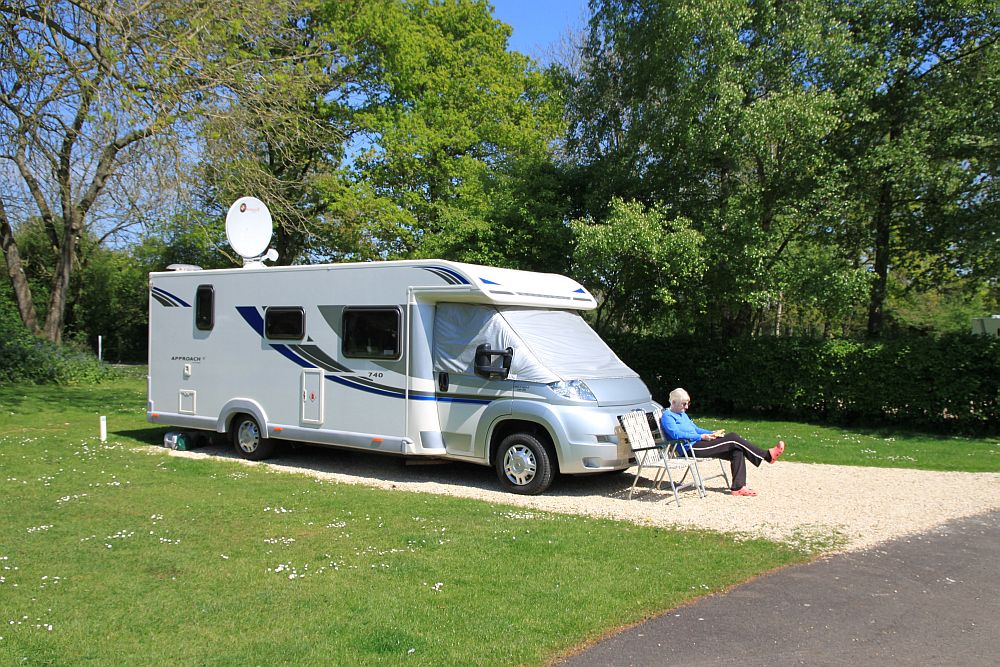 Sunday 7th May. What a beautiful day, sunshine from dawn to dusk. It was also pretty warm if you could find a spot out of the chill breeze. We lazed around the van for the morning but did decide to have a walk into Morton in Marsh after lunch. On the way into town you pass a small museum dedicated to the Wellington Bomber which apparently used to be based at the airfield which is now used as Fire Service Training centre. Despite all our visits over the years to Moreton in Marsh we have never seen the museum open! Having checked the website it does say Sundays only! So this was our chance The Wellington Aviation Museum was actually open as we walked by so we decided that we should have a look. I think museum is perhaps too grand a word. It is really more a collection of memorabilia obviously collected over the years by the originator of the collection who is sadly no longer with us. In the garage next door they do have one of the engines that powered the bomber which is quite impressive. The guy that looks after the museum when it's open said that without the Caravan Club site he doubts the museum would continue as most of their visitors seem to come from the campsite. Well, at least, after all these years our curiosity has been satisfied.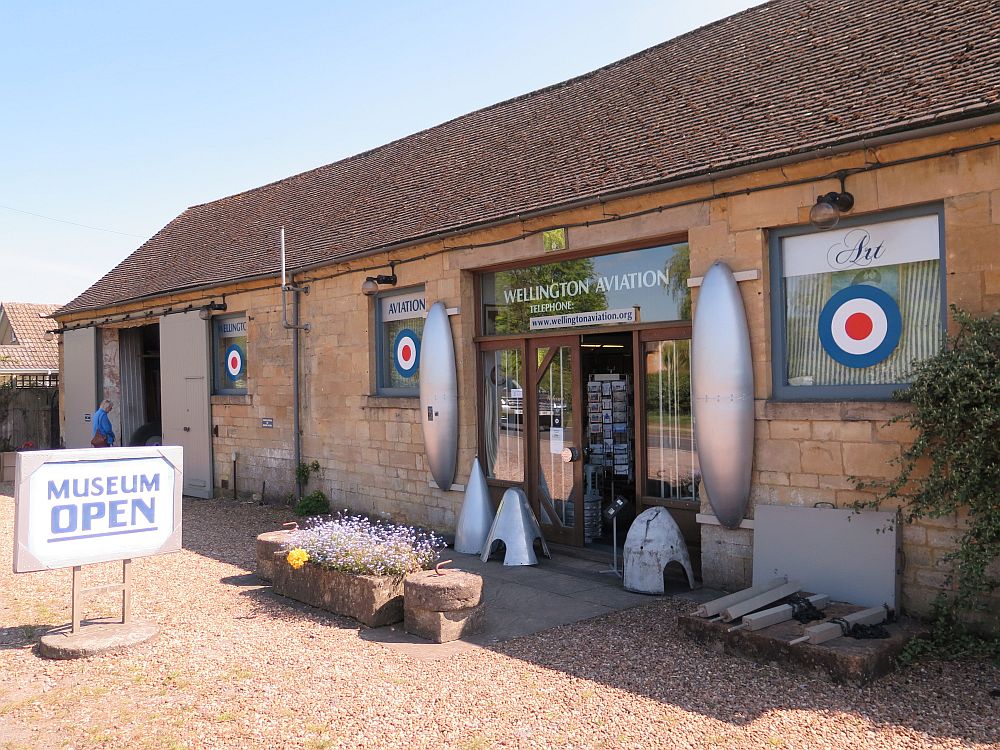 Margaret was keen to go back the to teashop we visited yesterday for tea and scones. It is a shame there is no bypass round Moreton in the Marsh to separate the visitors to the town and the through traffic. Back at the van we enjoyed the late afternoon and evening sunshine.
Monday 8th May. Unfortunately the beautiful weather of the previous day had not lasted overnight and although quite bright clouds were in the sky and it was dull for most of the uneventful journey home. The last time I filled the motorhome with fuel was in December last year! Obviously we have not been far in the intervening months apart from servicing and this trip but I thought I would top up with fuel. We arrived at Tesco in Wolverton to find they had no diesel!!! No big issue as we still have over half a tank and can fill up on our next trip.
So how did Margaret survive the weekend? Fairly well although she struggled to get in and out of the fixed bed. The problem is that as much as you might love the motorhoming life if you are having difficulties it is often easier to stay at home where you are more comfortable. I am sure we will have another go in a couple of weeks' time, especially as the weather should be getting warmer. She is pinning her hopes on the hospital appointment in June as hopefully the medications they can prescribe will be more effective than general painkillers.
Cromer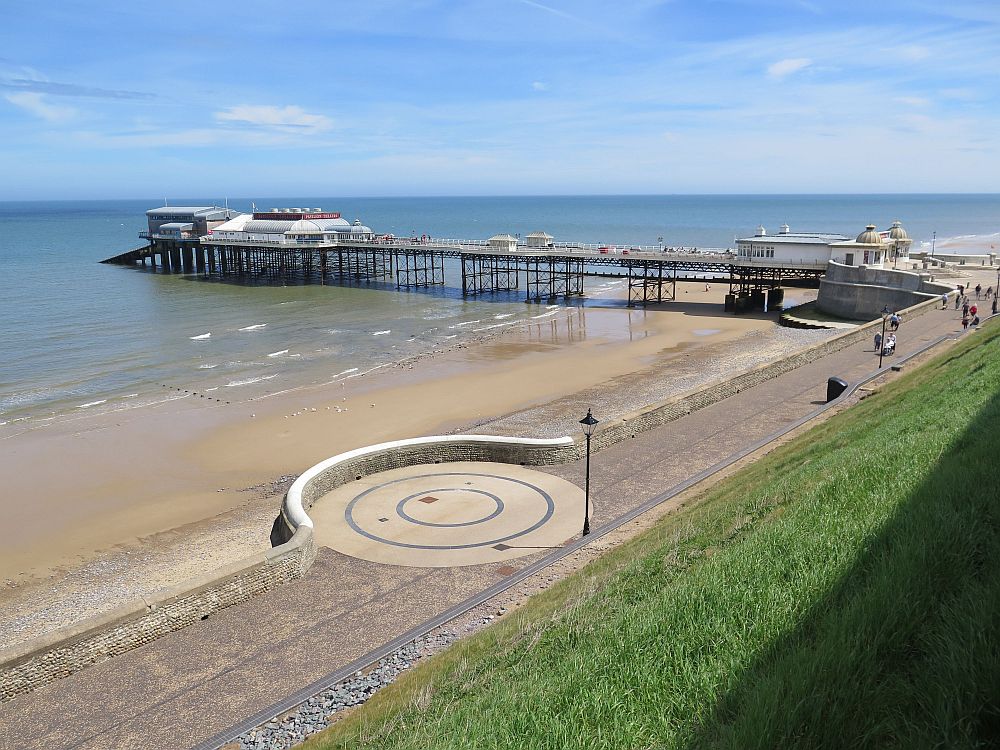 Monday 22nd May. Our second trip of the year, this time to Cromer in Norfolk and staying at the Caravan and Motorhome Club's Seacroft campsite. Surprising the difference a couple of weeks make as the temperature was warm enough to require the air con to be on, when last time it was the heating! We needed to fill up with fuel as this was not possible when we returned from our last trip as Tesco had no diesel. Mission accomplished we set off on our journey which we knew would be a bit on the slow side as it was across country. Even on dual carriage ways there are just not enough stopping places for larger vehicles. Most layby's can take about four lorries! Once off the main roads its very much pot luck. On the road to Swaffham we pulled into the road by the Club Thetford Forest site next to the Tank Regiment memorial as there was plenty of room. We eventually arrived at Seacroft at 2.30pm.
Seacroft has recently had a 25 pitch extension but all the new pitches are serviced so command an addition fee of three or four pounds per night. We don't really need that extra facility or the extra expense so had to try our luck at finding one of the few remaining hardstanding pitches. We found one right by the toilet block which was handy but it is also right next to a service point so we have to tolerate watching people emptying their chemical toilets!!!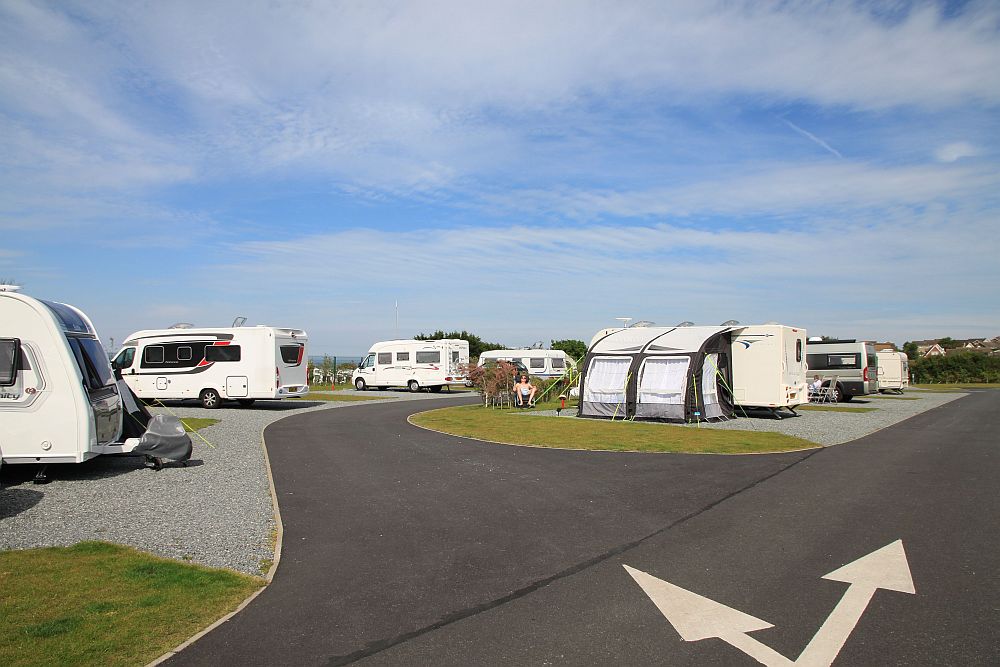 It is interesting that the Club have decided to put all the extra investment into serviced pitches. This site is one of a handful of Club sites with a swimming pool and restaurant. Perhaps they feel that members wanting such a site will also be willing to pay a premium? On the plus side this is the first Club site we have been on with one of the new open drain motorhome waste points which is indeed a bonus.
Tuesday 23rd May. The day dawned bright and sunny but as often is the case, near the coast, there was still a chilly wind. However this was over clouded by the dreadful news of a terrorist attack in Manchester at a concert venue causing at least 22 deaths many of them children/teenagers including one eight year old.
We decided to walk into Cromer rather than take the bus, despite there being a regular service from immediately outside the entrance of the site. En route we passed the cliff top car park which does allow motorhomes up to 3500kgs. The ground looks quite firm so even in damp conditions it could be OK. As we walked along the cliff top path there were notices warning about the Brown Tail Moth caterpillars and how they can cause skin irritation. When I was a kid I would have been totally oblivious to such dangers and would have likely collected a few in a jam jar!!! Further along more notices warning about goats. At this point there was almost a sheer drop to the undercliff road. So goats? Sure enough we saw half a dozen on a ledge half way down. I imagine they are used to keep the vegetation down, a clever idea on someone's part and no doubt entertaining for visitors!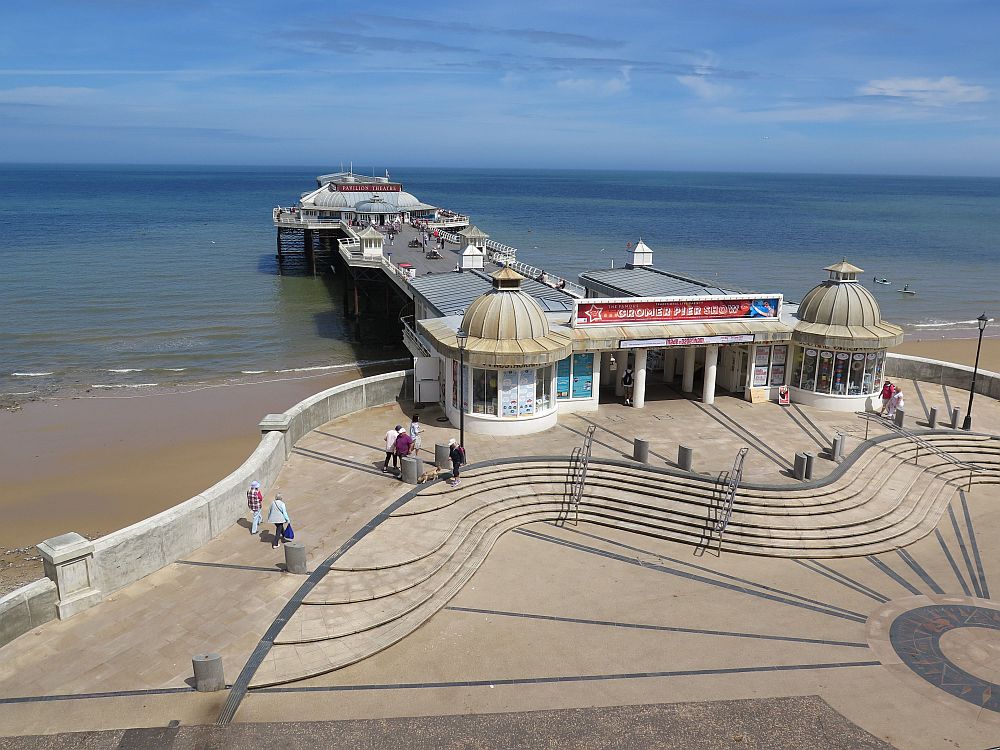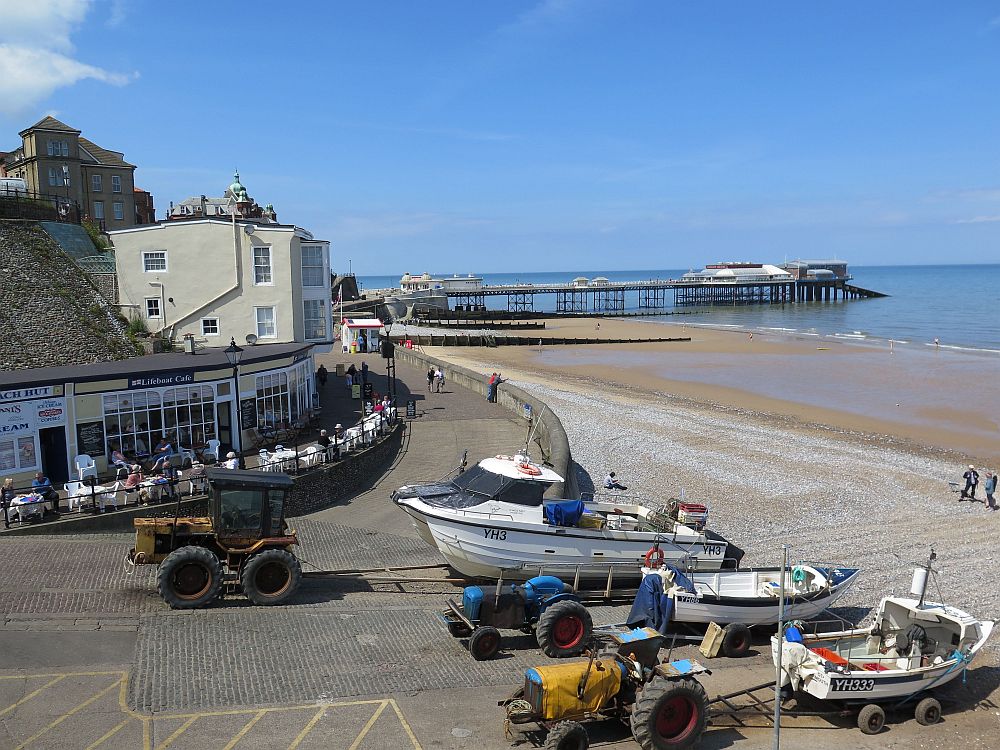 When we got to the point immediately above the pier we headed back into the town. About time we thought for a coffee! Most of the café's we came cross seemed either to be full or have limited seating. Last time we were here I seem to recall that we had a coffee at the RNLI Henry Bloog Museum so we headed down hill to the seafront. By the time we got there it was more like lunchtime so we treated ourselves to lunch. Highly recommended and I imagine any profits might go towards the RNLI?
Having finished we cheated a bit by taking the lift up to a higher level to cut out the need to walk up a pretty short but steep hill up from the water's edge. I thought the town quite busy as we walked along the main through road. Margaret wanted to look at a clothing shop so I wander further down the street. I came across a butchers shop, a real old fashioned butchers shop. In MK these are pretty rare beasts. I feasted my eyes on every cut of meat in the window. I love lamb and there in a tray were some lovely looking lamb leg steaks. Not the scrawny looking things to get in supermarkets but a decent thickness and size. They were mine, and we enjoyed them for our evening meal.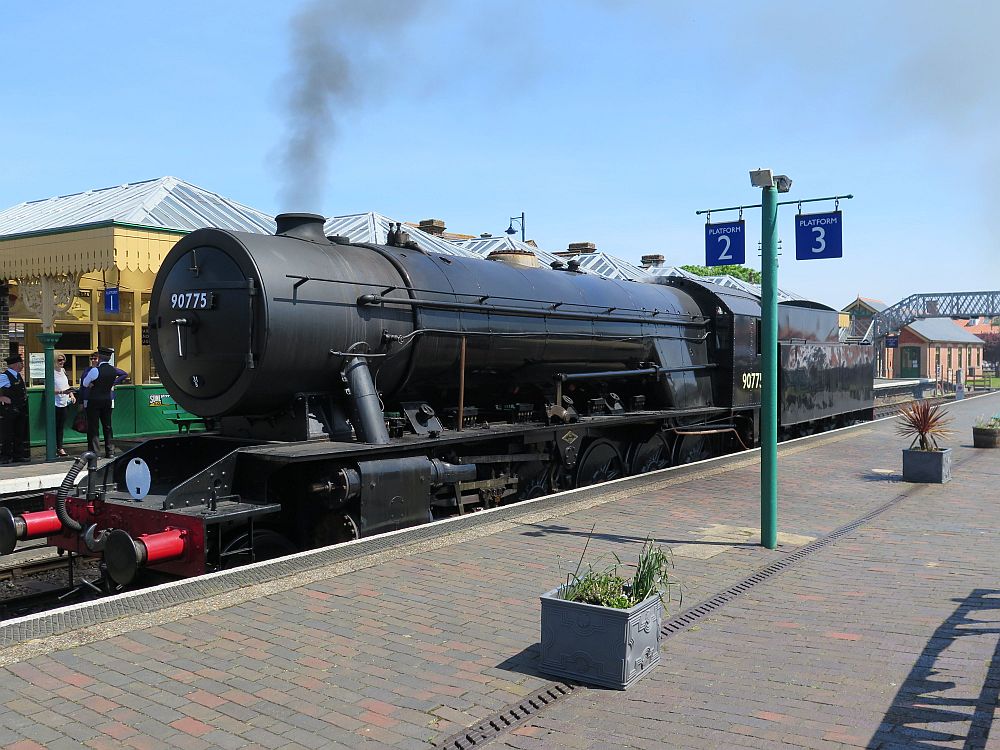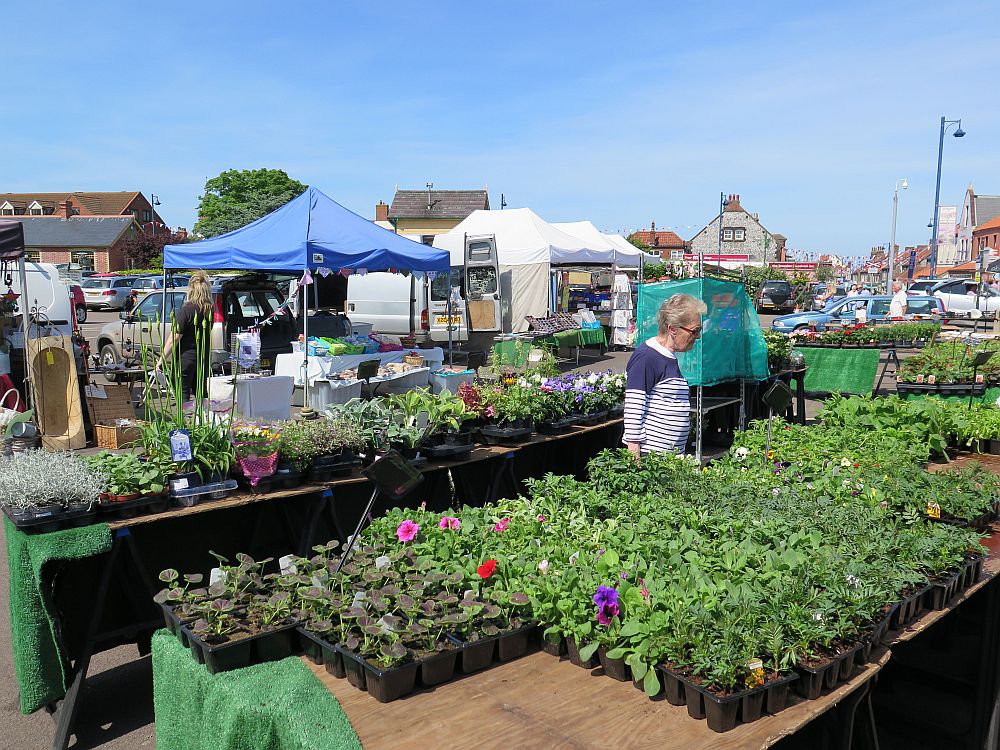 Wednesday 24th May. Another lovely day for our trip into Sheringham, it was hotter with slightly less breeze which made walking a bit more comfortable. There is a pretty regular bus service from right outside the campsite gate which is very convenient. The Wednesday Market was in full swing when we arrived and takes up a little less than half the car park. There we some interesting stalls. I was particularly taken by the idea of a roast hog sandwich but resisted the temptation!!! Just across the car park is the station of the North Norfolk Railway. There was a steam locomotive being fired up but no carriages attached so whether that was to come later I don't know. Later a Deltic diesel pulled up right opposite where we were having a coffee.
Refreshed we wandered down through the main street which was bedecked in bunting. Sheringham has a nice selection of shops although I did notice that what must have been a small department store had closed with a note on the window saying that it had closed after 110 years. I suppose that even traditional places like Sheringham find it difficult to sustain such shops in the age of internet shopping. At the end of the road is the sea and Sheringham has a nice long promenade along the seashore. The good weather had encouraged a lot of people out for walks and onto the beach. A few brave souls where even swimming but under the careful watch of the life guards. Before heading back we treated ourselves to an ice cream and sat watching the activity on the beach. Margaret wanted to go back to the Market as she had seen something that would suit her sister for her birthday. I am sure the queen of nic nacs will approve!!! I am fully of the view that Sheringham is the jewel of the north Norfolk coast.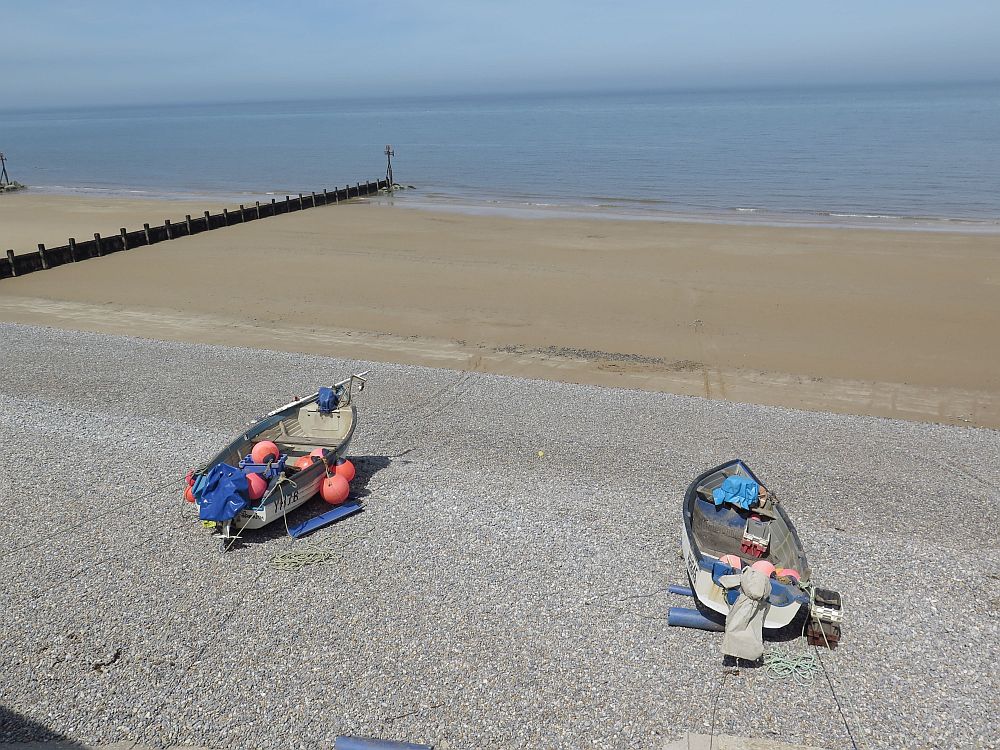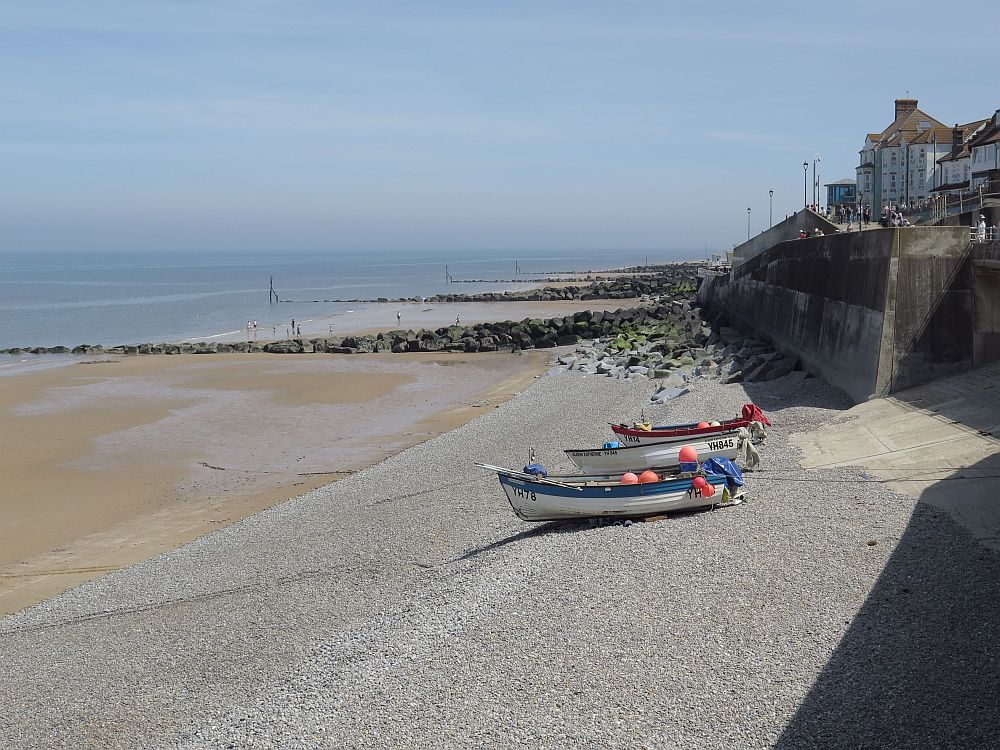 Back at the site we sat out in the shade of the van and watched the world go by. The site is fairly full and no doubt will be even fuller come the Bank Holiday weekend especially as the forecast seems good for the early part. Walking around the site there are just over a dozen empty pitches.
Thursday 25th May. Another glorious day here at Seacroft. Having had two busy days we decided that a day of rest was in order and we are just relaxing on site today. With time on your hands you have plenty of times to watch what others are getting up to! In the canal world this is called gongozzeling but I am not sure if there is a caravanning alternative. Quite a few units arrive around midday. You forget that a caravan is a bit like a Tardis when all the stuff is unloaded.
I have been experimenting. The WiFi on Caravan and Motorhome Club sites has never been great. Most of us, at home, now have high speed broadband so it comes as a bit of a culture shock to be transported back in time when we arrive on site. Not only is the WiFi slow it is also somewhat intermittent in that the connection will often drop and we then need to reconnect. In part this might be to do with using internet connected devices in the van and the signal may well have difficulty in penetrating the shell of the vehicle. A while ago I purchased a Solwise WiFi booster that sits on the outside of the van and pulls a stronger signal. This is coupled to an internal wireless router which distributes the signal inside the van rather like you have at home. Now strictly speaking the CMC only allow access to one device at a time on their WiFi but this can overcome the restriction. To prove the point I did connect both of our phones to the router and it worked. My main intention was to get a better signal for my laptop which seems to be the case. It is seemingly, no faster but more consistent without the dropouts we have been used to without using the router.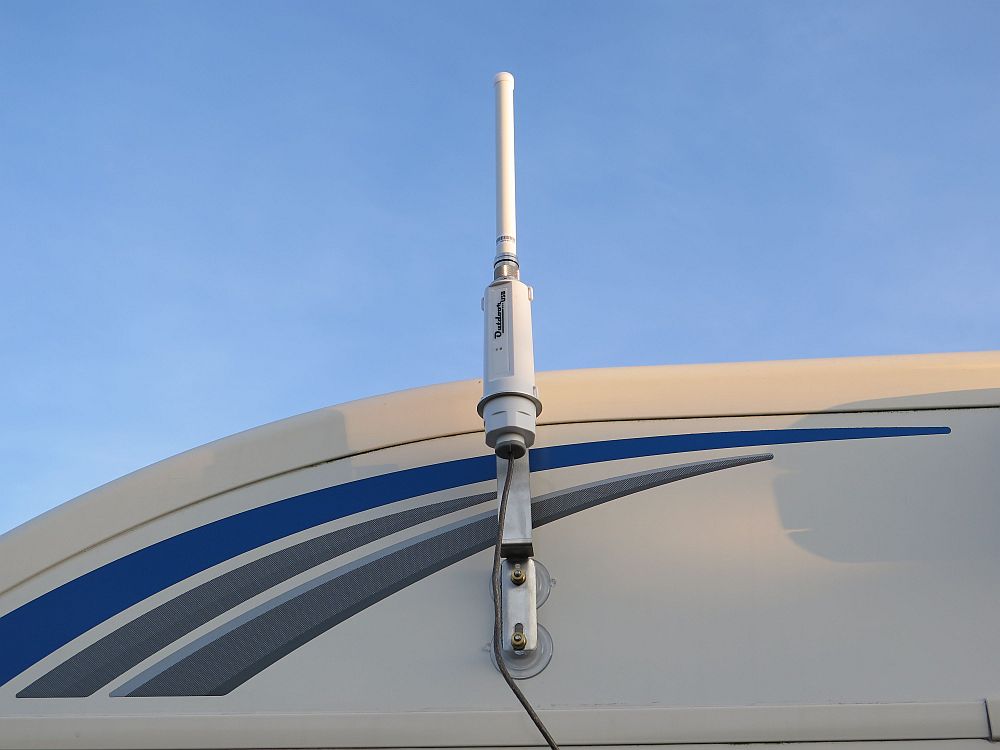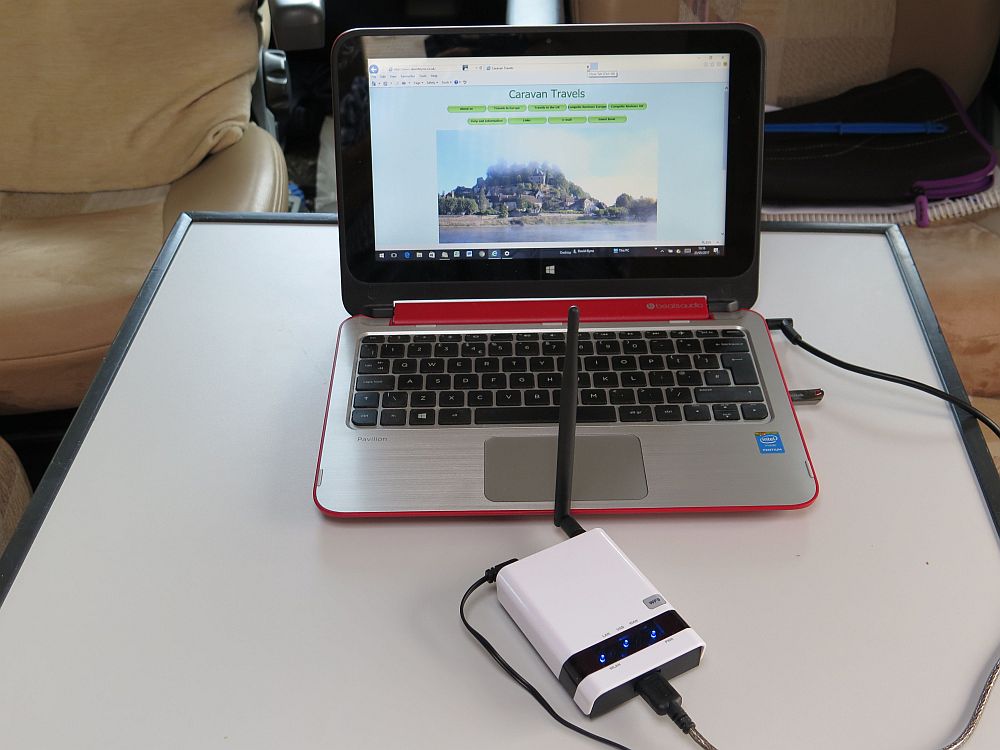 As this is our last night at the campsite before returning home so we decided to treat ourselves to a meal in the site restaurant. Typical pub food but pleasant service. The Club only have a few sites with such facilities but it is an interesting observation that this site is pretty full so will we see more sites like this?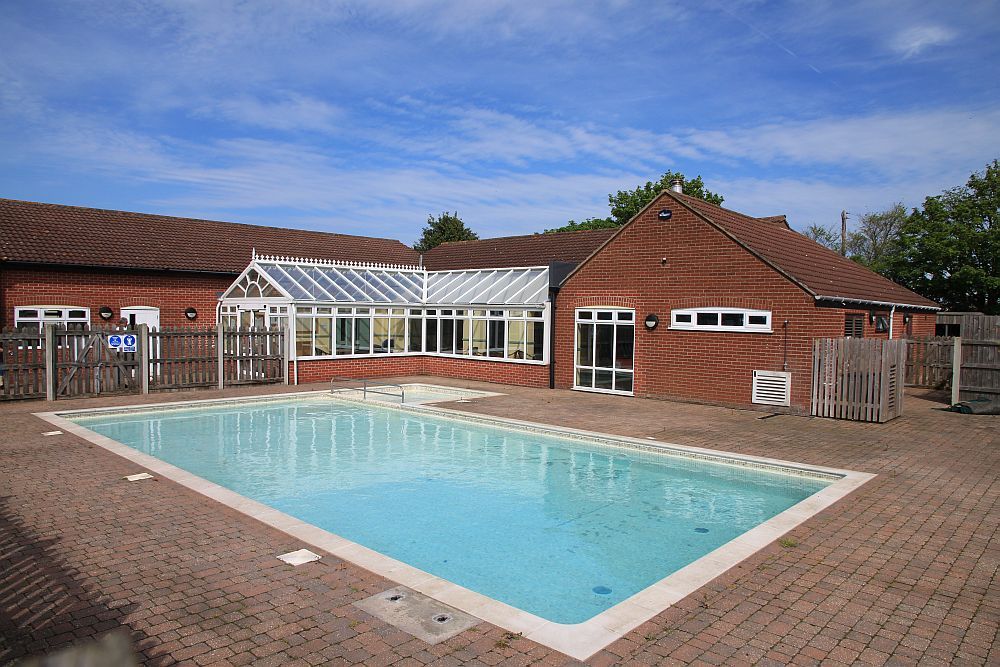 Friday 26th May. Almost a shame to be going home given the lovely weather. First stop was the motorhome waste water point on the new section of the site. Hardly headline news but this is the first of a new generation of motorhome waste points we have used. They are gradually being installed across the network but unfortunately it is very slow progress!
What route to take, that is the question as there is more than one? The route we took here was MK/Bedford/Cambridge/Newmarket/Mildenhall/ Swaffham/Cromer. We could retrace our steps but many of the roads are slow. We could go via Norwich but that means getting involved with the City traffic. We asked TomTom to plot a route from Cromer via Kings Lynn. This took us on via Wisbech and Peterborough. At Peterborough it took us down the A1M when I half expected to use the A605 but I doubt it would have been any quicker. A fill up at Tesco Kingston, second time in a week, and we were home around 2.00pm. An interesting observation on this route was that between Peterborough and Kings Lynn it seemed wall to wall caravans and motorhomes and rarely travelling that fast! What I had forgotten was the CMC was holding it's annual Rally on the Sandringham Estate. I know I whinge on about this but some parts of our Country is in desperate need of road upgrades.
We couldn't have been luckier with the weather, the entire stay was hot and sunny. I hope it stays that way for the rest of the Bank Holiday Weekend. I think Margaret found it a bit easier although getting in and out of bed is still difficult.
Wolverley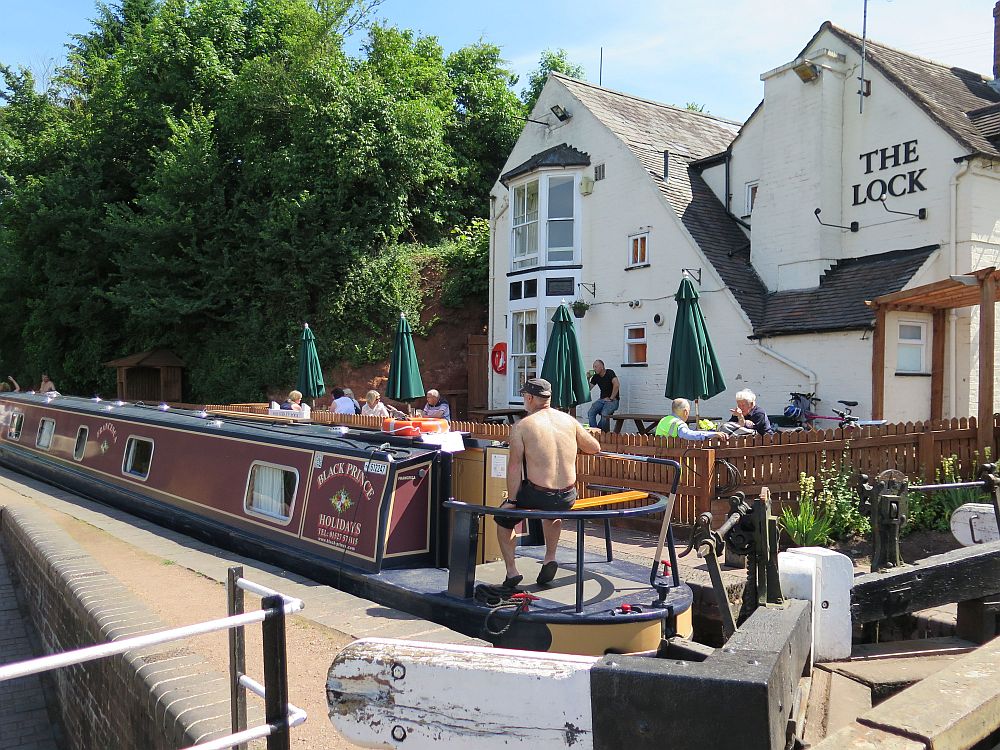 Monday 12th June. Another trip away, this time to the C&CC site at Wolverley near Kidderminster. Weather wise it was a bit grey as we left home heading across country to Brackley and then Banbury where we joined the M40. We stopped at Warwick Services which seemed a bit chaotic. We followed the caravan parking but still ended up parked amongst the lorries!!! Continuing north and then round the M42 and onto the M5 we eventually came off the motorway for the final leg of the journey of 90 miles.
Once settled onto our pitch we had a wander round the campsite. We discovered that the land the campsite is on was previously occupied by an American wartime military hospital. Apparently Bob Hope visited several times during the second world war to entertain the recovering troops as did other stars of the time. When the hospital closed it became a holding place for German prisoners of war prior to their repatriation. Another interesting fact was that when the site was officially closed people made homeless by the war occupied the site as temporary accommodation. The campsite reception and toilet block are, apparently, housed in a couple of the original buildings. The campsite only forms a small part of the total land area taken up by the hospital and if you walk out of the site entrance and enter the large playing field you can still see some of the derelict original buildings over to the left. This is not the only campsite we have come across in our travels around the UK that have some connection with the second world war.

During our walk we also had a quick explore outside the site via the back gate which is a short cut to the Lock Inn and the Staffordshire and Worcester Canal just in time to see a holiday narrow boat descending the lock adjacent to the pub. I imagine that most summer weekends this is a very busy spot.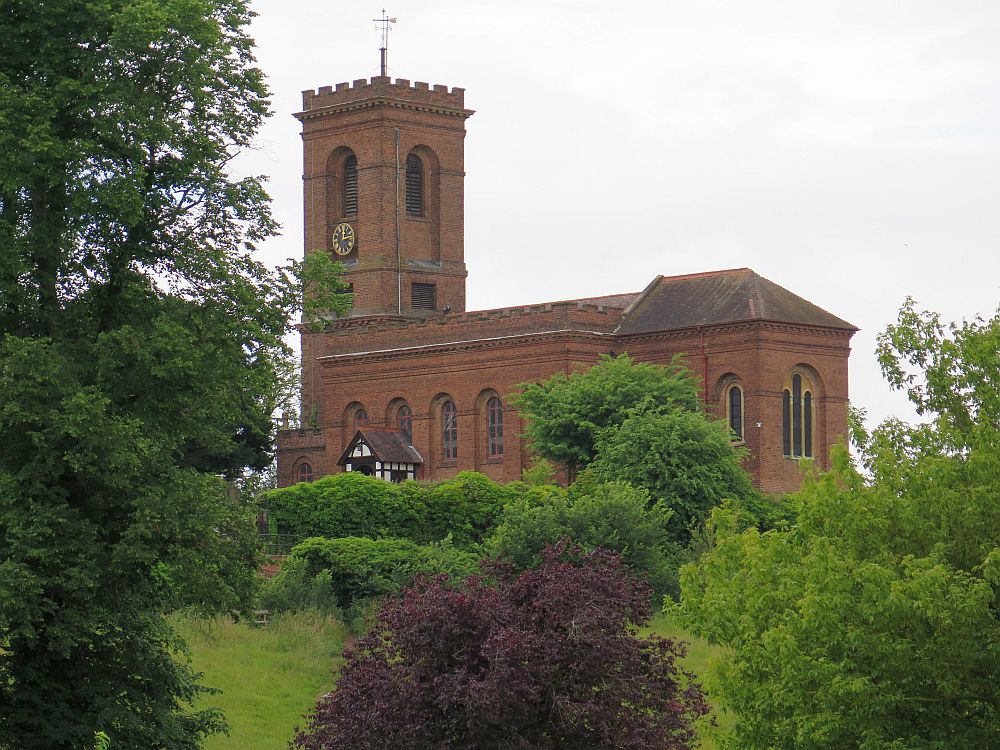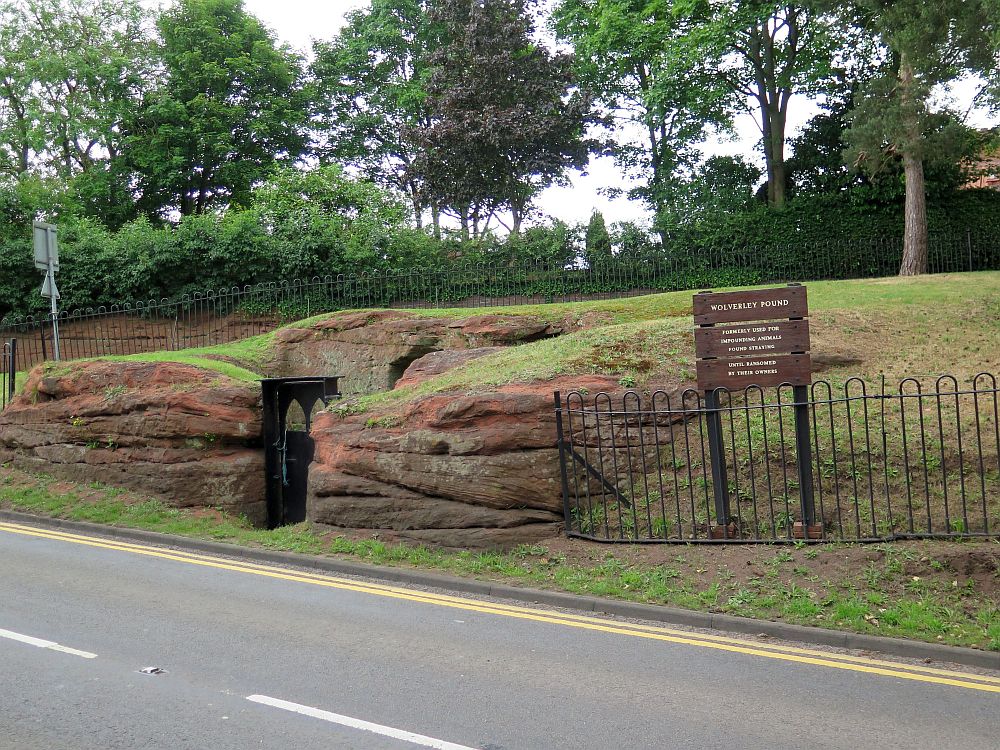 Tuesday 13th June. Funny day weather wise, very cloudy but also quite warm. We had no clear objective today but we thought we would sus out the bus stop which seemed further away than we first anticipated. Apparently the service is a circular one so only goes one way from the stop. We are reassessing our options including the possibility of walking into Kidderminster. Wolverley Church dominates the landscape here abouts. As we approached the top of the hill we noticed on the other side of the road an enclosure hewn out of the sandstone with a gate on it. This was used for gathering up stray farm animals, owners could collect them on payment of a fee. We returned to the Lock Inn which is alongside Wolverley Lock. There was a steady trickle of boats using the lock which created a lot of interest to the bystanders or should that be Gongoozlers?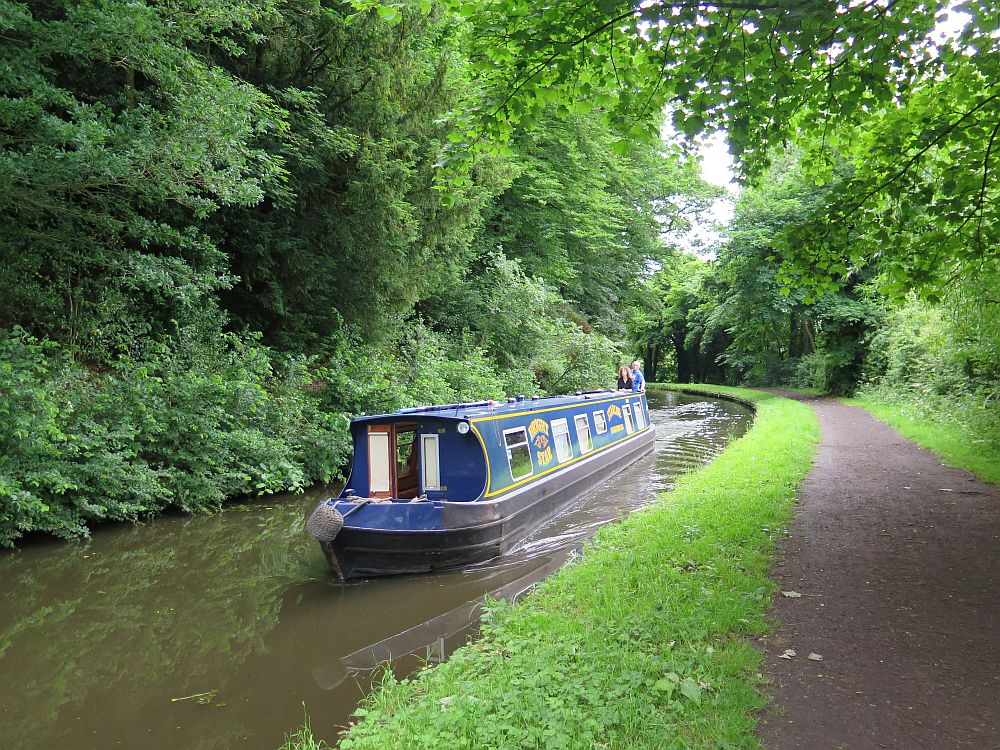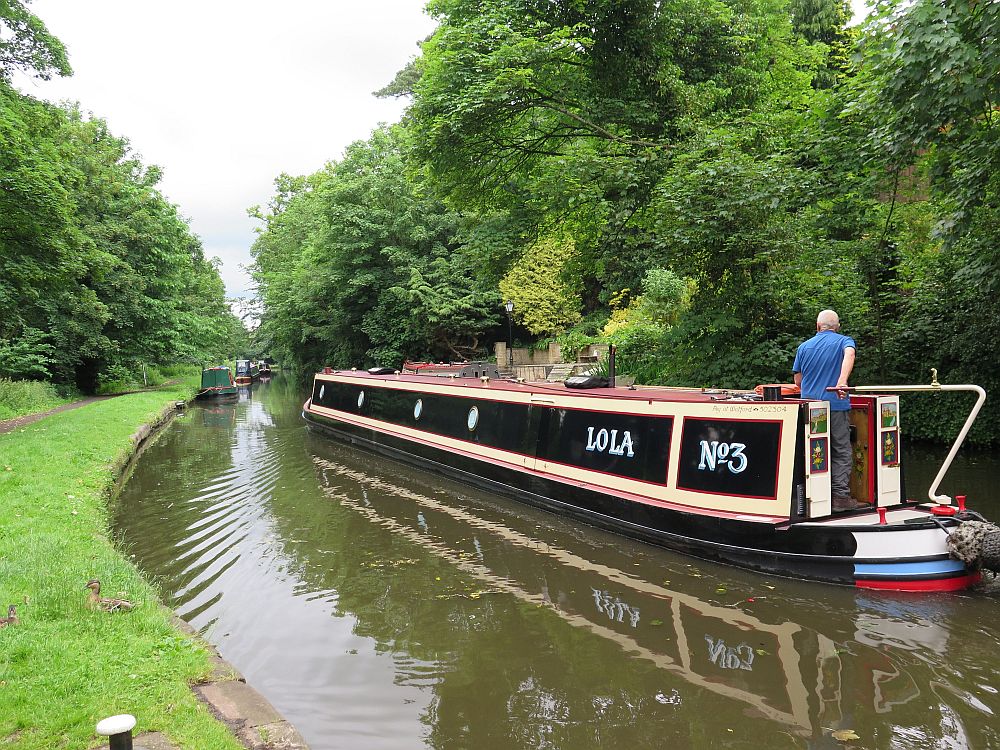 Having refreshed ourselves at the small, but popular, cafe next to the canal we decided to walk along the canal in the direction of Kidderminster, at least to the first lock. When you visit canals in France and you come across a lock they always have a sign showing the distance to the next locks, in either direction. Shame we don't do it here! When we reached the lock there was a boat coming up through the lock. I offered to close the lock gate for them so they did not have to stop. That took me back forty years!!! We made our way back and couldn't resist having another look at the activity outside the Lock Inn. Coming through the lock was the same boat we had seen earlier, just shows how slow life is on the canals!
Back at the site we put up the satellite dish so we could watch TV only for it not to lock onto the satellite. Strange as it had worked perfectly well the day before? This sometimes happens in the South of France when you are on the edge of the reception area but it shouldn't happen in the UK. We did get a warning message come up saying there was a problem with the RF lead but I am not altogether sure what that means unless something has come adrift in the actual dish. As I had no means of getting up near to the dish that will have to wait until we get home. Fortunately I carry a small Avtex aerial as a back-up measure which is usually very good. Unfortunately on this campsite the terrestrial signal is poor so we can either get the BBC or ITV but not both together!!!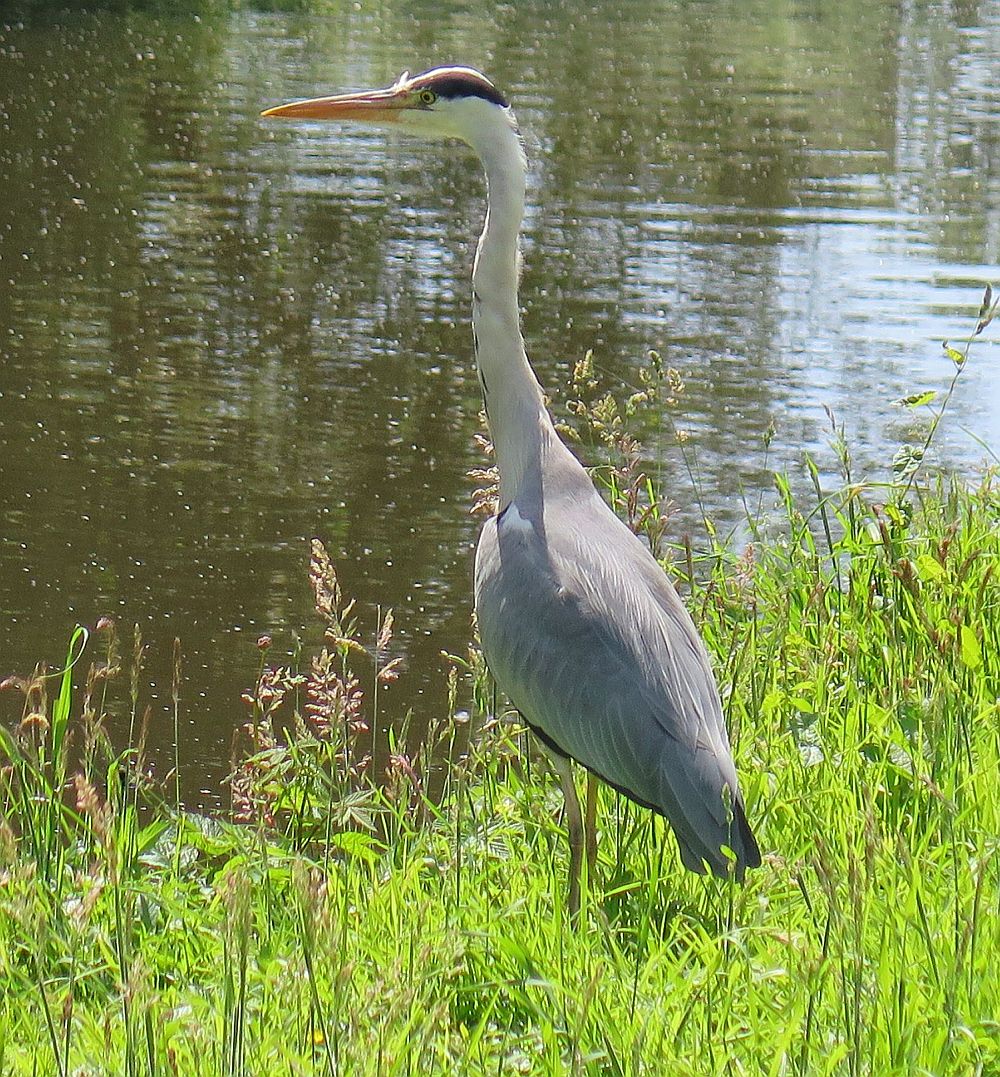 Wednesday 14th June. It dawned a lovely day, nice to see blue skies for a change. We went to Kidderminster today but decided to walk along the canal which was either brave or foolish! It's about two and a half to three miles and to be honest we have not walked that distance for some time. Walking does have its advantages as you can speak to people along the way or see things that you are unlikely to come across elsewhere. This included getting within yards of a Heron as he stalked the canal bank, no doubt looking for his dinner!! One lady we got talking to was walking her Labrador who looked a bit mucky. Apparently he had found some water course which was a bit muddy. I think she was thinking about getting him to go in the canal to get cleaned off. However I did suggest that might not be a good idea as dogs can't always get up over the bank. I was once witness to this on a canal many years ago, also with a Labrador. Our friend whose dog it was had the devil's own job to get him out of the canal.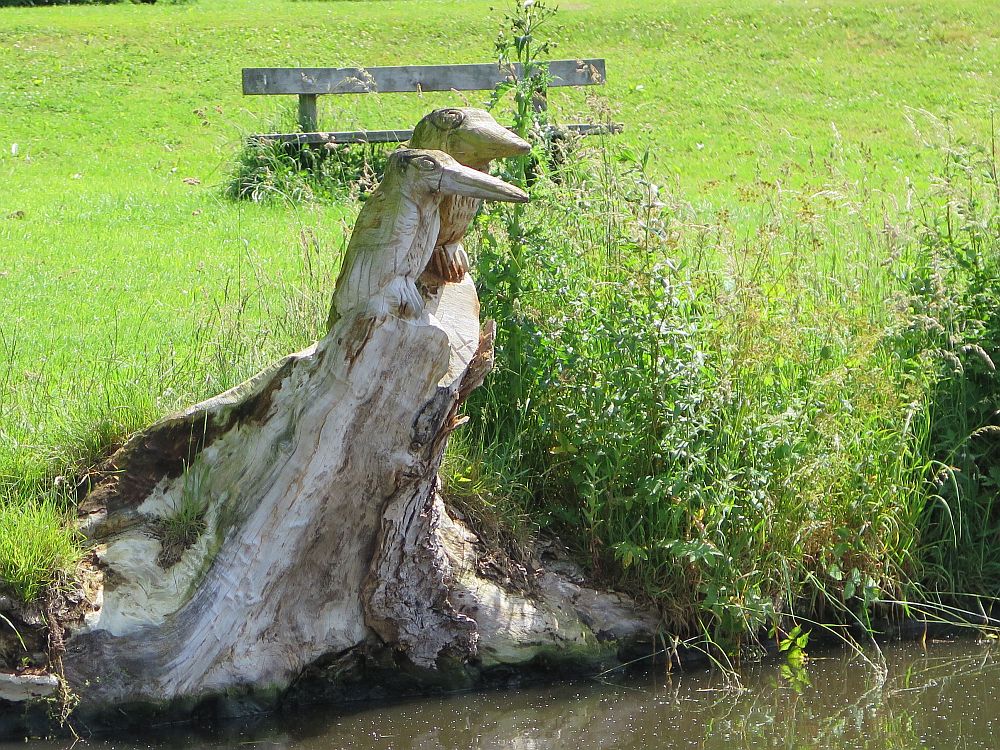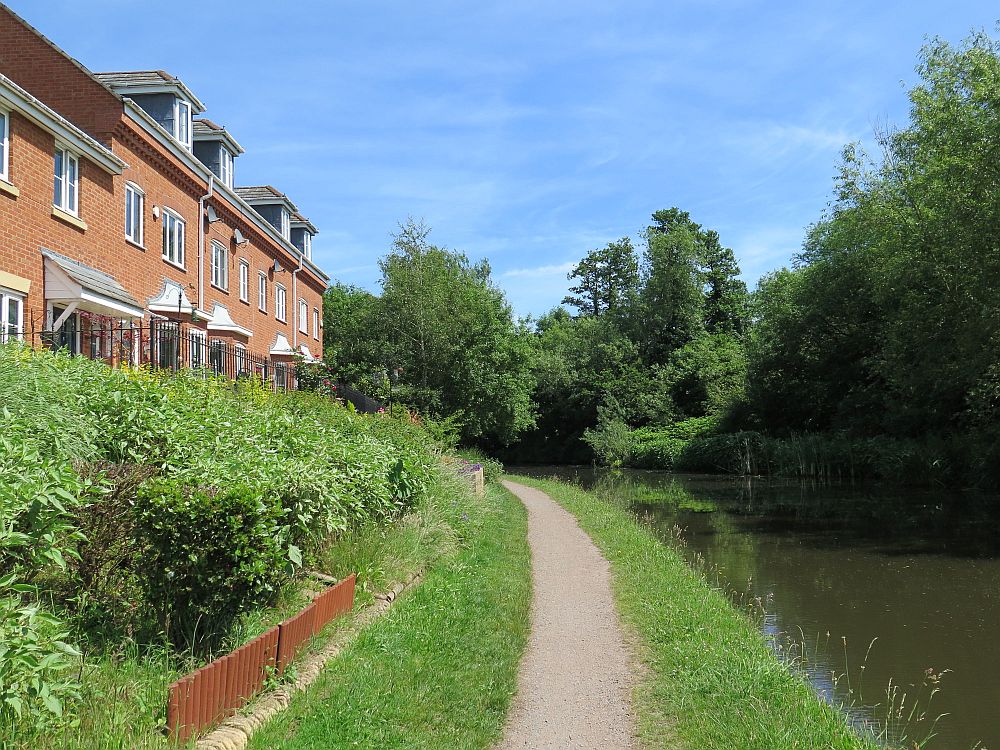 Not so many years ago when they built houses along a canal it was always the backs that faced the water's edge. So different now with new housing developments that we walked past with the fronts facing the canal and the residents obviously enjoying this feature of their house, many front gardens bedecked in flowers. We were getting a bit weary as this seemingly never ending walk went on so we stopped other walkers going in the opposite direction who gave us some information on where we would arrive to get into the town. They were doing the opposite walk to us and were already looking forward to their coffee at Wolverley Lock!!! We eventually arrived at Kidderminster Lock where there was a boat coming through. I got chatting to one of the ladies working the lock. This is not the first time we have seen the ladies doing all the hard work with the men attending to the navigation of the boat. I am sure the QE3 doesn't have two people steering it!!! Anyway she was explaining that their hire company had advised them of places in Birmingham where they were not to leave the boat unattended. Over forty years ago Margaret and I sent a lovely October night under what became Spaghetti Junction and didn't give a thought to it!!!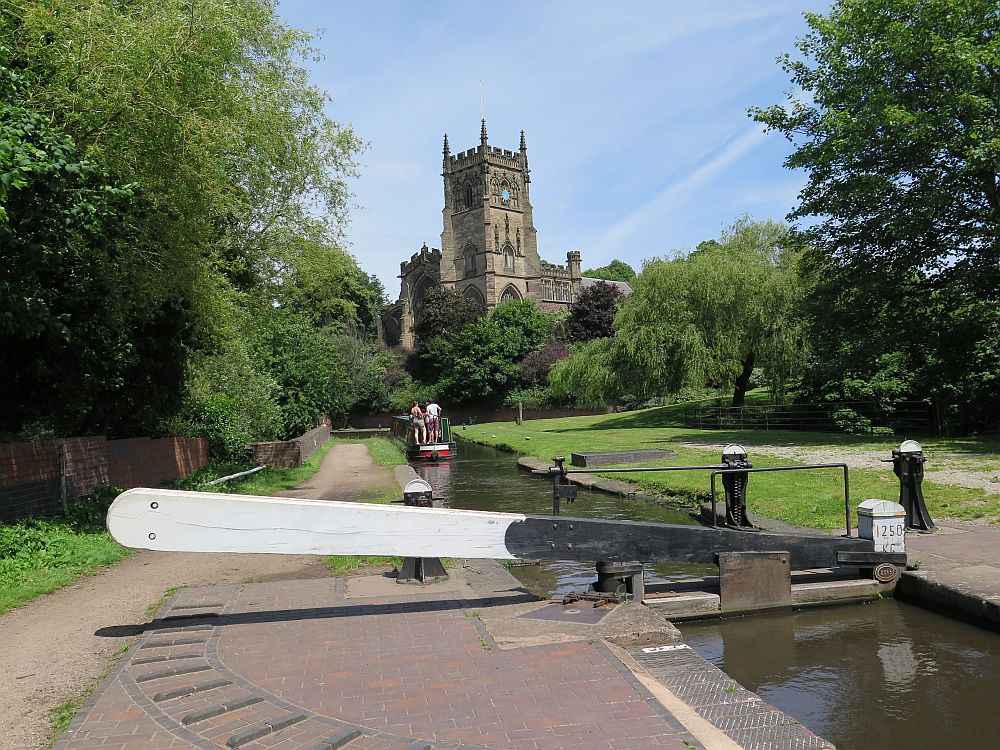 We had made it into the town, albeit in a shopping park on the edge of town. There was M&S boasting a café so we sought refuge for some lunch and to rest our weary legs. Across from the shop there was an old warehouse, or perhaps a mill which had been converted into a hotel. Kidderminster had, in the past, been an important centre for the making of carpets. We did make it as far as the impressive looking Town Hall but we thought that we should establish where the bus station was only to see the bus we needed sail by!!! Did we want to wait another hour? We decided to phone for a taxi which turned out to be quite reasonably priced. When making comparisons on cost you do have to take into account that we travel free on buses. Had we had to pay the difference would not have been that great. We asked the cabby to drop us off at the Lock Inn which gave us an excuse to enjoy a drink right next to the lock.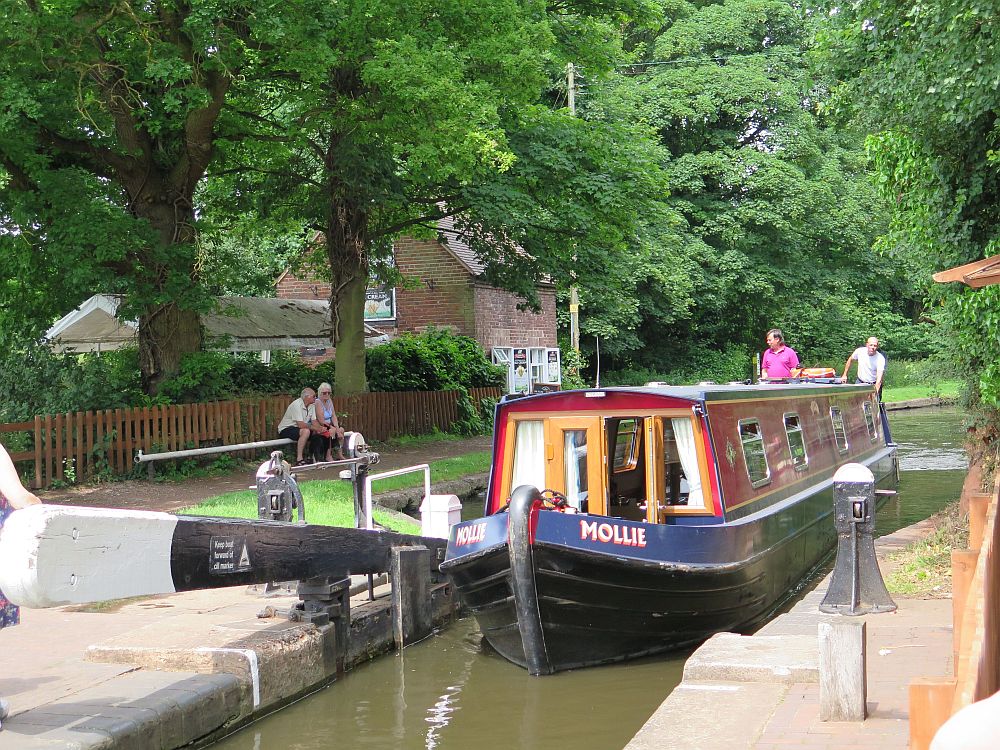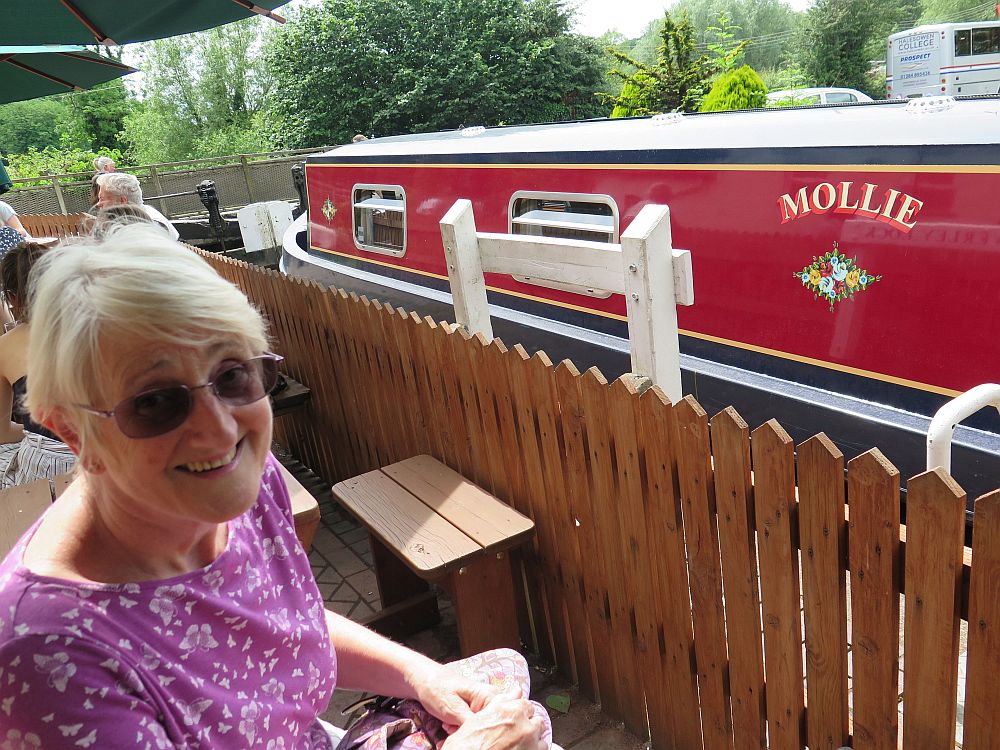 Thursday 15th June. After all our exercise yesterday we decided to have a quiet day around the van. I don't know why but we always seem to feel guilty when we have a lazy day when at our age we should value the opportunity!!! This is our last day here and I have certainly felt it would be worth a few more days. Probably a good spot to have our bikes as its easy level riding on the canal towpath. A good excuse to return!!!
Friday 16th June. Pretty uneventful journey home if you ignore the frustration of stopping at Warwick Services. There are signs for caravan parking but where is it? I eventually ended up having to do a four or five point turn. We did find a spot round the other side of the filling station but the service areas really do need better signage. Why we thought the south bound would be any better than the northbound I have no idea!!!
Clumber Park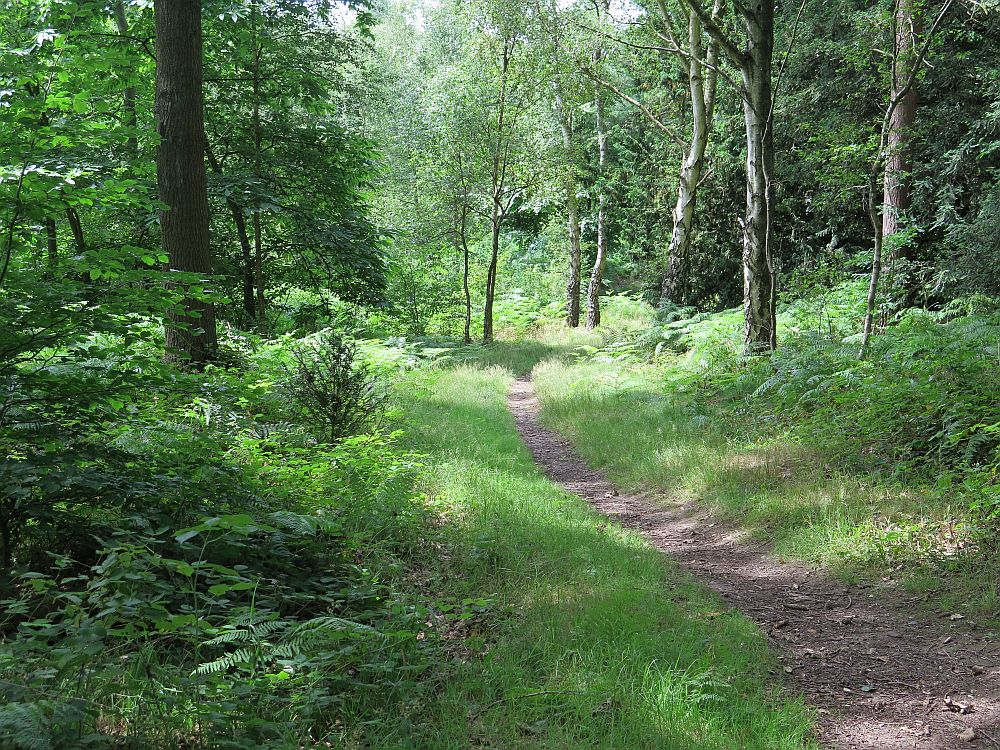 Friday 7th July. What a busy day! We are off on a ten day tour as far north as Bridlington with a couple of stops either side. The last couple of days have been really hot with sticky nights and this morning was no exception although we were heading north so that was bound to change! Today's trip was not just a straight forward journey as we have a couple of things to do en route. First we had to fill up with fuel and then a detour via Daventry to call into Road Pro. They installed our roof mounted satellite dish about three years ago but on our last trip it stopped working. It transpired that it needed a software update and earlier in the week I learnt that the update had been sent from Italy so I arranged for us to call in on our way north. Allen came out with his laptop and within 10 minutes the upgrade was done and the dish working again.
We were soon on our way but it was now past midday and we had hardly started our journey to our first stop at Clumber Park near Worksop. Like water TomTom always wants to take you via the quickest route but that meant joining the M1 before the M6. I felt it would be better to join the M1 after the M6 so at the risk of confusing TomTom further carried on to junction 20. Leicester Forest East was our only choice of service station before we left the motorway to head across country. We managed to find a parking place and Margaret went off the get some coffee. We have never left any of our units on a motorway service station but clearly a lot of people do. I noticed one car and caravan with no obvious security but the owners returned safely. Margaret usually likes Costa Coffee but on this occasion she had to have Starbucks. I must say that my coffee was far nicer to what Costa usually offers!!
At junction 21A we headed across country on the A46 which is a good dual carriageway all the way to almost Newark where it becomes a single carriageway and congested. I should really have paid more attention to our route as I am sure we could have cut the corner off by using the A6097, difficult to tell whether it would have saved any time? To get to the campsite you have to enter the Clumber Park Estate through an imposing stone arch, although Margaret was more concerned whether we would get through it rather than its obvious charms as a structure! Picking our way through the Estate roads we found the site. It must be over 25 years since our last visit so difficult to remember much about it. Being the weekend it is full of families and youngsters, many obviously picked up straight from school judging by the numbers still wearing school uniforms! We were foolish enough to park not so far from the Play Area so did experience a degree of noise but as darkness feel silence descended. Friday is fish and chip day so we decided that we would treat ourselves, mind you there was a long queue so obviously a good business was done.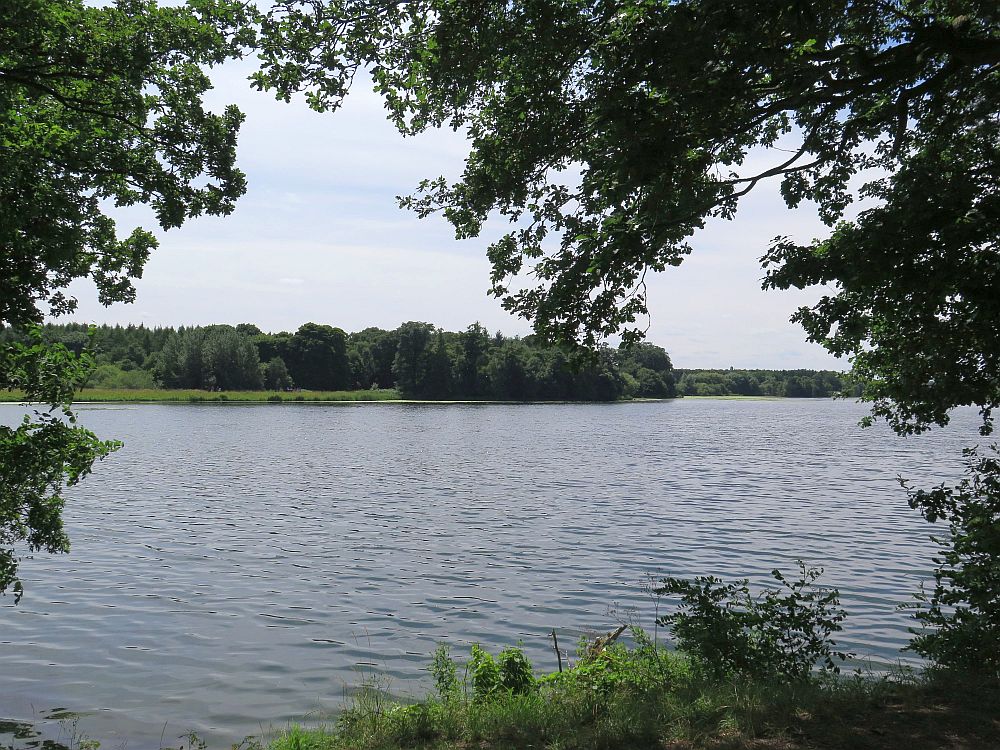 Saturday 8th July. Whilst yesterday dawned hot and sticky but clouded over towards evening, today it was another bright day but not so muggy, so much more comfortable. I treated myself to a Guardian today to read over breakfast. There is always too much to read but it's good to catch up with things. Around about midday we decided that we really needed to get out and have a walk. It would have been nice to have gone to the visitors centre and see the remains, or at least the outline on the old house. That we thought was a walk too far. We could have taken the motorhome down but that would have incurred a charge of about £7. Hedging our bets we decided on Hardwick Village and that end of the lake. Difficult to tell how far it was as country miles always seem longer than normal miles! I suppose it must be a mile or mile and a half so a reasonable distance for a couple of old crocks!!!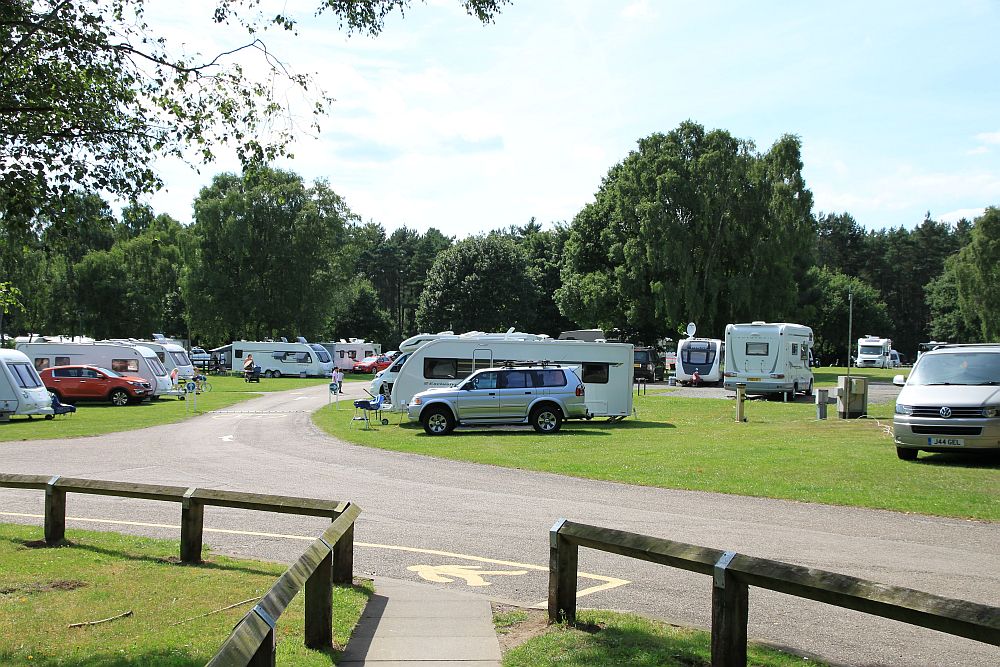 Since our last trip away Margaret has attended the Rheumatology Clinic at Bedford Hospital and has been started on a series of steroids, the first by injection and subsequently in tablet form. They think she has a condition called Polymyalgia Rheumatica. The good news is that the steroids seem to have made a big difference already.
En route into our walk we stopped at the pay point into the Park and the nice young lady gave us a map and explained where we needed to go. Vehicles now pay £3.50 a person entrance into the Park but walkers and cyclists are free. We made it to the end of the lake and enjoyed a cup of tea sat overlooking the water. Strangely the walk back did not seem as long!!! In the afternoon I walked around the site taking photographs. Today's mobile food offer is Pizza which I am sure will be very popular. The site is almost full. I suppose it's the advantage of our hobby in that it encourages people to be active and outdoors. The youngsters seem to enjoy the freedom and not an iPad or mobile phone in sight. Probably just as well as both site WiFi and mobile phone signal is appalling to non-existent!!!
Bridlington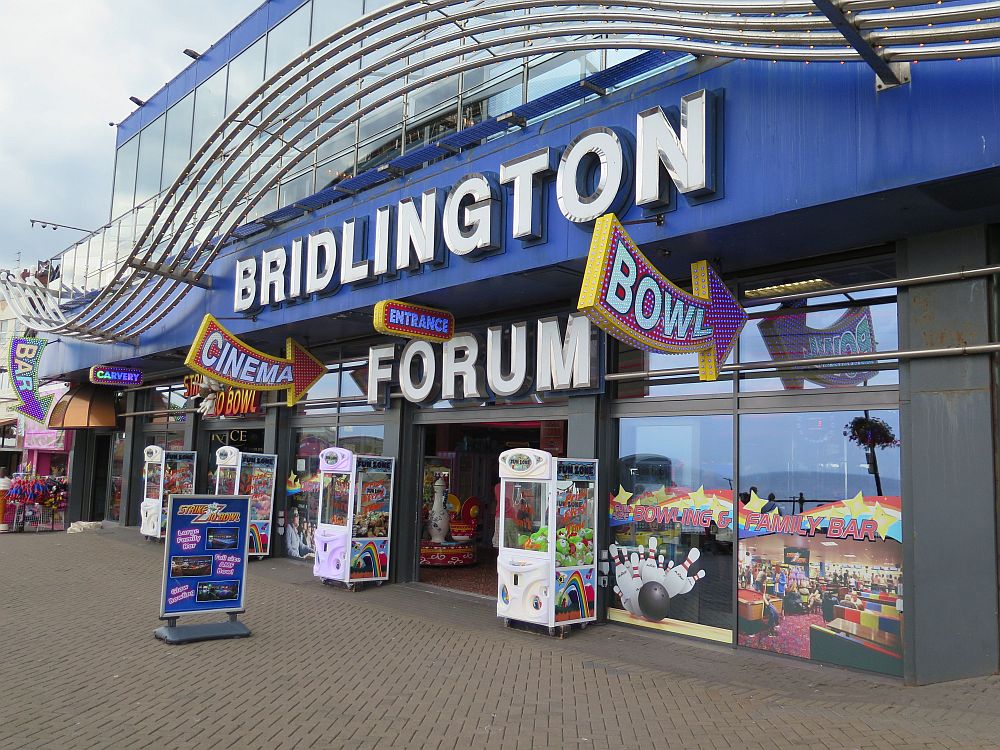 Sunday 9th July. It dawned nice and bright for our onward journey to Bridlington. Our two days at Clumber Park has been quite pleasant although we should have probably not have pitched near the play area which was in constant use from dawn to dusk!!! Like in football it was a journey of two halves. The first half was all motorway and the second cross country roads. Fortunately it was not too busy until we got to the outskirts of Bridlington. The site is a bit out of the town on the Flamborough road. Bridlington is a popular site and seems pretty full. However it's not cheap at £32 a night and not even the school holidays! It doesn't seem to put people off and they are in the process of doubling the size of the site.
Monday 10th July. A strange day weather wise, with lots of periods of drips and drops of rain but sunnier later on. We were unsure what to do but in the end decided to catch the bus into Bridlington. It seemed quite tortuous getting through the traffic in the town but we eventually got to the Bus Station. All seaside towns seem to exhibit a faded look about them. Bridlington does have this but also some signs of trying to reinvent themselves especially with the new Leisure Centre right on the seafront. We initially wandered down to the Harbour where a few trip boats were vying for business from the conventional steamer to a pirate ship, although my favourite if I was making the choice was the speed boat but that might depend on how calm the sea was. Either side of the Harbour are beaches of sand which in a week or two will no doubt be packed with excited kids once the holidays start. Rain kept interrupting play so to speak. We got over this to a degree by buying ourselves an umbrella each in Poundland. OK we don't expect them to last long but how on earth can they bring such an item half way around the world and only charge a pound for one!!! By mid-afternoon the rain was becoming more persistent so we decided to get the bus back to the campsite where after a short period the sun came out!!!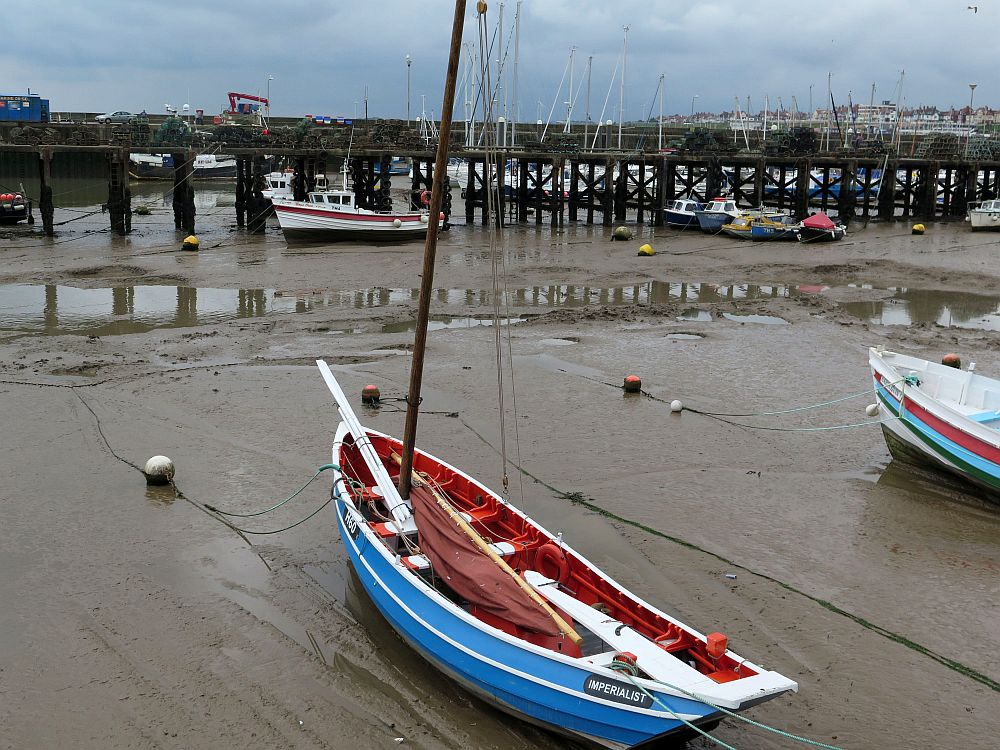 Tuesday 11th July. It's been miserable day weather wise with rain all day. So it was an enforced rest day. We did need some shopping so in the afternoon we took the bus into Bridlington to the Tesco. Now this is one of the dilemmas of motorhome ownership especially when it's one of the larger type. They are usually too large to get into many of the town based supermarkets so you have to work round. Our answer is to go in by bus and return by taxi. We have never been big users of taxis so they always seem an extravagance but I think we are coming round to the idea that in certain circumstances they make sense.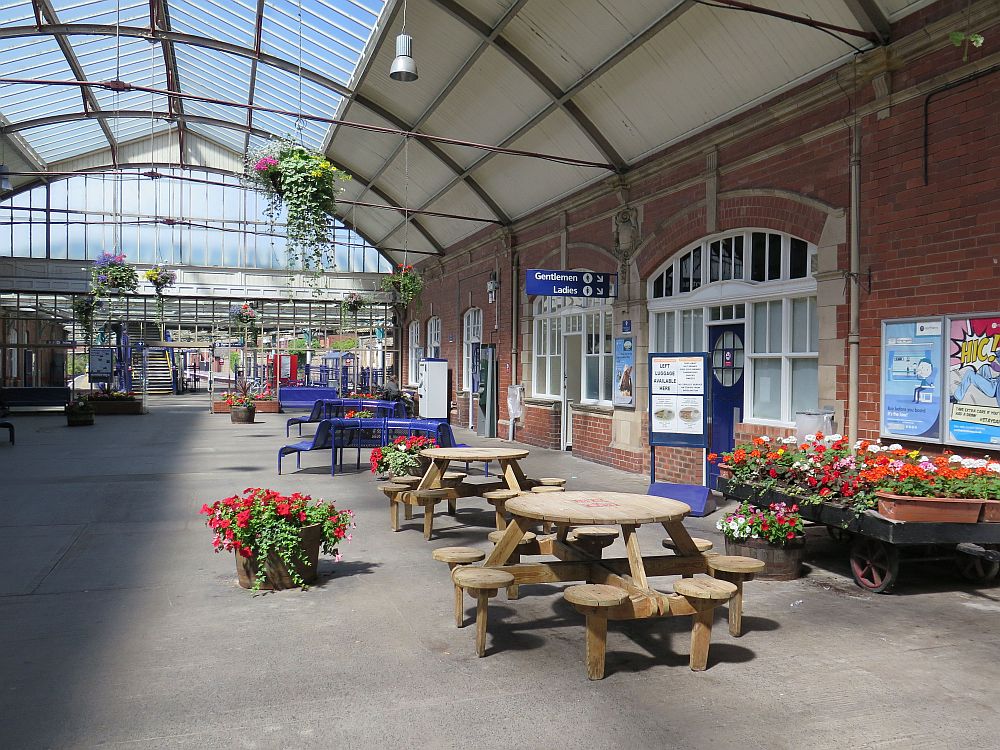 Wednesday 12th July. Weather much more promising today although the wind is coming from the north so there is a bit of a chill despite the lovely sunshine. We are off on a bit of an adventure today, we are heading for Hull, UK City of Culture 2017, on the train. Our taxi dropped us off at the station in Bridlington and full marks to the staff there for their floral displays, very welcoming. If you are ever there make sure you have a look at the station buffet, it's very Brief Encounters. It's almost worth a visit in its own right. I have never been to Hull so difficult to have an opinion on this place on the far flung east coast of England. I know it's famous for William Wilberforce and Philip Larkin and until the last election represented in Parliament by Alan Johnson but beyond that very little. I was therefore not sure what to expect as we left the railway station. I have to say that the City is far grander than I imagined it would be. We soon realised that it was Graduation Day as we seemed to be wall to wall Mortar Boards!!!
Whilst there is a lot of immediate post war redevelopment there are still a lot of older buildings like the City Hall, Maritime Museum and Guildhall which adds to this air of grandeur. We made our way down to the waterfront at Drypool Bridge which is a bascule lifting bridge. Along the river they have constructed a broadwalk so that you can follow the river or creek known as "The Deep" , down to the Humber passing en route the Museum Quarter. Scale Lane Bridge is interesting. Further towards the Humber is the Tidal Surge Barrier. You can then follow the waterfront past Victoria Pier and then head back into the Centre along what I imagine to be the old docks which is now Hull Marina. In amongst the newer buildings nestles many original older buildings. Old warehouses have been converted into flats so the heritage is preserved. We seemed to have walked for miles so decided to have a cup of tea before making our way back to the station and our journey back to Bridlington. Whilst we may not have experienced much of the City of Culture element of Hull we certainly came away with a different view of Hull.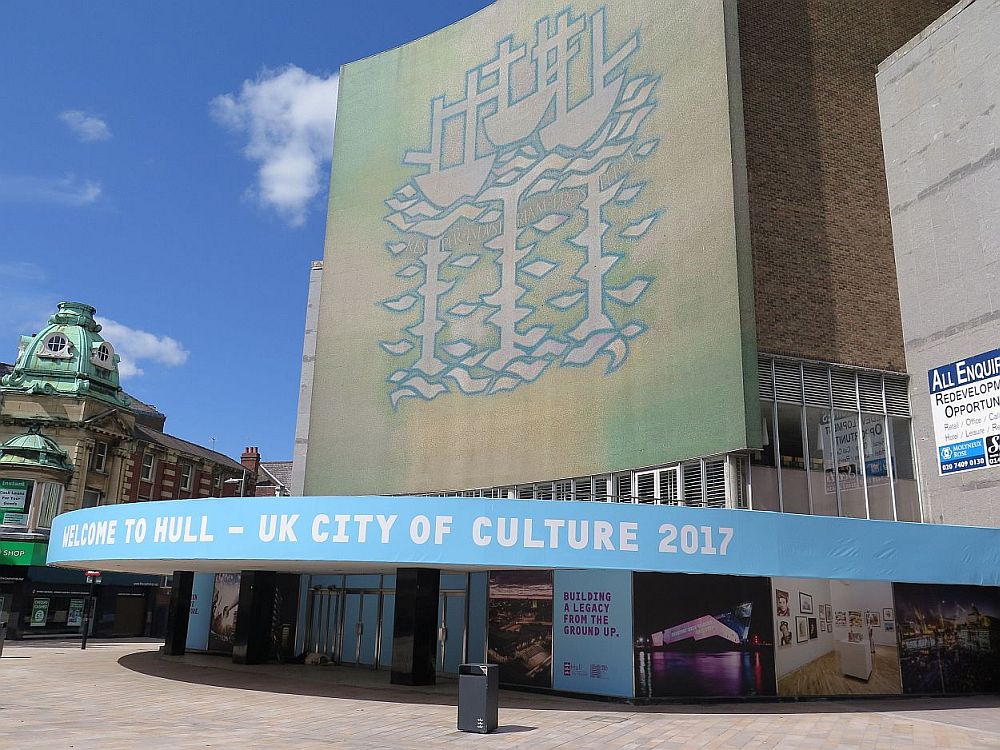 Thursday 13th July. After yesterday's exploring we thought we would be a bit exhausted today but we did not seem too bad so we decided to walk to Sewerby Hall. It is a Georgian country house a couple of miles outside of Bridlington overlooking the sea. Apparently in 1934 the house and grounds were purchased by Bridlington Council and has been a public amenity ever since. It was opened to the public by Amy Johnson the Aviator. The weather was a bit warmer today so when we arrived at the Hall we made for the coffee shop to be restored before we started to explore the house. I am not sure there is anything exceptional about the interior of the house except it illustrates how such houses worked. One of the AV displays goes through the various jobs and the people that did them. One interesting thing that it shows was that many of the people working there were not locals. In part of the house there are several rooms devoted to the exploits of Amy Johnson, the first female to fly from the UK to Australia. During the war she would deliver planes from the factories to the airfields. It was on one of these deliveries that her plane went way off course and she bailed out into the Thames Estuary. Her parachute was spotted by a naval vessel who attempted to rescue her but even this turned to further tragedy when one of the sailors lost his life in the attempt. Her body was never found which prompted many rumours and theories as to why and how she lost her life.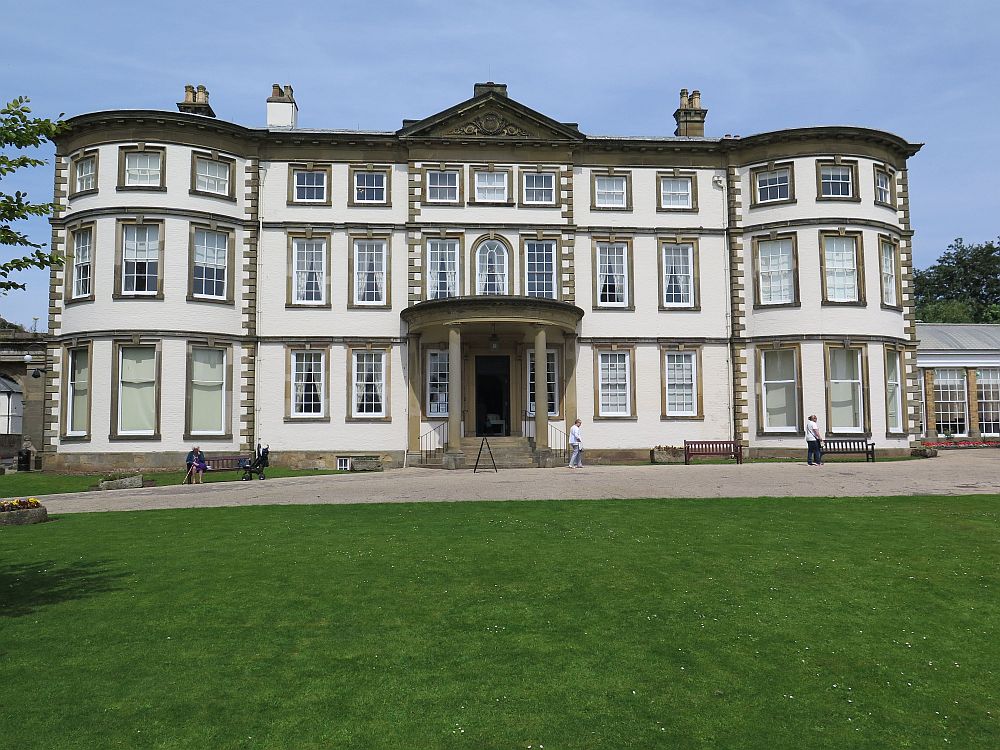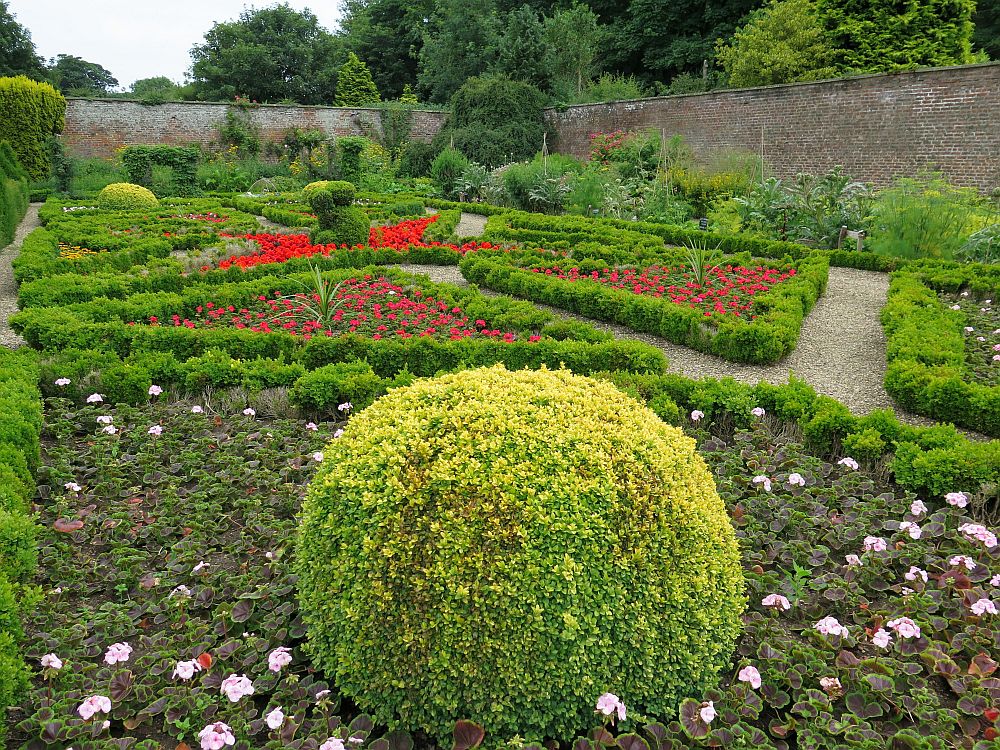 In the grounds is a walled garden which is worth a look. It's mainly flowers set out in formal beds. Beyond is a rose garden which I felt was a bit disappointing. I would have been in there with my secateurs dead heading the flowers that had gone over. Time was getting on and when we paid for the house entrance we also purchased tickets for the land train that takes you into Bridlington. As we only wanted to go one way I think we paid over the odds as we didn't need the return tickets! Anyway it was a nice trip along the cliffs and into the town, so no complaints from that point of view. Having had another wander around the town near to the sea front and treating ourselves to the obligatory ice cream we made our way back to the bus station and back to the site. This is our last full day at Bridlington which we have enjoyed but with a lot left to explore further should we get this way again.
Poolsbrook Country Park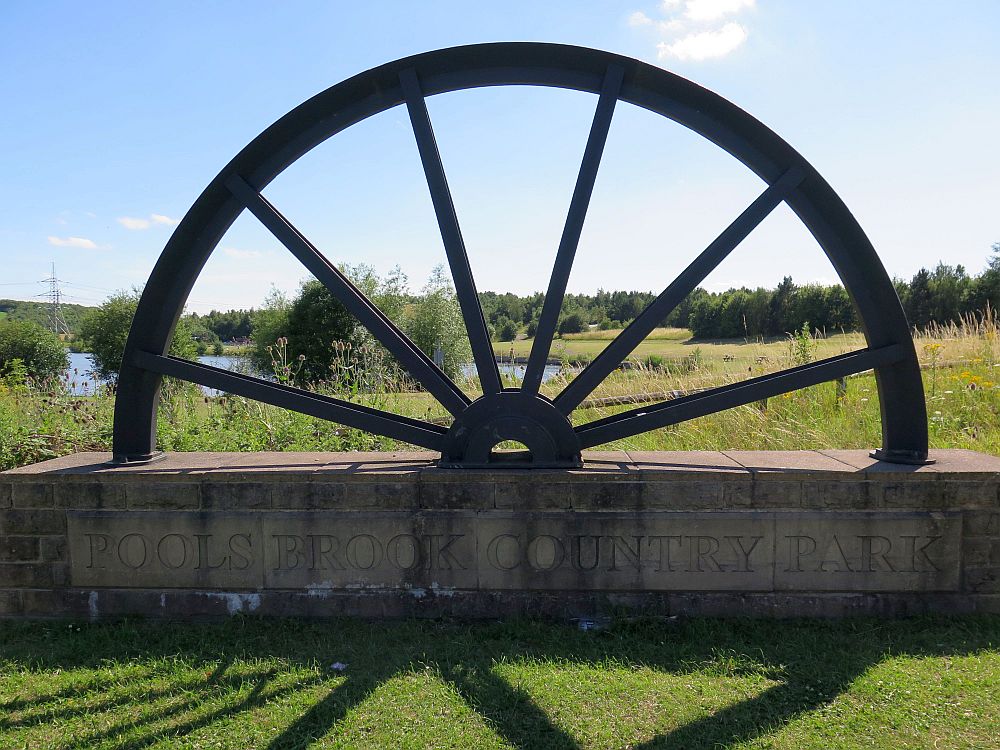 Friday 14th July. We slept in a bit, too much walking the previous day!!! Not that it made much difference as we were ready to go by about 10.30am. It was virtually a reverse journey of the one from Clumber Park as we were heading for the CMC site called Poolsbrook at Staveley. The site is in the Poolsbrook Country Park which was formed from land that has been reclaimed from a former Colliery site. The site is all but full, which I suppose should be expected at this time of year. What I find strange is that this site is £23 a night whereas Bridlington was £32 a night. I am sure that some sites are more popular than others but is £9 a night extra justified?
Saturday 15th July. We had rain overnight and most of the day has been grey with intermittent drops of rain. We decided to take the bus into Staveley which is the nearest town to the site. Rather ironically the last site we stayed at Bridlington, in a major tourist area, has an hourly service but a former mining town has several buses an hour with little evidence there are more customers!!! We had no expectations of Staveley but there are some interesting reminders of better times with some lovely stone built houses. The centre now seems to be dominated by a large Morrisons.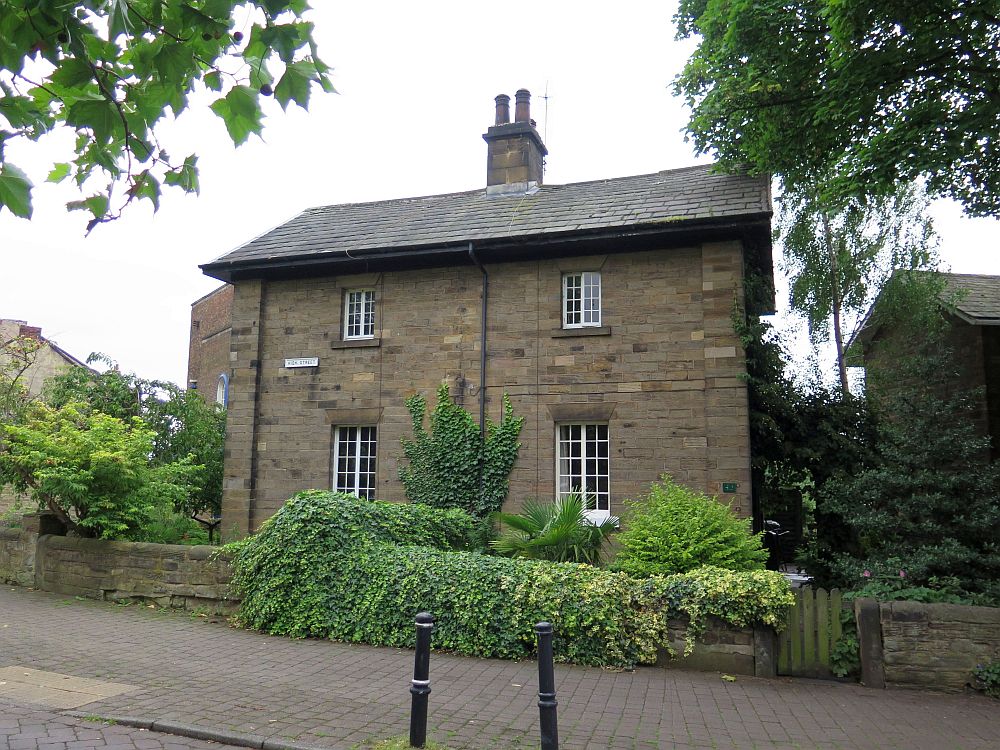 One thing I wanted to have a look at was a stretch of the Chesterfield Canal that is in the process of being restored. I knew it was accessible from near the carpark and a local gentleman pointed us in the right direction. The length of the canal between Staveley and Chesterfield is cut off from the rest of the canal that eventually joins the River Trent at West Stockwith. So there is a gap between Staveley and Kiveton Park which has yet to be restored. In Staveley they have had to re-route the canal as some of the original bed has been built on. It seems that the local restoration group and the local councils are fully cooperating in the restoration and the joining together of the whole canal.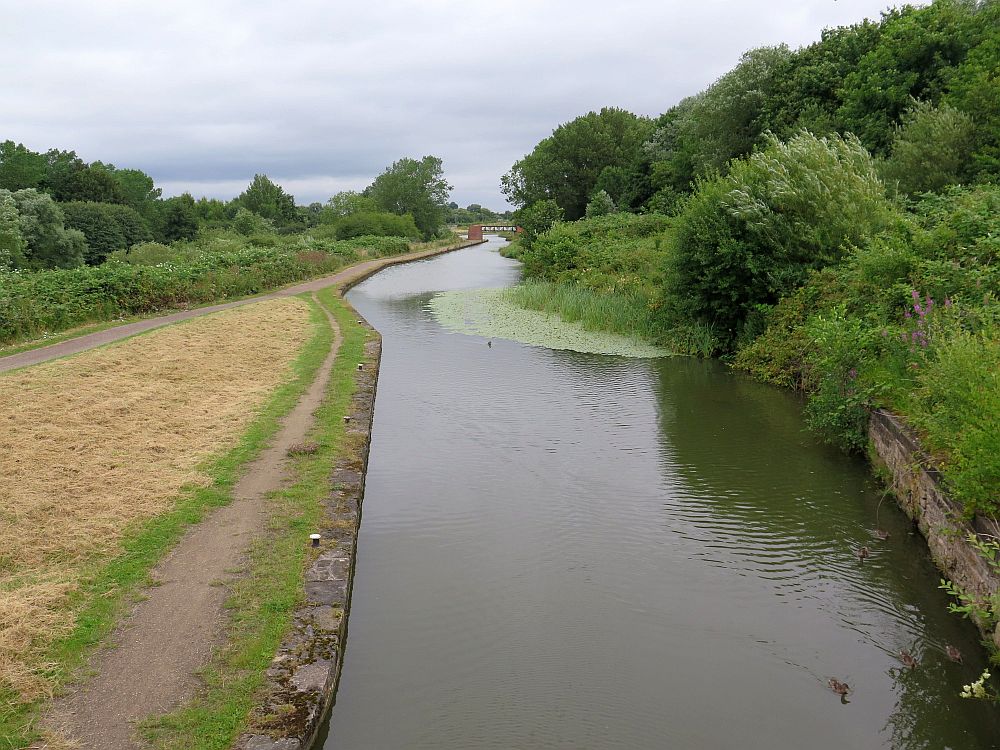 Having had our excursion along the canal as far as the new Town Basin we returned to Morrisons for refreshments and a bit of shopping. As we arrived at the bus stop the bus we needed was departing, which seems to be the story of our life recently!! Buses came and went but not the ones we wanted. We got into conversation with a local lady also waiting for a bus. She explained which buses went where and we discussed many other things as well until our bus arrived. You don't get that when you travel by car! Our bus eventually came and it was the same lady driver as the inward bus, she even remembered us. You can't say the folks round here are not friendly.
Sunday 16th July. Bit of a lazy day today as we wanted to watch the Silverstone Grand Prix. The weather here has been nice today but it looked a bit dull at the racetrack and after the race it rained there. Some may have been hoping that the rain had come a bit earlier!!! After the race I wandered down to the Country Park to take some photographs in the sunshine. The Park was certainly busier than the previous day.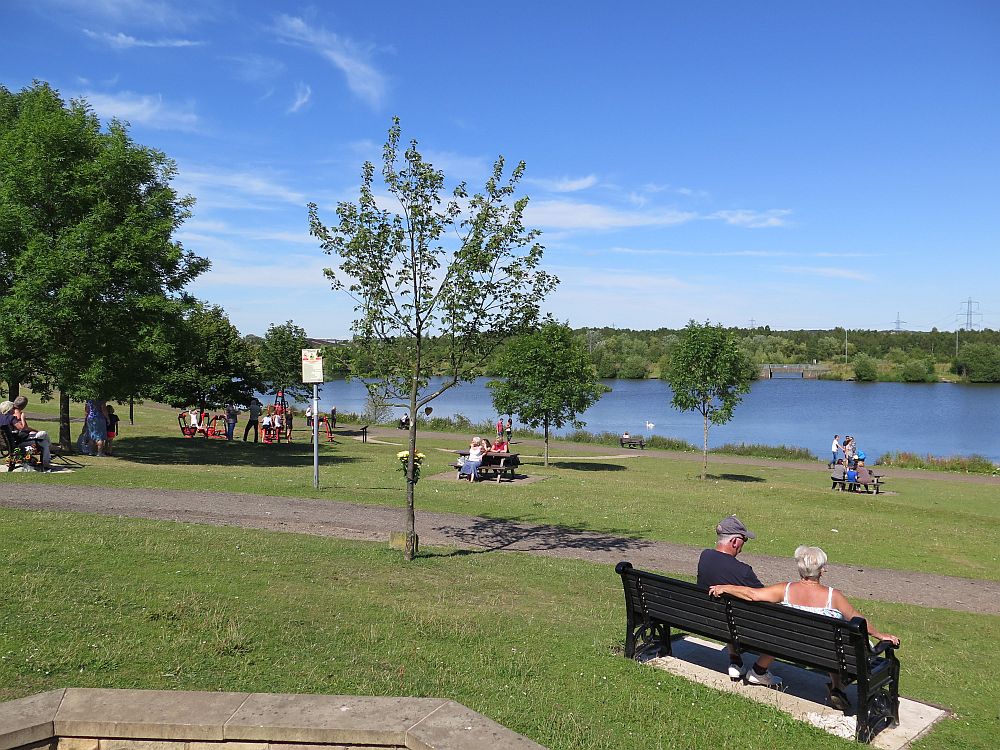 Over the weekend there have been notices fixed to reception saying that all leavers must be by midday. This is the usual leaving time but sometimes sites can show some discretion in allowing people to stay a bit later depending in incoming bookings. Lots seem to have left today but where we are pitched we have a clear view of reception and I was surprised how many units arrived today. This is our last full day of site before returning home tomorrow. It's been our longest trip away this year and fortunately Margaret has coped with it very well. Her new treatment seems to be working well.
Monday 17th July. Time to head home. Back on the M1 and the almost 100 mile grind down the motorway. I was tempted to head off at junction 20 and head back that way but we carried onto junction 15 where we turned off to head for Stony Stratford and Wolverton where we usually fill up with fuel if coming south. This route takes us through Roade and a couple of weeks earlier our youngest son moved into a new house here. Not sure the access is good enough for a 7.5 metre motorhome!!! Talking about fuel. On this trip we have covered just shy of 400 miles and until I got to the Tesco at Wolverton I had not filled up on this trip. Mind you I was watching the needle of the fuel gauge very carefully!!! It turned out that we had only used about two thirds of the fuel, our tank has a capacity of 90 litres.