UK Caravan Diary 2009
Cambridge Welwyn Garden City Upper Heyford Old Hartley York Burford Belper
After the trials and tribulations of 2008 we were hoping that 2009 would be a more normal year and we were looking forward to the delivery of our new van. We were only 3 weeks into the new year when out of the blue we had a phone call from our caravan dealer to say they could not proceed with our order as they would soon be closing down and would not be in a position undertake any form of customer service or backup. I felt sorry for them because they had been a decent dealer and this would have been our third caravan from them and they were facing redundancy. It had taken a long time to decide which layout to order and in the meantime new layouts with end bathrooms had been introduced by a couple of manufacturers. Whilst it was upsetting at the time it did at least offer us the opportunity to look at the new layouts and perhaps find something even better. However it does seem that we will still be using the Topaz for most of the year and given our travelling plans it seems we will have to wait until later in the year before ordering an alternative.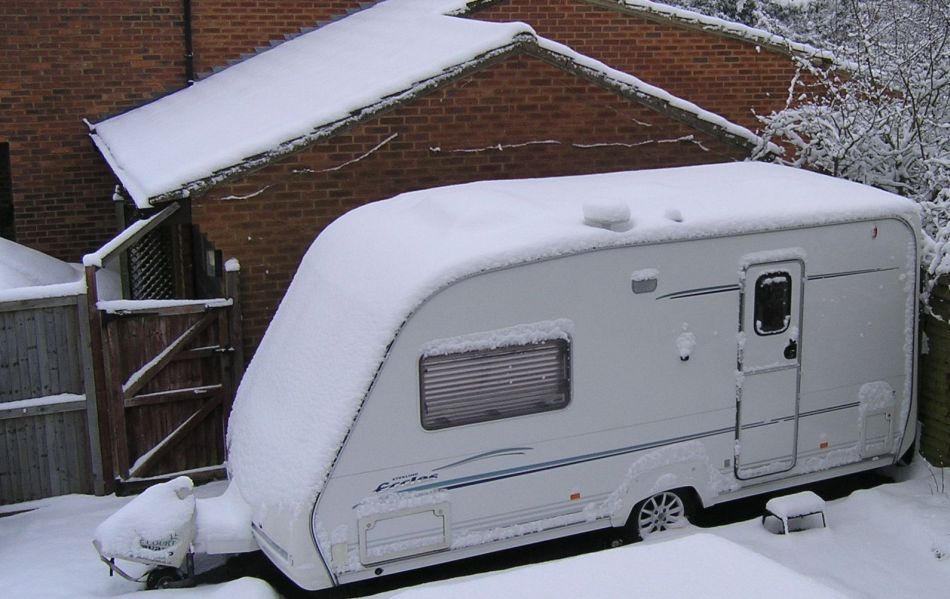 During early February I doubt much caravanning was done in this part of the world as we had the worse snowfalls for at least 10 years. Our van was firmly trapped in the back garden!
A week before we were due to go away fro the first time we decided to visit the Caravan Show at the NEC. The main purpose was to view the new Swift Group caravans with the end bathroom. Whilst they did not have as much space in the living area the rear bathroom was more generous that the Bailey offerings. However the van was about 8 inches long and 100kgs heavier. However they will be bringing out a lower spec and lighter model later in the year so it looks as if our decision to order a new van will have to wait until we return at the end of June from our major trip abroad.
February, Cambridge
Monday 23rd February and the start of our first trip of the year. We are off to Cambridge to the Caravan Club site called Cherry Hinton. This is our first trip as early in the year as this. There was no rush in leaving home as we could not arrive until after midday, even the binman was early so we had the Close to ourselves. Although there was perhaps no reason to use Tom Tom I had created a route via Google Earth to test a new program called Tyre. You load it onto the Sat Nav as an itinerary. I am not sure if the fact that TT kept asking if I wanted to connect to a computer was anything to do with this route, further experiments to follow!
Since the gradual improvement of the A421 Bedford Southern and Great Barford bypasses this has become a good route over to the East of the country from the M1. Over the last few weeks work has started to improve the final link by the duelling from the MI to Bedford, including a new bridge over the M1 at junction 13 thus separating out the traffic leaving/joining the motorway.
We arrived at the site just after midday, as required! Weather wise itís certainly a lot warmer than a couple of weeks ago although itís pretty dull. Setting up did not take long. Strangely enough, as regular readers will appreciate, I actually even managed to set the Satellite too receive pictures! After that heady success I need a walk so we went to discover where the bus for Cambridge went from and to suss out the local area.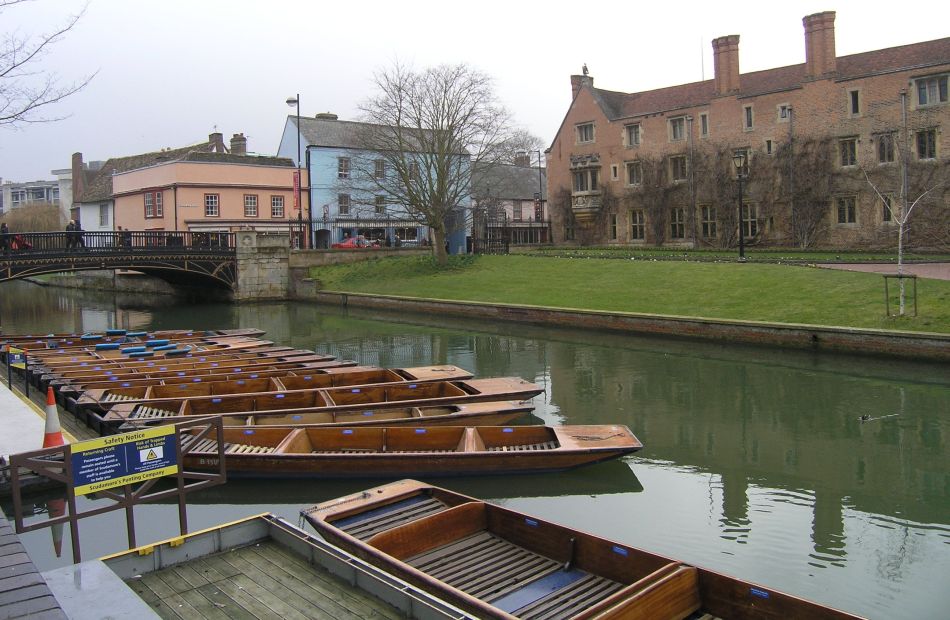 Tuesday dawned dull, although dry so we set out on our expedition into Cambridge. Buses seem pretty regular and certainly beat taking a car into the City. Also helps that we can make use of our Bus Passes which has been an excellent innovation by the current Government and has offered all those over 60 a great deal of extra freedom.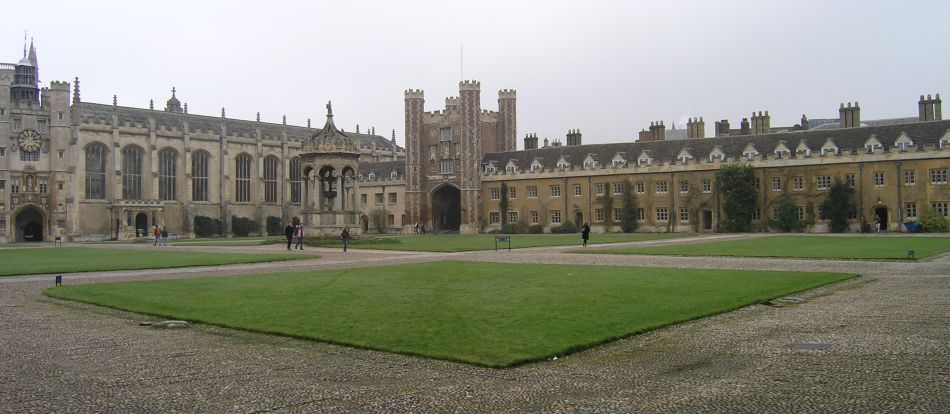 The bus dropped us off outside the new Grand Arcade which is a new shopping development which has kept the original faÁade on St Andrews Street but a modern shopping centre on the inside which I assume makes everyone happy! Having looked round the shops, obligatory with a lady in tow, a coffee was in order so off we went to the John Lewis coffee shop. Restored, we wandered off around the City. By the River Cam they were even touting for punting business. Not all the Colleges are open to the public and we even saw one or two where there was an entrance charge. One of the grandest is Trinity, perhaps more famous with the general public as one of the venues of the film Chariots of Fire. On the way back we stopped at the Robin Hood for a pensioners special!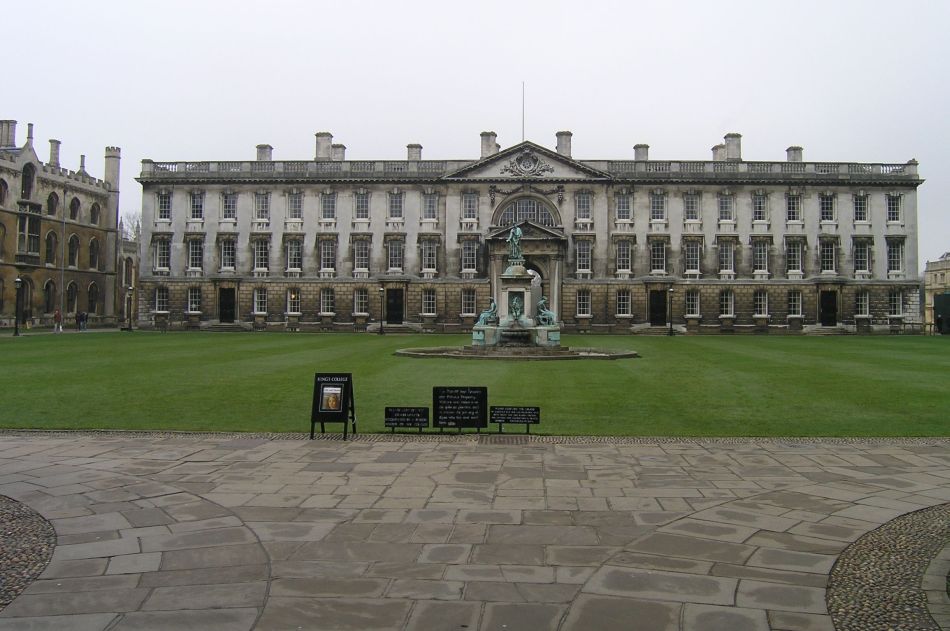 Wednesday was still dull and a bit wet first thing. It did stop raining so we decided to go out to the National Trust property called Anglesey Abbey. Although the house was not open the gardens and Lode Mill were. The place was surprisingly busy. The main attraction at this time of year are the Snowdrops in the winter garden. There are many other varieties of seasonal plants also coming into bloom. The walk takes you round to Lode Mill where they still mill flour. Margaret wanted to buy some but was not keen to carry it all the way round so we asked if it was for sale in the main shop which we were told it was. Further past the Mill you come to the Abbey and from here it is only a short walk back to the main entrance and the shop and cafť. We had intended to get something to eat but it was so busy and a bit disorganised that we did not bother in the end. The shop was not that much better as they had no flour! We did a detour on the way back to the van to visit the Waitrose at Trumpington. As we got back to the van the sun came out but somehow it suddenly felt colder.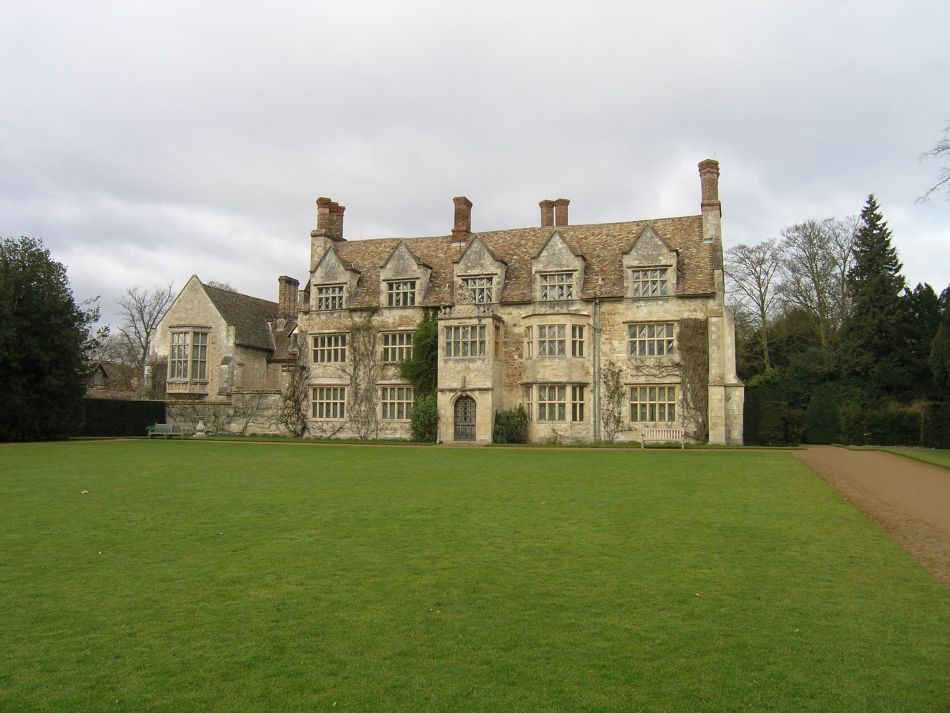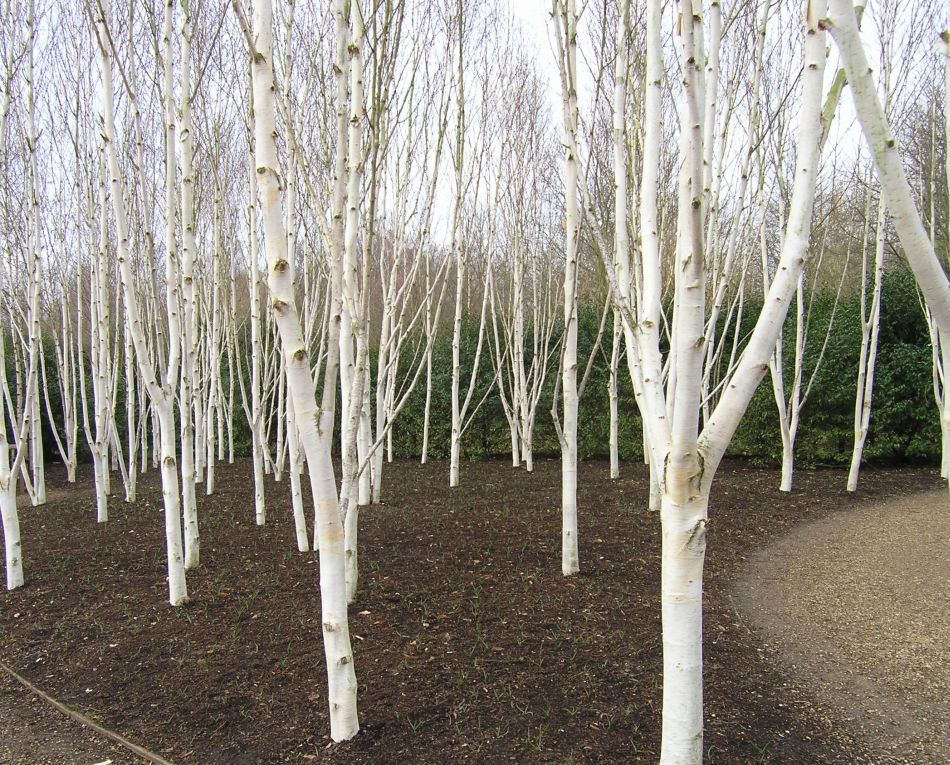 Our final day, Thursday, was again mixed weather wise so we decided just to relax around the van. It was interesting to observe that at least half the units on the site were motorhomes. Had a pleasant chat to one guy with a motorhome who had been visiting his sister who worked at Anglesey Abbey! He told me that he also owns a caravan which he keeps at Cromer.
Sod's law being what it is Friday dawned bright and sunny. We seem to have a pretty well worked out routine for packing up and by 11.00am we were on our way. The trip home was uneventful and there was only minimum hold-up where the road works are now in full swing. We have started to put the caravan away into the back garden using the mover rather than reversing it using the car. Far less tension!
March Commons Wood, Welwyn Garden City
16th March and our second trip of the year and what a start with beautiful sunshine and for the time of year quite warm. We were only heading for the Caravan Club site called Commons Wood at Welwyn Garden City so initially a journey of just over 40 miles, but more about that in a moment. Traffic on the M1 was not too bad. This was the first time we had journeyed south since the major upgrade had been finished. Four lanes each way! Trouble was that putting too much faith in Tom Tom we missed the 'new' turn off for the M10 and went sailing past! So a slight detour via the M25 was required to South Mimms and then north on the A1M. The route off the A1 was a bit complicated especially as the final stretch did not have a sign to the QE2 Hospital that we were expecting! The final part of the route was quite narrow but we found the site quite easily.
With the aid of a pre-printed site plan we located a pitch where we might be able to receive a satellite signal. We now have a larger dish for when we go to Europe so I wanted to try it out. The previous day at home had proved quite frustrating until I decided to select a BBC programme despite there being no signal and then turning the dish until I did. This seemed quite successful so that was the same thing I did when I arrived on site and it worked. Had no idea what to do with the spare time I now had as I usually allow at least half a day to set the satellite up, just as well we had taken the chairs with us so I could sit in the sun! Should also have added that we have treated ourselves to a new Samsung 19inch LCD television for the van, a vast improvement on the previous one. Second site in a row where I have also been able to get a 3G signal on the Mobile Broadband.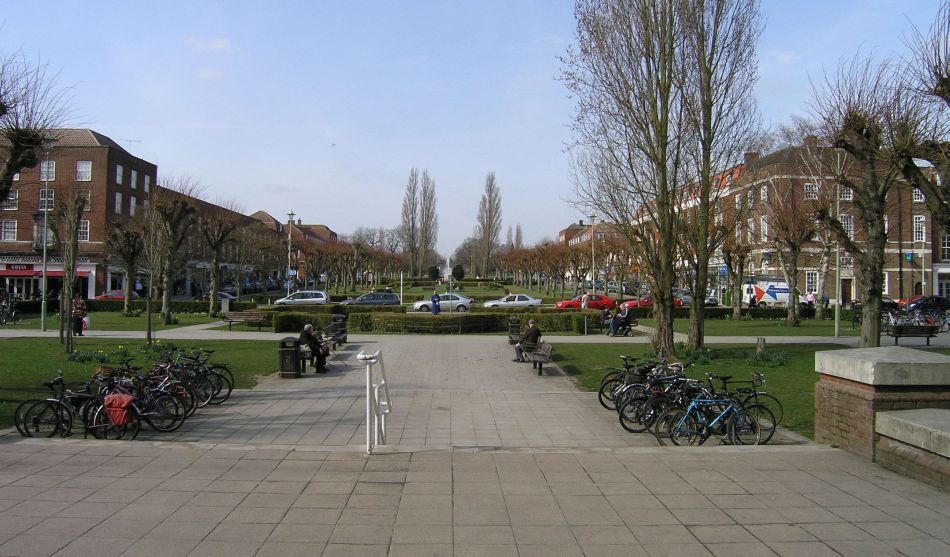 Tuesday also dawned bright and sunny but it seemed chillier. We decided to take the bus into Welwyn. Welwyn Garden City was the second 'Garden City' to be built after Letchworth. The Garden City idea was the brain child of Sir Ebenezer Howard who wanted to marry the best features of town and country because he saw disadvantages of them as separate entities. I am not sure if Milton Keynes would be considered a 'Garden City' but I suppose it must have been a development of the idea. The centre of Welwyn is adjacent to the main London railway line and main shopping area opens out from the railway and in size is quite compact. Most national brands and quite a few independents are well represented. What was the old Welwyn Department Store is now a branch of John Lewis. It was here that we headed for coffee and a scone, the largest I think I have seen. No wonder my waistline never goes down! Argos is not one of my normal shopping destinations but we wanted an inexpensive DVD player to compliment the new TV. One touch I do like about Argos is that you have the option to make a small, 20p, donation to charity which I think is an excellent idea. Time to return to the van and find a bus to take us back. Its always a bit confusing in an unfamiliar place to find the bus stop for the bus going in the right direction! We discovered that if we caught the bus for Heathrow it stopped outside the hospital and it had us back in quick time.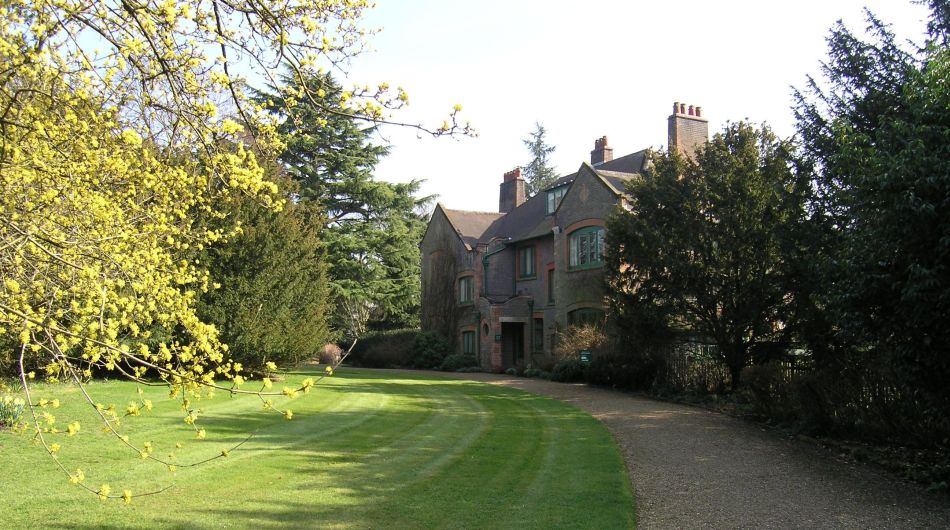 Wednesday, and it was still sunny and if anything warmer. A National Trust property was on the agenda for a visit. We would have liked to have gone to Hatfield House but unfortunately they don't open until April but we discovered that Shaw's Corner was open so decided we should go there. Given that it was only a few miles away we did make a meal of getting there. Can't even blame TT as he was sitting on the shelf in the caravan! When we were completely lost I remembered the car had a built in compass so at least that gave us an idea of which way we should be heading. We eventually got to Wheathampstead and from there it was well signed but be warned you have to navigate some pretty narrow roads. Shaw's Corner was the country house of the famous playwright George Bernard Shaw and it was here that he did a lot of his writing. Like a lot of such houses it is not particularly noteworthy from an architectural point of view but it is the association with a person that makes it interesting. In the garden, where incidentally you can eat your picnic, there is the hut where he did a lot of his writing which allowed him peace and quiet from the many callers at the house.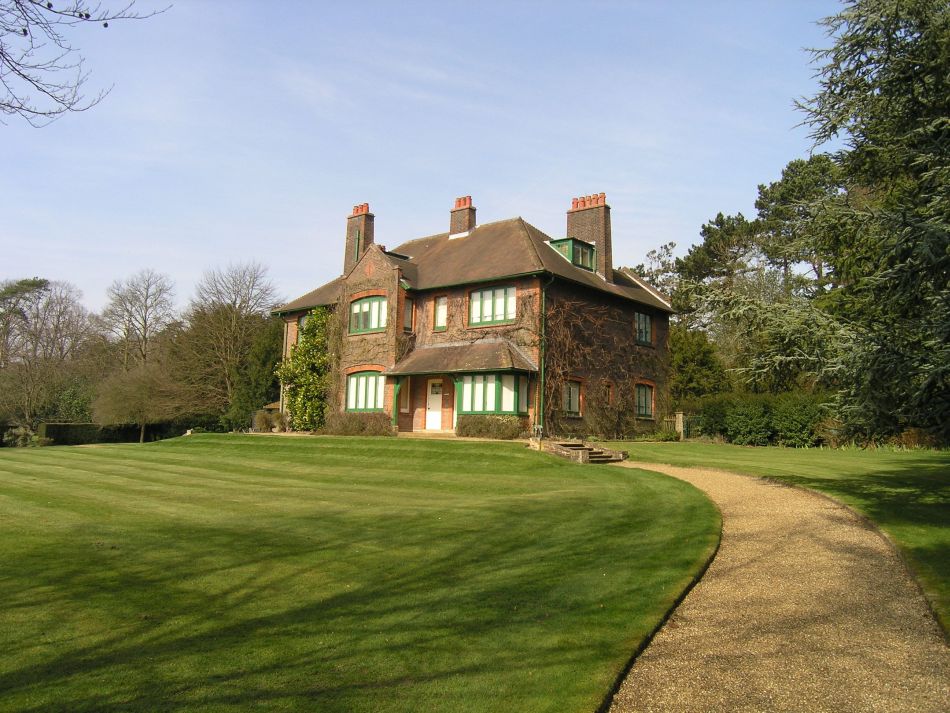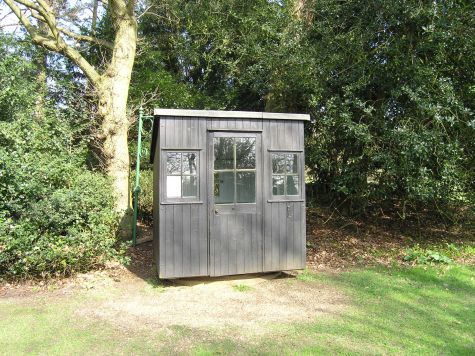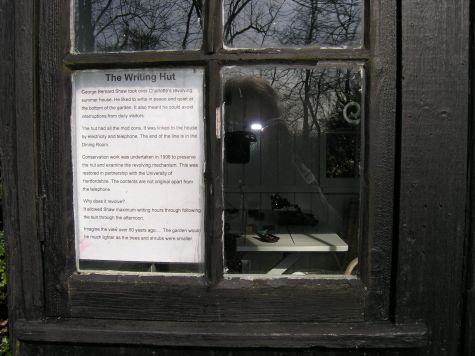 Our final day at Commons Wood and whilst still sunny it was decidedly cooler and in the afternoon it did become a bit cloudy. A fairly relaxed day with just an excursion to a local supermarket to get some milk.
Friday again dawned bright and sunny. We seem to have a routine now with packing up which just seems to fit into place around showers and breakfast. We had decided to take a slightly different route home going northbound on the A1M and then across country to Amphill and Milton Keynes. Its a pleasant route and hardly any different in distance from using the M1.
Early April at Upper Heyford
Having just had the caravan serviced we decided to spend a few days locally just to check everything was OK before we head up to Newcastle upon Tyne later in April. We had decided on a site called Heyford Leys at Upper Heyford which was only about 30 miles from home so no need to rush. We arrived at around midday using the instructions given to me over the phone which were spot on. We had a warm welcome from the owner. There was no need for us to pay as all that had been completed the day before when we booked. This is not something I am particularly in favour of. The reality was that we could have just arrived as the site was empty apart from half a dozen scruffy vans used by workmen during the week.
Once we were set up on our pitch I set about getting the satellite up and running. It totally puzzles me how it will set up in a few seconds sometimes and hours at other times. In the end I managed! Later we went for a walk through what we thought was Upper Heyford but what turned out to be the site of what was once the US Air Force Base. The Americans left in 1994 so it is now something of a surreal sort of place. Had it not been for the road to the various local villages that runs through you could have almost imagine balls of tumble weed rolling along. There were buildings in various states of repair, or perhaps disrepair. Whilst I think most would welcome the reasons for the departure of the Americans as the Cold War thawed. However for the locals it must have had a devastating effect on the local economy. Even 15 years after the departure of the Americans only outline plans have been made for the massive site. It has been sold to a developer with plans for about a 1000 new homes. The story goes that the day after the deal was done, English Heritage slapped restriction on part of the site which they want to develop as a 'Cold War Museum'.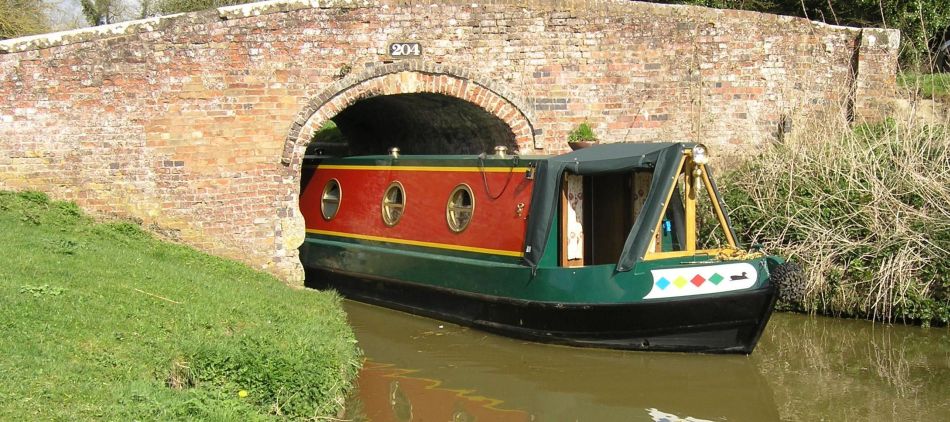 Wednesday dawned bright and sunny. We drove down to the Oxford Canal through the village of Upper Heyford and watched several boats go through the lock and then walked along the canal. We returned to the car and drove to Lower Heyford and had lunch at the Wharf. Continuing along the Oxford Canal we stopped at Thrupp. Some may remember that an episode of Morse was set on the canal side at Thrupp, fortunately we did not stumble across any dead bodies!. For us it was memories of over thirty years ago when we left our small cruiser tied up there for several weeks and the lady at the end cottage used to keep an eye on it for us. Another change from our day is that the canal seems lined with boats for what seems miles on end. Whenever we revisit our old canal haunts the subject of whether we miss the canals comes up. I think my take on it was that it was an important part of my past life but a lot has changed in those intervening years and I think I now prefer to be a land based gypsy rather than a water borne one!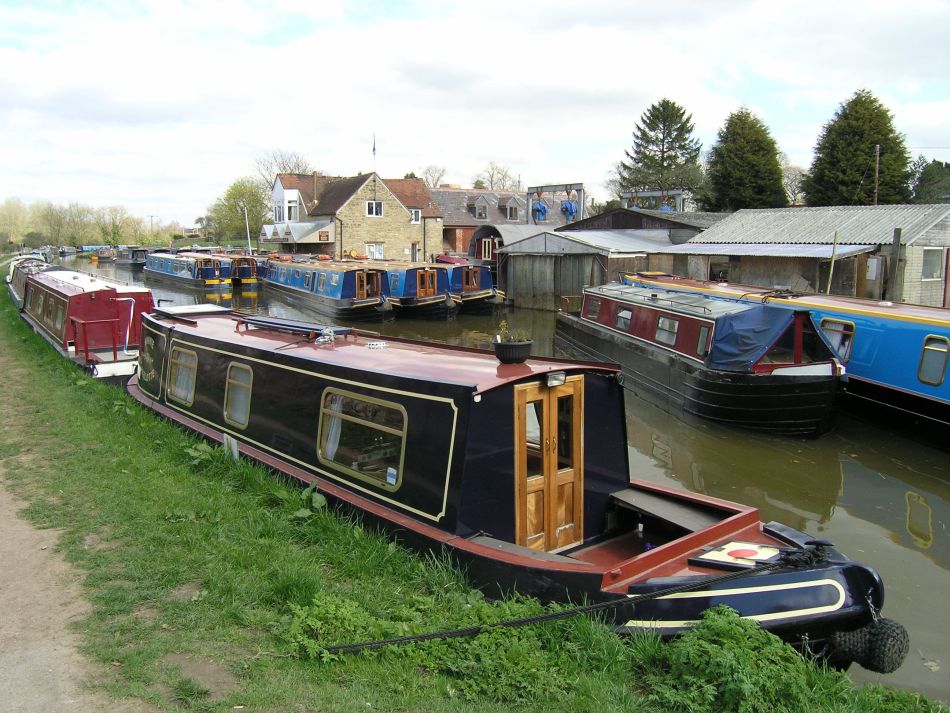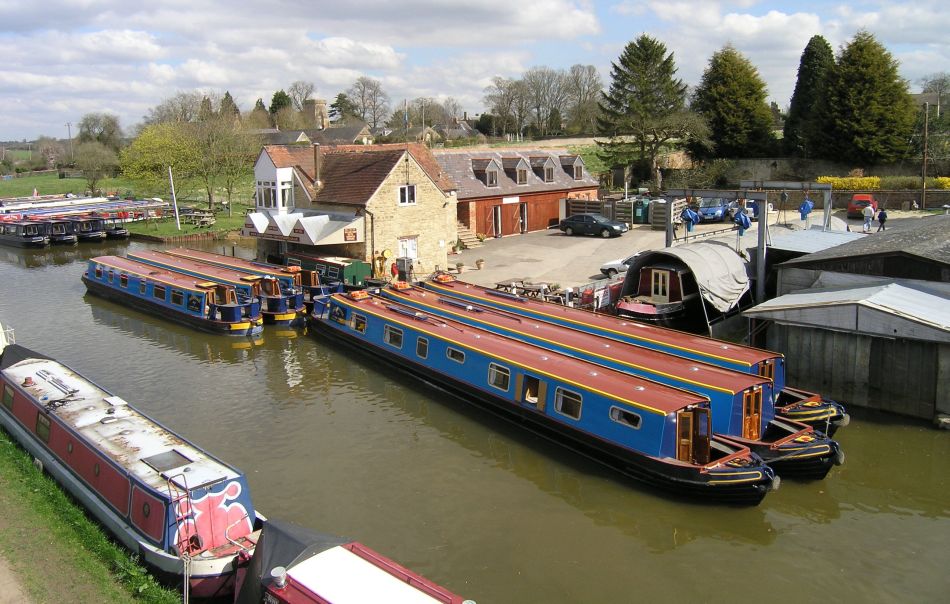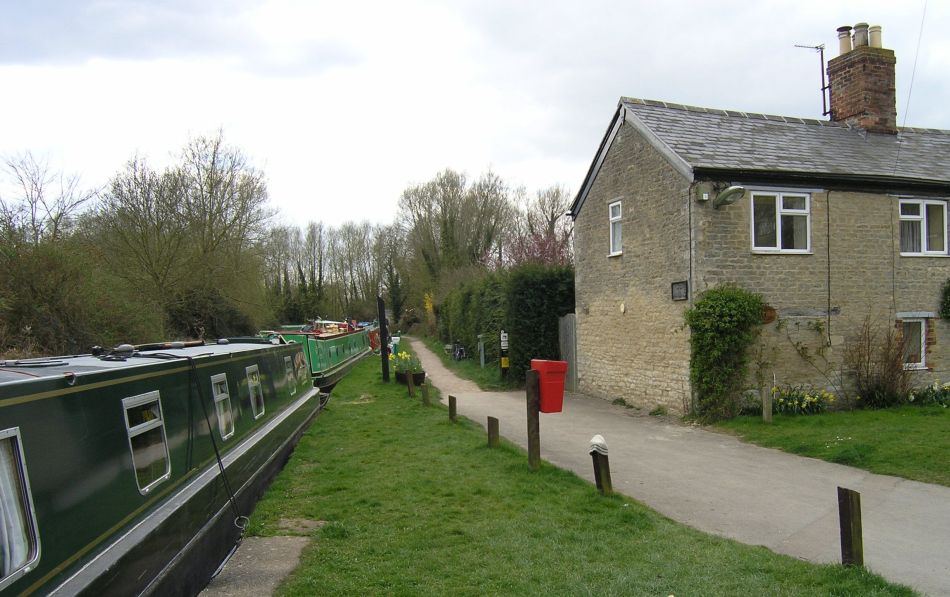 Our last full day at the site and not so bright as the previous days. Still being without a new van on order we made our way to a dealer on the A41 near to Bicester as they were Coachman agents. Given that perhaps we are now more used to the slick caravan dealer premises, this dealer could not be accused of being in that league. More like a used car plot tucked away on some piece of land! However in fairness I have never been to a caravan dealer where peacocks roam freely, I wondered what the noise was. Nothing in the way of new caravans took our eye so we moved onto Bicester Village, the outlet shopping centre. At least that was the plan but the car parks were bursting at the seams so no room at the inn for us. The same was almost true when we moved down to the Wyevale Garden Centre which also seems a small shopping centre in its own right. From the news you would have thought that retailing sales were in free fall but there was certainly a lot of people around. One could get the impression that the selling of plants is now a secondary thing for Garden Centres. They did have a nice restaurant where we had lunch. On our way back to the site we came across a lorry loaded with a pretty big narrowboat and it was heading in our direction! In my wisdom I decided to take a quicker route only to be stuck behind two slow tractors. When we got to the road into Upper Heyford the narrowboat was well ahead!
Friday was dull and misty with temperatures quite a bit down on the last three days. Not that it was important really as we were going home. The return journey was short and relatively traffic free and of course as soon as we got home the sun came out.
Old Hartley, Newcastle upon Tyne
Wednesday 15th April. Our journeys in the UK don't extend much beyond 100 miles these days, we keep Grand Touring for the Continent! Of all places we were heading just north of Newcastle upon Tyne near Whitley Bay. Now the Toon Army might dress in black and white, speak in an undecipherable dialect plus being inseparable from a glass of Newcastle Brown and their offspring might think that wearing clothes on an evening out to keep warm is an old fashioned concept but we are on the way. It was an unusually early start as well. Not that we had decided to get a jump on the traffic but much more mundane as I had offered Paul, our eldest son, a lift to the station. We had, had a family weekend as Simon, our youngest son, celebrated his 30th birthday. In a roundabout way it was family connections that was the reason for the trip to Newcastle. The previous October Margaret's mum died and the idea was formed that it might be a nice idea to scatter her ashes in the place where she was born. It would also be an opportunity for Margaret, and her sister Joyce to revisit their place of birth after a long absence.
Not long after 9.00am we were heading towards the M1 for the start of our journey north. It was pretty dull at first but after our stop at the Trowell Services the sun was making an effort. Another stop at the new Wetherby Services, including dedicated caravan parking, just a pity they don't tell you about the caravan places until you have done a detour through the lorry park! Shortly after Wetherby we headed away from the A1 and onto the A19 as we were heading for the Tyne Tunnel. The further north we got we suddenly became engulfed in fog which stayed with us for the rest of the journey. There are roadworks near to the Tyne Tunnel as they are building a second tunnel to double capacity, that is due to open in 2012. The only previous time I have used the tunnel with a caravan I am sure we had to stop to have the gas checked, or at the very least to have the passports checked! This time we sailed through only to happen upon the toll booths and get into the wrong lane! It was one of those throw the coins in the basket type. We had no idea if it cost extra for the caravan but it seemed to accept the car fee and we were let through. Poor old Tom Tom had no idea where he was as there are a lot of new roads on the approach to Whitley Bay. Fortunately I had spent some time on Google Earth which is an excellent tool to look at potential routes. We eventually arrived at the CC site called Old Hartley which is situated on a cliff top but it was still so foggy that whilst being able to hear the sea we could not see it!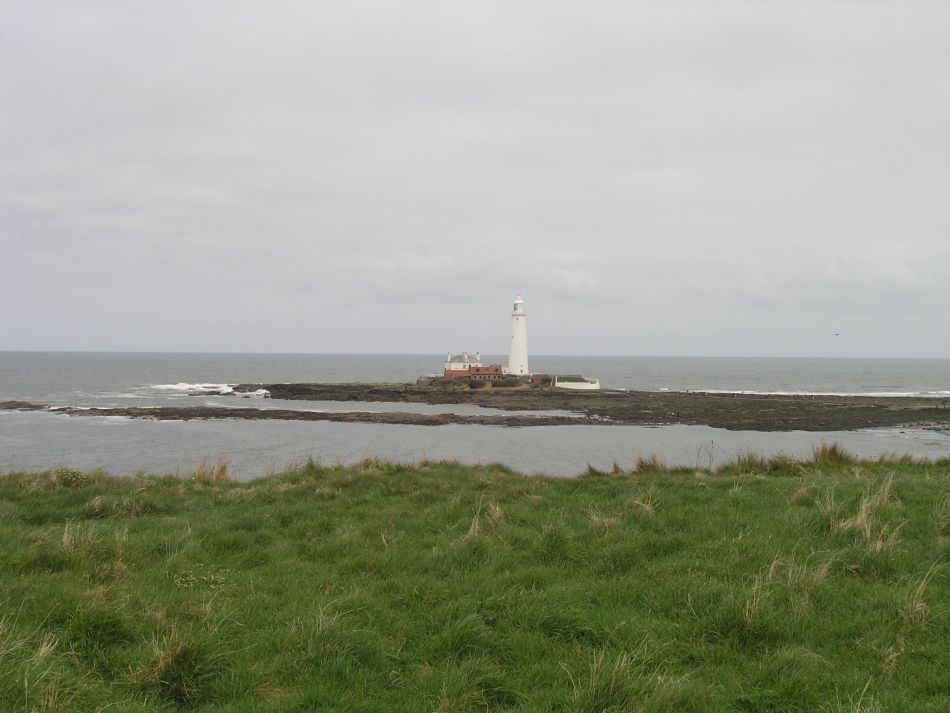 Thursday made a dull and cold start but at least we could now see St Mary's Lighthouse. It was another early start as Margaret's sister Joyce and her husband and son were joining us for a nostalgic tour of the Newcastle they grew up in. There was still time for a coffee before the tour started. Whilst having our drink I was beckoned outside by another camper. He wanted to know where he could get a similar satellite dish and tripod, I gave him the details verbally but thought I should find the website details when I had a moment. Joyce and family left their car at the site so we headed off in one car. After yesterdays long journey the first thing I needed to do was to fill up with diesel. We managed 21mpg which was not too bad given that we were not hanging about! We did a detour via Whitley Bay and Tynemouth. Visited a large Tesco but no fuel! Found an Esso garage to fill up. Tom Tom was sulking because I had dared to deviate from his route so decided to replace him on a temporary basis with an A to Z of Newcastle, much more useful. The Cashier told me that the road opposite was the Coast Road, famous for the Great North Run and of course part of Margaret's memories. We were looking for Benton and fortunately Rob, with the aid of my new map book, was proving to be more reliable than Tom Tom!
We pulled into a side road so that we could work out where we were going. With the odd left and right turns we found ourselves in Fairways Avenue, Benton and Margaret and Joyce's old house. This house you will understand is no mansion set in acres of grounds but a fairly ordinary 3 bed semi whose fond memory is etched in the minds of the two girls! Margaret and Joyce somehow got chatting to the current occupiers of the house and they were able to catch up on the news of the last 40 years! Opposite the house is Penfold Close whose claim to fame is that Jimmy Nail once lived there. We then moved onto Longbenton to see Aunty Mary's house (Margaret's mothers sister, you really will have to keep up!) which in its day was considered to be much posher than Fairways Avenue! To my untrained eye it was a little difficult to see much difference! I think by now we were being viewed with as much suspicion as a Google Street Lever camera car! From outside Aunty Mary's (old) house we called Joyce (yes another Joyce) who is Aunty Mary's daughter and invited ourselves round for a cup of tea and a toilet stop! After, tea, sandwiches and a Tunnick's chocolate covered marshmallow we were fortified for onward travel. We followed Joyce, the Aunty Mary one, to Jesmond Dene for a walk round. I had heard that Jesmond Dene was a place all fur coats and no knickers but after you have climbed out of the gorge that forms Jesmond Dene any type of apparel, or lack of it, is the last thing on mind! By this time fighting for breath is more important! To be a little more serious Jesmond Dene is a linear park set along the bottom of a small river valley and is a popular open area in the heart of Newcastle. On the way back we went to Paddy Freemans. I had heard Margaret talk about this a lot and had wondered whether it was an ice cream parlour but it turns out to be another park adjacent to Jesmond Dene. We said our goodbyes to the Aunty Mary Joyce and arranged to meet up the following day for a nostalgic trip up the coast. The rest of us headed out to Seaton Sluice to eat at the Astley Arms which has an amazingly cheap carvery. The only downside of this is that it gets crowded. The number of people milling around outside the pub one could be forgiven in thinking that you were outside St James Park! We were lucky as we got a table pretty quickly. The food was cheap and was generally OK and there was certainly plenty of it. I am surprised the place has not been raided by the obesity police!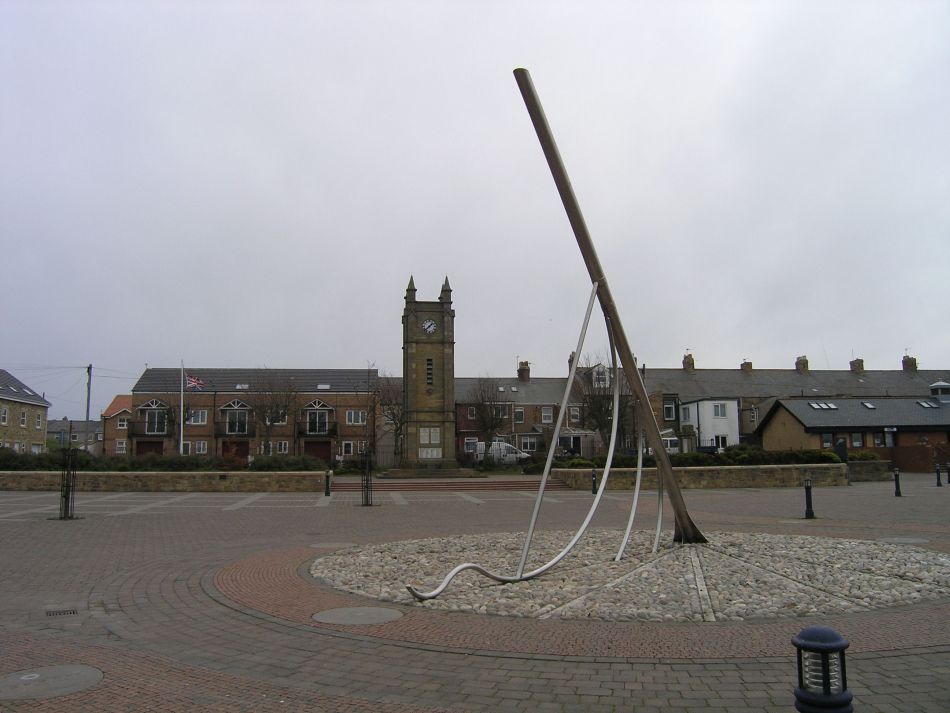 Having abstracted a promise from Joyce, Margaret's sister, that they would call at a more reasonable hour on the Friday there was no need for an alarm clock. Both the Joyce's, Rob and Bobby duly arrived and after a coffee we set off for Blyth. Its not a place to particularly write home about as its really a commercial port. So a quick look at the sea and it was on to Amble. One of Margaret's abiding memories was a caravan (static) holiday at a campsite on the edge of Amble which we managed to find. It was right opposite the sand dunes. Having had a look round we made our way into town and parked next to the tourist office. Amble is another place of little distinction although they have made an effort with a square in front of the tourist office but have failed to replace the once proud flags of various nations which are now no more than tatters on flag poles. We went into a rather questionable looking cafe for a cup of tea which for what it lacked in strength made up for in being wet and hot! We decided not to travel any further north but instead decided to return to Whitley Bay and complete the mission we were all there for. It was too windy to scatter the ashes so we decided to dig a small hole and bury them and then built a small stone cairn on top to mark the spot. Margaret's mum never really settled to life in the south so at least she now has a place in the lee of St Mary's Lighthouse with the lights of Whitley Bay to keep her company. We said our goodbyes as Joyce, Rob and Bobby who were heading back to Southampton the next day. The last couple of days had been exhausting for us so in order to restore some of our energy we went up the road for fish and chips which we enjoyed in the van with a nice cool white wine.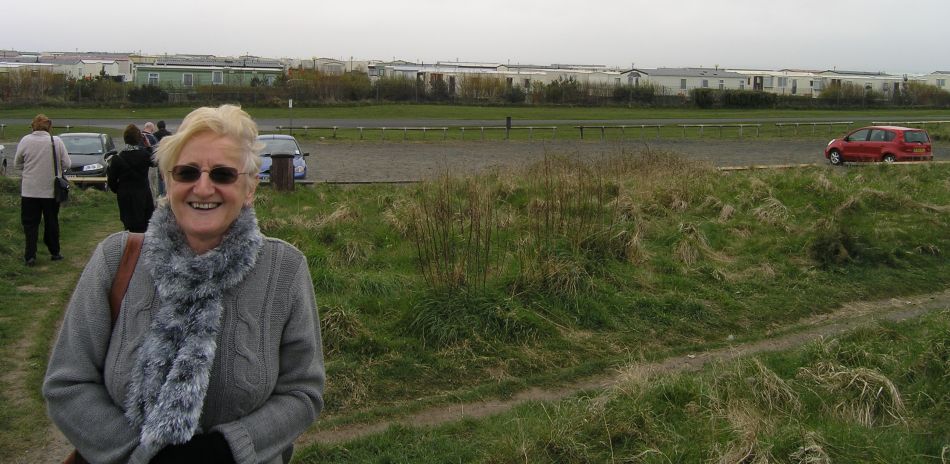 Saturday and a day sans company! Still up early it is qualifying for the Chinese Grand Prix. Good results for Brawn GP and Red Bull. After quali and breakfast we needed a few bits from a supermarket so we made our way to the Sainsburys at Monkseaton. After lunch we had a walk along the cliffs to St Mary's Lighthouse. The lighthouse is accessed via a causeway which I suspect is available in all but high tides or adverse weather conditions. There is a shop and cafe there and if you are feeling really energetic you can climb to the top of the lighthouse for a small fee. On our way back we revisited the spot of our labours of the previous day and everything was still as we left it!
Sunday, strange situation today as we are, once again, up early this time to watch the Chinese Grand Prix which started at 8.00 but we are also leaving the site today as we are moving onto York. It was an exciting race not only because it was raining which always tests the skills of the drivers but mainly because Red Bull came first and second. Having got over the tension of the last few laps we started packing everything away and eventually left about 11.30am. We had liked Old Hartley and wished we could have had an extra day and perhaps warmer weather! It is of course typical that after a stay of four days of dull and cold weather that we left in bright sunshine. Apart from a slight diversion at the Tyne Tunnel the journey was pretty straight forward. I quite liked the A19 route and it was good to be able to see the surroundings, such a contrast to the fog of our journey north. We had to concentrate on the instructions to get to Rowntree Park as we had to approach from the A64 but in the end it was fine. The same could not be said for the reception we had at the site. A sign instructs you to move forward to the barrier which I did. The barrier arm raised and a warden beckoned me through and appeared to suggest I turn right. He then said I was heading the wrong way. I had to point out to him that that was where he directed me and he was standing in front of the one way sign! He then wanted Margaret to go and pay until I pointed out that I had the payment card. I could feel a situation developing but I smiled a lot and we managed to get through the initiation ceremony but not without being reminded that there was a strict 5miles an hour speed limit on site!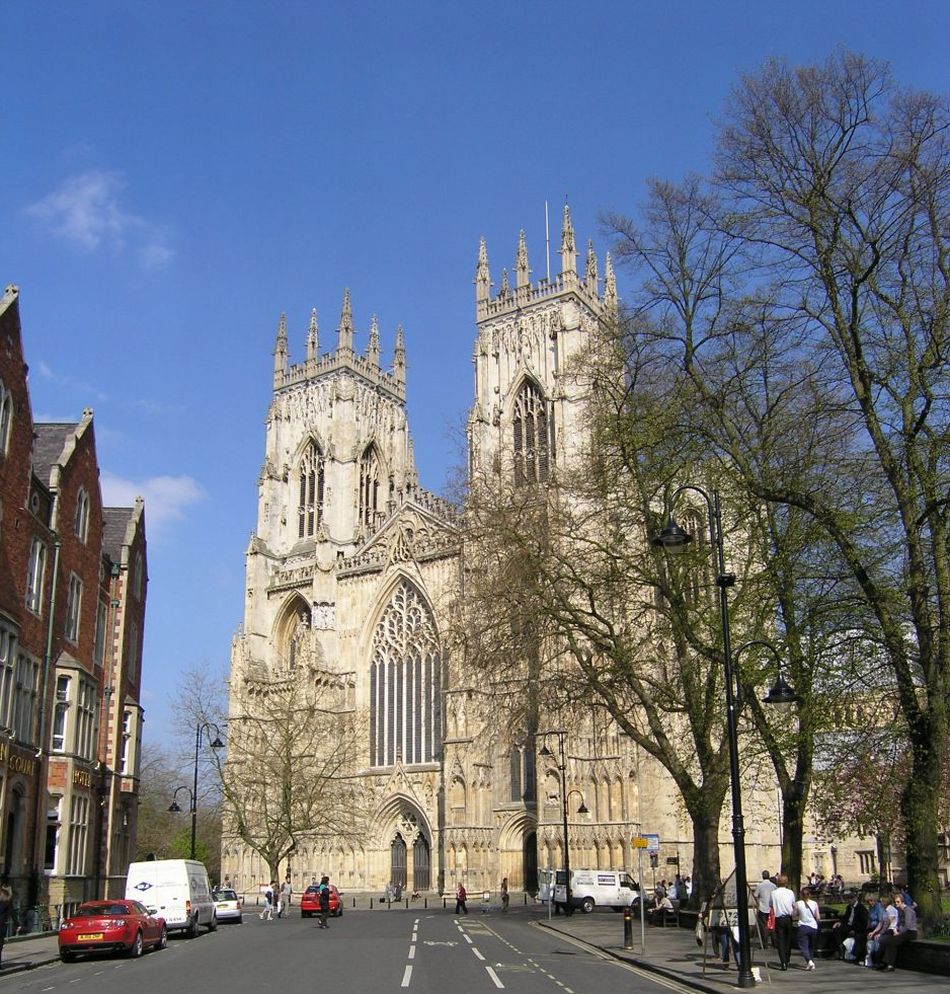 Monday - Having spent the best part of the last week getting up at between 6 and 7 am it was time to have a lay in. Monday was a glorious day and perhaps the hottest of the year so far, certainly when away in the van. We wanted to re-visit the National Railway Museum. We let ourselves out of the back gate of the campsite and went most of the way to the Museum along the old walls. The walls of the City of York are not quite complete but you can walk most of the way round even if you do have to deviate to ground level occasionally. There are several amazing things about the Railway Museum, the first being that it is free to get in! It is also not just about trains but also the history of our country as seen out of the train window. The Royal Train part of the exhibition is interesting, especially the fact that the Royal Train from Scotland would slow at Bletchley (in MK) so that the Royal occupants could have a bath before arriving in London. I will think of Bletchley in a different light from now on. There is also a half carriage or perhaps a mock-up of a Japanese Bullet Train. The internal width is surprising, much wider than a UK train. They have also been in service since 1964 and the ticket collector bows as they leave the carriage. Who is going to volunteer to suggest that to Bob Crow! There are many other interesting exhibits like the train from China which is so big that it stands head and shoulders above the rest. I do, of course, have to mention the Mallard resplendent in its blue livery and perhaps the icon of steam trains. Even if you are not particularly interested in trains the museum is well worth a visit. After our visit we walked into the centre of York to admire York Minster which dominates the skyline of the City. From here we made our way through the Shambles and on over the river and back to the campsite. Our little area of the site was empty all but for two vans when we left this morning but when we returned we have more new neighbours. Had a pleasant chat to the ones next door to us.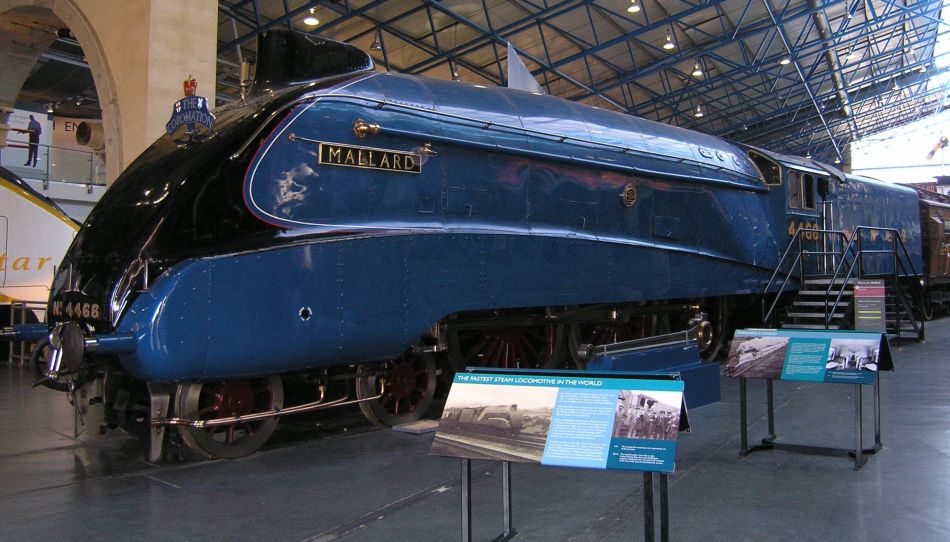 Tuesday - We needed to fill up so we found the Tesco not far from the site. Interestingly diesel has gone up by a penny in less than a week! I was also looking for an alternative route away from the campsite for tomorrow and it does look a possibility to use the A1036. We arrived back at the site and our way in was blocked because one of the wardens had taken a new arrival half way through the barrier. Noticing my way was blocked he got the motorhome to move forward. He then had the temerity to ask me if I was staying on the site! Now least you think your scribe is having a go this is not entirely correct. I just can't understand what has caused this complete nervousness by the wardens to new arrivals. I appreciate that it is a busy sites but surely the Caravan Club must employ people who can cope with this sort of pressure. They would never cope with the first day of a sale! It has also been interesting talking to other people staying on site that they have experienced difficulties in being able to select their own pitch and been put on poor pitches until they complained. I thought these days were long gone in the CC. After lunch we walked into York to visit the Castle Museum. However before we got there we witnessed an amazing event, two sets of Geese and there babies! Two families walked boldly down from the Castle across the pedestrian crossing and into the Park opposite. Fortunately the traffic stopped without a problem! Would the traffic do the same for me as I am nowhere near as cute! It has been many years since we last visited the museum but it is a fascinating place and well worth a second or even a third visit. I suppose what catches the imagination is that it deals with all aspects of life going back to the Industrial Revolution but many of the exhibits just transcend that period of time that you have the faintest memory of, so it has a familiarity from your childhood.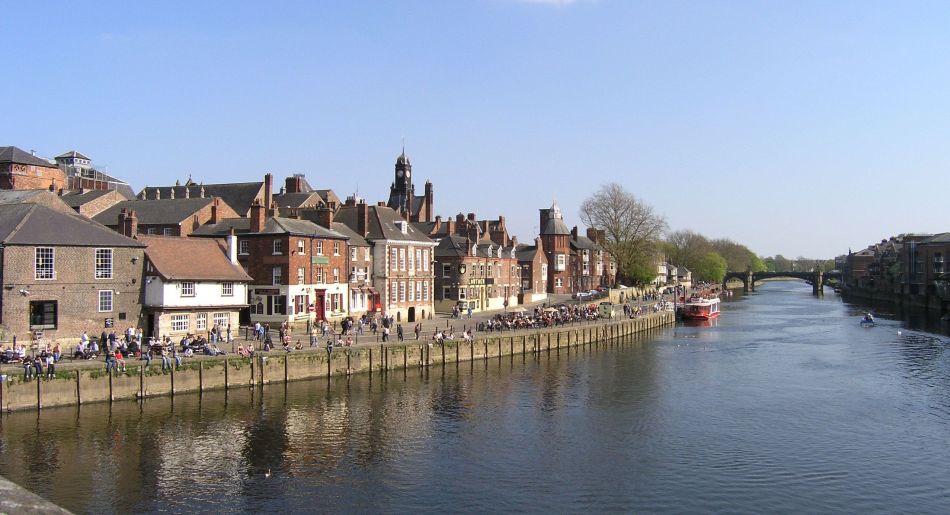 Wednesday and time to leave York and make our way home. It would have been nice to have stayed longer but I have an appointment with the Tissue Viability Nurse tomorrow for another doppelganger test, or should that be Doppler Test! Added to which in less than two weeks time we are off to Italy for about 7 weeks. It was another beautiful day as we set off from York at 10.00am. We had sussed an alternative way out of York as I mentioned above. Not sure how this would be for coming to the campsite! On the M1 there is a stretch of road widening which lasts for about 12 miles but that was the only point where traffic slowed a bit. So 160 miles in three and half hours, including a stop was not too bad!
Mid July Burford
After a two month gap whilst we were touring in Italy this is our first trip away in the UK since our return. Not only a return to UK touring but first trip away in our new caravan. Our previous van, an Eccles Topaz, had given us sterling service if I am allowed to use a pun! Over a 12 year period it was the second van of the same layout, two long settees that converted to a bed with a rear washroom. We liked the idea of a rear washroom but also wanted a fixed bed. Originally we ordered a Sterling Europa 495 which was a comprise because it had the side toilet/shower with a fixed bed. Despite agreeing to the purchase and paying a deposit back in November 2008 we had a phone call in January to say that the dealer had decided to end sales of new vans and our deposit was returned to us. Our only other dealer close to us was White Arches at Rushden. We did rather like their Archway range of vans based on the Swift Charisma models but with extras. We had heard a rumour that they were going to introduce a new model with fixed bed and rare washroom. It was late April before we were able to see a sample of the base model and within days we had placed an order. Unfortunately not quite such a good deal as we would have got with Nene Court! In a way going away to Italy took away the waiting period and we were able to pick up the van only 2 weeks after our return from Europe. Came the 9th of July we drove to Rushden with the Eccles and swapped for our new Swift Archway Rockingham. Being a longer caravan it certainly looked big when we got it into the back garden.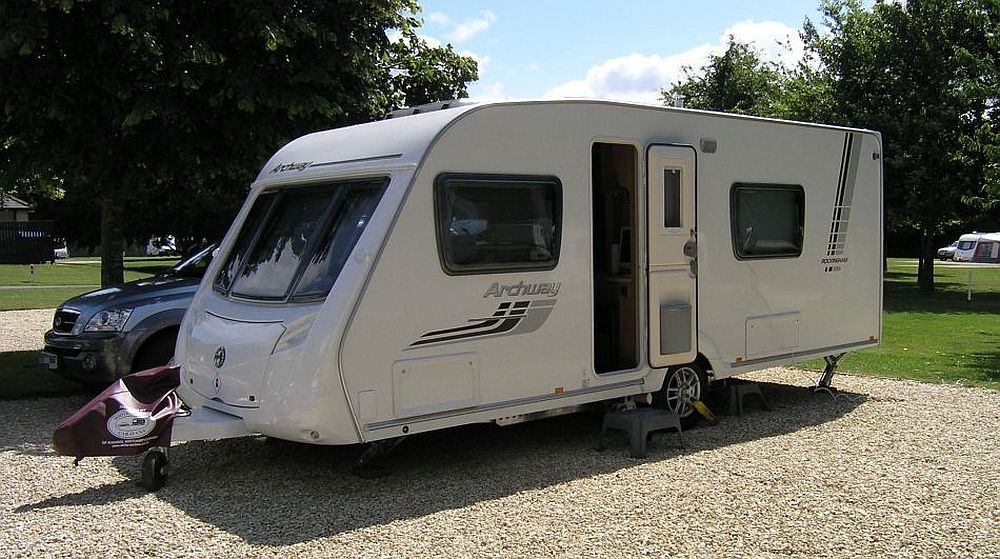 There is only so much that you can experience from a new van in the place it is stored! Not least where you store everything in a caravan which is a totally different layout to what you are used to. The acid test of course is using a caravan for real so we booked a short stay at the CC site at Burford. First of all I had to establish the noseweight once we had loaded everything back in the van. I got something of a shock, it was over 100kgs! Where we store the van is on a slope so I was not convinced it was correct but thought I should remove things from the front. It made not much difference so I decided to wait and retest once the van was out on the road. When I checked in this position it was only 70kgs so I had to put things back where they were. So five days after delivery we set off on Tuesday 14th July. We first had to get it out of the back garden but this did not seem a problem even given the extra length compared to the old one. The route to Burford was familiar to us and a little under 60 miles. The car seemed to cope as well with the new van as it did the old. The weather forecast for the next few days was certainly changeable. Once we had set up on site at times it was quite hot but black clouds would role over now and then. I set off from the van several times in bright sunshine to take photos only to find the sun had gone in by the time I got to where I was going. in most cases only 100 metres from where I started. The Burford site has a digital TV connection on the electric bollards so there was no need to bring the satellite dish. For our meal that evening we used the inbuilt microwave which was very successful and despite some concerns the height of it did not seem to present a problem.
Wednesday dawned bright and sunny and seemed a little less changeable. In the afternoon we decided to take an excursion out to Lechlade but en route stopped at the Cotswold Woollen Weavers in Filkins. The production of wool and weaving was the major industry in this area years gone by and the fortunes of many of the large Cotswold towns was built on wool. It is not a large place and perhaps half an hour is all that is needed. You can see the looms and the interesting pattern books. They sell bolts of cloth and some of the prices seemed quite good given the quality. Seeing all those materials stacked up took me back nearly 40 years when I used to work in the Piece Goods department of Tyrrell and Green in Southampton. In those days, especially in early autumn was when the regular lady customers would come in to buy their tweeds or suitings to either make them self or perhaps by their dress maker. So if you are a skilled seamstress and want to make coat or suit you may find a bargain!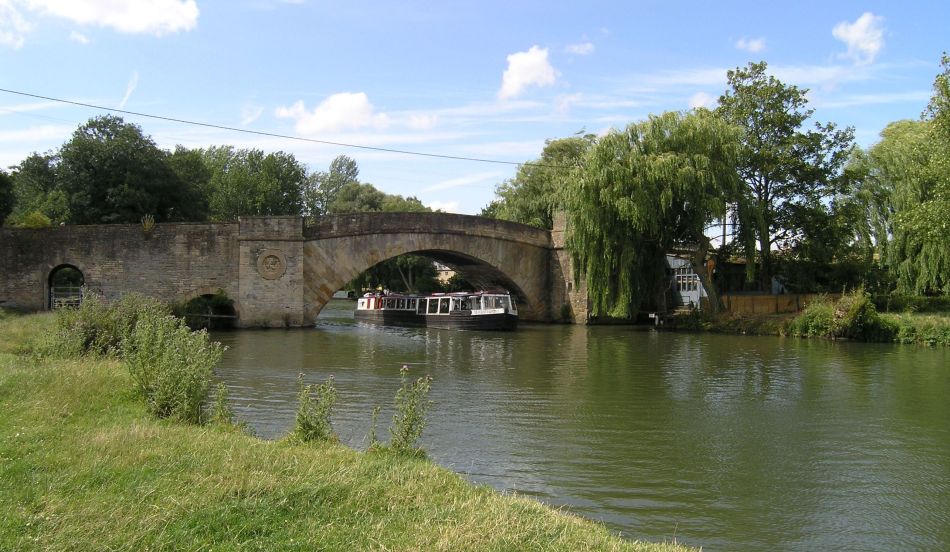 We then drove the few miles to Lechlade which is considered by most the be the upper navigable limit of the River Thames. Many years ago we used to own a small boat and often used the Thames. I remember once asking the lock keeper at St Johns Lock, just downstream of Lechlade how far you could take a boat above the bridge. He told me that it very much depended on what ran out first, river depth or nerve! Lechlade itself is a pleasant little town.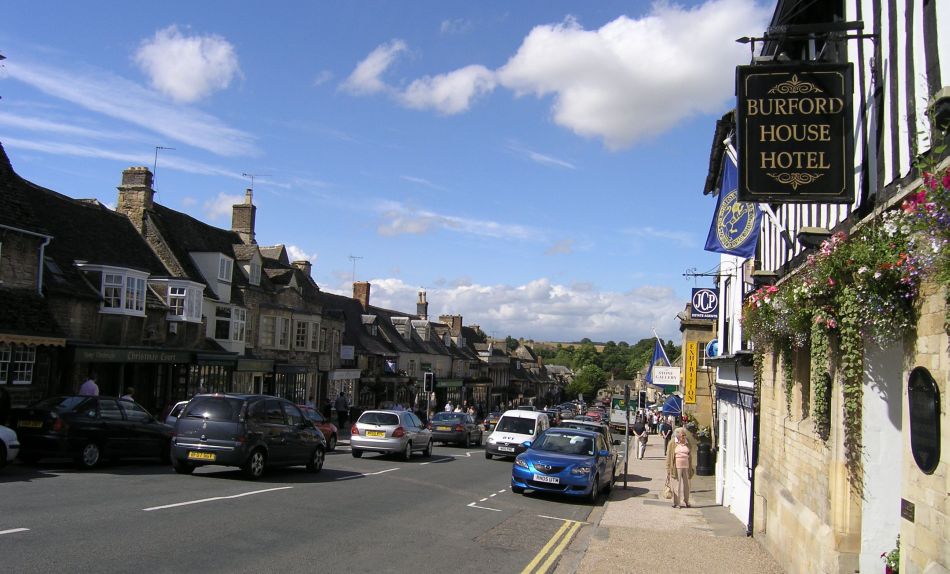 Our next stop was Burford which is a couple of miles away from the campsite and bustling place set out along a busy main road. Parking is a bit difficult but there is a large carpark set behind the town and within reasonable walking distance. We went into a Kitchen shop as we were looking for things for the van and I discovered they sold the round foil drip stops for wine bottles. I have been looking for some replacements for years. A few doors away is the Huffkins tea and cake shop. Whilst we did not have tea we did buy one of their lardy cakes which seems to be one of their specialities. It proved to be delicious and, of course very naughty! Back at the campsite you often see people with their necks craned to the sky. The reason for this is the low flying planes that go in and out of RAF Brize Norton. Can't say the noise was that intrusive but it does provide a sceptical.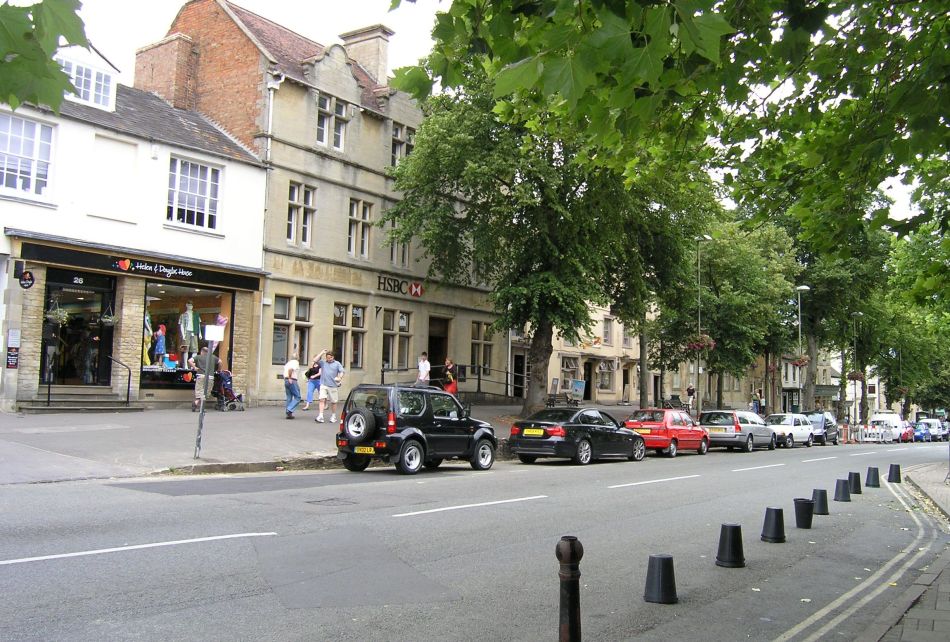 Thursday was not so sunny as we set off for Witney to have a look round and also buy some food. I needed two things connected with the van. The tyres on the new van require 65psi, my pressure gauge only goes up to 50psi! I invested a tenner in a digital one to see how we get on. The shower head in the new van is the variety that has an on/off trigger on the actual shower head. This means that you can't leave it running when, say, rinsing your hair. So the Pound shop was the answer for a very cheap shower head. It did work very well but because the inboard pump seems more powerful you do use a lot more water so we may have to have a rethink. Witney is a busy place but it does seem to have lots of parking space which is free with a 3 hour limit. There is a good range of shop including a Waitrose right in the centre.
Being sods law it was wet as we packed up to go and the rain was off and on all the way home. It was an uneventful journey. Another practice at getting the van into the back garden. I do have plans to widen the access gate which will make it easier.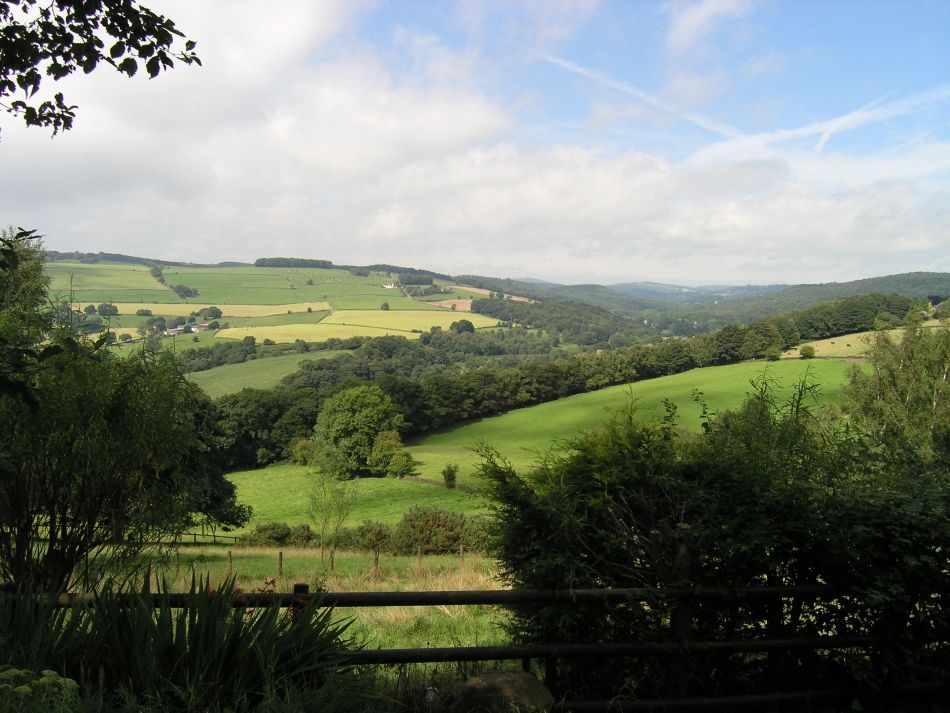 Monday 10th August and the second trip away in our new van. This time north to Derbyshire just outside Belper at a new Caravan Club site called The Firs. The M1 seemed busier than I would have imagined given that it was in the middle of the school holidays. Our choice of routes to this site was up to junction 28 on the M1 and approach the site via the A38/A610 or cut across on the A50 south of Derby to the A38 and then north on the A6 to the site. I do find Google Earth a useful tool in tracing routes and possible problems. The south of Derby route seemed slightly shorter and was the one we used. The final approach to the site is fairly narrow in places but we soon found the site. As a bit of extra luxury we decided that we would have a serviced pitch for an extra £1 a night. I canít really see why the Club donít make this a standard feature of all new sites. Forgot to mention the rain! We did nip into Belper to buy some coffee as this was forgotten by someone!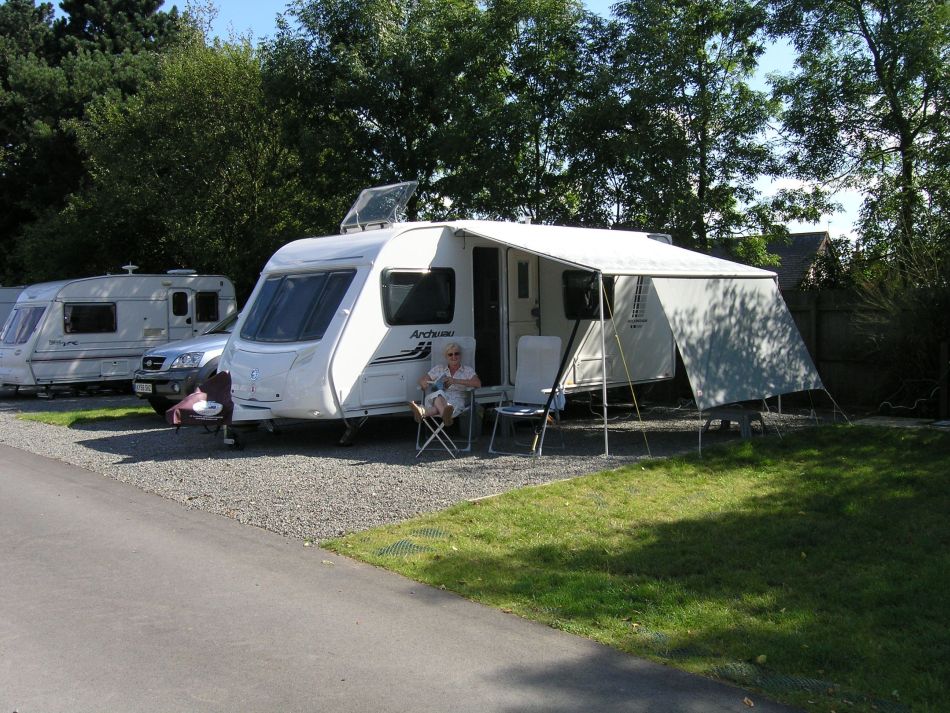 Fortunately the following day was much brighter and quite warm when in the sun. Our task for today was to set up the new Caravanstore for the first time. We have gone for a 3.6 metre one to take advantage of the longer length of the new van. We found it difficult to initially get one rafter to snap into place but eventually managed. Unfortunately they no longer do the old style front sun blocker so we are, for the moment, using the old one which was designed for the 2.8 metre version. Another issue I have struggled with is the AlKo hitchlock. For six years we used it on the old van without a problem but on the new van, although I have managed to fit it a couple of times it just would not go on. I mentioned this to the warden and he kindly took his off his caravan to check if there was a problem with the hitch but his seemed to go on OK but not without a fiddle although he did say that itís similar to when he fits it on his van. He then tried with mine and hey presto he had it on first time. I then had a go and again it went on first time. Is that sodís law or not! During the afternoon we were able to sit outside the van in the warm sunshine although the breeze seemed to be strengthening. Our pitch has a nice view out over the valley with its patchwork of fields in varying shades of green. Over to the right are two fields of ploughed brown, almost looking like two missing pieces of the jigsaw! Just before we went to bed we felt that we should take the Caravanstore down as the wind seemed be increasing.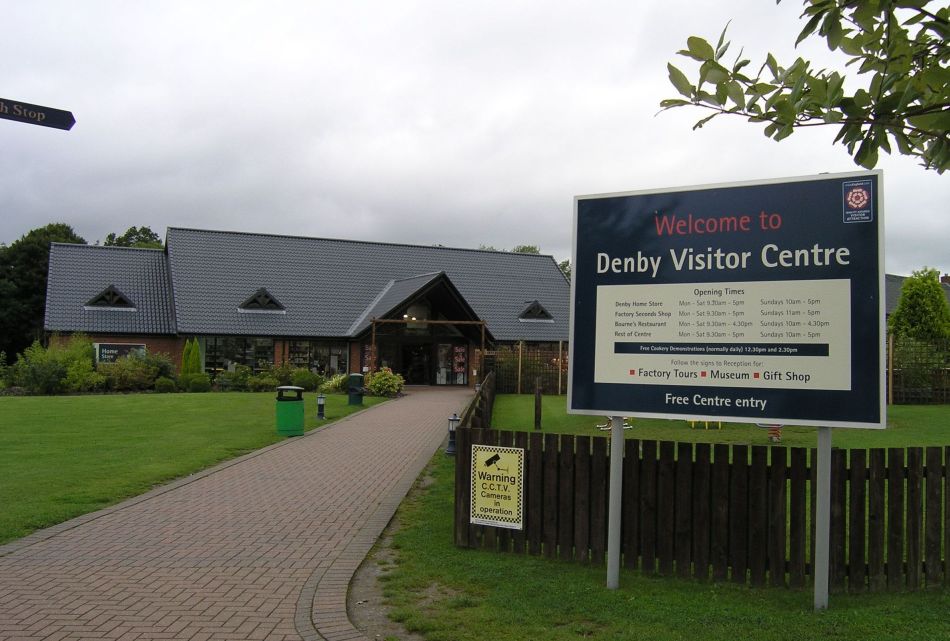 On Wednesday we awoke to rain. It seemed set in but by about 11.00am it was easing off but it was still grey. Clearly the weather influences choices so we decided to go and have a look at the Denby Visitors Centre which was about 4 miles away. They do conduct factory tours for which there is a charge but the main purpose of the complex is retail sales, or should that be therapy! It claims to have a Museum but it is no more than an alcove in one of the shops. However if you are into Denby Pottery itís a good place to visit for a while. If hunting for old patterns the staff are helpful and will point you in the direction of places that sell ends of ranges. From here we went onto the Midland Railway at Butterley but just had a look around the station before returning to the van for some lunch.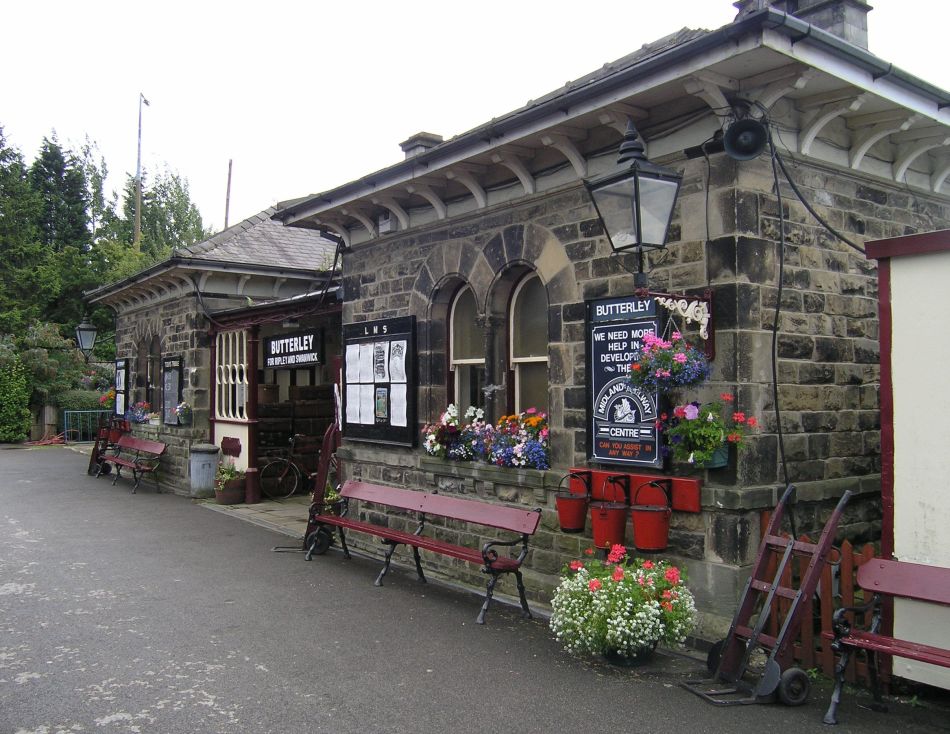 By now it had turned into quite a nice day so we decided to drive into Belper to have a look round. It is a bustling town that straddles the A6. Whilst I donít think anyone would claim it to be a pretty place it does have some interesting nooks and crannies. Some roads between terraced houses still retaining cobbles surfaces. The north end of the town is dominated by the massive East Mill. Belper seems a good shopping centre with the usual multiple shops but also lots of independents. Full marks to the local council for the work in providing some lovely flower displays around the town, particularly hanging baskets. Just watch where you park, although there are Council run car parks there are also lots of private car parks which threaten the deadly clamping which requires a mortgage to get released from!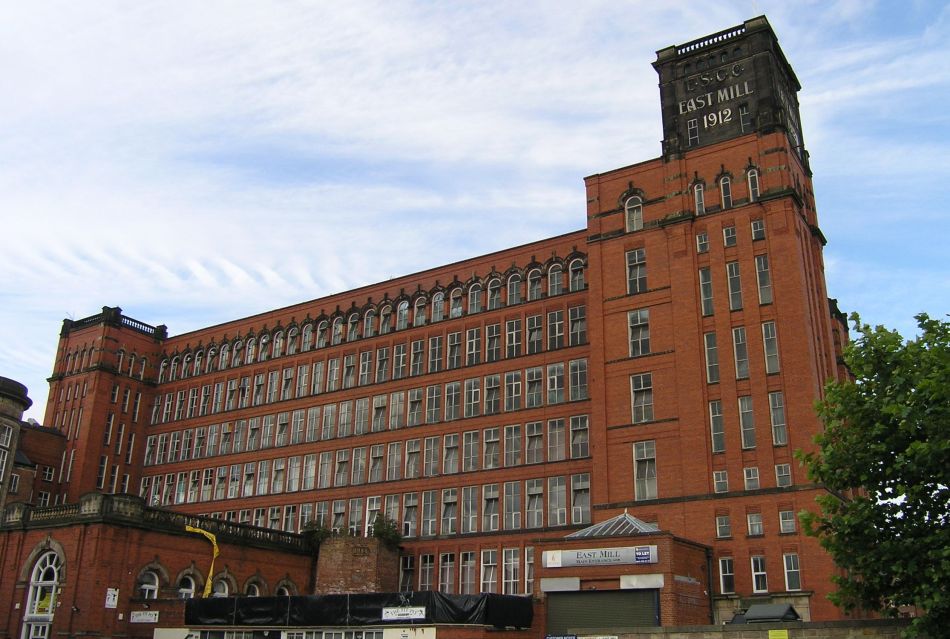 Thursday was our last full day at Belper. Initially we had thought about visiting one of the many National Trust properties in the area. Unfortunately most of them seemed to be closed on Thursdays and Fridays. Just a pity they did not stagger the closing days! Our thoughts then turned to the nearby National Tramway Centre at Crich. We have been before but it was a long time ago. I suppose its a man thing, railways and trams but Margaret was happy to go along. When we go to such museums I always elect for Gift Aid as it means the tax I have paid on the entrance fee is reclaimed. The only trouble is that it can be fairly longwinded and I have wondered if there could be a better system like pre-printed forms which you hand to the cashier. The site of the Tramway centre is an old quarry once owned by George Stephenson the famous railway engineer. The quarry closed but was reopened to provide materials for the building of the M1 and has been open ever since!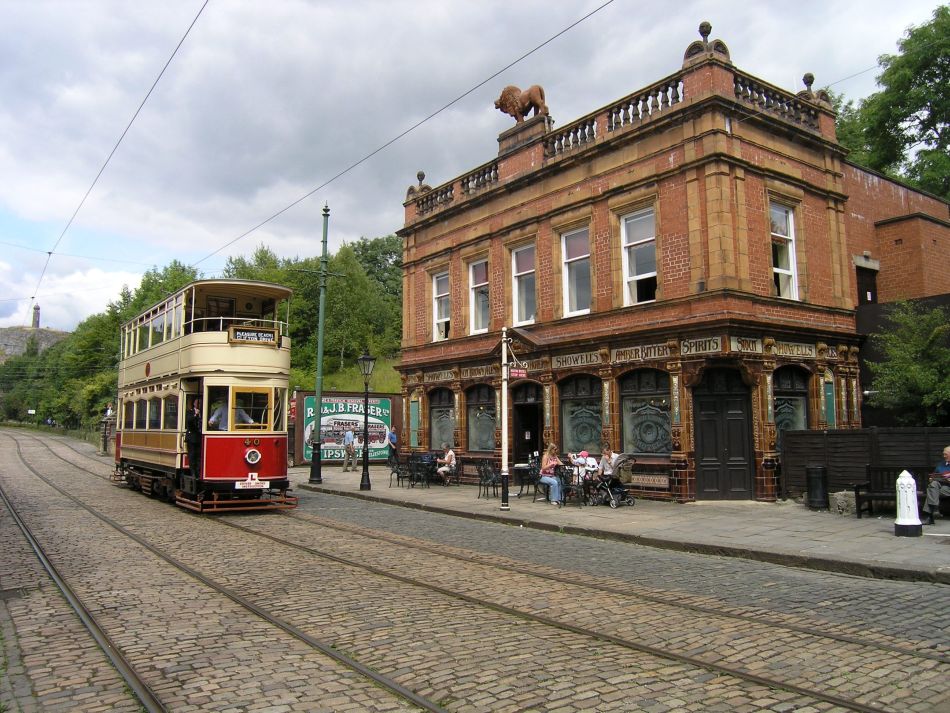 On our arrival inside the Tramway Centre we made our way to the tram departure point and soon boarded tram number 399 which we rode to the end of the track and back. In need of refreshments we retired to Rita's Tea Rooms for a coffee and a sandwich. Being school holidays it was very busy. Also having a father next to us trying to reason with a fractious 3 year old right in my ear did not lead to a pleasant sajour and was doing as much good to my digestion as the cucumber in my sandwiches! So we started our tour. Clearly being a former quarry some of the old buildings have been reconstructed on site, or at least the facades, the Red Lion above came from Stoke on Trent and the main entrance to the start of the exhibits was originally the Assembly Rooms in Derby, see below.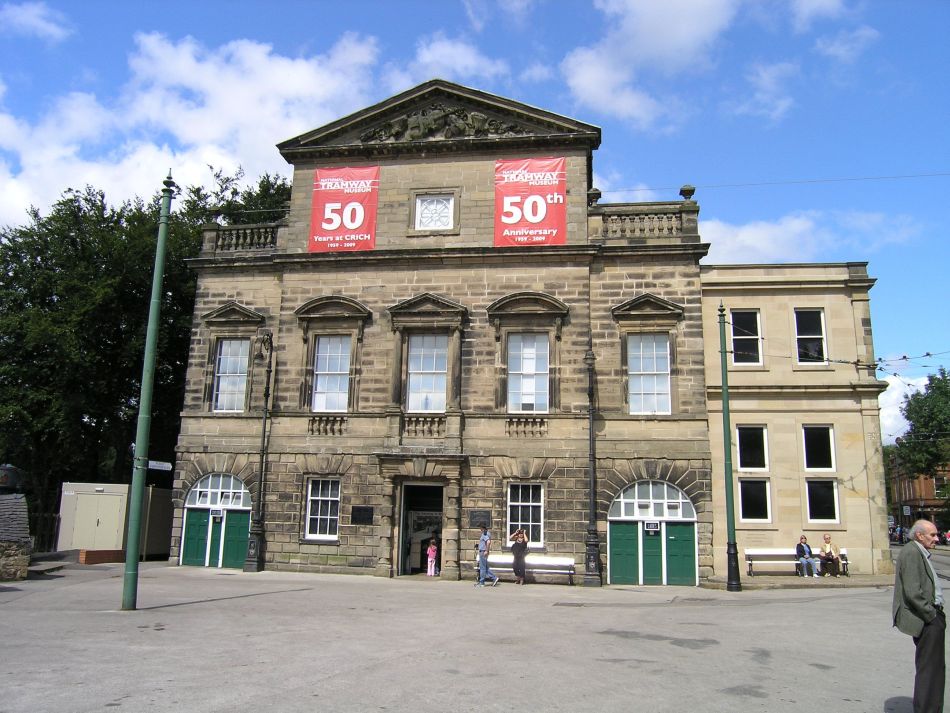 As you progress through the various buildings you can see the history of when various tramway projects were started and when they ended. The heyday seemed to be between 1900 and about 1950. I still remember being taken as a small boy to see the last tram in Southampton. The first tram acquired by the Centre was a Southampton tram. They have a repair and reconstruction workshop which you can see from a gallery. Although you can't climb on board the static display trams you can walk round them close up and of course they do have several working trams that visitors can ride on. Having exhausted ourselves looking around the exhibits and the purchase of a book on Southampton's trams we had a final ride on Eric. Who is Eric you might well ask but if I said that Eric is a tram from East Berlin that might be a clue, answers on a postcard please!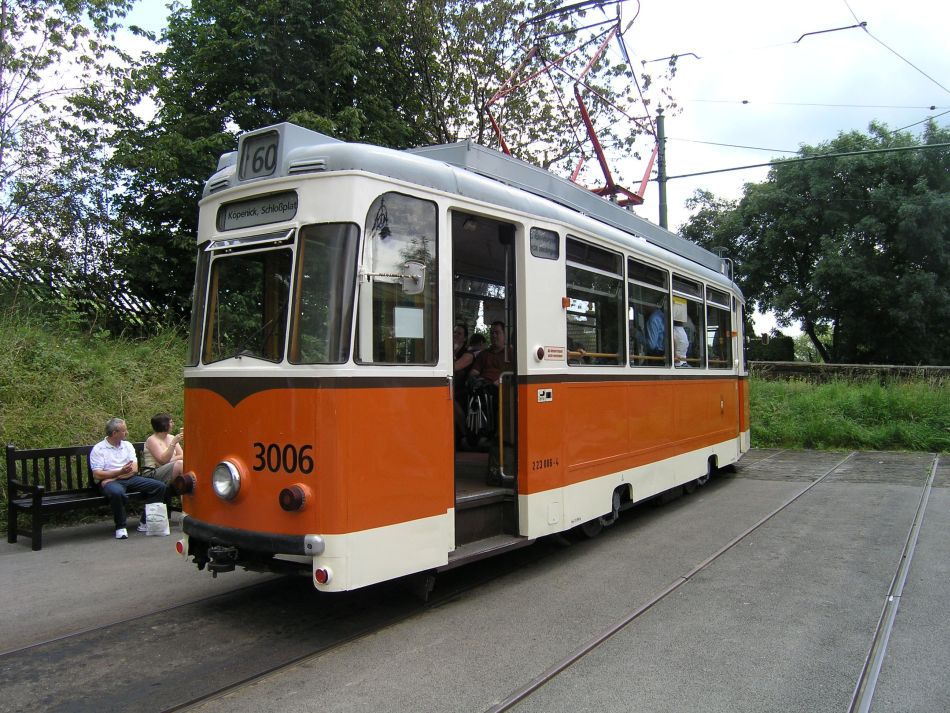 Friday and time to head for home. M1 busy as usual but no hold ups and we were soon back at home in MK. Our thoughts now start to think about our next trip at the beginning of September but that will be to France and a different Blog!
We returned from France on 15th October. It was a very good trip although my mobility because of my hip has certainly deteriorated over the past few months. I have now been referred to the hospital in preparation for hip replacement surgery, probably some time in the New Year. This has really put paid to any more trips away in the van until I have recovered enough to meet the demands of caravanning. Hopefully I can resume my Blogs and campsite reviews towards the middle of 2010, fingers crossed!
PS
Thinking our stays in the caravan were over for 2009 we did actually spend two extra nights in the van at Christmas because we had a house full. In a strange way it seemed quite exciting setting the van as we would on site. All that without the towing! It was pretty cold, a few days before we had snow everywhere. But the heating worked well and we were able to shower etc. Seemed strange creeping into the house on Christmas morning to put the turkey on, a bit like being staff!
David