A new departure for us, a longer spell away in France in the autumn. Six weeks from the beginning of September until the middle of October. We had meant to do something similar the previous year but my argument with a toilet block door in Germany last summer put paid to that. Another first was that this would be the first time in Europe for our new caravan, which is about 3 feet longer and 200kgs heavier than our previous van. This trip would only be the third time we have used the Archway so the learning curve will be a little steeper.
Since we have been retired we have more time to get ready, the only problem is that by the time we get to departure day we have forgotten what we did two weeks ago! We had decided to leave home on the day after Bank Holiday Monday, always a bit of a risk as people now seem to extend the weekend to days either side. Our worse fear was realised when we discovered someone had parked where we needed to put the car and caravan along the side of the house. Strangely it was the same car that had parked in the same place 15 months before when we were on our way to Germany. Fortunately we had discussed with Steve and Alison our neighbours about putting the van in front of their house. They also have a caravan so understand the problems. Just as we got the van out the guy with the car also turned up. He seemed a very nice chap and explained that his friends in another close had suggested he park where he did as it was safer!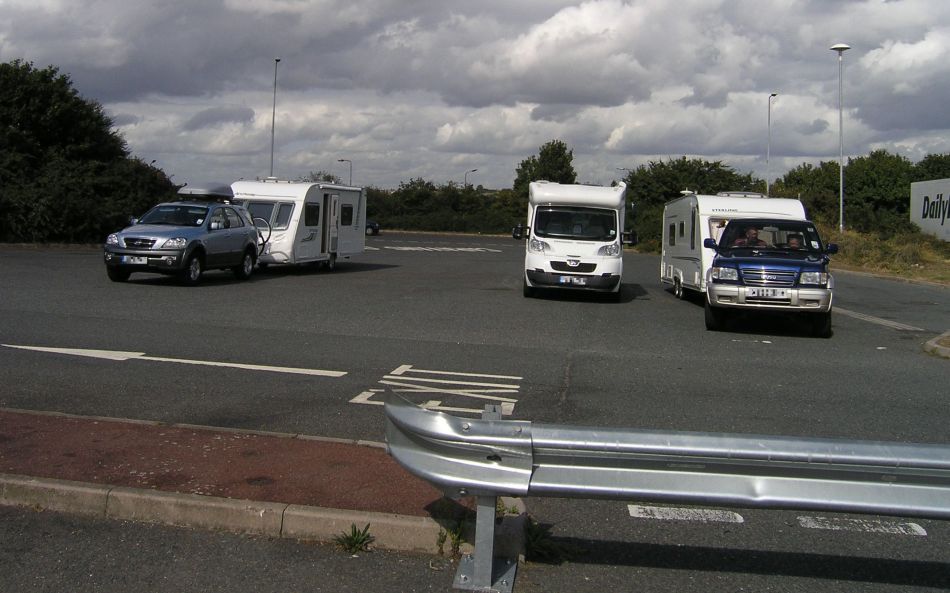 We eventually got on the road about 9.45am and within another 10 minutes were heading down the M1. It was busy but kept moving, even through the roadworks. The same was true of the M25. Going south we try and stop at the services near the Dartford Crossing as it has a nice area for caravans and being quite a distance from the facilities is rarely full of other vehicles which makes a change from most service areas. This was also our first tow with the van fully loaded and whilst the Sorento made short work of it I did sense that you could feel the heavier van.
With traffic and delays on this route being somewhat unpredictable we like to allow plenty of time to get to Eurotunnel and its always a bonus if we get there earlier. I got a bit of a shock when I went to auto book in. My name was already on the screen and a quick confirmation of that allowed me to select an earlier choice of crossing so we were 1 hour before our booked service. I was still puzzled how they knew who I was and it dawned on me that they must do it by number plate recognition. Makes life easier!
We had decided that we would stay overnight at Chateau de Gandspette which is a favourite overnight for us. It was also the first day, after the main season, that they accept Camping Cheques. Whilst there are still a lot of Brits here there is more of a mix now with quite a few of our Dutch chums here.
Wednesday 2nd September and time to be on the road again. We were heading for the north of Paris to meet up with our youngest son and his girlfriend and her young daughter. Its not a particularly lengthy journey so we try and use some N roads to not only see what they are like but if they save a few Euros in tolls that is an added bonus. We eventually join the A26 near Bethune having covered about 40 miles. The road varies from dual carriageway to slow single carriageway, but if you are not in a hurry does it matter? One advantage of N roads is that they are not as boring as the Autoroutes! We leave the A1 at junction 10 and make our way towards Compiegne and take the route round to the south through the Foret de Compiegne towards Soissons. We were behind a slow moving lorry all the way to Vic-sur-Aisne where we followed the signs to our next campsite, La Croix du Vieux Pont at Berny Riviere. Simon, Hannet and Joss met us at reception as we arrived. The man from reception took us to our allocated pitch which was massive and we did wonder if it was meant for two units but according to the site plan it was only one pitch. The site is very large with in excess of 500 pitches. Simon and the girls came along to help us set up. We put the Caravanstore up but it was pretty windy so we were not sure how long we would leave it up. Simon was in one of the Eurocamp mobiles and we made our way round in the evening for a BBQ.
Overnight it was very windy and the flapping of the Caravanstore caused a fairly restless night. The wind had not abated by the morning so we took the Canopy down. The site does have WiFi but in terms of cost it was just as cheap to use my Vodafone dongle and from the comfort of my own caravan. After lunch we went out to Soissons to a supermarket. In the evening we all went to the site restaurant for a meal which was very nice but as we have found recently not the cheapest of options.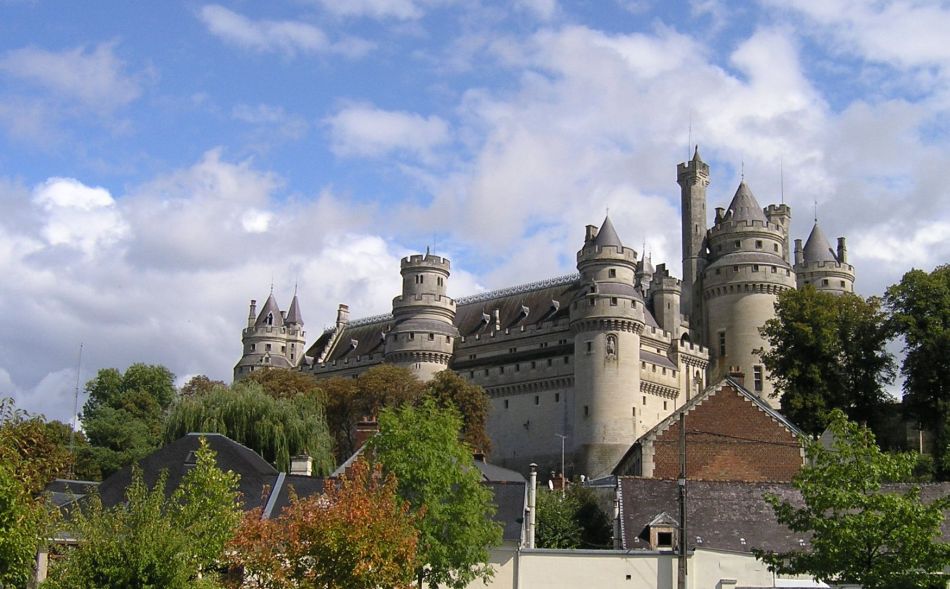 Friday, and Simon and the gang were going back to Euro Disney so Margaret and I had the day to ourselves. We had planned that after lunch we would go and visit the Chateau de Pierrefonds. Just as we were about to leave the sky darkened and we had a massive thunder storm and it bucketed down with rain. Within half an hour the sky was getting lighter and the rain had stopped so off we went. When we arrived at Pierrefonds the sun was out although the threat of rain was never far away. It is a very impressive building which dominates the town. The BBC series Merlin is filmed here and to our surprise the film crew were in residence, we even managed to catch a glimpse of Merlin and Prince Arthur. Not wishing to dispel any myths but it was interesting to note a young production assistant carrying Arthurís armour around in a poly bag and she was not struggling! The rooms in the Chateau were certainly impressive but empty of any furniture. As we left the heavens open and just for a change we had hailstones rather than thunder.
We had to be up early (for us!) on Saturday as Simon, Hannet and Joss were going home today and we had to see them off. Their ferry was due to leave at 5.00pm so they had plenty of time but they also wanted to stop off en route. After they had gone we went off to fill up the car and also to test a different route out of the campsite which looked promising. After lunch we had a cycle around the campsite and into the small town of Vic-sur-Aisne. Just our luck it started to rain so we had to shelter under a convenient shop awning. Eventually the rain did ease and we got the chance to have a look round. There seems to be what could be described as a Chateau opposite the pretty town hall. We noticed that people were gathering outside the ĎHotel de Villeí so we decided to hang around as we suspected a wedding. A bigger crowd had now assembled. All of my working life I had to maintain a certain sartorial level of dress and I would imagine that most people in the UK who attend a wedding make some effort to look smart. With the exception of the groom in a very smart army dress uniform and of course the delightful bride it was difficult hand on heart to say that a lot of the guests had really looked in the mirror before leaving home! The smart tarty look seems quite popular amongst some of the ladies. One man, in a suit which could have been smart, despite the colour, had the trousers not been at least 3 inches too long. Having let our bitchiness subside we returned to the van and started packing things away for our trip the following day.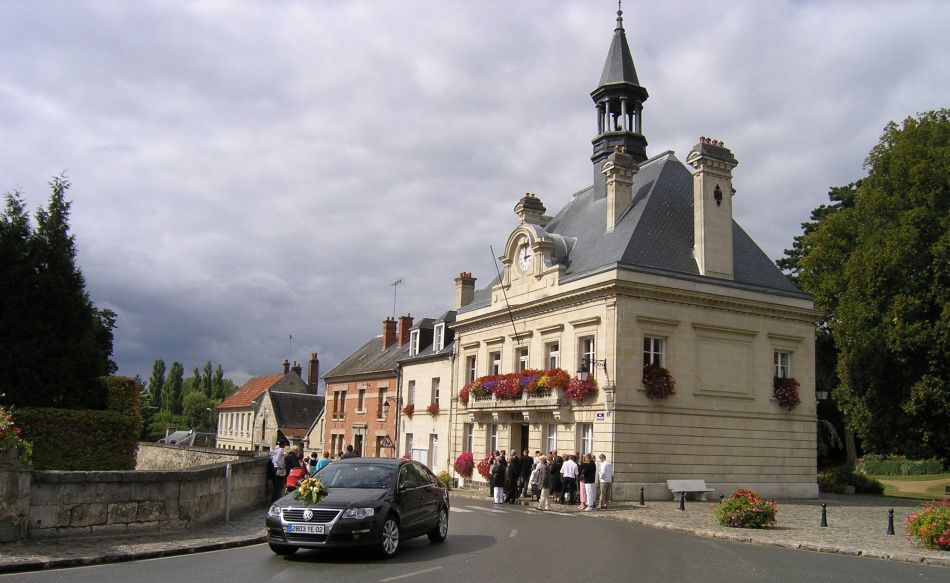 Sunday dawned bright and still, conditions that when we had seen them in the previous few days had not lasted. We were away by 9.45am and heading south to Nevers for a couple of days. Having got increasingly frustrated by some of the routes TomTom had suggested we decided to go back to old technology, Margaret and a map at least until we had completed the contentious part of the journey. Our route took us back to Soissons and then south west towards Paris on the N2, a generally good road which was in the main dual carriageway. As we got towards C de G Airport we picked up the A104/N104 which is a sort of M25 around the east and south of Paris. It seemed busier than we had experienced on previous times using this route. Although you had to chop and change to different roads from time to time it is all well signed and by now we had TomTom back on. Eventually we got to the A6 and started heading south. After a fairly short stint on the A6 we headed onto the A71 and this coupled with the N7 would take us all the way to Nevers. The toll on the A6 seemed fairly expensive but this contrasted with a tiny toll on the A71 covering a much longer distance. When we exited the toll section it was a DIY toll so whether we did anything wrong I donít know but Ä4.50 seemed far too cheap! We made good time and arrived at the entrance of Camping de Nevers a little after 2.30pm only to discover the campsite reception closed until 3.00pm. There was nowhere to park and we were completely blocking the entrance. A thoughtful Dutch lady from a nearby motorhome came to our rescue by letting us through the barrier so we could park inside the campsite. We eventually booked in and found a spot. The site has an enviable position on the River Loire overlooking the town. Now privately owned it was once a Municipal. Most of the pitches are on the tight side but are OK if you are not bothered about putting an awning up.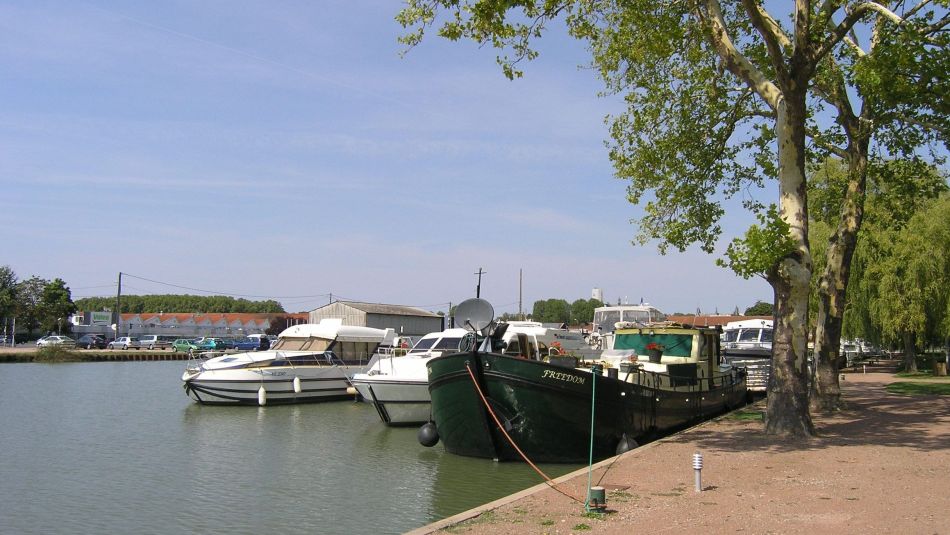 Nice not to have to rush although by 11.00am we were filling up with diesel. Back to the van for a coffee and then a bike ride to explore the nearby canal. The first towpath we went down was blocked so we had to return to the road bridge and use the towpath on the other side of the canal in order to reach the lock. Unfortunately there was no activity so we cycled back via the canal basin. To keep up the same level of activity after lunch we walked into Nevers. Itís a nice town with a sort of grandness you expect from Loire Valley towns. Unfortunately the Cathedral was poly wrapped which rather spoilt the view but I guess it will look better when they have completed their repairs. Unusually for an ancient building it had some very modern stained glass.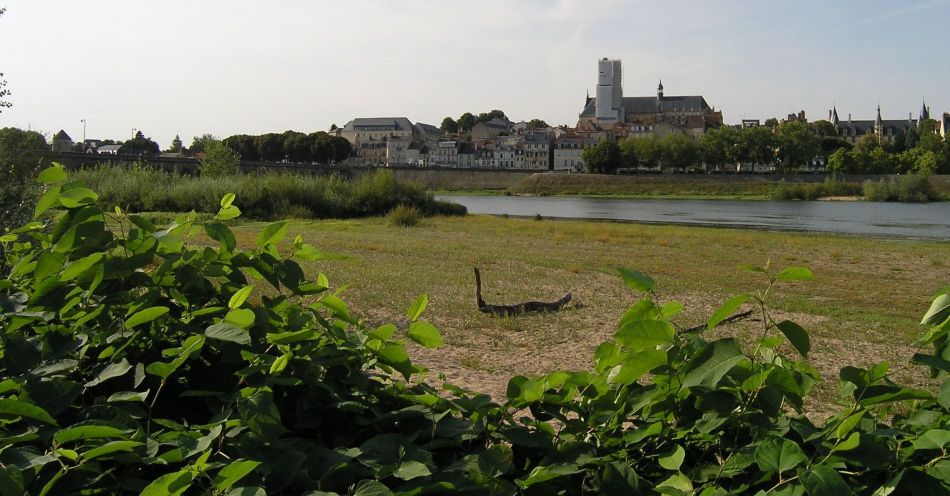 Tuesday and the start of our second week. We head further south today to just below Clermont Ferrand. From the site we headed out towards the N7 which took us past the Magny Cours Racing Circuit, unfortunately no longer the home of the French F1 Grand Prix and until they find a new home France will remain without a Grand Prix. The N7 is a nice road, mainly two way but with lengths of dual carriageway or third lane sections. This takes us down to the south of Moulins, where after a short cut across country we join the N9 to continue out southwards journey. At Gannat we join our first toll motorway the short A719 which takes us to the A71. We stopped at a service station which has a nice caravan parking area with 3.2 metre height barriers to stop lorries using it. This section even had its own toilet block. The toll section did not last long, and also not very expensive. Another automatic payment booth and I think we are getting the hang of these! Just north of Clermont Ferrand it becomes toll free, and a name change to the A75, all the way to the Mediterranean. We were only going as far as Issoire today to head out to our next campsite at Les Pradeaux. Our chosen campsite, Chateau de Grange Fort, is an interesting place which really deserves a longer stay. The owners are Dutch and very pleasant. I rather liked the warning notice in the toilets saying that unaccompanied children would be sold to the circus!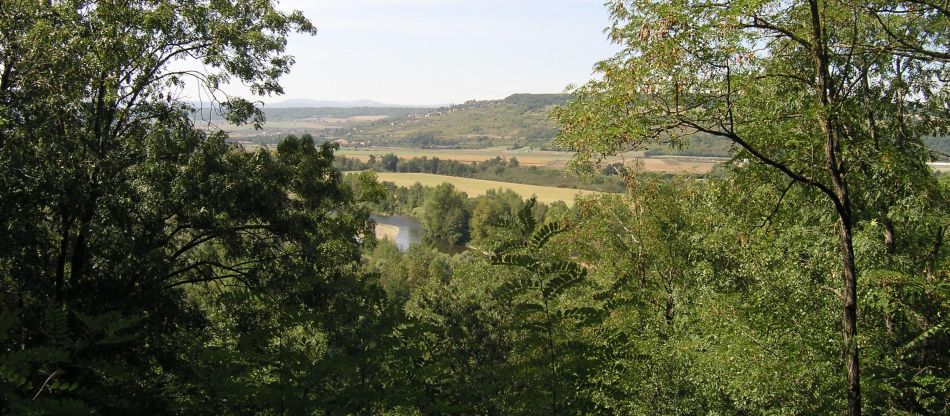 A rest today although we did nip into Issoire for fuel and a few essentials. On the way back we drove through the village of Les Pradeaux which seemed a maze of narrow streets. After lunch we followed the footpath down to the river Allier which is in the valley below the campsite. OK going down but it was a long climb back! Had a chat to several English couples most of whom seem to be heading home unlike ourselves who are heading south. Was able to pass on a lot of info to one couple who were interested in details of Camping Cheques and ACSI Card.

Thursday 10th September and we are about to embark on the final stage of our journey to the Mediterranean. It would have been easy to have stayed at Chateau de Grange Fort for a few more days, it was that sort of place but it was not in the schedule! We got away a little after 9.30am and were soon on the A75 which is a free autoroute except for the Millau Bridge toll of, as it turned out, Ä9. The A75 is a magnificent road although something of a switchback reaching altitudes of just over 1100 metres a couple of times and over 800 metres for most of the time. We have done the route south to north but this is the first time going south. Coming north we were surprised that you donít see any part of the Millau Viaduct until you are virtually on the bridge. Going south you do get a glimpse of the towers from some distance but then even they disappear. We stopped at the Aire by the bridge in the hope of getting a better view but that proved a bit difficult unless we were prepared to leave the car and caravan and go off on a hike. It would be better to stay in the area and explore by car. After the climb out of Millau you cross a big plateau called Des Grands Causses. From here it is almost constant decent down to Pezenas where it flattens out as you approach the coast.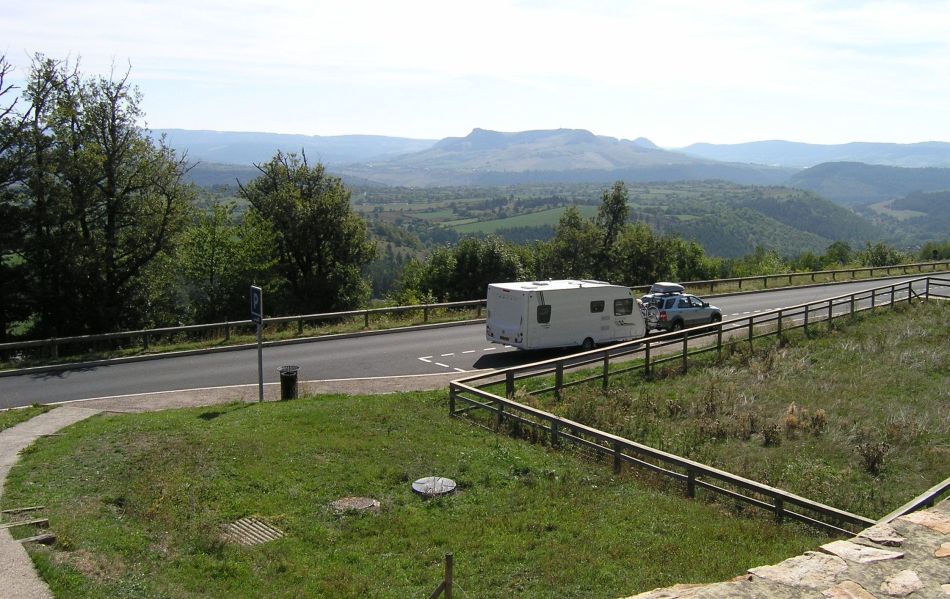 TomTom seemed to not be too sure where we were going on the final approach to our campsite, Camping Neptune. We did a circuit through a Lidl car park before getting on track. In the end we found it and booked in at reception. We did not have a very large choice of pitches to look at, three in fact. We set off on foot to check them out, one already had a caravan on it, another backed onto a dried up stream which we felt could cause problems so it was Hobsonís choice! The access roads to the pitch were a bit tight and one turn required a second attempt! When we got the pitch there was a car parked belonging to the French people in the static opposite. They did move it but one got the impression they would have preferred not to! Although the pitch was quite large it had a tree in the middle at the front so we carefully edged in using the mover. We got set up and tried the satellite dish. This is the first time this holiday that I have not been able to get a picture within minutes. Itís partly due to overhanging trees so we will try again tomorrow.
The total cost of tolls from Calais to the South of France has been about £42, quite a bit less than we normally spend. We have, where possible followed non toll routes only going onto Toll motorways when necessary. However one observation I would make is that our fuel economy has not been as good but still worth while in cost saving terms. The pitch we have here at Camping Neptune has been the cause of overnight worry, mainly due to access and exit concerns. However in the cold light of day we did not really relish the idea of moving to a new pitch so have decided to stay put. Still been unable to get a satellite picture but have discovered some of the leads may have been past their best so will need to look in the local supermarket when we next visit. On the plus side we have an excellent French digital television signal so just hope they transmit the Grand Prix on Saturday and Sunday. Not left the site today as too busy with chores like washing. Fortunately a nice sunny and hot day so everything dried well.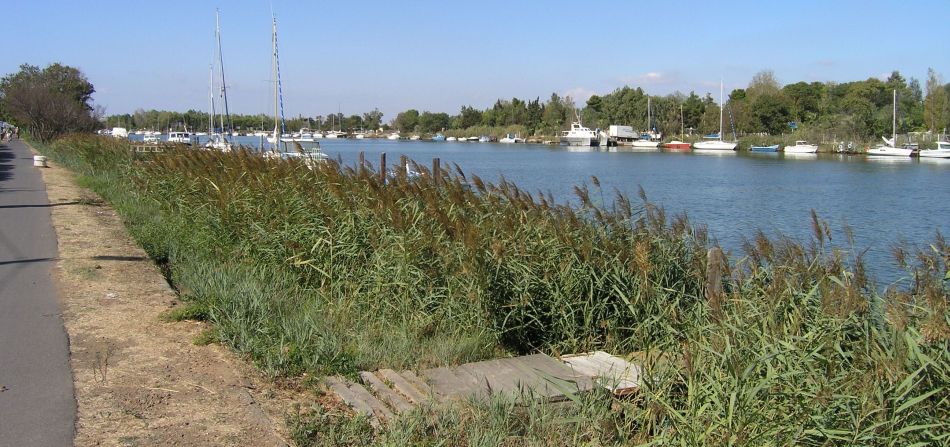 Off to find the supermarket we had seen from the road to the campsite. It was big enough but could we find the way there! Having tried to approach it from every direction we eventually got there. Saturday is a bit of a stupid day to go but there we are. The general confusion was not helped by what seemed a VW convention on part of the car park. Back for lunch and Grand Prix qualifying. Camping Neptune has WiFi in the bar area at a reasonable cost but the bar is not always open so you have to find somewhere to perch. They also boast an on pitch system which seems quite complicated and costs about Ä6 a day plus Ä150 deposit for the equipment. Apparently the internet signal travels around the site electric cables. So the enthusiastic publicity for the system on their website is a lot more complicated than first thought. I wonder if most select the WiFi option. The French people who inhabit the statics around us seem to have been having a bit of a shindig today. Perhaps they are all about to depart in the next few days as most parts of the site, except essential services shut down early next week. There is certainly an end of season feel about the place with more people leaving by the day. It does surprise me that sites donít make more of the opportunity. Just imagine Caravan Club sites all closing by the end of September!
A late start today, well it is Sunday and a proper English breakfast! Even the smell of bacon does not bring the British out from their self imposed exile on their pitches behind their cars, awnings and windbreaks; mind you it could be me they are avoiding! Being one of those annoying Brits who actually makes a note of nationality and will, giving the chance of eye contact, say hello. I donít insist on it going any further. It amazes me that Brits donít even wander around a campsite with at least the pretence of curiosity about their other countryman. A specific question and you are usually on safe ground but general conversation is often much more difficult. I suppose having spent my life dealing with the public its second nature to me to want to communicate but I seem to be in the minority. Anyway, more important things to think about as itís the Monza Grand Prix today. We know that we can watch it on French television but the presentation leaves something to be desired and they have adverts! One last try at the satellite using the new connections I got at the supermarket the day before. No luck what so ever. Either I am rubbish at making up F socket connections or I have a problem elsewhere. I think I need a Bricolage! We did settle down to watch the race on TF1 and Lewis Hamilton looked strong until the last lap when he lost it. Now looks as if Brawn GP have the Championship wrapped up although which driver will eventually be the F1 Champion is not so certain.

Monday and after 3 full days on site we thought we should get out and about so after breakfast we rode on the bikes down to the Grau de Agde. Its cycle path for most of the way but the last bit is through the shops and restaurants on the quayside. Its perhaps a little less sophisticated than some Mediterranean resorts but that adds to its charm. There are lots of narrow streets and there is a nice stretch of sandy beach. We made our way back along the cycle path that runs parallel with the LíHerault river. Cycling past a new arrival I said hello to a new Brit only to have him shout after me that, I, David Klyne should be more careful about the information I leave on caravanning forums! It turns out to be ĎClubmaní who contributes to the Caravan Talk Forum and we have discussed travelling to Europe on the Board. Its only the second time this has happened that I have actually met a live forum member whilst abroad. After lunch and a short burst on the site WiFi we went off on the bikes again. This time towards Agde, again along the riverside path. We wanted to find the Canal du Midi which crosses the river just north of Agde, this meant crossing the river by the main road bridge and then joining the towpath. We were looking for the circular lock which does sound a bit daft. However when you see it you realise its quite a clever idea. It allows boats to join the river at two different levels, one above and one below a weir. We were lucky as there was a large pleasure boat, possibly a hotel boat, going through the lock when we got there. We cycled back into the old town of Agde, not to be confused with Cap díAgde which is nearby and no doubt takes its name from Agde. Again lots of narrow streets some of which have been pedestrianised. It seems a nice little place with lots of shops and restaurants. Even managed to buy some fresh milk before heading back to the campsite.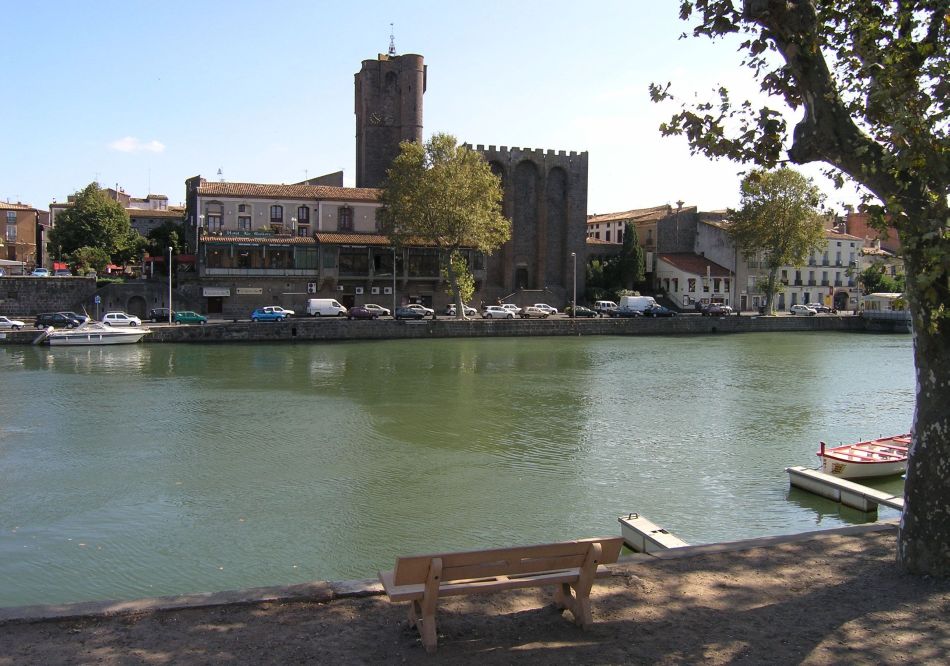 We have been lucky with the weather here and Tuesday dawned bright. We set off to Mr Bricolage as we needed to get some new connections for the satellite system. As I was on my hands and knees sorting out my connections I was approached by a French lady who needed help with selecting the correct light bulbs. I was able to help her with my limited French, she obviously thought I was staff! It seems my idea of buying cables with moulded F sockets does not provide the best option. I struggle with manually constructed F sockets but I have bit the bullet and spent several hours reconnecting all the F sockets. I had also spent some time on the internet when disaster struck. Although to some it might have a slightly comedic element the plastic chair I was sitting on collapsed and the underside of the seat scraped right down the lower part of my right leg and ankle taking the skin off in the process. With visions of Boppard last year I rush back to the caravan. It was pretty sore and flesh was exposed. We cleaned it up as best we can and now just hope that it starts to heal. In fairness it looks more superficial than the previous wound, time will tell.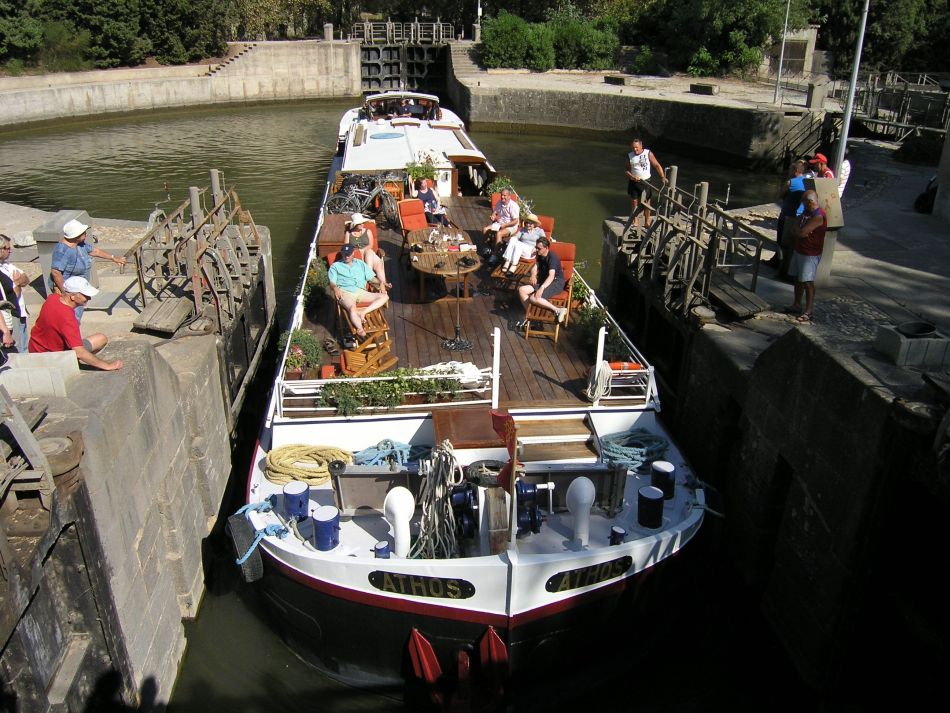 Wednesday and our last full day at Grau du Agde. We decided to drive into Cap díAgde. The only problem was that every car park we tried to use had a height barrier which we thought was too low for the Sorento plus roof box. Cap díAgde is a surprisingly big place although it is largely manufactured and as such I suspect it lacks a bit of character. We had no option but to return to Grau du Agde where we did find a car park we could get into. Grau díAgde is growing on me as its unpretentious, it has restaurants that seem good value and it has a nice beach. The same could be said of Camping Le Neptune, it has also grown on me. It is far enough away from the beach to maintain a peaceful environment and yet near enough to everything you might require from a holiday. OK it has a few quirks but then what French campsite does not! We have been blessed with 7 days of sunny weather and a lovely temperature, warm enough to make you realise you are in the South of France but not swelteringly hot.
Thursday and time to move on. This time into Spain a country we have not visited since 1992. We are heading for LíAmfora at Sant Pere Pescador, literally only a few miles into Spain. First task of the day was to get off the pitch at Le Neptune which we did manage unscathed. Clubman, AKA Gordon and his wife Audrey came to say goodbye. They were familiar with our next site and said it was very good. However there was a slight smile on his face when he mentioned the road through Sant Pere Pescador! Having got out of Le Neptune we had to navigate around the one way system and heading in the general direction of the A9 Autoroute. The first 10 or so miles were on N roads and we joined the A9 near Perpignan. This motorway is quite strange to tow along as being so near to the sea there are often lots of cross winds so care is required. As you approach the Spanish border you start to see signs saying last Service Station in France or last Aire in France. Seems an odd thing to say! Once over the border the whole street architecture changes especially the advertising hoardings. TomTom took us past Figures and off at junction 4 and then onto the C31. There seemed to be a lots of road works going on so we missed our turning so we went on until TomTom told us to turn left. We had to snake round some very tight roads between stone buildings; fortunately we did not meet anything coming the other way. Once past the buildings the road opened up into quite a decent road, albeit a bit narrow. The worse part was going through the town of Sant Pere Pescador. We went down roads so narrow I am not quite sure how we managed to get through unscathed. If I had opened the car window I could have easily taken a drink from a waiterís tray! Again once out of the town the roads became much wider and we managed to find the campsite. LíAmfora is very large with something like 700 touring pitches and it seems it has facilities to match. We found a pitch which is a pretty decent size with electrics and water on the pitch but like a lot of sites on the continent no place for grey water disposal unless you take it to the toilet blocks. Had a ride round the site to find all the facilities and even found the beach which looks good.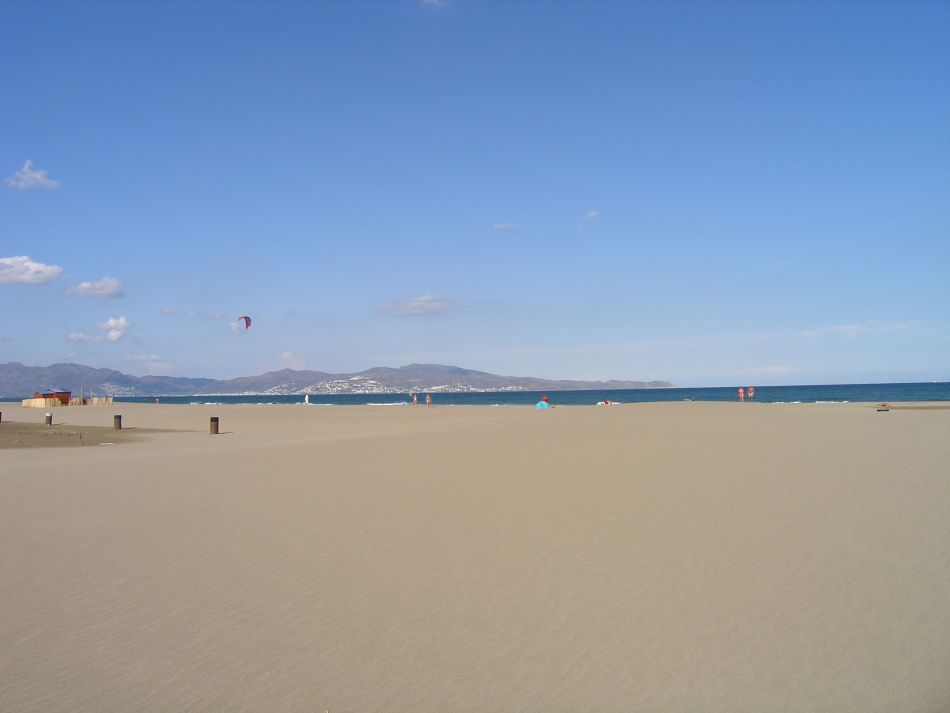 Awoken at 2.00pm in the morning by a tremendous thunderstorm and heavy rain. We were a bit concerned that by the morning the pitch would be a quagmire but despite grit being thrown up everywhere it was not too bad. Despite the thunder I was more concerned about how my leg was doing and this was to be the first dressing change since it happened. Fortunately it seemed not too bad and there seemed to be no extra bleed just the expected exudate, even that was not excessive. The reason for the concern is obvious given what happened last year in Germany! Across the road from us is a nice English couple Don and Doreen who seem quite chatty and have helped with pointing where things are locally. In the afternoon we drove towards Figures to the Carrefour supermarket. This will be the second Carrefour we have visited outside of France, if you ignore their fore ray into the UK many moons ago. They seem to be different animals to their French counterparts, no where near as neat and professional. At least going to and from Figures we got to see the route we should have taken through Sant Pere Pescador. We have got a fairly decent satellite picture here, just a little breakup of the ITV channels at night. We were surprised how many children seem to have appeared today, I suppose with their parents for the weekend. We are near the main drag and the restaurant/bar seems to stay open quite late and as result there was quite a lot of noise. As an object lesson had we been a bit further into the site I expect we would not have noticed anywhere near as much.
Saturday seemed to dawn a bit dull so we thought that a bike ride into Sant Pere Pescador would be a good start to the day. Not too much road riding. Itís a fairly small town and difficult for us to judge how typical it is as, yet, we have not seen many! Narrow streets with a selection of small shops and cafes here and there. Scary to see the roads where we towed the caravan including a no motorhome sign on one of the roads we towed down! The afternoon brightened up so we walked down to the beach which had surprisingly firm sand. From the beach you look out across to Roses on the other side of the bay. Whilst some units have left as many are still arriving and although there is plenty of room there are quite a few here.
Being Sunday we thought we should give the beach a try so off we trundle with chairs, bags and umbrellas. Emerging from the shade of the site trees we realise how hot it is and little wind. We set up but soon realise that it is unbearably hot and you sense every inch of exposed skin will burn. Obviously we are used to more hardy temperatures but our Spanish and Dutch chums seem to revel in this sort of heat. I try and remind myself we are in the second half of September not July! I donít suppose we were there for more than half an hour before deciding to return to the van. The strange thing is that away from the beach the temperature is nowhere near as hot, in fact during the afternoon it clouded over and quite a bit cooler. Later on a UK motorhome parked on the pitch next door. They were telling us that LíAmfora was their second choice campsite as they could not get on their first choice as it was full!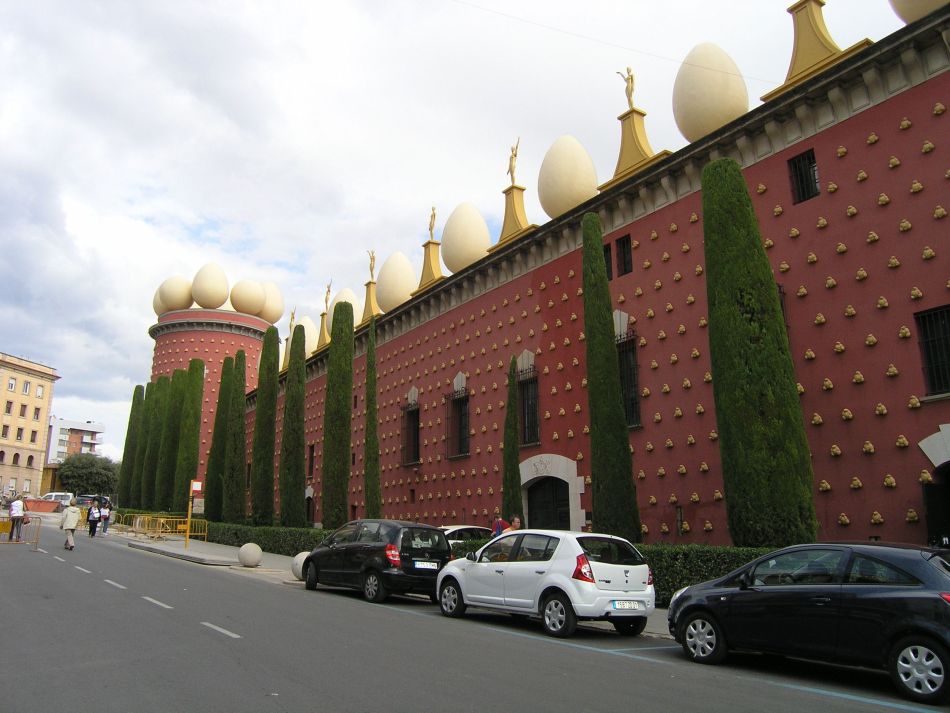 Today we drove to Figeres to visit the Dali Museum. Itís quite an interesting town to navigate through with many one way narrow streets. At least the Museum was signed which we followed with no idea where we were going! The Museum is as strange as many of the artists painting but then I suppose we should have expected that. I had anticipated that it would be difficult to find a parking space a feeling somewhat confirmed as we arrived outside the Museum to find they were digging up the road. By some stroke of luck immediately we arrived a car pulled out of a parking space on my left and in I went. We could have hardly been closer! I went off in search of a ticket machine which I discovered hidden behind a lorry. It said maximum parking two hours at a cost of Ä4.20. OK I thought and got my ticket which seemed to suggest I could stay until 17.29pm! I imagine there are times of the day which they donít charge as you sometimes find in France but given my Spanish consists of only a few words I was unable to make out the exact meaning of the instructions. We found the entrance to the Museum which was once a Municipal Theatre. Understandably it is a surreal sort of place but quite fascinating. Now I donít understand what he was all about and Margaret was convinced he was a bit unhinged to paint like that! However I think you can see how his art has influenced many things that followed later like Monty Python, Gerald Scarf, Star Wars and even Wallace and Grommet. That is not fact but an impression I have at looking at some of the works of art. Our admission price also gave us entrance to the Dali Jewel collection just round the corner. Absolutely fascinating especially the pieces that moved!
At the end of our visit we somehow found our way out of town and back to the campsite. Weather wise it had been a funny day being overcast but still warm, almost muggy. It was also quite windy and after our experience last year in Germany with the Caravanstore we were a little concerned. I have put on extra guy ropes in the hope they will help if the wind gets too strong when we are not at the van.
It was still very windy when we got up today although I was not convinced it was any worse than the day before. Another strange occurrence, two chaps had pitched their tents on the pitch right in front of us. I suspect they had moved back from nearer the sea. Strange that given all the empty pitches, where they would have been on their own they pitched next to us. Some people have no sense of privacy!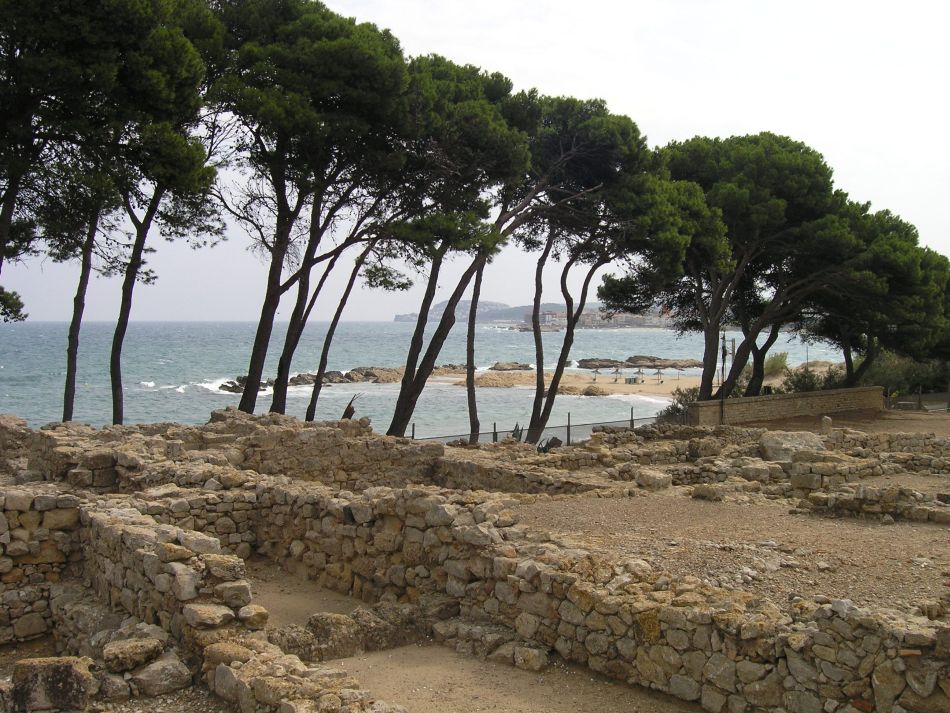 We were heading out to LíEscala today but en route stopping off to see the ruins at Empuries which have been excavated. It consists of an earlier Greek settlement and a later Roman town. Interestingly right by the sea which is perhaps not so unusual as it was a Mediterranean trading post. Quite fascinating to see the construction and artefacts. Within the complex is also a small Museum and guess who set off one of the alarms for going too close to one of the exhibits! After our visit to the ruins we drove into the town of LíEscale where we were able to park on the sea front which allowed us the opportunity to have a walk round. It was even windier here so you can imagine that our thoughts turned to what was happening at the van and the Caravanstore although it was perfectly intact when we returned. On the way out and back we searched for the mysterious camping shops that our Brit chums had told us about but to no avail. We did pass some famous name campsites on our way back but they seemed firmly closed up for the winter, strange given that there is still a demand for camping at this time of year.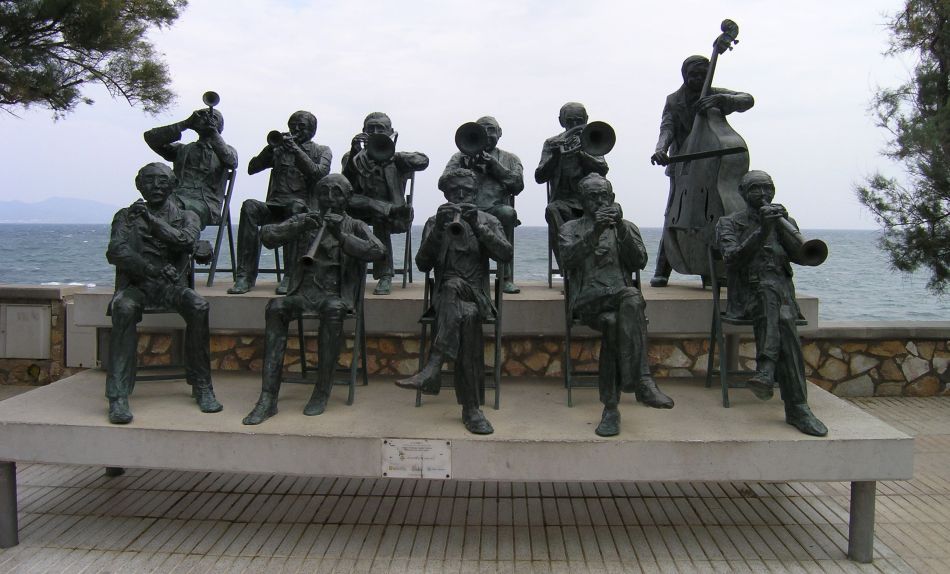 Our last full day at LíAmfora. We drove out to have a look at Roses but stopped at Empuriabrava en route. I was puzzled by the block representation of it on the map. It seems to be a Port Grimaud type place with houses built along canals. The value of the boats in the Port could likely solve the debt problems of a small country! We drove onto Roses and just drove around the sea front and then back to the van. After lunch we filled up with diesel. Sodís law being what it is it has been a lovely day today and a lot less windy.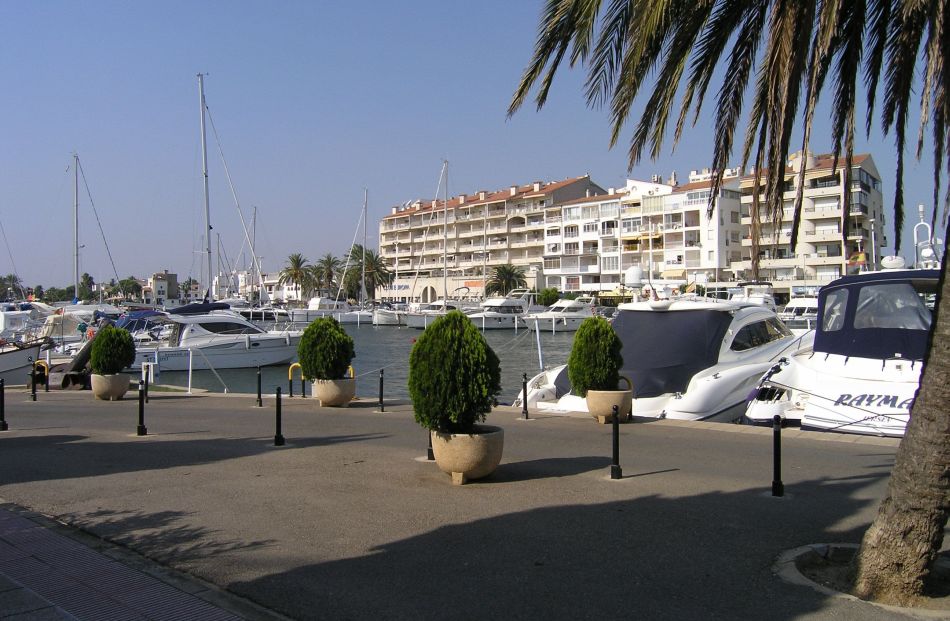 Another day another country! We were up early today as we wanted to be at our next site, in France, before midday as reception closes for 3 hours! The jury is still out as to whether it was worth the rush! We were away from the campsite by 9.00am and over the border by 10.00. The A9 along the Mediterranean coast is one of the most difficult motorways to tow along because the wind seems to come from every direction and really does affect the stability of towing a caravan. Mind you it was a generally windy day and even the A61 caused some concern. At least we got to the campsite before it closed! The site, Camping Grand Sud, is not exactly crowded with about half a dozen units. Hardly surprising given that nothing other than the pitches and a couple of toilet blocks are available. Even if the WiFi was still available and bread available for ordering it would be something. Not impressed so far. We could move on but that means we miss the opportunity to visit Carcassonne. At least we have a decent satellite picture so should be able to see the Grand Prix. Later in the after noon we drove out to Limoux to have a look round.

Friday and a return visit to La Cite, the medieval city just outside Carcassonne. Famous in its own right but also for the setting of the film Robin Prince of Thieves. As on a couple of occasions this trip we yet again encountered low car park barriers this left us with to only option of going into the coach/motorhome car park at a cost of Ä5. We find the roofbox a really useful item and to have to remove it at every stop would be a real hassle. La Cite is free to walk round although there are parts for which there is a charge. Not unlike Mont St Michel in terms being touristy however it is a massive structure which looks even more impressive if you can find a view point from a distance. After having a look round inside the Cite we walked as far round the outside as we could.
Saturday was a fairly quiet day but we did go out to Limoux to fill up with fuel and a little shopping. It was of course GP Qauli and Lewis Hamilton did well to get on pole with Red Bull second and fourth.
The following day we awoke to find ourselves the only ones left on site. However this did change and by the evening there were another five outfits including two other Brits. The afternoon was taken up by the Singapore Grand Prix which resulted in a win for Lewis Hamilton and not too bad for Jenson Button who added another point to the cumulative difference between himself and his nearest rival. It seems increasingly unlikely that any other team can overtake Brawn GP.
Monday and our journey north continues, this time to the Dordogne. We were away from the campsite a little after 9.00am as we had to pay on the day of departure rather than the day before as we normally do. We decided to use toll motorways as it was a relatively long journey for us of a bit over 200 miles. Apart from around Toulouse and Montauban it was a relatively quiet trip. The A20 is quite spectacular as it makes its way through the Lot and Dordogne. When I was planning the route I was a bit concerned that TomTom was taking us too much across country so I thought it best to continue to Brive and head towards the campsite at St Leon sur Vereze. For the most part the route from the autoroute was fine but certainly tight in places. On arrival at Le Paradis the contrast with Grand Sud which we had left this morning is vast. Beautiful planting, excellent facilities and all still open. When I went to book in I was warned there was to be a BMX competition next weekend and we might like to select a pitch away from the area it was being held in. We were also invited to have a welcome drink when we had settled in, that beer went down a treat! Funnily enough our new neighbours we had met before on our trip earlier in the year and coincidentally were also at LíAmfora in Spain at the same time as us.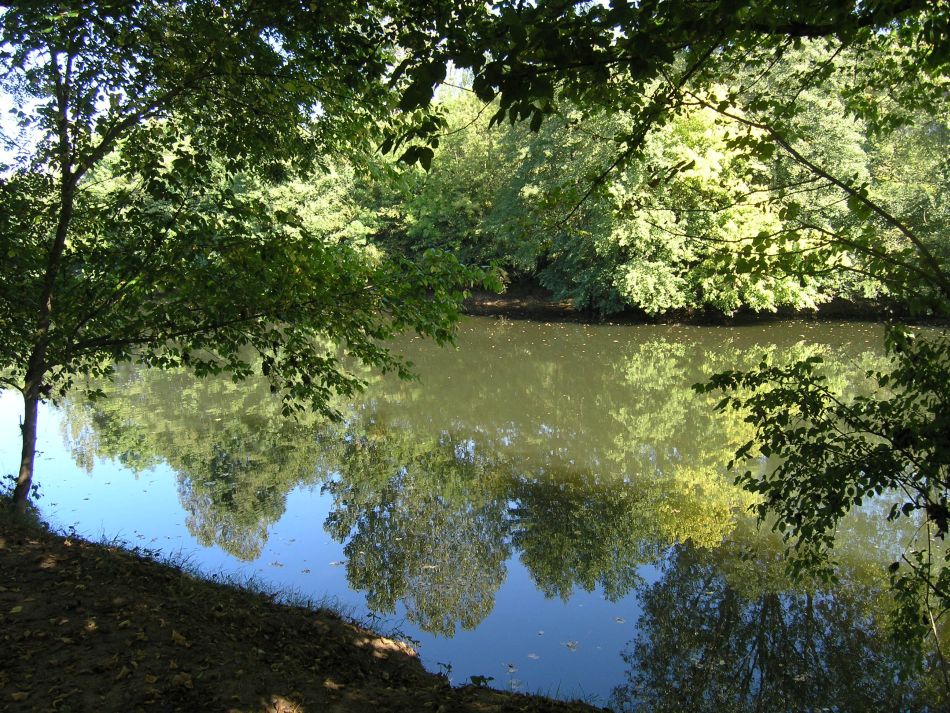 Work day today with a double load of washing! Not only clothes but also the rear of the van and the car to remove the accumulated dust of the past couple of weeks. Something we noticed that seemed to be a bit odd. On a vacant pitch across from us people would appear and start searching the ground. Curiosity eventually got the better of us, so we went to look. It was walnuts that were causing the excitement! Now we usually get ours from Waitrose but it was quite exciting to be able to pick them up off the ground, where they fell, and be able to crack them open and eat them. It was also clear that I had never eaten a fresh walnut before as the taste was quite different, more moist and sweeter. On a walk around the site later on we discovered more trees and gathered a few more up. I had not fully appreciated that the nuts grow within a soft casing which, as it ripens, splits and allows the nut to fall to the ground. It seems the BMX competition this coming weekend might not be quite what it seems, perhaps lost in translation! For BMX read Mountain Bike and it appears that the campsite is the start and finish of races/rides of various lengths. They are expecting around 1000 people to take part-seems like a busy weekend!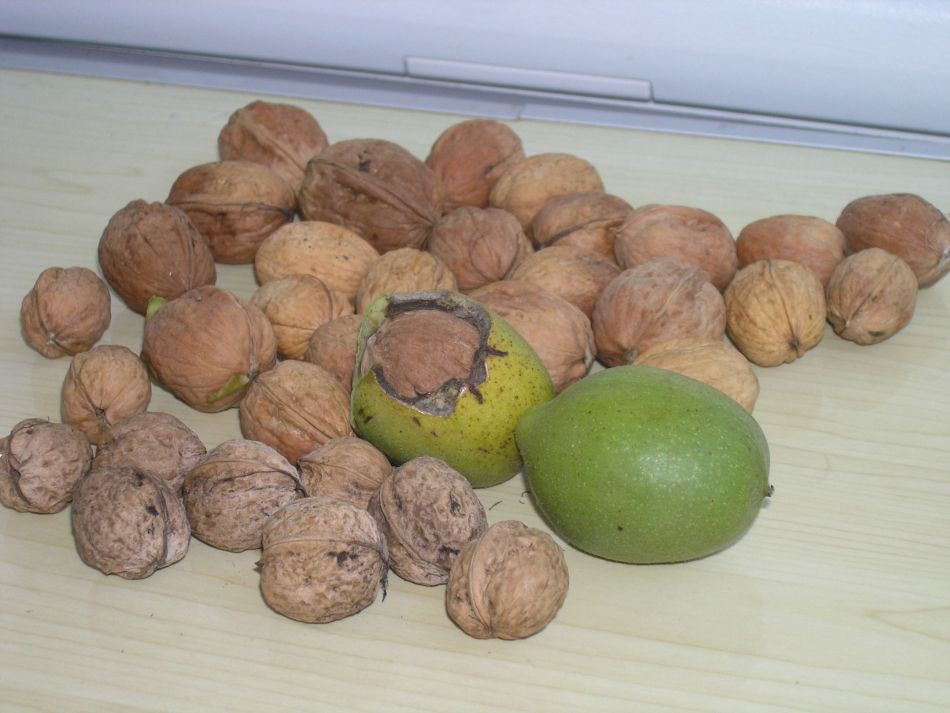 Wednesday and time for another dressing change. Although clearly my leg was not anywhere near as badly injured as last year it is perhaps understandable that I would be a bit nervous. The good news is that the wound seems to be making good progress and is now quite dry. If there is no exudate next time I change the dressing I will be tempted to leave the dressing off. Perhaps other people are not as clumsy as me but I wonder what other people would do in a similar situation? Going through what I experienced last year has taught me quite a lot although I accept I am no expert. It also illustrates there are a lot of myths around when it comes to making a decision on what you should do if you have minor a wound and perhaps donít have immediate access to medical facilities or as is more likely reluctant to put your language skills to the test. One thing the accident in Germany brought home to me was the need to have proper dressings available in the van. There is a view that wounds should be left uncovered to let the air get to them. Now obviously it will depend on the severity but the accepted wisdom is the wounds of a more than superficial nature should be cleaned and kept covered to help the healing process take place in sterile and more moist conditions. As for cleaning the wound itís a good idea to have a supply of sterile gauze wipes used in conjunction with clean water not antiseptic wipes. Initially expect the dressing to become stained with exudate which is a clear liquid produced by the body to help the skin repair itself. If there is excessive blood it could be an indication of a more serious problem, especially if it appears on more than the initial dressings and medical advice would be advised. You can buy larger wound dressings from places like Boots although they are quite expensive in comparison to Elastoplasts. Another worthwhile addition to the dressing cupboard is a special open knit gauze which can be placed directly over the injury with the plaster dressing on top. What this does is to prevent the dressing sticking to the wound which aids recovery. I was told that any wound injuries of this type should be well on the way to recovery after 4 weeks at the most. If there is little sign of healing you really do need to see a doctor as there could other reasons stopping it from healing.
Back to more mundane things, after breakfast we drove out to Montignac for some shopping and to fill up with fuel. Itís about 8 miles from the site and as you drive along you are aware of why people find this area so attractive and a popular place to buy a home. It has a certain gentleness which prevails. Intermarche also recognise this as it has a special section for popular British foods although they are sold at a considerable premium compared to home. On the way back to the van we drove through the village of St Leon sur Vezere which is a pretty place on the river.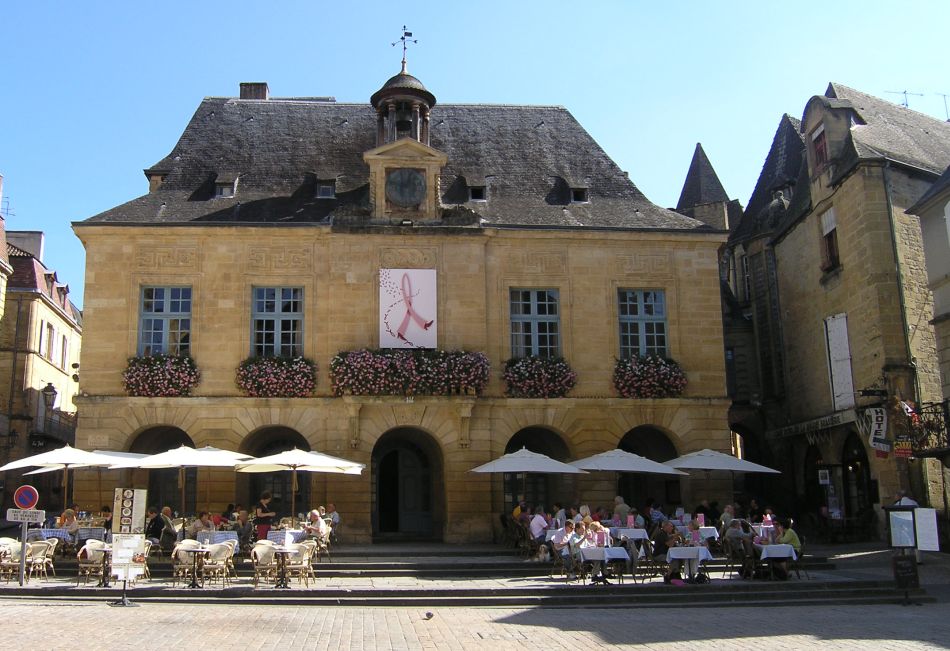 1st of October, can you believe that! Whilst it takes time for it to get light in the morning and it is dark about 7.00pm and is a bit chilly at night the daytime temperatures are still in the mid 20ís. We went off to Sarlat today which I suppose is the unofficial capital of the Dordogne. We have been a couple of times before but it always enchants with its mellow sandstone buildings which catch the light. Some might argue that it is no more than a tourist destination but it is by far the largest town in the area so I think its more than that. Most is now pedestrianised, although in France that does not mean car free! There are grand squares and narrow alleyways. There are many shops and a covered market selling products of the region.
On the way back to the van we again drove into Saint Leon sur Vezere. This time we stopped and discovered it had a lovely little Municipal campsite right on the river. It was still open but unfortunately with no customers when we were there.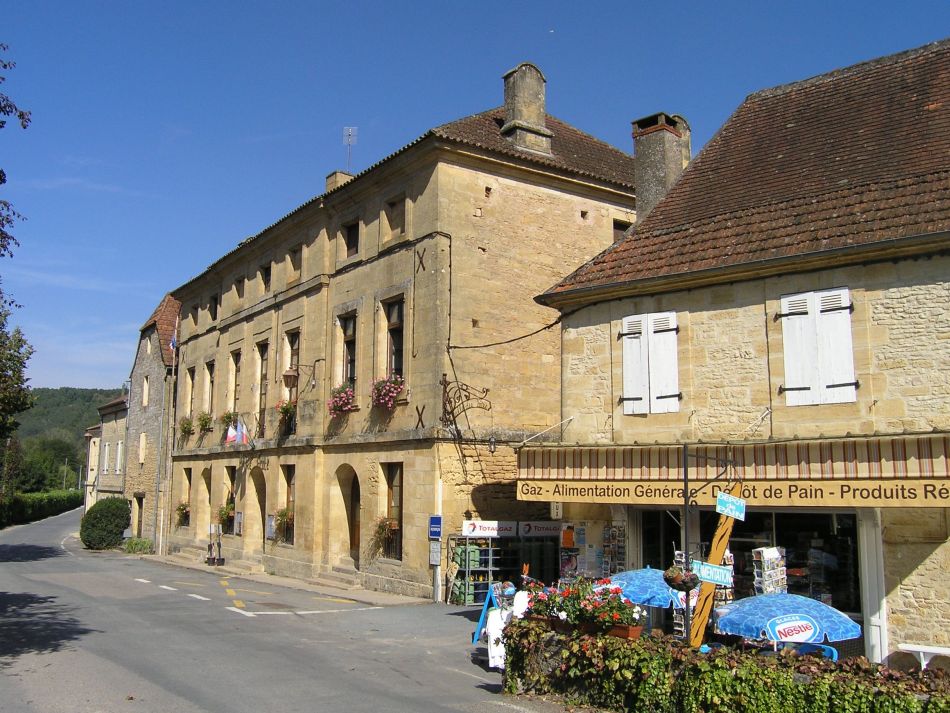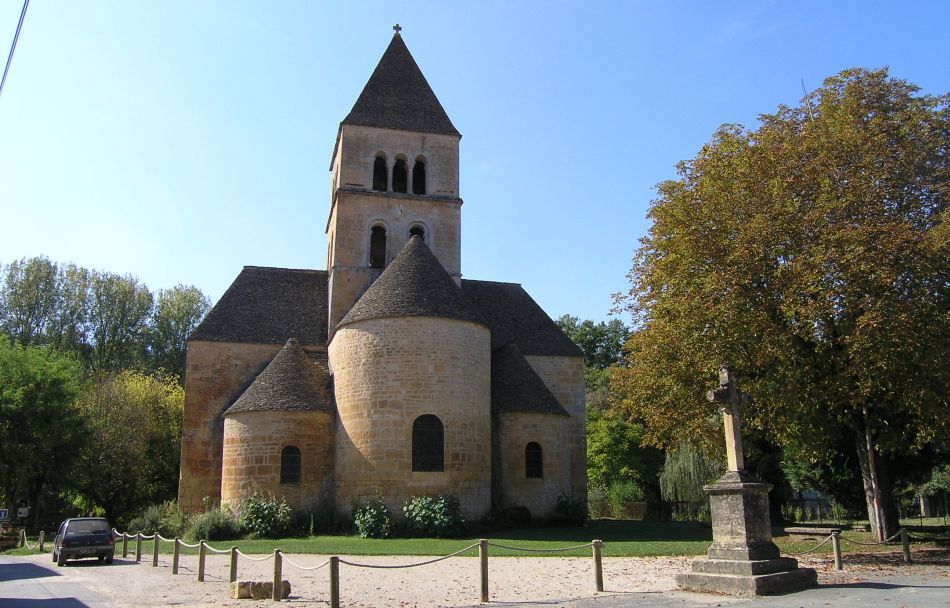 As a special treat we went to the site restaurant tonight. Very nice food, albeit a bit nouvelle cuisine in terms of volume and not inexpensive.
Friday and the first day here when it has not been bright, sunny and hot. It is a little cloudier and not so hot. Not that itís so important as we are off to Terrasson for some shopping. There was still only an Intermarche, sorry Gordon! Most supermarkets have jingles but Intermarche seems to have that little tune they play in Holby City!
We awoke at 5.45am to watch the quali for the Japanese Grand Prix which turned out to be an unusual affair with several cars crashing causing red and yellow flags. It was surprising chilly when we got up and we needed little persuasion to put the heating on, the first time in the new van. The weekend has arrived and the campsite is in preparation to be en fete on the Sunday. It seems that annually the campsite help host a mountain bike event in which there are up to 1000 participants. Much work is going on with marquees and catering stalls being set up. Whilst all this work is going on it is noticeable how much the site occupancy has thinned in the last few days. Whilst the day time temperatures are still quite hot, in the sun, they have certainly started to diminish at both ends of the day.
Another early start to watch the actual Grand Prix on Sunday. A good win by Vettal of Red Bull, which means the Championship has still not been decided. Despite it being dark outside we were aware of lots of people arriving for the cycling event. When the GP finished we wandered over to the area where the event was being held, it was packed. Perhaps not the day to arrive or depart from the campsite! Its interesting how people who are unused to campsites act when they are actually on one. They think nothing of walking over someoneís pitch if it means a short cut they also seem to have no perception of how much noise they make! By the evening most had gone and the campsite returned to its normal calm state. We are heading north tomorrow so we have taken the canopy down and packed most things away. Not much point in setting the alarm too early as it does not get light until about 7.30/8.00am.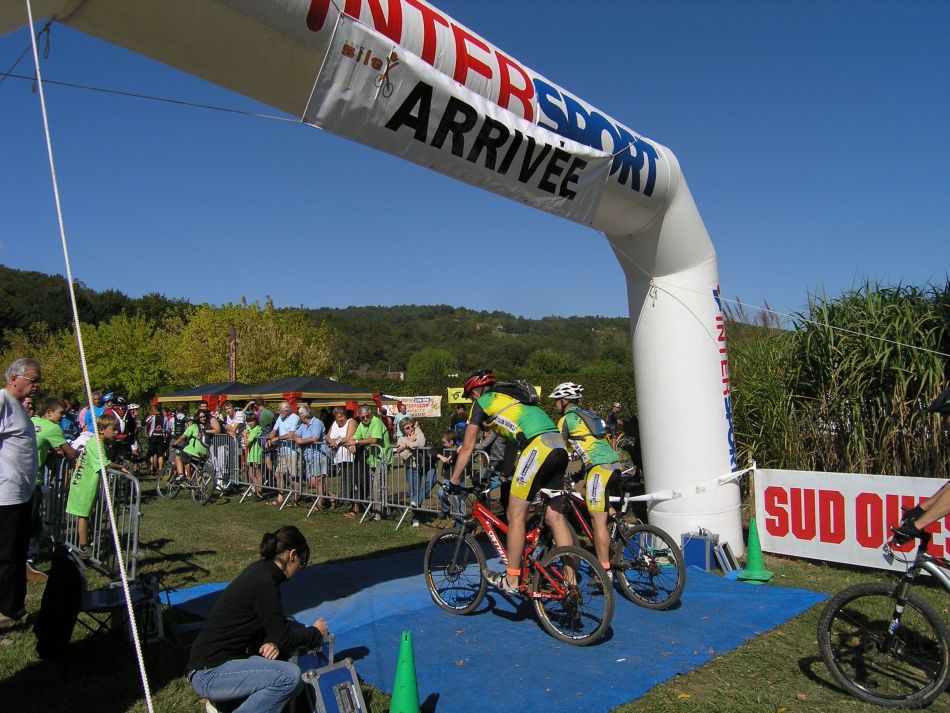 Monday and we are away from the site just after 9.00am. The initial part of the journey to Brive was slow. Although we did nip onto the A89 briefly, at the cost of Ä1.60 to get us to the A20 for the journey north. Most of the A20 is toll free so like the A75 south of Clermont Ferrand its worth using if it does not take you too far out of your way. We were on the A20 for about 130 miles before leaving it at Chateauroux and heading across country of D roads. The D956 is straight for about 8 miles, although it does having a few hidden dips. In Levroux I ignore TomTom and follow the Autres Direction signs to avoid some narrow roads through the town. After Valencay we are on even more narrow roads but fortunately they were fine and Camping Les Cochards was easy to find. By the end of the early evening there were about 11 units on site, including a few Brits, the obliglitory Dutch and a surprising number of French in both caravans and motorhomes.
There was some rain overnight but not really heavy but it did have the effect of pushing the temperatures higher. It was a bit grey when we got up but by the time we went out for some shopping the sun was making valiant efforts to rid us of the clouds and it was weirdly hot. Pretty lazy afternoon although we did walk down to the river and sailing club to have a look round. Dotted around the site are some gazebo type structures which from the brochure look as though they can be converted to tents when sides are added. We have one immediately behind the van and we are using it instead of putting the canopy out. The owners came around the site later on saying that they would not be on site tomorrow, I think they were concerned if anyone wanted to leave!
Before lunch we drove out across the river to find the Canal du Berry which I had seen on the map. We did not have a large scale map so there was a bit of guess work involved. We knew we were somewhere near when we spied an English narrow boat on the bank of the canal! Eventually we took a side road which took us to Chatillon sur Cher and then followed a sign pointing to the canal. There we discovered a nice parking area next to the canal where it crosses a river via an aqueduct. We stopped to take some photos and moved further towards Selles sur Cher before returning to the van for lunch. In the afternoon we drove into St Aignan and by the Hotel de Ville. From here we were able to explore the older part of the town including the rather large church which has a crypt (scary!) In the crypt there are some frescos which are considered to be amongst the best in France although the ravages of time have not been kind to them. Opposite the front entrance to the church is a rather grand set of steps that take you up to the Chateau. Although privately owned you are allowed to walk around the outside of the Chateau. There is also the remains of an old castle which looking at the condition you would not want to be too close to anyway! Unfortunately the grounds were out of bounds which was a pity as we could see carpets of cyclamen in full flower. We were curious to see where the narrowboat was so we drove across the river in search of the canal, eventually finding it in Noyers sur Cher. At first we did not find it but discovered 3 more which looked, by the signs on them that they were for hire. We even discovered a canalside municipal campsite. Back at the campsite there are a few more arrivals to replace the morning departures. It seems a 50/50 split between those that just stay overnight and those like us who are staying for a few days. It has been amazingly hot and muggy today, in fact at one point the car outside thermometer was showing over 30 degrees, in mid October! Mind you it got very dark around 6.00pm and we had an interesting thunder storm for about half an hour as well as heavy rain. Incidentally the first day time rain we have had in over a month.
Thursday dawned dull and a much lower temperature than the previous day albeit that it had been unusually high. Gradually as the day went on it did start to get hotter. It was a generally lazy day with the exception of filling up the car with fuel. When I went to pay I had a general chat with ĎMadamí. One question I did ask her was the position of accepting twin axle caravans. Whilst there was a slight hesitation she did say that any UK caravan turning up would be accepted. It seems the main concern is the Travellers and I have to say we have seen many hundreds on our recent travels.
Our alarm setting on the day of departure has tended to get a bit later over the course of the holiday as we discovered there was not much point getting up before dawn! Despite this and a very misty start we were still away not long after 9.00am. One of the French campers on site was a bit concerned when he saw us move the van off the pitch and onto the site road and hitch up as we had left the bikes under the gazebo and he thought we had forgotten them! He seemed to speak quite good English so Margaret explained that they were the last thing we load. The bridge over the Cher at St Aignan is just about wide enough for two lorries to pass so I held back as one was almost over the bridge. Out of my mirror I could see my driver side caravan wheel just touch the high kerb. I stopped a bit later to have a look at it and fortunately could not see any damage. Today was going to be a long journey north, mainly over N class roads, most of which were pretty good. The only problem is if you get behind a slow vehicle there is not much opportunity to overtake. Whilst like many Brits I admire the French road system the one thing that does puzzle me is their reluctance to completely bypass some towns. Dreux is a good example. Good roads either side but poor roads within the town. Itís a similar situation in Rouen. Progress is never as good on N roads but we got to our campsite on the outskirts of Amiens a little before 4.00pm. Parc des Cygnes is a fairly new campsite, apparently funded in part by the EU. The pitches are arranged in groups of about 9 around a fairly large hardstanding area. Rather than step out onto the grass we place the van on the pitch but with the door opening out onto the hardstanding. Itís hardly going to cause a problem as I only counted 7 units on site! Walking around the site it is obvious that people donít stay here for long periods. Now Dr Watson might well ask me how I know this. I deduced that as all the pitches had intact grass with little sign of wear that no one sets up camp for the summer here! Itís been grey and misty all day with quite a considerable temperature drop, in fact half of what it was two days ago but, no doubt, normal for the time of year.
Although there was some overnight rain Saturday showed signs of being a bit brighter as the wind started to break up the clouds. I had completely misunderstood where we were in Amiens and as a result got completely lost in search of a supermarket to fill up with fuel. Eventually we pulled off the road and got TomTom out and he directed us to a massive Auchen supermarket on the other side of town. Inside the ĎCentre Commercialí the police were on a charm offensive with lots of stands showing how they do their work. Good that they are trying to get the public Ďon sideí and there seemed lots of interest. After lunch we decided to get the bikes out, something we had not used for some time. We rode down to the River Somme where there was a lock although by the look of it boats with a high air draught would have difficulty negotiating the bridge across the lock. Then we rode along the towpath for a while but as it did not seem to be going anywhere interesting we turn round. On the way back to the site we explored the Park next door which seems to be made up of a lot of fishing lakes. Whilst the site can hardly be described as busy there was in the region of a dozen units on site by nightfall. Hopefully this is enough to encourage the campsite to continue staying open at this time of year.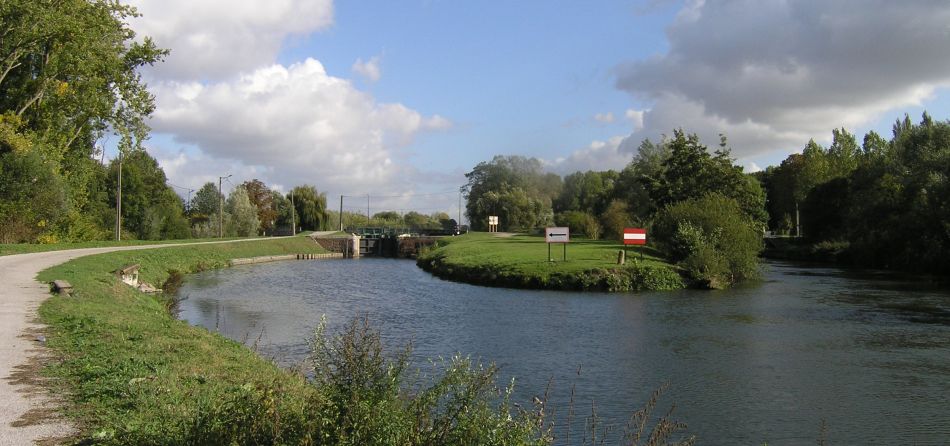 Sunday was pretty miserable day weather wise, dull and wet for most of the time. We decided just to have a lazy day. Itís interesting that the majority of the new arrivals are Brits. Most only stay overnight but a few stay a few days.
Monday and our last day at Amiens so it was a toss up whether to go into the City or to visit some of the Somme Battlefields. In the end we decided to drive up to Albert and then onto the Thiepval Memorial and visitors centre. The Centre explains the progress, or sometimes lack of it, of the Western Front. Whilst I am sure some will want to investigate this part of our history in more depth the Centre does give an interesting snapshot of the events of those momentous four years.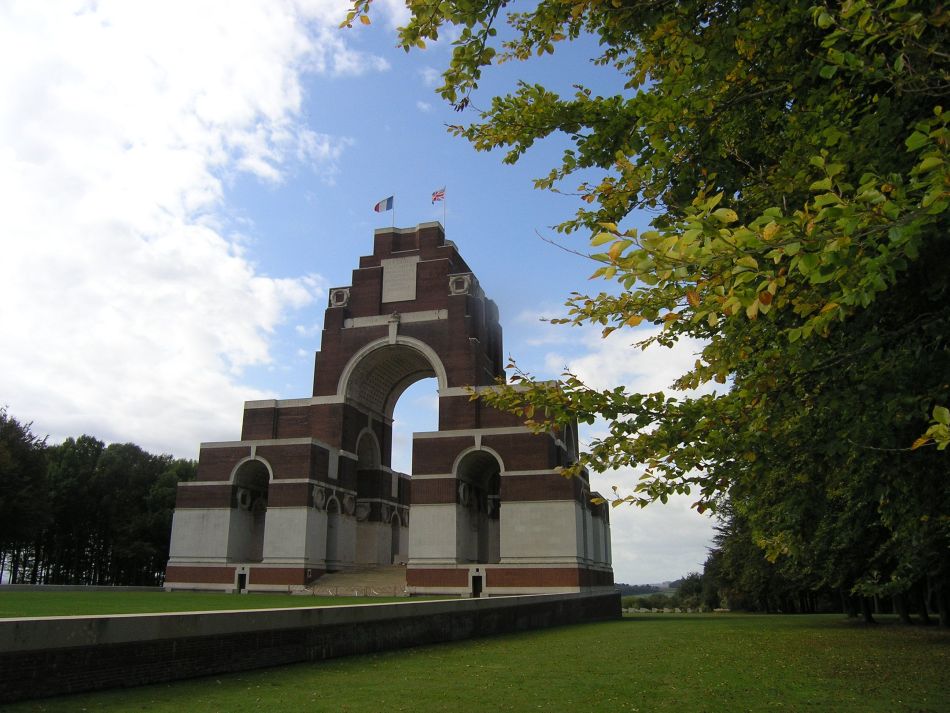 Definitely autumnal this morning when we got up although through the mist we could see a blue sky. Today is our penultimate trip of the holiday to a site within striking distance of Calais. Itís a fairly short journey of around 88 miles to our chosen site of Camping les Pommiers des Trois Pays at Licques. Normally we would have been heading for either Le Bien Assise or Chateau de Gandspette but both are now closed for the season although it seems that Bien Assise may be keeping a few pitches open throughout the year. We leave the A16 at Boulogne and head out on the St Omer road before heading across country to Licques. Unfortunately we hit a very wet and muddy section of road and the car and caravan get covered in mud. We did have a ride out to see our chosen campsite a couple of years ago as we were looking for sites that were open later and also as a backup for our normal haunts as they seem to be getting busier and busier. Les Pommiers was only created as a campsite six years ago we were surprised to discover. Of the sixty or so pitches only about twenty are touring pitches, the rest being occupied by statics and this is clearly how they make their money. Initially we were the only touring unit although a French motorhome turned up later.
It was pretty grey, and chilly, when we got up. As is our normal practise we always have a day set aside for shopping before returning to the UK. With rapidly approaching parity between the Sterling and the Euro the past advantage of shopping for wine and some food items this side of the channel have diminished somewhat this year. However we tend to buy boxes of wine, which if you choose carefully can still be good value. Before getting to the point of putting things in a shopping basket we had to get to the Cite de Europe in the first place. We had been in two minds on what way to take the caravan when we leave tomorrow for the Tunnel. So we used our shopping trip as a means of deciding what route to take. The road from Licques to Guines is quite good. We call briefly into La Bien Assise but it was difficult to establish whether any part of it was open but on a more positive note it did not seem closed up. It seems that the new roundabout outside Bien Assise has a new road leading from it but as yet it is not open. We cut across country to the A16, in parts it is a pretty rough and ready road. Once on the A16 we had to find the shopping centre. Easy enough unless you take a wrong turn! We ended up in the Freight area of the Channel Tunnel. Eventually we found our way out and into the shopping centre. We had the same limbo regime under the height barriers! This is our second visit to the Cite de Europe this year and the shops seemed no busier than the last visit. Still quite a few Brits but very quiet. On the way back we tried the alternative route back to Licques via Ardres which seemed a bit around the houses. We have not had much company whilst at les Pommiers although the few permanent campers seem friendly however later in the afternoon another Brit turned up in a motorcaravan. I should perhaps have mentioned that the weather had changed completely and we had a lovely clear sunny afternoon with a cloudless sky.
I think in the light of what we discover when we got up on Thursday morning I should change the title of this Blog to Winter France! It was Cold, Cold, Cold, with a heavy frost on the car and caravan. Fortunately there was not a lot to do although it was still a shock. We managed to get on a slightly earlier crossing but first had to run the gauntlet of a lot of French Security testing for explosives! As always the journey from the Tunnel home is always something of a grind but we make reasonable time.
This has been our first experience of touring in Europe during the latter months of the year. The later you stay out the less choice you have of campsites that stay open. However there are enough and careful planning should prevent any difficulties. Would we do it again? Most certainly but we think we would perhaps return home a week earlier. although had the last week been better weather wise we might not have made that comment. With the prevailing exchange rate it has been more expensive than we had experienced in the past but as with all things its swings and roundabouts. The appeal of travelling through Europe still outweighs the disadvantage. We have tried to save money by, where possible, not using so many toll routes, so we think we have made a saving there. Using discount options like Camping Cheques and the ACSI Card helps keep campsite costs to a minimum.
Time to start planning the next trip! Or so we thought! Before embarking on this trip I had discussed my hip with my Doctor. He said that he would arrange for me to have another x-ray on my return. His thinking at that stage was that there might be other options to surgery but he would have to await the results of the x-ray. Having had the x-ray I went back to see him in mid November and the bad news is that the only option is surgery as I am now at the stage where bone is rubbing on bone and as a result I am suffering increased pain. Margaret has certainly noticed my increasing lack of mobility during this last trip. So it looks as if in the next few months I will have to have a hip replacement and with the associated recovery it looks as though there will be no opportunity to use the van until towards the middle of the year. We will have to wait and see how things pan out before making any plans for the UK let alone Europe!
David and Margaret