Uttoxeter Racecourse Caravan Club Site, Wood Lane, Uttoxeter, ST14 8BD, Tel 01889564172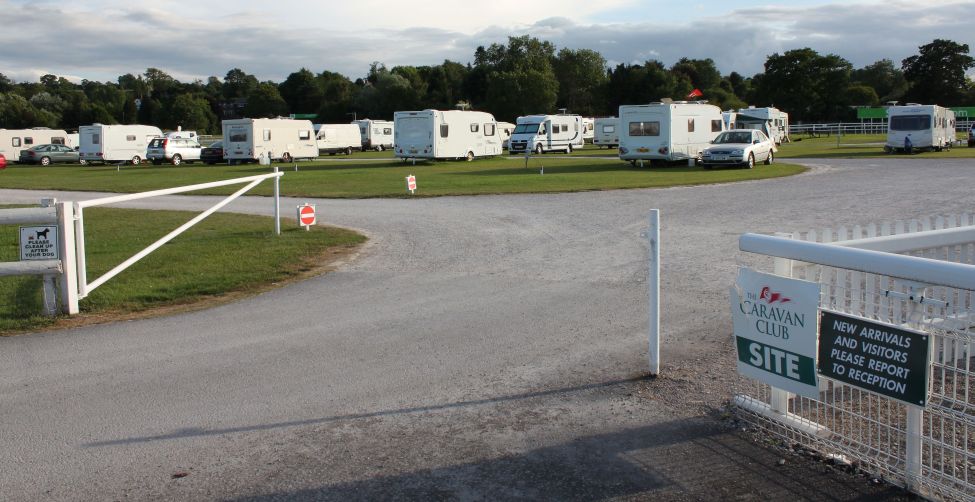 To Find Site:- At Uttoxeter on the A50 turn left onto A518 and follow signs to Racecourse. (do not follow signs to race day car parks) Still following the signs turn into Wood Lane and drive past two racecourse entrances and the site is third on the left.
Uttoxeter Racecourse campsite takes up a corner of the racecourse right along side the track. There are 76 pitches, all of which are on grass, laid out around gravel roads. Although the area taken up by the site is not large you do have access to the 60 acres of the racecourse on non race days. This included a nice adventure style playground for the children and of course as much kick about space as they need. The toilet facilities will not win any awards but as the wardens said on arrival they are adequate! They were perhaps a bit more than that but of course they are not owned by the Caravan Club. The disabled toilet is in its own portacabin. In the 'Utility Room' is the dish wash area and washing machines, it also houses information on the surrounding areas. The Club do not provide WiFi at this site but I have heard, although did not try myself, that the Racecourse has a WiFi system which operates on race days. For Mobile Broadband users my Vodafone dongle worked well with a good 3G signal. The only water and waste facilities are situated at the toilet block so it's a long walk from the furthest part of the site. Tent campers and non members accepted. Newspapers can be ordered from reception and they also sell things such as milk and ice cream. No arrivals are accepted on Race days and other vehicle access is restricted as access requires you to cross the race track. Reception will issue race day tickets so that you can get back into the site prior to start of racing. As a bonus this site, particularly with the mid week discount, cost less than £10 a night during our stay in early July.
The site is only a short walk from the pleasant town of Uttoxeter which has a good range of shops. From the rail station you can take a train to Stoke on Trent in one direction and Derby in the other. There is a Tesco supermarket within half a mile of the campsite. There are lots of opportunities for days out from the site including Alton Towers. In the Stoke on Trent area there are several museums and visitor centres associated with the pottery industry including the Wedgwood Visitors Centre and Wedgwood Museum, The Gladstone Pottery Museum and of course Trentham Gardens.
Click here for of our Diary of when we visited this campsite