UK Caravan Diary 2010
Saturday 22nd May. It seems to be a bit late to be starting an annual caravan diary but other things have been happening. As I mentioned in my 2009 Diary I was told I needed a total hip replacement operation. Well that operation took place on 16th March and, so far, recovery seems to be going quite well. Well enough in fact for our minds to turn to caravanning. In fact over the last few days we have been in caravanning mode which involved putting the proper road wheels back on, washing the van and a short test tow with the new Sorento acquired in November last year. We have even booked a couple of sites for June.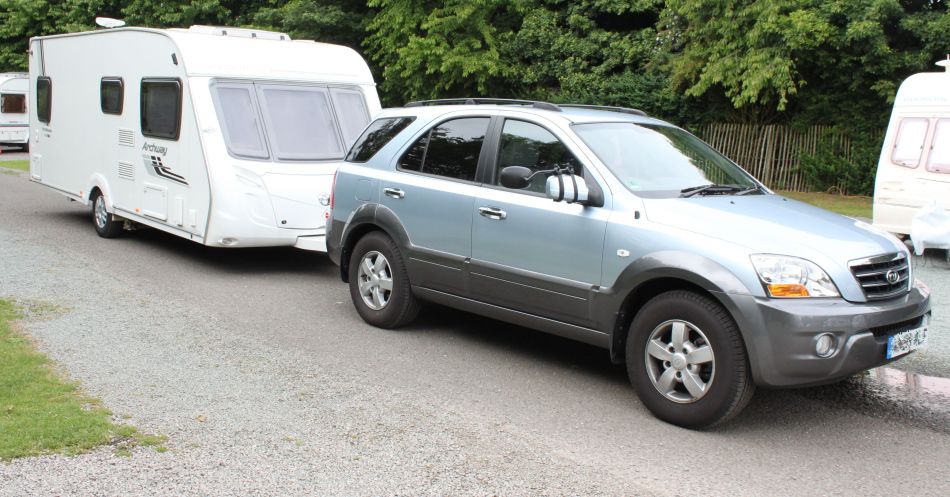 Peterborough
Monday 7th June. It is now almost 12 weeks since my operation and progress has been good and it was now time to put myself to the ultimate test by going away in the caravan. A few weeks ago we had put the road wheels back on the van and taken it for a short test tow. At the time that was a bit of a struggle but the intervening weeks have seen me able to do more things. However there seemed a more immediate problem. The close where we live has suddenly had a rash of extra cars which means from time to time people park down the side of the road where we would ideally like to put the caravan prior to leaving. OK so we have never failed to get the caravan out and off but we always have that nagging doubt. As it turned out we were able to dodge both the cars and the binman and be on our way.
This was also our first serious tow with our new Sorento. It has a different type of suspension to the old one which makes it a bit more bouncy. There was an improvement with the van loaded and certainly no problem with performance being able to maintain maximum permitted speed at a fair consistent 2000 revs. Because of the construction of the new road (A421) between junction 13 on the M1 and Bedford we elected to travel via Bromham and made use of the new Bedford Western Bypass which avoided most of the roadworks and although it seemed a more circular route it was in fact no longer distance.
The Ferry Meadows is surprisingly busy and has undergone some improvements since our last visit which includes major work on both toilet blocks and extra hardstandings on the old section. Unfortunately we were informed that the WiFi had been down since last November and no prospect of it being repaired yet, just as well we had our own internet provision. In the afternoon we walked around both sections of the site and up to the Nene Park visitor centre by the lake. I had an e-mail from a guy called Lionel who is a member of a camping forum we both use but he lives in Australia and is in Europe for a 3 month tour, not bad for a 78 year old! He wanted to meet up with us in Milton Keynes but I had to explain that we were now in Peterborough so he has decided to meet us here.
Tuesday, Lionel arrived today and by chance occupied the pitch right next door to use. The Australian flag was a bit of a give away! We spent the afternoon chatting about the differences between the UK and Australia. He runs a website all about caravanning in Australia and has had many adventure around that massive country. His website is here. In the early evening we all went to the Beefeater for a meal. Site pretty full especially on this side of the road. Pretty annoyed today to see people in the caravan across from us allow their dogs to foul on the grass between them and the motorhome next door. Whilst they did clear up after the dog it is completely against site rules. Not quite sure what happened to the leaflets supposedly being handed out to dog owners as they arrive!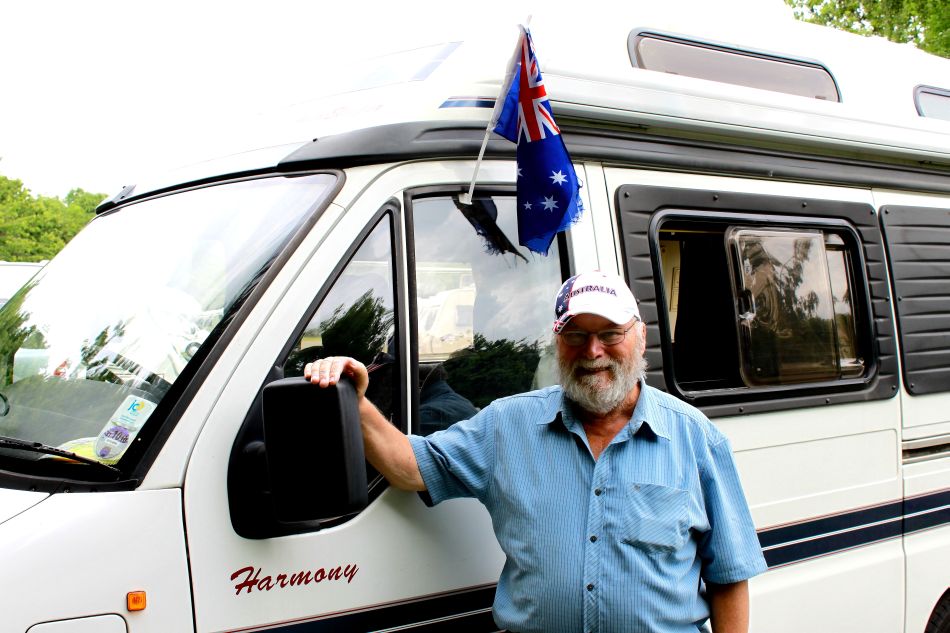 Wednesday, operation 12 weeks ago today. Chatted with Lionel about all things caravanning and tried to help him with his rear door lock which did not seem to be working. Went shopping this afternoon for a few bits.
Thursday and Lionel left this morning to meet up with some other members of Clic further North. The weather was still very dull and a bit damp but it was more in the air than actual rain. We felt that we needed to blow the cobwebs off so set off on a walk around the main lake. We were intrigued to see a lady running towards us with a pushchair. As she got nearer we realised that she was in jogging gear and this was obviously a new variation on getting fit after baby was born. Perhaps given it's exposure to speed the baby may grow up to be a racing driver! When we went to the Beefeater with Lionel the other night they handed us a voucher which entitled us to a main meal and bottle of wine for £15 which seemed too good an offer to refuse. So after much protest from Margaret I was able to drag her off for a meal!
Friday was another damp day but it did not really matter as we were off home. We were up early, for us, so left the site by 10.40am. The journey home was uneventful, at least until we got home. We retraced our previous journey to avoid the work on the Bedford to M1 road. As we pulled into the close our next door neighbour had his new (to him) Geist caravan on the road in front of his house so we had to pull forward in order to allow room for any cars to get in and out. Thank goodness for the mover, otherwise we would not have got the van back into the garden but we did with surprisingly little difficulty. Also had a tour of the Geist!
Denham
A bit of a change for us as we headed towards London and the Caravan Club site at Denham called Wyatts Covert. The journey, although only 47 miles seemed longer because of the road works on both the M1 and the M25, fortunately we only had to negotiate a few miles on the latter. Its not a large site, only having 50 pitches. It is situated next door to Denham Aerodrome which is used by light aircraft and helicopters. The latter are nearest to the campsite. So not the place to go if you want peace and quiet during the day!

We stayed during the last 6 days of June, which in contrast to Peterborough, turned out to be the hottest days of the summer so far. There is not a lot to do in the immediate vicinity of the campsite. You could walk to Denham Green but it is quite a hike. However next door to the site is a picnic area with some short woodland walks.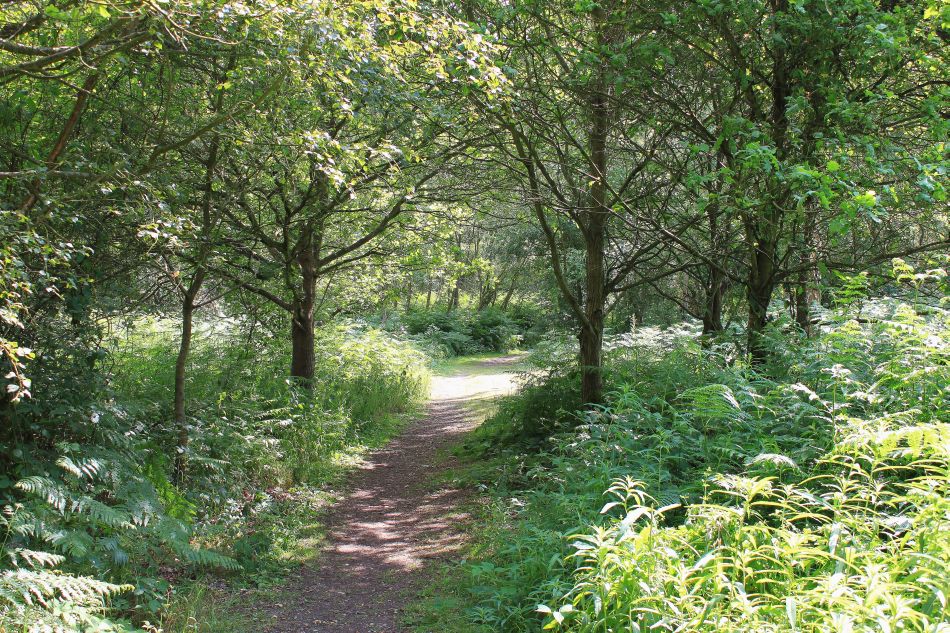 Friday dawned another hot and sunny day. After breakfast we went out in search of the Grand Union Canal. We found it but regretfully no easy access or parking. We then drove into Uxbridge, and out again! When you live somewhere like Milton Keynes with its modern road layout which operates at well below capacity most of the time driving in urban London comes as a bit of a shock. Most of the problem is unfamiliarity with roads and the general speed, despite speed limits! We managed to get back to the van. After lunch we walked to the picnic area next to the site where there are some short woodland walks. In the site Information hut there was mention of somewhere on the airfield called the Crew Club which did a mean breakfast. We went in search of this oasis of fried bacon but could not find it anywhere, just as well we were not waiting for our breakfast! The site has been pretty full for the last two days but I was puzzled by three outfits leaving after six tonight. I have no idea what sort of arrangement they had with the wardens but the 'last departure by midday' sign was up at reception.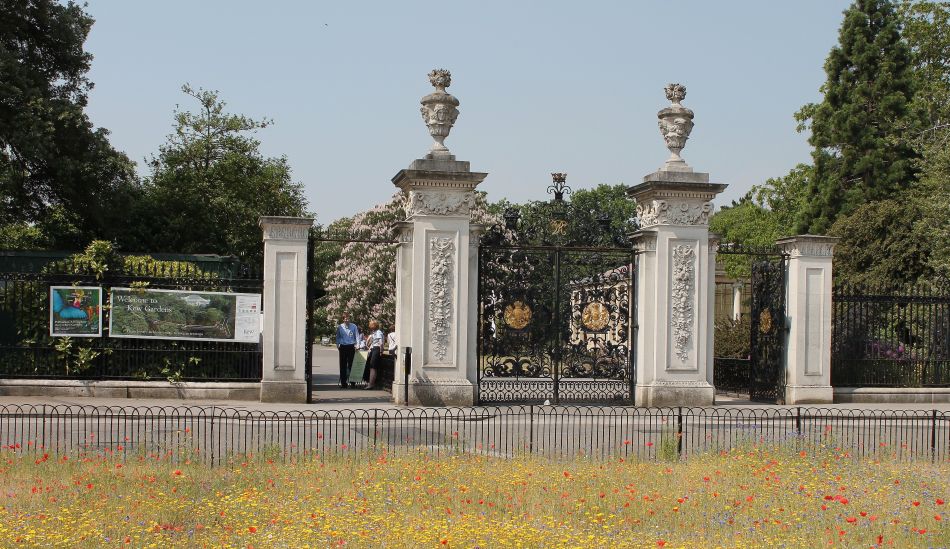 Saturday and our first planned trip, to Kew Gardens. Again the weather turned up trumps with another hot and sunny day. With the aid of TomTom we made our way to the Chiswick roundabout on the M4 and started to cut down to Kew Gardens. Traffic had not been too bad on the motorway but this all changed as we came off the motorway. It's often difficult to know what lane you should be in and a couple of times I had to nudge my way in. I suppose the slowness of the traffic might have helped. Not quite sure why it was so busy but perhaps people were on their way to Wimbledon. As two lanes narrowed to one going over Kew Bridge we expected TomTom to take us right but he insisted on us making a left turn which I knew to be wrong. By now we were half way down Kew road so I did turn left but only to turn round and go back the way we came. This time we turned left into Kew Green Road and found the main entrance to Kew Gardens but no sign of a car park. I pulled in so that I could look at the map and discovered I needed to be a bit further round and take Ferry Lane to the parking area which is adjacent to the River Thames. Our eldest son Paul was meeting us at the main entrance so we duly paid our £6 parking fee and started to walk around to the main entrance. The car parking is more extensive than the Kew Gardens website suggests as you can park both sides of the access road, but you still have to pay!
As an aside we did have a look at the Thames before going to the entrance and discovered that the start of the Grand Union Canal at Brentford Lock was right opposite the car park. In a different life we have memories of taking our small cruiser down the tidal Thames from Teddington in order to complete a circular trip of the Thames, Grand Union and Oxford canals more than 30 years ago It was high tide when we did the trip!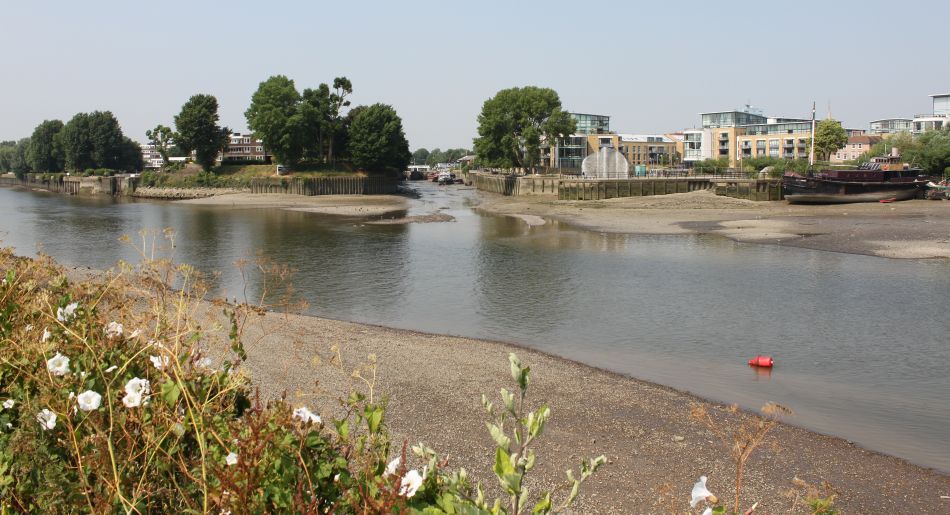 Our employers, prior to our retirement have negotiated lots of Corporate deals with many historical places of interest, one of which is Kew which means that we get free entrance on production of our pensioner ID. The same applies to National Trust properties and those where deals are not in place we can claim a 50% refund up to a certain amount each year.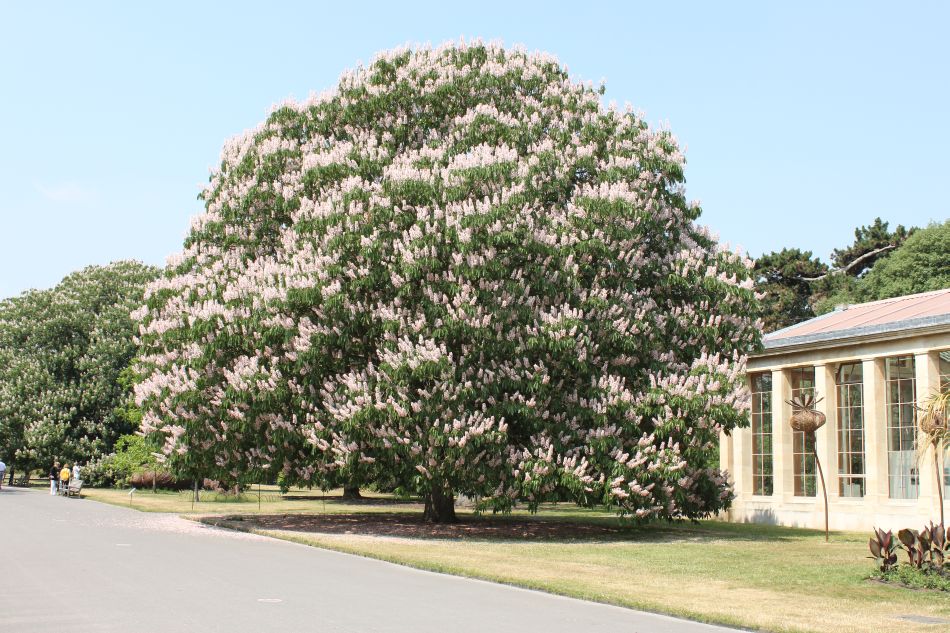 As you enter the Gardens you are immediately aware of a magnificent Horse Chestnut as you walk down the main roadway next to the Nash Conservatory. There were also some fascinating wicker sculptures in this area as well, the one that particularly struck me was the half open conker.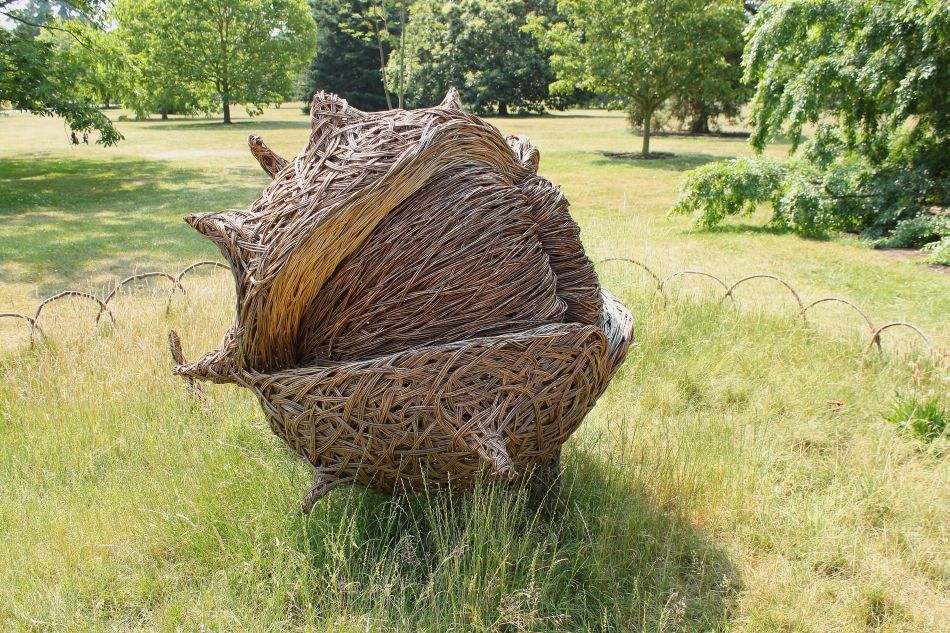 Kew is not just about gardens there is also the lovely Kew Palace built in 1631, once the home of King George III and Queen Charlotte, it must have been a busy place as they had 15 children!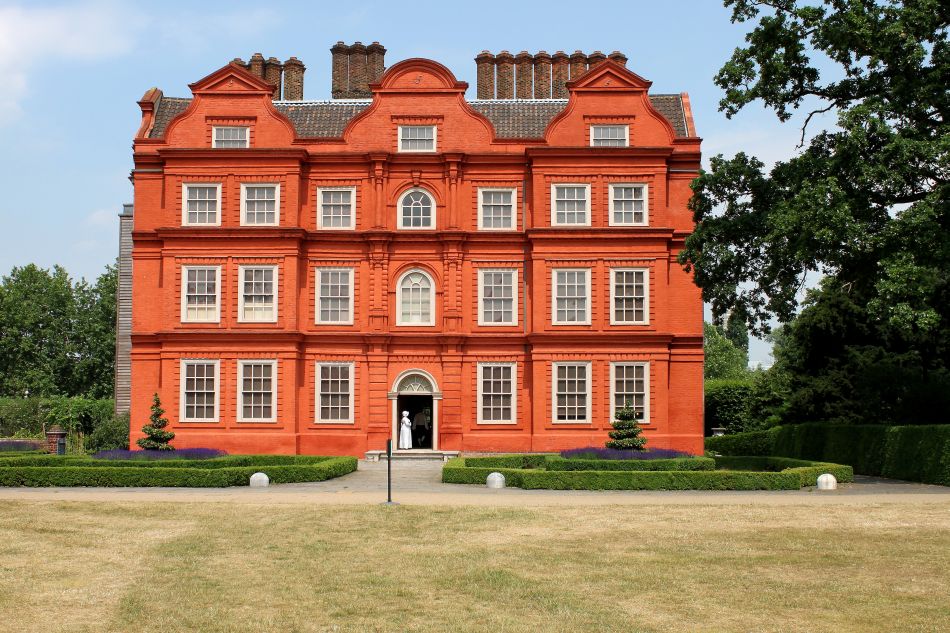 The Royal Botanic Gardens at Kew, or more informally called Kew Gardens, is only a few miles from Central London but once inside it is an oasis of peace and tranquillity and covers an impressively large area of 121 hectares. It is a UNESCO World Heritage Site. Apparently it has the world's largest collection of living plants. It is also very popular with both London residents and visitors alike, in fact as many as 2 million people visit the Gardens each year. Kew seems not to be so much about formal gardens, although there are some, but buildings housing plant collections in a park like setting. I found the Lily house quite fascinating, it reminded me a bit of the frog song by Paul McCartney!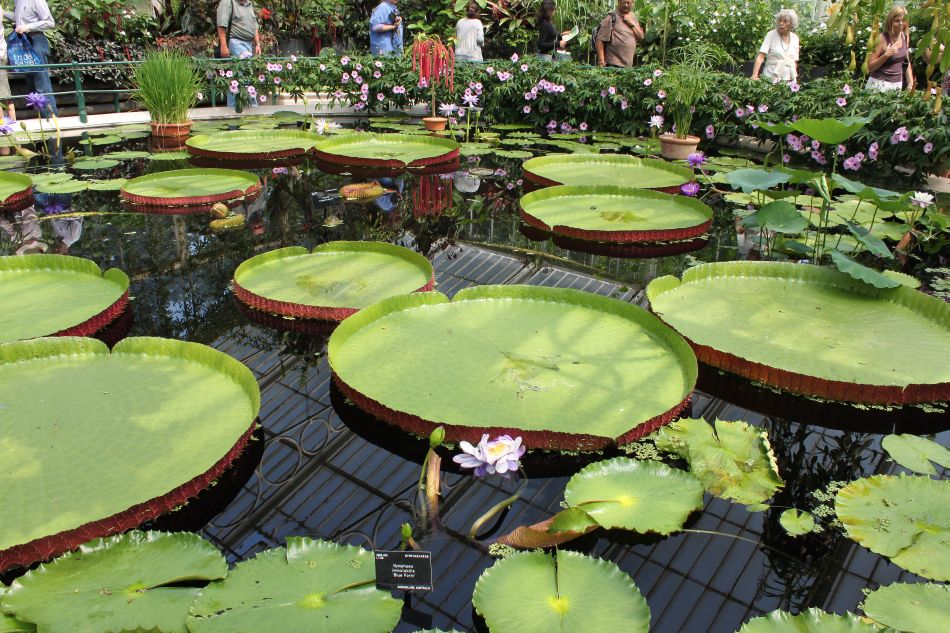 The Palm House was built by architect Decimus Burton and iron-maker Richard Turner between 1844 and 1848 and was one of the first large buildings to use wrought iron. Inside you can climb up a balcony which runs around the building at tree top level.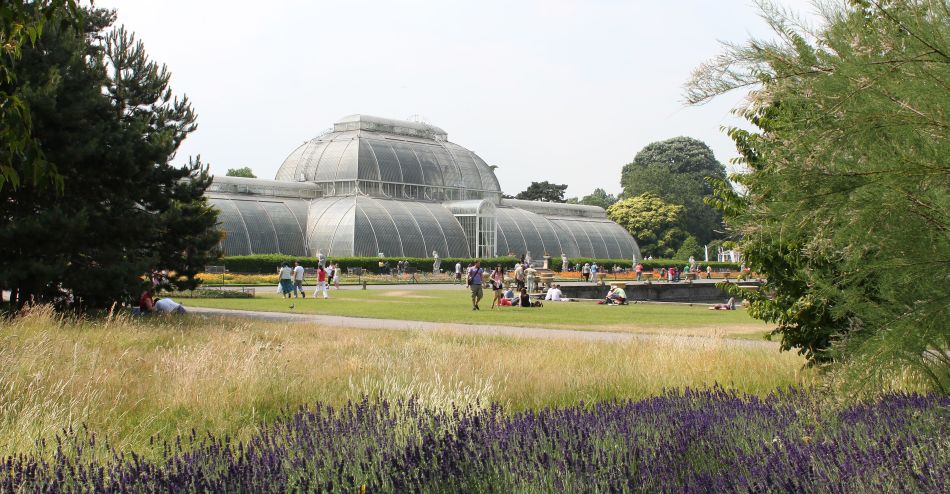 The last of the three big plant houses is the Temperate House. It is the largest Victorian glasshouse left in existence. It has a more jungle like environment.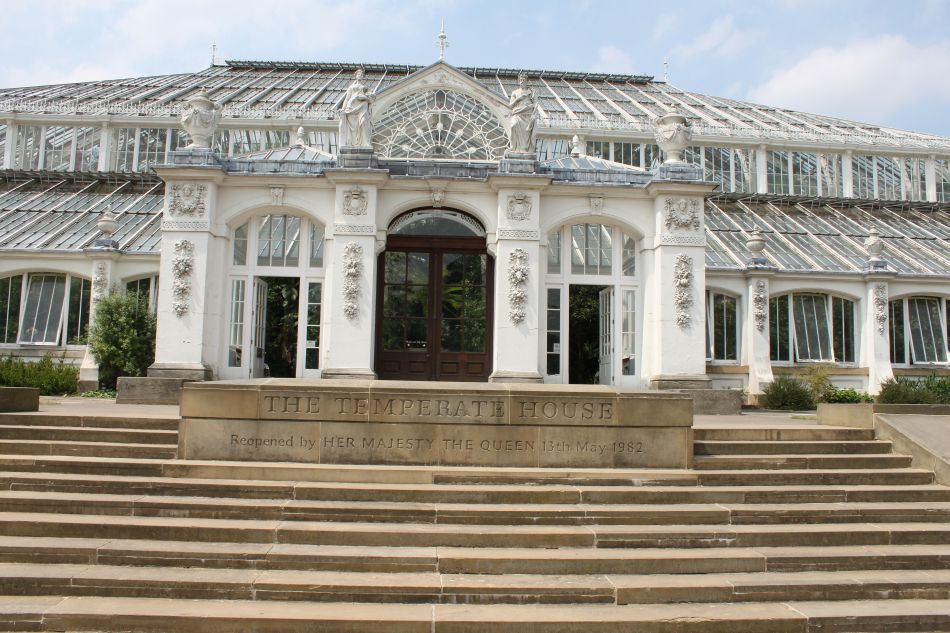 They seem to like high level as there is also a high level woodland walk, not for those that don't like heights! From the centre position in the main photo you can actually see the Wembley Arch. There is also a nice view of the Temperate House from the walkway.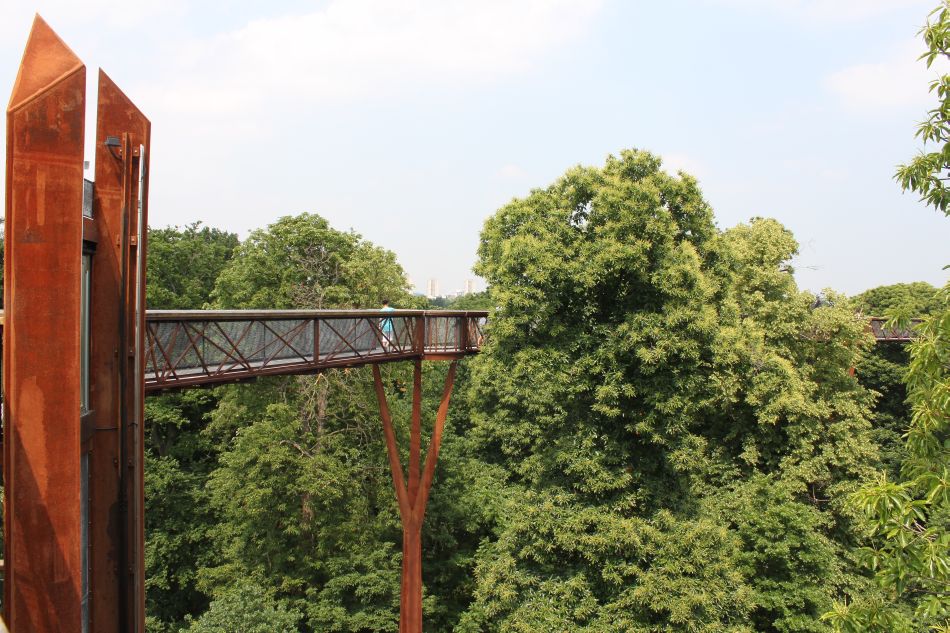 Other key features of the Gardens that we visited are the Japanese Garden complete with the Chokushi-Mon (gateway), originally built for the Japan-British Exhibition of 1910 and moved to Kew in 1911. Then of course there is the famous Pagoda which was built in 1763 and is 163 feet from ground level to it's highest point.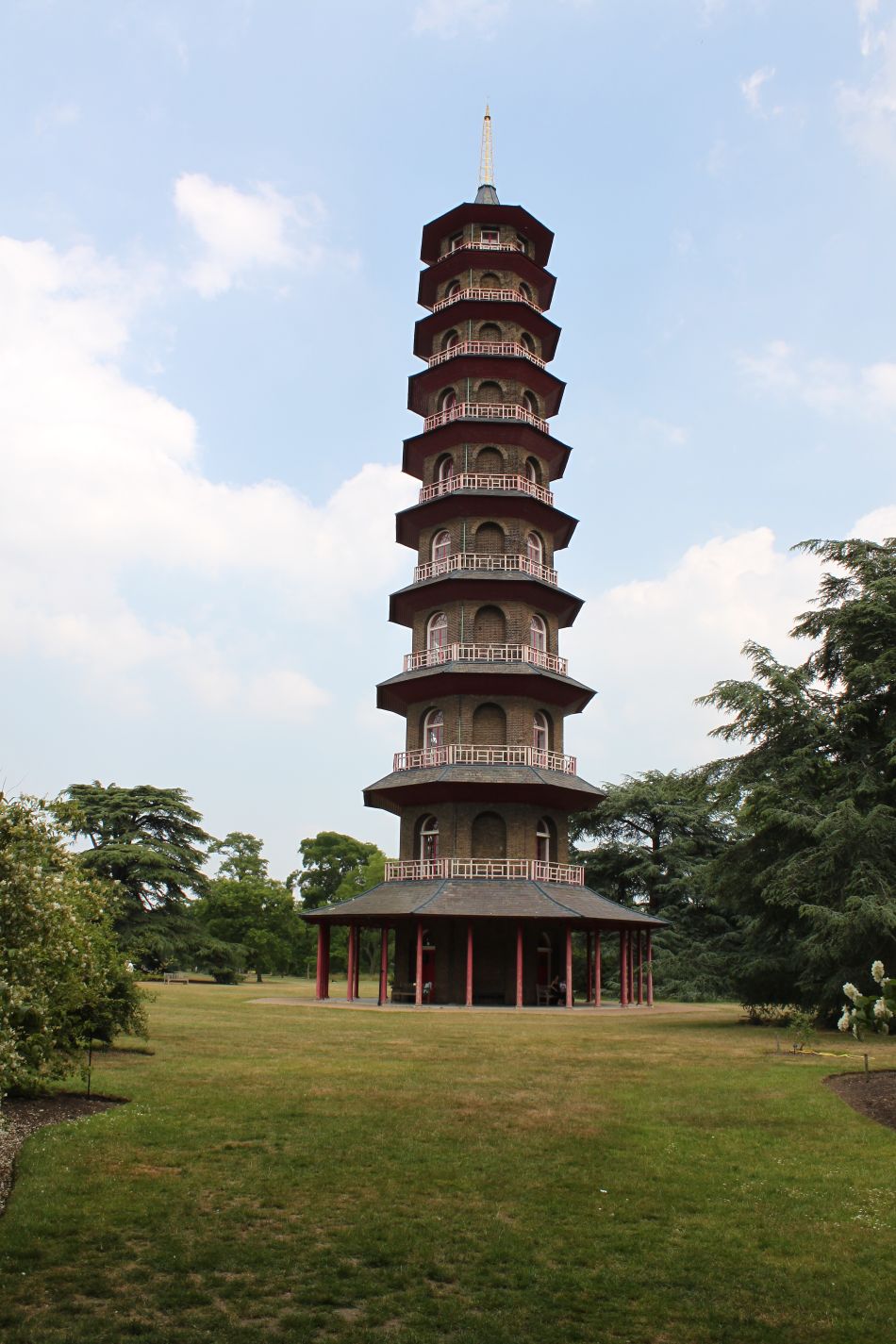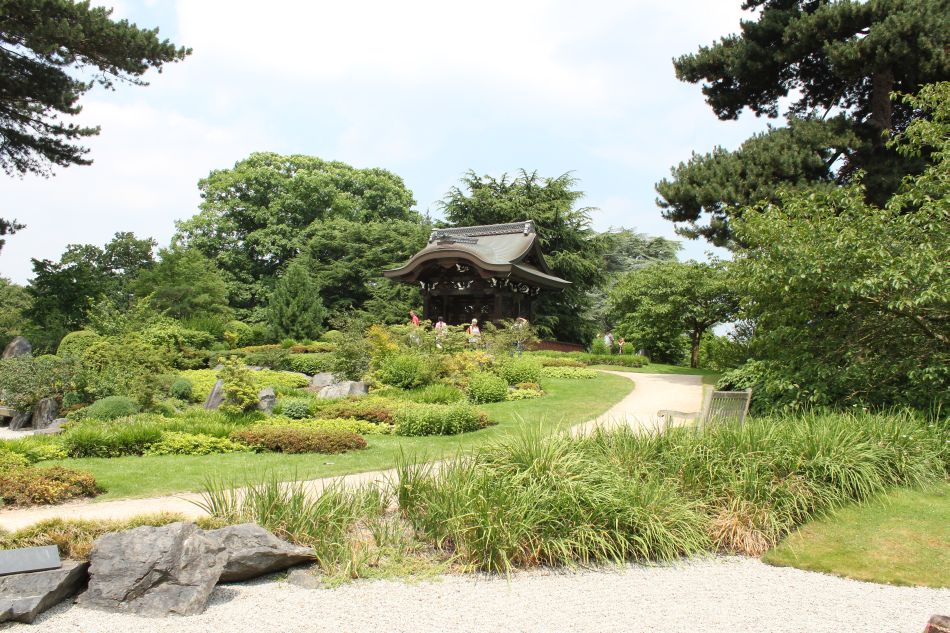 We very much enjoyed our visit to Kew and would certainly recommend it for a day trip. I am sure we did not see everything but as I often say if you do there is no excuse for going back! I have included a few more general shots of Kew Gardens starting with one of Queen Charlotte's Cottage. All the smaller picture (thumbnails) in this Diary can be clicked on to provide a larger image.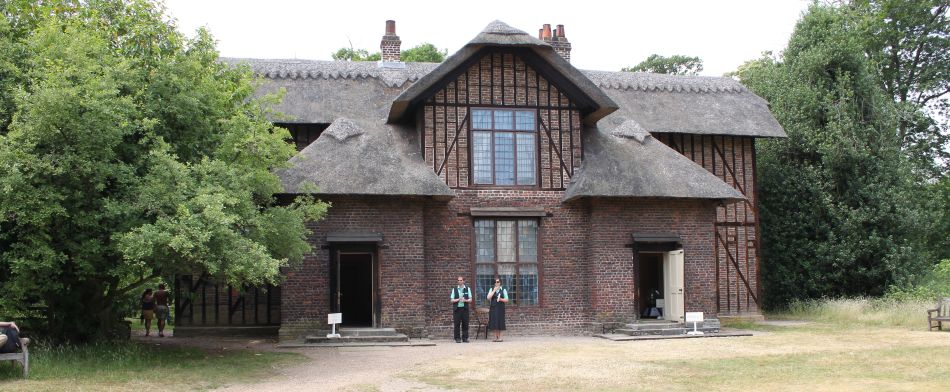 Sunday was another very hot day but other than nipping out for a newspaper and soft drinks it was spent at the van. It was the European Grand Prix in Valencia which was won by Red Bull's Sebastian Vettal although his team mate Mark Webber had a very lucky escape from a pretty dramatic accident. It was also the England v Germany match in the last 16 of the World Cup. By the time we turned over we were already 1– 0 down and within minutes that increased to 2-0. England pulled one back and then another which was controversially disallowed. Would it have made a difference, difficult to say. Everyone and his wife is a football expert but at the end of the day either Germany were too good or we were too poor. At least the angst is over – for the time being!
Monday and we are off to Hampton Court for the first time in 40 years! Its another hot and sunny day. The journey was a bit less frenetic than the one to Kew as in the main we did not have to go so close to Central London. As we approached the Palace we noticed a car park which seemed pretty full but we continued to the Palace car park which was quite empty, perhaps it was more expensive.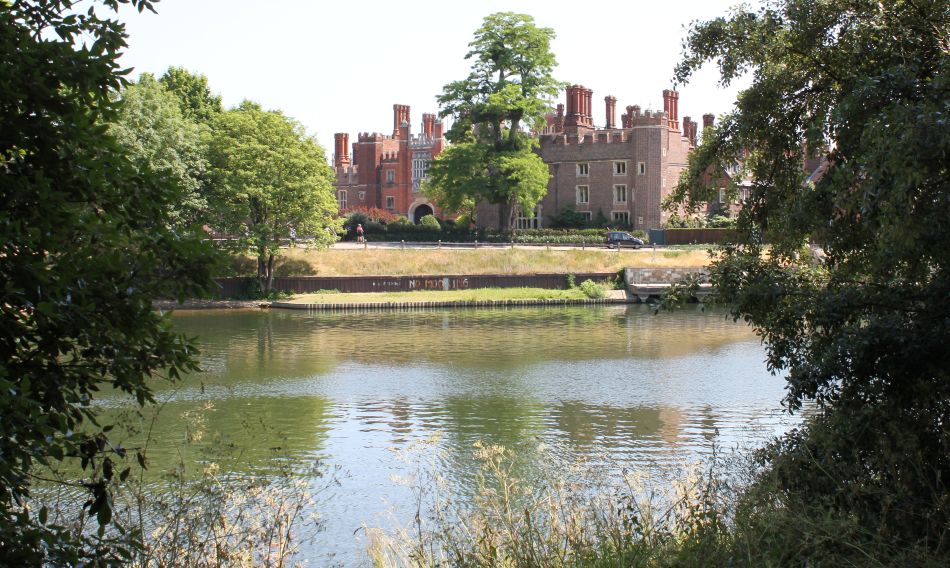 Hampton Court, given the time in which it was built is a mighty construction. Originally built by Cardinal Wolsey around 1514 but by 1529, when Wolsey had fallen out of favour it was given to Henry VIII who enlarged it. Henry was not the only King to live there. William III set about enlarging it again but in 1694 work stopped leaving the Palace different styles of architecture. Something that of a surprise to me was the fact that Oliver Cromwell lived there as well. Although being a rather minimalist sort of guy he sold off many of the original artefacts. Unlike other Royal places he fortunately left Hampton Court Palace mainly unscathed.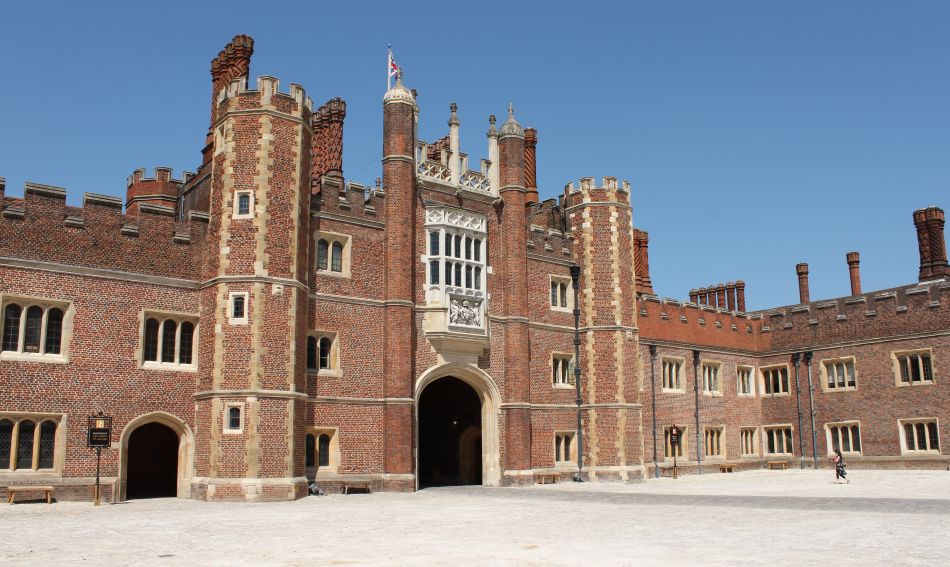 When you buy your ticket you are given a plan which helps you find your way around the various State Apartments. There are some interesting exhibitions which give lots of information of the history of the Palace through the ages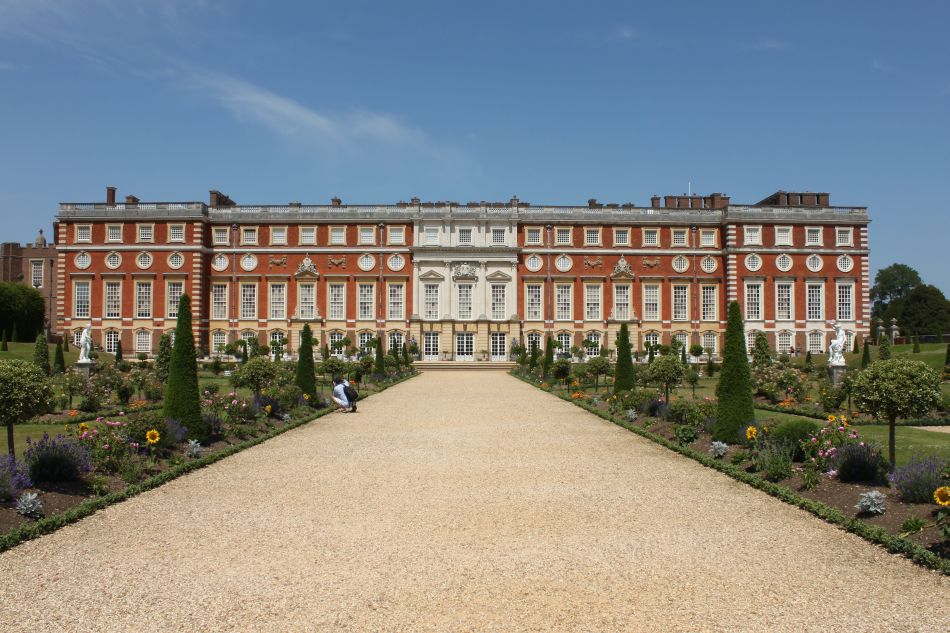 We could not explore the full extent of the grounds as they were preparing for the Hampton Court flower show but the formal gardens next to the Palace were available.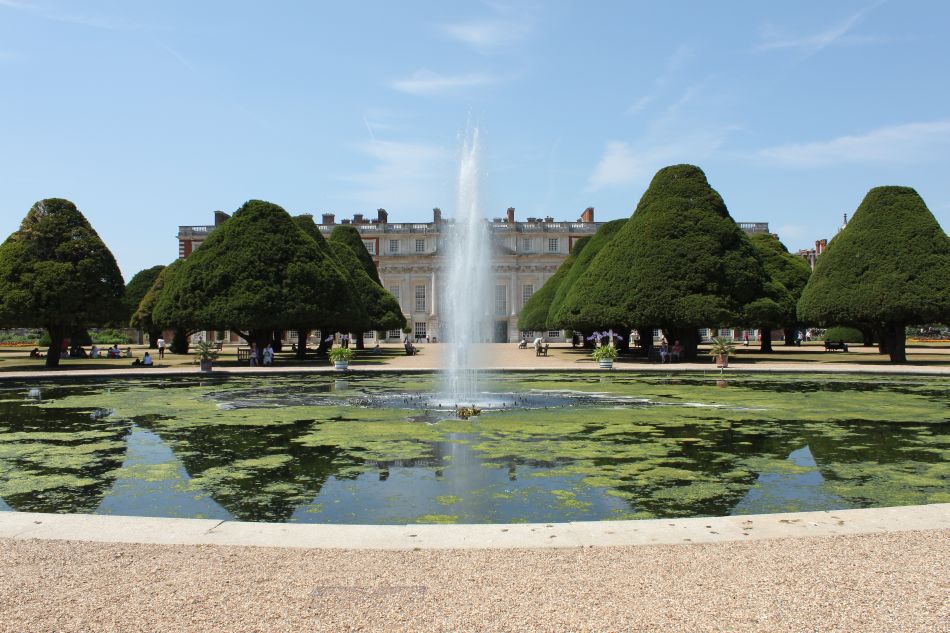 Tuesday and the first rain of our stay, albeit when we were still in bed, best sort of rain! Otherwise a lazy day watching the on site goings on. This is a strange site in so far as outfits seem to appear and then be abandoned by their owners for days at a time. There are also several other caravans that don't seem to have had occupants since we have been here, all very strange. About mid afternoon a big Mercedes Sprinter towing a caravan pitched next to us and I was musing with Margaret the possibility of buying such a van and converting it to a motorhome. Margaret felt I was unlikely to live the 20 years I would need to finish it!
I have spent quite a lot of time getting used to my new camera on this trip, a Canon EOS 500D. Its many years since I owned an SLR and I have to admit that it has taken me some time to get used to using it. The main advantage of being digital is that providing you have the memory card capacity you can spend all the time you have taking photographs and it costs relatively nothing except your time. There was nothing wrong with my previous Olympus but it is 6 years old now. It gave me excellent service and produced some really good results. The pictures you see in this Blog are all taken on the new Canon so I will leave you the readers to judge. The picture of the Canon was filched from the JL website!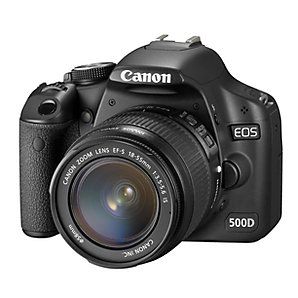 Wednesday and time to go home after a busy 5 days. Have to say that the roads around and near to the campsite must be amongst the worse maintained in the country, it was almost a pleasure to get back on the M25! Despite the roadworks we got home in reasonable time. We have now spent a total of 10 nights in the van since my hip operation and I have to say that it seems pretty natural being back to caravanning.
Uttoxeter

We left home just after 10.00am and were soon heading north on the M1. It was pretty busy but hardly surprising for a Monday morning. We left the motorway and used the A50, which for those that don't know is a handy link between the M1 and M6 which avoids Birmingham. We were heading for Uttoxeter Racecourse which is well signed but despite that we still managed to take a wrong turning! Racecourses all seem to be the same. Built at the same time and falling apart at the same rate! OK so they tart them up a bit but the underlying facilities are all in need of updating. Margaret is not keen on racecourse sites as she thinks the facilities are always poor, they are of course compared to a full blown CC campsite. When I was booking in the warden said ' don't forget this is a racecourse site so facilities will only be adequate' at least it was honest and as it turned out not quite as bad as the picture painted. We found a pitch just opposite the toilet block as although we are unlikely to use it a lot it's the only place on site where you can fill up with water and get rid of waste. The site was about three quarters full.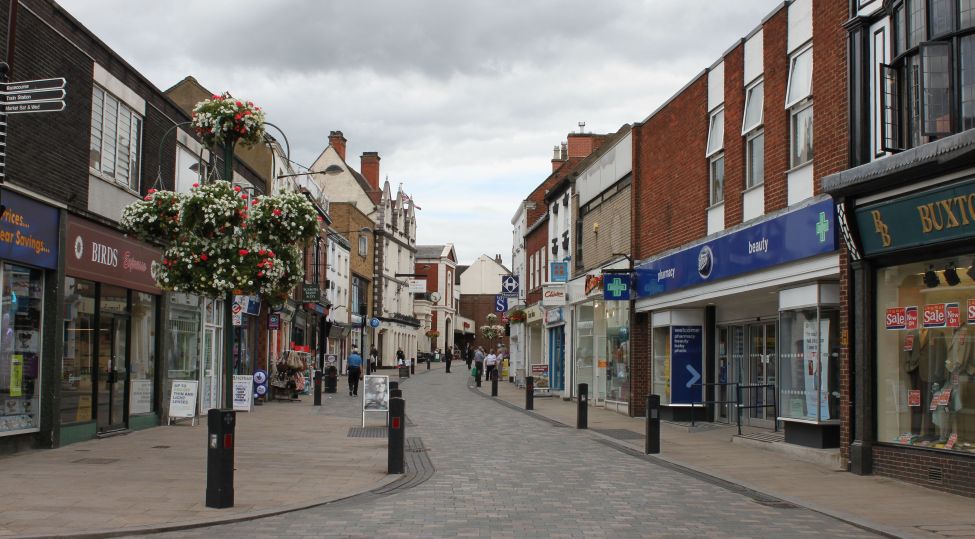 After lunch we walked into Uttoxeter which happened to be a pleasant little town with a good range of shops and some good efforts with flowers to cheer the place up even more.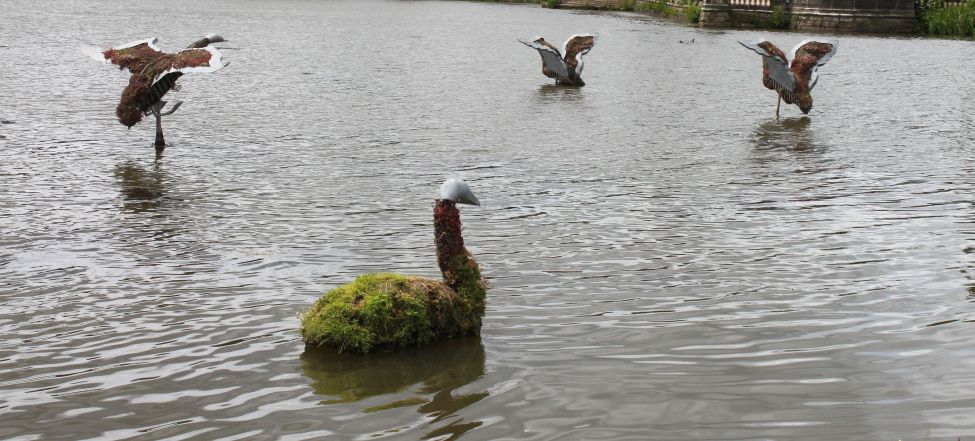 Tuesday and we are off the Trentham Gardens near Stoke on Trent to meet up with fellow Pensioners from out previous place of work. We get a free outing each year but I was not sure I could sit on a coach for over two hours so we decided to meet them there. Not only are there the famous Gardens but also an outlet style shopping centre and a rather good Garden Centre, where we had lunch. After that we needed a good walk. Trentham Gardens are what remains of Trentham Hall. They are laid out in the Italian style with a lake at one end.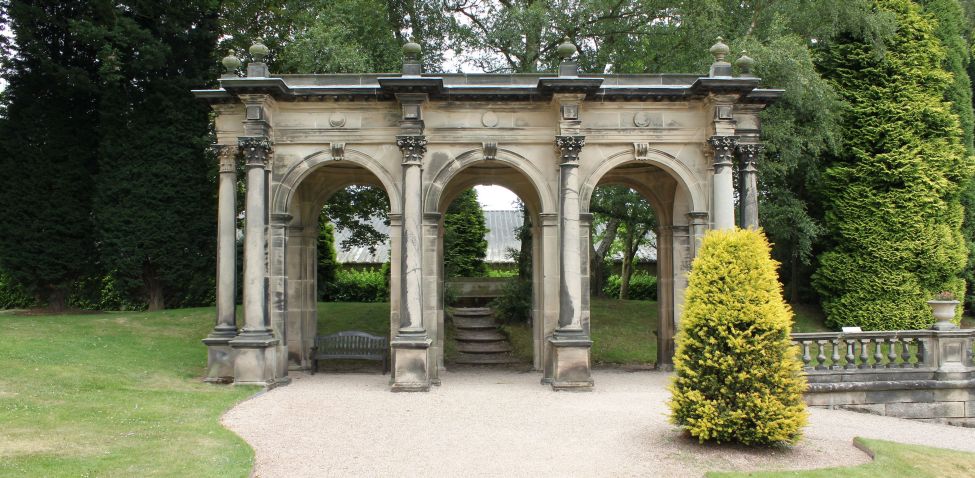 On return to the caravan we had to prepare for an evening race meeting. I suppose because betting of any sort does not really appeal to me I am surprised at how many people it does and even more surprised at how many people on the campsite like a bet. The spectacle interests me. Its also an interesting subject to photograph but I seem to have a lot to learn yet!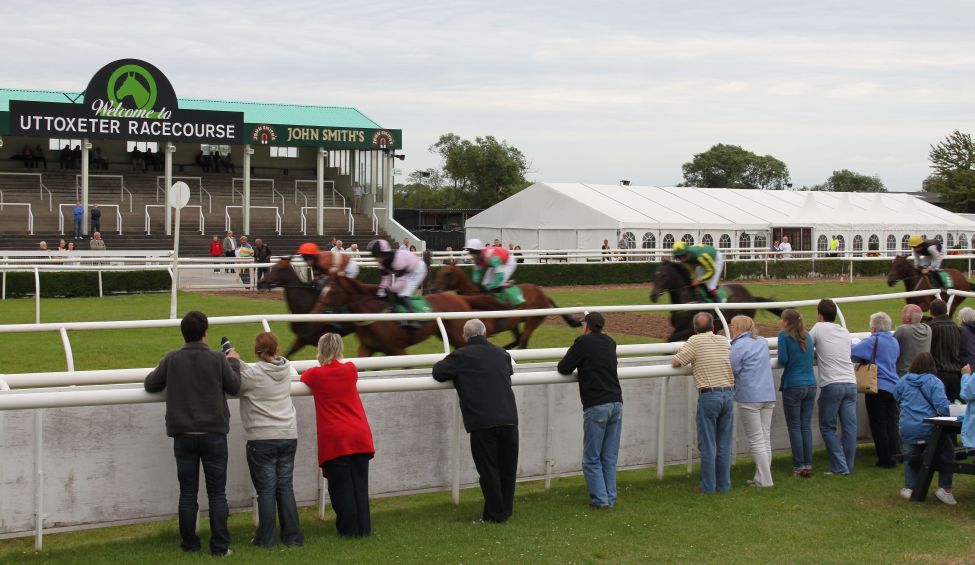 Wednesday and its back to Stoke on Trent, well Barlaston, to visit Wedgwood, both the Visitors Centre and the Museum. Josiah Wedgwood was clearly a pioneer in the pottery world. He would have been considered a scientist today with his constant experiments to find the right colour glazes for his pottery and the right mix of base materials for his clay. It is fascinating to look around the museum and see the progression of his products. In the Visitors Centre we saw various tasks being undertaking and made to look very easy. There was one lady painting the background colour into a desert plate edging. When I asked how long it would take she said there was no rush now but when she worked in the factory 16 minutes were allowed for the task, no pressure! There is no doubt that the quality of the products produced is tremendous but I suspect tastes have moved on a bit and even if people could afford to buy Wedgwood many of the designs just don't fit into the modern world and the quality of the product is not best suited to contemporary design.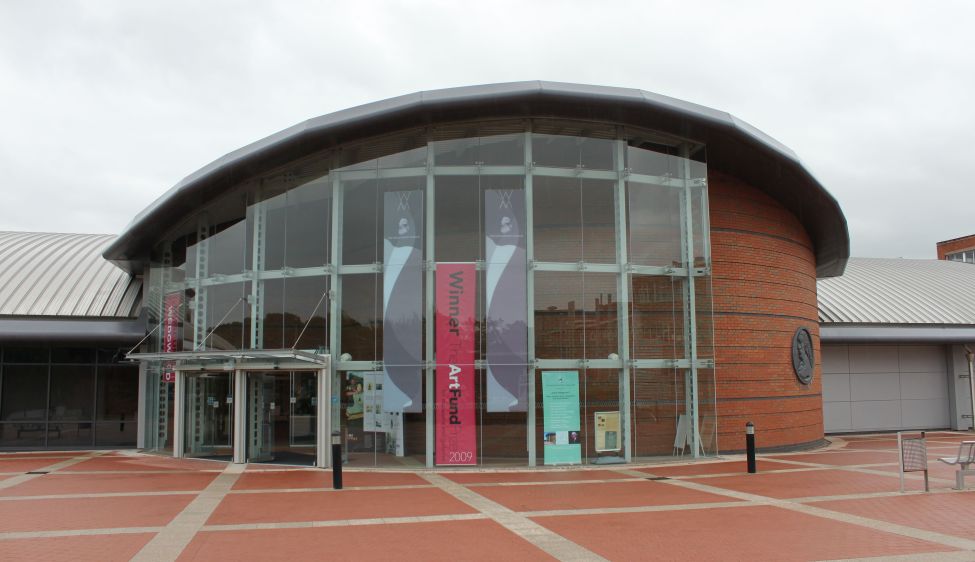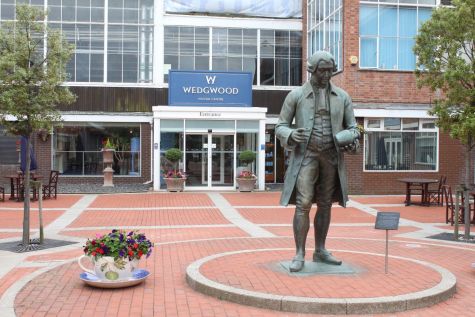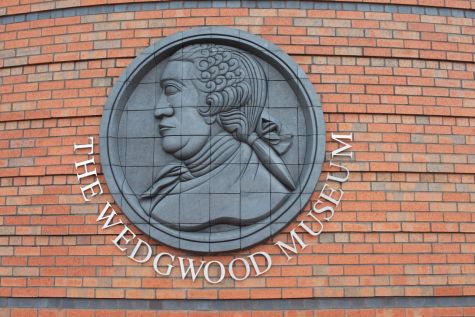 We had intended to move onto the Etruria Industrial Museum but by now it had started to rain quite heavily so we decide to instead visit the Gladstone Pottery Museum in Longton which was more on our way back to the van and it certainly turned out to be a real gem. It is very educational and gives you a lot of background on both the way of life and production methods. And we all know what a Sagger Makers Bottom Knockers is! Saggers are actually the containers the unfired pottery goes in whilst in the kiln. The potter's wheel is the usual vision of pottery being made but much is made in moulds. The clay is introduced into the mould in liquid form and left to solidify on the walls of the mould and the excess tipped away so that the object is hollow as a solid moulded item could explode in the kiln. Ill health amongst pottery workers was quite rife as much of what they breathed in would cause health problems, no H&S then! Even Margaret started to get a bit women's lib on me when she noticed on the wages list that men got twice the wage on the women for the same work! The whole place was very interesting but the two exhibits I found particularly interesting was the part on toilets, including the female urinal and the explanation on why the squat position is better for us! The second section of particular interest was that on ceramic tiles. The day before, in the church at Trentham Gardens, we noticed memorial tiles on the wall of the church. These were made by Minton and the Museum also had a couple of examples.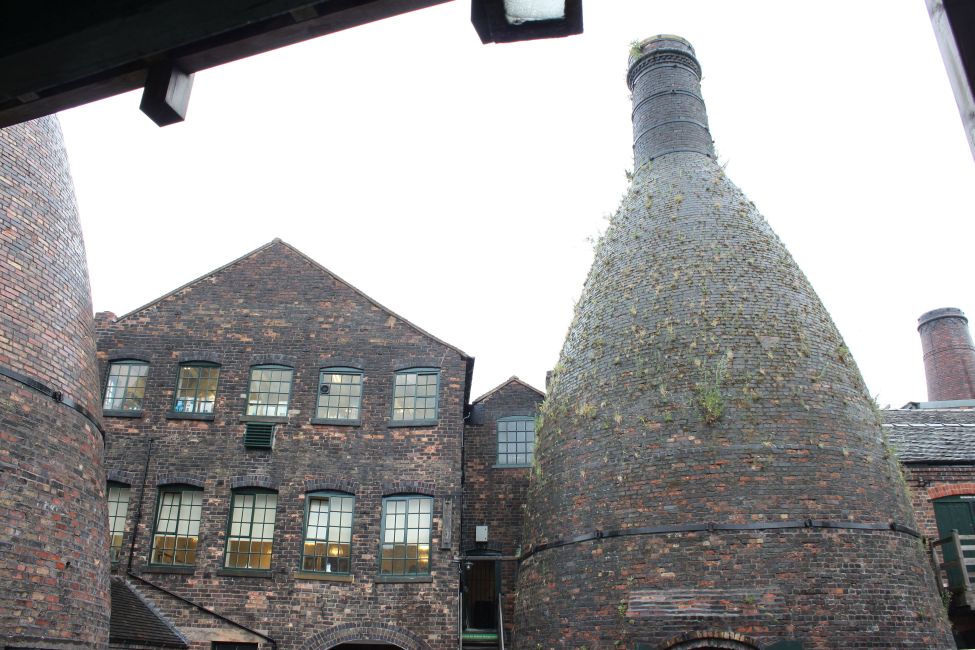 Thursday and our last full day in Uttoxeter. We decided to drive out to see if we could find the canal at Great Heyford Junction. We found Great Heyford and the canal but some unfriendly notices about clamping cars did not encourage us to stay! We headed off thinking there was bound to be another access point but seemed to be heading away from where we wanted to be. We took refuge in a garden centre and revived ourselves with coffee. We returned determine to find the canal and eventually got to the Canal Junction but no where to park but did discover a nice CL alongside the canal for future reference.
Driving around Staffordshire one can't help but notice that the place is infested with speed cameras at almost every turn, I don't think I have seen a greater concentration. In some cases they are so close together it would almost be impossible to build up sufficient speed between them. Don't get me wrong, I am not against speed cameras as a means of achieving safer roads but I am not sure Staffordshire is using them as effectively as they could.
Friday and we head for home. Journey fine except for a hold-up where the A50 joins the M1. I wonder if, had the Grand Prix, been held at Donnington Park whether this hold-up would have affected access to the race. On the journey south all the overheads were saying A43 for Silverstone only?
Littleport
Monday 2nd August and we are off to only our second 'Adults Only' campsite in nearly 30 years of caravanning. We thought that in the middle of the school holidays this was a sensible decision. The whole trip had, had to be delayed for a week as prior to our first booked date. Someone on Friday night/Saturday morning had tried to break into our garage. They only succeeded in snapping the lock off. Such locks don't seem to be available over the counter anywhere so it was a case of searching the internet and the earliest I could get one was the following Tuesday morning. Have to say that Riverside Camping at Littleport were very helpful in changing the booking for us.
If we can we always wait for the binman to have been and gone before hitching up, fortunately we can hear them from several streets away. Our journey again took us on a rather roundabout way to access the Bedford bypass avoiding to road works on the M1 Junction 13 to Bedford section of the A421. Fortunately the A14, notorious for major hold-ups according to our local news, was clear of problems. TomTom wanted to take us on some torturous route so I set him to get us to Littleport and play it by ear from there on in. We reached the end of the Littleport bypass where we had to go round the roundabout and down the road on the opposite side of the Great Ouse. Trouble was it had a 'road closed' sign although it did say OK for local traffic. I slowed to allow following cars to pass. One of them was an old Landrover and the driver seemed to be beckoning me forward, when he pulled off to the left he gestured for me to go straight and it was not long before we found the site. It was nice of him to show me where we should be going. The Riverside campsite is managed by a very pleasant couple. It's not a large site and seems to mainly to consist of statics and seasonal pitches more so than touring pitches. We were shown to our pitch and just as I got out of the car it started to rain! Fortunately it did not last too long. I may have broken my own record for setting up the satellite signal today. Certainly no more than 30 seconds! I Suppose I should thank my neighbour as I just pointed my dish in the same direction as his and hey presto!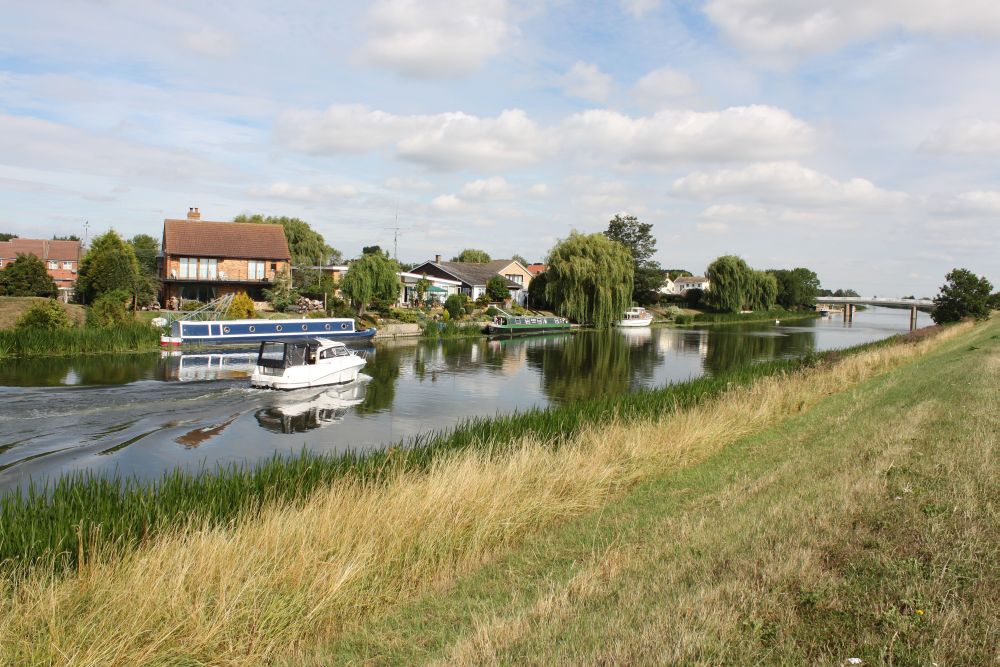 Tuesday dawned in bright sunshine which was in contrast to Monday's nondescript weather. Having a shower in the caravan is hardly worthy of inclusion in this blog. However since we have had this caravan the water pressure from the shower has pulsed, reduced to a dribble and gone hot. I mentioned this at the recent service and have to say they seem to have cured the problem.
After breakfast we walked into Littleport which is about 15/20 minutes from the campsite. Not far over the bridge that takes you into Littleport there is a level crossing and we were surprised to see an ambulance and a lot of police and a helicopter flying low overhead. As we walked further into the village a number of the locals asked us what was going on. We could only say what we observed. Littleport is hotchpotch of a place with buildings built anywhere and everywhere. On the way back to the van we purchase some runner beans from someone's front garden, they were lovely. One of the ladies that we spoke to on the way into the village said that she had found out what had happened and it was what the railway authorities call an 'incident on the line'. I have for many years been intrigued with the 'Fens', mile after mile of completely flat countryside with which many would be bored but I find fascinating. Thirty odd years before we had navigated our small cruiser across the Middle Level and then through Denver Sluice into the Great Ouse to Ely where we attended an IWA Rally of Boats.
Wednesday dawned grey and wet so we had a fairly lazy morning. We did nip out and do some shopping later on when it seemed to be brightening up.
Thursday at least dawned dry and sunny but that did not last long as we made our way along a very bumpy road to Mildenhall to visit the caravan dealer there. I am trying to solve my continuing dilemma I have with towing mirrors. I decided that my old set, which had stood the test of time needed to be replaced. Foolishly, immediately I purchased a new set I threw the old ones away. I got confused between the need for convex or flat mirrors. I initially purchased the latter when it should have been the former! I am now the not very proud owner of 5 towing mirrors. What I don't need will end up on E-Bay! From Mildenhall we made our way to Ely which must be one of the smallest cathedral cities. There is not much high ground in the Fens which makes Ely Cathedral stand out even more as it can be seen for miles around.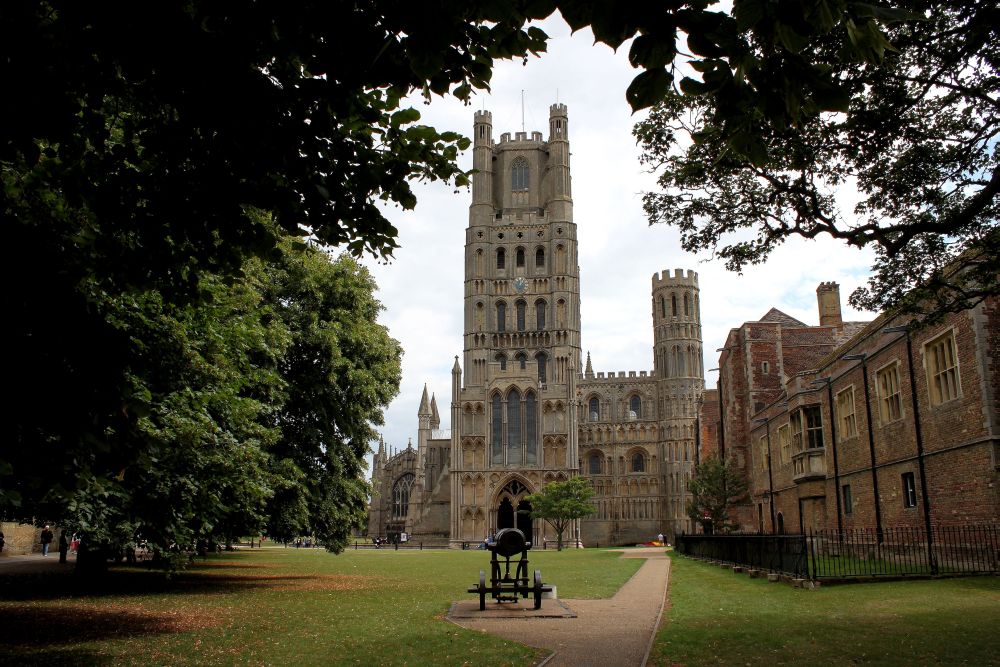 Our first stop from where we parked the car was the Market as Thursday is Market Day. As might be expected there was lots of locally grown plants and vegetables as well as the usually mixture of normal market stalls. Before making our way to the Cathedral we stopped of at a pub nearby for sustenance as many had done before us through time. In Europe it is most unusual to be asked to pay to go into a Cathedral. Regretfully its all too common place in the UK. I would have no objection if the fee demanded was modest but to be asked to pay£5 for a visit that may only last half an hour is a little OTT so we satisfied ourselves with walking around the outside.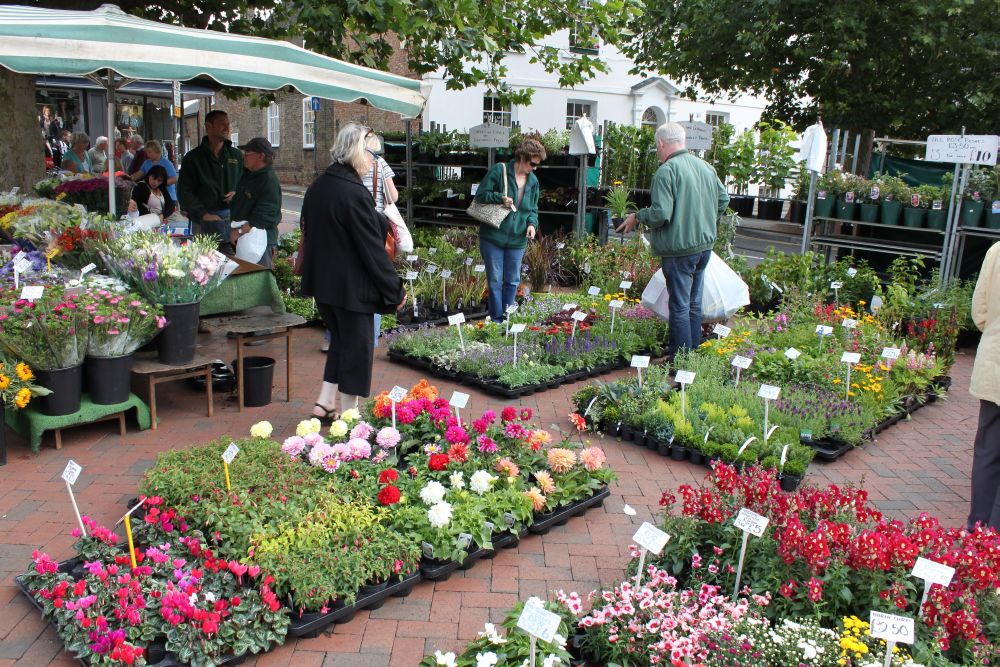 Having finished our visit to the Cathedral we walked down to the riverside area of Ely where so many years before we had attended that Boat Rally. I am sure things were much simpler then!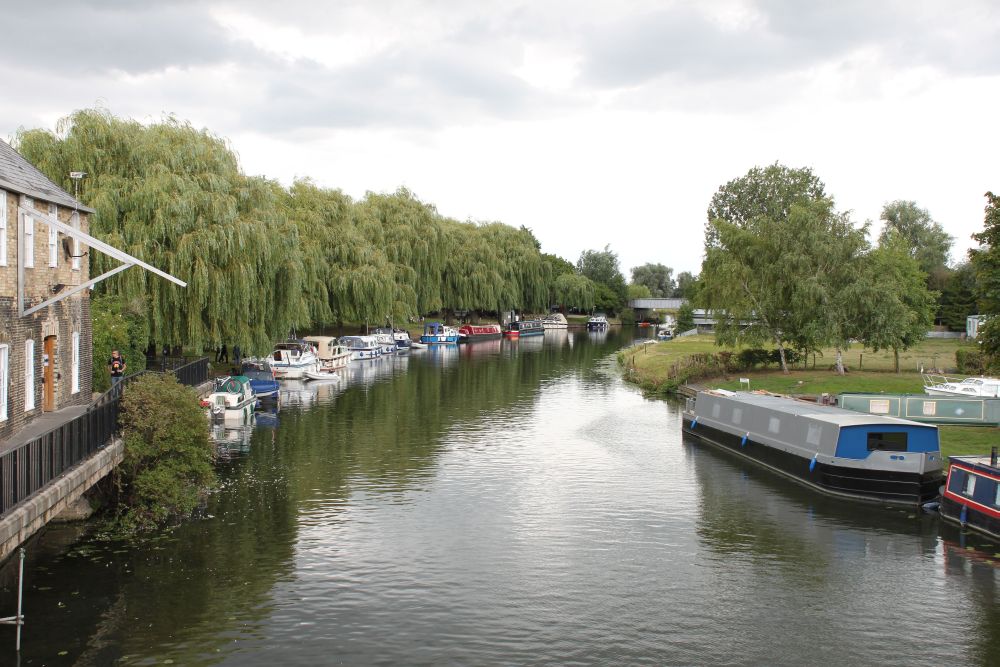 Littlehampton
Well, at the end of last week it seems as though getting away to Littlehampton was going to be a bit of a pipe dream. On the way back home from our French trip we stopped at the South Mimms Services. On the way to the caravan parking I managed to mount a double V shaped kerb with the caravan offside tyre. It was only last Saturday that I got round to checking the tyre and discovered a split in between the thread. I decided that despite only being 18 months old I would replace both tyres as I could used the originals for storage. I rang one local tyre dealer who could deal with Tyron Safety Bands but he offered me a brand that I had never heard of. I decided to try E-Tyres who had a whole range of different tyres available including familiar brands. I rather liked the look of the Bridgestone R630's. So on Sunday I rang them to check they could cope with Tyron's which they said they could and they would be there the next day. Pretty good I thought as there was no need to hang around at a tyre dealer premises. We got a phone call on Monday to say the fitter would be there between 11 and one o'clock. Trouble was that when he turned up there was no way he was going to be able to get the tyres off the rim. He phoned back to base and said they would come back on Wednesday. I was sceptical that they would get the extra kit they needed in time but true to their word they arrived at 10.30am I got the impression the guy that turned up was more experienced and he was also training someone, so a difficult job a little easier. It took ages to get the first tyre done because the original bands had not been fitted that well. In all they were there for nearly two hours, which considering they only charged £10 a wheel extra for dealing with wheels fitted with Tyron Bands I thought was pretty good value. With one thing and another we were unable to have a test tow so that we could establish whether the bolts were torqued up enough so had to do this en route.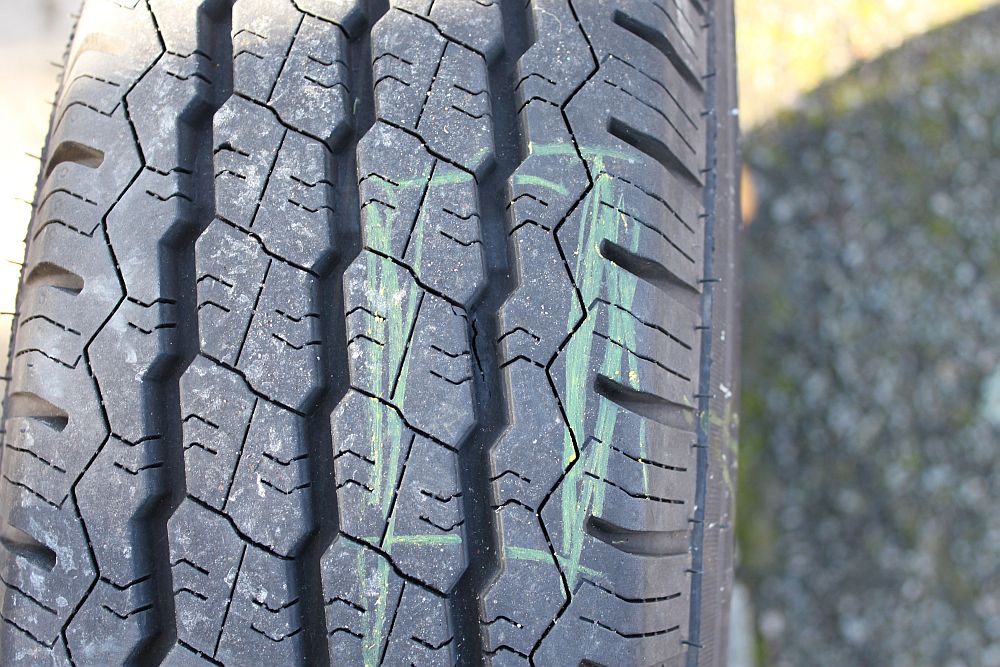 Friday 5th November dawned dull with slight drizzle as we got the van out of the garden By 10.00am we were on our way with the hope that there would be no fireworks! I had planned where we might stop to check the wheels only to find the road beyond Finmere closed for road works so we had to detour using the A34 and M40 to south of Bicester. After about 20 miles I stopped and checked the torque, there was the very slightest of movement in one bolt which is not unusual. I am using some wheel bolt movement indicators so our next stop after about 50 miles was only visual. At our final stop at South Wonston, about 85 miles from home I checked the torque with the torque wrench and everything seemed to be fine. It was a long and tiring journey by the time we got to the Caravan Club site at around 2.00pm. When I walked around the site it was pretty full with only about 4 empty pitches, only hard standings are in use.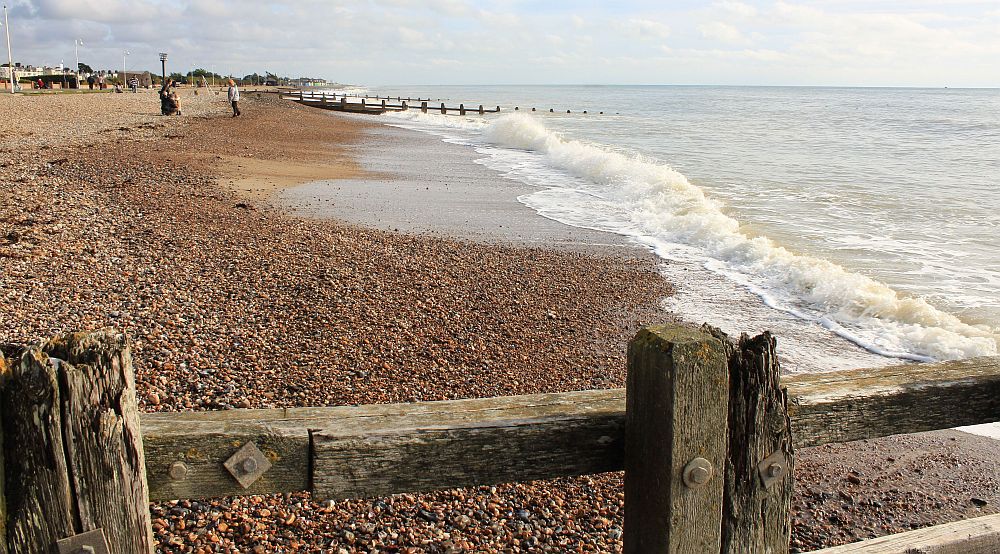 Saturday dawned brighter but not completely cloud free. After breakfast we drove into Littlehampton and parked near the seafront. I always find seaside towns interesting as most have split personalities. There is the bit by the sea and the ordinary bit and they seem to exist in parallel universes. Littlehampton is also where the river Arun joins the sea. We walked along the beach and then up into the town along the river. The local Council have set out along the riverside walk plaques detailing the history of the town. Also something which I think must be unique they also have plaques with fish recipes on! The riverside has in recent times been gentrified with modern blocks of flats overlooking boat moorings. Back from the river is the town which is much like any other town of the same size. Across from the Millennium Clock there is a bakers which does a breakfast baked in a pastry case which is delicious! The campsite continues to be full with only one free place overnight.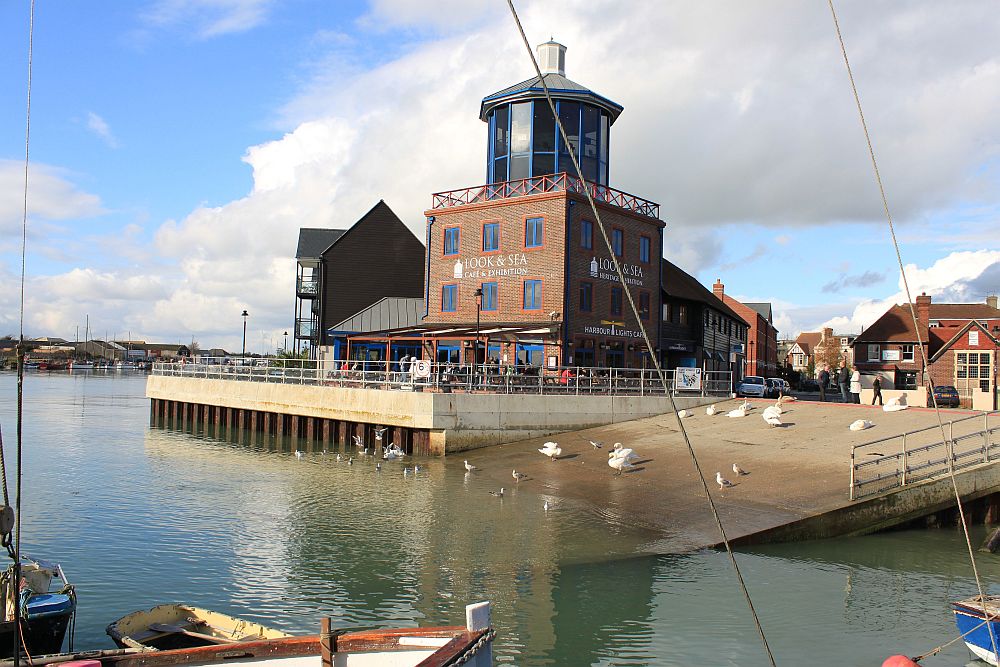 Sunday seemed a bit colder, although for early November not that bad. We have decided to visit Arundel today which is only a few miles away. As you approach from the east you get a good view of the Castle and the Catholic Cathedral high up in the town. Unfortunately the Castle was not open but we walked up to the higher town where you get glimpses of the Channel in the distance. Arundel clearly has a lot of pull as a tourist destination if the number of restaurants and tea rooms are anything to go by.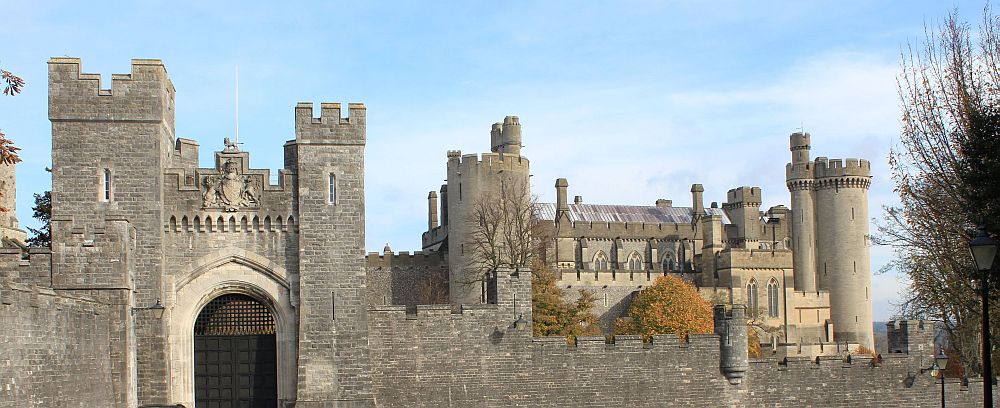 Quite a few units have left the site today but there have also been some new arrivals. Some of those arrivals have been motorhomes towing cars of various sizes. As a caravanner this seems quite odd to me. A reasonably size caravan will have a lot more space than a motorhome and usually less than half the price. I can perhaps see that some would prefer to tow a small item behind a larger vehicle but towing a car seems to mitigate the advantages associated with having a motorhome. I do sometimes wonder if the majority of people who own motorhomes have never caravanned first. One was even wearing Wellington Boots which seemed a bit odd on a dry day, however he must have studied the weather forecast closely because it was very wet and windy overnight and the site road was flooded in front of his motorhome!

By midday on Monday it had cleared up a bit with some blue sky and the wind seems to have died down and by early afternoon it was almost warm in the sun. We drove out to Bognor Regis in the afternoon but did not stop as it did not seem particularly inviting. Still more arrivals today so no sign of the site emptying out.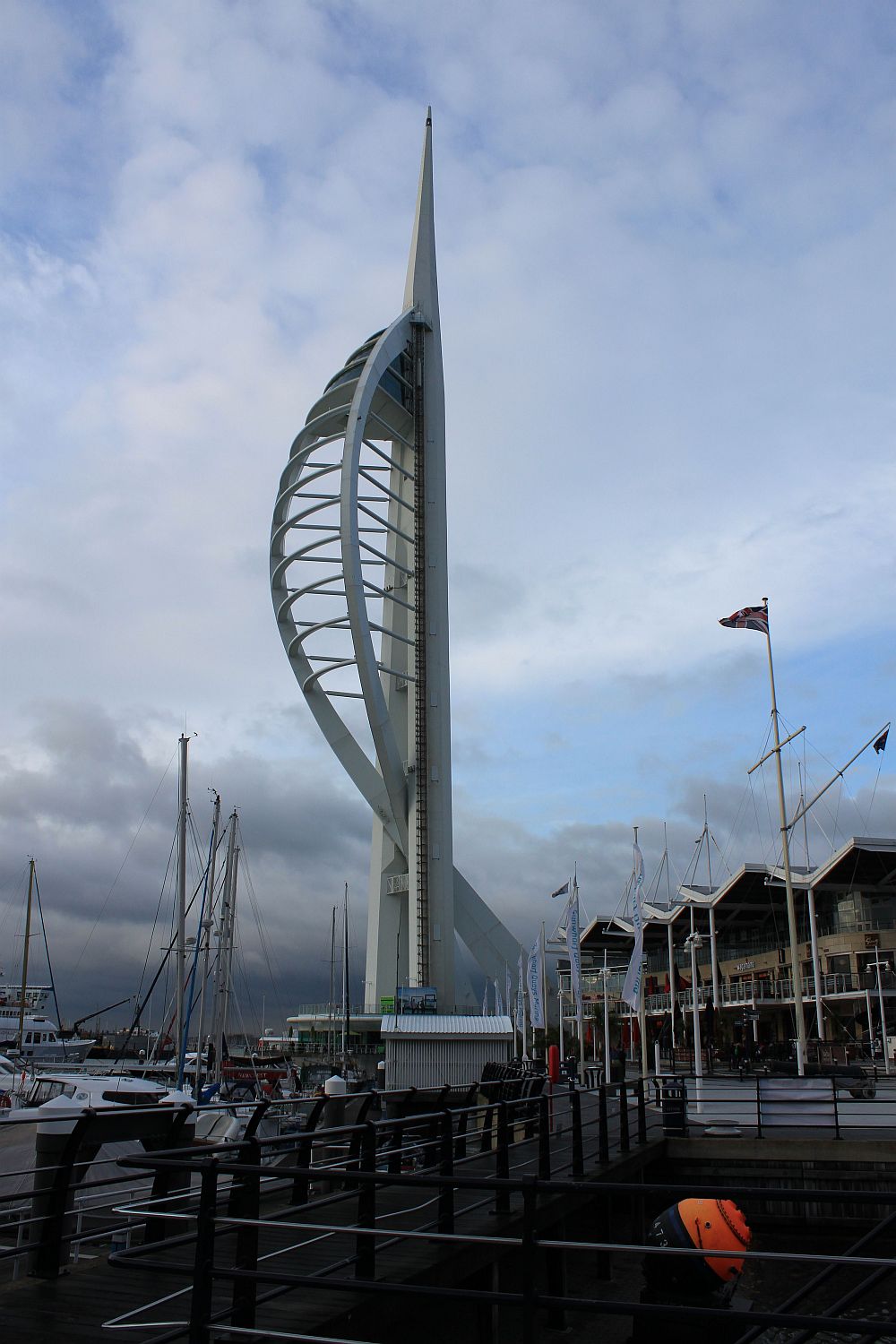 Tuesday and a special day for my sister, Pat, as its her 60th birthday. Very heavy rain again overnight, in fact the local news said that 70mm of rain had fallen on West Sussex overnight. The campsite can vouch for this as several site roads are covered with water making it difficult for some people to have a dry path off their pitch. Around mid morning we left the site for Portsmouth to meet up with Pat and Neil for lunch. Even the A27 was flooded in parts and earlier had been closed. We were heading for Gunwharf Quays which is a shopping complex built on some of the old navel dockyards of Portsmouth. Most of the shops seem to be outlet shops, so selling ends of ranges. There are also lots of restaurants and we chose Strada for our meal and very nice it was. The buildings in the complex are a mix of new and restored which gives a nice mix and of course being right on the busy waterfront makes it a good place to idle away some time. The main attraction which seems to have become the signature of Portsmouth is the Spinnaker Tower which dominates the waterfront. There is a view point at the top from which I am sure you would get wonderful views of Portsmouth Harbour. Looking at the weather forecast it seems that Wednesday will be the best day by far of the week so we are thinking that we might go home tomorrow as Thursday and Friday are forecast to be very windy. Having said that it seems very windy tonight as I am tapping the keys of the laptop!
Wednesday and we did decide to leave a day earlier. I went to reception and explained the situation and they gave me a refund of one nights fees. Of course the sky was a perfect blue without a trace of cloud. It was still a bit windy but this seemed to have died down the further inland we got. We decided to go via the main roads this time using the M27/M3 and then A34. Funnily enough it was the same mileage as our cross country route!
As it turned out Littlehampton was our last trip away in 2010. We decided against a trip to Bath to visit the Christmas Market because of the exceptionally cold weather that seems to have lasted all through December. Having had two Decembers running with very cold temperatures I do start to wonder if November will form a natural stop to our touring season in future. Probably best to play it by ear! Best wishes to everyone for the 2011 season, when ever it begins!