Wyatts Covert Caravan Club Site, Tilehouse Lane, Denham, Denham, Buckinghamshire, UB9 5DE, Tel 01895 832729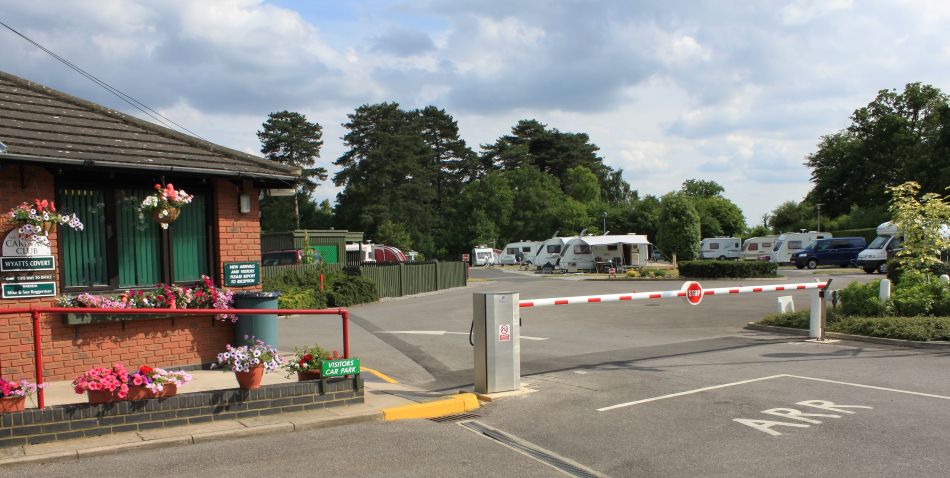 To find site:- From north, exit M25 at junction 17 onto A412 and follow signs to Denham. In Denham Green turn right into Denham Green Lane, signed for Picnic Area. Continue along this road to T junction and turn right into Tilehouse Lane. Site is on right just past the airfield through Park Homes to entrance immediately on the right. If coming from the south exit M25 onto M40 London bound and exit at junction 1 onto A40 and right onto A412 and follow directions above. Do not be tempted, particularly if using a Sat Nav to use Tilehouse lane from north or south as road is very narrow.
Wyatts Covert, which is open all year, is a compact memberís only site with just 50 pitches, situated between the village of Denham Green and Denham Aerodrome in Buckinghamshire. As a result of its location there is a fair amount of light aircraft noise during the day but this finishes during early evening. The pitches, all hardstanding, are set out around tarmac roads. The pitches are not as large as you find on more modern Club sites and it would be a struggle to get a full sized awning, caravan and car all on the hardstanding on some. The warden called them City pitches! There is one facility building which houses the reception and the toilet/showers the latter being kept perfectly clean but are really in need of an upgrade. The washing up area is fully enclosed to give winter protection. There are three service points which are within easy reach of all pitches there is also one for motorhomes. The site currently has KeZone WiFi but this is due to be upgraded to the second generation WiFi recently announced by the Caravan Club. I found my Vodafone dongle worked well at 3G speeds. There is no TV hookup but given the relatively open aspect of the site satellite reception should be fine from most pitches. The site does not have any facilities for children. If I were to sum up this site I would say that itís fine if there are places you wish to visit from the site, its not so much a sitting around and relaxing type site. Likewise there is nothing on site for children so the same would apply. Whilst I appreciate that the site is close to London it is also fairly expensive.
This site seems to have two main uses. Firstly to access either Central London by train from Denham or other attractions like Kew Gardens and Hampton Court or it appeared to being used by people working in the area. For shopping there is a handy general store in Denham Green not far from the station. For a supermarket you have to travel to Uxbridge where there is a Sainsburyís which is about 2 miles from the site. Apart from the Biggles Restaurant on the aerodrome, you have to travel further afield for a better selection of restaurants or takeaways. There are several Golf Courses in the area, Fishing is also available nearby, see the information point for details.
Click here for of our Diary of when we visited this campsite