Warwick Racecourse CC Site, Hampton Street, Warwick CV34 6HN, 01926495448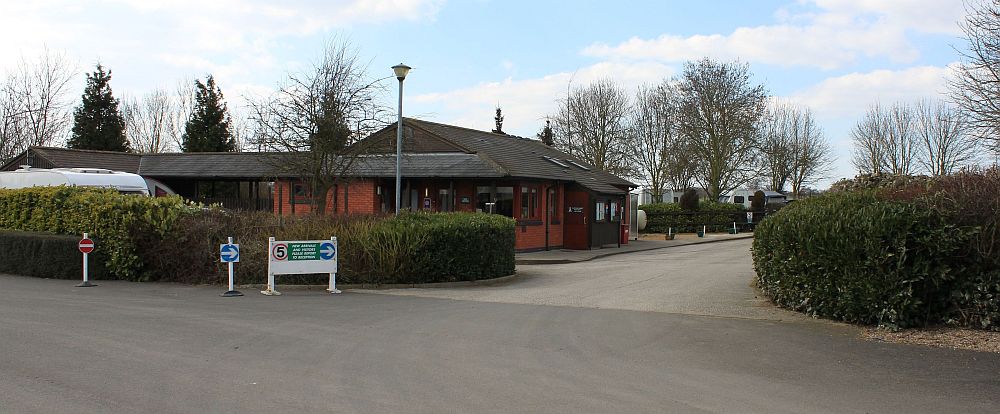 To Find Site:- Leave M40 at junction 15 and take A429 towards Warwick. In about a mile watch for a left turn into Shakespeare Avenue signed to the Racecourse. At the end of the road turn right into Hampton Street. Continue past Racecourse Stands and turn left into Bread and Meat Close, from here the entrance to the site is in view across the racecourse. If coming from the Coventry direction on the A46 bypass continue to junction 15 and then as above to avoid coming through town.
The Warwick Racecourse site has 58 pitches on a mix of grass, hardstandings and tarmac. When booking the non awning pitches they are generally on hardstandings, either stone or tarmac. Depending on conditions motorhome are usually accommodated on the hardstandings. Compared to other racecourse sites we have visited this one is a little more formally laid out. The main facilities are located in the reception building including a small laundry room which doubles up as a information point and behind the office is the toilet/shower block which whilst kept perfectly clean is of an older design. A washing up area and grey and toilet waste points are situated around the outside of this building. There is only the one service point and one other tap at the other end of the site. For motorhomes there is a grey water dump point and a tap for refilling fresh water tanks (no hose provided). Recycling provision is at the site entrance. Access to the site will be restricted on Race Days.
The major advantage of this site is its close proximity to the centre of Warwick which is a short walk away and the Castle a little further on. There are many restaurants and takeaways in the town. For food shopping the is an M&S Food store near the Bus Station. For excursions further afield Royal Leamington Spa and Stratford upon Avon are not far and there is the option of using public transport to these places. The actual Racecourse provides the opportunities for walks and for exercising dogs.