Four Oaks Caravan Club Site, Marlow Road, Henley-on-Thames, Oxfordshire, Tel: 01491572312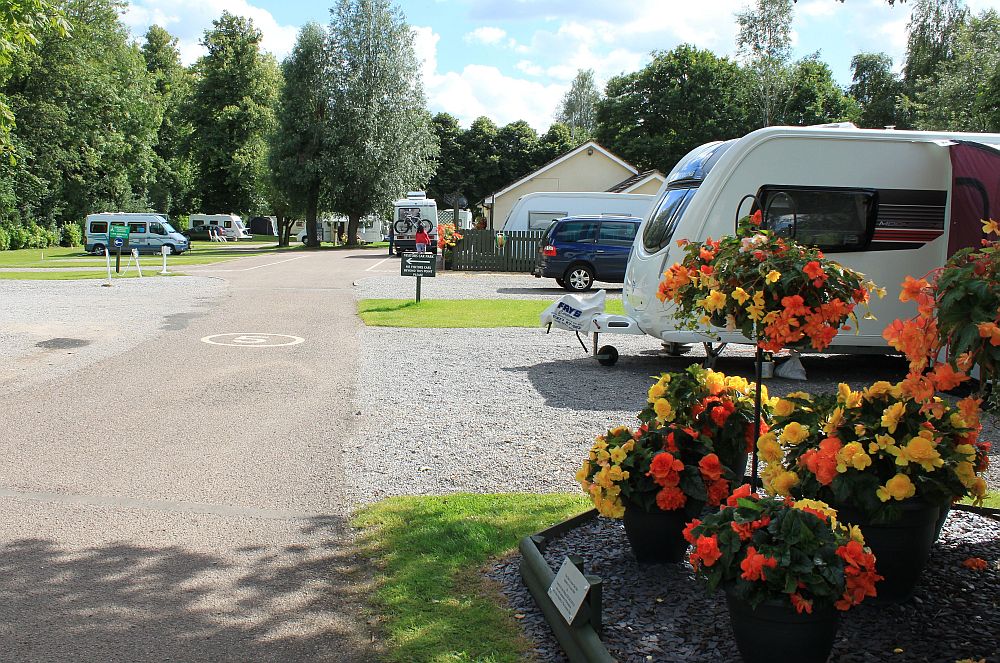 To find site:- From Henley take the A4155, Marlow Road, the site is about a mile out of Henley on the left. From the M40 take Marlow bypass and leave at first junction. Take A4155 through Marlow and the site is about seven miles of the right just past the Garden Centre. This road is narrow in places so care is needed.
The advantage of this Members only campsite is its proximity to Henley on Thames and other towns along the Thames Valley. The site has 81 pitches which are a mixture of 55 hardstandings and 26 on grass. Electric points are convenient to all pitches and are rated at 16 amps and use CEE17 blue push in connectors. The electric bollards also have Co-Ax TV connectors as apparently the terrestrial TV signal is poor. These are free to use but you must have your own cable or buy one from reception. There are three service points for fresh and waste water plus chemical emptying points. Unfortunately the Motorhome Service Point is the old heavy drain cover type. The positioning of the drain is not great as it could impede the flow of traffic whilst in use. There is one toilet block which also houses a covered dishwash area and a laundry. Because of its situation it is a fair distance from some pitches. When the block is closed for cleaning there are alternative facilities available. Reception sells some essentials and newspapers. Next door is an information hut with details of local places to visit and local transport information. At the far end of the site is an enclosed play area for children. There is site wide WiFi and time can be purchased online. Although rated as Gold I found it slow at times with a few connection drops but generally it seemed OK. This is a busy site so it is probably advisable to book in advance particularly around the time of the Henley Regatta. The main bugbear of this campsite is its close proximity to the A4155 and the associated road noise which of course varies depending on time of day. Apparently the Club have investigated possible barrier solutions to this problem but they have proved to be prohibitively expensive and only likely to be minimally successful in suppressing the noise. The pitches further into the site will be less affected but they are the ones that are taken first! If noise is a major irritant to you perhaps itís not the site for you. A possible alternative would be Swiss Farm which is almost next door but set further back from the road.
This is a very convenient site to visit Henley on Thames, it is a 15 or so minute walk into the town centre. There you will find an excellent range of shops and restaurants. The nearest supermarket is Waitrose in Henley. Also there are walks up and downstream along the Thames towpath. If you don't want to walk there are river trips from the banks of the river near the bridge. This is a good base to visit other towns along the Thames, Marlow is 8 miles away and Windsor a little further and if you prefer not to drive there is a very regular bus service from the bus stop about 500 metres from the site which runs between Reading and High Wycombe calling at Marlow en route.