The Motorhome Blog
Part 1 - Bailey Approach 740 SE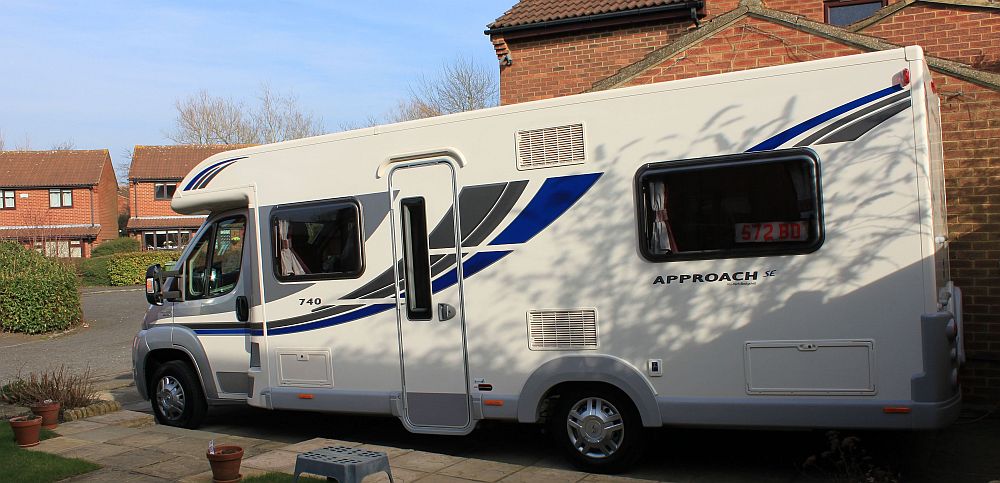 Introduction
Back in December 2012 we collected our caravan from the dealer after a minor repair. When we got home we had some difficulty with the motor mover which in turn made it difficult to get back in the garden. It was at that point we started to think seriously about whether we should have a motorhome. Itís not an entirely new idea for us but this was the first time we started to think seriously about buying one. We agonised over the decision because not only was it going to cost a lot of money it would be a very different way of camping compared to the caravan.
Clearing the shelves in WH Smith of motorhome magazines did not really enlighten us a lot as they seemed to be encouraging everyone to buy Continental vans. Also some of the layouts were strange, at least to us, with very high beds and not being as agile as I once was this style was dismissed. I did find Google useful in finding reviews of various motorhome, some of which could be downloaded as PDF files. We got hold of manufacturers brochures which even in the internet age were useful to view side by side with all the facts at your fingertips. We resolved to delay any real decisions until we had visited the NEC in February. It was the first visit to any such show where we walked straight by the caravans and headed directly to the motorhome stands. We concentrated our efforts on the UK manufacturers, or at least the ones in our price range! There are some nice vans out there but you do seem to get what you pay for. Even something like a spare wheel is not universal. Initially we wanted a motorhome with an automatic gearbox but it turned out that only Swift offered this option in our price range. Although we have had several Swift caravans we could not find one of their motorhomes that suited our needs. One issue was fixed bed size, only 4 foot wide on some models. It was also disappointing to find that neither Swift or Elddis had fully lined shower compartments which given the fact that we always use our own facilities was a concern. We kept going back to the Bailey range which seemed far better equipped, albeit not available in automatic form because of the base vehicle used.
We left the NEC with our minds buzzing! We needed to visit a dealer. We had purchased our last caravan from White Arches at Rushden and we knew they also had a motorhome dealership near Wellingborough so off we set. On a grey February day we wondered around the site looking at what was on offer. Even had a look at the secondhand ones but none of them appealed. Looked at both the Bailey 740 and 745. We had wondered about the 745 as it had 4 seat belts but then we thought who would be coming away with us and so we decided to save the £1000 difference in price and look at the 740. As we were wandering around we met Mike from White Arches who asked if he could help. This is the crunch point where you either make some excuse like Ďjust lookingí or take it a stage further. We did the latter. We explained our situation and how we liked the Baileys so he took us across to look at them in greater depth. He explained how everything worked. Mind you they are very cunning as they left the heating on which on such a cold day made it very comfy! I had an idea of what our caravan was worth so decided to explore a little further, not realising we were getting in deeper and deeper! The part exchange offered was quite a bit better than I had first thought. We now knew what was on the table although still a bit scary! We left Mike saying we needed to think a bit more about the whole thing.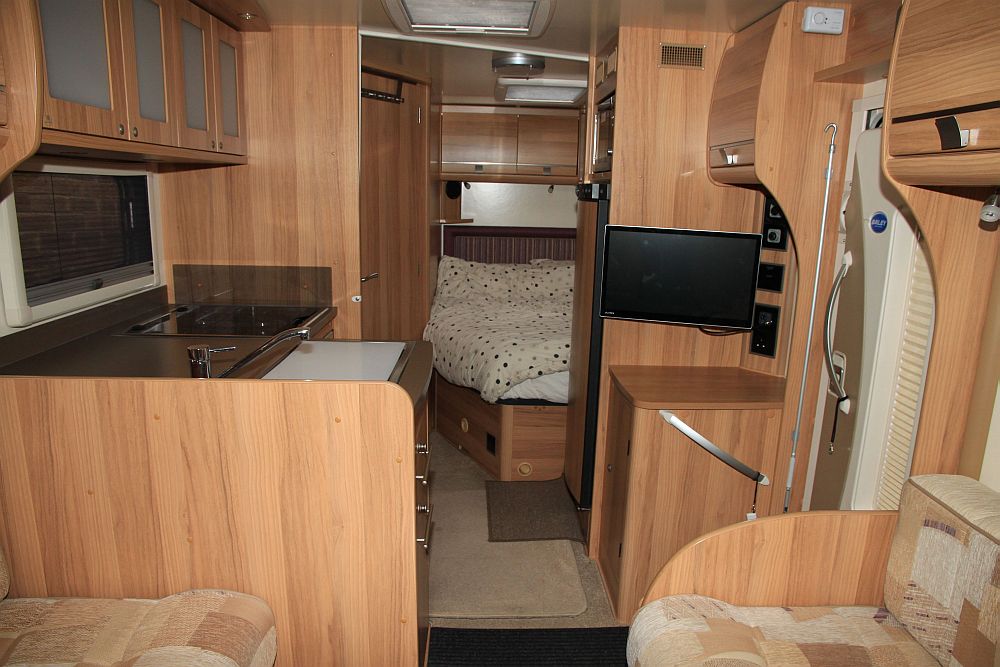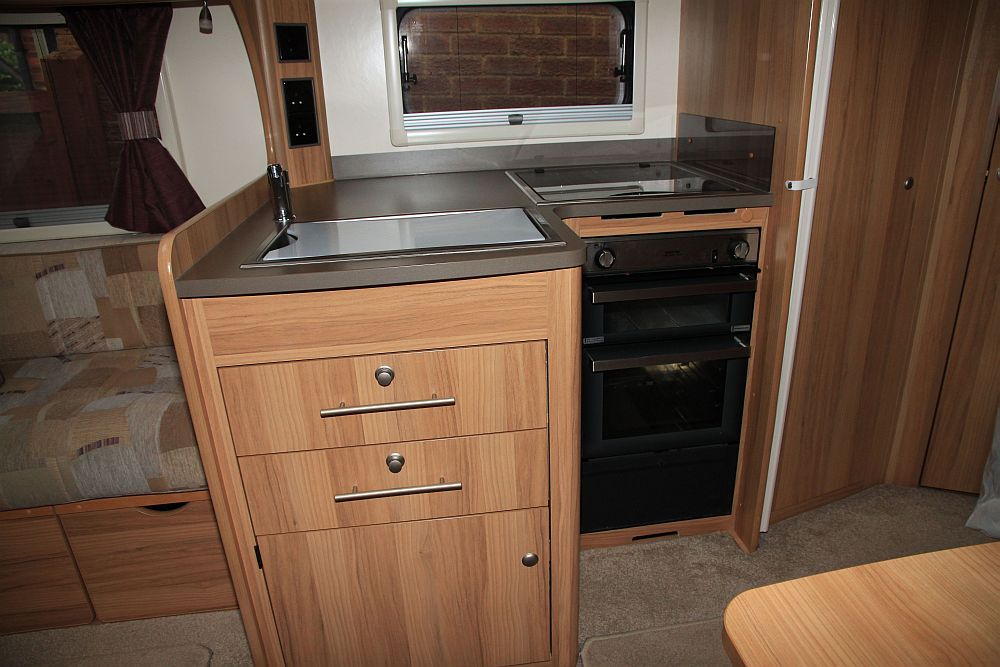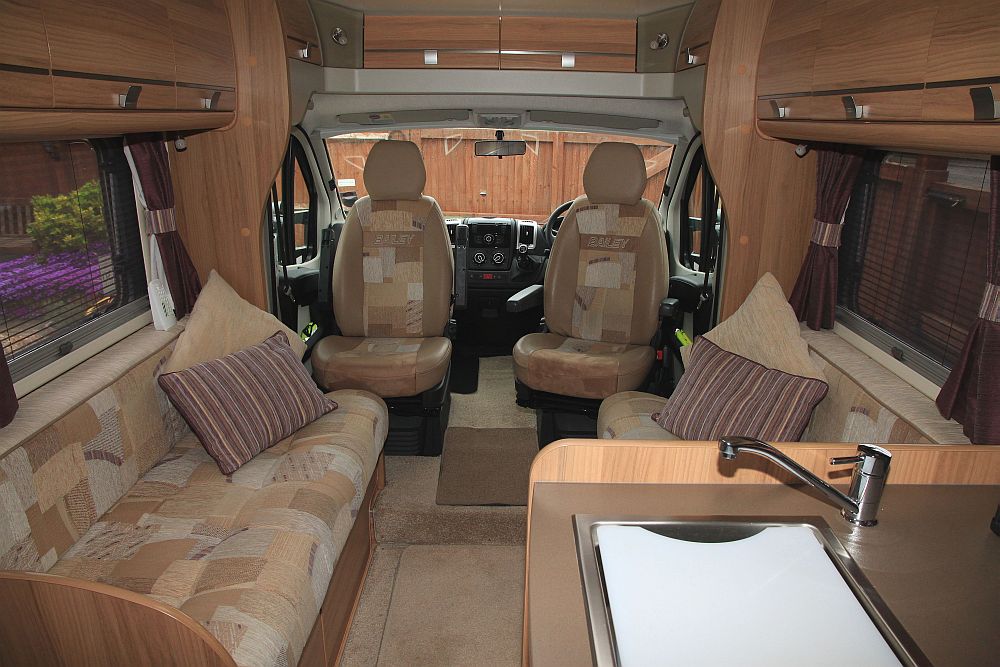 Over the following few days we did not really discuss it in depth. However we had to concentrate our minds when Mike phoned to ask how we were getting on with our decision. I explained to him that one issue that really concerned us was whether we would be able to get it in the back garden as the 740 was longer and wider than our caravan. To my surprise he offered to drive it over to Mk to see if it would fit. This presented us with something of a dilemma as we realised if it went in the back garden we were committing to buy. In a way this helped with the decision. To put the whole thing into perspective and perhaps explain some of our concerns we had never spent £45000 on anything before. Even our house cost less than half that when we moved in 33 years ago!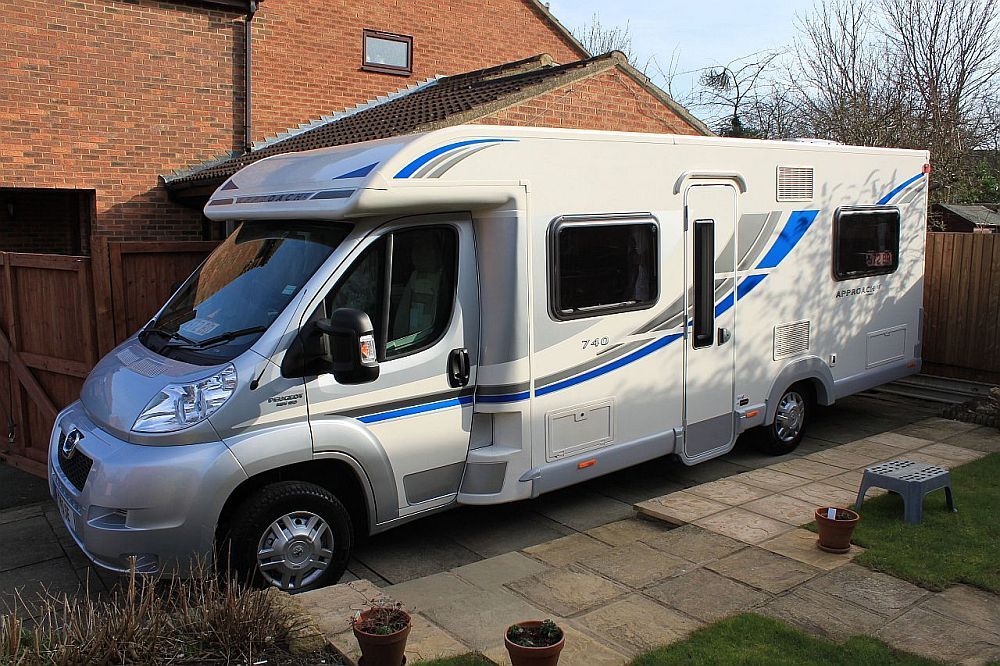 Monday 4th March arrived and as if by magic it was a beautiful clear spring day. I usually wait until the bin men have gone before getting the caravan out onto the road down the side of the house. Sodís law presented itself in the form of a very late recycling lorry, apparently because the regular guy was on leave. With a clear back garden we waited for Mike to arrive. Somehow we missed his arrival and before we realised he was half way into the back garden, and it fitted. Game set and match to Mike! Into the house to sort out the details. We mentioned the accessories we wanted like the wind out canopy, bike rack and reversing camera. Fortunately we got a bit of extra discount on these items. So signed sealed but not quite delivered, we would have to wait until towards the end of March for collection. Still lots to do before that time.
The intervening period between Mikeís visit and the point where we take the caravan into Rushden has been spent trying to think of things we might need as additional bits and pieces. The Caravan Club forum has been helpful here with various members providing lots of information. One item that we really know nothing about was that of Thermal Screens for the windscreen. There were mixed views but in the main most people felt they were a worthwhile addition, particularly during the colder months, although some suggested they were also a good idea for hot weather by helping to keep the cab cool. On a visit to the local caravan dealer to get some gas we also purchased a couple of levelling ramps which I imagine are pretty important. Another purchase has been a book called ĎCamperstopsí which lists 2000 odd places where motorhomes can park and in some instances even stay overnight. Having always stopped on campsites I am not sure we will use them for overnight stops, at least in the short term but you never know. Interestingly whilst some of them are free some of them are as expensive as normal campsites. I suppose the advantage is that they are often situated near to town centres so close to amenities.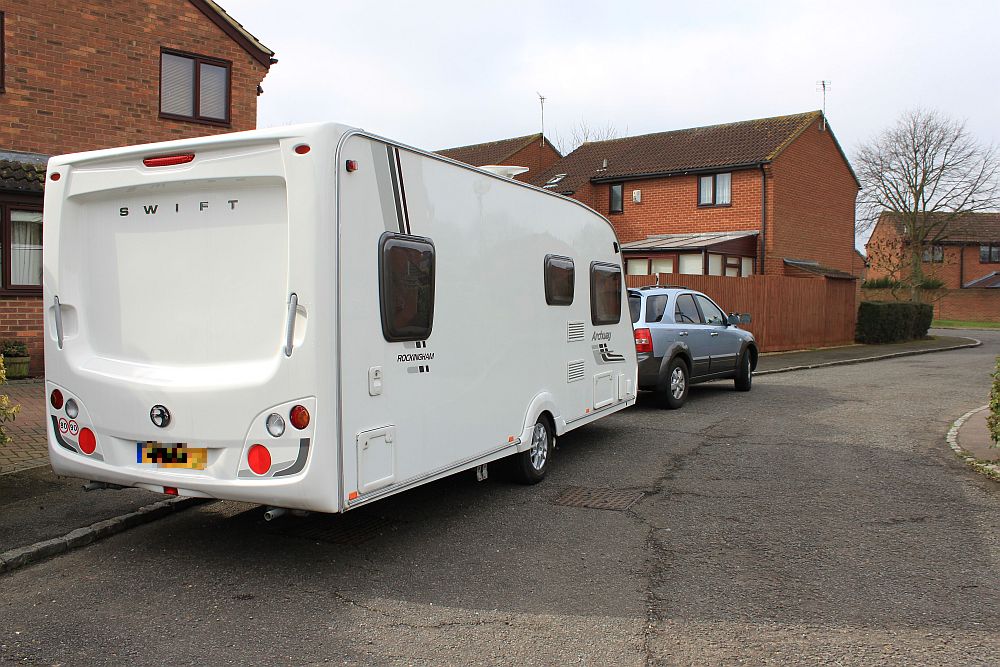 On Tuesday 19th March, with some sadness, we took our caravan up to Rushden as they like any part exchanged to be with them before the handover. Our motorhome was in the prep area. Mike met us and showed us they had fitted the awning, bike rack and camera. We asked a few more questions. We also wanted to try the fixed bed mattress as I was a bit concerned that it was a bit soft compared to the caravan which was quite firm. It is softer but there was nothing we could do about it anyway! After a coffee we made our way back to MK. Margaret made an interesting comment in that she thought they seemed much more friendly and relaxed at the motorhome sales compared to the caravan showroom. Perhaps they appreciate that as people are spending a lot more money they have greater expectations?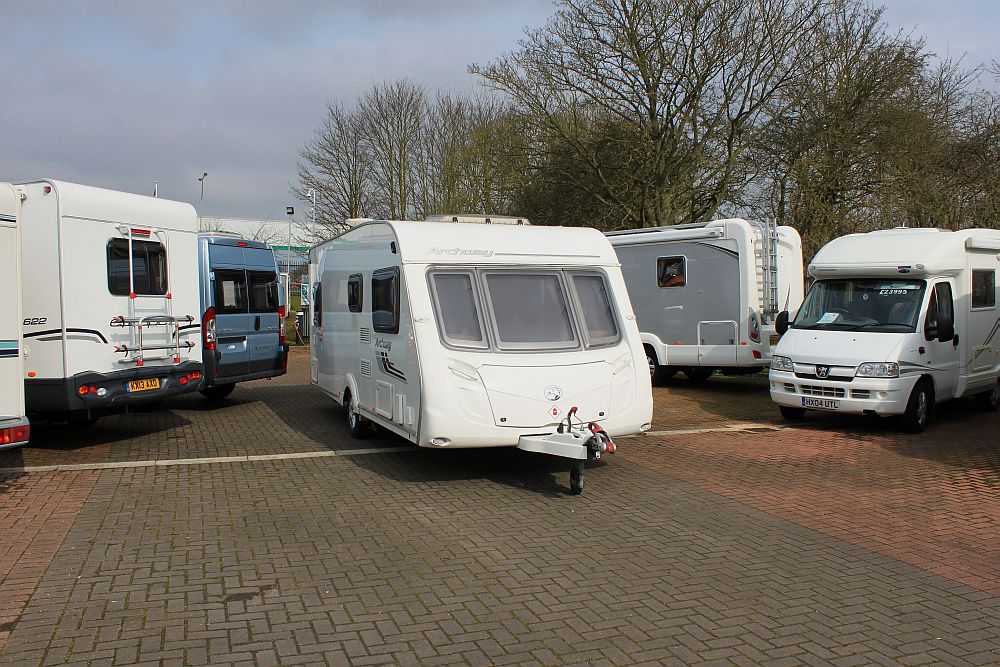 The following week was looked forward to with a mixture of excitement and panic! This was not helped by several days of snow, which although not heavy was being very stubborn to clear. Monday 25th March arrived and fortunately there was no more snow but it was still bitterly cold. Our son Simon arrived just before midday to take us to Rushden. It was clear that although only 20 miles from MK they appeared to have had a lot more snow than we had in MK. Simon could not stay long but he did have enough time to look round the forecourt and we were able to show him another model similar to ours. We found Mike in the office and he said that it was best to sort the finance out first as there was no use going through the induction if the bank refused to play ball. Although it took ten to fifteen minutes to sort out, everything went through OK. There was no reason why it shouldnít but you always have that irrational fear!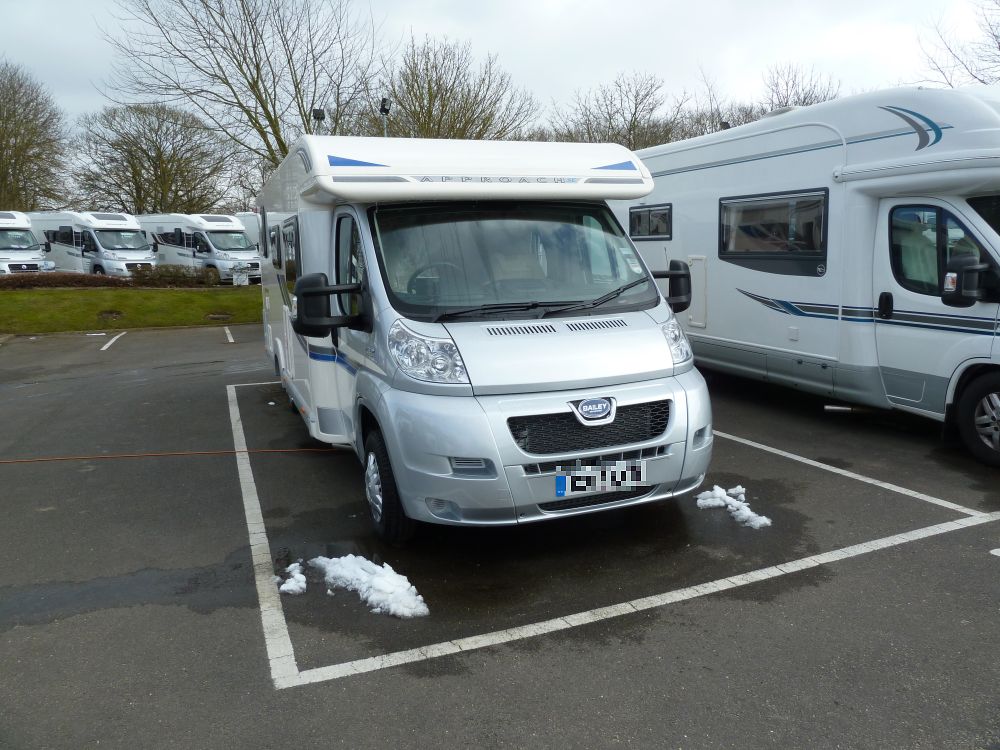 Mike took us out to the motorhome which had been cunningly parked next to a much bigger one, no doubt to ease our concerns about how big it was! The induction process was long and detailed. Eventually we were ready to go but not before Margaret had been presented with a lovely bouquet, the most expensive flowers in history!!! We were on our own now! The first task was to fill up with fuel which was not that difficult as there was a garage right next door to the dealers. It took me a few seconds to work out how to get filler cap off. The diesel went in and in with the total price indicator starting to look like the national debt of a small EU country! I exaggerate a little but at least we now have a full tank, which apparently is 90 litres. The next task was to pull out onto the busy A45 dual carriageway. Fortune favoured us with a gap in the traffic as I fumbled with the gears but we were actually moving forward. Although a longer journey we thought it best to use main roads so that I could get used to driving the motorhome. The first thing you notice about driving a motorhome is how much it rattles if things are not properly stowed, however it was better once we were on the M1 heading south. I appreciate that I was on main roads but felt I quickly got the feel for driving the vehicle even if the was a relatively short journey of 33 miles. We pulled into our estate and parked alongside the house so that we could open the gates, and move the car somewhere so we had access. I was very tentative as I reversed the Bailey into the back garden, there is not a lot of room but after repositioning myself a few times we were safely in the back garden. It had been quite a day but there was a degree of satisfaction that we had got home safely and got it neatly into the back garden.
The following day we emptied the conservatory of all the bits we had taken out of the caravan. We took the opportunity to be ruthless in deciding what we would transfer into the motorhome. First of all I had to work out how to work the heating with a drained down water system. Managed this and we soon had a warm interior. In order to keep things neat and tidy we wanted to keep things in boxes but few of our existing boxes would fit so we took measurements. The under fixed bed space is not as generous as we were used to with the caravan because the combined water/space heater is under the bed, as is the water pump. However there is quite a bit of space under the front settees which is more usable than the caravan. Wednesday we went off in search of plastic boxes plus some mats to protect the carpet.
Rather strangely the motorhome does not have any crockery storage unlike most caravans so we had to go in search of accessories. First we went to Tony Wild Camping at Woburn. Margaret did manage to find a small table she wanted but no plate racks. We had a chat with the Wildís and apparently they now have permission to sell caravans although limited to having six on show. From here we set off across country to Rusden and the White Arches accessory show rooms where we managed to secure the bits we needed.
Saturday 30th March and we are gradually getting ourselves sorted. We have been experimenting with how we will store things and we think that because motorhomes tend to rattle or rather the bits in the motorhome tend to rattle we have decided to store most things in boxes. Although we have a variety of boxes already they are often not quite the right size for what we need. This prompted a box hunt across Milton Keynes! In addition to trying to work out where things will go we are also trying to familiarise ourselves with the workings of the motorhome which is slightly different to what we are used to in the caravan. Today we had the heating on both gas and electrics. We also tested the hob and oven which all seemed to be working OK, as was the fridge. Apart from filling up with water we are more or less ready to go.
Monday 1st April, perhaps it's the date, but disaster struck today, or at least came to a head. Ever since we have had the motorhome, seven days to be precise, we have always had to slam the door with quite a bit of force in order for it to close properly. On a couple of occasions its refuse to close but a bit of fiddling usually solves the problem. Today on trying to close the door the mechanism is not working properly and it is now impossible to secure the habitation door. This has put the kybosh on us going to Warwick tomorrow and instead it looks like another trip to Rushden! I did phone and talk to Mike but of course they have no service staff on duty on a bank holiday so he promised to get the service guy to ring me first thing in the morning. It seems as if something has come adrift inside the door as the bottom catch has no spring action and neither catch will engage with the staple in the door pillar. So not quite as we expected! Apart from food we are all ready to go.
Tuesday 2nd April. Having cancelled our booking at Warwick because we did not know what the outcome of our door saga would be we could only wait for the phone call. As it happens we did not have to wait long as at around 8.30am we had a call from Dale the guy from the White Arches repair shop. He said that they had, had similar problems with other makes of motorhome but was not aware of issues with Bailey. He said that if we were to bring the motorhome in he would attend to the problem immediately which is a refreshing change compared to some organisations. We drove up to Rushden via a more adventurous route this time going through Olney. Those of you that don't know the Buckinghamshire town of Olney it is quite similar to lots of towns in France. On both sides of the road it has nose in parking and sometimes vehicles can jut out into the road so care is required. Good driving practice anyway! When Dale arrived at the sales yard I explained how it had always been difficult to close the door and I pointed out that the closing hooks had worn on the ends which suggested that they had not been fitted correctly in the first place, a view he did not argue with. He said he would have to take it to their service yard which is down the road and if needs be he will take a mechanism off another motorhome if that was the only option. I suppose he was gone about an hour and when he came into the office he plonked two lock mechanisms down on the desk so we knew at that stage he had replaced them. He showed us the door and how it was now locking correctly and we could immediately see the difference from the original. Most motorhome doors need a good slam but it was now closing with a modest slam and such an improvement. Obviously we could have done without the problem in the first place but we were pleased with the way it was dealt with. We made our way home the way we came. Had a bit more reversing practice getting it back into the garden. In a strange way it was good to get a bit more driving but perhaps would have preferred it to have been under different circumstances.
Having cancelled the site the night before as we had no idea how long it would take to fix I tried to rebook. All the hardstanding/non awning pitches had been taken so I booked an awning pitch hoping that it would be OK for a motorhome. A little while later I had a phone call from the warden saying the pitch I had booked was unsuitable for motorhomes and would I like a hardstanding! Of course I said yes, glad someone is looking after me!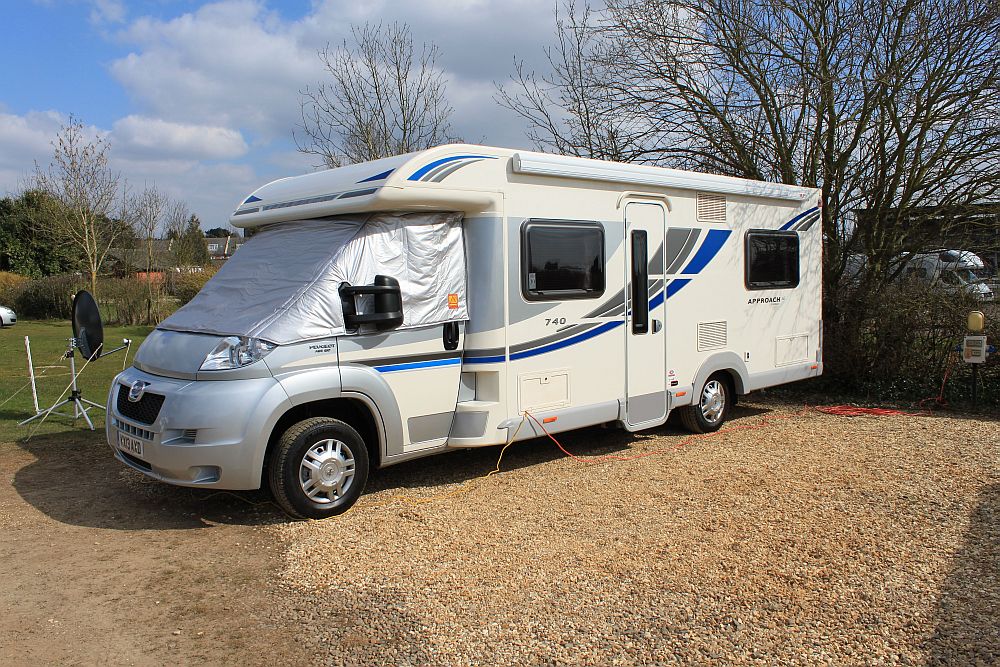 Tuesday 3rd April. The big day arrives when we actually get to stay in the motorhome for our first night! Given that Warwick is only just an hour away we could not leave too early as we are, officially, not allowed to arrive until after midday. One thing that we have become immediately aware of is the relative ease of packing up and leaving home, unlike the caravan which was more long winded. It became obvious as we were driving along that our attempts to reduce the amount of rattles had only been partially successful. The main culprit seemed to be the satellite dish which we had put under the fixed bed. When we arrived on site the poor wardens seemed to be aware of our problems in some detail. They showed us on the site map the available pitches suitable for motorhomes and we drove around the site to find one that suited. The choice of non-tarmac pitches was limited but we did find one. Another advantage of a motorhome is that when you arrive on site the interior is already warm from the cab heater. After some lunch we set about familiarising ourselves with all the various controls. We had purchased a windscreen insulated cover which fitted well. Apart from setting up our free standing satellite dish, which was a struggle in the high wind, we seemed to be on top of everything. In fact the difficulties with the satellite dish spurs me on to have a roof mounted one but that might have to wait until next year. The delay is twofold. Firstly the cost and the need to save some more pennies and secondly to be sure how large the UK footprint will be when all the new satellites are in place. This could influence what sort of dish we have.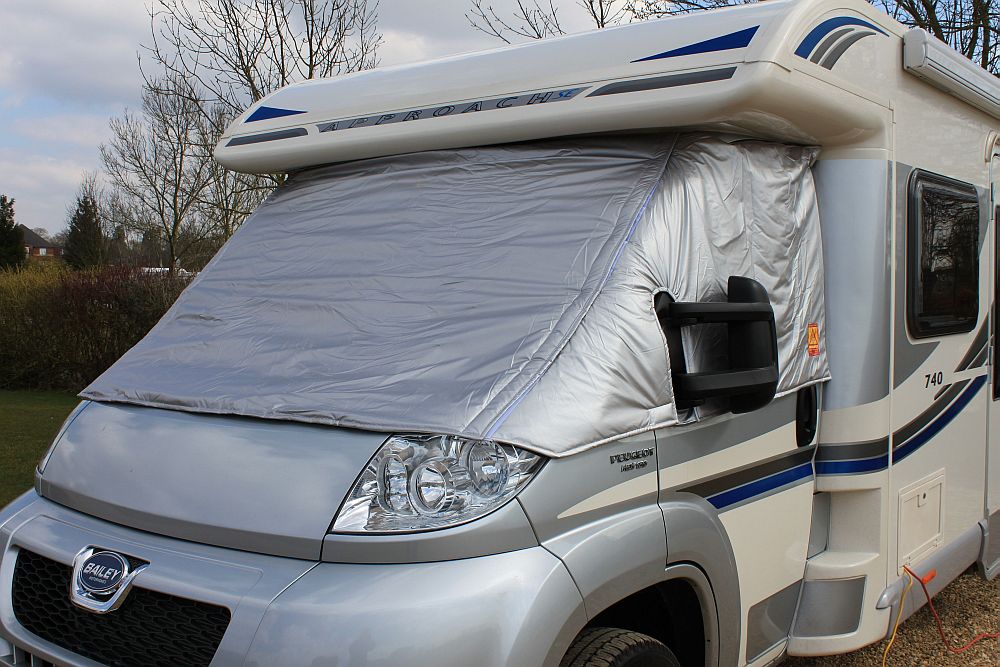 Thursday 4th. We awoke to slight flurries of snow! One thing we have noticed is that the bathroom gets very warm which is no bad thing! Our first problem was when we tried to use the shower. Initially we had very hot water but it only seemed to last for a few seconds before going cold. Now this could be to do with the fact that the water heater had been drained which caused some sort of airlock. Having a freezing cold shower burst on a freezing cold day is not my idea of fun!! We then went to get a bottle of water out of the fridge only to find it was half ice. We only had the fridge on the half way setting, so we turned it down even more. We filled the freshwater tank at home but where we park the motorhome it is on a slope so the tank did not fill to capacity. This require a supplementary filling via a small water container. I know we could have whipped it round to the water tap but that seemed to defeat the purpose. One reason for selecting the campsite we stayed on was that we could walk into Warwick and explore the town and the Racecourse site is ideally suited to this.
Friday 5th April. Our short shakedown cruise is nearly over. The hot water seemed to work better this morning so perhaps the problem has cleared. Time to pack up and in truth this seemed to take as long as it did with the caravan. You still have to stow away the satellite dish, reel up the electric cable, empty the toilet and empty the waste water which is much more long winded than emptying a Wastemaster, except of course you donít have to drag it to a waste water disposal point, you can drive! The journey home was uneventful and I seem to be getting on alright with the manual gearbox, although itís a bit confusing when I get home and immediately go off in my automatic car! I have discover the speedometer over reads by about 10% It was very windy today and I am surprised the motorhome does not seem as steady on the road as I imagined it to be. Now this could be to do with the strong wind or perhaps the uneven nature of some of our motorways. Driving on ordinary roads is fine. Not that I want to be a speed merchant but it seems difficult to get much over 60/65 (genuine speed), this could of course be due to several things. Perhaps my reluctance to go too fast or the fact that it is a very new engine. Itís prudent of course not to overdo things either from a driving point of view or an engine point of view. When we got back to MK we went via the nearest Tesco to fill up with fuel. Managed to get it in and out of the forecourt OK. Fuel economy seems to be just under 25 mpg which is better than I got with my tow car! When we got back home reversing it into the garden seems to get easier the more you do it.
The two days away was useful in providing us with valuable information on how we could improve small things. The supplied hose is 7.5mts long which will be plenty enough for normal filling points but it did cross my mind that on a service pitch it might not be long enough so I have ordered an extension. They are fairly compact when wound up so it should not take up much room. We also notice that all the cables we used in the caravan to connect the TV/satellite system seem very long in the motorhome so I have ordered new ones. I have used a company called Satcure for satellite/tv leads in the past the quality of their products are very good so I have gone back to them. They make leads of all sorts of length and colour. I have also sourced a 500mm scart lead from elsewhere which should help tidy things up. On a different subject I have had to make a few changes to the back garden to allow easier access for the motorhome. This has meant lowering a short length of retaining wall so that we can get round the motorhome which is longer than the caravan was. Still waiting for the V5 to arrive so that I can order my Umwelt sticker from Germany. I now have my Liber-t tag for the French Motorways so it will be interesting to so how that works out.
In preparation for our next trip away I thought I should check the tyre pressures. Whilst the front tyres are a reasonable 55 PSI however the rears require 80 PSI which seems to be the maximum that the tyres are rated at. Interestingly the Peugeot handbook makes no mention of tyre pressures! The Al-Ko Certificate of Compliance suggests a different set of tyre pressures. I will have to investigate that a little later. I checked the first three tyres which we fine or needed a little extra air. The final tyre needed a few more PSI but for some reason my foot pump would not add more air. I have a Ring 12v inflator but in my view it is pretty useless. I was running out of options so decided to drive to the nearest garage to use their airline. Trouble is the maximum pressure it went up to was 80PSI so by the time the tyres warmed by the journey meant it would not add more pressure. In the end I went to Halfords and purchased a cheap pump which seemed to do the job!
Monday 15th April. Our second trip away, this time to Castleton in the Peak District for four nights. Although it was only a journey of 126 miles it seemed to take an age. Firstly we had a holdup near Leicester and then the journey from Chesterfield to the campsite was very slow. I am a bit concerned that we suffer from a bit of instability. Whether it is to do with just turbulence or uneven roads, or too much air in the rear tyres I am not sure. Being a front wheel drive vehicle I imagined that it would feel a lot firmer on the road.
When we got to the site we filled up with water which was a bit of a palaver as the tap was on the wrong side of our motorhome for the direction of the one way system. At the risk of being drummed out of the CC I turned round and went in against the one way system! When we found a pitch we used the levelling ramps for the first time and whilst we are not completely level we are better than without them.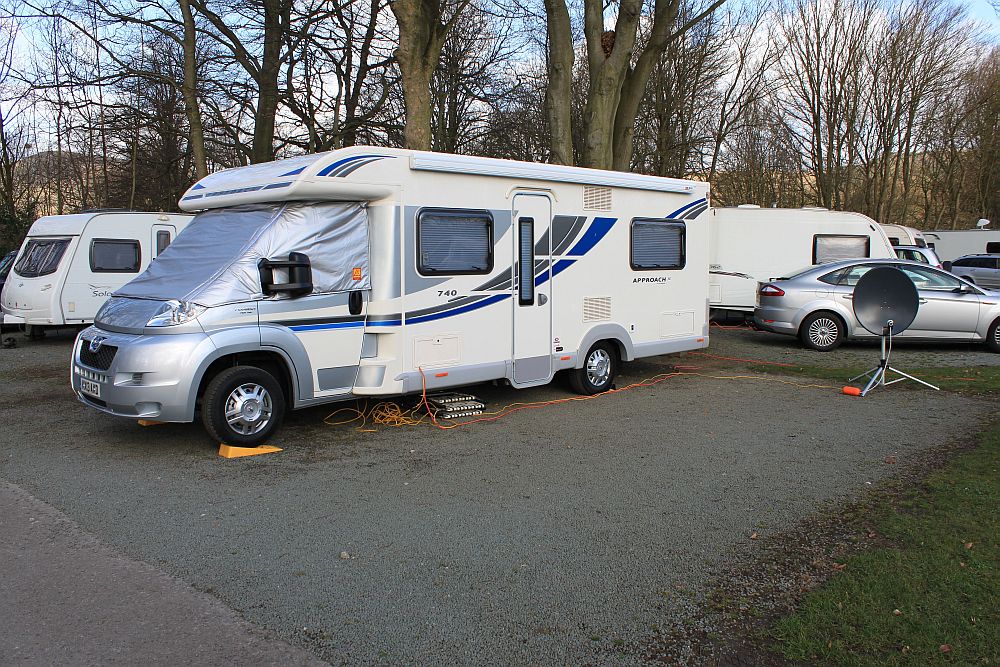 One of the advantages of a motorhome is the on-board fresh and waste water tanks. That is unless you are on site for more than a couple of days. We like to use our own facilities so our consumption of fresh water is higher than those that are happy using site facilities. So that begs the question of how to add more water and dispose of the waste. Our motorhome is equipped with a means of using a submersible pump into an Aquaroll or similar. To me this seems to defeat the purpose of having the motorhome? However you have to have some means of replenishing water if you want to avoid a regular trip to the service point. The Bailey tank can only be filled via a hose attachment or submersible pump from the outside. However you can access the water tank through a hatch in the floor, which whilst this might not be the best way it is relatively easy. To ensure the water goes into the tank rather than on the floor I did buy a 10inch plastic funnel which makes life much easier.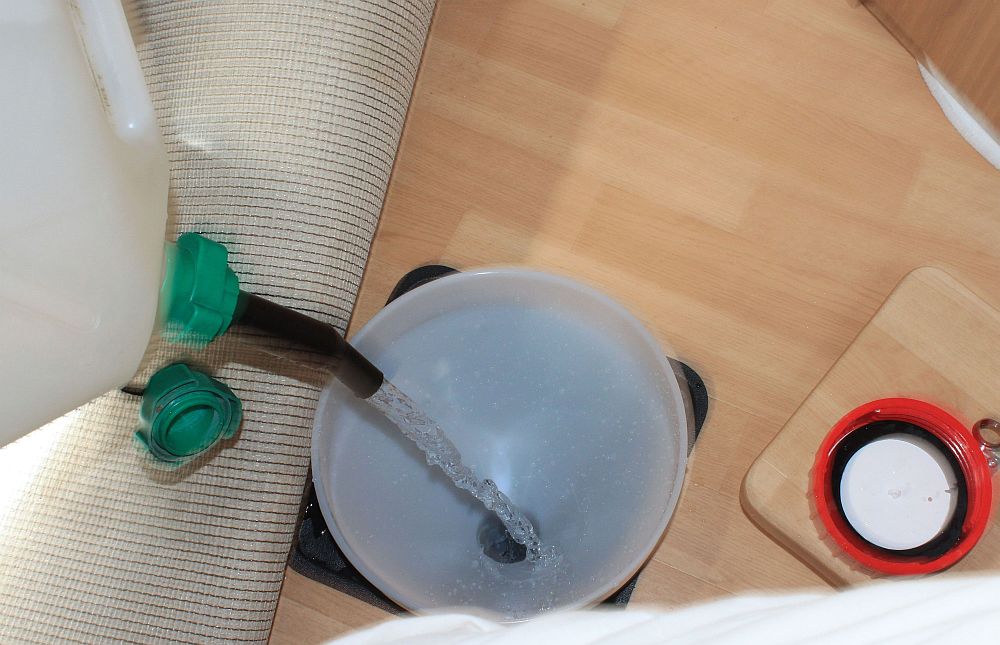 The issue of getting rid of the waste water has not proved so easy to overcome. We did bring with us on this trip our Fiamma waste water container which holds up to 23 litres. The problem is the waste water tap is quite low as the pipe has to come under a chassis member so will not allow the Fiamma to be used. The only option is to decant the water by way of a small bucket and even this is too tall. Someone on the Caravan Club forum suggested a collapsible bucket from Go Outdoors which we invested in. A very clever bit of kit and the height can be adjusted. This was much better but pouring the contents into the Fiamma was a bit hit and miss with much of the water going over the pitch! I have ordered another funnel to overcome this problem so eventually I will get it right!
Friday 19
th April and time to return home. I feel we have learnt a lot in the last few days. We still canít quite get used to not having a car although truth be told its unlikely we would have used one at this site anyway! We are gradually finding solutions to the little problems we had experienced. Whilst we find the living space quite generous the bathroom is a bit on the tight side, especially for someone like me who is not exactly a stick insect!!! We have found the heating to be pretty efficient and the bathroom is always warm. We have our first battle scar. On our way back across country I must have nudged into a kerb or bank as I seem to have managed to split the plastic trim just below the door. Whilst from a use perspective the internal step is excellent it is easy to forget how low it is on the outside. I am sure we will be able to get a replacement but I donít think it is an urgent matter.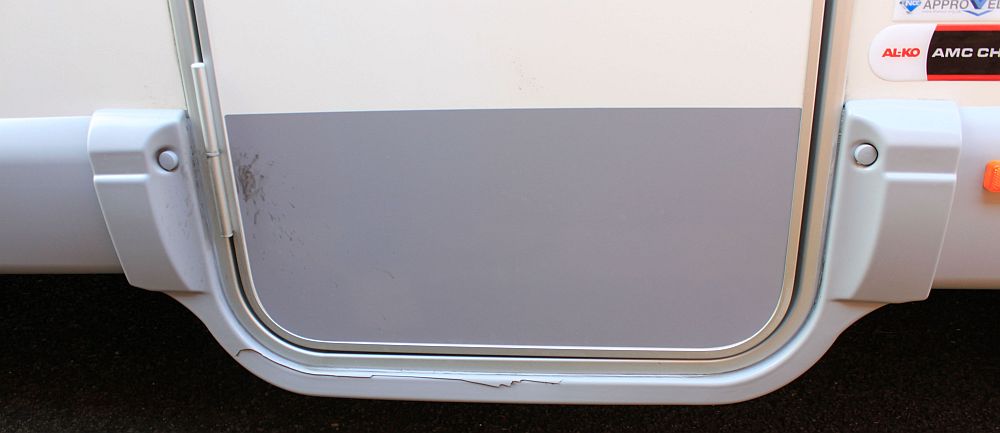 24th April 2013. At long last my V5 registration document has arrived. One thing we had not done yet was to try out the bike rack. We had a few extra bits that needed fitting although the instructions we far from clear. Anyway we seemed to have worked it out OK and so loaded the bikes and secured them in place. Within minutes there was a hissing noise like that made by an Italian coffee maker! The tyre on Margaretís bike had deflated! The test run of a few miles seemed to go OK and of course I could see if anything untoward was happening on the reversing camera.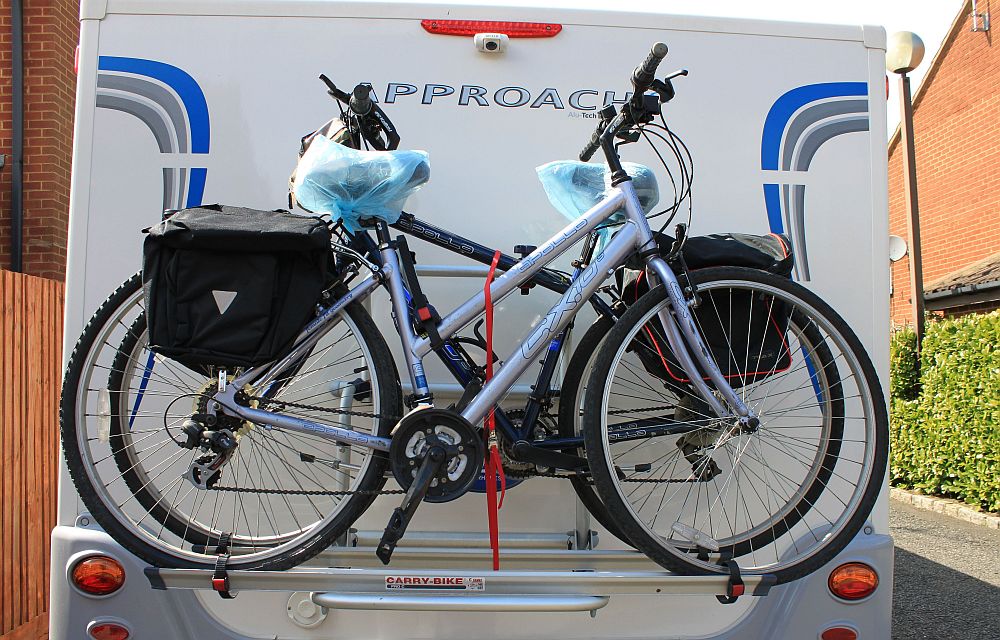 1st May. The start of our first major adventure in the motorhome with a nine week trip to Austria. Unfortunately the Umwelt Plakette which I ordered before we left had not arrived although it is not our intention to go into any large German cities on this holiday. Today was our first experience of getting onto the Eurotunnel which as it turned out was no easier or more difficult than with the caravan. The real difference was that we could just get out of the driving seats and retire to the accommodation to eat our lunch and before we knew it we were in France! Our first overnight stop was at the Municipal in Cambrai. Not a large site but at least it got us a fair way from Calais.
2nd May. Our second day took us across France towards the border with Germany. Initially we had thought of stopping at the Municipal at Ste Menehould but when we arrived it was not yet open. The town did give us our first experience of using a supermarket to not only get fuel but also to buy a few things. Although the fuel pumps were pay at pump because it was lunch time there was no way of getting past the normal pay point without demolishing it! That meant a fuel up and reverse out. Again being lunchtime not many people about so not too much of a problem. Same was true of the car park where I took up several bays but plenty of space for others. We decided to continue to Verdun and use a campsite we had been to before.
3rd/4th May. Into Germany today and heading for our site which is between Saarbrucken and Kaiserslautern. A little bit of a disappointment as the ground was quite muddy although fortunately firm! The free WiFi was a bonus. I think the service point would have been impossible to back into with our unit. The town was also a bit too far away and as the weather was a bit iffy we did not want to risk the bikes!
5th/10th May. Our next stop was in the northern Black Forest at Bad Liebenzell. Turned out to be a very nice site and had obviously been improved in recent years going by the doubtful report in the Caravan Club European Guide. Again the service point is a bit difficult to access for longer units so since the initial use we have resorted to manual filling and emptying. Ideal site for a motorhome as shops next door and free rail travel included in the price of the campsite.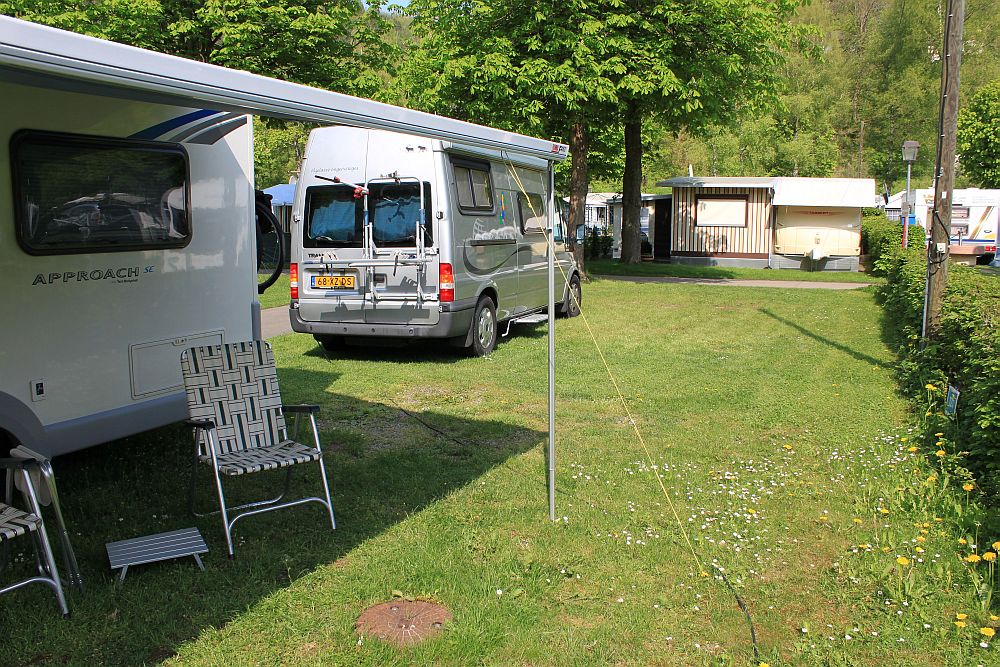 Whilst at this campsite we have used the Fiamma roll out canopy for the first time although we have yet to leave it out at night but then it is so easy to wind back in. The satellite dish is proving to be less than successful. We tried at Verdun to get a picture but without success. We tried again at our next site, again with no luck. It looks as if the change to the new satellite has really narrowed down the footprint as we had feared. I do wonder if we will get much in a way of UK programmes even in France. At the moment we are using an 80cm dish with no luck. We had been thinking of putting an automatic one on the roof but are now wondering whether it is worth the cost and perhaps a better option would be one suited to the UK, perhaps a dome. We need to save some more pennies before we make that decision!
10th May. We arrived in Fussen in the rain and that was the way it stayed for most of our stay! However this was a first for us as we stopped at the Fussen Camperstop (or Aire, Stellplatz?) It was pretty busy when we arrived but we found a spot and settle in. We were told to find a place and come back to the office at 6.00pm to pay. At Ä13.50 it was not expensive and had all the facilities associated with a campsite it did not include electricity which was Ä1 for 1.4kws. It does not take a mathematician to work out that at that rate it is pretty expensive! Not only was it wet but it was pretty cold so we had to use our supplies of gas as well which we had not really accounted for and carrying more gas in future seems essential. In the end we spent Ä10 on electricity over two days which bumped the nightly charge up considerably. I know the experienced motorhomers will come up with all sorts of answers to our problem like refillable gas cylinders but as new comers we have not got round to that sort of decision yet and I think our initial course of action will be to carry the maximum amount of gas the vehicle is designed to carry.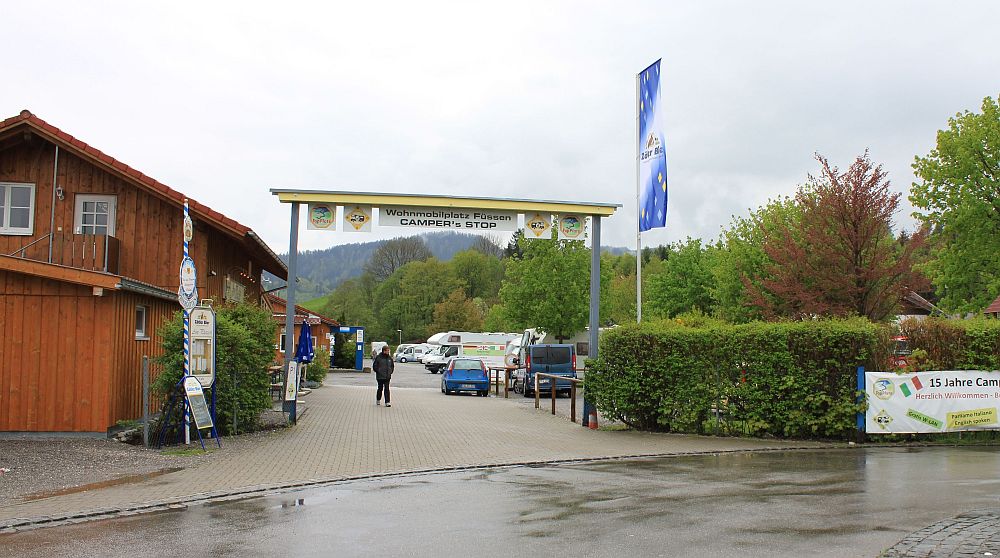 So did our initial experience of an Aire encourage us or put us off? In some ways it was horses for courses. We wanted to be in Fussen where we were near to shops, the lake and the town centre and from that perspective I think it suited our needs. At the moment we feel more comfortable and relaxed on a campsite with some space around us. Now perhaps that is a hangover from our caravanning days or perhaps we are just not into the idea of spending our holidays on what is effectively a car park! So at the moment we will use them if they are a means to an end but unlikely to seek them out as a first line of accommodation.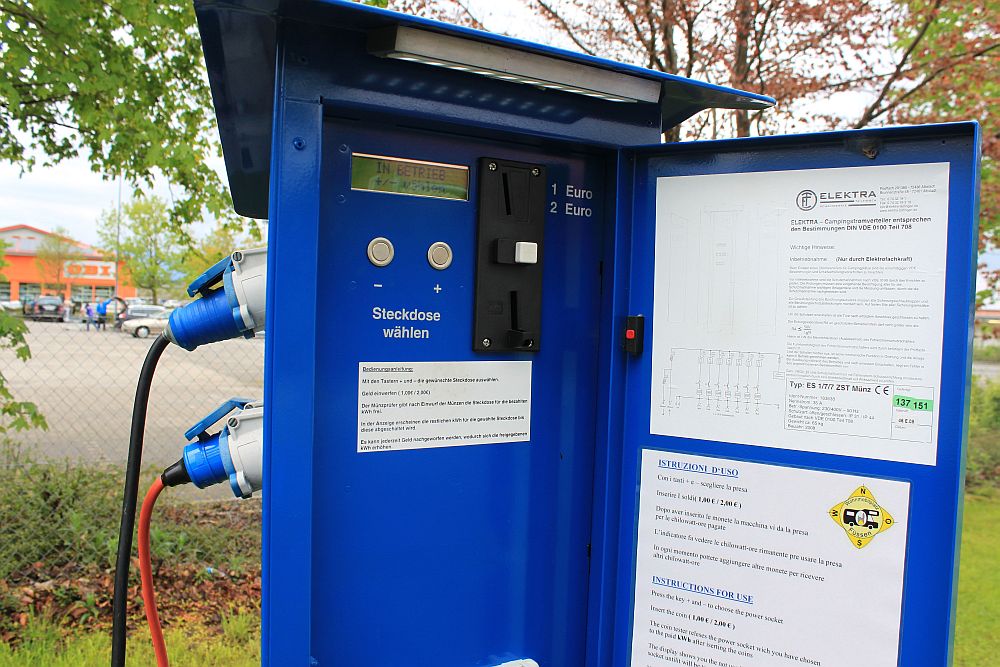 For those wanting to follow our complete trip you can follow this link to my latest Blog. During our trip we had been quite successful in finding campsites that were near towns and villages and in the main we have been able to walk to shops or at least be near public transport. The main shopping has been done en route which has not been a particular problem as we have tended to park out of the way as clearly we take up at least two parking spaces. Perhaps being a little nervous we have been inclined for one of us to go shopping and the other staying with the motorhome. This has not really been a problem although it can take a little longer if the second person needs to also go and buy a few bits. One issue we have had a few times is the non acceptance of our credit cards at automatic pumps particularly at smaller rural supermarkets. The reason we use the auto pumps is because there is generally more room to exit compared to the ones you pay a cashier. Likewise access to some pumps has been almost impossible so we have made a note to fill up as we can rather than leave it to the last drop! Having said that the larger more modern supermarkets have not been a problem.
Not long after we got back home we made arrangements to take the motorhome into White Arches to get the ball rolling remedy to few things that had either gone wrong or we had damaged! The door fly screen disintegrated so will need to be replaced. Things are now on order and we are just waiting for a suitable date to have the work done. We also discussed having a TV bracket fitted to say having to store the TV on the bed as we travel. A longer term aim is to have an automatic satellite dish but we will have to save up a bit for that!
I have changed my mind on the Aquaroll which I mentioned earlier when discussing how we replenish the onboard water tank. The reality is that carting a 20 litres water container around a campsite is proving to be harder work than first imagined. On a recent trip to Tewkesbury we decided to take the Aquaroll with us to see how we got on. I have to say it proved a far better way of replenishing the water tank than the method we had previously used. For a start we don't have to get down on our hands and knees to pour the water directly in the tank having first taken up the carpets. In wet weather this can be a messy task. OK it works well on Club sites but might not be quite so good in Europe depending on the situation of the water supply which can be a bit hit and miss on some sites. I do think we will be taking it on future trips even if we use a small container of say 10 litre capacity to top it up where filling it direct could be a problem.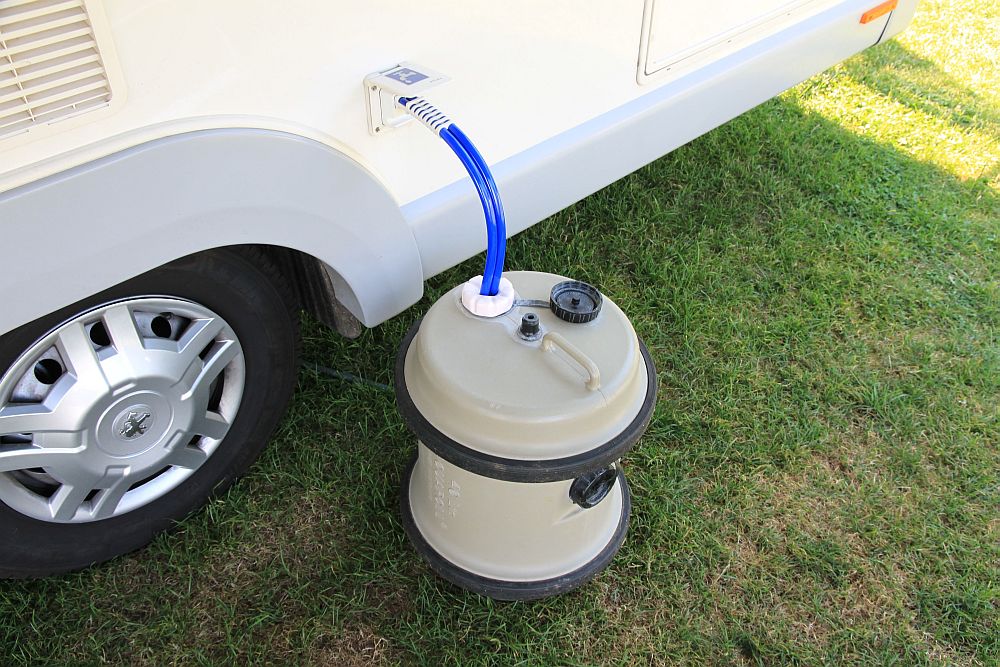 Another issue is disposal of waste water. We like to use our own facilities so the waste water tank is quite full after a couple of days. Now the simple answer would be just to drive to the motorhome service point and dump the waste water there, however having set up on a pitch that is a lot of bother. The answer seems to be to decant the water into another container and take that to the caravan waste water point which is usually nearer. I had retained the Fiamma 23lts waste container we had with the caravan which is reasonably easy to store in the shower whilst travelling. This seems to work quite well. The waste point on the Bailey is quite low so to get round this I purchased a collapsible plastic bucket from Go Outdoors which is a very clever bit of kit for about £15. That, coupled with a plastic funnel, allows me to move the water from the main waste tank into the Fiamma. Also, when in Europe the full Fiamma is not too heavy to lift and dispose of the water at the chemical toilet emptying point as few sites there have grey waste water points.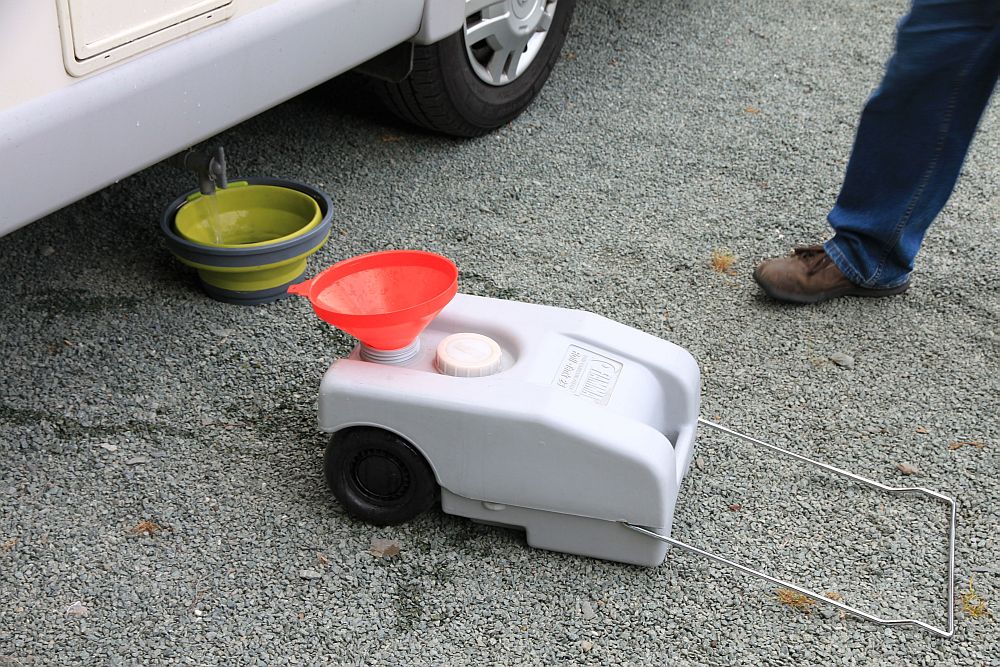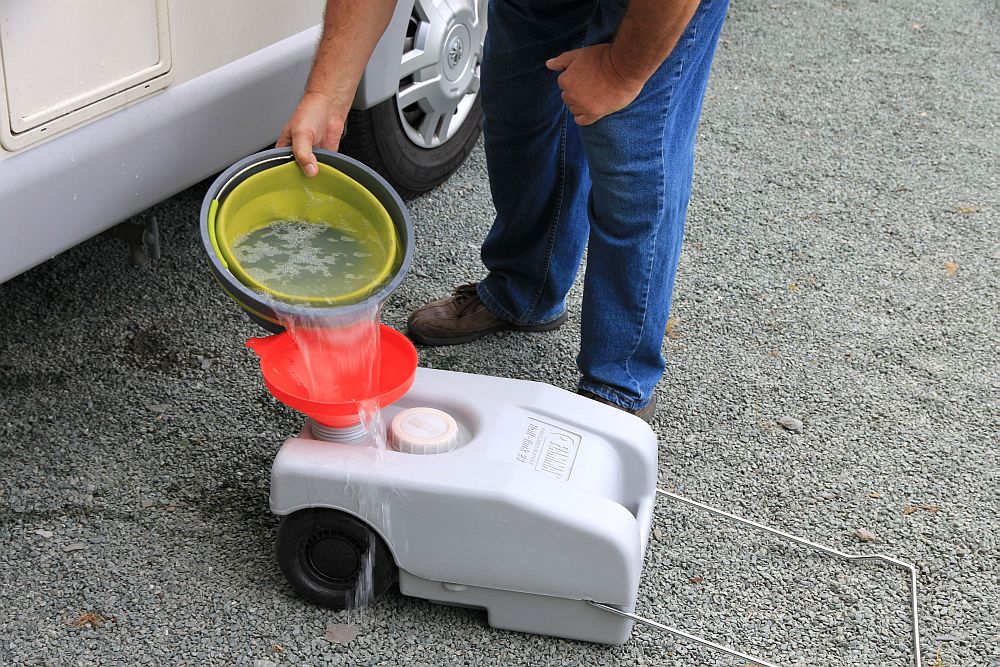 I mentioned earlier how we were rather surprised how much gas we used whilst staying at the Camperstop in Fussen. Whilst we don't envisage staying on many Aires where we are totally dependant on battery power and gas we would be a bit silly to ignore the possibility just because we had not done sufficient contingency planning to allow for that option. I have been thinking about gas provision. The Bailey has room for either two 6kgs Calor bottle or one 13kgs plus one 6kgs, the weight and this is included in the vehicle weight before the user payload is taken into account.
Calor of course is not the only option. I could use one large (10kgs) BP Gas Light and one Calor Lite (6kgs) but that only offers a marginal increase in the amount of gas and has the complication of using two different makes. Many motorhomers use refillable cylinders, either Gaslow or Safefill. The former being the more complete option. Both are relatively costly in terms of initial purchase, particularly true of the Gaslow. The advantage of this type of system is that you can fill up at any filling station selling LPG at much cheaper rates than exchange cylinders. Going by our previous experience as caravanners we tended to use relatively small amounts of gas over the course of a year, maybe one or two 6kgs cylinders. I came to the conclusion that given our current touring intentions the installation of a refillable system would be going over the top a little and the cost would be better spent of other things that we feel we need. So the decision was made to purchase a Calor 13kgs cylinder and use that in conjunction with one 6kgs cylinder giving us the potential of having 19kgs of gas available at the beginning of one of our long trips. Interestingly the cost of a 13kgs refill is only marginally more than a 6kgs one! I purchased my new cylinder from Go Outdoors as they seem to have the best prices. Both the 13 and 6 kgs cylinders share the same connection fitting. Now whilst Bailey say there is room for the 13kgs cylinder it is only just and of course being of tradition steel construction it is also very heavy. I manage to get them both into place but it has cut down on the storage space I had in the locker but I don't think that will cause a problem.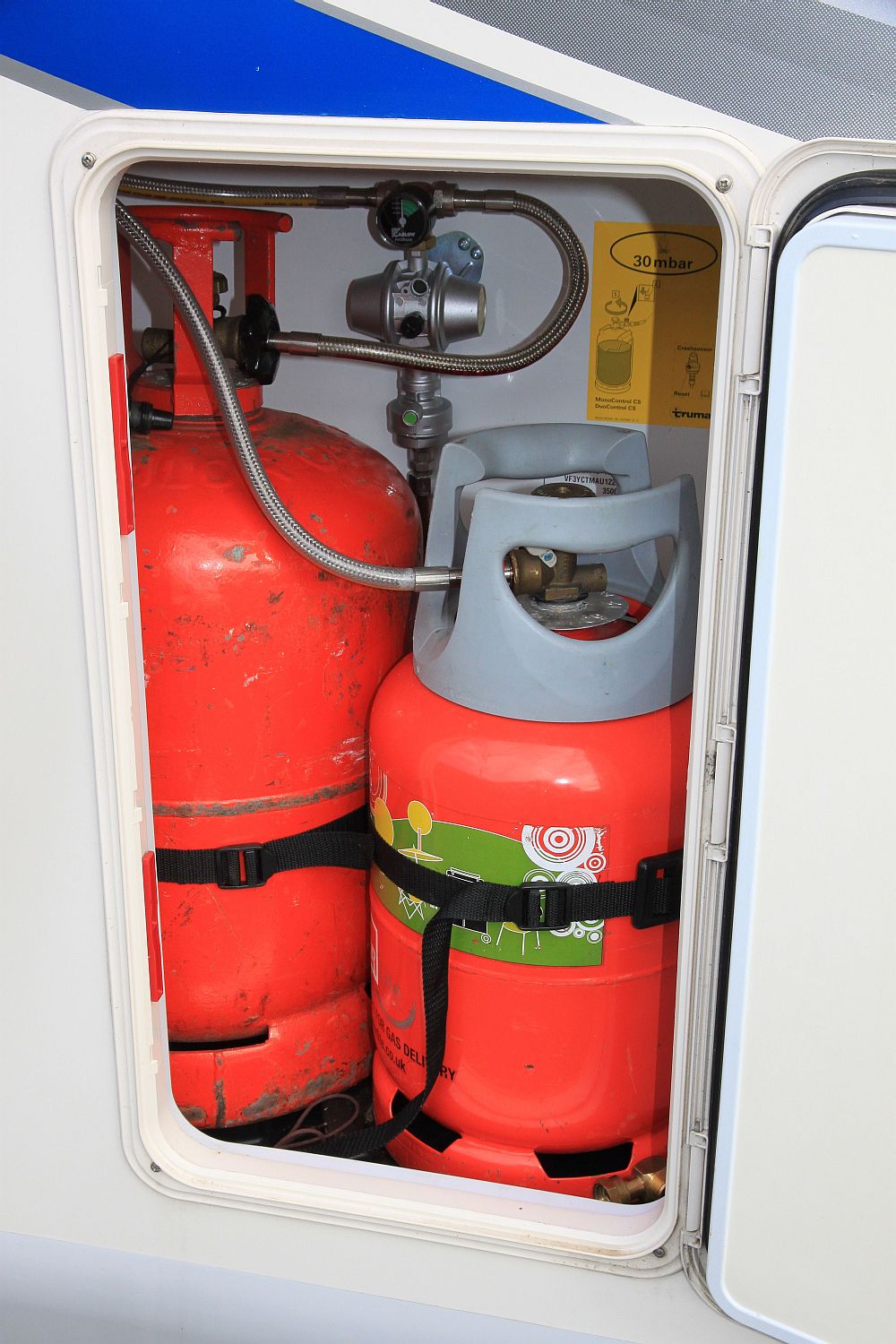 Friday 25th September, only two months to Christmas!!! Ten days ago we took the motorhome back to White Arches to have a few things remedied that had gone wrong since we purchased the motorhome in March. None of them of a particularly major problem but they needed sorting. Earlier in the summer the fly screen gave up the ghost and that has been replaced. The kitchen tap was just starting to leak around the base and that has also been replaced as has the under bed locker door. The original was starting to break up. It still seems tight (I suppose it has to be to remain waterproof) so we will see how we get on with that. Interesting to note that on the Approach Autograph range which replaces the Approach SE they seem to have addressed this by using different lockers. Fortunately these were all done under warranty. The final item, which I had to pay for, was the trim around the bottom of the door. For a relatively small amount of plastic it seemed expensive but then I suppose I should to avoid high kerbs!!!
I have been a bit concerned about the large fridge vents we have on our motorhome as they could let in quite a bit of cold air during the winter. It is suggested that if there is a danger of temperatures falling below -10 degrees that vent covers should be fitted. I would have thought that there is some sense in fitting even if temperatures don't fall that low. I had a search online to find suitable covers and I have to say that I was taken back at the cost considering its no more than a bit of plastic! In the end I went to the Bailey spares website and to my surprise they were very competitively priced, or should I say cheap. After consulting Bailey to make sure I had the right ones a pair was ordered and they turned up two days later. They are quite easy to fit, all you need in the way of tools is a small coin like a one penny piece for the turnbuckle screws.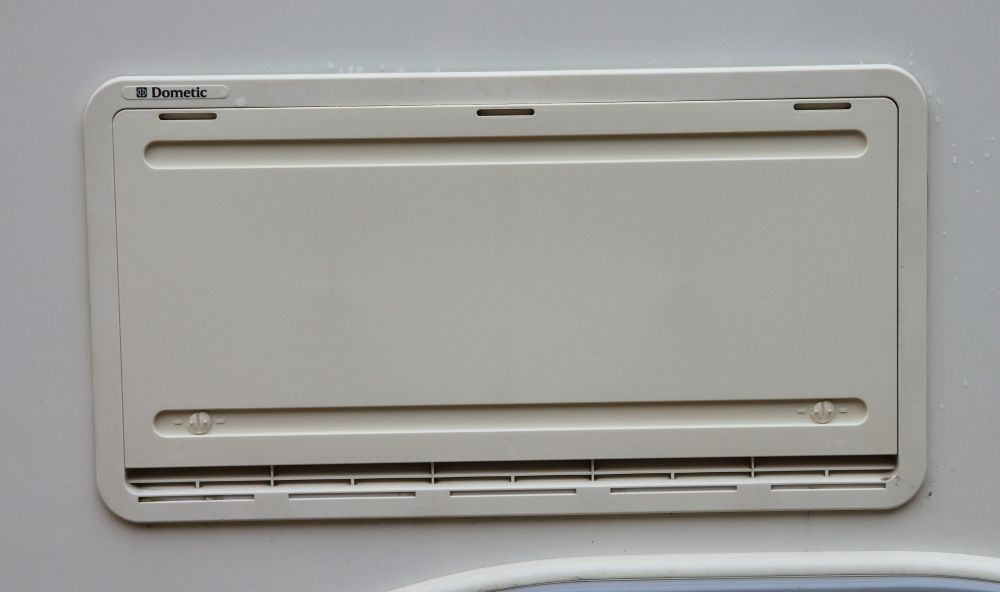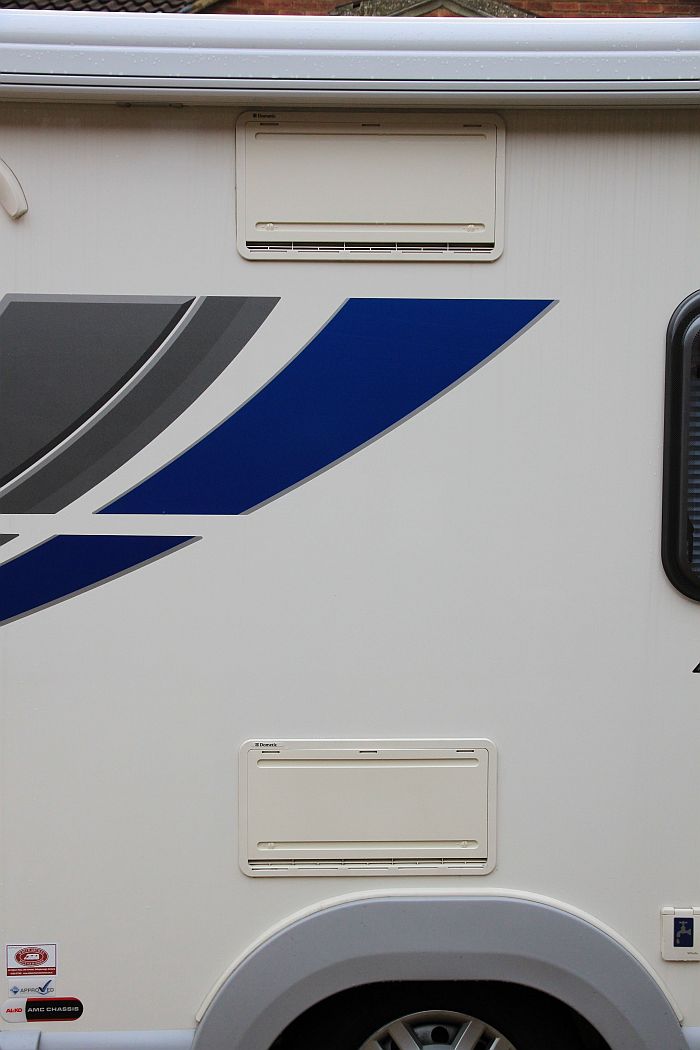 December 2013. Our last trip away was to Chatsworth House Caravan Club site in the third week of December, we have never been away as late in the year. When we returned I had to empty the tanks as best I could to prevent a massive block of ice forming!!! There is also a drain for the water heater. I learnt long ago in my caravanning days that unless you want to replace the taps after each winter you make sure you leave all the taps in the open position so that water does not collect and freeze. Its important not to forget the toilet header tank has to be emptied as well. There is a little plug and escape hose just inside the toilet compartment door.
January 2014. The Combi heater in the Approach is under the fixed bed. Unlike the newer models there is no protection from things falling against the heater which I feel should be corrected. So I have started to think how I can box it in without causing heat to build up. The water pump is in an equally precarious situation so I am thinking of doing the same for that as well. The smaller pictures below can be clicked on to produce a larger image.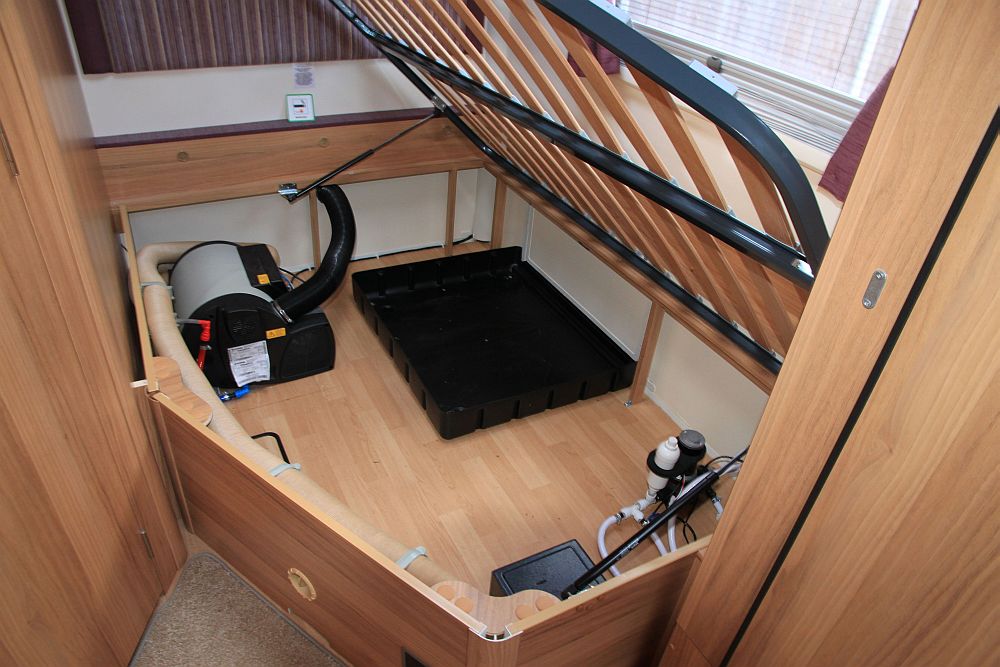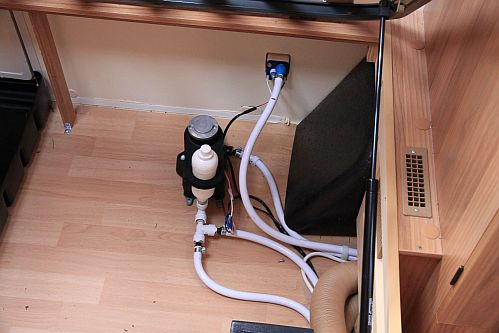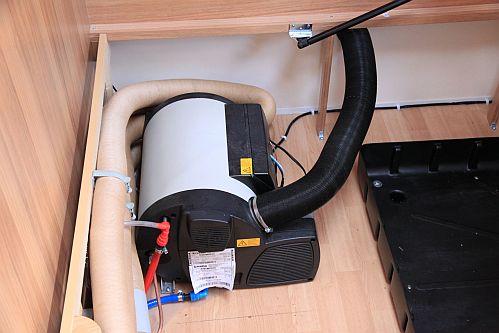 Decision made. I have been to B&Q and purchased the necessary wood and plywood to do the job. Just as well I own a jigsaw as there has been a need to cut round blown air and exhaust pipes. You have to be careful how you fix things to the existing parts of the motorhome. I am reasonably happy to screw into the floor but less so into the sides of the van. I have experimented with 'No Nails' adhesive to fix direct to the walls. As of the 17th January I have completed the boxing in of the water heater and am now working on boxing in the water pump although I will need a little more wood. I finished the job on Sunday 19th January and although I don't think I am employable as a cabinet maker I am reasonably pleased with my efforts. I think because of the temperature the No Nails took a lot longer to set than I thought it would but seems OK after about 24 hours. It is important to allow for air circulation and to that end I cut out holes in the heater box opposite vents. On the pump box I also include a couple of air circulation holes as there are vents from the bottom of the fridge. Finally I decided to add a lid to the pump box as this might be handy for storing my water hoses.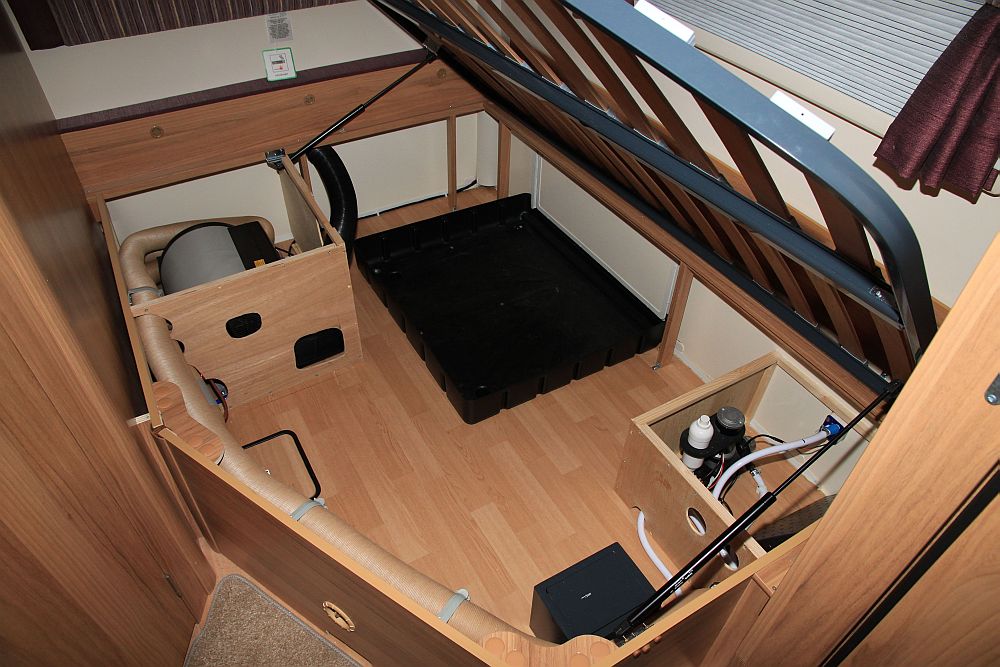 24th February and our first trip of 2014 but with a purpose. We have travelled down to Taunton to have an alarm system fitted at Vanbitz. Itís not being done until tomorrow so we have a free night at their associated campsite which is next door.
One of the things we have noticed about owning a motorhome is the cab noise which of course, in a caravan, you donít notice. Lots of things rattle so you have to experiment to find out the ones you can prevent from making a noise. We use rubber wedges under the microwave door which seems to help. Likewise we put a cloth under the glass lid of the cooker which also helps. The main source of noise seems to be the shelves and dishes in the oven. Having tried to put cloths around them we eventually decided to take them all out and put them in a plastic bag and laid them on the bed. Much better!!! Our journey was by no means made in complete silence but much better than previous trips.
Because we are only here for two nights and for a lot of that time the motorhome will be in the workshop we decided not to bring the satellite dish. We therefore had to make a decision as to what to do about getting television as the Bailey does not come with an aerial. I looked on line for a cheap indoor aerial and found one on the JL website for just £8. When it arrived it was not much more than a bit of wire in a plastic block, no way was this going to work!!! The lead was just about long enough to allow me to jam it inside one of the roof vents. Perfect picture on all channels!!!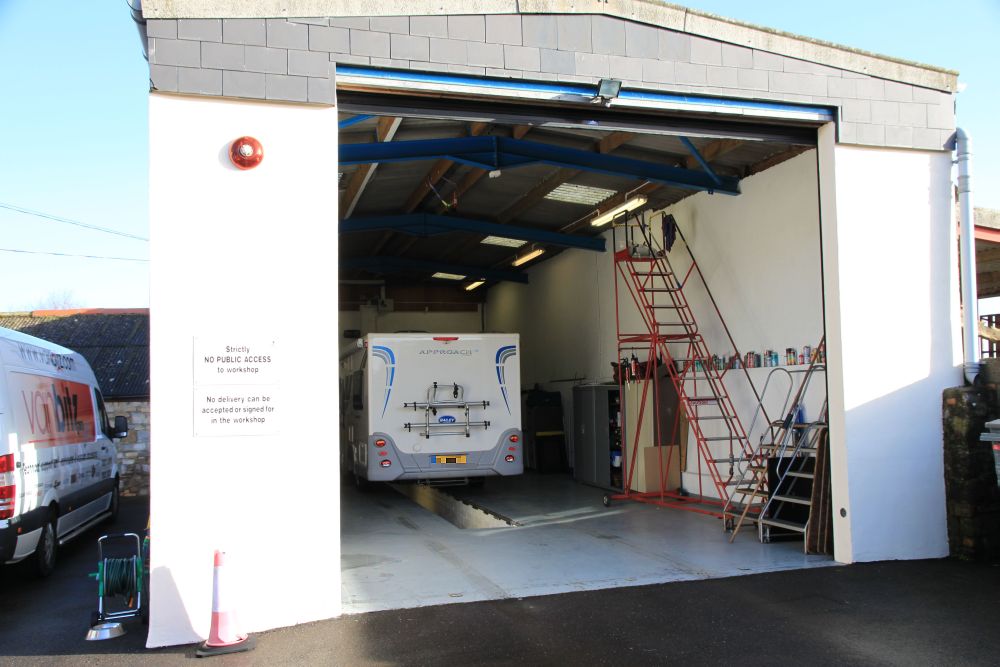 Tuesday 25th February. Had to be up early today! Our appointment at Vanbitz was at 8.30am. After we had gone through all the options we wanted we had a short wait before we were given a lift into Taunton. The work takes about half a day so no point in hanging around at the yard. We were back by early afternoon. The job was finished and we got our instruction session. Now although it all made sense as Ashley went through how the alarm worked we were concerned that once we were on our own everything would be forgotten, just as well we had an instruction book!!!
Wednesday 26th February. I know we had not listened properly!!! I had to go back to the Vanbitz office today just to clear up how we set the alarm when we are in the van.
27th March 2014. Amazing really as its time for the motorhome to have it's first annual service. Because we have driven less that 6000 miles the service books says that an oil change needs to be done. Total cost for the habitation and cab service was £445. This does seem a lot but half of it would have been spent on a caravan service and the savings in taxing two vehicles, against the high VED of our previous tow car still gives us an advantage of about £100 a year and if you add in the saving in insurance costs I am not sure running costs are much more that our previous car and caravan. Perverse as it may seem when you consider that we now run two vehicles that our running costs since buying the motorhome, ignoring capital costs, don't appear to be any higher than car and caravan. I am sure the savings add up to even more when both motorhome and car are more economic than our tow car and caravan combined.
Whilst it was in for service we asked White Arches to fit a TV bracket for our new Avtex Combi TV. I found this bracket on the JL website which seemed to fit the bill as it was possible to easily remove the TV for travelling. Because the Avtex is a 21 inch screen it was important to get it in the correct position. To achieve this I made a cardboard cut out the exact size of the screen and tried it in different positions to check view ability from different angles. Once satisfied I stuck the card to the bulkhead so that White Arches knew where to fix the bracket. It all seemed to work out fine.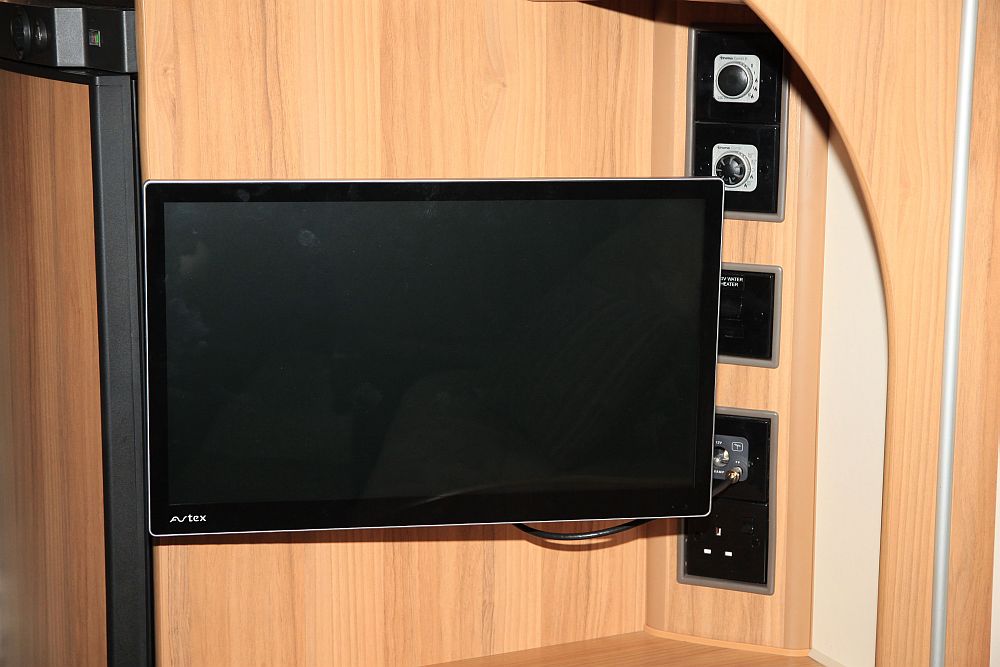 One of the minor annoyances of the 740 is the position of the toilet roll holder in the bathroom. The problem was that every time you went past the original position to go to the shower you tended to take the toilet roll with you! I found a nice little place for it out of the way on the side of the cupboard that supports wash hand basin. Not sure why Bailey did not think of it!!!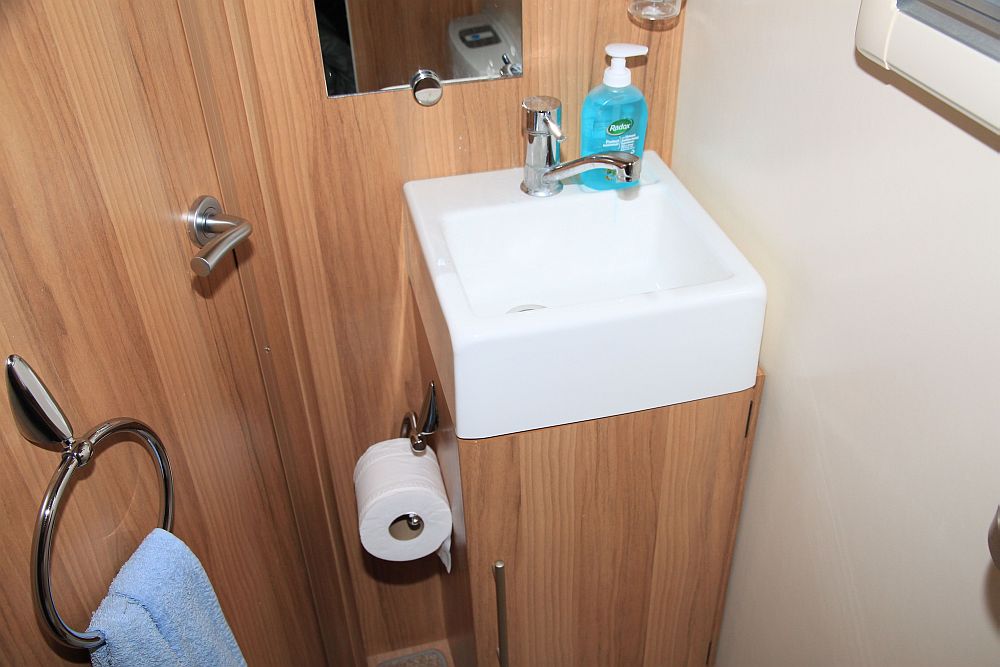 10th July 2014. In the Bailey washroom there is a corner cupboard but it just has shelves so nothing to retain things in place or to organise them. We found a corner wire basket in B&Q which just fitted on the shelf and allowed the door to close. At least now when we open the cupboard door everything doesn't tumble out on us! Margaret also wanted something over the sink so that we could put things like our electric toothbrushes in. This was a little more difficult as there is only 20cms between the mirror edge and the sidewall. We found another corner unit originally intended for use in a shower but it should serve our purpose. You have to be careful with the length of screws as they can project through the other side of the wall which is fortunately in the wardrobe so if they do come through you can cover any sharp points up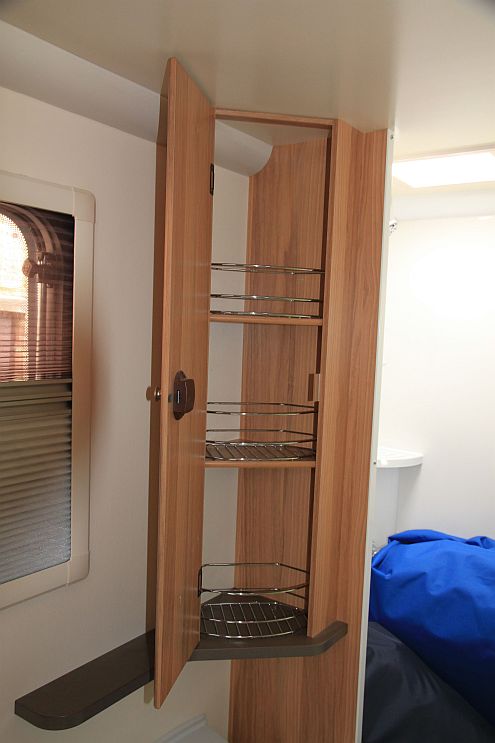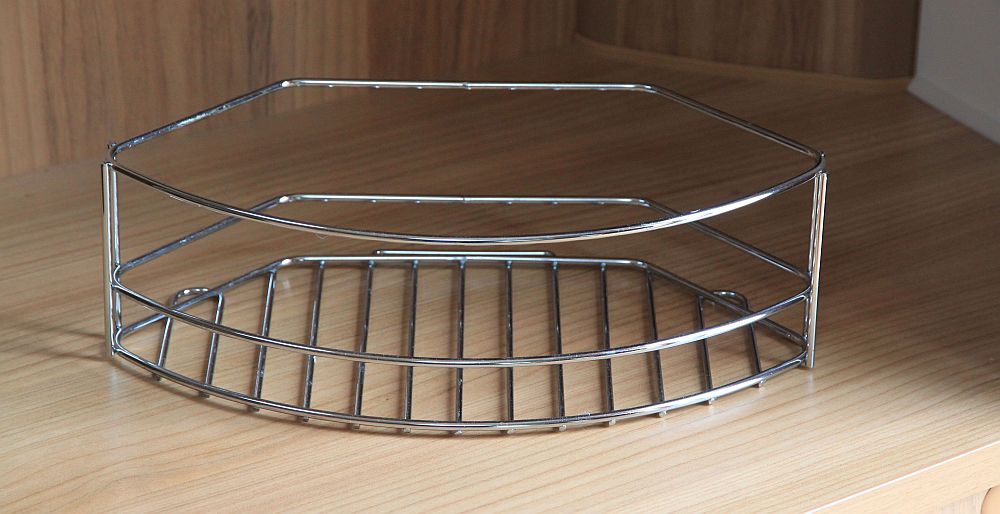 The only problem with the baskets above is that smaller items fall over because of the wire at the base so I have cut out some thin plywood to fit the base to provide a flat surface.
We have only used the Fiamma wind out awning now and again and tended to put it in at night so unless we are sitting around the van it means its hardly used. One reason for this is that it flaps a lot, even in the lightest of wind. This tends to make Margaret a bit nervous as we had a bad experience some years ago with a Caravanstore roll out awning when one of the legs collapsed in high winds. Even putting the additional rafter in place does not seem to help. Whilst wandering around the Burrs Country Park CC site I noticed someone with the same motorhome as us with the canopy out but with some strange contraption rigged up to hold the material of the Fiamma firmly in place. In discussion with the owners it turned out to be a product called a Magic Rafter Pro. I did a search online and was able to purchase one. I also took the opportunity to order a tie down kit that utilises the C section runner holder that runs along the length of the Fiamma. Our first opportunity to use the extra rafter was on our visit to Canterbury and I have to say that it was a great success and we left the canopy out for a couple of nights. In terms of storage the rafter is a bit of a faff but it does come apart which makes it a little easier.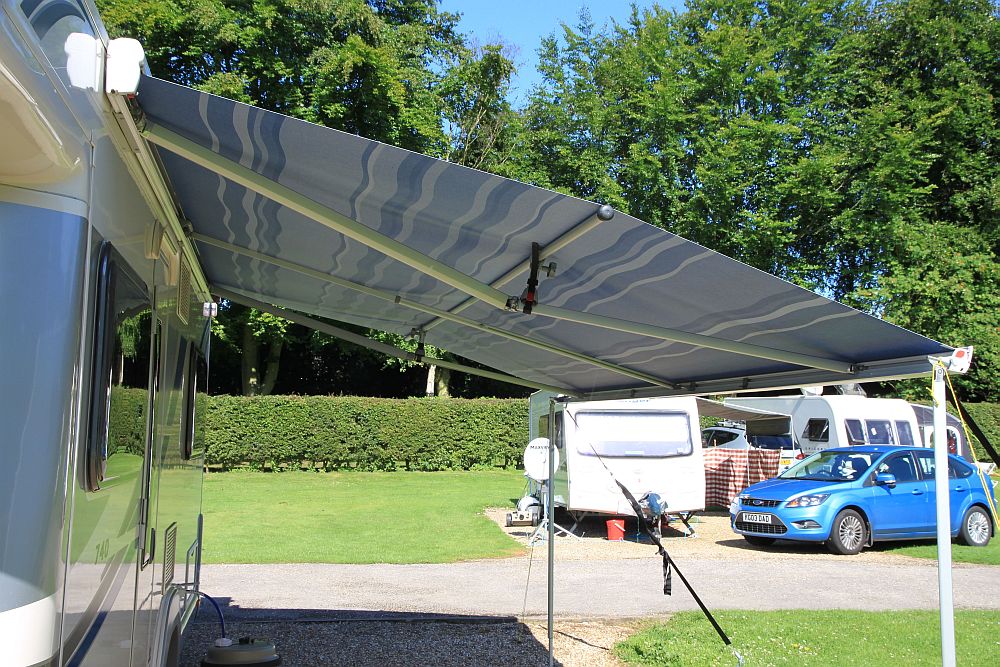 Whilst on the subject of Fiamma canopies they are not completely tight to the wall of the motorhome. The brackets mean there is a millimetre or two gap which can allow rain to trickle down behind. Not much use if you are using the canopy to keep things dry!!! The solution is to fit a rain guard which is basically a rubber section that fills the gap the length of the canopy. However if you decide to do this you do need to make sure you have the right rain guard for your fitting as they do vary. My research suggested I needed the smallest profile beading. It is a fairly simple job although, of course, you do need to be higher than the job which entails a ladder against the side of the canopy housing. I always use a knee pad between the ladder and the casing to offer some protection. As for tools, all you need is something to ram the rain guard into position. I found that a kitchen wooden spatula ideal as it was unlikely to cause any damage. The job takes less than half an hour and once you get the hang of it progress is quite quick.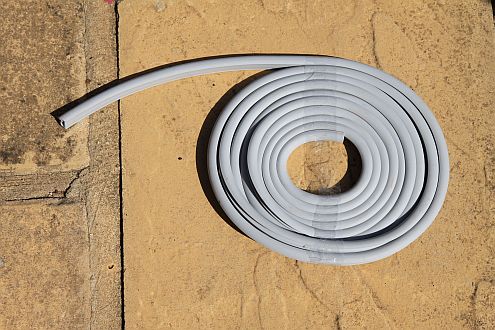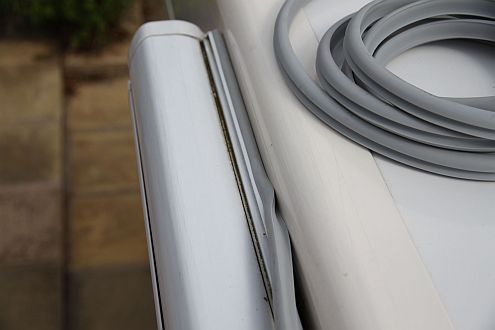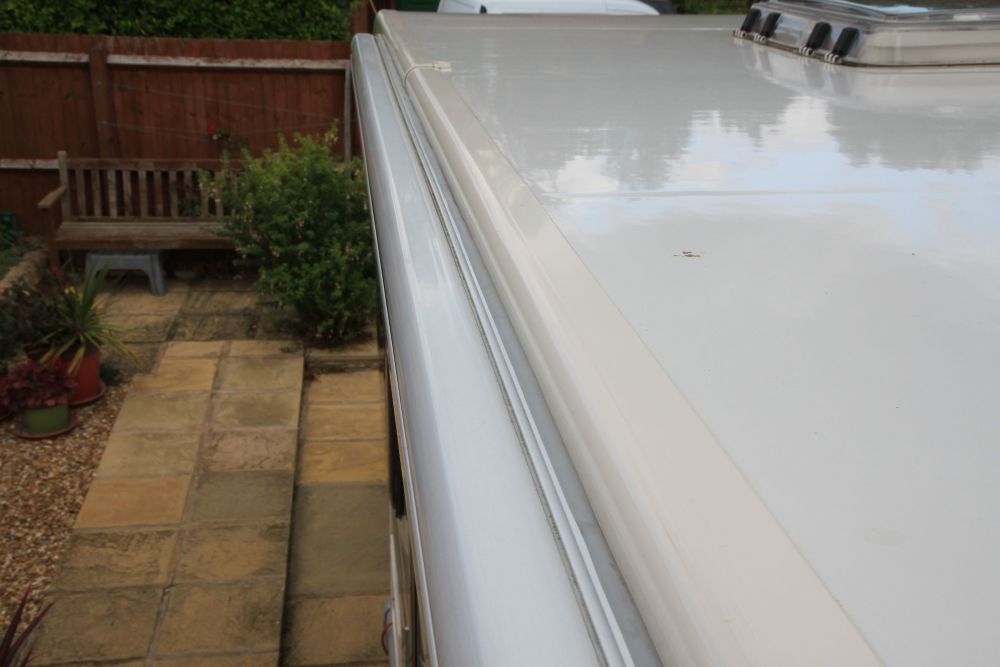 During our recent trip to Fakenham we( or rather I) felt we had to level the motorhome. As there was a two way slope it made it slightly more complicated. Our normal yellow wedges were not really high enough to achieve the require standard of level. Some time ago I had purchased some Milenco stepped levellers which turned out to be something of a disappointment. The problem is that each level of the step is really not long enough to secure the wheel in place so, as we did, we got wheel creep which meant eventually the wheel slid down the ramp. In a second attempt to drive the motorhome further up the ramp I went off the other end which resulted in one of the ramps being completely smashed. Another unfortunate consequence was on the satellite dish which I had stored under the van as we had a TV hook-up on site. The dish was crushed and no longer useable. With the remains of the ramp the dish went to the rubbish area. The undamaged ramp was also taken to the dump but leaned up against one of the containers and was soon claimed by someone else. I have since ordered a pair of yellow jumbo ramps which should be more secure than the Milenco ones. We shall see. A lot of motorhomers don't seem to bother too much about levelling and Margaret is very much in this school of thought. Perhaps its the caravanner in me but I think I should make the effort. There might be a bit of serendipity about the satellite dish as I have been promising myself a roof mounted one since changing to the motorhome!!!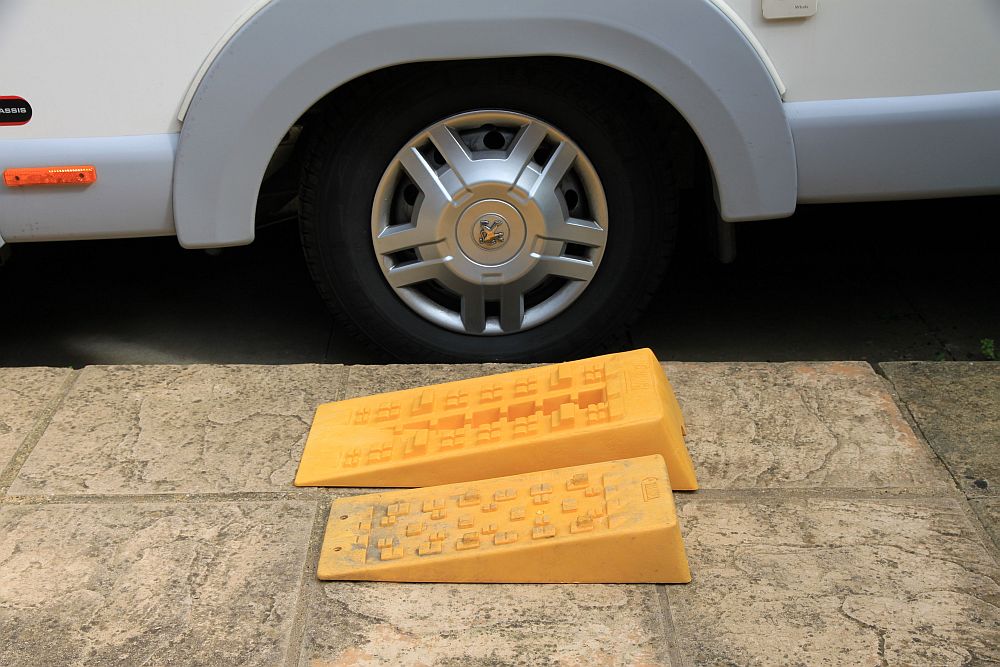 The Bailey range of motorhomes do not come with a built in television aerial. As can be seen above we have previously had a freestanding satellite dish which is soon to be replaced with a roof mounted one, more of which later. Some sites have a TV hook-up point on the electric bollard which we have employed in the past but its not a universal system. I therefore decided to buy a free standing television aerial and got the chance to use it whilst away in the van in the latter part of October 2014. It is an Avtex STH 2000 which has a built in amplifier powered by our Avtex TV. It has a sucker that sticks it to the side of the motorhome or onto the roof if you can access that. In four days, including gale force winds it stayed stuck to the side of the van with no problems. The signal was good that provided an excellent picture. It is quite compact so ideal as a back up system.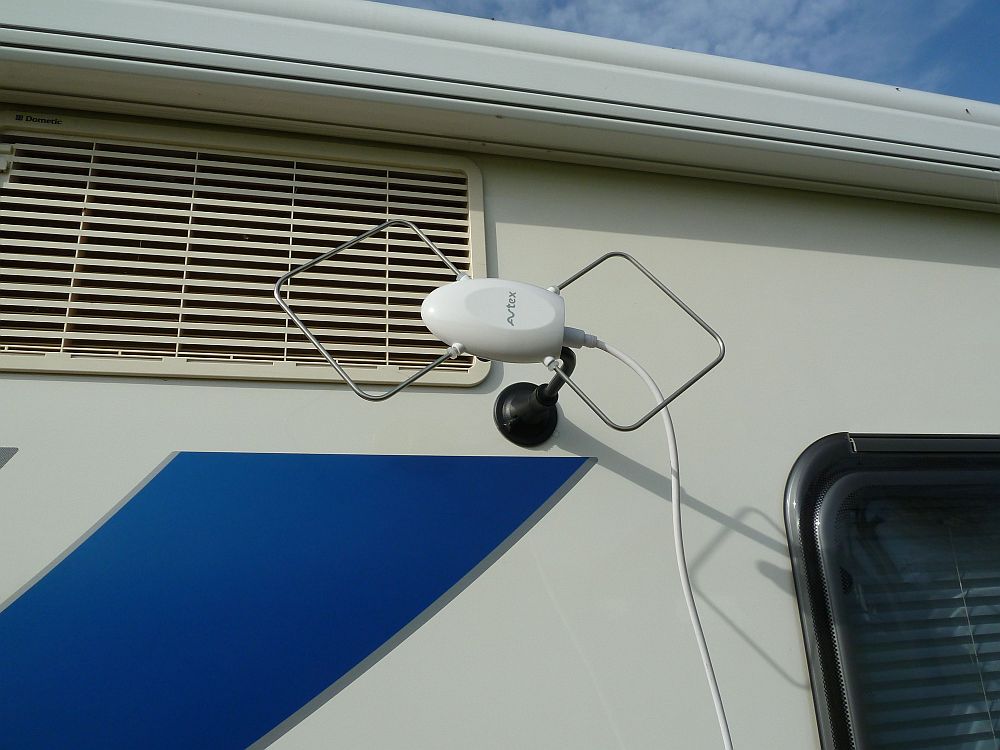 New Satellite System
As mentioned above we had planned to have a permanent automatic satellite system fitted to the motorhome. There are many choices available which vary in price considerably. Our view was that we should go for the larger 85cms dish which would give us a fighting chance to get UK television across most of France. We decided against auto skew as that would have added quite a bit more to the bill. Our final choice was the Mecatronic 85cms flat with single LNB. We even secured a small discount because we were members of the Caravan Club. We had previously paid a visit to Road Pro in Daventry to assess the suitability of the motorhome to have a roof mounted dish. An e-mail to Bailey established there was no issue with weight or it being mounted on the roof and a visual inspection at Road Pro by Damian, the fitter, confirmed that we could install the 85cms version. We placed our order and took the van back on 28th October for it to be fitted. Road Pro loaned us a car for the day and even insisted on giving us money to put some fuel in the tank. When we returned later in the day Damian took us through the workings. A very neat job had been made with the control panel looking as though it was part of the motorhome build. It is run off the motorhome 12 volt system and has a safety feature which automatically closes the dish should the van ignition be switched on. There is something magical about pressing a few buttons and waiting a few minutes for a picture to appear on the TV from the inside of the van!!! Perhaps not a good time to visit us at home as everyone is forced to watch a demonstration!!!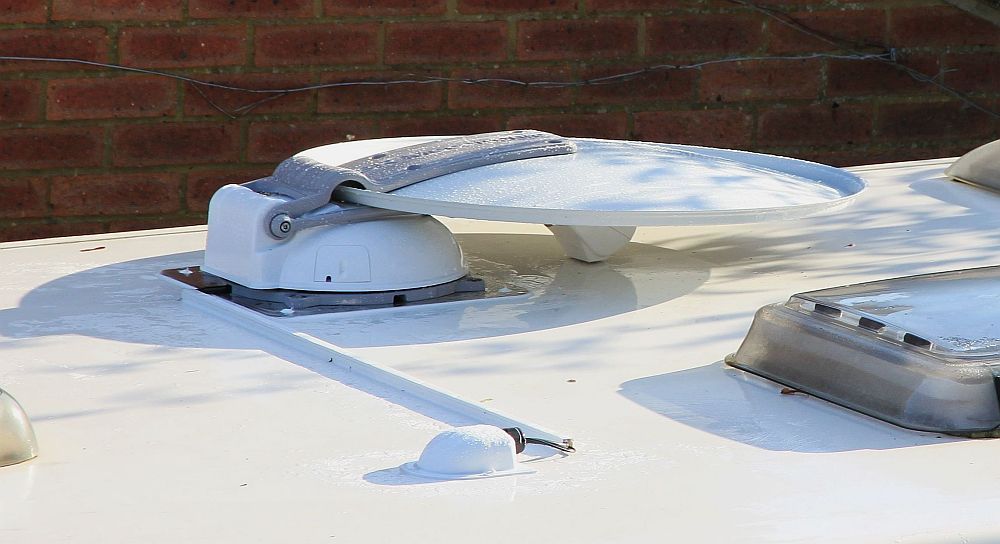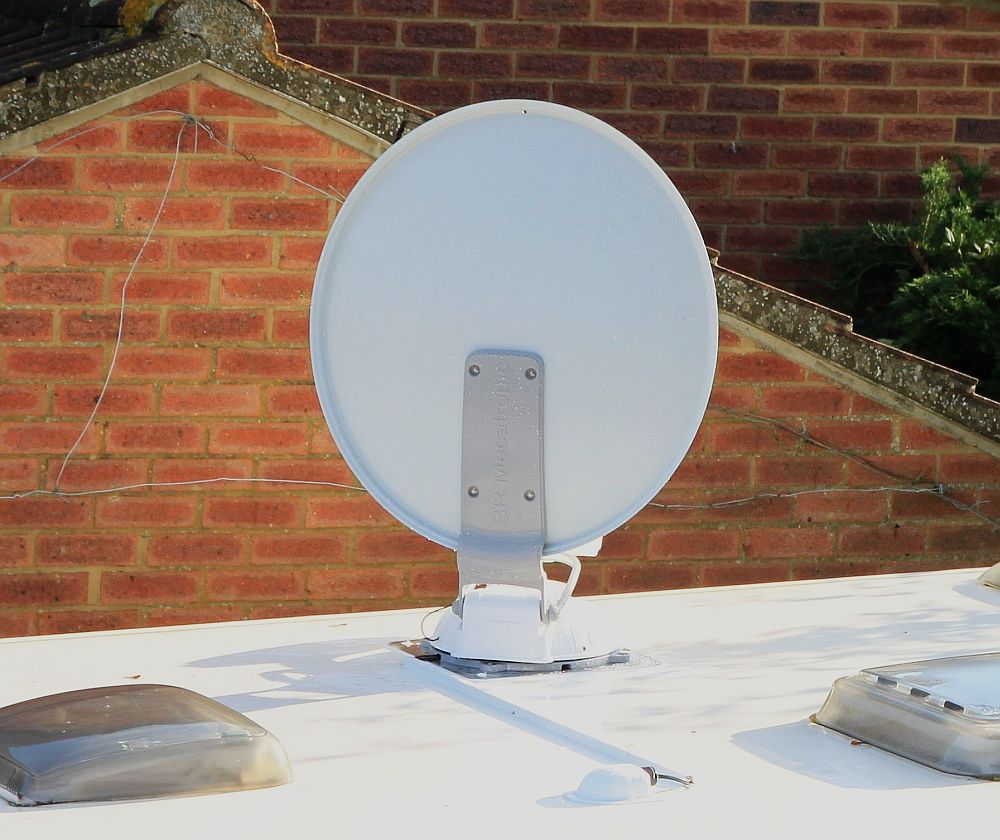 14/21st November 2014, we were away in the motorhome which gave us the opportunity to use the satellite system under normal circumstances and have to say that it worked very well. As it was set up to receive UK programmes when it was installed it only requires the dish to be activated by pressing one button. Margaret also seems quite happy to set it up.
23rd March 2015. The motorhome is now 2 years old and time for it's second service. The year two service is the fist major one as the first year is really only an oil change and only suggested if you do less than 6000 miles a year. After two years we have not yet done 8000 miles which I imagine is not uncommon for many motorhomes. The cost of the cab and habitation service was a little over £500 which whilst a lot of money does equate to a similar amount to having a car and caravan serviced at the same time and perhaps a little cheaper.
We have only done about 100 miles in the van this year, which was mileage to keep the engine and brakes in good condition, as Margaret had major heart surgery in January and recovery is still under way. I think she is ready to try a short trip away so hopefully after Easter we will be able to get away for a short try out run.
April 2015. We did manage to get on our first trip away this year in late April with a mini tour of Norfolk, including a stop off in Thetford Forest on the way back. Whilst in Sheringham I spied a stall on the market selling long bungee cords. Unlike previous caravans the motorhome door does not go back flat against the side of the body so there is no catch to keep it open. Despite having a restraining arm on the top of the door it does sometimes blow closed when windy. It struck me that a long bungee would be a possible way round this so I invested my £2 and it seems to work!!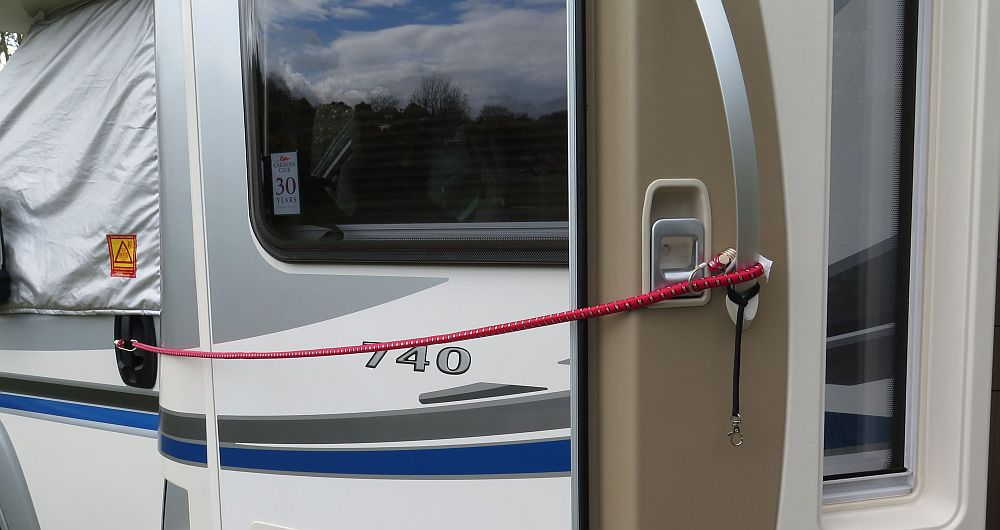 June 2015. When we got back from our latest trip to Cheltenham and put the van back into the garden I discovered the habitation door central locking had stopped working. The cab doors were fine which seemed to rule out a problem with the fob. We had to use the key to lock and unlock the habitation door. White Arches were able to fit us in quite quickly so on the 25th June we made our way up to Wellingborough and left it with them overnight. They kindly loaned us their courtesy car as Margaret is still a bit nervous of driving longer distances since her big heart operation. I had been thinking about getting a Fiamma Security Door Handle fitted for some time and this seemed like an ideal opportunity so I got White Arches to fit one. Either real or imagined I always feel the habitation door is the weakest link security wise. This is also the second time we have had problems with the habitation door so I think my belt and braces approach is justified! White Arches also redid the door wiring which is prone to damage but I was pleased to see they seemed to have made the cable slightly longer so it folds inside when the door is closed. Obviously we had to pay for the Fiamma handle but all the work on the central locking and wiring was done under warranty.
July 2015. The plastic shelf trims in the wardrobe and kitchen cupboard next to the fridge have never been satisfactory. Every time you slide something off the shelf the trim pulls away as well. Today I have undertaken a minor modification where by I have replaced the plastic trim with wooden edging. I varnished my new wooden trim several times prior to doing the job. To fix the new trims I have use wood glue an panel pins. Hopefully this will be enough to keep the trim in place. If this fails to be the case I always have the option of using screws rather than pins.
Using the toll routes in France has, in recent years, become more automated with fewer and fewer manned toll booths. With a car this is not really an issue as everything is at the right height. Its a slightly different situation with a motorhome as the car ones are too low and the lorry ones too high. The easy answer is a toll tag and the first time we went abroad with the motorhome in 2013 we decided to equip ourselves with one. We sourced ours via Sanef UK. At the time Eurotunnel had a special offer which reduced some of the set up fees. Unfortunately you don't get cheaper tolls! In extra cost terms there is a small annual fee and a fee for every month the tag is being actively used. The advantage of using Sanef UK is that your account is all in English and any costs are debited directly to your bank account once a month whilst in use.
The positioning of the tag on the vehicle is a bit more complicated than on a car as motorhomes often have an overhang over the windscreen. In order for it to be recognised at toll booths the readers have to have a clear view of the tag. The tag fitting comes in two parts firstly there is the holder that sticks to the inside of the windscreen and into this you slide the actual tag. Because of the overhang I initially put it half way down the windscreen. This did work but at some toll booths you had to go right up to the barrier to get it to read. You know when this happens as it beeps. I was also a bit concerned that being stuck half way down the windscreen might contravene some MOT rule. For this year I moved it right down the windscreen (see picture) not only should this be fine as far as the MOT is concerned but it also seems to work better in the new position. Although its the opposite of what Sanef instruct you to do it is still at the same height, or even slightly higher than most saloon cars. It is always clear which booths to use as they have the orange Telepeage sign on the overhead. You obviously have to approach at a slow speed. It is quite satisfying to be whisked through the barrier a lot quicker than those paying by cash or card. A couple of things that owners of larger/heavier motorhomes need to be aware of. Class 2 tolls apply to vehicles up to three metres high, anything higher than this could be charged as Class 3 which is much more expensive. Technically motorhomes over 3500kgs should also pay the higher toll but if under the three metre height limit I am not sure how they would know the weight as a motorhome with max weight of 4000kgs is very much like one which is only 3500kgs!!! Be interesting to know if owners of heavier motorhomes have been charged more than Class 2.
Another recent addition to the gadgets on the motorhome has been a TyrePal TB99 tyre pressure monitoring systems. As can be seen from the picture below the system consists of a monitor and four sensors that replace the dust caps on each tyre. Each sensor is marked with it's correct tyre position, left front or right rear etc. Obviously you have to make sure each tyre is at the correct pressure before proceeding to fit the system. The sensors are fitted and as you screw them on you will get an escape of air so you have to be quick! Additional security is provided a screw that prevents the sensor being removed from the valve, either by coming loose or someone trying to help themselves. They are quite costly to replace. Once in place you have to set certain parameters on the monitor. The guide that comes with the equipment suggests at what percentage of over or under inflation at which to set the alarm sounds. The monitor is movement sensitive and will switch itself off if the vehicle is left standing for a while, or it will start up when it senses the vehicle in motion. Each wheel sensor informs the monitor at regular intervals the current tyre pressure. Once on the road the tyre temperature will increase quite a bit, sometimes as much as 10/12% depending on speed and outside temperatures. Thus far it has proved to be a useful gadget and if nothing else it gives peace of mind.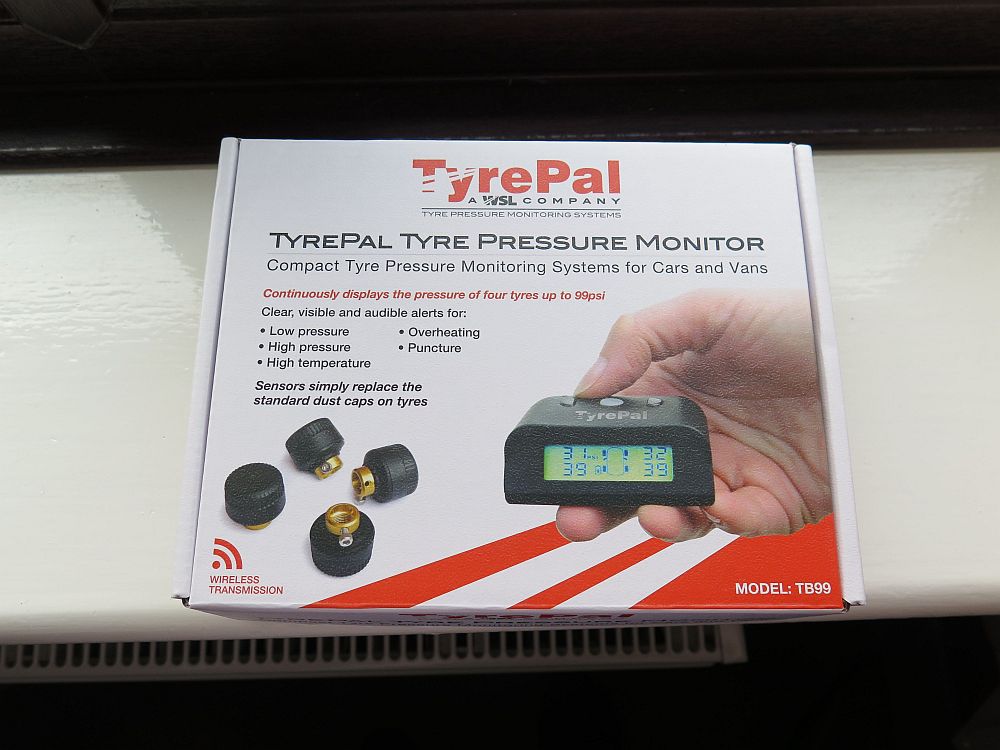 Its a constant whinge of mine that Caravan Club motorhome waste water service points are so user unfriendly because you have to lift heavy metal drain covers before you can empty the waste water. Apparently the Club are gradually moving to open grill disposal points but it seems this could take many years before every site is converted. Both Margaret and I struggle with the drain covers so I started looking for a drain puller that would aid us with this job. I found one on e-bay for a tenner which looked as if it would do the job. I had the chamfer down the end so it would slide under the lifting hook and on first use it seemed to work, although it was better on the covers with a single lifting eye. The double hooked covers might take some practise!
4th July 2018. I installed a new microwave today as the original Daewoo had given up the ghost. It would work on full power for about a minute but then cut out. I did add another vent but this made no difference. Bailey suggested a Sharp model as a replacement but Argos was nearly £100 cheaper!!! Fitting was not so straightforward as the new microwave is a slightly different size to the original. It is fixed, pretty crudely, to a shelf that sides out when three screws are removed from the fridge/microwave housing. My first issue was that I could not directly fix it in the same way as the Daewoo because the shelf had cut outs, no doubt to allow for air circulation. Having a bit of a think about it I decided to turn the shelf upside down. It would still slide back into place but this way up allowed me to fix the new microwave in the right place. I was a bit nervous drilling into the base of the microwave but I checked carefully that I wasn't drilling into the works! I tentatively drilled through the metal and then used a thin drill as a probe to check for screw depth. Everything seemed OK so I continued to fix it in place. My handiwork seemed a bit more robust than the original and it fitted back in place with no problems. The overall size is a bit smaller so there is a slightly larger space around the microwave but I think we can live with that. We have now made several trips with it in place with no problems. Should also mention that it works perfectly fine!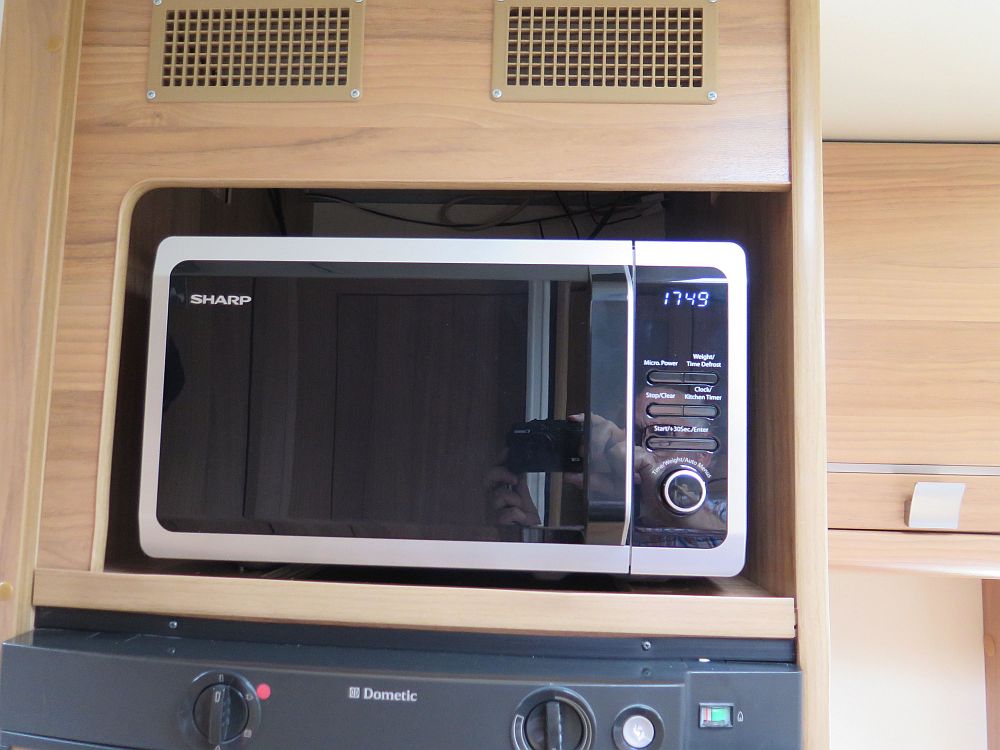 In November 2018 we made the decision to change our six year old Bailey Approach 740 SE for a smaller model. To continue the blog on our new motorhome please follow this link Bailey Alliance 66-2