Neither here nor there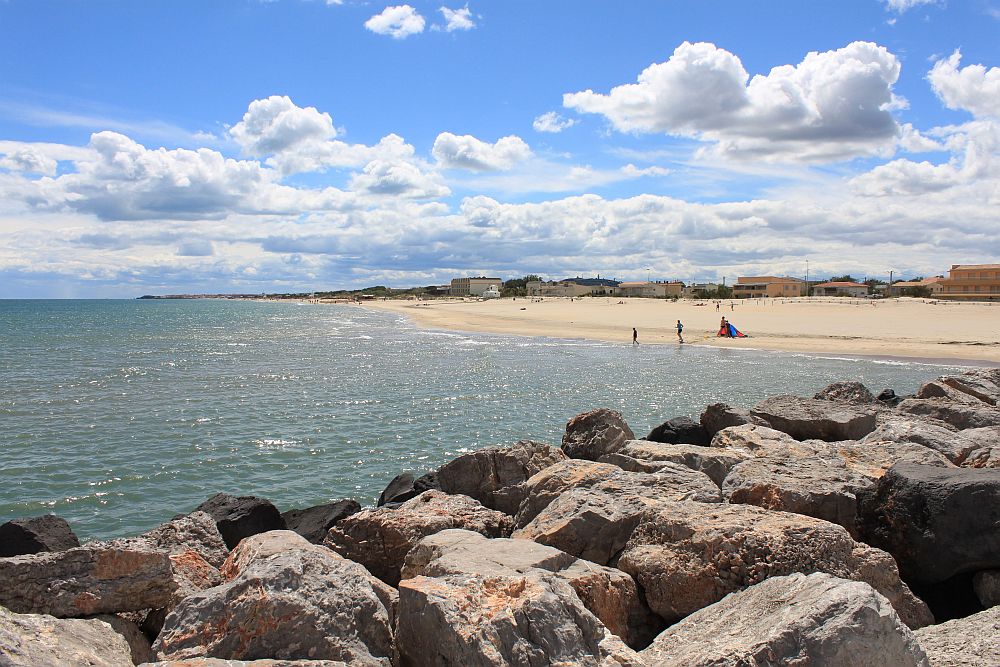 With due apologies to Bill Brysonís excellent book of the same title but it seems to sum up our trip! Initially we had in mind when we set off from home on 1st May that we would head for Austria a country we like a lot and do a complete tour. Unfortunately circumstances and the weather conspired against us and a change of plans was required. We ended up with something of a hotchpotch of a tour vastly different to the one that was months in the planning! When you look at the map you can see that the trip to Austria, with Vienna being the furthest point, would have been much shorter than what we eventually did!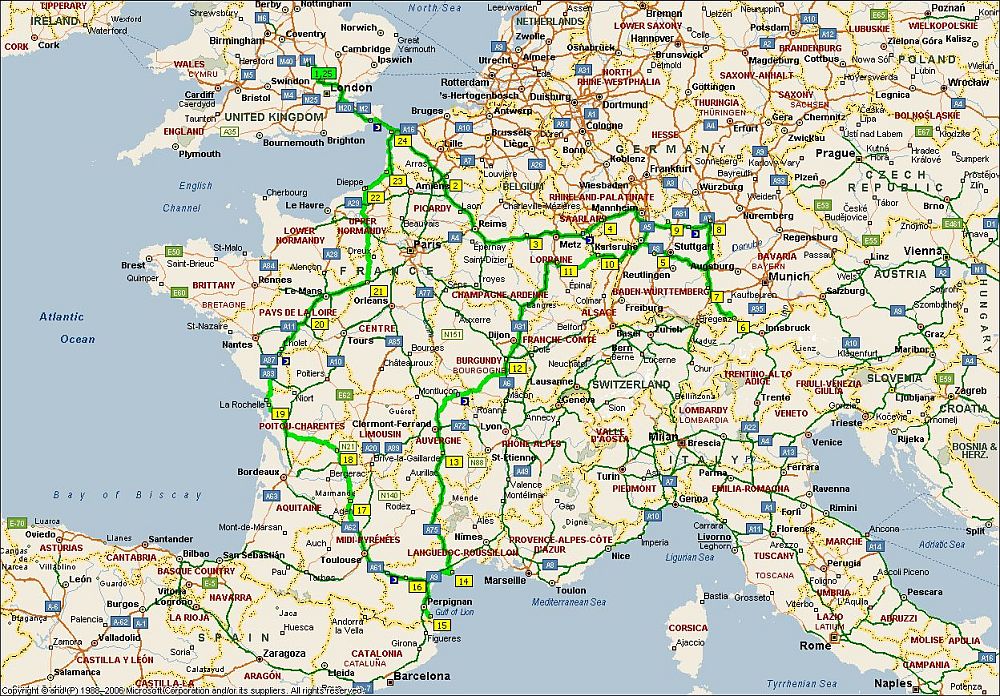 1st May and we are ready to set off on our trip. The major change this year is that we have changed from a caravan to a motorhome. This was a big decision and this trip will no doubt prove one way or another that we have made the correct choice!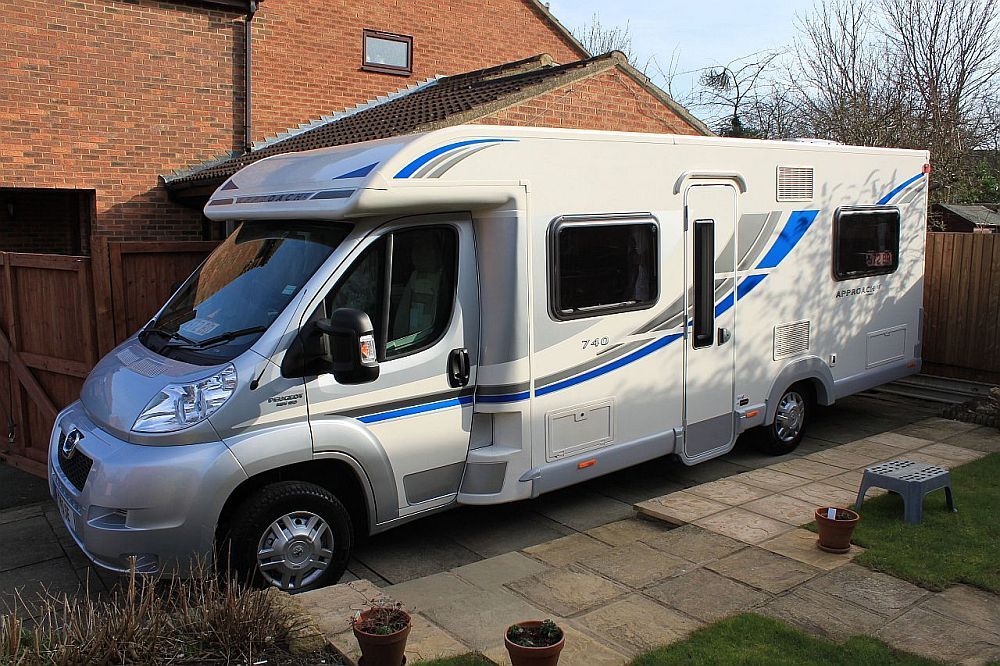 The motorhome is so much easier to get packed and ready than the caravan and of course there is no faffing around trying to find a place to hitch car and caravan together. We drive the motorhome out of the garden and park it until we are ready to go. By 10.00am we were ready for the off, it seemed strange leaving the car parked on the drive! Surprisingly the M1 was relatively calm with traffic moving quite freely despite the overhead signs showing a reduced speed which most seemed to ignore. The widening of most of the M1 south of MK, plus the ability to use the hardshoulder on one section has made a massive difference. Likewise the M25 although there is still more to do here. After a short pit stop at the Dartford Crossing Services we got to the Tunnel at about 1.00pm, two hours ahead of our booked time. At the check in we were offered an earlier crossing, one hour earlier. We were, however, a bit sneaky and we ignored the sign saying boarding for the group in front of us and made our way to the Customs check in. After a cursory check of our gas we headed for the dispatching area where we were sent straight through and as the traffic lights were green we went straight through which meant we were on a crossing two hours earlier than planned!
Our crossing time was the deciding factor on where we spent our first night so being earlier we could press on a bit further. It is rather surprising how few campsites there are within 70/80 miles of Calais heading south. We thought we would try one new to us, the Municipal in Cambrai that had been recommended to us some years earlier. Les Trois Clochers is only a small campsite with perhaps 50 or so pitches but ideally suited for a visit to Cambrai or for an en route stop over. It was cheap as well at about £11 a night with virtually semi service pitches.
Our total driving journey of 226 miles is the longest journey so far in the motorhome. It is nice to be able to travel a bit faster. One oddity has been our SANEF automatic toll device. The idea being that the cost of tolls is electronically gathered and your bank account debited on a monthly basis. You have a small reader that logs you onto the motorway and as you exit the motorway it records the journey. Barriers are meant to open automatically. Meant to! As we joined the motorway the barrier failed to open so we took a ticket. When we exited the device beeped and the barrier opened so we drove through. Goodness how much it will cost us, I will check online when we have internet access. We have never bothered with a TAG before but given the cab is a lot higher than the car I had visions of Margaret falling head first out of the window trying to retrieve a ticket!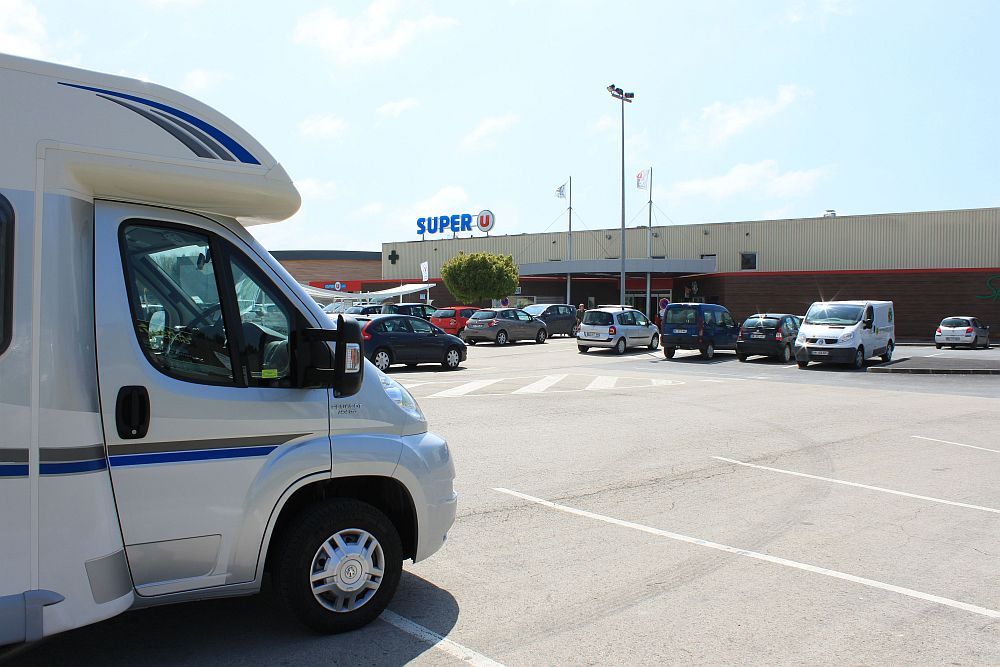 Thursday 2nd May. We did not particularly rush to be away this morning but we were on our way by just after 10.00am. Once back on the A26 and it was a case of spot the lorry. If the M1 looked like this you would imagine you were in the middle of a nationwide lorry strike! Last evening I had a look at the positioning of the SANEF TAG as I think the very slight cab overhang was preventing it from being read by the scanner as we entered the toll booth. I have now lowered if down the windscreen so it is in clear view and about the same height as a car. From our experience of today it seems to have worked. Our intended destination for an overnight stop was Ste Menhould which has a Municipal Campsite. Before arriving at the campsite we took advantage of the quiet lunch time and went into the nearby SuperU for fuel. There was no way I was going to get out the exit so I reversed out, luckily there was no one behind me and at lunch time you can only use the pay at pump machines. We also took advantage of a near empty car park so that Margaret could nip in for some shopping. I then remembered I needed something to clean the windscreen of thousands of dead insects which had gathered over the last couple of days, I found an extending wash and wipe tool which worked quite well. We then headed off for the campsite but when we got there the gate was only partially open and there was no way we could get in. Looking at one of our books it said that it opened on the 1st May, we were obviously too early. Whilst getting ready to set off another British couple arrived and came to talk to us. We assumed that they were on their way out and suggested they, like us, continue to Verdun. It was then they told us they were heading home so we suggested the site at Chalons as it was in their direction. Back on the autoroute and heading for Verdun to a site called Les Breuils which we had used about 8 years ago. Plenty of space and a bit nearer our next destination. I tried to set up the satellite but clearly there was something wrong as I could not pick up a signal so decided to leave it until we had more time although all the time we are moving out of the new footprint.
Friday 3rd May. We had heavy overnight rain but it was dryer by the time we were up in the morning but still dull. We had a relatively short journey today of around 120 miles which took us from France into Germany to a place called Schnenberg-Kubelberg which is between Saarbrucken and Kaiserslautern. We managed to get to the campsite, Camping Park Ohmbachsee, before the two hour shut down. We found a pitch and set ourselves up. Margaret is not too impressed with the site. Like a lot in Germany it has many permanent caravans which can give a shanty town feel about the place. We also felt that not much preparation work had been done for the new season. You often hear the refrain that Continental campsites are so much better than British sites. This is quite frankly a load of tosh, give me the quality of a Caravan Club site any day!!! The unfortunate fact is that the Caravan Club doesnít have sites on mainland Europe!
After some lunch we went for a walk round the site and down to the lake called Ohmbachsee from which the site gets its name. This has a cycle path all the way round and you can imagine that on a hot weekend that it would be very busy.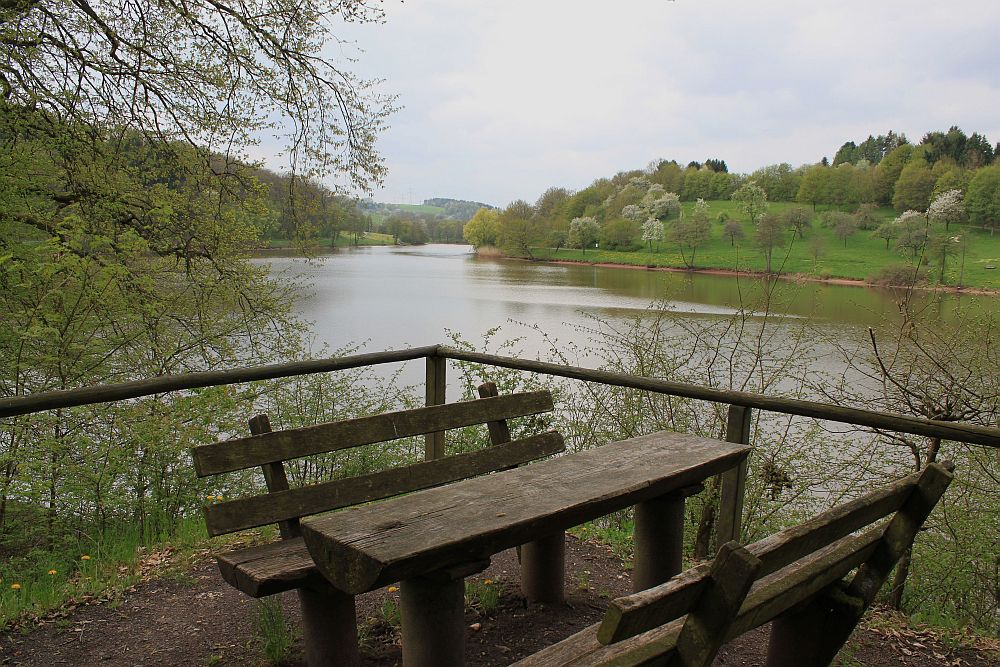 Saturday 4th May. More overnight rain and when we got up it was still wet and looked as if it was set in for the day. The prospect of a bike ride down into the town was becoming more remote by the hour. My knee had been seriously painful today so back to maximum painkillers and icepack so the bike ride might not have happened anyway. In our caravanning days we would have just hopped into the car and drove down to the town but those days are gone! Strangely, and too late to put a plan into action the skies started to clear and it was a lovely warm and sunny afternoon!
On our walks around the campsite we noticed in one corner some guys dismantling a permanent caravan/structure. For those unfamiliar with German campsites this type of permanent construction is the norm and it appears that touring vans are the exception. Perhaps I need to explain a bit more? On the majority of German campsites many of the plots/pitches are hired out on an annual basis to customers who either live in them full time or more usually at weekends and holidays. A bit like having a seasonal pitch in the UK. However that is where the similarity ends. Once the pitch is hired they first of all place a caravan on it. What happens next opens up all sorts of possibilities. Usually there is an awning added but not the usual touring sort but a more permanent structure more like a sun room. Sometimes this is further extended by another room. All these are linked together and often have structures created that completely cover everything! So why is your scribe going on at such length to inform you of this peculiarity of German camping habits. Well, these structures are fine whilst they are being used but when they are no longer required and no one want to take it off your hands what happens then? This brings me to the point of this story. If no longer required they have to be demolished and from an observation on this campsite over the past two days this is not an easy task! Two guys have been taking one of these down for the last two days. It would seem from the piles of wood that they have enough materials to construct a small terrace of houses! There are certainly several lorry loads that need getting rid of and that does not include the base caravan which no doubt has seen better days.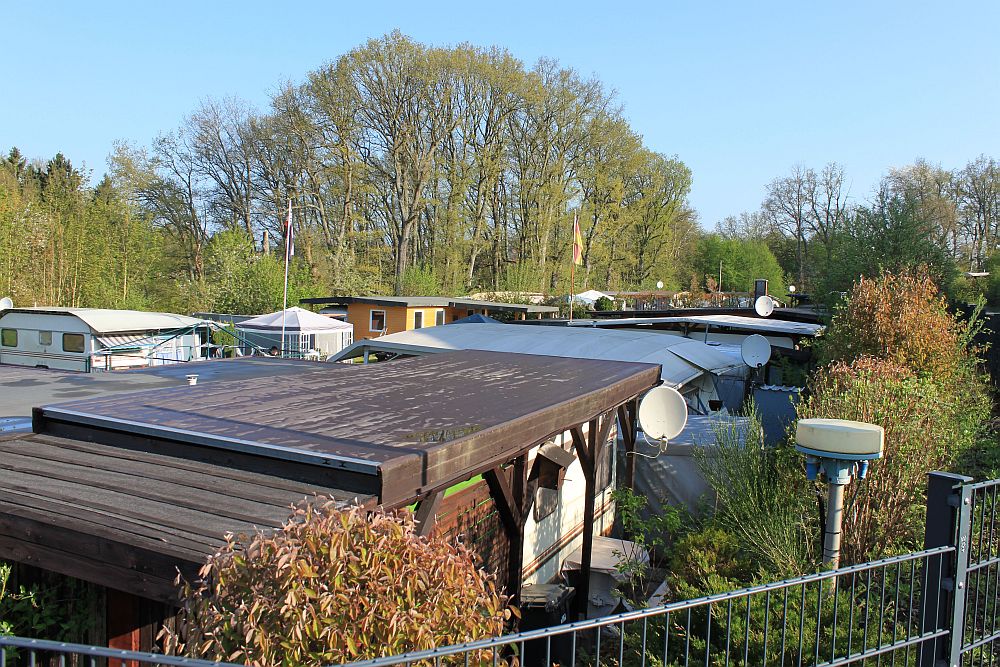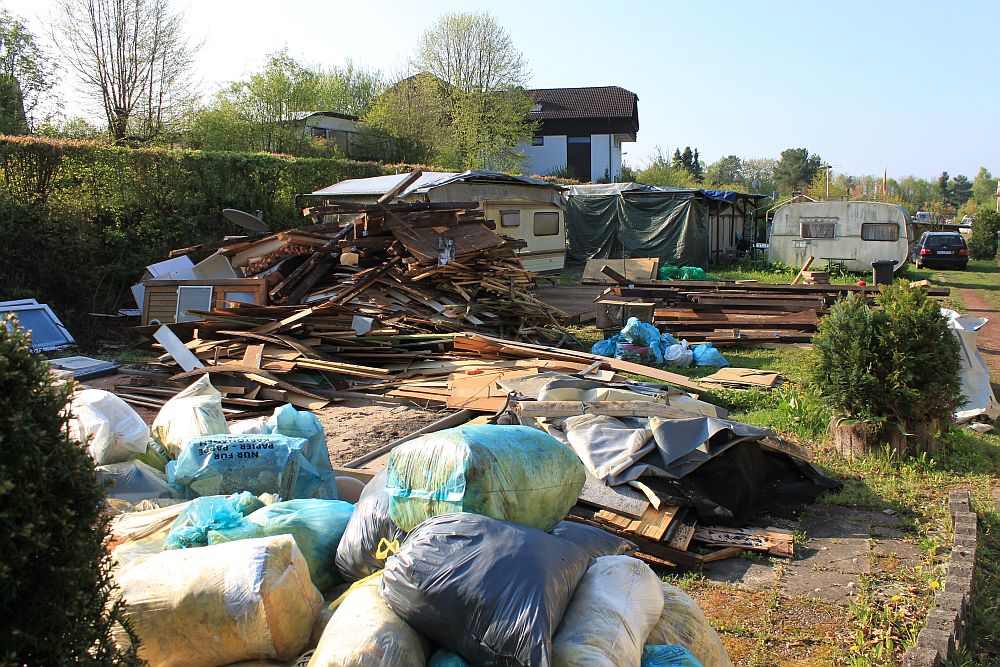 Sunday 5th May. The sun of the latter part of yesterday has stayed with us and we awoke to a beautiful sunny morning. Itís always amazing how things look different in good weather. With everything packed up we were ready to go by about 10.00am. Unusually we did not pay until we left as we had to get through the barrier in order to reclaim our deposit on the barrier card. As a last minute thing before we left home I decided to purchase 10 Camping Cheques which I put on my Silver Card. This site accepts both ACSI and Camping Cheques so I decided to pay with the latter. Initially it showed I had no Cheques on my card! After several more attempts it finally accepted the two nightís payment but only showed me have 4 left! The other four had disappeared, although I think I may have paid three times for our stay at that site so hopefully I can sort it out as soon as I have internet access back. (Subsequent checks online confirmed that I still had the correct number on my card)
We retraced our steps back to the A6 Autobahn, even stopping en route to buy some bread rolls in one of the villages. Its strange travelling on German motorways on a Sunday as there are very few lorries on the road but there always seem to be more cars, especially on the A5/A8. It was slow around Karlsruhe because of lanes being closed. The holdup was bad enough on a Sunday with no lorries heavens knows what it would be like on a Monday! On the A8 there seems to be a lot of bridge rebuilding and realignment of the carriageways which slowed us down. In the normal course of things this would not have bothered us but the last thing we want to do is arrive at a site and find we have missed the lunch time closure by minutes and we were heading that way! We eventually left the A8 at Pforzheim for the final leg of our journey to Bad Liebenzell. I am not sure how sat navs work out their routes but we were taken all round the houses and down roads that should not have seen a Bailey Approach 740! We ended up at what seemed to be a dead end by a railway station. The thought of returning the way we came filled me with horror. I pull over into the car park to gather my thoughts. I got out the cab and had a wander around and I realised that there was a road going in the direction we thought we needed to go but was hidden from view had I not got out of the motorhome. On our way again and we eventually found the 465 road which would take us to our campsite, initially even this was quite narrow but it did eventually widen out. The campsite was easy to find and it seems to be situated conveniently (for us) between two supermarkets. I chose this campsite, Regenbogen Camp, because of its location in a town however Margaret looked in the Caravan Club European Guide and was getting concerned that reports suggested that it was a bit run down. This proved to be far from the truth and I suspect it was an old report and the management seems to have changed in the meantime. When we got to reception it was about two minutes past one and I asked if I was too late to be booked in before they close for lunch, to my surprise they said they never close which was a pleasant surprise. It turned out that the lady on reception was originally from Canada. I detected an accent and had to ask! We donít know how long we intend to stay at this campsite so I said maybe two to three days. I was informed that they have to take payment in advance so I said 2 days initially and will come back for later in our stay if we decided to extend. The reason for advance payment stems from a special local tax which you have to pay but the benefits are that it gives you free transport on local buses and trains and discounted access to museums. If you make use of this it proves to be very good value but I donít think there is an opt out option!
Everyone was very friendly and most spoke at least some English. We were allocated a pitch but with the reassurance that if it did not suit to have a look round for an alternative. We were also told that someone would be along to sort out our electric connection. We confused this arrangement by heading straight for the motorhome service point which was at the far end of the site. It was, yet another, tight turn into the motorhome bay but we managed. Our electrics man even came and found us and explained where everything was. We are not used to this level of service! Having emptied and filled we made our way to our pitch where we had to park lengthways as there was not enough depth to take the Bailey. It was lovely to have full sun on us and we even felt the need to put out the canopy for the first time. Just behind us was an English couple and we had a chat to Mr as he was going off to empty his Waste Master as we were having an evening walk around the site. When we got back we had a new neighbour in the form of a German motorhome the chap spoke excellent English and had briefly worked in Colchester, small world! Everyone on the site seems very friendly so no doubt happy staff equals happy customers, something I appreciate from a previous life.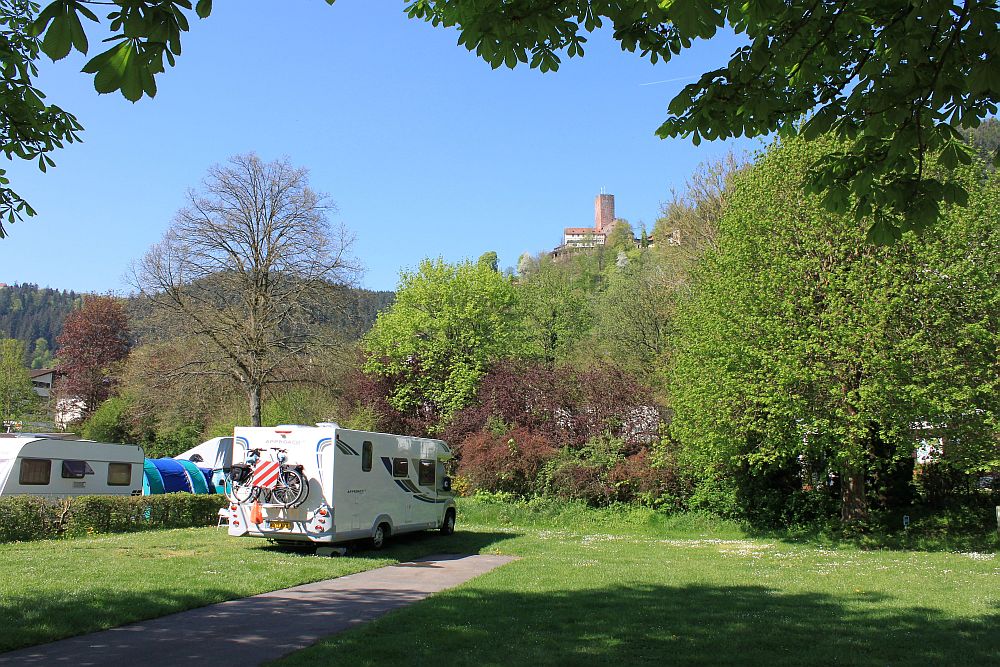 Monday 6th May. I write this with the rain hammering down on the roof of the motorhome and the occasional roll of thunder above. Until an hour or so ago it had been a lovely day but as we moved towards the evening you sensed the wind building a bit and then the first rolls of thunder and the first pitter patter of raindrops.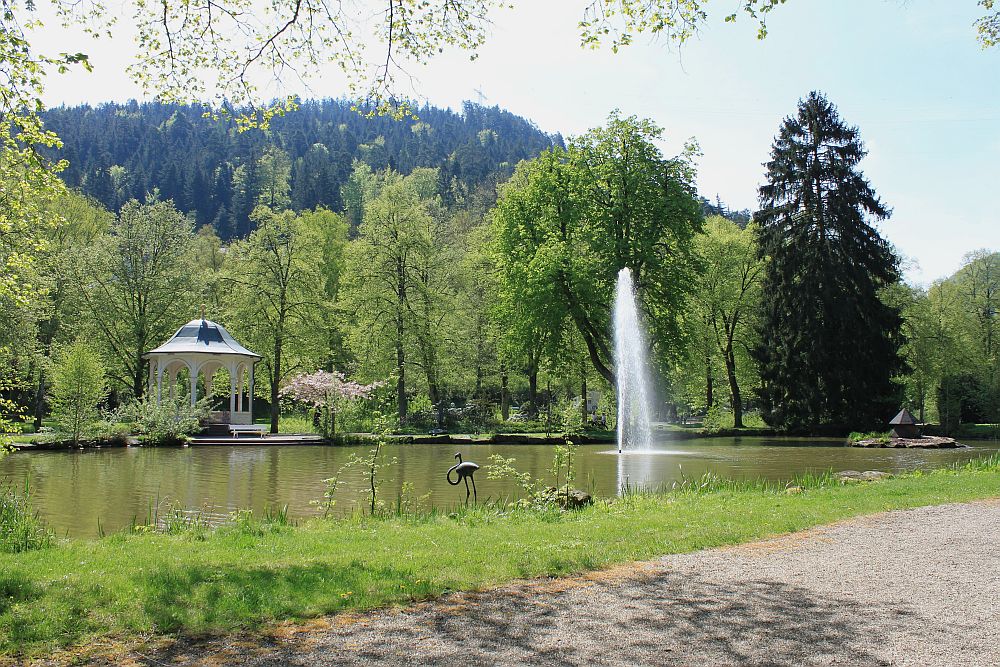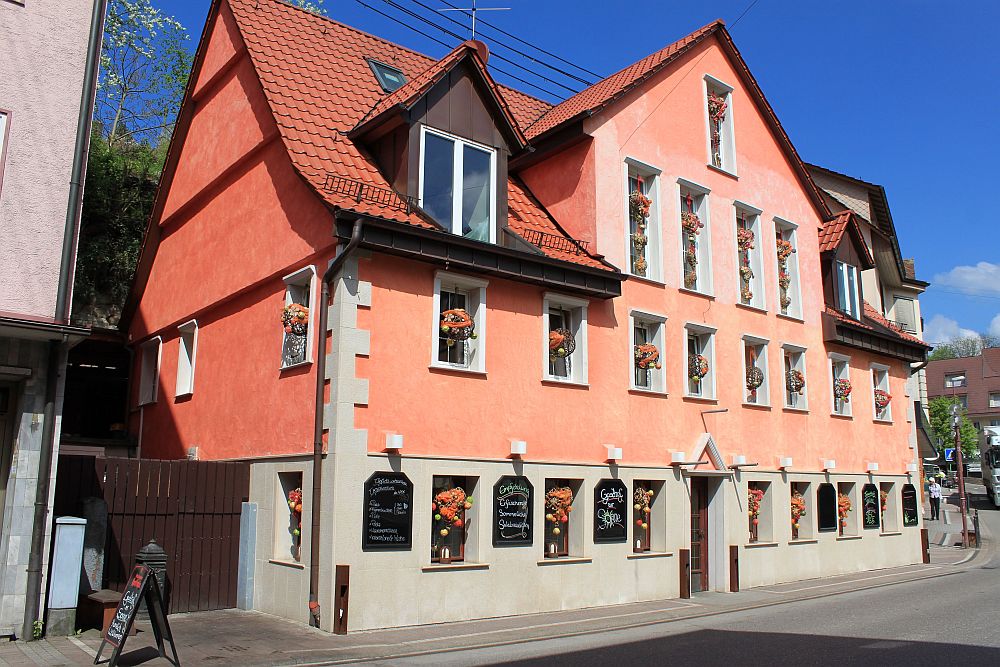 The day actually dawned bright and with signs that the general weather is warming up eventually. We decided to walk into Bad Liebenzell this morning to have a look round. Although perhaps I should substitute walk for hobble as my knee was playing up a bit. We first went to look at the Bahnhof as we may take advantage of the free travel cards we have, provided by the site. From here we wandered into the town which in this area is surprisingly modern. If you were to take away the banks, chemists and cafes from any German town there would be very little left in terms of shopping! Having said that we did need a bank in order to get some more cash as in many places acceptance of credit cards is not the norm. We then continued to the lovely gardens to the rear of the Rathaus. Margaret spied an electrical shop and went to enquire if they sold chargers for mobile phones but to no avail. The older town is at a higher level so we walked up to the church which was of course open for all to view. Very little in the way of internal decoration but some interesting low circular stained glass windows. There is also a rather nice wooden upper gallery. Outside in the churchyard were various memorials to fallen soldiers of the two world wars. Given that the town is not that large there seems to have been a heavy price paid by this community in the lives of its youngsters.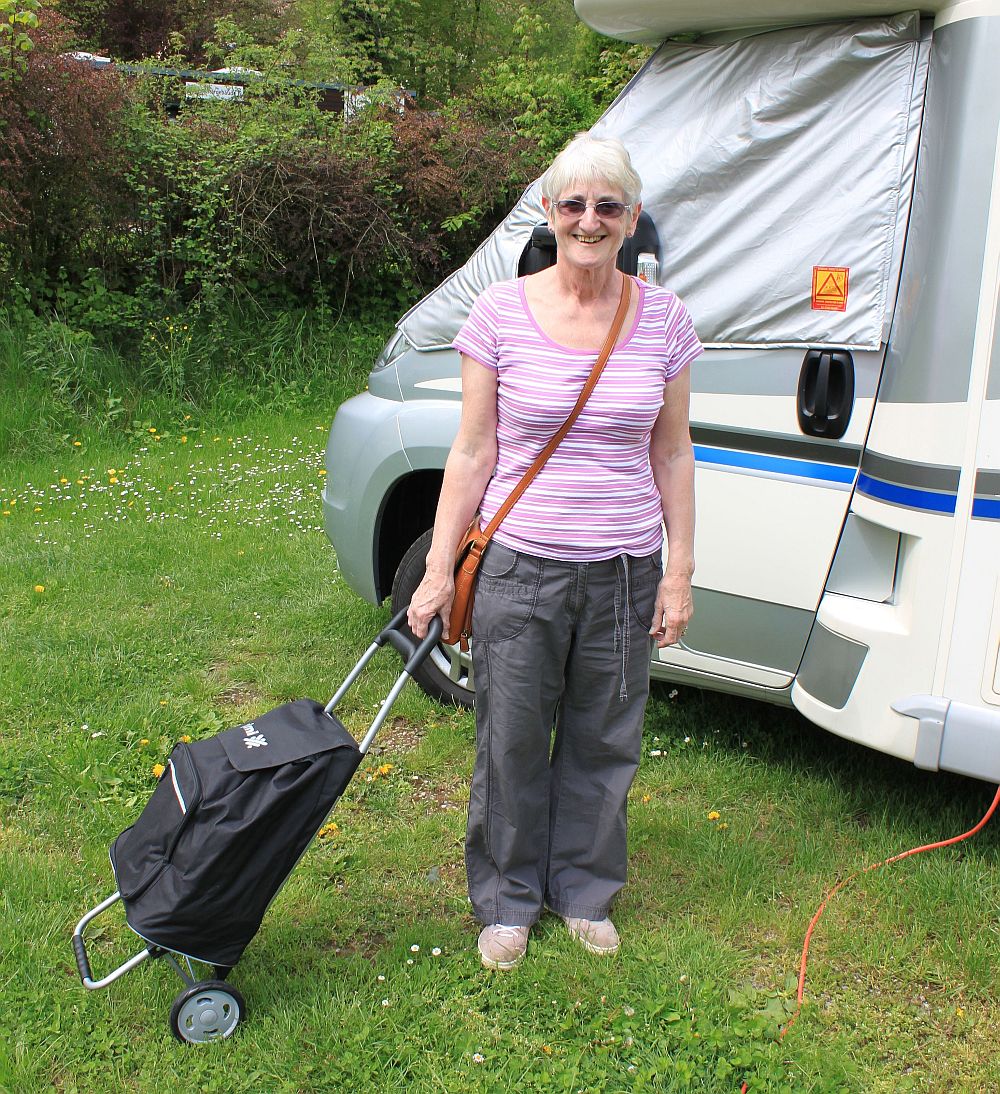 On the way back we stopped at the Lidl to buy some lovely sesame seed rolls for our lunch. After we had eaten I decide to practice some RICE on my knee. For the uninitiated this stands for rest, ice, compression, elevation. It did seem to help but hardly practical if you have a busy schedule! It did at least give a bit of restbite but it was far from a cure! At least it allowed us to go shopping at the next door Lidl! Margaret has a new accessory for such shopping jaunts which I call a granny bag, one of those shopping bags on wheels. The trouble is that it makes her feel like her Mum!!! Having said that itís a lot easier than carrying bags of shopping back! In the shop I decided that it would be nice to have a proper sliced loaf of bread rather than the bland sliced loafs they normally sell. I found myself a freshly baked loaf of bread and decided to use the slicing machine. It seems inconceivable that any shop in the UK would allow an ordinary person to perform this task! Following the picture instruction I placed the loaf into position and closed the top. At this point a fearsome looking circular saw blade proceeded to slice the bread. Once it had stopped I was a bit reluctant to retrieve the loaf just in case it burst into action with my hand in there! Anyway I manage to get the loaf out and into a bag but it looked more like a Generation Game attempt rather than the slick operation at our local Waitrose! On the way out we spied some rather lovely pastries which had buy me on them. They turned out to be a brioche type pastry with a nice strawberry puree rather than jam, yummy!
For some random reason I decided to check the bikes and discovered that yet again Margaretís front tyre had deflated. I took the wheel of and discovered a split right next to the valve. This seems to be a regular occurrence. After the debacle in Italy last year I now carry a couple of spares. I replace the inner tube and Margaret went off for a ride around the campsite with no ill effects so fingers crossed. If it happens again I will be at a complete loss to understand what is causing so many similar failures.
I need a replacement water container to replenish the water tank because after many years of service the old one has split. None in Lidl so we decided to walk up the Netto but again no luck although the trip was not completely wasted as I found a bottle of Asbach Brandy!!!
We have extended our stay at this campsite for a further 3 days and now plan to leave on Friday.
Tuesday 7th May. The rain of yesterday evening continued all through the night. Somehow it does not seem as noisy as it was in the caravan. When we got up it was still grey but there were signs of breaks in the cloud.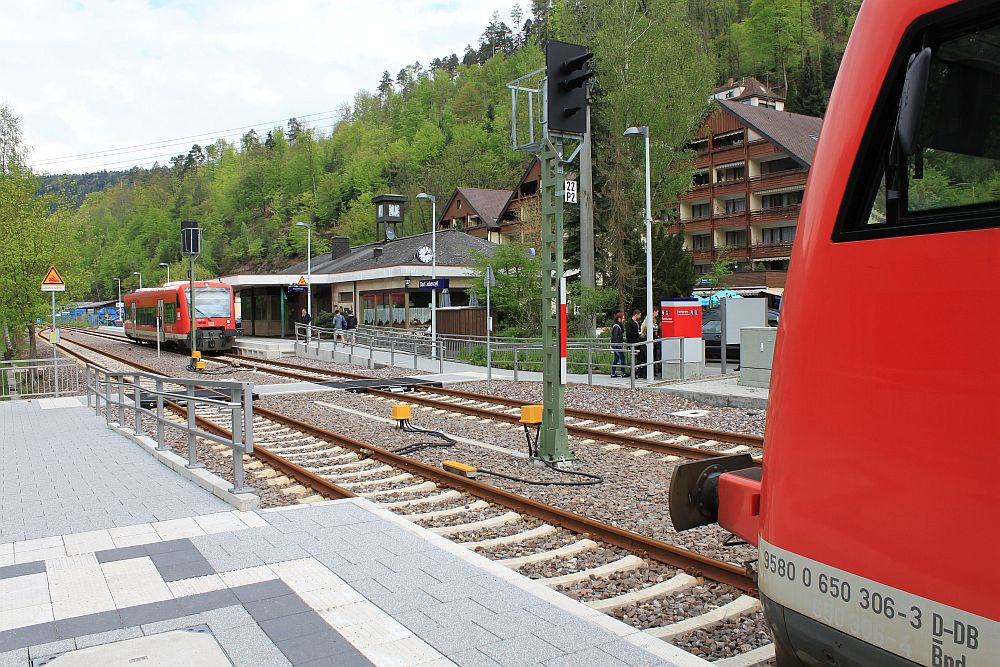 Today we took the train to Calw which is pronounced with an F at the end not a W! Itís famous for being the birthplace of Hermann Hesse the writer and there are several reminders of this as you walk round the town including a museum which we did not find. Our main reason for the journey was to see if we could find a charger for Margaretís phone. No luck at the Vodafone shop and they suggested the Telecom shop but we could not find that. We went into another small electrical shop but again no luck but again the suggestion of the Telecom shop, this time with instructions. We eventually found it only to realise that it was next to the Vodafone shop!!! A very nice young man helped us and went into the store room and came out with a box containing the right charger, he even demonstrated that it worked. We then wandered around the town which is more traditionally German in character than where we are staying. We had carted the Netbook with us in the hope of finding an internet connection or W-Lan as they call it in Germany. Looked at lots of cafes, etc but no sign they did WiFi. Where is McDonalds when you need one? Having got what we came for and had a quick look round we made our way back to the station and there was a train waiting for our return journey which was all of 10 minutes!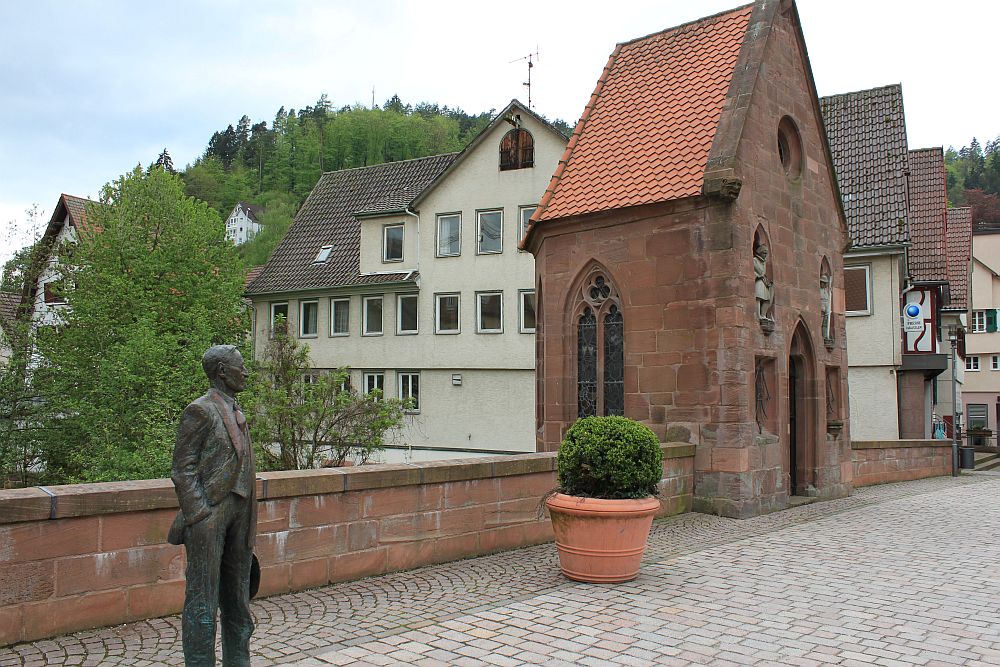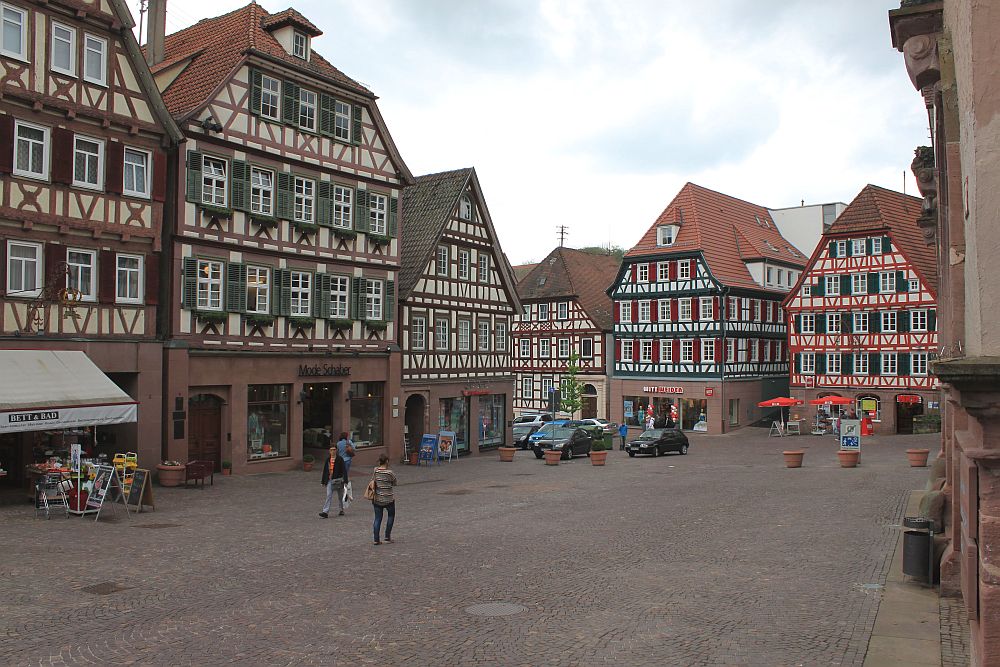 After lunch we walked back to Bad Liebenzell as the lady on reception had suggested they have an internet connection at the Rathaus. All of this being necessary because the campsite is between telecom suppliers so are not able to offer their normal WiFi service. We arrived at the Rathaus and found a computer terminal which was available for free use of visitors which is a very nice idea. I did ask if they had W-Lan but no they donít so I used their machine. I only checked e-mail and a few other bits as I am not very keen on using public computers for looking at the likes of bank accounts etc. In the meantime Margaret had a walk across to the Spa to have a look. I suppose the lack of wireless internet was a bit of a surprise. I appreciate the Germans perhaps have a more traditional outlook on life than we do in the UK but German kids are no less glued to their phones! So I assume they rely of telecom networks more that WiFi.
Since we arrived the site has become much busier mainly with Dutch but there is a good representation of Brits as well and we have chatted to a few of them.
Wednesday 8th May. We have been away from home for a week now but somehow it seems much longer. With the lack of an internet connection I have had to resort to other means of getting online in order to check a few things. Virgin offer various packages and I chose the 25mb at £10 in the hope that it would be enough. I am using my Smart phone as a WiFi point. Given the limited amount of download I was buying I have switched off automatic downloads as they would soon eat into my allowance. I managed to do everything I wanted and was surprised to find that I had only used 10mb of my allowance so I can finish off tomorrow.
Thursday is a Bank Holiday in Germany so we are not sure what will be open so we decided to do our shopping today. After lunch we walked back up to the older part of town to explore a little further. It was rather surprising to see the number of quite large hotels which had clearly closed down. Whether this is to do with the demise of the previous Spa customers I donít know but it could be a possible explanation. You always imagine that Germany is immune from the ravages of international money worries but clearly not. We reached the outer limits of the town looking to see if there was an easy way up to the Schloss whose tower stands proudly above the town. No easy way was found so we gave up before my knee did! Itís interesting to see how every nook and cranny is used for houses in these small towns, which adds a certain charm. I mentioned earlier about the lack of internet facilities available to the public. Well I did find an internet cafť but would you believe it had closed down. It clearly had an international clientele as the closure notice was in three languages!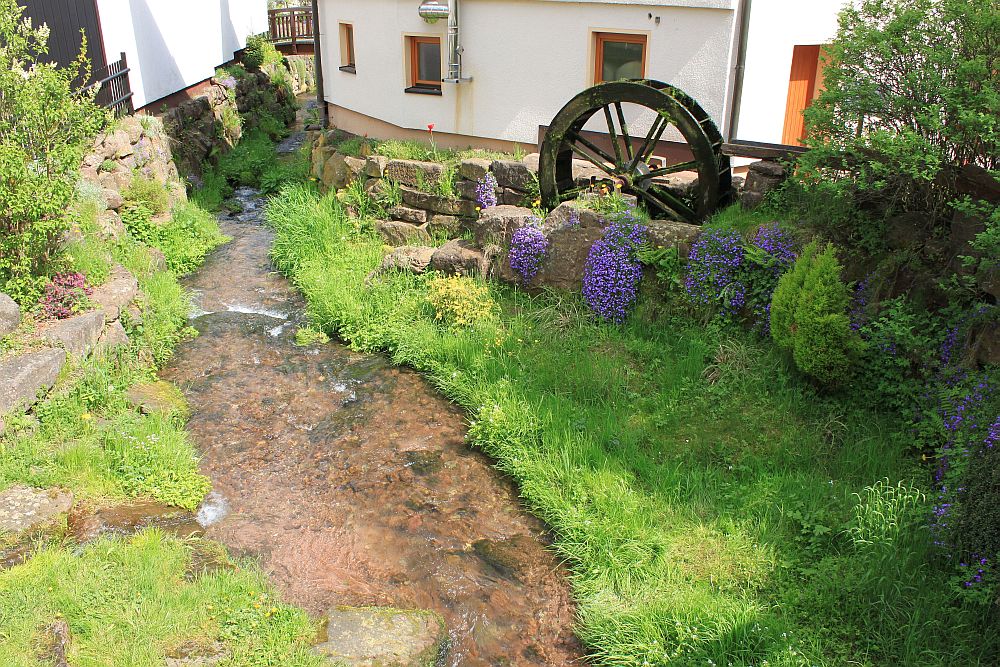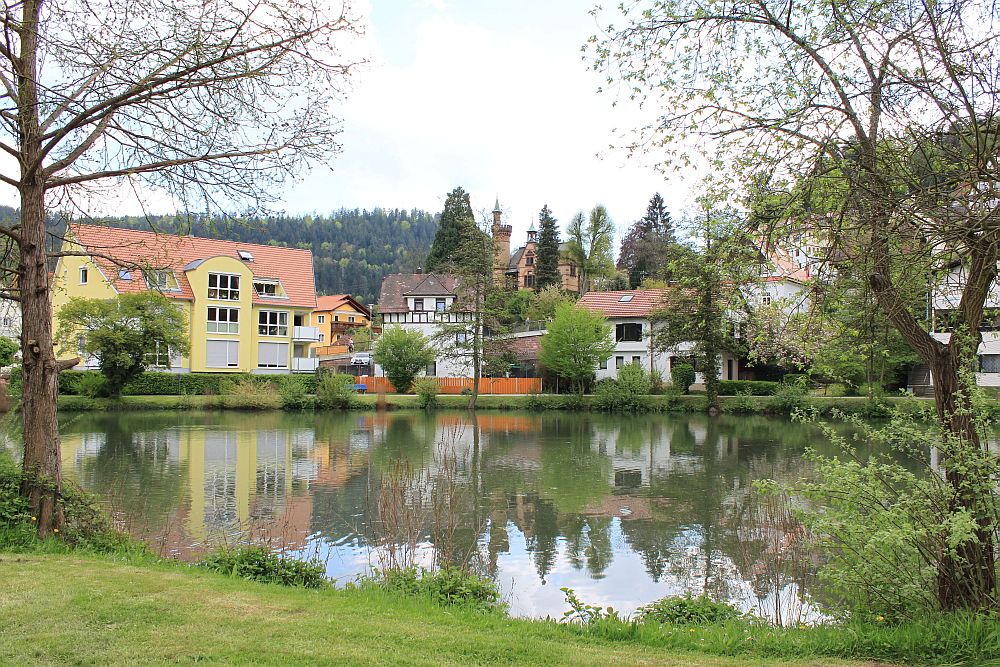 Thursday 9th May. I am not sure what I was expecting from a Bank Holiday in Germany as far as the campsite is concerned. There was certainly no rush of new customers either late last night or today. In fact today has been quieter for new arrivals than other days. Fuel pricing policy in Germany is another mystery. The fuel station opposite the campsite changes prices every day and often more than once during the day! By the look of it the best time to fill up is after lunch as prices can be several cents per litre cheaper. We need to fill up on our way to our next site tomorrow so no doubt we will be paying the higher price!
Weather wise today has been a bit odd as whilst it has been quite warm it has been overcast for much of the day which seemed not to make a longer excursion worthwhile. In the end we decided that a bike ride would be in order, the first of the trip. Margaretís front tyre had stayed inflated so it was a case of fingers crossed. We rode along the river that runs behind the campsite and into Bad Liebenzell and then through the Municipal Park. As we neared the exit of the Park we could hear this loud music. The music was so loud that it was beyond even an enhanced car stereo. Crossing a bridge it seemed to be coming from a bar/hotel. It goes without saying that it was of the oom pah variety which no doubt helps the Bitberger go down! We continued along the river and stopped at a convenient seat and spent some time watching a Heron standing on rocks in the river looking for his lunch, he gave up after a while and headed downstream as did we. We headed back via the Spa which looked very nice and appeared to be quite busy. We are off in the morning further south. To have stayed at this campsite for 5 days seems something of an extravagance but it has been very restful and relaxing.
Friday 10th May. Yet more overnight rain but this time it did not stop when we got up but carried on all day! We had enjoyed Bad Liebenzell but were heading for a completely different form of camping at Fussen. First we had to fill up and you have guessed it the price had gone up to 1.41 litre compare the 1.379 the afternoon before. We were determined not to let TomTom lead us astray this time but we did get caught out once, more of that in a minute. We headed for Calw and ignored the sat nav when he wanted to take us half way up a mountain! We found the road we thought we needed and that took us halfway up a mountain anyway! Eventually we got to the A8 and started to head for Fussen. Lots of roadworks in progress, although very questionable whether any work was being done! I appreciate that in the UK we get fed up with roadworks but at least we get on with the job, usually 24/7. However here in Germany, because itís a day between a Bank Holiday and a weekend not one spade or wheelbarrow is in use! I sometimes marvel at how they became the richest country in Europe. Back to TomTom. Instead of taking us around Ulm he directed us through. Now if looking at a map it does look as if this might be a useful short cut as it seems to be all dual carriage way. In fairness to TomTom he was not to know that road works in the centre of Ulm were causing chaos. Far better to have stuck with the motorway!
Fortunately he was spot on in directing us to our next stopover point the Camperstop in Fussen. This is nothing like a campsite but more like a car park with wider bays. Once you get used to the idea itís not quite so bad. Couldnít be handier for the shops with a Lidl and Aldi, plus a large DIY store just across the road. The DIY store was important because we went in search of a replacement water container which we use for topping up the on-board tank when itís too much bother to up sticks and go the service point. We did find one but they only had a 20 litre version which was bigger than I was looking for but ha ho for Ä12 itís not a kingís ransom even if we throw it away at the end of the holiday.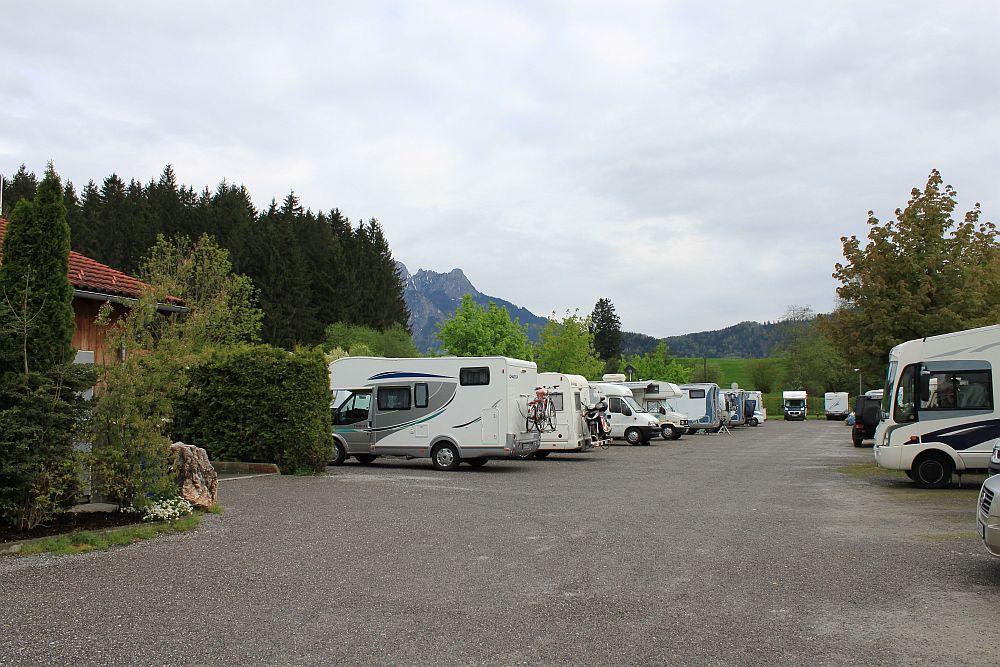 When we arrived at Fussen we were told to find a place and pay at 6.00pm when the man arrived. I was keen to have the internet having been without it for 5 days. We could see from our windows that people kept coming up to the office and then going back to their vans. I noticed a chap arrive in a black Volkswagen, he seem to go into the office but came straight out again and drove off. People still came and went from the office hoping they could pay. I went over to wait and to my surprise I was first in to pay, that doesnít happen in Germany!
Saturday 11th May. Wet,Wet,Wet, not the pop group but the weather! It continued to rain overnight and all through the day only getting less heavy for short periods. During the morning we topped up supplies at Lidl but were starting to get a bit stir crazy after 48 hours of solid rain. In the afternoon it eased off a bit in heaviness so we decide to chance a walk. Initially we thought about walking into the town of Fussen but we both wanted to see the Foggensee. As we were walking along we spied a road that looked as if it might lead down to the Lake which it did. Despite all the rain the Lake looked to have a very low water level. In fact a large Lake steamer was in a dry dock with no way of getting afloat on the Lake.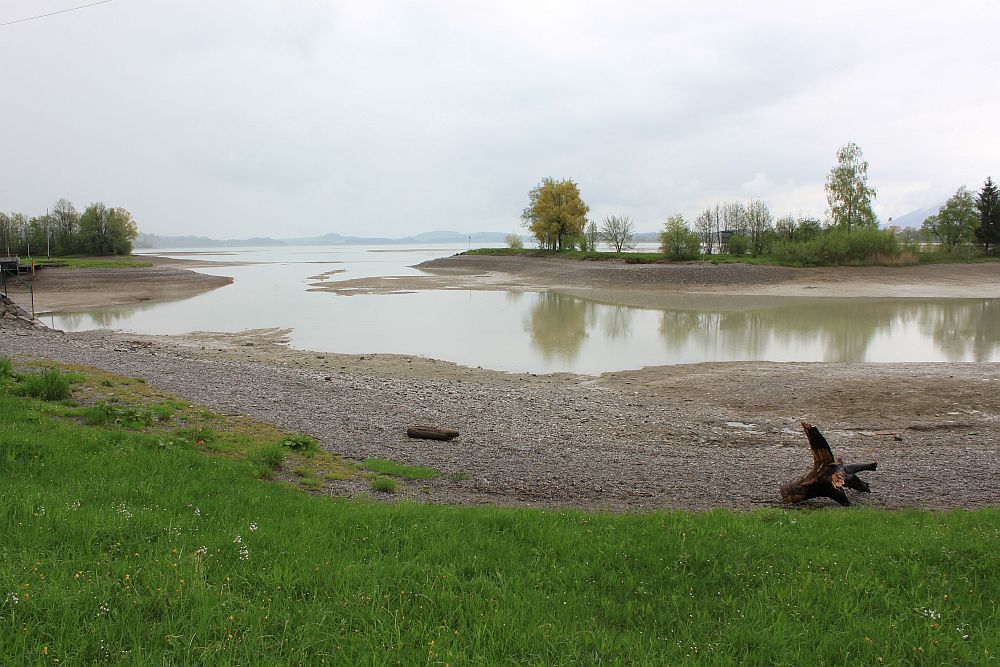 We have made, what is to us a sad decision not to proceed onto Austria but to head back towards Calais and home. I seem to be having an increasing problem with my knee which does not seem to be responding to the pain killers I have, although I do have a few good days they are increasingly becoming more painful. The logic to the decision is that going a further 500 miles away from home is not the sensible thing to do. We have decided that Fussen will be our furthest point and we will gradually make our way back to Calais. How long that process takes very much depends on how I cope with the knee. If it eases we will take it more slowly but if there is no improvement we will rearrange our return crossing.
Sunday 12th May. At long last the rain seems to have eased but it still seems to be threatening. The headline cost of staying at this Camper Stop is a quite reasonable Ä13 a night but that does not include electricity which you pay for separately at Ä1 for 1.4kw. Many motorhomers will rely on their gas supplies for heating so the need to pay a lot for electricity will be diminished. However those of us who may wish to preserve our gas supplies might well be I for a nasty surprise as we paid Ä10 for two nights. When we left there was .3 of a kW left on the meter!
We were away quite early, in fact a bit too early as it meant we could arrive at our next site by 11.00am had we not stopped in a rest area! Also traffic kept slowing on the motorway for some reason. There always seems to be more cars around on Saturdays and Sundays in Germany compared to the weekdays. We eventually left the motorway as yet more queues were forming after our exit. Camping Christophorus is well signed and we had no trouble finding it although it does seem to be out in the sticks a bit. We checked in and found our allocated pitch which had a water tap nearby which was handy. I even set up the satellite dish in the hope of getting the Spanish Grand Prix. No luck at all with UK TV but did manage to find an Austrian channel broadcasting the GP albeit interspersed with advertisements! Itís strange how so many English phrases have crept into the Grand Prix vocabulary and which clearly have no German translation so you get a mix of English and German during the commentary!!!
Our German neighbour was very interested in our silver insulated screen which we use on the windscreen. I gave him a few details and he said he will look online. Apparently he goes skiing and is concerned about the amount of condensation he gets. Letís hope he helps our balance of payments by ordering one from a UK supplier!
After our chat we went for a walk around the site. The toilet blocks are particularly good. Like many German sites the tourist pitches are very much in the minority. To one side of the site are two large lakes and a little further on a large sluice across the river Iller. By no means a long walk but by the time we returned to the van I was suffering, which seems to further support our change of plans.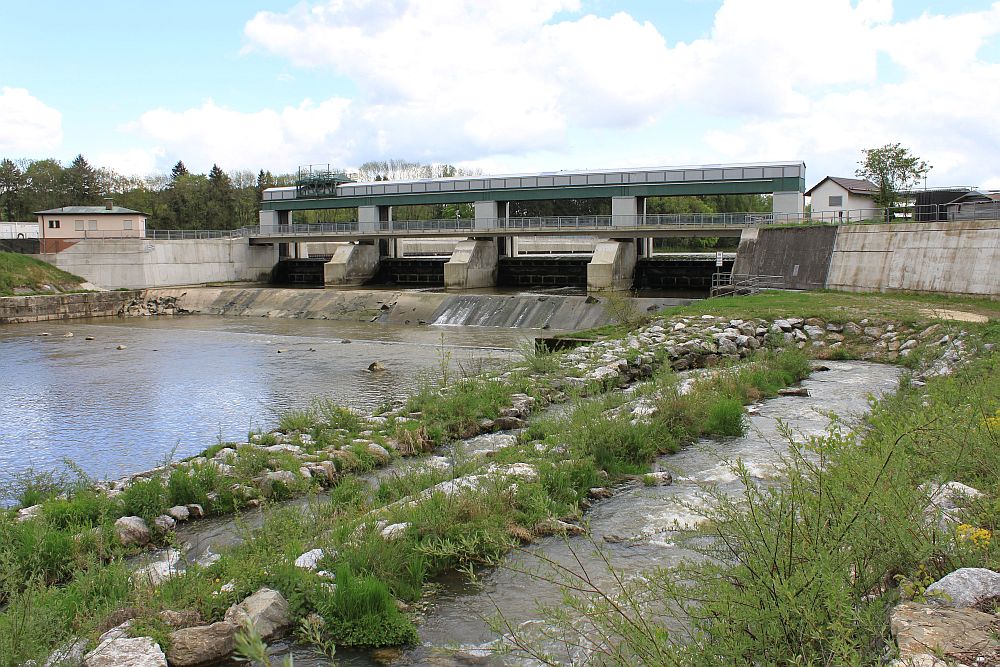 Monday 13th May. I appreciate this is getting repetitive but there was yet more overnight rain which continued to about lunch time. In the morning we busied ourselves with various housekeeping duties but as lunch time approached there were good signs of the weather improving. By early afternoon we made the decision to get the bikes of the back of the camper and go for a ride to a nearby village. On the way we stopped to talk to the lady on reception who was very enthusiastic on where we might visit. She also explained something that had been puzzling us as she closed reception and marched us towards the river to explain the small winding riverlet we had seen the day before was in fact a means for fish to be able to navigate around the large river sluice which apparently is the only one in Germany. Remember where you heard that first!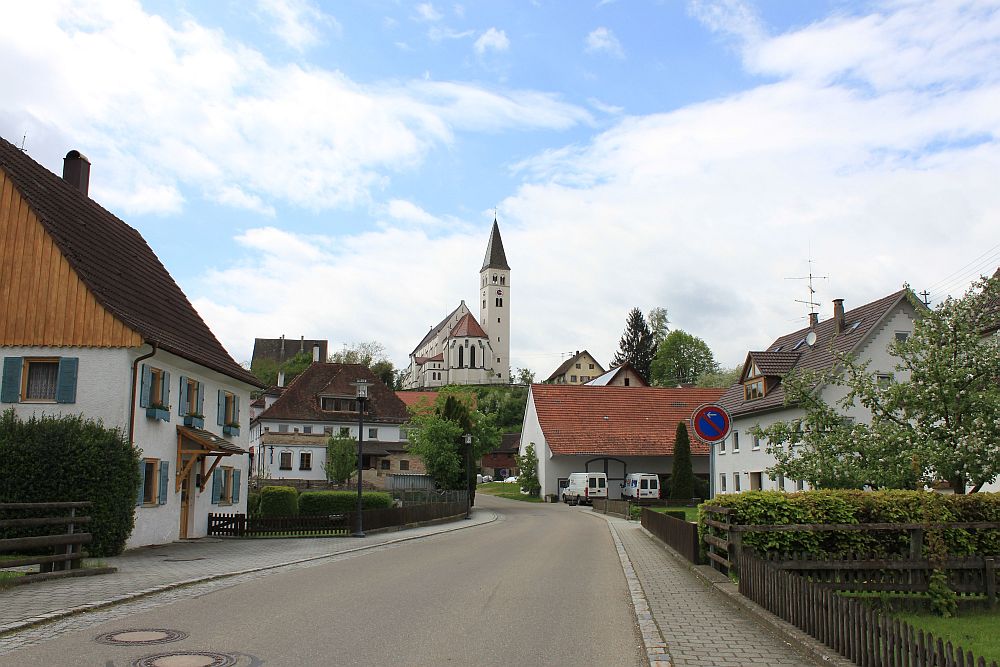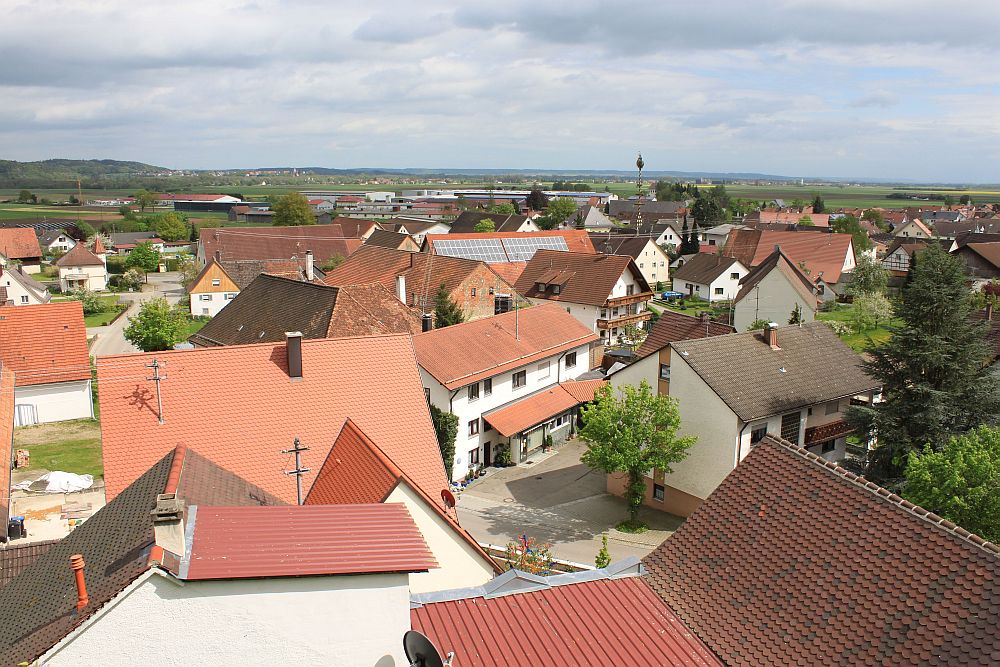 We started on our bike ride with the village of Kirchberg as our destination. The church, according to the lady from reception is Gothic. Whilst the roads are fairly level the wind was quite fierce and as I am not very aerodynamic even I was struggling riding into the wind! Eventually we made it to the outskirts of the village and things became a little easier. We found a way up to the church which is set on a promontory overlooking the otherwise flattish countryside. Having recovered our composure we headed back to the campsite but appeared to be going the long way round on a fairly busy road. Margaret is not very comfortable in such circumstances so I tend to ride behind her at half my normal pace. I try to persuade her that pedalling a bit faster would make her feel safer but I have not yet been successful! Eventually we found the more minor road back to the campsite, stopping en route to look at a small church in another small village before making it back to the campsite. Although it was a bit of a struggle due to the wind it is somewhat liberating. Another positive side effect seems to be that it does not impact on my painful knee as its non-impact exercise which meant a more comfortable day for the knee. On that score I have also been experimenting with using insoles in one shoe. Too early to tell but there seems a slight improvement but only time will tell.
Tuesday 14th May. Perhaps I should keep quiet about this but itís been dry all day, the first time for 5 days! My optimism about my knee proved to be a little misplaced as it was very stiff this morning no doubt due to the cycling yesterday! A couple of Paracetamol tablets on top of the usual tablets seemed to calm it down quite successfully. I do worry that I seem to be drugged up to the eyeballs!!!
Our first task when we left the campsite was to do a bit of shopping so we headed for the Edeka store in Altenstadt. I parked out of the way of everyone else. It was nice to be in a quality supermarket at long last! I had also intended to fill up with fuel but access at the local garage looked a bit difficult so eventually filled up on the motorway which was only a cent per litre more expensive. Hopefully we had timed ourselves correctly as our next site closes for two hours at lunch time but we managed to get there with about fifteen minutes to spare. Camping Frankenhohe is a strange little site but it will do us for a night or two. After lunch we walked down to the swimming lake to have a look. It was a bit like a natural lido with changing huts and seats all around. The Germans seem to quite like their lake swimming. As I type this I can see the Schillingsfurst Castle illuminated against the night sky in the distance.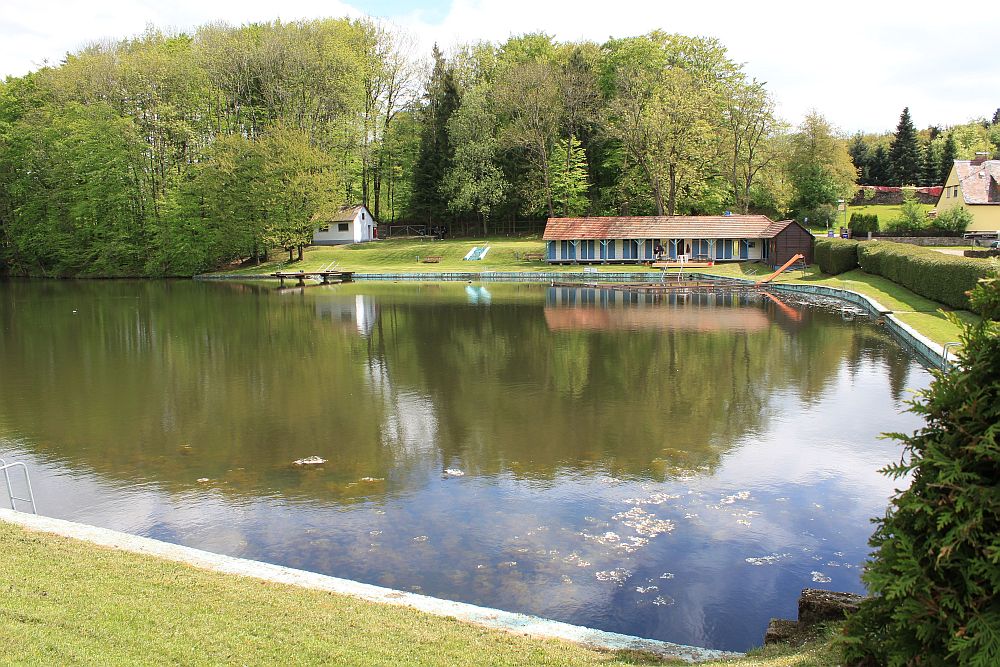 Wednesday 15th May. Weather has been much better today with higher temperatures which were very welcome considering I saw on the BBC News website that they had, had snow in Devon! We were trying to decide on the best way to visit Schillingsfurst, should we walk or should we ride. The fear with walking was of course if the knee would survive! If we rode the bikes we knew it would be hilly but that seemed the best option. It was not that it was a particularly long journey, perhaps a mile. What we did not appreciate was that the Romantische Strasse actually runs through Schillingsfurst. If anyone wanted an introduction to Germany they could do worse than to follow the route of this road from Wurzburg to Fussen. We have encountered it on several holidays in different parts. The road through the town climbs all the way although Bradley Wiggins would no doubt take it in his stride in top gear where as us mere mortals are on the lowest setting and fast running out of gears, that's when we get off and push! Whilst a perfectly pleasant place it is unremarkable although I understand the Castle is worth a visit but that is higher still and would have really put a strain on the vital organs!! Margaret went and got some rolls for lunch whilst I looked after the bikes but was secretly recovering my composure. The road out of town was at least downhill. We had seen a track that we thought would take us back to the campsite, which it did, and was much more pleasant being away from the cars on the road route.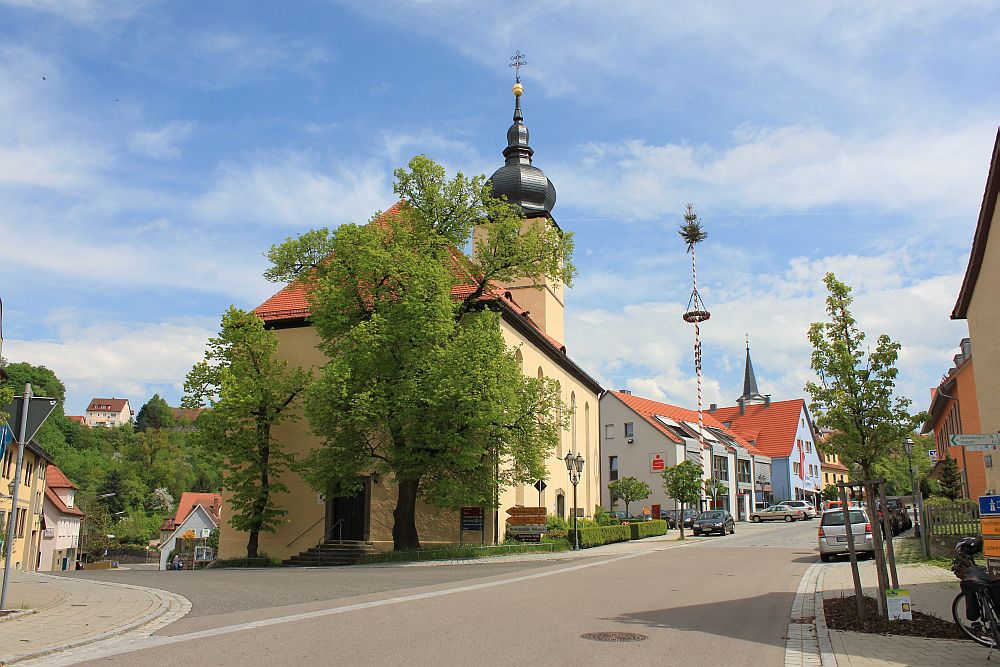 Back at the campsite we got engaged with a German man who said he was 80, he looked as young or younger than me and I am 14 years his junior! Donít you just hate that! He had obviously visited the UK several times with his caravan. We asked him how he got on with driving on the wrong side (to him) of the road and he said perfectly well. After lunch we decided to have another bike ride. Whilst we were sitting at the van we could hear this noise going on in the woods behind us so we set off to investigate. Not quite ď If you go down to the woods todayď but we were curious. We discovered the source of the noise which was a large tractor/digger type vehicle with a big powerful looking grab. It appeared to bite trees off at ground level and then drag them through the jaws of the grab ripping branches off as the trunk went through and then chopped the trunk into smaller sections. All of this taking minutes when by hand it would have taken much longer.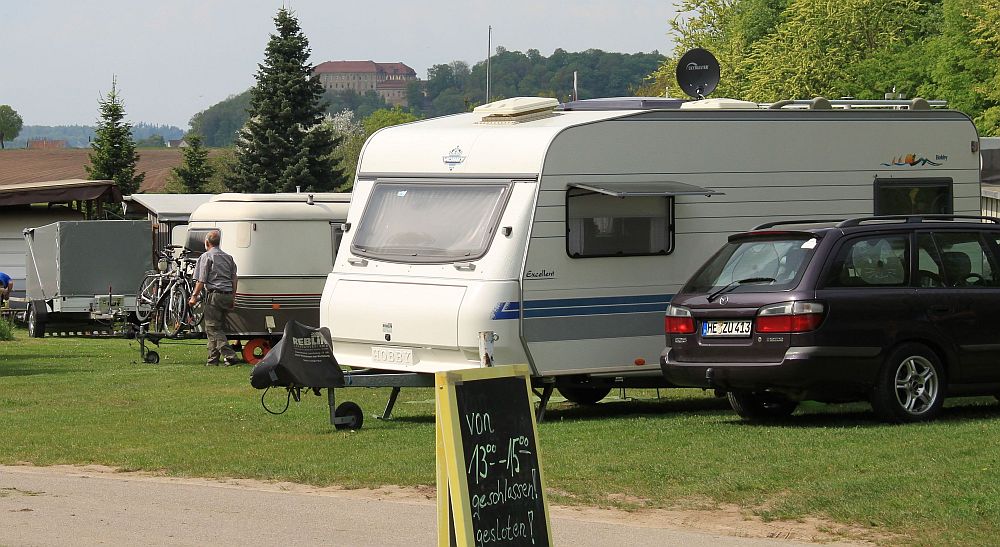 We have decided to move on tomorrow after staying here for two nights. It is a site that has grown on us after an initial poor first impression. It seems that some of the permanent residents also help out adding new equipment to the site. Today they were cementing in a new childrenĎs swing, given the foundations were now set in concrete, there is no way it will ever tip up! As the afternoon wore on it was becoming more and more muggy and thunder seemed to be in the air which as it turned out was correct. We even had some hailstones but no snow!
Thursday 16th May. I do wonder if there is such a thing as a perfect motorhome service point? Its the grey water waste which is the bigger problem. Some seem to need the precision of positioning that is required of the International Space Station! Either that or you are expected to reverse into such a tight situation that you wonder if its worth it! Having emptied and filled this morning we set off on the next leg of our trip although we are far from certain where it will eventually lead us. At least for today we know we are heading for a place called Neckarzimmern which as the name suggests is on the Neckar River. The promise of a sunny trip soon diminished as the skies became over cast, turning to rain a bit later. Within a few miles of our destination we pulled into a Lidl and perhaps took people by surprise as we cruised the carpark looking for somewhere to park the beast, but eventually we found a spot. We are still a bit nervous about leaving the motorhome unattended in supermarkets so usually only one of us goes leaving the other on guard.
By the time we got to Camping Cimbria it was raining quite heavily. Having signed in we were taken to our allocated pitch which whilst not on the river bank is near enough for us to see the barges going up and downstream. Later, in a break in the rain, we had a walk around the site. It would seem that perhaps at one stage there were many more seasonal campers than there are now as there are lots of pitches with paved areas. We walked beyond the campsite along the river bank towards a river lock and weir although there seemed to be no access, perhaps something to explore on another day? We took a road up to the main road that runs through Neckarzimmern and back to the campsite that way. The campsite seems very popular with the Dutch, we are not sure at this stage whether they are in transit or staying a bit longer.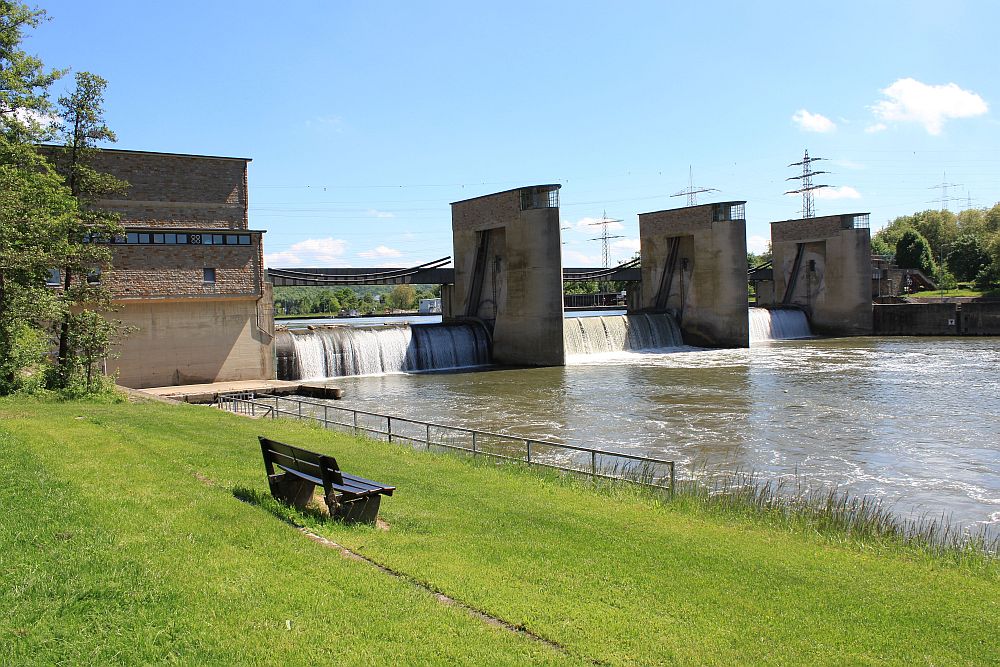 Friday 17th May. What a grey day to paraphrase Larry Grayson! I have to say that with the odd exception our time away from the UK has been pretty poor weather wise and I donít think I recall it being as depressing as it has been this year. Its been a quite a day and our only excursion has been a walk into Neckarzimmern which, apart from the river, seems a pretty unremarkable place. We did find a detour to the lock which we were able to walk across. Although we had seen quite a few barges plying the river there was, of course, none during our visit to the lock! There is not much in the way of shops other than a few bars and a small convenience store. The exception however is the Kasper establishment which seems to specialise in glass ornaments for the garden. Not particularly my taste but I do know a sister in law whose love of nic nacks would be perfectly at home at the store, although judging by the prices they are not cheap.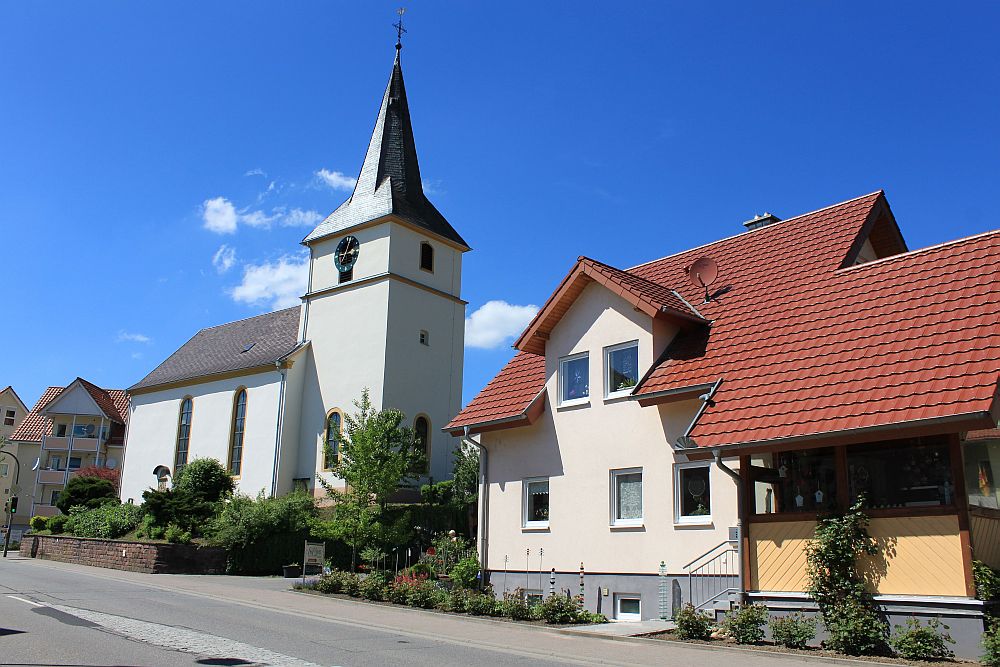 The influx of Dutch yesterday dissipated this morning when the majority left despite having put up sunshades. A few more have arrived including a Dutch motorhome next to us, the couple both speak good English so its nice to compare notes. Since we have been here there has been a tent at the far end of the campsite by the river. As the day has gone on more and more people have joined them, almost like a rally. Likewise a second group arrived setting up a marquee. Its possibly the start of a German holiday week so we will see what happens tomorrow before deciding when to move on.
Saturday 18th May. I know I have been carping on about the weather but there was nothing to complain about today as we had a beautifully sunny and warm day. Within minutes of Margaret getting up she was routing through the dirty washing gathering a collection for the washing machine! There is only one machine on site and at a cost of Ä3 a load its not a bad price. So this and other chores took us to lunchtime!
I got chatting to our Dutch neighbours about their electric bikes, they seem to be the in thing with the Dutch at the moment. The lady suggested I try herís. My first problem was the saddle which was so high and considering I was taller than the owner I was surprise how high they have their saddles, I always thought you had to be able to touch the ground with your toes! It was a quite surreal experience. You have to peddle but it seems to make no difference to the speed you achieve. I can see we will be investigating these when we get home!
Perhaps its the reason we Brits seem to win so many cycling gold medals that we donít have electric bikes? So following in the steps of Bradley Margaret and I set off on our push bikes for our exercise! Our first destination was the lock so I could take some photographs and we were lucky enough to have a barge go through the lock whilst we were there. Over forty years ago I can remember being on a Canal Society boat trip when the driver was told to stop regardless of circumstances because two fully laden narrow boats had been spied out of the window of the coach. It never leaves you! From here we rode the other way downstream along the river Neckar. We came across a couple of signs that gave historical information about the last war. One said that Mercedes Benz had to move its aircraft production into and old Gypsum mine next to the river as their main plant was so heavily bombed by the Allies. Its a curious observation but all such notices also have the explanation in English as well as German! When we got back to the campsite I reckoned we had ridden about 10kms.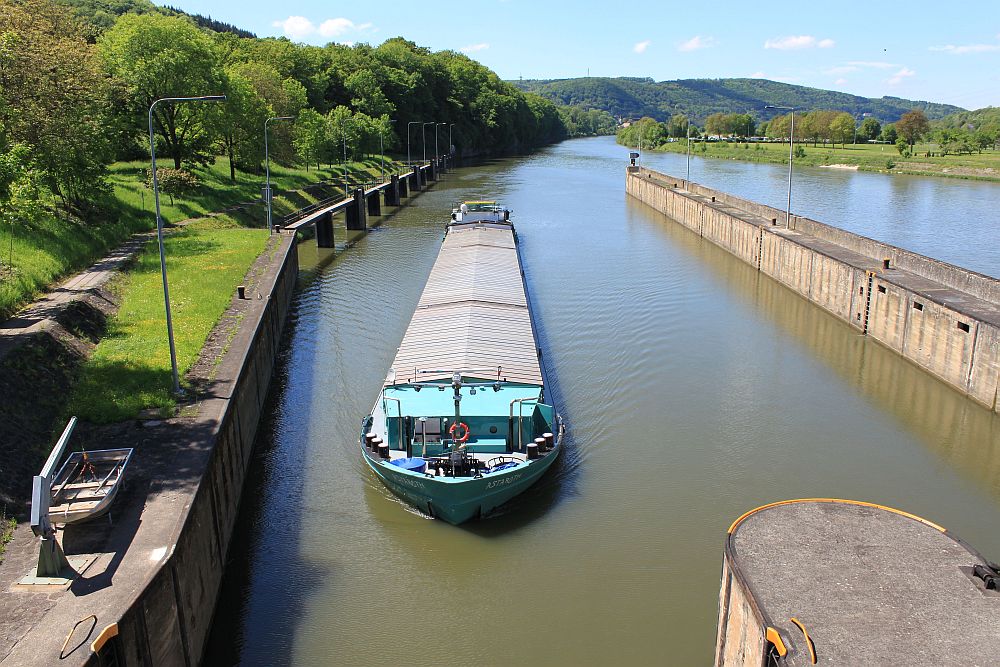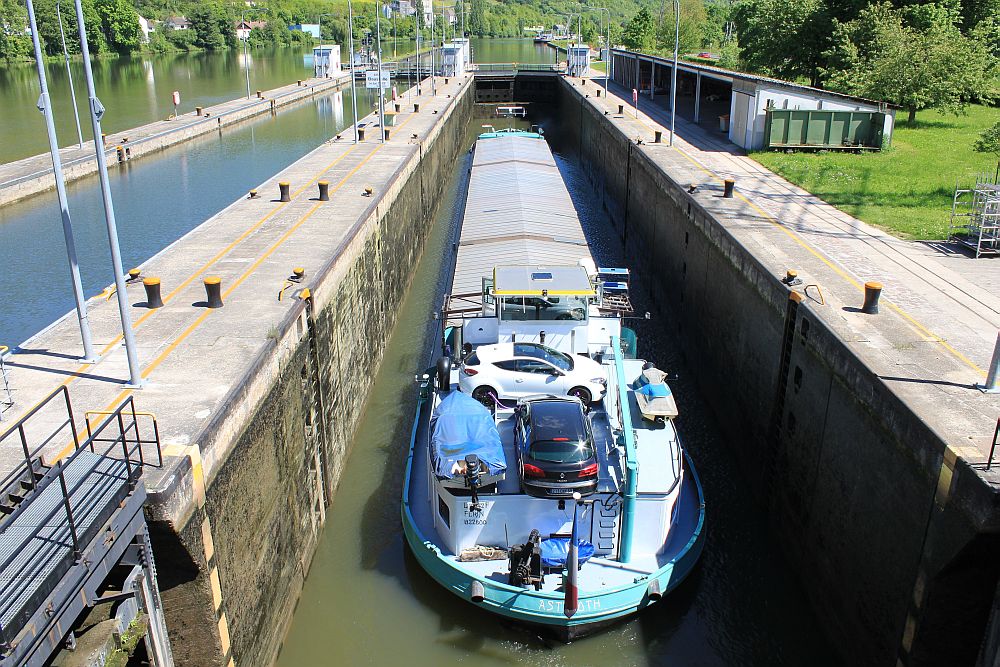 The site has been busy today with all the people from the tent area going backwards and forwards to the swimming pool/showers etc. When we arrived there was a moveable goal post immediately across the site road from our pitch. Having had some experience of such things in the past I could tell what would happen so over the past couple of days I moved it further away from our pitch, infact last night, under cover of darkness, I moved it even further! Someone obviously took the hint because today it was moved right down into the tent area, much to my relief!!!
Sunday 19th May. Should have kept my mouth shut about the good weather yesterday as today, except for a brief interlude this morning it been pretty awful, cold and wet! As a result of this it has been a pretty lazy day. It is a Bank Holiday weekend here in Germany (it may explain the weather!) so we have decided not to leave until Tuesday morning as there will be no shops open to stock up en route.
The only incident of excitement seemed to be a motorhome behind us bellowing out smoke from the engine bay! Various people were running around with containers of water and one fire extinguisher. I have no idea what the problem was but was amused to see a couple of people standing over the engine bay with lighted cigarettes!!! The ADAC (the German version of the AA) turned up in pretty quick time and I assume they were able to assist the owner.
Monday 20th May. The saga of the motorhome which had a problem continued this morning when it was taken away on an ADAC low loader. According to our Dutch neighbours it was an electrical fire although the cause was unknown. A funny day weatherewise as the sun tried to make an appearance but was constantly threatened by dark clouds. The two mass groups in the field packed up and left today, it was quite an exodus at times. We did manage a bike ride today, we went back to river lock and rode along the other side of the river. We were able to get a better view of the schloss high above the river. It was also interesting to see how long some of the barges are as there was one tied up above the lock. As this is our last day here before crossing the border into France we thought we would make use of the site restaurant. It was a good value meal and the beer was not bad either! Our Dutch neighbours joined us.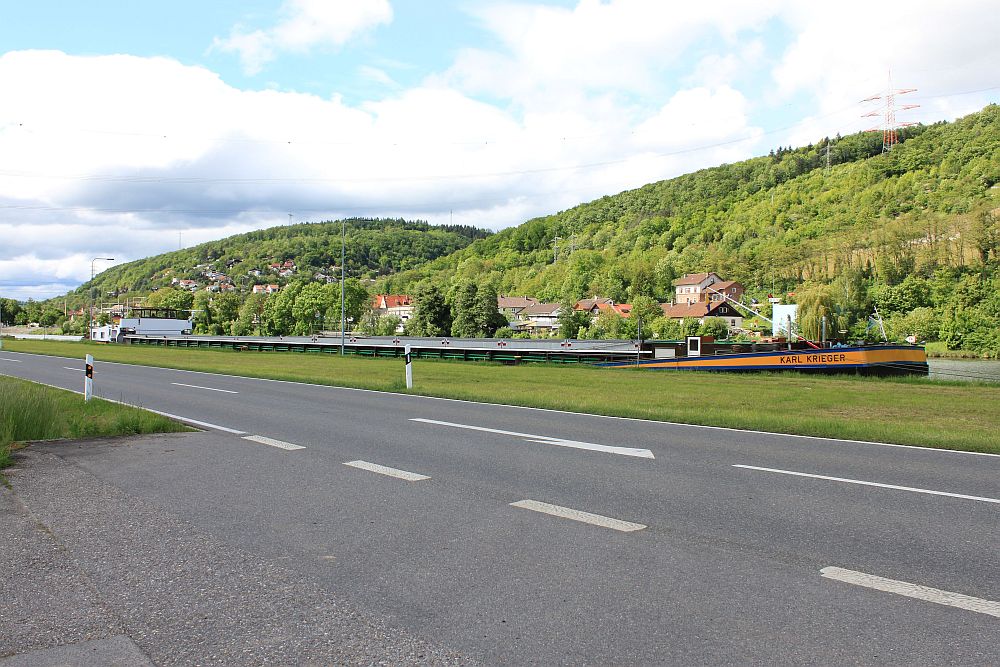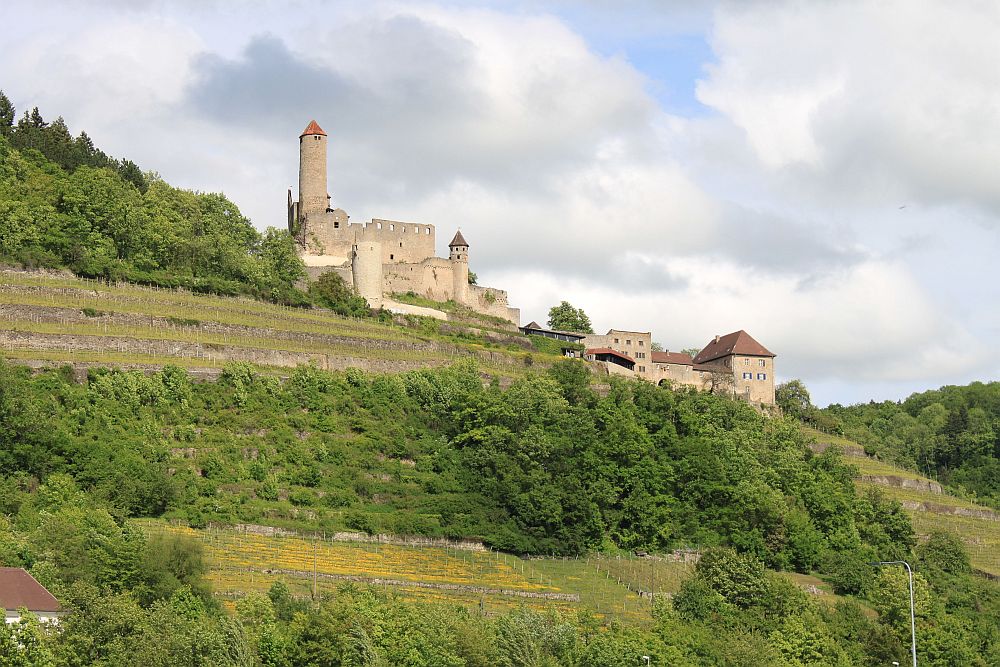 Tuesday 21st May. We left Neckarzimmern today and headed for France. This should have been a relatively straightforward journey except that the normal crossing place over the Rhine and into France at Iffezheim was closed and required a diversion down the German side of the Rhine to Rheingau about 25kms further south. Now all this would have been fine had they not decided to dig up the road in one of the towns en route. This caused at least a half hour delay and really was totally unnecessary if a bit of planning had gone into it!!! At Rheingau we stopped at the Edeka for some shopping and to have lunch. We then set off for Saverne which was our intended next stop. Rather than use the Pťage we used the local D roads from the end of the free motorway. I should add that after early promise the weather had got wetter and wetter. This coupled with rail construction traffic on the D road resulted in us getting covered in mud! It was clearly not our day as TomTom in an attempt to take us to our chosen campsite came to what appeared to be a dead end. There were also no camping signs to be seen. I suppose one advantage of a motorhome is that it is relatively easy to turn round compared to a car and caravan. Time for plan B! We sought out another campsite which we thought was nearby but turned out to be about 15 miles away! We got to Camping Les Bouleaux and were immediately warned by the owner that the pitches were very wet and we would have to choose carefully. She walked me up to the pitching area and showed me what she thought would be suitable. We decided on one which seemed the least bad option. I think this might only be a night halt!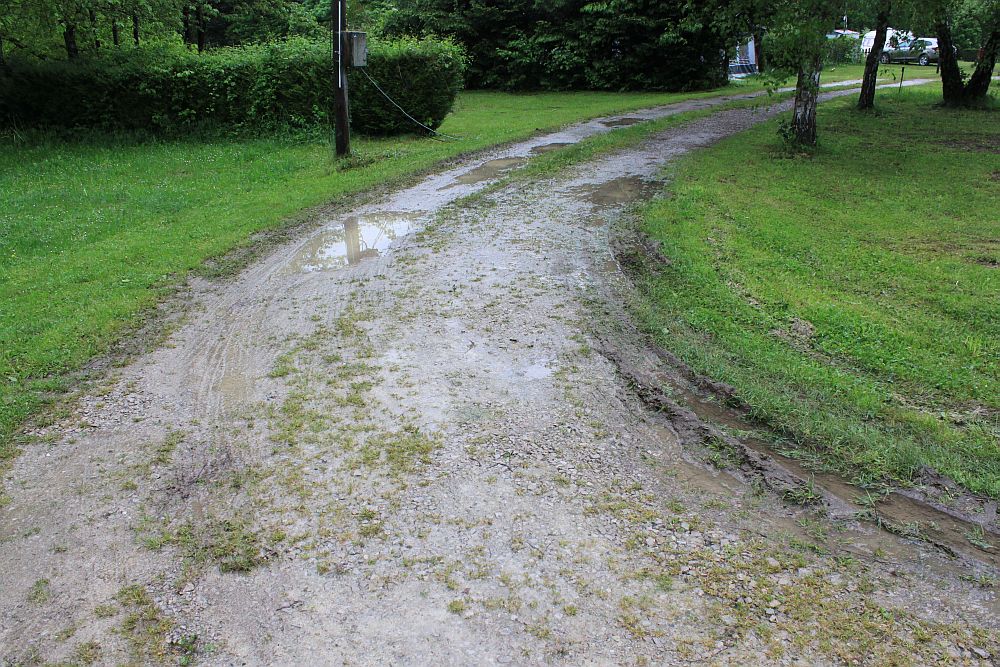 Wednesday 22nd May. I think we are beginning to suffer from a vitamin D insufficiency. It was again raining off and on when we got up. We did manage to get off the pitch without difficulty. Today we are heading for a site on the outskirts of Nancy which is about 65 miles away. After leaving our overnight stop I thought it would be prudent to fill up with fuel. First we tried the Intermarche on the edge of Phalsbourg but there was no way we would get out of the narrow exit. On the main road was an Esso garage but entry from my side of the road was not allowed. As that was where I wanted to be I ignored the no entry sign to get to the pumps. This was an unmanned station so I had to use my credit card which as punishment for coming in the wrong way it rejected, twice! Fortunately I had an alternative! Our route today was toll free but mainly on dual carriageway/motorway standard roads. Some were fine but other were in pretty poor condition.
We arrived at Le Brabois about 11.30am. The guy on reception, who did not speak much English, was trying to warn me that conditions were very wet and I might want to park half on the road. We drove round the site and then walked round but we were having difficulty finding a suitable spot. When I was in reception Margaret got talking to some Brits with two motorhomes who having looked at the site conditions tucked themselves away on a hardstanding but they had no electrics. I eventually found a pitch which had a firm edge so I was able to reverse in and hopefully would not suffer from wheel spin when we left. Unlike a Dutch motorhomer who rather foolishly decided to drive across the pitch and got stuck on the slight incline to the road. I took along one of my anti-slip mats to go under the wheel and that and a push on the back of the van eventually released him. The site is very wet with many pitches quite cut up. These conditions whilst in the main caused by the excessive rain are not helped by the Dutch caravanners who drive across several pitches rather than reversing onto the one they eventually use. In the main they are only here for one night and I donít suppose they give any thought to those that might arrive in the following days. We also notice a Dutch caravan being taken off on a low loader although it returned to the site later that evening being towed by the ownerís car.
Thursday 23rd May. From late afternoon yesterday until early this morning it had not been raining but after initial excitement that the worse may be over it started to rain again. We were resigned to another day of contemplating our navels but decided come what may, we should make an attempt to visit Nancy. So near and yet so far sprung to mind! It did seem to ease a bit so we thought nothing ventured and I went to buy tickets at reception. A delightful young lady helped me in perfect English. Fortunately she also pointed out that the bus number you catch into the City does not return to the campsite so gave us the timetable for the ones that did! The rain had actually eased as we walked to the bus stop which helped confirm we had made the right decision! As we were waiting for the bus the Dutch couple with the caravan on the low loader arrived and we asked them what the problem was and they said it was a problem with the caravan brakes and one had broken. They were relieved that it had been repaired so quickly and they did not have to make alternative overnight arrangements.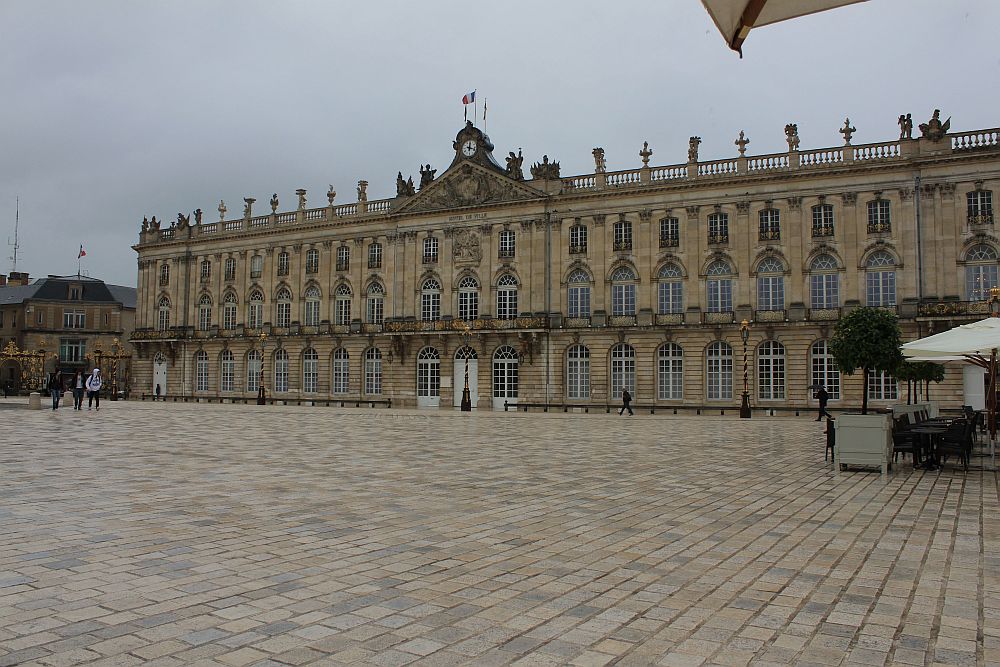 The bus arrived and took us on a tortuous journey through Nancy before arriving at the Gare. I should perhaps mention that en route the rain had once again become so heavy we could hardly see out of the bus! We alighted at the station and took refuge in the booking hall to work out exactly where we were. Even with the town map the young lady on reception had given us it was not easy trying to find our way around but we did eventually work out where we were going. Thank goodness for our Gortex jackets otherwise we would have been soaked to the skin. We were heading for Place Stanislas which is the centre piece of Nancy. It is a Grand Square with the Hotel de Ville on one side and other public buildings on the other sides of the square. At each corner of the Square are beautiful gold painted gates. Also around the square there were the obligatory cafes with their large umbrellas designed to protect their customers from the heat of the midday sun. Today the tables and chairs were deserted but did provide valuable shelter for me to attempt a couple of photographs. On the way back we spied a Subway and sheltered out of the rain with one of their toasted rolls and hot cup of coffee, not bad for Ä10. Margaret could not resist the temptation of darting into the Prixtemps department store, at least it was dry and warm! Back at the bus stop we checked with the driver we were going in the right direction for the campsite. When we got back we checked the tickets which had been time stamped exactly two hours apart.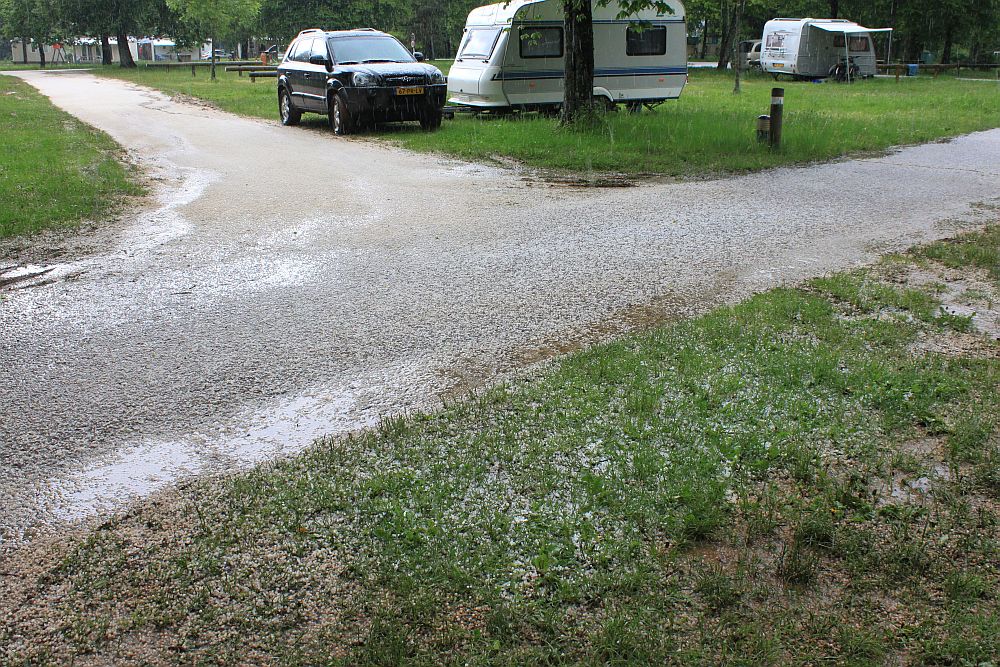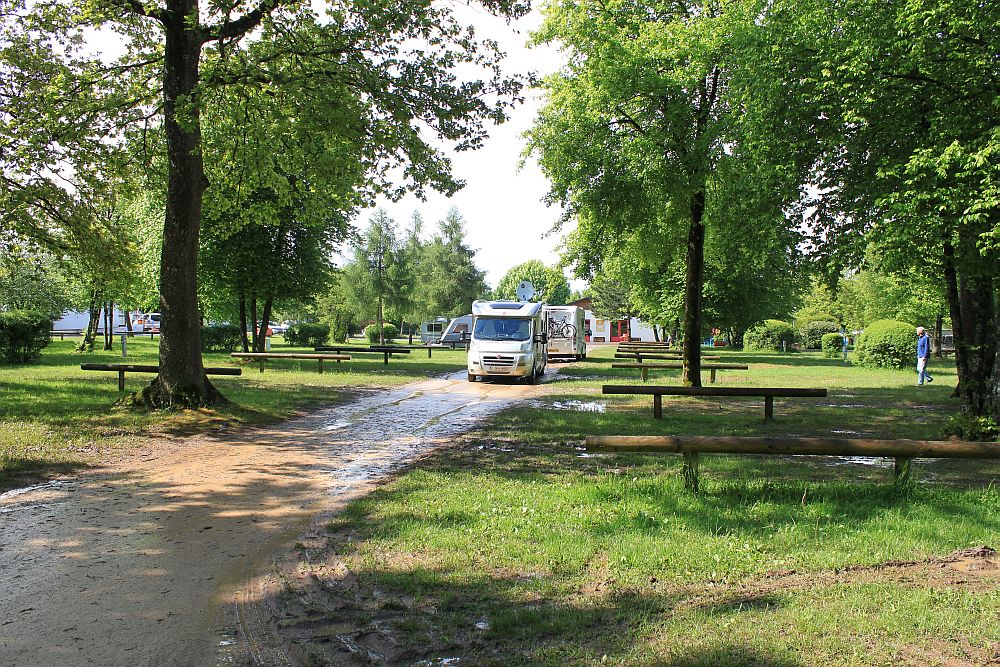 I think we were lucky to get back when we did as the afternoon proved to be exceptionally wet and we even had hailstones, second time this trip! Strangely there has also been the odd amount of blue sky but you have to be quick to see it. The site staff have clearly decided that it is pointless letting people use the pitches and so have started to park them on the site roads which given the conditions is the only sensible option. I know I whinge on about it but its time these campsites consider hardstandings as we have back at home.
Friday 24th May. We were up and ready quite early this morning as we were keen to leave behind the quagmire that Le Brabois had become through days of heavy rain. Strangely it was not raining when we left! I think Margaret was concerned that we would not get off the pitch because of the conditions but I was more certain as the driving wheels were on a hard bit of ground and we managed to pull off easily enough. It is such a shame as I am sure that both the campsite and the City of Nancy would be a delight in better weather. After a short stretch of dual carriageway we were on the toll route for most of our journey. We again experienced a mix of weather from sunshine to pouring heavy rain. Perhaps more concerning was that the outside temperature reading was showing only 3 degrees c which prompted a warning message on the dashboard suggesting it could be icy! We are heading for the Camping Municipal Les Cent Vignes in Beaune as we know it has all-weather pitches, we just hoped everyone touring in France did not have the same idea! We arrived just after midday and were quickly on our pitch.
The weather was looking promising so Margaret decided to do some washing. I also set up the satellite dish and within minutes had all the usual UK TV programmes which rather surprised me as I had, had difficulty in other places. We needed some shopping so I checked on Google Earth, the site has free WiFi, to check out the nearest which seemed to be E LeClerc which appeared to be just over a mile away so within easy walking distance!!! Last year we would have just hopped into the car but no such option now with the motorhome. Well we walked and we walked in the general direction but could not really see where it was. In the end I asked a lady who was walking back with some shopping and she kindly directed us. When you get there you have to have the discipline only to buy what you can carry or what will fit into a rucksack and Margaretís granny trolley! The return journey did not seem too long but hopefully we will have the opportunity to stop there with the motorhome for a more serious shop. I was surprised that my knee held out, it was protesting by the time we got back but the real problem is that it stiffens up when you rest it. The campsite is pretty full tonight which is not really a surprise as this is a very popular overnight stop.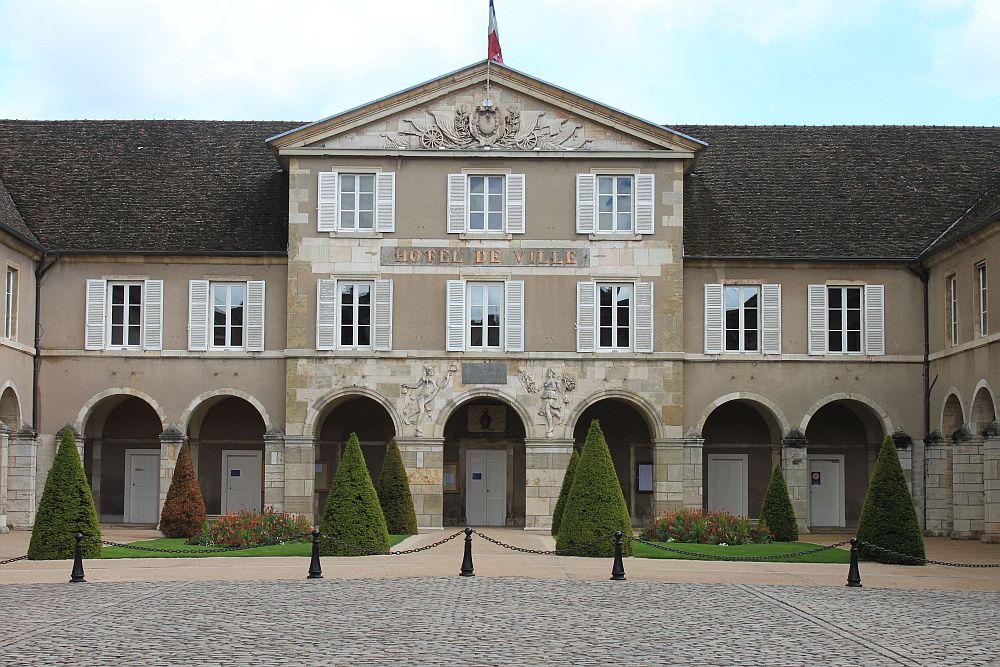 Saturday 25th May. Well we awoke to rain drumming on the roof of the motorhome, yet again. It did eventually ease but only for short periods. At least it meant a fairly lazy day apart from the odd job here and there. We did get periods of brightness and I even tried to take some photos of the sites, raining on me but the subject bathed in sunlight! By mid-afternoon it looked a bit more promising so we decide to don waterproofs and walk into Beaune. It was further than I had anticipated and by the time we got there it was once again raining although from time to time we had a respite. The Centre Ville seemed busy with both shoppers and tourists. However like lots of French towns with narrow streets they donít have the courage to ban cars. Also despite recent legislation French motorist do not have much respect for pedestrians and you still have to virtually step out in front of them on a crossing to get them to stop. They seem to drive everywhere in built up areas at such speed. Beaune is of course famous for its wines and there are many imposing establishments that will sell you wine by the case or even the bottle. When we got back to the campsite we noticed that it had a site full sign at the entrance. There are empty pitches but they are all on grass and some are water logged and muddy so they seem not to be using them for anything other than small caravans and tents. We had not been back long when the sky suddenly cleared and we were treated to a beautiful clear and sunny evening, does that mean there is hope?
Sunday 26th May. Rather unusually we awoke to clear skies and bright sunshine although regretfully it was not to last although it did remain dry but dull. I think what I canít get my head round is how cold it is. There hardly seems to have been an evening when we have not had the heating on. Otherwise itís been a quiet and lazy day. We did a bit of forward planning and our immediate plans are to head across towards Clermont Ferrand and find a site a bit south of there for an overnight stop. From there it will be further south to the coast, in the hope of finding some better weather.
Monday 27th May. We awoke to a bright sunny day although still not hot it was a big improvement on recent days. We were away from the campsite quite early and by 8.30am I was filling up with fuel at the E LeClerc. We then parked and Margaret went off to do some shopping and when she returned I went for a few more bits of the liquid variety! We had quite a long journey planned for today as we were heading south of Clermont Ferrand which meant a bit of a dog leg across France. First down the A6 towards Lyon and then off across country on the A89, which is quite an impressive motorway. After Clermont we were looking for our chosen campsite Les Loges near junction 17 on the A75. I think we knew that we didnít like the site immediately we tried to turn off the main road. It was down a very sharp left hand turn which we nearly didnít make. When we got to the campsite it was totally unkempt and the toilets were not up to much. We decided that it was not for us and went to another campsite a few miles away at Lempdes-sur-Allagnon, Camping Municipal Le Pont díAllagnon, which was much nicer and cheaper. We are still trying to decide where to go next and wandering what the sites will be like as we seem to have had a few disappointments so far this holiday.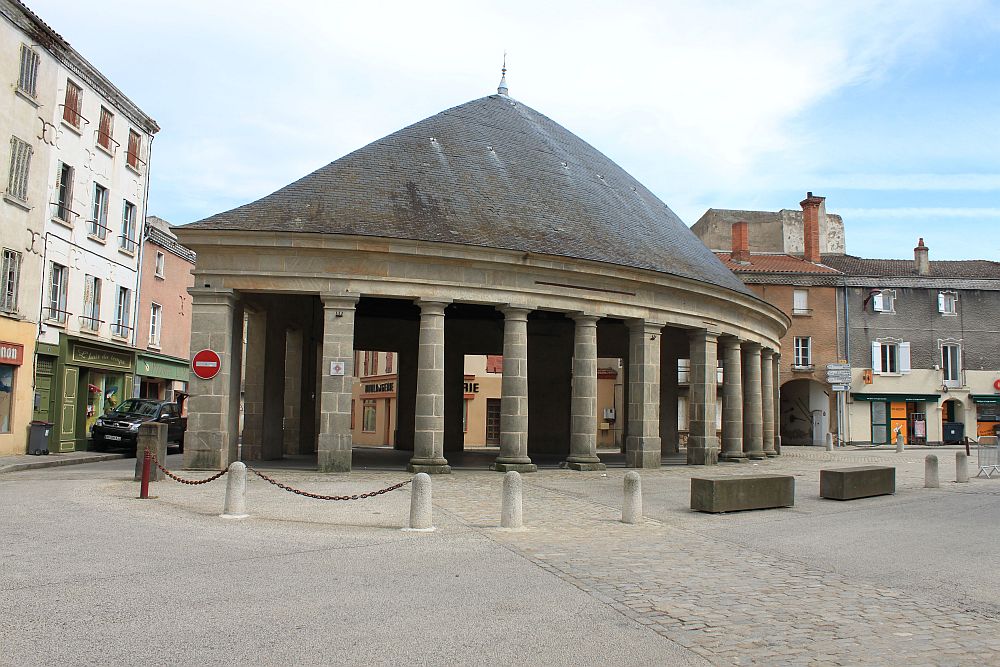 Once we had found a pitch and set up we went for a walk into the village which is just across a footbridge from the campsite. Obviously everything is closed on a Monday, oh I remember those days at home!
Tuesday 28th May. I suppose it was too much to hope for and the lovely blue skies of yesterday had yet again been replaced with grey although at this stage it was not raining. As we left the campsite we stopped at the motorhome service point to empty the grey water tank. It also happens to be an Aire which takes one motorhome. For the campsite we paid Ä13 for our one night. To stop at the Aire is free but if you want water that costs Ä2 for up to 100 litres, but here is the real rub, electricity costs Ä2 for an hour! I appreciate that it would be enough, perhaps, to charge the battery but it does seem a bit of a rip off.
It was not long before we were heading south on the A75. After a few miles we stopped to top up with fuel so we paid top dollar but I was not sure there were better alternatives en route, in fact most seemed to be a bit more expensive. Back on the road again and for those readers that know the route will appreciate what a feat of engineering it is. Plus of course the inclines, up to over 1100 metres and the matching declines. The centre piece of the motorway is the Millau Viaduc although by the time we crossed it the rain was so heavy we could hardly see the sides of the bridge let alone the views from the bridge. It rained to the point where we left the motorway and headed towards our campsite, Camping Robinson, at Marseillan Plage. I donít think I have arrived on the Mediterranean in pouring rain before. When we got there reception was closed so we parked outside and I went off to explore the campsite. It is nowhere near as large as many sites in the area which could be a good thing and not as busy as we expected. I spoke to a Dutch lady who said that this was the first site they had ever returned to so that was encouraging. She also mentioned that we could find a pitch and book in when reception reopened, which we did. After some lunch we went for a walk around the site before booking in. There is direct access to a sandy beach. The site has WiFi and according the ACSI book and DVD it should be free, however it turns out to be an expensive extra. We are not sure how long we will be here but if we like it, it could be up to a week so that was Ä19 spent before we had stayed a night!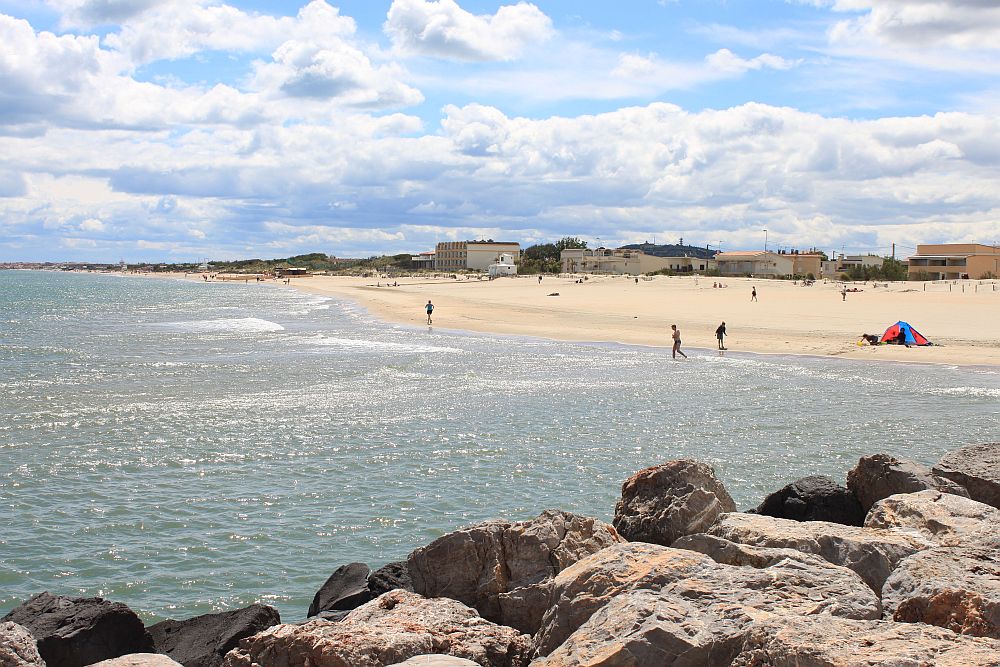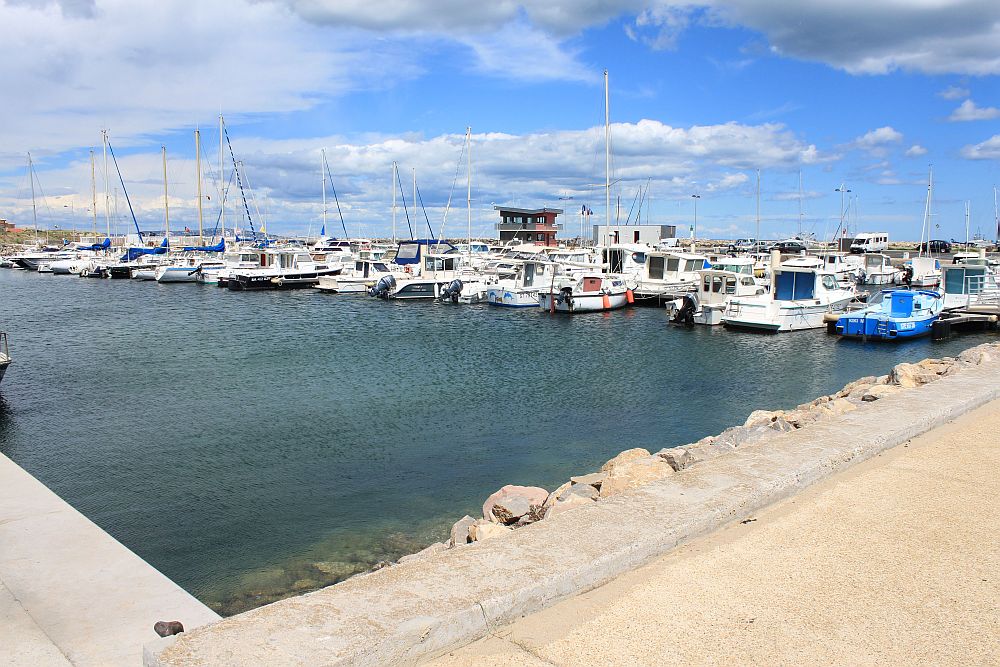 Wednesday 29th May. It was nice not to have to rush after the last few days and the weather was better although still not as warm as it should be. Before lunch we finished setting things up and got the bikes off the rack as hopefully we intend to stay a bit longer here. By the afternoon the sky was pretty clear and the sun a bit warmer. We decided to cycle into Marseillan Plage. On the way we stopped at the Motorhome Aire which was pretty full. I suppose as a motorhomer I should be keener on such places but I am yet to appreciate them. I didnít pay too much attention to the price but as far as I could tell there was no electricity available and you had to pay for water in addition to the nightly parking charge. We are on a campsite costing Ä14 a night with full facilities so where is the advantage? We cycled on into the town which seems quite a lively place. Some of the campsites seem to be pretty busy. We had learnt of a Spar shop which was closed when we got there so we went off to explore through the town and harbour to return when it was open. Margaret seemed quite impressed with it, not only did it have fresh milk it also accepted credit cards! When we got back the Seniors (the nearby French and Dutch couples) were playing Boule. So much for a quiet holiday!!!!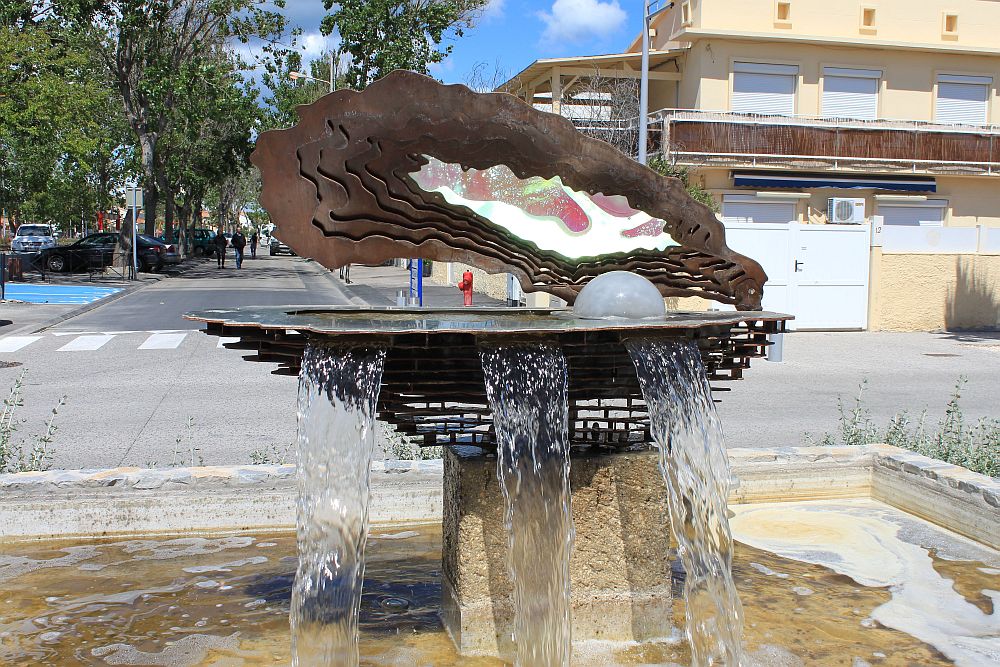 Earlier in the day we were talking to Anne and Brian who have a motorhome almost opposite us. They seem to spend most of the year in Europe going home now and then. They have two Border Collies that come from sheep dog stock and you can see this from their demeanour, like crouching down waiting for the next instruction to get the sheep in order. They even let me throw the ball for them, returning it to me and dropping it at my feet ready for the next throw. Not sure who ended up more exhausted!
Thursday 30th May. Sunny again when we woke up but some cloud about for most of the day. When the sun comes out it is quite warm although nowhere near as hot as we have known it in the past. It is the cold wind that is making the difference. This afternoon the ĎSeniorsí were yet again out with their Boules so we decided it was time to go out on the bikes. This time we decided to ride in the direction of Sete. There is an excellent cycle path all the way. We made good progress, passing en route Les Castellas campsite which is mainly statics but I did notice that one corner of the site had been made into a motorhome section with hardstanding. I suppose we got about halfway to Sete before deciding to turn round and head for home. We had cycled along by kilometre after kilometre of a golden sandy beach which was almost deserted. I am sure it would be very different in the peak season. Whilst the outward journey had been quite comfortable the return journey was the opposite. Not only did we have a head wind but the path seemed to go uphill. We made it and I suppose we must have gone about 14 kilometres in total. Having been missing for two days our old friend rain tried to make a comeback during the evening but fortunately it was a bit half hearted.
Friday 31st May. The end of our first month away. The weather seems to have been the predominant factor so far. In a way it still is although much better than it has been although still very windy. This morning, armed with Margaretís granny trolley we walked into the town to do some shopping. Fortunately it was a lot nearer than our previous attempt whilst in Beaune. We got what we wanted and the trip was successful.
We have managed to get satellite TV here, albeit at the mercy of the wind and overhanging trees which often mean a poor picture but to achieve this I had to put the dish on the next door empty pitch. To get an idea of scale there are only about 10% or perhaps less of touring pitches in use. On the other side of us there are three empty pitches. So what should turn up today was a French motorhome. The occupants got out and it was clear they knew the long stay people opposite who have not been particularly friendly themselves. Our English chums Brian and Anne have given a couple of them nicknames. The guy opposite is called Sarge because he dresses in camouflage clothing. The guy on the other side of them is called Howard after the character in Last of the Summer Wine. Knowing this I tend to whistle the theme tune every time I see him! Anyway I digress. You have all realised by now that the newcomers wanted to use the pitch that I had my satellite dish on despite the empty pitches the other side of us. In fairness I realised that its location was on borrowed time and I realised I would have to move it. What got my goat was the manner of being asked to remove it when it became clear where they wanted to pitch, there was just a grunt and finger pointed no Bonjour, Excusez-moi or even a Merci, just a grunt! They then proceeded to set up their motorhome with layers of plastic on the ground, no wonder there is no grass on so many sites! A cooking tent, etc, etc. The pitches are longer than they are wide so we now have no privacy what so ever. We both suffer from angst when this happens because we feel the injured party whether that is the reality or not. We thought that we would stay a week or more here but are now having second thoughts. We could of course change pitches but that seems defeatist. No idea what we will end up doing. Perhaps we need to think more carefully where we pitch in future but where ever you go, especially on an almost empty site and a weekend approaching you could end up getting it wrong again! To cap it all, for the last three days we have had a boules competition played out in front of us for two hours each afternoon which has spoilt the peaceful nature of the site. Perhaps we should give up on our quest of ever finding a peaceful and pleasant site in the South of France!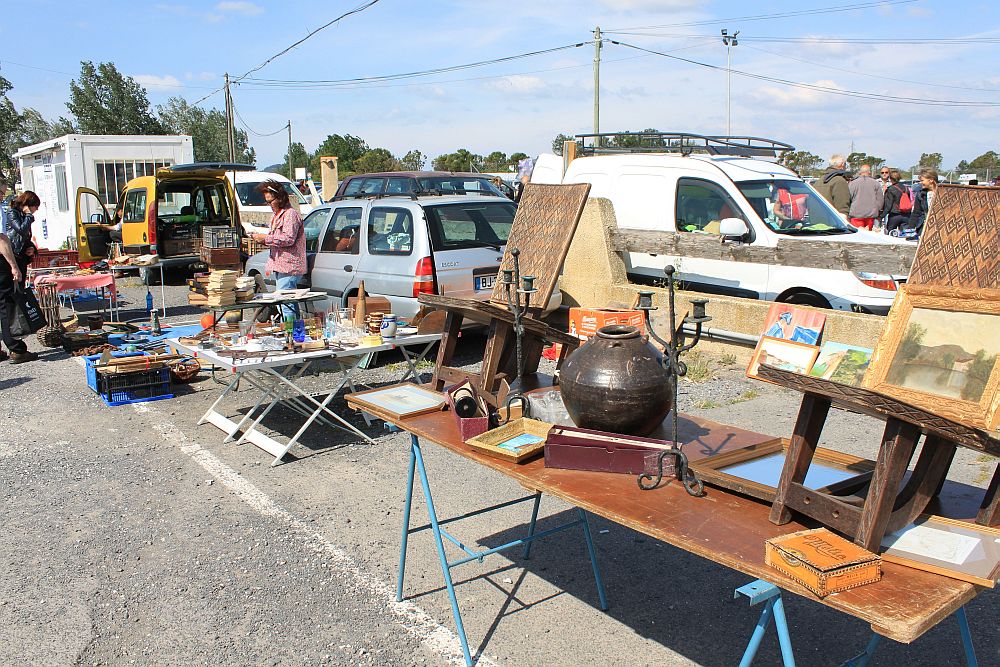 Saturday 1st June. The wind is still blowing at high speed although it is warmer generally which is welcome. Brian and Anne told us about a Bric a Brac market that is held on Saturdays and Sundays so we decided to go and have a look. I think the French term is Flea Market and looking at some of the piles of clothes perhaps a very apt name! Walking around I have to say I have sent better stuff to the dump at home!
Our new neighbours emerged quite late this morning no doubt exhausted from their efforts the night before! I did say Good Morning to them and am currently refusing to communicating in French! We have decided to sit with our backs to their cooking tent so we are not looking directly at them. In the afternoon and just as the daily boules got started we went off to the beach. It was difficult finding a sheltered spot. The sand blasting effect would make Imac cream redundant! Back at the site we found our neighbour trying to set up his satellite dish, he even had the site owner helping him. First it was on a high pole and then just on a tripod. Connections were checked and changed as was the position of the dish. It appears they had no luck so the nightly Rue de Coronation seems off the agenda! Whilst I sympathise (honest) with the frustration there does seem to be a bit of poetic justice in the fact he is having difficulty getting a picture. I am sure when we eventually leave, his dish will be on our pitch or the next as soon as you can say Camping Robinson!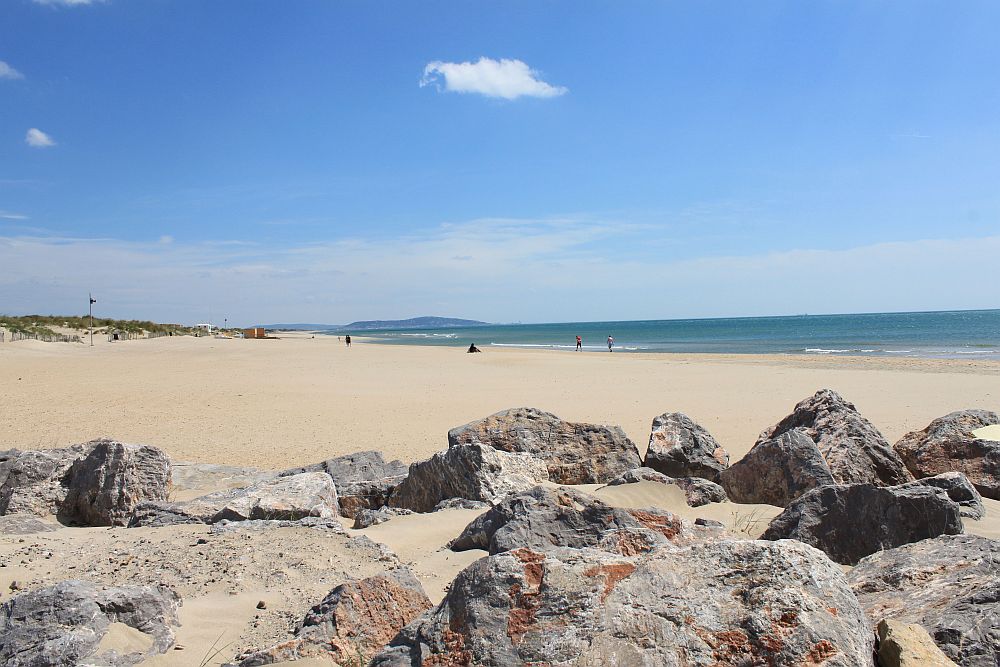 Sunday 2nd June. We have decided that this will be our last day at this campsite and tomorrow we will head further south. I donít suppose it will make much difference to the wind which is still very strong but at least we have had five days of sunshine which is upping our average! After breakfast we walked back into Marseillan Plage but this time by a different route. We walked along the other side of the canal and into the town via the Marina. We were heading back to the Market which is supposed to have a much larger selection of fruit and veg, which it did. Margaret spent Ä3 and for that got a tray of strawberries, at least enough for two meals and two melons.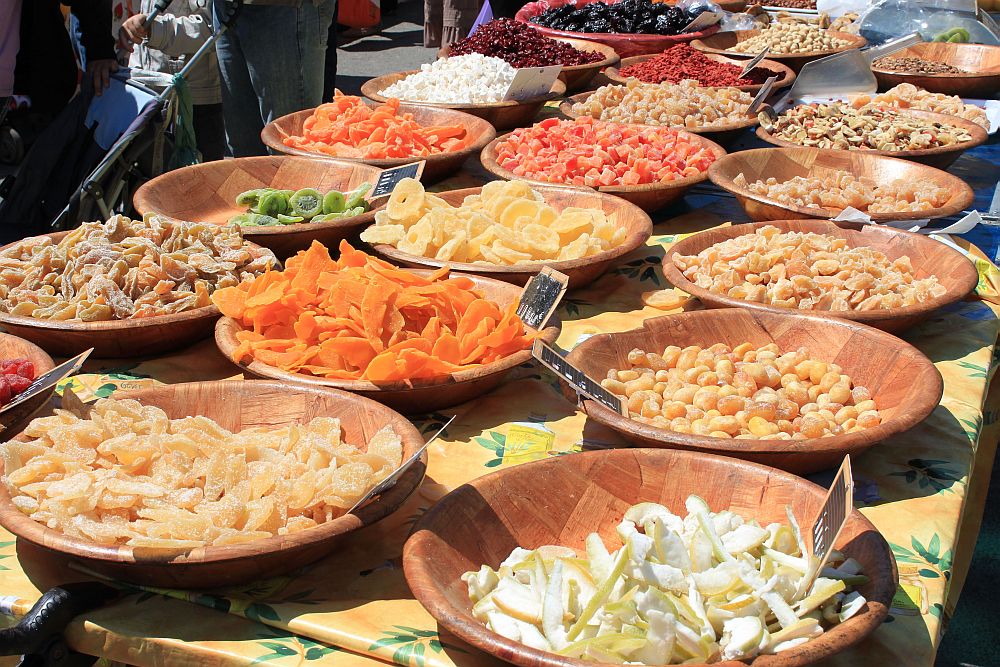 In the afternoon we had a last chance to ride out to where the Canal du Midi enters Lake Thau or more correctly Etang de Thau. However it was so windy that we were really struggling to make headway so we cut our ride short where the road goes over the canal. We waited long enough to see a trip boat go under the bridge which seemed to be a tight fit. On a less windy day it would have been nice to have carried on to Marseillan but not on this visit. We did a detour through Marseillan Plage as we wanted to look at the alternative campsite we had intended to use, Camping Beach Garden. We now feel that Camping Robinson was the better campsite and it has grown on us during our stay although I suspect itís a different place in the high season. Beach Garden was right at the far end of Marseillan Plage so a long walk into the centre. From what little we could see from the entrance it did look a bit unkempt with very long grass on the pitches. On the way back we stopped for an ice cream and sat eating them on the rather interesting street furniture which resemble domestic chairs and settees but made out of concrete. The chair I was sitting on was very comfortable. When we got back to the motorhome our neighbour was still fiddling with his satellite, this time with a small unit he has on the roof of his motorhome. As we did not hear any jubilation we assume that he has not been successful?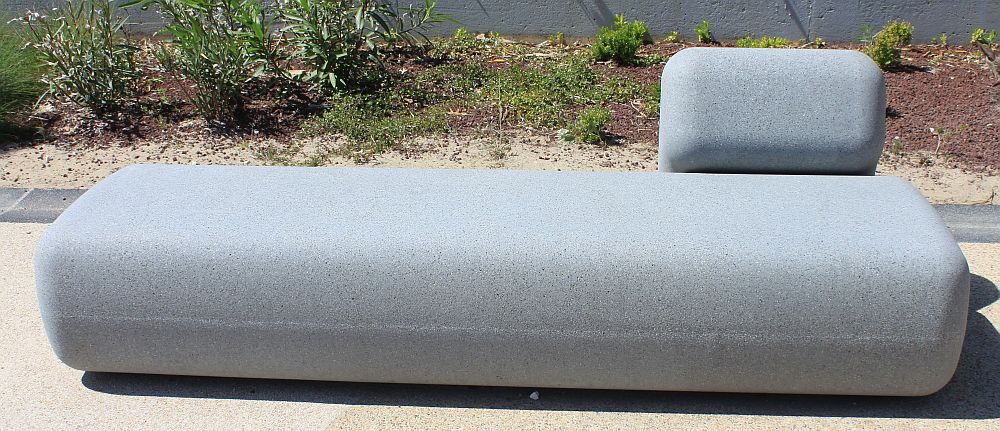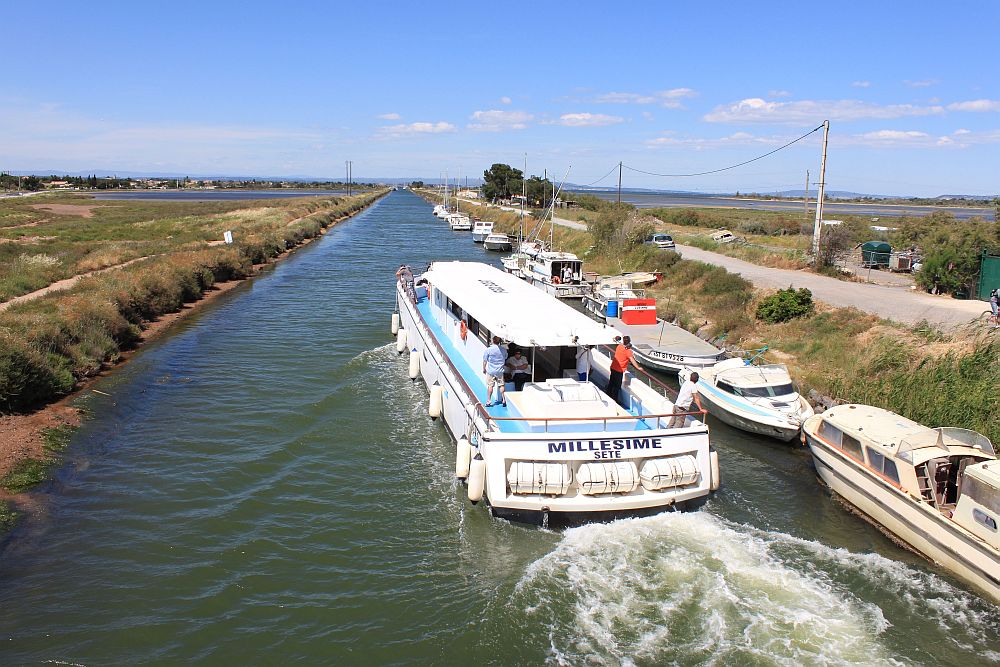 Monday 3rd June. Not quite sure why we always seem to be up and ready earlier and quicker than we ever where with the caravan, although a visit to the service point usually slows things down a bit. Our first port of call was the Hyper U at Agde to fill up with fuel. On this holiday I have almost nearly always filled up using the 24/7 auto pumps as I can position the motorhome for an easy exit, something I never had to think about with the car. This supermarket has a large extra parking area which is popular with motorhomers because of its easy access and exit.
TomTom took us the long way round to get back to the A9 southbound. I am sure this is to avoid driving through Agde. For the entire journey today the wind has been particularly strong which has caused much buffeting of the motorhome so I had to keep the speed down. Whilst on the A9 we were aware of a loud vibration coming from the passenger corner of the cab. We stopped several times but could not find anything and assumed it might be the bonnet cable banging around in the engine compartment. When we got to the campsite I remembered that Mike from White Arches Motorhomes had mentioned about moving the radio aerial away from the door pillar to avoid vibration, so we hope that was what was causing the problem! There was another even more serious problem that we encountered on the autoroute. There were roadworks and the three lanes narrowed down to two. Ahead we saw traffic slowing and moving into the outside lane. As we approached we could see one of the green exit indicators in the middle of the road. These are not exactly small and all of a sudden it seemed like the Monaco Grand Prix trying to avoid the debris. Once clear of the problem we saw a lorry slowing on the hard shoulder and I could see in my mirrors that the front skirt of the lorry was missing and damaged. It seems that he must have hit the offending street furniture sending it into the carriageway. The wind was so strong he probably had a serious wobble.
We are staying at a campsite called Camping Comanges which was recommended to us by Brian and Anne at our previous site. Itís not a particularly large campsite having only about 70 pitches. I was surprised to be greeted at reception by a very English voice! We found a pitch which could accept our length, first we drove in and then I reversed in. Our levelling blocks were not really sufficient for the job but it was OK. After some lunch we walked into Argeles sur Mer which seems a busy place with restaurants with cuisines from all over the world including real English fish and chips! Back at the site we met Roy and Sharon, Roy is a regular poster on the Caravan Club Forum. It was nice to share a glass of wine with them.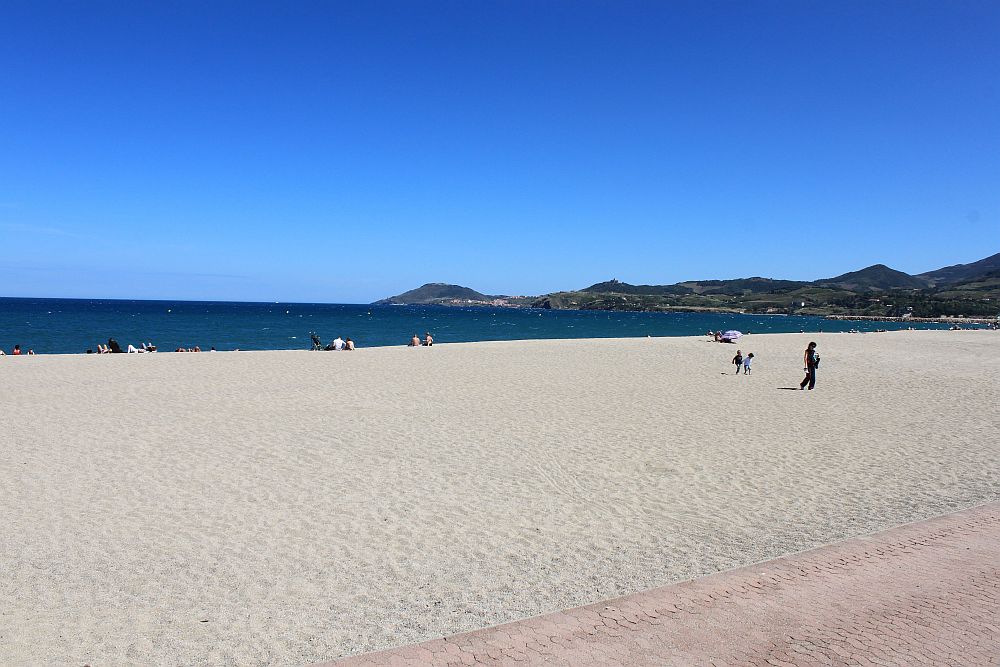 Tuesday 4th June. A pretty lazy day although Margaret did do another load of washing. First thing I walked into the town to buy some bread. The wind has really gone down but as a result it has been cloudier and not so warm. As a result of having only a breeze we decided to put out the canopy and peg it down so it can be left up all night, fingers crossed! Our door fly screen appears to have lost or broken some of the elastic cords that fold it flat and so we are having to very carefully open and close it. This is a big disappointment as we had the same thing on caravans for years without issues. Later in the afternoon we had a bike ride around the town and along to the Harbour which we hopefully will revisit on a sunnier day. Roy came round this evening to have a look at our bike rack and say cheerio as he and Sharon are moving onto Millau tomorrow as one of their stops on the way to the ferry. We also got talking to our Dutch neighbours who have seen me hobbling a bit today and the lady explained that her husband had had a knee replacement a year ago and was waiting for the second one to be done. She also showed us her newspaper which had a picture of the terrible flooding in Austria on the River Inn, perhaps just as well we changed our minds!
Wednesday 5th June. Our Dutch neighbours left today although they were certainly quiet about it! Itís interesting that despite this campsite being one of the smallest here it is the fullest n o doubt due to it accepting the ACSI Card. On a walk today we had a look at the prices of other campsites nearby and they all seemed to be about Ä4 to Ä5 a night more. Most of them seem deserted which considering some have swimming pools is a bit surprising. However itís also interesting to note that not many of them seem to be ready for the season as the grass has not been cut on the pitches. Perhaps they are just happy to accept the few that do arrive and stay but depend on the main season to provide their income.
Thursday 6th June. New neighbours arrived yesterday in the form of Michael and Kathleen from Ireland. Now Mick, as he prefers to be called, certainly has the gift of the gab! As the weather has been brighter we decided to ride back to the Harbour. As we neared we saw a class of young children having their lessons on the beach, some kind of school! The harbour is quite large with all sizes of craft as well as trip boats although I was not sure the latter were getting much business today. Itís surprising how many restaurants there are around the harbour but none of them were that busy although you can imagine on a weekend day in July it would be packed. Later in the afternoon we walked back into Argeles so that Margaret can have a look at all the Ďseaside shopsí, I have another name for them which is best not printed here! On the way back to the campsite we had a look at the two adjacent campsites which share the same entrance. As I mentioned previously they are all but empty except for a few French campers.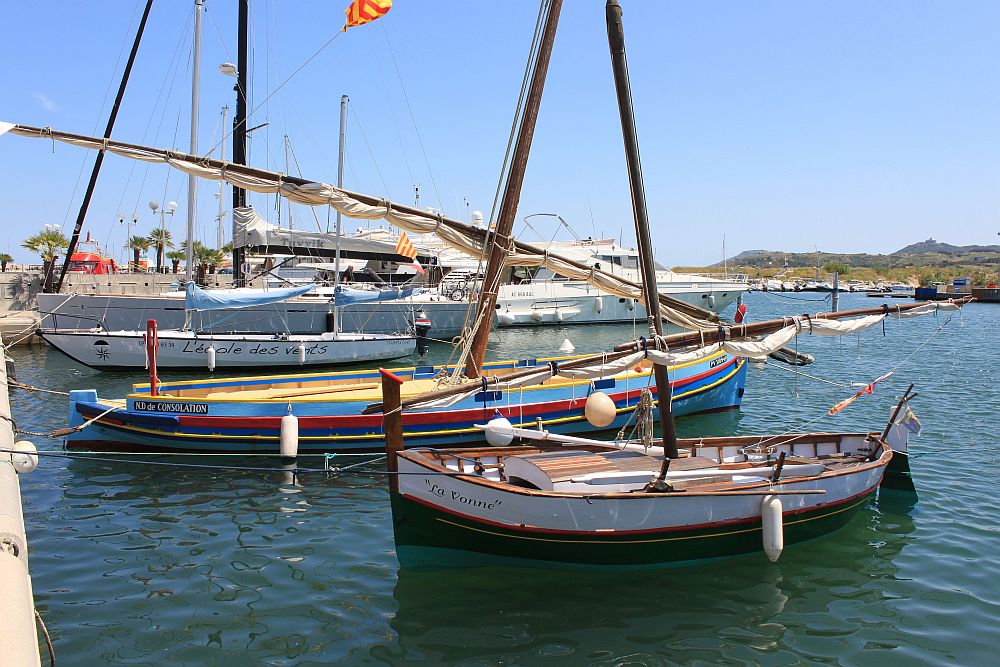 Friday 7th June. Well the day did not start well for me! I went along to empty the toilet and on the way back I trod on a piece of wood which unbalanced me and toppled me over twisting my ankle in the process. Just as well I had already emptied the toilet!!! I fell on my right knee and rolled over onto me side which was in a sort of slow motion. I managed to get back on my feet but the foot was really painful as was my leg. I started to panic a bit as it was the same leg as I had the hip replaced and for a moment I imagined the worse. Two French ladies were heading to my rescue but I was able to reassure them I was OK which was really a lie. I am not sure how I got back to the van but by the time I did I could hardly put my foot to the ground. Even an ice pack and painkillers did not seem to be making much difference although they did eventually start to work. You feel such a chump when things like this happen especially with a plaster on my grazed knee which made me feel like a six year old! Its times like this that itís important to remember R.I.C.E. and if you have been paying attention that means rest, ice, compression and elevation! We had intended to go shopping this morning but this was put off until the afternoon with Margaret being prepared to go on her own. I made the effort but it was extremely uncomfortable. It doesnít seem to be swollen so I am keeping fingers cross that itís no more than a sprain.
Michael and Kathleen are leaving tomorrow so I went along and had a chat with them this evening. They had taken the bus to Collioure today which is just down the coast, it was only a euro each so excellent value and of course independent of individual transport as another UK couple could not find a parking place when they went by car.
Saturday 8th June. After about 12 days of sunshine, albeit not particularly hot, we had rain today as well as thunder. Only problem was that it messed up the TV picture as it interrupts the satellite signal. This was important as we wanted to watch the Canadian Grand Prix qualifying. We did manage to see some of it but we did suffer from picture break up. Three of our neighbours left today but they were soon replaced by newcomers. I have not been far today because of my foot. I did manage to have a good nightís sleep but it is still sore although I can walk on it. Hopefully giving it plenty of rest will help.
Sunday 9th June. After seven days we are moving on tomorrow and starting the move north although no doubt it will be a zig zag route! Today dawned bright and sunny although it was not long before the skies started to grey over. We did manage a last walk down to the beach and it seemed pretty busy with lots of people around. Fortunately walking was a little easier than the last time we tried! The small supermarket that we have been using is actually open every day including Sundays so we were able to buy some bread for lunch. Back at the campsite we chatted with the two remaining English couples, one couple had to fly back to the UK to attend a funeral and they were leaving their van on site. Camping Comanges, whilst pretty basic, has been a pleasant place to stay and at around £13 a night there is hardly room to complain. The internet has been a bit hit and miss but at least it was free. I think a few campers, including ourselves, would like the management to trim back some of the trees to enable better satellite reception but no doubt others would prefer the shade. Whilst the weather has been quite nice whilst we have been here itís not as hot as we expected. After lunch we had planned to go on a bike ride but it started to rain so we thought it better to get everything packed away. We then had some pretty heavy rain as well as thunder which meant we lost the satellite picture. I t did eventually comeback in time to watch the Canadian Grand Prix but it was touch and go!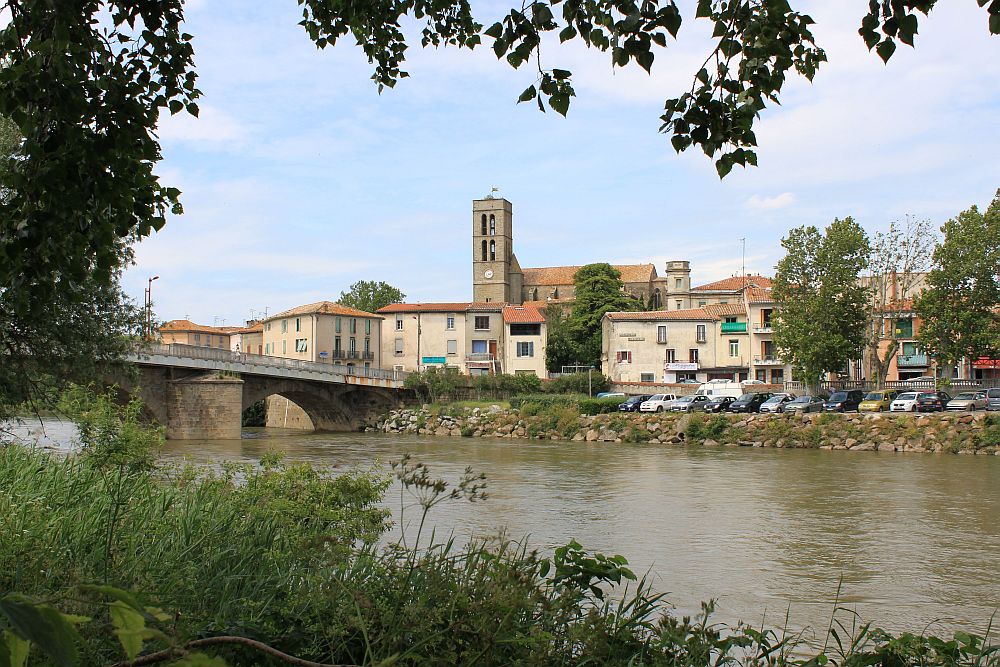 Monday 10th June. We awoke to a nice sunny day although there were a few clouds around. After leaving the site TomTom tried to take us down an unsuitable road which we ignored but soon picked up on a route out of Argeles which did not involve going through the middle of the town. Due to some confusion where we should join the motorway we had another detour! When we left the wind was quite calm but when we got to the A9 it was almost as windy as our original journey a week before. It was not much better on the A61 but coming off the motorway did seem to make a difference. We arrived at Camping A LíOmbre des Micocouliers before midday. I mentioned that I wanted to try and get a satellite picture which was a big mistake as the pitch we were offered was far too small and unsuitable for a motorhome in my view. We found a pitch we liked and although it seemed to have been reserved for someone we were allowed to take it. I should have added that it was quite wet when we arrived which never gives one a good impression of any campsite! Fortunately it did clear up after lunch and we walked into Trebes, old town, to have a look round and also found the Canal du Midi where there is a hire boat station and we sat and watch the activity for a while. If the weather is more settled we will have a cycle ride along the canal.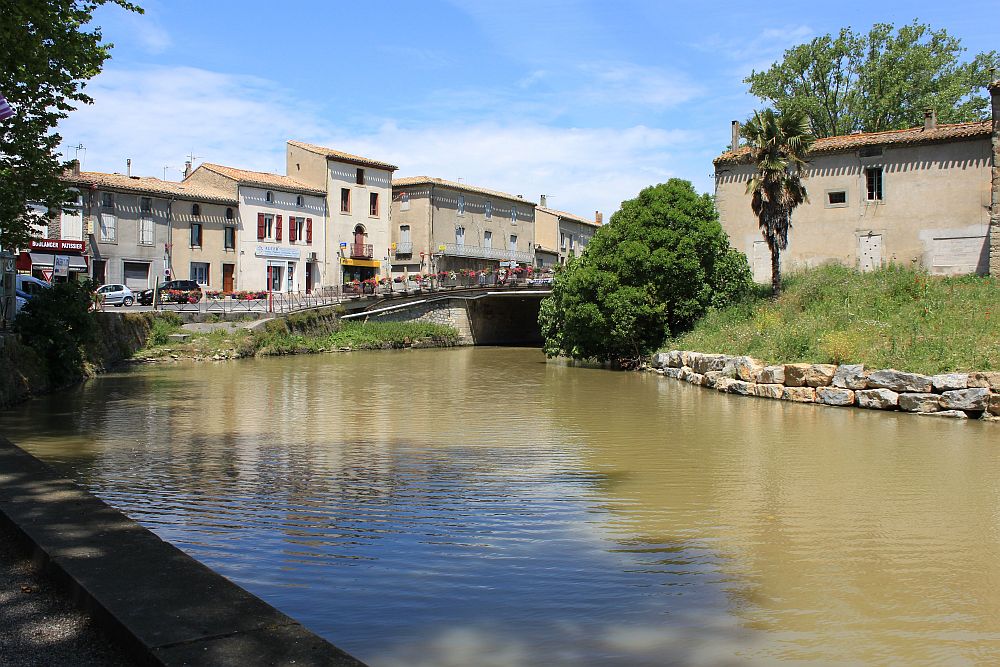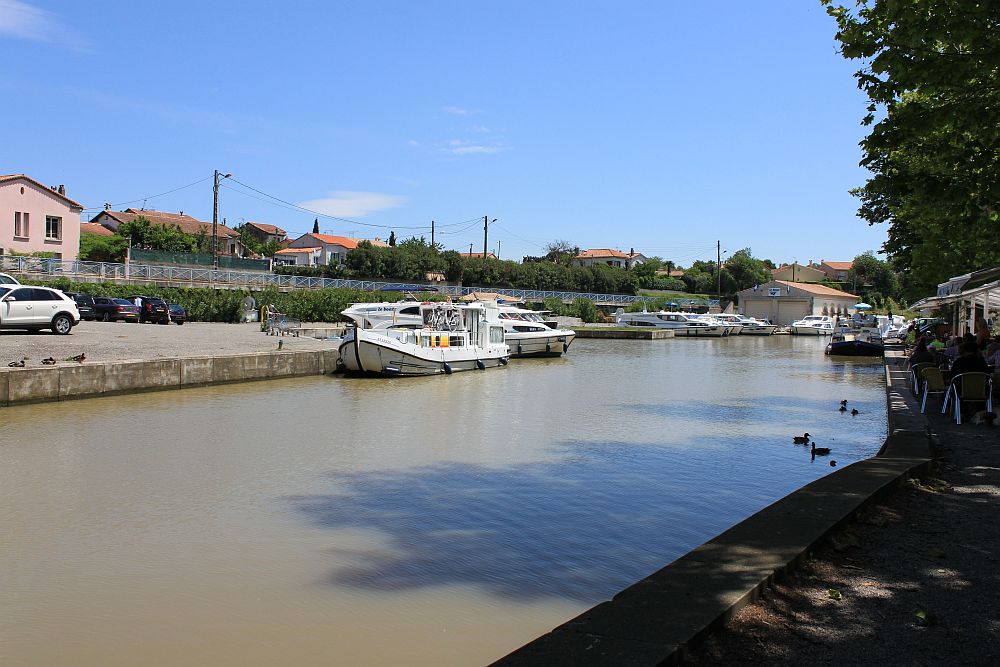 We have been wanting to get some more cash but at our last two sites there has only been standalone cash machines. I prefer to use a machine at a proper bank and better still prefer to use one inside a bank and we did manage to find one for our transaction. On the way back to the campsite we did a detour to the local Super U although this involved walking through a large municipal housing estate! Mission accomplished we returned to the campsite. There are quite a few Brits here in both caravans and motorhomes and by the evening the site was all but full. I mentioned earlier about getting a satellite picture. I thought there was no way on our pitch. However there was gap through the trees no more than a yard wide and to my total surprise I managed to get a perfect picture! What happens if it rains or the wind comes up I have no idea but fingers crossed!
Tuesday 11th June. Itís been a warmer day today, more in keeping with the temperatures that you expect from this part of France. In the late morning we decided to go back and look at the Canal du Midi, this time taking the bikes. The locks at Trebes are in the form of a staircase with one lock immediately going into the next. We continued along the towpath until we go to the first bridge and used that as a turning point. The road through Trebes is quite narrow and very busy so we spent more time pushing the bikes before returning to the campsite. Quite a few people left this morning and some of those on poorer pitches wasted no time in moving to a better pitch. The site is again almost full tonight as newcomers have arrived during the afternoon.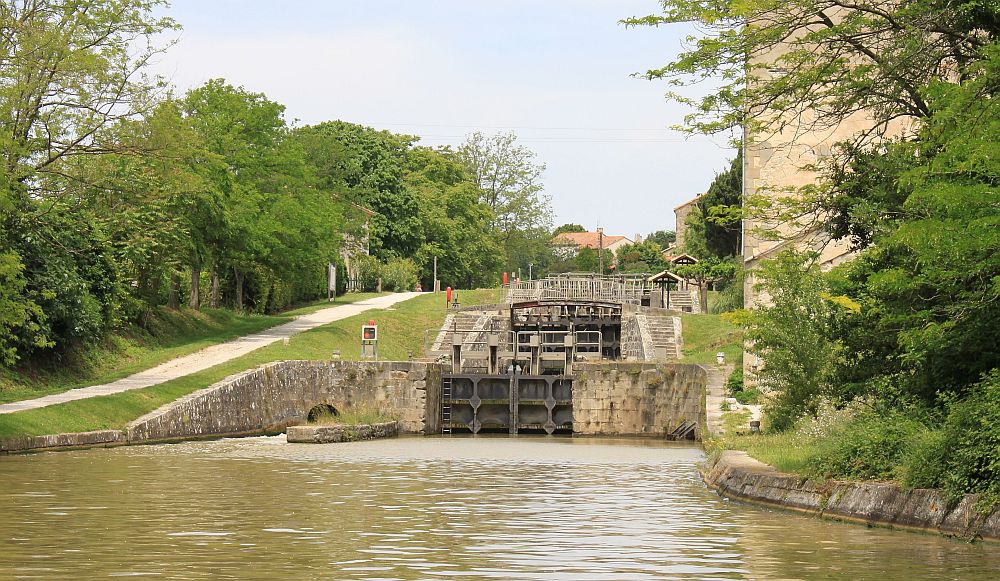 Wednesday 12th June. Well what a lazy day! We were going to go for a ride along the Canal du Midi but it was just too hot, which admittedly makes a change! Temperatures were in the high twenties with a clear blue sky. Being lazy does not mean that you donít have time to talk to people. There are quite a lot of Brits here, mostly couple but there are a couple of chaps on their own. One comes away for three months and leaves his wife, who still works, at home. The guy next door who has never caravanned before, decided, when he recently retired, to buy a van and take off to France. He has made it all the way to the South of France so he has not done too badly. The couple opposite donít live far from us in a village near Towcester. Funnily enough we have met several couples who live in villages, does no one live in a town! Better news today on the twisted ankle as itís been far less painful today and I have not used any support on it so fingers crossed. You get fed up with hobbling around.
Thursday 13th June. Today was somewhat busier than yesterday. First off it was up to Super U with the granny trolley for some shopping. After lunch it was the delayed cycle trip along the Canal du Midi, this time in the direction of Carcassonne. The first Lock was a little over 4kms from the site and a boat was just leaving going uphill so to speak. On the Lock House wall there is always a plaque indication the distance to the locks either side and the next one was less than a kilometre away so we carried on, getting there just in time to see a boat going through the lock. From some parts of the towpath we could see quite away across country and there were dark clouds making their way towards us so we thought it prudent to start our return. When we got back to Trebes it was getting quite grey and the wind that had been there all day was getting stronger but fortunately we got back before it got any worse and were able to pack things away. The rain did not really materialise in any force just more of a drizzle and later there were signs of blue sky. It seems that we are not alone in leaving tomorrow as we saw several people packing up. Whether this is to do with it being the last day of the cheap ACSI rate I am not sure. When I went to pay the credit card machine was not working so I had to pay by cash, fortunately our four night stay cost just under Ä50.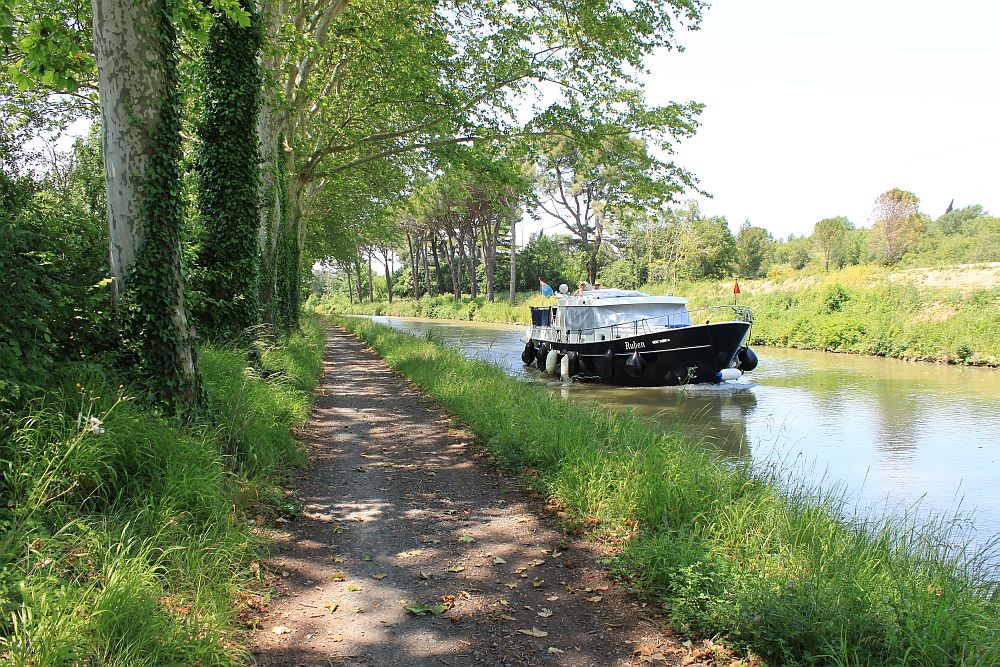 Friday 14th June. A long journey today and a few wrong turns! First port of call was the supermarket to fill up with fuel, there was not a lot of room but we managed and incidentally was one of the few manned supermarket pumps we had used. Once on the motorway progress was good, although going round Toulouse it was noticeable that cars were keeping to the 90km speed limit in a quite uniform fashion. This suggests there must have been some police or camera action going on in the area.
We were doing well with our route until we got to just south of Cahors. We took the wrong road towards Villeneuve sur Lot which took us quite a way out of our way and added quite a bit to our journey. We managed to turn round and eventually find the right road to our destination. At least itís easier to turn round with a motorhome! At last we were on the right road having skirted the edge of Cahors and out on the D811. We stopped at Prayssac to buy some beer and soft drinks as the temperatures had climbed steadily during our journey. Roads in the Lot and Dordogne are not as good as the maps suggests. You see a red road and think thatís a main route but the experience says something different! At Duravel we had to turn off the main road and head down, and cross, the River Lot. The bridge across the river was not only narrow but quite high up, so a case of not looking down! We got to our campsite, Camping Le Chítimi hoping that it would not be full but the exact opposite was the case. There were 6 other caravans on the site, so virtually empty. This is a pity as it seems a lovely little campsite overlooking the Lot Valley.
Saturday 15th June. After the superb day yesterday weather wise it was a bit of a disappointment to wake up to grey skies. I suppose it typifies this holiday in that we have rarely experience any settled periods of good weather. Fortunately we did not get any rain and it eventually cleared to a nice evening.
After lunch we walked into Touzac, the site owner suggested a short cut that cut out a bit of the main road. It was a little disappointing because there was not much there and it was not that pretty. On the way Margaret wanted to look at the cemetery which regular readers will know is one of her interests. As I have mentioned in the past itís amazing that tributes to the dead in the form of small monuments about the size of a photo frame survive unscathed. These tributes often take the form of hobbies and interests of the now departed. Slightly worrying to see one such tribute in the shape of a motorhome!!! We continued beyond the village to the river crossing. Many of the bridges across the Lot are quite narrow, or certainly not wide enough to allow two vehicles to pass. This particular bridge was of the suspension variety which is rather off putting when you are trying to take a photograph when there is a pronounced sway in the bridge! In order to avoid the main road (no pavement) we walked back along a minor road without knowing precisely where it would lead. After quite a long way we thought it wise to turn right and a man in his garden kindly confirmed we were going in the right direction.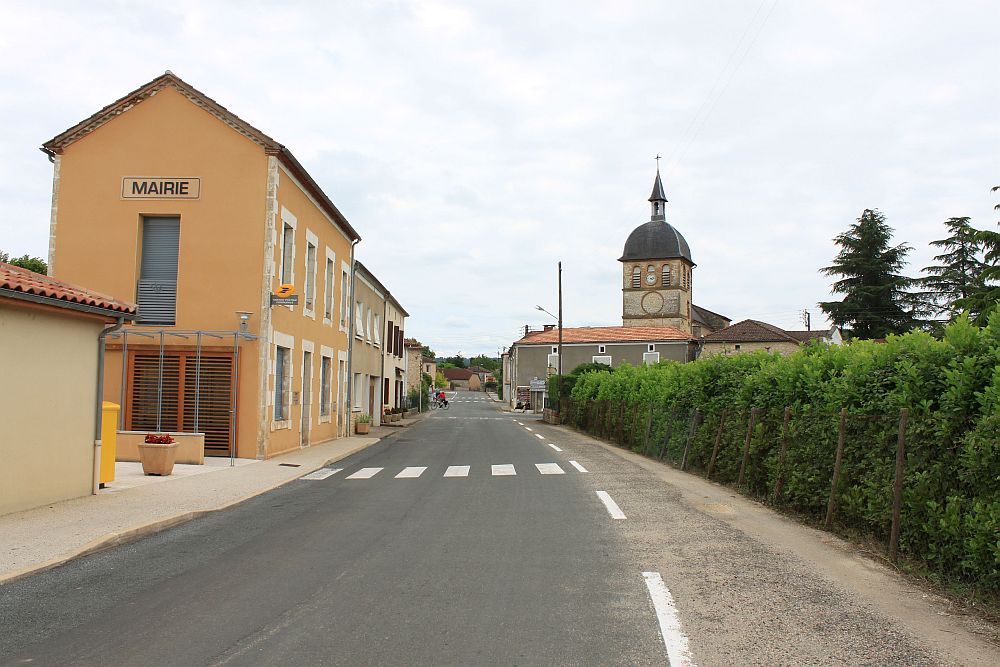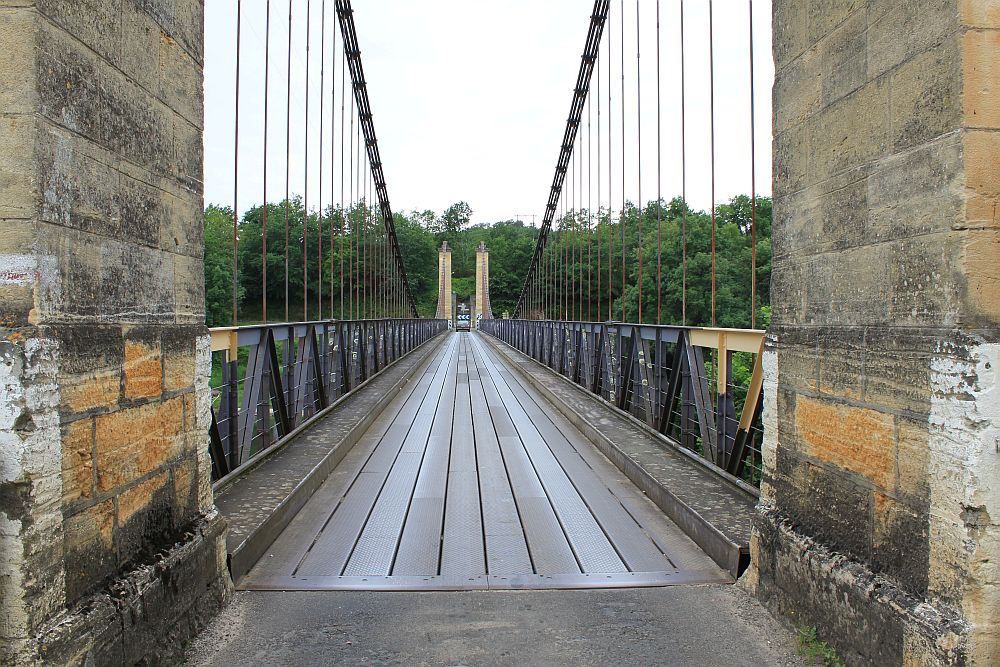 The site we are staying on is owned by a lovely Dutch family which seems to consist of three generations the latest of which consists of the very young daughters of the middle couple. Tonight we decided to eat at the site restaurant and for a pretty reasonable Ä40, including wine we had a pretty decent three course meal. We got chatting to one of the Dutch couples and it turns out they are going on a coach trip to Devon and Cornwall in September.
Sunday 16th June. After a fairly active day yesterday, today was the complete opposite mainly because it has been so hot, at least 30 degrees! The hardest job was finding some shade. We are leaving here tomorrow and continuing our journey north. This has been a lovely site but it is a bit remote if you donít have your own transport.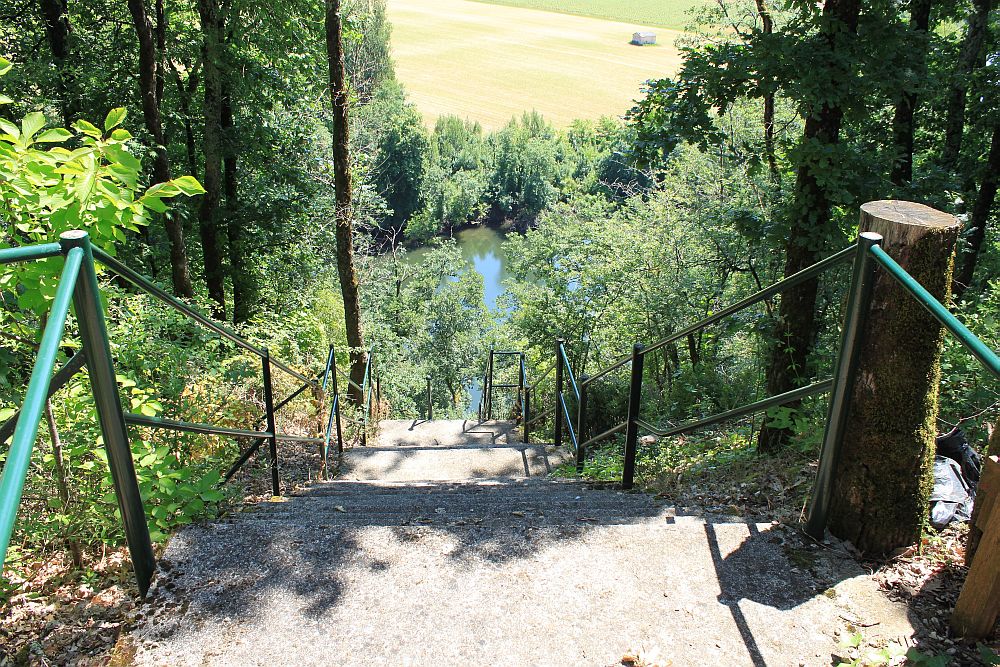 Monday 17th June. We travelled to Brantome today which is a few kilometres north of Perigueux. It was all across country so no tolls! For most of this trip we have tended to use mainly motorways between stops. Perhaps being new to motorhoming we thought that was the better option. Also getting used to changing gears was another decider as there is less of that on a motorway. All in all it was quite a pleasant trip using a mix of local and main roads. We also stopped en route at a supermarket to fill up with fuel and buy some provisions. The beauty being that you can often see how easy it is to pull in, although our first attempt was abandoned as access to the supermarket was convoluted. In this respect itís the larger supermarkets which are often the most difficult with the small ones being easier. When we got to Brantome we were directed through the town centre to get to the campsite, I am not sure there was any real alternative. We arrived at Camping Brantome Peyrelevade just before they reopened after the lunch time closure, we were fourth in the queue. We left the Lot Valley in glorious sunshine but by the time we got to Brantome it was raining which continued in varying degrees until into the evening. Itís certainly a busy campsite with a lot of Brits here.
Tuesday 18th June. It has been raining here now for over 24 hours, with the odd short breaks. In one of those short breaks we decided to chance our luck and walk into Brantome. Trouble is we met one of our neighbours about half way there and stood chatting to them when it started to rain again. We continued into the town with no restbite in the rain. In better weather it would have been a delight to wander round but the rain rather takes the edge off it. By the time we got back to the van we were absolutely drenched! I think that makes a hat trick of French towns where the same has happened, Nancy, Beaune and now Brantome. Trouble is the immediate weather forecast does not look good but we are still making our way over to the West Coast tomorrow in the faint hope that it might improve!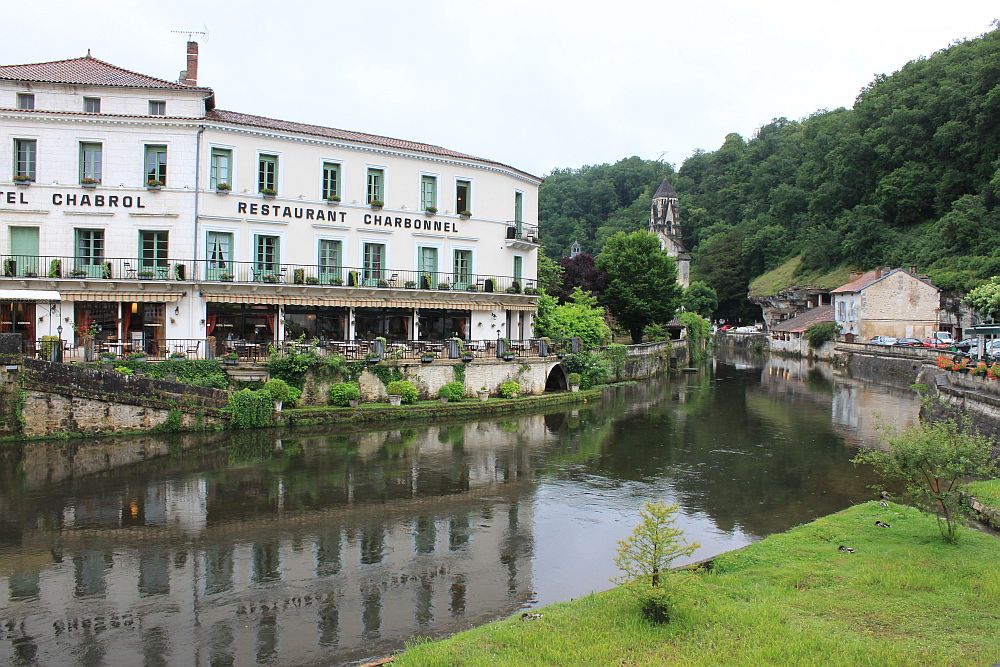 Wednesday 19th June. The rain continued for most of the night, hammering on the roof of the motorhome. That coupled with fairly warm temperatures made it difficult to sleep. By the time we were up it had eased and by the time we left it had stopped. It was another journey of sans tolls, are we getting used to it? For a long way we followed the D939 which took us around Angouleme, changing to the D739 after St Jean díAnglely. I have to say that it was a good route and in the main pretty quiet and we were able to maintain a steady pace matching the speed limit for most of the way. We stopped en route at Rouillac for some suppliers. We seem to be getting into the routine of stopping between campsites which is something that would be much more difficult to achieve with a caravan in tow.
We arrived at Camping LíOcean at Chatelaillon Plage during the lunchtime closure although fortunately there was plenty of parking space outside the barrier. This gave us the opportunity to have a look round the site before booking in. We had hardly stepped inside the campsite when we noticed another Bailey motorhome which turned out to be the same model as ours. This is the first time we have seen another Bailey on the same campsite! LíOcean turned out to be very nice with some tree cover but not enough to deny us getting a satellite picture. As we got nearer the coast the weather had improved and it was quite sunny as we were setting everything up, although it is quite breezy. Quite a few Brits here.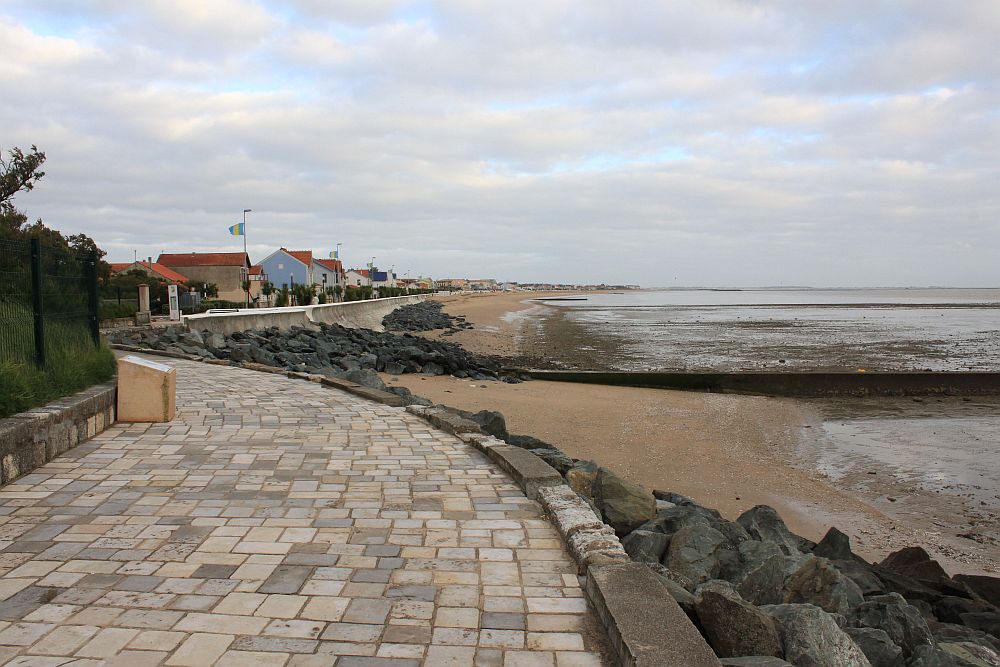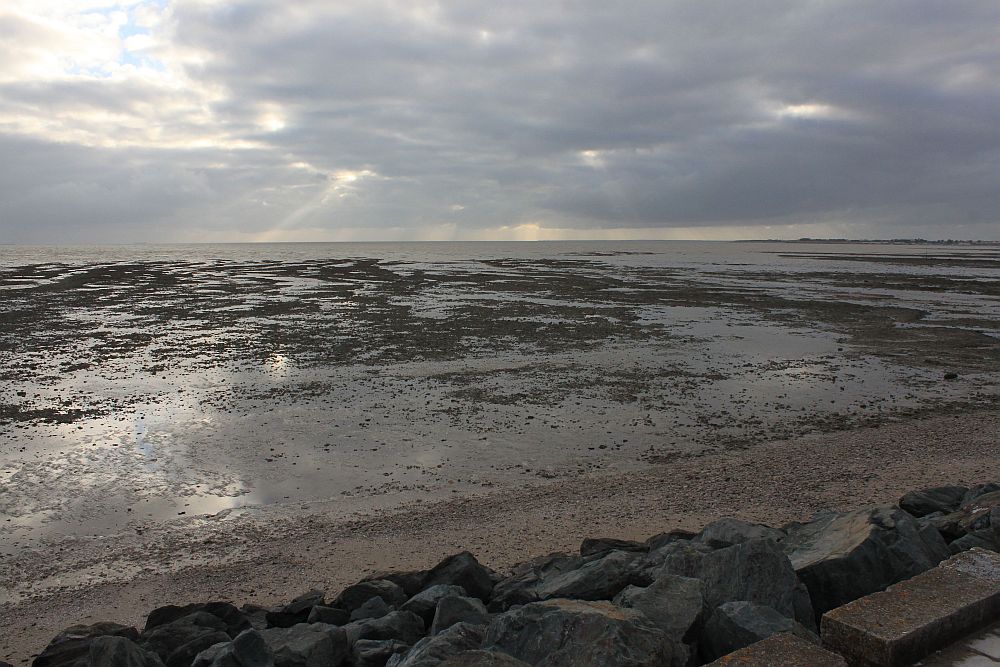 Thursday 20th June. The weather is still very changeable, grey cloud when we got up but not raining. We went out to explore on the bikes and rode into Chatelaillon Plage. There is a rather nice traffic free Promenade all along the sea shore to the small harbour. We rode back through the town doing a detour to look at the railway station to check whether we could get into La Rochelle by train from here. It seems we can but you have to buy your tickets from a machine which is a bit difficult to understand! We also looked at a couple of motorhome parking areas nearby. On the way back we continued to the end of the cycle way and it looks as if there are opportunities to cycle into the next resort along, so we will save that for another day. During the afternoon the sun did eventually come out but it was replace by light rain in the evening and it canít be described as warm!
Friday 21st June. The Longest Day!!! It seemed that way as it rained all day! So nothing to report as we spent the entire day going a bit stir crazy!
Saturday 22nd June. When we got up it was still very grey but at least not raining. After breakfast we rode into the town to do some shopping. Although we rode along the prom, some of the roads were blocked off and we could hear American Country and Western music blaring out. The lamppost were also decorated with Confederate Flags. We could see people with spears no doubt acting as Red Indians! It seems somewhat ironic that the French seem so keen to celebrate American culture (sic) but fight tooth and nail to keep the invasion of English words out of their language!!! We managed to get back to the campsite before the heavens opened and it stayed that way until the evening when it brighten up a bit and we managed to get a walk in down to the seafront and back before it started again! In a strange way it was perhaps not such a bad idea that it was a rainy day. Last night a big group of people joined a French couple who had pitched up a couple of days ago. They were noisy enough in the rain, heaven knows what it would have been like if it had been a nice day. Itís an interesting observation how site management in European countries seem to turn a blind eye to the antics of their own countrymen. So I am not sure this campsite deserves the accolade of being a peaceful campsite as mentioned in the ACSI book! The behaviour is not bad enough to complain about or bad enough to make you leave the site but itís just thoughtless.
Sunday 23rd June. Not quite wall to wall sunshine when we got up but much improved compared to recent days. Taking the bull by the horns we decided on another bike ride, this time in the direction of Angoulins. The path was just inland of the coast although there were a couple of places where you can access the waterline. Along the coast here they have small piers out into the water with nets on the end which seem to be lowered into the water at high water to catch the fish. A bit further along the quite narrow coastal road we noticed a UK car and caravan coming towards us. I flagged them down and asked if they were lost! Which they were as they were following their sat nav. I was able to tell them how they could get back onto the main road. We got back to the motorhome it was just starting to rain again but not for long although we did have the odd shower during the afternoon but later it cleared to a lovely evening, albeit quite windy. After dinner we rode into the town and along the beach for a while but the wind was taking its toll.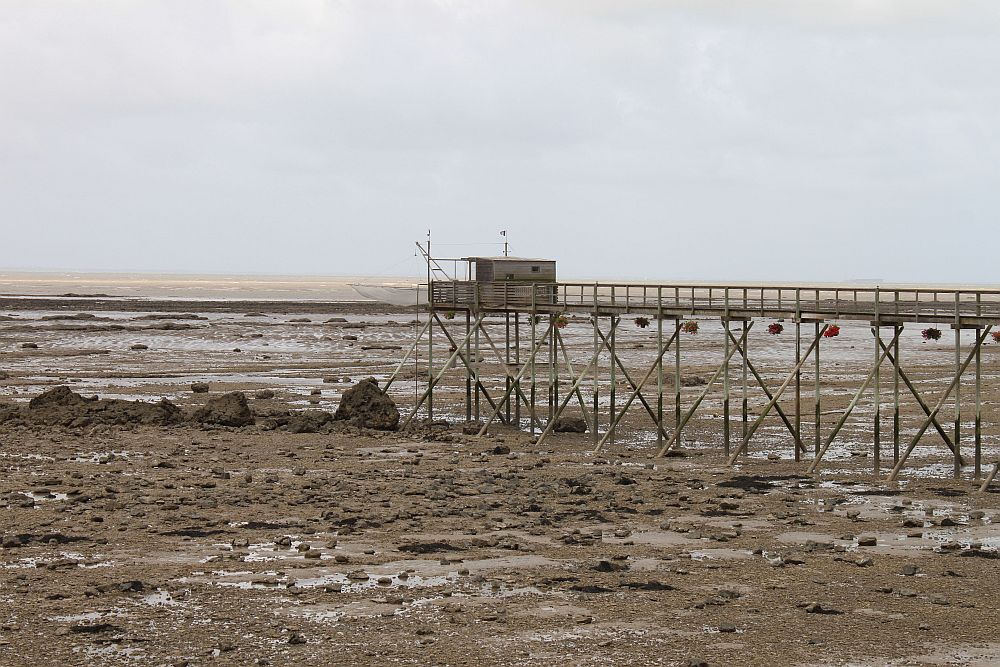 We have decided to stay another couple of days and now plan to leave on Wednesday to make our way north. The big group that was making all the noise yesterday have been quieter today and by evening they had mainly dispersed. The weekenders have been replaced by more newcomers including several Brits.
Monday 24th June. A much better day today although when we decided to ride back into Chatelaillon Plage along the beach there was a bank of dark grey cloud although it seemed to stay ahead of us. When we got to the harbour looking one way it there was a dark sky but the other way towards the town to sun was shining on the beach. Where we stopped there was a huge tractor type of machine going over the sand separating out the seaweed. There were also men along the promenade scooping up sand that had been blown onto the road the day before. Back in the centre work continues on getting ready for the big festival that is happening this weekend. More flags everywhere, even the odd log fort! My Dutch neighbour suggested the reason for the festival was because of the close ties La Rochelle had with the French colonies in North America including famous cities like New Orleans. So perhaps the Country and Western music of the previous weekend disguised the true meaning of the event, but perhaps it should have been jazz?
Having thought about our decision to stay another couple of days we re-thought our plans and have decided to leave tomorrow morning and start our journey north.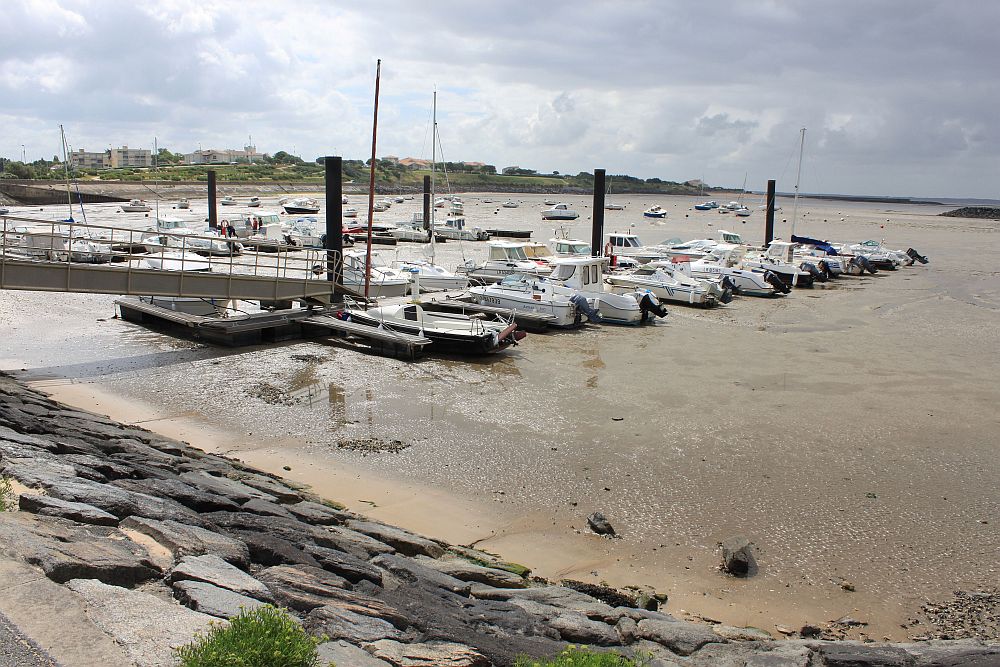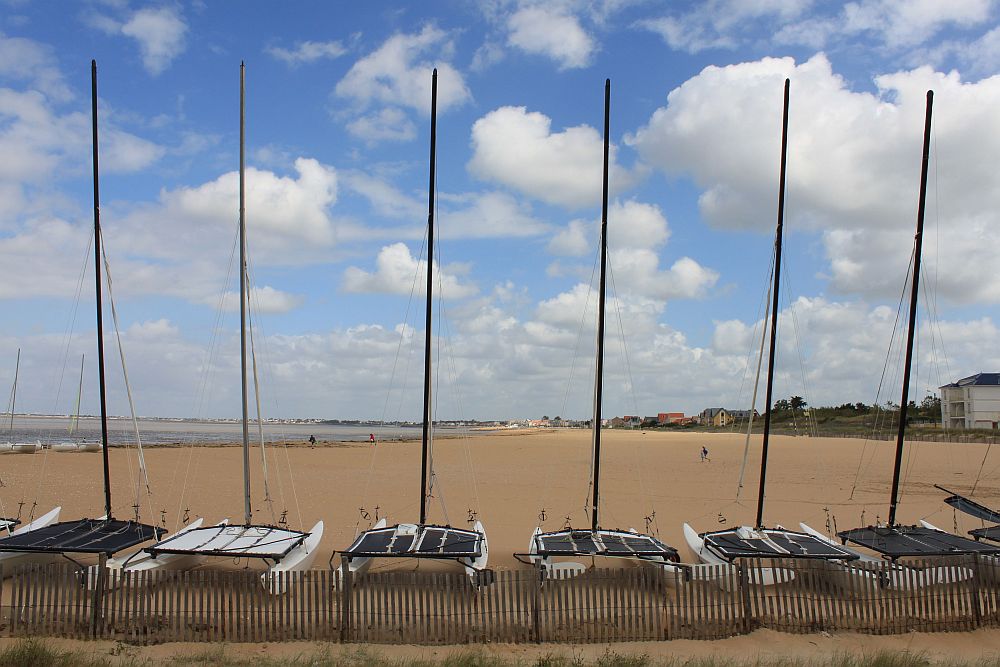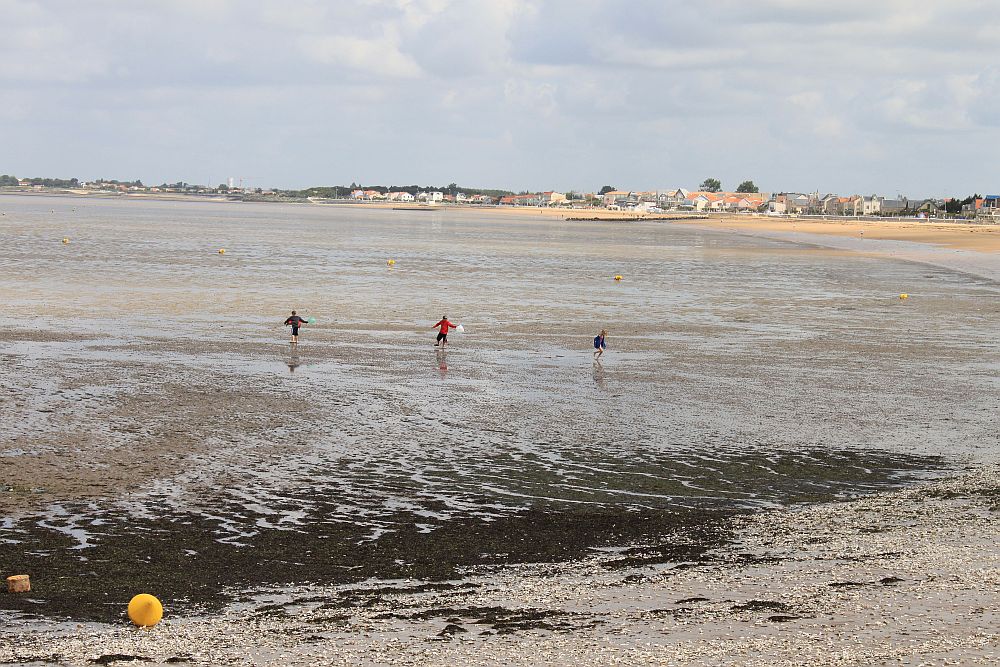 Tuesday 25th June. Moving north today just beyond the Loire Valley. First stop was the Carrefour on the edge of Chatelaillon Plage for fuel and some shopping. The fuel was the cheapest we had found in our trip so far. Itís quite fascinating watching how people go about their business. Monday is clearly an important shopping day judging by the numbers roaring into the car park. I also found it interesting how people were dressed. Whilst it was not very hot it was certainly warm enough for a short sleeved shirt, however people were putting on coats as they got out of their cars and one lady even had a bit woollen scarf on. Clearly what constitutes a hot day in French is somewhat different to England! By the time we had done everything it was quite late (for us) by the time we were on the road.
The journey was pretty straight forward using some D roads but mainly motorway, most of which were very quiet. When we got to Camping Les Portes de LíAnjou at Durtal we ignored TomTom and followed the instructions in the Caravan Club European Guide which worked out well. I do wish the Club would get their European Guides onto a DVD like ACSI do. When we arrived at the site we had to pay for our stay on booking in. We were allocated a pitch which whilst nice we had seconds thoughts when we got there simply because of the motorhome. It would have been fine with a caravan. We managed to change so hopefully it will save us any problems. The campsite has a mix of rental accommodation included something called a TitíHome!!! You suddenly get visions of Barbara Windsor in a Carry On film!!!
Wednesday 26th June. It seems to have been a long journey but we go home a week today. Another nice day weather wise so we walked into Durtal, initially along the river until the path headed into the town. The large Chateau dominates the town and has many historical connections. You can visit but opening hours seem a bit strange. Next to the Chateau is a church which Margaret wanted to have a look at. It was a long walk up the side of the church with many steps. At the top Margaret was about to march into the church until I pointed out the hearse at the entrance and visitors at that precise time might be slightly inappropriate!!! On the way back through the town we sourced a baguette as the campsite doesnít offer a bread ordering service. Tomorrow we are moving on further north. As we get nearer the end of the month there fewer campsites that are offering the ACSI discount once you get into early July. We will need a site for a few days over the weekend because we want to watch the Grand Prix so we could be heading for the coast a bit earlier than we thought.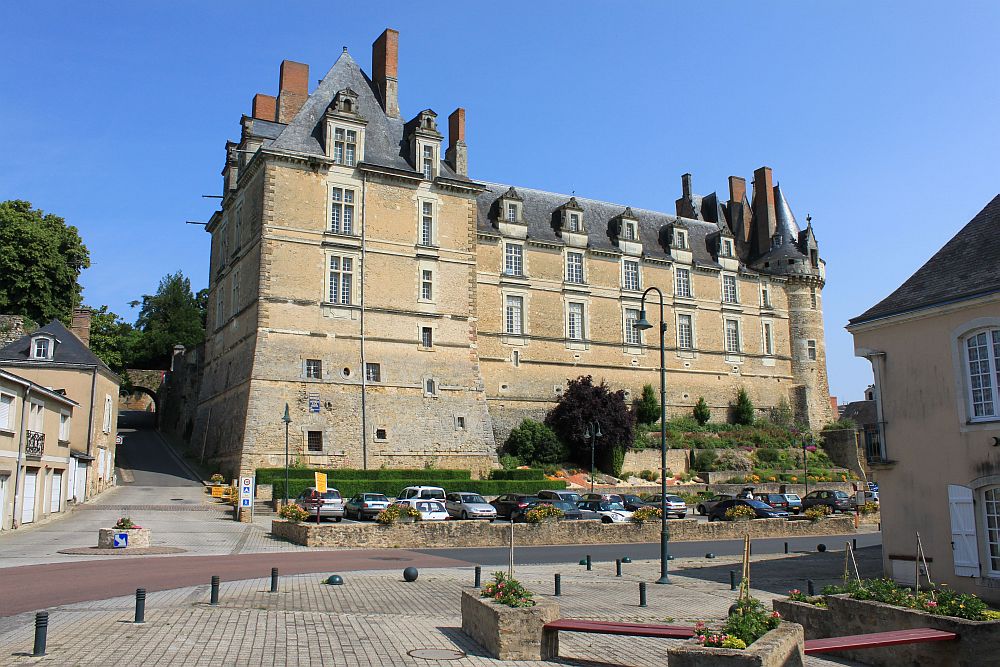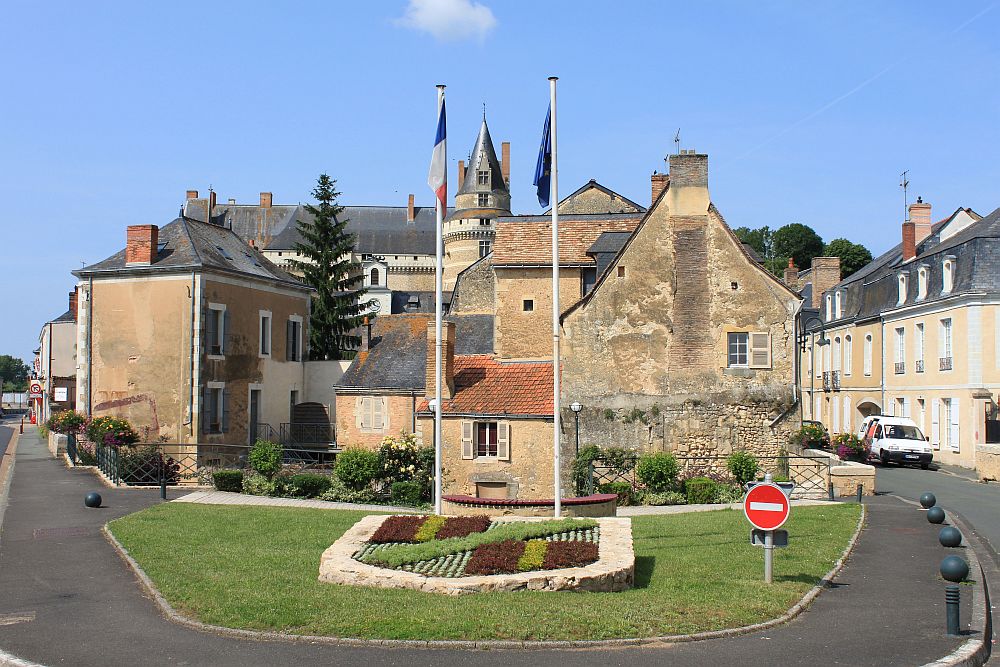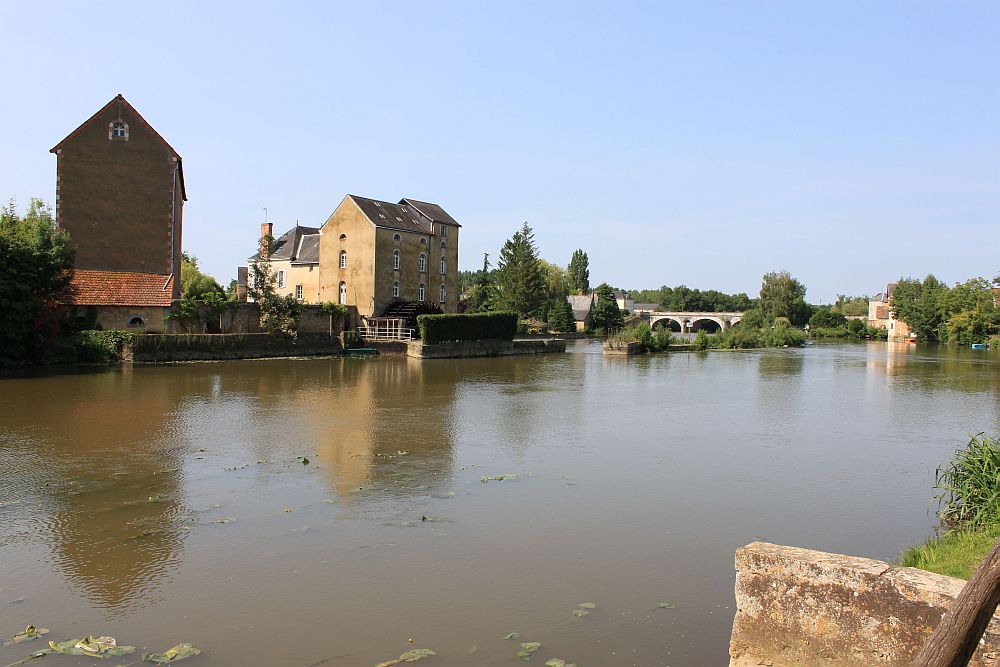 Thursday 27th June. Well we had something of a disaster today. I was woken by the noise of the habitation water pump running. Itís not uncommon for it to come on now and again for a very short burst to maintain the pressure in the system but this was continuous. I checked the taps but they were OK so I had to get Margaret out of bed to check under the bed. Low and behold a water supply pipe had become unattached from the water heater and the pump was pushing out water like a severed artery trying to maintain pressure. I turned off the pump at the control panel. It must have pumped out at least ten litres of water if not more. When I went outside I could see water running out underneath the van. First job was to reattach the hose which was relatively simple but you do wonder why it came loose in the first place. Next the mopping up and we had to remove everything from under the bed and get to work with clothes and paper towels. The trouble was that water had gone under the heater and I was in no position to remove that to clean underneath so we did the best we could. After an hour we had sorted most of it and hoped the warmer weather would do the rest, fingers crossed! We will think twice about leaving the pump on when we leave the van in future.
The water delayed our departure a little but todayís journey was under a hundred miles so it did not really make a massive difference. We took a cross country route to Le Mans and actually went past part of the circuit which was only in action last weekend. Just coincidental I suppose that Mark Webber also announced today that he was leaving F1 at the end of the season to drive for Porsche, so he is likely to be racing at Le Mans next year.
Twice on the way I tried to buy fuel from and automatic pump with my credit cards but on both occasions they would not accept them. Strange in that I had minutes before used one of them in the actual supermarket to buy things? Need to look out for a manned pump on our way north tomorrow. We got to our site Le Bois Fleuri, at Illiers-Combray, during the lunch time closure but I rang the bell and we were soon sorted. Not a bad little site although another one that likes allocating pitches! I do sometimes wonder if campsite owners inhabit the same world as us caravanners/motorhomers! I went to empty the toilet and found there was no rinsing water tap available at the emptying point.
Apparently Marcel Proust, the novelist, used to spend summer holidays in the village then called just Illiers. Proust created the fiction town of Combray in one of his novels. To celebrate the 100th anniversary of his birth the village was renamed Illiers-Combray in 1971.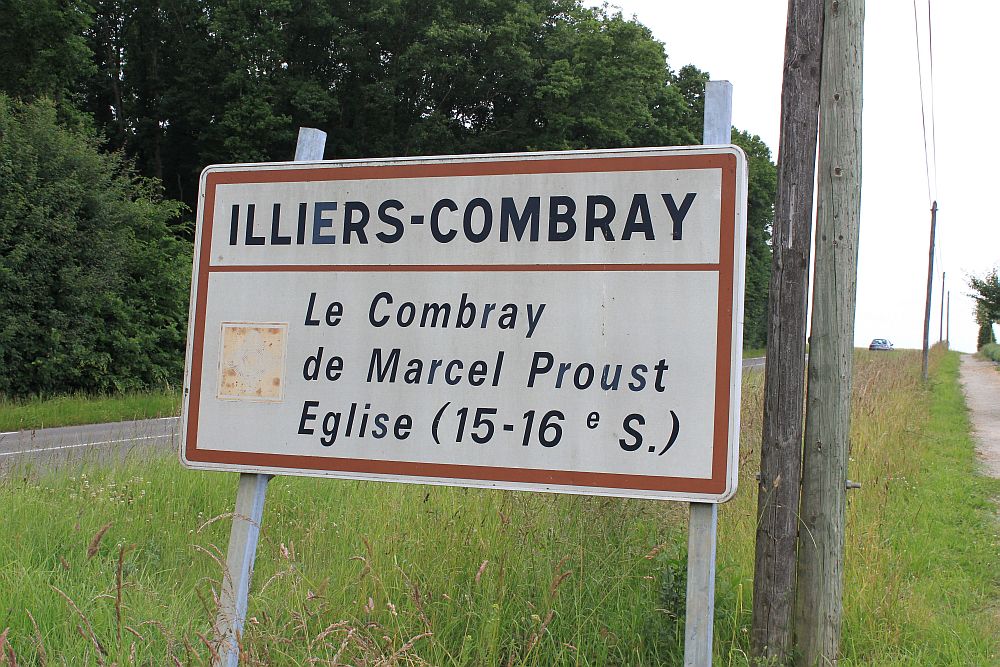 Friday 28th June. We are heading for Dieppe today as we steadily make our way back home. It was a cross country route until we got to the N12 on our way to joining the N154 at Nonancourt. Having the difficulties getting fuel the day before we kept an eye out en route for a suitable fuel stop. We tried two small supermarkets but the access was just too tight. When we towed a caravan it was rarely a problem as we would often leave a site solo just to fill up but with the motorhome this clearly requires more planning. The larger supermarkets are usually not too much of a problem. By the time we were approaching Rouen I was getting concerned as I was down to a quarter of a tank so we bit the bullet and carried on to a Service Station on the A13 where it really hurt paying Ä1.46 a litre especially as I needed nearly 70 litres to fill the tank! This also meant that we had to circumnavigate Rouen to the west by using the Pont de Brantonne which added a few extra miles to our journey on what seemed like an already fraught day!
The day did not get any better as we approach our chosen campsite for a few days, Camping La Source at Hautot sur Mer. In the Caravan Club European Guide they point out that access is difficult and whilst I normally take such comments with a pinch of salt in this instance they were spot on. One approach is through a narrow and low railway bridge and from the other direction there seems to be an almost impossible right turn off a narrow bridge which would seem impossible for anything other than the smallest units. That of course was the least of our problems as we had not yet met the site owner/manager!!! Having survived the access difficulties we pulled up in front of reception and wanted to have a quick look round the site. But no sooner had I got out the cab then I was in immediate confronted with this man in a less than friendly manner. He gave the impression that he did not want us looking round! He then rather strangely asked if we were using Camping Cheques, surely that is up to the customer to volunteer that information. We were directed to the motorhome pitches which had two lengths of very rough and uneven paving for the vehicle wheels. He then even changed the pitch we were on and got annoyed that I had reversed on rather than driving in nose first. I think it was at this point we both looked at each other and reached the same conclusion that this site was not for us and said we would leave which he seemed quite happy about. Before returning my CCI Card and Silver Card he photocopied my CCI Card without my permission which rather concerned me as he would not explain why. Perhaps he was just gathering evidence just in case I complain to Camping Cheques when I get back home. The problem now was where to go. I tapped into the sat nav campsites nearby and the first one to come up was Camping le Marqueval which was an ACSI site about a mile further down the same road. What a contrast, a charming young lady on reception and well cared for pitches. Perhaps time to give up on Camping Cheques?
Saturday 29th June. It has been a much better day weather wise than it was forecast to be. It has also been a very lazy day after the trials and tribulations of yesterday. There are a lot of cycling enthusiasts on the campsite as there was some sort of event going on in Dieppe. Not so many arrivals today but later on two UK campers arrived and both went on the same pitch despite there being free pitches not far away!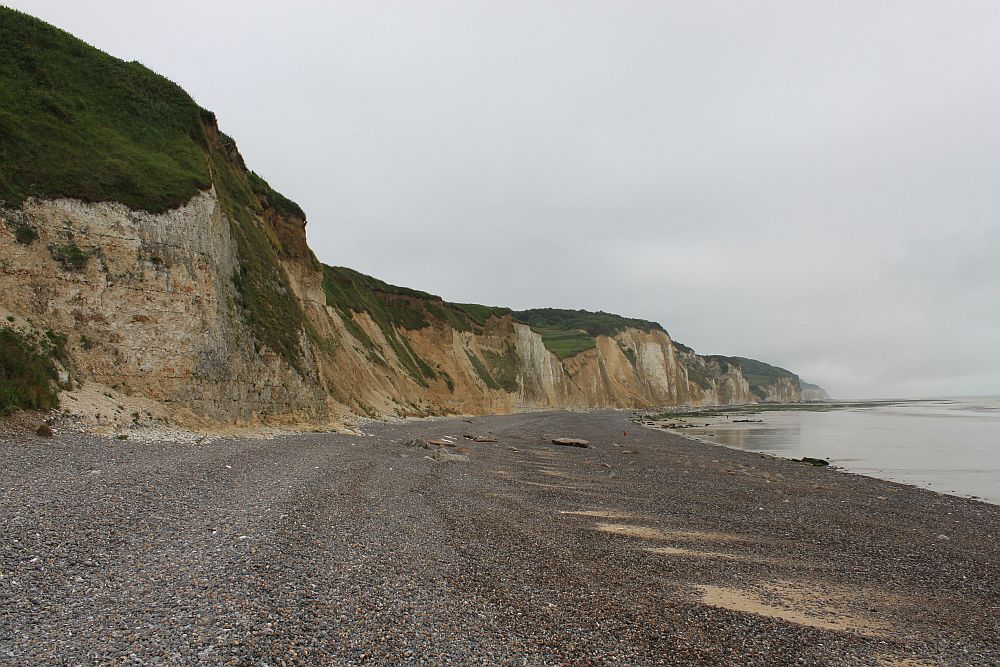 Sunday 30th June. The weather was not as bright when we got up but at least it was not raining. We really thought we should do something today before the Grand Prix considering it was such a lazy day yesterday. We decided that we should have a bike ride towards the coast. We thought it was much further than it actually was. Pourville sur Mer is a small seaside resort situated in a gap between the high cliffs on that part of the coast. It was also one of the landing points in the ill-fated Dieppe Raid in 1942 when so many Canadians died. It has a nice promenade which even has Beach Huts! One of the interesting things we saw on our trip was a fishing boat that had been hauled out of the sea by a tractor and the contents of the catch were being sold on the shore, canít get fresher than that!!! On the way back we went past the campsite to the next road junction. There were lots of cyclists of all ages on the path who kept stopping with bits of paper in their hands. Obviously some sort of treasure hunt!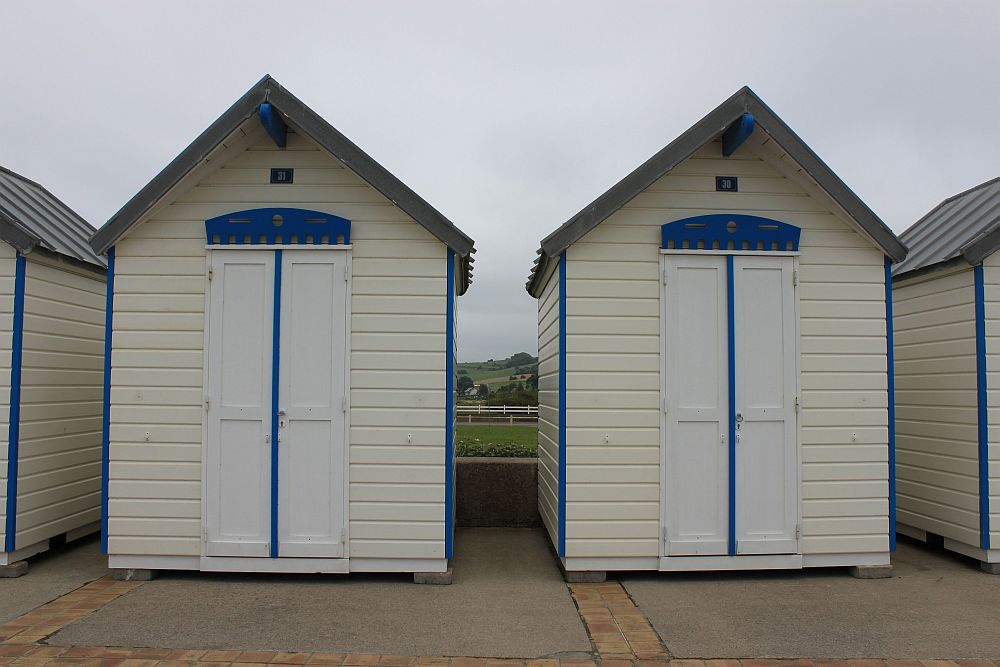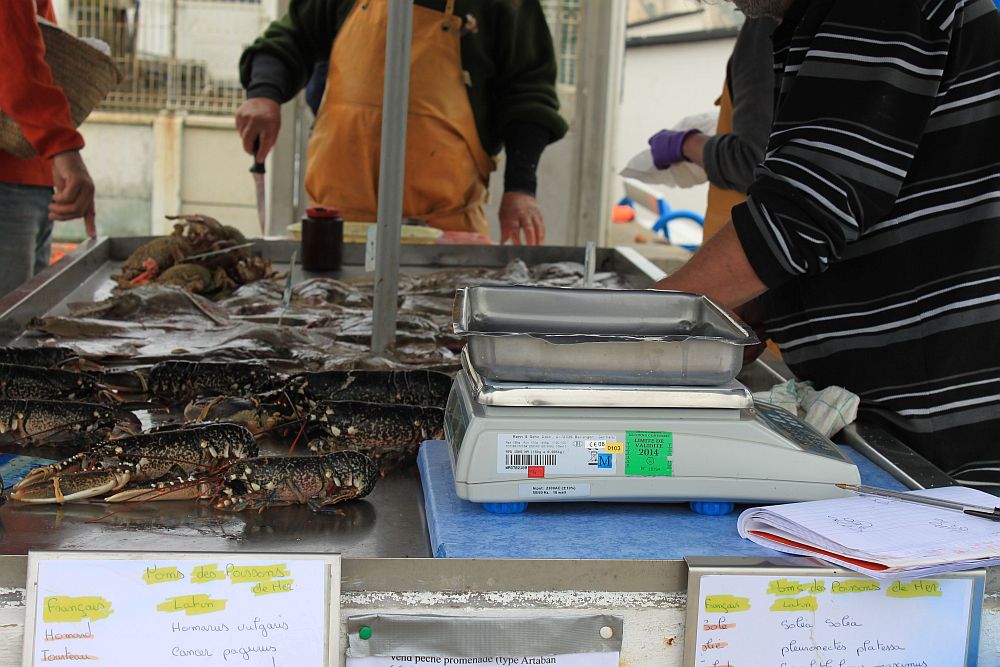 Back at the campsite it was almost time for the Grand Prix which turned out to be a very exciting race with lots of incidences. Mark Webber missed out on a win by a few tenths, had he had another couple of laps he would have made it. Shame as it was his last F1 race at Silverstone. During the afternoon the sun came out and we had a lovely late afternoon/evening. This campsite is interesting in that it has many more permanent pitches than touring ones. Although we tourers would likely prefer the balance to be the other way round there is certainly a feeling of community and itís good to see that the kids have plenty of chums. Call me Mr Grumpy but am I alone in not liking charcoal BBQís on campsites? It wouldnít be so bad if people gave some thought to their position so they did not impact on others.
Monday 1st July. It was a fairly leisurely trip today on mainly D roads although we did also do a bit of non-toll motorway. We called into a Carrefour Market at Rue for some last minute shopping. However we once again encountered the same issue with access to the fuel pumps. We will try again elsewhere tomorrow. The very large supermarkets are not so bad so perhaps the Auchan at Boulogne might be an option. When we got to Les Trois Sablieres we were let in to find a pitch and asked to return later when the reception reopened to book in. Far better than being made to wait outside the site! After lunch we walked down the coast of the Baie de Somme, whilst the edge of the bay might well be 300 metres from the campsite the waterís edge is a long way off, I assumed that the tide was out!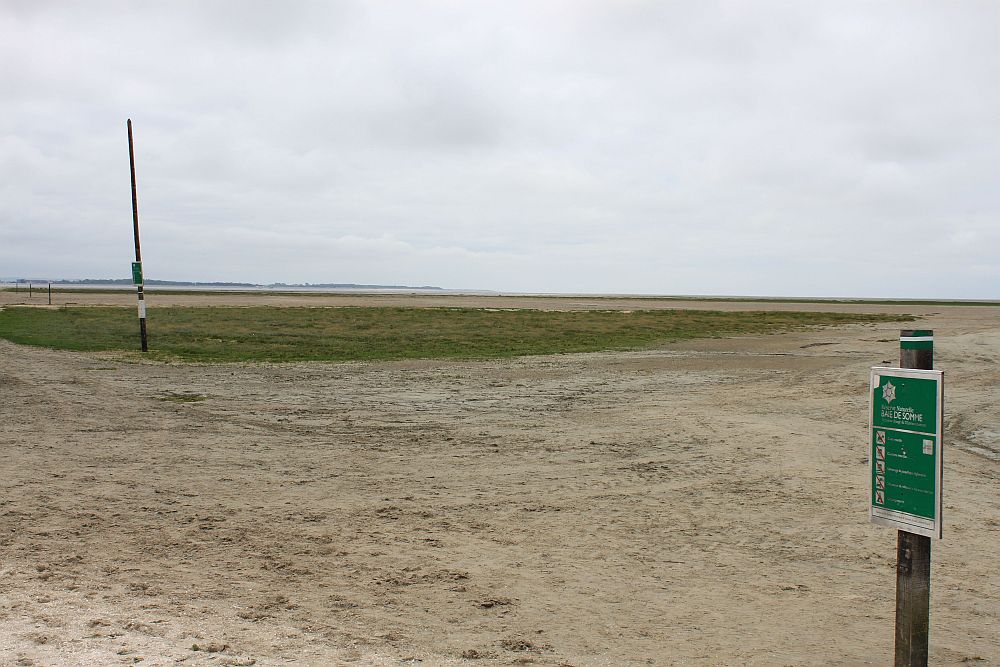 Tuesday 2nd July. Our last day in France after 9 weeks in Europe. We only had a relatively short journey today of 68 miles. We wound our way along the D940 to Boulogne. Etaples looked interesting with a large market in progress especially the fresh fish covered markets. We made our way to the Auchan at Boulogne for a last fill up with fuel. At least there was plenty of room at the pumps to get the motorhome through and as a bonus it accepted my credit card in the automatic machine. We had decided to try a different overnight campsite called Camping Les Erables at Escalles. We left the A16 at junction 40 only to find the route barred because they were resurfacing the road. This meant we had to retrace our steps back to junction 39 on the A16. We have used this road into Peuplingues before and itís pretty rough and it has not improved! We found our campsite from which on a clear day you can see England but unfortunately not today as there was a kind of thin fog over the Channel. Later that turned to heavy rain.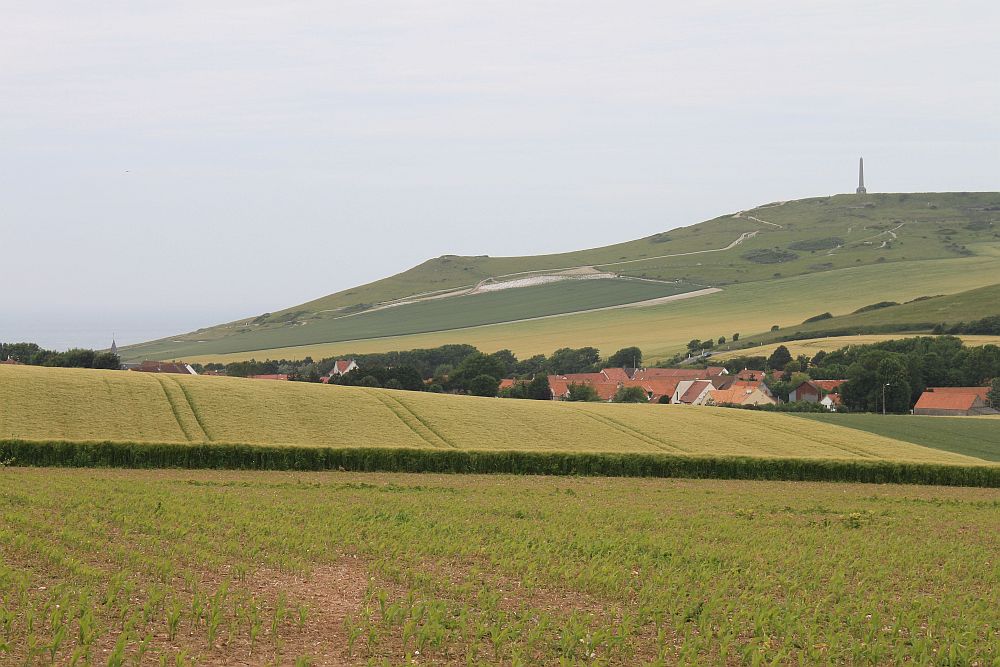 Yesterday we had a had a phone call from our Son Simon who had to move the car on the drive at home so that he could get the tools out of the garage to cut the grass and trim the hedge which was very nice of him. However whilst he managed to start it to get it down the drive when he went to reverse it back the engine would not start, clearly a flat battery. This caused a bit of a panic and we had to look at several scenarios because if we could not move the car we could not get the motorhome back into the rear garden. Anyhow today he borrowed a bit of expensive kit from a certain Grand Prix team which got the car going and so he was able to take it for a run to restore power to the battery. Rather than leave it on the drive he has put it at the front of the house so even if it does not start when we get back tomorrow we will at least have access to the back garden!!!
Wednesday 3rd July. Despite having the alarm set for 7.00am we were awake before that. It had been a pretty stormy night with heavy rain and an increasing wind which we could feel buffeting us. We were ready for the off by about 8.00am, we just had to empty the loo and the waste water tank. By now, fortunately, the worse of the rain had subsided. As I joked to the site owner as we left I could still not see England! It is about 7 miles to the Tunnel from Escalles. We booked in and were able to get a crossing an hour and a half earlier than booked. However we thought we might be in danger of missing this as it took an age to get through both French and UK Customs, so much for open borders!!! The French are getting more relaxed about checking the gas as we were only asked if it was off, perhaps too wet for him to get out of his cabin! At least it was straight through an onto the shuttle which left on time.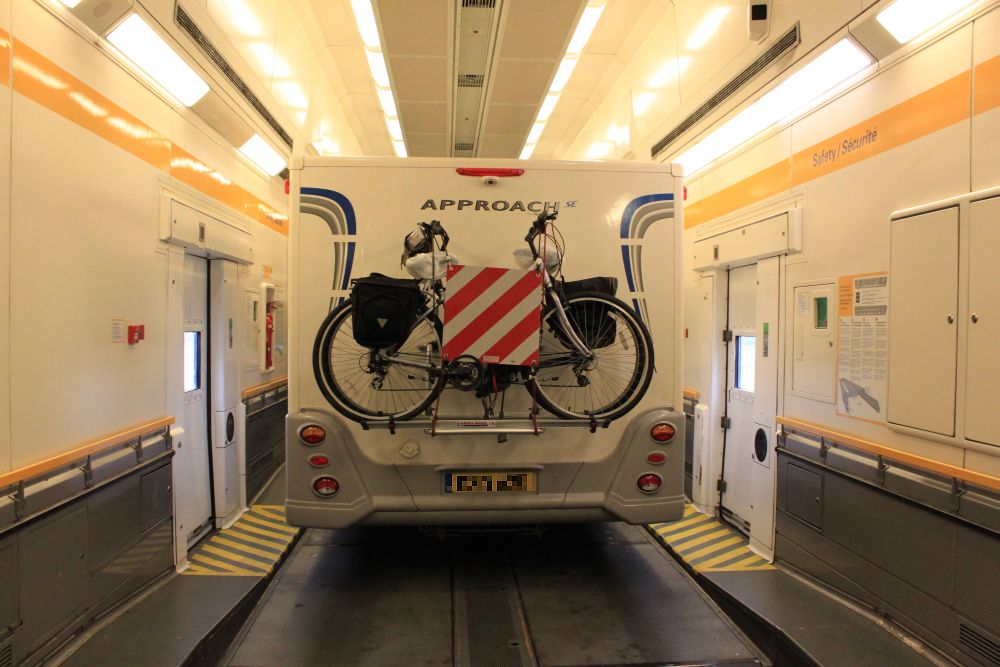 Thinking we had got ahead of ourselves by getting an earlier crossing we had a bit of a shock when we saw signs on the M20 warning of severe delays on the northbound M25. We therefore decided to use the southbound route. Not quite the best decision we have made! Almost as soon as we joined the M26 we hit a queue of traffic. So after about 10 miles of intermittent delays we actually go to the M25. This is the second time we have tried to use the southern route and both times we have had delays. We called into the Clacket Lane Services and were surprised to find a nice large space for caravans and motorhomes. Perhaps we notice it a bit more in the motorhome as we travel a little faster than we did when we towed a caravan but a lot of people seem to drive quite slowly on motorways, sometimes in the middle lane! I think it very wrong that a lorry has to pull out to pass a car travelling at 50mph. Once past the delays we made pretty good time and got home a bit after midday. So that was the end of our first long trip in our motorhome.
Retrospective
This trip has been quite a voyage of discovery. We survived getting the motorhome on and off of Eurotunnel. From a driving point of view I think I prefer driving the motorhome compared to towing the car and caravan. Fuel wise the motorhome is more economical than the Sorento tow car. We have used more campsites but only one Aire, so far. We seem to have covered a lot of miles, in the region of 3500!