Travels in the UK 2014
Taunton and Bristol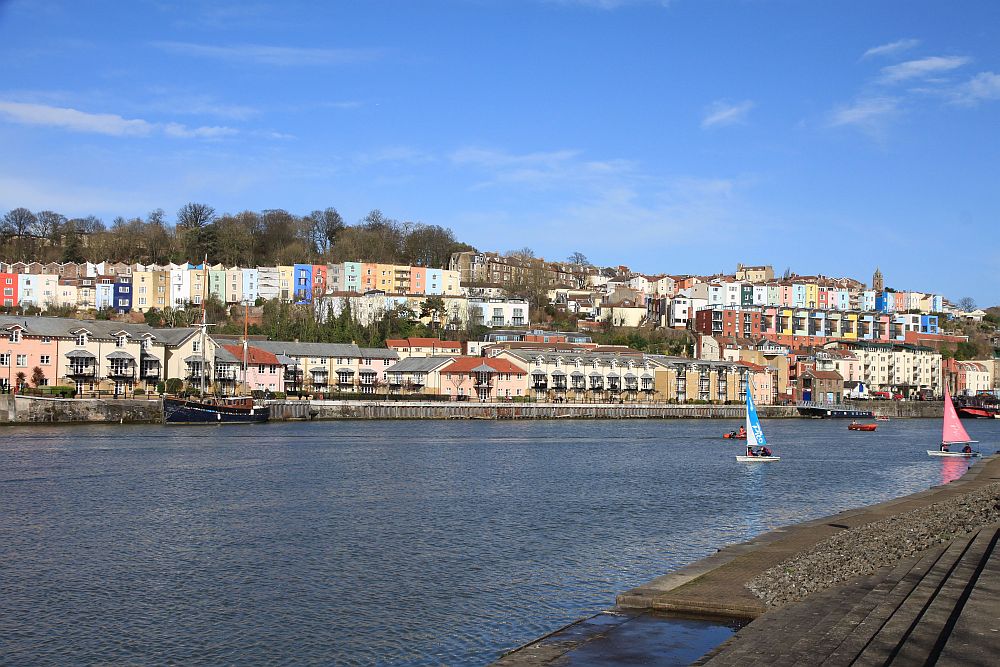 Monday 24th February. This is our first proper trip away in the motorhome. We have taken it out for a couple of what I call 'winter runs' just to make sure the battery is charged and that the tyres don't sit in one place for too long. I suppose given that the winter (thus far) has been quite mild the likelihood of a flat battery is reduced but it's still not a good idea to leave a vehicle sat parked for months at a time. Today we have driven down to Taunton to stay at Cornish Farm Touring Park. The purpose of our trip is to have an alarm fitted to the motorhome by Vanbitz who are specialist at fitting alarms and other motorhome accessories. As part of the deal you get a free night at the campsite which is next door to their premises. Rather than having to leave here during the afternoon we have decided to stay another day.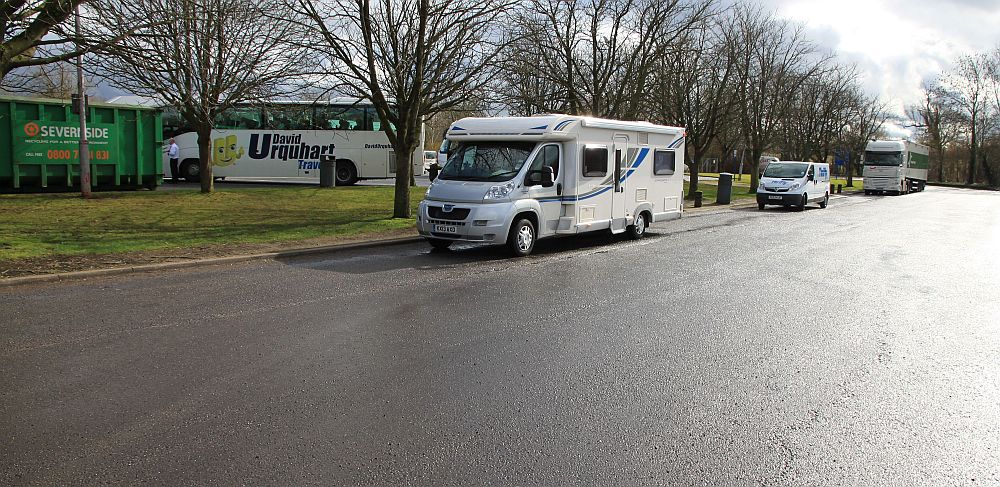 The journey down was OK being partly motorway and partly cross country. We stopped at the services on the M4 just after Swindon. Unlike some motorway services, Leigh Delamere had plenty of room to park. Once off the M5 at Taunton we pulled into the Sainsburys to fill up with fuel. I found this fuel station on Google Earth and Street View which is very handy for checking out whether there will be room to get in and out easily with the motorhome. Having filled up we set about finding the campsite which was not as complicated as I thought it would be.
Tuesday 25th February. Our appointment at Vanbitz was at 8.30am. After we had gone through all the options we wanted we had a short wait before we were given a lift into Taunton to avoid the rush hour. It's a busy place with a good range of shops but can't say it's got a lot of character. There is a rather nice museum called the Museum of Somerset that traces the history of the area through the ages. The best bit is that it's free!!! As there was no rush to get back we decided to treat ourselves to lunch at Wetherspoons, which was amazing value. We had thought to get a bus back to near the campsite but it was a fair walk from the bus stop so we treated ourselves to a taxi although we paid a bit more than we would have in MK. Just as well the meal was good value as we had to settle a far heftier bill when we came to pay for the alarm!!!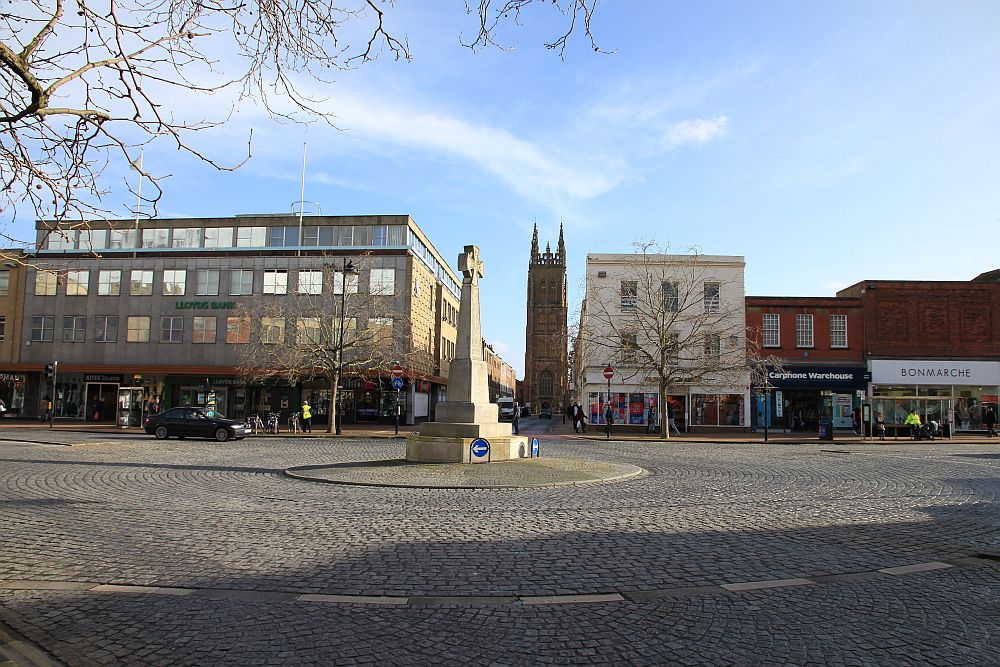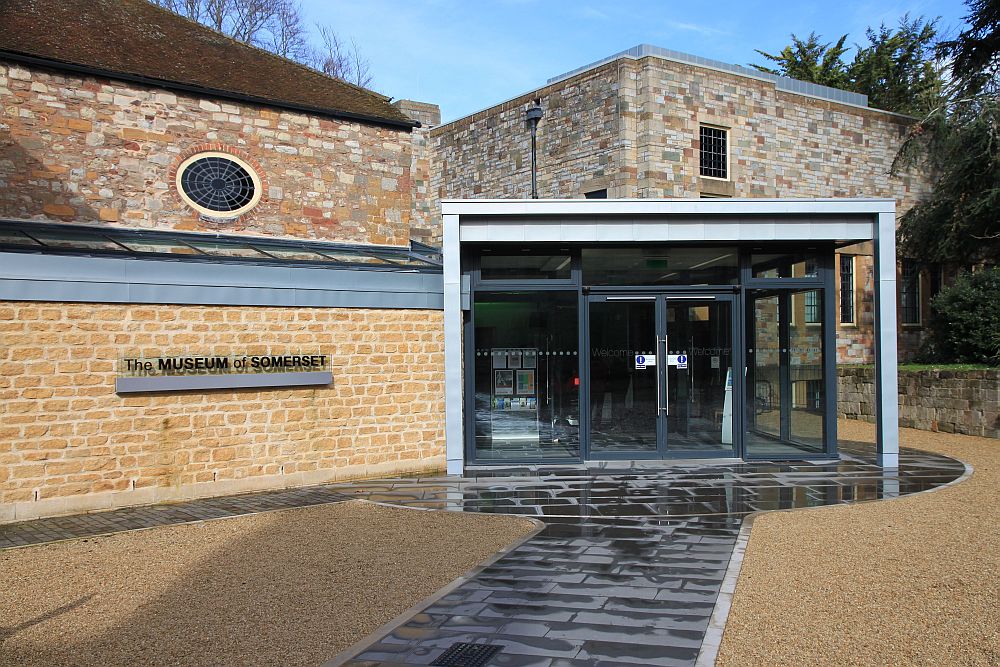 Wednesday 26th February. The day dawned bright and sunny although, understandably, still quite chilly. A fairly short journey today was only about 50 miles to our next stop at the CC site Baltic Wharf in Bristol. I was concerned how easy it would be to get to the site but following the SS Great Britain signs made it fairly straightforward. It's not a large site so was pretty full with the number of units evenly split between caravans and motorhomes. The last time we were here was 2001.
After some lunch we walked along to the SS Great Britain Museum. Isambard Kingdom Brunel was responsible for this wonderful ship, the largest of its kind when it was launched in July 1843. Originally he had planned a wooden ship but over a certain length they tend to flex too much so the decision was made to build it out of iron which did not suffer the same problem. She was the first iron steamer to cross the Atlantic, a trip that took 14 days. Eventually she was used on the Australian run. In later life she was converted to sail and became a cargo ship eventually ending up near Port Stanley in the Falkland Islands and in a very sorry state. The revival of fortune started in 1970 when she was brought back to the UK and restoration work commenced.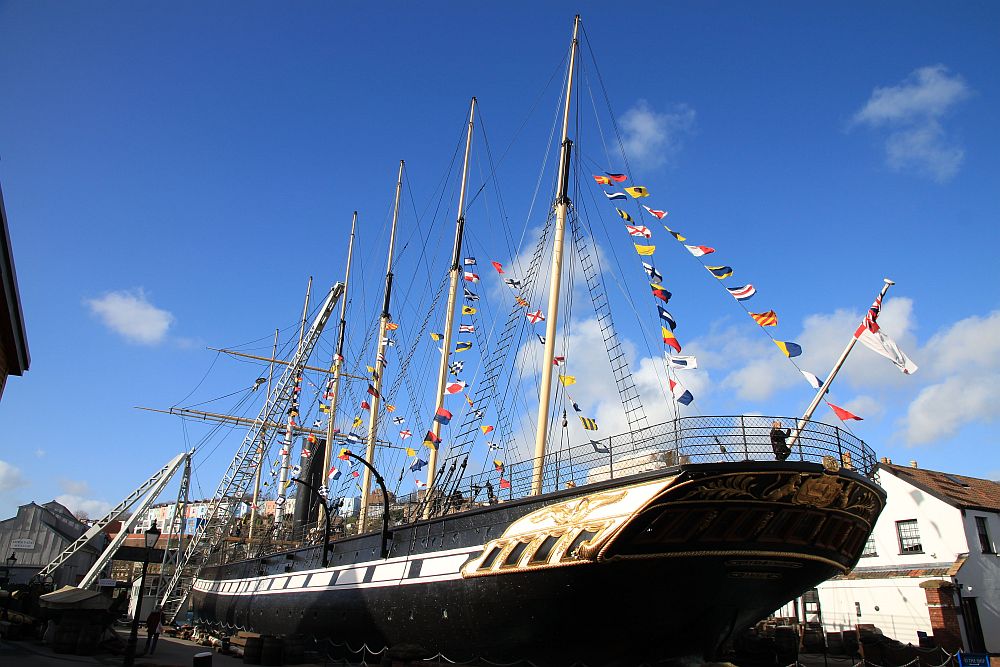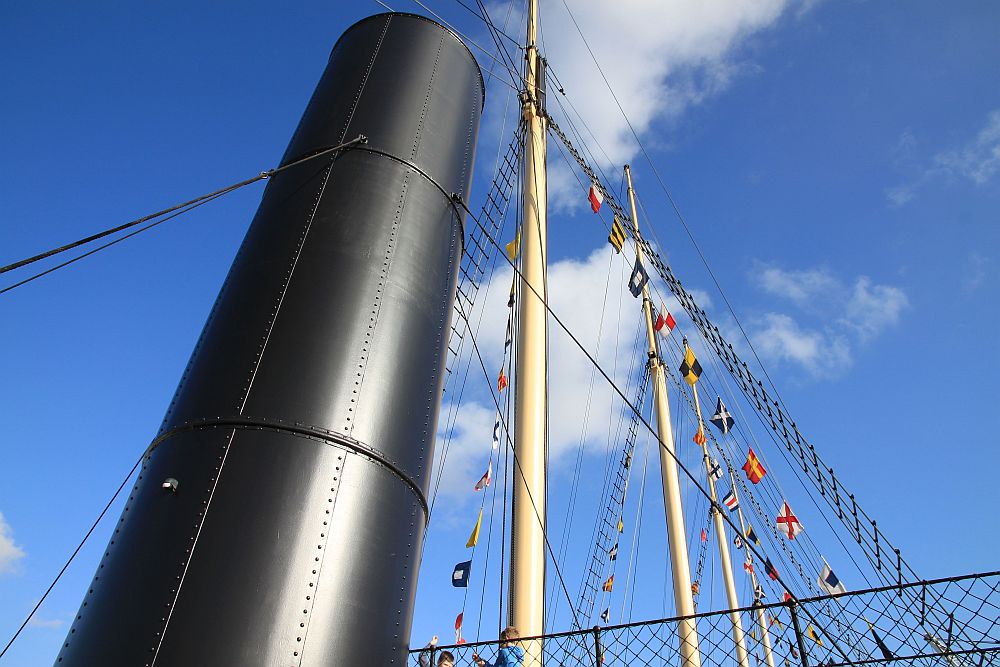 There is an exhibition of artefacts from the ship and details of how it was made from iron panels some as much as 2cms thick. You can walk around the hull of the ship in the bottom of the dry dock. The biggest enemy of the hull is corrosion and you can see where parts of the hull have completely rusted through. They have a special system to keep the hull dry although apparently it costs a quarter of a million pounds a year to pay for the gas!!! There is fairly good access to the inside of the ship and work seems to be on going. Fascinating to see the cramped cabins, particularly the narrow bunks. Not quite sure how anyone would stay in them in a rough sea? Although the entrance fee seems quite high, although no more than similar attractions, it does entitle you to re-visit the museum as many times as you like within the year.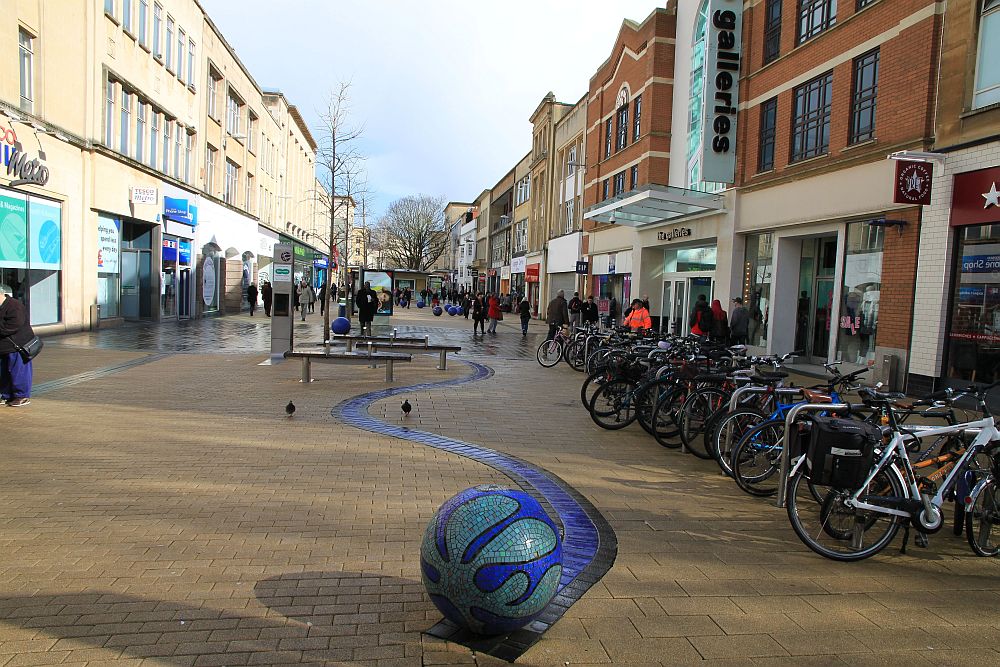 Thursday 27th February. Not quite as nice a day as yesterday but when we left the site for the bus stop it was sunny but not completely clear skies. Although we got to the bus stop in plenty of time it was either late or early when it eventually arrived. We could have walked into the centre of Bristol but there was another motive in using the bus. Tomorrow we leave for home and rather than returning to the M5 we thought that we would go through Bristol and head for the M32 which will take us eventually to the M4. The bus uses most of the initial difficult part of the route. I noticed that from the first junction the M32 is well signed so hopefully we will be OK. The bus dropped us off near to the Broadmead shopping centre. We walked through one of the associated shopping complexes which seemed to have quite a few empty units. When we exited it was raining but we could see a M&S across the road which looked a good place for a coffee. The City suffered badly from bombing raids during the war and nearly 90000 buildings were damaged not forgetting the more tragic loss of 1299 citizens who were killed in those raids. I am not sure that post war redevelopment has been kind to Bristol. Perhaps we did not see the best of the City. One thing that did liven up the dullness was wall art. Not quite Banksy but I enjoyed them.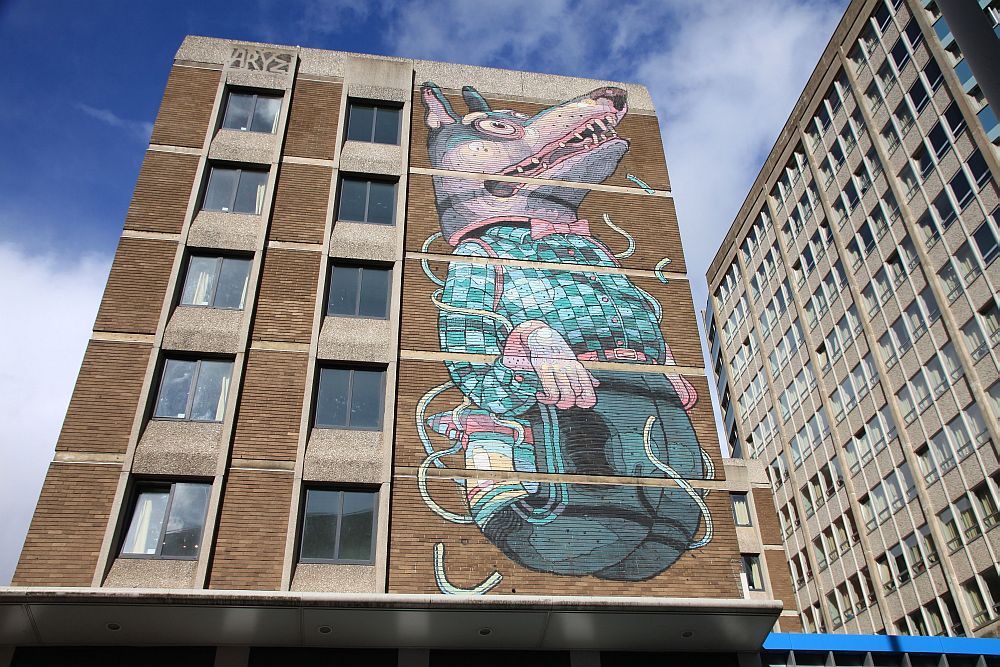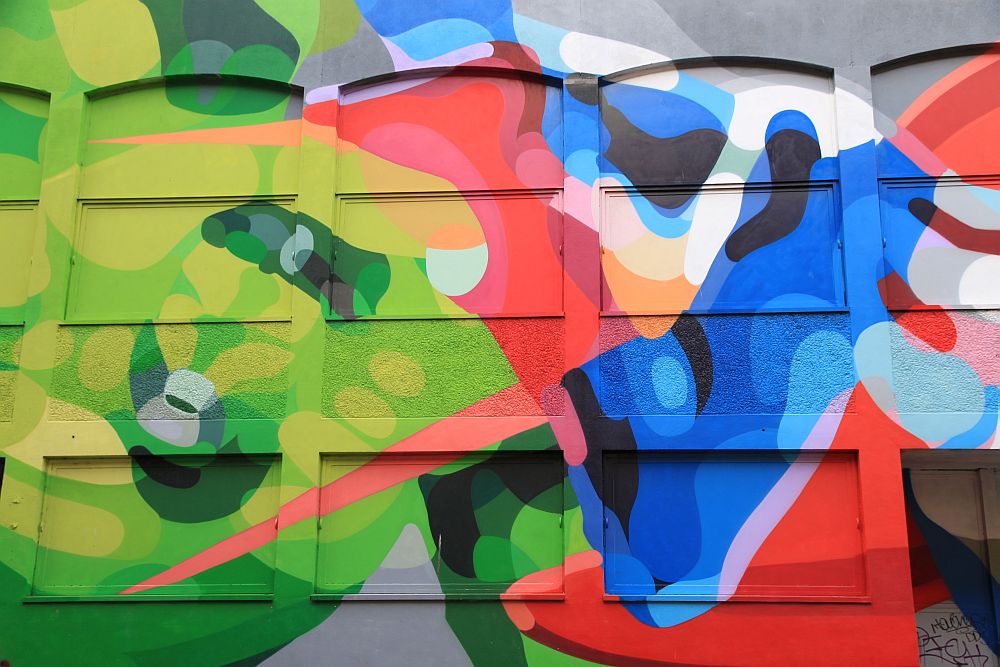 Whilst not altogether sure where we were a quick look at the map showed that we were heading for the harbour area. We wanted to get the ferry back to the campsite. The Floating Harbour provides a tide free waterway through the centre of Bristol. Whilst in the past this was considered an industrialised area it has gradually been gentrified with bars/restaurants and shops taking the place of the old cargo wharfs. There are ferries that ply in both directions and they are a good way of seeing the area. Fortunately for us the sun decided to show itself as the crew cast off the ropes and we headed out along the waterway. We passed the SS Great Britain that we had visited close up the day before. The floating Harbour seems to be used a lot as a place to teach youngsters to canoe and sail. The ferry landed immediately outside the campsite, not bad for door to door service! This was our third visit to the Baltic Wharf campsite. Apparently the lease is up for renewal at the end of the year. It would be a pity if the Council took a decision to redevelop the site for housing, as seems possible, there are few enough city centre sites as it is. Fingers crossed that the Club is successful in their negotiations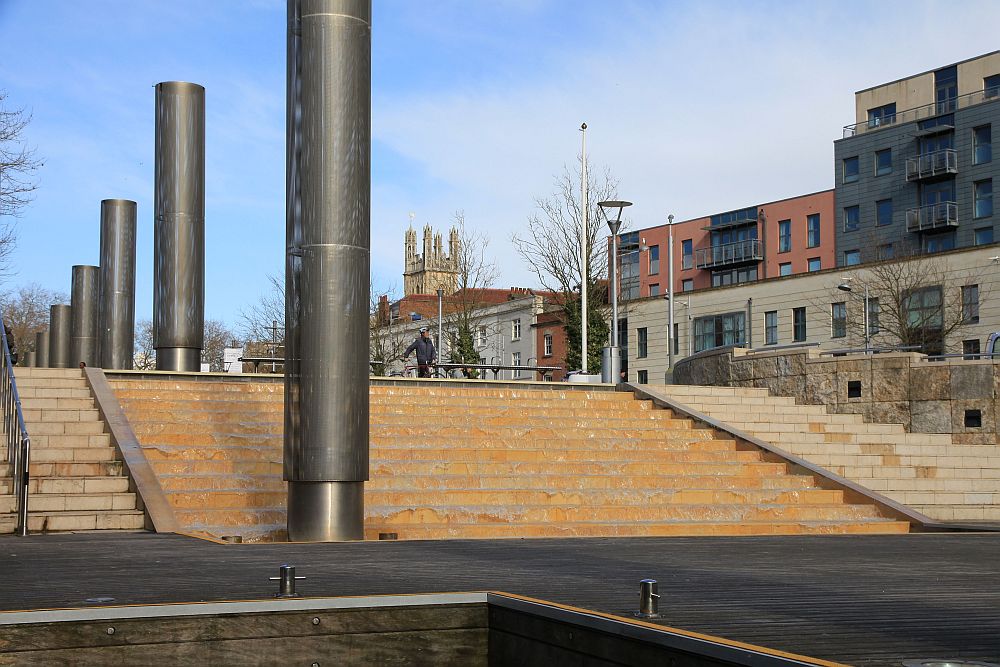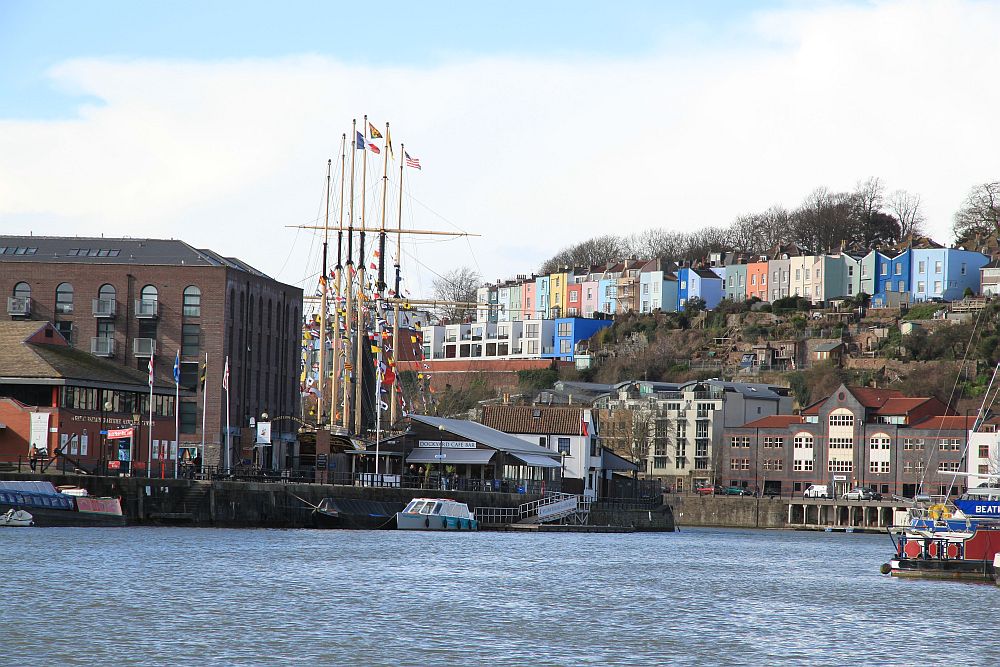 Friday 28th February. Well our plan to follow the bus route of the previous day through Bristol was only partially effective. TomTom wanted to take us a slightly different way which we eventually followed. Fortunately we ended up where we wanted to be so that was alright! Unlike the previous few days the weather was not very kind to us today with rain throughout the journey. Given the standing water on a lot of the roads I was concerned that the motorhome would be even filthier but funnily enough it seems to have washed off some of the caked on mud!! We arrived back to a very cold house and did wonder if we should stay in the motorhome!!!
Peterborough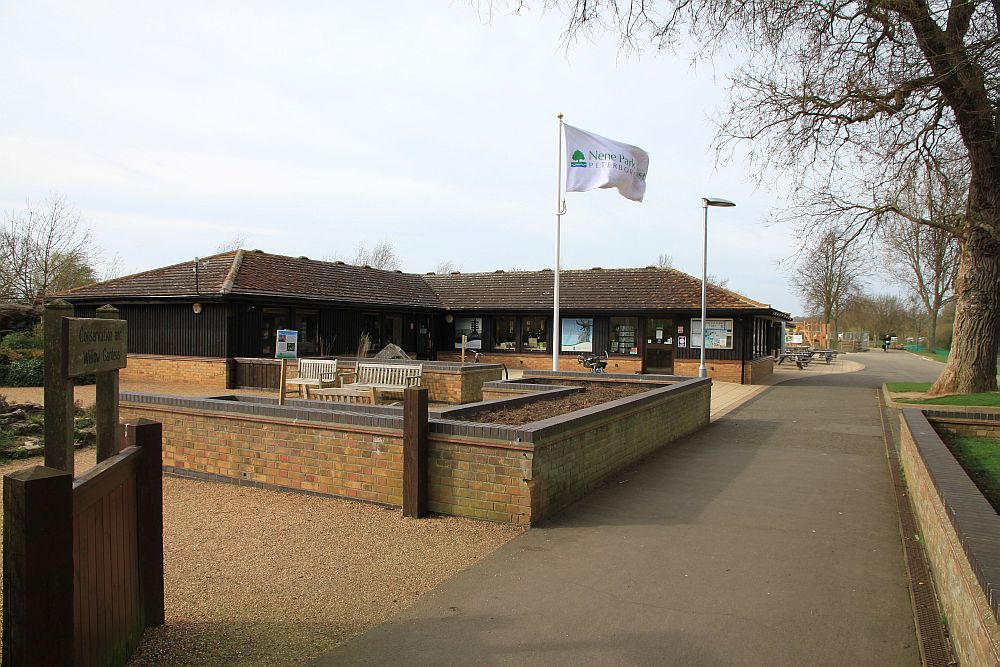 Thursday 20th March. Not wishing to bore my readers but our trips away seem to be controlled by the NHS at the moment!!! Margaret was in last Friday, I was there yesterday and have to return on Monday. So in between all this we have decided to have a short break at Ferry Meadows, the Caravan Club site in Peterborough. The journey to Peterborough was uneventful, the upgraded roads between the M1 and the A1 make a big difference. We elected to find a pitch on the western side of the site where the toilet block was out of action because of some upgrade work. As we use our own facilities we don't need the toilet block. We have treated ourselves to a new TV for the motorhome. It is an Avtex model with built in satellite receiver so I spent some time after lunch setting it up. The idea being that we will have it fitted onto a wall bracket. Having achieved that we set off for a walk to the Lake in Ferry Meadows. On the way back we did a quick detour around the eastern side of the site.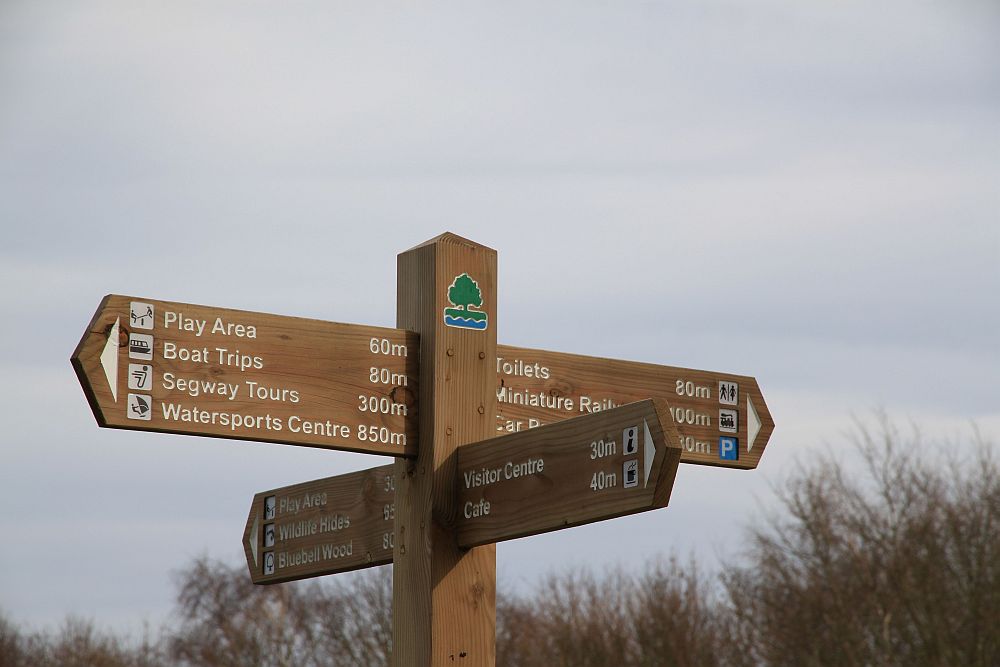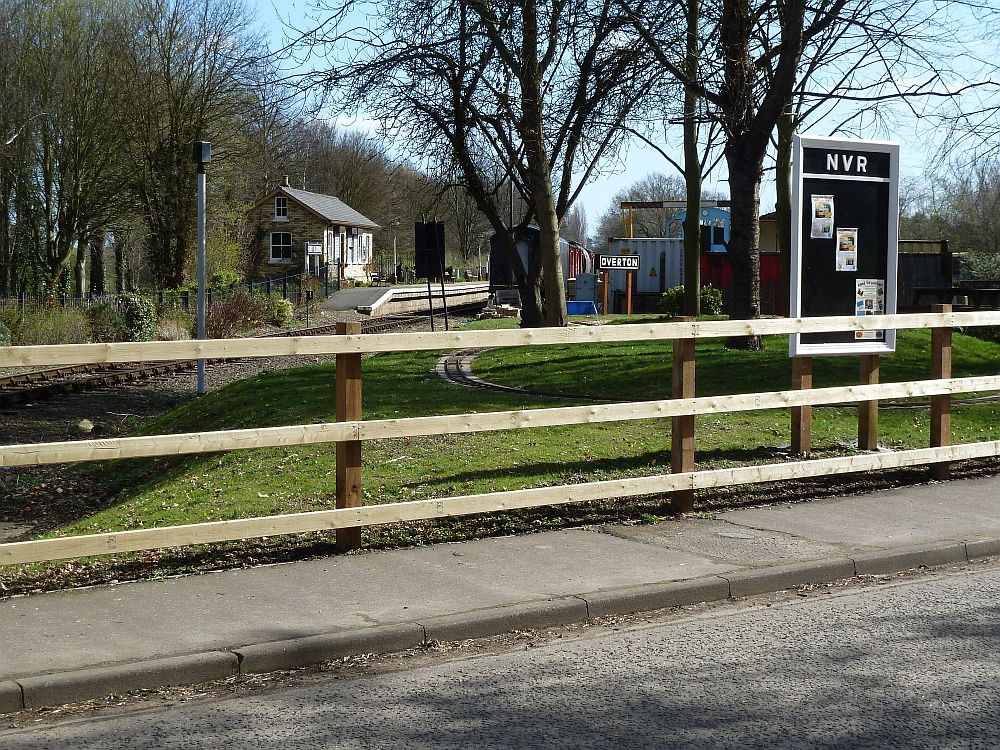 Friday 21st March. We awoke to beautiful sunshine which was very encouraging. There is still a strong breeze which is quite icy out of the sun. We decided to take a circular walk to the Garden Centre. We were trying to find out where the bus stops were for a possible trip into Peterborough. We knew we had to take a right just after crossing the Nene Valley Railway and we knew the road name. After a few false starts we found what we thought was the bus stop for the service we needed. Unfortunately there was no information what so ever either on the shelter or in the time table holder. So, if we decide to go into Peterborough it is still a bit suck it and see whether we will be in the right place! We continued our walk to Notcutts Garden Centre which has been on this site for as long as I can remember and we usually visit whilst staying at Ferry Meadows. It's quite a small garden centre compared to what we have at home but it did seem to have some lovely plants. Before returning to the van we wandered around the site which appears to have plenty of empty spaces but being Friday it's possible these won't fill up until later in the day. Later on we decided to walk back down to the Beefeater for a meal.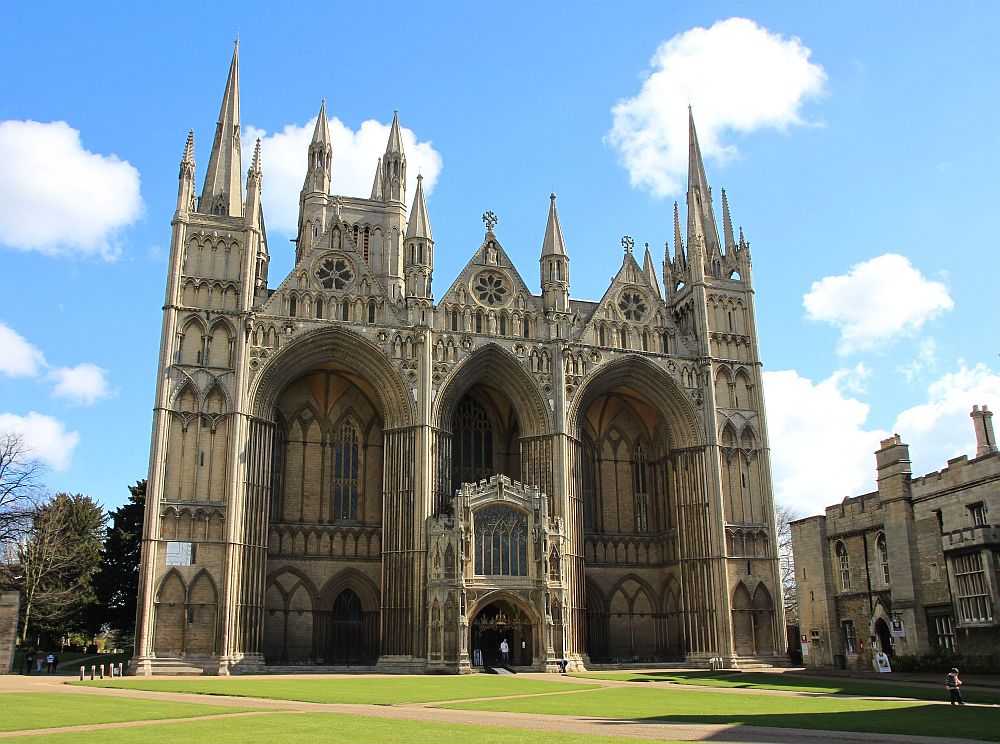 Saturday 22nd March. Another sunny start to the day although the wind had a decided chill with it. We decided to pay a visit to Peterborough City Centre. We set off to find the bus where we had looked the day before. We did not have to wait long for the bus to appear, it was almost empty but filled up as it got nearer the centre. It is torturous route through the vast, but not particularly picturesque, estates of this part of Peterborough. We were dropped off at the end of the High Street. There seemed to be a lot going on. We went in search of the Cathedral which we found through an archway next to a very grand NatWest Bank. Peterborough Cathedral does not have a spire but an imposing West Front Façade. Many cathedrals now charge quite high fees for having a look round but Peterborough seems to have a more enlightened policy. When you go in you are approached by one of the guides who hands you a small envelop into which you can add a donation if you wish. There are many famous people buried in the Cathedral including Catherine of Aragon. Mary Queen of Scots was originally buried here after her execution but her remains were later moved to Westminster Abbey on the orders of her son, King James 1st. From the Cathedral we made our way back into the throng which is the centre of the City and the Queens Gate Shopping Centre where we had a coffee in John Lewis. Having looked round the furniture department, of all places, we decide to make our way back to the bus and back to the campsite.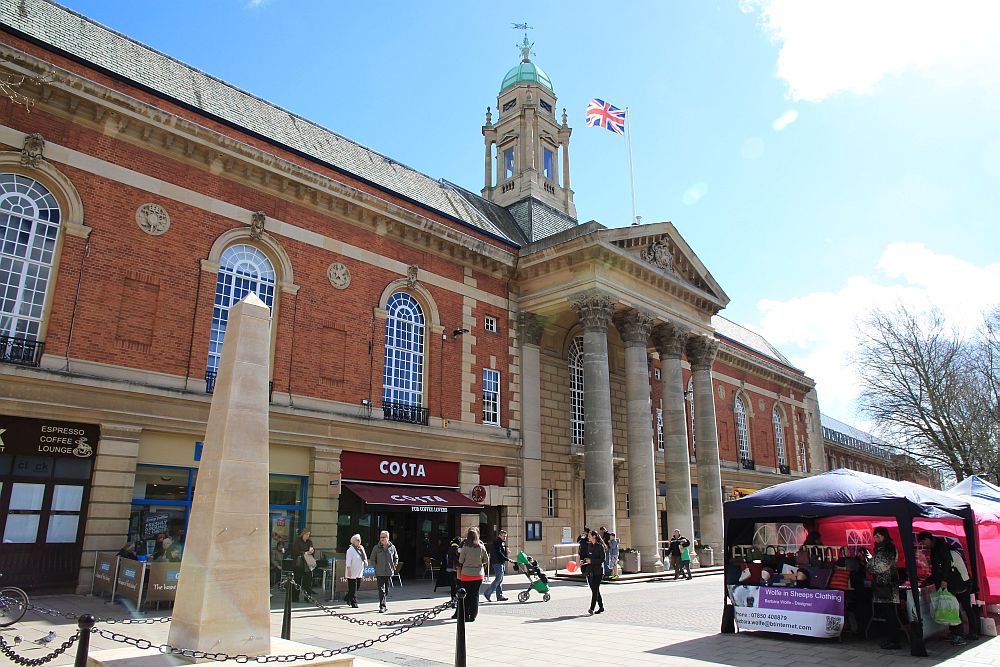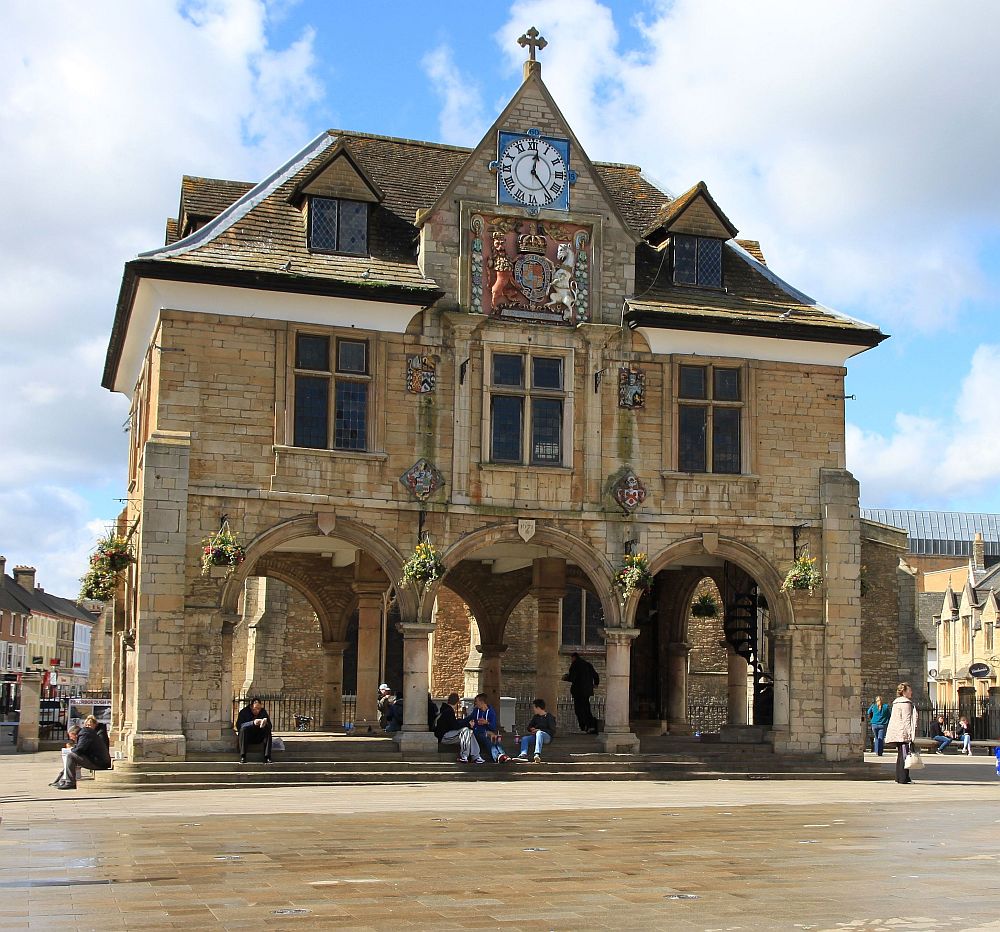 Sunday 23rd March. When I first looked out this morning the sun was shining although I could see frost on a car windscreen across the way. About half an hour later it was raining which fortunately did not last too long and the sun was back out. We have managed to get away twice more this year than we did in 2013 by this early in the year. Very smooth journey back to MK today.
Kessingland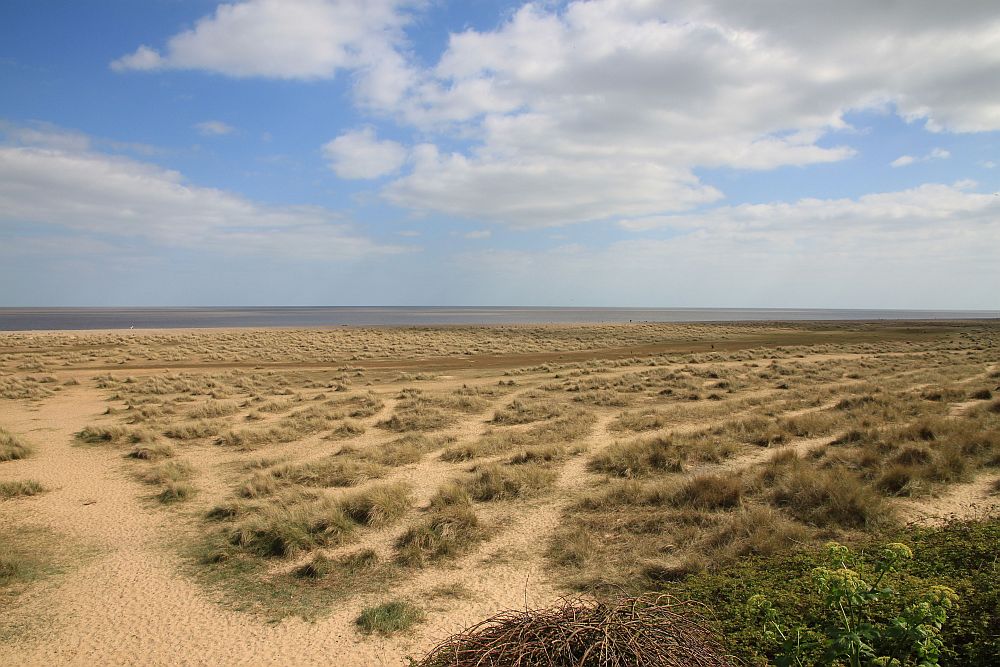 Thursday 10th April. As promised the weather forecast was right and we started the day with bright sunshine. However it would be unwise to think that we have slipped winter's grip completely as there is still a chill in the air. We are off to Kessingland on the Suffolk coast, just south of Lowestoft. I was surprised to see that it's been 14 years since we were last there. Mind you we were not certain until this morning that we would actually be going. Our other medical conditions aside we have both been suffering with nasty head colds and neither of us felt particularly bright, particularly Margaret who was a couple of days behind me in terms of progress!!
Our first job on leaving home was to fill up with fuel and I decided to try the Tesco at the Kingston Shopping Centre which is not far from the M1. It was OK but quite a tight turn out of the fuel station. What was more eye watering was the cost, £82, and that was with diesel being at its cheapest for some time. Mind you it was the first fill up since Taunton in February!!
Once back on the road it was a familiar journey from MK to Bedford/Cambridge/Newmarket/ Bury St Edmunds. From here we turned off towards Diss on not particularly good roads but after Diss they were much improved. We arrived at our destination, the Caravan Club Site at Kessingland called White House Beach, at just before 2.00pm.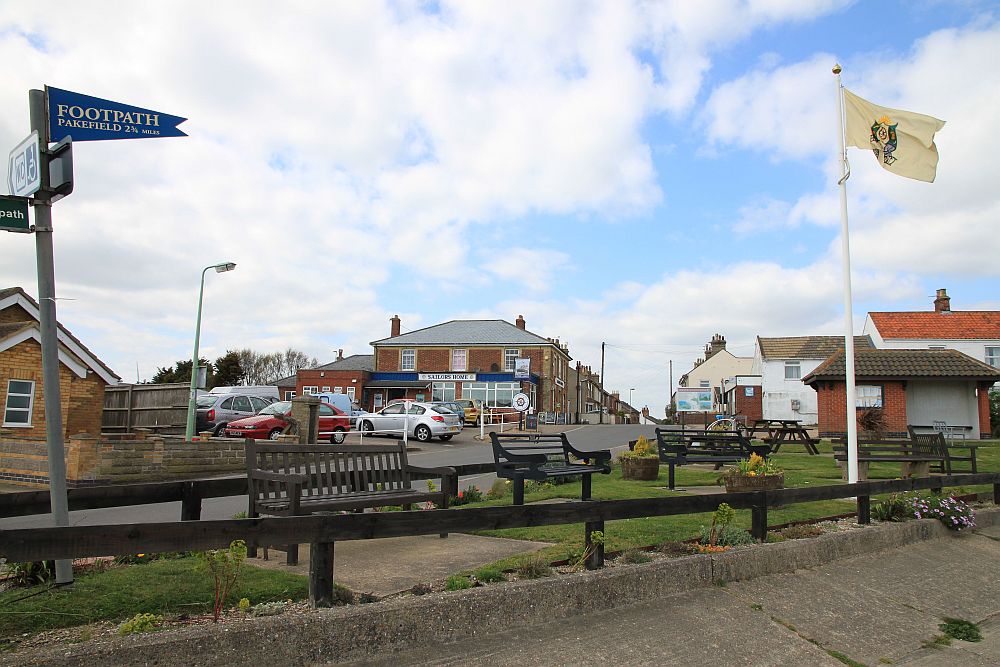 After setting up and a bit of a rest we decide to have a stroll over to the small camping section on the beach which is across the road from the main site. During our last visit we had a bad experience on this side of the site when a gale blew up and we had to move over the road. So there was no convincing Margaret that we should give it a second try!!! The beach end of Kessingland appears to have changed. Gone is the amusement arcade and the general store. The Sailors Home pub still seems to lack a certain charm but as a place to have a pint on hot summers day I am sure that could be forgiven!!! There is a restaurant on the corner of the road leading to the site, I think in the past it was a tea room. What we do for our four nights here will very much depend on how we are recovering from our head colds.
Friday 11th April. A pretty lazy day today. Margaret was not exactly feeling on top of the world. At least we had some sunny periods so we could sit outside. In the afternoon we decided we had to go for a walk and went along the road to have a look at the next campsite. It does have some touring pitches but they were not that obvious as it's mainly a static site. Interesting looking at the prices of the new ones on sale. I suppose if you want to be in one place the idea of a static could be quite attractive although like buying a motorhome you have to make use of it to make it worthwhile. We walked back to the site along the beach. We noticed in the information room that a local chippy had a delivery service for a modest sum so we decided to order. The delivery did not quite go according to plan but worked out OK in the end.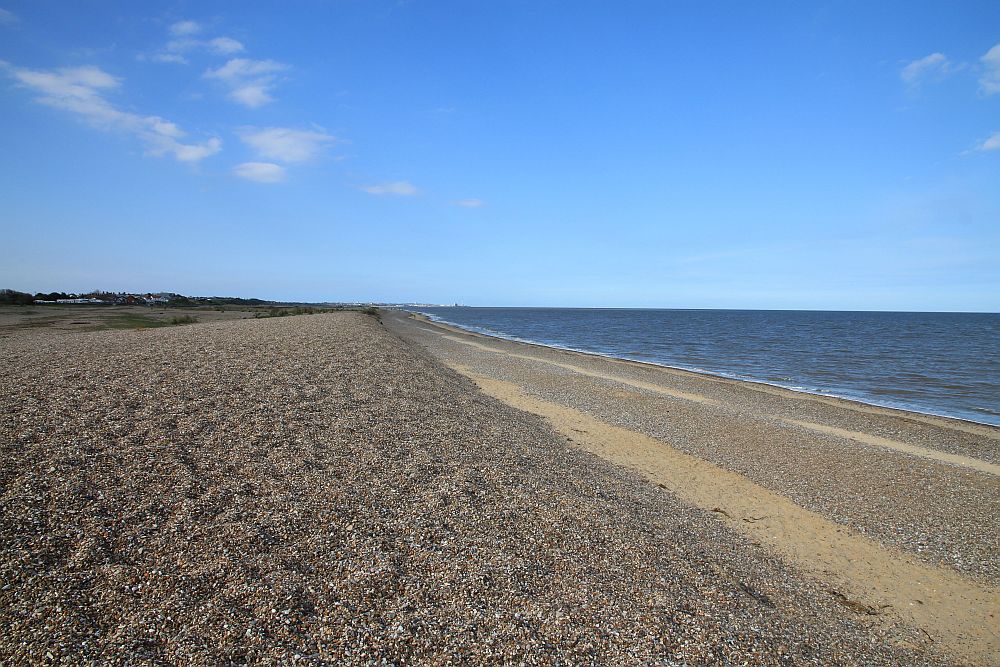 Saturday 12th April. For most of the day the weather has been dull and quite fresh although the wind has changed direction. Margaret is still not feeling too good. We sat around most of the day but did force ourselves to go for a walk in the afternoon. We wandered along the coastal path which was concrete until it suddenly ran out and that was the point we headed inland, initially through a chalet park. Out on the road it seemed as if we have been dumped in David Copperfield country! Kessingland is apparently the most easterly village in England. Earlier in the day a massive 5th wheeler had arrived and parked a couple of pitches away. I can see the advantage in terms of accommodation but the sheer size must make them awkward. Perhaps as I have never desired one I can't see the advantages?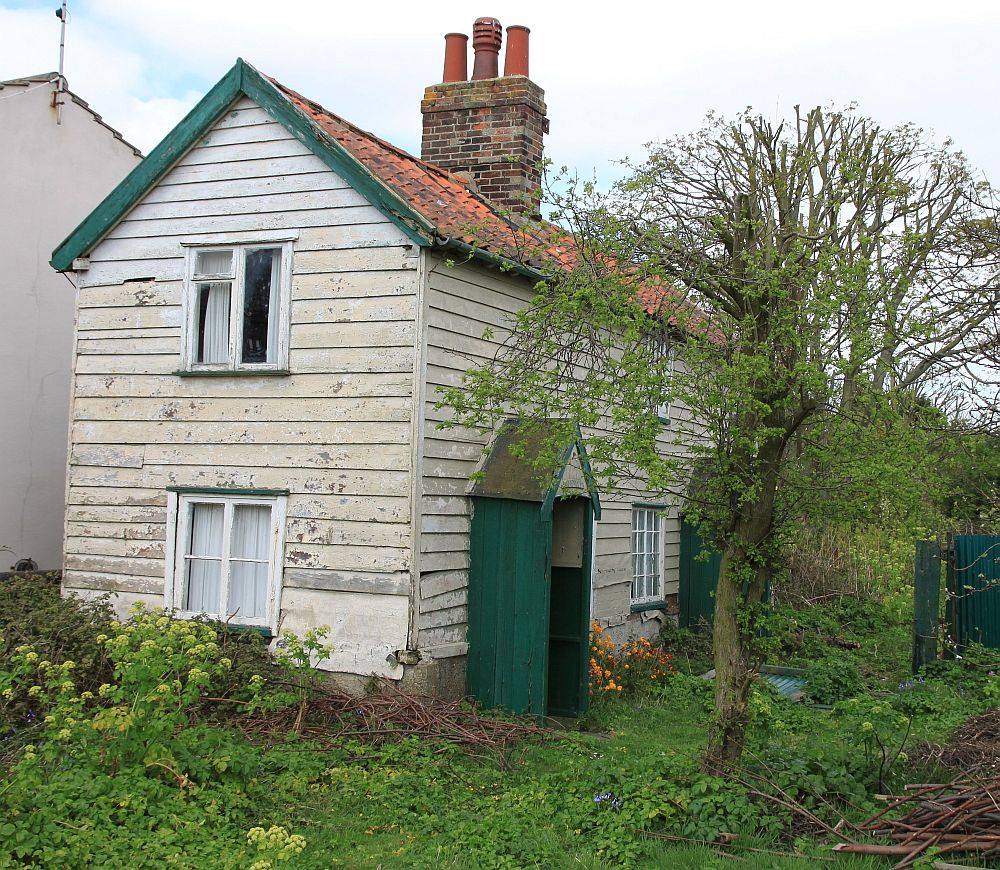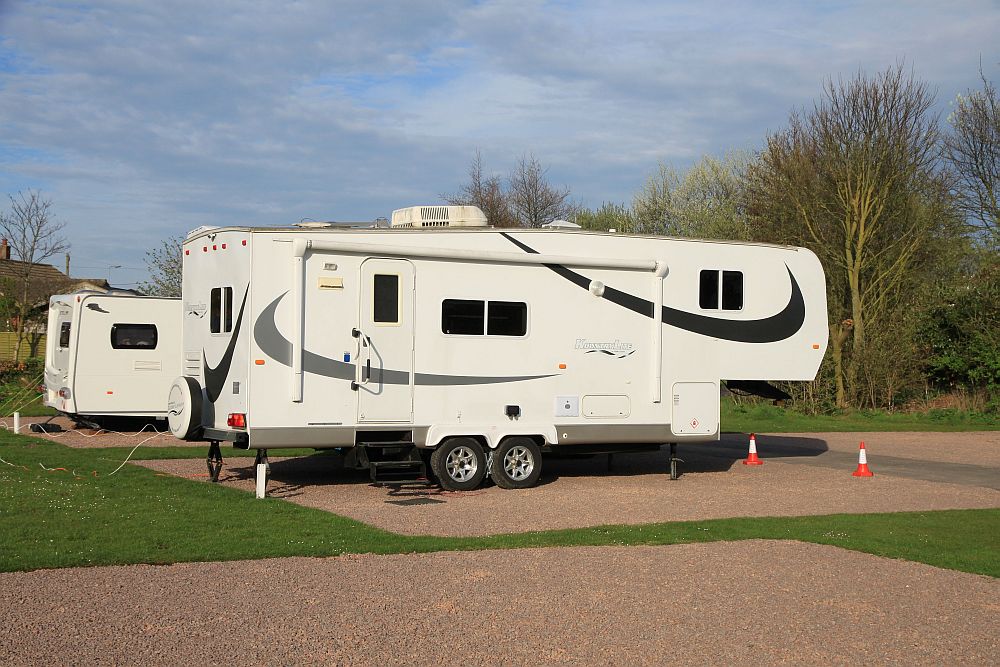 Sunday 13th April. The day dawned bright and sunny, although again not particularly warm. If the sun was out you could sit outside but once it went behind a cloud the warmth disappeared. This is our last full day at Kessingland. With neither of us felling on top of the world, it's been one of the oddest trips we have had away in either the caravan or motorhome. I suppose one good thing is that it's forced us to relax and not do much which might not have been the case at home. Feeling the need to blow the cobwebs off we went for another walk after lunch. This time we explored further into the village. You soon realise that Kessingland is not the half-forgotten fishing village but now more like a dormitory of Lowestoft with its neat bungalows and detached houses. I could see the attraction. As we were walking I asked some local people whether we were going in the right direction to get back to the beach. I was a bit confused when they said we should go back the way we came!!! When we said we wanted a circular walk they told us to carry on and turn right which we did. We then found a cut through to the beach which we took and made our way back that way.
Monday 14th April. Beautiful day today but still cold in the wind. Not much to do in the way of packing up as we put most things away yesterday. We thought we would follow the TomTom route home rather than the way we came. This involved going south on the A12 and then using the A1120 across country to the A14. Was it any better, was it heck!!! Firstly the A12 resembled a country lane in places and worst still the A1120 was narrow and twisty for much of its route having to often to pull tightly to the left to allow larger vehicles to pass. This resulted in some scratching to one of the windows because of bushes touching the sides of the van. Once on the A14 it was fine with no holdups and we were back in MK around 1.00pm.
Ringwood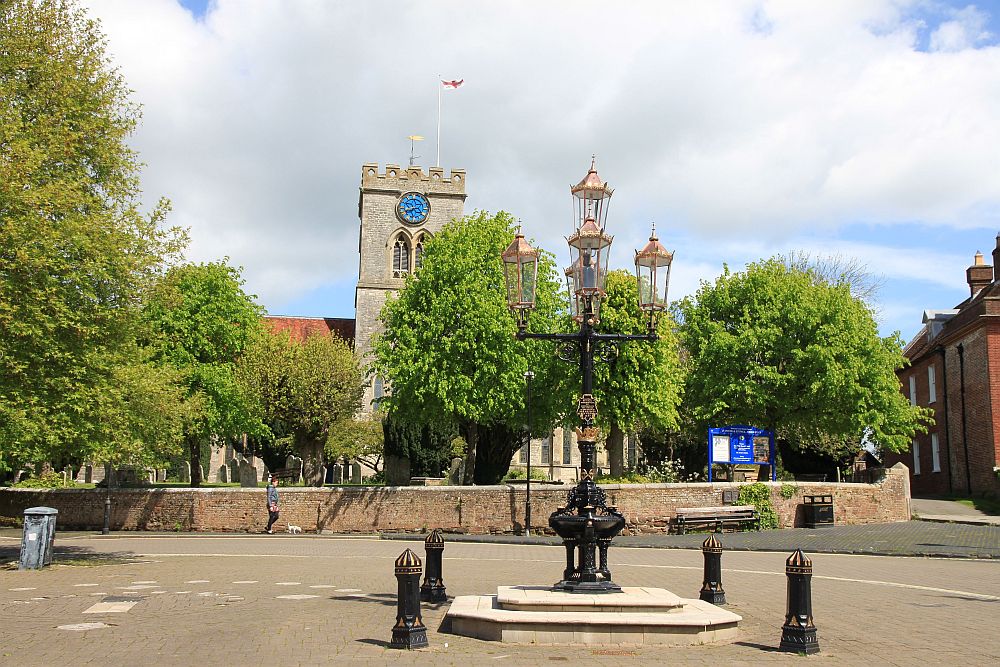 Thursday 8th May. With the Bank Holiday out of the way time to get away again. This time the quest is to use up the seven Camping Cheques I have left on my Silver Card. There is not a great choice of sites in the UK accepting them but we found a couple on the south coast. Today we are heading to Shamba Holidays near Ringwood on the edge of the New Forest. Unfortunately the rather nice weather of the Bank Holiday weekend had deserted us and as we were getting ready the rain was pouring down. We called into Tesco en route to fill up with fuel before heading south. We knew the weather forecast was not good but we got a bit concerned when we saw about a dozen snow ploughs heading north on the A34!!!
We arrived at Shamba early afternoon and the rain could not quite decide whether it wanted to stop. A friendly welcome at reception and no issues with accepting the Camping Cheques unlike many European campsites where we have experienced all sorts of issues over the years. We were shown to our pitch which whilst quite damp was relatively firm, always an important consideration with a motorhome. There seem to be quite a few seasonal pitches on this site although they seem to be to one side of the site. Next to us is a Dutch couple with their caravan. They are in the UK for five weeks.
Friday 9th May. Bit grey when we woke up but the day gradually improved with lots of sunshine which gave us the opportunity of sitting outside. Before that we had a trip into Ringwood. We made our way from the site back down to the main road which was not quite as far as we imagined. The bus arrived although a different one to the one we were expecting but it said Ringwood on the front! It did go round the houses but it got us there eventually. On our route I saw a house with a UKIP sign in the hedge, the European Parliament elections only a couple of weeks away. I do often wonder about the mind set of people who are beguiled by UKIP. In the main they seem to belong to the same age group as me. Now my parents' generation fought and lost lives in the last war to free Europe of war. To me, if nothing else the EU is the glue that holds Europe together. I am not suggesting the EU is perfect but I don't think it is as bad as some would have you believe. People say they don't like rules and laws being made in Europe but they don't like laws and rules made by their local Council or their own Government so no change there! I will say no more as the editor in Chief will have a go at me for banging on about politics!!!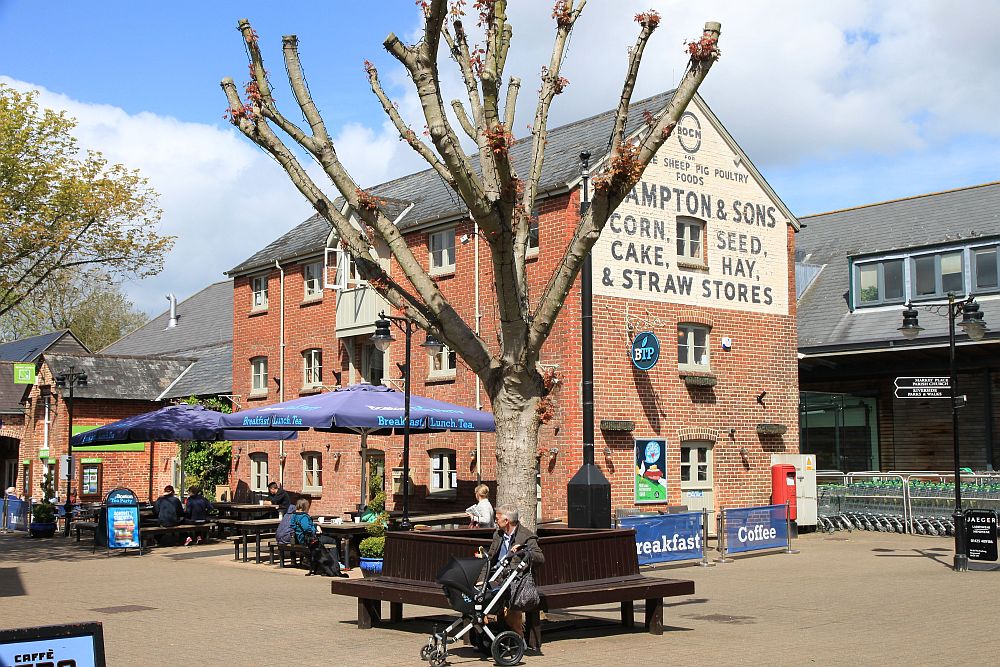 Ringwood is a bustling little town on the River Avon. With a Waitrose and an AGA shop perhaps gives a clue to the prosperity of the town. We treated ourselves to a coffee before setting off to explore. There is a rather lovely street lamp outside the church which was erected in 1887 to celebrate Queen Victoria's Jubilee and underwent restoration in 2013. There is a nice riverside walk where we sat for a while and watch a pair of reed buntings on the other side of the river. We made our way back to the bus, a different service this time which took us back on an equally circler route but we got there in the end. A few more touring units have arrived today although there are nowhere near as many as you would expect on say a Caravan Club site.
Saturday 10th May. GP Qualifying today so a pretty lazy day. Weather has been very mixed ranging from rain to sunshine and very windy. In fact the wind caused us a few problems as it kept moving the satellite dish! It was a Mercedes one/two with Lewis Hamilton on pole. A situation that seems it will be a regular feature for most of the season unless any of the other teams really catch up. Late afternoon we walked down to the Woodman Pub for a meal. We got back just as it started to pour with rain, at least when it stopped we had a nice rainbow.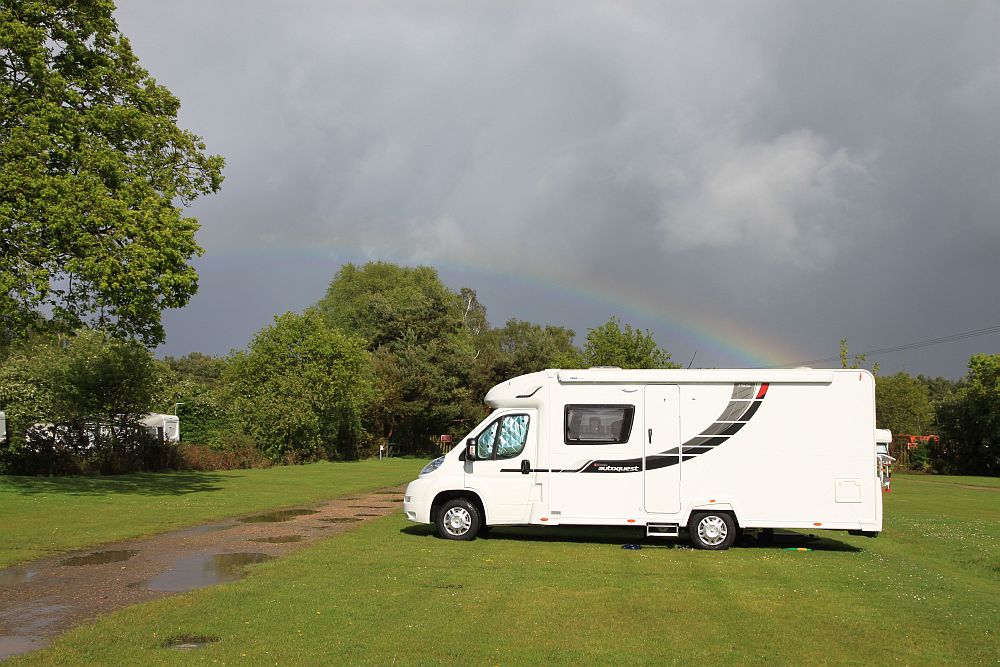 Sunday 11th May. Another day of changeable weather and it is still breezy. Our Dutch neighbours left the site today for the onward journey to Devon. Hopefully I cheered them up by saying that the weather was set to improve. In the morning we walked up to have a look at another campsite which we had seen advertised at the start of the lane to our campsite. It was called The Back of Beyond which to me conjures up all sorts of images!!! It was right at the top of the lane. We knew it was an Adults Only campsite but the rather menacing sign saying no children at the entrance was a bit pointed! Joking apart it looked quite pleasant but a long walk to the main road if you needed a bus! Otherwise it was a lazy day as we watched the Spanish Grand Prix which was won by Lewis Hamilton, very closely followed by Nico Rosburg. A better day for Red Bull but there is still a very large gap to the Mercedes.
Charmouth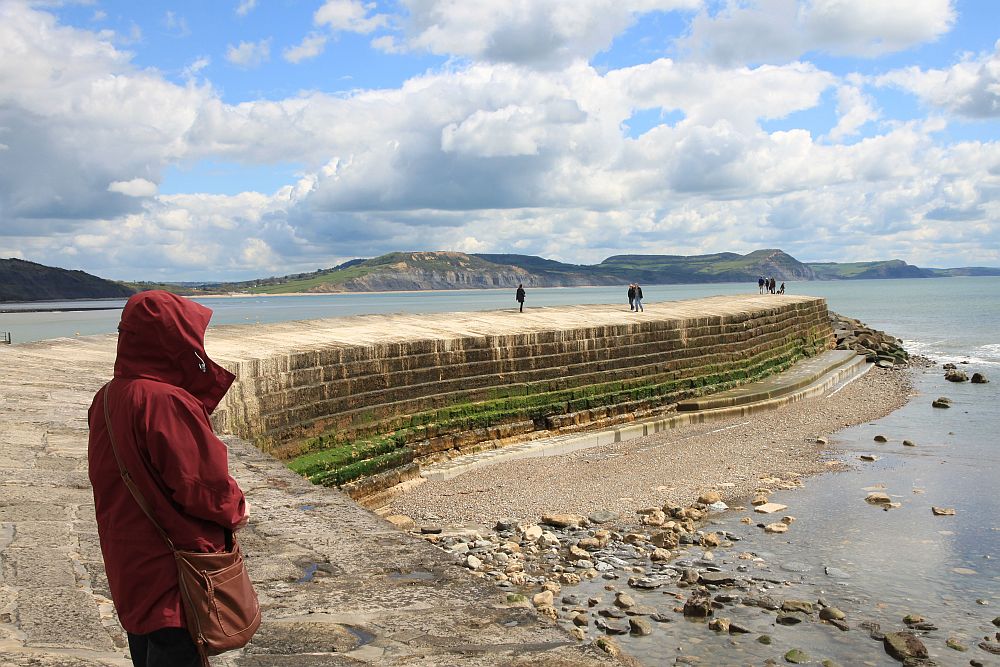 Monday 12th May. Only a short journey of 55 miles today to Charmouth on what is now known as the Jurassic Coast. In Europe we think nothing about arriving at a campsite before midday but here in the UK this is frowned upon, perhaps its being in the Caravan Club for too long!!! It was interesting to note the quality of the roads which varied between dual carriage ways to what were no more than narrow roads. I appreciate that it might be difficult to bypass some of these places but considering that two years ago that Lyme Regis was a major venue for the Olympic Games that not more had been done to improve things? Despite the roads we arrived at Newlands Holidays a minute after 12.00 midday. Now this is not generally the sort of site we aim to use as its more like a holiday resort with a mix of accommodation in addition to the normal camping pitches. We were using the last of our Camping Cheques here although we had decided to pay a fiver a night more for a serviced pitch. For some strange reason they insist on everyone pitching nose first, unless that is you have a caravan or motorhome with the door on the Continental side when you can reverse in! Even the lovely guy who escorted us to our pitch could not really understand the reason for it. If I was being generous perhaps it's because you get a better view pitching that way round. Later on we had a walk round the site which is surprisingly large but because it's on the side of a hill the roads are quite steep.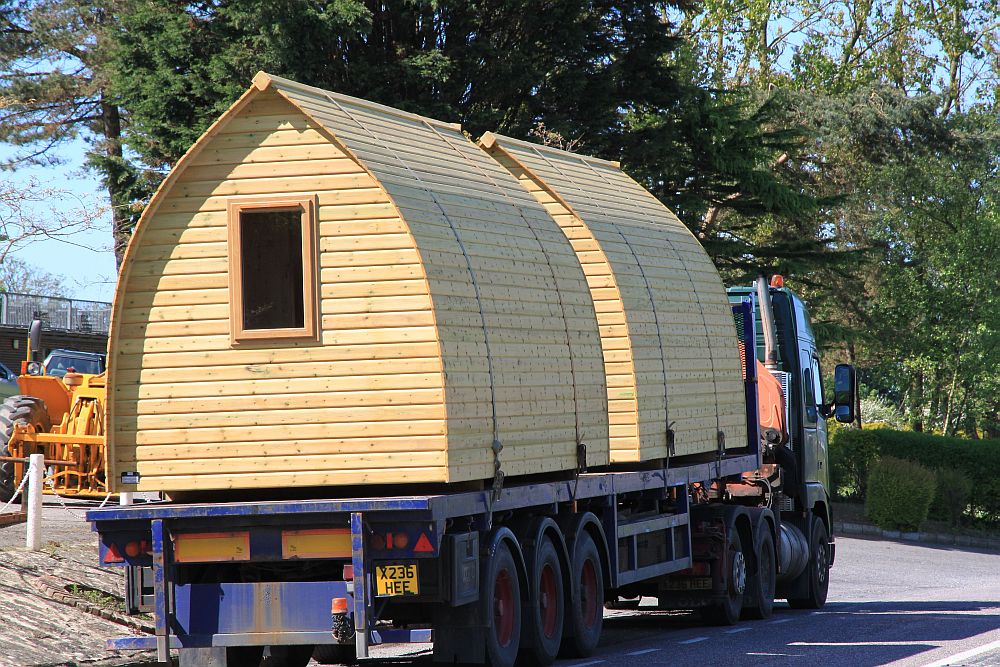 Tuesday 13th May. A better day weather wise than yesterday although still you odd showers. We caught the bus into Lyme Regis today. To continue my road theme the bus ride was something to behold. How those drivers get a large double decker bus around these roads I don't know. There is a right hand turn in Lyme that would challenge a Transit van let alone a bus!! We were dropped off at the Square and the driver got many validations from the passengers! From here there is a nice walk along the promenade to the famous Cobb breakwater, perhaps famous for Meryl Streep in The French Lieutenant's Women and nearly two years ago part of the sailing venue for the Olympic Games. Having done the obligatory walk to the end of the Cobb we set off in search for somewhere to have a coffee. Up a little alleyway we found The Old Bonded Store Tearoom which was very nice and the coffee and bacon sandwich were excellent. We thought it might be an idea to do a circular walk back into town not realising that it would be like climbing Everest!!! How we managed to get to the top without harm I have no idea! At least it was downhill from here. Lyme has a good range of shops and seems a busy little place and not without considerable charm. We walked back down to the seafront and treated ourselves to an ice cream before heading back up the hill to catch our bus back to the campsite. For the duration of our stay here at Newlands there has been an Eriba Caravan Rally here on the site. There must be at least fifty of them here in all shapes and sizes. Given their modest dimensions the pitches are just about the right size!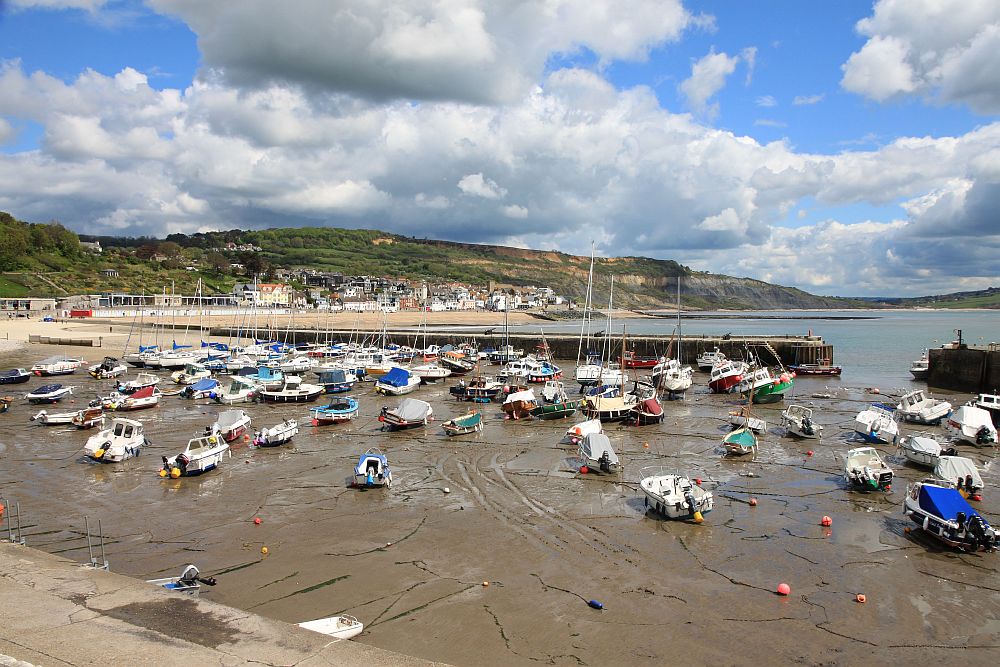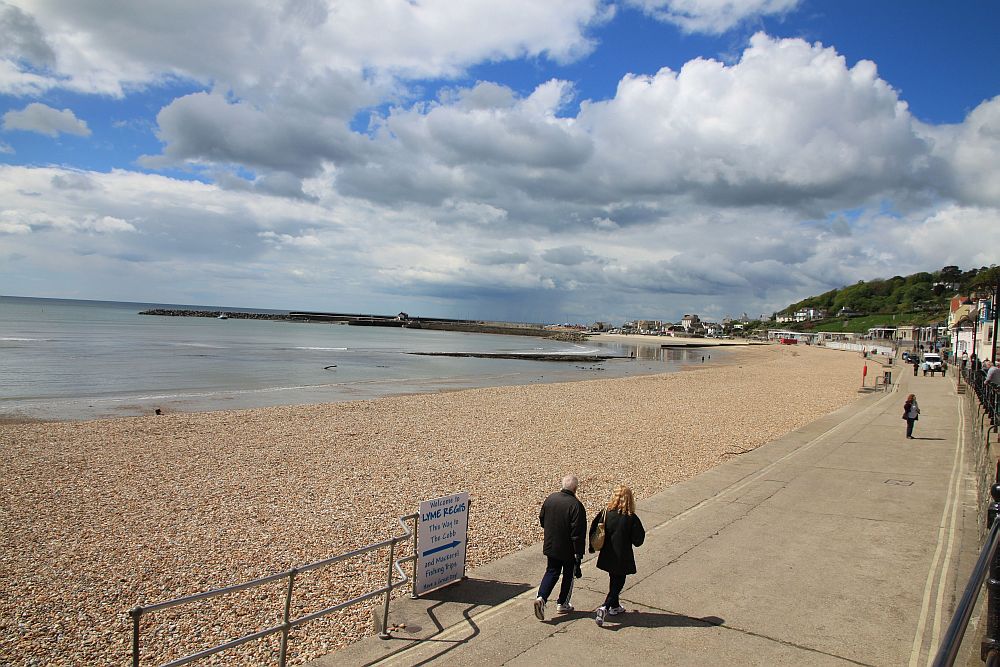 Wednesday 14th May. We decided to walk into Charmouth today and hoped, because the weather forecast was good that we might not need to take coats with us. Unfortunately for most of the day we had heavy cloud just sitting above us, making no effort to disappear. I suppose the beach at Charmouth is about a 15 minute walk from the campsite. It's the sort of seaside place that I quite like in that there is not much there except for a café and a couple of shops including one selling fossils. We did treat ourselves to a coffee although I can't claim it's the best I have ever had and perhaps best not to mention Barista!!! This is a fossil hunters paradise although it seems that you can't just go and help yourself without some sort of permission. There are dire warnings about cliffs collapsing so care is required. We made our way up to the main road where there are several shops, including a small supermarket where Margaret did a bit of shopping. En route back to the site there is a caravan dealer where I was able to purchase a length of waste hose so that I could make use of the drainage point on our pitch.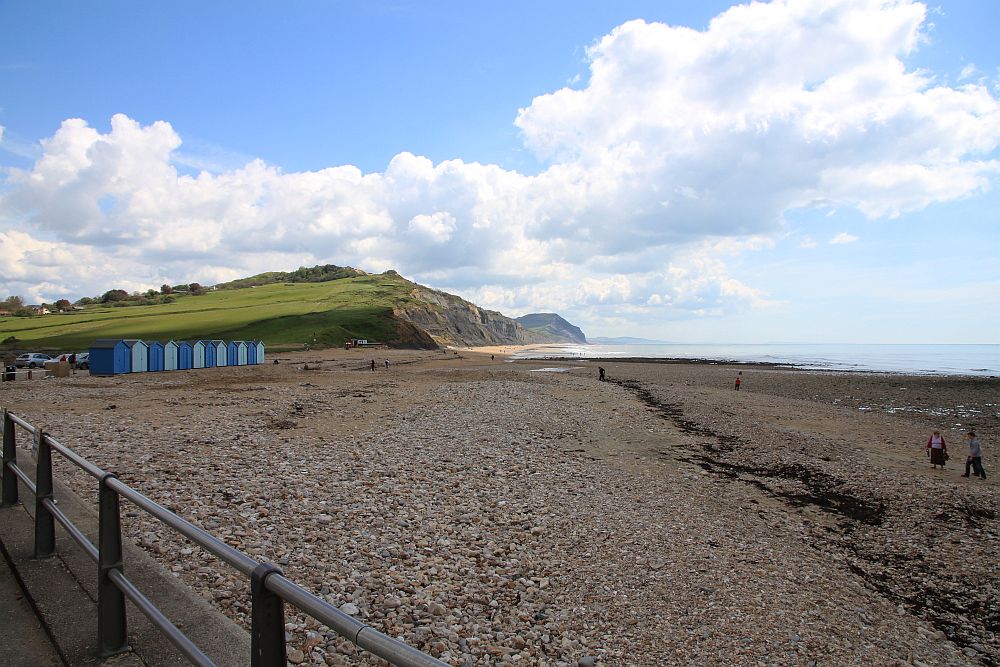 Thursday 15th May. It's been a beautiful day today, at last the weather forecast has come up trumps. This is our last full day in Charmouth before moving on to our next site. Our original intention was to take the bus to West Bay, have a look round and then take the bus back to Bridport and spend most of the day there. The bus we needed arrived about twenty minutes late which severely restricted our window to look round West Bay as they only run every two hours. However when we got there, having travelled through Bridport we decided that West Bay was a much nicer place and decided to stay there rather than bother with Bridport. Some readers might remember West Bay as the fictional Broadchurch in the television series of the same name. It is a really delightful place with a harbour and a lovely sandy beach and, of course, those cliffs! There are some interesting eating places around the harbour which are housed in oversized sheds. We stopped at one and had a coffee and a bap, both of which were very agreeable. Next door was Rachel's which seemed to have an interesting menu of sea food which also looked very nice.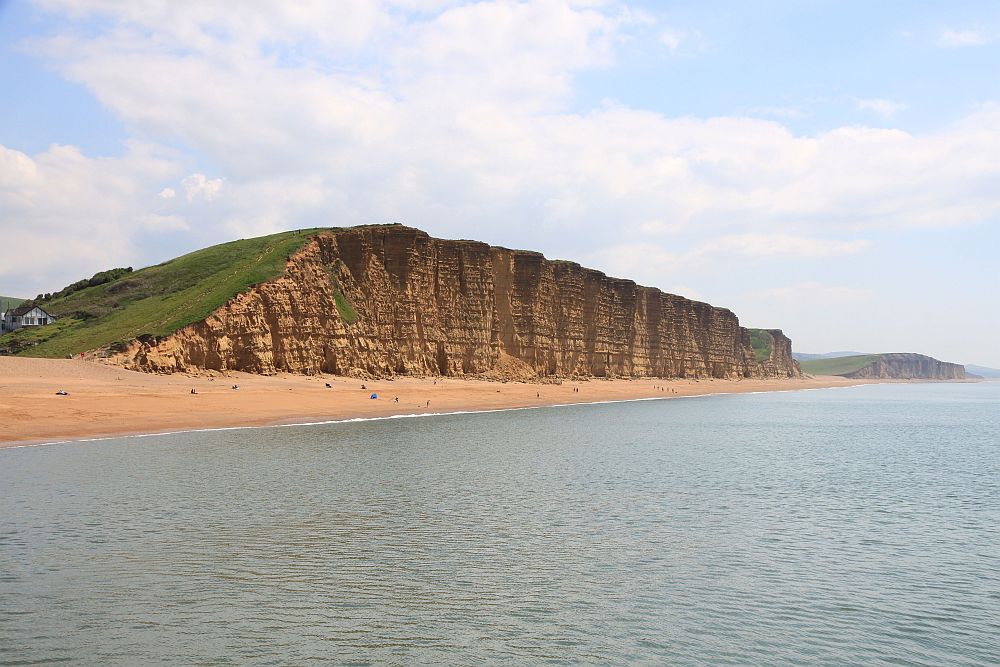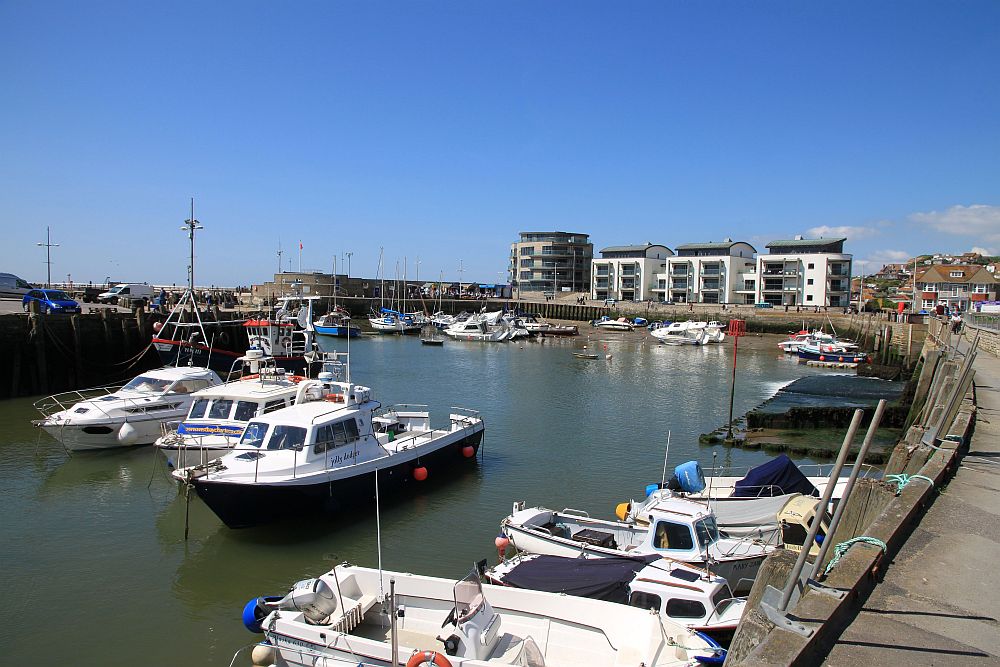 Having wandered around the harbour and had a walk along the beach to look at the cliffs and then back to the village. We called into the Parkdene Caravan Park for a price list and brochure as it seems an ideal place so close to the beach. Mind you it's expensive in the peak season! On the bus back home there was a little old lady sitting in front of us. When we got to Bridport she helped another old lady off the bus and returned a few minutes later. (the bus has a driver change over stop at Bridport) She had clearly been for a comfort stop! We got talking and she was on the way to visit her son in Plymouth and was using her bus pass to travel from Poole all the way to Plymouth which by a local bus service, even limited stop services, is a long, long journey but of course free. It turned out that she had been all over the world so quite an adventurous lady.
When we walked to the bus this morning there was a lorry outside the campsite with two camping Pods. These were obviously going to be sited out and hired out. When we got back they were in the car park and we had a quick look at them. They comprise of a double and two singles and other than a small open area with a couple of seats there is nothing else in them. They seem to be a posh tent which gives a bit more protection from the elements. Later on we saw them being hauled up into the campsite on a trailer.
Salisbury
Friday 16th May. We left Charmouth today and headed for our next site at Salisbury. Not a particularly long journey, only 66 miles, but it was cross country. En Route we passed Poundbury, the Prince Charles creation. It would have been interesting to have had a look round. Mind you from the little we saw as we passed it did not look that different to some developments in MK! We arrived at the site at around midday. The site is sloping but our pitch does not seem too bad. Although on the edge of Salisbury it has lovely views out across the surrounding countryside.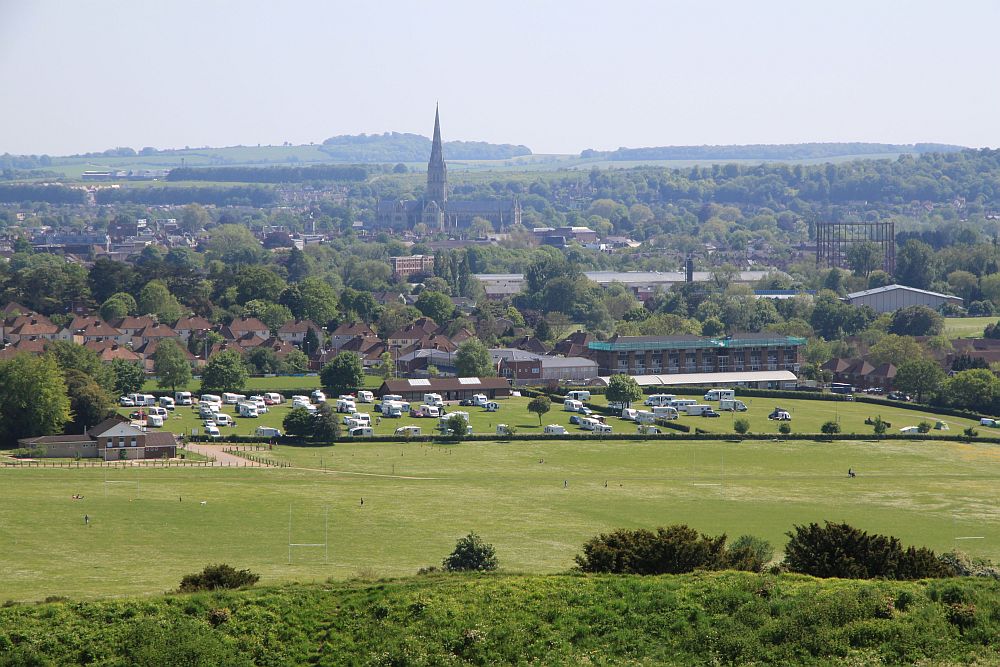 In the afternoon we walked up the main road to have a look at a Harvester which might prove useful for a meal within easy reach of the site. Opposite the restaurant is Old Sarum. We walked over to have a look but the site was closing in about half an hour so we thought we would delay to another day.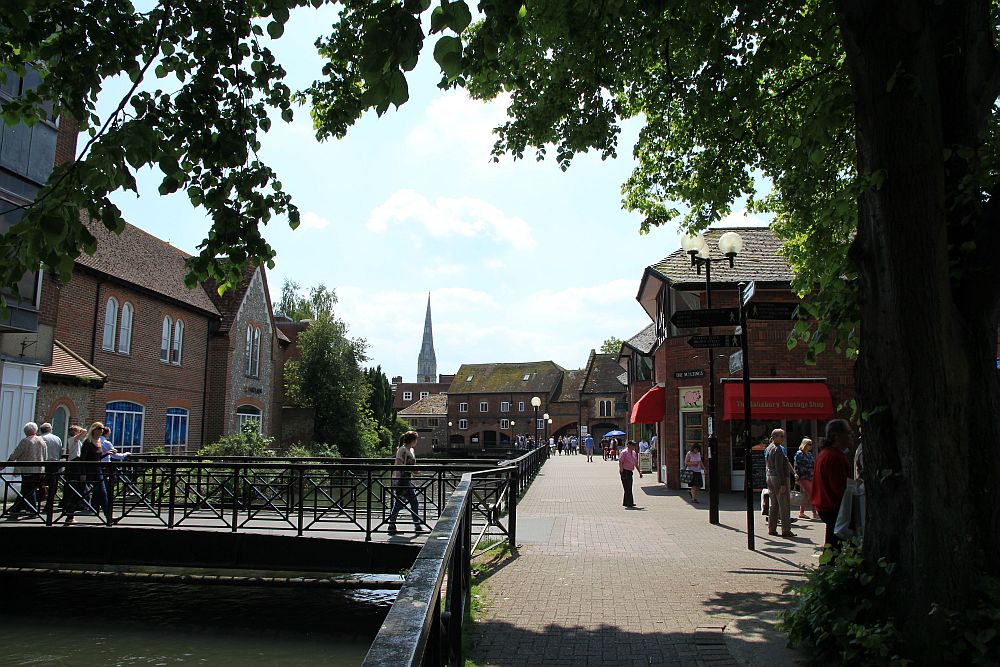 Saturday 17th May. It dawned a beautiful day and looks set to be one of the warmest of the year so far. We headed into Salisbury today. Helpfully the site provide instructions on a walking route into the City Centre. It seemed quite a long way to me but we did pass a Waitrose on the way where we nipped in for a 'free' coffee. Once refreshed we carried onto the centre and then along the river to the Cathedral. It really is a magnificent building, as are all of England's cathedral. You have to pay to go in which we refuse to do as the fees are usually quite high for a visit which is only likely to last half an hour at the most. So we made do with walking around the outside. Margaret spied a seat already occupied by an older gentleman. By the time I got there they were in deep conversation. Apparently he is studying philosophy and he thought he would read his book in the precincts of the cathedral whilst his wife attended a function elsewhere. Funny the people you meet if you are willing to spend the time of day. By the time we had circled the cathedral we were parched and at a time like this only beer will do! We found our way into the imposing Market Square where the market was in full swing. Most of the pubs/restaurants had outside eating areas but because it was such a nice day the spaces were all full. We did find a table in the Market Inn where we had sandwiches and a pint, or half of shady in Margaret's case!!! Suitably refreshed we set off to find where the bus would leave from to take us back to the campsite as we both felt we had had our fill of walking for one day. Having established where we would catch the bus we first needed a little shopping which we did and still managed to catch the next bus. Having travelled back by road I was not convince the walking route wasn't a lot longer!!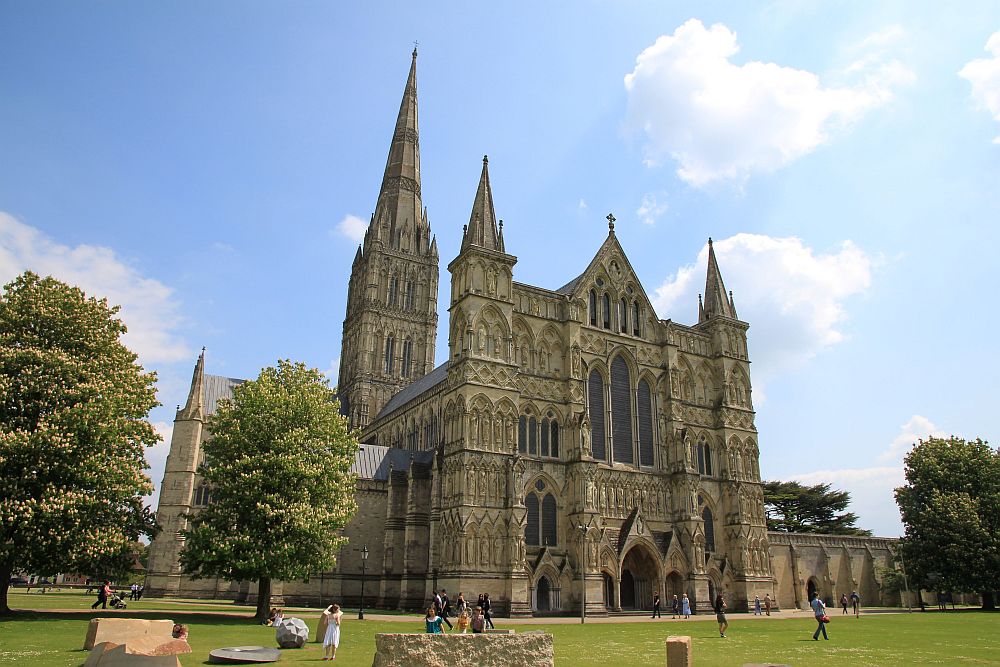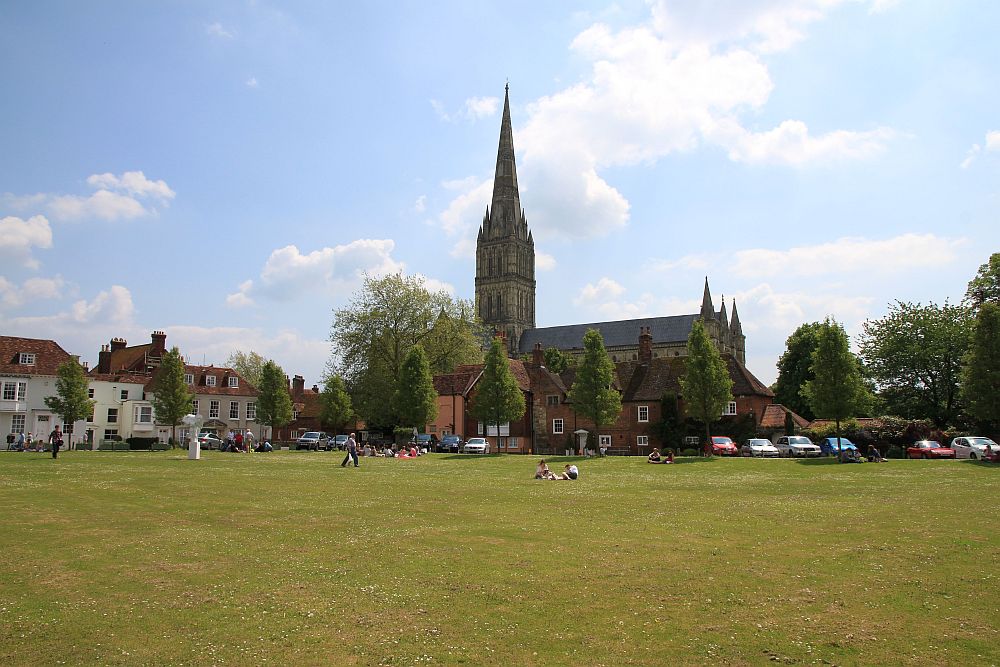 Sunday 18th May. This is our last full day of this trip as we go home tomorrow. We have been treated to another lovely day although it has been a bit more breezy. We had a bit of a lazy morning but in the early afternoon we set off to explore the Old Sarum Hill Fort which is a short, albeit uphill walk from the campsite. Looking at it from the campsite there does not appear to be much there but once inside you can see that at one stage it was quite extensive. There seems no one episode that that has led to the destruction except lack of care! The site was excavated in the early twentieth century but no attempt was made at reconstruction. All the elements have signs showing what they were used for. The King's privy unlike today was, of course, not a flush toilet, waste just went down into a pit. Now next time you have to empty the Elsan just think about the poor chap who had to go down into the pit and clear it out!!! The site is under the care of English Heritage. After our visit we crossed the road to the Harvester pub where we had a meal. Good value but perhaps without finesse!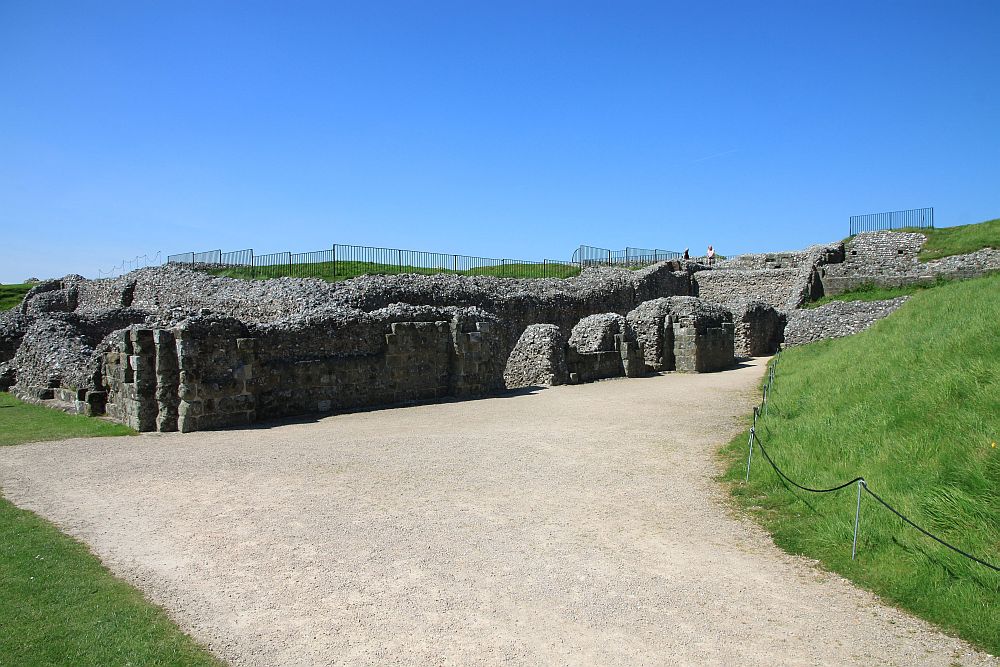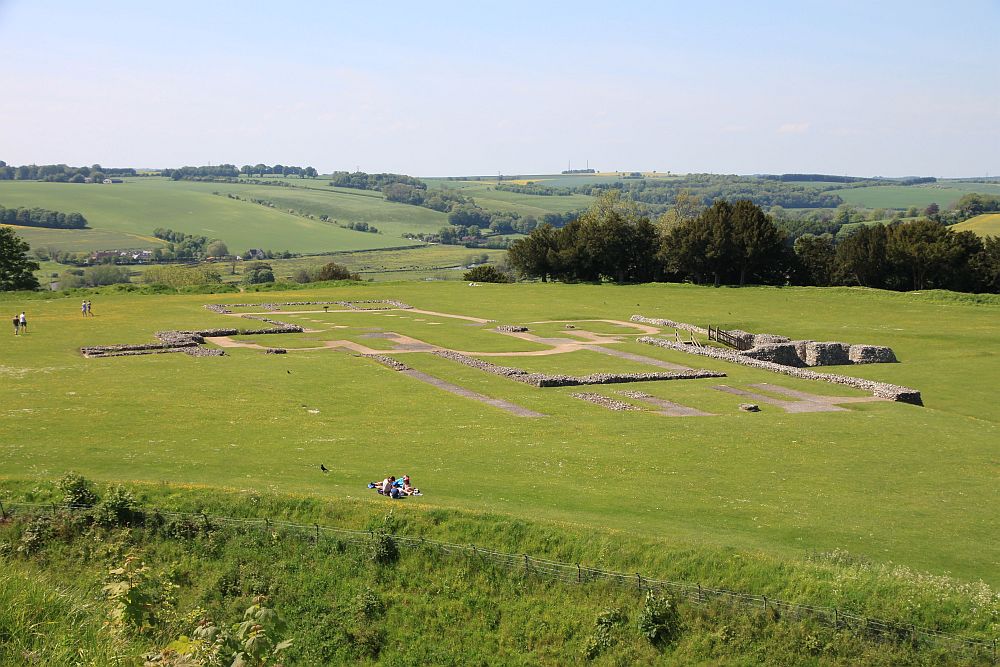 Monday 19th May. Time to head for home. We had enjoyed our stay at the Salisbury C&CC site and it's interesting to contrast the wardens/site managers with the CC. On a C&CC site they are very obvious getting themselves around the site talking to people or helping where they can. On a CC the wardens are generally anonymous, you only see them when you go to reception. It's strange that two organisations that basically offer the same thing have such a different attitude in how they deal with members. At both Salisbury and Charmouth we had been lucky with the weather. It wasn't too bad at Ringwood but not as nice as the last week has been.
Once we had emptied the waste water, which took ages, we set off for home. It looked as if it was going to be slow progress as a VW Transporter had pulled out in front of use and decided the 32 mph was an acceptable speed on a main road. Fortunately he did pull over and we were on our way. We headed up to Amesbury and then onto the A303 before joining the A34 heading north at what we used to call Bullington Cross. The A34 was busy compared to the 303. On the way home we called into Tesco to fill up with fuel. A large fuel tank may well have the advantage of range but it still hurts when you spend £85 on diesel!!! Before putting it away in the garden I decide to wash most of the motorhome on the roadside as I had more room.
Southport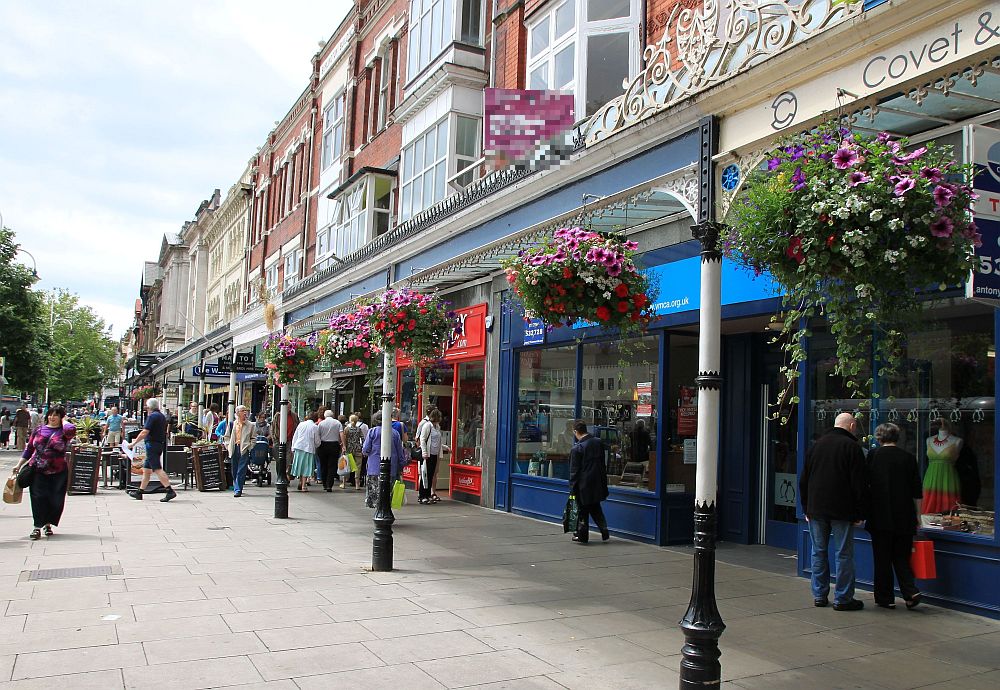 Sunday 15th June. We don't normally leave home on a Sunday but it was a case of fitting our trip in between events. We were up early, well, early for us. I wanted to get my space saved on the road outside. As it happened none of our neighbours seemed to have stirred by the time we left at just after 9.00pm. After a week or more of really lovely weather today's was grey and drizzly. It made a change to be on the M1 with so few lorries. We decided to use the M6 Toll and that was extremely quiet and you could get almost lonely on this road!!! The obvious reason for this is of course, the toll which at nearly £10 for a motorhome is quite stiff given the length of the road. Fortunately the Caravan Club have a half price deal which softens the blow. We stopped at the Stafford Services which being Sunday had plenty of parking room for caravans. The final leg of the journey after leaving the motorway was quite slow but we arrived at the site about 1.30pm so we had made pretty good time. We were quite lucky to get a booking on this very popular campsite. It has recently been almost doubled in size and we managed to get in when they released the new pitches for booking.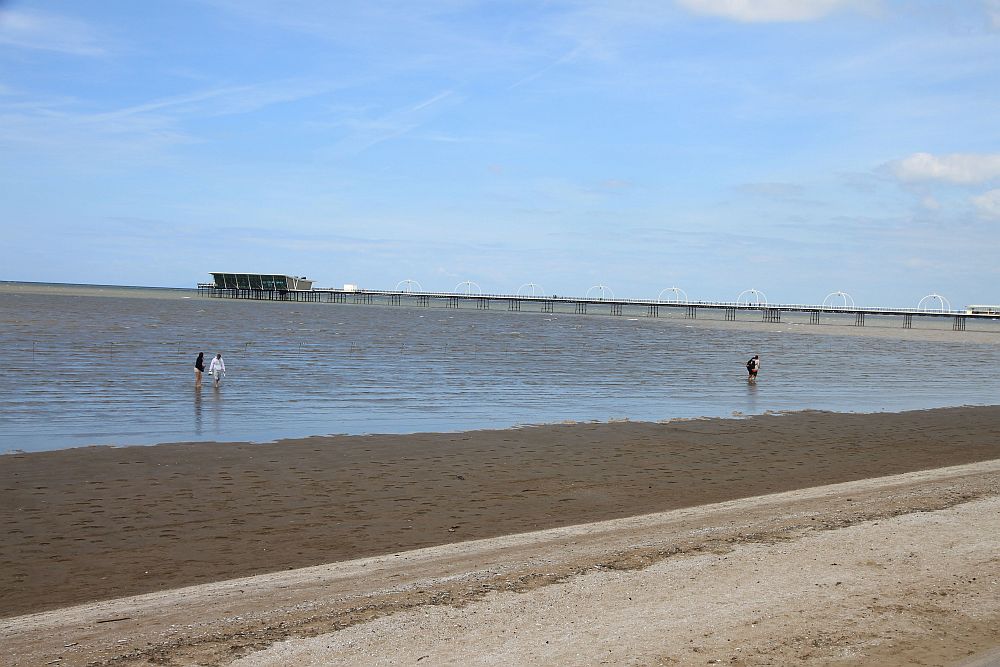 Monday 16th June. We awoke (late) to a lovely sunny day. It was our intention to go for a bike ride but we got chatting to a poster on the Caravan Club forum and her husband. So our ride was delayed until after lunch. I have to say that I was quite impressed with Southport's efforts to encourage cycling, especially mixed use of pavements. We rode along the Esplanade towards the Pier. There were even a few brave souls paddling in the water! Mind you, this was the last time we saw the sea at Southport! We left the Pier for another day and continued further along the coast a bit. I was rather surprised that in the distance we could see Blackpool Tower and the Pleasure Gardens. At this point we headed inland but rather than going into town we rode through Victoria Park which is quite traditional even having a Bandstand. Once we had worked out where we were we found the pathway that goes directly back into the campsite. This wasn't a particularly long bike ride but I discovered that months of minimal general exercise had taken its toll on my cycling ability. The site is surprising full and there have been plenty of new arrivals today. As we rapidly approach the longest day it was still light until after 10.00pm because of the clear sky.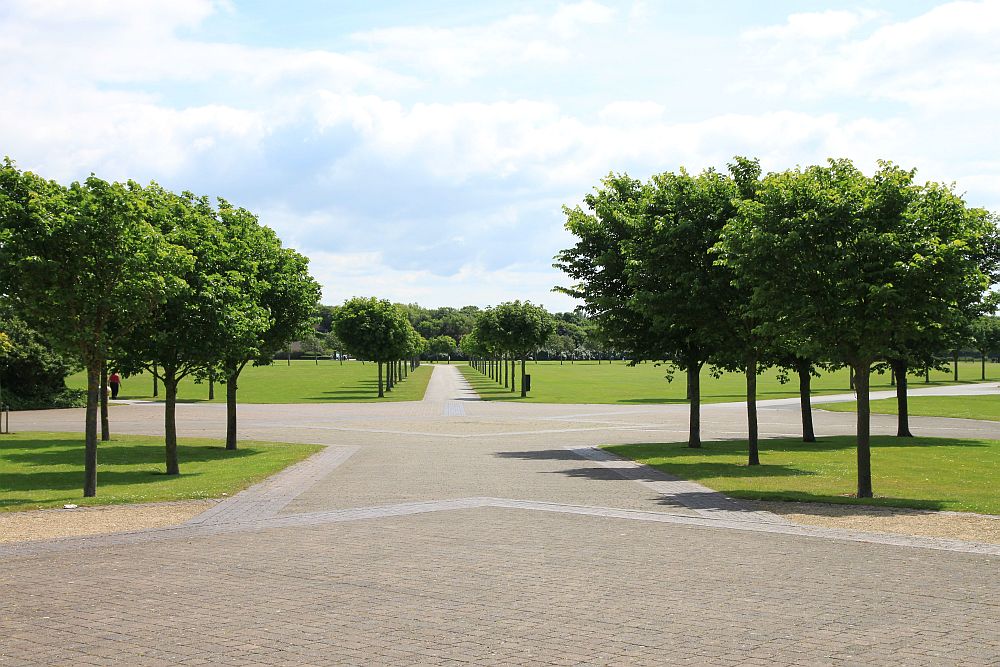 Tuesday 17th June. Today we walked into Southport, it's not really far but it was a bit of a struggle for me with my knee. We took a cut through Victoria Park onto Rotten Row. Along one side of this road is a lovely herbaceous border which seems to be maintained by volunteers. A good place to get ideas for our own garden. Having admired the flowers we continued on our way. Our first gaol was the find the railway station as we are thinking of going into Liverpool during our stay. Having sourced our information we made our way back to the main shopping area on Lord Street. One thing that attracts me to this street are all the glass canopies in front of the shops. It is a pretty busy place with a really good range of shops. Having exhausted Lord Street and ourselves we retired to Wetherspoons for some lunch, it would have been nice to have sat outside but unfortunately these days such seating seems to be the preserve of smokers so best avoided in my book. I could not help but observe the women sitting behind Margaret who actually got up three times during her meal to go out for a cigarette. That's what I call addiction!!! On our way back to the motorhome we called into Morrisons for a few bits and I spied the fuel station to see if it was suitable for a 7.5 mts motorhome which it appears to be. Back along Rotten Row to once again admire the flowers before returning to the site. Weather wise it's been a bit strange today as it has been quite cloudy, although no rain, but when the clouds clear it was very hot in the sun.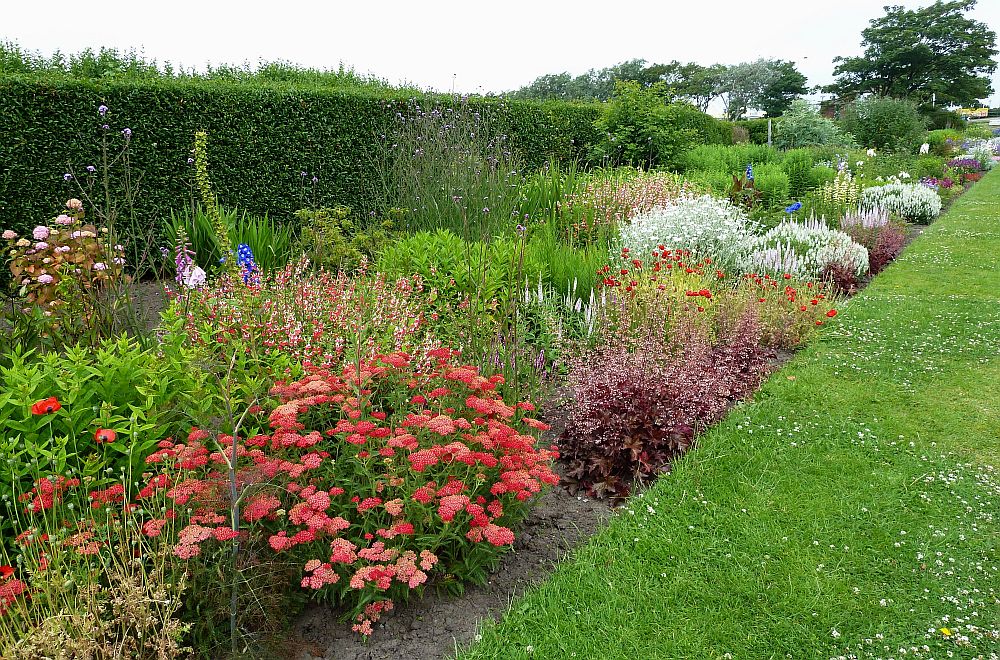 Wednesday 18th June. Grey and overcast this morning although the sun did come out later. We went out on the bikes today to Birkdale which is a 'village' within Southport. It's quite attractive and has shops with similar canopies to those found in the main town. The main purpose for the visit was to see if the station was any closer than the main one in Southport. The consensus was that it was perhaps a similar distance. That might not have been the case if there had been an exit at the far end of the campsite onto the road. Given the difficulty I am experiencing I think that if we visit Liverpool we will get a taxi to and from the station and save the walking for the City part of the trip. On the way back we once again rode along Rotten Row to look at the flowers and we also called into the small nursery to buy a plant. On our way back through Victoria Park we could see them erecting large marquees but not sure what for.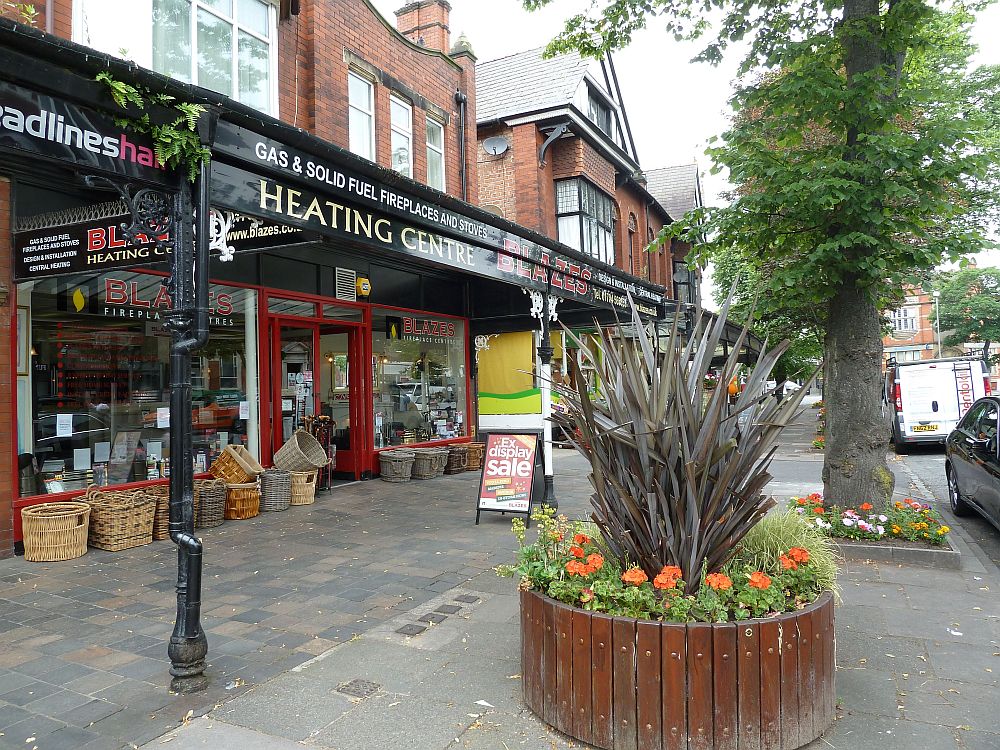 Thursday 19th June. Today we went to Liverpool a place neither of us had visited before despite growing up amidst Beatle Mania all those years ago. We treated ourselves to a taxi to the station as I wanted to save my knee until we got to our destination. There is a very frequent train service to Liverpool and the day tickets are quite reasonable and included use of the Mersey Ferries. We boarded the train and whilst waiting to depart we heard a voice in perfect BBC tones explain the route and the various stops. Once underway the voice of the driver in a thick Liverpool accent went over the same detail, I suppose just in case the locals did not understand the received pronunciation version!!!! I often think train journeys from outlying suburbs are quite interesting as the houses get smaller the closer you get the city centre and the buildings get taller.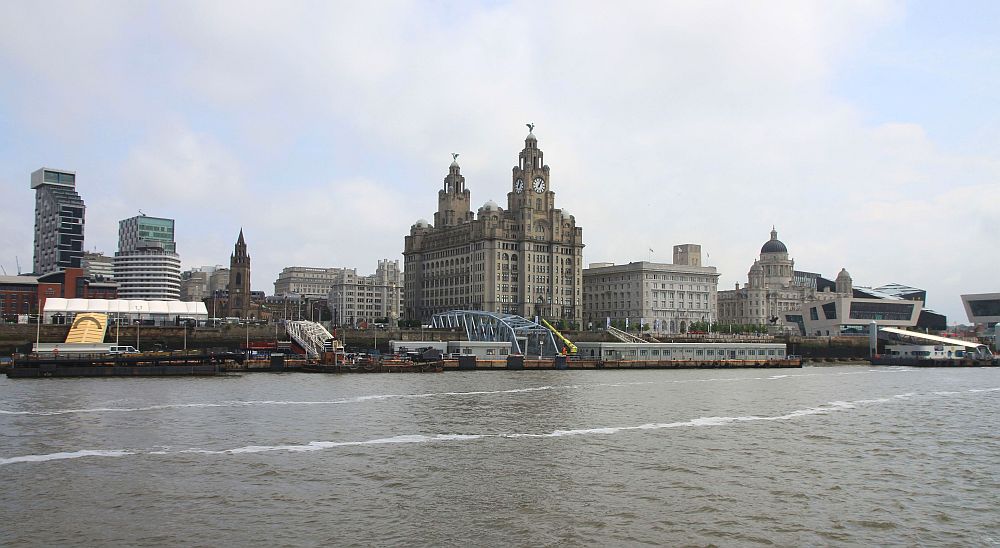 The train ride took about 50 minutes and we arrived at Liverpool Central with no idea where to head although we were looking for John Lewis where we had a couple of items we needed to buy. After asking a couple of people for directions we eventually saw our destination ahead of us although we did nip into Waterstones to buy a map first. Having made our purchases in JL we decided to have coffee before moving on. From where we sat we could see Albert Dock so that decided the first place to explore. Many years ago it was fairly standard practise to tear down old building to make way for something more 'modern'. Fortunately that attitude has changed and we now are very good at converting old buildings and putting then to new uses but retaining the character. Albert Dock is a good example of this and provides a nice waterside environment for people to enjoy. From Albert Dock we moved on to the Pier head as we wanted to use the Ferry Cross the Mersey in the words of the song! On our way we passed a ship in a dry dock painted in bright colours. The paint job was a recreation of the 'Dazzle Ships' used in the First World War to confuse German U-Boats. Apparently it disrupted the periscope view which meant the U-Boat periscope was on view for longer and therefore they were in danger of being discovered themselves.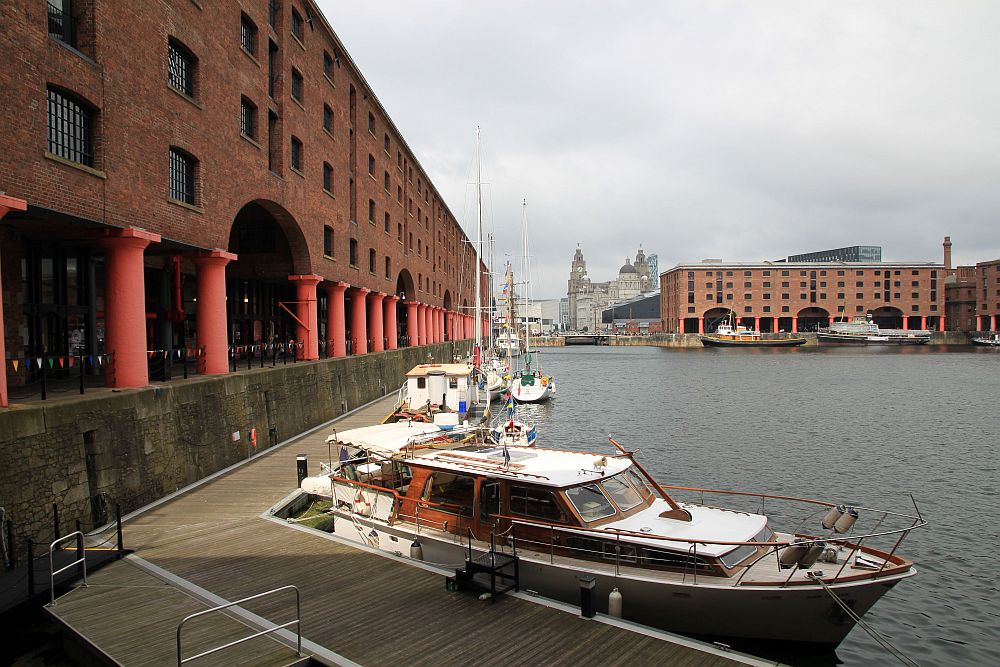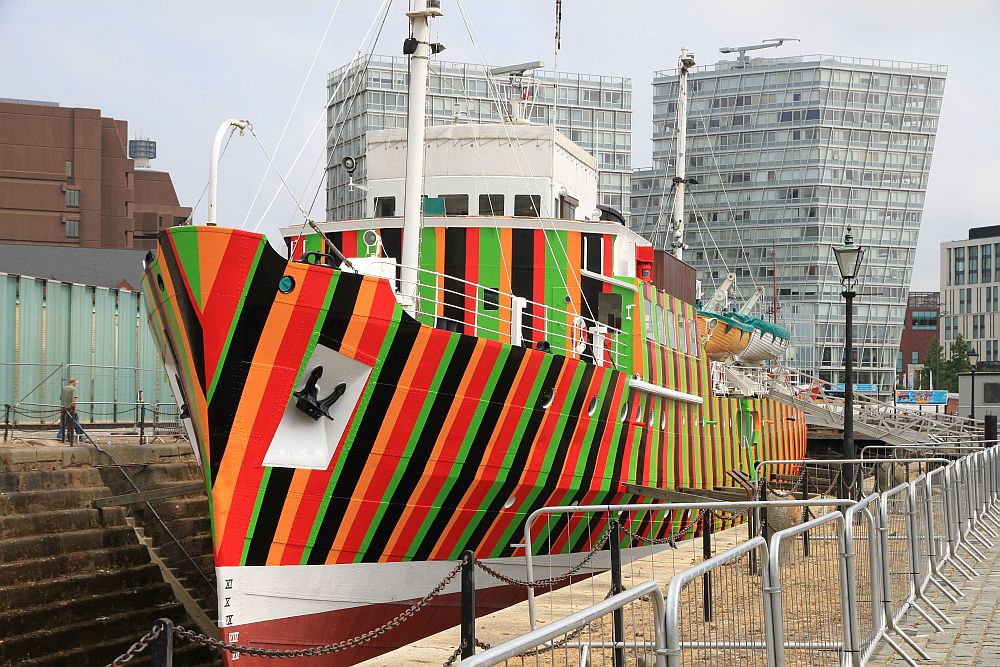 Although our train tickets covered the cost, we had to have tickets, issued free, for the ferry. Now, apparently, what we needed to do was to disembark at one of the stops and equip ourselves with new ferry tickets for the return journey. Which put us in a bit of a dilemma. All we wanted was a boat ride! Also once on board we did not realise until we set off that this was not just a straightforward ferry crossing as the trip turned into what was really a river cruise heading almost to New Brighton before returning to Wallasey and then Birkenhead before returning to the Pier head, We did not mind this as we saw a lot more than we would if we just crossed the river. We also had an interesting commentary interspersed with blasts of Gerry Marsden! Back to our dilemma, in the end we decided to sit it out. We were onboard with legitimate payment so it was only a tick box exercise to disembark and then wait an hour so we decided to stay put!.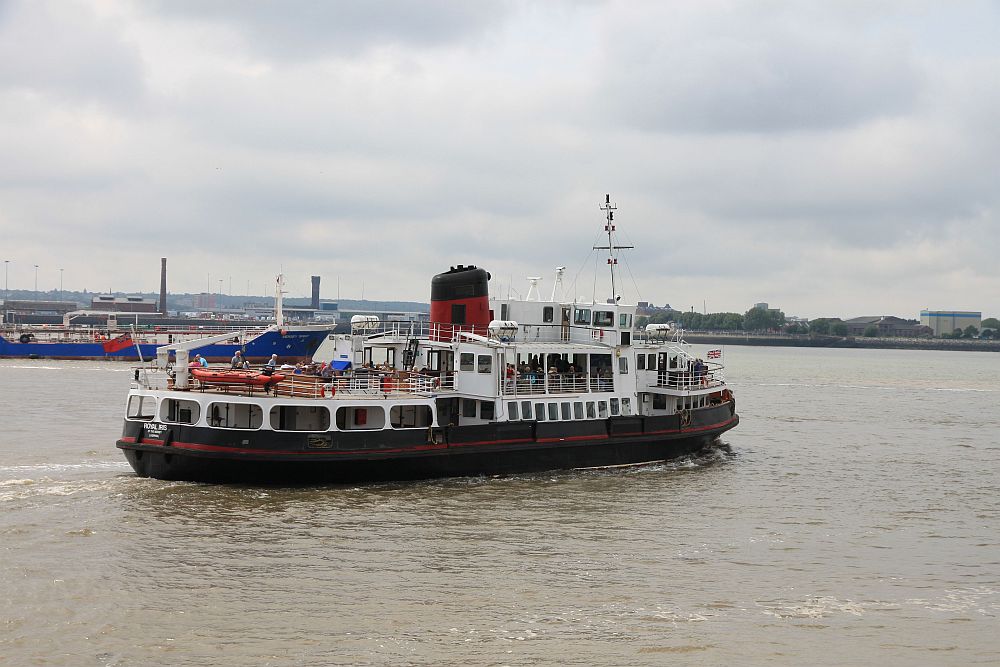 The view of the riverside buildings near the Pier head is one of the most iconic in the UK. The Three Graces as these building are called consist of The Royal Liver Building, The Cunard Building and the Port of Liverpool Building. The view somewhat spoilt by the poor design of the Pier head building.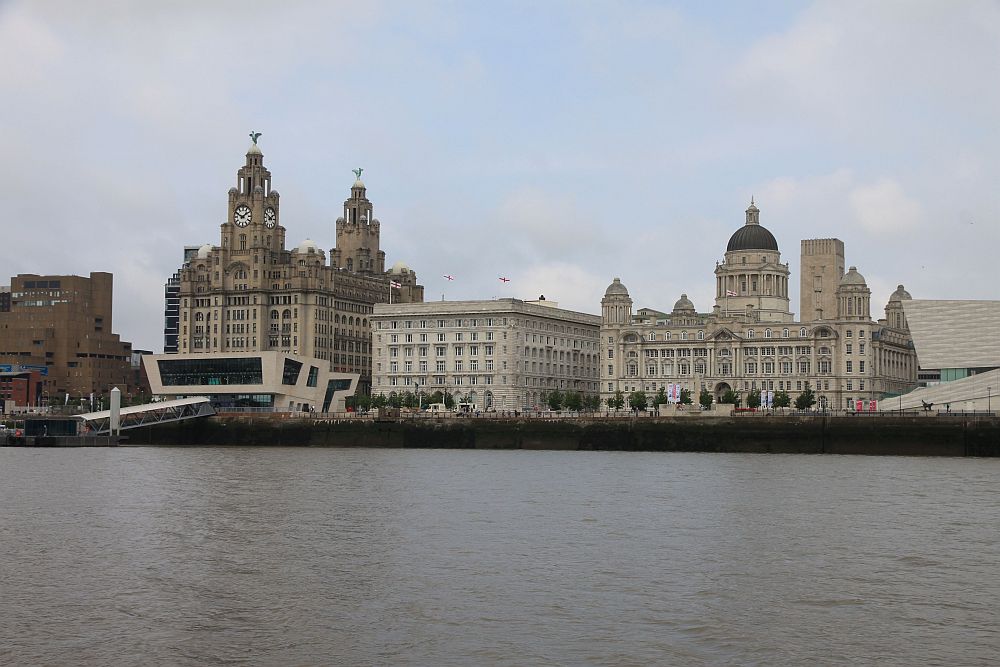 Back at the Pier head we thought we should start looking for something to eat so we found a Slug and Lettuce for lunch. There is an air of anticipation everywhere with bar staff dressed in quasi England kit, obviously the World Cup or something!!! Now fortified we set off in search of the Cavern where in my teens you heard of four lads who later became famous as the Beatles performing there. To many this is a place of pilgrimage. Not sure that was the case with us but certainly curiosity was a factor. Rather surprisingly you can get into the Cavern for free as it is still a functioning Bar. You have to go down quite a long spiral staircase which you do wonder would now pass muster in terms of H&S? It really is quite a small space and it must have been really something to see the Fab Four performing there. It was now mid-afternoon so we decided to make our way back to the Station. I think we were quite impressed with Liverpool as a place and in many ways it is quite grand more so that you imagine if you have not been. Although the Liverpool accent is not one of my favourites but I have to say that everyone we came into contact with was very friendly, certainly more so that you tend to get further south.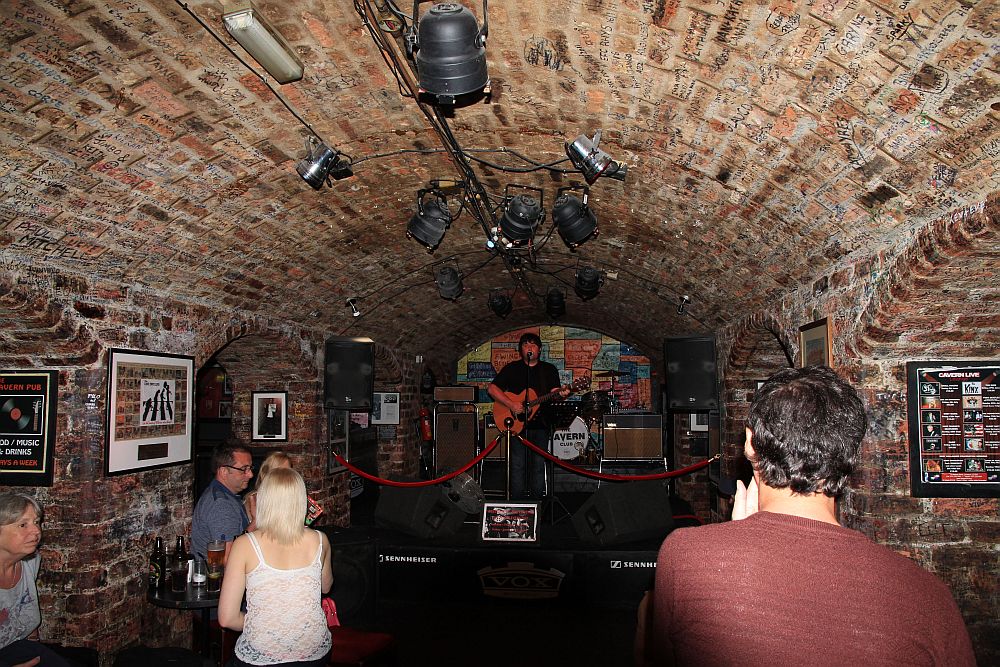 Friday 20th June. Like most days during our stay here at Southport the day has started grey and cloudy for at least half the day and then the sun has come out and the skies cleared. In the sun it has been quite hot but we have also suffered from a stiff breeze which has an icy edge to it. After the excitement of yesterday we had more mundane things to attend to like shopping. So we set off for Morrisons with Margaret's granny trolley!! It's about a 20 minute walk, at my pace. When we had the caravan we would have, no doubt, taken the car. At least this way we get a bit of exercise. In the afternoon we did a circular walk along the Esplanade. The tide was way out and the Pier that we could see in the distance was high and dry. We took a short cut through the Park and Ride as we had heard that foot passengers were no longer allowed to use the buses into town. This had been a handy perk for Club members but for some reason it recently changed. Some say because it was being misused and others saying it was a health and safety issue. This I feel is somewhat short sighted as there are no other bus services from near to the campsite so it would make sense to at least allow foot passengers the opportunity to use the service at a reasonable cost. I would have thought this would help make the service sustainable. Whether the Club wish to get involved in this I somehow doubt.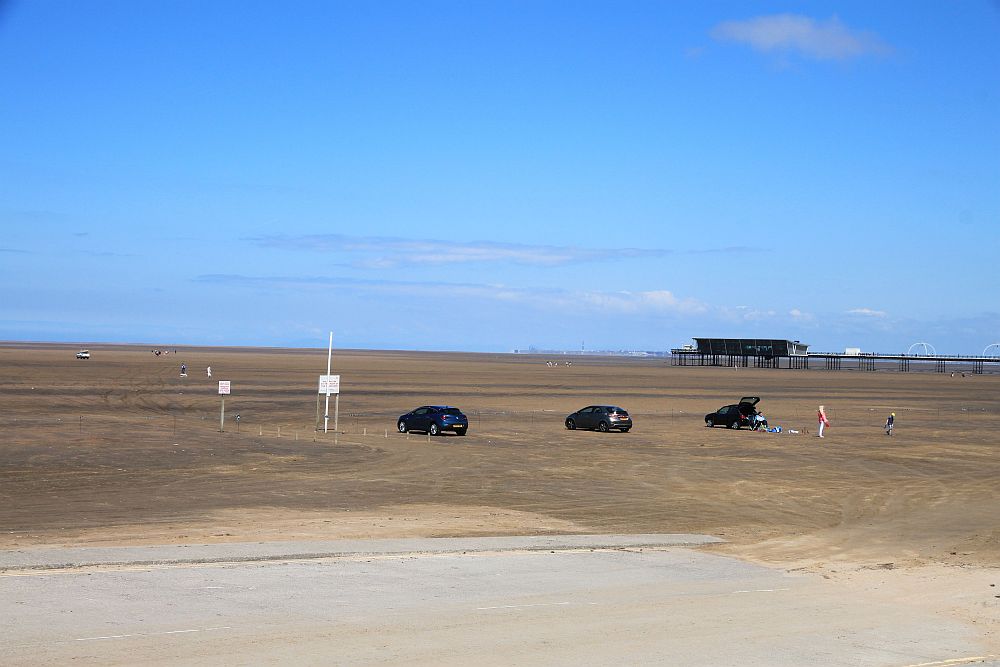 Saturday 21st June. The Longest Day today and out last full day in Southport. Unlike previous days we had bright sunshine for the outset today which made a nice change. We decided to walk back along the sea front to the Pier. On the way we had a look at what was going on in Victoria Park. As it was not altogether clear what the event was we decided that a fiver each was not really worth it. I also took the opportunity to watch several of the buses going in and out of the Park and Ride facility. I don't think there was more than six passengers on any of the buses so allowing foot passengers would not seem to present a problem? As we walked along the promenade we noticed that quite a few cars were parking on the beach. The tide was way out so I can't imagine they would have been in any immediate danger! The Pier at Southport is very similar to those we have seen on the Baltic Coast of Germany. One difference is that Southport has a bus/train service running along it. From the Pier it was still difficult to tell where the sea was as the tide goes out so far. We could see Blackpool across the Bay and it almost looked as if you could walk there. On the way back we stopped for some lunch in one of the restaurants near the seafront. We have been in Southport for a week which is quite a long time for us but it has been well worth it. The weather has been reasonably good to us with sunshine at times most days. Tomorrow we move onto Bury for a few more days.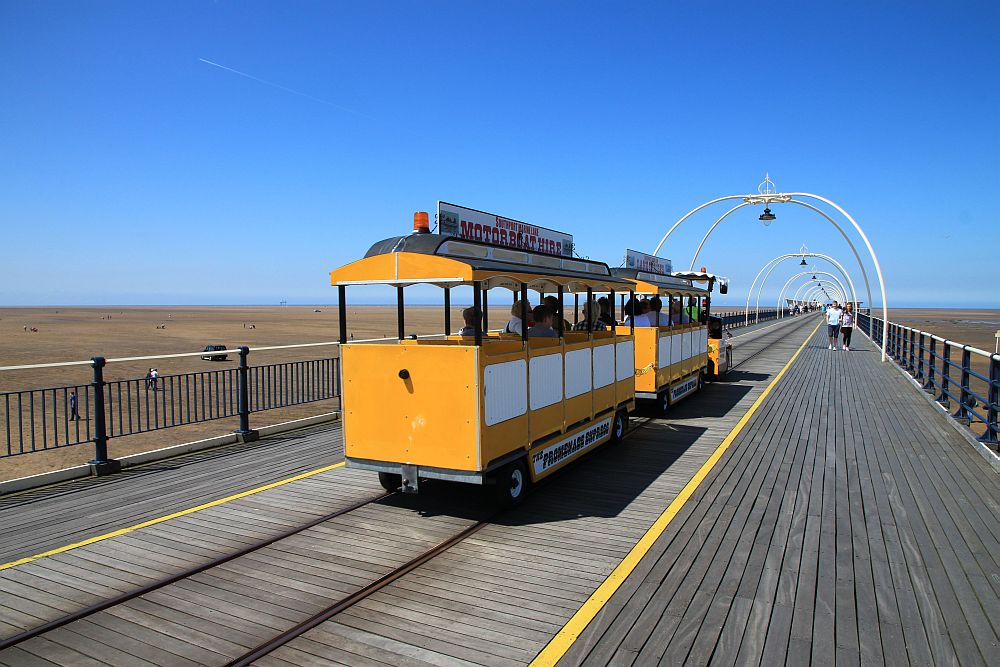 Bury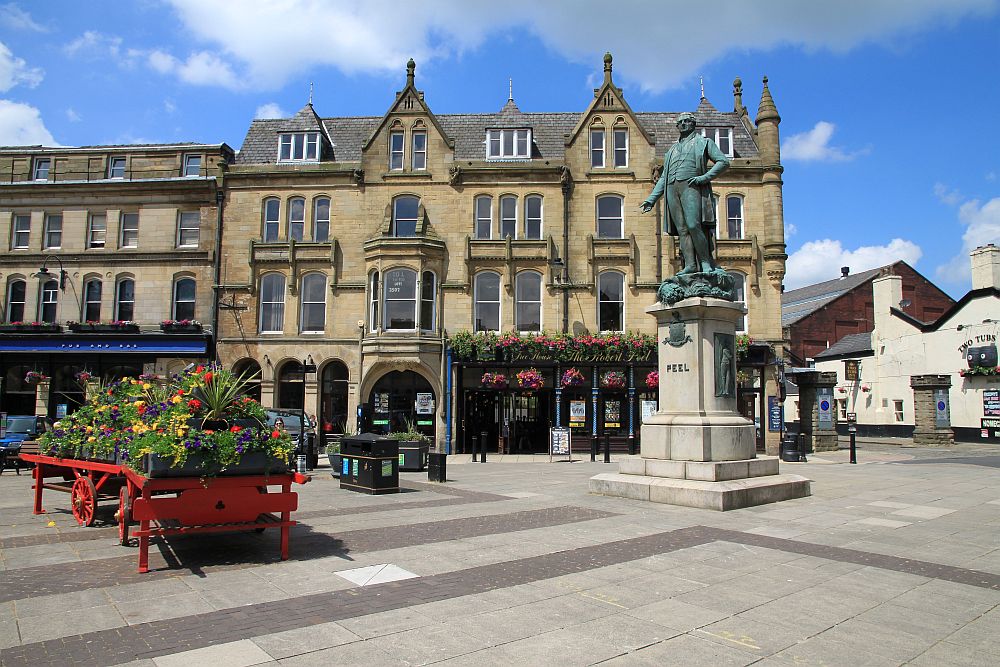 Sunday 22nd June. Our journey today is quite short, only about 50 miles. Given that we could not arrive at Burrs Park in Bury before midday we were up far too early and so had plenty of time on our hands. We were ready to leave about 9.30am so we made our way to the waste water emptying point to while away a bit more time, we even stopped in the road outside the campsite for a few more minutes and decided to fill up with fuel on the way through Southport. In the end we decided just to go for it and going as slow as we could without causing inconvenience to other motorists we still got to Bury about half an hour earlier that we needed to. We parked up on the approach road to kill a bit more time. One interesting observation was how many caravans and motorhomes leave a campsite near to the midday deadline. Anyway with ten minutes to go we drove forward to the site which has a double barrier system, I think to prevent visitors to the adjacent Country Park trying to park in the campsite. Margaret pressed the intercom button and announced our arrival and the barrier opened. When I got to reception I apologised for being too early but the lady warden was very gracious about it.
Burrs Country Park is a good example of how to make a silk purse out of a sow's ear! You take an area of industrial wasteland and landscape it. You retain some elements of industrial archaeology. You breathe life into a very old country pub. You invite the Caravan Club to open a campsite. You encourage a heritage railway to run alongside the park and before you know it the mix has gelled and you end up with a popular local visitor attraction and in the process make a half forgotten country pub into a popular destination. This could all be far from the truth but you could imagine that it works this way! There were certainly plenty of people around enjoying a lovely sunny and warm Sunday afternoon and you had steam trains in the mix as well!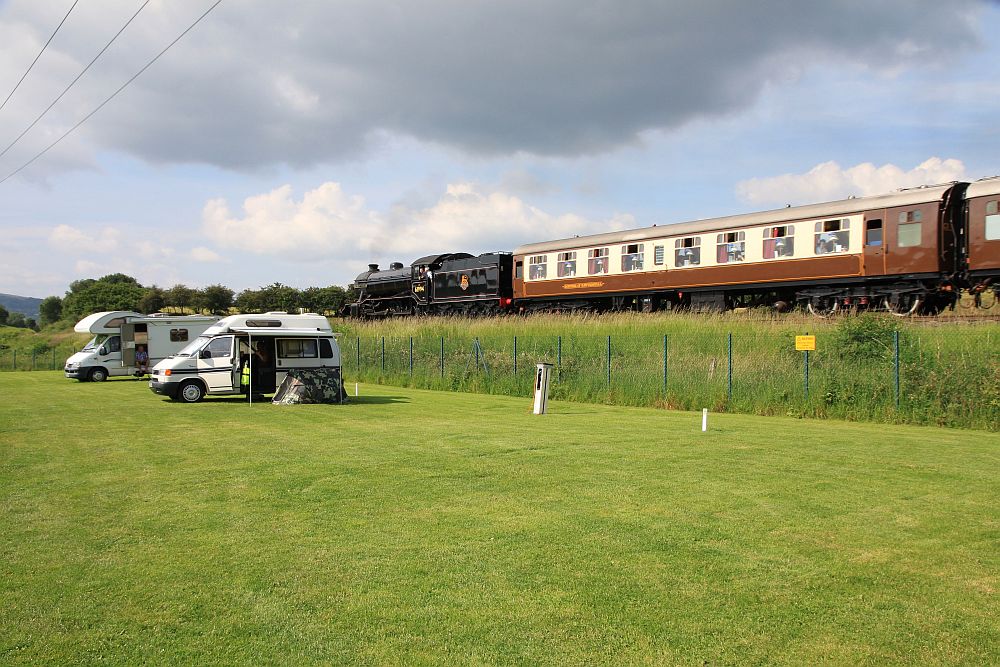 Monday 23rd June. It's been a beautiful day today and perhaps the warmest of our trip so far. The weather forecasts seem to suggest that it won't last to the weekend so it's just a case of hoping that it stays good until we go home. Today we took the bus into Bury, although it's only a 12 minute journey I think I would have struggled to walk it. Bury clearly was a town of some standing in years gone by but I suppose is now considered as part of Greater Manchester. The town has associations with Sir Robert Peel and there is a statue of him near to the parish church. Bury is apparently famous for its Market both covered and open air which takes up a large area in the town centre. It might have been more impressive had we visited on a day when it was all open. Around the market is a modern (ish) shopping centre which is not particularly attractive. That said there is a good range of shops in the town centre. Moving away from shops there is quite a bit to see including the main Library and on the opposite corner the Fusilier Museum which had an old open Land Rover outside which was being used as a flower container! The East Lancs Heritage Railway is just a little out of the centre although no steam trains today. Right in the centre of Bury is a large transport interchange for both buses and the terminus of the Manchester Tram network. We were the only passengers on the way back to Burrs Park. We decide to stop at the Brown Cow Pub, which is next to the campsite, for a sandwich and a drink.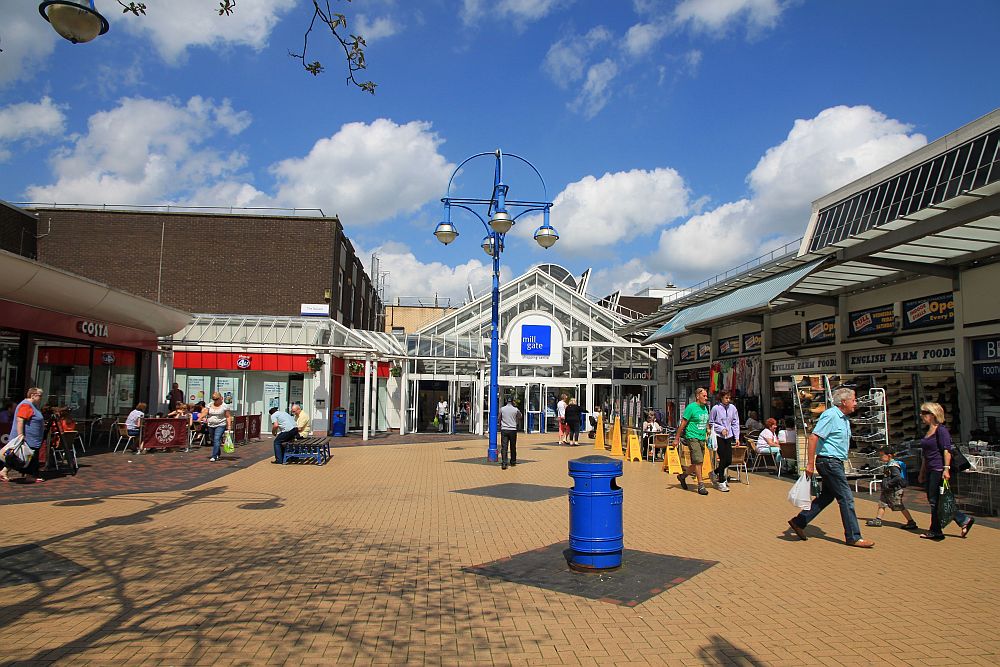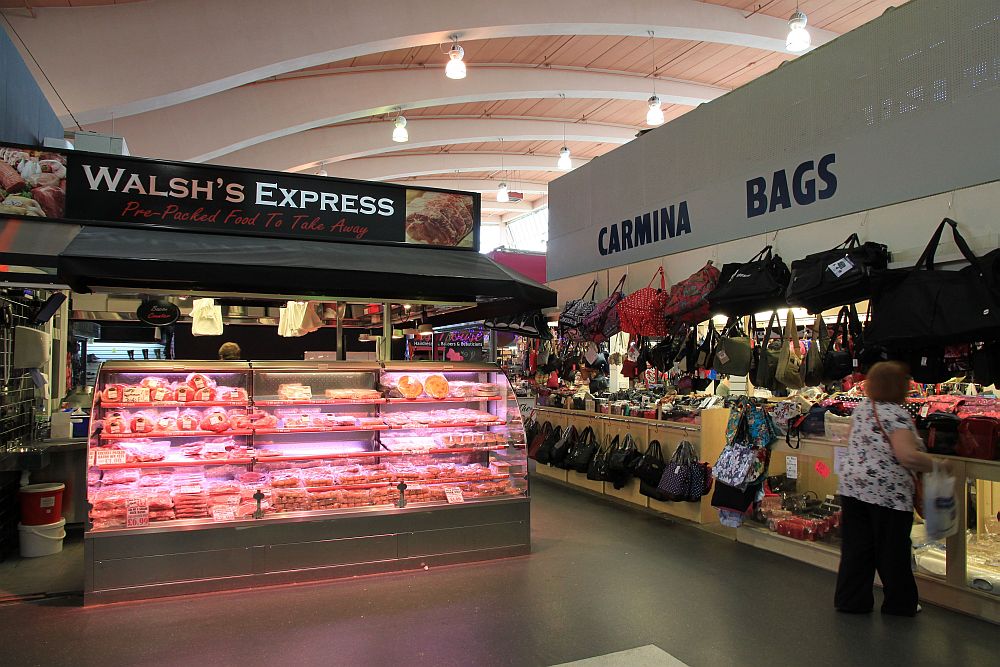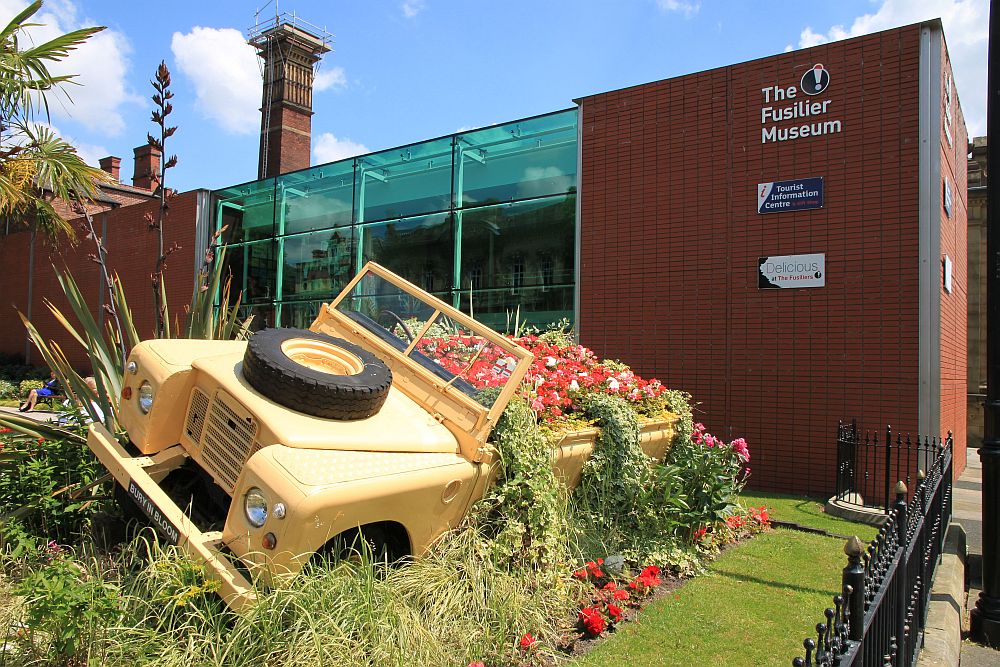 As the sun was so hot we decided to put out the Fiamma wind out canopy. Despite pegging it down Margaret is a bit nervous about the way it flaps in a breeze. Not altogether surprising as we had a bad experience a few years ago with a Caravanstore on a previous caravan. Walking round the site the day before I noticed another Bailey motorhome with an added device that stops the flapping so I decided to wander over and have a chat. It turns out to be a Fiamma Magic Roof bar which raises the canvas up by about six inches to keep it taunt. I will be investigating further when we get home.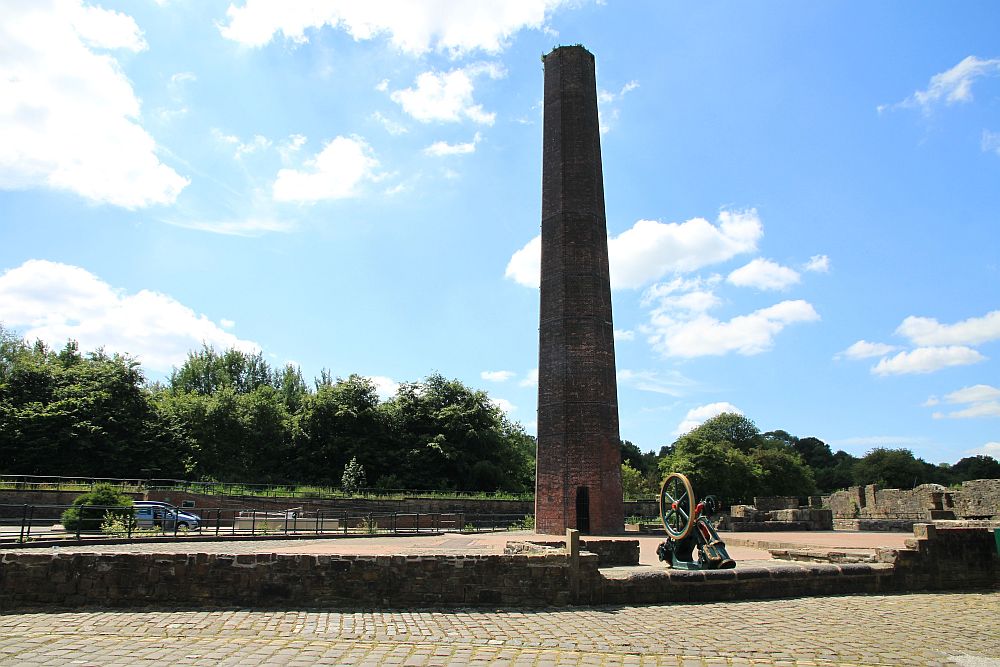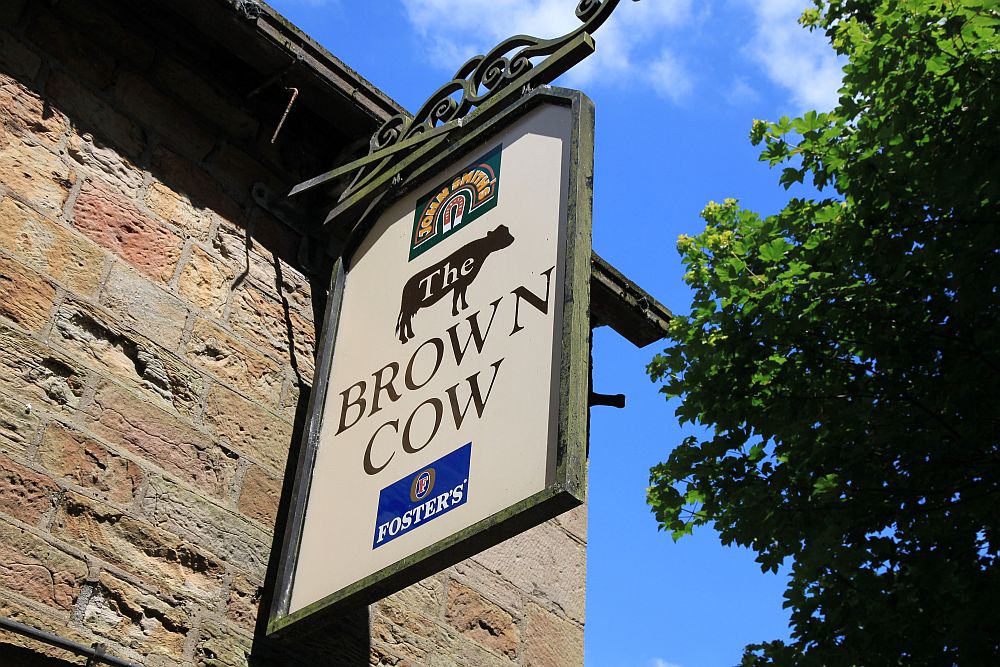 Tuesday 24th June. The weather has been very grey today with some rain, as a result it has been a very lazy day, the first of the trip! The area of the Country Park, of which the campsite is part of seems to have had quite a chequered history. The pub we had lunch at yesterday, The Brown Cow, was built in 1752 originally as a farm. As the Industrial Revolution took hold cotton mills were built initially powered by water, drawing water from the River Irwell, but later steam. One mill went out of business during the American Civil War because of a shortage of cotton. Over the years the mills were used for a variety of uses but started to fall into disuse in the 1930's although during the Second World War the remaining buildings were used to house Italian prisoners of war. Between the 1950's and 1980's the rest of the mills were demolished except for the main chimney which stands to this day. The area was acquired by Bury Metro in 1986 and has since been developed into the Country Park we know today.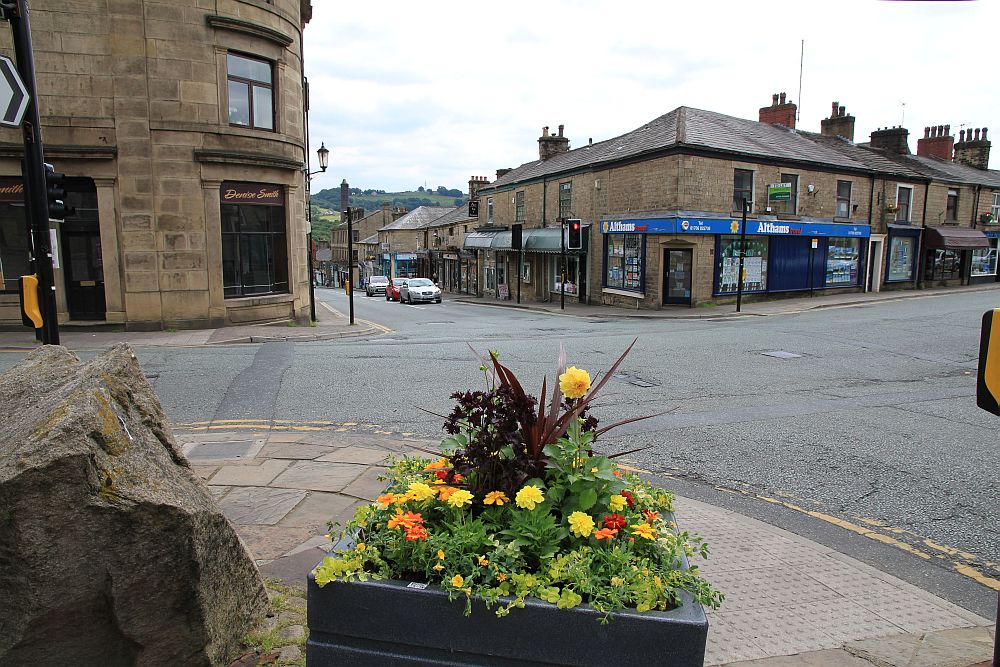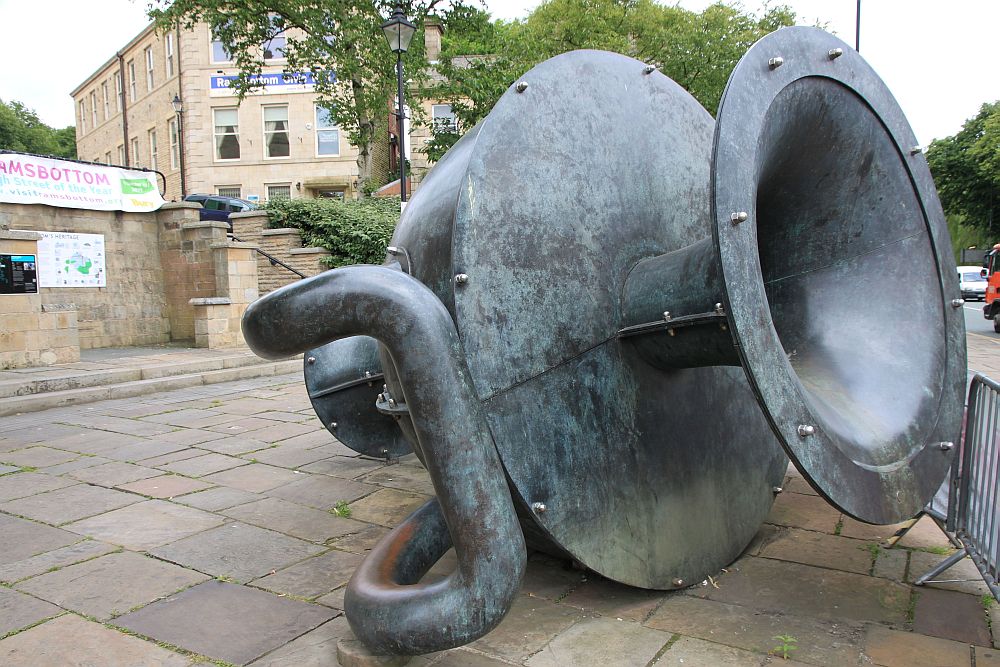 Wednesday 25th June. Our last full day at Burrs Park. The weather has been a bit grey today although there were a few bright patches. We had toyed with the idea of going to Manchester but that would have been quite an exhausting day. So we decided to go in the opposite direction to Ramsbottom for no other reason than it's a nice sounding name! Apparently it means Rams Valley. Back to the bus stop but this time on the opposite side of the road. It was just as well the bus terminated in Ramsbottom because we had no idea where we were going. I have mentioned before that some of the bus rides we have been on have been like theme park rides well today the bus went where really a bus should not go! Whoever planned the route must have gone along with a tape measure as in places there were only inches to spare and many blind corners. Fortunately we arrived safely and alighted in the middle of the town, Ramsbottom has a very solid feel about it and the two main streets I suspect have not changed a great deal in the last hundred years. Not far from the bus stop was the Market Square which is not as grand in terms of size as the name suggests. However it is home to Edward Allington's sculpture "Tilted Vase". It should have been spilling water from the edge of the vase but this was clearly not working and it was surrounded by ugly temporary steel barriers which prevented people from seeing it correctly. The young lady sitting on an adjacent bench eating her lunch must have wondered what a pensioners was doing pulling the barriers away from the sculpture ( so I could attempt a better photograph), probably thought I had escaped from a local care home!!!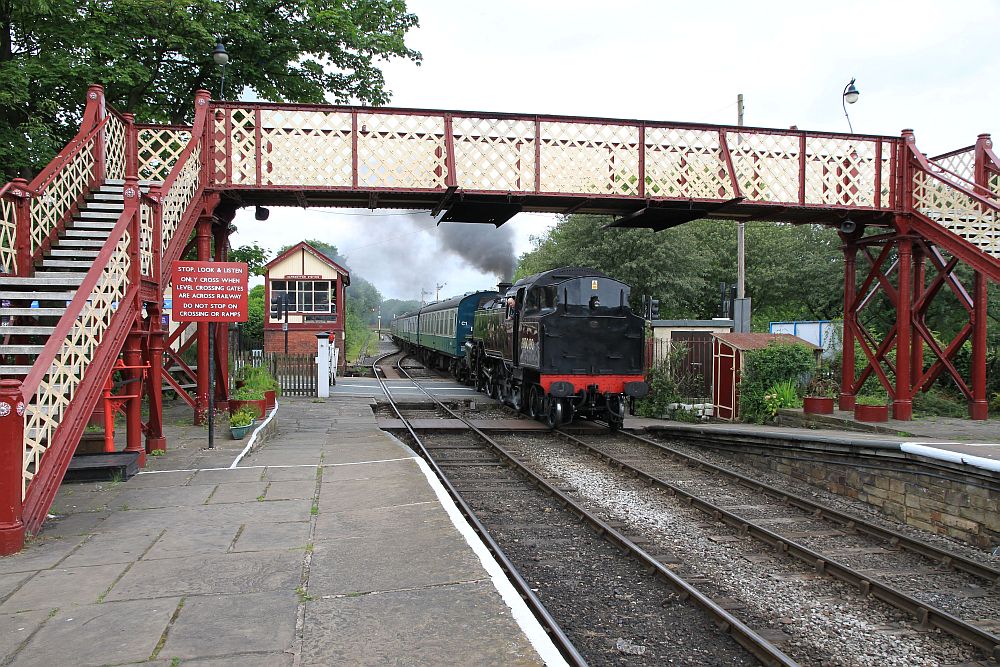 We saw a sign to the East Lancs Railway which was at the bottom of the main shopping street so we made our way there. A train was due so we waited until it appeared, it was the 12.10pm to Bury. Ramsbottom is about the half-way point on this heritage railway which continues further north to Rawtenstall. Although it was not our original plan we decided to take the next train back to Bury and then the bus back to Burrs Park. We had a two hour gap to fill so we went off in search of a coffee and a cake and found a handy coffee shop not far from the station. Once replenished we set off to look at the various shops although many were closed for lunch which we find a bit strange but it is a bit more civilised. On the way back we nipped into Morrisons for a few bits and then headed for the train. From the station platform you can see the Peel Monument high on Holcombe Moor. It did not occur to us that the train on a steam railway could be late but fifteen minutes after its allotted time it appeared. We were worried that we would miss our connection in Bury but it was fine in the end.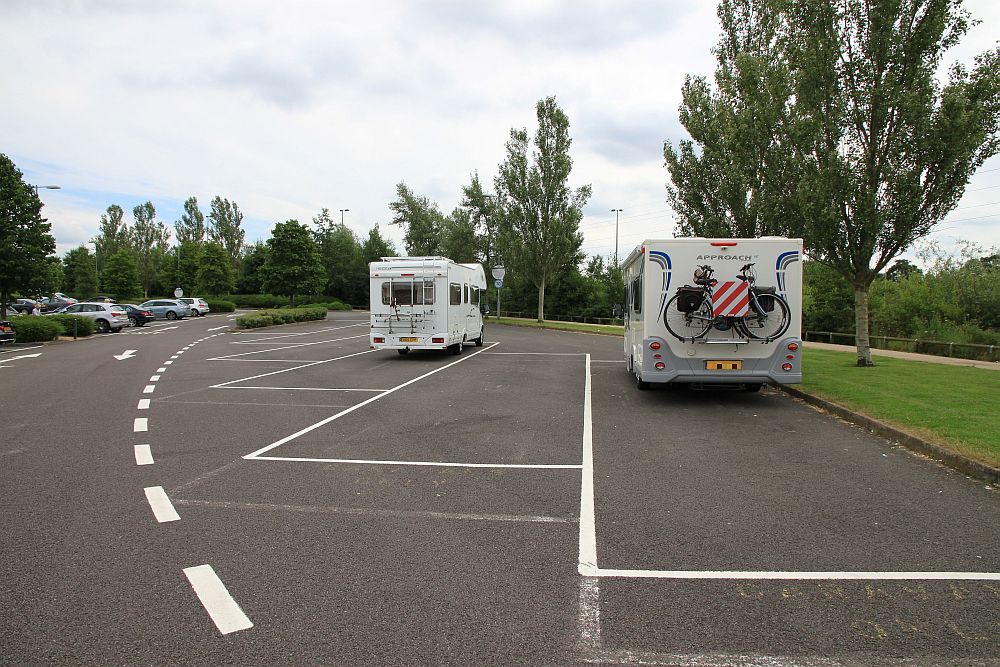 Thursday 26th June. We were up and away just after the morning rush hour. We threaded ourselves back through Bury, although a slightly different way from when we arrived. All the motorways to the M6 were busy. The M6 was no better so it was a relief to pull off onto the M6 Toll. We stopped at the Norton Canes Services where to our surprise we found the dedicated parking area empty! Although we were soon joined by several other caravans and motorhomes. The toll is slightly more on a weekday but we still got our 50% discount. We returned home today because tomorrow is crunch day for me as I find out whether my knee operation can go ahead.
Canterbury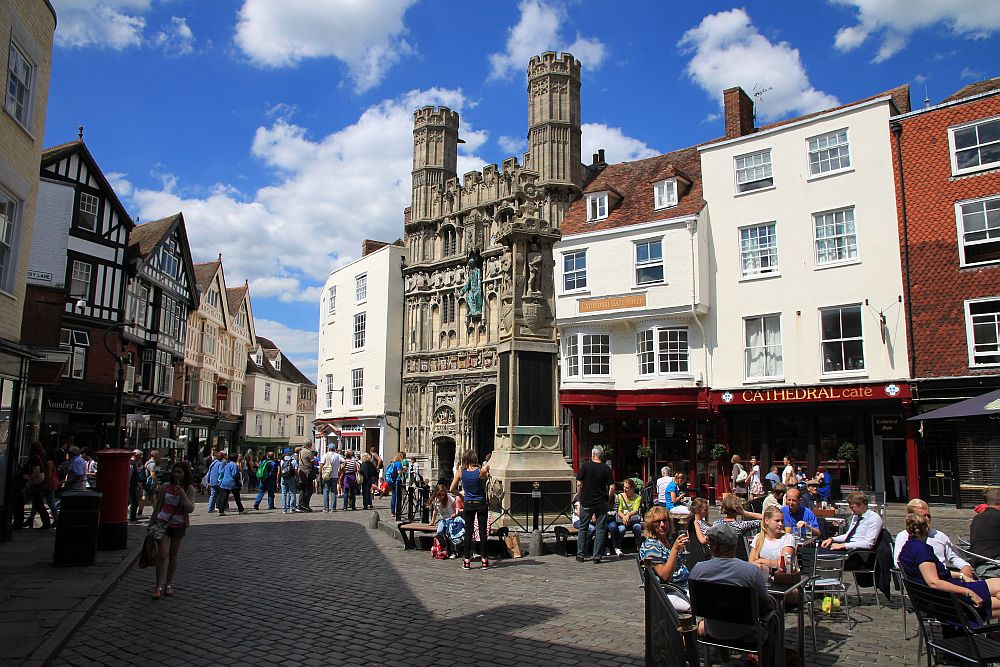 Friday 11th July. After a bit of a false start because I had not realise that you have to book a C&CC site before 8.00pm the day before we left for our stay at Canterbury a day later than planned! Being a day later also meant that the weather had changed and we had a pretty wet journey. The booking fiasco was not our only false start as I forgot my walking stick and I only remembered when we got to the first roundabout from home. We set off again and started to think our journey was jinxed. As we drove across the bridge over the M1 we could see the traffic was backing up so we decided to head off to the next junction where the traffic had cleared. Further down the M1 we saw the overheads saying more delays on the M25 where the M1 joined it. To avoid this we headed for Hatfield and the A1M to bypass the problem. This worked except for a delay where there were some traffic lights. The M25 was going OK until we started to see more signs for a more serious delay. This time we ground to a halt about 10 miles from the Dartford Crossing but this time there was not an alternative so we had to grin and bear it. Eventually the traffic started to edge forward and the miles started to tick down, albeit slowly. We even had a tiny delay at the Dartford Crossing when I handed over a pound coin and a euro by mistake!!! After the toll we headed onto the A2 initially and then the M2 towards Canterbury. We have not used this route for years as we mainly use the M20. We arrived at the Camping and Caravan Club site at Canterbury at about 2.30pm, a bit later than planned. This is our third C&CC campsite since we became members and I have to say I am becoming more and more impressed with the welcome you are given by the site management which is far more interactive than the CC.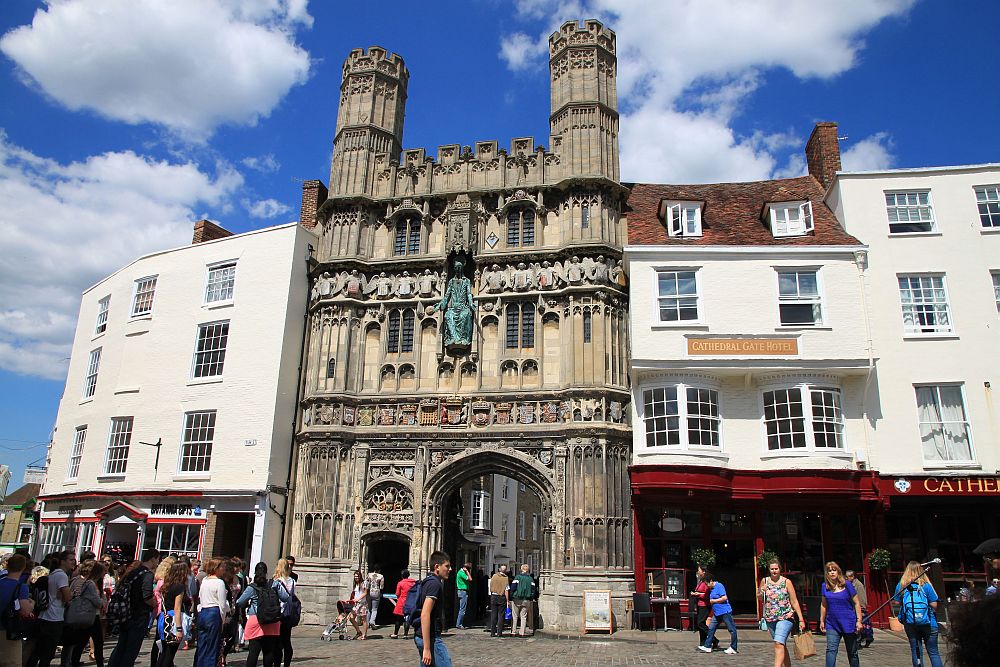 Saturday 12th July. We awoke to a grey day which did not improve whilst we were out. We took the bus into Canterbury which was only a ten minute ride away. I was surprised how busy it was especially with groups of school children from the Continent. Unfortunately the best view I got of the Cathedral was from the second floor of Debenhams through a window! Unlike many cathedrals in the UK there are no public precincts, the only way to see anything more than the spires is to pay which I was not prepared to do. We did walk around the perimeter of streets looking for a vantage point to take some photos but we were thwarted at every attempt. At one point there was a young girl standing on something asking her mum whether it was a castle. As mum seemed none the wiser I leaned towards her and said that it is the most important church in England. Whether she was enlightened I have no idea although a fellow passer by seemed to appreciate my intervention. Canterbury is, of course, famous for the assassination of Thomas Becket, the then Archbishop of Canterbury, in 1170. The story seems to suggest he may have been killed because of a misunderstanding of what the then King Henry was reported to have said in exasperation of what Becket was doing as Archbishop. Four Knights took this to mean that the King wanted rid of him and this lead to his murder which has been part of English history ever since.
Canterbury is a very vibrant place helped by the fact that a lot of the streets are traffic free which makes it easier to explore. We took refuge in the Debenhams Coffee Shop which is right outside the main entrance to the Cathedral which made it an ideal place to watch what was going on. Not the best day for photographs as it was so dull.
Sunday 13th July. Not been a good day weather wise with quite a bit of rain but strangely also some hot sunshine which unfortunately did not last long enough! We have had a pretty lazy day doing jobs around the van. We have put out the Fiamma canopy today because we wanted to try out a new bit of kit. We have not used the canopy a great deal because we have been a bit concerned about leaving it up overnight because it tended to flap in the wind. Having seen one on our last site we ordered a Fiamma Magicrafter Pro which is meant to stop the canopy flapping in the wind. So tonight we have left the canopy up.
There are a surprising number of Continental campers using this site although given its location perhaps I shouldn't be surprised.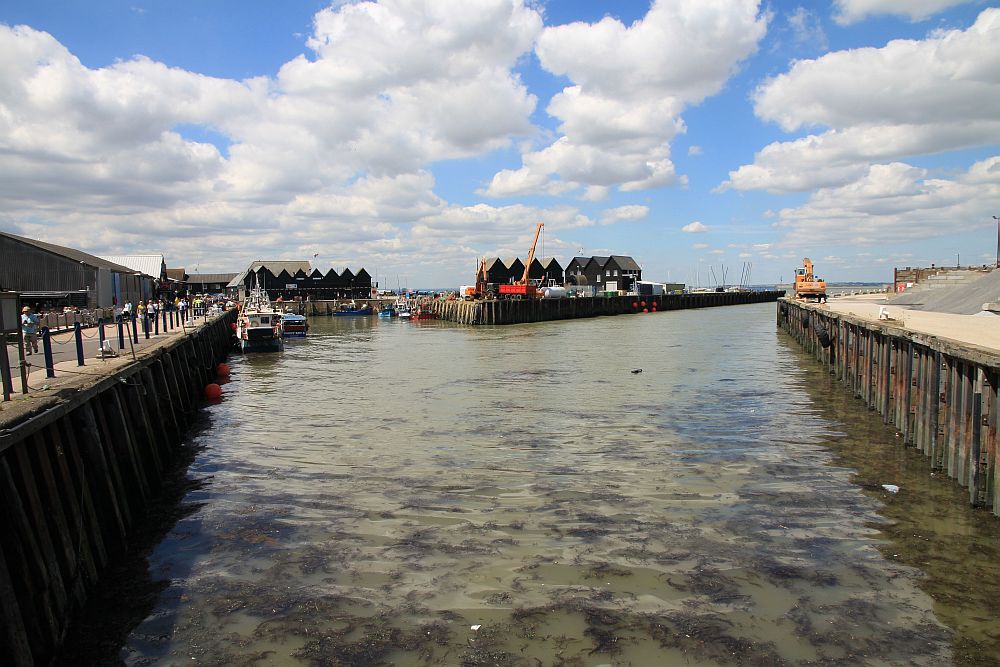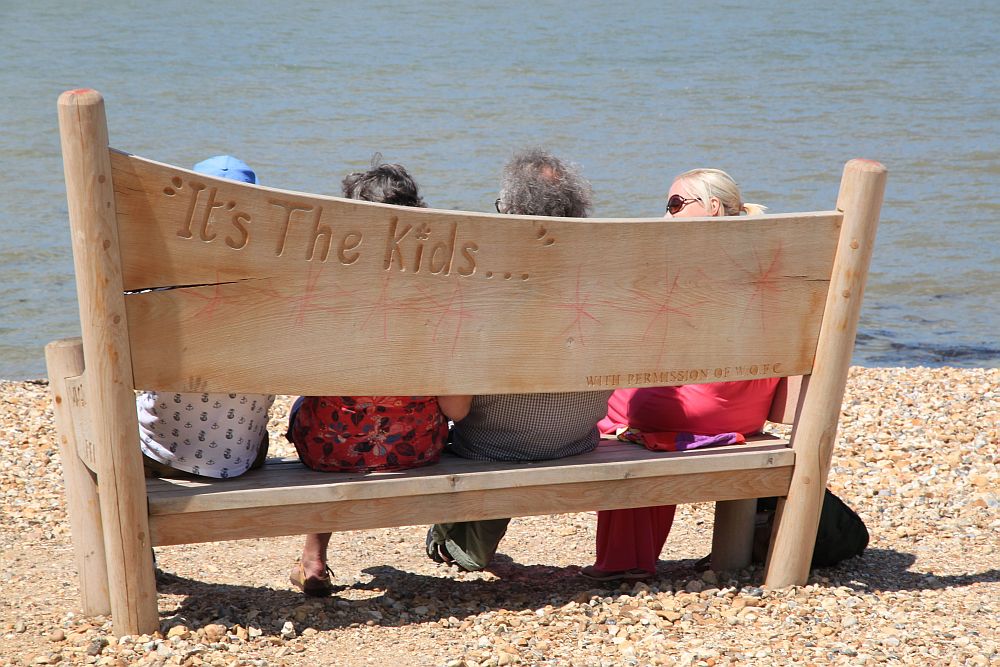 Monday 14th July. Bastille Day if you are French. Today we took the bus to Whitstable famous for its oysters. It's not a particularly long journey but getting through some of the tight roads in the town can delay the journey. Whitstable is still a working Port including a small fishing fleet mainly dealing with shell fish. Whilst the main shopping area is fairly ordinary it is the coastal walk which is more interesting with opportunities to buy the local speciality? I must admit that I am not keen on oysters having tried them some time ago. Mind you there are other shell fish available more to my taste like Cockles. Kent is a County we tend to pass through rather than exploring but I must say I was rather taken with the coastal walk through Whitstable. It has a traditional feel about it and not a games arcade in sight! We found a gallery which had a café and treated ourselves to what was really a posh bacon sandwich and a coffee. We carried along the coast but started to think we should start to head inland and back to the town centre. Just as well we did as we were way past the town but gradually made our way back to the bus stop to return to Canterbury where we broke our journey. The idea was to take some photographs in the better weather conditions we had experienced today. The City Centre was not quite as busy as Saturday but still busy. Having completed our task we set off back to the campsite for a cool beer.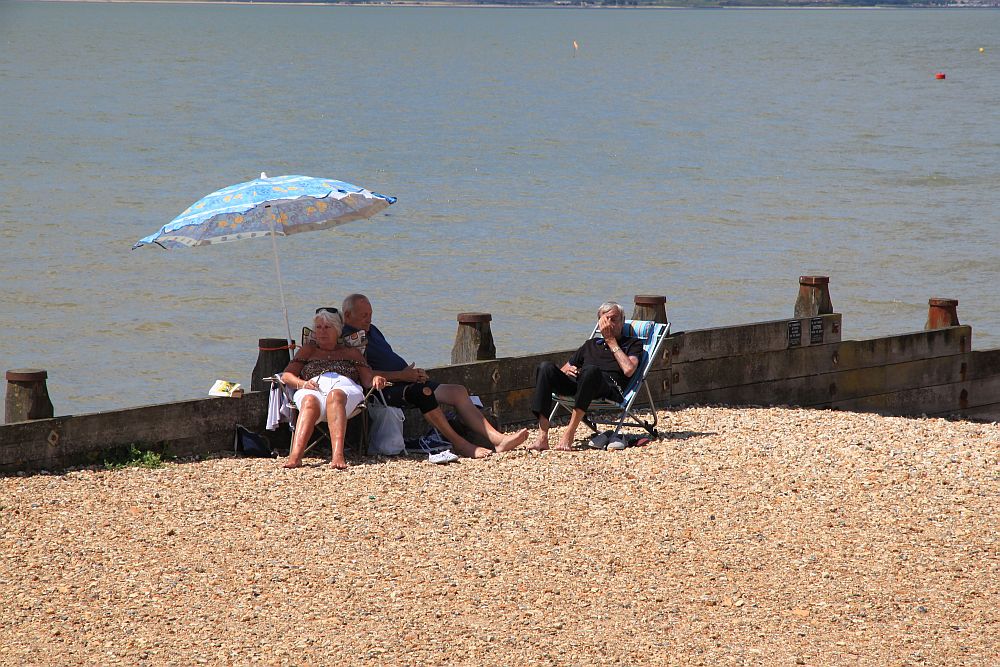 The campsite has been busy during our stay with a surprising number of overseas visitors. On the other side of the road to us is even an outfit from Austria.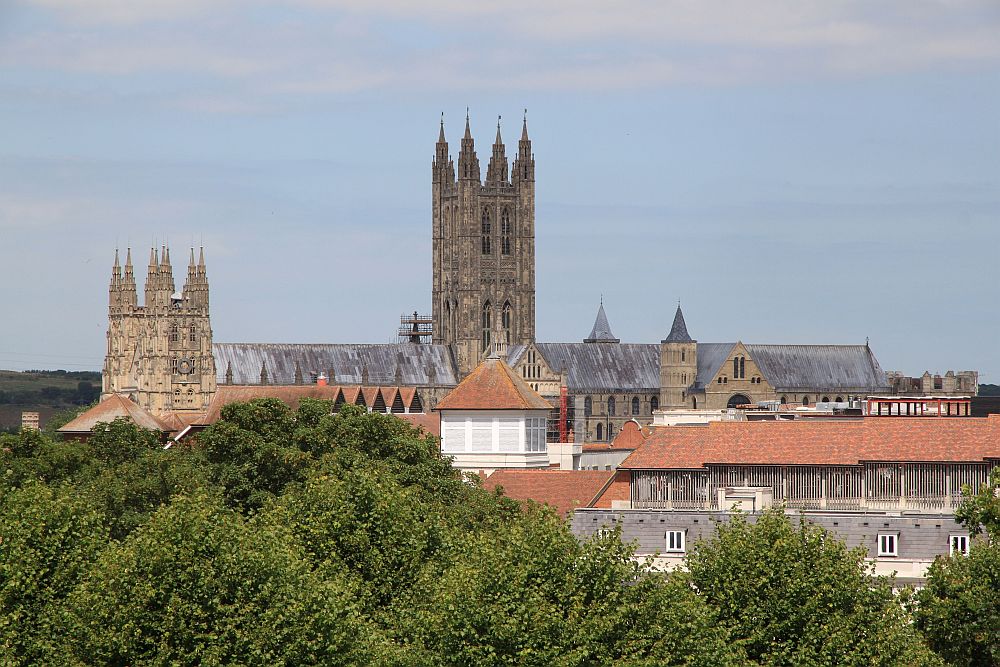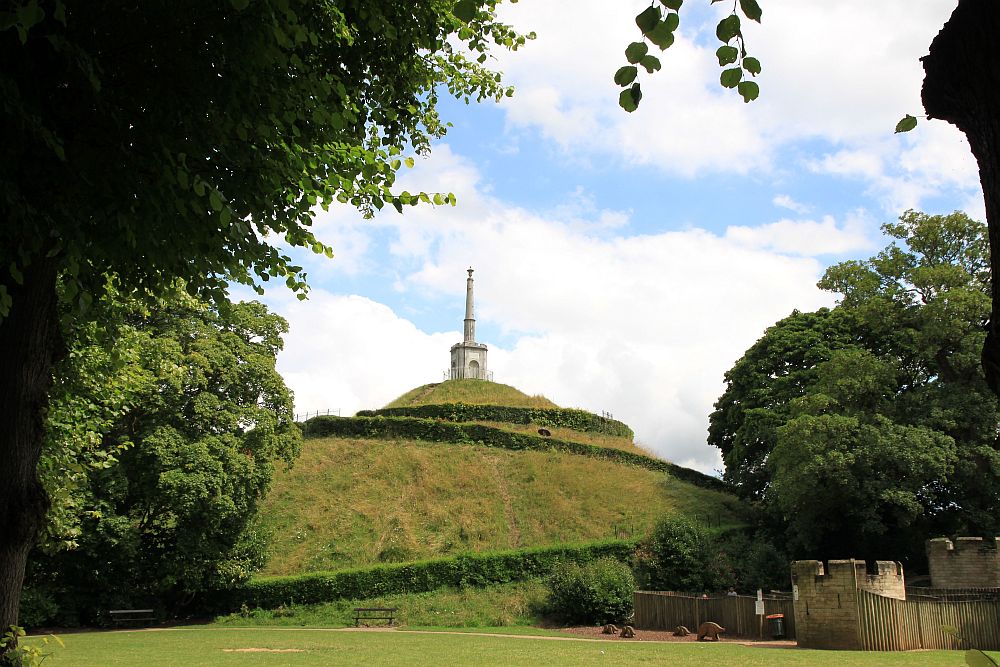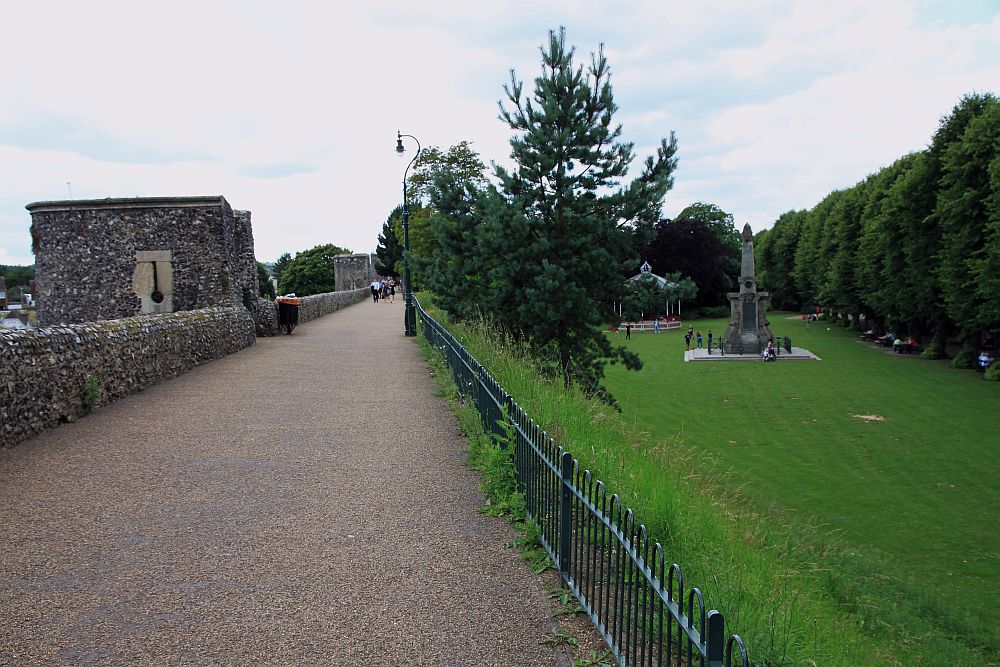 Tuesday 15th July. We weren't sure what the weather was going to be like today. Depending on forecasts there was a difference of opinion! Just in case we left going out to just after lunch, and we were heading back into Canterbury, on our previous visits we had noticed that you could walk round the walls. From the bus station it was only a short walk to the walls and up a ramp and we were there. We headed around towards Canterbury Castle passing en route a huge burial mound which was the Roman Cemetery for Canterbury. It was converted into a motte and bailey castle in the 11th century and is now part of one of the City parks. We climbed to the top, where there is a memorial and at long last get a view of the Cathedral. We carried on round the walls to the Castle which is a ruin but a substantial amount still remains. It was built not long after the Battle of Hastings. We walked back through a delightful park to the bus station and re-joined the walls in the other direction until they came to an end at a roundabout. We headed off to Waitrose for a free cup of tea and a little shopping before heading back to the campsite. During our five night stay we have used our bus passes on three days which has saved us a fortune in fares.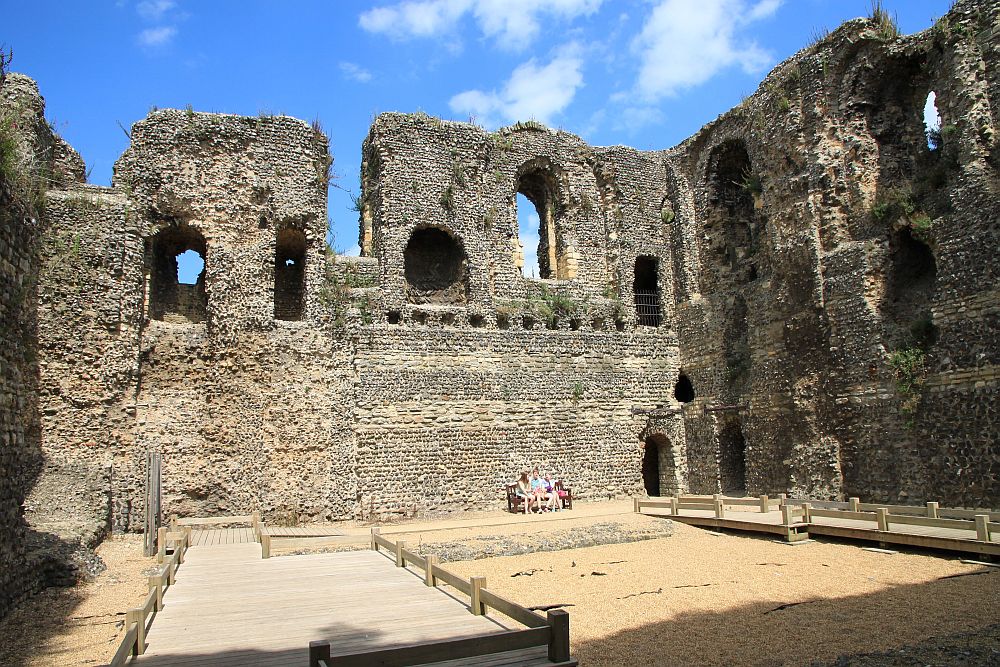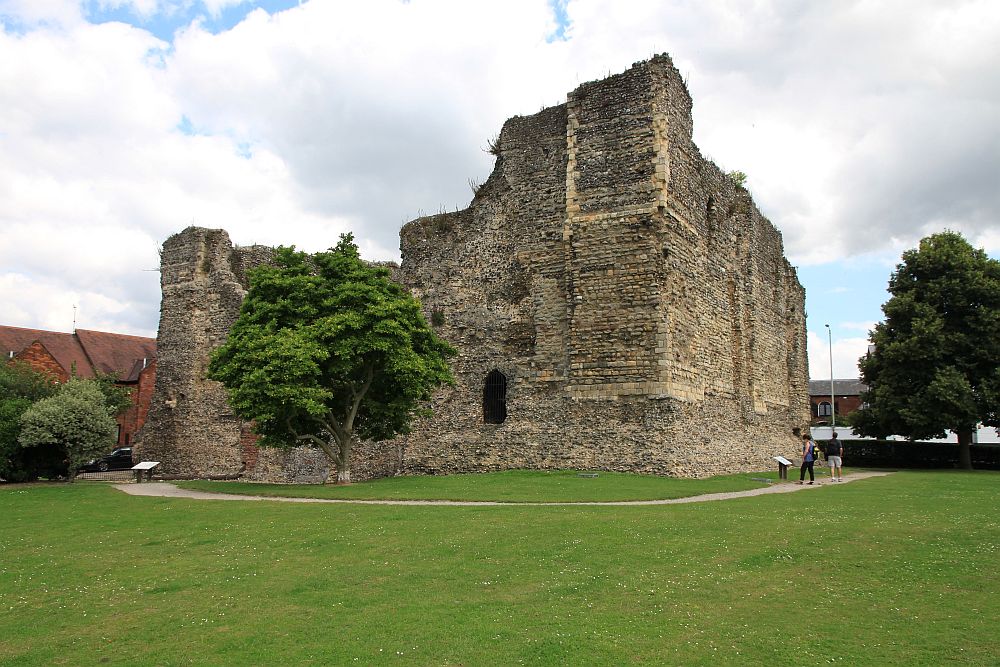 Wednesday 16th July. We were away from the campsite by 10.00am and in beautiful sunshine. TomTom took us a slightly different way out of Canterbury than our approach route but it worked out well. Traffic was OK until we got to the Dartford Crossing where we slowed to get through the Toll. Be interesting to see if the new system that comes into effect in October where tolls will be collected separately from the actual crossing will free up the congestion. Otherwise there were no particular hold-ups until we left the motorway at junction 13 so that we could fill up with fuel at Kingston on the way home. The A421 is in the process of being duelled over the course of the next year which will make it a proper alternative to junction 14.
Fakenham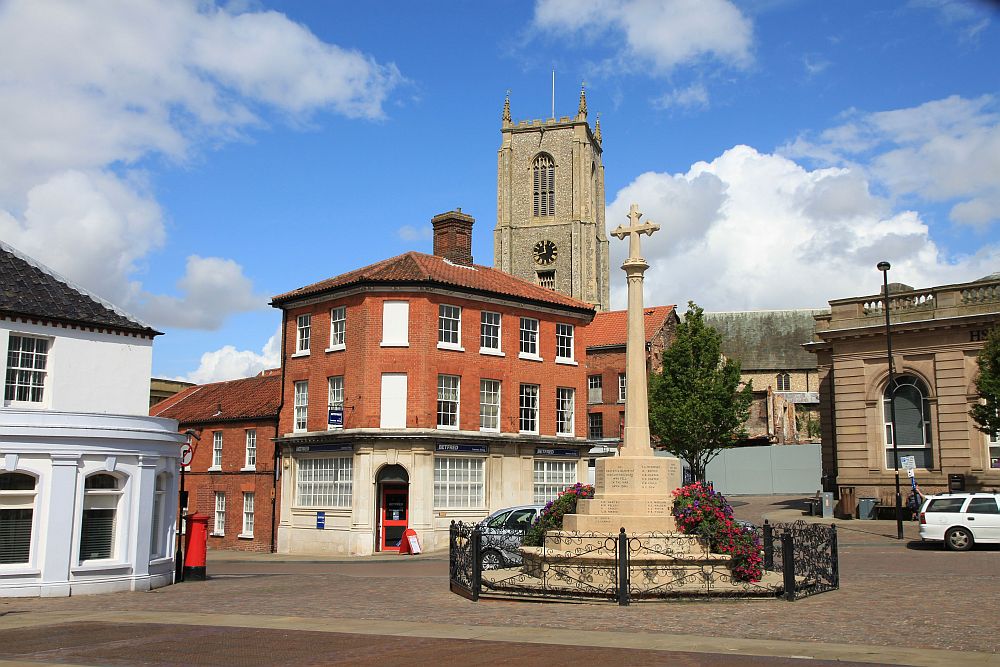 Monday 11th August. No rush this morning as we did not have to be at the campsite until 2.00pm. We are heading for Fakenham Racecourse which is a Caravan Club affiliated campsite which really means that the Club gives it a lot of publicity, for a fee, and Club members get a small discount! Journey wise it was OK until we headed out on the A1065 from Mildenhall when we got behind a slow lorry all the way to Brandon and then shortly after a tractor took up the baton for most of the way to Swaffham! Just as we headed off the main road to the campsite it started to rain but fortunately only a short shower. We booked in and found our pitch but discovered it had a two way slope which require a bit of thought on how to deal with it but despite a few spinning wheels we managed in the end. Having set everything up we went for a walk around the campsite. We have stayed at quite a few racecourse campsites over the years and this one is a little bit different as it's more like a proper campsite.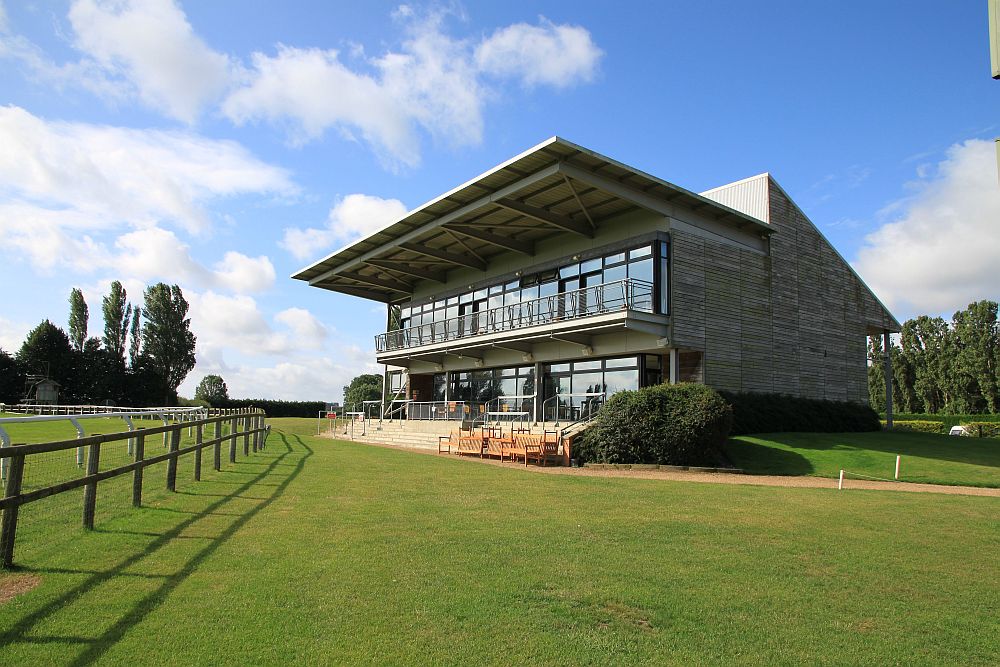 Tuesday 12th August. A nice sunny start to the day although it is still windy as the remnants of hurricane Bertha is still influencing our weather after what seems weeks of beautiful sunshine. We walked into Fakenham today via a footpath which cuts the corner off going via the road. The route follows the formative River Wensum which flows all the way to Norwich. I suspect that Fakenham, like a lot of other rural market towns has been more prosperous in former times. The old Market Square is interesting as it has set into the paving old reminders of the printing industry which existed locally in the past. It still seems quite a busy place and having wandered round decided to have a coffee before setting off back to the campsite.
Because the pitches have a small slope front to back we have had to use our higher, stepped, levelling ramps. Trouble is that the motorhome brakes have protested, or the wheels were slipping, at being positioned on this type of ramp and the wheels have gradually started to come down the ramps. We had put the satellite dish under van and this had become trapped as the wheels became lower on the ramps. I tried to reverse back up to the highest part of the ramp but went a bit too far and I went off the other end. Not only did this flip the ramp up which smashed it against the chassis and into bits but the poor satellite dish was also a casualty. Margaret took the broken ramp and the remaining good one to the rubbish. She left the good one leaning against the bin and within a very short length of time have been taken. Good luck to the new owner!!! Margaret is convinced that I make too much fuss about getting the motorhome level and perhaps, after our antics today she is right! I won't be buying anymore stepped levelling ramps but might invest in some slightly higher wedge levellers. As to the satellite, well perhaps it's time to invest in the roof mounted one?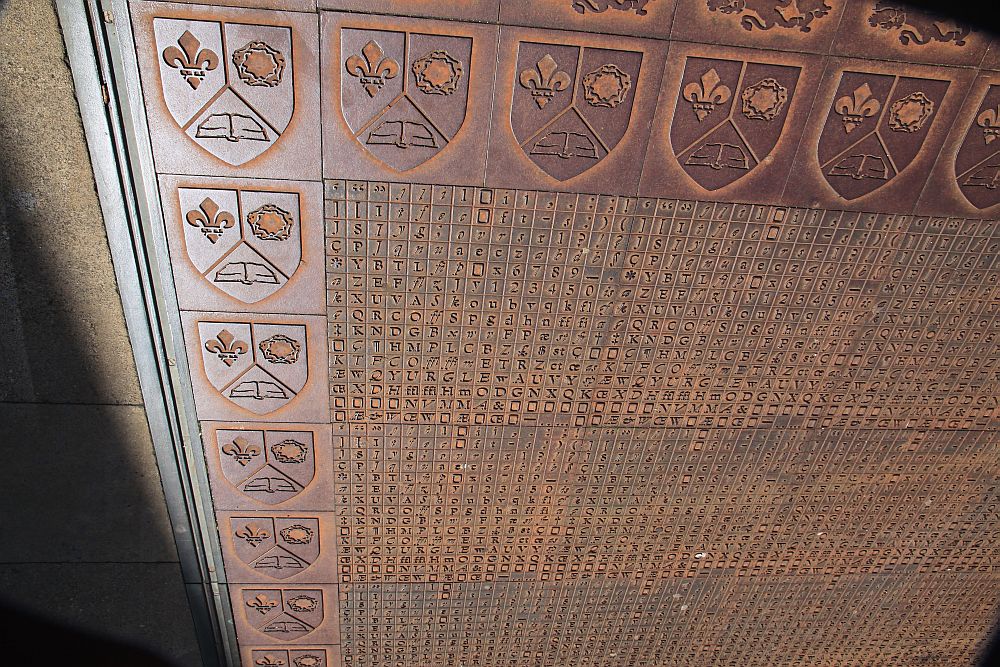 Wednesday 13th August. Today we walked back into Fakenham and took the bus out to Wells next to Sea. It was an interesting journey as the bus takes the route through the Walsinghams which have been a place of religious pilgrimage for nearly 1000 years. From the bus stop in Wells we walked down to the main harbour area which was very busy, hardly surprising given the school holidays! Mind you one advantage of using the bus is you don't need to find anyway to park! From the Staithe we walked out to the seashore which was quite a walk. So after having some lunch at the café near the beach we decided to take the small train back to the town. After exploring the town a bit more we made our way back to the bus stop and back to Fakenham. On the way back to the site we stopped off at the Sports and Social Club which seems connected with the Racecourse and campers are allowed to use it so we called in for a drink.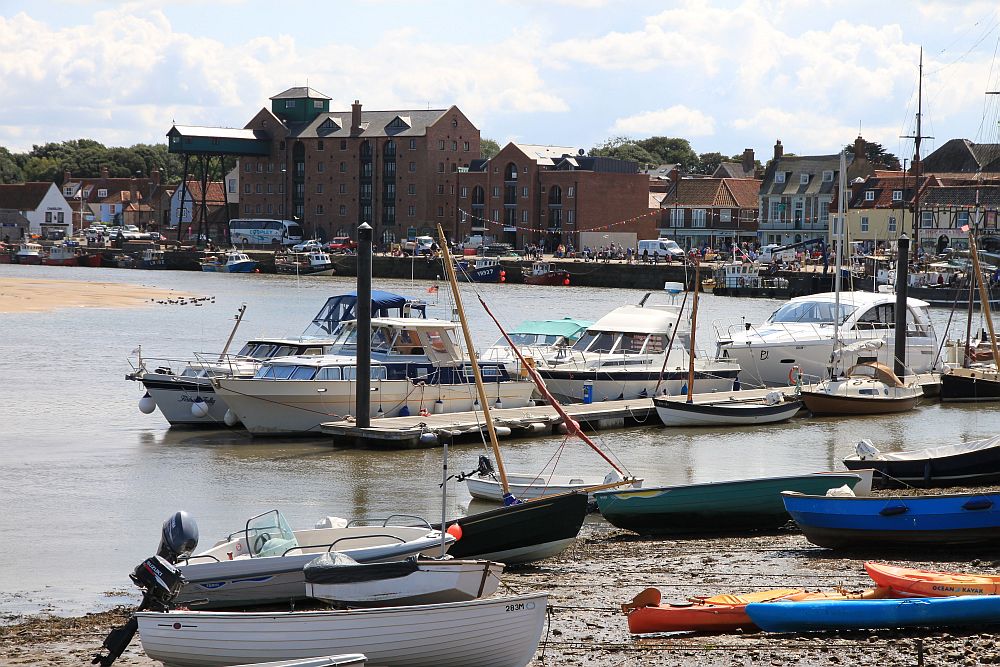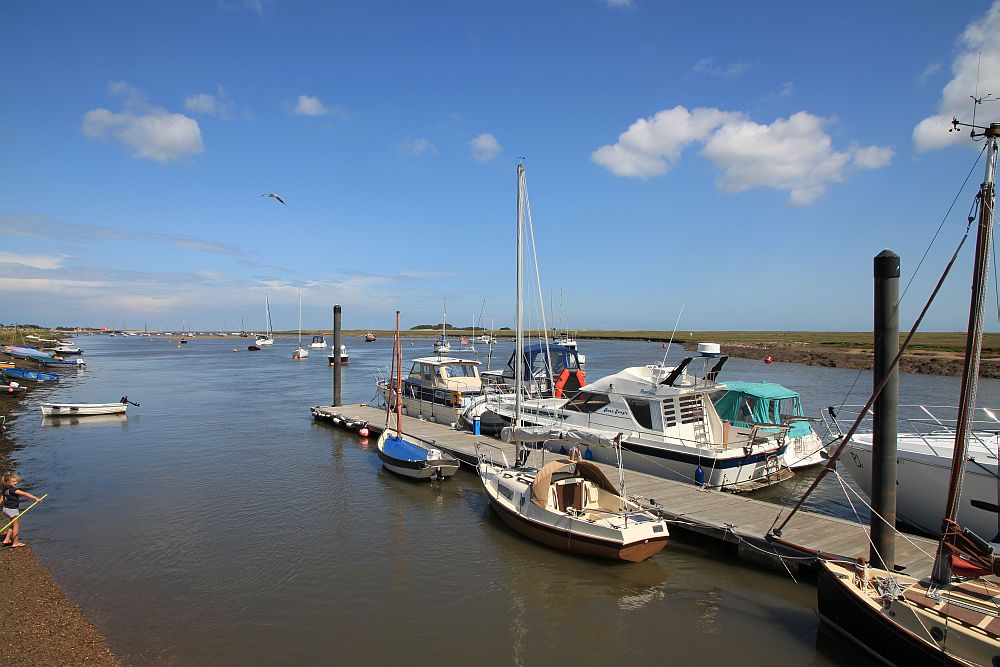 Thursday 14th August. Although the day started bright and sunny it went downhill from then on in. We had nothing particularly planned as the previous two days had been pretty busy. There was a gap in the weather by early afternoon so we strolled into Fakenham to have a meal and got back just as the sky was turning ink black. There has been a lot of noise on this campsite but from a bit of a strange source. It usually starts as it gets to dusk but today it started much earlier. Not sure if they are rooks or crows but that swarm around and jostle for position in a stand of trees just near to where we are pitched. Quite fascinating. Just a shame they don't abide by the campsite rules with regard noise and consideration for other campers!!!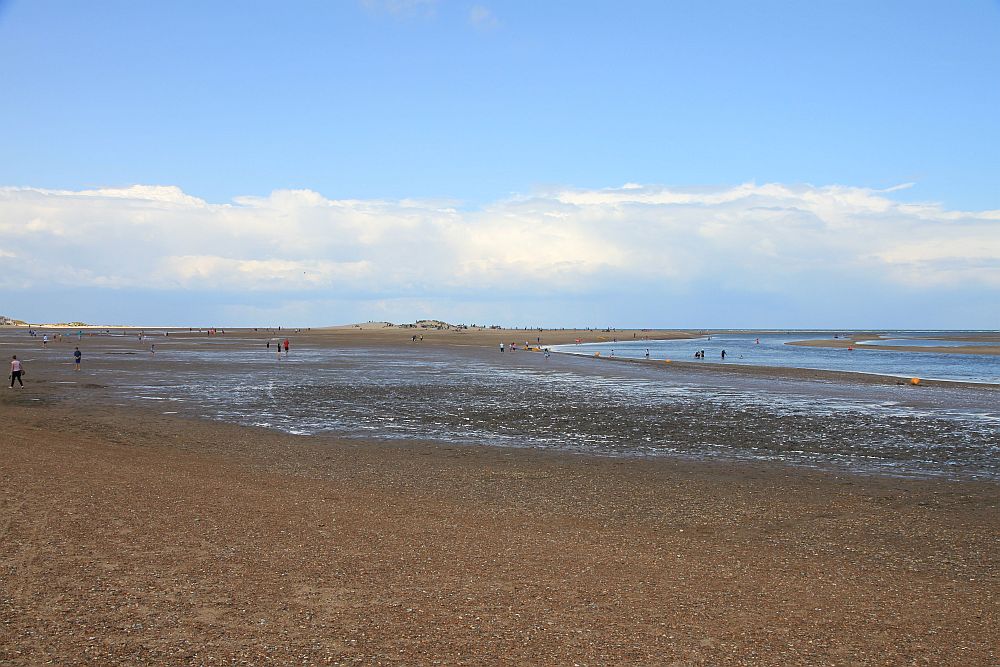 Friday 15th August. We left the Racecourse at about a quarter to ten. We decided that we would try a different route home via Kings Lynn and the A10 down to the A14 rather than retracing our steps down the A1065 towards Swaffham and Mildenhall. The twenty miles to Kings Lynn was fine but a lorry with a heavy load pulled on the A10 just in front of use and we followed him for some miles before he pulled into a lay-by. Further on an HGV pulled ahead of us at a roundabout and we followed him all the way to Cambridge. I felt the phrase on the rear of the lorry 'Express Deliveries' was something of an exaggeration given that he hardly got much over forty miles an hour for the entire journey! When we got there, the A14 was living up to its reputation as a road plagued with traffic delays. Fortunately by the time we got to the A428 it was flowing smoothly. More delays as we crossed the M1 to join the A421 towards MK but we expected that as there are road works. We pulled into Tesco at Kingston to fill up and even that was crowded! Getting out was a problem so we decided on local knowledge and took the back roads and got home exhausted from the journey!!!
Moreton in Marsh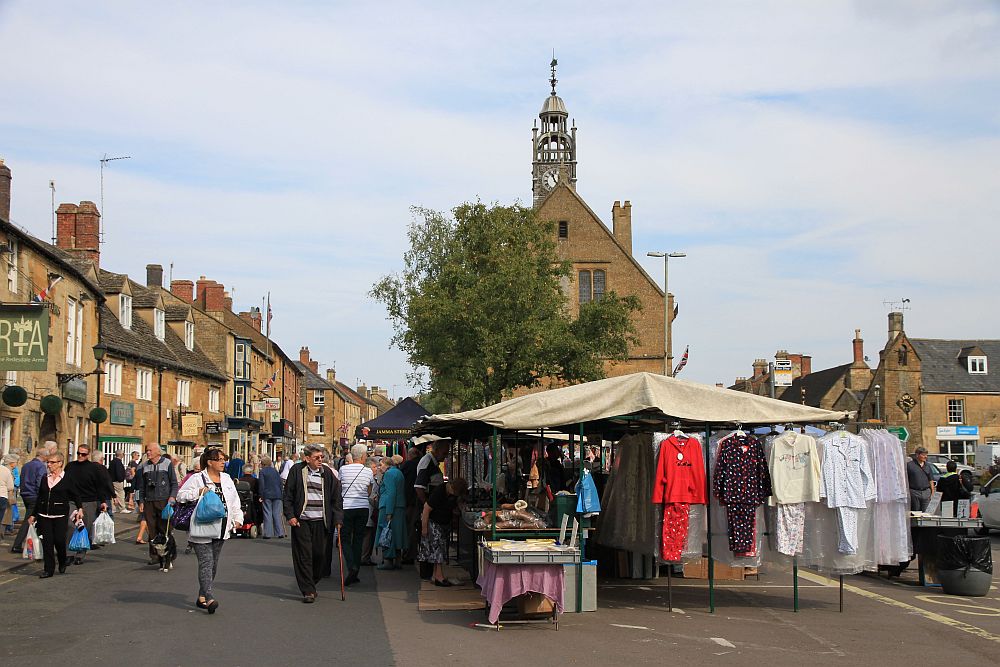 Monday 22nd September. Three weeks ago today I had an arthroscopy operation on my left knee with the hope that it would get rid of the knee pain I have experienced over the past couple of years. It is bit early to judge whether it's been successful yet as there is still some residual pain. This trip was a bit of an experiment as I was unsure how I would get on driving the motorhome with a heavy clutch. One reason for deciding on Moreton in Marsh as it was not so far from MK. Although we have been to Moreton many times before this was the first time with the motorhome so we decided to follow the TomTom route although in reality we would have been better using the same route we used with the caravan. When we got to the Caravan Club site it was pretty busy and quite difficult to find a pitch that suited us although in the end we opted for one just inside the entrance. It was a lovely day and in the sun quite warm although you could tell that autumn was knocking on the door.
Tuesday 23rd September. It dawned another lovely day despite Google telling us that it was the first day of autumn. We walked into Morton in Marsh this morning as it was Market Day which was clearly popular by the throng of people. Margaret can't resist a market and made several purchases. There was the unmistakeable sound of a Caribbean Steel Band, one of the stands was selling steel band CD's with a guy actually playing a drum. Not quite what you expect in a Cotswold Town, but nice none the less!!! We wandered up the main road in search of the railway station which is around the back of the Budgens supermarket. We wanted to check out the trains for a possible trip to Worcester. Having found our way back to the High Street we had a look in a small shopping arcade where we had a coffee in the Yellow Brick Coffee shop. Nice quality but expensive and a pretty small cup of coffee! Back at the van we were again able to sit outside and have lunch. Outside of reception there has been a sign telling us all that there would be takeaway pizza available this evening. It was rather intriguing to see the set up with a genuine wood burning pizza oven. We did not partake but it seemed very popular with many of the campers. Not such a good day with the knee today, perhaps a bit too ambitious with the walk around the town although you don't know this until you try!!! I am also wondering whether lugging a heavy DSLR camera around with me is getting too much. As good a quality as the pictures can be I am thinking that a smaller high end compact camera would do as a good job. When mentioning this to Margaret I sensed a groan at another new camera!!!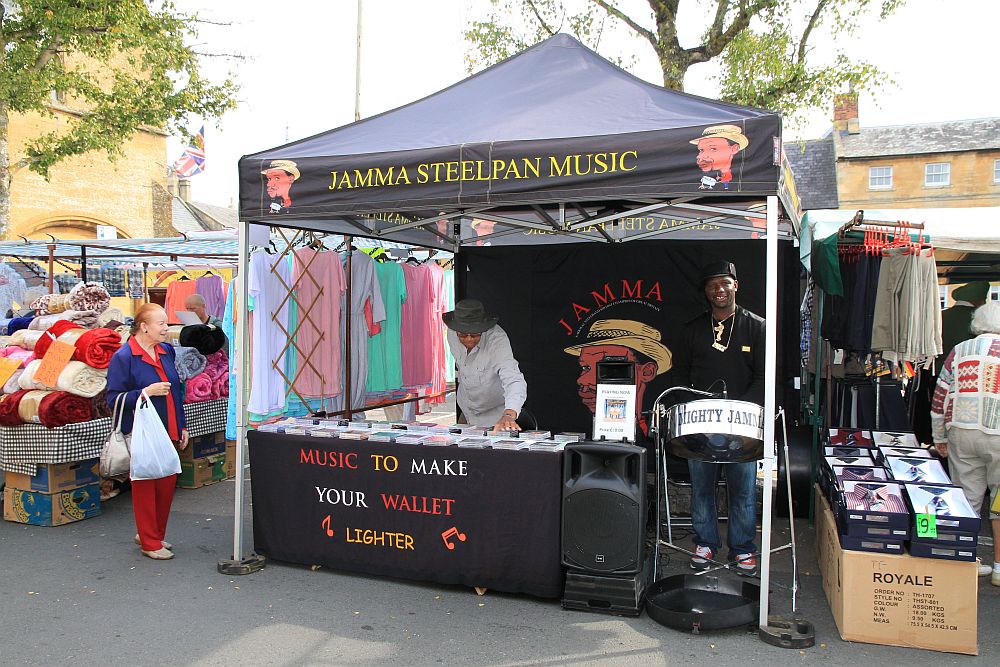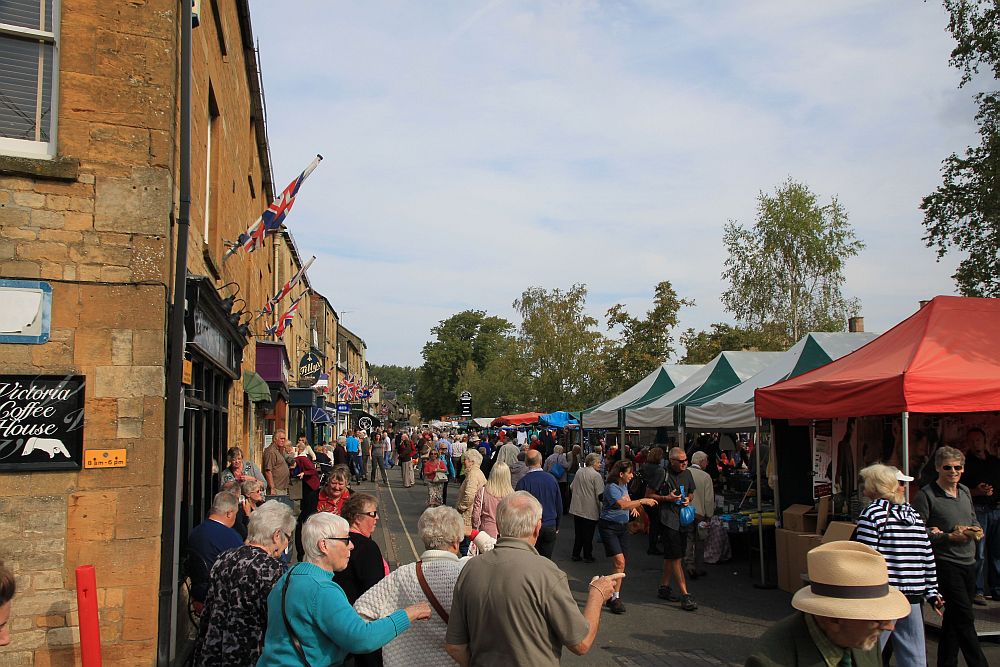 Wednesday 24th September. There was rain overnight which hung around a bit through the early morning. We decided to have a lazy day around the van. It did brighten up enough in the afternoon so that we could sit outside for a while.
Thursday 25th September. We have ruled out travelling further afield as we are uncertain as to how my knee will react. Perhaps only three weeks after the operation was always going to be optimistic? We did however have a slightly longer walk round Moreton in Marsh this morning which was not too bad. It's obviously a very popular place with the Japanese as we have seen several groups and several coaches with notices in Japanese and even on Tuesday we noticed the railway timetables had instructions in Japanese! Back at the motorhome it was difficult to have a restful day as one of the wardens felt it necessary to cut, what looked like, already short grass! It's a pity the Club don't fund some research into quieter lawn mowers. Maybe we will have to wait for new EU legislation on lawnmowers and noise!!!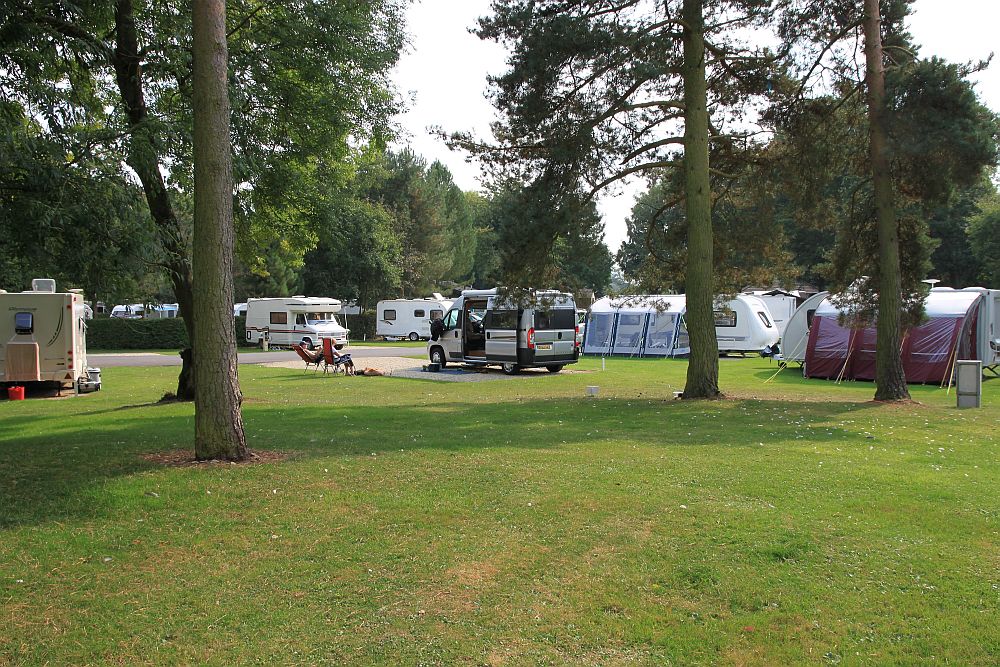 Friday 26th September. We drove home via Road Pro at Daventry as we were taking the motorhome there to check that we can have the satellite dish that we want. We spoke to Damian who to our surprised went up his ladder and walked on the roof!!! His advice was to put it on the other side of the motorhome roof to where we first thought it should go! He was concerned about opening roof vents, hence his suggestion. We are booked in towards the end of October to have the work done. We then made our way home via Towcester and filling up with fuel at Wolverton en route. This was something of an experimental trip given my recent knee operation. I was pleased we went but equally not altogether sure that it wasn't a bit soon especially from the walking point of view. Apart from leaving the knee stiff the driving was not really an issue. Fingers crossed that it starts to improve and that we can get away sooner rather than latter?
St Neots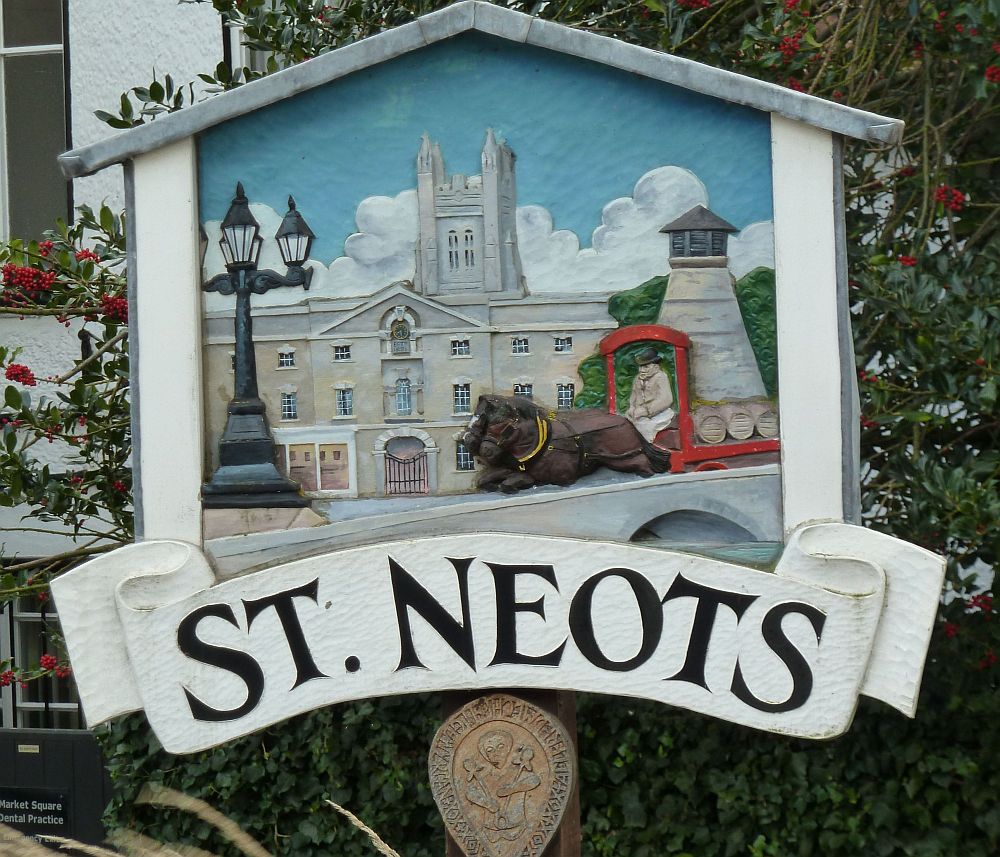 Monday 20th October. After a false start from last week when we were meant to be going to Chester, which we had to cancel at the last minute, we eventually got on the road again and are here at the Camping and Caravan Club site at St Neots. Unfortunately the knee saga continues. Whilst there had been some slight progress, when I went for my six week appointment at the hospital they gave me an injection in the knee which seems to have set me back. Anyway despite the continued discomfort you just have to motivate yourself to do things. It's a relatively short journey from MK, 31 miles in fact and fortunately pretty straightforward. When we arrived we were allowed to choose our own pitch which is a bit of a first for us on a C&CC site. Perhaps this more relaxed stance was due to the site not being that busy or maybe because the site closes in two weeks' time for the winter. Talking to one of the site staff it seems that most years the site floods, not surprising as it borders the River Great Ouse. Another indicator of this is that all the electric points are well off the ground on poles.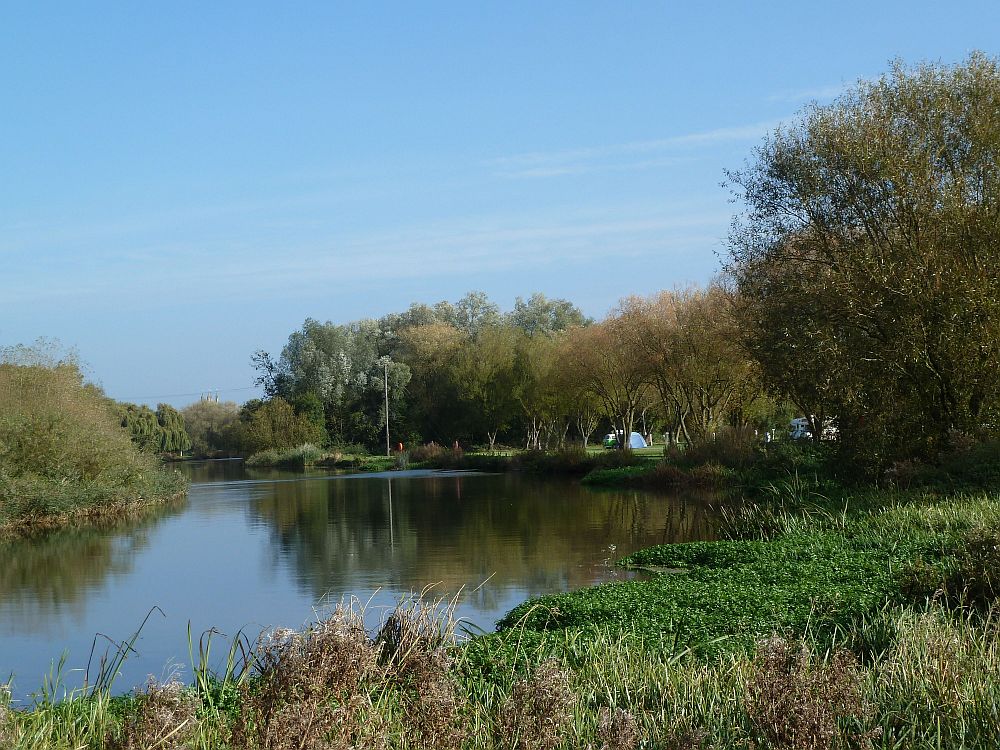 Tuesday 21st October. To say it's been blustery is somewhat of an understatement! We have been suffering from the former Hurricane Gonzalo which has reached the UK having started in Bermuda as a full hurricane. The motorhome has been battered a bit by the wind as there is no shelter from it as it blows across the water meadows. We do feel a bit more secure than we used to in the caravan. Fortunately the associated rain seemed to come overnight and whilst it has been cloudy we have also had our fair share of sunshine.
We walked into St Neots today from the campsite via the riverside park. Not quite sure of what to make of the town as there doesn't seem to be many old building like you get in lots of market towns. Although you see a different view by wandering the back streets. Having said that there seems to be a good selection of shops. We went into Beales which is a department store group, albeit not that well known. It was like stepping back 40 years! We had a cup of coffee in a café on the Market Square, The only table free was right by the door so every time it open everything blew off the table!! We walked back to the campsite via the riverside park. I suppose we have walked two or three miles today so hopefully this will help the knee, I will know tomorrow morning!!! During the afternoon the wind really came up and the van was really buffeted as the wind got even stronger, strangely whilst this was all going on we had a lovely blue sky. Intriguingly not far from us is a tent with a very long windbreak in front of it, despite almost gale force winds the windbreak is standing there as though the day was completely calm.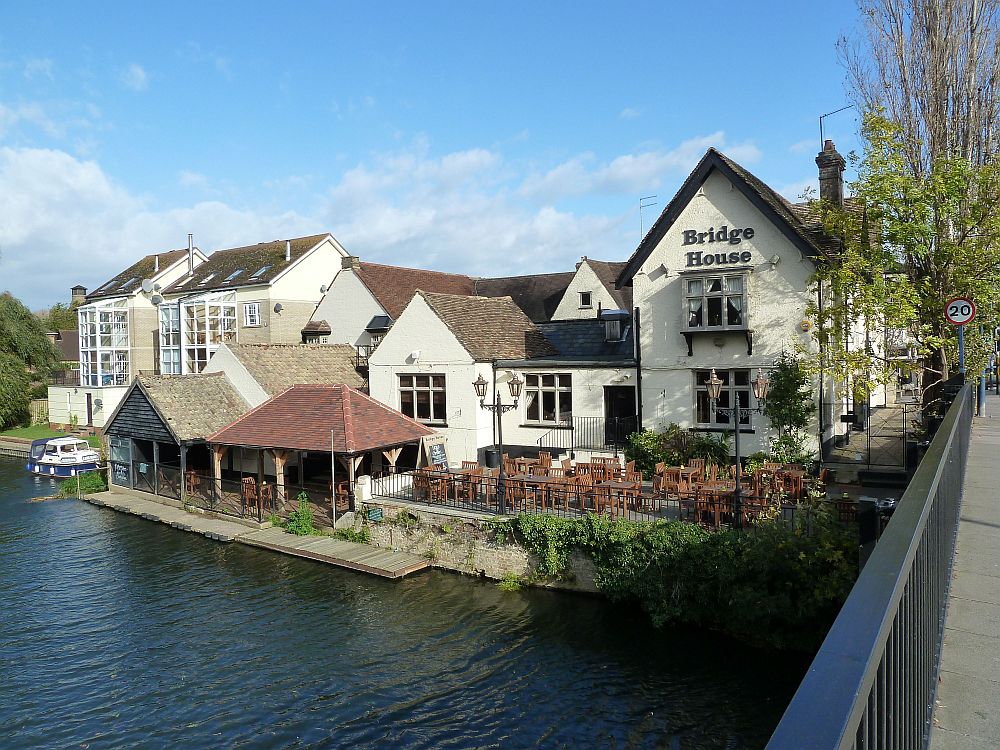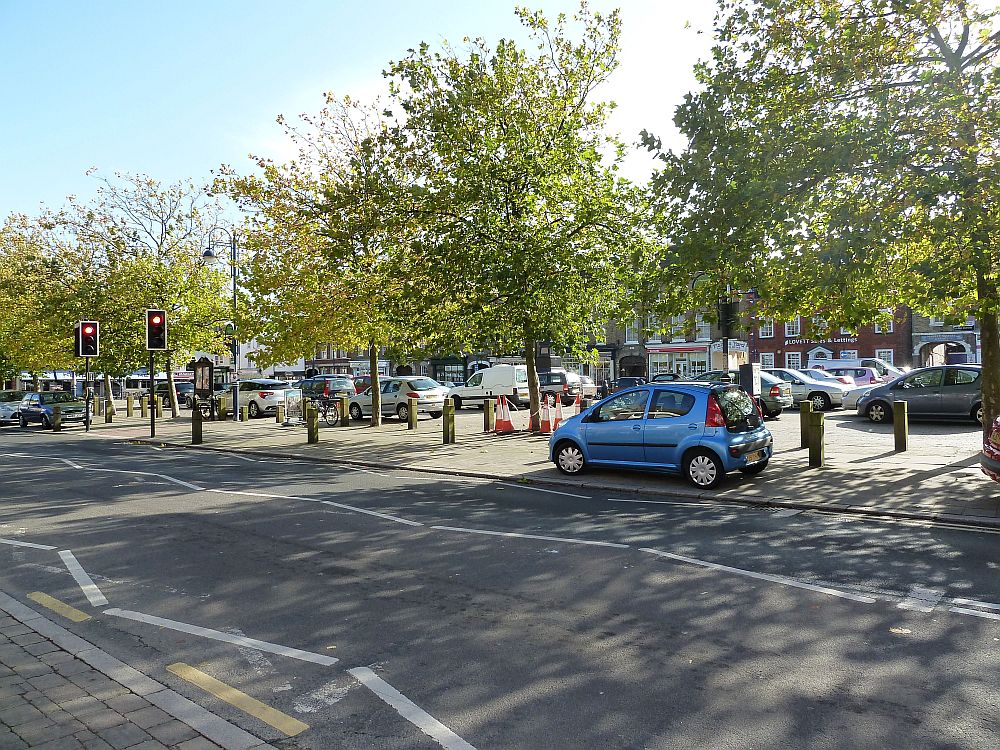 Wednesday 22nd October. The storm of the previous day seems to have blown itself out and we awoke, albeit quite late, to a calmer, but clear blue sky. After breakfast we decided that we would walk along the river upstream to Eaton Socon. It seems there must be a public right of way along the river through the campsite as it was only a hundred metre walk or so from our pitch to join the path. It was quite muddy but then it had been quite wet. The first thing we came to was the Willow Bridge which forms a cycleway from Eynesbury to Eaton Socon. It is built above the flood plain to allow all year access between the two villages, although there is no access from the river path. Continuing our walk the river opens out at Eaton Socon Lock and it is here that you can cross the river to access the village of Eaton Socon. We stopped at the Rivermill Tavern for a coffee. The old mill is now a restaurant. We wandered into the village which seems to have plenty of pubs!!! The main road through Eaton Socon is what used to be the Great North Road which is now bypassed by a dual carriageway. There is a good path back to St Neots but we were not sure if we could take a short cut back to the campsite. Fortunately this was the case and we recognised where we were from the previous days walk. The campsite is not particularly busy, probable no more than 20 units with a greater proportion of motorhomes compared to caravans. The only tent survived the storms but they packed up and left today.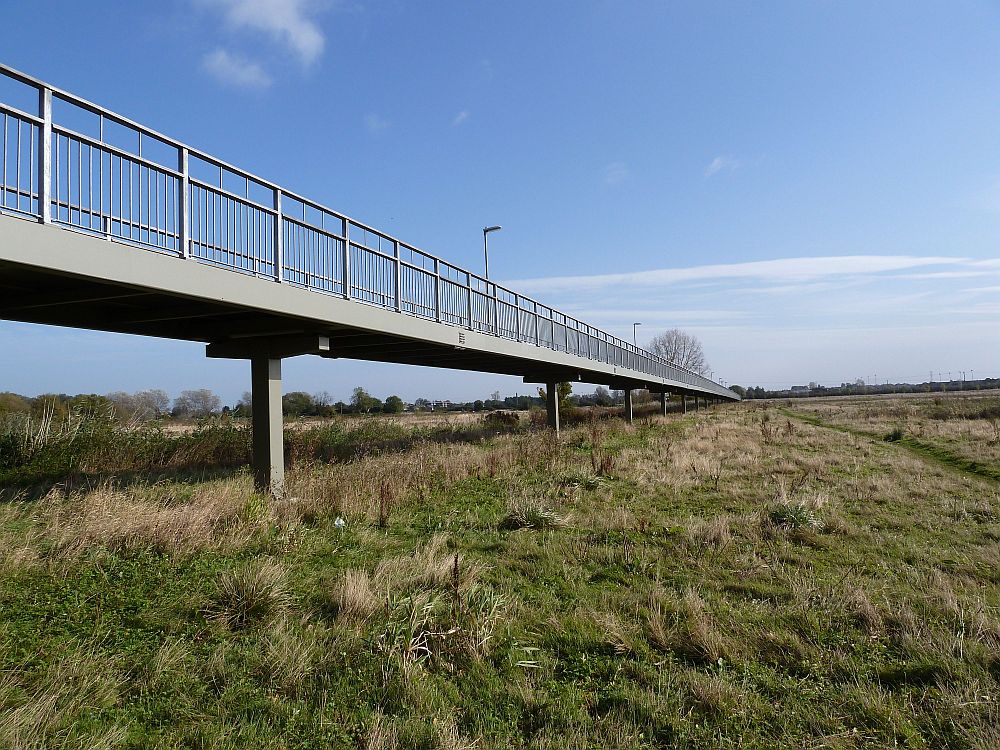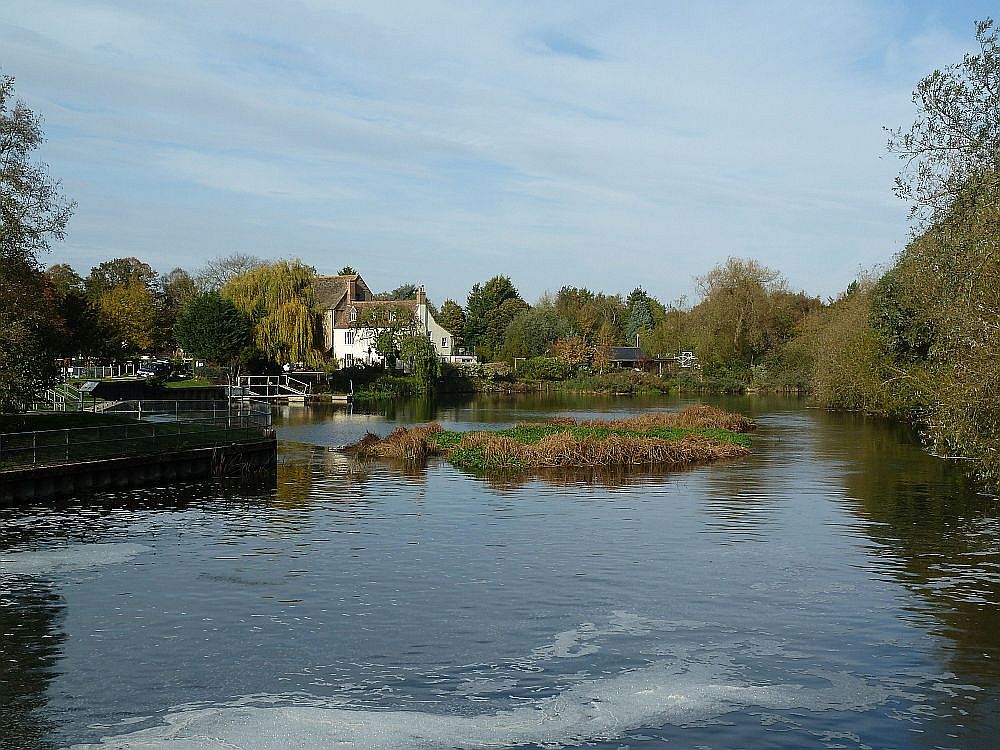 Thursday 23rd October. It is our wedding anniversary today, married 43 years. The weather today was a bit different to 43 years ago, dull and quite mild now as against bright cold and sunny 43 years ago!! Is that global warming or just pot luck? 43 years ago I could Hop, Skip and Jump but regretfully now no longer.
On the bright side we decided that we would go out and eat for lunch so after a lazy morning we wandered back into St Neots. This time using the route into the town on the campsite side of the river. We eventually found ourselves in the High Street and walked up to have a look at the Market, which despite being past lunchtime was still in full swing. We wandered back to the High Street and had a nice lunch in the Coach House pub before staggering back to the van, perhaps a slight exaggeration there!!! En route we saw a very old Commer motorhome parked outside a house and I just had to take a photo of it. It was very similar to one owned by some acquaintances many, many years ago in our youth!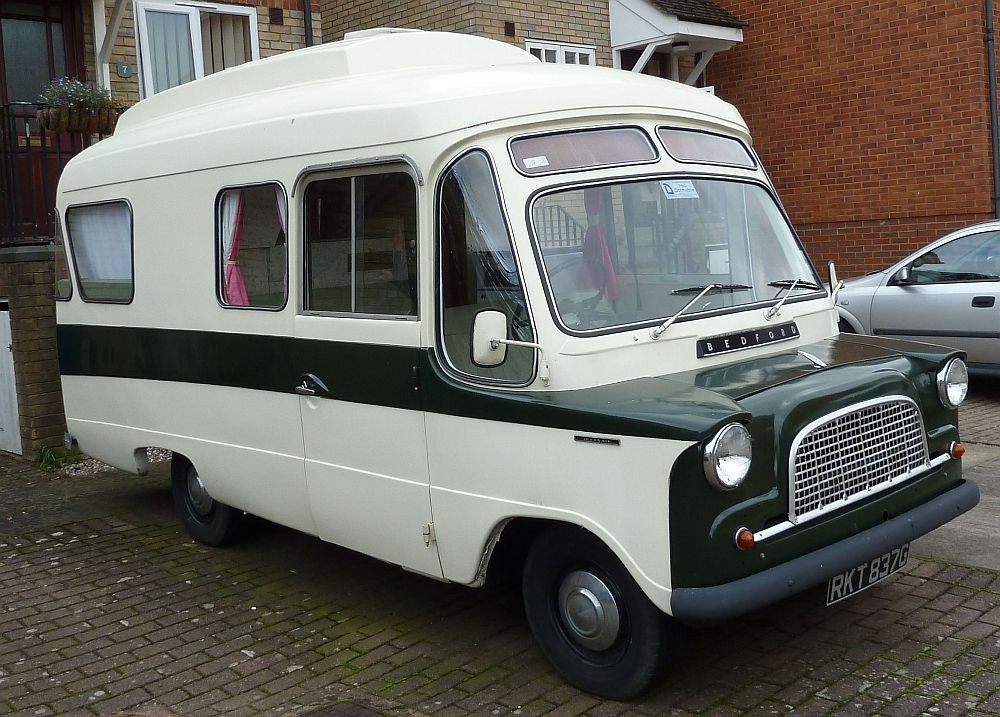 Friday 24th October. Up quite sharpish this morning. Very strange night as outside temperatures stayed at around 15 degrees and inside the van a few degrees higher, I thought it was nearly the end of October!!! Having done the usual drill in getting ourselves ready to leave we set off for the grey water disposal point. This turned out to be quite a performance as the waste drain is set about six inches off the ground so trying to manoeuvre the van into the correct position was difficult. We left the site at just after 10.00am and it seemed strange to see TomTom telling us we would be home in under an hour. Pretty easy journey home and it managed to stay dry.
Wythall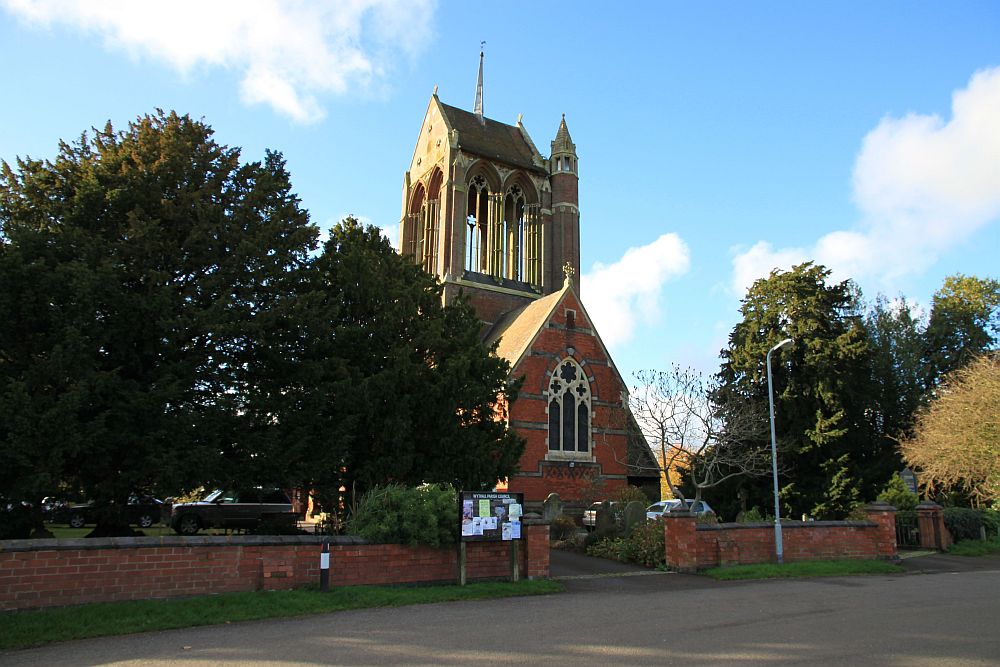 Friday 14th November. Well the old crocks are on the road again!!! The Chapel Lane Caravan Club site at Wythall is a stopover en route to Chester on Sunday. When we got up this morning it was raining stair rods but gradually it eased off and by the time we set off it had stopped. In fact as the journey proceeded the sun actually came out. The M40, which we used in preference to the M1, was surprisingly busy. By the time we had settled into our pitch the sun was out and it was heating up the motorhome quite nicely. Perhaps not warm enough to sit outside but that didn't stop a few of our neighbours!! After some lunch we had a wander around the site which was pretty busy although, of course, it is the weekend. Just outside the site is a now redundant church called St Mary's. It has a very large open bell tower which once had a peal of eight tubular bells which must have had an impressive sound. I wonder if that was where Mike Oldfield's Tubular Bells came from!

Saturday 15th November.

It dawned a very grey day but at least it was not raining. We decided to walk round to Becketts Farm shop which is about half a mile from the site. It seems to be something of a local institution judging by its popularity. All the food was very well presented but much of it was not particularly healthy!!! They also have a well-known restaurant and a small coffee shop which was our destination once we had looked round the shop. On the way back from the site we had a quick look at the Transport Museum situated next door to the campsite. Unfortunately it closes at the end of October for the year.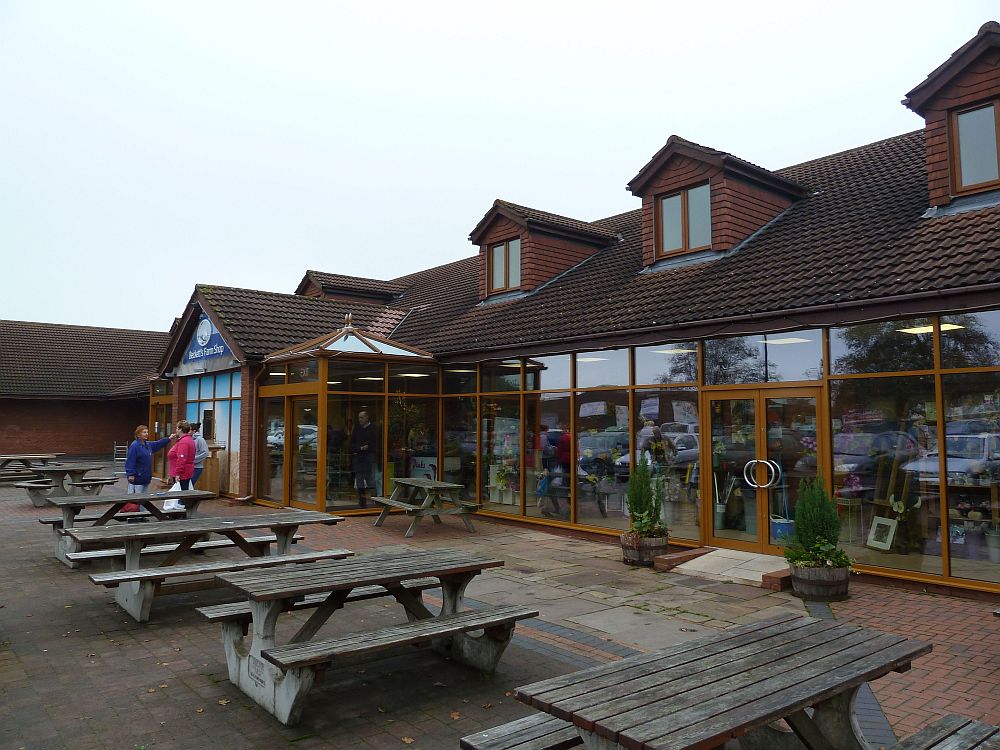 Back at the van we have been playing with our new toy, an automatic satellite dish which we had fitted at the end of October. It is so simple compared with the freestanding set up we had before but at a price of course! Rather ironically it was purchased to make it easier to get UK programmes abroad just at the point when health issues prevent us from going!!
Chester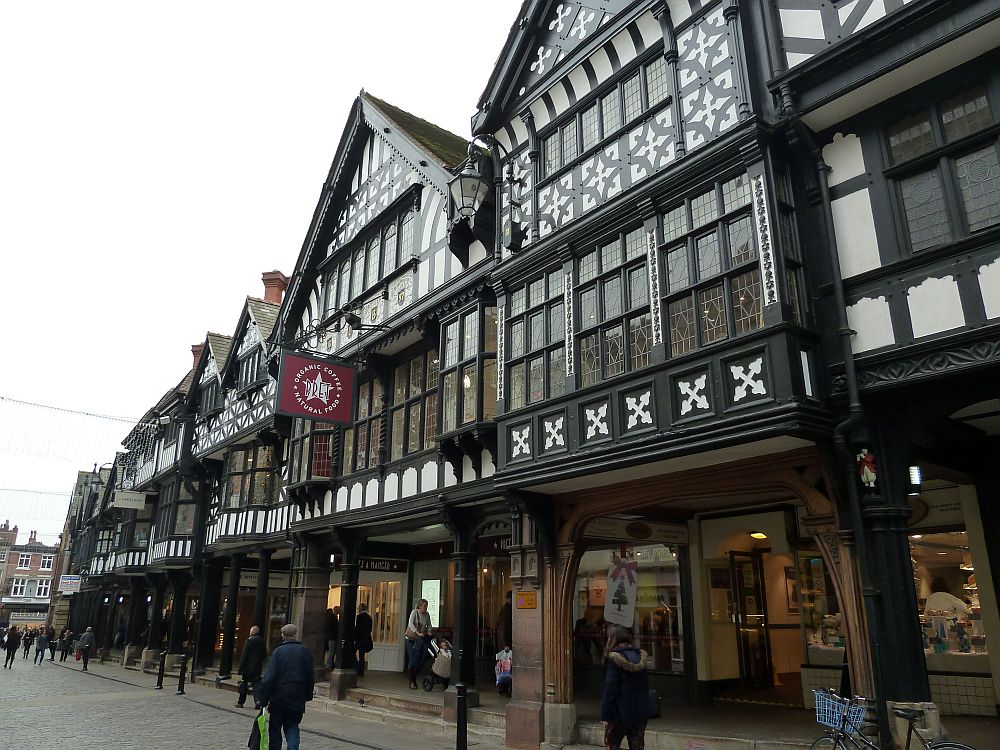 Sunday 16th November. Today we left Chapel Lane and headed north for the Caravan Club site called Chester Four Oaks which as the name implies is near Chester. The journey took us around the south and west of Birmingham on the M5 eventually reaching the M6. One surprising feature we noticed was a couple of huge illuminated advertising signs on the edge of the motorway. Should add that it was a pretty dull and murky day with even a bit of fog in places. The motorways were pretty busy but unlike weekdays it was mainly cars. As traffic generally is moving faster you have to be much more aware about pulling out to overtake slow moving vehicles.
On the final approach to the site from the M53 traffic slowed to a crawl. This was all to do with the popularity of the Cheshire Oaks Outlet shopping centre. Once clear of the traffic access to the site was quite straightforward. We made four attempts to find a suitable pitch, the warden must have wondered where we had gone!! The problem was that we wanted to be fairly near to a service point but most of the pitches we tried had a side to side gentle slope. We eventually found one that suited. The site, like the last one, is still pretty busy, no doubt due to there being a lot to do in the area regardless of the weather.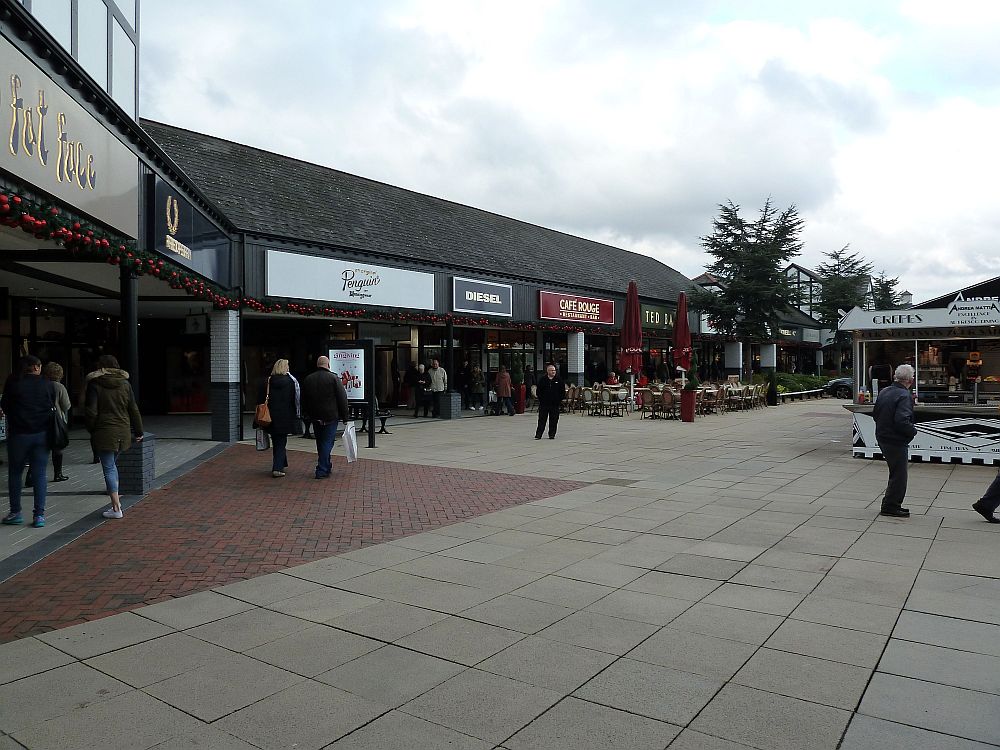 Monday 17th November. Today dawned dull and grey but at least dry. We decided to go and have a look at the cause of our delay in getting to the campsite yesterday, the Cheshire Oaks Outlet Shopping Centre. Although supposedly only half a mile away it seemed quite a hike and some of the roads were not very pedestrian friendly but we managed to get there safely. It is a massive place. We have something similar nearby to where we live at Bicester but that is much smaller. Not only that but it was packed with people. Glad we came by foot as I think you would have real difficulty finding somewhere to park at ground level. It's very difficult to judge whether you will find a bargain but clearly the throngs of people there must have thought so. I think the walk round the centre was longer than actually getting there! Towards the end of our circumnavigation of the shops we stopped at the large Sainsburys for some shopping. On the way back to the van we stopped at the Rake Inn, which is only a couple of hundred metres from the campsite for a meal which, whilst not Cordon Bleu, was good value.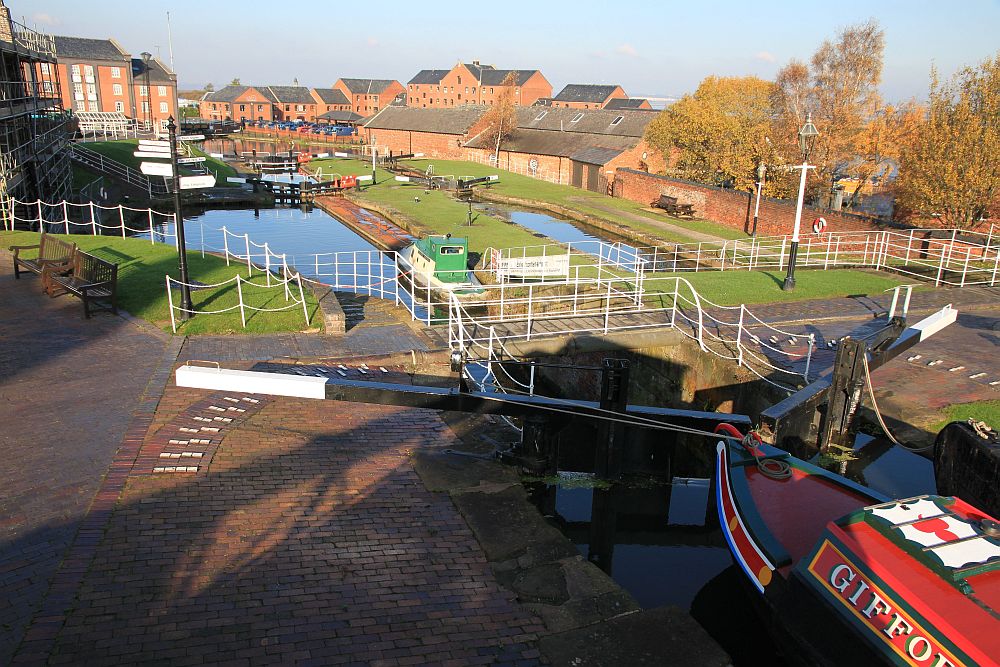 Tuesday 18th November. We had a very nice day at the Ellesmere Port National Waterways Museum today. Luckily the weather has been a lot kinder today with lots of sunshine. The museum is about three miles from the campsite so we decided to splash out on a taxi there and back which was not too expensive. Ellesmere Port was the point at which the Shropshire Union Canal originally joined the River Mersey. But when the Manchester Ship Canal was built that became the point where canal cargo transferred to ocean going ships. The Museum is set out in many of the original maintenance and Port buildings and the canal and Port basins where cargo would be transferred from canal onto larger boats for Liverpool. There is a large exhibition building detailing the history of the Port including a cut away version of Joe and Rose Skinner's narrowboat Friendship. It was one of the last horse drawn narrowboats. It cost £300 when it was built, Joe apparently put £140 down and paid ten shillings a months at 5% interest. Joe was what was called a 'Number One' which meant he was an owner/operator. After something to eat and drink in the handy café we went for a short boat trip along the canal. It was more historic rather than scenic! Finally we walked over to the viewing point near the car park which overlooks the Ship Canal and the Mersey beyond.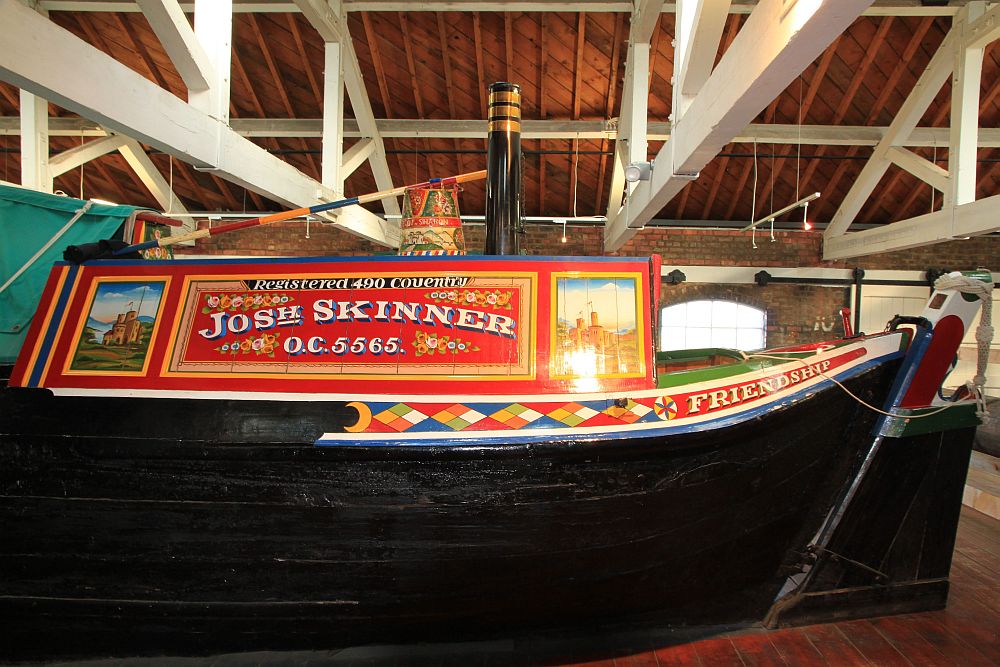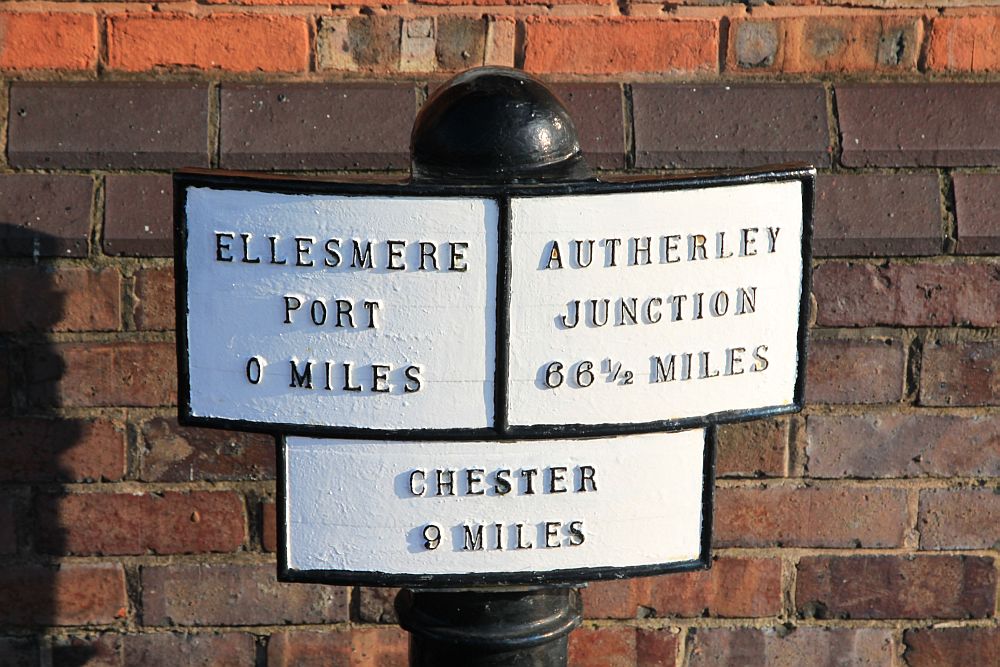 Wednesday 19th November. As predicted the day dawned dull and grey but not raining. We took the bus into Chester. From the site it was a half mile walk to the bus stop which was next to the Blue Planet Aquarium. The bus route is quite tortuous but interestingly the route included the entrance to Chester Zoo, its establishment was the subject of a recent BBC series, Our Zoo. The centre of Chester is quite compact and most of the original walls are still intact and can be walked around. However our first stop was the Cathedral which I have to say is not as large, at least height wise, as many others. They are quite clever in that they don't charge an entrance fee but suggest an amount of suitable donation. We did make a small donation but lower than suggested as we were hardly inside for fifteen minutes including the shop! Chester is also well known for 'The Rows' which are what might be described as double decker shops. After something to eat we went on our exploration of the walls as mentioned earlier. I suppose we managed about half distance. For part of the route the Shropshire Union Canal hugs the City Walls. We even noticed some locks dropping the level of the canal below the railway. After our walk round the Walls we decided to call it a day and headed for the bus station. This time deciding to use the X8 bus back to Cheshire Oaks thinking that it would be a more direct route. This was only partly the case as it wound its way round Chester, but once out of the City it joined the motorway which seemed somewhat surreal!! The poor knee had taken some punishment over the last three days and was pretty sore by the time we got back to the van. Rather perversely it was fine when it came to my evening, avoiding soaps, walk around the campsite!!!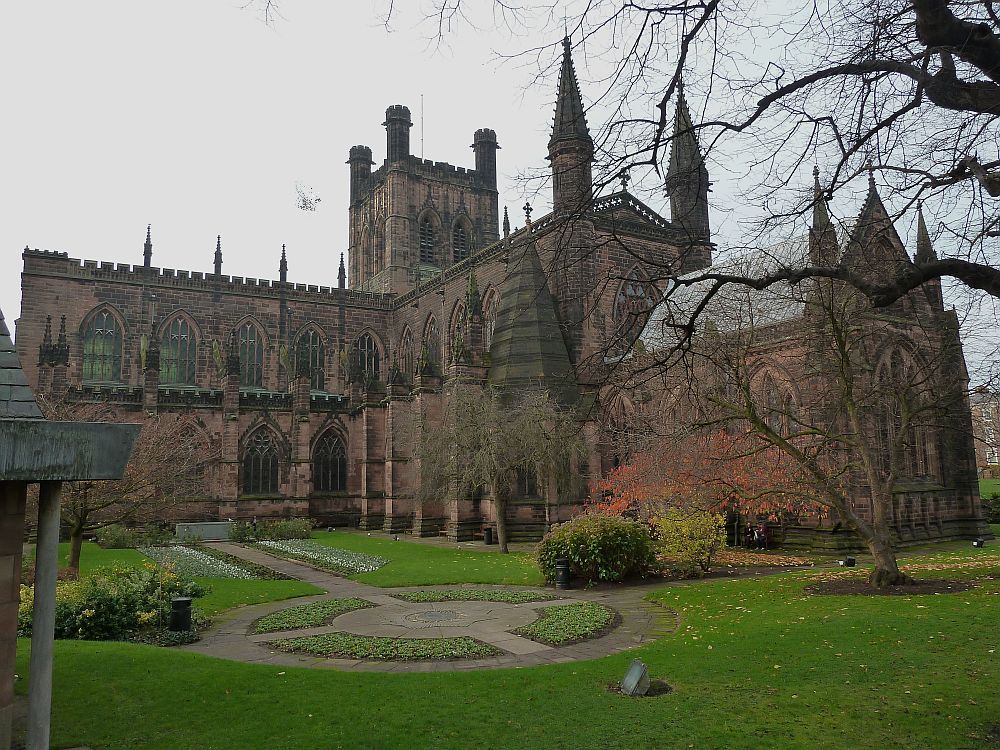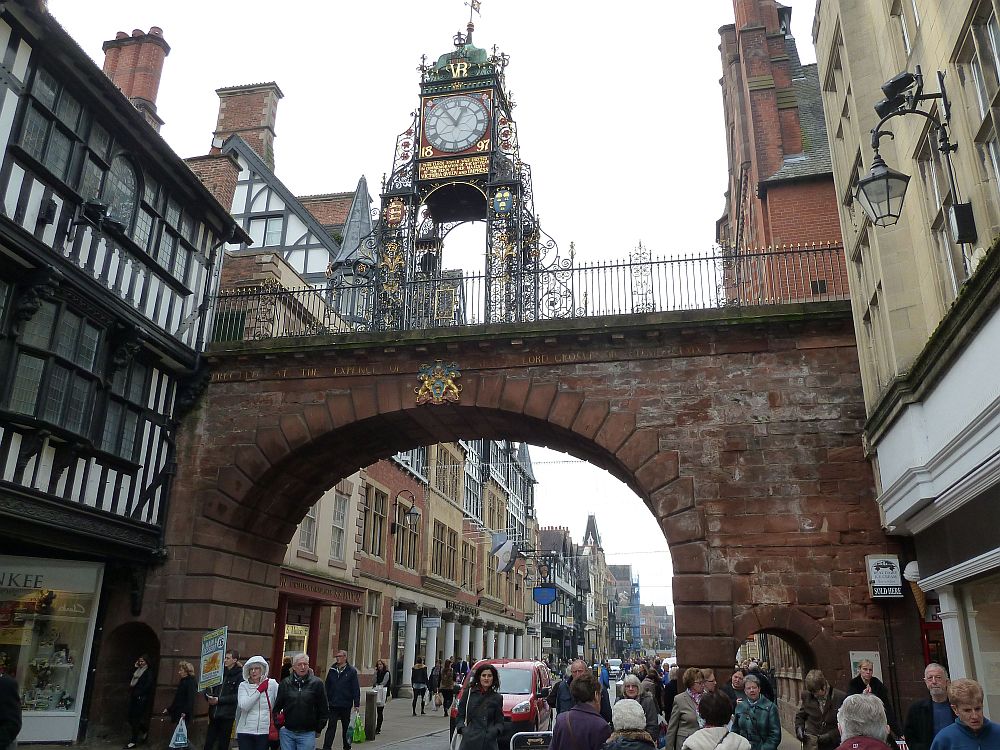 Thursday 20th November. After three pretty hectic days we decided to have a rest today prior to returning home to MK on Friday. We decided to go to Chester yesterday as it seemed that today would be the worse day weather wise but apart from some overnight rain it's actually been reasonably sunny!!! We did have a wander around the campsite which is still over half full. Margaret did a few book swaps at reception.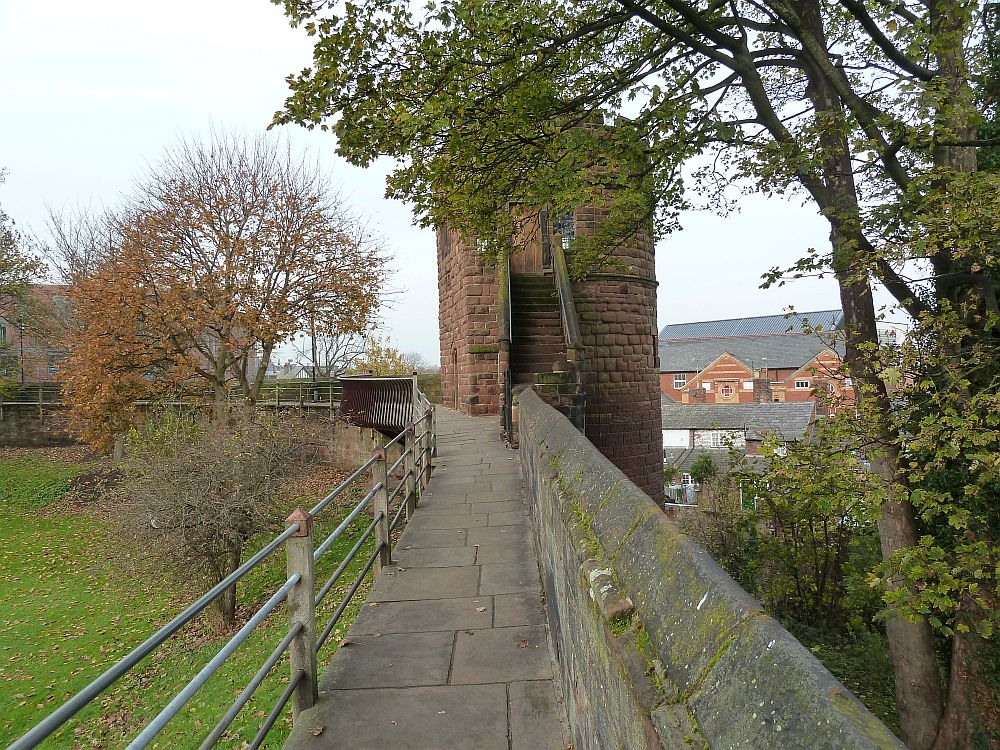 Friday 21st November. It has been nice to be away in the van again but time to go home. We left the site just before 10.00am. Traffic was heavy on the M6 as to be expected and as always a delight to be able to take the M6 Toll which by contrast has very much lighter traffic densities and well worth the money spent on the toll, even better when taking advantage of the Caravan Club half price offer! Back on the M6 proper we could see that there were delays on the M1 between junctions 12 and 10. Now whilst this is south of MK it can soon back up further north. We decided to exit the M6 at junction 1 and head down the A5 to MK. Whether this was really a wise decision I now doubt as we encountered one slow vehicle after another. Now you expect lorries and the like to be slower but what I can't understand are those car drivers that only seem capable of driving at 40 mph on a road where 60 mph is possible. As we got nearer to home we pulled into a Tesco to fill up with fuel which surprisingly had fallen to £1.239 a litre. Since buying the motorhome the price of diesel has fallen about 18p a litre, so about £10.50 cheaper to fill up that it would have been eighteen months ago!
This may be our last trip away this year although we were hoping that we might be able to visit Longleat in December to see their Christmas show of decorations. Although my knee is still playing up I can cope with that as I have better times as well as the less good times. Unfortunately not long before we came away Margaret was told she needs a triple heart bypass operation which was quite a shock to her. We don't know when but likely sooner rather than later, although before Christmas seems a bit unlikely. So as can be imagined it's likely to be some time before we can use the motorhome again once the operation is done.