Fortunately today has been quite pleasant with sunny periods. A fairly easy route from MK across to Bedford and then down the A1 and A1M to Baldock. The A1 is like the preverbal curates egg, good in parts. The trouble is that some of it goes through built up areas which I imagine prevents improvement to motorway standard. For Christmas I had a Dash Cam, a Nextbase 402G and today was the first chance of trying it out. Quite interesting to be able to watch the journey but no doubt the equivalent of showing friends the family snaps!!!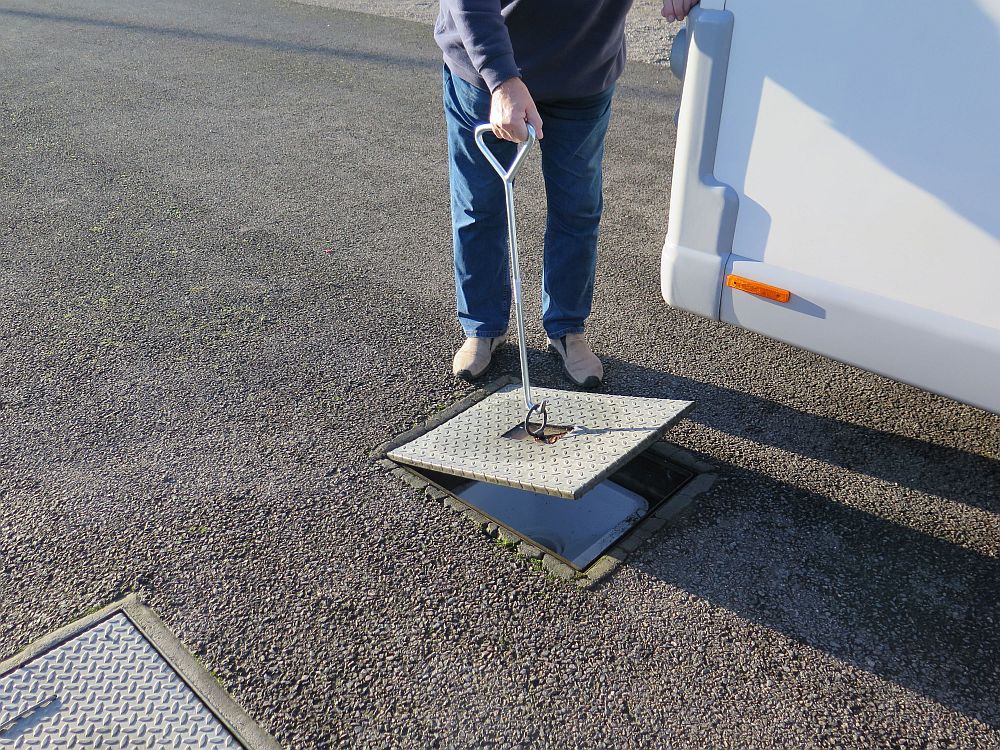 I whinge on a lot about Caravan Club motorhome service points as nearly all of them have heavy metal drain covers that need to be removed before emptying can proceed. Having spent a few dark nights at home thinking of possible solutions I decided to search for drain pullers. Many were the wrong shape but I found one with a good hook on the end on E-Bay. I had to chamfer down the end so that I could get it under the ring pull in the drain cover. It worked better on the drains with a central pull because it was easy to lift the cover clear. Those with the pullers at each end was a bit more difficult. It proved to be a useful addition to our motorhome aids, see how we get on at the next site.
We decided to take a different route home which was shorter but slower, via Ampthill rather than Bedford. Even allowing for topping up with fuel we were home in reasonable time. Margaret is no doubt concerned whether I have January out of my system or will I want it to be a regular feature!!!
Bath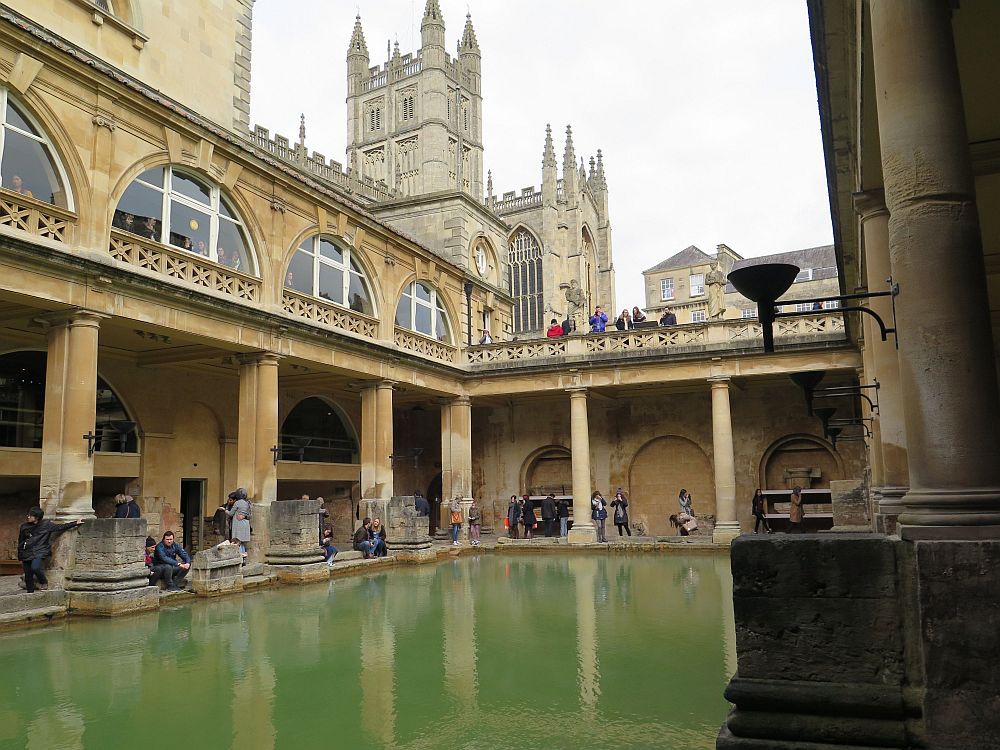 Friday 26th February. Second trip of the year. Weather is still very cold but we have been having some brighter days of late so let's hope they continue! With overnight temperatures forecast to be zero or below I was a bit concerned about getting the water system set up the day before. I did leave the heating on until I went to bed in the hope that it would ward off any damage. Whilst it was cold overnight there was fortunately no frost as there was some cloud cover.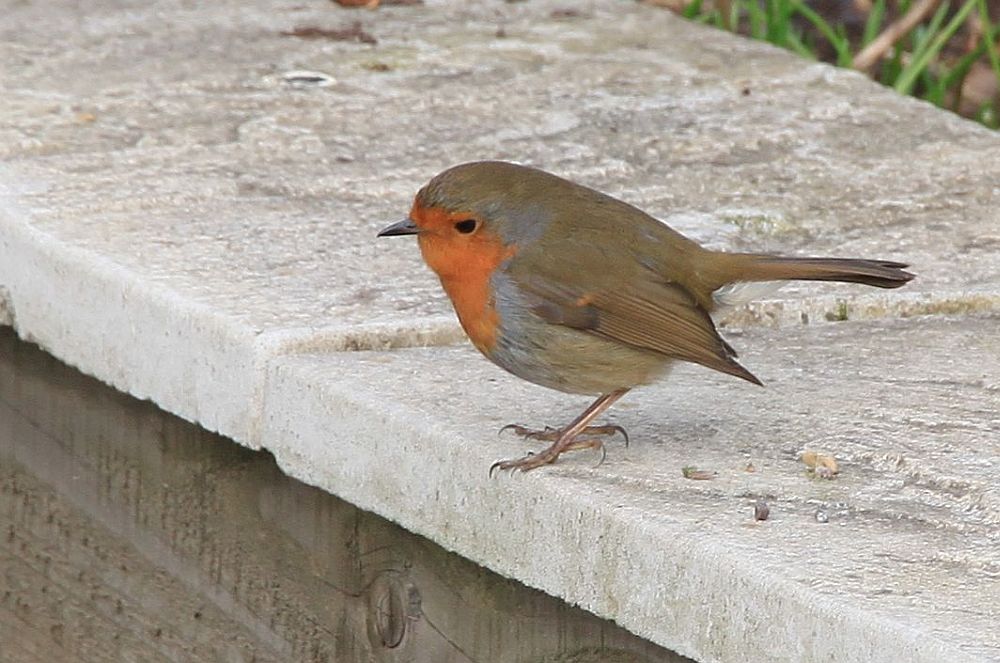 We are off to Bath today. We have been meaning to try the Bath Marina site for some time. As its open all year and has hardstandings and is a bus ride away from the City Centre it seems ideal for a break at this time of year.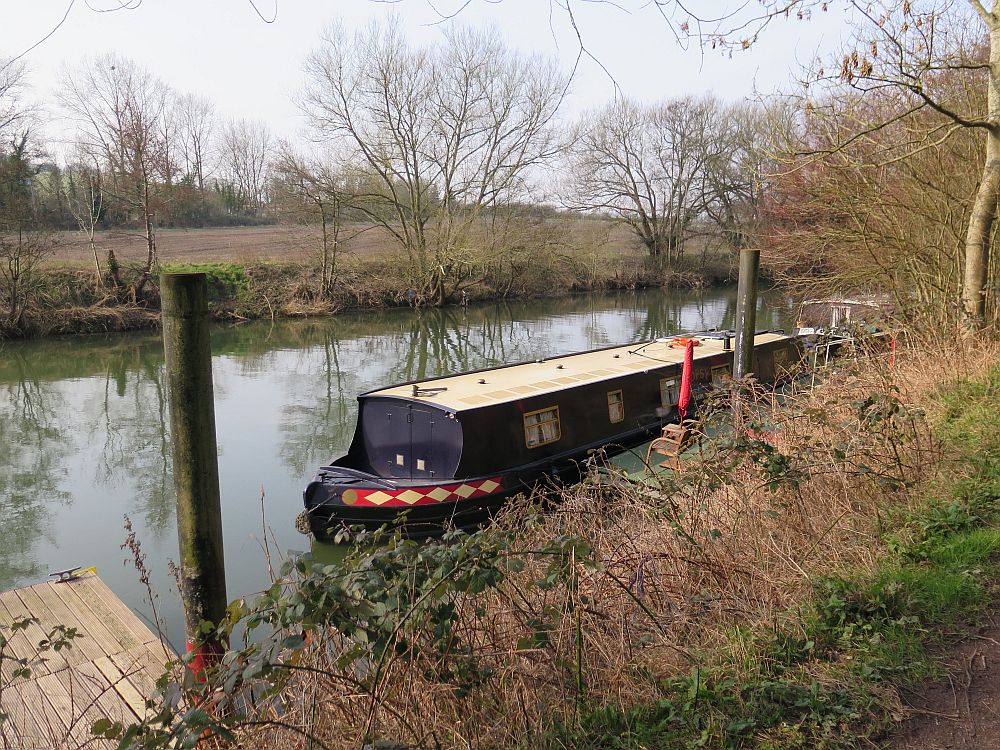 I was surprised when TomTom suggested it would take the best part of three hours to reach our destination, but more of that later. Mind you TomTom was playing up as he seemed reluctant to find the GPS signal. We set off in the hope that it would eventually wake up, which it did. Our journey took us across country to Oxford and then onto the A420 to Swindon and the M4. It seems that no part of the countryside is free from new housing. I know it's needed but I can imagine a point when from MK to Oxford will be one big continuous housing estate!! Back to the A420. It's one of those roads that starts encouragingly enough but soon descends into a country lane. One of the reasons TomTom was so pessimistic about the timing of the trip!!! By contrast the M4 was fast and furious. A lunchtime stop was made at Leigh Delamere Services where the caravan/motorhome parking is convenient close to the shops. Back on the M4 but not for long before we head south on the A49 towards Bath. This is another country lane until you get to Bath. The final three to four miles takes you right through the centre of Bath along the A4. Fortunately it gets a bit quieter as you get nearer the campsite. Bath Marina Campsite is right on the River Avon as the name might suggest. I knew the site had hardstandings but didn't realise they were concrete. Ideal of course for a motorhome and perfectly level which makes a change!!!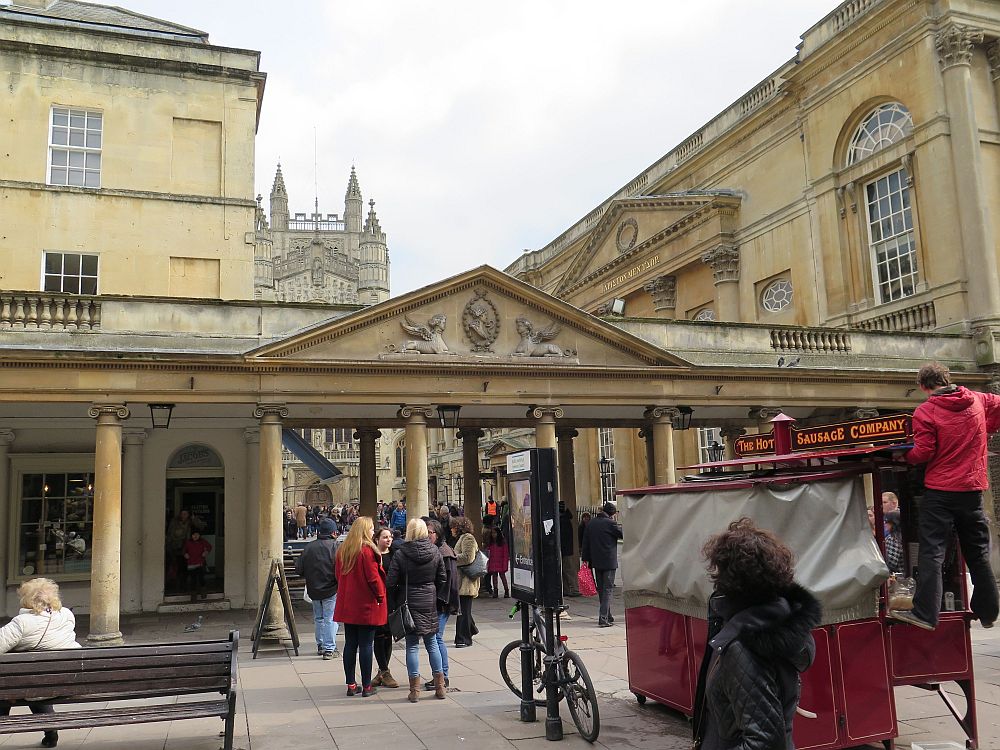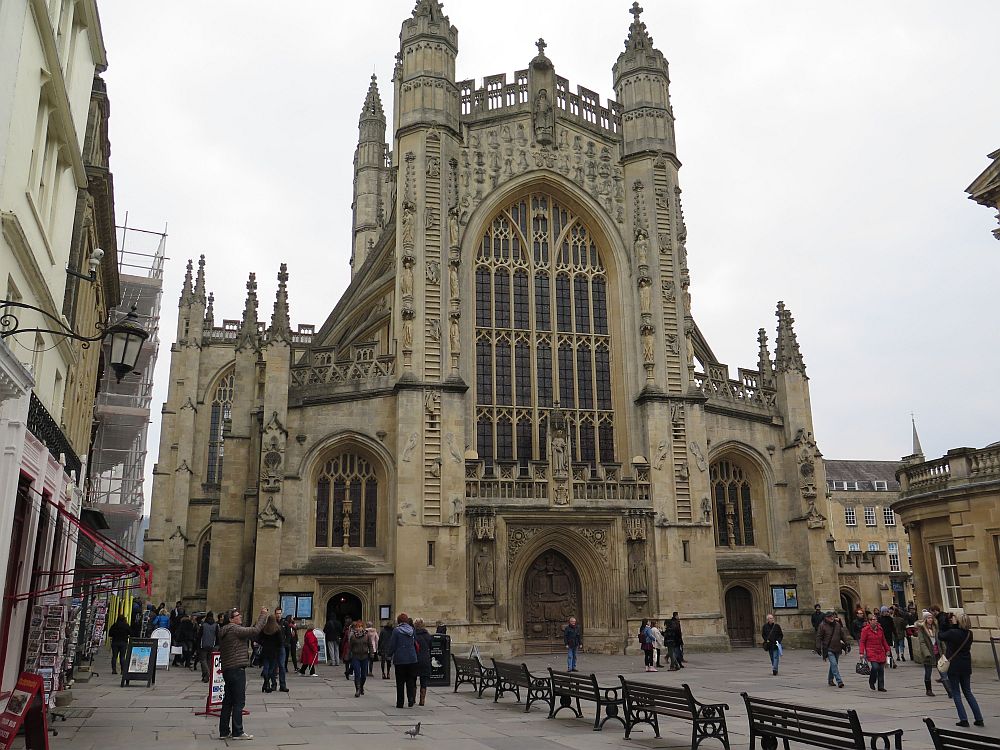 Saturday 27th February. We awoke to a grey and cold day which was not unexpected. No sign of frost but a cold wind. It did brighten up a bit as the sun tried to break through the clouds. We are heading for Bath today using the Park and Ride which is just across the main road from the campsite although we are using the path alongside the river Avon to the Boathouse Pub. The bus was already waiting for us. Fortunately this P&R accepted our Bus Passes, not all do. It's a fairly short journey into the City but congestion slowed us a bit as we approach our destination. The City was very busy with a mix of shoppers and tourists. We headed for Bath Abbey and then onwards towards Poultney Weir. It was bitterly cold as we made our way along the river. Not helped by muggins not bringing his scarf and gloves!!! After a few photographs we dived into the covered markets where for the sum of £4 I was able to avail myself of a decent scarf. What we needed was a nice hot coffee but all the coffee shops were full to bursting.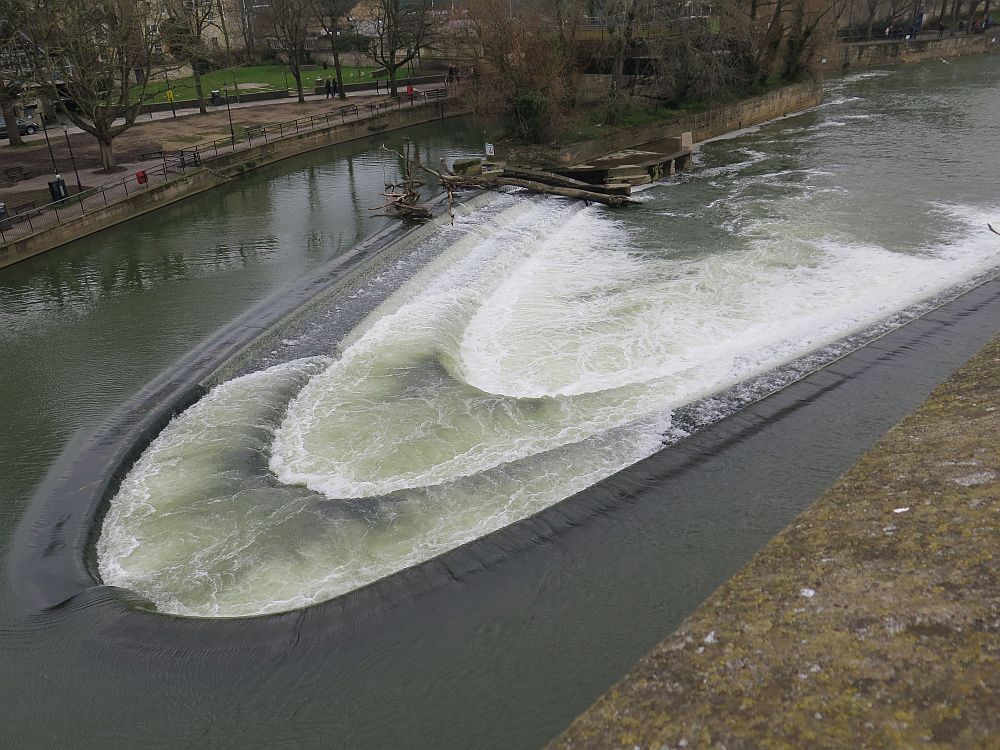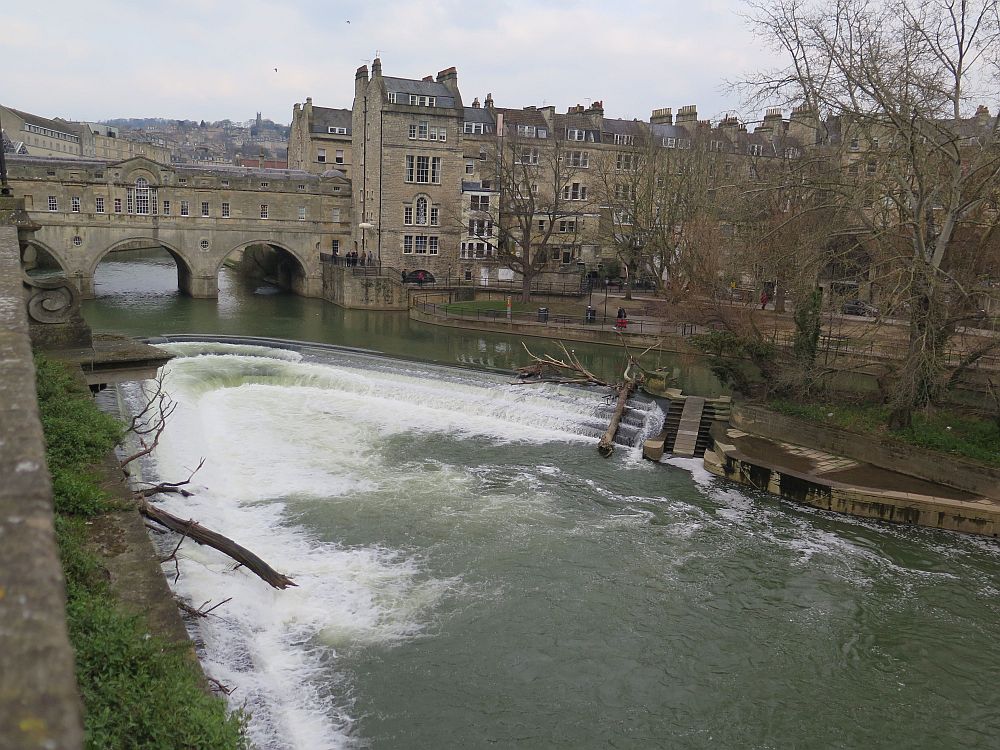 Opposite the Roman Baths we spied a shop selling Cornish Pasties and they had two seats free. We decided on the smallest pasties and their coffee was not bad either! Fortified we crossed the road to join the queue for the Roman Baths. I was not expecting such a comprehensive venue. Obviously you have the baths that you often see on TV but beside that there is considerable Roman ruins to see as well. The museum has been built in such a way that you can view many of the original features through glass walk ways. One gripe I have of such places is the use of audio devices which explain the history. Not that I begrudge people getting the full story but people do get engrossed in listening which prevents others getting a view of the exhibits. Time for the bus back to the P&R. We decided to have a meal in the Boat House before returning to the van. The meal was fine if not exceptional and reasonable value. We sat in the conservatory over-looking the river. There was some sort of rowing competition going on as boat after boat passed by the window. Going upstream they were going quite slowly but on their return they were obviously in some sort of timed competition as you could see the power being given to each stroke.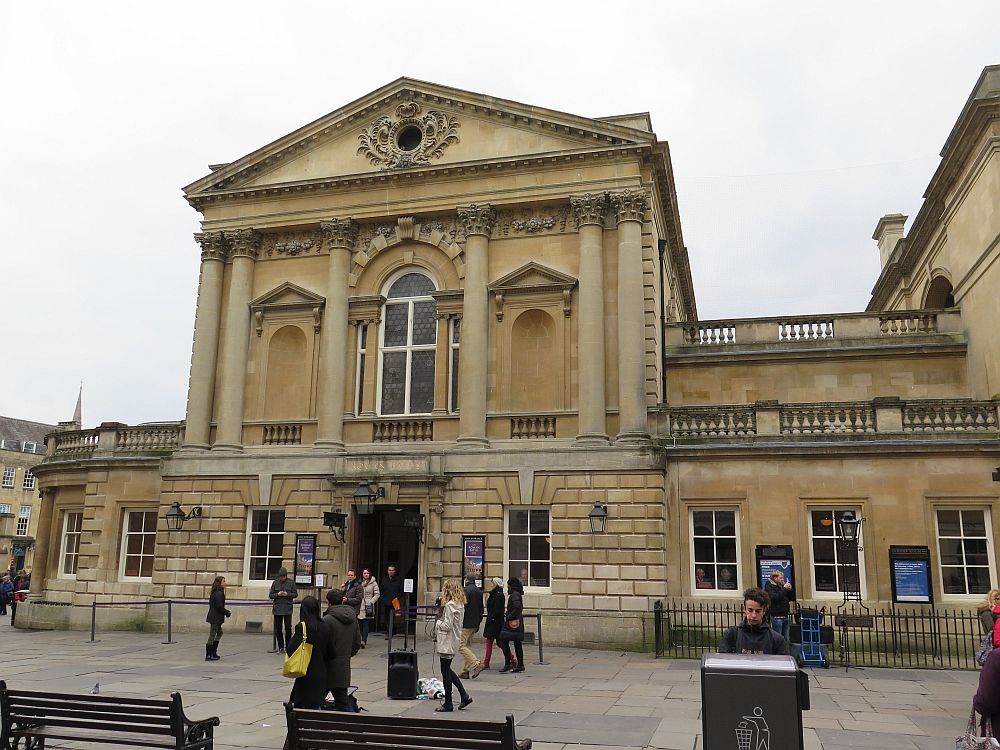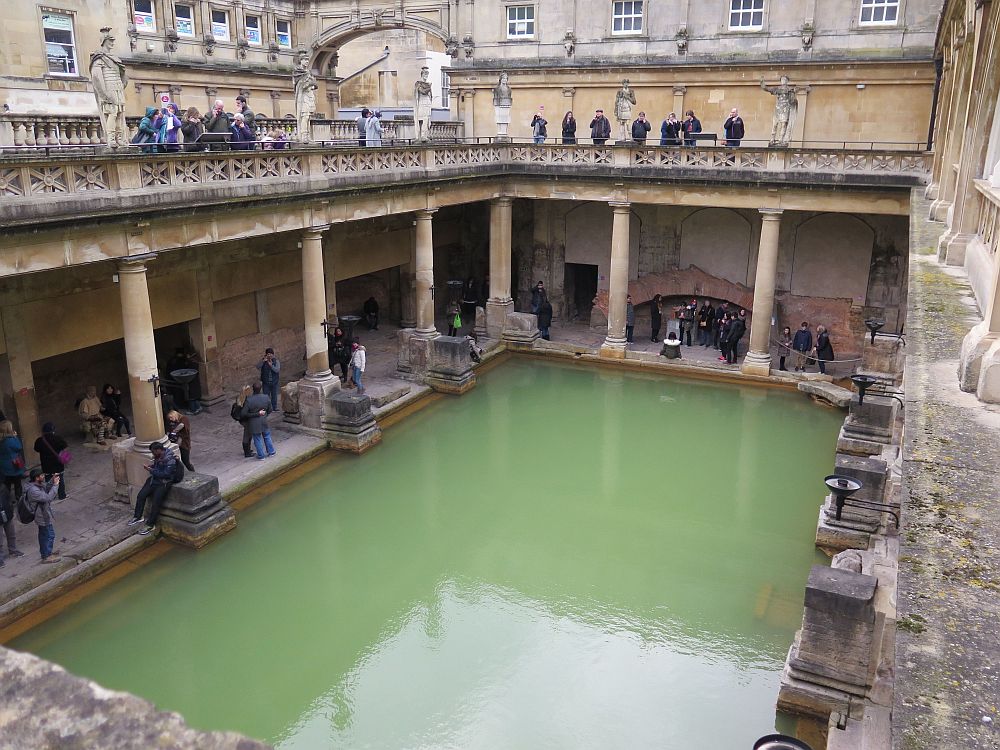 Sunday 28th February. It dawned a bit brighter today but still pretty cold. Today we went back into Bath this time to explore the Georgian side of the city. It's a surprisingly steep climb up to the level where the famous Royal Crescent is situated on a ridge above the city. Before getting there you first reach the Circus which was designed by George Wood the younger although he didn't live to see its completion by his son. Apparently the "Circus" the circular green is the same dimension as Stonehenge as the designer, was convinced, that Bath was the centre of Druid activity in Britain. In some ways the Circus is equally impressive as the Crescent set with four curved terraces of houses that complete a circle only interrupted by the roads that enter and leave the circle. Number One the Royal Crescent is now a museum detailing the life during the peak of fame for a period of about thirty years from about the mid 1700's. People would come for "The Season", including Jane Austen, which would run from January to May each year. I suppose it was the forerunner of London coming out at the very least it seemed to be a marriage market. I suppose it's not unreasonable for people to be able to park outside their homes that fact that you can't view any of these splendid buildings without parked cars is a shame. There is another story on this issue which relates to the only house in the Royal Crescent with a yellow door, I will leave my readers to discover this for themselves!!!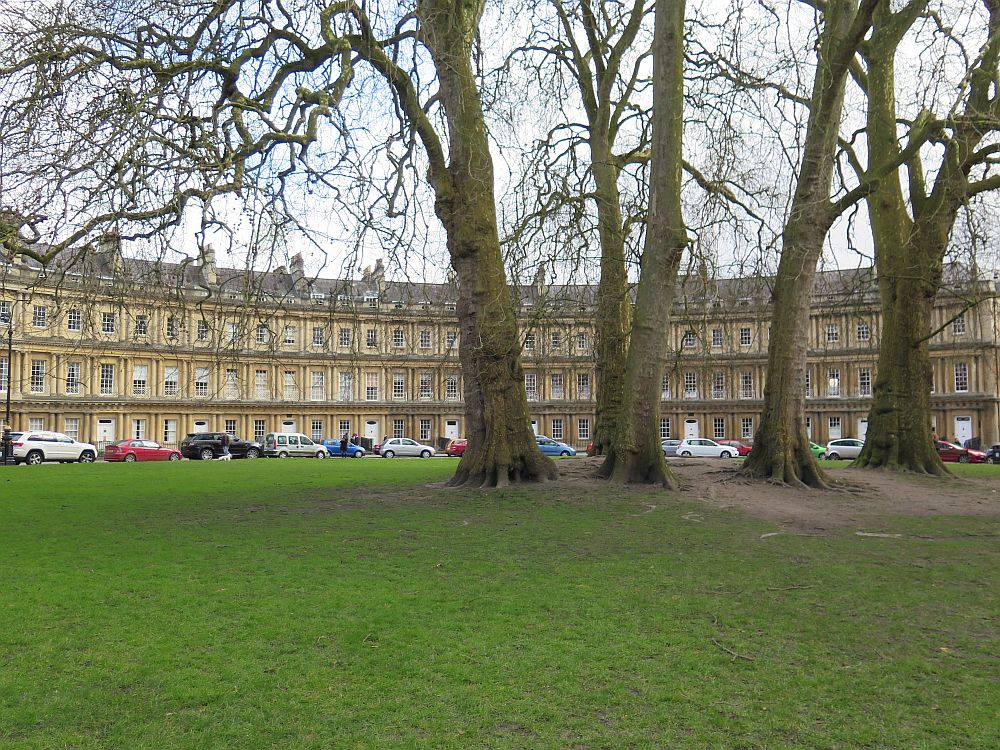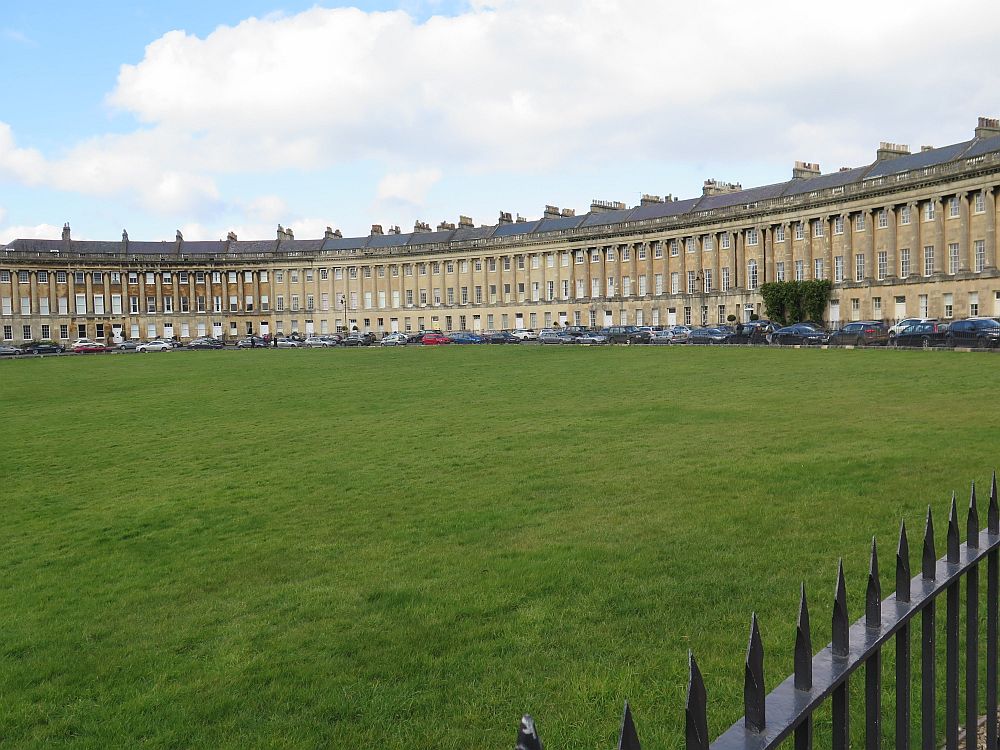 Cheltenham
Monday 29th February. The day that only comes once every four years. The last day of February and we are moving from Bath to Cheltenham today. It is only a journey of about 50 miles so we didn't want to be too early. Mind you given the number of road works between Bath and the M32 I am surprised it didn't take twice as long! We stopped at Michael Wood Services for a coffee. Plenty of space for caravans/motorhomes but at the furthest point from the shops. We pulled in a bit nearer as it wasn't that busy. Coffee break over we were on our way again and we arrived at Briarfields Touring Park at Cheltenham just after midday. I was talking to the lady on reception about them leaving the ACSI scheme. Apparently the campsite can't choose the price band they go into, it's got to be a set discount off their regular fees. They then have to convert the euro price to sterling which reduces their income even further. Fortunately their prices are not that high so I suppose it was academic.
After some lunch we had a wander round the locality looking at places to eat. Having discovered a Harvester which we duly noted for later use we continued to the ASDA store on the pretence of needing a loaf of bread!!! If I had really wanted to spoil Margaret I could have taken her to B&Q which was also en route!!!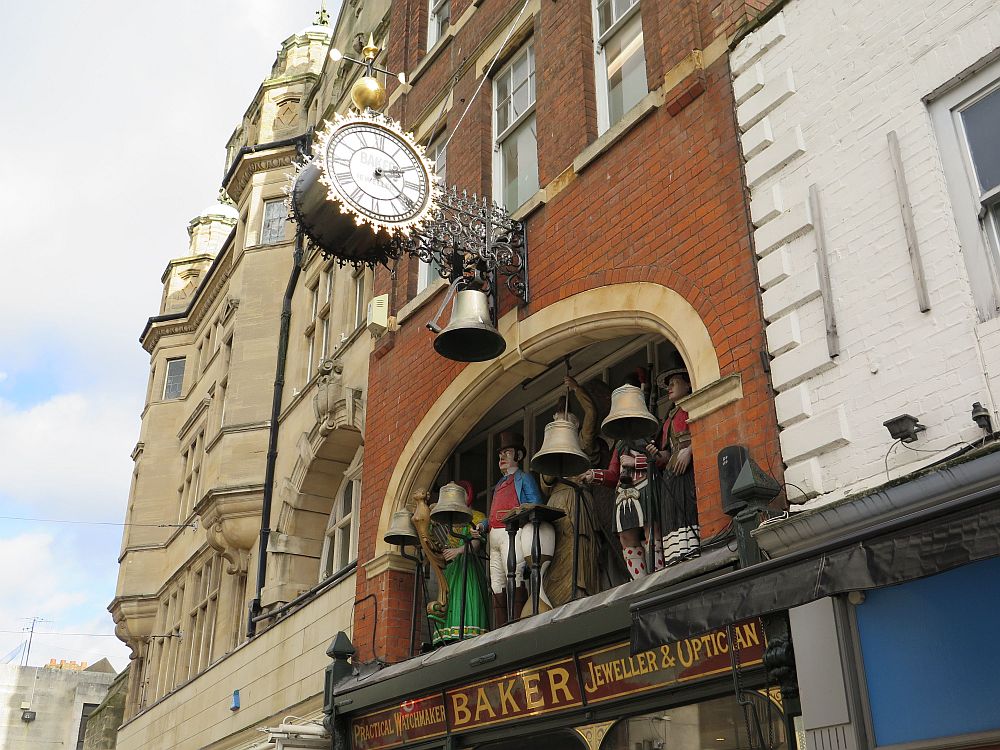 Tuesday 1st March. The first day of Spring according to the Met Office. They could be right because after some initial rain first thing it brightened up with quite a lot of sunshine and certainly warmer than the last few days. We got the bus to Gloucester today. Fortunately the stop was outside the campsite and the buses every ten minutes. Our first port of call was the Cathedral and you might have guessed it was half covered with scaffolding!!! Inside I noticed the pillars were quite thick compared to other cathedrals we had been in. Also the Cloisters were enclosed when they are usually open. We decided to boost their funds by having a coffee and a tea cake.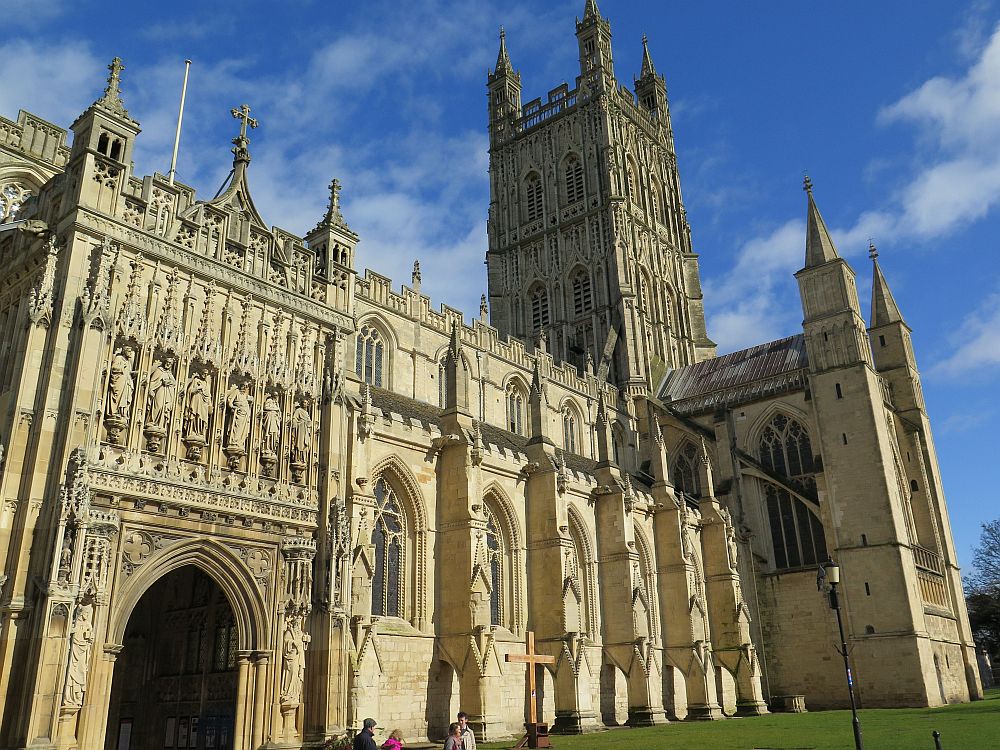 Our second port of call was literally the Port of Gloucester which links the River Severn and the Gloucester and Sharpness Canal. Much of the original warehousing has been converted to flats and retail outlets. No complaints from me if that is what it takes to retain these wonderful buildings. It's good to know that attitudes to such things have changed immeasurably in the last 50 years so that now we retain and change use rather than pull it down. The Gloucester Waterways Museum is also housed within the old warehouses but we were unable to visit as its being refurbished and due to reopen later this year. Margaret had spied a sign to some outlet shops so that was where we headed next. Walking back to the bus stop I noticed a large Debenhams store which looked a bit out of place as it was quite an impressive looking building. 50 years ago this was the peak of department store building. We are changing the way we shop so how long such buildings exist in their original form is hard to tell.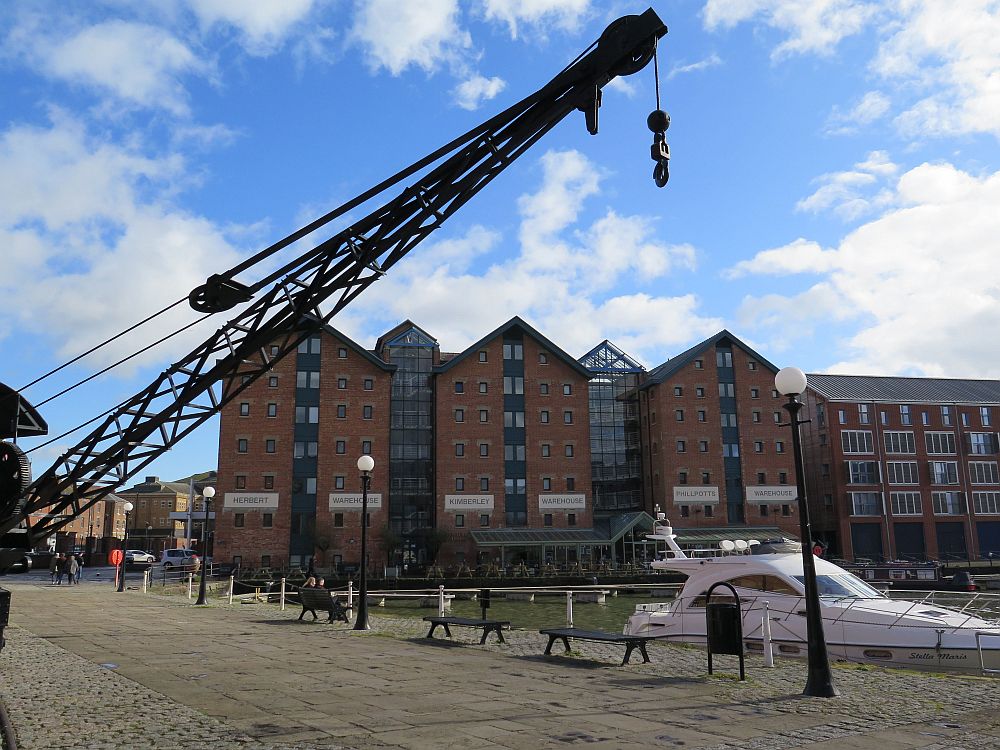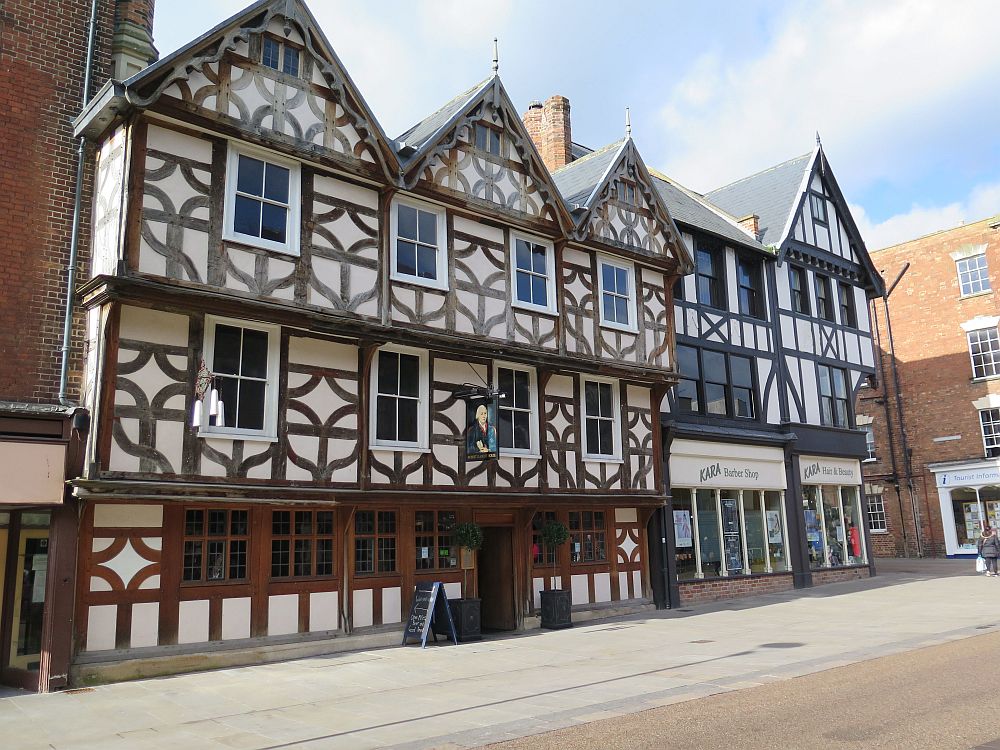 Wednesday 2nd March. Very much a lazy day. Although we woke to heavy rain and the van being buffeted by wind. A motorhome a few pitches down from us had left their Fiamma awning up and it had blown over the top of their roof. Wind out awnings are excellent additions to a motorhome but to my mind only suitable in light winds and best not left out all the time unless really secured down. This is the second time I have seen one go over the top of a motorhome. The weather continued to be extremely changeable all day. We even had hail stones. Early afternoon we decided to walk over to the Harvester for a meal. It was surprisingly busy!
Thursday 3rd March. Going home today. First job, as always, is to empty the waste water. Briarfields has a good drive over grill so no lift of heavy metal covers. It is a slow process so any form of entertainment whilst it goes on is welcome. Today it was in the form of a Hercules transport plan swooping in low over the campsite looking as if it was going to land at the nearby Gloucester airfield. Instead of completing the manoeuvre it pulled up skywards. It obviously circled round as it came back for another try but again pull up. This, of course may have been the intention all along!!!
Journey back was pretty uneventful. TomTom took us back to the M5 and down one junction which avoided going anywhere near the centre of Cheltenham. Weather was a bit damp although heavy rain held off. Got back just before 13.00 hours to a seriously cold house which took the rest of the day to heat up.
Slimbridge
Tuesday 5th April. At least there are a few signs that the weather is improving although still far from warm. We had to load the new electric bikes before leaving today. We had previously had a trail run but this time it was for real. Electric bikes!!! We are both of the opinion that ordinary push bikes are going to be a struggle going forward for us. Two choices, one not to bother and the other was to investigate the electric option which we have gone for. When deciding on electric bikes you have to be cautious of advice from others as there is a lot of price snobbery when seeking such advice. You also have to be careful about the weight as many are heavy compared to ordinary bikes and might not be suitable for a normal bike rack. In the end we decided on a couple of folding bikes by Pro Rider. They have a fairly good range but we have not yet had a chance to put that to the test.
We are heading West again and not far from where we were earlier in the year. This time our first stop is Tudor Caravan Park at Slimbridge. The journey was also familiar via Oxford and A40. One highlight was the stop at Gloucester Services. For a moment I imagined that I was in France. Sensible spacious parking for motorhomes and caravans with signs suggesting you enjoy your two hours of free parking rather than emphasising the negative of paying for longer than two hours! The icing on the cake was that the shops and restaurant were not the normal greasy spoon type of eateries. Some might find it a bit too up market but I thought it was spot on.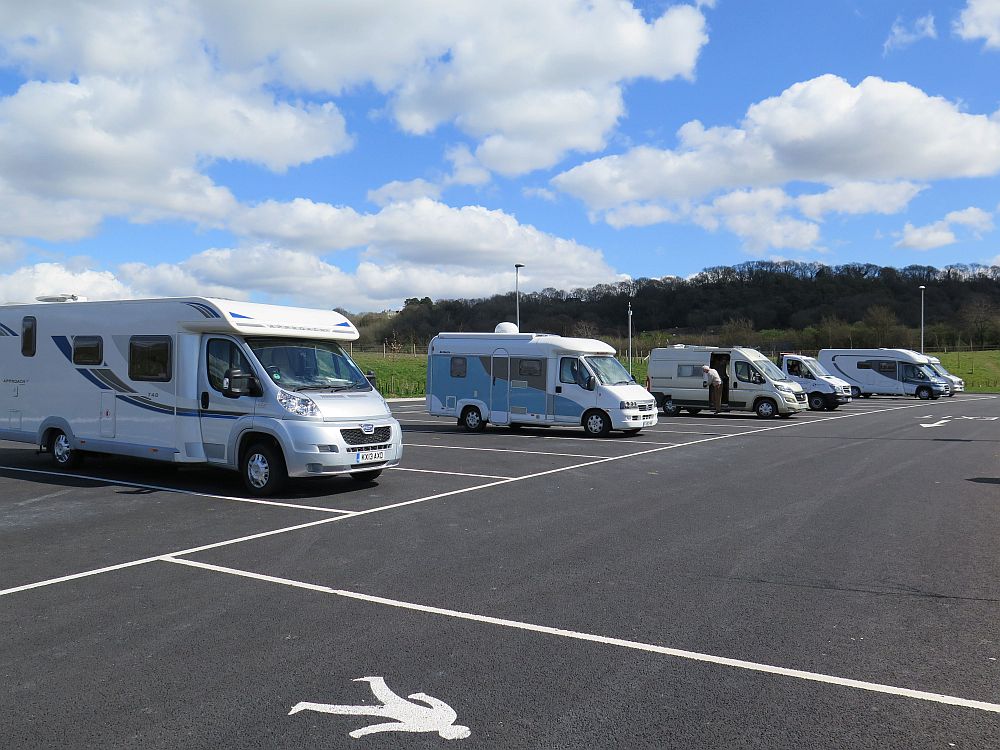 The services were only a few miles from the site. Tudor Caravan Park is situated behind the Tudor Arms Pub and is alongside the Sharpness and Gloucester Canal. The site is fairly full but then it is the second week of the Easter Holidays. I can't get out of the habit of comparing all sites with the Caravan Club and most don't quite make it. We have only been here a few hours so perhaps too early to judge?
After we had set up we went for a walk to have a look at the Gloucester and Sharpness Canal which runs alongside the site.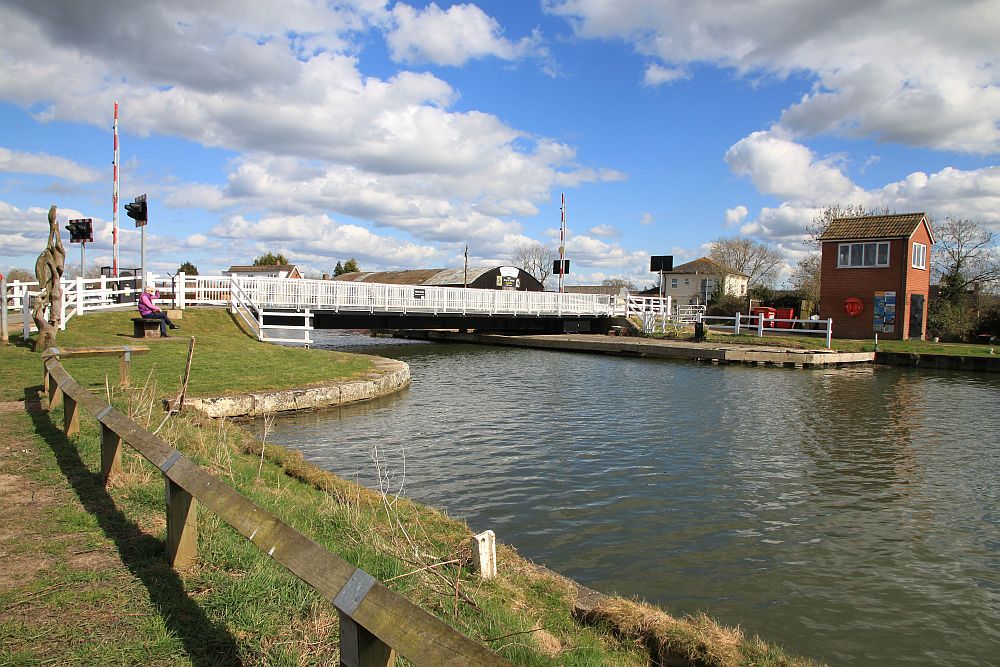 Wednesday 6th April. The day did not make a good start with grey skies and rain but by late morning we started to see some bits of blue between the clouds. The wind was still cold in unsheltered places. We decided to make a visit the Slimbridge Wetland Centre which is about half a mile from the site. It was set up by Sir Peter Scott the year I was born, 1946 and is visited by over a million people each year. There is a fantastic range of wetland birds at the Centre and most of them seem at liberty to leave should they so wish. Perhaps the main attraction is the flamingos of various varieties ranging from white to bright orange. You can wander at leisure with plenty of places to site and just watch. Having explored the extensive grounds we made our way to the café for something to eat looking out from our table towards the orange flamingos across the lake.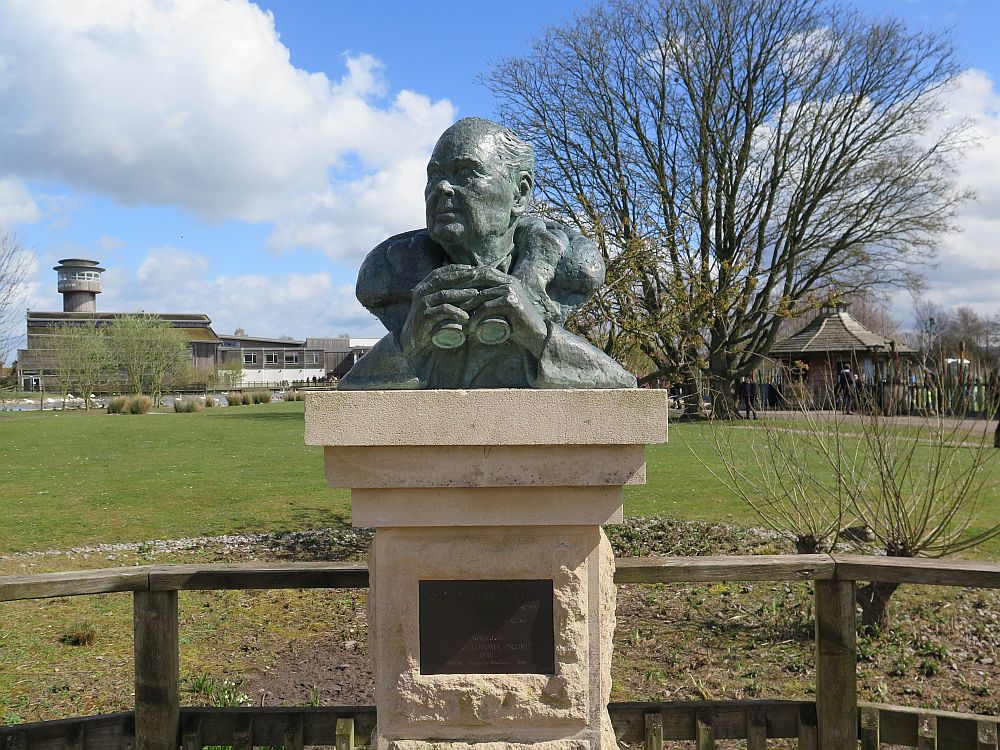 Thursday 7th April. We are not having much luck with the weather as when we got up it was again grey and started to rain. The greyness just seems to be sitting there, on doubt, because the wind has gone down. We were hoping to try out the electric bikes but with the weather being so unpredictable we are not sure it's worth it. At least we have had some practise at loading them onto the back of the motorhome.
When we had the alarm fitted to the motorhome it came with an external accessory loop which can be used on such things as bicycles on the rear rack. I couldn't get this to work so went back to the instruction as an action of last resort!!! Apparently I should be looking for a rocker switch, but could I find it!!! I mentioned it to Margaret and she seemed to know all about it. It was found and security loop set up!!!
We decided to try a meal at the pub next door to the site, The Tudor Arms. Food was fine and not bad value.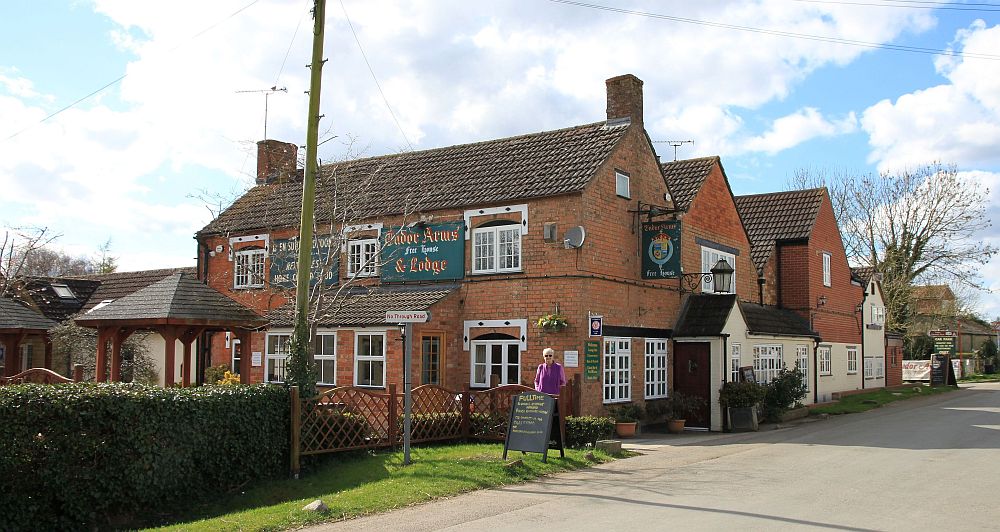 Hanley Swan
Friday 8th April. We move on today but only forty miles to the Great Malvern area. According to TomTom less than an hour. Slight problem, we had to leave Slimbridge by 11.00am but could not arrive at our next site until midday so we decided to take a break at the northbound Gloucester Services which was only 10 miles from the site we left. It's almost a mirror image of the services going southbound except the parking for caravans/motorhomes seemed a bit further away. I wanted to buy a bottle of wine for later but when I saw their prices I changed my mind!!! The early part of the day had not been too bad weather wise but it started to rain on the M5 and stayed dull for the rest of the journey. At Hanley Swan I stopped to buy a better value bottle of wine at the village store and this time I was successful! The Caravan Club Great Malvern site was only a little further on. We noticed on arrival that both the Camping and Caravan Club and the CC sites are right next door to each other. I think it's been known for people to rock up at the wrong site!!! It's a big site as we discovered when we had a walk round.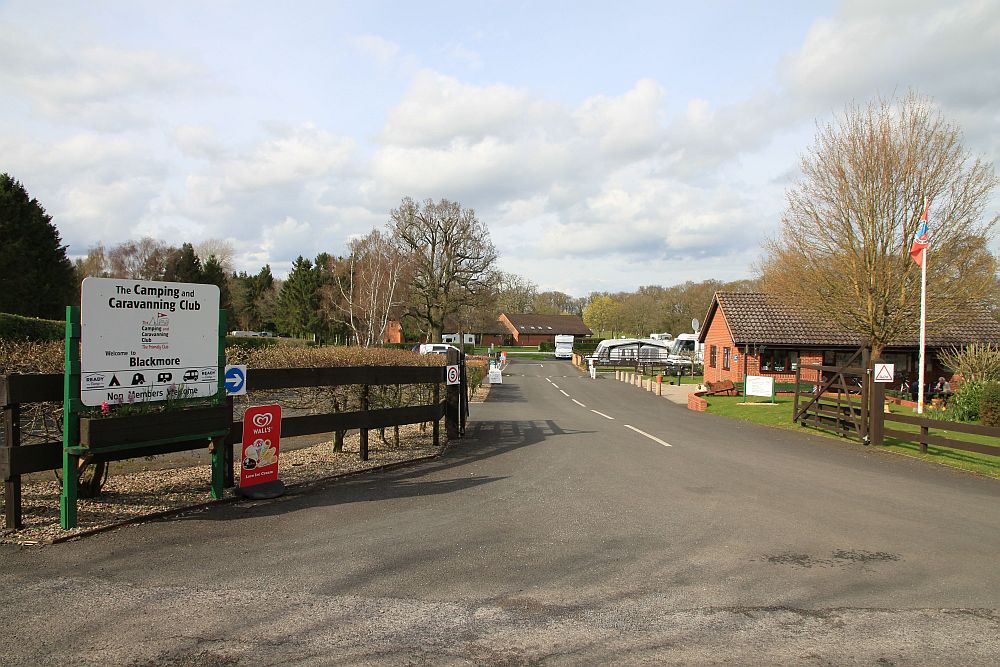 Saturday 9th April. When we got up it was a lovely sunny day but almost within the hour it had clouded over and started to rain. It had been our intention to try the bus into Upton upon Severn but given it was only a two hour service we decided against it which was probably the right decision as it rained on and off for most of the day although by late afternoon the sun was out again. Had it been a more frequent service we might have taken the chance but it was an enforced relaxing day instead.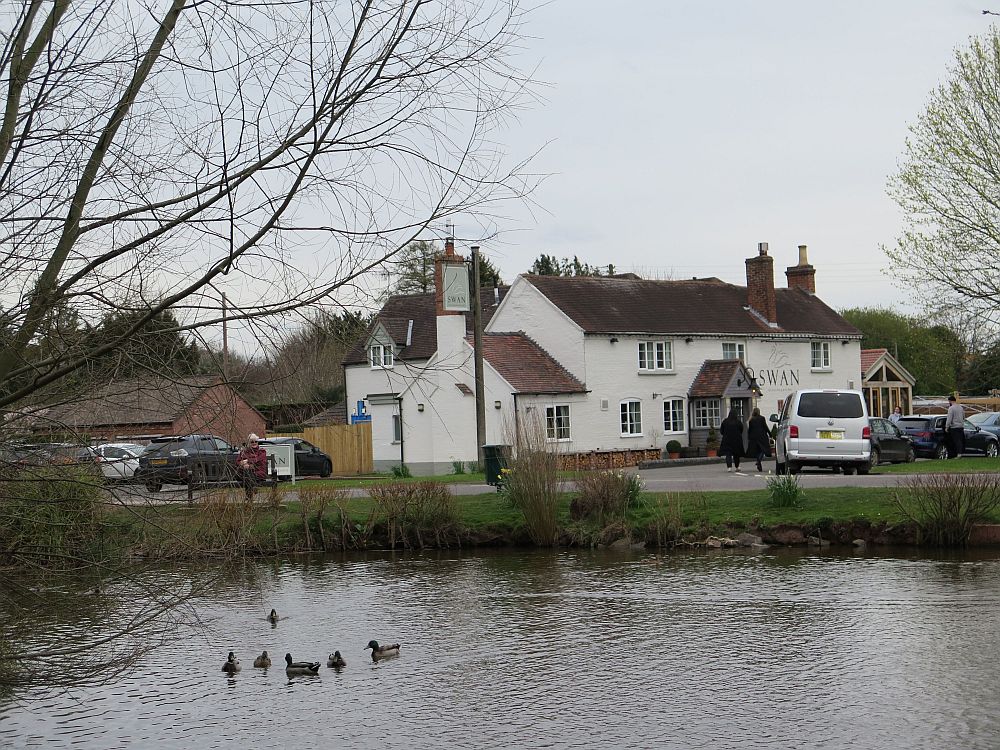 Sunday 10th April. After a pretty cold night the day dawned sunny and bright although as in previous days it was not to last but at least the rain stayed away. After lunch we walked into Hanley Swan which is about a mile away. The Swan Pub seemed quite busy with Sunday diners. One lady who was leaving as we looked at the menu commented how nice it was. A notice in the butchers shop window suggested than local bus services are under review so unless people use the services they could soon be discontinued. In the site information room, I discovered that the area now covered by the campsite was a former army base. Immediately after the Second World War it was used by the REME to train youngsters doing their National Service who would have otherwise been apprentices in civvy street.
Monday 11th April. Pretty dull day with some rain. All the efforts to clean the van before we went away wasted by the look of things when we got home!!! This is our last trip before we go off to Europe for a couple of months at the beginning of May, although that is three weeks away there still seems lots to do.
Chipping Norton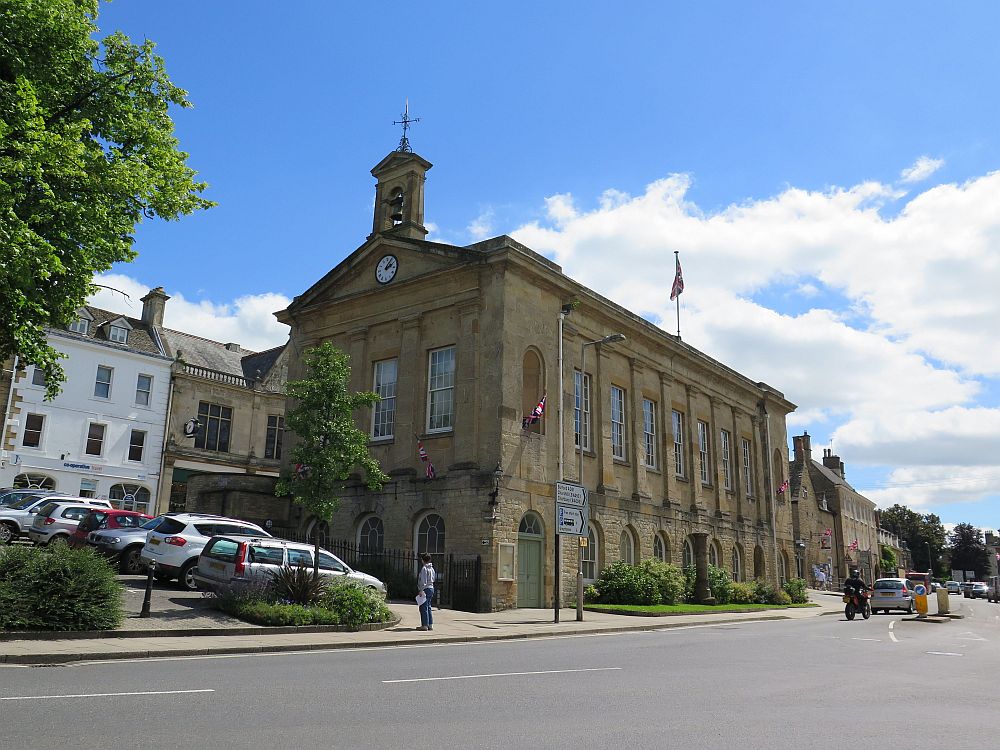 Monday 04th July. We, or should that be I set a target of going away in the van every month this year. Up until now that has been reasonably easy to achieve but once we got back from our European trip it's become a bit more challenging. We had already come back from our European trip a week early so we could vote in the EU Referendum which unfortunately got the wrong result! Towards the end of July we are going on a cruise so as you can see a limited time frame. I managed to persuade Margaret, against her better judgement to go away for a couple of days so that we can tick July off the list!!! We did toy with the idea that we should just go to the C&CC site in MK but finally decided that
Chipping Norton

would be a better option.
There was no rush as we couldn't be at the site until 1.00pm under the new C&CC rules. We eventually left home at about 11.30am. It was a familiar journey across country via Buckingham/Finmere/Ayhno/Adderbury and Deddington. After joining the A4260 we pulled into a lay-by as we were making too good a time. We notice a Put Put which was selling coffee. We don't normally buy coffee from roadside vendors but this looked a bit different. It was also very good coffee.
https://www.facebook.com/Buzzy-Beans-343915365805633/

Margaret was impressed that the guy actually recognised her Geordie accent which over the past 50 years has been gentrified!!!
Our coffee break absorbed the time we needed and we arrived at the site a bit after 1.00pm. As always a friendly reception and we were shown to our hardstanding pitch as is the way on C&CC sites. Before leaving home I swapped the Calor Lite cylinder for an empty one in the hope that the site might have a replacement. Fortunately they did, I have been trying to buy one in MK for the past six months. Mind you I was slightly worried when the lady on reception said that she had heard a rumour that Calor might stop selling them. That would prove difficult for a lot of caravanners where weight saving is critical.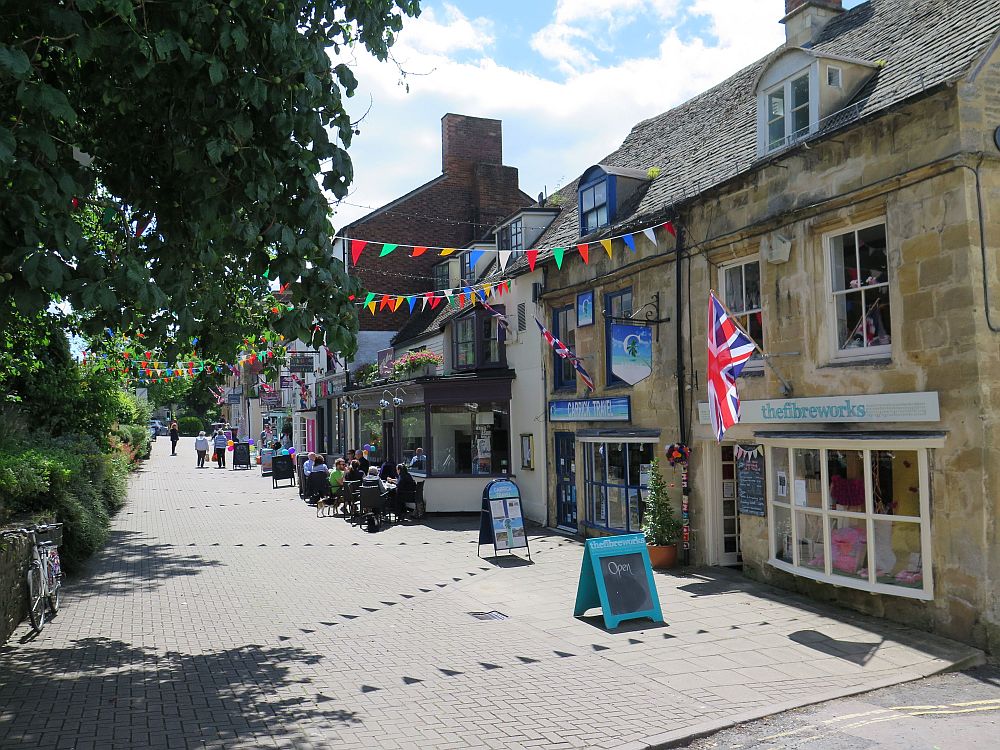 Tuesday 5th July. Bit dull when we got up but there were signs of things improving. We went into Chipping Norton today on the bus. The only problem was that the time table at the bus stop was out of date!!! We got chatting to a Scottish couple who were also on the site and waiting for the bus. They are gradually working their way down to Portsmouth for their ferry with Portugal as a final destination. The bus only took five minutes or so to get into the town which I reckon is about two miles from the site.
Chipping Norton is a traditional Cotswold market town built in that yellow sandstone which is so typical of the area. Because we had waited so long for the bus we were in need of a coffee. Next to Beales department store there was what I thought was a nice looking coffee shop. It turned out to be a bit disappointing, the coffee was not very strong and the service a bit indifferent so perhaps somewhere to avoid! On our walk up and down the main street there were obviously many better options so as the say decide in haste and repent at leisure. As we made our way back to the bus I notice a lady who got on the same bus as our outward journey, something I have noticed before on our little bus journeys.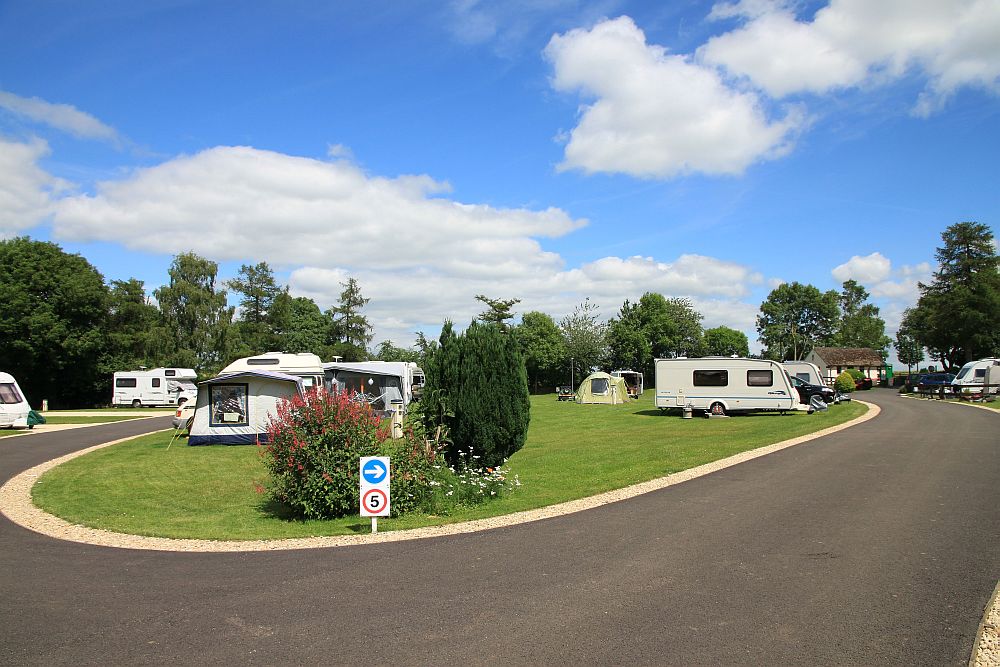 Back at the site we had the unusual spectacle of a lovely sunny afternoon which was pretty hot in the direct gaze of the sun. It's not often lately that we have had the opportunity to sit out in the sun! The site is still pretty full, there are even a couple of Dutch units and I noticed this evening a German registered campervan. I wonder if they ever reflect on the differences they find on UK sites compared to their own, especially hardstandings?
Wednesday 5th July. Our short, short break has come to an end and we are going back to MK today. It certainly dawned another lovely day, apart from an overnight shower on the first night it has been dry for this trip. We have not had many periods of good weather this year that have lasted as long, so far!!! It was only 45 miles back home across a familiar route. Not much traffic and home by around midday.
Stratford upon Avon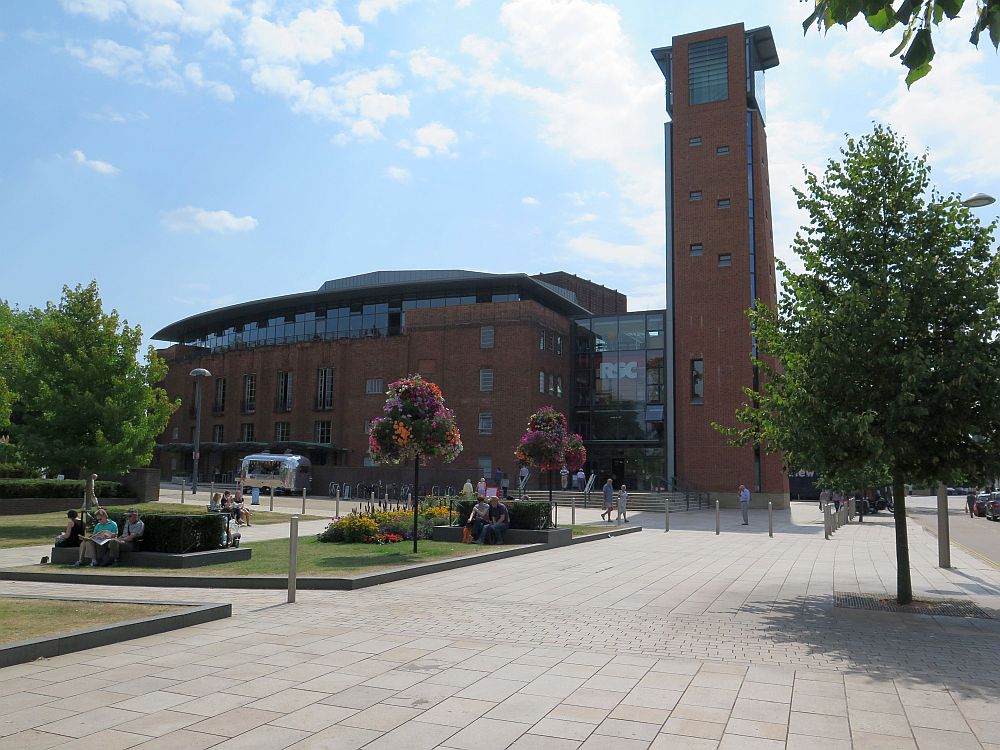 Monday 15th August. After the excitement of our cruise to the Fjords about time to get motorhoming again. We decided to try Riverside Park at Stratford upon Avon, rather surprisingly, given the time of year and the school holidays, they do a really good deal for Monday to Thursday stays. To top it off there was even an extra discount by showing your C&CC membership card.
Traffic on the journey was quite heavy. I had imagined that it might be less busy because of the holidays. There was even a queue to get on the M40. The motorway itself was quite busy and a stop at the Warwick Services was a struggle to find space as caravans/motorhomes seem to have to compete for space with the wagons. After leaving the motorway it was a relatively short journey to Stratford upon Avon but to get to the campsite we had to go through the town and across a not too wide bridge to get on the other side of the river.
Riverside Park being a commercial site is not normally our first choice for a campsite to stay at but it is near enough to the town to make it a worthwhile choice. There seems to be about a fifty/fifty split between static accommodation and touring units, the latter being pretty popular given how busy the site is. It is situated right on the river and there is a ferry service into the town which hopefully we will explore later.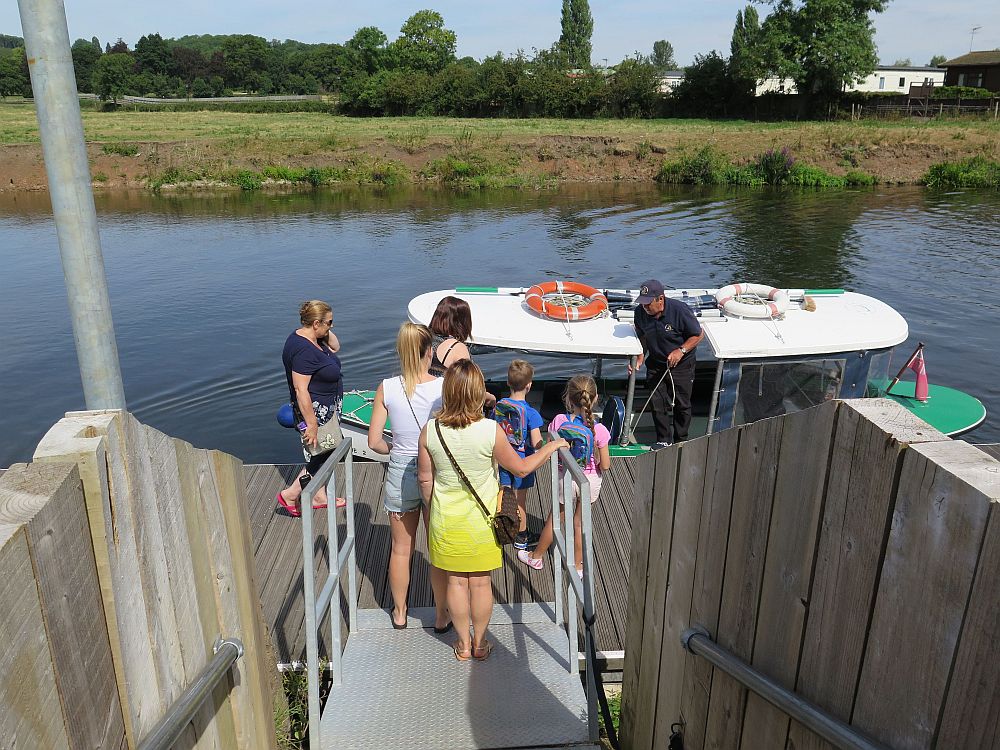 Tuesday 16th August. Another lovely day today weather wise, not too hot initially which made it a bit more comfortable. Rather than catch the bus into Stratford upon Avon we decided to take the water taxi run by the campsite into the town. At two pound each it was a lot cheaper than hiring a boat on the river. When we arrived at the departure point there was a queue including several excited children. Each boat can only take six passengers and the kids in front of us were putting all their mathematical prowess into working out how many boat loads before it was their turn. We managed to get a front seat on the boat so we had a good view. The boat dropped us off right in the middle of the town.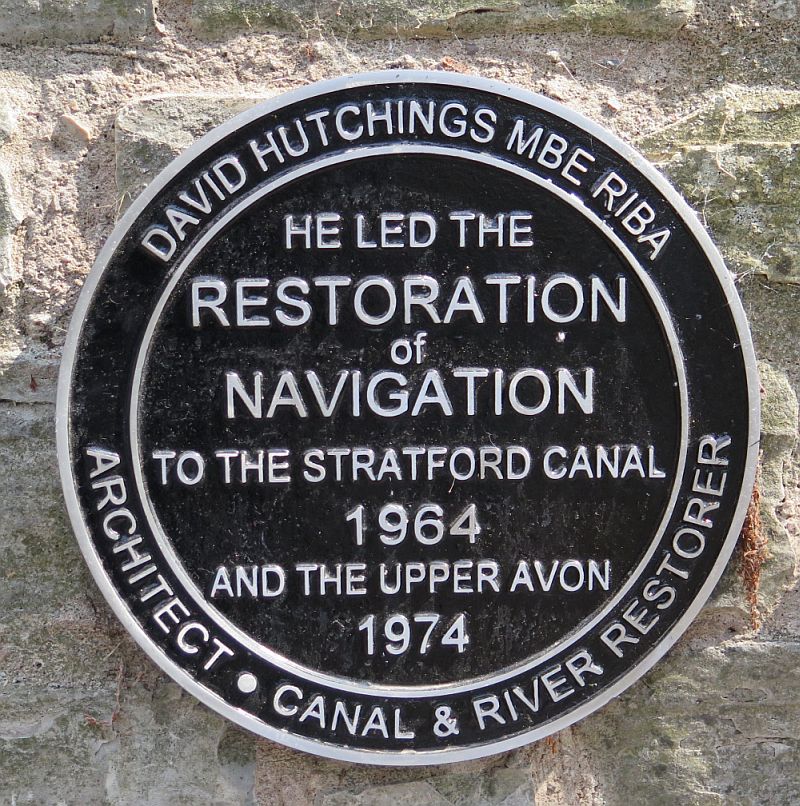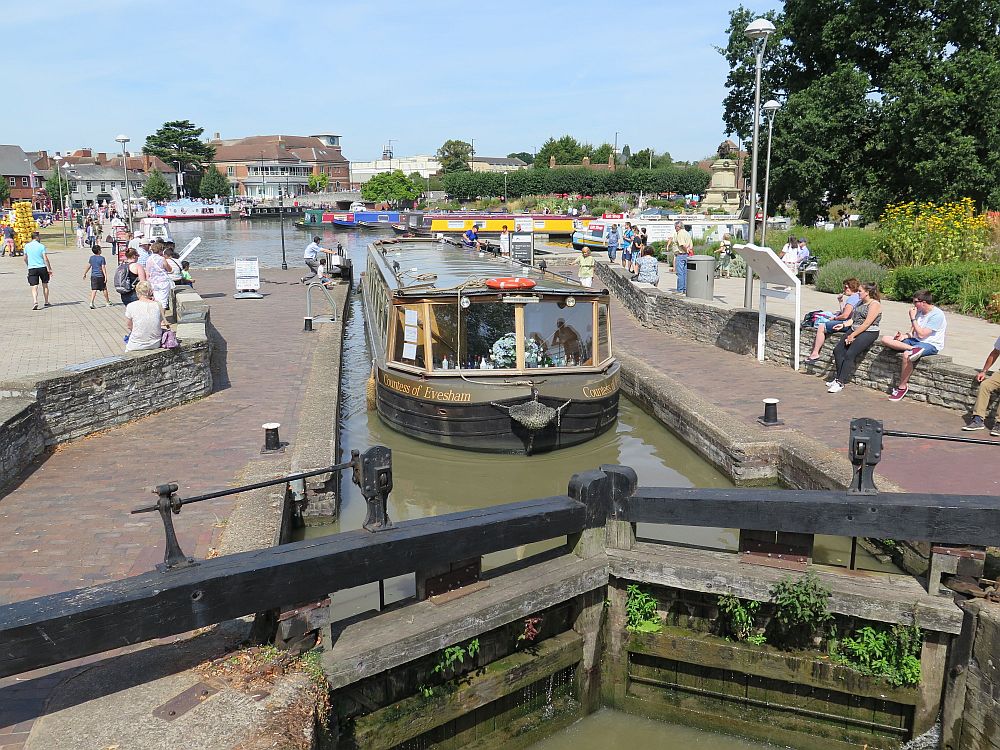 From the peace and tranquillity of the river to the hub bub of what must be one of the most popular tourist destinations outside of London judging by the number of people everywhere. Stratford upon Avon came to my notice not particularly because of its famous association with William Shakespeare but more to do with the restoration of the Stratford Canal and the associated restoration of the River Avon Navigation. A guy called David Hutchings was the man that organised the restoration of the canal using volunteers and prisoners, in those days of course there was no Lottery funding. The Canal joins the Avon via a lock from the canal basin immediately in front of the famous RSC's Theatre. Have spent some time looking at the river it was here that we decided to have a coffee on the terrace of the theatre. We then wandered back into the town and through the main shopping centre which was bustling.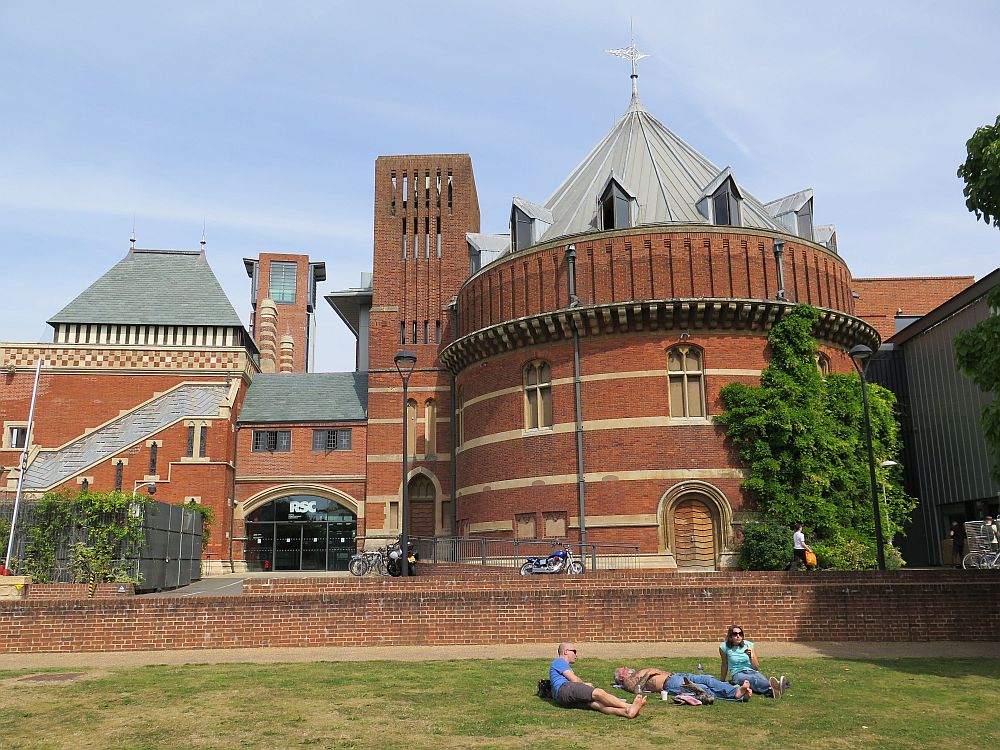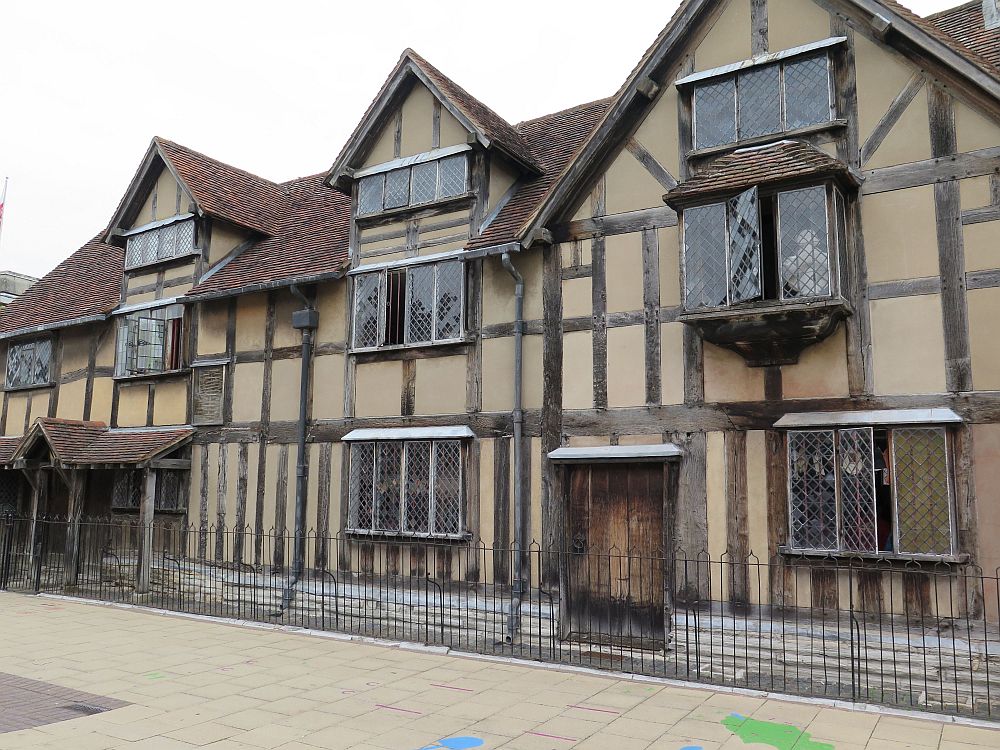 By early afternoon we were flagging and decided to search out the bus for our return journey. All was going well until the driver started the bus and there was a problem. We had to wait until a replacement bus could come from the local garage before we could continue our journey back to the site. Even this was not straightforward as the bus did not go where we expected it to. I did ask the lady in front of me who was on the bus with her babe in arms and too older girls who were all enjoying a numbers game, obviously a numbers day! She explained where we should get off. As it happened it was only a short walk back to the campsite.
The campsite has a rather nice restaurant overlooking the river which we decided to give it a go. The food was quite good and not bad value and nothing beats sipping a glass of Rose wine on a balcony overlooking a lazy river in the evening sun.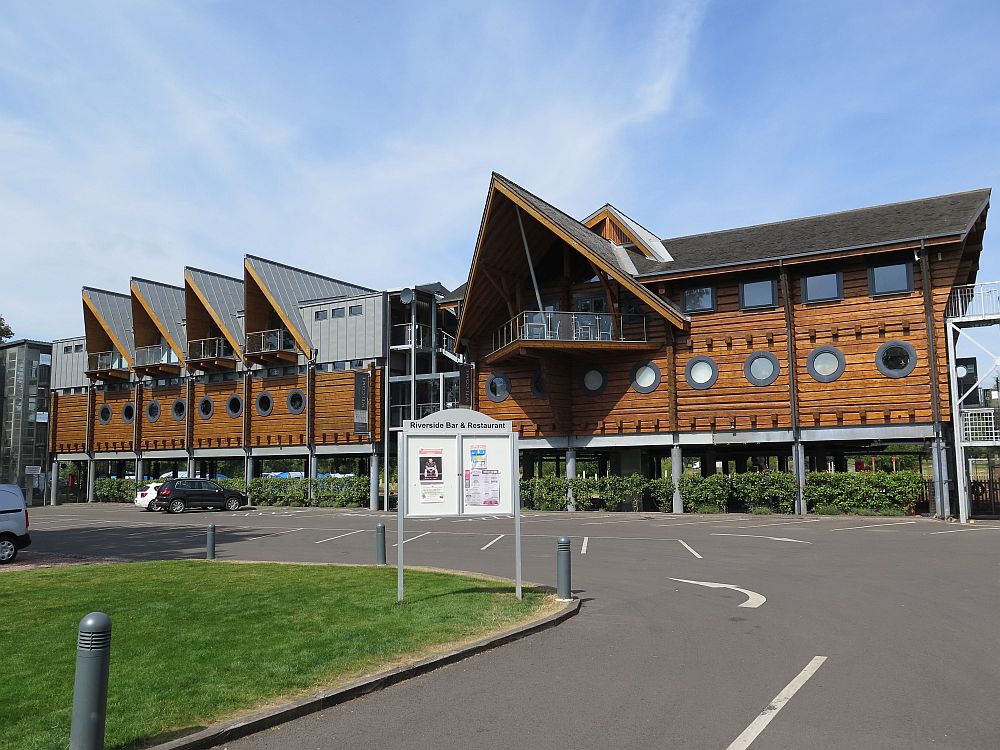 Wednesday 17th August. A fairly lazy day today, a few chores first thing. For lunch we had a treat of a pizza from the restaurant. The interesting thing about it was that we telephoned the order through from the pitch which saved a lot of time waiting around. Lazy or what!!! During the afternoon we walked into the village of Tiddington. There are some interesting old buildings which date from the beginning of the last century. It also seems pretty well endowed with restaurants which is handy for anyone on the campsite. Before returning to the van we had another look round the outside of the Campsite restaurant which is really quite a stunning building from ground level.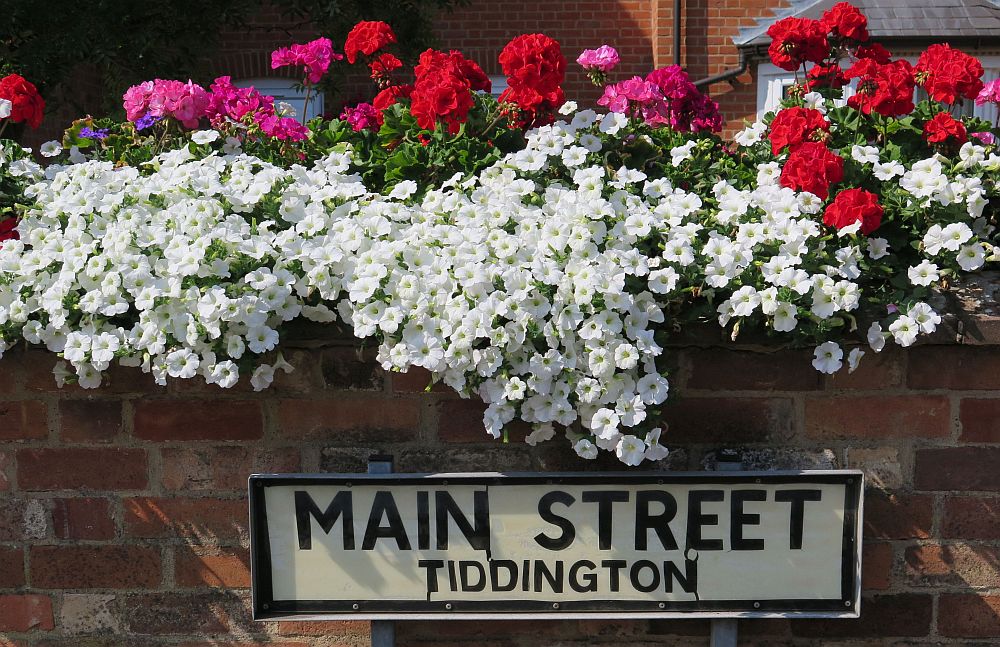 Thursday 18th August. Another glorious day today, although it seems that it will turn wet tomorrow. We revisited Stratford upon Avon today, this time on the bus. The town was heaving yet again especially with visitors from the Far East. Seems strange to see a coach go by, sign written in Chinese!!! First port of call was Shakespeare's birthplace, it would seem his family might have been quite well heeled? We came across a coffee shop, strangely, called the Boston Tea Party which I had not heard of before so we thought we would put them to the test. Always nice sipping a coffee watching the world go by. Refreshed we wandered on past the Market Square and back into the centre of town by yet another different route. Interesting to see some of the buildings that were originally upright but now with swagger to them. I know I always have a whinge about how unsympathetic many modern buildings are in towns with historic buildings especially those built in the 60/70/80's. Unfortunately Stratford is no exception. Hopefully current planning would insist on more sympathetic designs. Getting off my high horse we made our way back to the river for a bit more gongozzeling. In the Park adjacent to the canal basin there was a chap selling those frames that make giant bubbles which was delighting all the kids and at a fiver a time I think he may have earnt a pretty penny today! Walking back for the bus you can't help but notice the now empty BHS shop in a prominent position in the High Street. Such a shame that we see another traditional retailer bite the dust. Back at the site out came the awning to provide us with some welcome shade.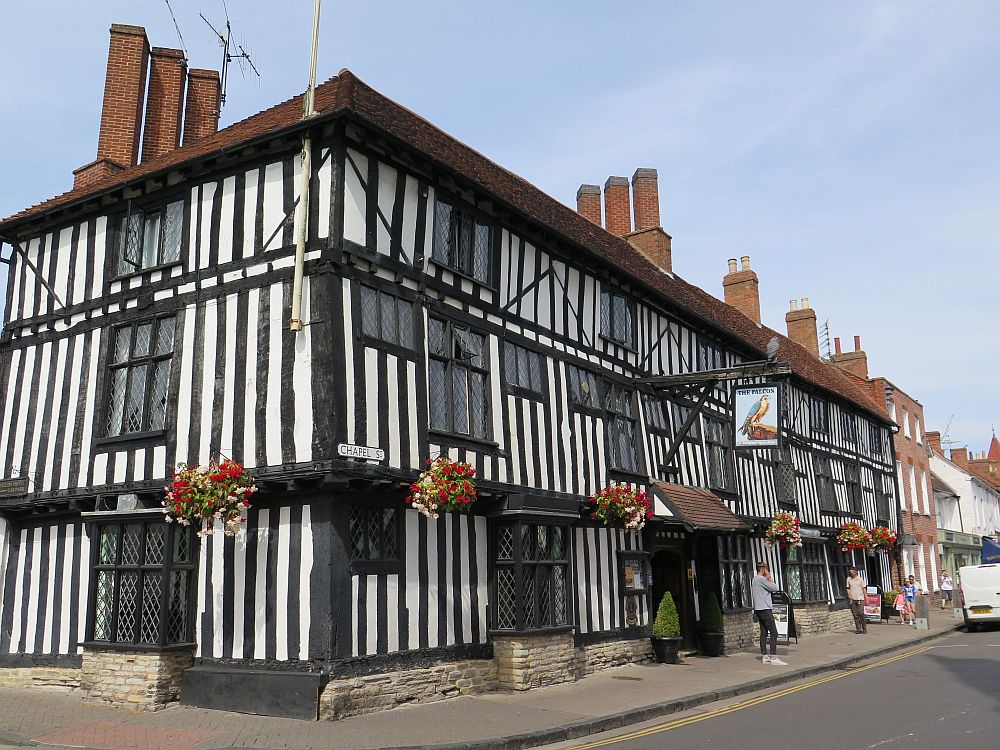 Friday 19th August. There is only one worse thing than a weather forecast which is wrong and that is one which is right especially when forecasting rain!!! After four days of wonderful sunshine we awoke to rain. One advantage of a motorhome is that there is little that needs to be done outside except for unplugging the electric lead. We were away from the site before ten and the journey home was in the main uneventful. Except of course for the Fire Engine and the top of the A5 (D) in Milton Keynes. We got to the roundabout and could hear the sirens but the vehicle seemed to head off in a different direction, only to find half way round the roundabout the fire engine was keeping me company. My exit was blocked by cones so I slowed to allow him past. The incident was just off the roundabout so I had to pull out to the far carriageway to get round everything. After all that excitement we filled up with fuel and got home well before midday.
Norwich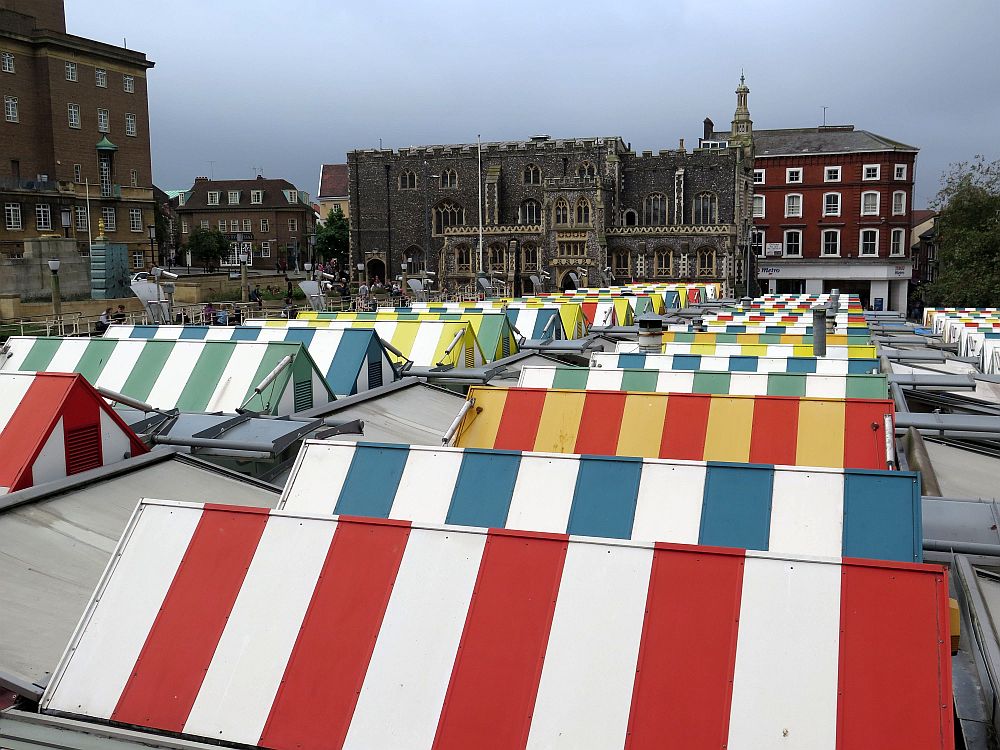 Friday 16th September. Although it is a month since we were last away in the motorhome we have been far from idle but with other things so time to get away in the motorhome again. We are heading for Norwich to the C&CC site. Typical of course that after three days of the hottest temperatures for 85 years the day we decide to head off is wet and cold. The rain didn't let up for the whole journey and the rest of the day. So much of the route from MK to Norwich has been improved in recent years that it tends to accentuate those parts that still need upgrading. The Government have recently published plans for a new dual carriageway from the A1 to Camborne near Cambridge but it's unlikely to be started until 2020. Despite the wet we made good time. The normal final route to the site was closed for bridge repairs. The alternative was slightly longer but we found our way. The Norwich site is not very large with only 50 pitches but it was quite full when we arrived. All grass pitches which is always a worry when it's wet.
Saturday 17th September. We awoke to yet another murky day so we didn't rush. By about midday we decided that we should chance our luck and head in to Norwich. We first had to find the bus which because of the railway bridge repairs it was a slightly longer walk to the bus stop. It didn't take long to get into the City Centre. Norwich is one of my favourite cities which I first visited probably 50 years ago. First stop was John Lewis (formally Bonds of Norwich) for a coffee and a bite to eat. Refreshed we made our way towards the market but en route stopped at The Forum. This is an interesting building and also very modern compared to all the surrounding buildings. For those viewers of the BBC Look East local news programme this is where it broadcast from as the BBC have both TV and radio studios. Also in the building is the main Norwich library. Next door is the Norwich City Hall and in front of that the famous Norwich Market with its trademark striped stall roofs. This market has always fascinated me. Many of the stalls seem to have been there for years. We started to make our way back to the bus stop but first stopped to admire the Royal Arcade which was opened in 1899 and I suppose these types of arcade were the forerunners of the modern shopping mall.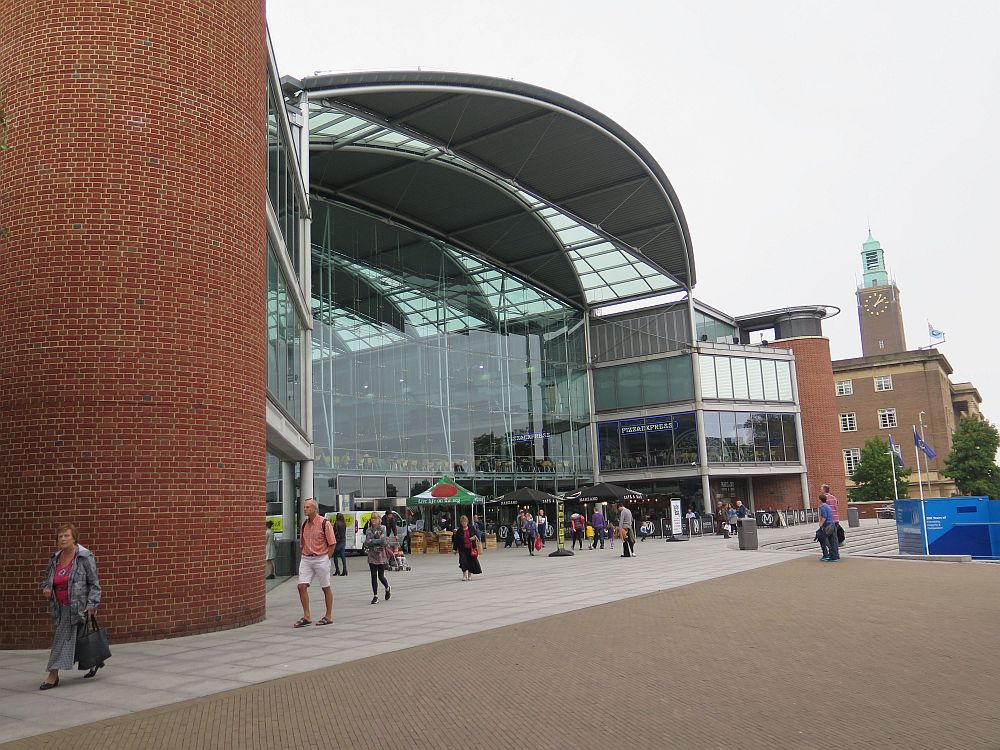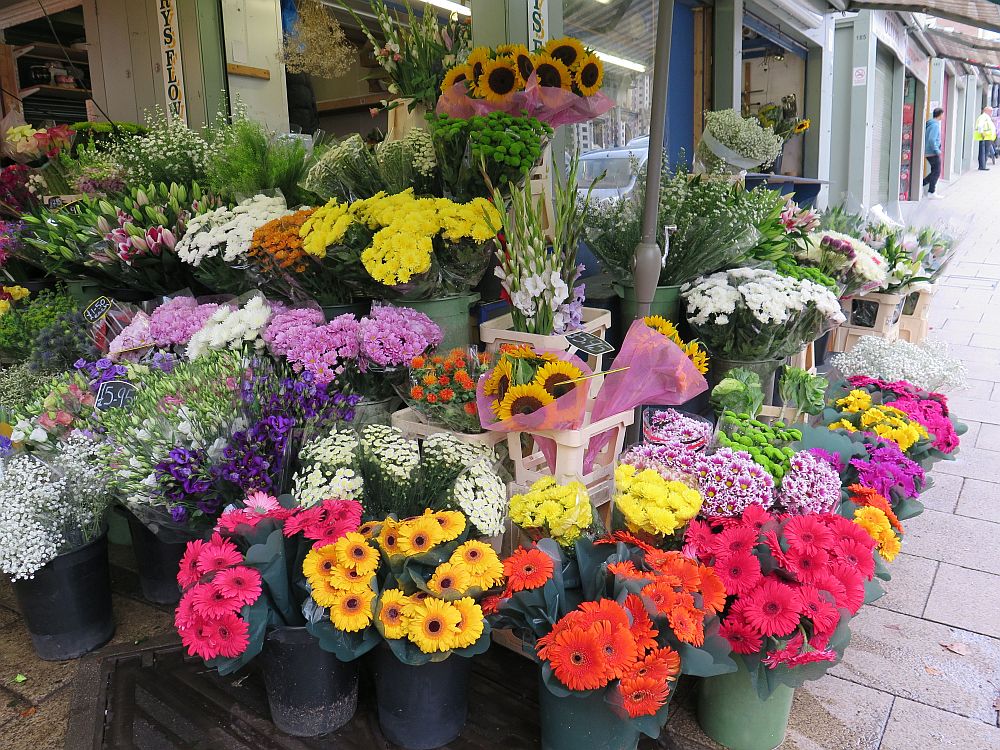 Back at the campsite we had a wander around the site as we had read there was a river nearby. As it happened it was at the end of the tent field, it is not much more than a wide stream which eventually exits into the River Yare. Chatting to the lady in reception the site has an interesting history as it was originally the site of a swimming baths, open air I imagine. What is now the toilet block was the original changing rooms. Apparently when they demolished the rest of the site they just filled in the swimming pool with rubble and this does cause a few issues in wet weather.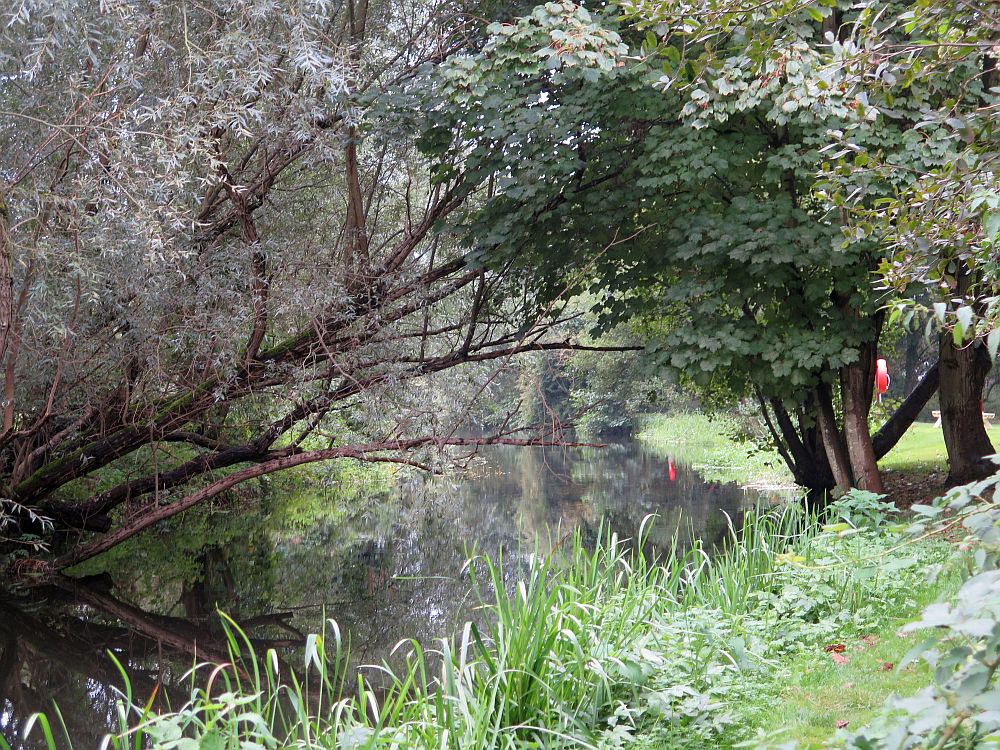 Sunday 18th September. Bit of a lazy day. I did order a Sunday newspaper which is a bit of a rarity for me as it takes so long to read. Whilst it has been mainly dull today we did actually have a bit of sunshine as well. This allowed me to take a few photographs of the site for my website. I noticed that one of the motorhome that arrived today had Austrian plates. He was clearly not happy with the allocated pitch as he was trying to get TV on his satellite dish which was only a 60cms one. The Continentals seem to have much larger satellite footprints than us Brits!
Monday 19th September. We got the bus back into Norwich today. The weather was still a bit dull but there were signs of some sunshine. Fortunately no need for a coat. We wanted to visit the Castle Museum as I had fond memories of it from years ago. It is one of those museums that cover a lot of ground. From the history of the Castle itself to the history, both people and nature in the area and even a section on Egyptology. Howard Carter who discovered Tutankhamen spent his childhood in Swaffham, Norfolk. In addition exhibitions of pottery and paintings and drawings by local artists.
The suggestion about the Castle was that such buildings were more important for looking Grand rather than what they contained within. Whichever way you look at it the building is impressive from both inside and outside. What I had not appreciated was that the main exhibition areas are actually housed in the former Norwich Prison which was built next to the Castle. The galleries span out from a central point. I would have thought there was something for everyone at this Museum and the entrance fee was not excessive. Also within the complex is a rather nice café which we naturally made use of!!! We were a bit surprised how long we spent at this one venue and decided not to explore further so we made our way back to the bus and back to the site.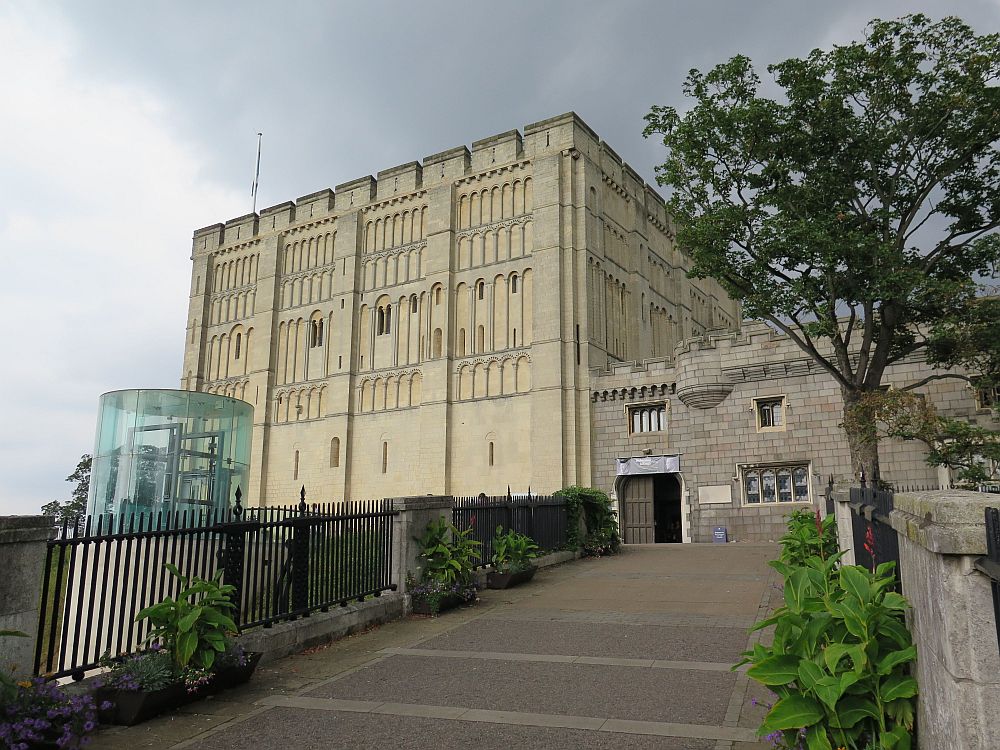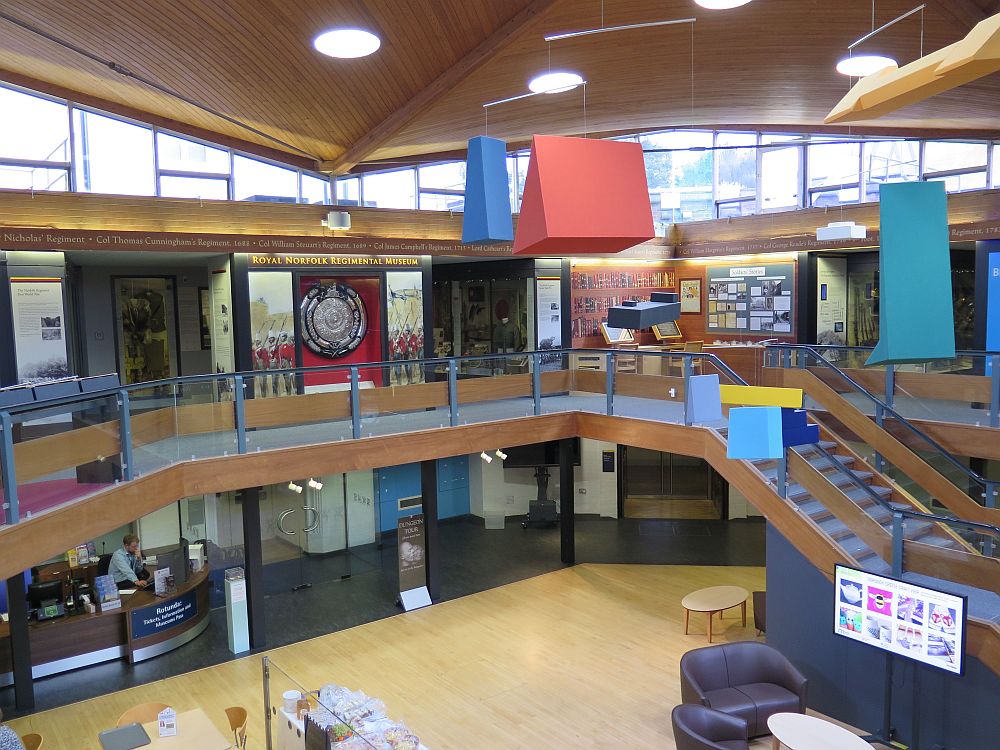 Tuesday 20th September. Time to go home. The journey today was quite straightforward and thankfully dry. We have been reasonably lucky with the weather during our stay as apart from Friday it has been mainly dry even if the sun only made an appearance now and then.
West Country Tour October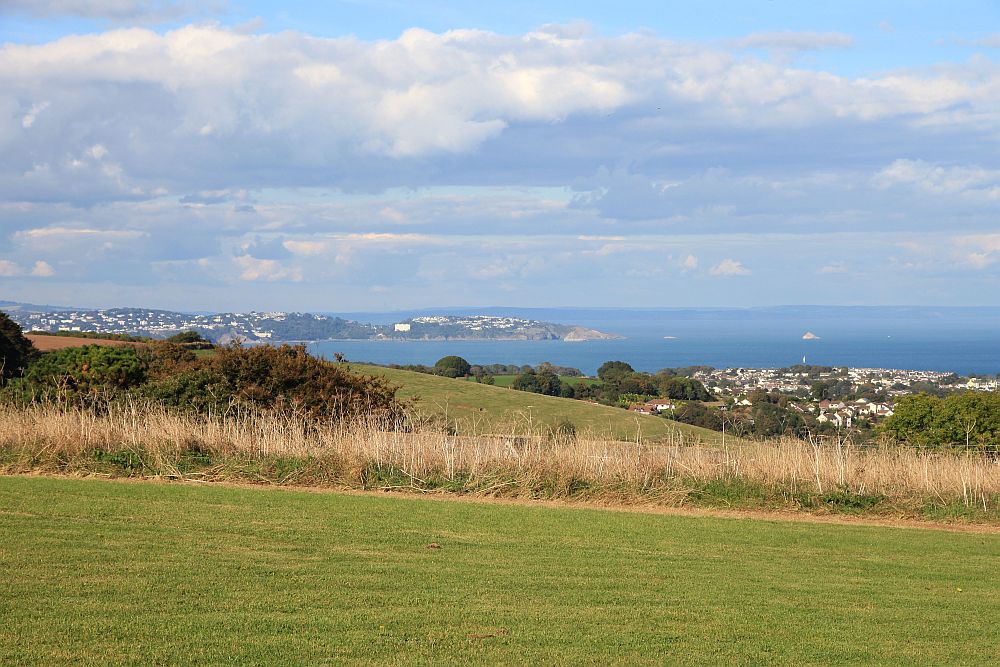 Chippenham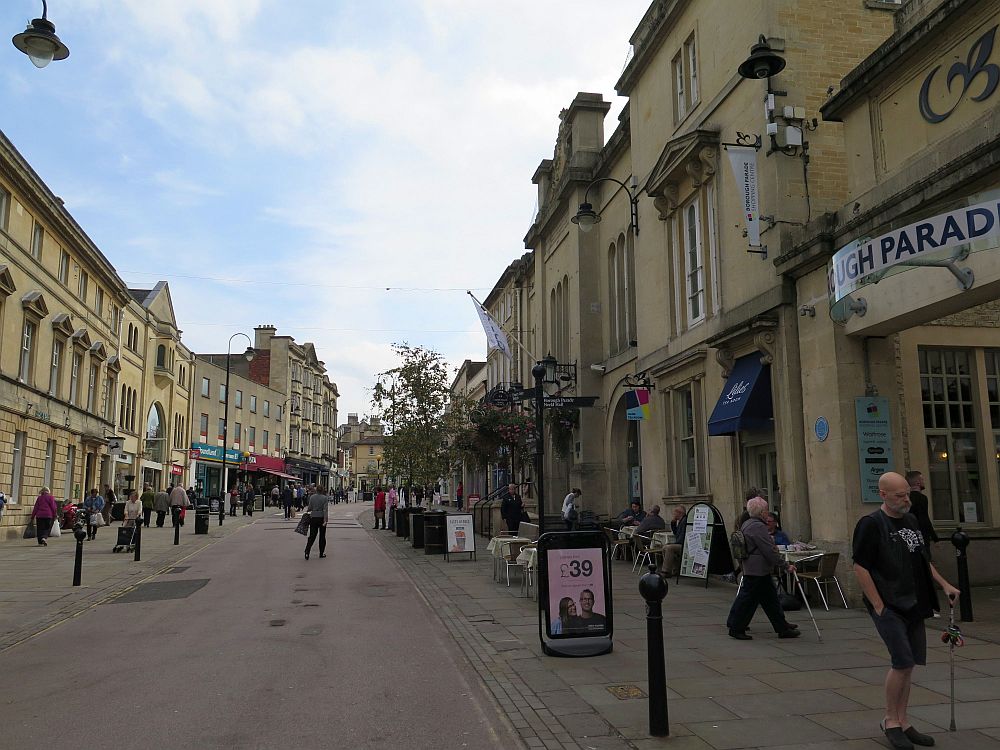 Monday 3rd October. We set off today on a two week break to explore Somerset and Devon. The day dawned bright but when I checked the cab temperature in the motorhome it was only 7 degrees a sure sign that autumn is here. Today we are heading for a site on the outskirts of Chippenham in Wiltshire. It was a familiar journey, at least, as far as Swindon and then a short run along the M4 to junction 17 that took us towards Chippenham. It seems that where ever we go these days we encounter heavy traffic but fortunately no delays.
The site we are staying at is called Plough Lane Caravan Site which is adults only. I saw it reviewed on a caravan forum and not only did it seem quite nice site but it was also a good location being a sort of halfway house to our next site at Minehead. We don't particularly seek out adult only sites but location is usually everything. Clearly the people that own the site have paid a great deal of detail to the campsite. The generous layout of pitches with all gravel hardstandings in an almost garden like setting that coupled with excellent facilities. Perhaps if there is a negative, albeit small, is perhaps the over prescription of rules and regs. Not that it makes any difference to the quality of your stay but it seems to be something which is quite common for adult only sites.
There are bus services nearby so after spending some time sitting in the gorgeous sunshine we set off the find where we could catch a bus, perhaps tomorrow. Also on our walk of discovery found the Plough Inn which is across a busy main road, fortunately controlled by traffic lights!!!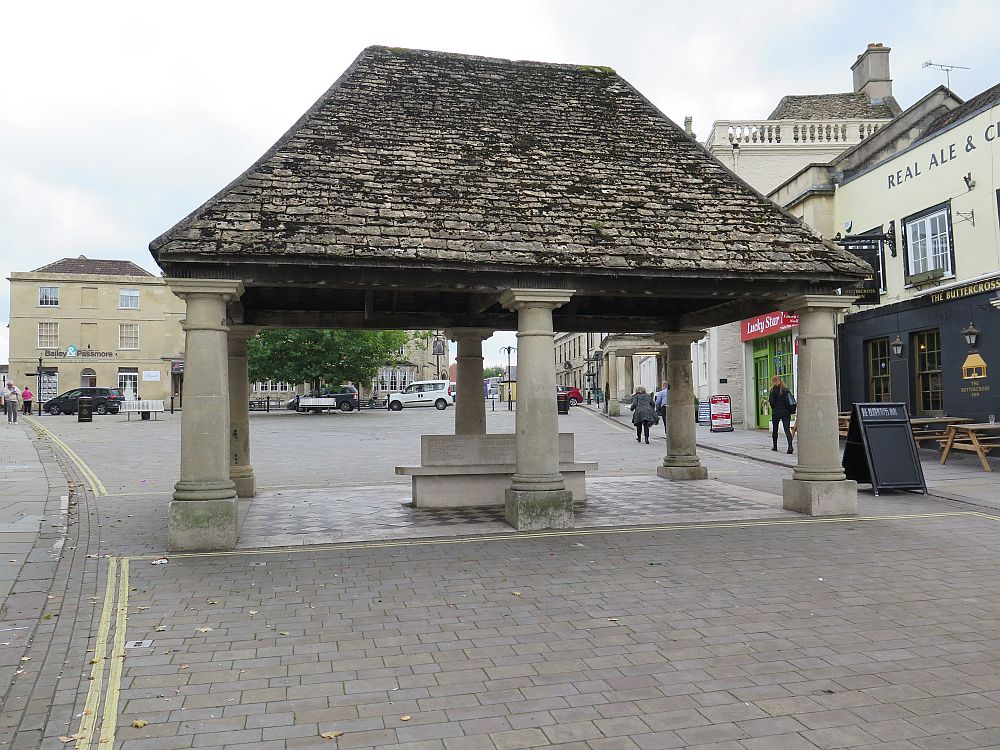 Tuesday 4th October. The day started duller and a bit colder today. We caught the bus into Chippenham today. It was a larger place than I imagined. There is a mix of old and modern. We found a nice café for a coffee to fortify ourselves for further exploration. The River Avon flows through the town and there is a riverside walk. There are two modern shopping centres both with entrances onto the High Street. One of those entrances was an archway into what was once the Cheese Market. The Buttercross has a chequered history, first built in 1570 but sold for £6 in 1889 to be used elsewhere. Fortunately it was re-erected in Chippenham in 1995 by the local Civil Society. It was looking a bit grey and certainly chilly so we made our way back to the bus station for the bus back to the campsite. We are heading further west tomorrow.
Minehead
Wednesday 5th October. It dawned nice and sunny today. Obviously a bit chilly first thing but the temperature did reach about 17 degrees which is not bad for October. We are heading for the Caravan Club site at Minehead today. We decided that it would be best to use as much motorway as possible so we headed back to the M4 west to the M5 and then south. We stopped at Sedgemoor Services for a coffee. We did follow the signs for caravans and motorhomes which took us to what looked like the lorry park and pulled in behind a parked lorry. Admittedly there did not seem much in the way of parking for lorries. Margaret went off to buy the coffee and in the meantime the lorry in front pulled away and for the first time I saw a sign pointing to an area of rough ground which had been designated for caravans and motorhomes. Thinking we would not be there long I decided to stay put only to have an irate lorry driver knock on the van pointing out that I should be parked elsewhere. Eventually I moved but was not keen on the area set aside. Fortunately it was dry but had it been wet it would have been a real mess. I suppose I have some sympathy for lorry drivers as they are working but it just highlights how awful some motorway services are. I am beginning to wonder whether some politicians were so keen to have us out of Europe because they were fed up with being totally embarrassed by how well the Europeans do things!!!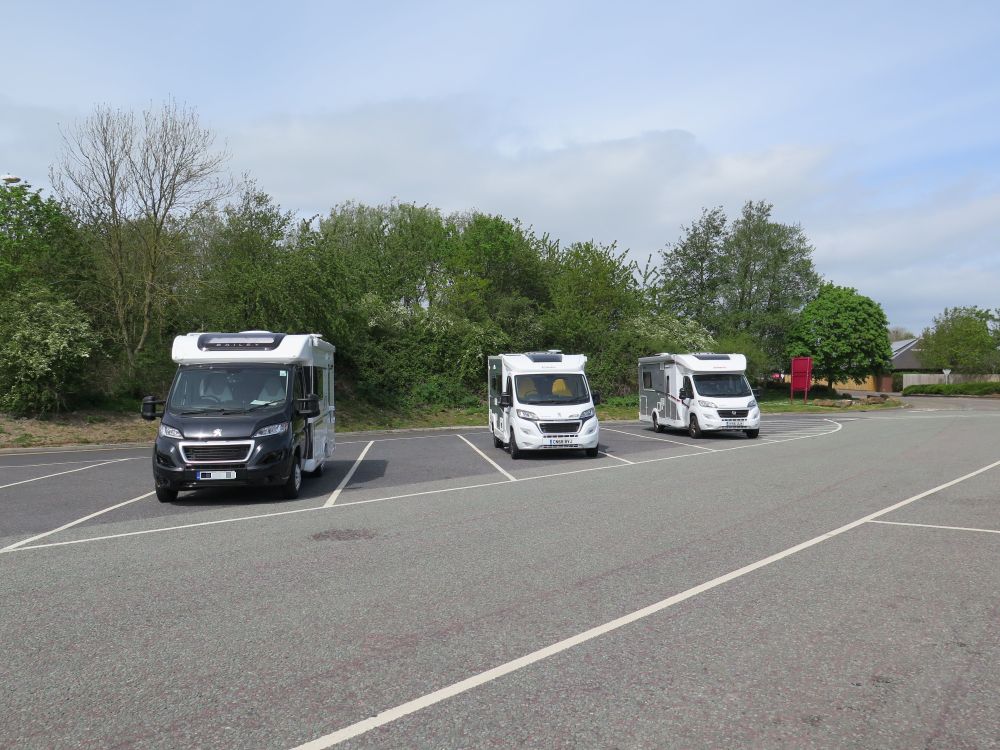 We left the M5 at junction 23 and headed out on the A39 which is supposedly a main road. First you have to get through Bridgewater which is pretty slow and not very good roads. Heaven help them when they start building Hinkley Point Power Station when everything will have to come through the town! Quite frankly the rest of the A39 towards Minehead is a complete joke. It is narrow and twisty over much of its length and clearly not fit for purpose. In some of the villages the road is so narrow that two larger vehicles can't pass each other! I suppose it just goes to illustrate that our investment in infrastructure in some parts of the country is thirty years behind the times!!! We eventually got to Minehead with much breathing in and a seemingly inability to get beyond fourth gear!
It has been many years since we stayed at the CC site at Minehead. It was surprising full when we arrived and there was not much choice of pitches available to us from the 50 in total. The site used to be an old quarry with a high bank topped with threes towards the south. This means that half the pitches are in shade and guess where the available pitches were! The warden noted those pitches where people were leaving from the next day but it seems we may have competition. No chance of getting satellite TV where we are although the aerial is working OK if you don't mind your content coming from Wales. We did have a wander down to the local shops during the afternoon, nice in the sun but chilly out.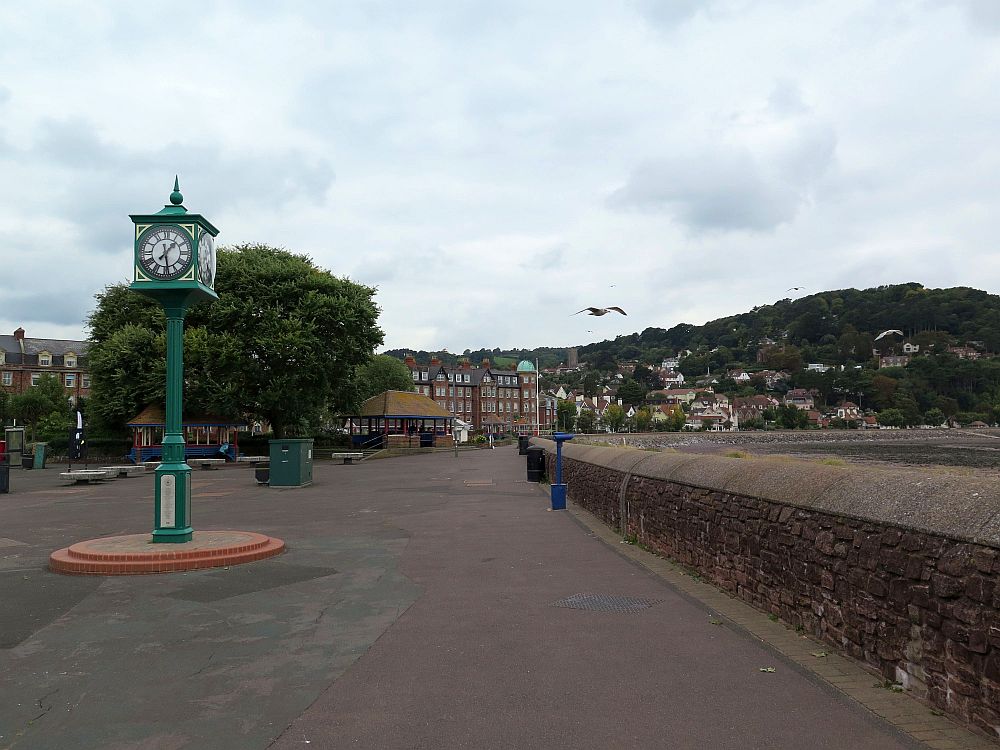 Thursday 6th October. Unfortunately the fine weather seems to have deserted us and been replaced by grey skies although fortunately dry. The sun did try and make an appearance in the afternoon. We actually walked into Minehead today. The town has a long high Street which ends at the seafront. We zigzagged down the road visiting various shops on either side of the road. I have a walking app on my phone and when you review the route it almost seems as if you are going round in circles!!! It was quite chilly in the wind, especially when we went to have a look over the sea wall, not the weather to linger. The town was surprisingly busy, whether with general visitors or people on day release from Butlin's. One big draw is the West Somerset Railway which runs steam trains from the station. There were three trains in steam but only one actually taking passengers. As we had previously travelled on this railway in the past we decided against a trip ourselves. A lot of the cafes were busy with most of their indoor seats taken and it was too cold to sit outside but we did find space, just, in the café in the Jubilee Gardens for a cup of tea and a tea cake to fortify us. We did wonder about walking back but that would be chancing it a bit so we got the bus back to near the campsite.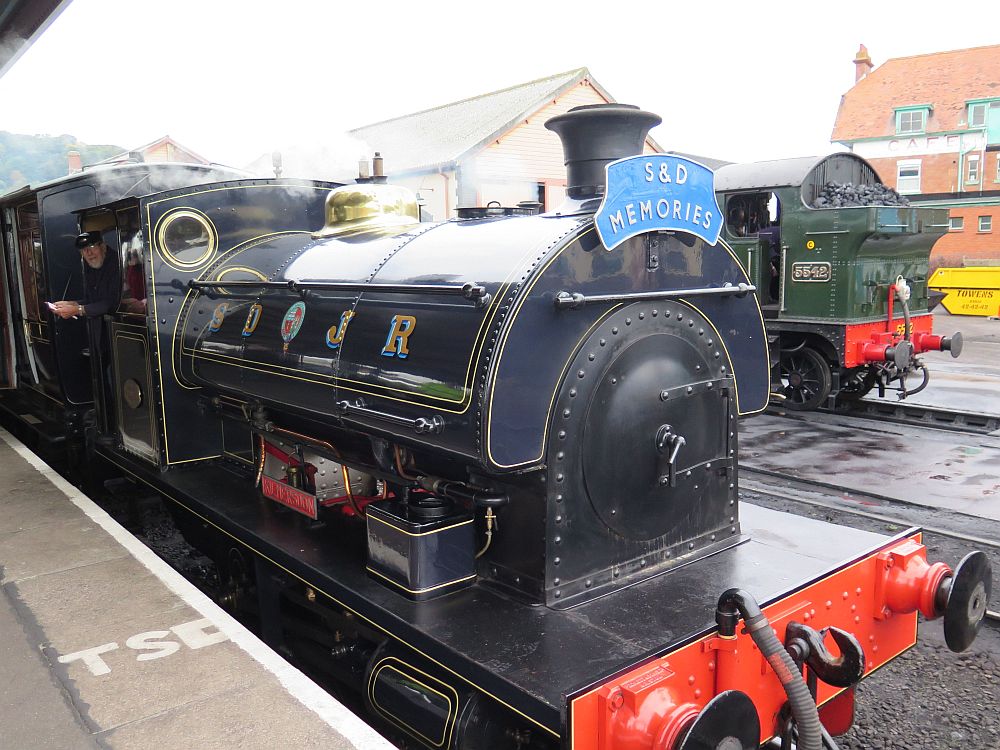 The campsite is still busy but unlike yesterday there are a couple of free spaces. We had thought about moving pitch but decided to stay put for the rest of our stay. I did enquire of the warden about the wireless internet as every time I decide to log on it seems to disconnect. He tried the reassure me that the site had one of the best connections in the Club but I am far from convinced, especially as I have just renewed my annual subscription for £25.
Friday 7th October. No improvement in the weather today. If anything the cloud cover was more intense but it has been dry and the chill wind seems to have subsided. We took the bus to Dunster today. It actually dropped us off on the main road so we had to make sure we pressed the stop button in the right place to stop us hurtling on towards Taunton! Conveniently they had provided an under pass so you didn't have to cross the busy A39. The village of Dunster is only a short walk up from the main road. You walk up past the car park and the Exmore information building round a corner and there ahead of you is the famous view of the main street in Dunster and its famous Yarn Market. The village is overlooked from above by Dunster Castle, now owned by the National Trust and both the Castle and Gardens are open to the public. It looked quite a steep climb up to the Castle so we decided just to explore the village. Being lunchtime it seems strange to see shops closed. Thinking it would be nice to have a coffee we stopped at café come sweet shop at the end of the High Street. It was busy but there was room. Two couples came in after us but seemed on edge and left when they found out that there was a twenty minute delay for food. We fancied the Welsh rarebit which we ordered but when it came rather than being golden brown on top there was a tsunami of glutinous molten cheese running off the side of the toast it tasted OK but not quite what I expected. My dad use to make a good rarebit but he added onions which made it very tasty.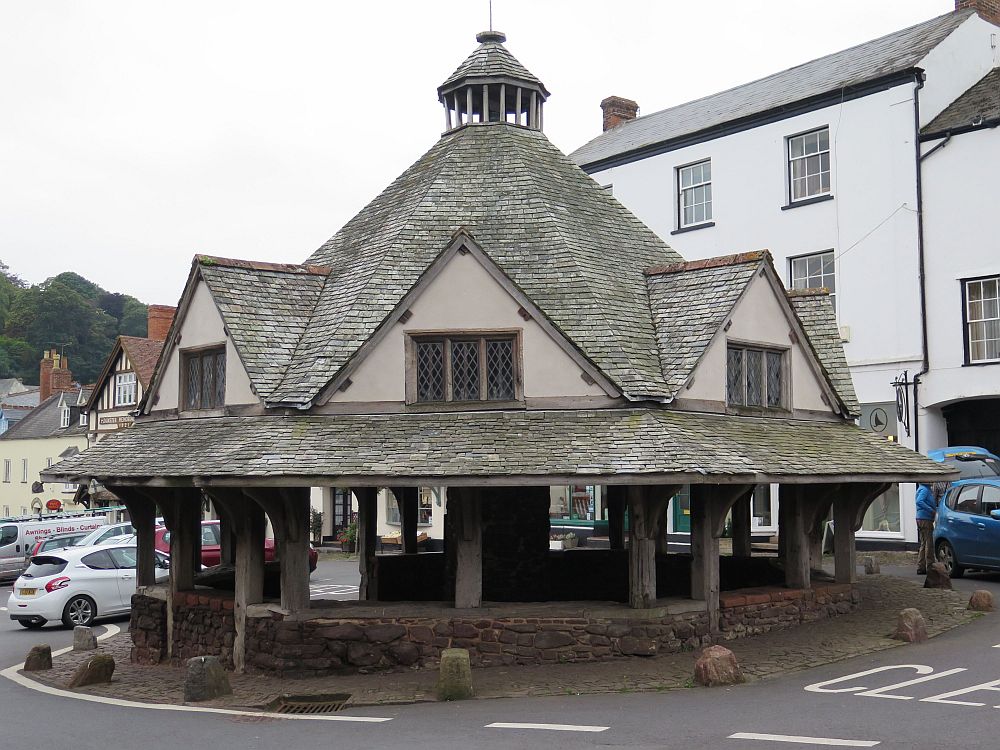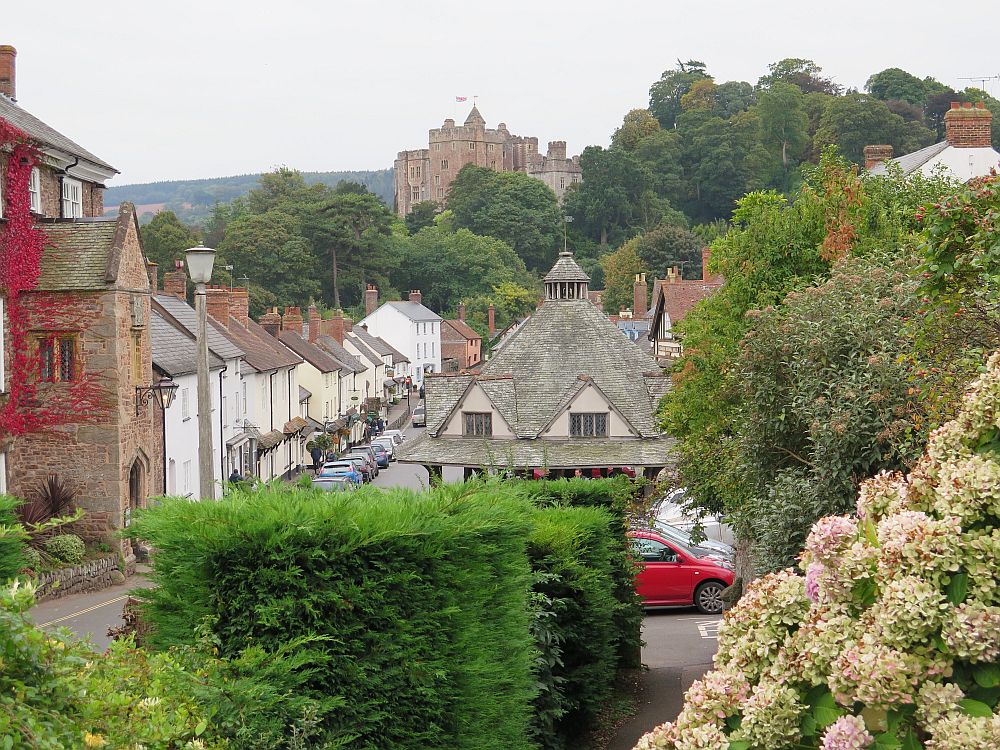 Refreshed we set off to explore some more. We continued beyond the High Street and discovered a community garden next to the church. Further on there were some more shops and pub and some other eating places. The road through here is quite narrow and in part controlled by traffic lights but we did spy a motorhome making their way through. Time to make our way back to the bus which were fortunately at half hour intervals.
Back at the site it is still pretty full with only about three spare pitches. I know it is the weekend but we approaching the middle of October. We treated ourselves to a Fish and Chip supper from the shop not too far from the site.
Saturday 8th October. Another grey day, in fact we had some slight rain this morning. We didn't go out until after lunch because we wanted to watch the Japanese Grand Prix Qualifying. The rain didn't last long and it was dry before left for our walk down into the town. We tried a different route today which took us more directly to the seafront. There was a steam event at the railway station which seemed to be drawing quite large crowds, good to see so much interest. We had a quick look along the shops leading towards Butlin's. However we thought we could make it to the harbour which we could see across the bay. It's rather a nice walk as the bay curves round. The harbour is quite small and because of the large drop in tide in this part of the country no water at all, the tide has been out both times we have visited the seafront. At the Lifeboat Station by the Harbour Margaret bought some RNLI Christmas cards. There was a little café right by the Harbour where we treated ourselves to a Cream Tea and very nice it was too!!! Having walked some distance today the old knees were complaining a bit but we made it back to the bus stop and back to the site.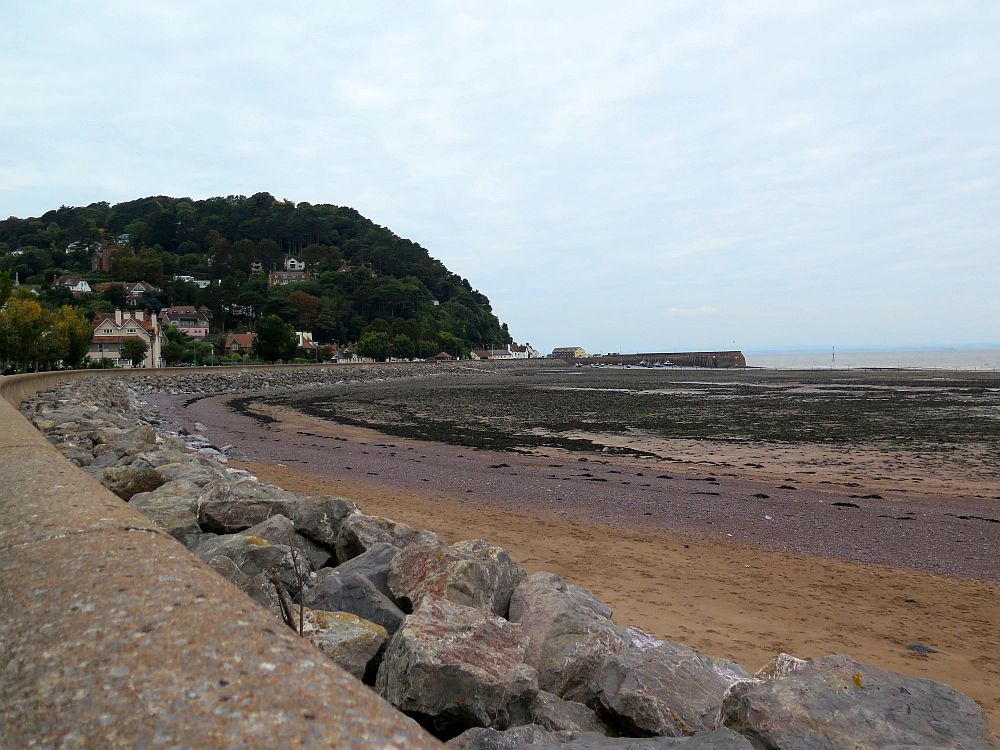 Sunday 9th October. It's been quite a sunny day today but far from warm unless you were directly in the sun. We needed some shopping so it was out with the granny trolley and off to the local Co-Op store. Otherwise it was a fairly lazy day as we watched the highlights of the Grand Prix in Japan. This is our last day at Minehead and we move on in the morning.
Brixham
Monday 10th October. It dawned a nice day although pretty chilly, at least first thing. We moved onto Brixham in Devon today. It was only a journey of less than ninety miles but it seemed to still take several hours!!! The warden at Minehead gave us instructions on the best route to the M5 at Wellington. Whilst it was better than the A39 from Bridgewater it was in the main still not a modern road. We made better progress on the motorway so decided to have a comfort break at the Exeter Services which is a bit of a nightmare to get into. Back on the motorway we are soon heading onto the A38/A380 and I had forgotten what a steep climb it was out of Exeter. I had scheduled a stop off at the Tesco in Newton Abbot to fill up with fuel. That seemed to work quite well and we were soon back out on the main road. There seems to be a new, improved, road round Torquay which rather confused TomTom but we carried on and eventually he was back on track. After some more narrowish roads we eventually arrived at the Caravan Club site called Hillhead.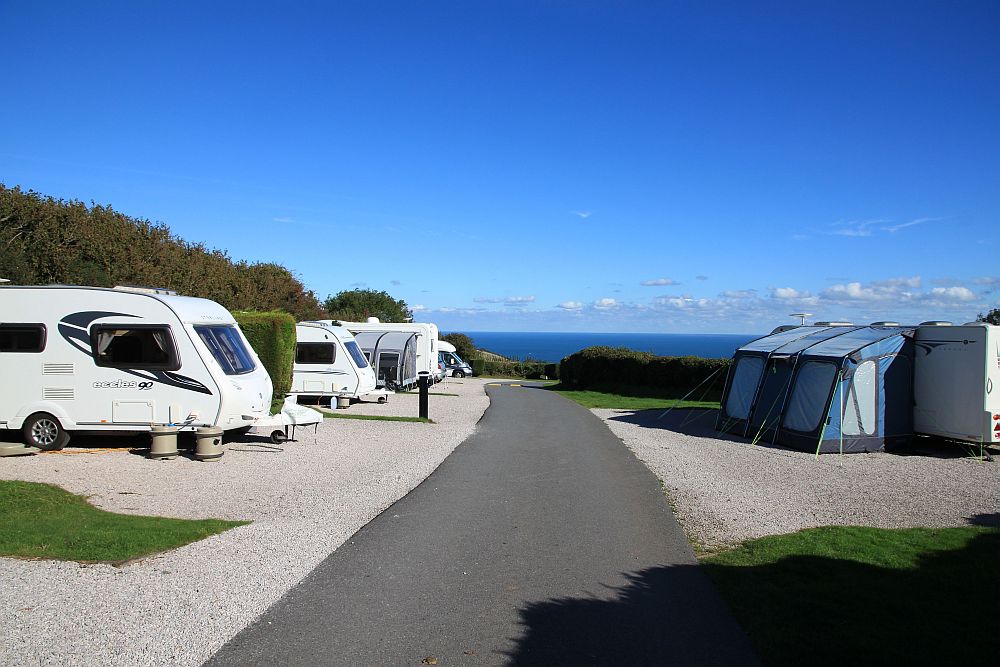 We set off looking for a pitch. Hillhead is a large site but we did not want to be too far from any service so eventually found a nice hardstanding hedged pitch with lovely views out over the sea. It was a really lovely day and whilst there was a chilly wind we were able to sit outside to eat our lunch admiring the views. Later we had a wander around the site. Unlike many club sites Hillhead has extra facilities like a swimming pool, shop, bar and restaurant.
Tuesday 11th October. It was dry when we got up with broken cloud although during the morning the cloud thickened and we did get some rain whilst we were out. We caught the bus into Brixham today from directly outside the campsite. I know I have often commented on how bus drivers cope with the routes they have to drive. The route into Brixham was a nightmare for the driver. The roads are hardly wide enough for cars let alone buses. He was literally inches from parked cars!!! How we managed to arrive in the middle of Brixham unscathed I don't know, but we did. Brixham Harbour still seems to be very much a working Port although perhaps the sign of the future is the large pleasure boat Marina next door. Not sure I would class Brixham as a pretty, pretty place as there seems to be an element of faded glory about it. In the summer it must be packed with visitors. I know it is a seaside town but it does seem to have a disproportionate number of Fish and Chip shops. Having a retail background I obviously look at shops with a degree of knowledge. I can't resist old fashioned hardware shops. However what caught my eye in Brixham was a lovely old fashioned Linen shop with displays that would not have been out of place pre Second World War!!! After a coffee we walked back towards the Harbour where Margaret had spied a suitable artefact for her sister Joyce, she the great collector of nic nacs!!!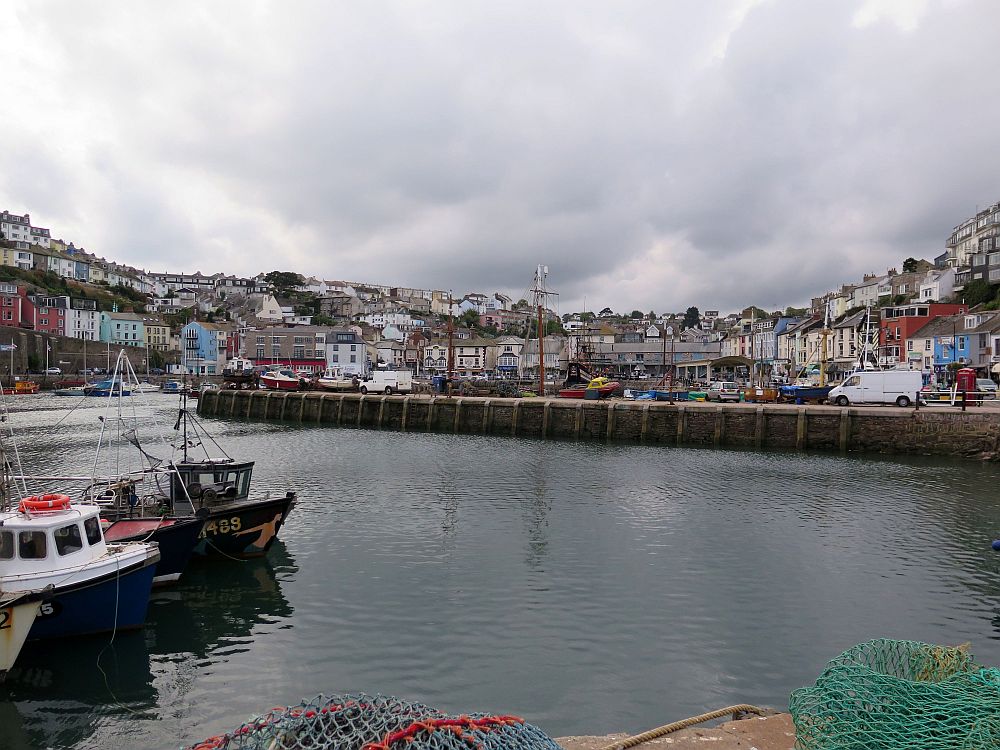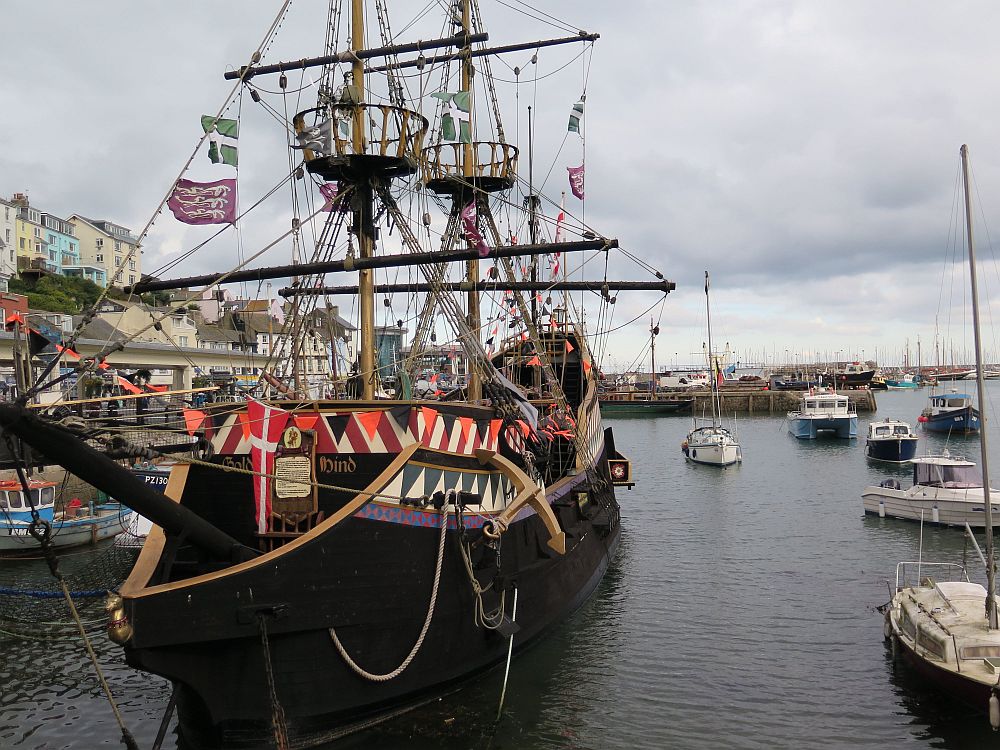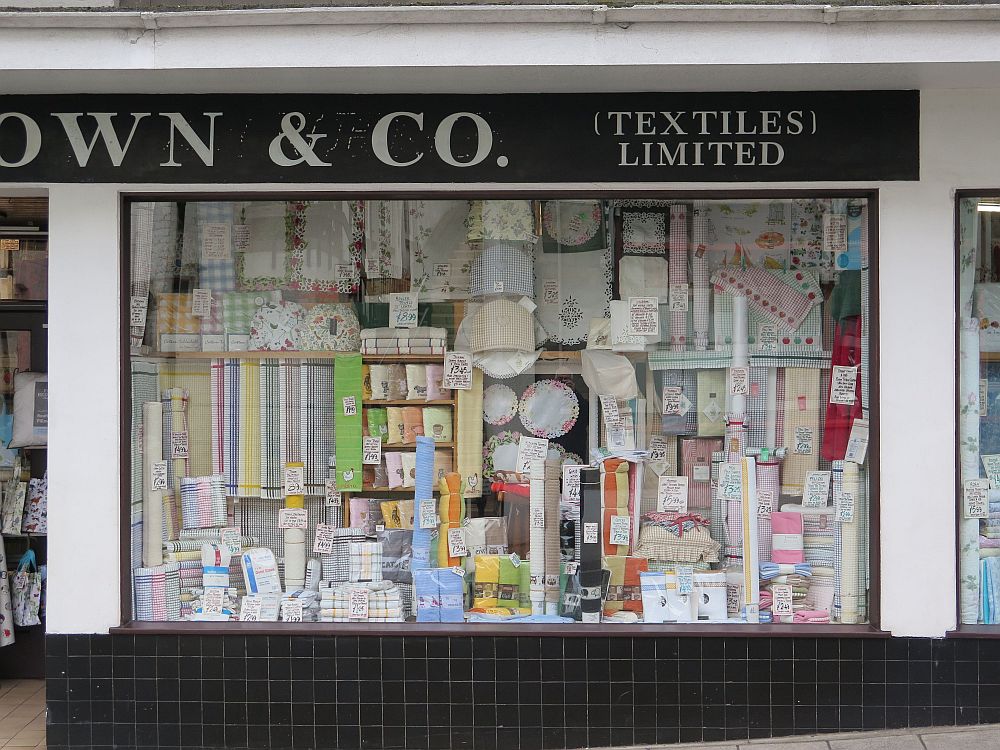 The bus journey back was even more entertaining than the original one into Brixham. I don't think I have been on a bus where the driver has had to get out of his bus to direct traffic!!! Another problem was that we came on the number 18 service but went back on the 18a which takes a different route out of town. Fortunately we did work out where we needed to get off!!!
Wednesday 12th October. Although it was quite cloudy when we got up there were signs that it might improve. In fact from about lunchtime on we did actually get some sun. We caught the bus in the other direction today to Kingswear on the River Dart. Roads were not that much better than into Brixham but at least entering the town they had a one way system! The bus terminates at a stop called Kingswear Banjo which is a strange name to say the least. Apparently the local bus company back in the sixties built a turning circle just up the hill from the town to avoid having to reverse in restricted space. Somehow it got to be named locally as the "Banjo" and the name has stuck ever since. There is not much actually in Kingswear except the Dart Valley Railway station and the vehicle and passenger ferries over to Dartmouth on the other side of the river. From the bus stop down to the ferry terminal it is quite steep so you can understand how difficult it could be to get a bus down, reversed and back up the hill!!!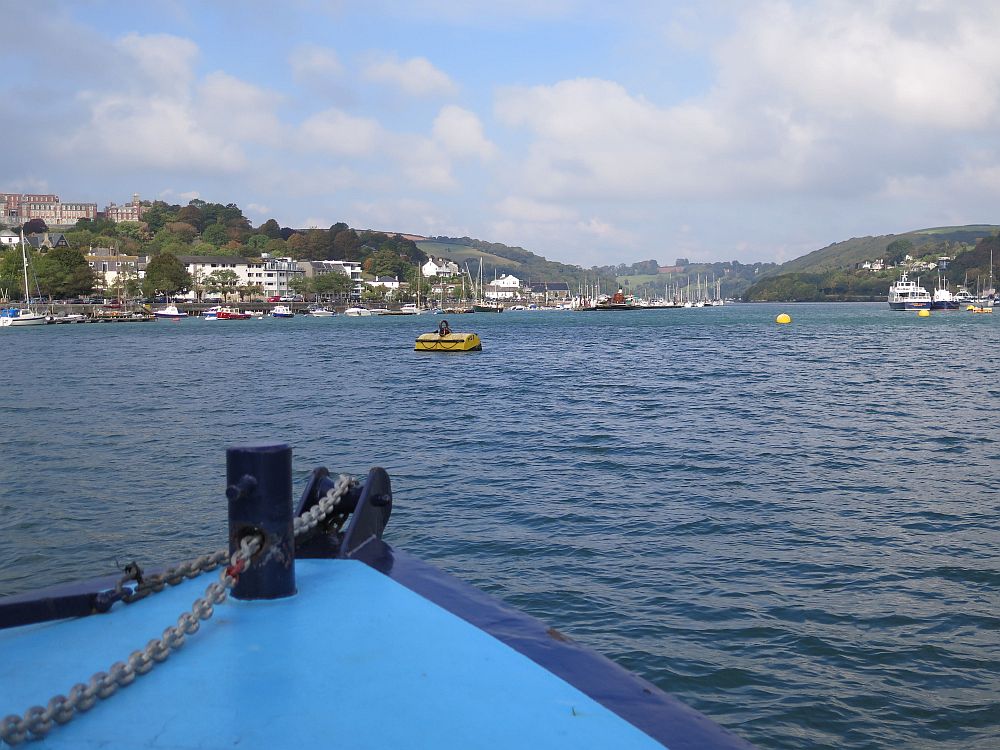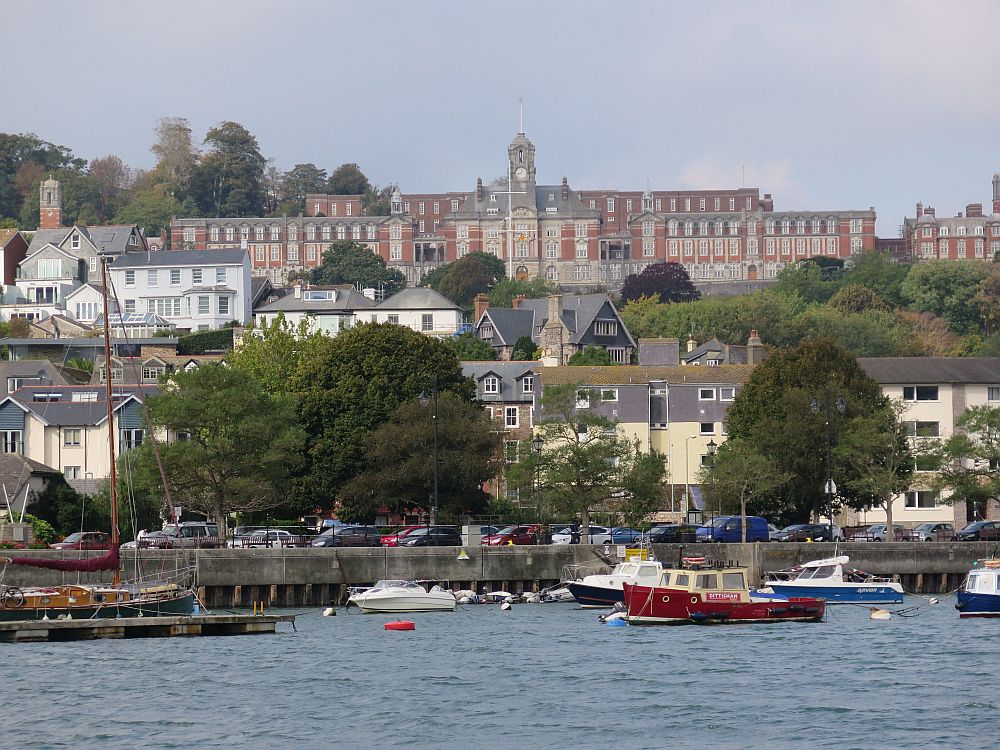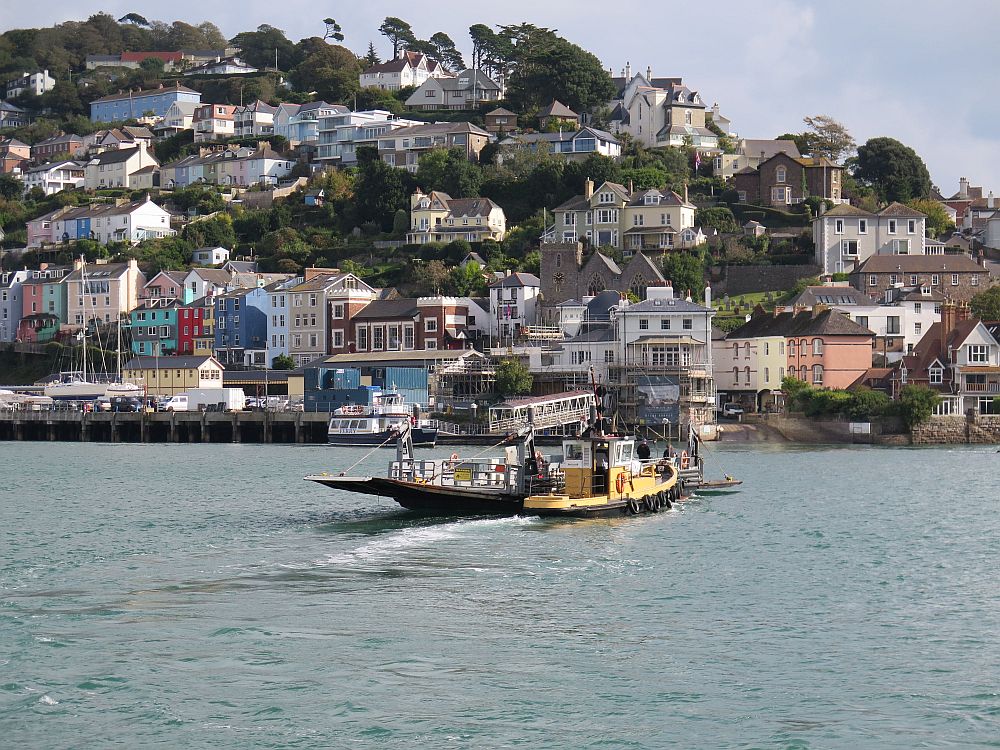 Foot passengers can use either ferry but we decided on the passenger ferry as it seemed like a proper boat. You get a lovely view of the River Dart upstream and of the opposite bank with Dartmouth and the Navel College looking down on the river. Dartmouth is a nice place to wander around and certainly no shortage of places to stop for a bite to eat. We explored most of the lower town and sought respite alongside the river near to where the vehicle ferry crosses the river. It can take about half a dozen vehicles but clearly the approaches on both sides of the river were not made for modern times. There was a large crowd on passengers waiting on the jetty to board the ferry back to Kingswear, there were only two others when we came across. We were not certain where everyone was going but this became evident when we got to the other side and the majority headed for the station and the steam train. It did cross our mind that we wouldn't all get on the bus but as it happened there were no more than half a dozen on the bus so we needn't have worried!
Thursday 13th October. The weather continues much as it has for the last few days. We took the bus into Paignton today. I had somehow imagined that being part of Torbay it would have been somewhat grander than the actual reality. It seemed like any other slightly faded seaside resort that may have seen better days. Even walking around to the harbour did not inspire any greater confidence. The town centre did have an air of God's waiting room about it! One bright spot was the Dartmouth Steam Railway which shares a platform with the mainline station. Perhaps we should have explored further towards Torquay to discover whether this part of the coast deserves the title of The English Riviera, having enjoyed the French Riviera it somehow does not match up.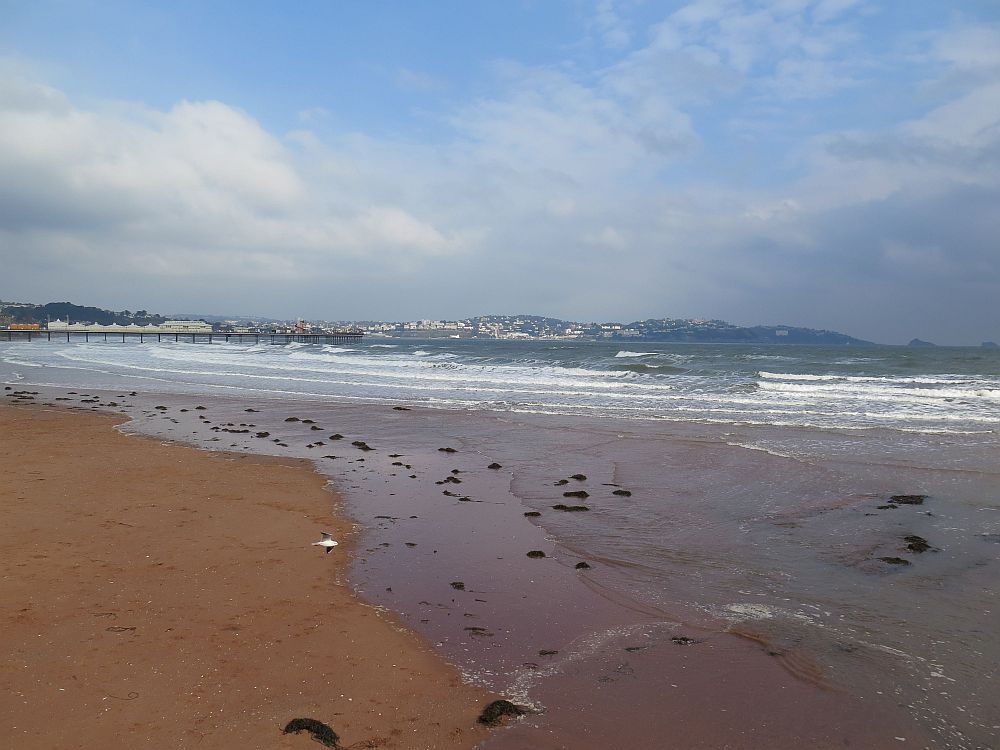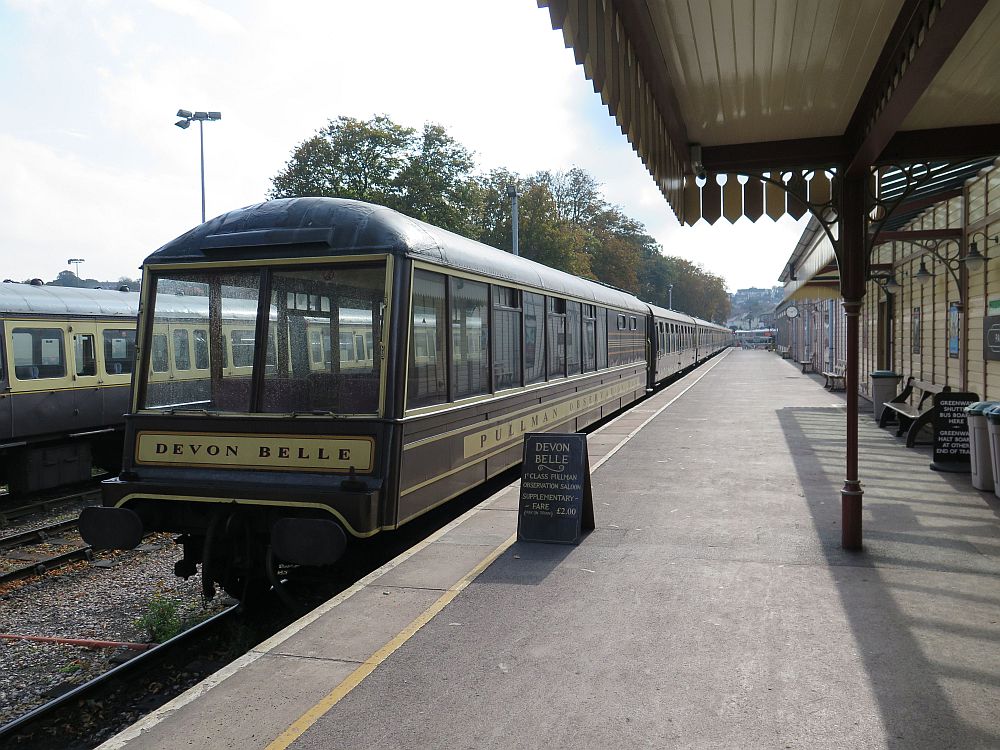 Friday 14th October. Funny how people are always complaining that weather forecasts are never right. Well the BBC online weather forecast said that it would rain at midday today and it did right on cue!!! Fortunately it was short lived and this afternoon has not only been sunny but also quite warm, relatively speaking. If was our intention to have a lazy day as we are moving on tomorrow but with the weekend coming up we thought we should make sure we had enough provisions just in case. So it was back on the bus to Brixham for some shopping. We were the only ones on the bus initially but as we got into Brixham more people got on. They all seem to know each other and it is often fascinating to ear wig on what is being said!!! On the way back the conversation was even more animated, a different group of people who again seemed to know each other.
I somehow imagined more people would arrive at the campsite today but there just seems to be the usual trickle of new comers. I suppose furthest Devon is not exactly a weekend destination for those from the Home Counties but you would think there are enough caravanners around and about? It's sometimes difficult to understand the Caravan Club's pricing policy. This campsite is only about half full and yet the prices are still twenty pounds a night. The price also stays the same for half term which is usually a peak price. I know this site has lots of bells and whistles but why are we paying for things we don't use. On some sites they have what they call the mid-week discount, puzzled why they don't do the same here?
Moreton
Saturday 15th October. We had rain overnight but it dawned a beautiful morning as we prepared to leave Brixham for our onward journey. Heading out from the site and towards the A380 we had a lovely view over Torbay which almost had a Riviera look about it from that distance. Progress was reasonable and we were getting concerned that we would get to the site too early. The C&CC have recently changed arrival times to 1.00pm which is a bit of a nuisance. We did arrive about fifteen minutes early at their Moreton site near Dorchester, so we tucked ourselves into the parking area to await our allotted time. Once we had set up it had been our intention to explore a bit around and about but this was thwarted by heavy rain during the afternoon. Whilst we have not always had the best of weather during our two weeks away we have been fortunate in that we have not had much rain.
Sunday 16th October. More overnight rain but bright and sunny when we got up. We even managed to sit outside in the sunshine but unfortunately not for long. Although it was a pretty lazy day we did go out and explore the area immediately around the campsite. We had a look at the pub next door which has a restaurant. Whilst it looks perfectly fine the prices seem a bit on the high side for ordinary pub food so we are not sure if we will partake. We also went to check out the station which is very near to the site. There are trains to Dorchester, Weymouth and Bournemouth and Southampton in the other direction. It's an unmanned station but it does have a ticket machine.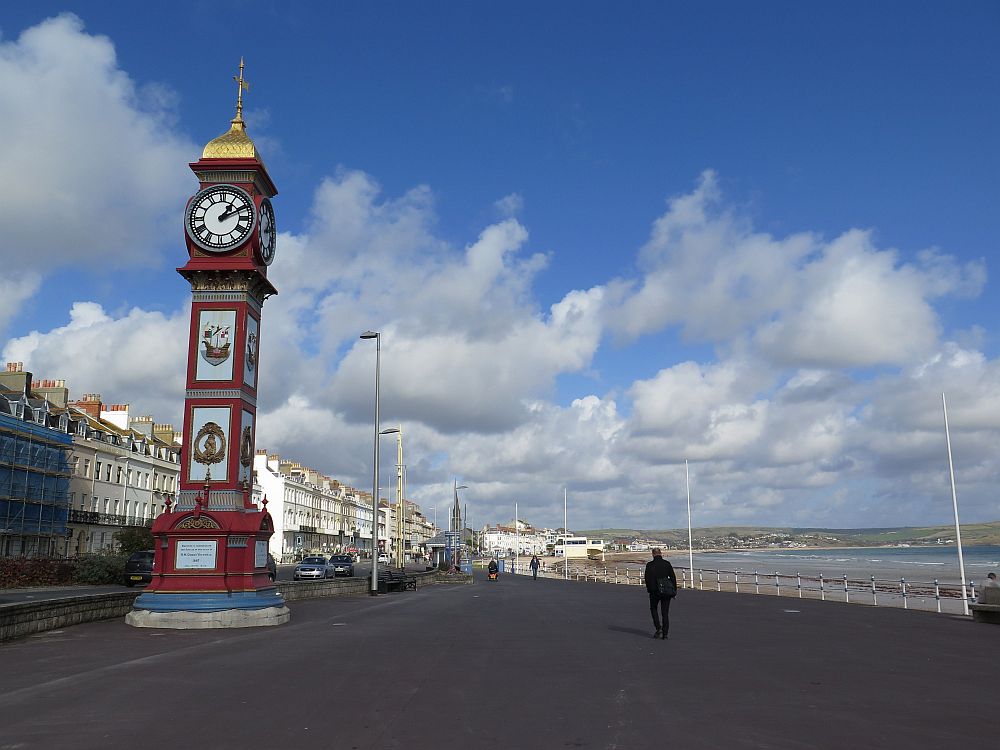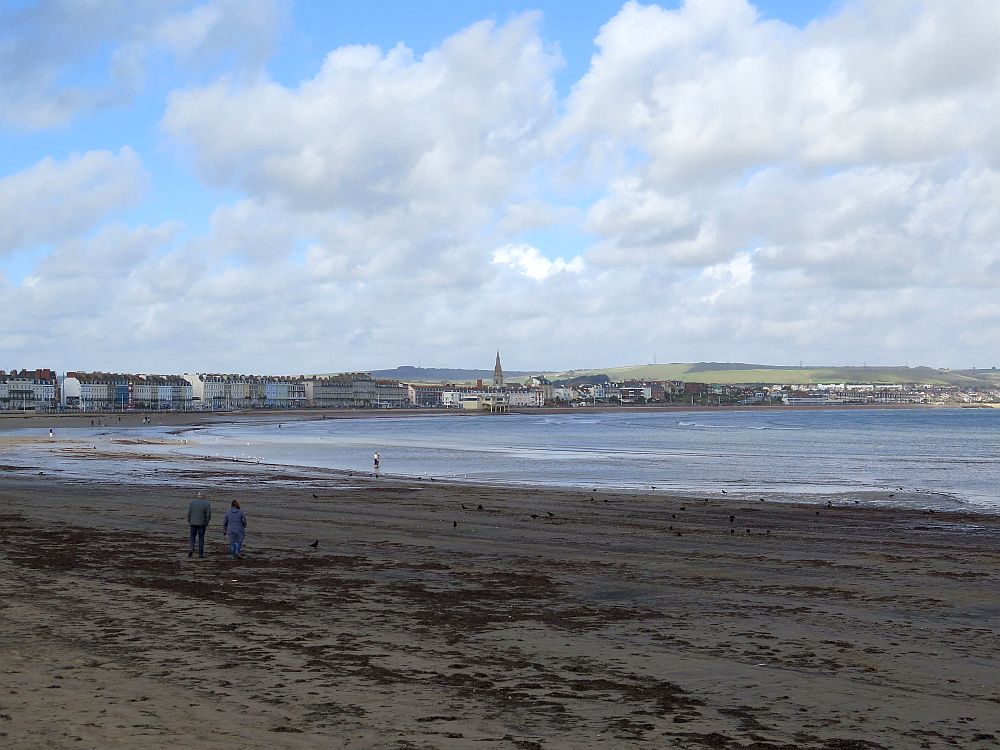 Monday 17th October. We were thinking about taking the train into Weymouth today. However early on it was very wet but by the time we were ready it had stopped. We made our way across to the station. I noticed on the information board that our selected train was showing as delayed. I went ahead and got the tickets from the machine only to turn round and see that our train had been cancelled, so another hour to wait!!! We went back to the van for a coffee and waited. Fortunately the next train was on time and we were off to Weymouth. From the station in Weymouth it was only a short walk to the sea and the famous Weymouth Jubilee Clock erected in 1887 to commemorate Queen Victoria's Jubilee. It has a magnificent backdrop of terraces of Georgian house and in the other direction the wonderful sweep of Weymouth Bay. Weymouth does retain some of its grandness but it gets a bit frayed round the edges as you move away from the well-known bits. It's a nice walk around the promenade towards the Harbour and along the riverbank back up into the town. We treated ourselves to a meal before making our way back to the train. Fortunately no cancellations on the way back!
Tuesday 18th October. We head home today. The weather was fine and we made good progress back to MK. For us it was a fairly long journey in one go of over 150 miles. I always fill the fuel tank at the end of each trip so there is no need to think about it when we are heading off on a new getaway. Rather rashly I decided to wash the van before putting it away. It's surprising how mucky it gets on these trips and if you don't keep it clean the muck gets in ground which makes it difficult to clean if you leave it. Whilst it was a good job done I don't think my body agreed!!!
Post Script
I have just started to read Bill Bryson's The Road to Little Dribbling. Something that struck me was something he said early on in the book. He was in Trouville in France and he contemplated what was immediately across the Channel in England and he concluded Bognor Regis. He then tried to compare Trouville with its picture perfect setting and the care and attention lavished on it with the said Bognor Regis. It takes little imagination to conjure up the differences! In some ways it summed up our recent trip. The UK is in great part beautiful but this usually only applies to that part which is unspoilt or conserved or vibrant. On this trip we have returned to places which we were last in, perhaps, twenty years ago. Apart from the pretty places, Dunster and Dartmouth, which are much the same as I fondly remember them. However it is very clear that large parts of Somerset, Devon and Dorset cry out for investment. Not only to improve the infrastructure but also to lavish some tender loving care on the major towns. Perhaps I am suffering from the malaise of the recent EU vote, as a confirmed European, I feel it will do nothing for these communities which I imagine will continue to stagnate due to lack of money. Perhaps it's just a feeling that we have visited large parts of the UK and there is not much more that is "new" to explore. Must try harder.
Chatsworth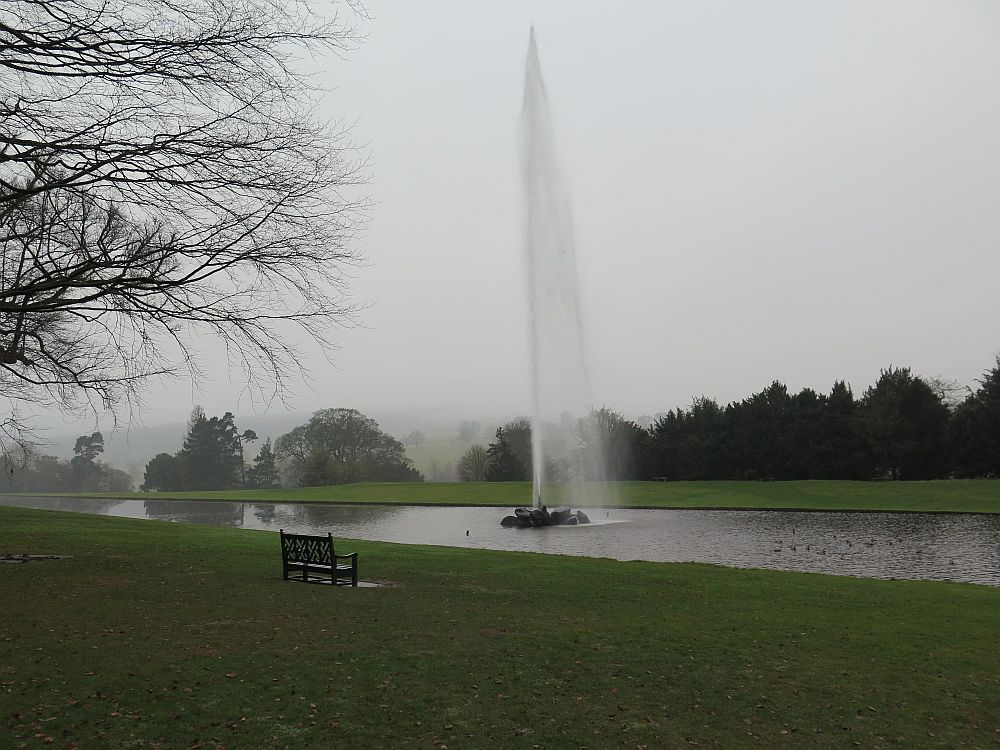 Monday 5th December. We were up quite early in readiness for our trip to the Caravan Club site at Chatsworth in Derbyshire. To say it was cold was a slight understatement as the front of the motorhome was covered in ice. I had left it until the morning of departure to refill the water system of the motorhome and even that was an hour or so after I had put the heating on in the van. We were away from home by about 10.30am and made our way towards junction 14 for our journey north on the M1 hoping it would not be like the journey we had on the M25 the day before when we met up with family for a lunch in London! Fortunately the M1 was not too bad and we made good progress making a comfort stop at Trowell Services. After the services it was not far to junction 29 where we headed off towards Chesterfield. Beyond the town you enter the Peak District and we could see that frost was still in the fields so no doubt we were higher up and by now a bit foggy so no chance of it melting. Fortunately we arrived at the site after the 1.00pm embargo on new arrivals and we booked in and found ourselves a pitch close to the amenities.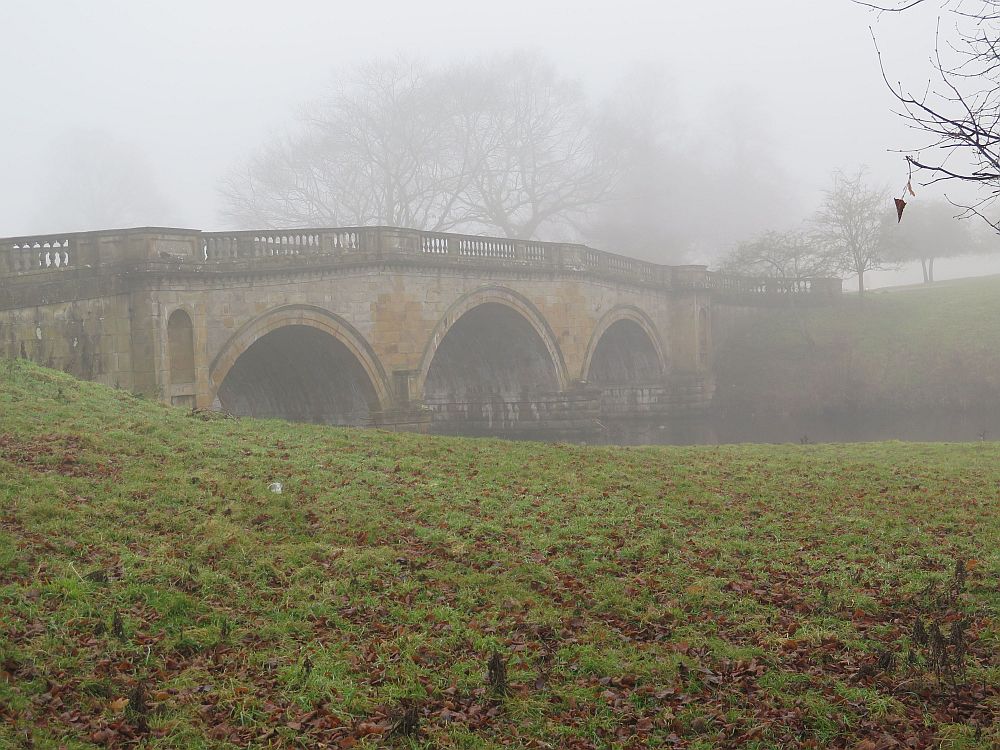 Tuesday 6th December.
Overnight it was very cold and when we got up it was also very foggy. We walked up to Chatsworth House today. Usually the House can be seen from the campsite but today visibility was so poor that we were almost at the House before its ghostly form appeared out of the fog. There are obviously major renovations under way as large portions of the House are surrounded by scaffolding. The purpose of our visit was to see the Christmas Decorations which is an annual event but always on a different theme, this year it has a Ballet theme based on the Nutcracker. Since our last visit admission to the event has changed. They seem to be encouraging everyone to buy tickets in advance online. They have also introduced timed entrance to the House. I suppose there are pros and cons to this approach, obviously the hope is that it smooths out the flow of people so everyone gets a fair crack of the whip so to speak. It seemed to us that it was something of a mixed blessing as there were still pinch points which delayed progress. Like many things a visit to Chatsworth is no longer cheap and no longer discounts for being a Caravan Club member as there were in the past. Also no reductions for people of a certain age but given that most of the visitors were of a certain age perhaps they should charge more for younger people!!! I should point out that we did not buy tickets in advance but at the entrance after seeking advice via a phone call to Chatsworth House who said that during the week we should be OK. It seemed to work out quite well as we only had to wait about ten minutes for our timed visit to start. It's always lovely wandering around Chatsworth House but we did not think this year's theme worked as well as those we had seen in the past.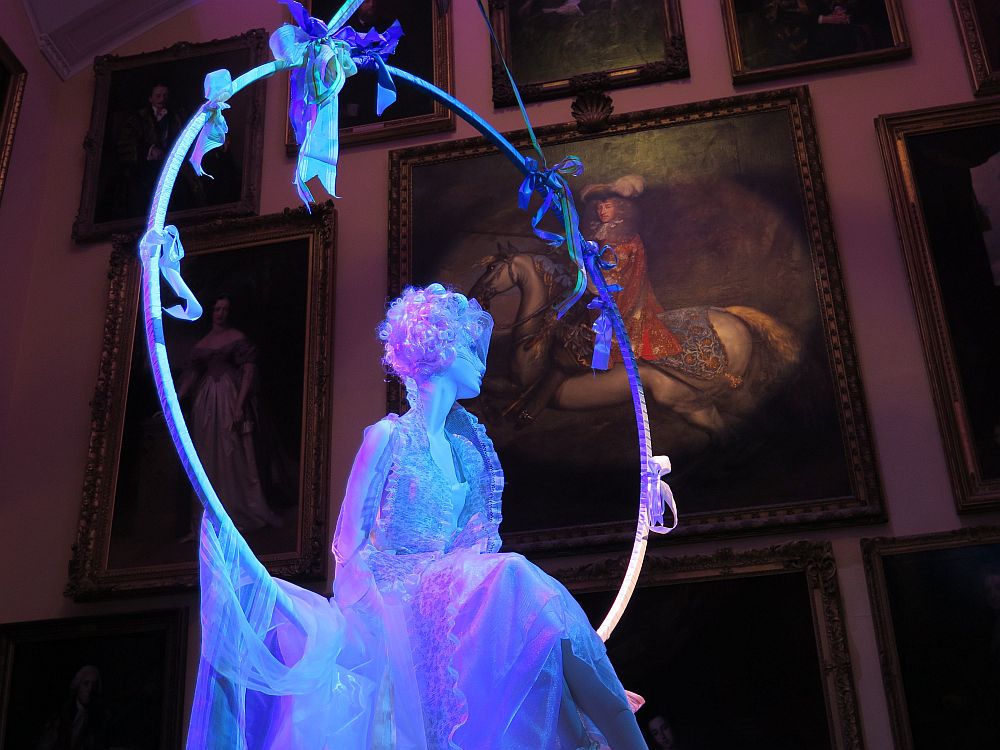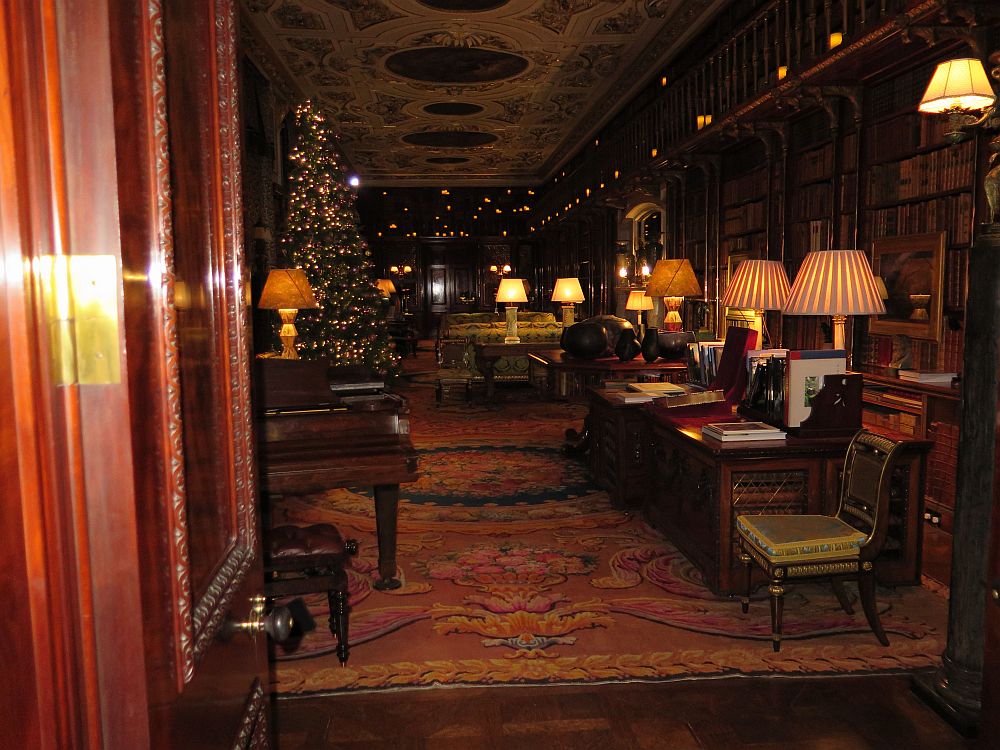 Once we had finished we grabbed ourselves a coffee and something to eat before having a walk around the gardens near to the house. From here we made our way to the Stable Yard where there are more eating places and gift shops which Margaret was keen to see. On our walk back to the site the fog had cleared a bit but it was still a grey and damp day.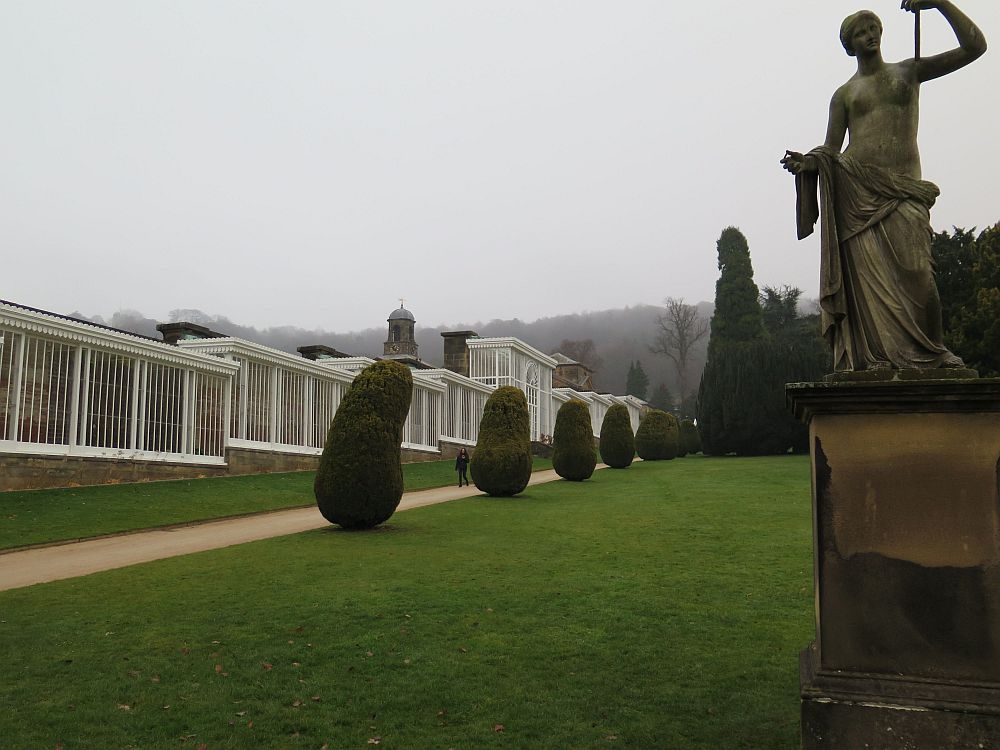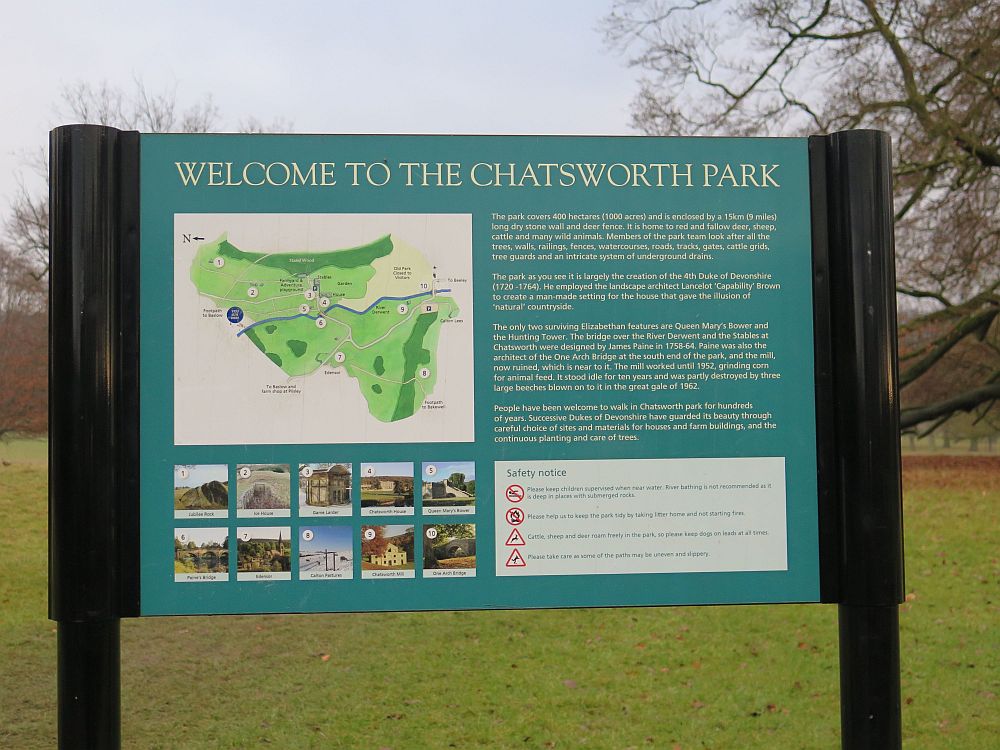 Wednesday 7th December. It was surprisingly warmer today, apparently the prevailing weather has suddenly changed direction and now coming up from Southern Europe. We walked through the Park today into Baslow. As we were leaving through the secret gate into the Park we heard a voice of someone wanting to be let into the campsite. There is a notice saying don't let people in and Margaret was fairly firm that we shouldn't. The chap had left his wife looking round Chatsworth House and he had decided to return to the site the long way round. Being quite pragmatic about such things I asked if he had his membership card which he did so I took it on myself to let him in!!! Before leaving the Park you have to go through a Kissing Gate which is designed to allow wheelchairs into the Park from the village and was donated and made by a local engineering company and opened in 1999. Baslow has some pretty Peak District stone buildings. We found a café and refreshed ourselves with a cup of coffee and a mince pie. Sitting in the café it was clear there were several bus services operating through the village. We walked back to the site via the long entrance road down to the site. This is our last day at Chatsworth and we make our way home tomorrow. The site has been reasonably busy during our stay although there is still some space.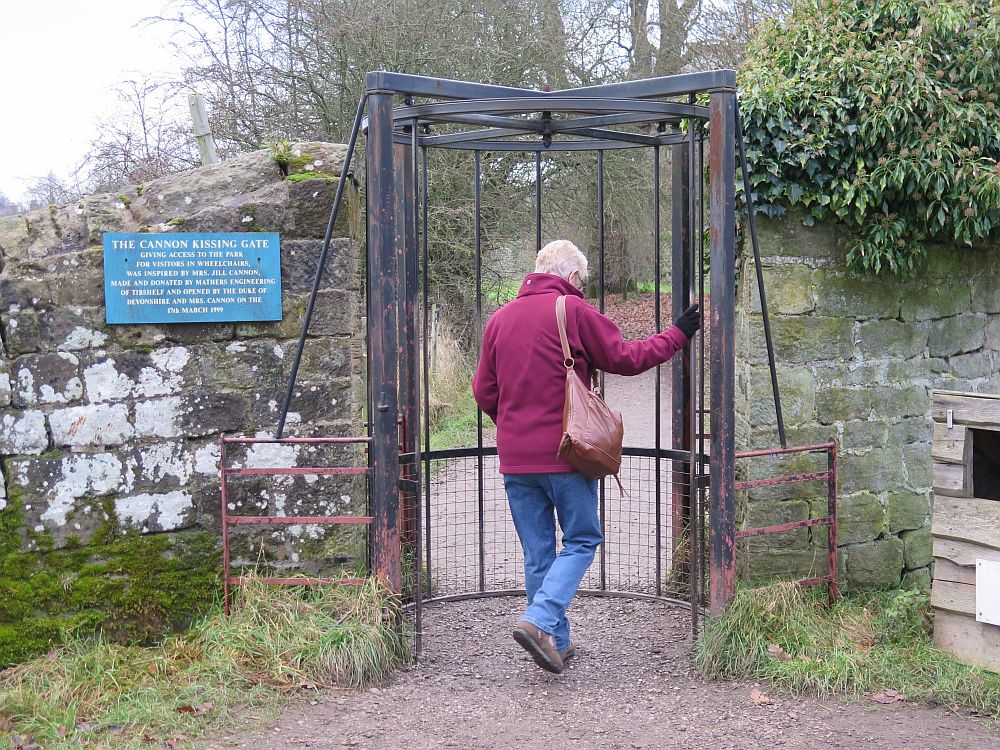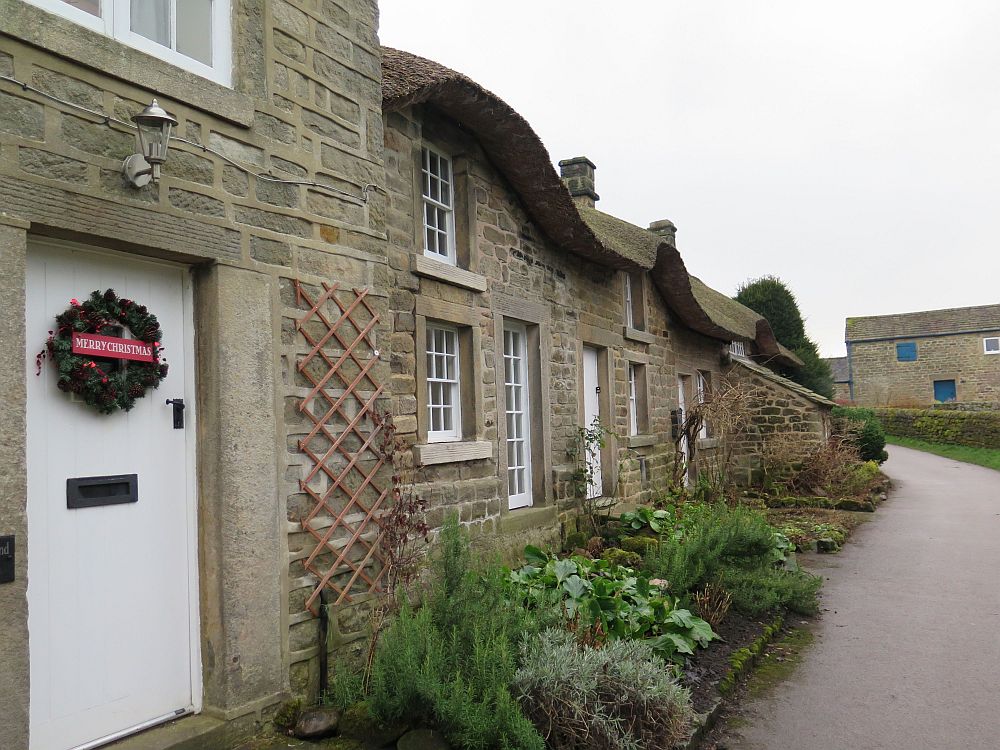 Thursday 8th December. We managed to get away from the site just before 10.00am this morning. Earlier it had been raining but as we left we had that sort of halfway house between rain and dry. Chesterfield was a bit slow going but I think everyone was out Christmas Shopping. It was strangely warm, about 14 degrees, and damp which required the air conditioning on to clear the cab windows. The M1 was busy in parts but we are still having to put up with the very long road works between the M6 and Northampton. We left the M1 at junction 15 so that we could loop down via Tesco to fill up with fuel. When we got home the van was filthy so I washed the sides, front and rear leaving the roof for another day. That rounds off our last trip of the year. In 2016 we have been away every month except November when we were having some work done on the house so it was difficult to work round.