Don't Bring the Camembert Home!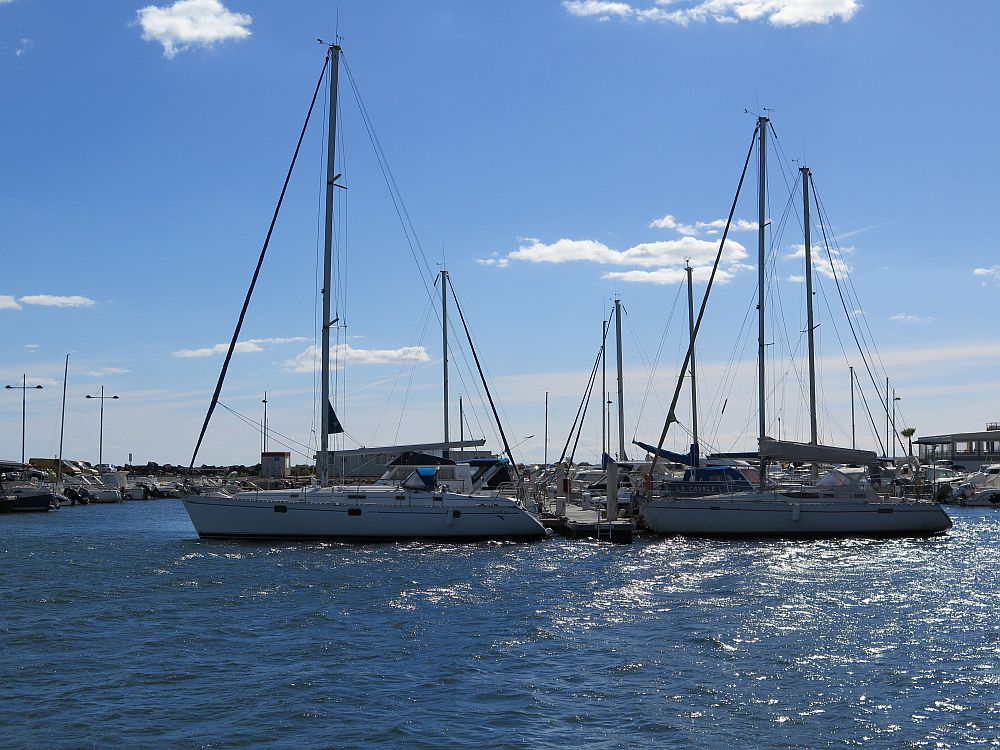 Friday 11th September. It was with some trepidation that we set off from MK this morning on our first overseas excursion for more than two years. One would think that travelling abroad would be a bit like riding a bike? All that has happened in the last two years does tend to knock the confidence. But set of we did in bright sunshine and although the M1 and M25 were busy traffic kept moving all the time. We made our usual stop at the Dartford Services. Plenty of room in the caravan parking area but still a couple of lorries! Strange that several caravans and a motorhome decided to park across the road in the car park! Refreshed we set off over the Bridge and the Dartford Toll crossing which seems a less complicated process than going the other way through the tunnels. We made it to the Caravan Club site Black Horse Farm by early afternoon. Booking in was in a flash as we had already paid as is the requirement for one night bookings at this site. We have been to this site several times over the past 20 odd years but we, had so far, never made use of the pub across the road of the same name. Today we decided to give it a try and have to say that whilst unpretentious the food was very good. Black Horse Farm has a dedicated ferry area to save disturbance to those who use the site as a destination in its own right. Tonight there are less than a dozen units on this part of the site, although when we arrived there were none.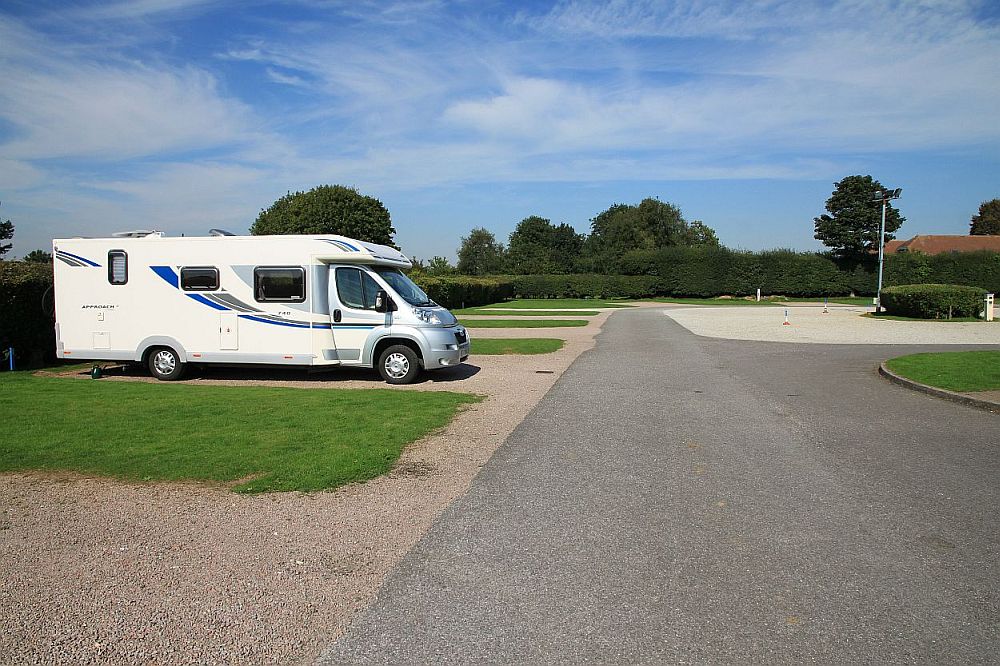 Saturday 12th September. When we got up we were surprised to find that many of the units around us had already left and we had not heard a thing!!! Funny that one of the complaints in the site Comments Book was about being woken up by early leavers!!! It was dry as we were getting ready to leave but rain did not seem far away. The start of our journey did not go according to plan. First the entry point into the Eurotunnel complex was closed which required a detour of several miles. On checking in I made the mistake of using lane 13. Firstly the ANPR did not work and I had to key the booking reference into the screen just as the rain was trying to wash the number off the paper!!! To cap it all when I went to print the hanger the machine ran out of paper. When we were about to leave the Shuttle the central shutter between the carriages went up but the doors would not open until an employee forced them open. Apart from that and an involuntary trip in the direction of Rouen City Centre the trip went well!! When we arrived at Pont de L'arche we had to wait for the campsite guardian to arrive at 4.00pm, fortunately there are spaces for several motorhomes in front of the campsite. We were tempted to stay in this area overnight but in the end used the main campsite. Once we had settled in we went for a walk around the town which is very pleasant.
Sunday 13th September. I was woken by the church bells at 7.00am which, despite being Sunday, it was not an unreasonable time to get up and put the hot water on. There had been some debate as to which was the best way to arrive and depart from the site. I am sure all campsites in France were designed in an age when people arrived by car with a tent. If they did tow a caravan no doubt it would have been quite small and motorhomes had not really gotten into their stride. We decided this morning that we would take the shortest route which as it turned out was the best!
I usually plan the route for the next day the evening before we leave. Because yesterday was a bit long and tiring I only got round to it this morning and did not pay as much attention to the sat nav as I should have. I had intended to use the N154 which is a free route down through France to about the Loire Valley. Unfortunately TomTom wanted to take us on the A28 and by the time we realised we were somewhat committed. It was another wet day although the rain did stop the further south we got. From time to time we have a problem with the built in step well in the motorhome which during heavy rain can take in water. During a lunch stop we opened the door and a mini Niagara spilled out on the road. I think the habitation door must be out of alignment. We found the municipal site at Amboise where we intend to stay for 2/3 days as we seem to have been on the go for ages. It's a very large site with lots of trees. However towards the back of the site is a large area without trees where they put everyone who wants to use a satellite dish, us included.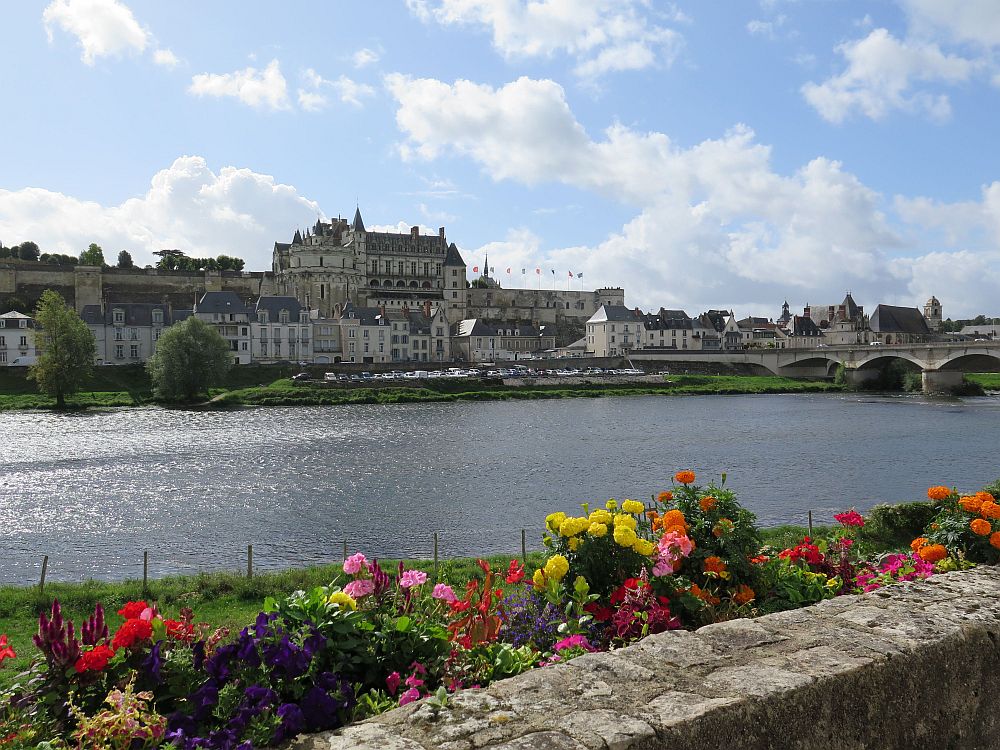 Monday 14th September. By an large it's been quite a nice day today. We have had the odd shower but most of the day has been dry and sunny. Mind you it has been very windy but perhaps it was that, that kept the rain away. We walked into Amboise today to visit the Chateau. I was surprised to learn that Leonardo da Vinci is buried here having arrived here in 1516. As with most Loire chateau Amboise is very grand and offers wonderful views over the river. Unlike some other chateau that we have been in Amboise has several furnished rooms. There were some lovely examples of pottery on display. If you visit be warned there is a lot of spiral staircases and circular ramps which as I found out to my cost can have a negative effect on knee joints!! Having escaped the Chateau we set about finding a place to have a lunchtime snack. We decided on the Café de Chateau which was OK but perhaps not the best value! We then had a wander around the town before heading back to the campsite.
This is our second day at the Municipal De L'ile D'Or campsite. By late afternoon we have what I call the Tea Time Shuffle. It's about this time that customers start to pile into the campsite. The campsite seems to have a strange policy of allocating pitches which is fine if everyone adheres to the plan. What seems to happen is that people don't seem always to use the pitch allocated so when others arrive their allocated pitch is already taken so they start to look for somewhere else. The trouble is they sometimes seem to park between pitches. Clearly not Caravan Club trained!!! There was an English guy in a motorhome who seemed determined to wind out his Fiamma canopy facing in the direction of the wind. At first he was doing it on his own but then with the help of his wife they were in difficulties. It was blowing a hoolie so eventually they made the right decision and packed it all away!!!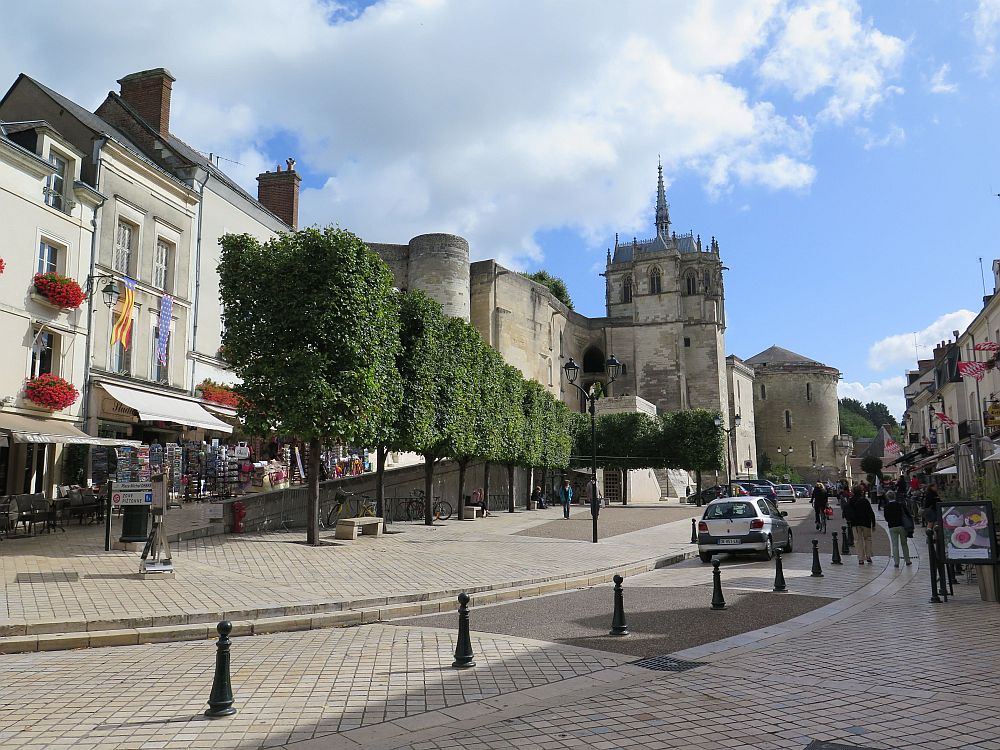 Tuesday 15th September. The changeable weather continues one minute bright sunshine and the next grey skies and showers. A pretty lazy day today although we did walk back into Amboise where we had found a small Carrefour City shop in the town where we did a bit of shopping. Had a chat to the Danish guy across from us who it turns out is a regular visitor to the UK. Went to pay my bill this afternoon which worked out at about £11 a night. Whilst I could suggest any number of improvements I could not find any fault with the value offered. Moving further south tomorrow.
Wednesday 16th September. We left Amboise in pouring rain which continued for some distance but it did start to clear. By the time we stopped at the Centre de la France aire on the A71 the sun was out but the temperature had climbed to 28 degrees!!! The other change was that it suddenly became very windy and we were buffeted as we drove along. We arrived at the Municipal at Issoire by mid- afternoon in bright sunshine. The first pitch we went on we could not get a satellite signal so we moved to an adjacent pitch with no trees in the way. That was not the end of the story as later we had a thunder storm and exceptionally heavy rain which interfered with the satellite signal. We realise that we are gradually moving towards the point where we won't be able to get a signal even in good weather. As we were travelling south, just before Clermont Ferrand, we saw signs saying that the A75 was closed at Lodeve which is between Millau and Beziers which means that we have to change our plans. Watch this space!!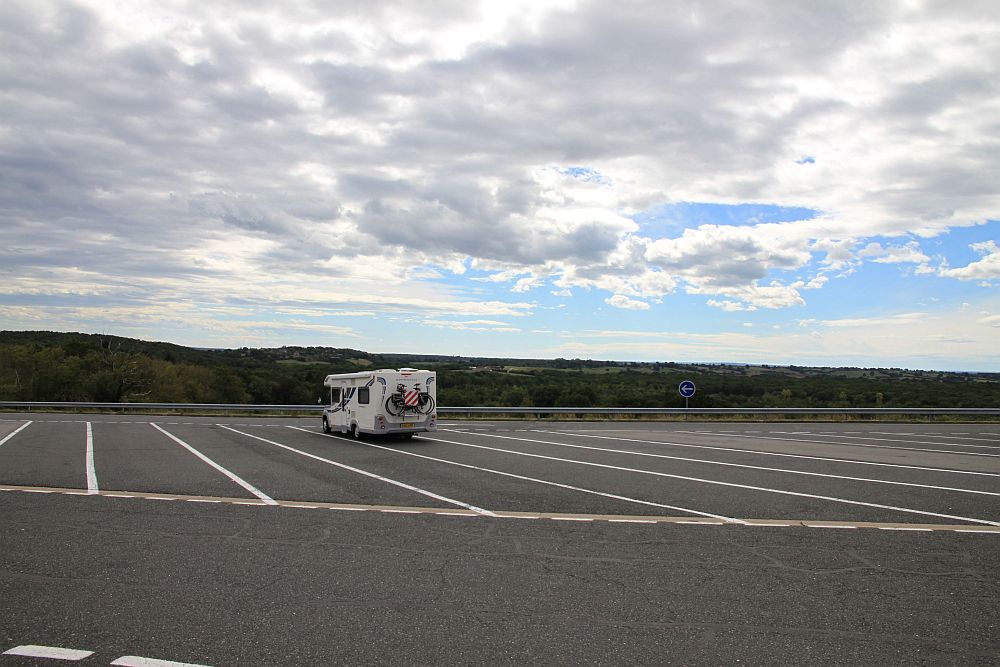 Thursday 17th September. We had more rain overnight but during the day it did clear up and we had some sunshine. Well we are still here in Issoire. We decided that we needed more time to think about what route to take to avoid the problems at Lodeve. We spent the morning pouring over maps and guides. We think we have settled on a plan but I won't be surprised if we change our minds!!! Having sat for most of the day we thought we should get out so armed with a map of the town we decided to walk over to the shopping centre. We did wonder if we had bitten off more than we could chew as it seemed a long way but we made it, been easier to have taken the bikes!!!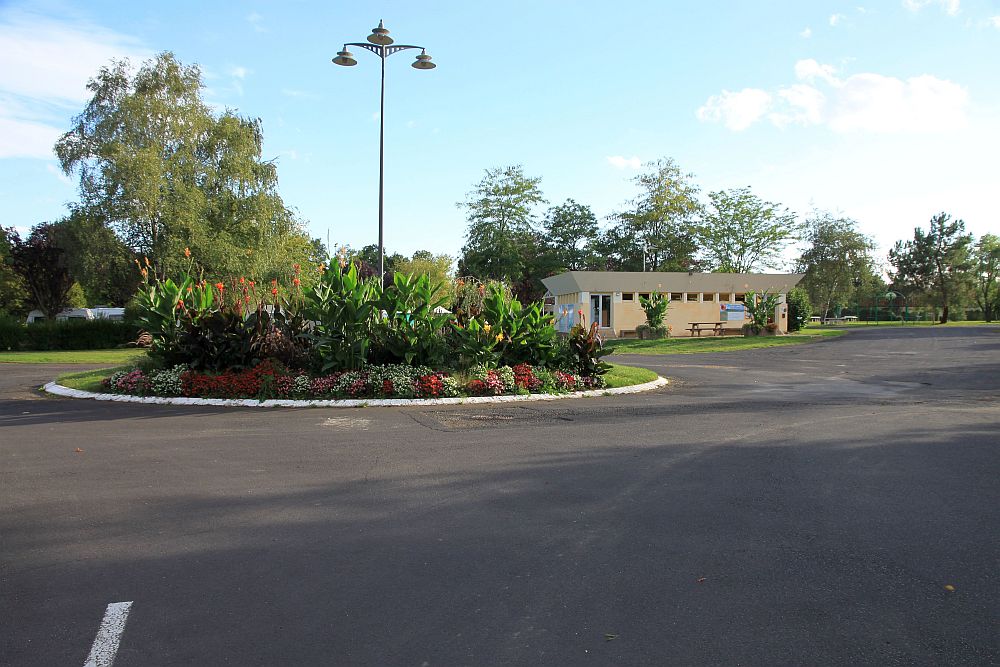 Friday 18th September. At least today dawned fairly bright with some sunshine. Once we left the campsite the first job was to fill up with diesel at the Carrefour we walked to yesterday. It costs about .80p a litre which is quite remarkable considering how much it was in 2013 which was about 35 cents a litre more expensive. We have finally decided on a route. We drove about 80 miles down the A75 and left at junction 39.1 in the direction of Ales and Nimes. For those that don't know the A75 runs for some way at around 1000 metres above sea level so when you leave the road they tend to head down hill and boy did we head downhill!!! It was slow but very attractive. Once round Ales we had dual carriageway to Nimes. The only problem with both places is the amount of local traffic you have to fight your way through. Even the A9 peage was very busy and we wondered where everyone was going! After a long and slow 266 miles journey we arrived at Marseillian Plage and headed to our site of first choice, Beauregard Plage. Unfortunately it was full but they did offer us the opportunity to park on the carpark until tomorrow when we could move onto a proper pitch. Having had a look at the likely pitches all of them were small and we decided to try elsewhere so we returned to Camping Robinson where we had stayed in 2013. Rather surprisingly it was much fuller than the last time we stayed which was in June. By the time we set up it was getting on for 7.00pm which seemed very late to us!!!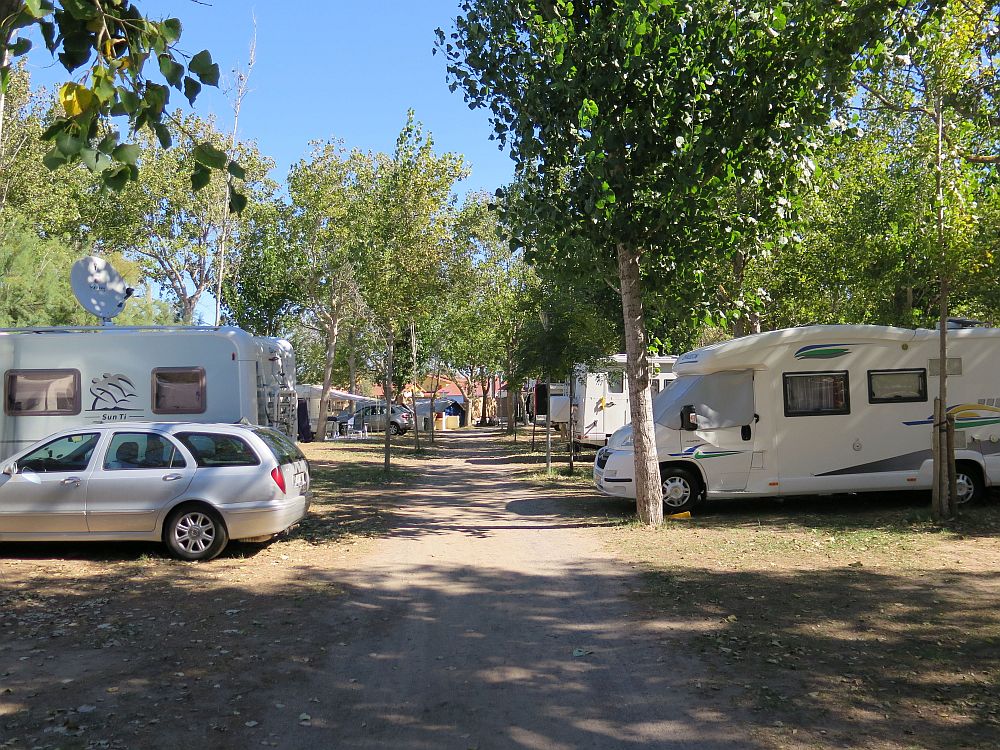 Saturday 19th September. After yesterday's exhausting trials and tribulations we decided to take it fairly easy today and that may well set the scene for our stay here!!! Seems strange for one day to begin as the last one ended, especially if it involves sunshine. The difference today was that it was very windy, albeit a warm wind but temperatures down a bit on yesterday. We did initially put out the wind out awning, but despite it being well anchored down it was flapping a bit so we took it in after lunch. Despite the wind we decided to have a shortish bike ride. We wandered around the backroads behind the campsite to see what was going on and then rode into Marseillian Plage. The last time we were her there was a Municipal campsite right alongside the river. This time when we drove by the site we noticed that it was full of cabins. A closer investigation suggests that there are no touring pitches and the whole site has been converted to statics and cabins so yet another touring campsite bites the dust. We went into the town before returning to Robinson. We discovered yesterday that we could get no UK TV programmes on the satellite dish, we are just too far south. I think there are some trees preventing us getting other satellites although we do have Hotbird which seems to contain a lot of rubbish!!! Looks like CD's for the next week or so.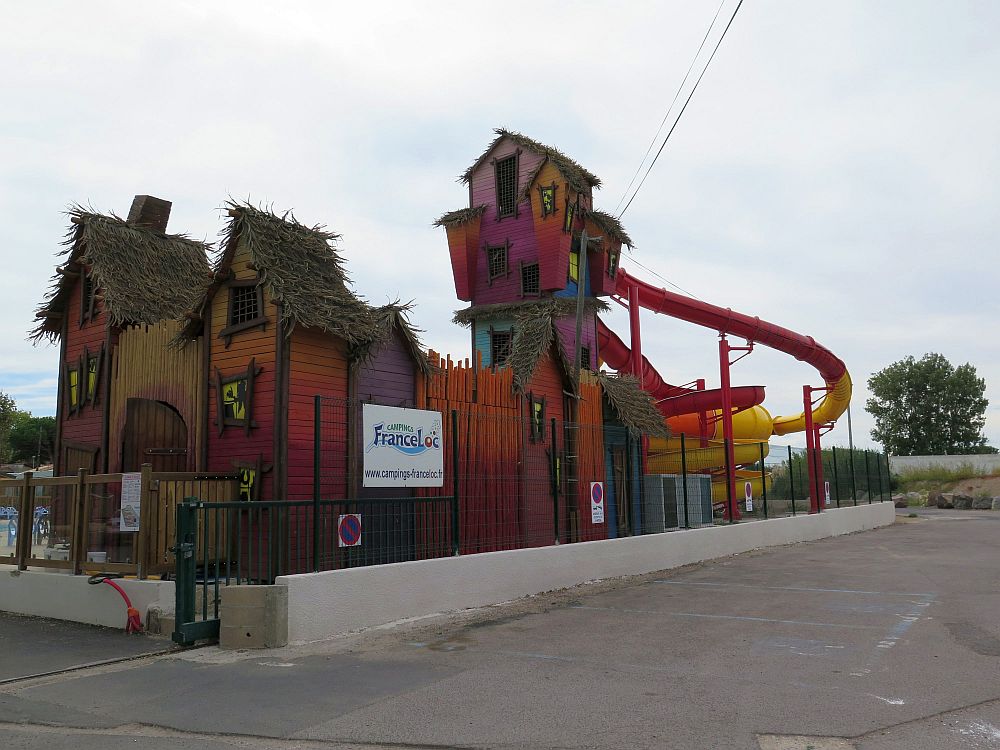 Sunday 20th September. Another lovely day with much less wind and temperatures in the mid to high twenties. It's been a sort of maintenance day today with filling and emptying of tanks and Margaret did some washing. This was a sort on insurance just in case the weather changes as we eventually move north. I have also been playing with the satellite dish again without much success as we wanted to watch the Grand Prix. I asked our German neighbour which satellite he was on but I couldn't even get that. An English chap across the way mentioned that he watched UK TV via the internet so I did a search. I found something called Film On which allows you access to UK programmes but you have to put up with adverts, although these are not as intrusive as I imagined them to be. If you are willing to pay then that gets rid of the adverts. We are trying the free service first!!! Seemed to work with the Grand Prix highlights on BBC 1 and later with Downton Abbey. For free you do get some adverts at the start but otherwise no interruption to the programme you are watching. You do have to have a reasonable internet connection which we seem to have here and for free!!! It just shows how technology is overtaking the recent change to satellite footprints.
Monday 21st September. Even hotter today by mid-afternoon, in the high twenties. The mornings are generally cool but by 11.00am it starts to warm up. We needed some shopping today so we rode the bikes in the town taking a short excursion through the harbour area first. I was going to chain the bikes to a lamppost outside the small Casino supermarket but Margaret said we should use the proper place opposite. In trying to get across the road I started to wobble and was have difficulty coming to a standstill. ( I later discovered that one of my rear brake pads had come loose which may have induced the wobble!) A kindly Frenchman grabbed my arm which stopped me going arse over apex!!! The French are strange in that they will rarely engage with strangers but always seem to be ready to come to someone's aid when they are in difficulties. We were able to pack everything into our new panniers' and made our way back to the campsite without further incidence. In the afternoon we decided to go for another bike ride, being glutens for punishment! We rode along the coast in the direction of Sete as far as the campsite in the Dunes. We did a similar ride on our last visit here and it proved neither of us are any fitter. We forgot that on the way out it was slightly downhill with the wind behind us so you have already guessed what it was like on the way back. We haven't used the bikes much this year for obvious reasons and I think it might be time to think electric if we want to use them as our main transport on this sort of trip. The cheapest of options and also a bewildering choice for the uninitiated.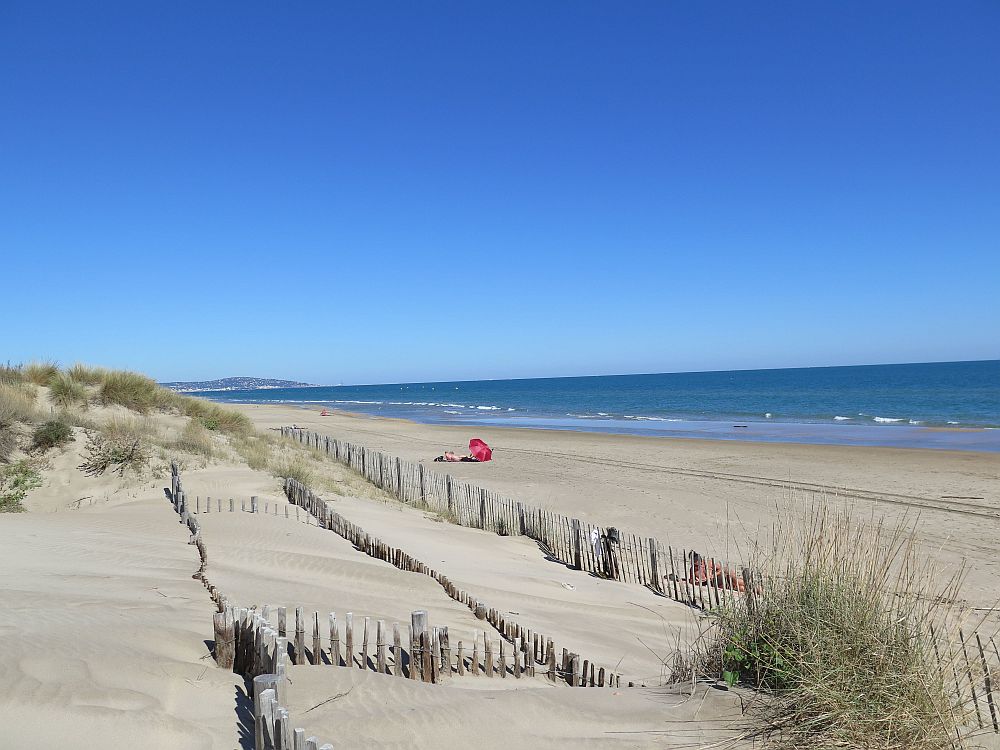 Tuesday 22nd September. Not so nice weather wise today with some cloud for most of the day but it did brighten up from about mid-afternoon. We did a bit more washing today as we are unsure whether we will get it dry if we leave it to later in the holiday. Some of the longer term stayers have left today although new people keep arriving, surprising given that the site is only open for another three days. After lunch we had a walk into town, sort of looking for suitable restaurants. Trouble is that none of them are open at the time we would prefer to eat!!! We wandered along to the original campsite which is now not so full but no point in changing just for a couple of days. They do have some bigger pitches but these come at a cost of an extra €6.50 a night. On the way back we decided to have an ice cream. Not particularly attentive service but when Margaret asked for what she wanted and pointed he decided that she had asked for those doughnut things you dip in chocolate!!! No perception of customer service so we just walked away. I don't think we realise how lucky we are in the UK. Camping Robinson is starting to wind down and it has that end of season feel which is a bit sad. We are going to move on Friday so it will be interesting to see how many leave or arrive in the next couple of days.
Wednesday 23rd September. Another beautiful day sunshine wise but very windy again to the point where we were concerned about leaving windows and hatches open. It was also coming from the north west so it added a chill. We had a ride out on the bikes to buy some vegetables as we had spied a stall on the main road going out of town. Unfortunately it was closed when we got there, whether this is until next season or just for the day we don't know. Hard work cycling against the wind!!! After lunch we walked down to the beach and sat on the rocks that form the breakwater to the marina. It was a bit more sheltered. I did dangle my toes in the sea and it was warmer than I imagined it would be but it was toes only. We moved round to where the river enters the harbour as there are a couple of seats there. Margaret rescued a fishermen's chair as it was about to be blown into the water. It's a pity there is not a ferry here across the town to save the long walk round. Later in the evening as I was wandering around the site, I reckoned there were about 35 touring units still on site which I think is a reasonable number give the site closes in a couple of days. OK many of them only stay a night or two but there clearly is a demand. The site maintenance staff have been closing things up and getting things ready for the closed season.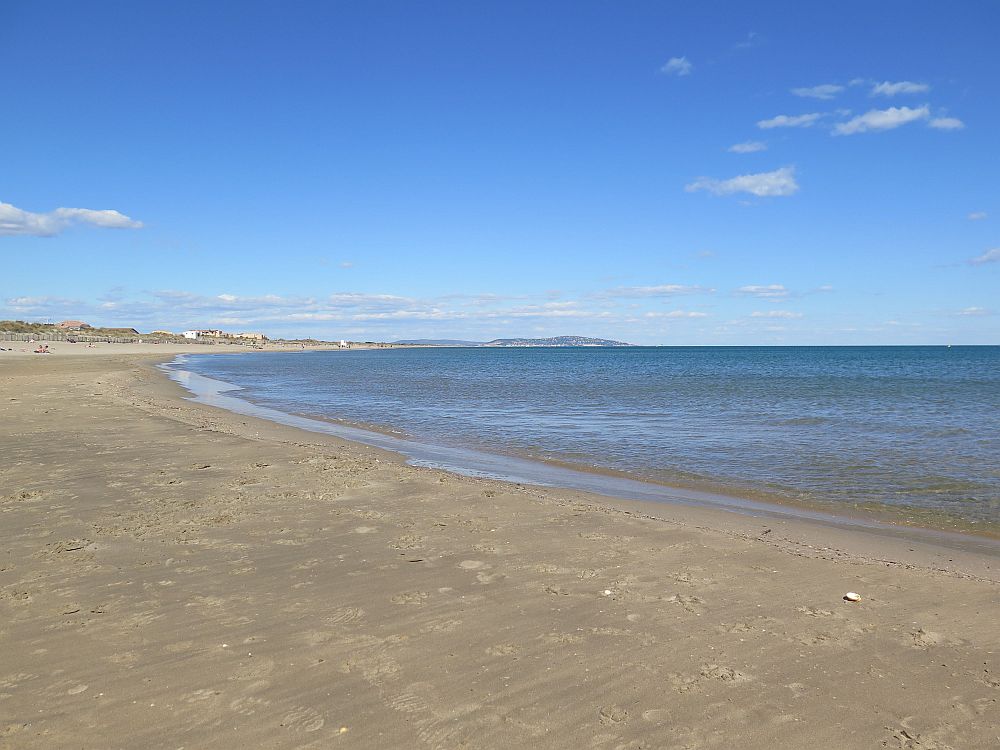 Thursday 24th September. Our last day here at Camping Robinson. Another lovely sunny day here but once again the wind has been very strong. Temperatures in the afternoon can be in the mid-twenties but the mornings can still be a bit chilly but at least you can get things done while it's cooler. We packed most of the things away this morning in readiness for our move. After lunch we went out for a final cycle ride around Marseillan Plage, mind you it was hard going with the wind and strangely it did not seem to make much difference which ever direction you were going in!!! There were still quite a lot of people out for a walk along the short beach promenade which runs from the river to main road through the town. The other side of the coin is that many of the businesses were starting to close for the off season. We paid for our seven day stay today a grand total of €106.40 which works out at current exchange rates at about £11.69 a night which is pretty remarkable given the location of the campsite with direct access to the Mediterranean. Our English neighbours had a bill for four times that as they have been here four weeks. Margaret and I are not sure we could stay anywhere that long but if it suits you its excellent value. Even tonight, two nights before close down there are still over thirty units on site and some have arrived today. Although in the UK we are used to sites having a much longer season we have to accept that many French sites don't see the advantage. When we paid the girl on reception said that she now has to go back home to find another job for the winter. I am turning into Mr Notabletomakeupmymind as one of the sites we were intending to go to next we have crossed off the list as I was uncertain about the access, not only to the site but also on site. Instead we have decided to go back to a site in Carcassonne that we visited over twenty years ago but we know is within walking distance of the old City.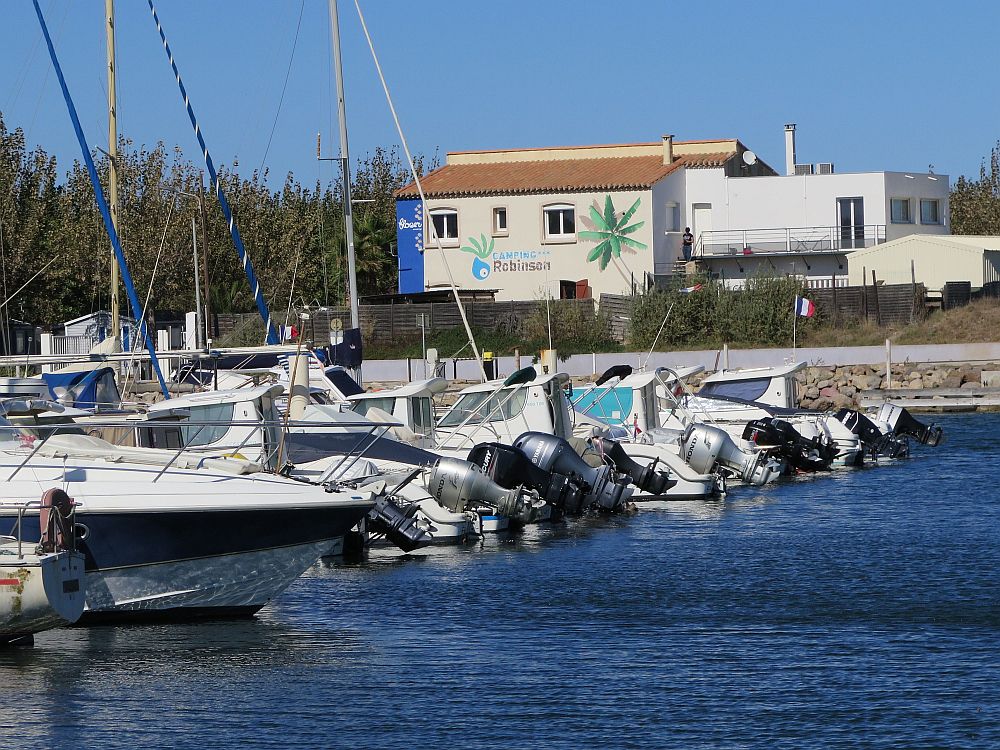 Friday 25th September. We left home two weeks ago today, so half way through the trip. A reasonably calm start to the day but the mornings are quite chilly until nearer midday. Our UK neighbours left a bit before us and they are heading north and cross back to England a few days before us. We were ready to go by 10.00am although we had intended to empty the waste water tank but with three French motorhomes waiting, I hesitate to say queuing, we decided to carry on with half a tank full. We stopped off at the SuperU in Agde where Margaret went off to do some shopping whilst I stayed with the van, when she returned it was role reversal as I went in to buy the liquids and the things that Margaret forgot!!! At the till I was told off, in the nicest possible way, by the cashier as we are not supposed to put six packs of mineral water on the conveyor belt. I didn't realise that but I suppose from and health and safety point of view regarding the weight it could be difficult to push them along from a sitting position. The pleasant young lady had a little English so we muddled through. So different from our experience at the ice cream parlour. Having filled the van with enough food and drink to last until Christmas we proceeded to the fuel station where Mr Notabletomakeuphismind show indecision on which pump to use. At last we were on our way having spent two hours at the delightful SuperU. As an aside whilst we were parked at the supermarket another Bailey motorhome rolled in. Clearly blind to the presence of a fellow Bailey owner they went about their business unaware of me!
We set off for the motorway and headed south on the A9. It wasn't long before the cab aerial was banging against the side of the door pillar, at least this time we knew what was making the noise. Mike at White Arches will be pleased that we have learned the lesson. I don't think we have ever been on the A9 when there has been no wind and today was no exception. We were being pushed around as we headed down the motorway. It was no better on the A61 but fortunately we did not have far to go before we got to Carcassonne. We found the site with little problem thanks to TomTom. Camping de la Cite is the most expensive site we have stayed on so far at about £17.50 a night and unusually you have to pay when you arrive. We do this all the time in the UK but it is unusual in France. We paid for two nights although I expect we will stay for longer. The last time we came to this site was in 1992 and it has changed a bit since then, well at least the vegetation has. We were allocated a massive pitch which is hedged on three sides.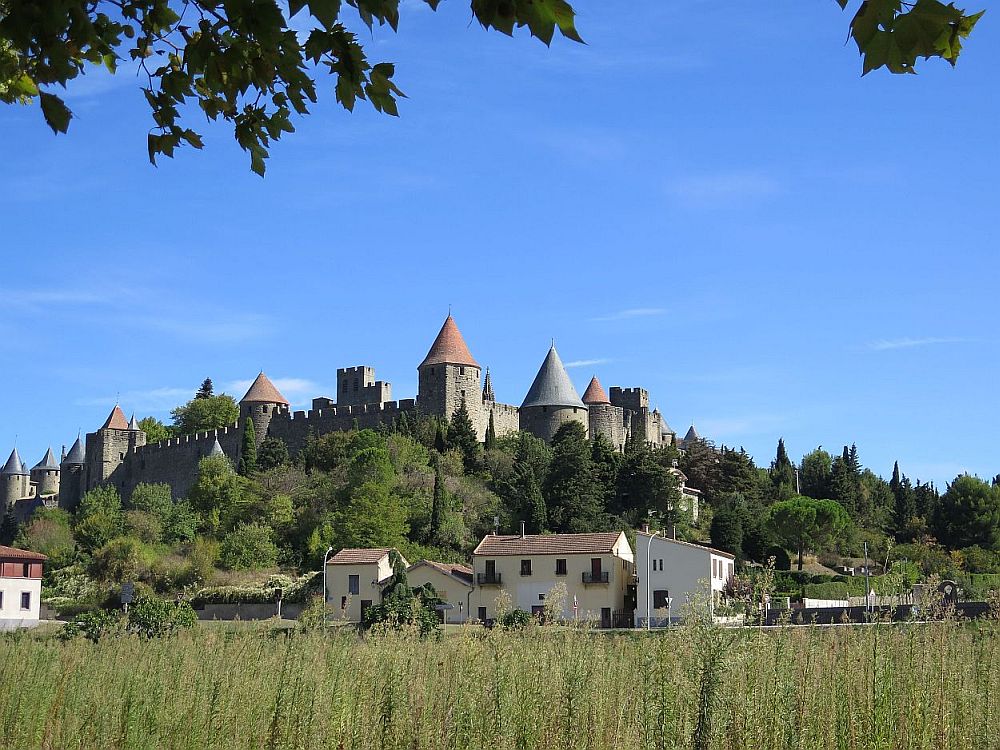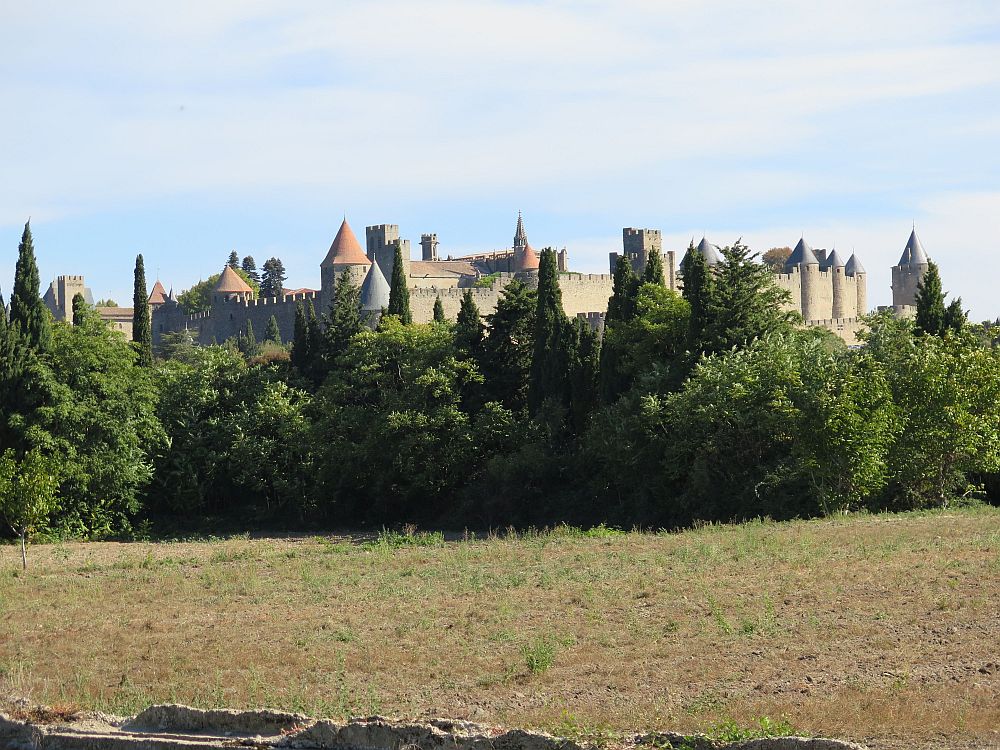 Saturday 26th September. Another lovely day with fortunately less wind. After breakfast we walked up to the old Medieval City, it was mainly off road but did involve a lung crushing climb from street level. I think sometimes we don't realise how old we are!!! It was surprisingly busy and the shops and numerous restaurants were doing good business. We only wandered around for about an hour as we had been a couple of times before. We went in the large church where four male singers were giving an unaccompanied performance of what might have been of Russian church music. Margaret wondered if they were really Il Divo but I thought that Simon Callow would not have allowed them to put on so much weight!!! I timed the walk back at about 30 mins. We have decided to stay another day here and leave on Monday. The site has been quite good at keeping most things open but I think from next week they will start to close more things down. An English couple arrived on the pitch nearly opposite us and we had a chat with them. Like us they have been out about a couple of weeks most of which was spent in Brittany where they said they really good weather so the storms in France obviously crossed the country a bit lower down. Also arrived today were two Swiss motorhomes. The lady from the younger couple came over for a chat. She explained that the kids were on three weeks holiday but when they go back there will be no more holidays until Christmas. We also chatted about the German spoken in Switzerland and she said that in the main it is unwritten and when the children start school they have to learn proper German. She spoke, of course, perfect English as they so often do.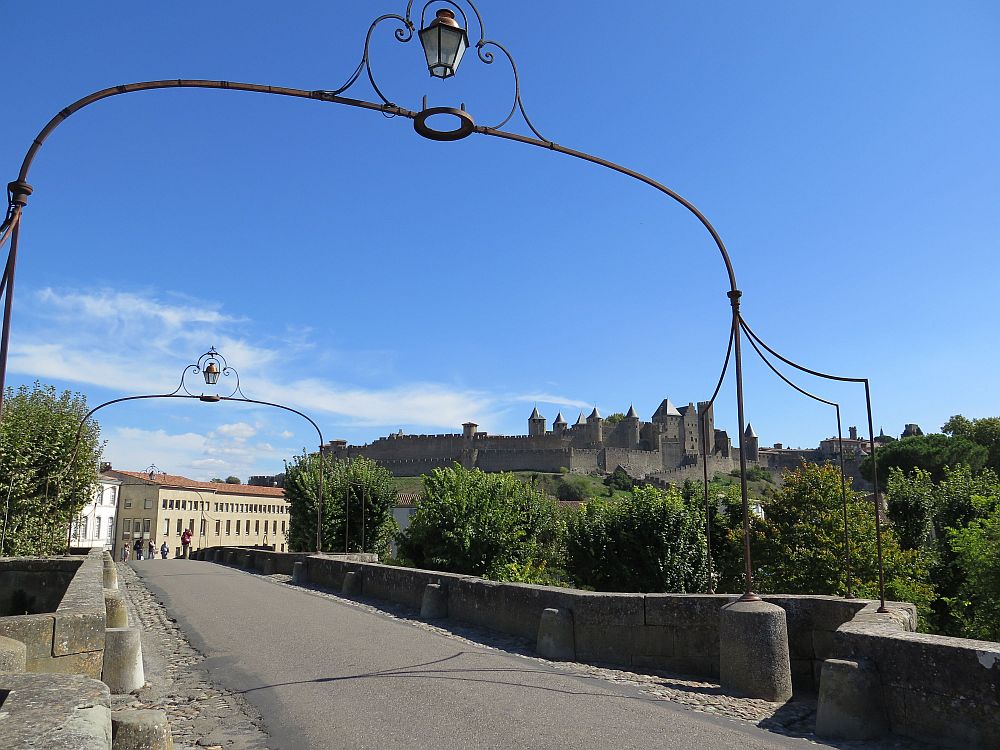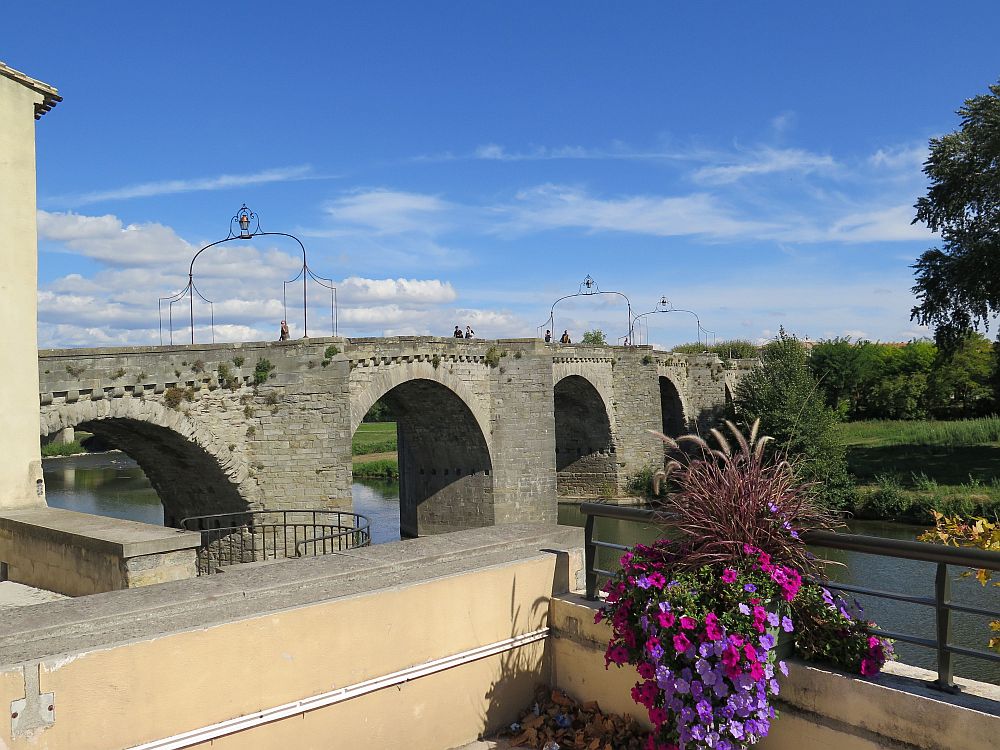 Sunday 27th September. We were up before it got light this morning. We wanted to watch the Japanese Grand Prix which started at 6.00am UK time, fortunately 7.00am French time! We were not sure this would work as we have been without a satellite picture for over a week. Sometimes with satellite signals they seem stronger in the morning but fade later in the day. Yesterday I put the dish up and it seemed to find the satellite quite quickly and we seemed to get a reasonable picture although there was still some picture breakup. Initially today we had the same problem but it seemed to resolve itself and we have had a reasonable picture all day. Not that we have sat in front of the TV all day as it was too nice and it's been hot today. However temperatures vary throughout the day, when we got up it was positively cold so although it's been hot from say midday until about 6.00pm it quickly drops away. After lunch we decided to ride into Carcassonne which is a much grander place than I imagined. We had intended to continue to the Canal du Midi which is to the north of the town centre but Margaret is not keen on riding a bike of roads with traffic so after taking in the centre and the splendid Pont Neuf we made our way back to the campsite. It is still fairly busy here with quite a few new arrivals today. We moved further north tomorrow.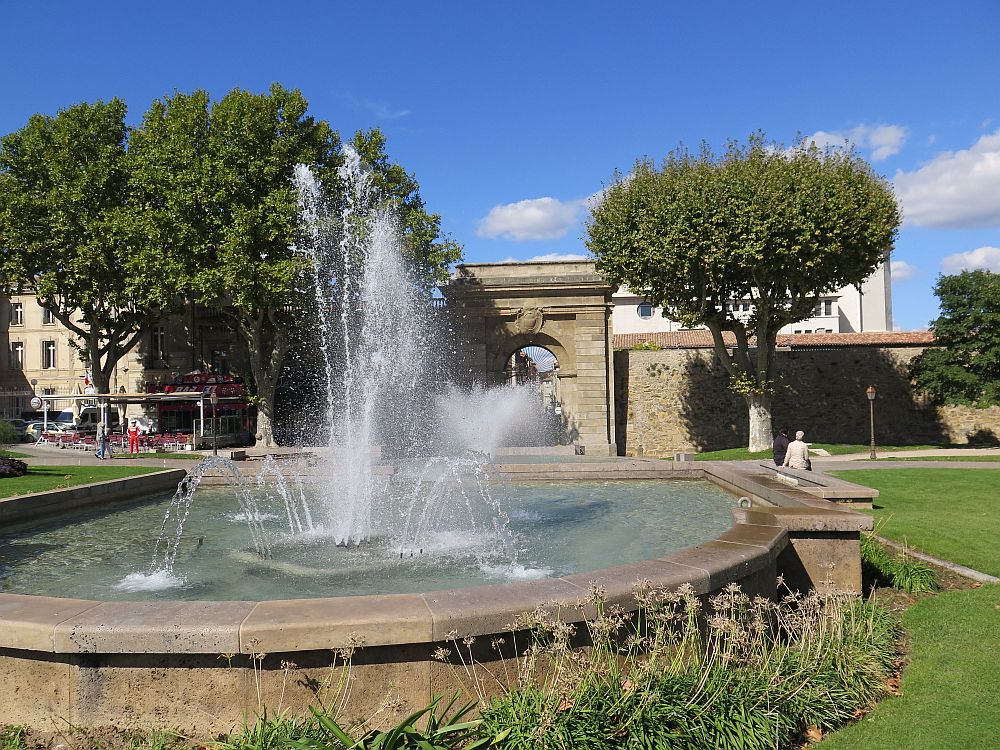 Monday 28th September. Another fine day but we can tell that the year is marching on as it is much cooler in the mornings. We were not in a particular rush as we only had about 100 miles to go. Before leaving the pitch we had another quick chat to the English couple in the motorhome across from us. They were off on another bike ride along the Canal du Midi. We stopped at the motorhome service point and I have to say that it's one of the best we have come across. Firstly there is plenty of room to move around. Secondly it has two waste and filling points which helps stop delays as often happens when there is only one place. The journey was pretty straightforward and because we thought we would arrive too early we waited at a Service Station where Margaret went off to acquire two beakers of Café au Lait. When we arrived at Camping Municipal de Montech the site reception it was still closed and said that it reopened at 3.00pm so we tucked ourselves in near the entrance and went off to look at the site. We saw some pitches which would suit us and when we got back to the van there was someone in reception who told us to go and pitch and come back later to make the arrangements.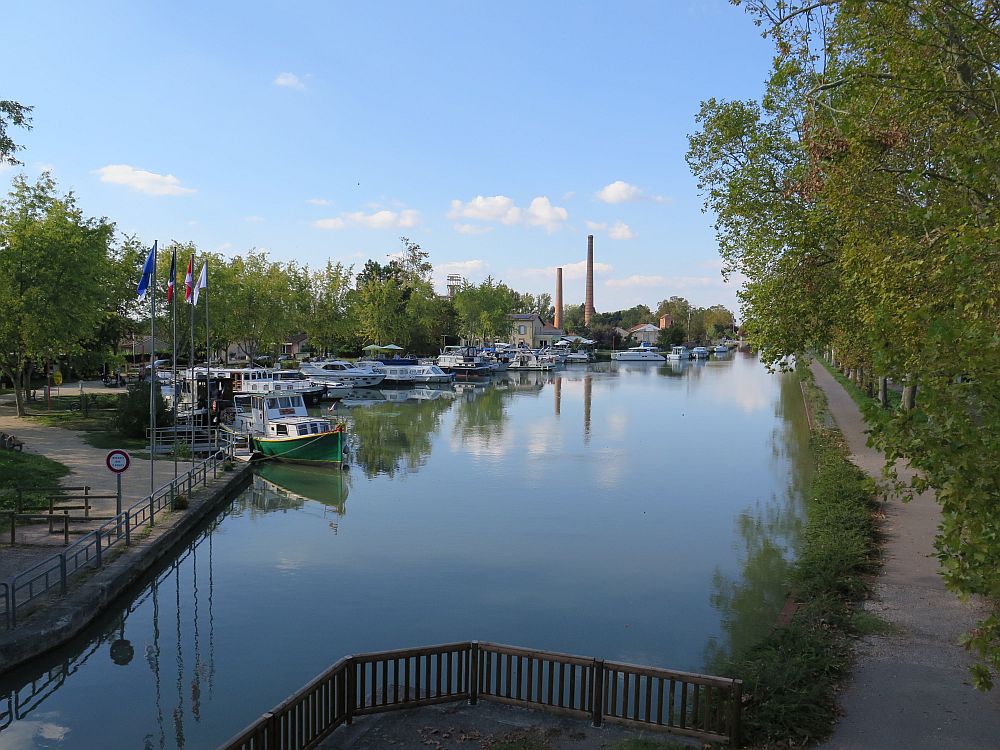 We set up and had lunch and then went for a bike ride. Adjacent to the campsite is the Montauban branch of the Canal Lateral a la Garonne and a short ride along the towpath takes you to the main canal. At the bridge at Montech we rode down the towpath passing several locks. We were in search of the Inclined Plain or Pente d'Eau as the French call it. Basically what it is, is a water channel on a slope and boats are either pushed up hill or down by a dual sided vehicle that straddles the channel. I am not sure it is still in use but it would be fascinating to see it in use. The idea is that it bypasses several locks saving time and water. Back in the sixties and seventies they enlarged most of the locks on the canal but not those at Montech so to overcome this they built the inclined plain.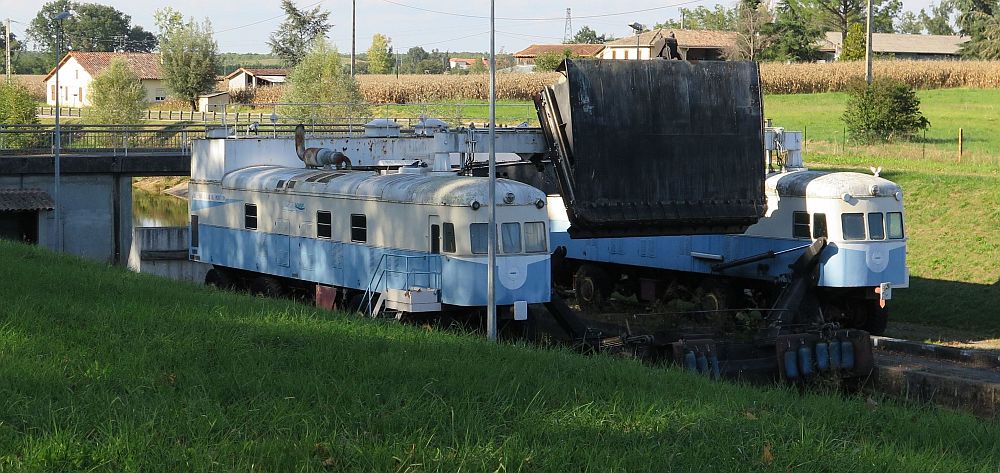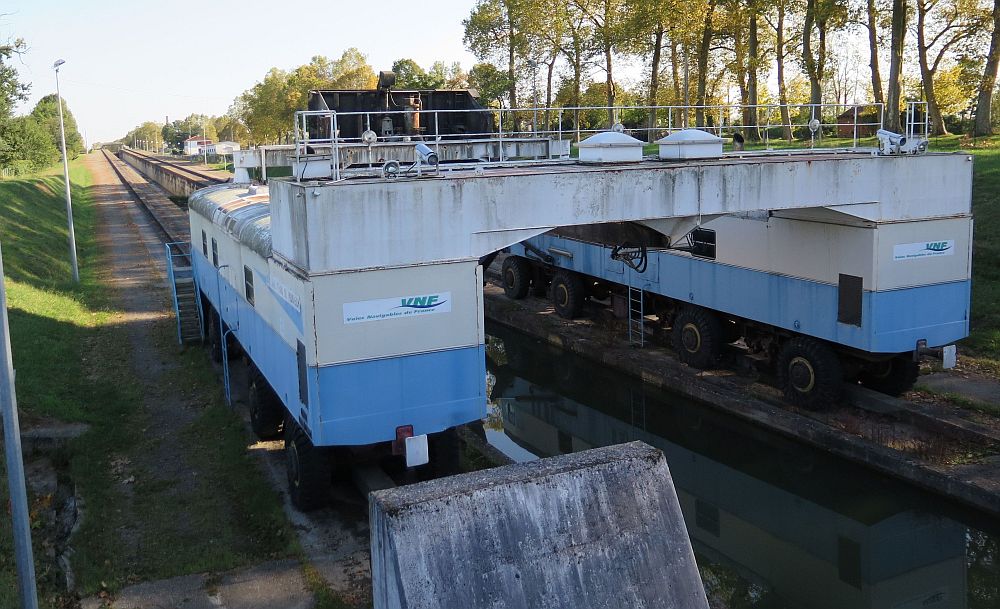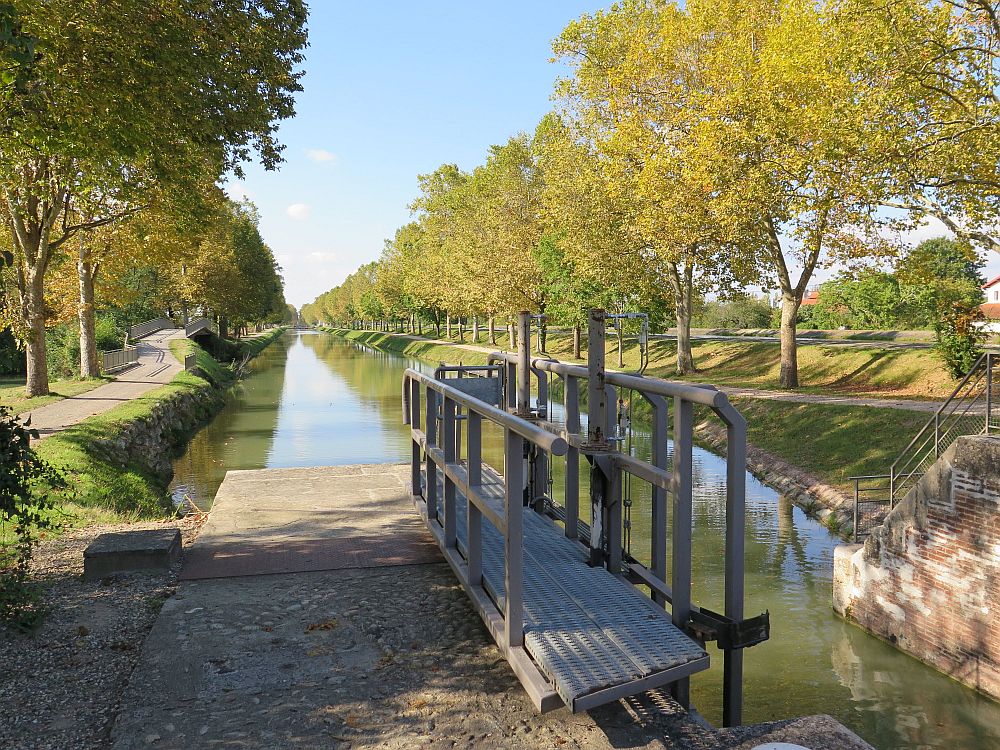 Tuesday 29th September. Still sunny but definitely a chill in the air and a few more clouds in the sky. This morning we went out on the bikes along the Montech and Montauban Canal, which is a branch line off the main canal. We cycled to the first lock, the canal falls towards Montauban. Although we have seen boats go along the canal from the campsite we were unlucky today on our trip out. We retraced our route and continued to where the branch line meets to main canal. Here we were lucky enough to see a boat come through the a lock. I think we were a bit exhausted by our exploits on the bikes so we had a lazy afternoon. We have had a few arrivals on site today but not many. An English twin axle caravan turned up but left so not quite sure why that was. I know some French sites don't accept twin axles but doubt that is the problem as we had another UK couple here last night in a twin axle van and there is a massive 5th wheeler also on the site. We were a little undecided as to whether to stay for a third night but we think we are. We had a lot of noise last night from somebody drumming in the TV room but it's been quiet today. All the sites we have been on so far have been reasonably busy so it's a bit strange to be on a large site with so few touring campers. I suppose as we approach October that is likely to be more and more the case?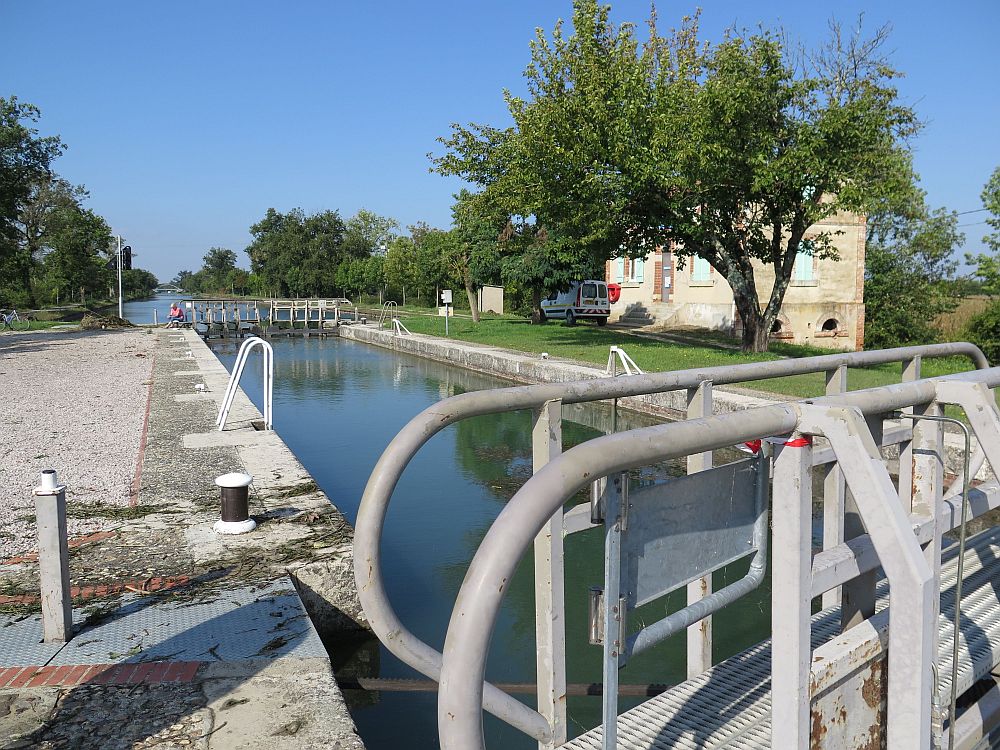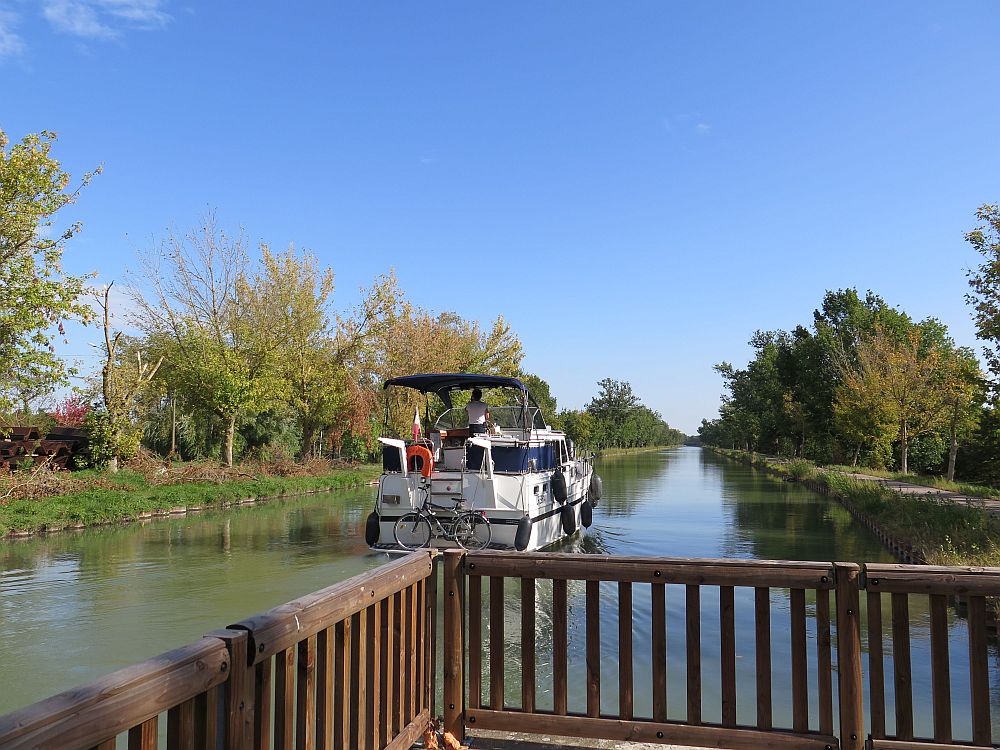 Wednesday 30th September. We had a few drops of rain overnight and it looked a bit grey first thing but by the time we had, had breakfast it was much brighter. We abandoned the bikes today and decided to walk into Montech. Other than bordering the canal it is a fairly typical French town. There are two churches and we went in the one right in the centre. It didn't have very large windows but I expect that is to keep it cool inside. We found a boulangerie, the bread we purchased was still hot so no disputing it's freshness. We spied a small, well larger enough for both of us, pear and chocolate pastry which had our name on it!!! We wandered back to the canal where we sat a while in a little picnic area. On the way back along the towpath we noticed they had been cutting branches off the trees as some of them seemed perilously near to overhead power cables. Because of the uncertain hours of the reception on this campsite we paid as we were walking into town. This completely confused the guy at the desk as he thought we were leaving today rather than tomorrow. With the aid of the wall calendar we eventually got there. Pretty cheap at about £11 a night for a pitch with water and electrics. I have mixed views on the site as it seems more set up for the permanent/semi-permanent residents rather than us touring campers. There seems no set hours for reception. In truth I think the site is far too large and touring I suspect would never fill the campsite. Some will feel uncomfortable on sites which are not totally given over to touring but I don't think it would survive just on us tourers. One plus of the permanent residents is that the campsite is open longer which is a bonus.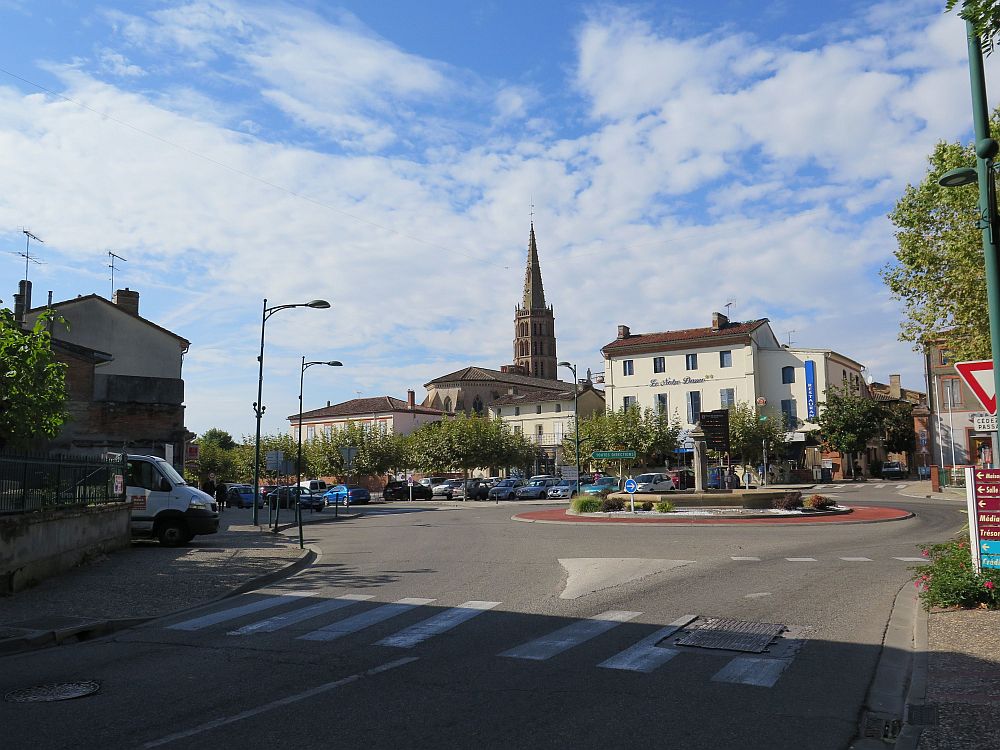 Thursday 1st October. First day of October and today we are continuing our journey north and aiming for Limoges. Weather still nice but getting colder and the contrast between being in the sun and in the shade much more marked. First stop after leaving the site was to call into the Intermarche for food and fuel and by 11.00am we were on our way proper. Apart from the twiddly bit at each end the journey was almost all A20, some of it toll and some of it not. We arrived at Camping d'Uzurat just before reception opened at 2.30pm so had a chance to have a look round the site before booking in. The guy on reception was really nice and gave us a great deal of information on Limoges and how we might get into the city even down to where we could catch the bus. When discussing pitches he asked if we wanted television. What he actually meant was did we want satellite reception and therefore a pitch with an open aspect which we did. I have noticed on this trip that the question of satellite reception is starting to be taken seriously by campsites so we might see total tree cover becoming a thing of the past, at least on parts of sites. I am sure this is driven by our French motorhome chums who all seem to have roof mounted dishes.
Friday 2nd October. We had a pretty lazy day today. Weather still fine for most of the day and not so chilly. Mind you by early evening it was throwing it down, the first rain for two weeks. We did walk up to the big supermarket near the campsite as usually when we go to supermarkets one of us stays with the van so quite unusual to walk round together. On the way back we walked around part of the lake that forms the open area near to the campsite. We were able to enjoy our lunch sitting outside. There seems a regular turn round of units on the site but most only seem to stay overnight. Several Brits arrived today, tried to say hello to the ones opposite but was blanked! Trouble is they were with friends and have often found people don't want to engage with others in those circumstances.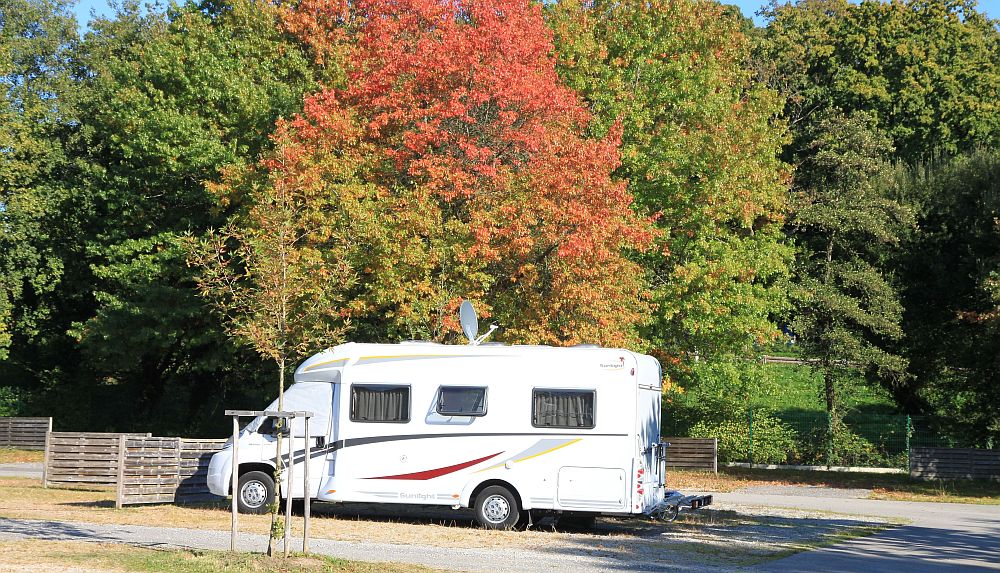 Saturday 3rd October. Autumn may have come with vengeance today as it has been wet most of the day although it did clear a little by late afternoon. Watching the weather forecast on the BBC it looks as if the High Pressure is moving away and more wet weather is coming in off the Atlantic so perhaps not looking so good weather wise for the next few days. So we have had a pretty lazy day. When we went to pay Margaret swapped some English books that were in reception. It seems a fairly popular site with Brits.
Sunday 4th October. We left Limoges today to continue our journey north, we are heading for Vendome just north of the Loire Valley. The morning dawned quite bright and sunny, such a contrast to the day before. We set off from the site and the first job was to fill up with fuel. Fortunately the E Le Clerc was closed but the fuel station open. It was quite tight getting in especially the height limiters but we made it. As we were leaving the fuel station I got a warning come up on the dash saying one of the indictors was not working. We carried on to the first aire but there was nowhere to park so we went on to the next. It was the rear nearside bulb that was apparently not working although when I removed it the bulb looked fine but I swapped it rather than fiddle on which seemed to sort the issue! The bulk of our journey today was up the A20 which fortunately is toll free unlike some sections further south. TomTom wanted to send me a different way which would have meant more two way roads so I set a waymark so we were taken right to the end of the A20 where it joins the A71. All was going well until we were being sent back the way we had come! TomTom suddenly burst into life by announcing that we had reached our waymark. It dawned on me that somehow I had set the waymark for the wrong side of the road!!! To cap it all TomTom took us in a complete circle before eventually getting us on the right road. So who is stupid, TomTom or his owner!!! We arrived at Camping Au Coeur de Vendome in the gloom of a sunless Sunday afternoon. We were shown to a pitch but found we could not get a satellite picture so we moved a couple of pitches along where we did manage to get a picture and the campsite seemed fine with the move. Does rather beg the question as to why they allocate pitches in the first place!!!
Monday 5th October. Well, it's been raining all day. There has not even been a respite to allow us to walk the few hundred yards into Vendome. It looks as if this weather will be with us for the next few days so we have made the decision to return to the UK a couple of days earlier. I managed to get through to Eurotunnel and changed our booking to 11.50am on Thursday morning. Very easy to do although it cost us an extra £24! This allows us to stay a bit further from Calais. We have also decided to stay on Thursday night at Bearstead CC site. The only problem is that there are no arrivals before 1.00pm and we would get there about midday. I phoned the site and they said I could park in the late arrivals area as the reception doesn't open until 1.00pm. Just to add to the confusion I realised that my membership card is now out of date, the new ones are probably sitting on the door mat at home!!! I have explained this already to the site so hopefully when I get there they will have realised that if I can book on line I am still a member? Putting aside the many advantages of a motorhome it's on days like this that we miss the car as we could have nipped off to the supermarket. I know we could have gone in the motorhome but that is not always as convenient.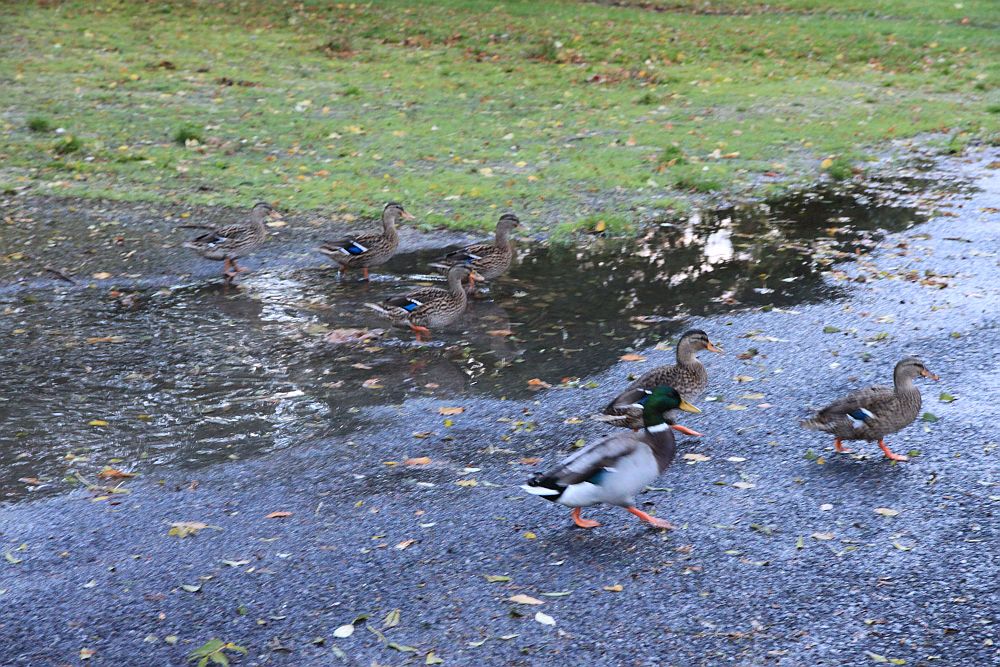 Tuesday 6th October. Well what a night, we had heavy rain virtually all night but in the early morning it got worse and we had a thunder storm. Worst still the site electrics went down and rather disappointingly it was not back on by the time we left the site at 9.00am. At least the weather improved as the journey proceeded. Mind you we did have a bit of a hiccup when the N10 was closed northbound for resurfacing which took us on a 10 miles detour. I had planned to stop at the E Le Clerc in Chartres for fuel and some shopping and I had carefully worked out how we would get there. However as we approached the City there was a brand new E Le Clerc store with easy access from the main road. Have to say the fuel station was excellent with plenty of room for motorhomes. We are on the main N10/N154 route that is so used by Brits going north and south with the added advantage of being almost toll free. In many places its good dual carriageway but there are pinch points. One being around the town of Dreux where there seem endless roundabouts every few yards! Then of course there is Rouen which is another busy pinch point. Traffic keeps moving but why on earth don't they bypass the place completely? After 230 miles we reached our destination, Camping de la Maye at Rue. We have not stopped here before but chose it because a) it had a supermarket next door and b) because its 60 miles from Calais. I think we are the only ones here tonight and I have only seen lights on in one of the statics so hardly over populated.
Wednesday 7th October. The rain has continued on and off all day. This morning we wandered across the supermarket across the way for some final bits of shopping. Given that it's not the largest supermarket it had a pretty good selection of wine. Despite the on and off wetness we were determined to have a look round Rue. There is an interesting exhibition at the tourist office on the history of aircraft and flying in the area around the Baie de Somme. The town clearly has a history going back to medieval times and there are illustrated signs around the town explaining the history. Tonight we don't appear to be billy no mates on the campsite as there are two more motorhomes here.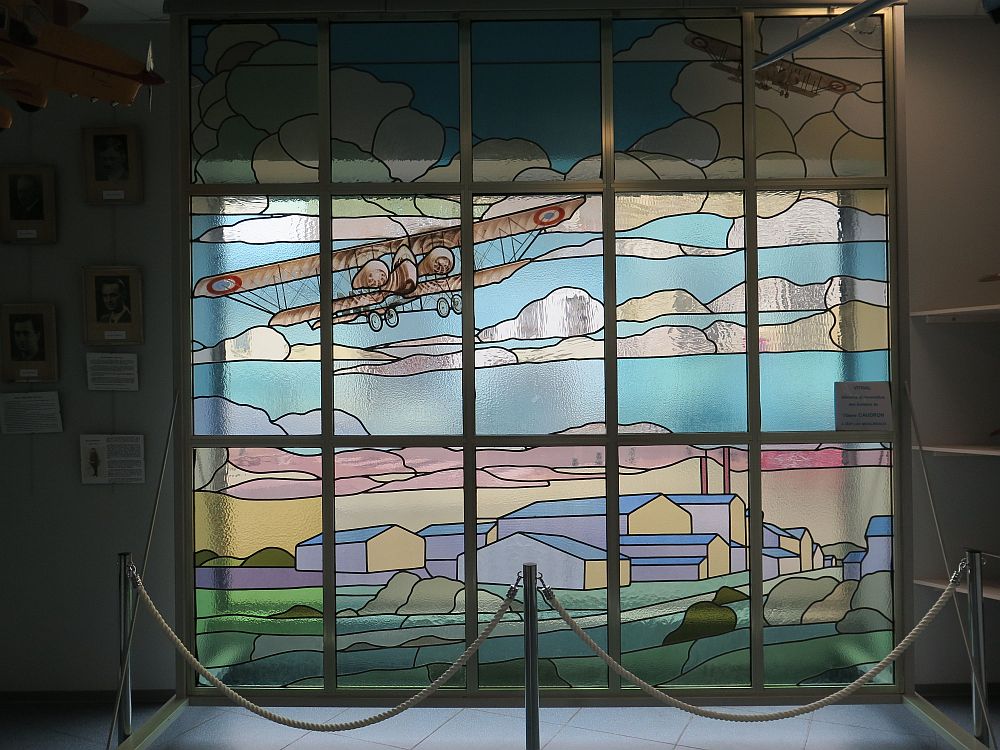 Thursday 8th October. Sods law, the day we leave France turns out to be a lovely sunny day!!! We were up and off far too early in reality. Once we have tackled the rather Heath Robinson chemical toilet emptying point which involved ferrying water from a tap twenty yards away to rinse the toilet we were on our way. I did nip over to the supermarket for a baguette before we left. We stopped at a couple of service areas to while away a bit of time and called into the Auchen at Boulogne to fill up with fuel. On all but one occasion when filling up with fuel I have used automatic pay at the pump and unlike previous visits I had no problems using my UK credit cards. I did make a point of always using the larger supermarkets and I think some of the problems in the past have been due to older pumps and technology. We were in time for our booked crossing and on the screen it still said 11.50am. But between us booking in and actually getting to the holding area our Shuttle was cancelled and we had a half hour delay. I heard my phone beep as we were making our way through the complex but ignored it as I thought it might have been a network message. As it happened it was Eurotunnel informing me of the cancellation. Should perhaps mention that we were totally unaware of any migrant problems and the only evidence in view that there was a problem was all the fences being built. The delay helped us in a way as we couldn't arrive at our overnight stop at Bearstead before 1.00pm. This is our third visit to this site, twice whilst It's been in Club hands and once before as a private site. It's interesting to contrast the quality of this site compared to those sites we have used in France over the past four weeks. Putting aside the locations of the various sites but concentrating on the actual quality of the campsite and facilities I have the say that Bearstead wins hands down. I know the Club have been in the business of building and running sites for many years to satisfy a large membership but in terms of quality of facilities and attention to detail they know what most of their members want. I often feel, particularly on some French sites that the people running the sites have little insight or indeed motivation to offer a quality product to their customers. I am not quite sure of the reasons for this as some other countries seem to manage this quite well. Mind you when I mention such things on the various forums I usually get shot down in flames but to my mind the evidence is there for everyone to see.
We had a knock on the door tonight and it was someone from the Caravan Club Forum who recognised our van and realised who we were.
Friday 9th October. The final part of the journey and the part we least look forward to as it's the M25 and M1. At least it was a lovely day, a bit more Sod's Law!!! On the way home we stopped at South Mimms which was absolutely packed so we parked amongst the cars, it was only a comfort break so we were not there long. We left the M1 at junction 13 as we wanted to fill up at the Tesco's near there. For months there have been roadworks and they are still there but look as if they are almost complete.
Post script
We covered just under 2000 miles on this trip. We have used about £350 worth of fuel and spent about £360 on campsite fees. Tolls we expect will come to about £150. So a month's holiday has cost, including insurance, is a bit over £1000, we don't include food as we would have eaten that at home anyway although I do admit to spending a bit more on wine that I would on the average visit to Waitrose!!! Costs might have been less for the same length of holiday in the UK but I suspect not by much as fuel and campsites would have cost more although in fairness we might not have covered so many miles.
We are in two minds whether we will go as late in the season again, assuming we have the opportunity. Perhaps late August to the end of September would be the better choice.
And what about the Camembert I hear you ask!!! I quite like Camembert and most supermarkets in France sell it in sections rather than a complete cheese. These are handy for spreading on the baguette. Don't seem to be able to find them in the UK so decided to bring a couple back with us, big mistake!! It stinks the place out even wrapped in foil and then put in a food bag.