Travels in the UK 2013



Well the major change for 2013 is that we no longer have a caravan but recently took delivery of a Bailey Approach 740 motorhome, see our motorhome blog for more details.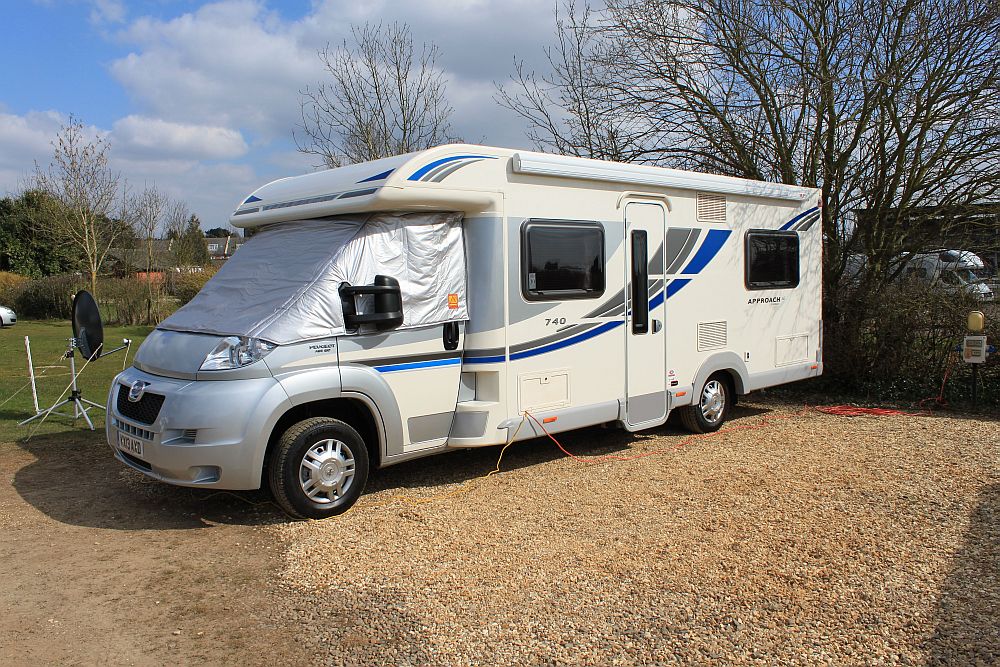 Warwick
Wednesday 3rd April and we set off for Warwick Racecourse CC site. The original intention was to be here a day earlier but a problem with the habitation lock on the motorhome required a return trip to the dealers for them to remedy the problem. This meant cancelling our booking because at the time we had no idea how long the repair would take. Fortunately the repair was carried out within an hour or so of us arriving at White Arches but too late to return home, finish packing up and off. I tried to rebook Warwick for the remaining two nights but the pitches used for motorhomes were full or so it said on the Club website so I booked an ordinary pitch only to get a phone call from the warden a little while later to say the pitch booked was not suitable for motorhomes and would we like a hardstanding? So when we arrived the wardens were well versed of our trials and tribulations with the door.

The journey was just under 60 miles and traffic was reasonably light. One advantage of the motorhome is that setting off and setting up are a lot quicker than a caravan, although after 33 years of caravanning I feel we had that down to a fine art. We did want to set up the satellite dish and I can say with some candour there is no fine art to that! The weather has been dry and sunny but with a bitterly cold strong north east wind which is making it feel much colder. The rest of the day was spent getting used to how the motorhome worked!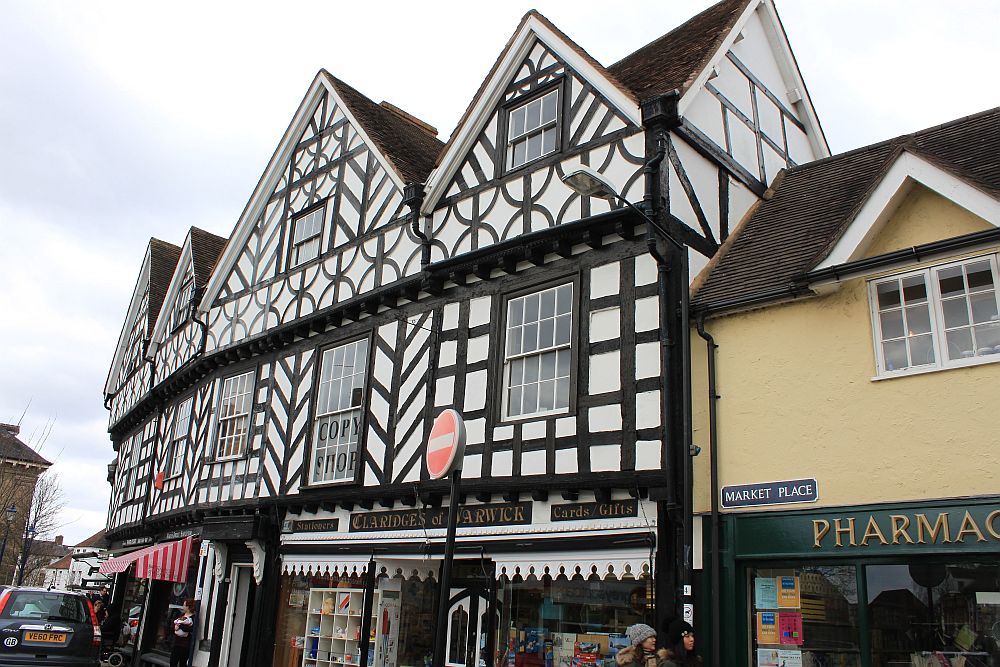 Thursday 4th April. The day dawned grey, cold and windy with the odd hint of snow! We did not bother about venturing out until after lunch. We set off to explore Warwick which is a relatively short walk from the campsite. We had not even got out of the campsite before the wind blew my cap off! Warwick is a town of two halves, the older part and the newer more modern. Unfortunately some of the new buildings are a bit unsympathetic to the old and a fair amount of the street furniture could be better positioned. Having said that the older part does have some charm and unlike a lot of similar sized towns seems to have retained a good selection of shops and catering establishments. St Marys Church is worth a visit with its association with the Earls of Warwick. It has a particular tall tower with an unusual archway through it. Not sure if at one point the traffic went through the arch? The campsite whilst reasonably busy was not full and despite being the Easter holidays there were not many children around although with the delights (or otherwise) of Warwick Castle near to hand you would have thought it an idea place for kids.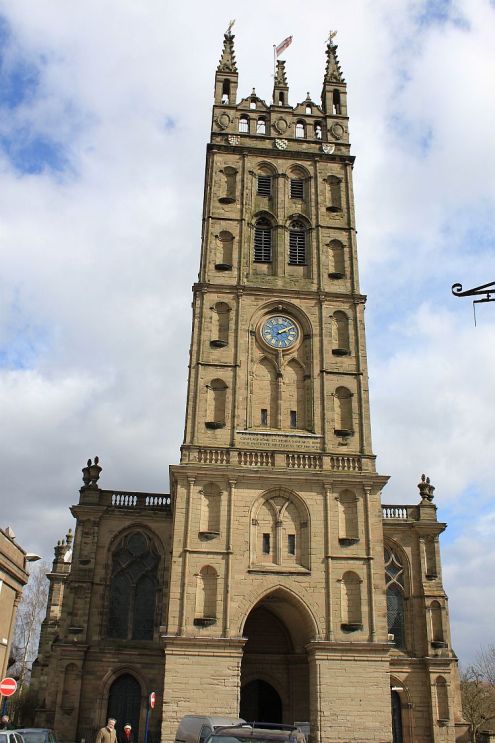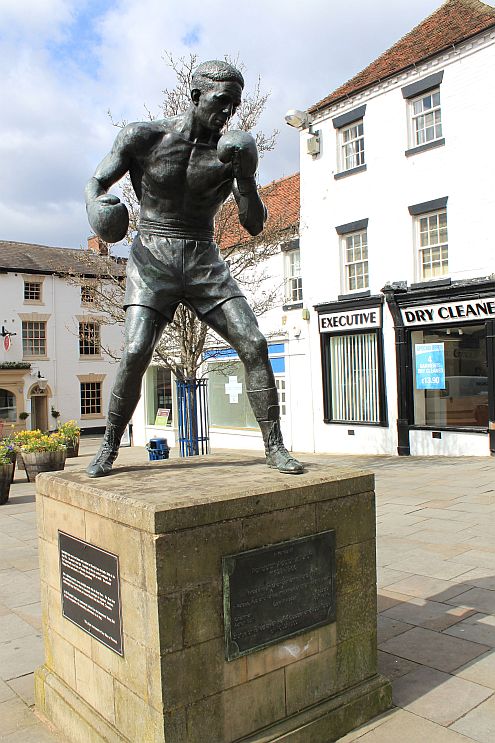 Friday 5th April. It seemed strange packing up and going home after only two days but I think we learnt a lot but still a lot more to learn. One job we had which we had never done before was to empty the on-board grey water tank so we made our way to the emptying point. A Wastemaster might be heavy to lug around but itís a lot quicker than dumping the water from a motorhome waste tank! The homeward journey was mainly on the M40 and fortunately uneventful apart from a strong wind which from time to time unsettle the composure of the motorhome. Once at home we reversed the motorhome into the back garden with increasing accuracy, thank goodness for big mirrors!!!
Castleton
Monday 15th April and we are off again! This time to the Caravan Club site at Castleton in the Peak District. Its 16 years since we were last here and I am pretty sure this is our third visit. The journey seemed to take an age as we had a hold-up near Leicester and the journey from Chesterfield was slow. Nothing to do with the motorhome of course as with the caravan it could have been even slower? The site was surprising full, the wardens put this down to the better weather and the fact that the Club offers a midweek discount so we were paying less than £14 a night. First job was to fill up the fresh water tank before looking for a pitch. All the pitches here are all weather but they do vary in size so there are two types, those that are large enough to accept an awning and those that wonít. We had booked an awning pitch for some reason and the choice was not great. However we eventually found a suitable one and started setting up. This did not take too long. I was a bit concerned about the satellite because of the tall trees but it only took a minute or two to get a signal. One disappointment was the box of red wine we brought with us. When we tasted it there was that vinegary taste so the whole three litres had to be poured away. Just goes to show that buying wine in boxes (in France) is not foolproof!!!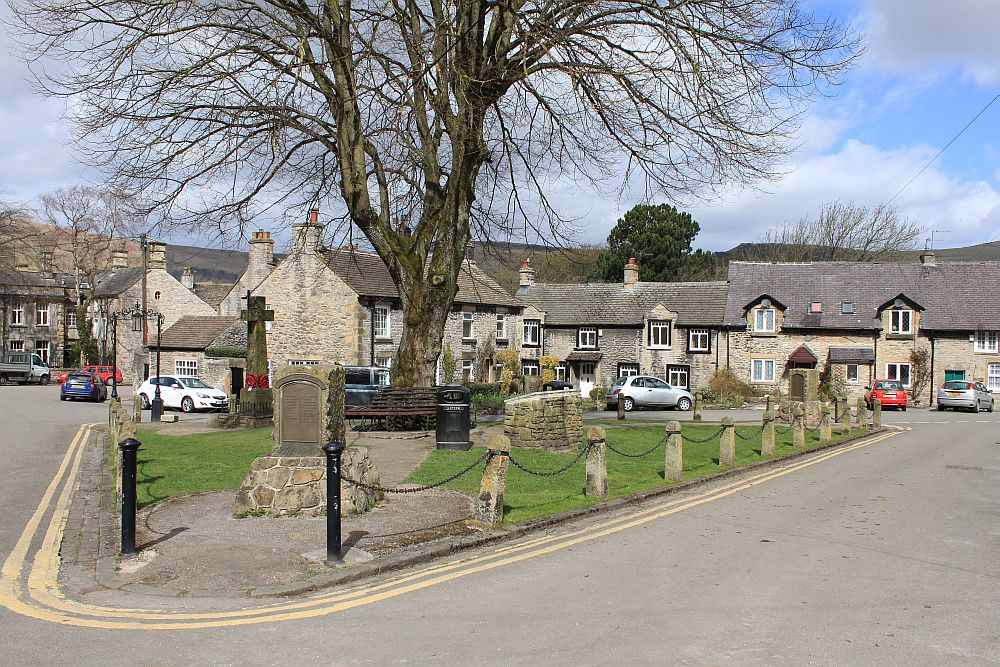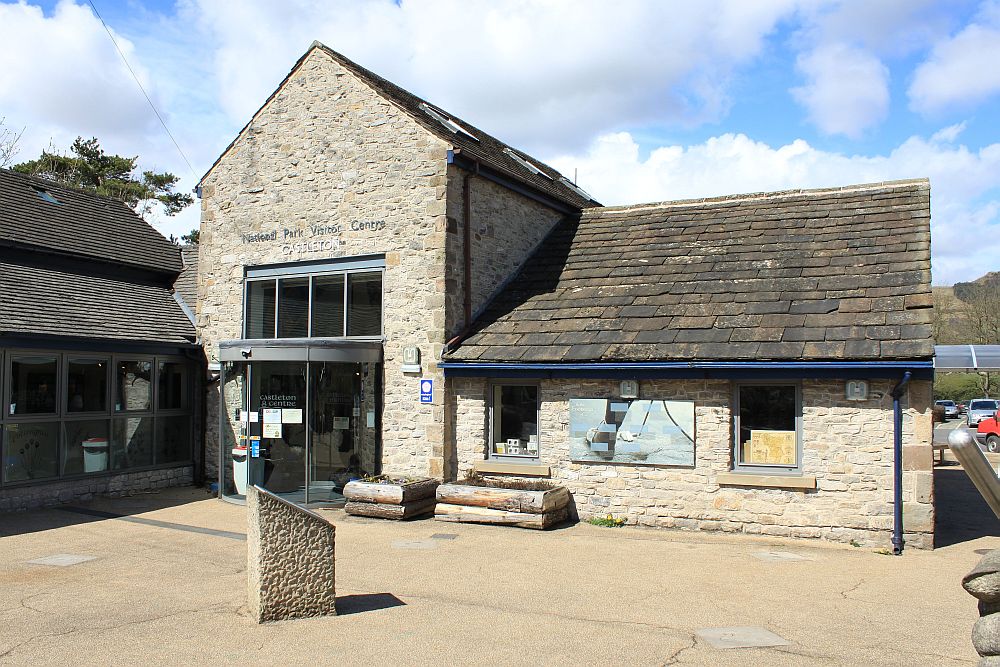 Tuesday we awoke to sunshine but it was also very windy, now coming from the southwest rather than the northeast on our previous trip away. It is nice to be back in the Peak District with an outlook on all sides to the hills that surround Castleton. Since our trip to Italy last year I have been suffering with a problem with my left knee. Despite x-rays my doctor assures me that it is not bad enough to have anything done about it yet. Over the past week it has been particularly painful and I have to take very strong anti-inflammatory pain killers. I have to be cautious of how many I take and the advice is to take the minimum so I vary between one and three a day because they can have some nasty side effects. Your scribe shares this with you because the Peak District is synonymous with walking so my condition might prevent me from being too adventurous. Happy to say the knee did not seem too bad today so we set off for Castleton which is not far from the site. The ruins of Peveril Castle towers high over Castleton and the Hope Valley. We noticed several school parties in the village and some were already scampering up the hill towards the castle. Even if the knee would hold out I am not sure the lungs would!!! I am not very sure whether a place is a town or a village and I assume that Castleton is the former as it was granted a Charter to hold a market in 1222 according to the rather nice Visitors Centre. We did continue through the town and on towards the Blue John Cavern which, amongst others, Castleton is famous for. This was the extent of our outward journey and we turned and cut through along a footpath to the older part of the town. We spied a coffee shop which looked inviting so we stopped. Thinking that it would be nice to have something to eat I decided on some rather nice looking Bakewell Tart thinking we would share one portion. I was therefore rather shocked to be asked if I wanted custard on it! We were clearly thinking on two different levels. It arrived at the table sans custard but in a pudding bowl dusted with icing sugar! Fortified we continued our walk and found the old market place before heading back to the main road, stopping at the Post office to buy some bread and a couple of bottles of wine which we hope wonít go the same way as the box of the previous night!! We got back to the site with no apparent ill effects from the knee which was very encouraging.
Wednesday 17th April. No sunshine today when we got up although the wind had gone down a bit only to return later in the day much stronger. It was Baroness Thatcherís funeral today so we watched that. We were not particular supporters of Margaret Hilda but being a student of political history it was a sort of watershed in our history. After the funeral I had some work to do topping up the water and getting rid of some of the waste. We have been discussing the change from caravan to motorhome. The main issue is whether we will miss the car. Now on this site we are on, its unlikely we would have used the car anyway so perhaps itís an irrational worry? Later on we walked into Castleton to treat ourselves to an ĎEarly Starterí meal at Ye Olde Cheshire Cheese Inn.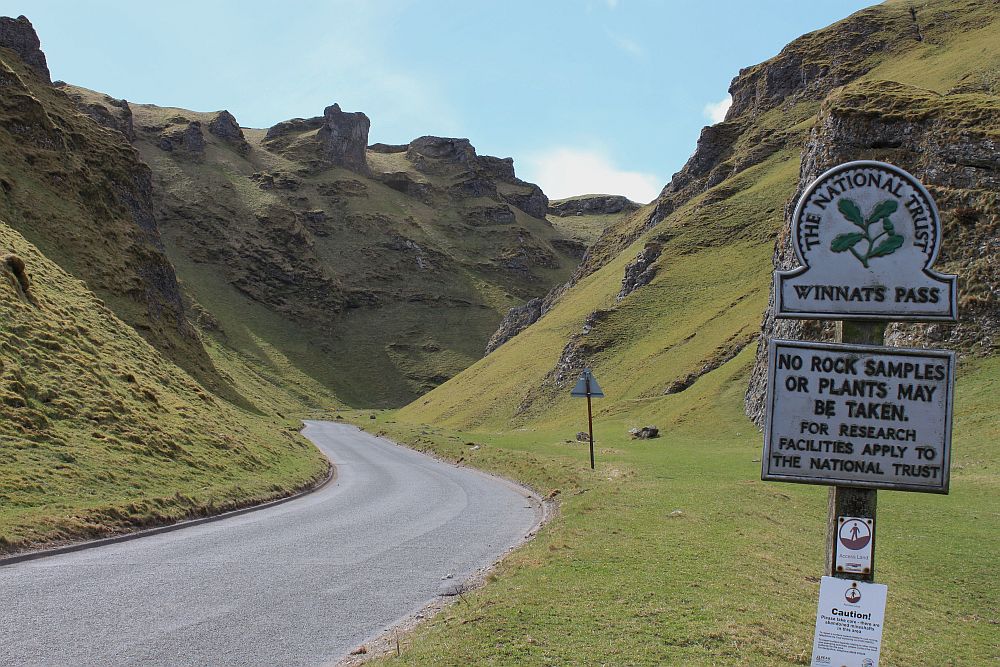 Thursday 18th April. After an exceptionally windy night we awoke to rain although that died out early on but the strong wind lasted right through to the evening. After a fairly lazy morning we walked back into Castleton after lunch. The aim was the Winnets Pass. Once out of Castleton and into the open countryside the wind was extremely strong. When walking uphill I donít need the inconvenience of a head wind!!! 16 years ago we walked right up through the Winnets Pass but this time it was only to the start of the Pass. Progress back down hill was much faster with one gust of wind nearly blowing the both of us over! That did at least deserve a cup of tea and a bun on the way back to the motorhome.
Friday 19th April. Time to return home. I spent some time last night looking at TomTom and Google Earth looking at some alternative routes back to Chesterfield. Whilst they may have looked OK on Google Earth the reality was something different. We found ourselves using some pretty narrow and twisty roads, with hindsight we should have gone back the way we had come. Not only did the motorhome get covered in mud but I also managed to split a small amount of plastic trim, just below the door which whilst not urgent will eventually need replacing. There were no holdups on the M1 and the journey home was pretty uneventful.
Te
wkesbury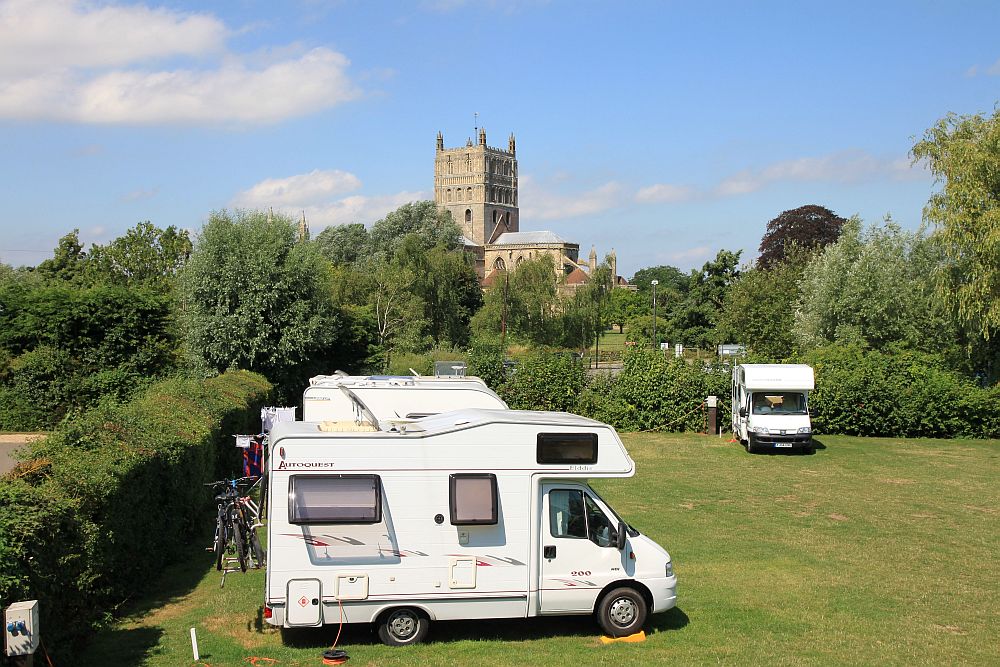 Tuesday 30th July. After our European travels this is our first trip away in the UK. Having had a month of wall to wall sunshine since we returned it was inevitable that rain would arrive as soon as we set off in the motorhome which it did for at least half the journey! We are off to the Tewkesbury Caravan Club site for a few days. It seemed a long and tortuous journey although in reality it was only 89 miles. Itís strange in a way but there is no clear east to west route from MK to Tewkesbury if you wish to stick to relatively major roads. I have not long ago added the Camper/Caravan map to my TomTom so this was the first real test. The initial ĎCamperí route took us up to the M42, we soon ditched that and I put my own route in using waymarks. Now you might ask why pay the extra money for specialist software when you do it manually? This is a fair point but I know many of the roads between MK and Tewkesbury so it was by way of an experiment. What I did notice was that it took us around both Buckingham and Bicester bypasses whereas the normal software takes you through both towns. We eventually arrived at the campsite but had not appreciated that the road leading to the site was narrow in places and we had cars coming in all directions which caused a bit of a blockage. I do wonder how people donít read the road a bit more when they see something big coming towards them. It would have been a lot more difficult with a car and caravan.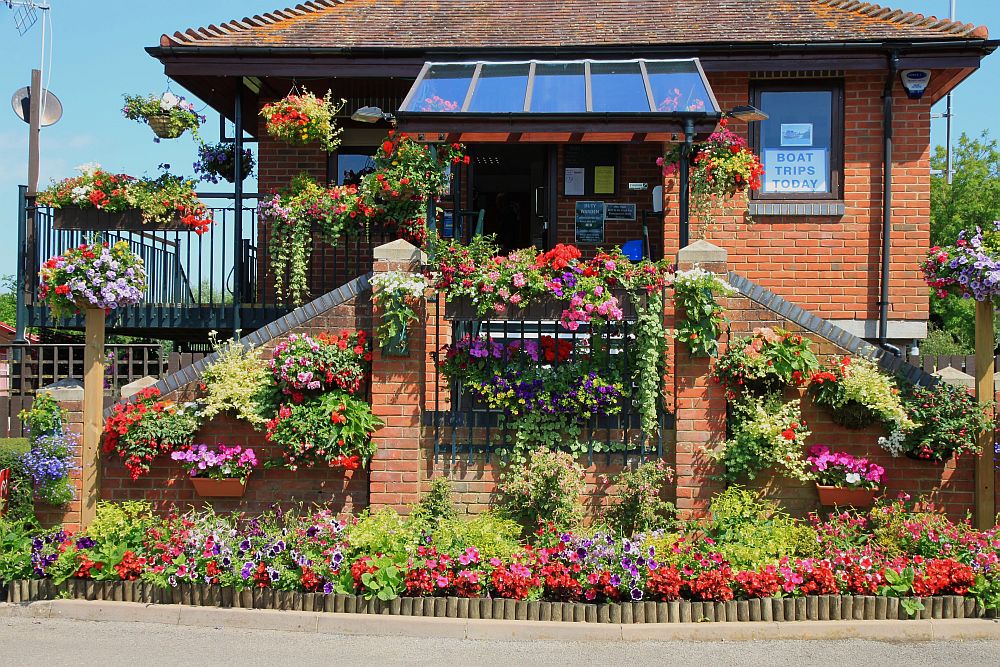 This campsite regularly floods after heavy rain so we were a bit concerned as to what the ground conditions would be like. They are actually quite firm although we were told to stay away from certain pitches because of that very problem. It took an age to sort out the satellite dish and I ended up reducing the elevation by quite a factor but eventually we got it. The site is about 75% full, I imagined it would be fuller given that it is the school holidays. The wardens had made a lovely job of the floral displays at the entrance to the site.
Wednesday 31st July. Well it dawned very grey although the rain was a bit intermittent whereas the weather forecast had suggested we would have heavy rain. There had been no improvement by lunchtime so we decided to risk it anyway. Strangely it was too hot to wear our waterproofs so we popped them in the rucksack along with my camera and my new lens. I donít think I have mentioned my new lens but for those that like photography it is a Canon EF-S 15-85 zoom with IS which I intend to use in place of the standard zoom that came with the camera. It was not cheap, in fact I think it cost as much as the camera! I think I will need some fine weather before I get the measure of it. If there is a downside its quite a bit heavier than the standard lens.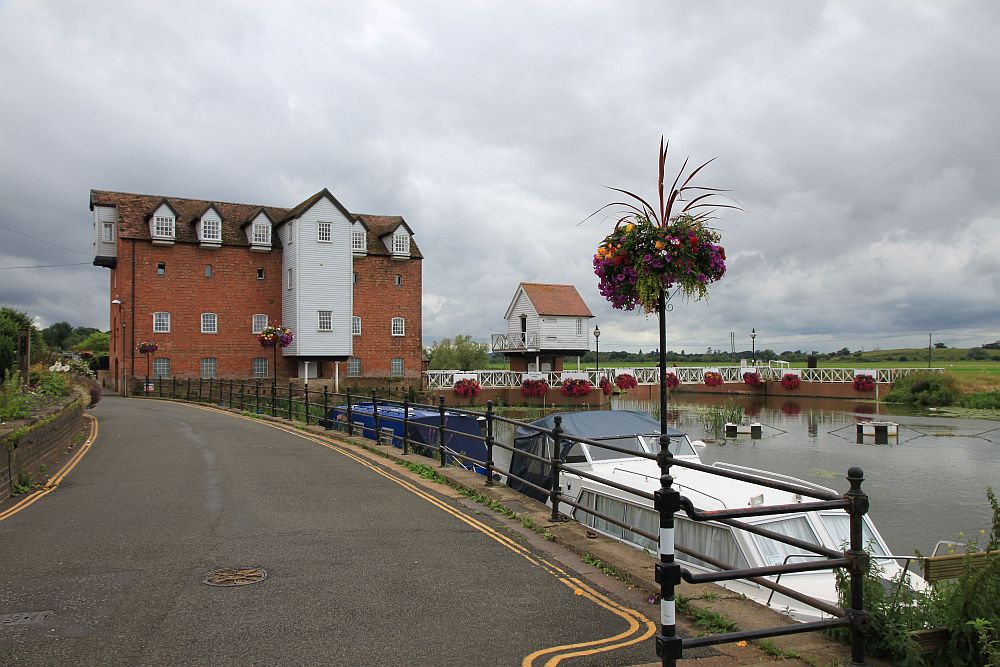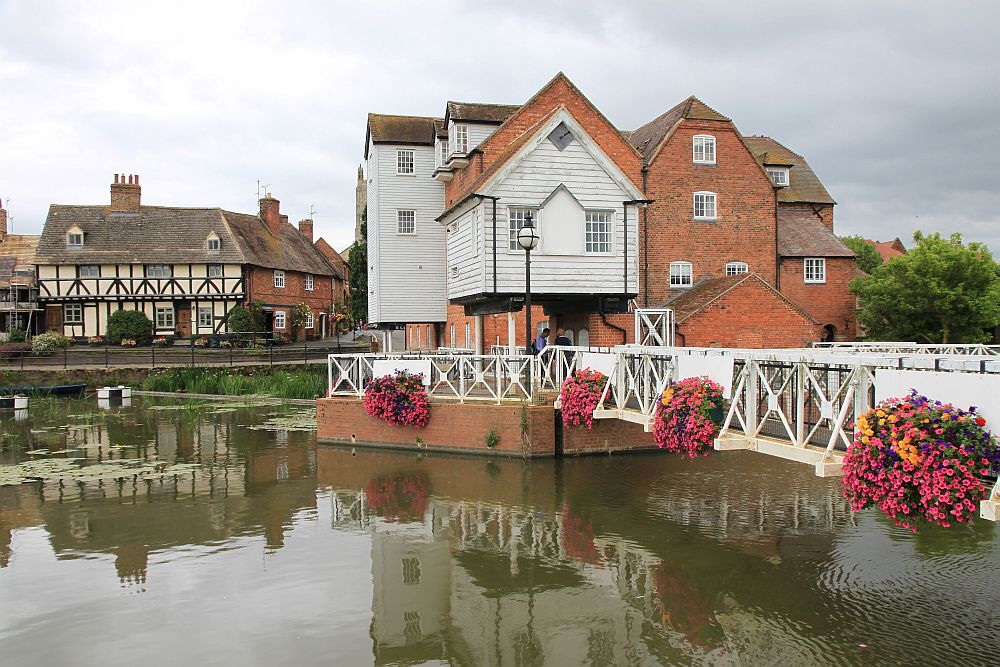 Anyway I digress! We had a walk into Tewkesbury despite the weather but rain threatened all the time. The town is a mix of old and new. The downside is that the main traffic routes go right through the centre of the town. It has a good range of shops and restaurants. We called into the Tourist Office to get a map. OK it was only 10p but that contrasts with most French towns and Cities where such maps are free and often more comprehensive! On Wednesday there is a market which we caught the tail end of. Walking back towards the campsite we deviated to the river bank. As it turns out this is not the main river but a weir stream as the navigable river seems to start further into the town. This part of the river ends at a large Mill where the water tumbles over a weir. Next to the Mill is a Public Garden opened to celebrate Queen Victoria. Continuing our route we went into Tewkesbury Abbey which was consecrated in 1121, it dominates this part of town and can be seen from the campsite. Unlike a cathedral the roof is not as high up although the pillars look more substantial than many cathedrals I have visited. What better reward for our endeavours than a nice cup of tea so we enthusiastally followed the signs for the Abbey tearoom only to discover that it had closed minutes before our arrival! With no divine intervention to hand we made our way back to the motorhome.
Thursday 1st August. Our weather is so fickle, one day it is dull and wet and the next we have a mini heat wave! I suppose the weather forecast was right! Given the predicted temperatures we decided to stay put, otherwise we would have ended up like chamois leathers just pulled out of a bucket of water! So today we have been observers, just watching what has been going on around us. As it happened, quite a lot. Several units left today but we were surprised how many came. I took the opportunity to take some more photographs in the sunshine.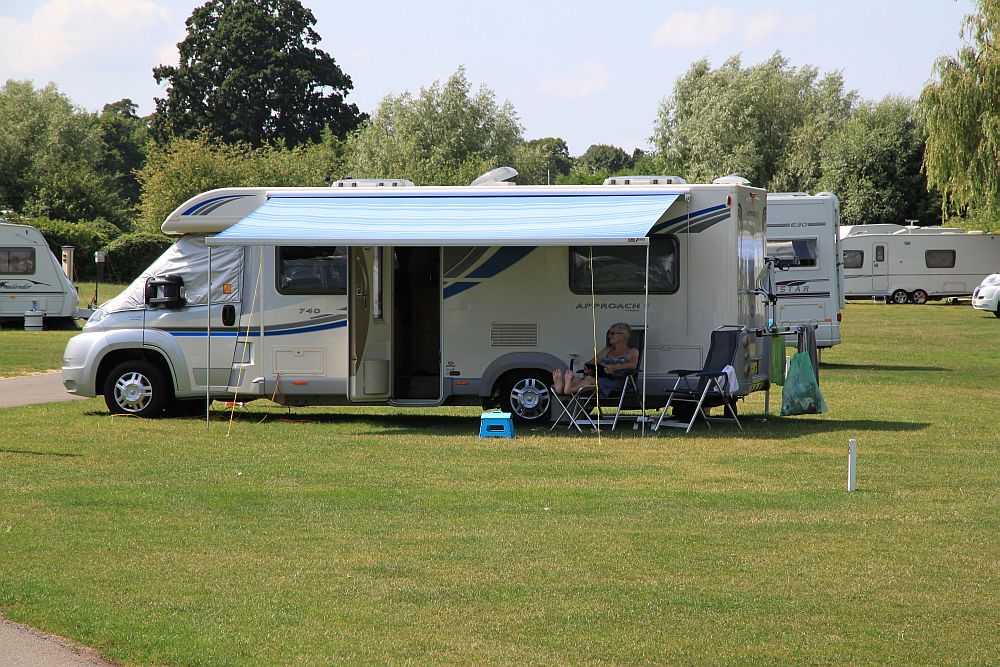 Friday 2nd August. It was a short heat wave as it was dull as we left Tewkesbury to make our way home. As I mentioned earlier it seemed a long journey to get here so I thought I would use my own route for getting back which involved going via Stanway and Stow on the Wold. At Chipping Norton we headed towards Banbury but after about seven miles headed across country to Deddington, then a slight dog leg to Adderbury, Ayhno and Finmere and then home via Buckingham, 75 miles, so a much shorter journey. Whether it was quicker is debateable but it seemed it. The road was a bit tight in places but we managed OK.
Devizes
Monday 19th August. Today we are heading off to Devizes. The binmen obliged by being reasonably early but it was still after 10.00am before we left. First port of call was the local Tesco to fill up with fuel. It seems the easiest way of doing it rather than making a special journey. The route involved going south via Oxford to Newbury and then west on the M4. We stopped at the Membury Services for a break and were surprised to see there was quite a lot of space for caravans/motorhomes although they were drive in so reversing was required to get out. Whilst I applaud Welcome Break for the provision of these spaces, whoever designed them had no idea how wide leisure vehicles are. OK you can take up one and a half widths but this does not look so good to the casual observer.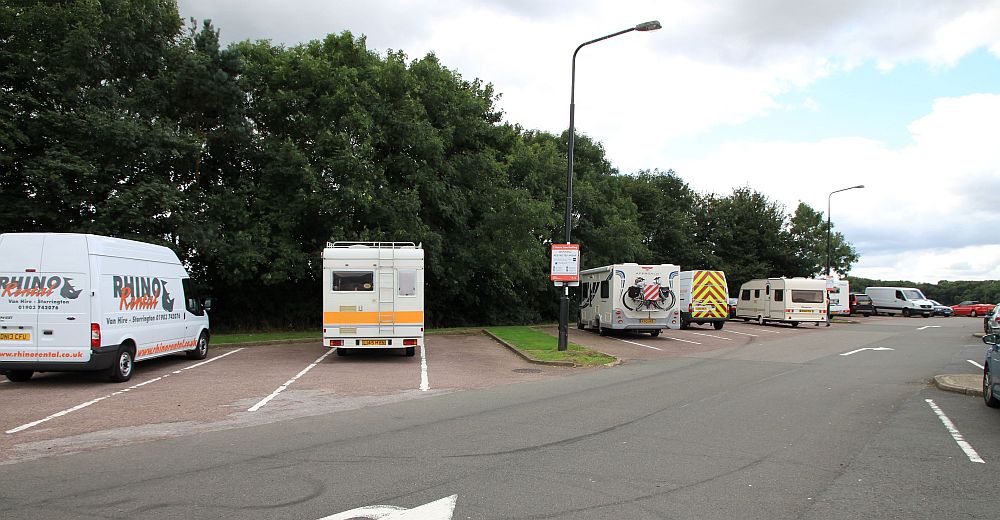 TomTom wanted to take us off at junction 15 which we followed only to immediately find ourselves in a queue for road works which seem to take an age to get through. This route took us through Marlborough which is a grand but busy market town. We had to skirt round Devizes Town en route to our C&CC Devizes site at Sells Green on the Kennet and Avon Canal. Although we have been members of the C&CC for a couple of years this is the first of their sites we have used. In practise the site is not a lot different from a Caravan Club site except that you have a greater mix of units. As is the Clubís way, we were escorted to our pitch and it was suggested that we go in nose first so that we could take advantage of any evening sun on the door side which was thoughtful. After we had set up we went for a walk outside the site. Firstly to The Three Magpies public house where Margaret asked whether they did meals and we were shown the menus. Doubling back past the campsite we walked up to the canal in the other direction and watched a couple of boats pass under the bridge.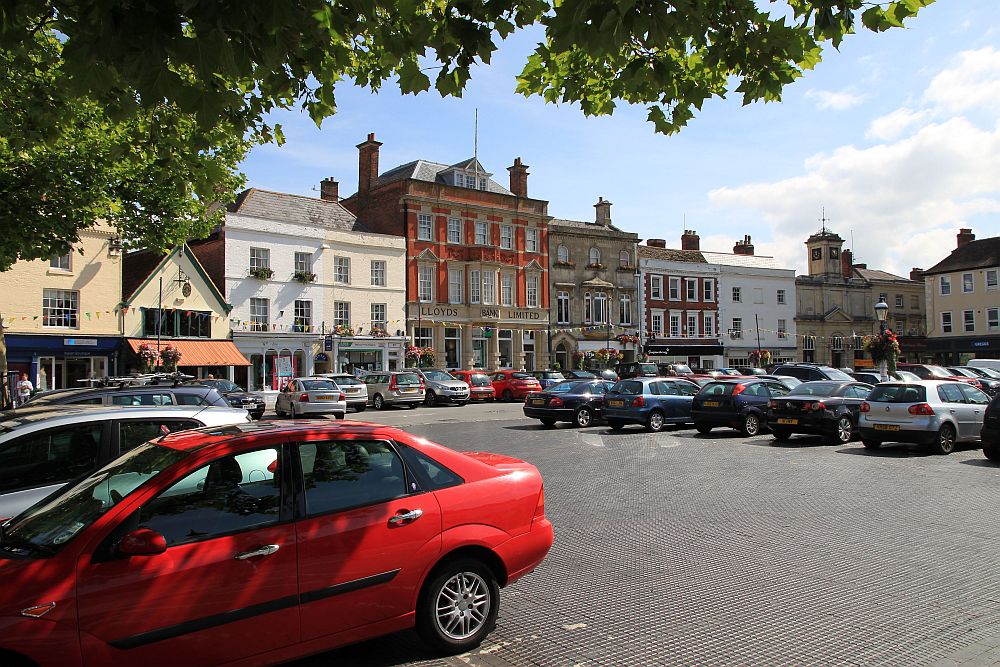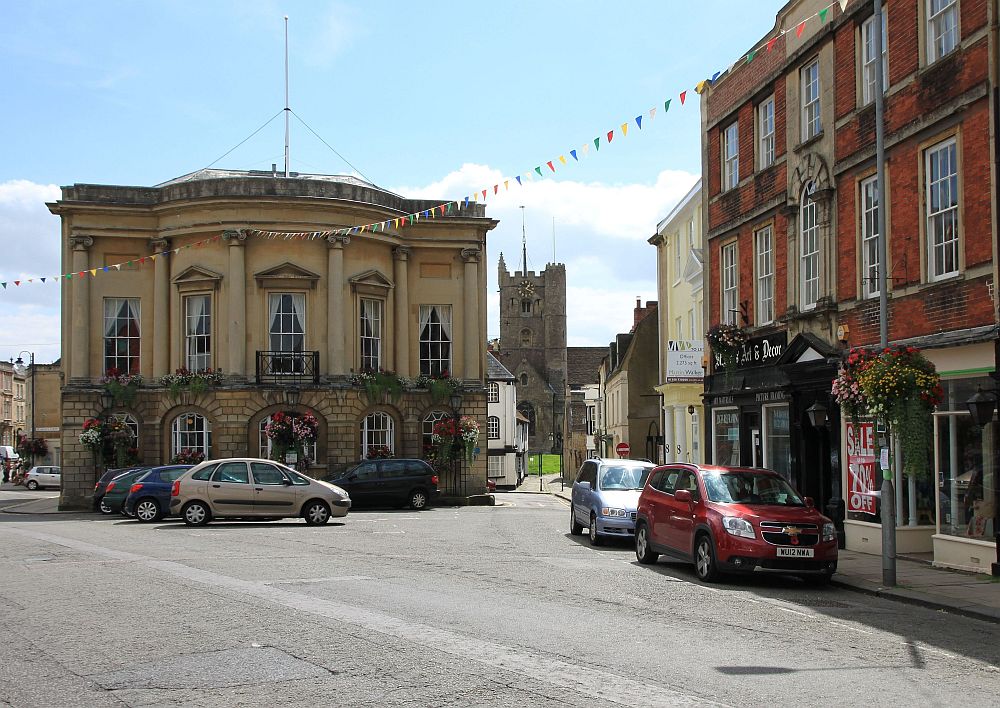 Tuesday 20th August. It dawned a nice bright day although there were some dark clouds around which hid the sun now and then. We decided to take the bus into Devizes today. It is only a 15 minute journey from the bus stop on the main road. We were dropped off at the Market Square in Devizes. First stop was Greggs for a coffee. We had a look at the covered market although on the day of our visit most of the stalls were selling Bric a Brac. We wondered into the town. We clearly looked lost and a kindly lady asked if she could help. I said to her that I was not sure if we were lost as we did not know where we wanted to be and therefore didnít really know if we were lost! It was all good humoured and we all had a laugh about it. Devizes is a nice little town which seems quite busy with a reasonable range of shops and eating places. It is graced by some lovely old buildings although once again you find unsympathetic modern buildings that spoil the impact of the old. Moving on from the town centre we walked up to the Wharf on the Kennet and Avon Canal. It seems strange to think that getting on for 50 years ago Margaret and I would go on working parties on this canal but more towards the Reading section. Then the prospect of full restoration of the canal was a far off dream. The then Kennet and Avon Canal Society were raising money as best they could and a lock would be restored one at a time, mainly with the help of volunteers. Even in Government, support was half hearted almost as though they did not fully appreciate what fully restored waterways would do for the adjacent communities and development opportunities. It was not until the National Lottery came and made one of their largest donations of its kind of 25 million towards the 29 million projected total cost, that things changed for the better and this canal got sufficient funding to be restored. On the way back to the campsite the bus passes several places where the canal is in evidence.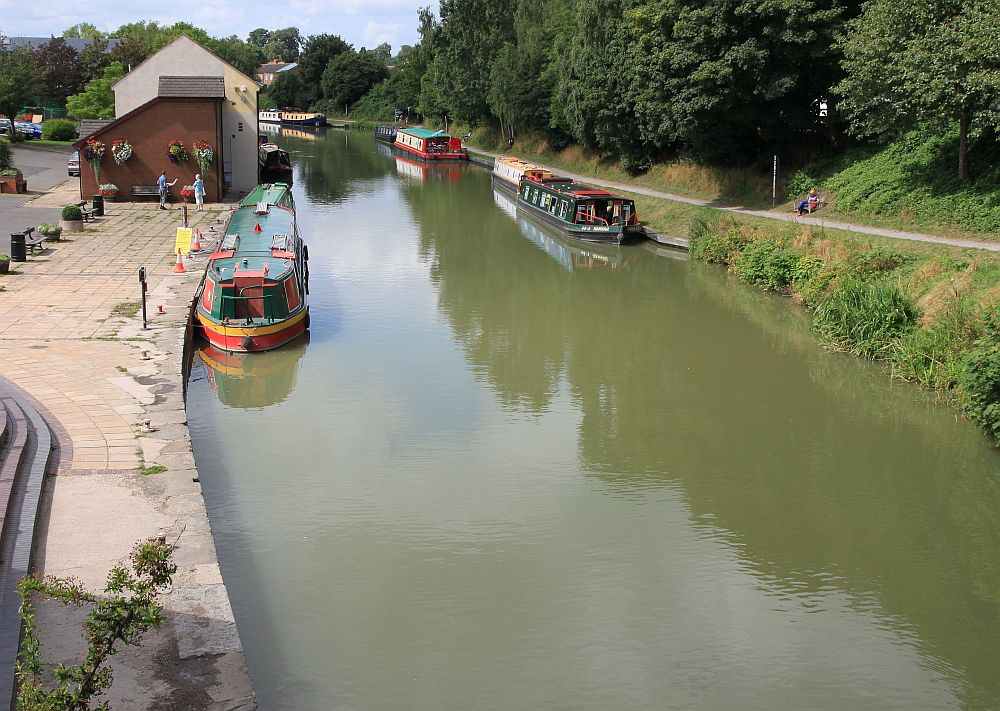 Wednesday 21st August. Hard to believe that 52 years ago today I started work as a junior of 15 years of age! Anyway back to the future! The weather could not quite make up its mind during the early part of the morning but it gradually improved so we decide to go on a bike ride along the canal. We were heading away from Devizes towards Seend and its four locks. We stopped to watch a narrow boat go through one of the locks. Apparently they were not going much further and were just looking for a place to turn. We continued down the locks and came across the Barge Inn where we stopped for lunch which was very nice. We continued in the direction of Semington and passed a couple of swing bridges before turning round and heading back to the site.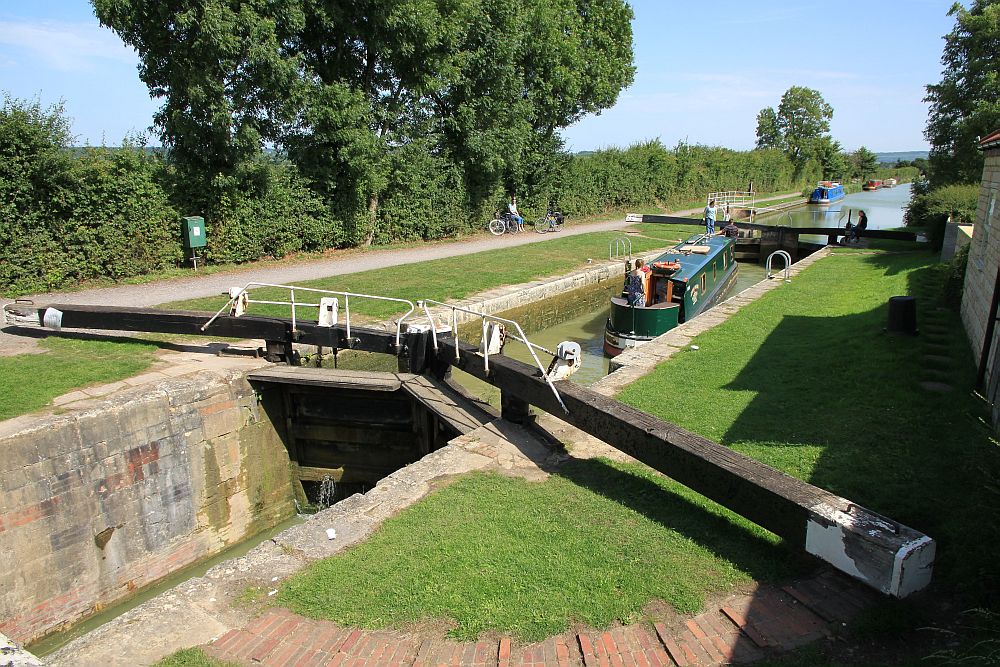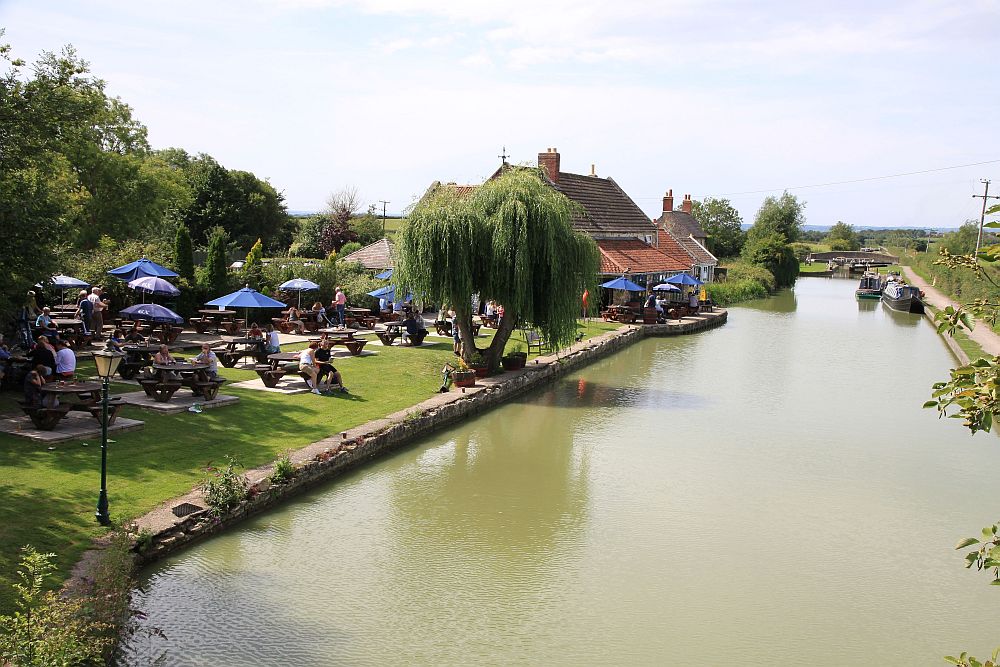 Itís interesting how much interest the motorhome seems to be attracting on this campsite and we have had several chats with people about it. The site is quite full although both nights so far there have been spare pitches. We usually avoid Club type sites in the summer holidays but I have to say we have found the site pretty peaceful so far and all the youngsters well behaved. You often hear in the news that kids need more exercise. Well they certainly seem to be getting that here. One little girl, of about five years old, on her bike still with stabilisers must have done two dozen circuits of the site roads today. Perhaps she is the next Victoria Pendleton in training!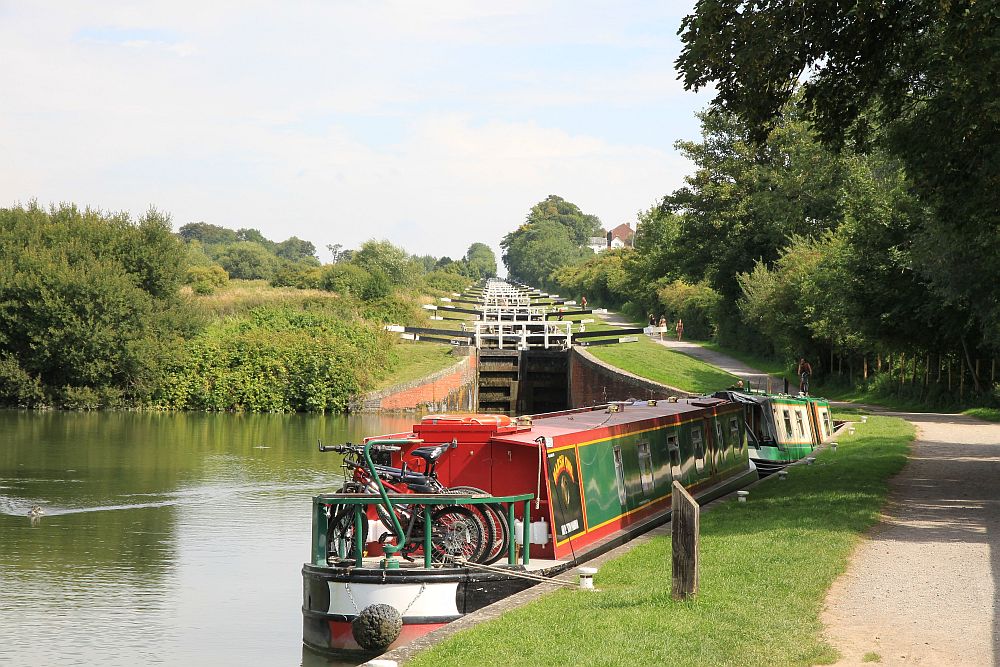 Thursday 22nd August. This morning the weather could not quite make up its mind as it rained and the sun shone at the same time! It did settle down a bit so after lunch we decided to go out on the bikes again, this time in the direction of Devizes. Just past Foxhanger Wharf is the first of the 29 Caen Hill flight of locks that raise the canal 237 feet in 2 miles. The first seven locks are normally spaced but the next 16 are much closer together and have extra side pounds to maintain the correct water levels. The final six locks take the canal up to Devizes town. We only went as far as the start of the first of the sixteen locks but they make for an impressive view as they climb the side of the hill. Meanwhile at the lock which forms the top of the first seven I helped a family through the lock by opening and closing gates which took me back several years. After a bit more gongoozling and a few more photos we made our way back down the canal to the campsite. The last few days have brought back some happy memories of days gone by when we were very involved in the Canal scene. As much as it was a happy chapter of our life I donít think you can turn the clock back by trying to recreate those times, we have moved on although itís still nice to be reminded of those days.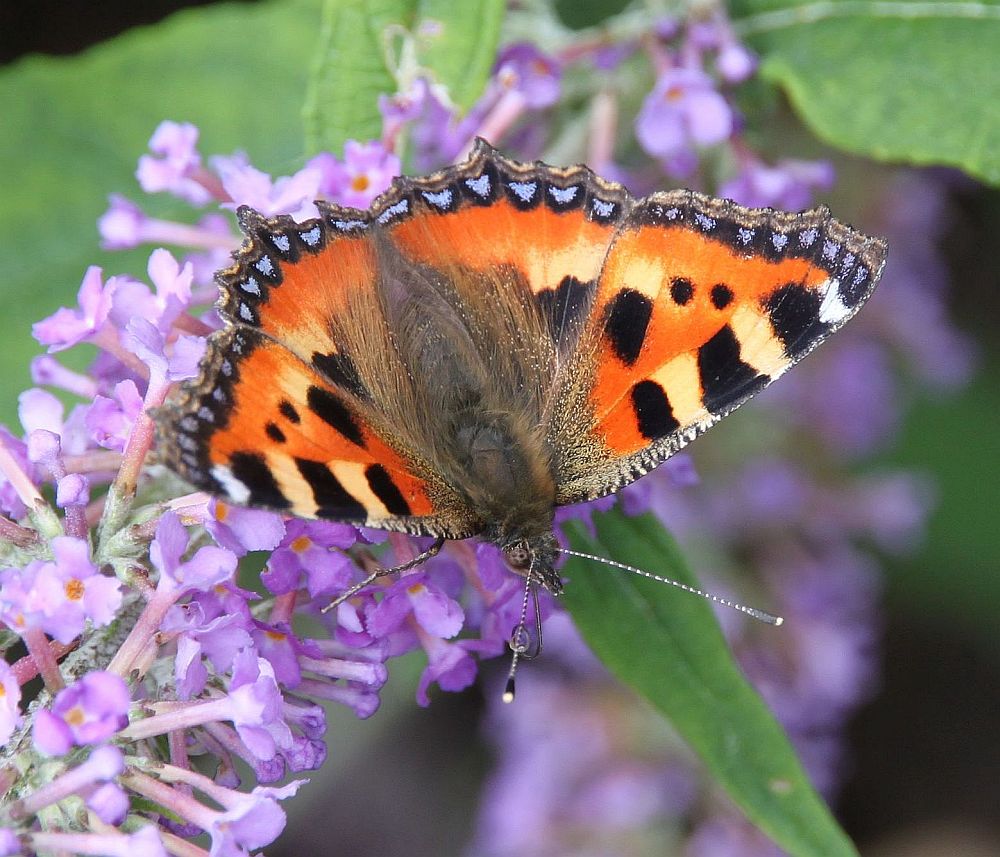 We are nearing the end of our stay on our first ever Camping and Caravanning Club Campsite. Having almost exclusively used Caravan Club sites in the UK it is interesting to note the contrast between the two. I have always been a bit sceptical about the so called ĎFriendly Clubí as the C&CC likes to call itself. I may have to reconsider that view as we have found people surprisingly friendly with the wardens, sorry holiday site managers, who seem to have a presence around the site and always have a cheerful wave and the odd friendly comment. This contrasts with the almost anonymous wardens of the Caravan Club, perhaps something they can learn from?
Friday 23rd August. Time to go home. We have enjoyed our stay at Devizes. It has proved to be a pretty good site with the Motorhome as you can conveniently reach places by bus and there are lots of walking/cycling opportunities direct from the site. Our journey home was via a different route to the one we arrived by. We joined the M4 at junction 17 travelling via Melksham and Chippenham. It was perhaps a better route than via Marlborough and Devizes but there were a lot of roundabouts! We left the M4 at Swindon and followed the A420 to Oxford. Whilst this is shorter journey it is very much slower. From Oxford it was back on familiar roads back to MK. It is of course the start of a Bank Holiday Weekend and we did see long queues going south on the A419 to join the M4 and likewise north of Oxford just before the M40. We filled up with diesel before getting home in readiness for our next trip. Interesting to note that en route we saw diesel 4p a litre cheaper than in MK!
Isle of Wight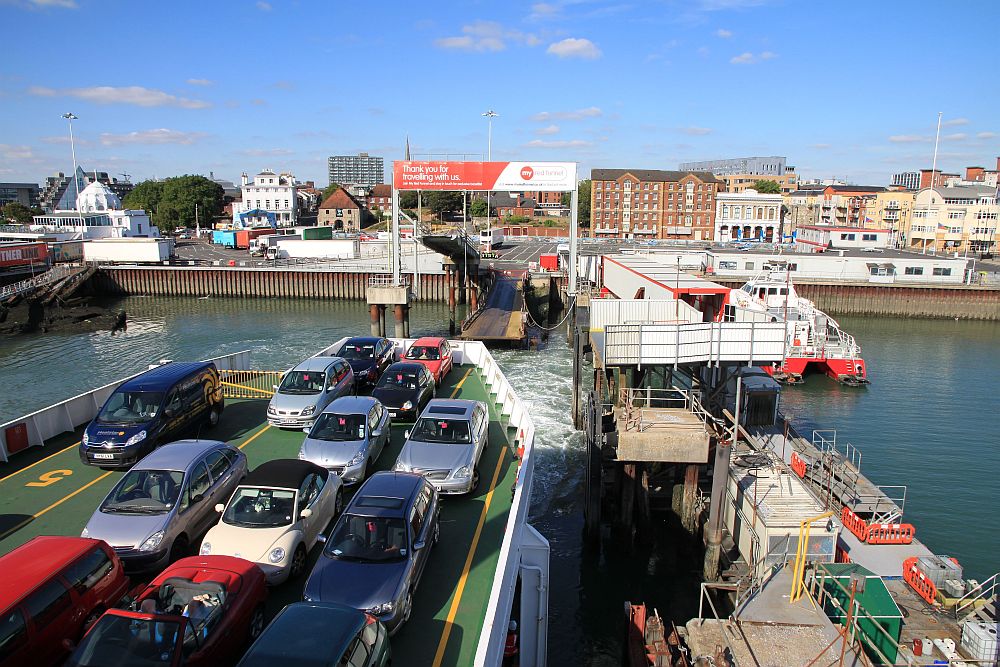 Monday 2nd September. Off to the Isle of Wight today. Our booked ferry leaves at 4.00pm so no particular rush but we wanted to be away by 11.00am. The pesky binmen have once again changed their MO and not all the rubbish was collected before we left. The journey was not too bad although he A34 was quite busy. We encountered a delay as we approach the M3 which turn out to be a stranded car and caravan. Have to say the couple looked pretty fed up as we passed them. We stopped at the Rounhams Services on the M27 to kill some time. Just after 2.00pm we decided to chance our luck and see if we could get an earlier ferry. So we made our way to Dock Gate 7 in Southampton to be told the ferries were very busy and we would have to go away and park and return later for our booked ferry. This was only the start of our holiday!!! For those of you that know the area around Southampton Docks there is just nowhere to park a 7.5mt motorhome! We trundled back the way we came until we got to Millbrook and turned round and headed back towards the ferry. At least they were booking if for our ferry. We were told to head for lane 13, lucky for some but not for us. The lanes were ridiculously narrow and in the lane next to us was a pickup truck with a large box trailer who was about 18 inches into our lane. When the Lane Marshall arrived he insisted that matey next to us got into his lane. Reluctantly he pulled forward and reversed back, the Marshall wanted him to go round and back in again but he was not keen. We then had to do a circle to get back in our lane and we ended up less than six inches from the side of his trailer. Margaret was not a happy bunny. When the ferry arrived I went and spoke to a young guy directing traffic off the ferry and explained my concern. He said not to worry as we would be called before our neighbour, which we were. At this stage I was thinking it would have been easier and cheaper to take the ferry from Dover to Calais. It was our turn to load and I think we were the third vehicle on. I was too busy looking where I was being directed that I hit my offside mirror on the lorry next to us, fortunately a minor scuff. AS they say every ferry loading has a silver lining and the trip down Southampton Water was not only calm but made in hot sunshine which allowed plenty of photo opportunities. About a week before we came we learnt that there was some sort of Festival on the Island. That could explain some of the strange looking people on the ferry!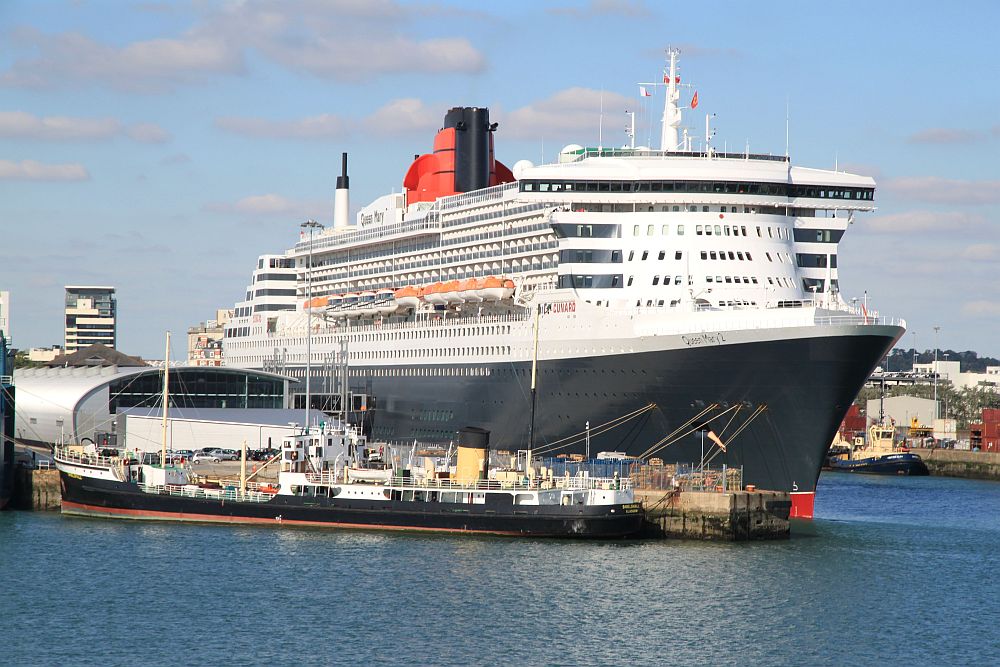 Disembarkation was a lot quicker and we started our 11 mile journey across the Island towards Sandown. Nothing travels fast on the IOW, an average speed of between 30 and 40 mph would be as much as you could expect. We eventually got to the Caravan Clubís Southlands campsite a little after 5.30pm, very late compared to our usual arrivals! Mind you we were not alone as at least two other units arrived at about the same time. At least it was a beautiful evening as we sat in the sun watching it gradually go down, but this is now September and that telling chill is in the air as the evening draw in. Unfortunately whilst setting up the satellite dish it blew over twice damaging the LNB holder so I have had to jam it a bit to stop the LNB moving!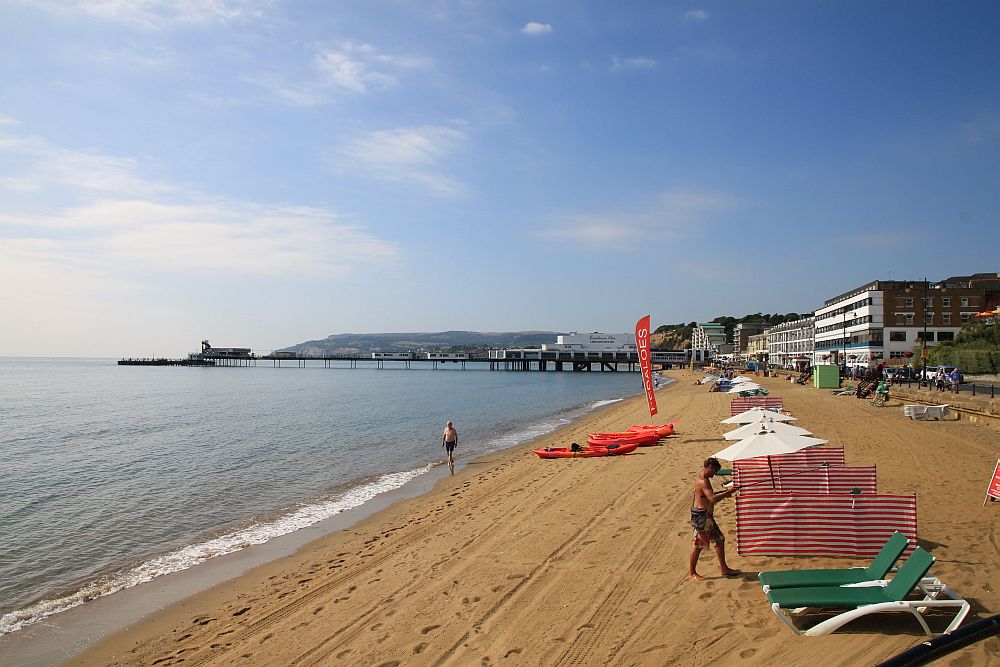 Tuesday 3rd September. We awoke to a beautifully sunny day. We decided to take the bus to Sandown which is on the south coast of the Island. First we had to find the bus stop! This involved walking down a road with no footpaths and took about 10 minutes. The bus stop was hidden in the bushes! Once on the bus it takes a tortuous route into Sandown and my compliments to the drivers who navigate these double decker buses down such narrow roads. We were not quite sure where we needed to get off but this became obvious as the bus headed down towards the sea shore. Sandown is blessed with lovely sandy beaches, the sort that make you think of your childhood if you were that lucky to be taken to the beach on a regular basis. For us post war babies it was the exception rather than the rule although the myth has grown up over time and no doubt reinforced when we tried to make up for our lack of visits with our own children years later. I suppose from that point of view Sandown is the quintessential seaside town. Unfortunately history does not seem to have been kind to it. The lovely beach is still there but like a lot of seaside towns it appears run down. So unlike French seaside towns of the same size with their busy restaurants spilling out onto the wide pavements shaded from the sum by large umbrellas. You have to search hard for places of quality. We found one which might allude to that description called the Legends on the Beach. Outside it had a couple of terraced seating areas and of course space inside which happened to be empty. The legends happen to be the likes of Elvis and Marion Munroe. Anyway the nicest coffee we had, had for a while and a freshly prepared BLT sandwich. Whilst it might not cut the mustard in say London or even MK in Sandown it stood out! Refreshed we made our way along the promenade stopping briefly at a Bowls Club who were waiting for a visiting team to take on the home side. Apparently the Sandown Club benefit from the green fees so they encourage travelling teams to visit. The IOW is, for some reason, very Dinosaur centric and along the coast road from the town is a dinosaur centre. As you walk east from the town the cliffs at Culver become more prominent. It was here that we decided that it was time to head for home and there was a convenient bus stop to hand. The idea was to catch the 1.25pm bus back, but we waited and waited, but no bus. Eventually a number 8 hoved into view but this had Sandown clearly marked rather than Newport. The driver opened the door and apologised but he had broken down which was the reason he was so late and in order to maintain the timetable it had been decide to terminate at Sandown and head back to Ryde. Fortunately the next bus was only a few minutes late. Having waited over an hour and a quarter I was glad I had only had a coffee rather than a pint of beer!!! Back at the campsite we marvelled at the light cast by the still beautiful day.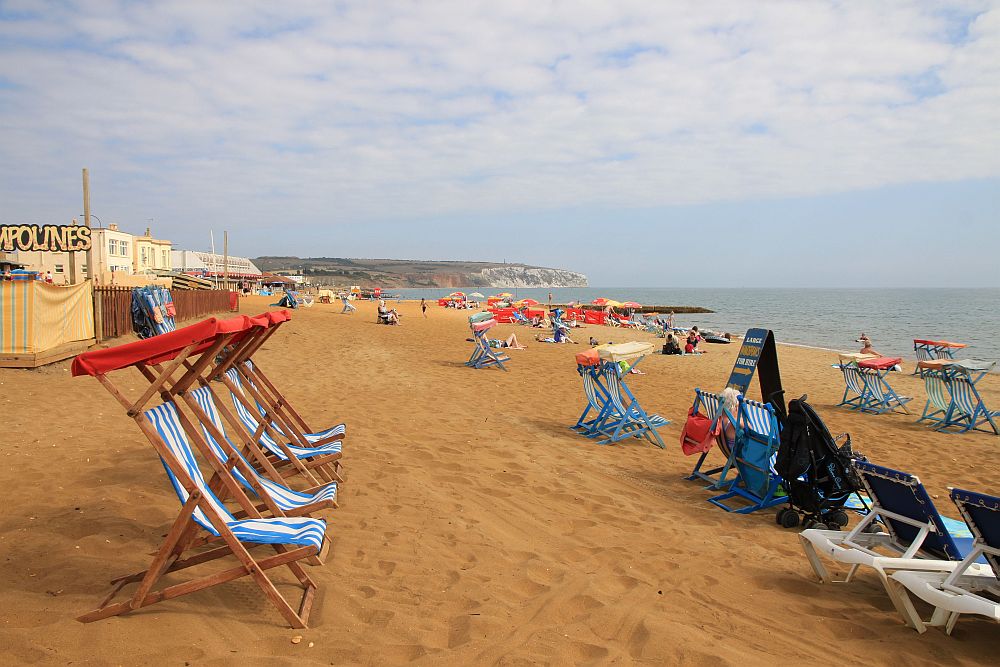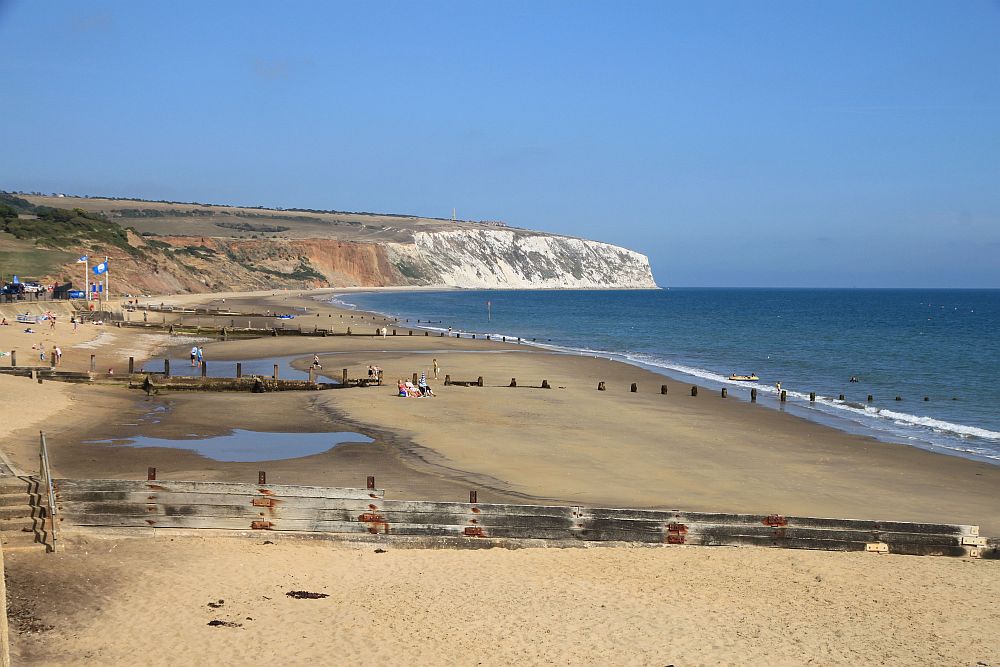 Wednesday 4th September. Another lovely day although we are noticing an increasing amount of condensation in the morning as the night time temperatures fall to lower levels. Back to the bus stop this morning for the same bus as yesterday. This time we are only going as far as Lake which is on the outskirts of Sandown as we are heading for Ryde but on the train. It was a short walk from Lake to the station. Rather interestingly they use London Underground trains on the only BR section still running on the Island from Shanklin to Ryde Pierhead. The trains were of indeterminate age but there has probably been a couple of upgrades since these trains saw service on the underground! The only advantage was perhaps the speed but that was not without cost as we could have used the bus with our bus pass but you have to experience everything! We got off at Ryde Esplanade rather than carrying on to the Pierhead. Ryde Pier is apparently the second longest pier, 703 metres, in the UK. We decided to walk. It reminded us of the piers you often find on the Baltic coast of Germany. Although even there they donít have trains running to the end of the pier! You can drive your car along the pier for a small fee plus a parking charge at the other end! Between the roadway and the railway line is the remains of the old tramway which is now very decayed. Ryde Pier is a working pier so no chatty amusements. Although it did have a Costa Coffee where we had a cup of coffee and a Panini overlooking the Solent. We walked back to the Pierhead and up into the town.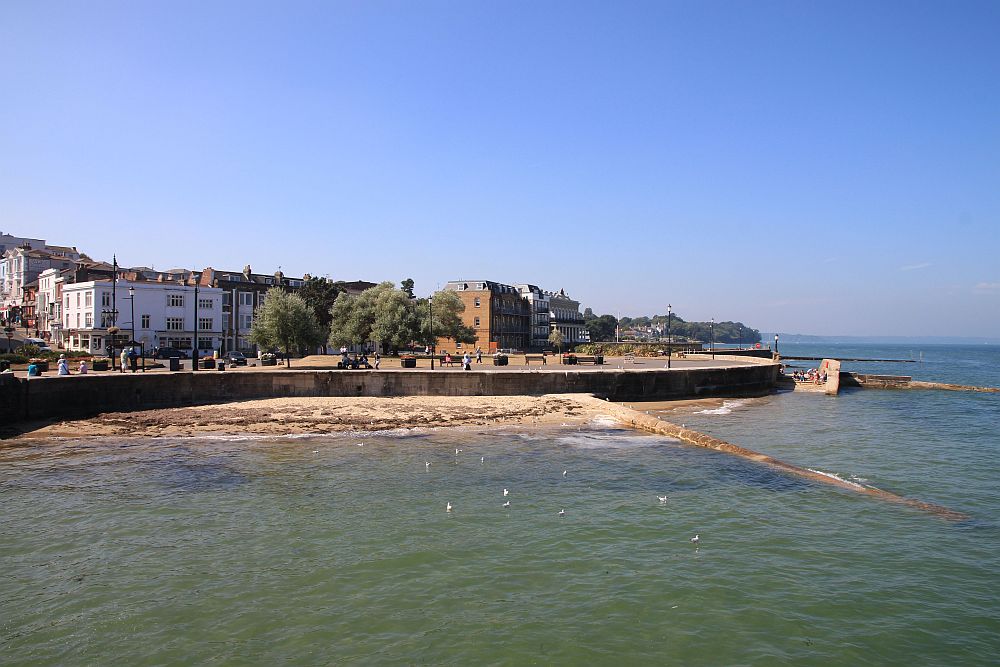 Ryde seems a more commercial centre than Sandown and this shows in the High Street with many shops and restaurants. Unfortunately it does not make a lot of its waterfront with only a small section with public access to the sea. Time to return home, or at least to the campsite, and we had chosen to return via the number 8 bus service that goes around the coast. The only problem is that this takes about an hour and a quarter! I am sure this route is not designed for double decker buses! The roads are narrow and often steep and we were constantly clipping the trees as we went down impossibly narrow roads. I am not convinced that Alton Towers has anything to rival this bus ride!!! Back at the motorhome I was able to indulge in a well earned beer.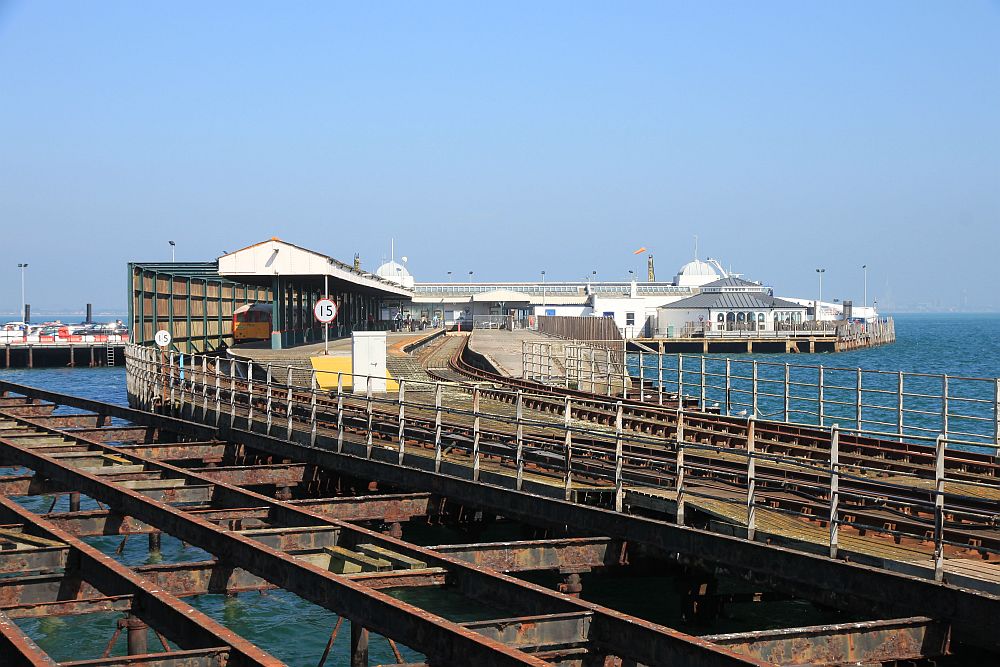 Thursday 5th September. Another lovely day but it could be the last for a while according to the forecast! We set off a bit later today as we were only going as far as Newport which is bang in the middle of the Island. A busy place, if unremarkable, but it has a lot of shops. The Library was next to the bus stop so we went in to inquire where Maplins was. A lovely young lady helped us and even provided us with a map which enabled us to find it quite quickly. I was after a new LNB bracket as the original one had broken when the satellite dish blew over when I was setting it up. They had one in stock which I purchased but unfortunately it turned out not to be the correct type, so back to the drawing board on that one. We had a wander around the town and eventually ended up in M&S for tea and sandwiches. The town was thronging with people attending the Bestival which is some sort of pop festival which we are likely to be able to hear from the campsite. Apparently Elton John is the headline act, nice to know pensioners older than me are still getting job opportunities! Over the last few days we have been doing a lot of walking and I am starting to feel a few aches and pains. However the good news is that the knee seems to be standing up to it reasonably well and is a lot less painful. It could of course be the pain killers or the fact that when we get back I am expecting an appointment at a specialist clinic dealing in sports injuries. Perhaps the thought of what may lay in store has frightened the knee into submission!!!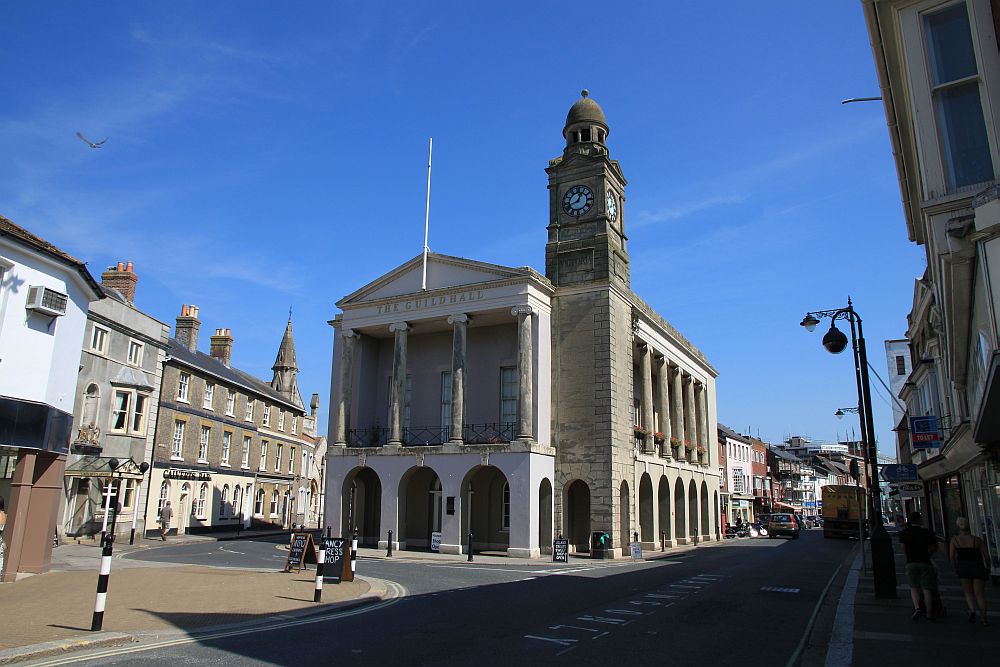 Friday 6th September. With some overnight rain and the forecast not good it was surprising to wake up to a dull but dry morning. As the day wore on the weather got better and better although thankfully not as hot as the previous few days. We have company today. Joyce, Margaretís sister (of nic nac fame) and her husband Rob are driving across from the mainland. It was nice to be chauffeured around! We are off to Osborne House one of the favourite homes of Queen Victoria and Prince Albert. The front of the house faces onto parkland with conifer trees which have grown into interesting shapes over the years. The rear of the house looks out onto a formal garden which in turn offers lovely views over the Solent including the Spinnaker Tower at Portsmouth, I wonder what the Victoria would have made of that. Quite a few rooms in the house can be visited and it provides a snapshot of what it was like to live during those times. Some of the decoration might fall into the Mr Whippy ice cream look but of course things were much more fussy in those days. As the weather had continued to be pleasant we walked down to the sea shore which is quite a walk from the house. The Queens bathing machine is next to the tea shop. It does make you wonder why people just did not walk into the sea rather than being wheeled into it! Time to head back calling into the Fighting Cocks for a meal before heading back to the motorhome. It was a very nice day but Joyce and Rob had to leave by 6.oopm to catch their ferry back to the mainland.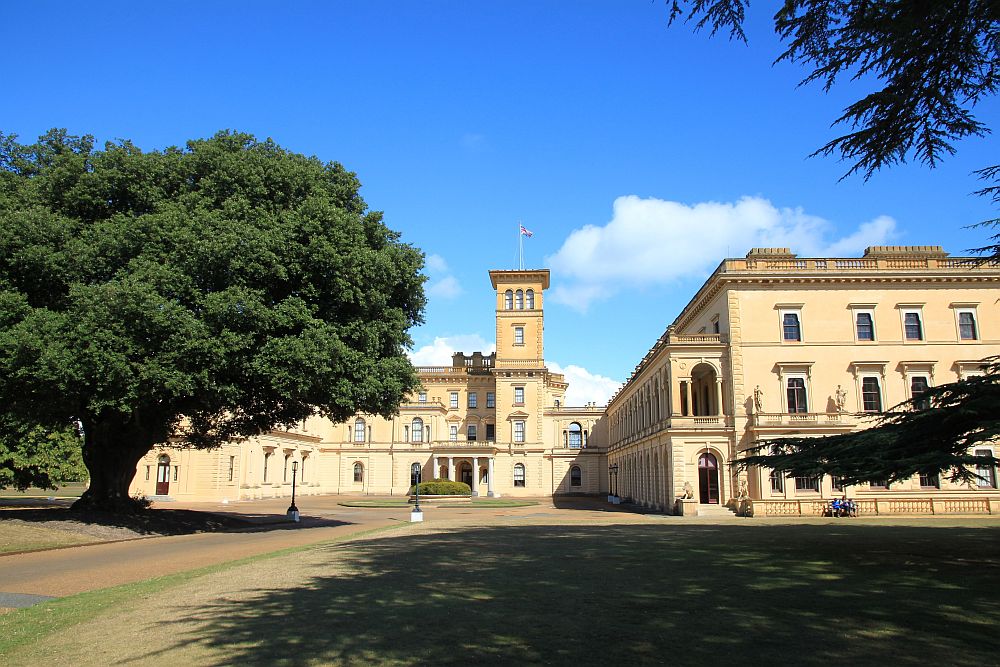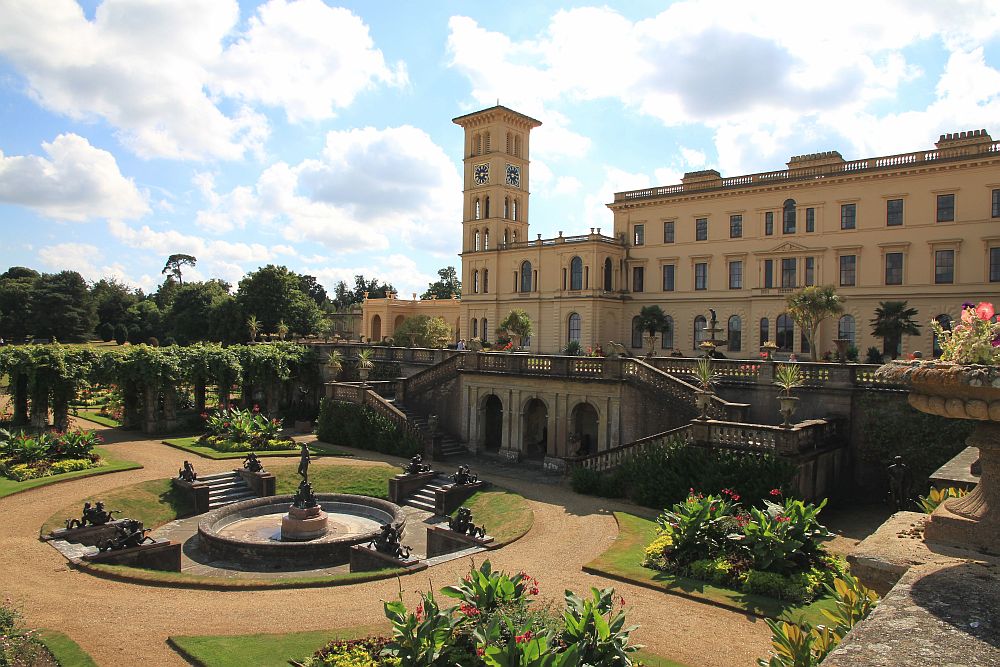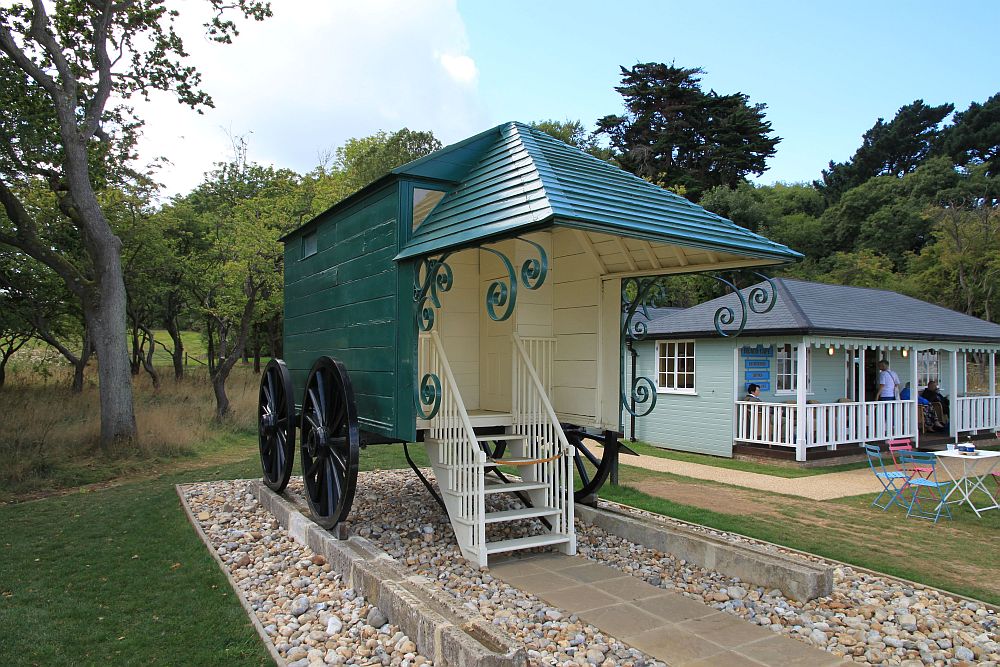 Saturday 7th September. More rain overnight and a bit damp when we got up but fortunately the sun did eventually come out. Stronger wind today which makes it feel a bit colder. It is our last full day on the IOW so no outings planned. We did watch the F1 Qualifying and pleased to see a Red Bull front row. Mind you there seem to be a few rumblings at Ferrari, Alonso does not seem to be a happy bunny!
Not far from the campsite is the village of Newchurch. Rather late in the day we discovered there is a short cut from the end of the site to the village so we decided to have a walk to investigate. It is not a village of particular note except that it has a nice looking pub which happens to be next to an equally nice looking church. The Pointer Arms does food and if we had discovered it a bit earlier we may well have used it. The Southlands site has proved to be pretty peaceful despite being full most of the time we have been here. Not seen many children but no doubt that is due to the fact that if they are from the mainland they will soon be going back to school. Not sure how many locals use the sites on the Island as they would only be travelling about 10 miles.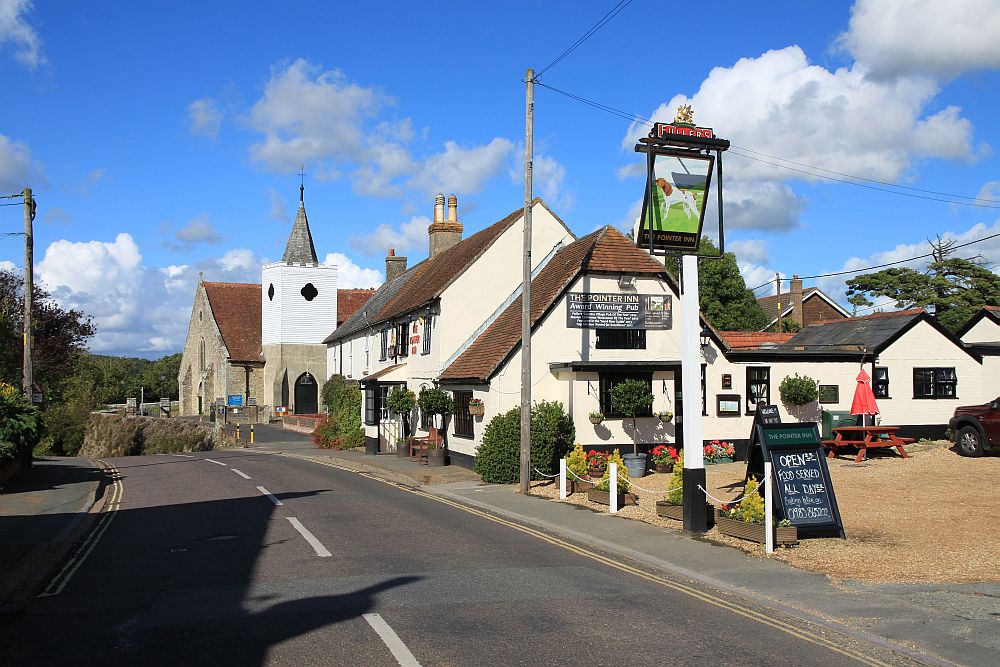 Sunday 8th September. It was a bit of a dilemma today in terms of when to leave. We did not want to arrive at East Cowes too early only to be turned away but on the other hand we did not want to leave too late just in case we got caught up in any Festival traffic. In the end we left about a quarter to eleven and reached the Port just after 11.00am. There were plenty of parking spaces when we arrived but rather than roll up to the booking in booth I parked and walked across. A cheery young lady told me to join the queue for the next ferry! Despite being quite windy the crossing was smooth. Southampton was very busy as we made our way to the M27 and there onto the A27 to Brighton. When we got to the Brighton CC campsite it was very full and we had a bit of trouble finding a pitch, especially a hardstanding one. Eventually we found one but it was some way into the site. After a short walk around the site we returned to find our neighbours getting ready to go, this was about 5.00pm. We got chatting to them and they said that they had paid for tonight but had decided to go home this evening.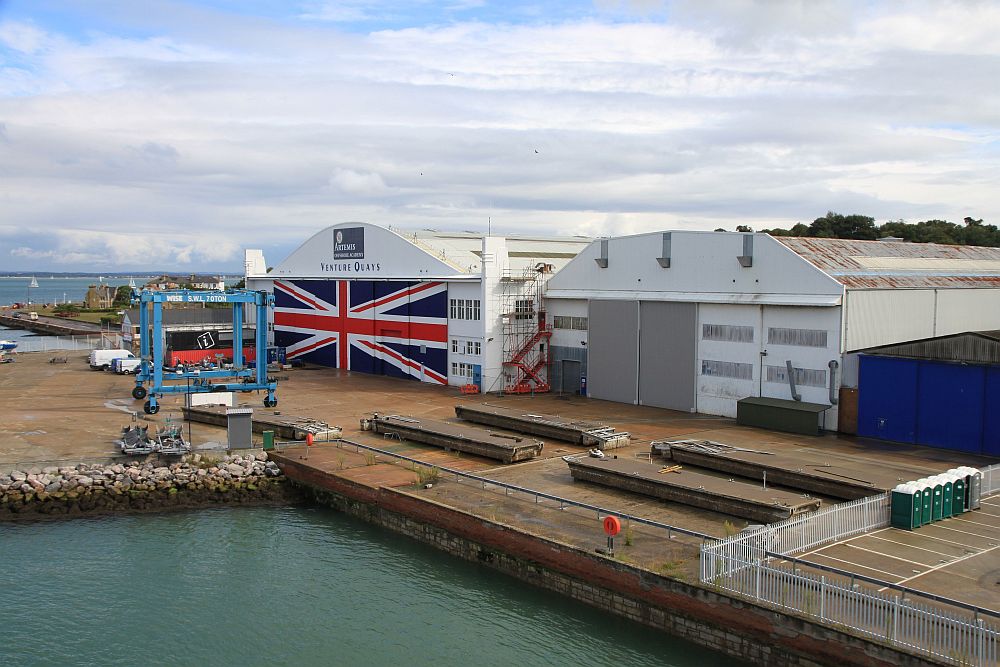 Brighton
Monday 9th September. We had a lot of overnight rain and the forecast is not good for today. We needed some shopping which with the motorhome does require some planning! We knew there was an ASDA in the Brighton Marina complex so that was where we headed on foot. The last time we were at this site was seventeen years ago and I am sure the distance to the Marina has increased, or at least it felt like it! Having done our shopping we decided to catch the bus at least partway back to the site which did save us the hard uphill part from the Marina. We could have taken the motorhome as there seemed plenty of parking but you never know what access will be like. There are quite a lot of German campers on the site who seem to be part of an organised tour going by the large stickers they have on their outfits. The access road to the Brighton site is subject to much controversy because not only is it long and quite narrow there are always parked cars over quite a bit of the distance which makes it difficult for caravans and motorhomes to get along the road. There are already double yellow lines along one side of the road and perhaps what they need to do is to have some enforced passing bays at regular intervals.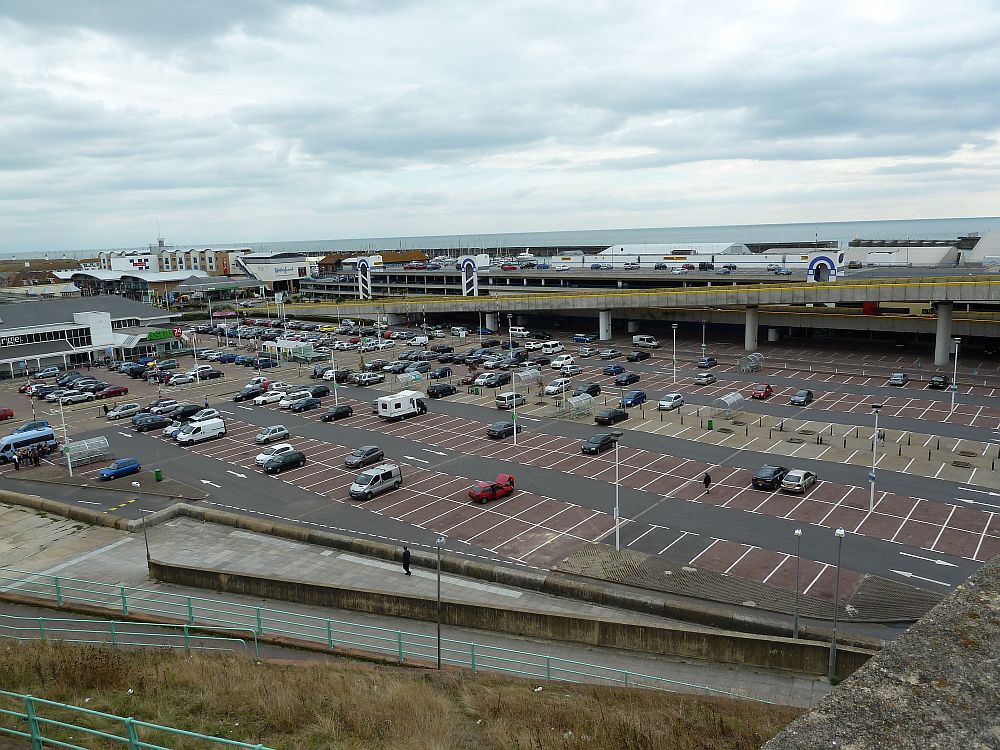 Tuesday 10th September. The weather forecast was for a dryer day today which turned out to be correct although there was some sun it was not universal throughout the day and it was far from hot. We decided that it would be a good day to visit central Brighton. We are gradually working out the various bus routes and from where they leave. We got the number one bus into Brighton which dropped us outside of the Royal Pavilion which was number one on our to visit list. I have to say that it was a real treat. We have visited many houses and palaces and other famous building over the years but perhaps this was the most quirky. If you strip away the history of Europe you come across a lot of Princes and Monarchs who spent money they clearly did not have on sumptuous buildings! Brighton Royal Pavilion is one such place. It is, apparently, the only ex royal residence not owned by the Crown, in fact it is now owned by the City of Brighton. The story has it that Queen Victoria did not much like the place as it was too public and she preferred privacy. At one stage it was going to be demolished and the land sold for redevelopment. But there was a local public outcry and the then Council under the auspices of the then Town Clerk stepped in and paid £54000 for it. Whilst it has suffered a few crisis along the way full credit to the Council for keeping and restoring it to its former glory. For me to try and describe it would not do it justice but you will marvel at the main dining room. I suppose the Brighton Royal Pavilion is as much about the Price Regent, later George the 4th, and the history of the two are intertwined. To finish off our visit we had a light lunch in the Pavilion Tea Rooms which took nearly as long as our tour of the building!!!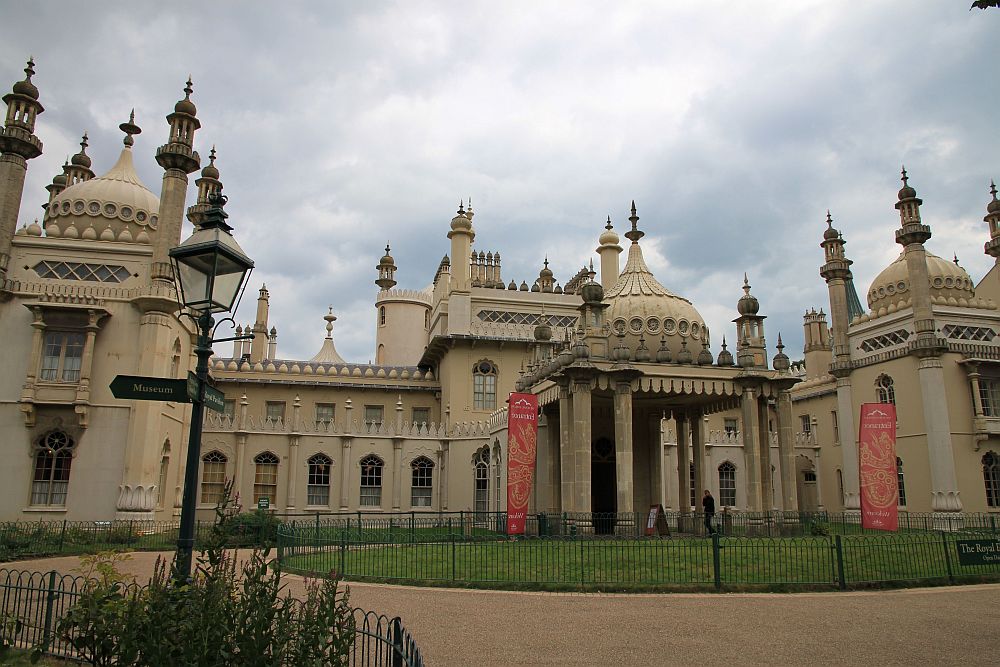 Margaret has miscalculated, due to a change in packaging, the number of tablets she needs. We have now tried two pharmacies, repeat prescription copies in hand and both have said she needs to get a new prescription from a doctor. Whilst I appreciate that people have to go by rules these tablets are unlikely to be misused by anyone and it seems strange that some discretion canít be used.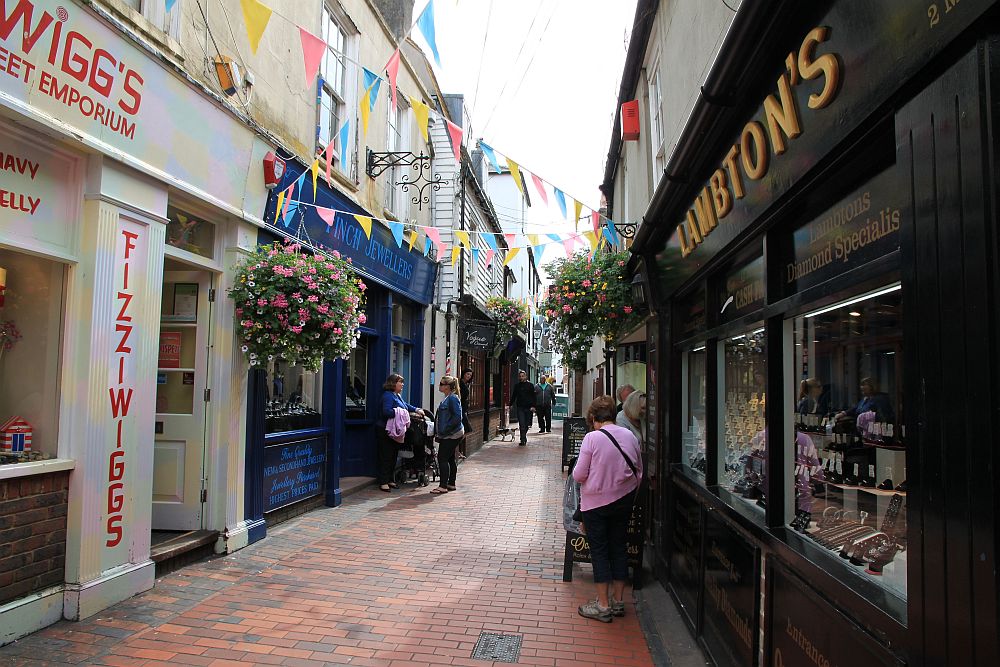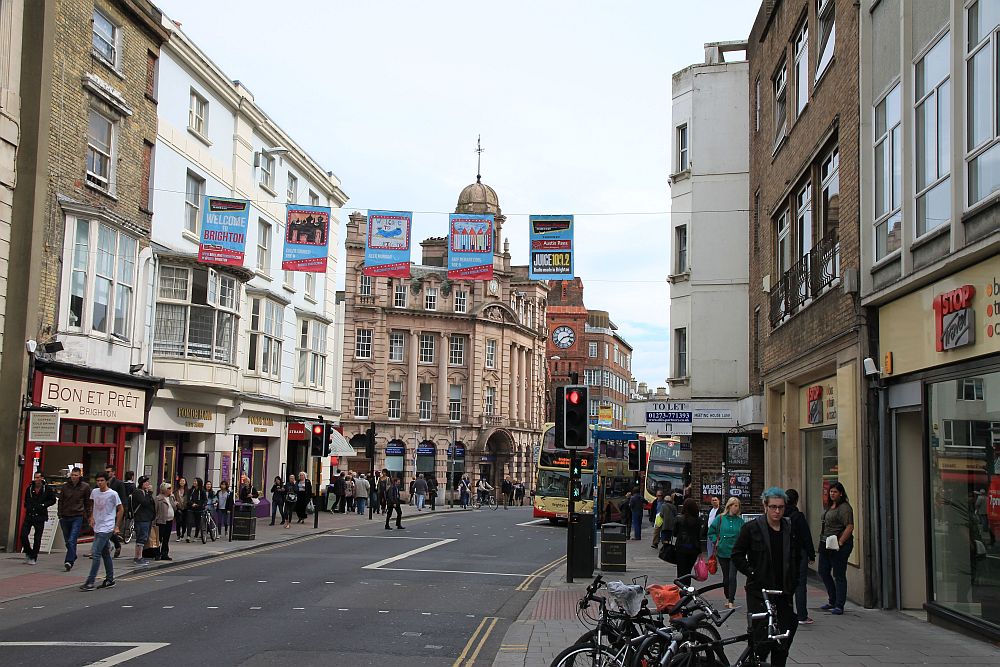 Brighton is a very busy place. We made our way through the ĎLanesí those famous narrow streets just off the main shopping street. From here we made our way down to the Esplanade and walked towards the pier. Brighton originally had two piers but the West Pier is now nothing but a rusting ruin. The Main Pier is a busy place with a seemingly never ending supply of fish and chip shops! Just beyond the pier is the Volks Electric Railway which runs along the beach to Kemp Town and the Marina. We had a ride on the rickety narrow gauge railway as I think we were beyond walking that distance along the beach. At the Marina we caught a bus to nearer the site.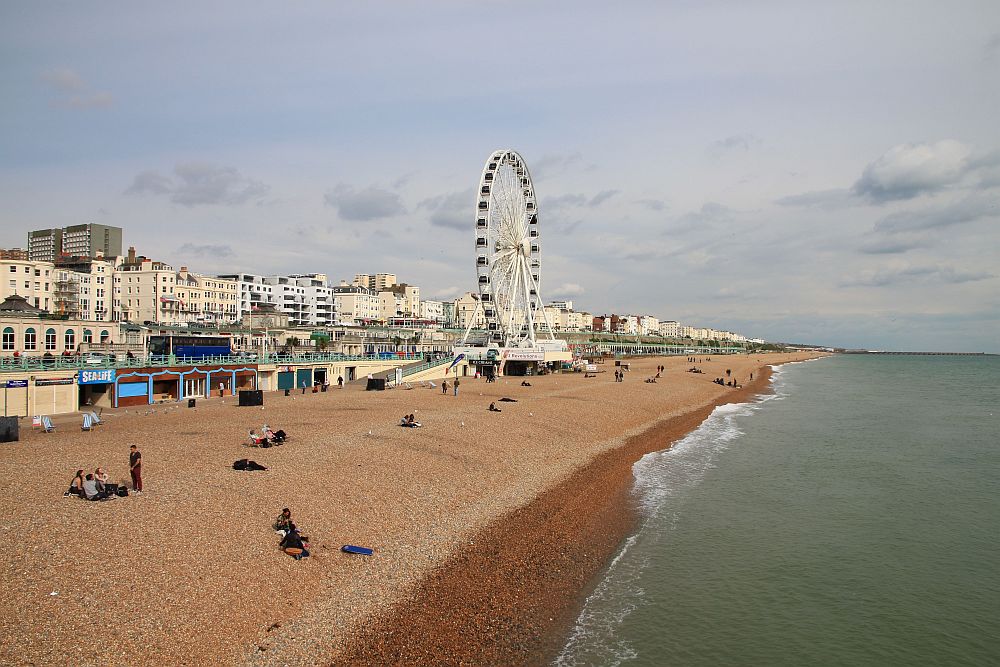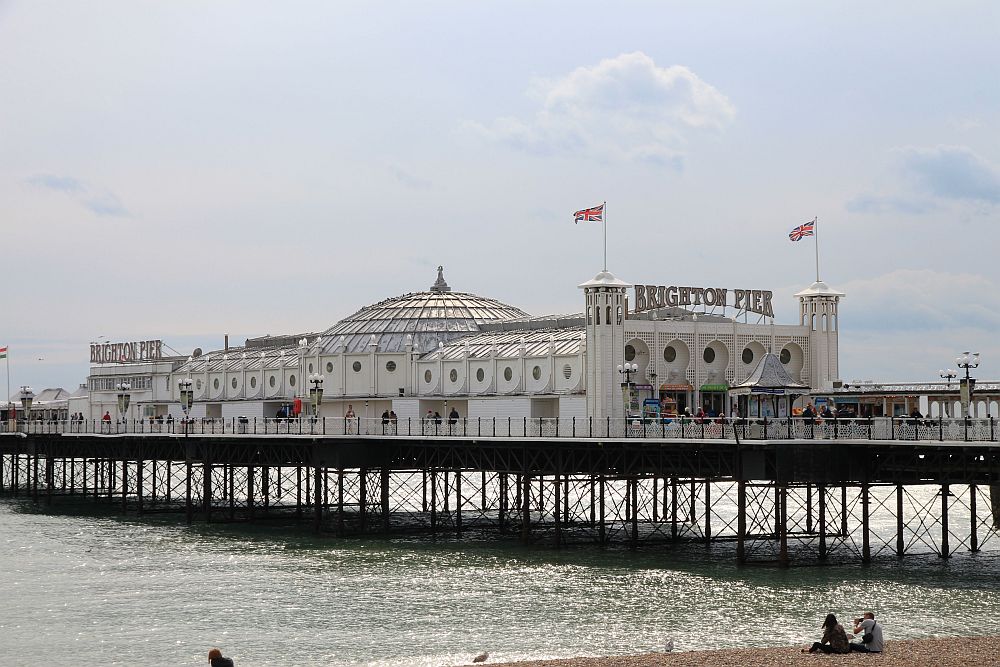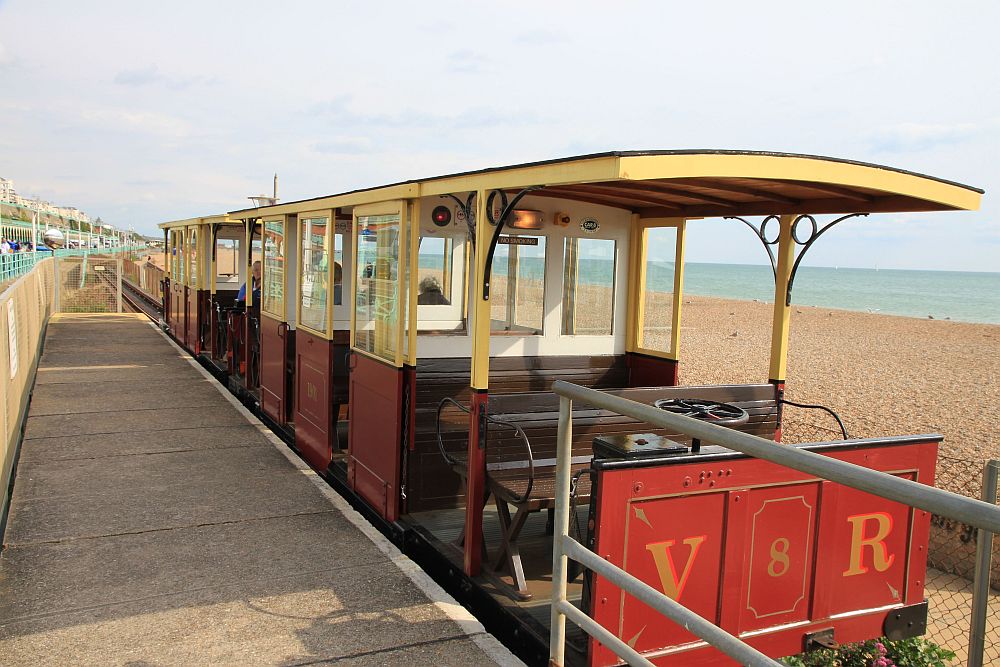 Wednesday 11th September. It was very windy this morning when we woke up although it was sunny as well. We have really noticed the temperature drop since coming back from the IOW. After a fairly lazy morning we walked down to the Marina after lunch to have a better look round. You do have to search a bit to find any boats but they are there! ASDA dominates the road entrance into the Marina but if you walk a bit further there are some shops and lots of flats. The area covered by the Marina is surprisingly large. We found the main harbour where all the boats are moored. Facing onto the water is a very large variety of restaurants. They were not particularly busy during our visit but you can imagine that they would be at the weekends and perhaps on a warm summers evening. Margaret spied an RLNI shop where she managed to buy some Christmas Cards. (not long now!!!) Having completed our tour we caught the bus back up the hill and nipped into Lidl where the bus stop is for a few bits. We reckon itís about a fifteen minute walk from reception to the local shops/buses. If you stay at the Brighton campsite you have to be reasonably fit if you donít have your own transport. I am not sure I would currently place myself in that category but I have managed albeit with my knee strapped up. In fact I have been a bit surprised how much ground we have covered both here at Brighton and previously on the IOW. Our bus passes have been a godsend, God Bless Gordon Brown for introducing them across the whole of England. He may not go down in history as being everyoneís favourite person but pensioners do have a bit more to be grateful to him for.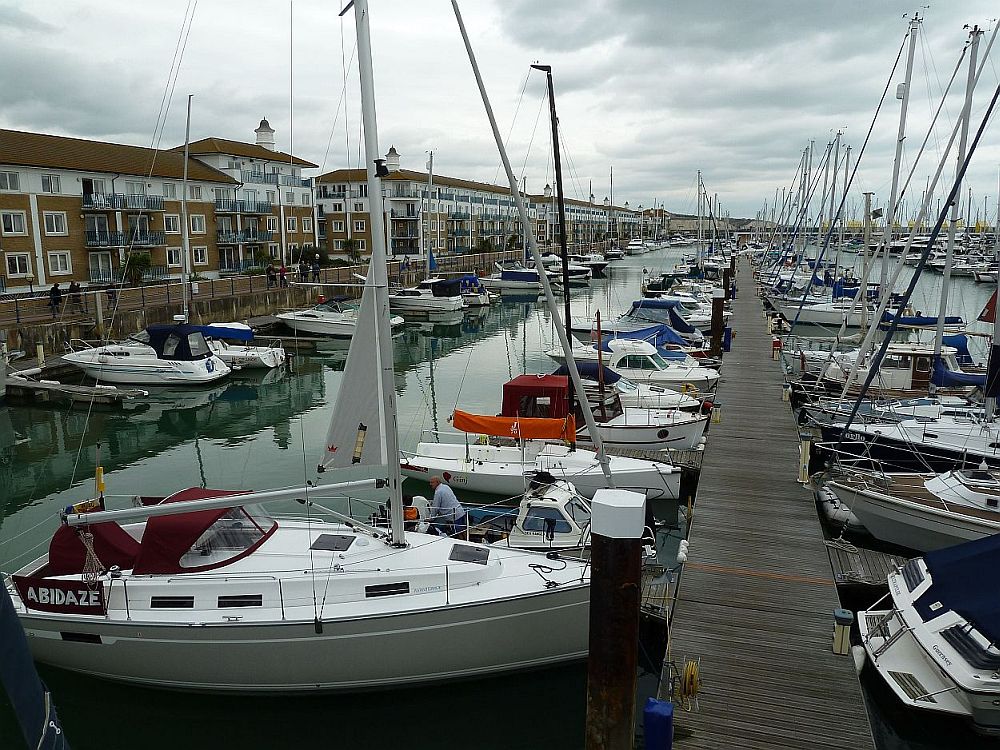 Thursday 12th September. The weather is still mainly grey, although with a bit of sun mixed in, but a bit warmer. Itís been a pretty lazy day today with no trips further than reception to buy a couple of pints of milk! Itís been rather frustrating on this campsite that the WiFi is only working at the lower end of the site near to reception which means a walk down to the information room if I want to use it. I Have been using my Smart Phone as a mobile hotspot which has worked quite well but it seems to us a lot of data and its difficult quite work out why as I have turned off auto updates. This is our last day here at Brighton, we are moving on to Hamble tomorrow.
Hamble
Friday 13th September. We left the Brighton campsite at around 10.00am and headed out towards the A27. Now this road is a bit like the proverbial curates egg, good in parts! Or should that be very bad in parts. It consists of sections of good dual carriageway and far too much urban sections which are very slow, especially around Worthing. I think in the first hour we were well short of having travelled 30 miles! I fail to see how any Government can allow this to happen. There are some plans for a bit of tinkering on the Chichester section but no grand plan for the road. It seems a local pressure group donít approve and to bypass the town would be very costly. It canít be helping the economy of the area and in the end will discourage people from visiting. Once past Chichester things did improve and of course once you get to Portsmouth it becomes the M27. We left at junction 8 and headed in the direction of Hamble or Hamble le Rice as it now seems to be called. We needed fuel so I tentatively headed for the Tesco fuel station not knowing whether I could get in or out. Fortunately it is quite large and the second from left lane allows a clear pull through out of the station. Wish a few more were designed like that. From here it only took as a few minutes to find Riverside Holidays campsite. I was even able to use my ACSI Card which meant the cost was only £12.50 a night! After we had lunch and a bit of a rest we wandered down to the Marina and the Waterside Restaurant. Meals seemed reasonably priced but it did not look anything special. We then decided to head for Hamble village although it was much further than we appreciated. I had not put the support on my knee which initially made it quite painful but you gradually walk it in! Once in the village we walked down the narrow cobbled roads leading to the riverside and sat for a while watching boats go by. There seem to be thousands of boats moored on the river. On the way back we called into the Co-Op to buy a bottle of wine as we are going to visit my sister Pat who lives in Hamble and mainly the reason for our visit here.
Saturday 14th September. Pat and Neil arrived at around 11.30am to meet up with us and also to have a look at the motorhome. We then walked into Hamble and down to Banana Wharf where we had a drink and a light late lunch. From here we walked to Patís house which was not too far. It was good to catch up as although we speak on the phone quite frequently we donít see each other very often. We got back to the campsite at around 10.00pm only to find that the electrics had been off at some time during the day. They came on and went off at regular intervals and itís clear the site does not have a very robust supply. I did go and have a word with the duty warden although I was clearly not alone in this. He explained that too many people were using too much electricity and the system could not really cope. He has to leave the system to cool down before switching on again. At this rate he will be up and down all night!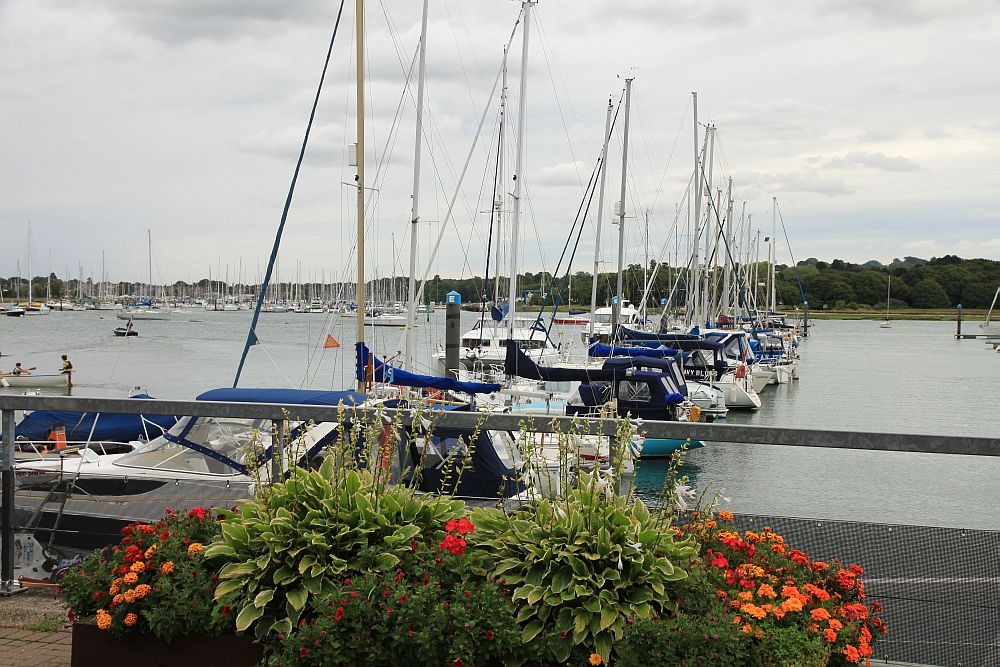 Sunday 15th September. Given the forecast we should have perhaps gone home this morning but we awoke to quite pleasant sunshine. However that did change as we went through the day and by midday the wind was coming up and the skies getting more threatening. Given that we were pitched under a large Oak tree we asked if we could move pitch to one that was more open so that when the wind came we would not be showered with acorns! We made the move but we are of course now more exposed! We did have a wonder down to the Marina to have a look at the boat moorings but it started to spit with rain so we made our way back. There were still some issues with the electrics this morning but hopefully as the site has thinned out quite a bit it might not be so bad tonight. Last night and this morning we resorted to running as much as we could on gas but that, of course, is using up our gas supplies rather than the electricity which is included in our site fee.
Monday 16th September. It turned out to be quite a calm night and we awoke to clear skies. More problems with the electrics this morning and we again had to use gas for heating and hot water. I am not sure we will be returning to this site unless they get the electrics sorted. By 10.00am we were on our way. There is a one day International Cricket match today at the Rose Bowl which is near to our route but fortunately it did not impact on our journey. When driving a motorhome you donít travel that fast compared to a car. However I am amazed at how slowly some drivers go on main dual carriageways. If a lorry has to overtake I would suggest itís too slow! It took us just over two hours to get home.
Cromer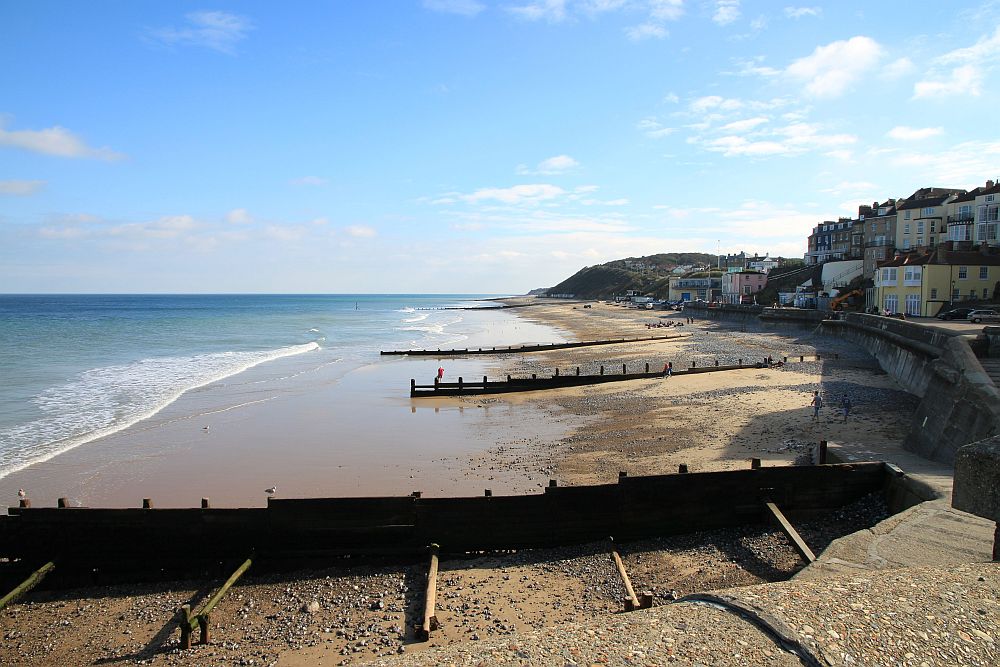 Monday 7th October. Three weeks ago we returned home from Hamble and found the house so cold that we had to put the heating on. In the three weeks since the weather has been surprisingly warm but just as we prepare to go away again the forecast suggests itís about to change! It was a fairly grey start as we prepared to leave MK and head for Cromer. Itís not the most straight forward of journeys with several choices of routes. TomTom wanted to take us via Norwich which I was not keen on so I decided we should go on the A1065 via Swafham and Fakenham. Margaret often jokes that Look East, our local TV news is always going on about the A14 road be it either because of delays or often mentioned upgrades. Fortunately for us we sailed through today! The A1065 itself was not too bad but does narrow a bit in places. Our real issue was that we got behind two tractors that were clearly on a long distance trip as we followed them for miles. The problem was compounded by the fact that there was nowhere for them to pull off the road to allow traffic to pass. They did manage that on the Fakenham bypass much to our relief! The rest of the journey was quite straight forward but took the best part of three hours. Access to the campsite is pretty straightforward as itís directly off the A149 between East Runton and Cromer.
Our chosen site is the Caravan Club owned Seacroft at Cromer. Its unusual as far as Club sites go as it has an outdoor swimming pool and a bar/restaurant. We treated ourselves to a serviced pitch but at £3 a night extra I am wondering whether its to high a price to pay? Another issue is that the WiFi system is out of action over most of the site and the mobile phone signal is extremely poor, for our network, so no chance of using that to get online. The Club have known about this issue for some months and they seem very slow in getting it resolved especially as so many people rely on the internet in their day to day lives.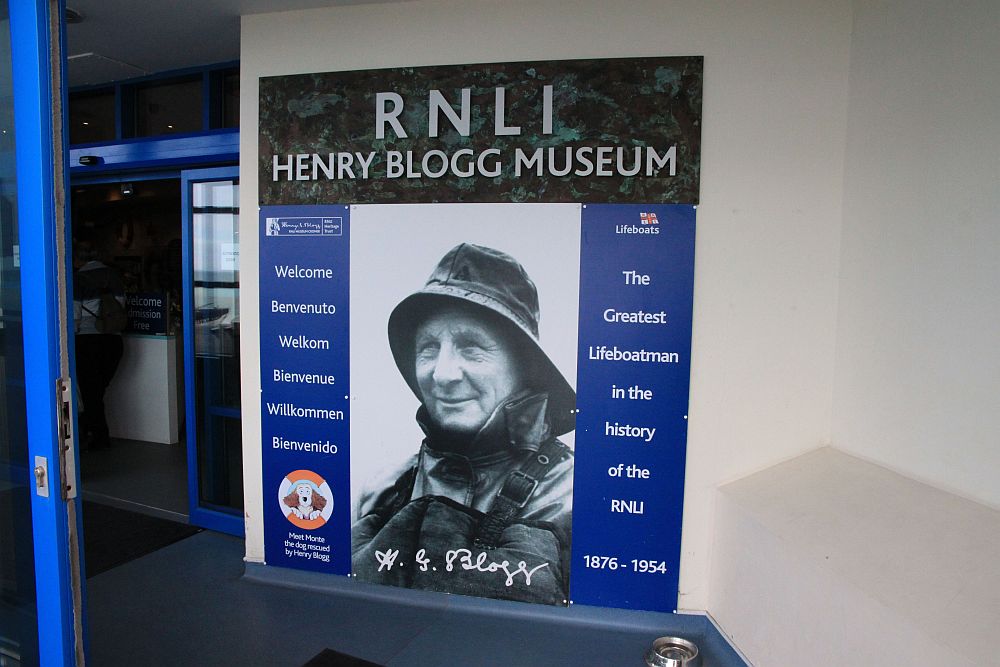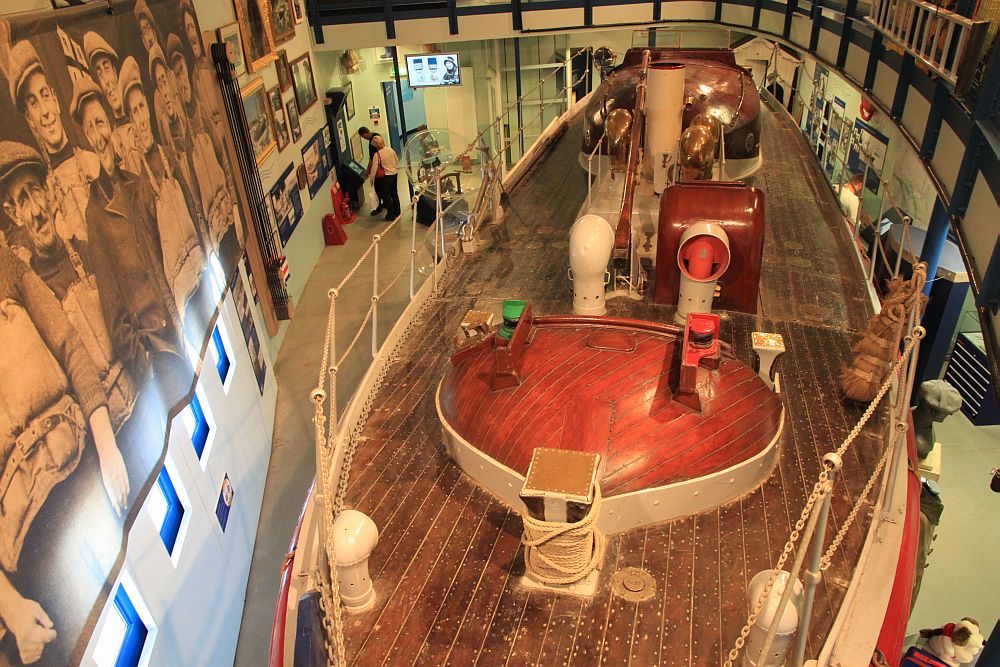 Tuesday 8th October. The day dawned bright and sunny and looking out of the window whilst eating my breakfast I could see the sea in the distance. We have decided to go into Cromer today and eventually decided to take the bus despite it being a relatively short journey. Cromer seemed to be more bustling than I remember and if I am not mistaken a little more gentrified. We headed down towards the seafront and made our way past the pier and discovered the RLNI Henry Blogg Museum. It is dedicated to Henry Blogg who was a very long serving Coxswain of the Cromer Lifeboat. In the museum they have one of the old wooden constructed lifeboats and lots of memorabilia. As we climbed to the second level to get a birdseye view of lifeboat they were playing recordings of the Shipping Forecast, something that makes me feel very British! Entrance is free but I hope any visitors would at least make a small donation to this very noble cause.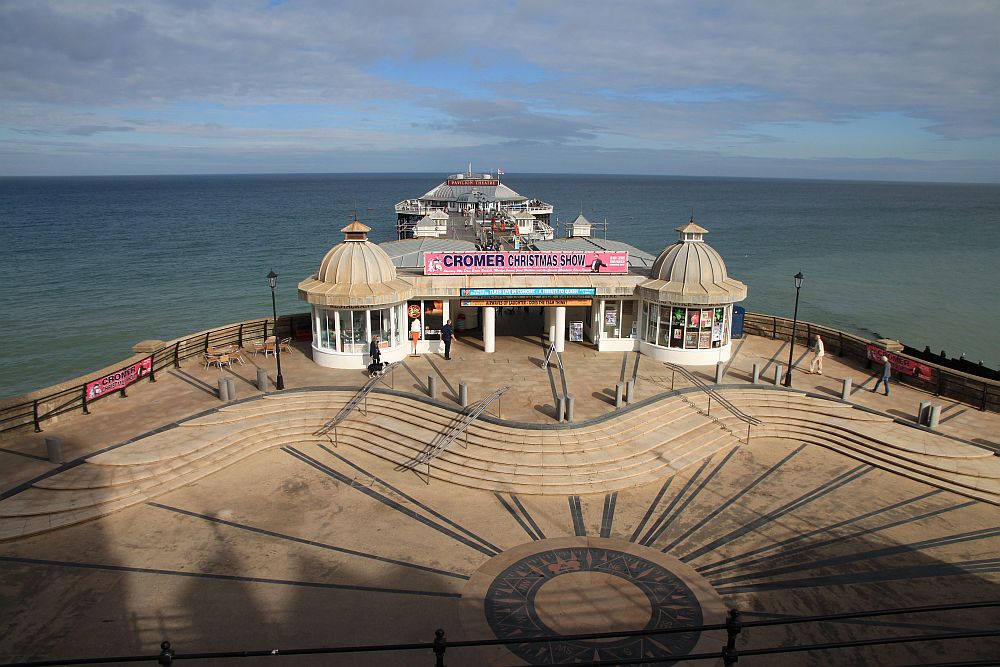 We walked back to the Pier. At the entrance they have details, set into the ground, of people rescued by the Cromer Lifeboat over the years. The Theatre at the end of the Pier is quite famous for the Acts it attracts. There was a cafť at the entrance which had free WiFi so we decided to have a coffee and scone so that we could use the iPad mini we had been loaned. Now this clever little device has the advantage that it is light and compact so easy to carry around. However I find it fairly slow to use as you only have an on screen keyboard, call me old fashioned but I donít find this as easy to use as Netbook or Laptop. However we were grateful to be able to keep in touch.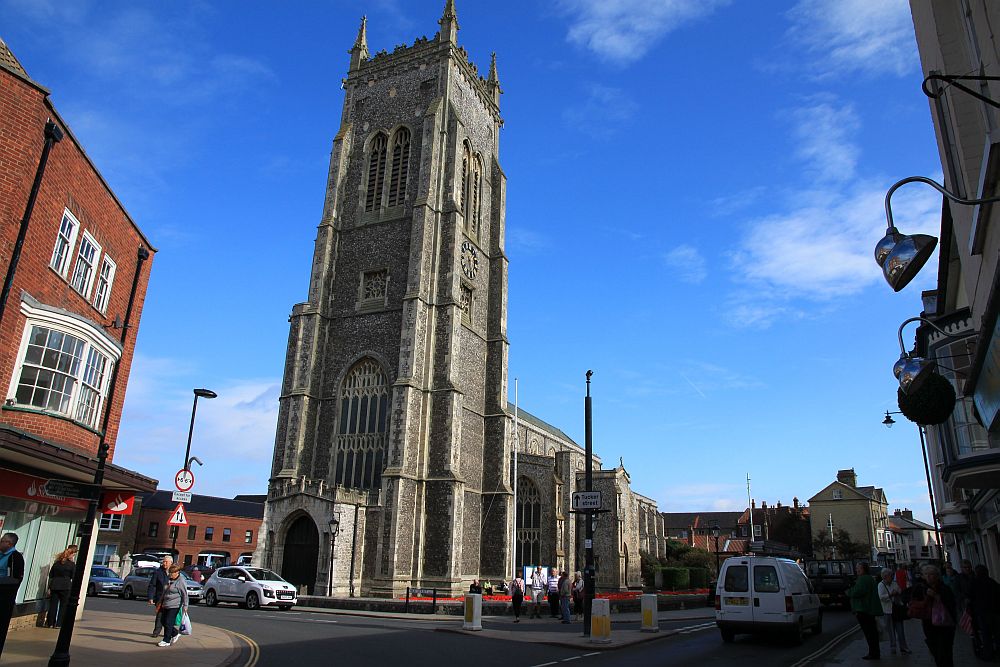 We walked up into the town which has a most impressive church which dominates the area. We found the Tourist Office and discover they also have free WiFi so that could be a second option if we need it. Cromer Crabs are a well-known local delicacy and Margaret was keen to buy one. Places to buy them seem few and far between but I had a memory of where there was a shop and low and behold I took her right there. Good to know all my faculties have not deserted me! Back to the bus which we could see in the distance, so we had to run. Not such an easy task for someone whose athletic body deserted him years ago, with a replacement hip and dodgy knee I hardly looked like Usain Bolt as I darted towards the bus stop!!! We enjoyed our dressed crab for lunch back at the van. Had a long chat to our new neighbours who just happen to come from Dunstable, just down the road from MK!
Wednesday 9th October. This is the day the weather turns, apparently! It was a bit grey when we got up but it did clear up before we went out. We took the bus to Sheringham and the first stop was the steam railway just in time to see the midday train depart. There is something about a steam train that is majestic. Modern trains might be smart and fast but they are functional rather than being majestic. I wondered back to find Margaret who had been looking round the station shops. We headed off down through the main thoroughfare to find a coffee shop with WiFi. Julieís Coffee Shop we were reliably informed was the only coffee shop in Sheringham with WiFi. Out came our travelling companion, the iPad, and whilst my coffee got cold I attempted to use the internet! Itís not quite the same as sitting at home on your own computer. We had not gone far before I started to experience a cramp style pain in my left leg, no doubt caused by sitting crunched up in the coffee shop. I appreciate that long suffering readers have had to put up with me whinging on about my knee problems but this just added insult to injury!!! I hobbled down to the seafront where we found somewhere to fit but it did not help. It was now quite grey so we had a look round and made our way back to the bus stop. We got a bit worried when the bus seemed to go on a detour of Sheringham before eventually re-joining the main road and back to the campsite.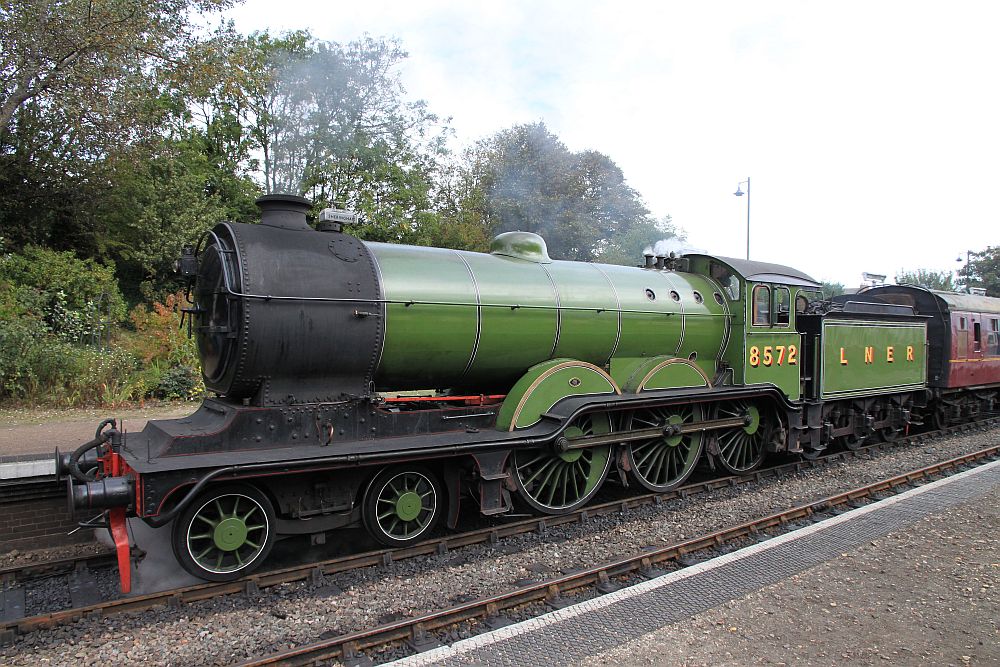 Before going back to the pitch we called into the restaurant to check out the menu and I happened to check my mobile phone on WiFi and low and behold it showed a good signal and a BT Openzone connection. A bit later I came back and switched on my netbook and low and behold there was the Caravan Club WiFi. This was clearly a closely guarded secret as no one on reception mentioned it was working in that area despite me asking the question! In the evening we decided to treat ourselves to a meal. In some ways itís surprising that they can keep the place going as there were only three couples actually having meals and another couple of couples having a drink. A bit surprising given that the campsite is pretty busy. The meal was OK but typical campsite fare although it was good to see that they set their prices for bottles of wine quite keenly. Unfortunately the weather forecast has proved pretty accurate with rain showers, heavy at times, and blustery conditions.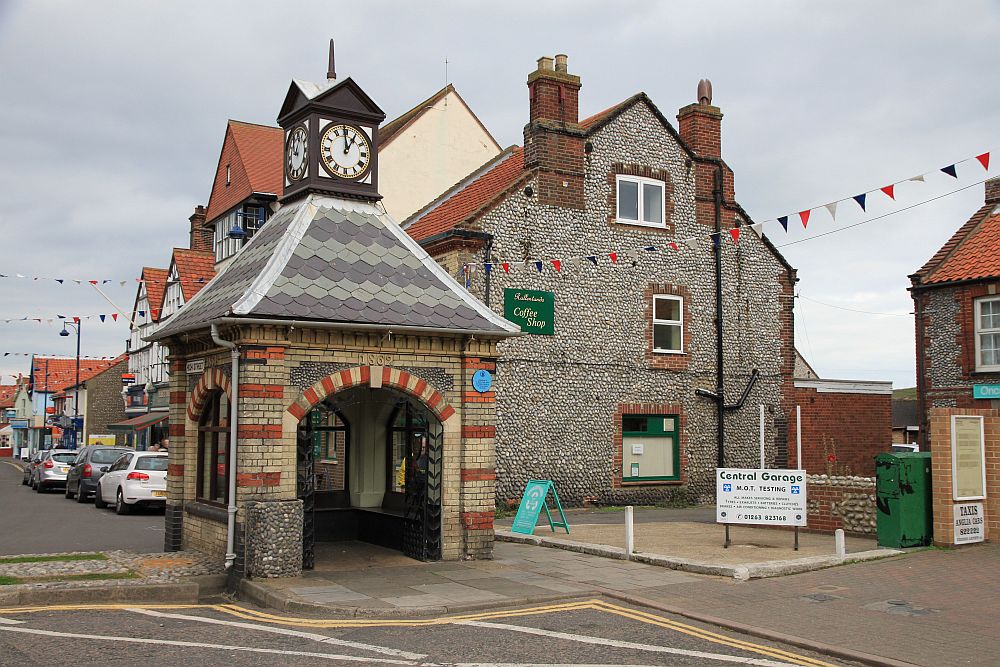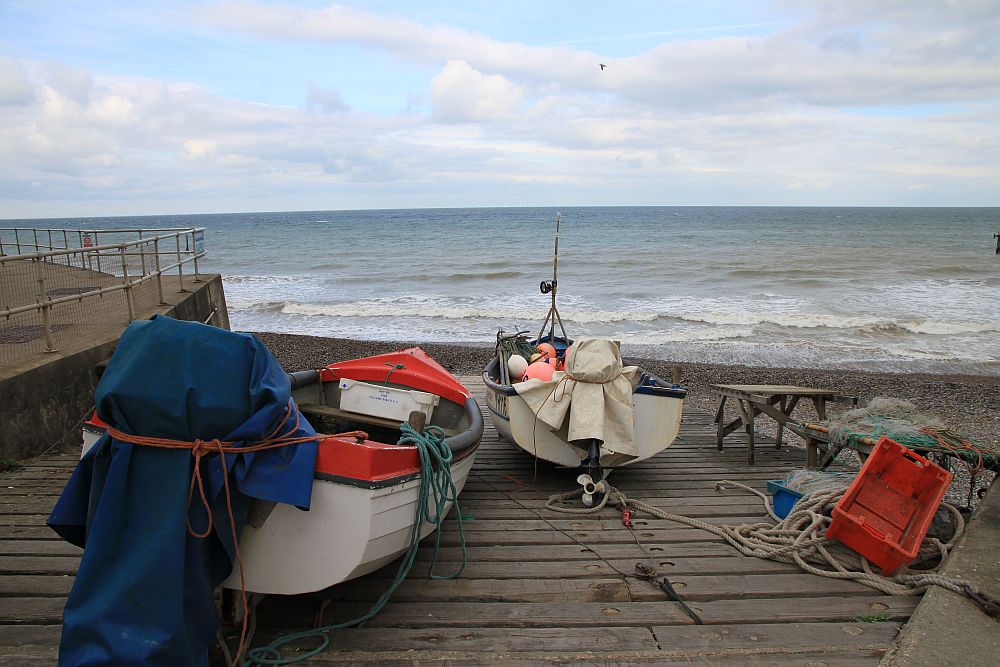 Thursday 10th October. Well, what a windy night!!! The motorhome was buffeted all night with intermittent heavy showers of rain. I was up several times during the night including at 5.00am when I took the waste bag to the rubbish point as it was banging on the end of the motorhome. At least that was all I had to worry about. The motorhome next to the rubbish point had a Fiamma Zip which ended up right across the roof of his motorhome. Speaking to him later he explained that he had to cut the canopy off to recover the supports which sounded a bit drastic. Given our experience in Germany a few years ago we are very cautious about leaving our Fiamma up overnight in anything other than a light breeze. I did not have the heart to tell him this as clearly it would not alter an already bad situation. We had a cup of tea thinking that it might get us off to sleep but it did not work! We knew the weather was going to continue at least until Friday so we decided that it would be better to go home a day earlier and forfeit one dayís site fees. Even our next door neighbour whose awning had stood up to the wind quite well was up in the middle of the night pegging down!
Decision made we headed home, this time via Norwich. Mind you we had only gone a short distance along the road to Cromer when we could see the waves crashing against the pier and the sea wall. I can't say the change of route was any better than the original one to the campsite as you have to thread your way through the outer urban roads of Norwich. In fact had it not been for the tractors on the way here I would say the way we came was better. We got home about 1.30pm, fortunately nothing in our way so we soon had the motorhome back into its parking place in the garden.
Cirencester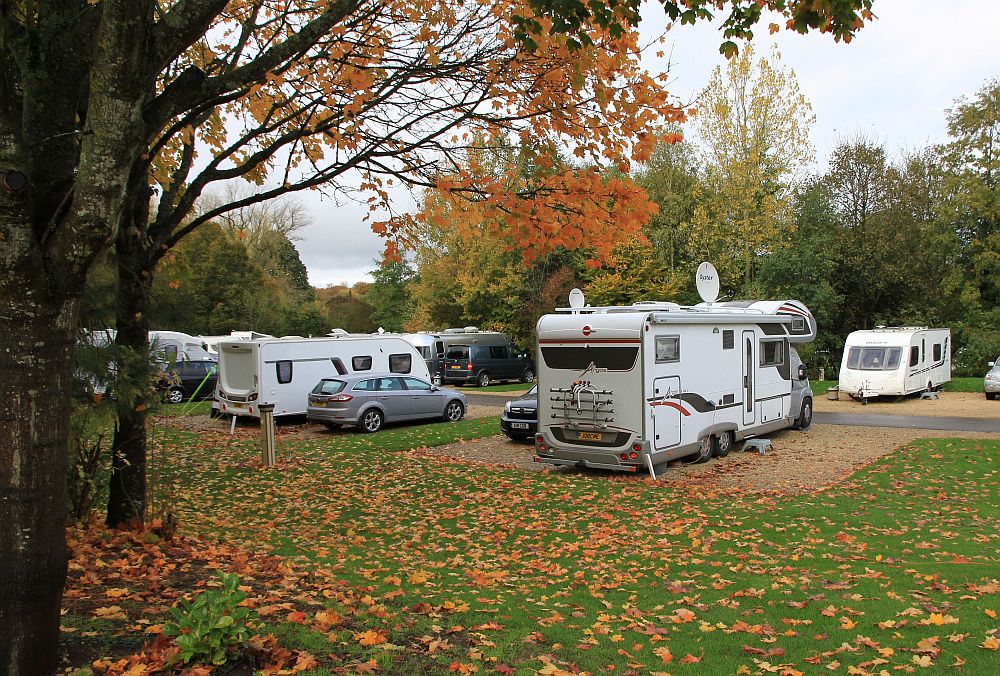 Friday 8th November. We were beginning to think that things were conspiring against us ever getting away in November as we are both between hospital appointments and we did not want to book to go away just in case we missed an appointment. Margaret suggested that we go away over a weekend which we have not really done since we retired and of course the Olympics last year! I was concerned that so late in the day we might not get a booking but there appeared to be plenty of space at Cirencester Park. When we set off from MK the weather was quite bright although far from warm. However it started to get worse as we went round Oxford and by the time we were on the A40 heading towards Witney it was raining very heavily which persisted for the rest of our journey and well into the afternoon. We found a hardstanding pitch which was reasonably level, set up the electrics and TV cable and went inside. So much quicker than with our caravan. We did have a short walk around the site when the rain eased and we even had some blue sky and a rainbow!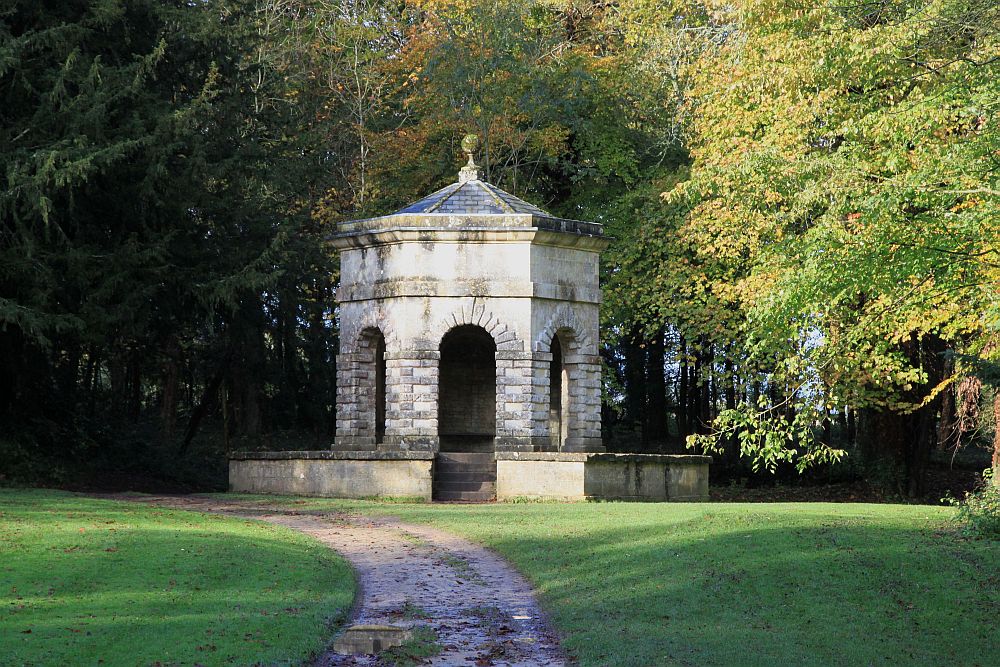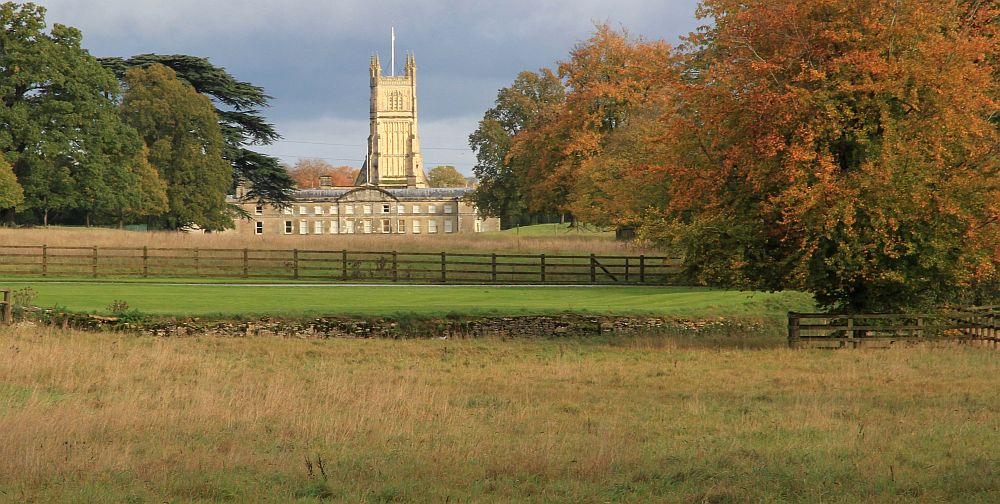 Saturday 9th November. After an initially clear and cold night the rain returned by the morning although not quite as heavy as the day before. Around midday it did ease and eventually stopped and the sun reluctantly showed itself. After lunch we thought we should show willing and go for a walk into Cirencester. There seems some confusion about whether you can access the town from the campsite via Cirencester Park. It seems you can now but at this time of year the route is very muddy and unless to have proper walking shoes its best to go via the road which runs alongside the bypass which takes you into the town via the Leisure Centre and Waitrose. None of the information I have just given was known by us so we set off on the Park Route. On previous visits we have gone down past the cricket green and access the park there. However this time the gates were locked. We tried this route because we knew it was via a road with a good surface. The route that reception had told us to take was across a muddy field. We ended up going around the back of the tennis courts, over a very slippery style and through a gate and into the Park. We vowed not to return that way!!! The Park is lovely and worth a visit. The sun was low in the sky but was reflecting off the stone of the buildings and highlighting the golden leaves that were still on the trees.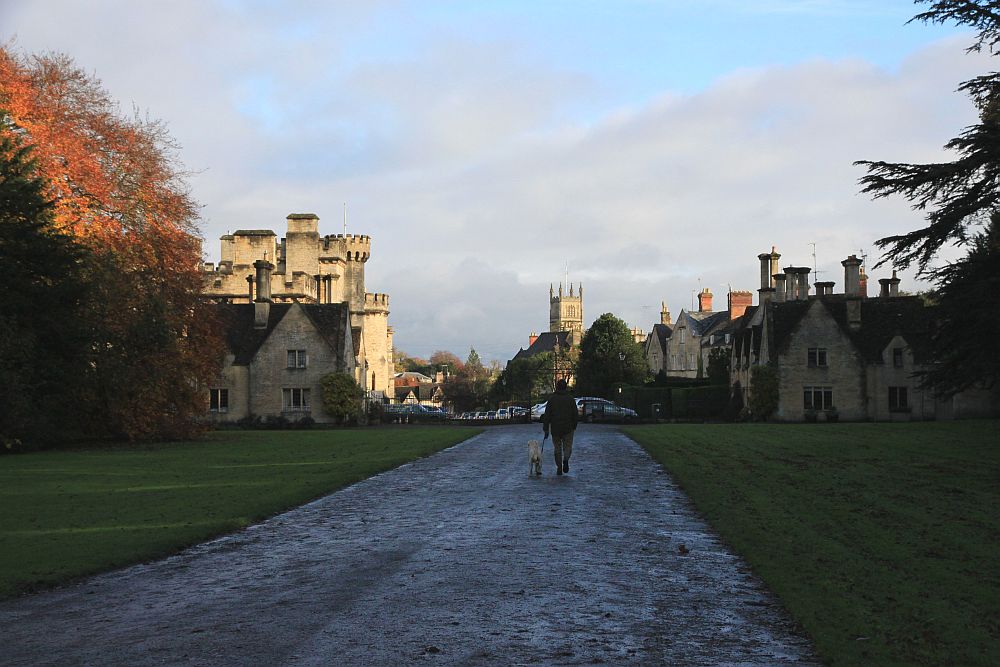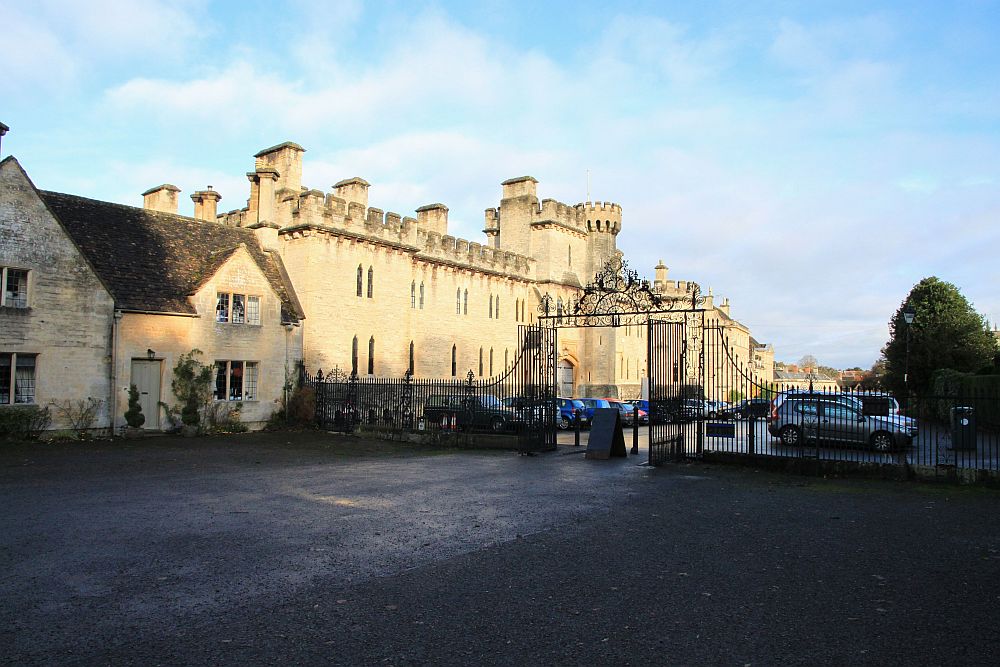 We were not altogether sure how to get back to the campsite if we did not return the way we came. I had a rough ideal but asked a couple of residents for confirmation directions. I knew if we found Waitrose we would be going in the right direction. We found a road that runs adjacent to the main road and this took us in the direction of the campsite which we eventually found. The campsite itself is surprising full, although they only use the hardstanding pitches at this time of year. Although itís a very nice campsite and handy for Cirencester it does perhaps need some upgrades. Unless you want to walk miles around the site roads to a service point you have to cross some very muddy areas of grass. The obvious answer is to have some gravel paths to the service points. Maybe I should write.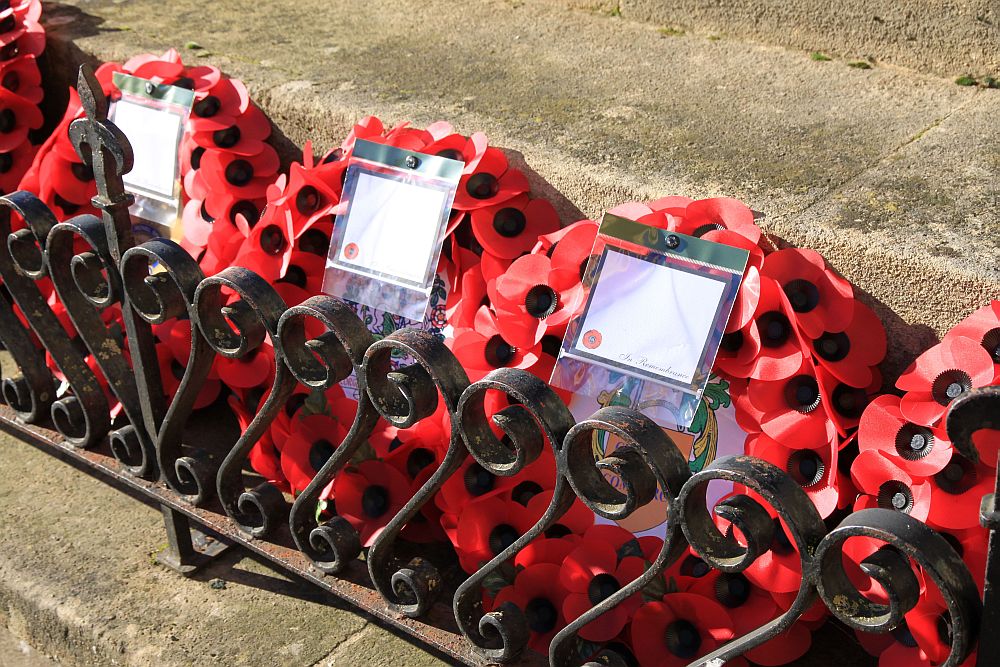 Sunday 10th November. We woke to clear blue skies. Obviously this meant cold temperatures but I donít think it was cold enough for frost although had I been up hours before it could have been a different story! We walked back into Cirencester in the morning. It was quite warm in the sun but move out of it and it was cold. The town was quite busy, I am sure in part due to it being Remembrance Sunday. We, of course, arrived too late but the war memorial in front of the Church many wreaths had been laid. It is quite a substantial church and we got talking to one of the guides who gave as an insight into its history. We mentioned that we came from MK and it happened that he had been involved in the Open University, not only as a student but later as a lecturer. Cirencester has a pretty good range of shops, some of which are quite up market which is nice to see. Interesting that many felt it not profitable to open on a Sunday.
Sunny winter days can be a challenge for the photographer as the sun casts long shadows and what looks like a well lit scene can turn out to be difficult to get the photograph you want, without spending hours adjusting it after the event. The strength of the sun can also mislead you into thinking that it is brighter than it actually is so shutter speed or aperture need to be sacrificed. One way round this is to increase the ISO (like film speed ASA in film cameras) to allow you to use a smaller aperture and higher shutter speed. Take it too far and it starts to give a more grainy appearance to the picture which will be compromised. Most digital cameras allow you the opportunity to adjust the ISO setting although for most circumstances leaving it in the auto position is fine.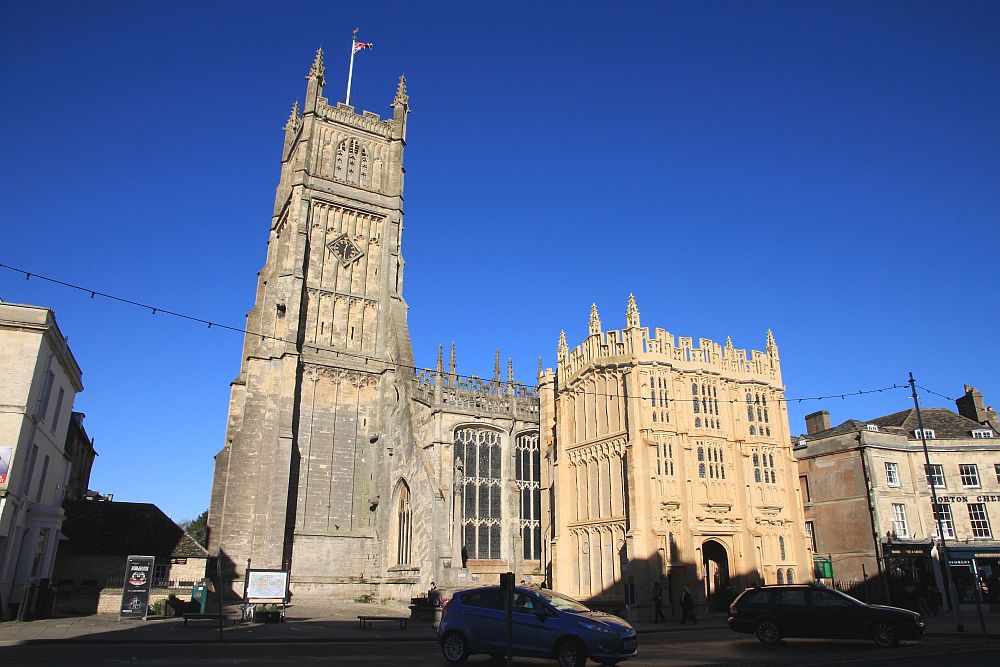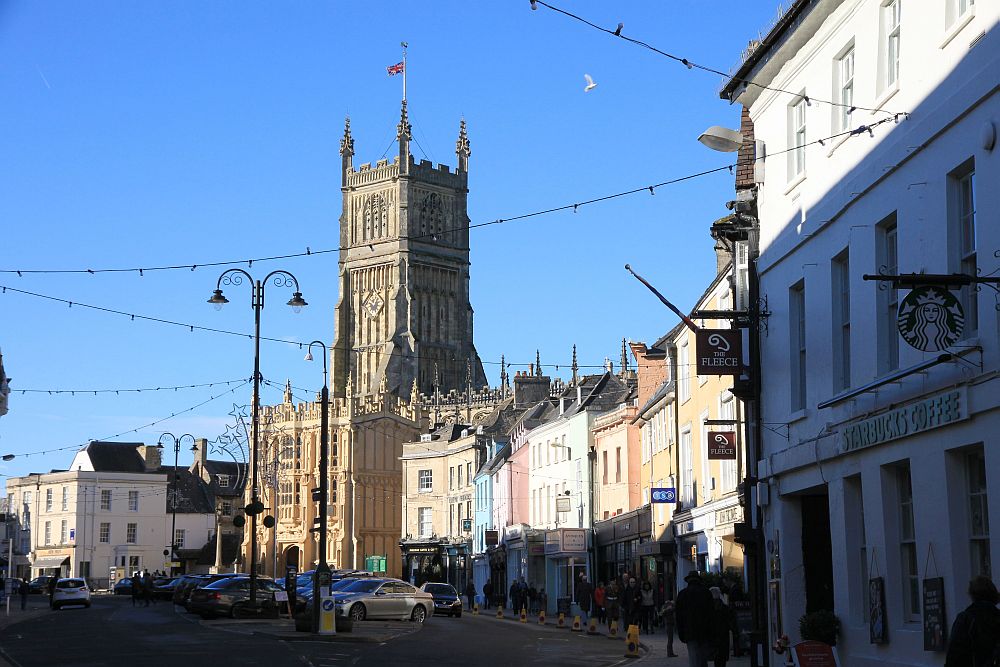 On the way back to the campsite we called into Waitrose for a sandwich and a coffee. Unfortunately their coffee machines were out of action and the youngsters manning the coffee shop were working in top gear to keep customers happy. As a result of the machine being out of order the coffee was free!
Monday 11th November. A pretty lazy day. The weather has been dull and damp all day, although warmer than the last couple of days. We did manage a couple of walks around the campsite. I suppose itís one of the penalties of not having a car in that on a dull wet day you canít nip of to the local garden centre for the pensioner special!!!

Tuesday 12th November. It dawned a lovely day, typical as we were due to leave the campsite and make our way home. Whilst Cirencester Park is a lovely campsite there are elements of the ergonomics of the layout, as I mentioned earlier, that are not very customer friendly. Examples of this is the chemical toilet emptying arrangements on site. In quite a large area there are only two places despite there being two other service points. This might not have been too bad had there been all weather walkways between the pitches and the emptying points, so unless you wanted to walk the long way round using the site road you have to cross very muddy conditions across the grass. It may seem like a small point but a little more thought would have made the experience a lot better. As winter approaches at increasing pace we wanted to make sure we emptied as much water out of the system as possible so we used the motorhome service point which does seem to take an age. When all this was complete we set off for home. Fortunately the journey was fine and the weather stayed nice and not too bad a temperature. Using our sat nav when we get to Bicester it wants to take us onto the M40 for one junction and then the A43 before turning off to Finmere so we thought we would give it a try. There is no doubt it is a better route although it is a couple of miles longer but we might use it again. Although we are not planning to be away in the next month we topped up with diesel en route as someone on one of the forums suggested that a full tank prevents the build up of condensation in the fuel tank over the winter months.
Chatsworth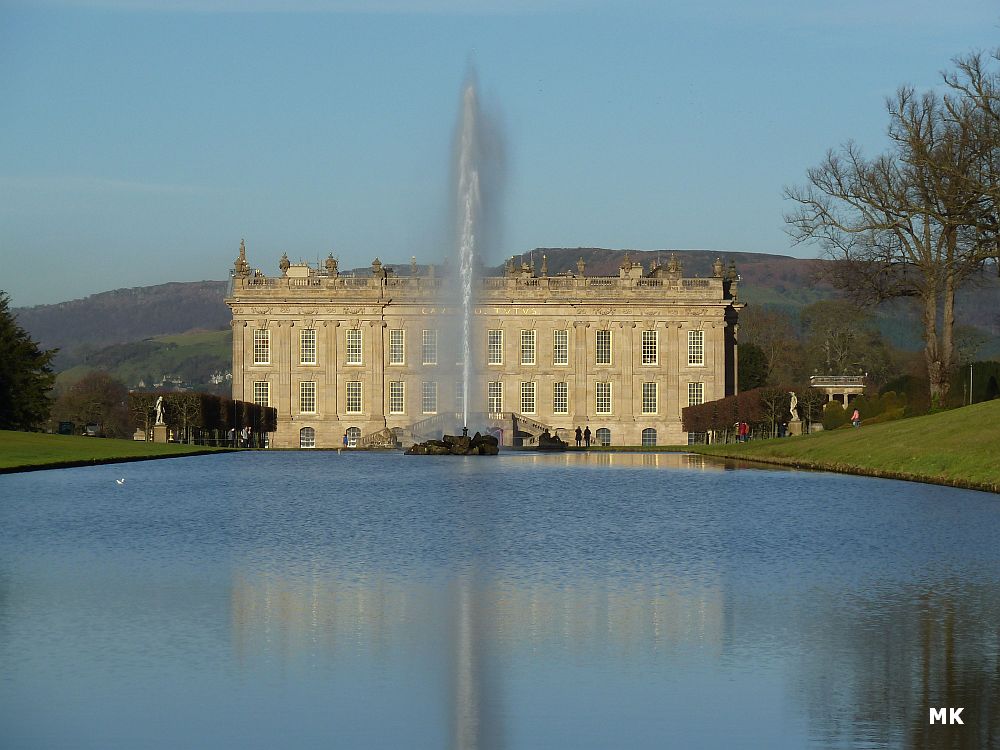 Monday 16th December. In a way I am surprised we actually got to Chatsworth Caravan Club site as this is the third date, having amended the booking twice for various reasons. We had to make sure we did not leave home too soon as we could not arrive at the site until 1.00pm. The journey up the M1 seemed like the normal slog with traffic busy at times, we did see a few other outfits on the road, both caravans and motorhomes.
From the main road in Baslow to the site reception is quite a distance and the narrowness of the road explains the 1.00pm rule. There are passing places every so often but long outfits could have problems passing each other. We arrived at the entrance where I was concerned about the bridge into the campsite as I feared we might ground on the slight hump be we seemed OK. We were met by the warden, not because this was part of a new meet and greet procedure by the Caravan Club but because he was organising the new arrivals, due to the limited space. We had a pleasant chat before we could move forward to the front of the queue and it was only then that we were allowed to book in. I suppose this is very sensible as there is nothing worse having booked in and being trapped behind someone still booking in! We toured the site looking for a pitch eventually finding one at the far end of the site, not far from the gate into the Estate. There was a surprising amount of wildlife on the site including quite a few rather plump, oven ready, looking pheasants!!!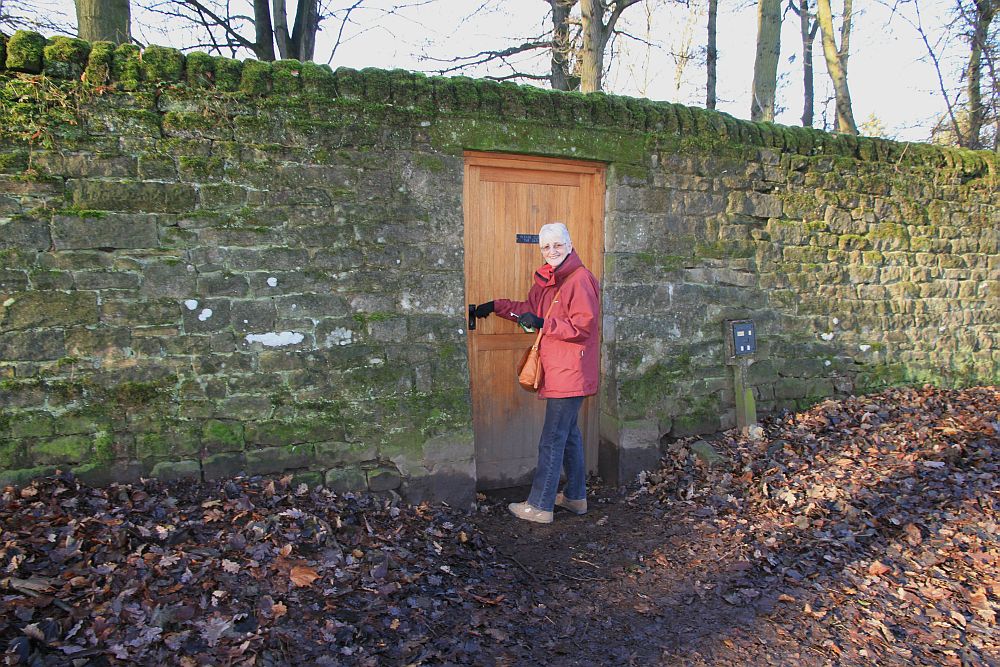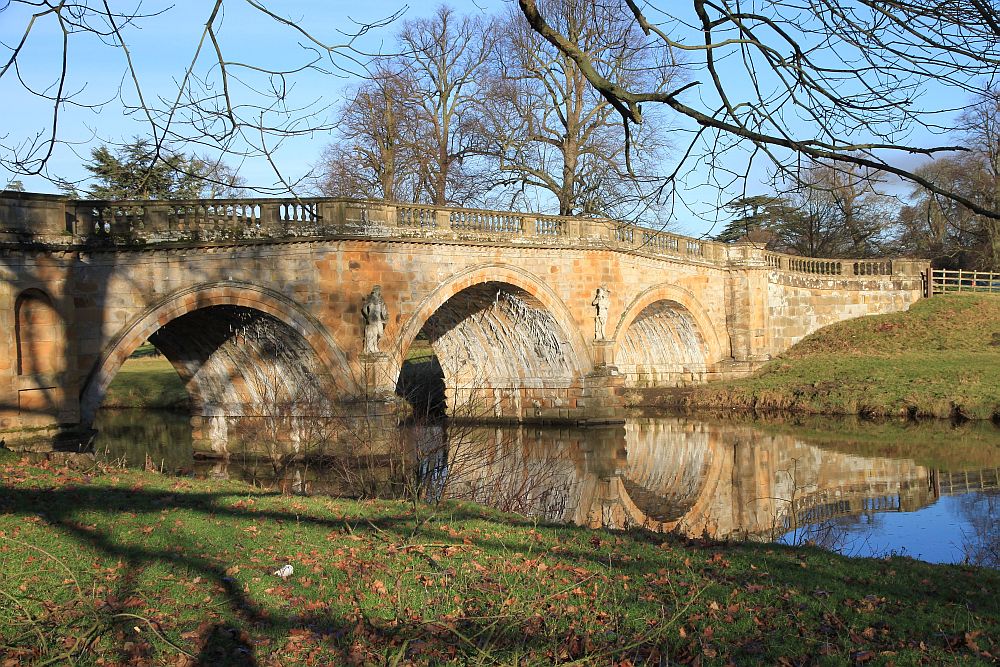 Tuesday 17th December. Temperatures fell quite sharply overnight but it did mean we awoke to a lovely sunny day, albeit quite cold. We were off to Chatsworth House today. Here at the CC site you get a key that gives you access to the Chatsworth Estate. It always feels special going through that gate. As we walked towards the House the sun was surprisingly warm on our faces. I walked up to the bridge to take some photographs. It was a shame that the House had some scaffolding around one corner. I caught Margaret up and we went to pay for our tickets. Showing our CC membership card gave us both a £5 discount of the entrance fee which was very welcome. The theme of the House decorations this year is the Lion, the Witch and the Wardrobe from the CS Lewis stories for children. It looked and felt well done as probably anything with that background would be. It seems amazing that the Duke and Duchess would open their house to children in such an open way, so well done them. After we had been round the house we stopped for a coffee and mince pie before setting off to walk around the gardens. The rear of the house is south facing so has the sun virtually all day. The famous fountain was working. On our way back we stopped to have a look at the Cascade. I was horrified to see very small children standing right on the edge having their photos taken! Once out of the garden we made our way up to the old stable block which has been tastefully converted into a retail and eating centre. We returned to the campsite along the higher road as it was less muddy.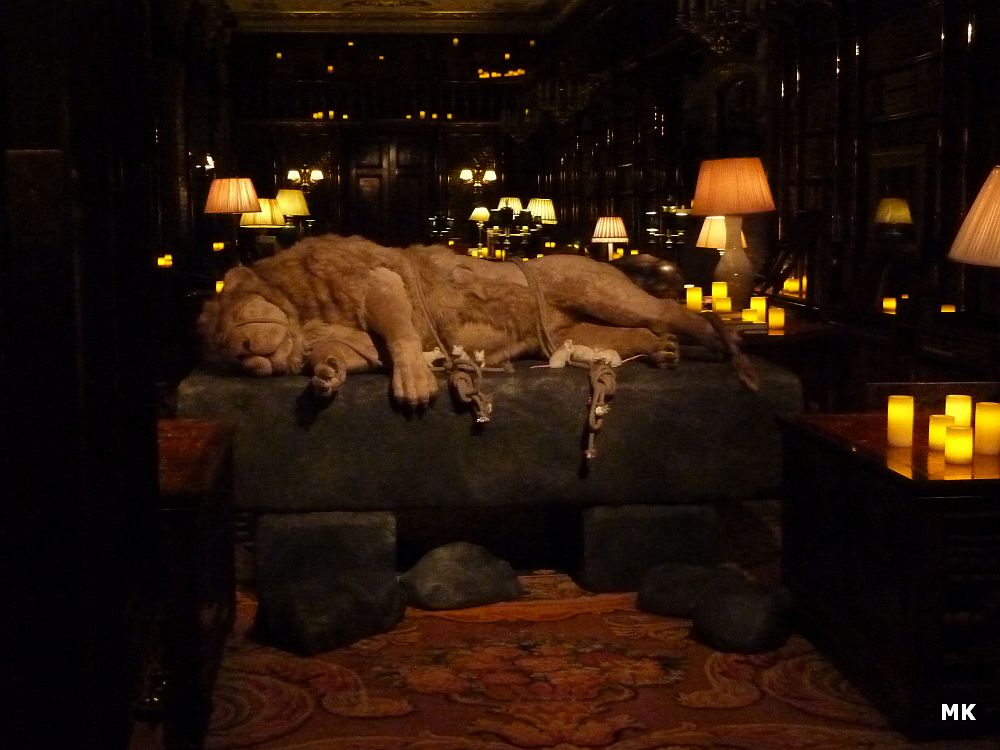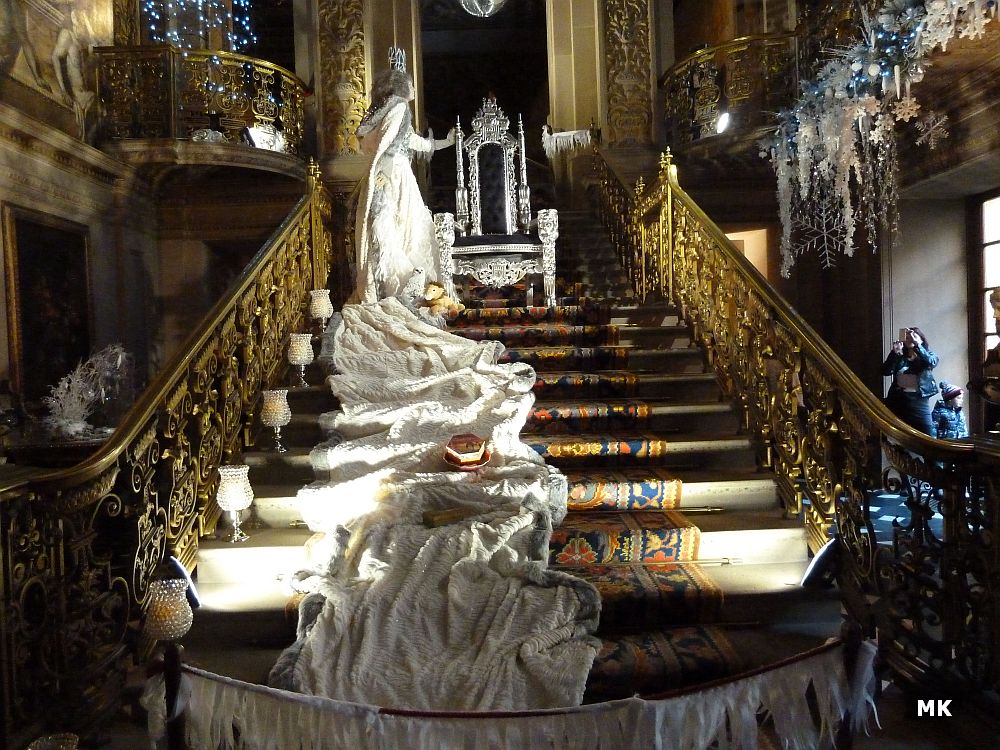 Wednesday 18th December. As a complete contrast to yesterday it dawned dull today and we are threatened with rain and high winds, according to the weather forecast. It did start to rain a bit half-heartedly mid-morning which delayed our planned walk so we had a coffee instead. The rain did stop so we walked into Baslow through the Estate. When we got to the village there was a group of three youngsters looking for Chatsworth House, I think two of them were from Japan. The young girl had shoes on which looked like some sheepskin slippers I used to have, but hardly suitable for some of the footpaths to Chatsworth! I gave them some instructions but as we were walking along the road to the entrance to the Caravan Club site we noticed they seem to have doubled back on themselves. I think they had got to the Kissing Gate and not realised how it worked!! I assume they eventually got to Chatsworth House! We made our way back to the campsite along the approach road. Fortunately my knee has not been too bad over the last couple of days considering the amount of walking we had done. Anyway, see the consultant at the end of December for, hopefully, a more permanent solution!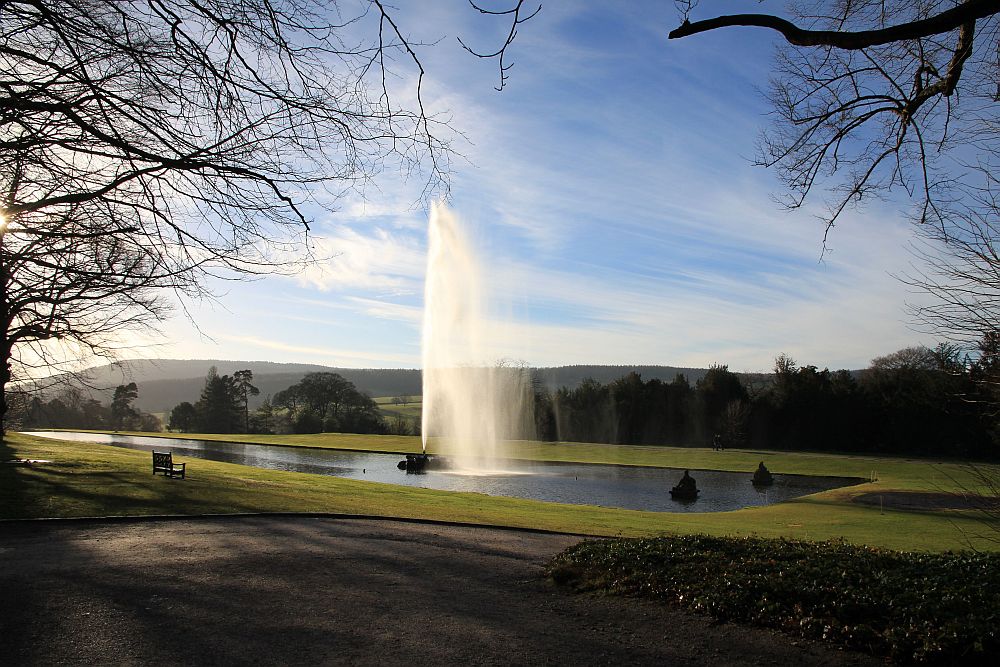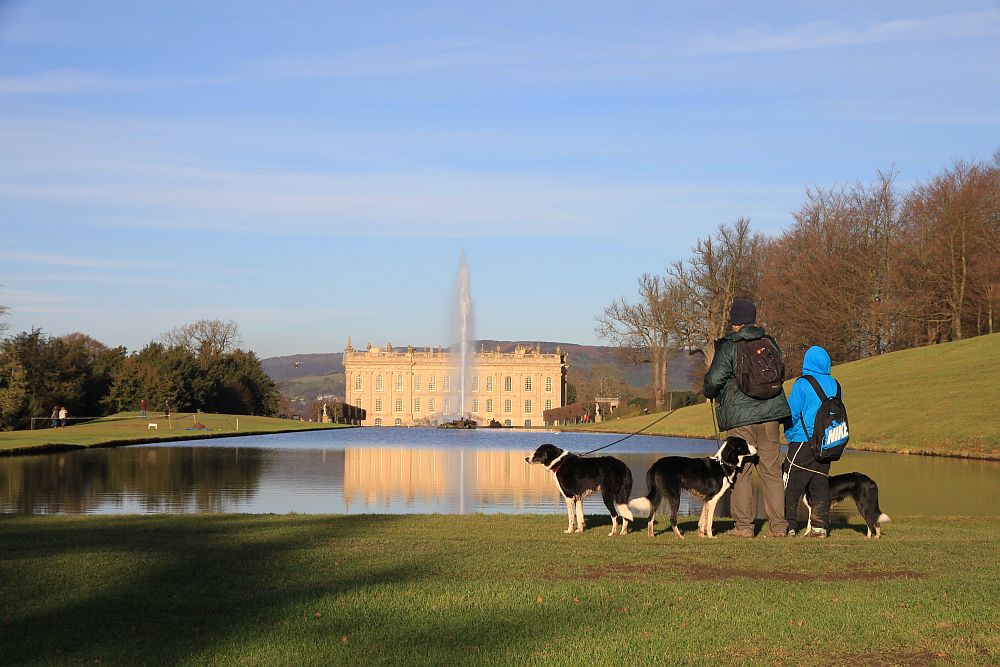 Thursday 19th December. A slightly shorter stay, only three days so time to go home no doubt to finish off all the arrangements for Christmas, perhaps we should have stayed!!! Unlike the previous day we woke to a lovely sunny but cold day. It did not take long to pack up and empty the waste water tank before setting off. Chesterfield was a bit of a pain to get through, no doubt not helped by Christmas shoppers. Once on the M1 progress was quick despite the heavy traffic in places. Perhaps I am wrong to say so but I can't understand people driving cars at such a speed that lorries are forced to overtake them which in turn causes traffic to build up. If people want to drive at such a leisurely speed perhaps they should not use the motorway as clearly they are not comfortable doing so!
We wanted to fill up with fuel, so rather than carry on to junction 14 and drive past where we live we decided to exit at junction 15 and come into MK that way. We tend to go to the Tesco fuel station in Wolverton because we know that we have room there to get in and out. Once back home I set about washing all the grime off the van before putting it back into the garden. I very much doubt we will be away in the van in the immediate future. However depending on the weather we may think about early next year.
Our first year in the motorhome has been a pretty steep learning curve although we have few regrets having changed from a caravan earlier in the year. Chatsworth is an ideal site to visit in a motorhome because we don't need to leave the campsite. Although it makes my shoulders ache I prefer driving the motorhome compared to towing. There are so many less checks to make which you can get a bit paranoid about.
Here's to 2014 and we hope all readers have a lovely Christmas and Happy New Year.