Travels in the UK 2015
West Runton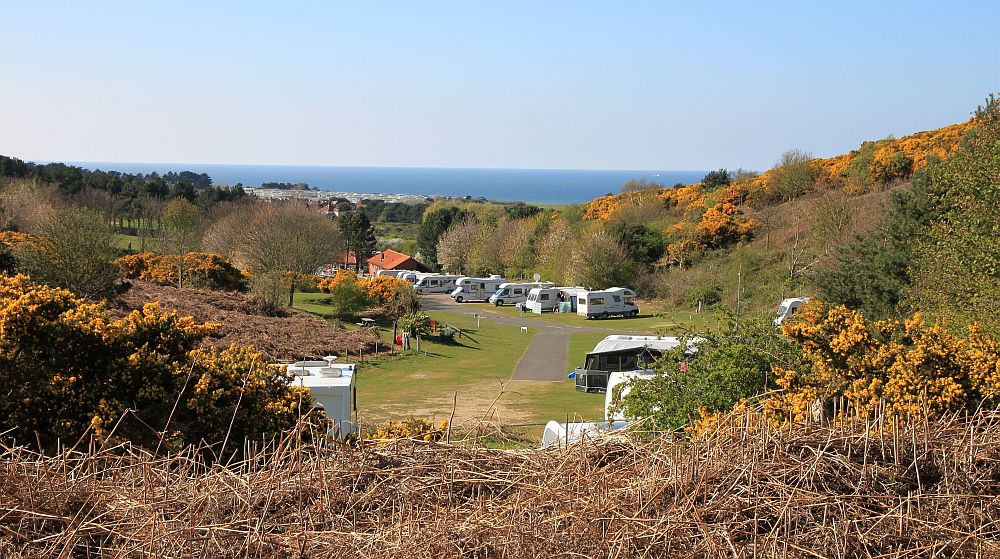 Thursday 23rd April. It's almost five months to the day that we last stayed in the motorhome. Margaret was told last November that she needed a heart bypass operation which was done in early January this year. She has now been discharged from the hospital and going away again in the van is another stage in her rehabilitation. We may have got away a little earlier had there not been so many medical appointments.
It was a bit grey when we woke up but the day gradually brightened as we were getting ready to leave. First stop was Tesco at Kingston to top up with fuel, another task that had not been done for five months! There are a lot of road works on the A509 to junction 13 of the M1 although this time it did not cause any delay. We had a good run across country although naturally once you come off the A14/A11 you are onto country roads which are always so much slower. I find it funny that a main A road can one minute be well-engineered then suddenly become no better than a country lane! There is still a lot of work to do in bringing our road network up to a decent standard, especially in the more remote areas of the country. No doubt when some of you read this the 2015 General Election will be long over, some may say thank goodness!!! One thing you notice, driving across a rural landscape are the big field side banners for various political parties, something not as obvious in towns. Interesting that only the UKIP ones had been defaced!
Having missed a couple of turnings to the campsite which did not look that good we continued to Cromer and came back along the coast road to West Runton. Incleboro Fields is not far off the main road and by the time we arrived the sun was quite hot. We signed in and paid and set off to find a pitch. Most of them are not level so we decided on one near to a service point and despite blocks we are still not completely level but decided that it will do.
Later we walked round the site which provided us both with some rehab!!! It's about three quarters of a mile all the way round the site. I am not sure which surrounds which but the campsite and the local golf course are juxtapositioned. We noticed from our last visit, which was some years ago, that strategic netting has been erected in places no doubt to protect against high velocity golf balls damaging people and property!!!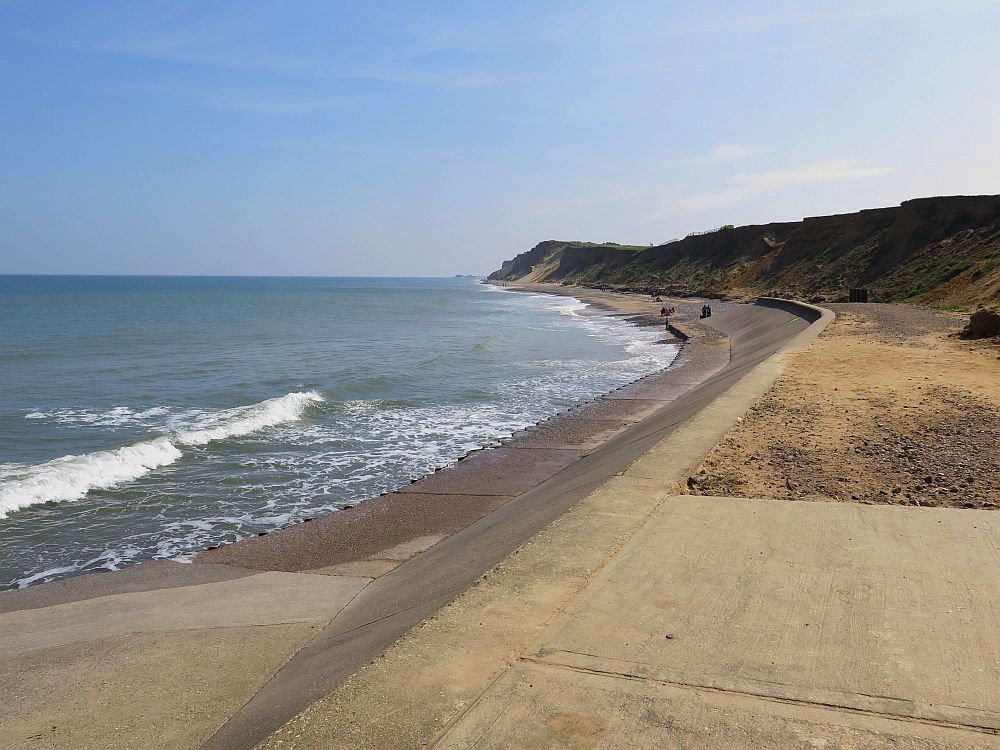 Friday 24th April. It dawned a beautiful day. Chilly at first but the temperature rising to around the low twenties C. It was warm enough for us to reconsider what to wear as we were heading for the beach. What is noticeable is the perfusion of striking yellow Gorse bushes around the site and en route to the sea. On our way into West Runton we stopped at a railway holt to check the times of trains. This railway is called the Bittern Line after the bird famous for its booming call. Continuing on there is a small parade of shops on the main road including a small supermarket, a café and a caravan accessory shop which no doubt gets a lot of business from the campsites in this part of the world. Opposite the shops is the aptly named water lane which eventually brings you to the beach. On the corner is the Village Inn which has a large beer garden but from casual observance that seems to be all to recommend it? A little further on is a restaurant offering what looks like a very nice menu but prices would fall into special occasion category for most. Eventually we got to the sea where there is parking at a cost, a small café and toilets. The tide was right up to the sea wall so difficult to judge whether there was a sandy beach. From the campsite it's around a mile to walk. On the way back we stopped at the café for a coffee before buying something in the camping shop and making our way back to the van. It was still quite warm, certainly enough to sit out and enjoy a cool beer. Hardly Mediterranean temperatures but it doesn't stop a lot of blokes stripping off to the waist!!!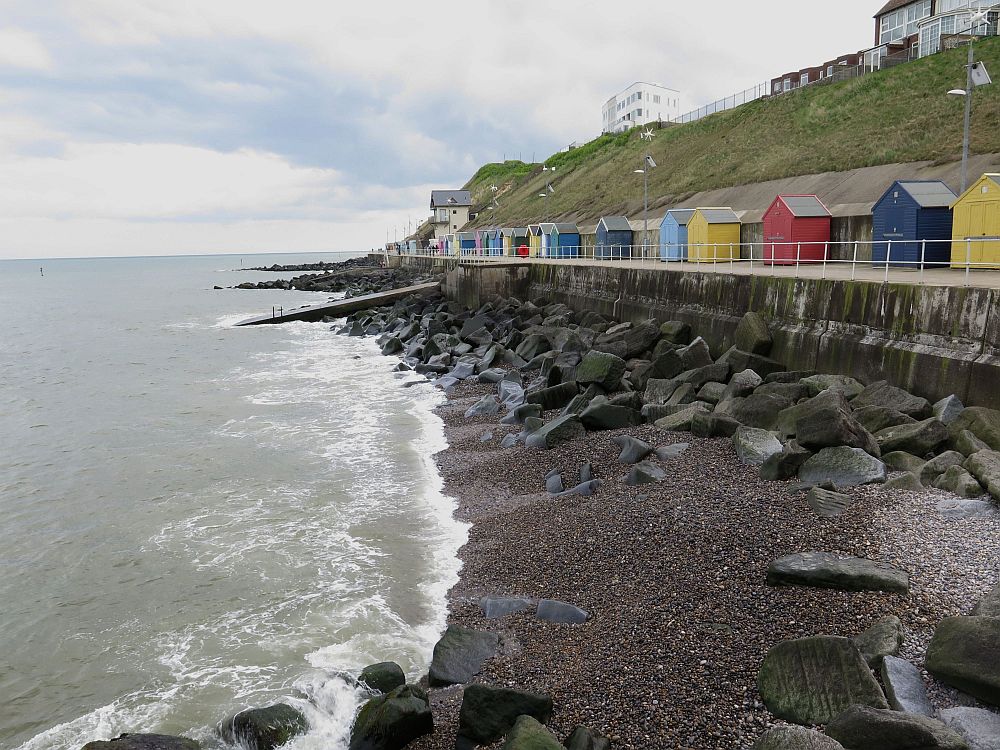 Saturday 25th April. We couldn't quite make up our minds what to do today. The weather forecast suggested rain at some point although they seemed a bit uncertain when it would arrive. The day did start quite sunny. We did think about taking the train to Norwich but given that we had done more in the last two days than we had for a long time we decided to stay local. We caught the bus to Sheringham. Unlike a lot of French markets this one was still going after midday!!! I did find a long bungee cord to use on the door of the motorhome. I thought £2 was fair value. I should perhaps explain that the door of the motorhome does not go back flat against the side of the van and has no retaining clip so when it's windy it can suddenly bang closed. The cord will prevent that happening, hopefully!!! The town centre was quite busy and towards the sea front there were lots of people enjoying fish and chips on the hoof. Before making our way back we stopped for a coffee. The plan was to try and use the train from Sheringham back to West Runton although we thought we may miss it. However when we arrived at the station the train was waiting. We thought the fare of £2.40 each for a five minute journey was a bit steep especially as we could have used the bus for free!!!
Ludham Bridge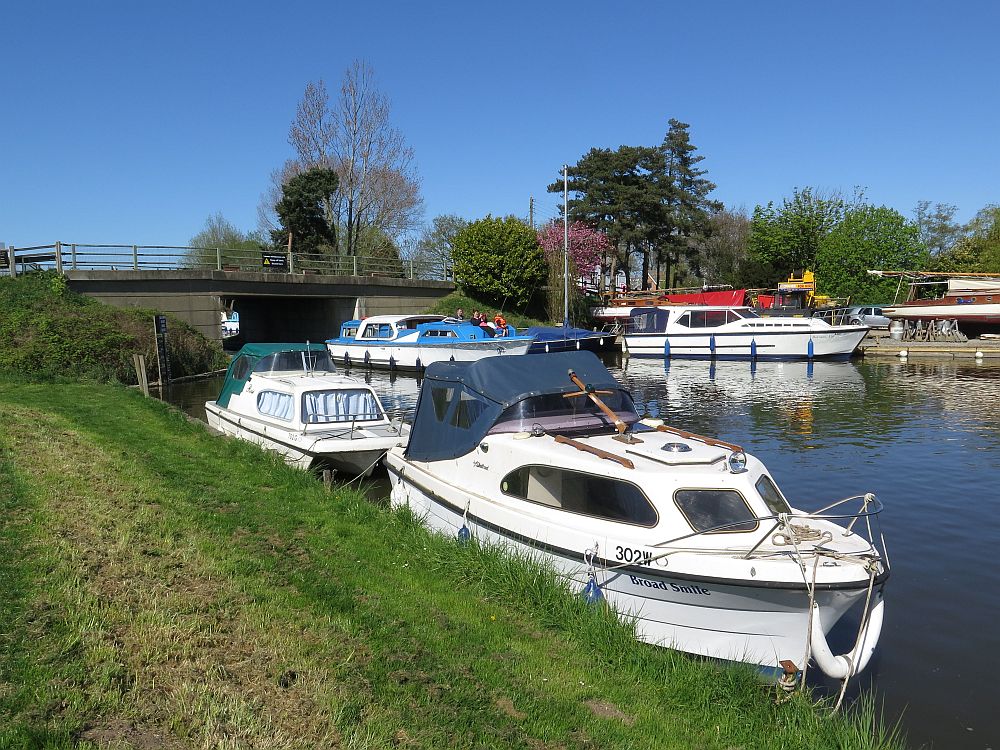 Sunday 26th April. We had some rain overnight but it was quite bright when we got up. There was no rush this morning as we were going to undertake one of the shortest journeys between sites that we had ever planned. It turned out only to be 27 miles. We did stop en route at Waitrose in North Walsham but I was not brave enough to try and get the motorhome in the car park which was very busy. Fortunately there was a convenient lay-by just across the road so I nipped in to buy the bits we needed. The one time we have been abroad with the motorhome we found it relatively easy to pull into supermarkets although France is better than Germany.
We got to the Norfolk Broads Caravan Club site just after 12.30pm and got a cheery welcome from the warden. Broadlands, as a site, is a bit featureless with just rows of pitches but none the less popular. No doubt because of its location close to all the Broads have to offer. The site is within a very short walk of Ludham Bridge on the River Ant. After we settled in we had a wander down to the Bridge to have a look round. There was a bit of river traffic but not much, there were also plenty of moorings for holiday craft. Before going back to the site we walked the other way to have a look at the Dog Inn to check it out as a place to have a meal. I can't say I was impressed, the place was empty which indicates to me that it can't be that popular. Back home in MK we have so much choice and at the same time of day on a Sunday everywhere would be crowded with families eating out and probably better value!!!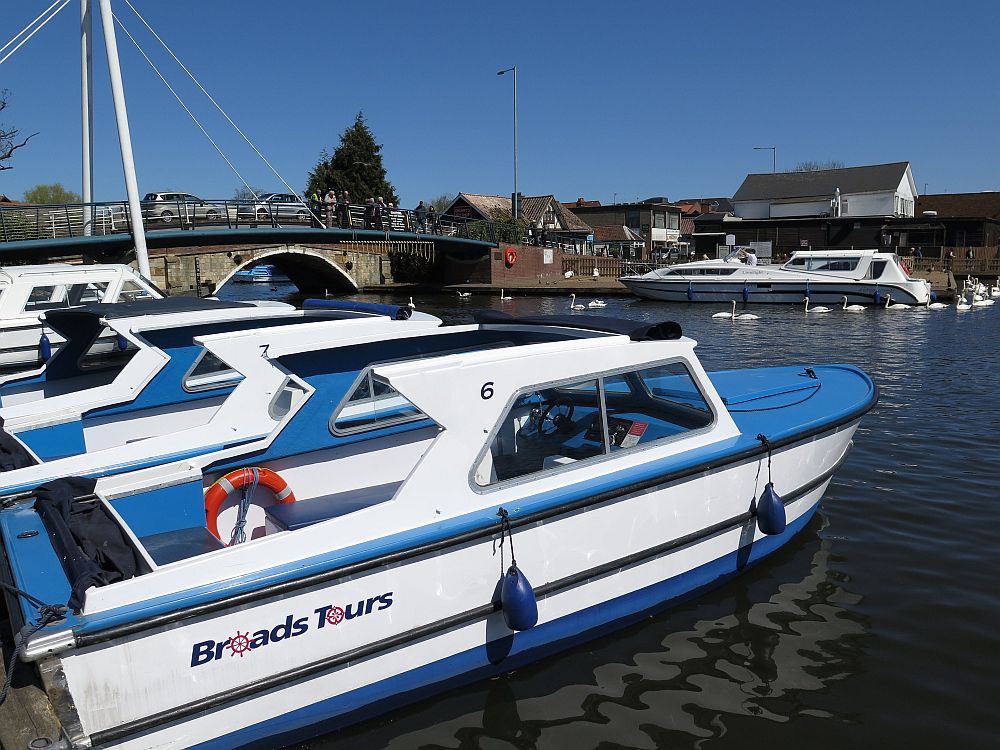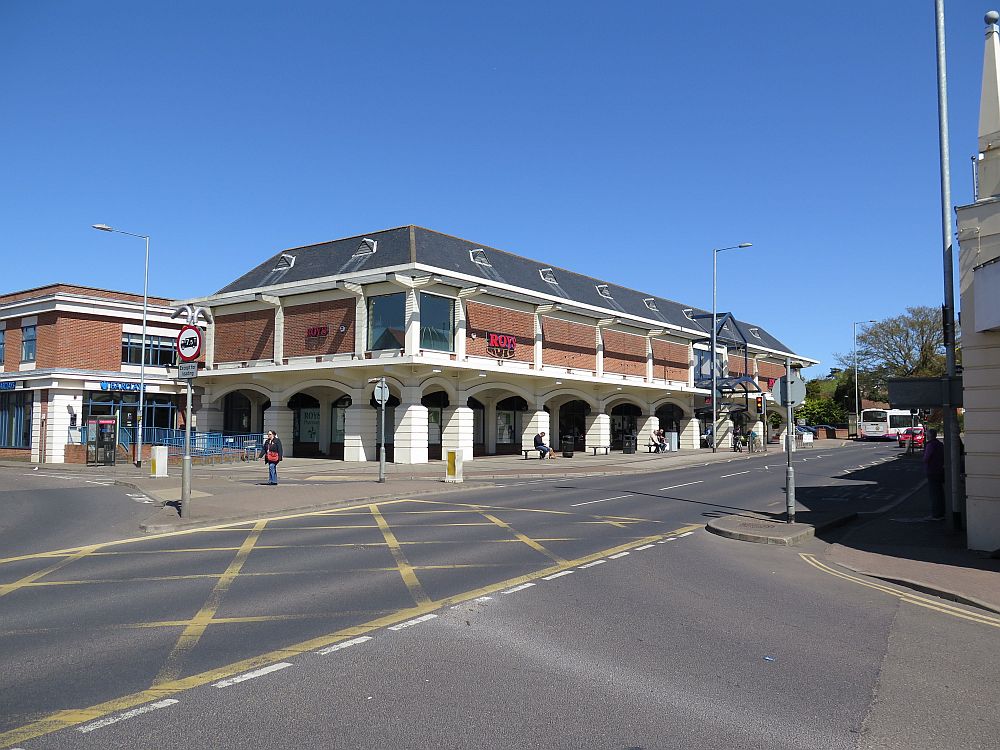 Monday 27th April. It's been a really beautiful sunny day today although the temperature has been kept down because of a chilly wind. We took the bus into Wroxham today. For those unfamiliar with Wroxham it is perhaps best known as one of the main centres for Broads boating holidays, along with Horning, Potter Heigham and Stalham. It was something of a nostalgic trip for me as my first independent holiday was on the Norfolk Broads and Wroxham one of the stopping off points. Somethings have changed but others have not. One of the largest boatyards by Wroxham Bridge has given way to residential development, although the boatyards still exist further back. Other places seem to be no different to what they were fifty years ago. One constant is Roys of Wroxham which claims to be the largest village store in the world!!! It dominates the Carfax in the centre of Wroxham. OK most of the buildings have been rebuilt but the essence has been maintained. We wandered along the river bank and then to the bridge, Some of the hire boats are so large now that they require a pilot to take them through, a task in the past reserved for Potter Heigham Bridge which is much lower. In the back roads behind the shops we found familiar names like Brink Craft and George Smith who have hired out boats for generations. Over the bridge we found a nice riverside coffee shop where we could enjoy the river whilst supping our coffee. Back to Roys for a few purchases before our return bus trip. A lady who had got on the bus with us earlier was on the same return bus she smiled as she sat down a sort of confirmation that we were fellow travellers.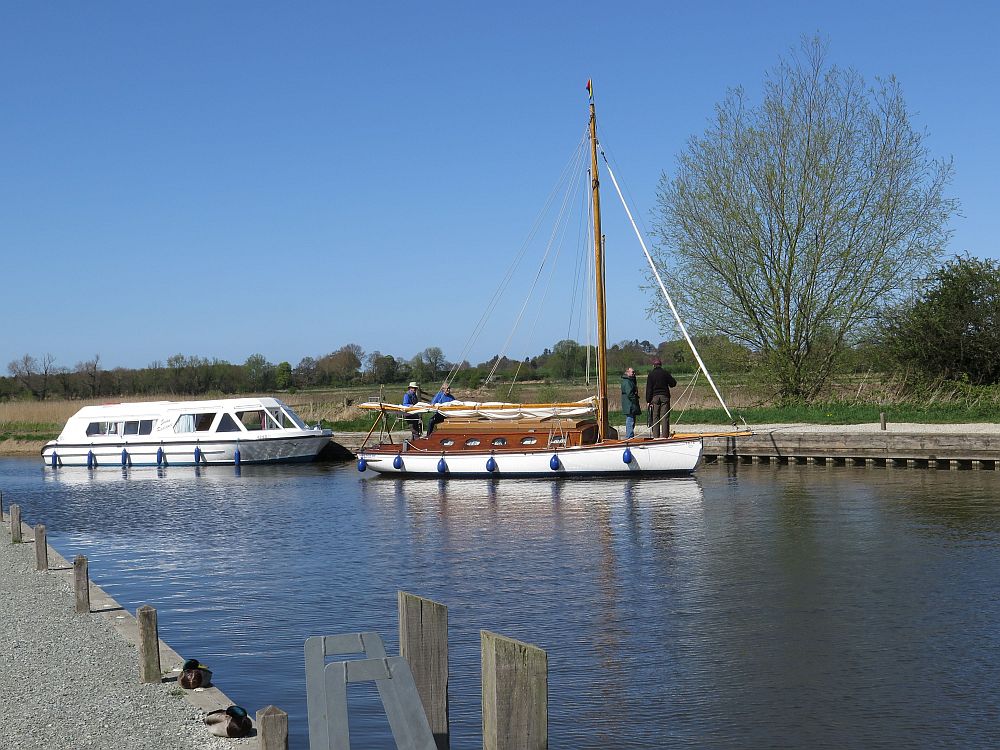 Later, as Margaret rested, I walked down to Ludham Bridge to take some photographs. I could see a white sail upstream approaching the direction of the bridge. This scene would have been much more common fifty years ago. The uninitiated might be thinking that a sailing boat with a tall mast and a road bridge don't make happy bedfellows and they would be right. However Broads sailing cruisers are cleverly designed to allow the mast to be lowered onto the roof of the craft to allow passage through the bridge. In days gone by many did not have engines, rarer these days, and the crew had to quant along the river using a long pole rather like punting.
Back at the campsite I was taking some rubbish to the bin where the warden had been busy putting up signs on where to put the various types of rubbish. A fellow camper arrived and I said that we have no excuse now. A short discussion on recycling followed. He then asked me if I was David Klyne, I couldn't deny the fact. As it turned out he was an avid reader of my various blogs. A long discussion followed on various parts of Europe. He and his wife had recently retired and were looking forward to more trips abroad of all varieties. What else is retirement for!!!
Tuesday 28th April. There was some rain overnight but it was bright and sunny when we eventually got up. We decided to have a lazy day today as I think we have both found the concentrated activity of the last few days a bit exhausting!!!
Thetford Forest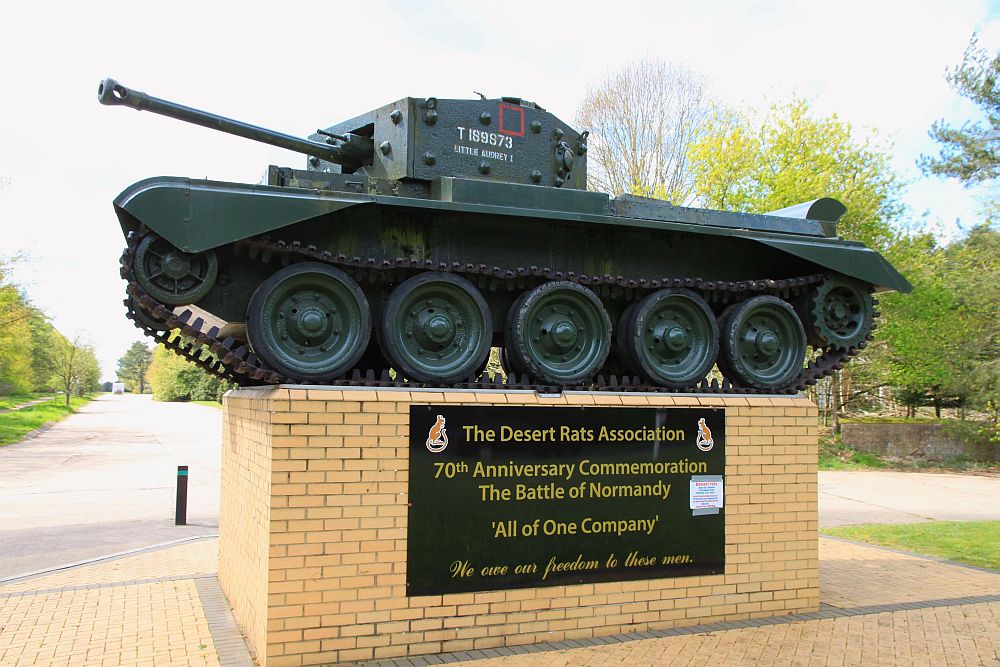 Wednesday 29th April. Today we moved on to our final stop of this trip, Thetford Forest CC site. It's been a funny day weather wise. Fairly grey as we set off and heavy rain for a lot of the journey but brighter after we got to the site. As we are in the middle of a General Election campaign I think my vote would go to any government that promised to improve country roads in Norfolk!!! It is amazing how poor some of our roads are. Our journey took us right across Norfolk, round the south of Norwich, past Dereham and then south from Swaffham. This site appears to be in the middle of nowhere so unless you have a car or are willing to go off site in your motorhome you are left with walking from the site. There is a small village about two miles away. It is a no facility site but the bonus of that is that it cost us less than £11 a night. When we walked round the site we caught sight of two small deer near the storage facility.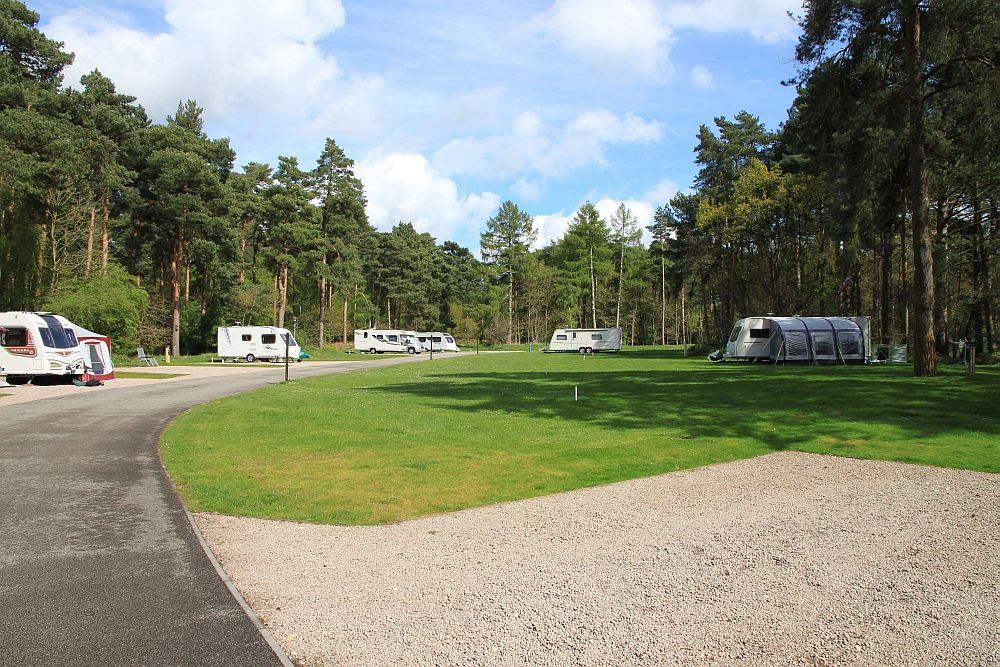 On the main road at the entrance of the site is a memorial to the Desert Rats or more correctly the 7th Armoured Brigade which fought with distinction in North Africa and later in the European theatre. It is quite an impressive memorial with a Cromwell Tank sitting on a plinth. What is less impressive is that someone had stuck a notice on the actual memorial for some future event which was a bit naff. I should have mentioned that the whole area that the campsite takes up is on the part of the Thetford Forest that was the base for the Desert Rats in preparation for D Day.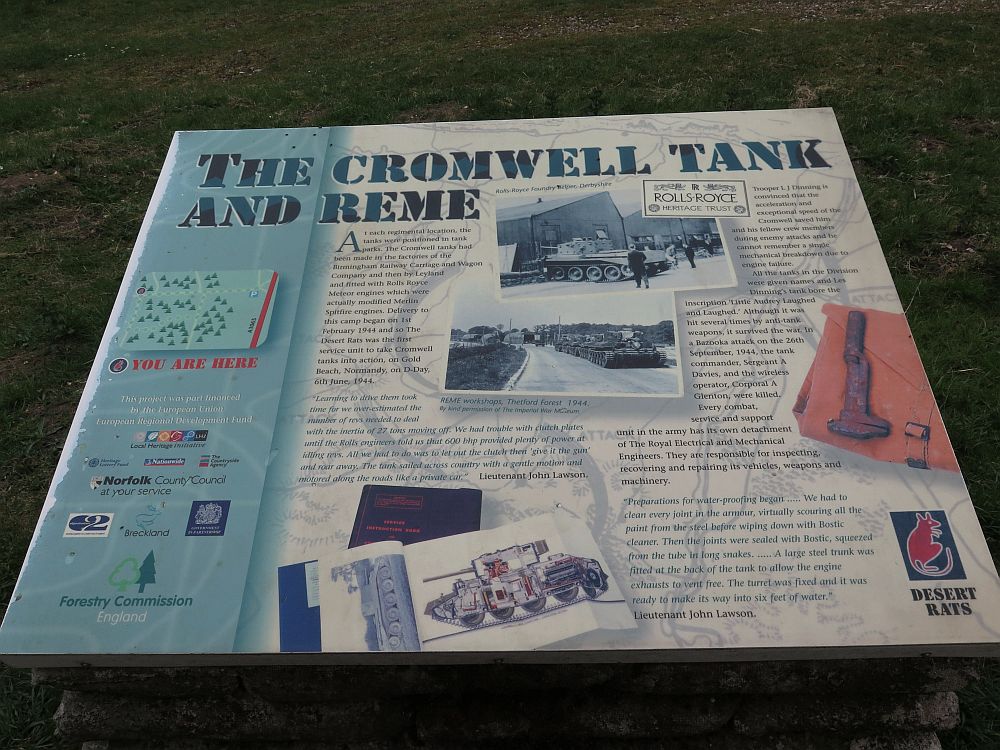 Thursday 30th April. Weather not so nice today or should we say not very predictable. We have had rain and then sunny periods so we have not done a lot. However in the afternoon we decided we really did need a walk so we set of to explore the Desert Rats Trail just outside the campsite. It's really all about the base and life on the base with at least two of the display plinths mentioning food!!! At one point, in a compound is one of the Nissen huts used in preparation for the D-Day landings. Originally designed by Peter Norman Nissen an Army Officer in 1916 and used in both World Wars. The Desert Rats Association are hoping to open a small museum on the site where the Nissen Hut stands. Whilst wandering through the woods we saw two more deer although of course they could have been the same ones as yesterday!
Friday 1st May. I think it had been a pretty cold night looking at the condensation on the car next door. Time to go home once we had negotiated the motorhome waste point!!! Rather than continuing south on the A1065 via Brandon and Mildenhall we decided to turn off at Mundford on the A134 to Thetford and join the A11 there. Without doubt a better road, albeit a slightly longer journey. The Elveden bypass is now fully open so yet another bottleneck removed. The journey home was good with few delays until we got to the A509 just south of MK where there are ongoing roadworks. We stopped at Tesco in Kingston again to fill up with fuel before taking the final few miles to home.
So what was the verdict? I think Margaret struggled a bit simply because there was a whole range of different movements which seemed to aggravate the pain in her chest from the operation which is taking a long time to calm down. We also did a fair amount of walking and were busy most days so perhaps a lot more activity that usual. We will try and get away at regular intervals and Margaret is up for that. For me the extra movement and activity seems to have had a beneficial affect on my knee, which at some stage will need replacement surgery.
Leek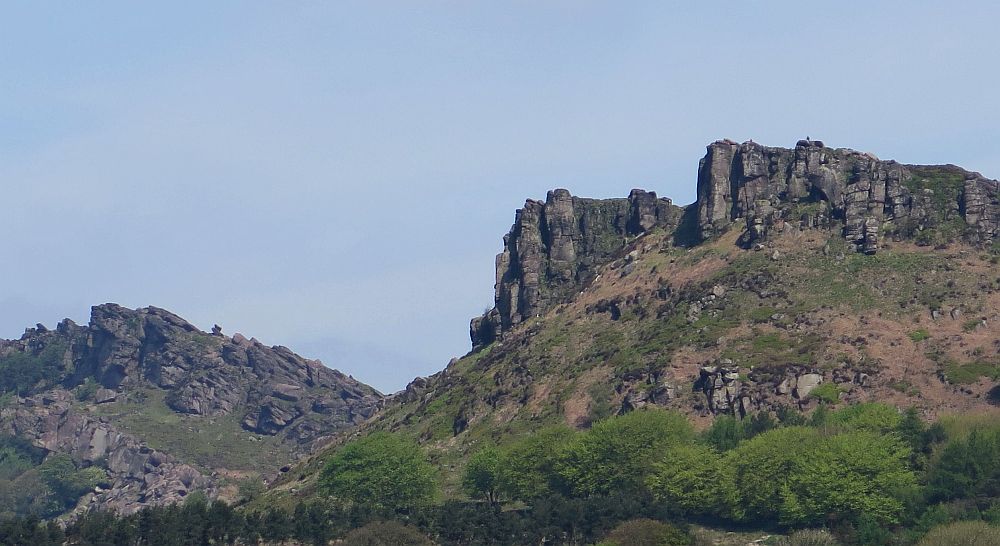 Thursday 14th May. We have managed to get away again relatively quickly after our first outing. Our trips are organised around Margaret's cardio rehab classes at least for the next month or two. Today we are heading to Leek in Staffordshire in the Peak District. The forecast was for a thick belt of rain passing over central England but it did not seem as bad as that. Mind you that would have added insult to injury as there were slow roadworks from Northampton to the M6. Once off the M1 we skirted Derby and as we headed off in the direction of Ashbourne the sat nav directed us towards Her Majesty's Prison!!!! Now that was a first. We nearly arrived at the wrong site as I had inadvertently put the co-ordinates for the C&CC site at Leek rather than the Caravan Club site. Fortunately I realised this before turning into the wrong campsite!
Friday 15th May. It dawned bright and sunny although still a chill in the air early on. We caught the bus into Leek today. The bus stop was not exactly outside the gates of the campsite as is usually found in Europe but a 10 minute walk away. The journey on the bus was probably quicker!!! The point at which we got off the bus was perhaps the worst part of Leek as it is next to a dismal unimaginative sixties style shopping centre which appears to be quite run down. However once through that and into the main town it is quite a pleasant surprise. Unlike many similar sized towns it has been saved from major redevelopment and what there is seems to blend in quite well. Many of the terraced houses are still there and add the comfy feel of the place. It has a surprisingly good range of shops, many of which seem to be long established local companies. Likewise in the covered market there were signs of long established stalls. We found a coffee shop on the cobbled Market Square for some refreshment. One thing that stands out in the town centre is a rather impressive War Memorial. It was built by the Industrialist, Sir Arthur Nicholson, and completed in 1925. It commemorates the lives of the 420 men who lost their lives in the Great War. That loss of lives must have had a major effect on Leek as a town. Apparently in one street alone 17 lives were lost.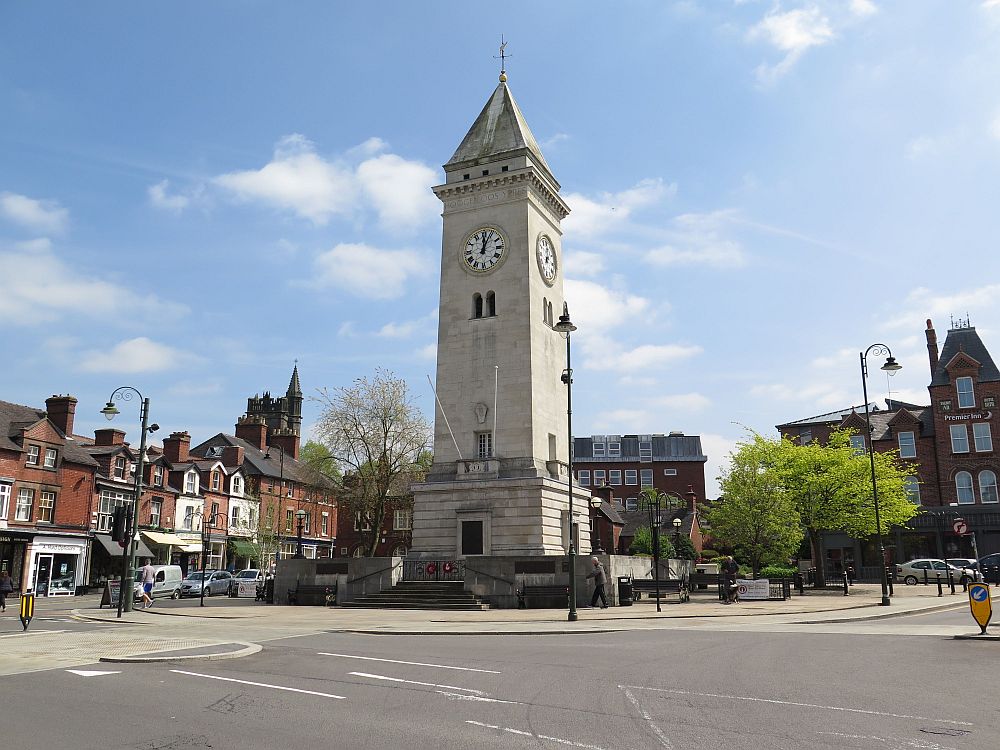 The problem with the bus service is that it only operates on a three hourly basis so timing our return was important. We could, of course, have taken a taxi back to the campsite but the bus ride is free. We still have time to return if we wish. The bus stop we alight at is next to The Three Horseshoes pub/restaurant so we had a quick look for possible future use. On the walk back to the site you have a good view of the Rochers which is an outcrop of rocks that dominates the immediate area. For those with the ability to walk longer distances I am sure the local walking is good.
Being a weekend new arrivals were still coming onto the site as late as 9.30pm. There were not many empty pitches, the favoured ones seemed to be higher up into the site as where we are in front of reception is right next to the main road which can be noisy at times although not too bad during the night. One of the arrivals was a family with two young lads. Nothing particularly unusual in that but surprisingly, despite the weekend there are very few children around. However these two made up for it with their pent up energy!!!
Saturday 16th May. Well the pent up energy was still in evidence this morning with a football and a Frisbee. Many of our other neighbours were annoyed and I think several of them complained as I saw the warden go over to their caravan. I don't really blame the kids, who were about eight years old, but they seemed to lack any form of supervision. The problem with many Caravan Club sites is that they just don't have enough room for active youngsters. OK there is a small playground but that is a long way from many of the pitches.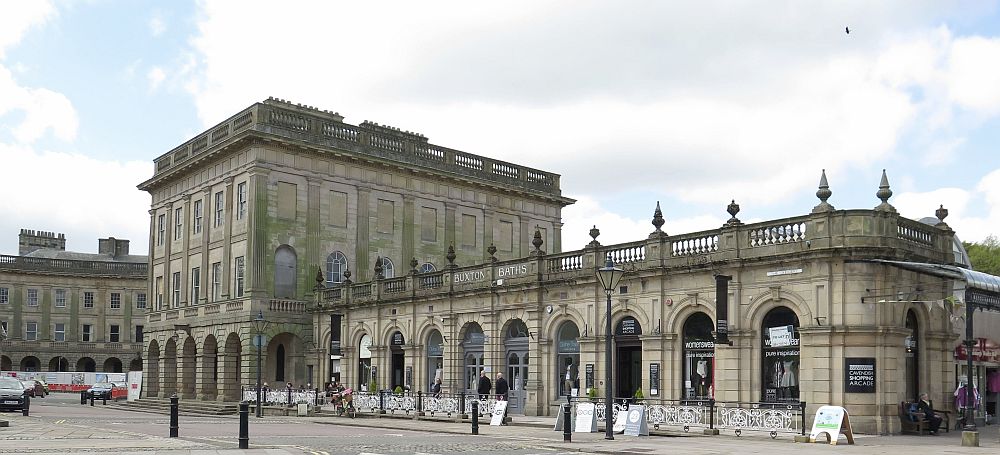 As for our own intentions today we had decided to take the bus to Buxton which is about eight miles away. Weather wise it was more cloudy today with a chill wind so full fleece today!!! At the bus stop we met a couple who were also on the campsite. She did not have a bus pass yet so her return fare cost over £6 so we are grateful that we didn't have to pay. The bus was packed but we think that was because it was the first bus of the day to Buxton other than the workers bus. What a magnificent bus ride with amazing views across the surrounding countryside, most of which would not be so easy to see from a car. When we arrived in Buxton we continued right up to the old Market Square although many of our fellow travellers got off lower down. Apparently this higher part near to the Town Hall was the original Buxton and it was only when they built the Crescent and the Spa Buildings that the centre of gravity of the town changed. Buxton has many fine building although this does not extend so much to the shopping area which whilst pedestrianised is somewhat bland. On the way back the bus driver was kind enough to drop us off right outside the campsite, not sure you would get that in our neck of the woods!!!
Sunday 17th May. We decided to have a lazy day today and apart from wandering around the site for a bit of exercise we did not venture far. Quite a lot of people left today and we are now alone in our part of the front section of the site. The wardens obviously have a fairly flexible attitude to leaving times as several units departed well after the midday deadline. Access in and out of the site is straightforward so I am sure the flexibility is appreciated. There have been quite a few new arrivals today but there are still plenty of free spaces available.
Monday 18th May. It's been a pretty wet day today which rather thwarted our plans to get the bus back into Leek. In the end we decided to pass on that idea and try something different. We decide to try The Three Horseshoes that we looked at earlier in our stay. I did think it was a bit pricey but boy were the portions big!!! We couldn't even manage a desert so the bill was less that we feared!!! This is our last day here and it's off home tomorrow.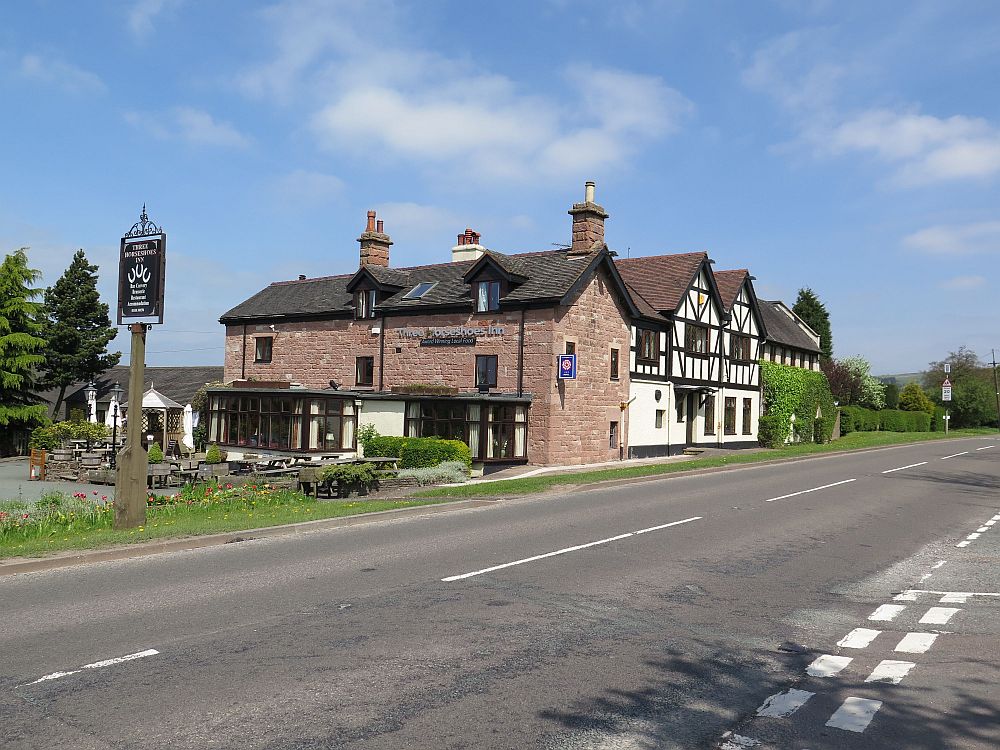 Tuesday 19th May. More rain overnight and still wet in the morning although we did have a few breaks so that we did not get too wet packing away and emptying the waste water. On the subject of waste water I do have a moan about the heavy covers the Club insist on using. Before her operation Margaret could remove these as I manoeuvred into place. This is totally out of the question now and even I struggle. Why they can't have an open grid I don't know. Motorhomes seem to have an increasing presence on Club site so the investment would be worth it. We were off site by 10.00am and on our way across country. It was about 25 miles before we got to the M1. We did have a bit of fright as we heard a really loud noise like something hitting the roof. We stopped to make sure the satellite dish was still there!!! Later we discovered that the bungee cord we put around the hangers in the wardrobe had come undone and we wonder whether it was the twang from this that caused the noise as we could find no other evidence?
As I mentioned earlier on our way north the M1 had roadworks between Northampton and the M6. I had it in mind to nip off the M1 early and use the A5 down to MK. The trouble is that this road can be equally slow so we decided to stay put and brave the roadworks. Fortunately traffic kept moving with the minimum of delay. We left at junction 15 as we wanted to fill up with fuel at Wolverton. Altogether we had three heavy hail storms on the way home. These had obviously built up on the roof of the cab and suddenly we would get what looked like a sheet of ice slide onto the windscreen and there was me thinking it was almost summer!!! Apart from the weather it was a good trip away and I think Margaret felt a lot more comfortable on this trip than she did the last.
Cheltenham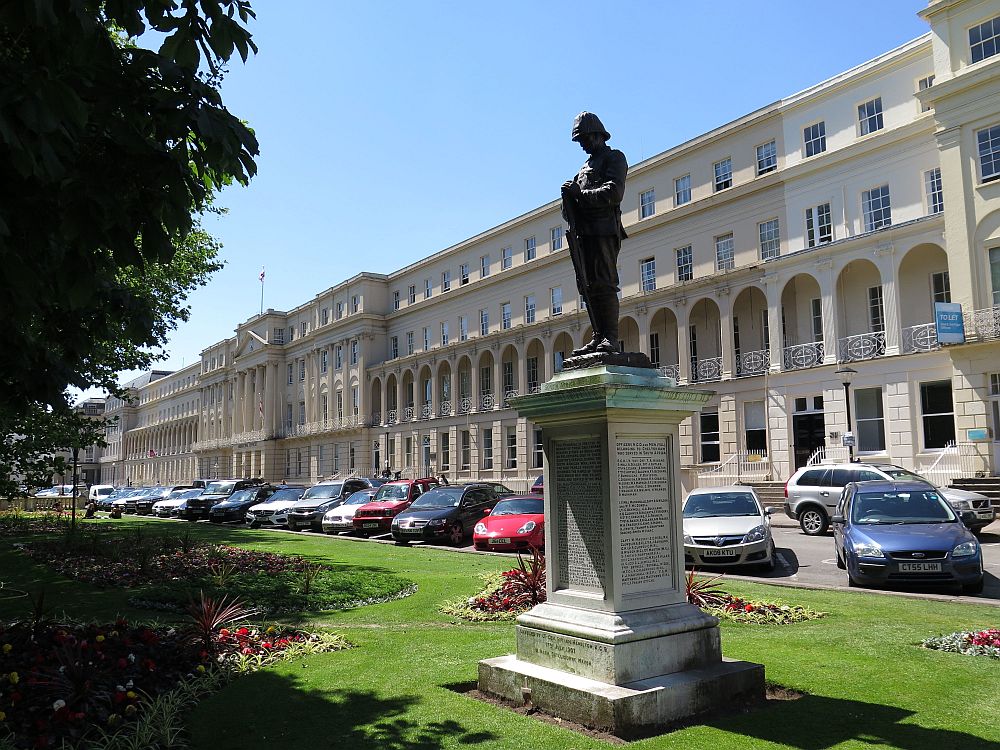 Thursday 4th June. It was a beautiful day when we got up which lasted all through the day with warm to hot temperatures. Despite being early June we seem to have struggled weather wise this year. We are heading west today to the Caravan Club site at Cheltenham Racecourse. Just under eighty miles so not too long a journey. The first part towards Oxford seemed very similar to all those journeys we made to the John Radcliffe Hospital at the start of the year. This time, fortunately, we were heading out of Oxford on the A40 towards Cheltenham. We did not put a foot wrong all the way until we were within yards of our destination!!! The sat nav, or was it me, got into a muddle and we ended up overshooting our turning. This caused us several problems. First we got stuck behind a very slow horse drawn caravan, then I had to negotiate a mini roundabout which was not quite big enough to get us round in one go so I had to reverse a bit!!! Finally we were taken through the Park and Ride car park.
Having arrived at the site we were shown what pitches were available as we had chosen a non-awing pitch because we knew that would be on hardstanding. We soon discovered that all pitches were sloping, most two ways. We found a pitch overlooking the racecourse and did not try too hard to get it completely level. We couldn't have found a better pitch as we can see right out across the racecourse towards the distant hills which provide a natural backdrop. They are building a new Grandstand just across from us and very impressive it looks to. I just wonder where all the money comes from in this sport as they never seem to have many race days?. I appreciate that it is called the Sport of Kings but there aren't many of them around!!! As a postscript to the day it was still almost light at 10.00pm, the halcyon days of summer.
Friday 5th June. Another lovely day. Bit of a lazy start but we eventually walked across the Racecourse Park and Ride to catch the bus into Cheltenham. In years gone by we would have probably walked the mile or so into the town but these days we have to save our walking for the town centre. The lady in front of us on the bus must have overheard us discussion where to get off so she thoughtfully told us when we got into Cheltenham. She also pointed us in the direction of where to catch the bus back as it was in a different location. This was kind of her and not an unusual thing to happen in our experience of using buses around the country. Cheltenham is, of course, a Spa town and its grandeur reflects this. Even the Municipal Office, please note not the town hall, was grand with lovely gardens laid out in front of it. Judging by the type and variety of shops I suspect it is quite a well-heeled place. There is more to explore within the town than our couple of hours allowed but at least it gives an opportunity to return, if not on this trip perhaps in the future.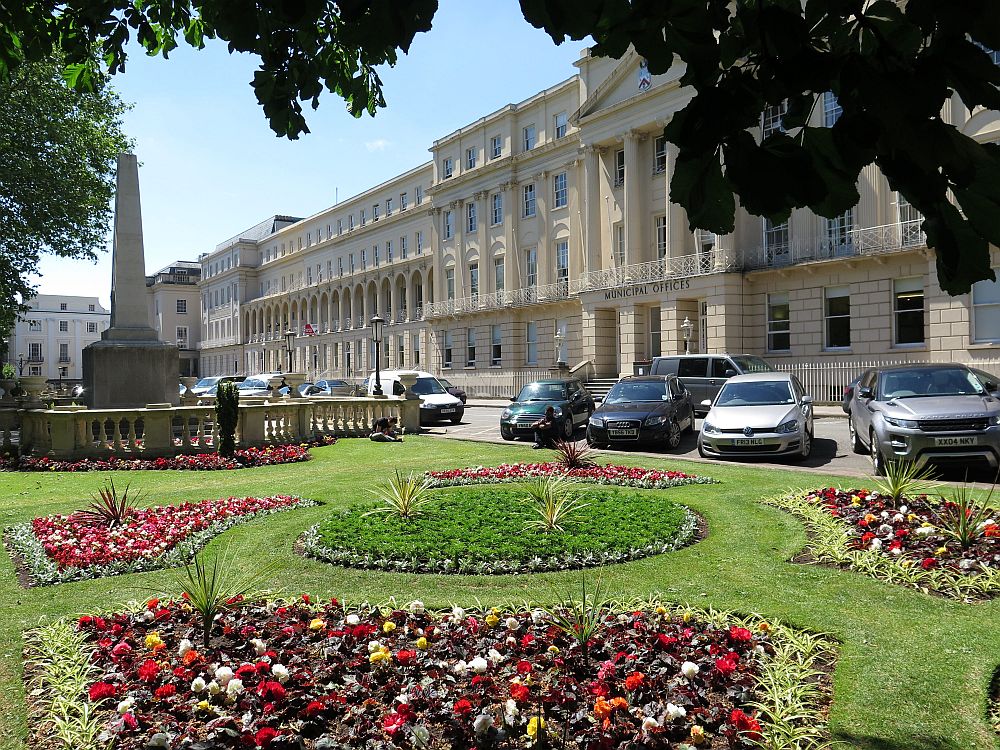 Back at the campsite it did become a bit grey and overcast during the late afternoon but this cleared later to reveal a colourful evening sky. A few more units have arrived today for the weekend but the site is far from full. Perhaps because the site is mainly on tarmac hardstanding motorhomes seem to be outnumbering caravans.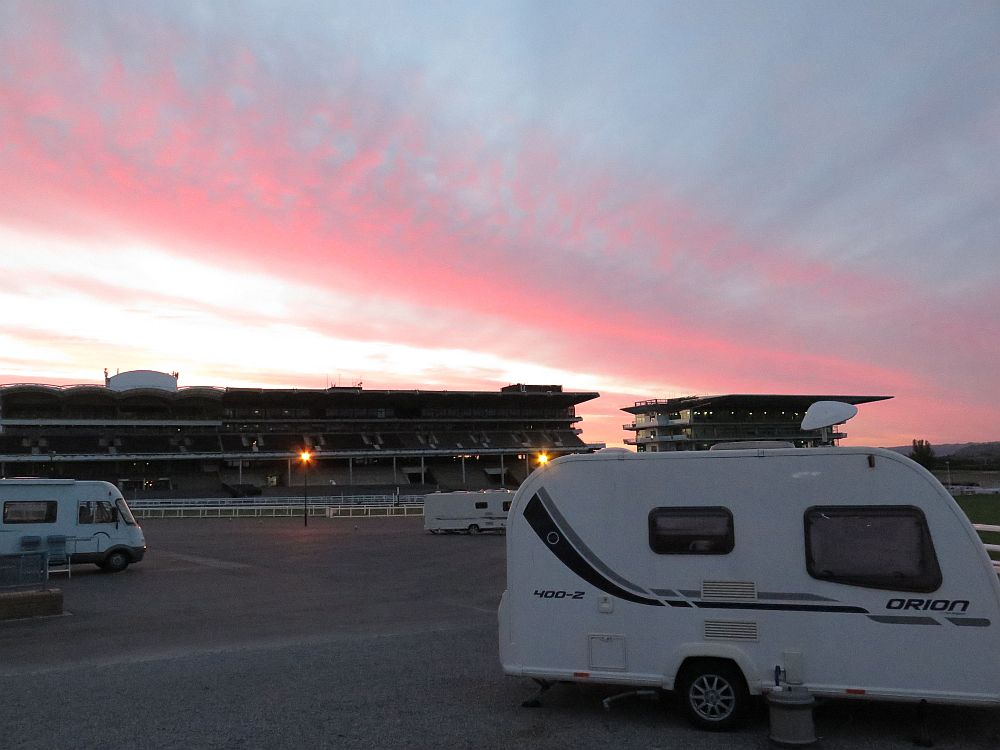 Saturday 6th June. We obviously wore ourselves out yesterday as we seemed reluctant to get up this morning! Perhaps looking out at the sky in the early morning and seeing grey clouds prompted the return to bed for more sleep. When we did eventually get up we still had a grey sky, although interspersed with bits of blue. We had intended to take the bus to Gloucester but we discovered that it does not run from the P&R at the weekend. As time was getting on we decided after lunch to try and find the Racecourse Station on the Gloucester and Warwickshire Steam Railway. It's about three quarters of a mile from the campsite but access is still within the confines of the racecourse. We treated ourselves to an ice cream whilst we waited for the steam train to arrive which still causes a frisson of excitement to all ages. I suppose I am of that generation that will be the last to remember steam trains running as regular services rather than as Heritage Railways!!! My brother was a great steam train enthusiast and also a keen model maker and before his death was about half way through building a scale model of a steam locomotive. Fortunately my sister in law was able to find someone to finish the job and she has photographs of it in action.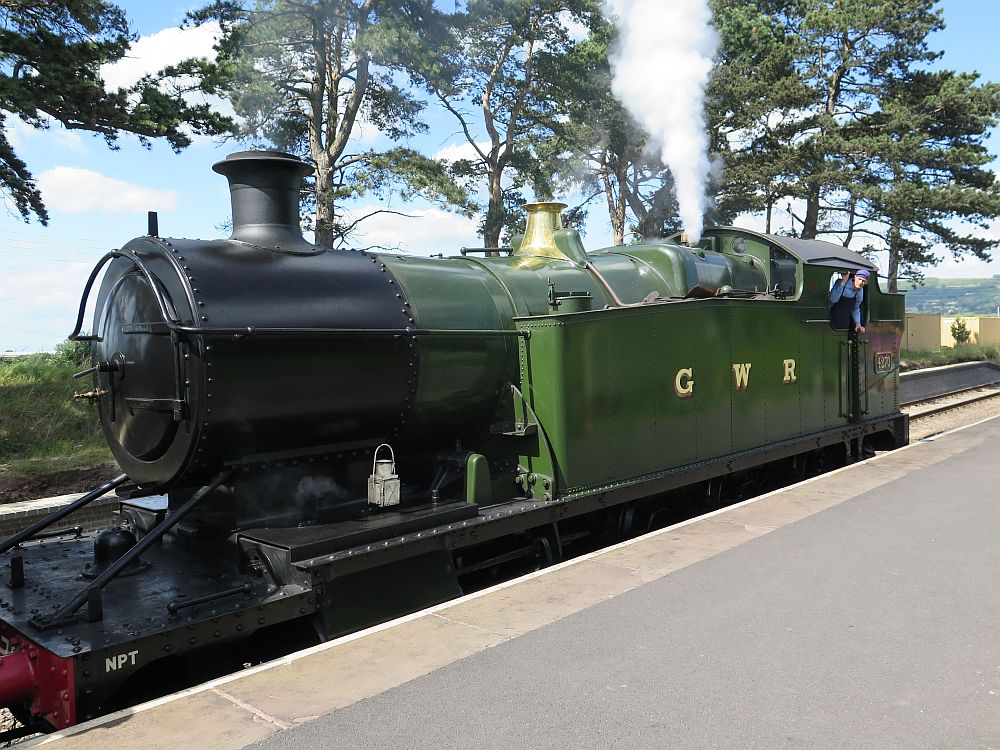 Sunday 7th June. Another lovely day and as it turned out somewhat warmer which made it comfortable to sit outside and have a pretty lazy day. In the afternoon we did have a wander down one side of the racecourse, we could have gone all the way round but we thought that might have been a challenge too far!
Monday 8th June. Our last full day at Cheltenham today. Unlike the warmth of yesterday it was still mainly sunny but the chill in the wind has returned with vengeance. After a day of near inactivity on Sunday we thought we should make use of our last day. We had thought about Gloucester but decided to stay closer to home and go back to Cheltenham as there was more to explore. This time we left the main shopping centre behind, well almost, we did stop for a coffee first! The Promenade is the main road into the centre and most of the Regency buildings are hereabouts including the Royal Crescent although that is not as impressive as the Crescent in Bath. At one end of the Municipal Gardens is the Neptune Fountain which is styled on the Trevi Fountain in Rome. Whilst there are similarities, design wise, to the Trevi in Rome the scale and ambience don't quite complete! Further along there are a couple of gardens, Imperial Gardens and Montpellier Gardens. The latter has one of the oldest Band Stands in the country. When taking photographs I often move things like dustbins much to Margaret's dismay, I always put them back but she imagines someone rushing out of a house to berate me!!! Having exhausted ourselves wandering around the town we retired to Wetherspoons for a late lunch, £12.50 for both of us, very nice fish and chips and a beer each. A mid-afternoon bargain!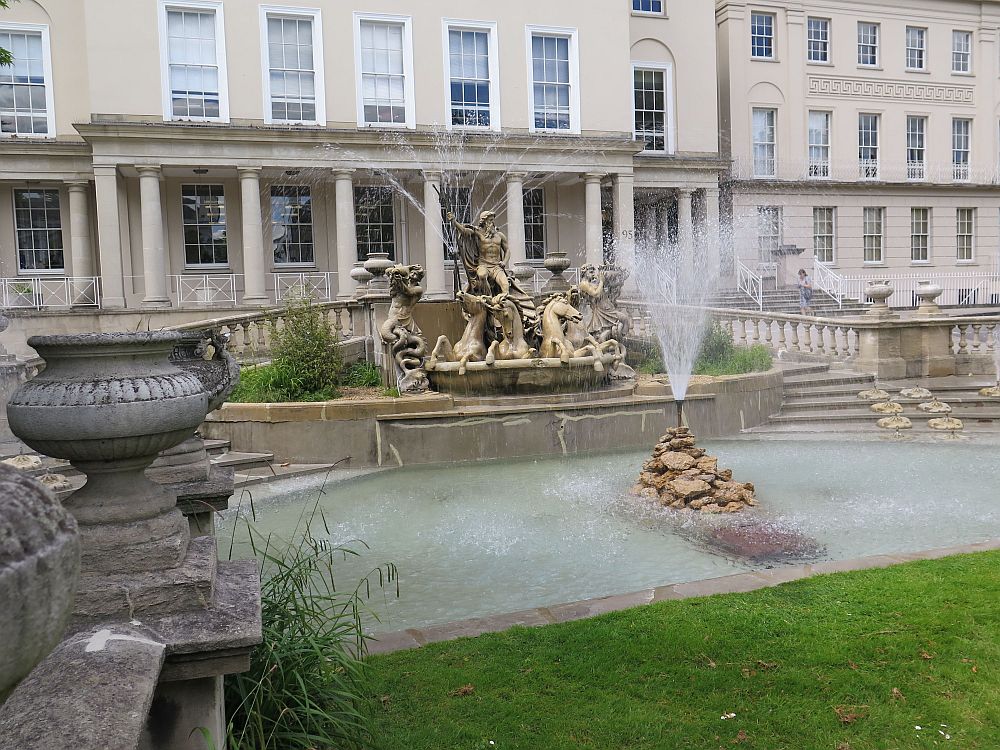 I whinge on from time to time about my knee. I have recently started to wear a pedometer to measure the distance I walk as a way of judging how far I can walk without it giving up. Well I walked over five miles today without too much difficulty so not such a convincing argument for further action yet?
Tuesday 9th June. Rather amazingly this is our first trip when we have not had any rain expect for the odd five minute shower. Mind you the temperatures are not consistent with what you expect for early June. Didn't take us long to pack up and be ready for the off. It always seemed longer with the caravan but the sting in the tail is the need to empty the waste water in a motorhome so I expect it's about even stevens. At the drain point, having dumped the waste water, I pulled forward so I could go back and put the drain cover back, someone had already done it for me. The journey home was pretty uneventful except for a slow driver almost all the way to Burford!!! We made our usual fuel stop so we are ready to go whenever our next trip is.
Bognor Regis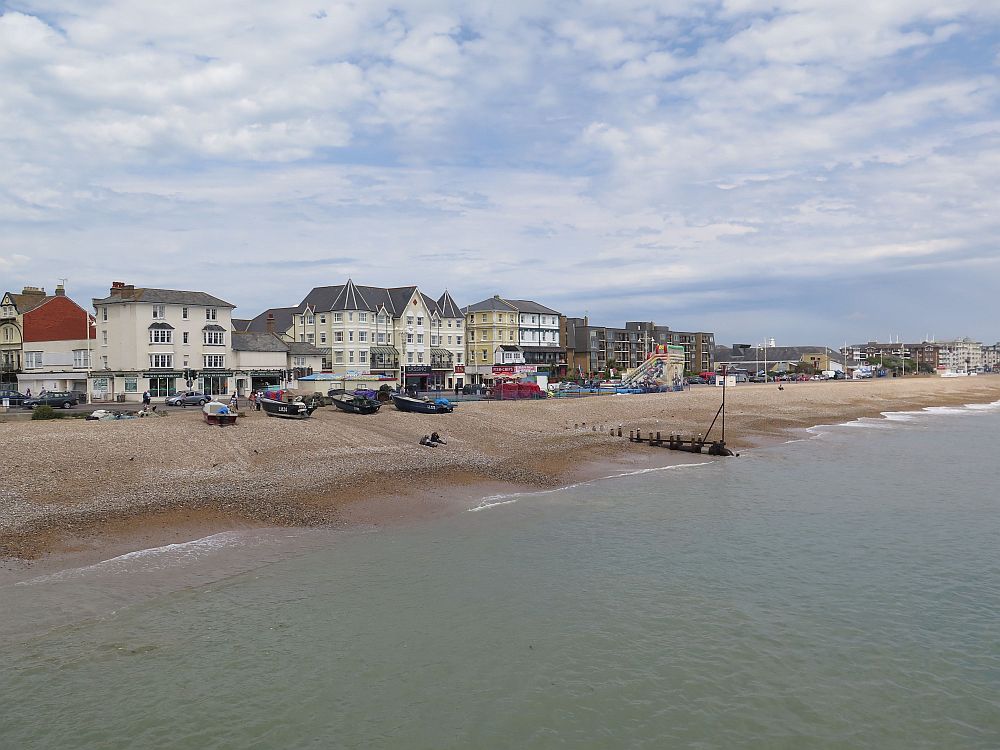 Tuesday 30th June. The weather forecasts have been threatening a heat wave, which I suppose makes a change from rain!!! I suppose it was good timing as we are away for a couple of weeks now that Margaret's cardio rehabilitation classes have come to an end. The plan is to do a sort of circuit of London. We are starting in Bognor Regis and will continue via Crowborough, Abbey Wood and finally Hertford and then back to MK. So as you can see we will circumnavigate London, albeit at a distance.
Even at 8.00am in the morning the temperature was already in excess of 20 degrees and it was only going to get hotter. As is their want satellite navigation systems can't resist taking you via the M25. However I thought that the A34 would be a less stressful journey despite being 20 miles longer. At a more or less halfway point we stopped at Sutton Scotney Services as we know there is generally room there. We got to Rowen Park Caravan Club site, just to the north of Bognor Regis, around 2.00pm. There were no hardstanding pitches that we liked so we select a grass one and rather surprisingly it is totally level!!! It has been a real scorcher today and it is forecast to get hotter. Having said that as I write this at just after 10.00pm it is actually raining although only a light pitter patter, hopefully it will take some of the heat away.
Wednesday 1st July. Well the overnight temperature in the van seem to stay around 25 degrees if the sensor reading was to believed, even if it was not completely accurate it certainly felt like it!!! It took us a while to get going but we eventually thought we should try and discover where the bus services were. One bus stops not far from the site but is fairly infrequent. We walked down to Sainsbury's which is about three quarters of a mile from the site with a greater choice of buses, although the reality was they were also not that regular. It was also a good excuse to stop for a coffee and teacake in their café before walking back to the site. Just across the road from the campsite is a retail park which includes a Lidl which is handy. We are not regular shoppers in these supermarkets but curiosity sometimes takes us there. Funnily enough we tend to use them more abroad than in the UK. Given the heat I thought we should have some more beer and they had 500ml bottles of Pils which were very good value. Although looking along the shelves there was a well-known brand which I seem to recall was cheaper in Waitrose!!! I really enjoy fresh cherries and most supermarkets seem to insist on selling them in punnets at outrageous prices, so full marks to Lidl for selling them by weight. I somehow think I will be going back for more!!
Apparently this has been the hottest July day since records began. Most of the afternoon was spent under the shade of our wind out awning and we even ate our evening meal al fresco. We had every window and hatch open in the hope that we can have a cooler night. Fortunately the outside temperatures has gone down so it feels so much cooler tonight.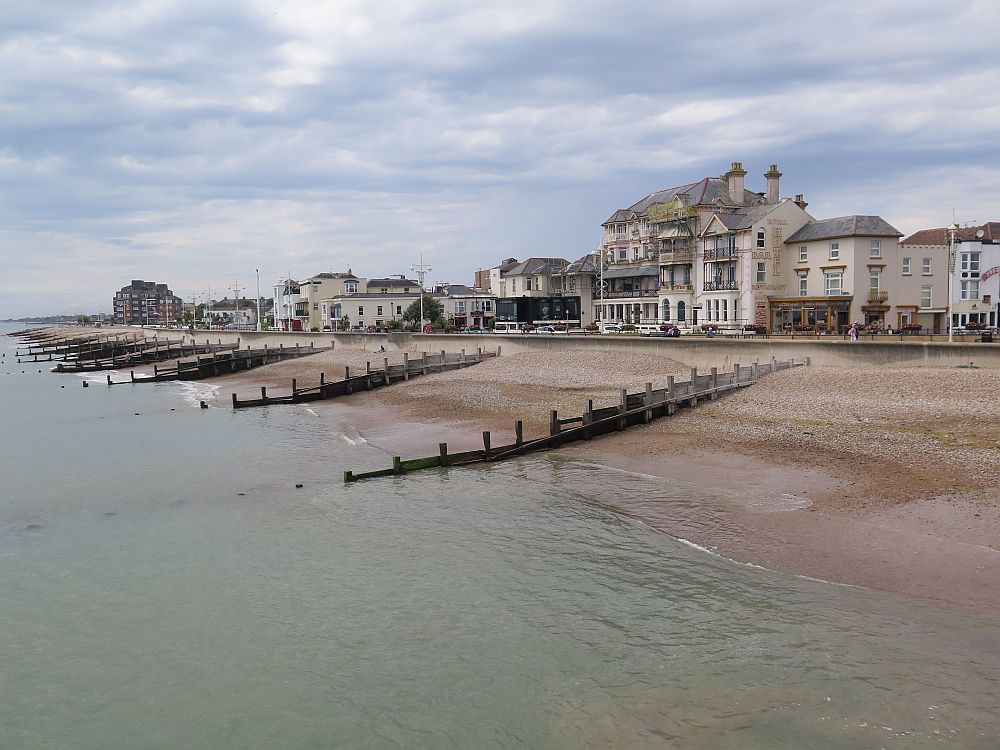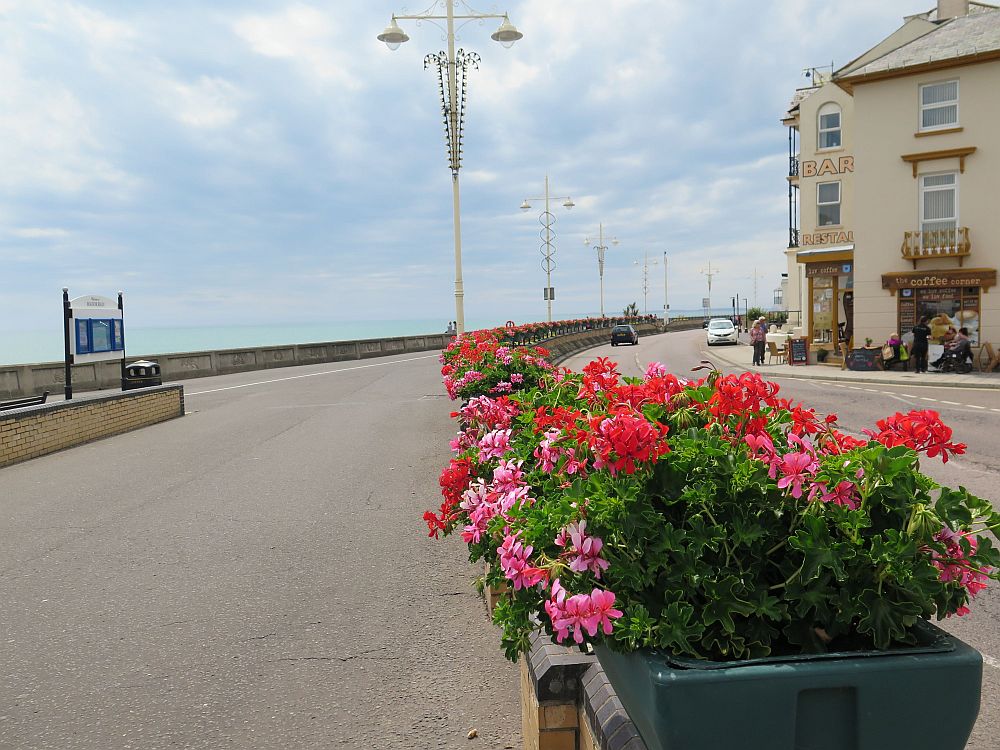 Thursday 2nd July. A cooler night, thank goodness! Dull when we got up which did turn to rain which eventually did dry up. We thought we should make the effort to go into Bognor Regis today. The bus service is a bit sparse from near the campsite with buses every 90 minutes. There are more buses from the Sainsbury's a little further on but even they are not that frequent. At the bus stop we got talking to a chap whose daughter lives in Milton Keynes. Another reinforcement that it is the centre of the universe!!! We got off the bus in the town centre and our new chum kindly pointed out where we needed to get the bus back to the campsite.
We walked down to the seafront where the tide was right in. It did not look its best in the dullness of a cloudy sky. We wandered back into the town and I have been wondering what kind words I could find to say about Bognor but they are hard to come by. Large parts seem quite run down. OK the local authorities try to help with flowers and are redoing the plaza in front of the station. The seafront seems a bit better nearer to the pier although the pier itself is quite run down unless, of course, you like coin operated amusement arcades! Despite the royal connections there seems no grandness about the place and some brutal sixties developments don't help to enhance its looks. Sad to say we found it quite a dreary place. It is also the home, a little further out of town, to a large Butlin's holiday centre but I suspect the all-inclusive nature of that establishment does not add a lot into the local shopping/eating economies. Slightly disappointed we made our way back to the campsite. On talking to one of the wardens latter on he did say that Bognor does grown on you. I don't think the length of our stay is long enough for that to happen!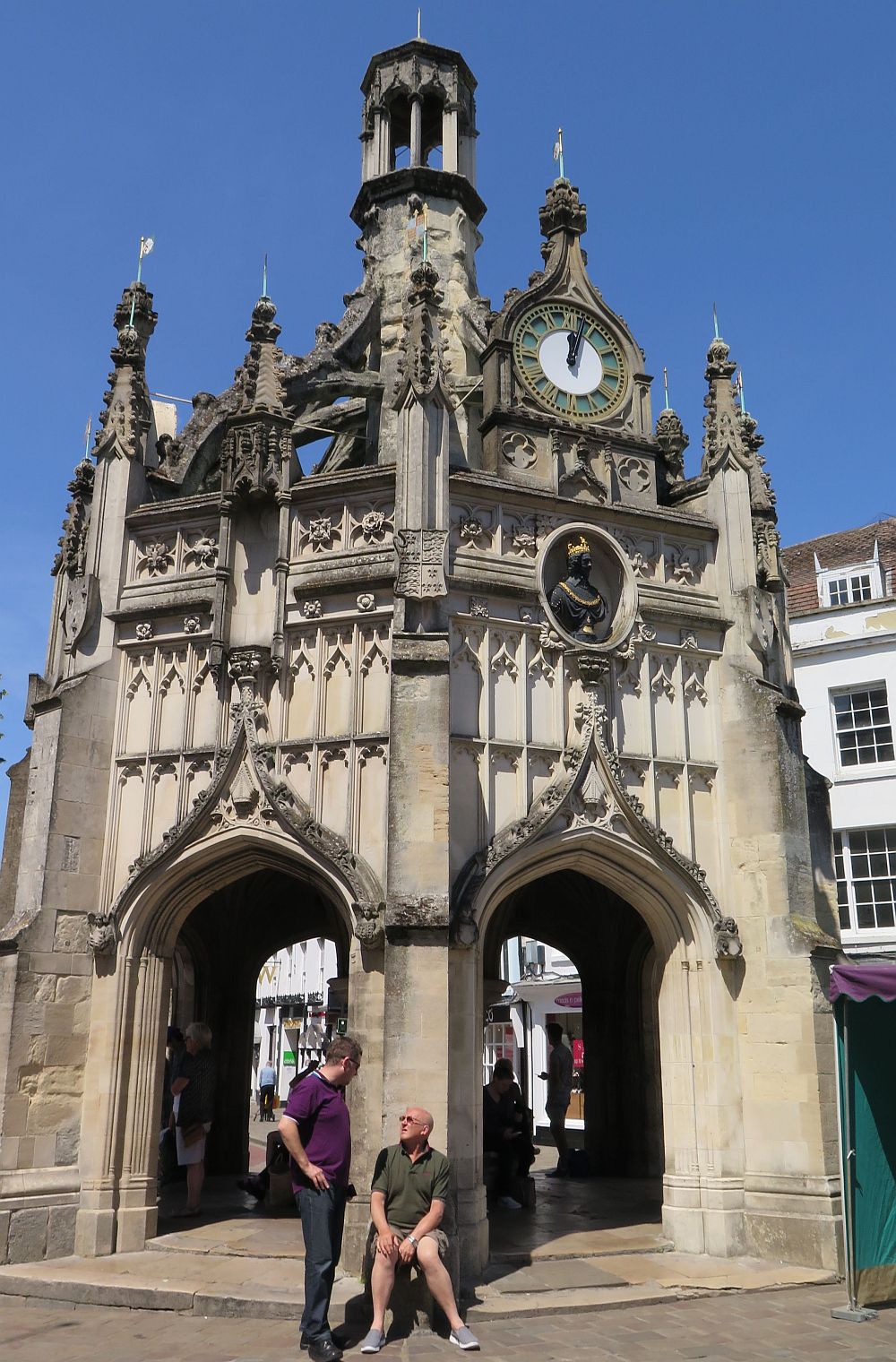 Friday 3rd July. When we got up it was a lovely day and the temperature was a bit lower than previous days. However, it wasn't long before the thermostat was turned up. We were out early today, at least for us, as we wanted to catch the 10.49am bus into Bognor and then the 700 Coastliner bus to Chichester. Fortunately the latter departs at ten minute intervals in comparison to the local bus which is only every 90 minutes!
I suppose in contrast to Bognor Regis, Chichester is more traditional simply because it has grown up around the Cathedral for the last 900 years. The old walls, where they still exist, also formed a barrier around the old town. Almost at the centre of old Chichester is the Market Cross with roads leading off in four directions. The Market Cross is not as old as the Cathedral but the current structure was built around 1500 and replaced a previous wooden structure. After a restorative break in M&S Cafe we continued to explore the shopping area before making our way over to the Cathedral. There is no set charge for entrance but you are asked to make a donation which is my preferred way of doing things. It's not as large and grand as some of the cathedrals but you can still marvel at the construction dating back over 900 years. At the High Alter is the John Piper designed Tapestry which was actually woven in France in 1966.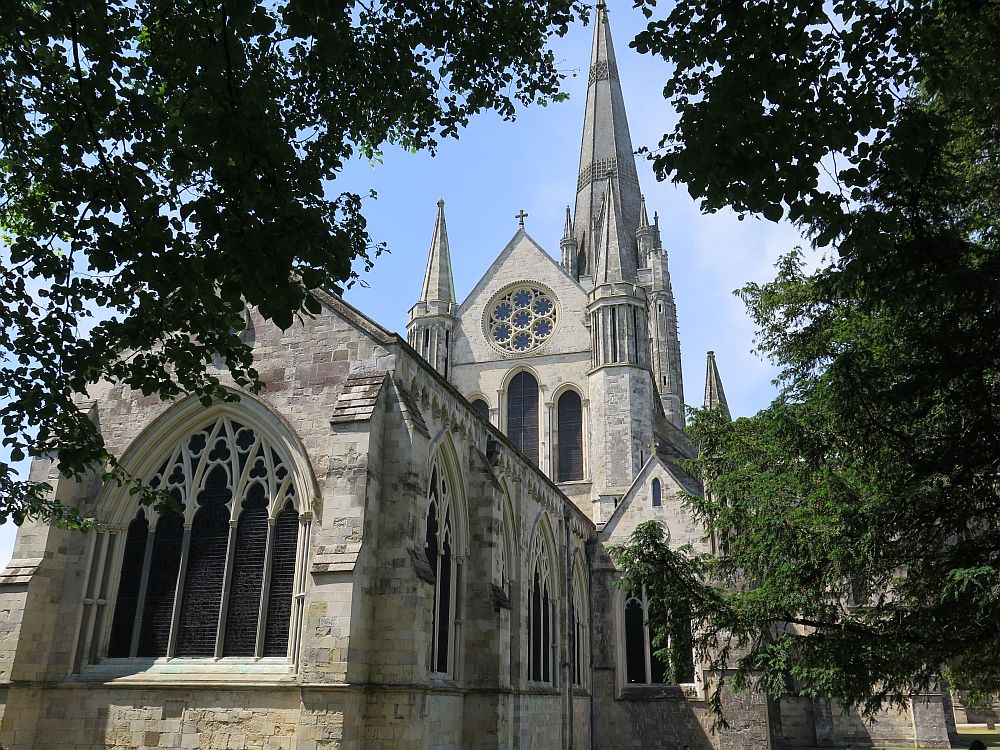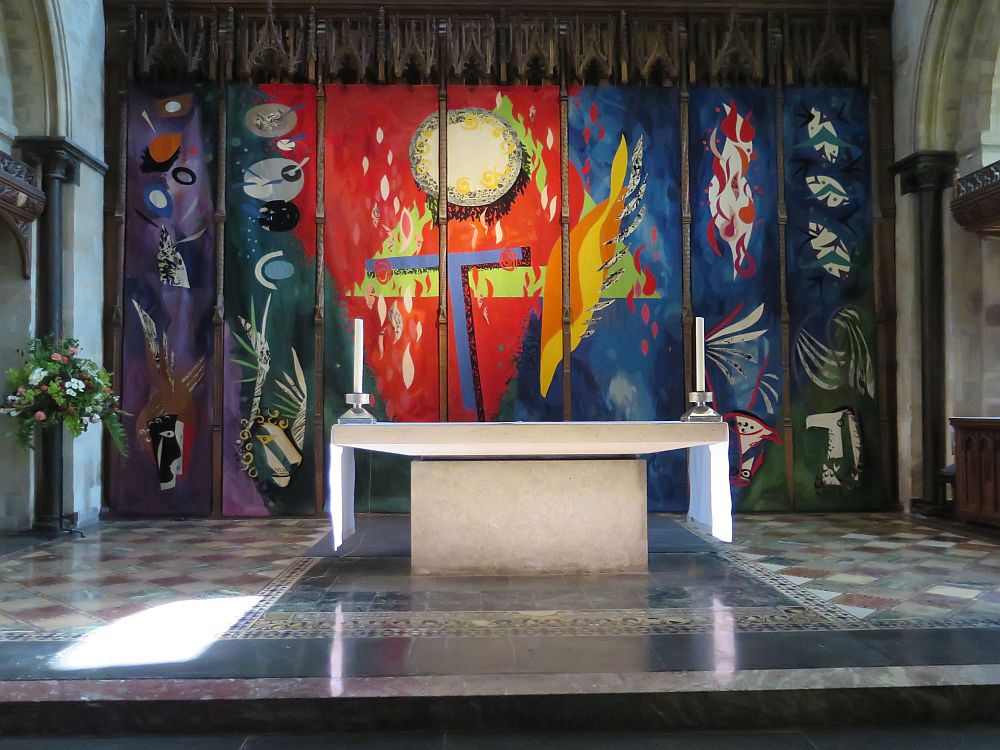 Moving on from the Cathedral we wanted to have a wander down to the Chichester Ship Canal. The canal was part of a wider canal group which connected to the River Arun and then onward to London, however it seems that the canal was never really a success. We only had a look around the Canal Basin which is in a nice setting complete with a pub and a canal information centre. If you have time there are regular canal boat trips. As the day was getting hotter we decided to make our way back to the bus and the campsite. Having a wander around the site in the evening I could only see one free pitch for caravans/motorhomes although most of the tent pitches seemed unoccupied.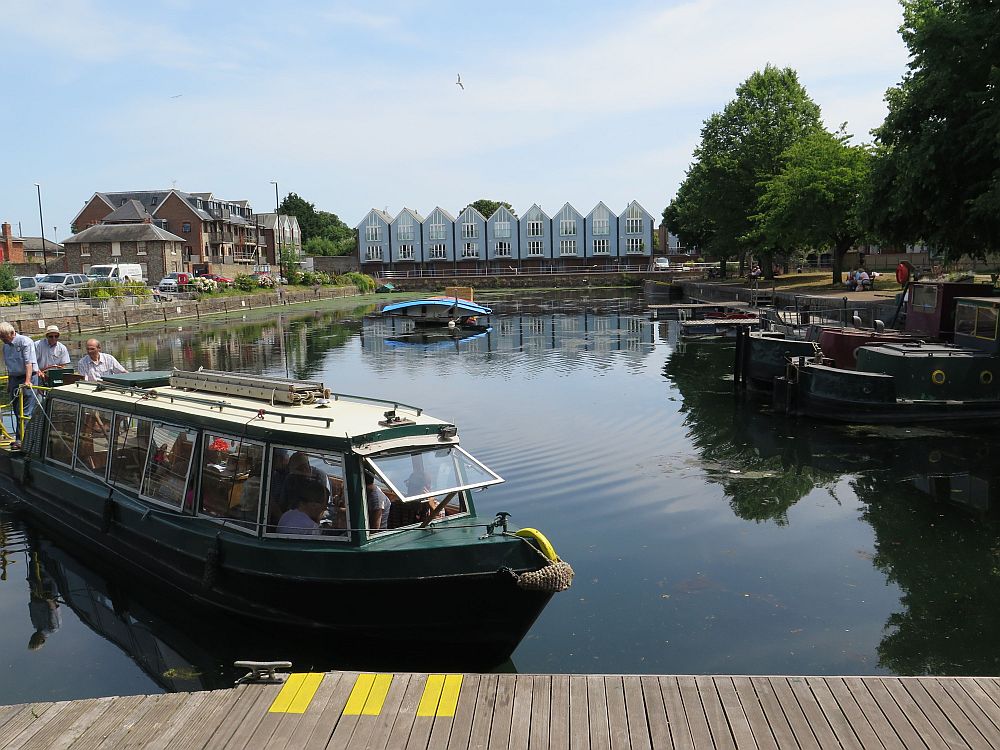 Saturday 4th July. Our last day at Rowan Park was pretty lazy. Our excuse is that we wanted to watch the qualifying for the Silverstone GP. It's been another lovely day although quite a strong breeze which made it a bit cooler than previous days. After the qualifying we walked across the road to Lidl to stock up with a few items, I even managed to secure a few more cherries!
Crowborough
Sunday 5th July. It was showery when we got up, typical for a moving on day! Then there is the dilemma of what time to leave. We were only going about 50 miles and we couldn't arrive before midday. All this became a bit academic when on the approach to Lewes we encountered traffic backing up on the A27. The Lewes bypass was closed so we had to go through the actual town. (we later discovered the closure was due to power lines coming down on the road) I like to comfort myself by thinking that if a bus can get through so can my motorhome. The only problem with that theory is that once you commit there is no turning back!!! We were literally inches from parked cars as we made our way through the town. Mind you I am not convinced I would have been any happier towing a caravan through either!!! With a sigh of relief we made it to the other side of town, it had only taken about an hour longer than planned. We arrived at the C&CC site in Crowborough at around half past twelve, just in time to set up the TV and satellite to watch the Grand Prix. Lewis Hamilton consolidated his lead in the Driver's Championship but in the opening seconds of the race he got a bit of a shock when Felipe Massa went between the two Mercedes at the start.
After the Race we went for a wander around the campsite. It's interesting to contrast coming from a Caravan Club site to a Camping and Caravan Club one. The latter seems to have a much more rustic feel, which, of course, might suit some.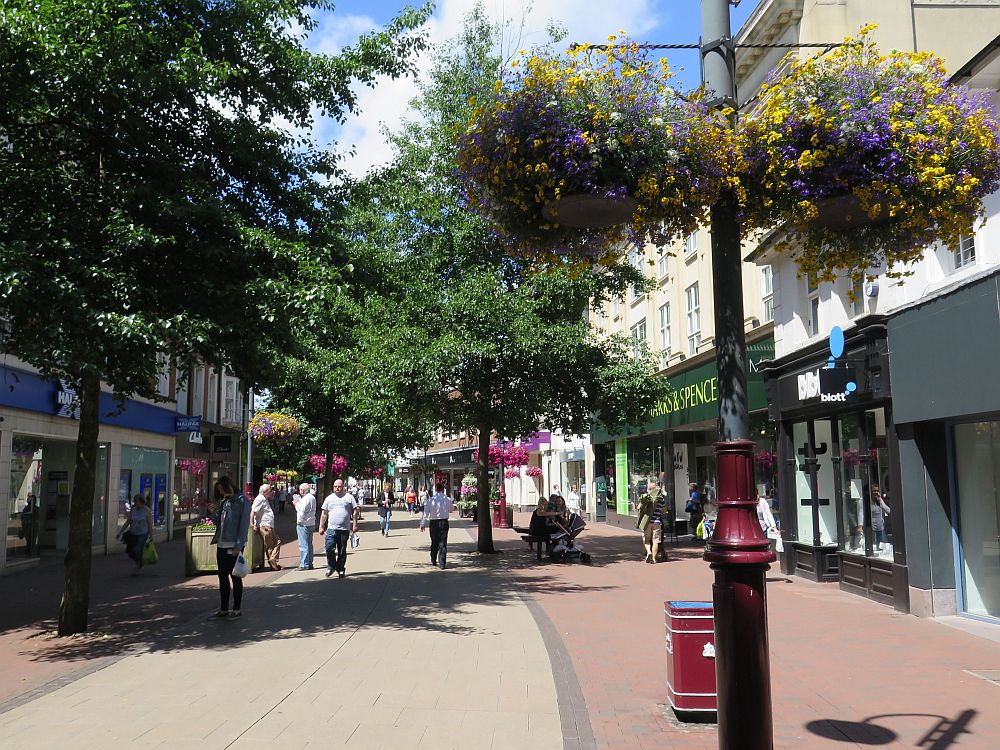 Monday 6th July. The forecast was for a fine day so we were a bit concerned when we heard rain on the roof of the van as we were getting up. Fortunately it did clear up and we had a day as forecast! We took the bus into Tunbridge Wells today. There is a good service from near to the campsite. I hadn't realise how big a shopping area it was as most tend just to think of the Pantiles which is the lower part of the town. I think we got off at the wrong stop as we had a long uphill walk to get to the main shopping streets. There was a workman watering all the planters and hanging baskets and out of curiosity I asked how often he has to do it and he said every day when it's hot. There were a couple of street musicians to which I gave a few coins as I always think they enliven a place. Back down the hill to the Pantiles which is an attractive part of Tunbridge. I think many of them used to be shops but now they most seem to be restaurants.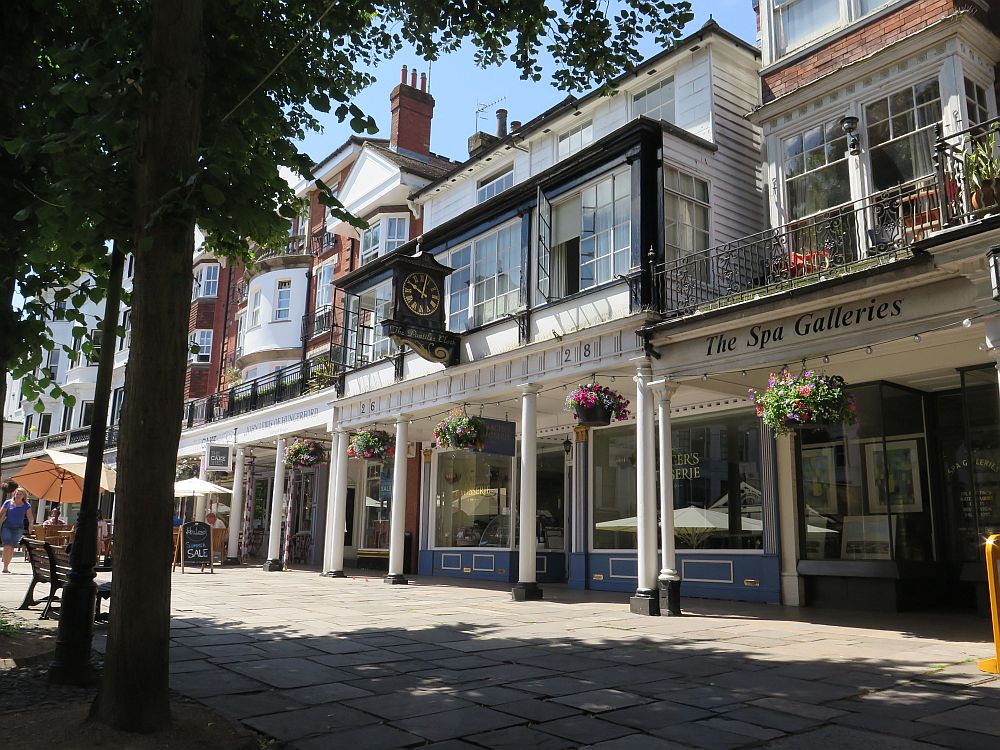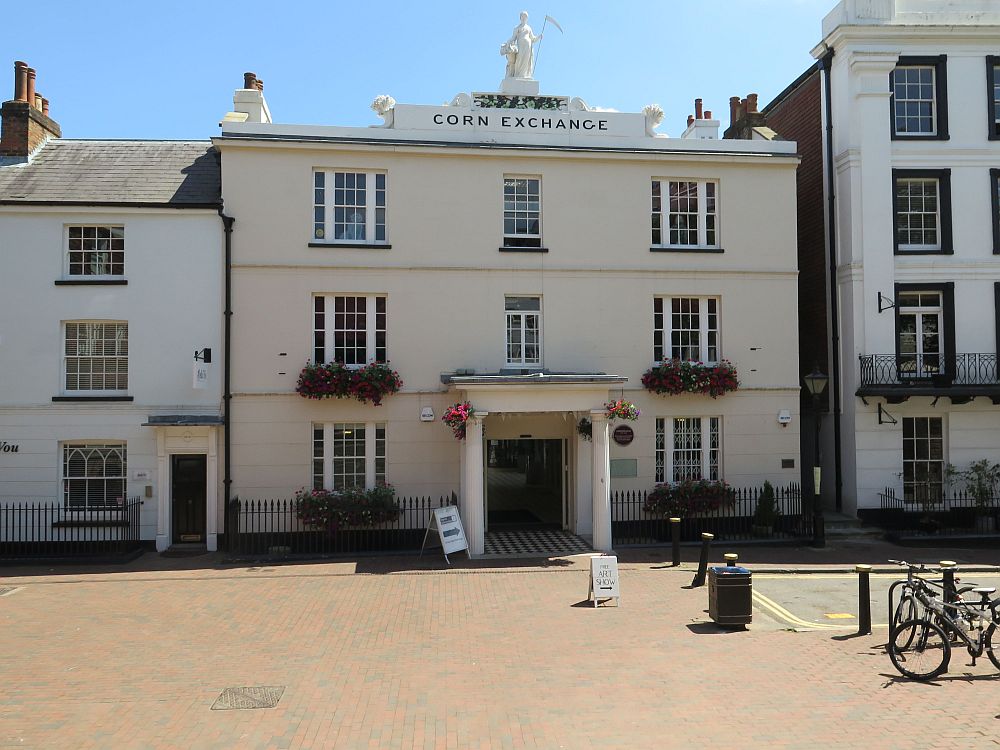 Tuesday 7th July. Our last day here at Crowborough before we move on to the Abbey Wood site tomorrow. First task was to ring Abbey Wood to discuss the route I wanted to take. The warden I spoke to was very helpful and said my route was fine and the reason the CC suggest the route they do is about the local authority only allowing one set of brown camping signs!! We walked into Crowborough today, all up hill. Can't say there was a lot about the place, unless we were looking in the wrong place!!! We did find a pub for lunch. Weather has been a bit variable today with showers and sunshine and a brisk wind.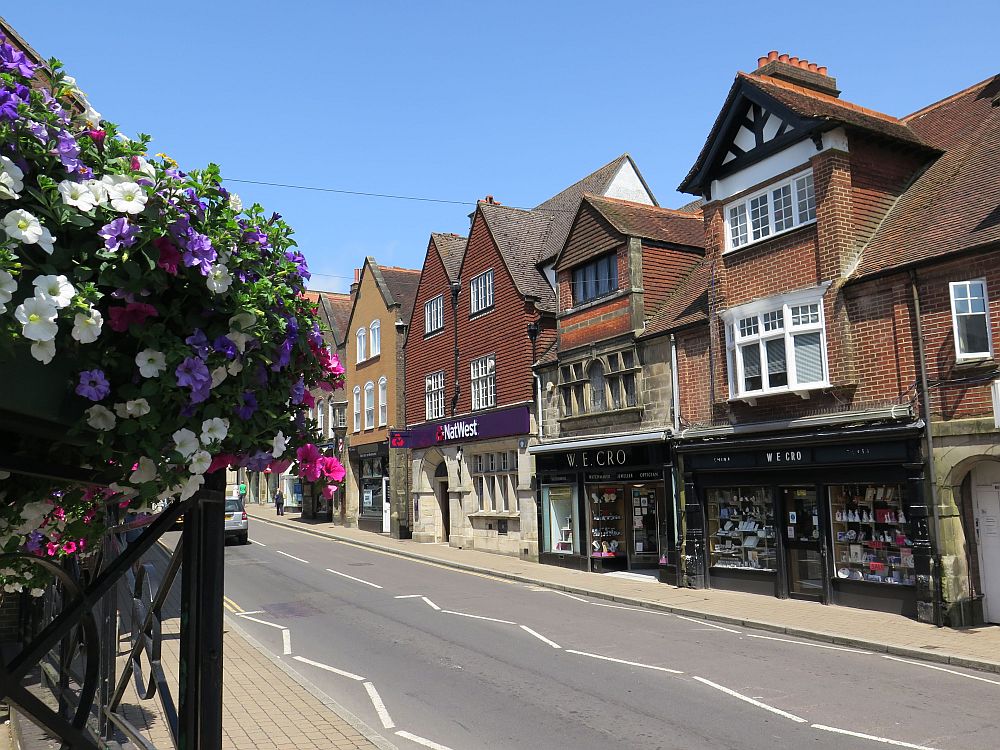 London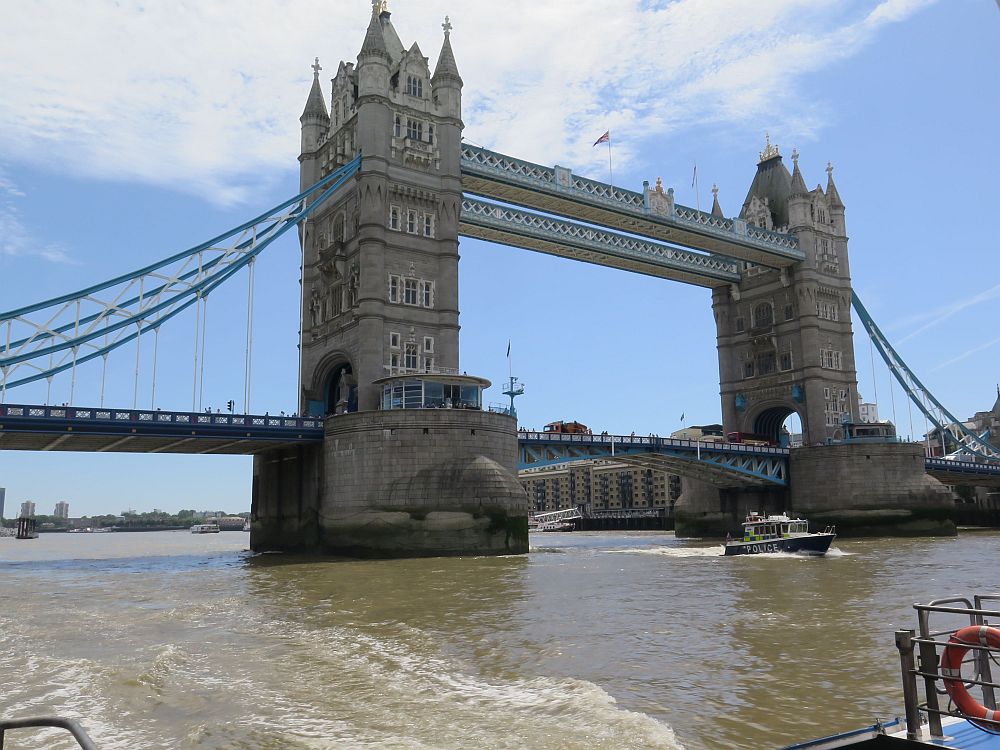 Wednesday 8th July. We have only travelled just over 40 miles today from Crowborough to Abbey Wood in London but I was a bit nervous about the route discussed above. As it turns out it was fine and I would certainly recommend it to others. It was 15 years ago since we were last at Abbey Wood and in the meantime it has been completely revamped and you would not recognise it compared to the old site. It's the first site we have been unable to use our satellite dish because of tree cover, fortunately they have co-ax connectors on the electric bollards so we still have TV! Another major difference is to numbers of overseas visitors here, perhaps up to 40-50%. Even as we arrived they were turning away three Italian motorhomes because they were full. Despite the number of overseas visitors there seems to be no information in alternative languages, typically British I suppose. Once we had set up and had some lunch we set off for the small Co-Op a couple of roads away to stock up. By this evening I doubt there was more than an odd pitch left empty. Interestingly this site has Pods for hire. They are basically posh camping sheds!!! There are also lots of children here as clearly on the Continent they have already started their summer holidays.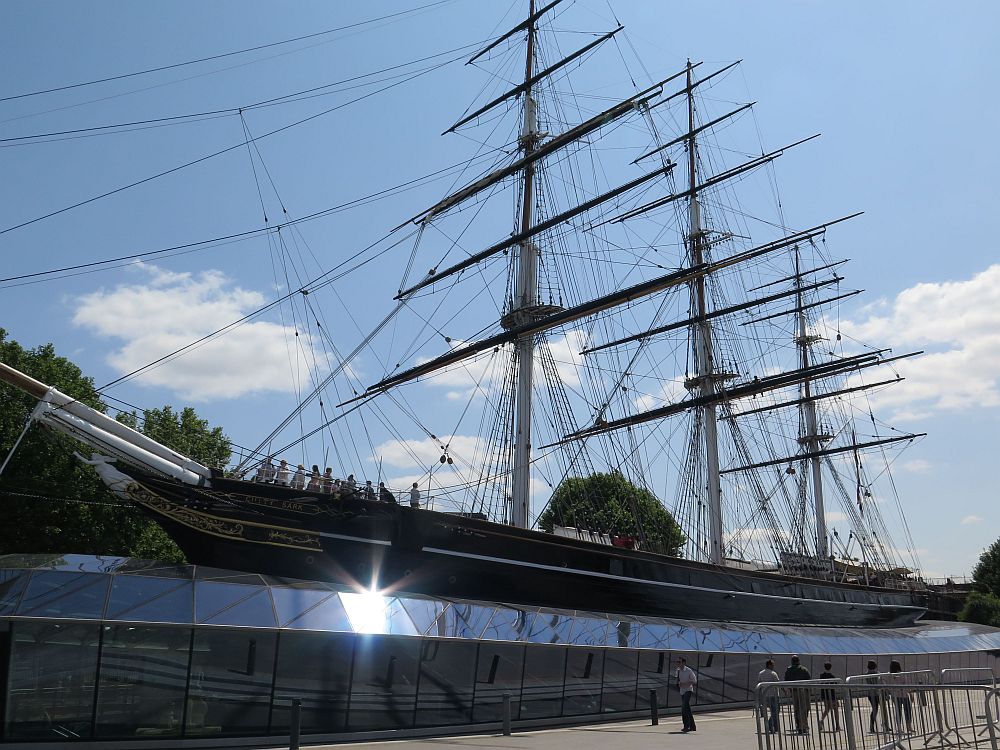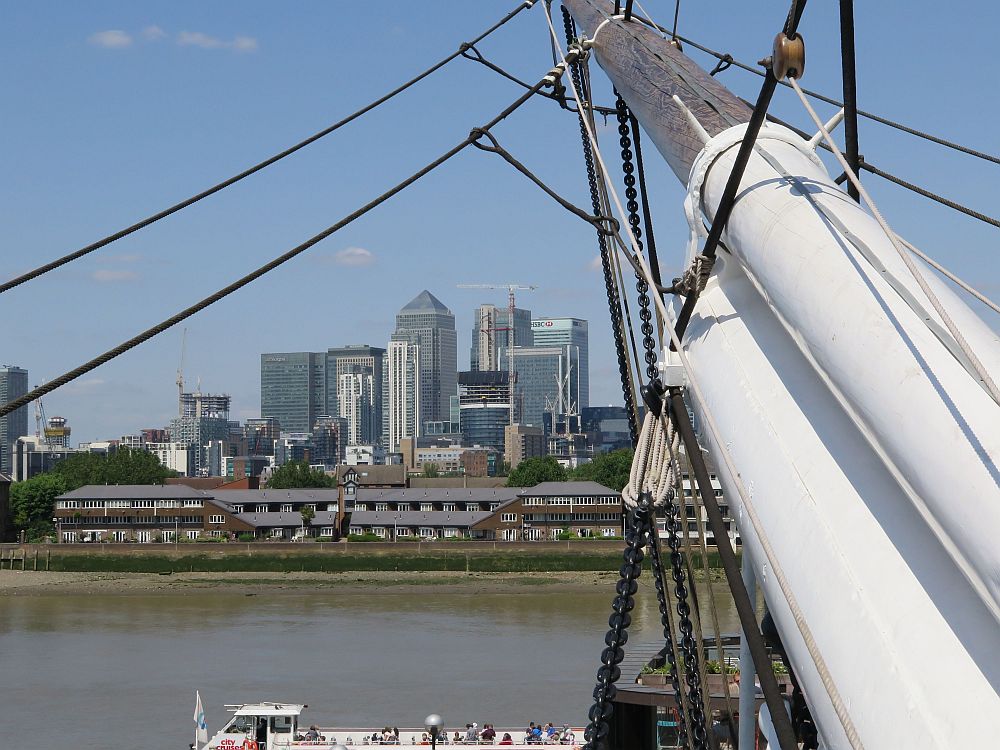 Thursday 9th July. A very busy day today. We caught the bus to Greenwich, we could have taken the train but the bus was both nearer and free!!! The train takes half the time actually travelling but we would have had longer walks at either end so perhaps not much in it? It was an interesting bus ride through parts of London I have not been to before. One side of the road can look quite down at heel but on the other side, overlooking the Thames, expensive flats are being built. Our first stop was the Cutty Sark which has now been fully restored after the devastating fire of 2007. We purchased tickets that would also give us entrance to the Greenwich Royal Observatory. The Cutty Sark is what is known as a Clipper with a more streamline hull than a conventional sailing cargo ship which allowed it to cut many days off the journey between Australia and the UK. It seems to have been mainly used for wool and tea. The steel frame, rather than conventional wood, allowed more room in the hull for cargo. The teak outer planking was sheathed in copper to stop damage to the wood. We sat under the stern of the vessel having something to eat. Quite strange really as the whole thing seems to be suspended in mid-air!!!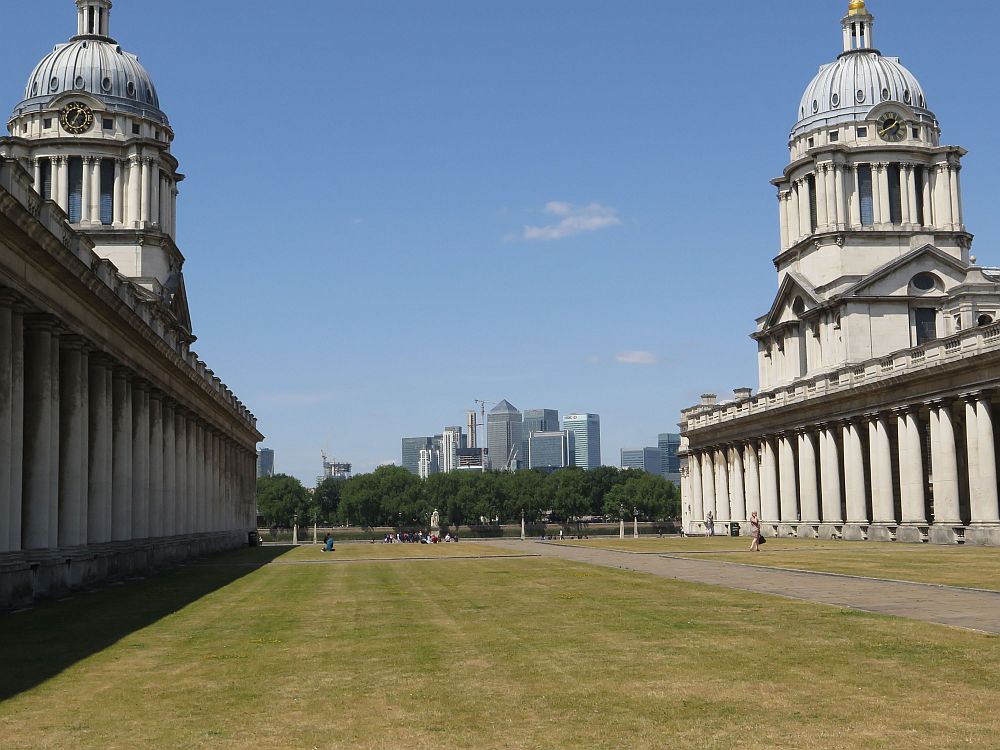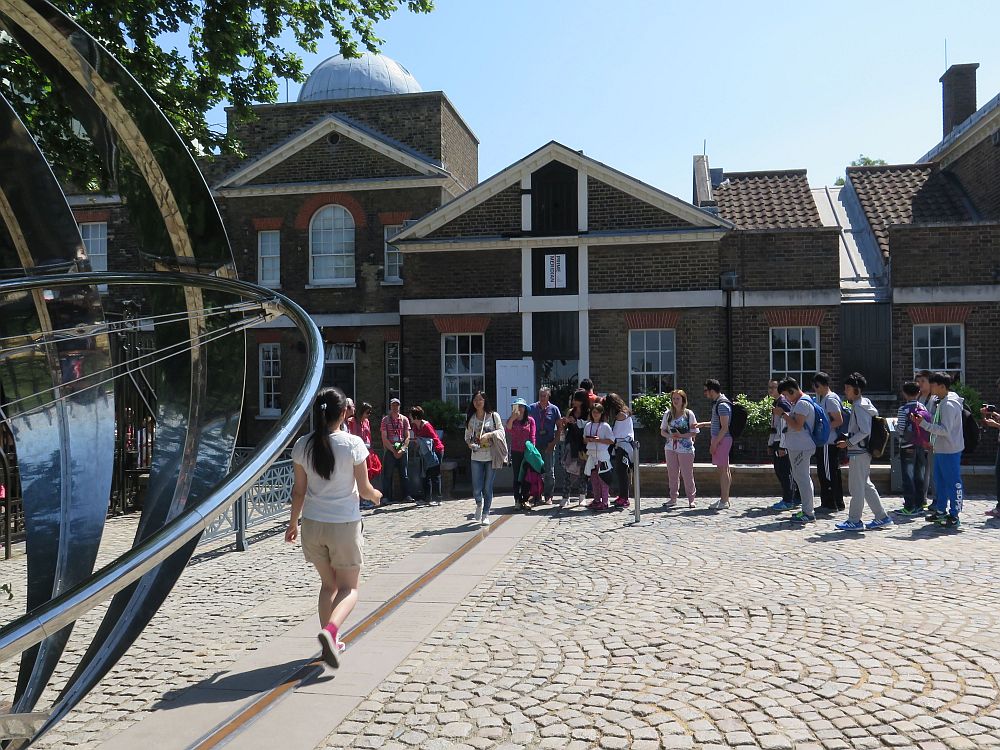 It's quite amazing the views you have of the London skyline from Greenwich, to the west you can see the Shard and to the east the Millennium Dome and right opposite Canary Wharf. We walked through the buildings of the Old Royal Naval College and across the road we could see The Queen's House designed by Inigo Jones and built for Anne of Denmark the Queen of James 1st of England. We were heading for the Royal Observatory in Greenwich Park, but had not realised how steep the access was. Lots of information about clocks and how you can find where you are in the world by knowing the time difference between, say, London and New York. GMT does not seem absolute as midday in Norwich is five minutes difference from London! What everyone seems to want to see is the Prime Meridian and there was a long queue for people wanting to take photographs. I cheated and took photographs of people having their photographs being taken!! The climb was worth it for the views as you can see an even greater panorama of London from up there. Back to Greenwich and the bus home. We timed it at three quarters of an hour, a bit slower on the way back because of more traffic. A really good day and it just shows that Central London doesn't always have to be the main destination.
Friday 10th July. Another lovely day and off to explore a bit more. Yesterday we used the bus but today decided to travel from Abbey Wood to Greenwich by train to test our theory about relative timings. This cost us £10.40 for two return tickets against free on the bus. Time wise was surprisingly very little difference. Although the bus took twice as long as the train the bus stop was nearer to the campsite and it dropped us off a lot closer to our destination. Those that don't have bus passes and are fitter will no doubt choose the train? One thing we noticed at Abbey Wood Station was that it will be on the new Crossrail route which opens in 2018 and this will provide a much faster service right into Central London.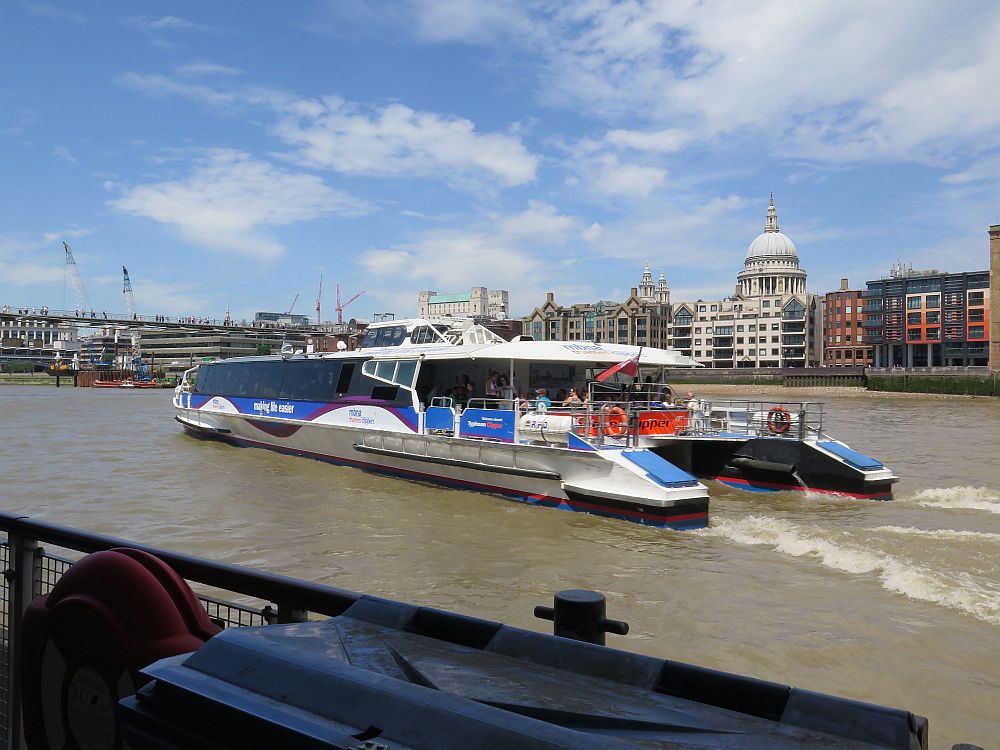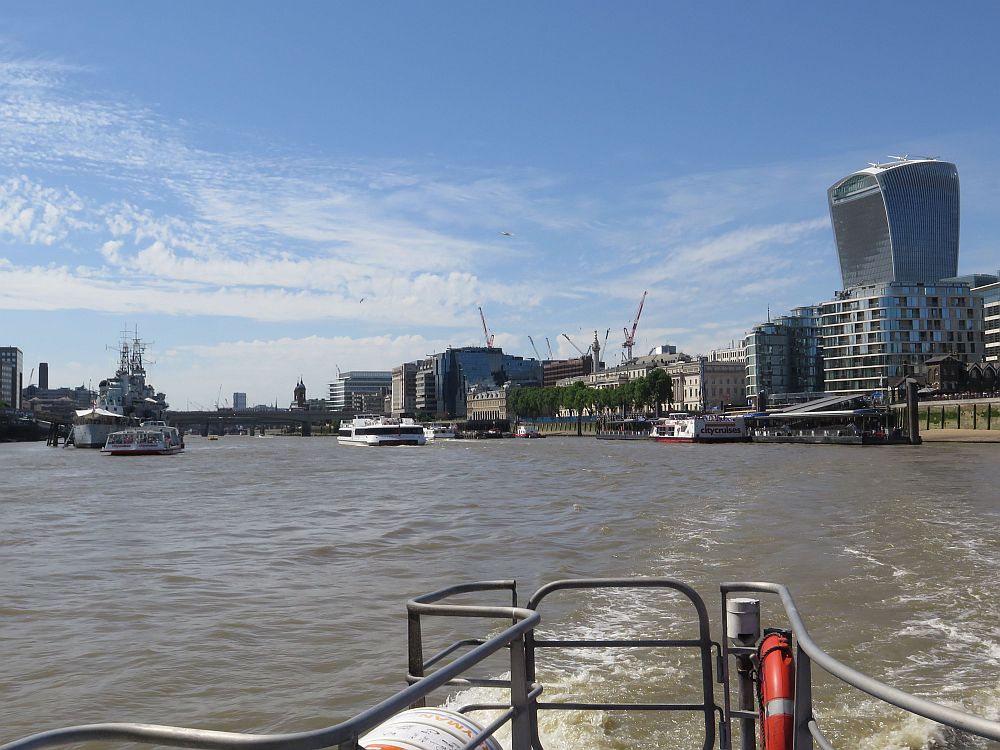 The walk from Greenwich Station to the Pier Head was about half a mile. Today we are using the Thames Clipper along the Thames into the City. There is a very regular service between the O2 and the Embankment although it is fairly expensive. Our two return tickets should have cost about £24 but I asked if there were any discounts for seniors, unfortunately not. Did I have a Travelcard, no, but we do have return rail tickets which should not really count but the nice young lady gave us the discount anyway which saved about £8. Sometimes worthwhile being nice to people!
Going into London by boat is a fantastic way to travel. We were heading for Bankside near to where the Millennium Bridge is and en route we passed Canary Wharf, HMS Belfast, and Tower Bridge. If there is a slight criticism of the Thames Clippers it is that there is not much open deck space only a bit at the stern. However in their defence they are a year round commuter service and open decks and winter might not go hand in hand! As Bankside came into view we could see Shakespeare's Globe Theatre and the Tate Modern a bit to the left. We started looking for somewhere for a snack but in the end decided on the Pizza Express next to the Globe where we had a full meal. Margaret has always wanted to visit the Millennium Bridge and this was her opportunity. Some years ago I attended a dinner where the guest speaker was the Chairman of Arup, the famous designers and engineers, he said his claim to fame was that his company put the wobble into the bridge although since this has been rectified. The Bridge appears, from a distance, to take you right to the steps of St Pauls Cathedral although the reality is that there is a busy road in the way! One thing we noticed on the bridge is that people have started to add padlocks on the wires of the bridge, which is a copy of the tradition in Paris of placing locks onto the Pont des Arts, although recently the Paris authorities have started to remove them.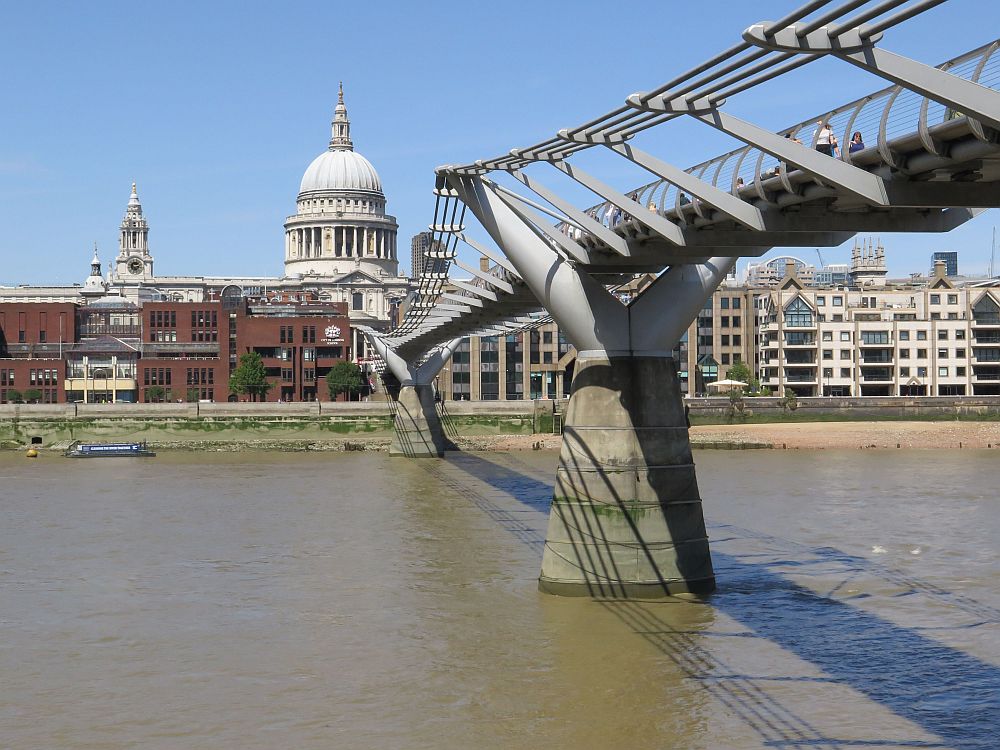 Back across the bridge we walked up to Tate Modern which is housed in the former Bankside Power Station. What an inspired change of use. It is massive inside and entrance is free except for special exhibitions when a charge is made. We thought we should make our way back to Greenwich and we could see our clipper approaching downstream as we made our way down the ramps to the pier. Chance for a few more photos on the way back. Then what seemed a long walk back to the station and the journey back to Abbey Wood.
London seems to have changed so much since I used to visit on a regular basis. It is not only lively and exciting with a feeling of not being under treat in anyway. OK a couple of days out can cost a lot of money, especially for a family but well worth it. Add to that the feeling that every school in London must have had a day out organised during our two day visit!!!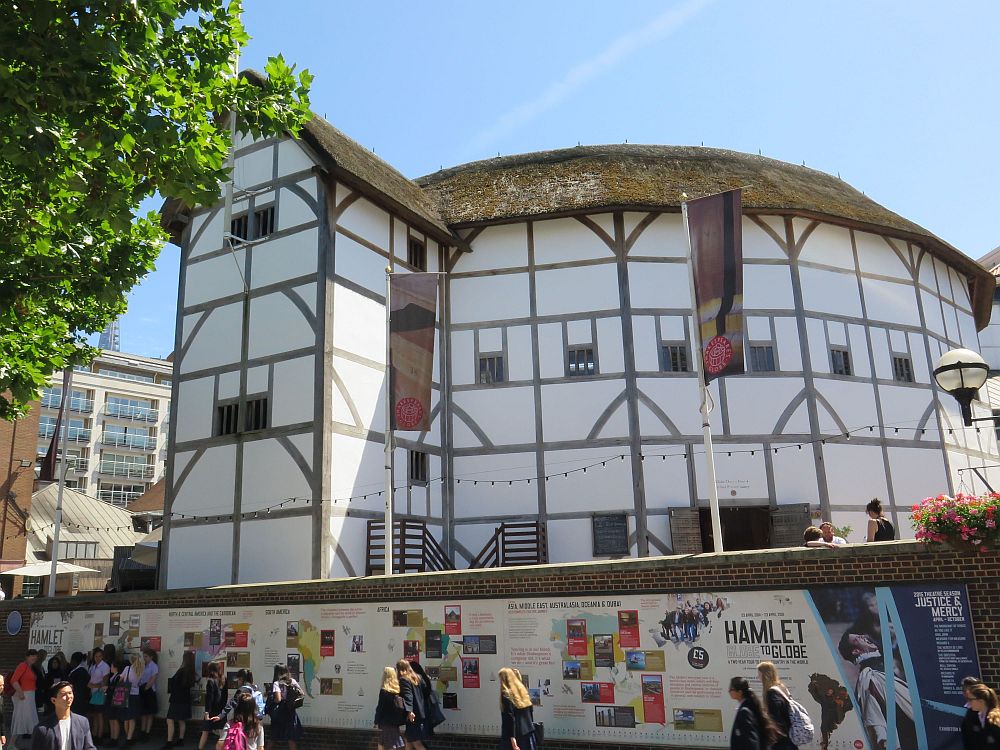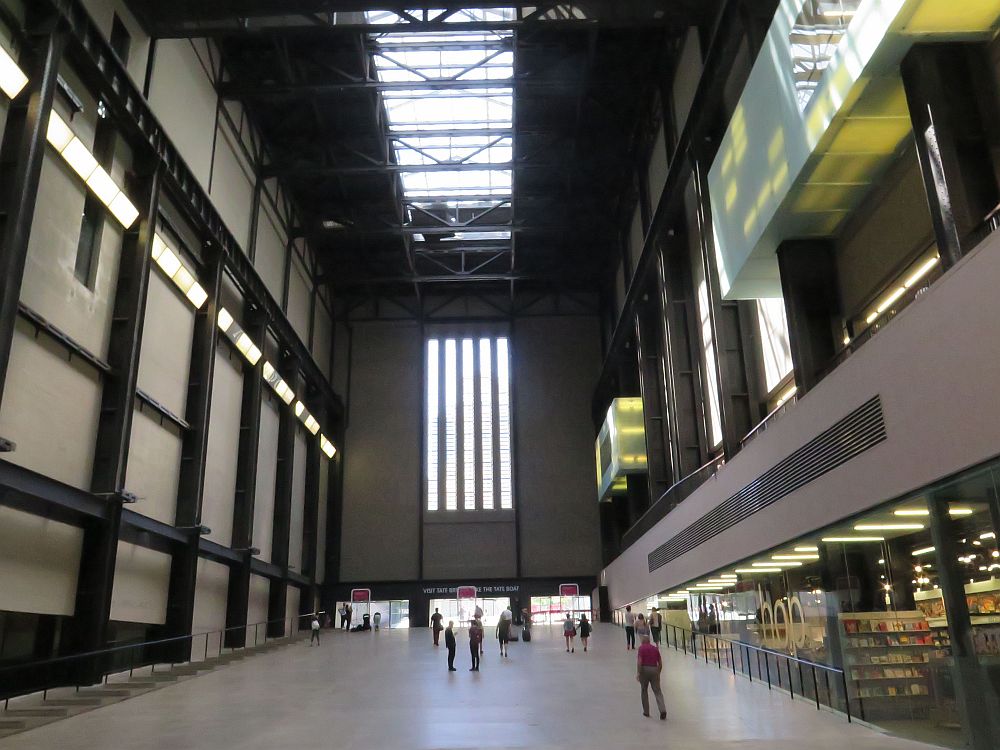 Saturday 11th July. After the excitement of the last couple of days we decided to have a lazy day. We did need to do a bit of shopping so it was back to the Co-Op for a few bits. As we were leaving I noticed a plaque on the side of the building saying that the original shop opened in 1900. I suspect that it was not the original building.
There are several odd features of this campsite as far as wild life is concerned. It has been famous for its resident fox for many years although I somehow doubt it's the same fox we saw fifteen years ago! Not a good idea to leave shoes outside the van as they can and do disappear given the collection of half chewed shoes in reception. Then there are the squirrels who are quite engaging to watch and seem to take campsite life in their stride. However the most bizarre thing is the colony of green cockatoos that inhabit the trees around the campsite. When I first saw them I did wonder if I had had a glass too much of wine!!! One of the wardens confirmed their genuine existence. They seem to congregate in the tree above our pitch during the late afternoon, make a lot of noise and then fly off.
Hertford
Sunday 12th July. After the excitement of London with its green cockatoos we have moved to the C&CC site at Hertford and not a green cockatoo in sight although we did see a green Woodpecker!!! We retraced our steps back to the M25 from Abbey Wood which for most of the way only had light traffic. The only slightly disconcerting thing is that when you join the M25 you are almost at the Dartford Crossing and of course because there are now no barriers you are soon in the tunnel. I have set up a payment account for the Dartford Crossing but I am waiting to see how long it takes for our crossing to register which turned out to be within 48 hours. Even on a Sunday the M25 seems busy, albeit with fewer lorries. We left at junction 25 and headed up the A10 to Hertford. It was slightly confusing where we had to turn off for the site but we found it. The access road to the Hertford C&CC campsite is quite narrow and two vehicles can barely pass in some places. This situation was not particularly helped by people leaving the site later than they should but we managed. We were shown to a pitch at the back of the site. It's fine for a couple of nights. I think because we have always tended to use Caravan Club sites it takes us a while to get used to the more rustic nature of Camping and Caravan Club sites.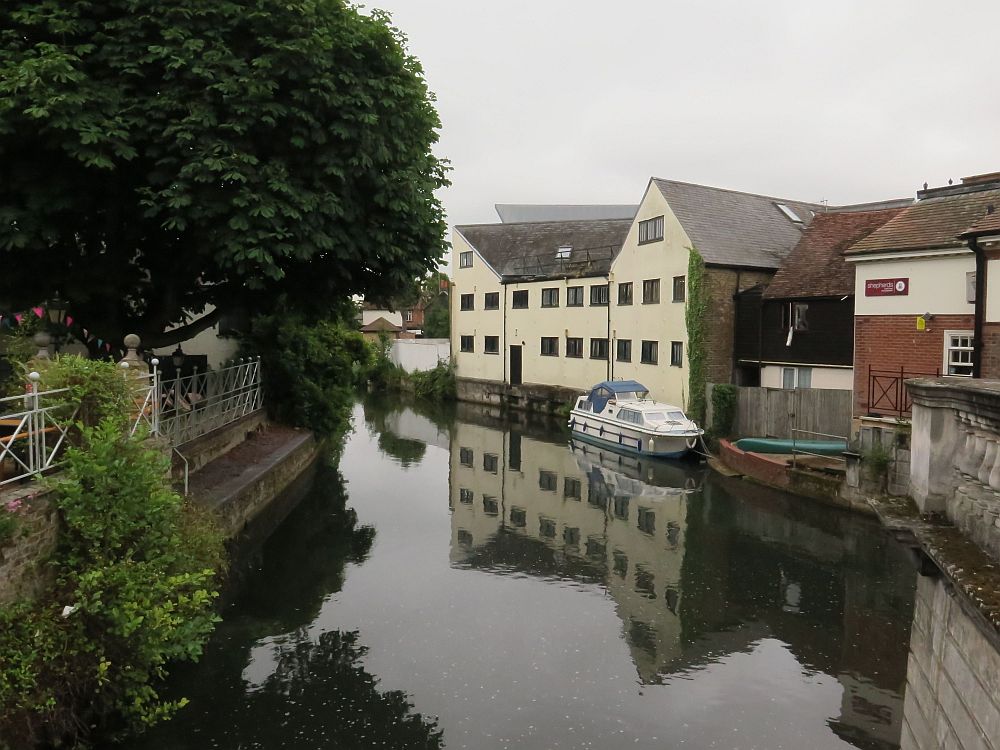 Monday 13th July. It was raining when we got up and the forecast was for rain on and off throughout the day. We were wondering about walking into Hertford which is about a mile or so from the campsite. Whilst still very grey we set off about 11.00am for the town and it took about 25 minutes. Because of my knee I am a bit wary of walking so far, in one go, but as it turned out it was OK. We wandered around the town which is a pretty pleasant place with lots of shops and restaurants. Had it been sunny we may have stayed longer but after a coffee we set off back to the campsite. We hadn't appreciated that it was so up hill, at least the initial section but we eventually made it. This is our last day here before returning home tomorrow. This has been the longest we have been away, albeit only two weeks, since our trip to Germany and France in 2013! I supposed that after a fashion I can get around not too badly with my knee although I have tended to suffer the after effects of busy days.
Tuesday 14th July. It's usually the weather that we notice first thing in the morning but today we were woken by birds, apparently wearing hobnail boots, on the roof of the motorhome!!! When we did look out it was still grey but not raining which I suppose was some sort of bonus. By about 10.00am we were ready for the off but first had to find the motorhome service point which was right round the back of the site. Mission accomplished we were ready to set off. We managed to negotiate the narrow road back into Hertford without incident and set off for the A1(M) and our across country route back to MK. This, at least, avoided the M1 and is not a bad route but obviously a bit slow in places which did not bother us. Looks as if the motorhome will need a wash before out next trip!
Cambridge
Thursday 30th July. Not as warm as the last time we set off from home. Early in July we had one of the hottest days of the year with 37 degrees Celsius but now temperatures are struggling to get much above half that figure. There has been a report that overnight temperatures fell to 1 degree!! Mind you I do suffer a bit in hot weather so being a bit cooler is not a problem for me. TomTom always wants to take us down the M1 for one junction but we prefer the A421 despite the continuing delays due to road works. The journey to Cambridge is quite a familiar one for us as all points East go this way. The site was relatively easy to find and a less torturous route compared to the Caravan Club site at Cherry Hinton. The Cambridge Camping and Caravan Club site has quite a narrow turn off the Shelford Road and we had to wait for a car to clear the exit before we could proceed to Reception. We were shown to one pitch only for the warden to return back a few minutes later to say there was already a motorhome on the pitch which was not due to leave until the following day so we had to select another pitch. Nothing wrong with our second choice except it is en route to the toilet block so we get a lot of cross pitch traffic!
Not long after we set up it started to rain although it did not last long and we thought at the very least we should have a look around the site. As it happens we went a bit further to a large Garden Centre which is about a ten minute walk away from the site. I have to say that I was very impressed with the quality of the plants on sale. I am not sure if this Scottsdale's Garden Centre is a one off but certainly very nice. The sun was now shining so we sat outside where we enjoyed our tea. On the way back to the site we noticed the site full sign up on the main road.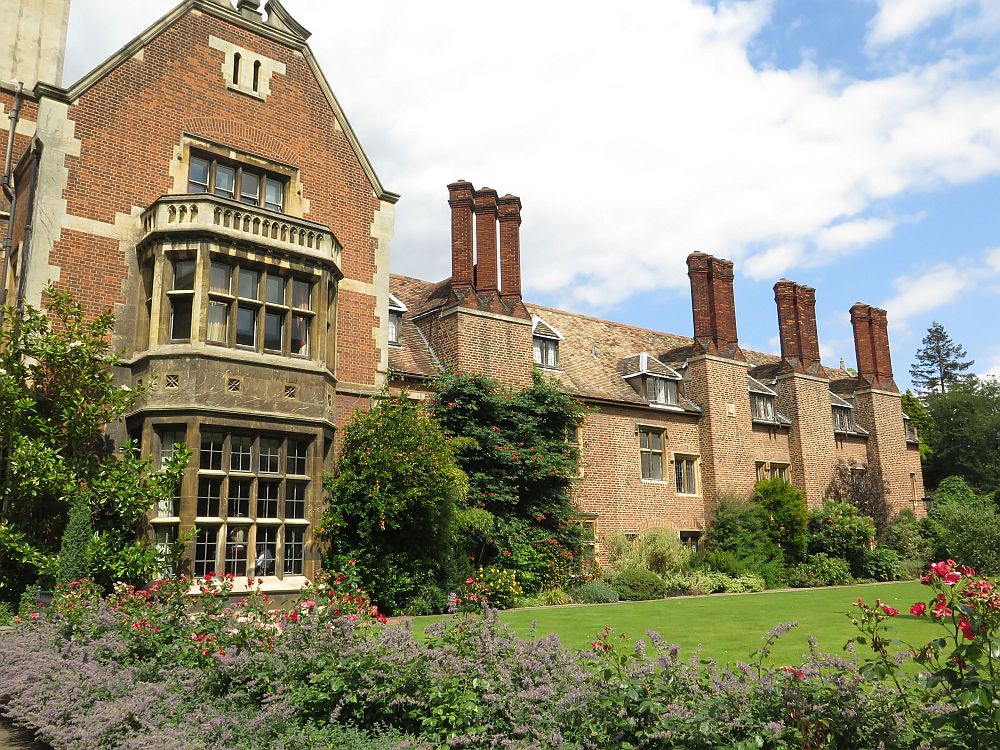 Friday 31st July. It was bright and sunny when we got up and although it did cloud over from time to time it has been a pretty nice day. We went into Cambridge today on the bus. To be honest I think that I would advise on not taking the car as Cambridge is such a busy place and parking is supposed to be very expensive. This congestion, unfortunately, also has an effect on bus timings and both inward and outward buses were later than scheduled. It should also be mentioned that muggings did not renew his bus pass in time for this trip so it cost me £4.10 for my day rover ticket! The number 7 bus that serves the campsite is not the most direct into the City as it travels via Addenbrooks Hospital. I thought the John Radcliffe at Oxford was big but Addenbrooks is massive and they appear to be adding to it.
We got off the bus at the Grand Arcade which is the main shopping centre in Cambridge. We fortified ourselves with a coffee before heading off to find the Fitzwilliam Museum which was the main point of our visit today. En route we walked round the gardens of Pembroke College. I spied a stone staircase through an open door where the threads had been worn down by generations of scholars. The Museum is a very grand building and also has free entry. As you enter the building the grand marble staircase ascends in front of you leading to the many galleries. I suspect it's got something for all tastes from Egypt, Greek and Roman to Porcelain to great works of art. We both enjoy looking at porcelain and there is a lot to see. One thing that surprised me was the amount that was made in London as we tend to think of the area around Stoke on Trent. Because of the recent film many more people are familiar with Joseph Mallard William Turner, otherwise known as Timothy Spall!!! Many will also know of John Ruskin the famous Victorian art critic and champion of Turner's work. Ruskin donated a series of Turner's watercolour sketches to the Museum having previously done the same for the Ashmolean in Oxford. The Museum paintings galleries are a cornucopia of different artists which are a delight to see. I particularly liked the Pieter Brueghel painting of a street scene with so much going on.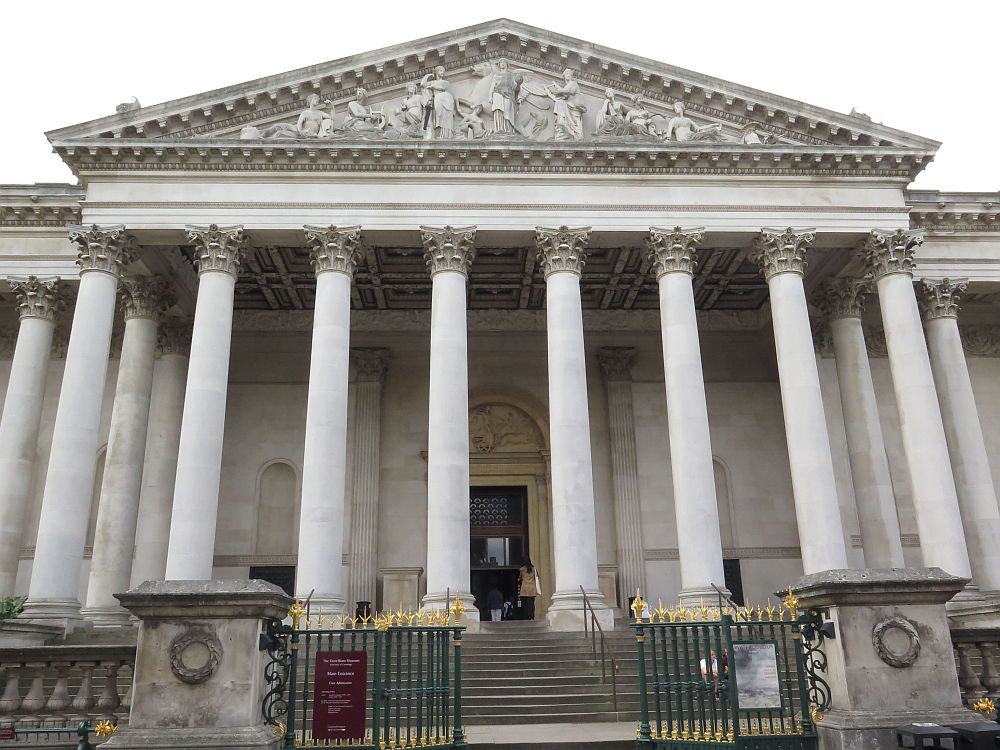 Eventually we had to leave and start our journey back to the campsite. I sort of knew where the bus might depart from and did eventually find the bus stop. The bus was again running late and I timed the journey to about 30 minutes. When we got back the site was pretty full and people were arriving until quite late.
Saturday 1st August. Pretty lazy day as it was a bit cloudier today. After lunch we did walk up to Trumpington because I am quite keen to revisit Duxford and there is a Sunday bus service from here. It took about 25 minutes (at our pace) to get there. En route we crossed over what seemed to be a railway bridge but it was in fact the Cambridge Guided Bus Way which runs from the Trumpington Park and Ride, via Cambridge to Huntington. It has been mired in much controversy but eventually opened in August 2011. It is, apparently, the longest guided bus way in the world at 25kms. From Trumpington it does go to the railway station in Cambridge but that is a little way from the historic centre of the City. It seems that those in charge of the various colleges in Cambridge did not want anything as vulgar as a railway station that near!!! End of factoid. We found the bus stop where we think the bus to Duxford stops (no mention of it at the bus stop!) Fortunately there was a Waitrose just across the road with a café so time to make use of our My Waitrose cards for a cup of tea and cake for the princely sum of £1.90!!!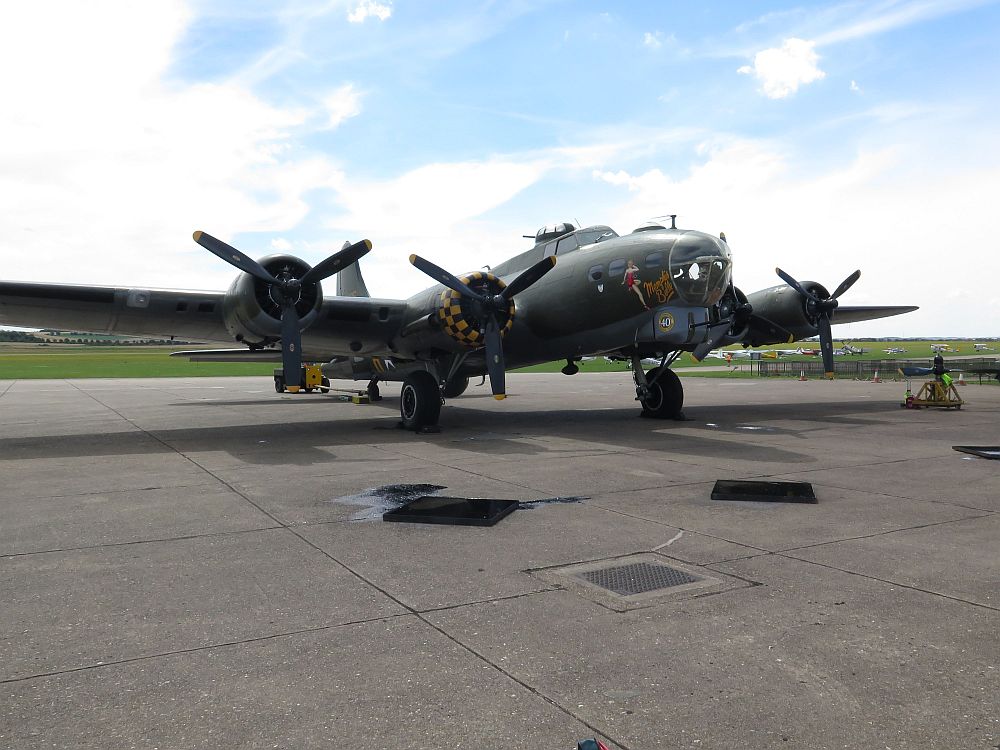 Spitfire - Hurricane? Hurricane - Spitfire?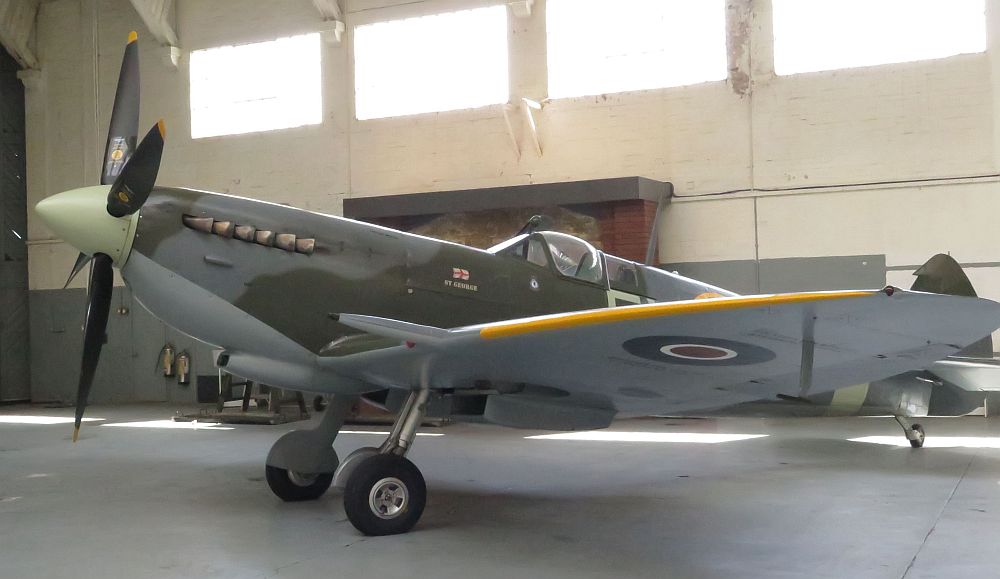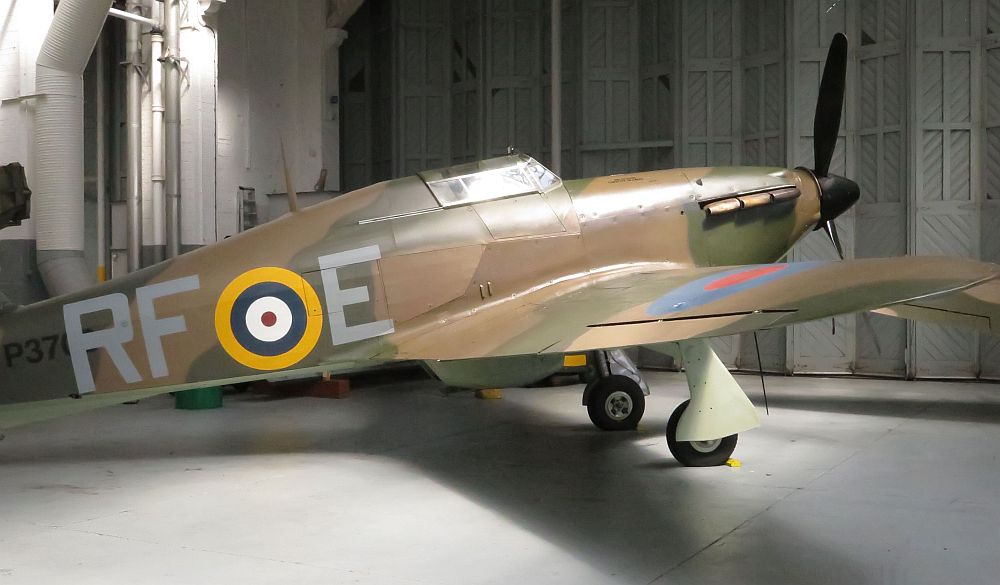 Sunday 2nd August. The day dawned bright and sunny with rising temperatures. We decided that we would visit Duxford today so we walked up to Trumpington to catch the 132 bus that only runs on a Sunday. It whisked us off to the Museum down the M11 in about ten minutes, mind you it was another £4 without my bus pass!!! We were lucky with the entrance fee because we asked if our previous employers had Corporate Membership, which they did, so on production of our ID we got in for free which will more than make up for any bus fares!!! I suppose an Aviation Museum (part of the Imperial War Museum) could be considered to be about big boy's toys but there is a lot more beside especially that part associated with the Second World War. There are eight main exhibition areas in all, plus lots of outdoor exhibits. The Museum is full of contrasts. Take the Spitfire whose heroic pilots along with those in Hurricanes, virtually saved are nation from invasions 75 years ago. Standing alongside one of these planes it seems quite small. Now compare that with the modern jets that came along in later years and they are so much bigger. An example is Concorde which most would think of as a large airliner. Exhibited next door is the, long abandoned, TSR2 which seems almost as large. Duxford is also a place where restoration of old aircraft takes place. Outside are other examples of Britain's long lost commercial aircraft industry which has more or less been reduced to making wings for aircraft put together in another country. I suppose that is the problem with newer nostalgia it is sad, compared to that which is much older which is celebrated.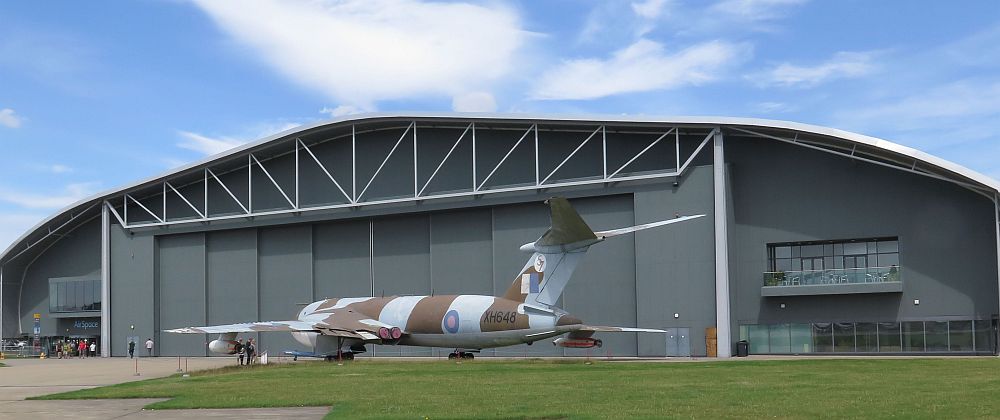 The bus service only operates on a two hourly service so we had to be ready to leave by 3.30pm. We were concerned to find a large group of what seemed to be Chinese students waiting for the bus and we wondered how we would get on. In the end we did cheat and walk forward first as we saw the bus approaching. In the end everyone did get on, just as well as I didn't fancy a two hour wait for the next bus. Back at the site there was actual warmth in the slight breeze so we were able to sit out.
Monday 3rd August. Weather was rather strange today. Some sunshine but also a lot of cloud, windy and muggy. It seems where we are, the weather is a lot better than further north, particularly Scotland. We did consider another trip into Cambridge today but given the cloud I would not have got the photographs I wanted. There was also another reason for not going and that was that I was in a lot of discomfort from yesterday when I walked about six miles. That might not sound a lot to many but when you have a dodgy knee it's probably more that you should aim to walk in a day! Feeling as though we should do something we decided to walk back down to the Garden Centre after lunch. For me it was a struggle but the stiffness in my back did ease a bit by the time we returned back to the site. It's very difficult for me to judge whether the situation is getting worse or whether I am pushing things a bit too much. This is our last day here and its back home tomorrow. We have packed up most things in readiness for the off.
We have enjoyed our stay here at the C&CC site which has been one of the nicer of their sites we have stayed on since being a member.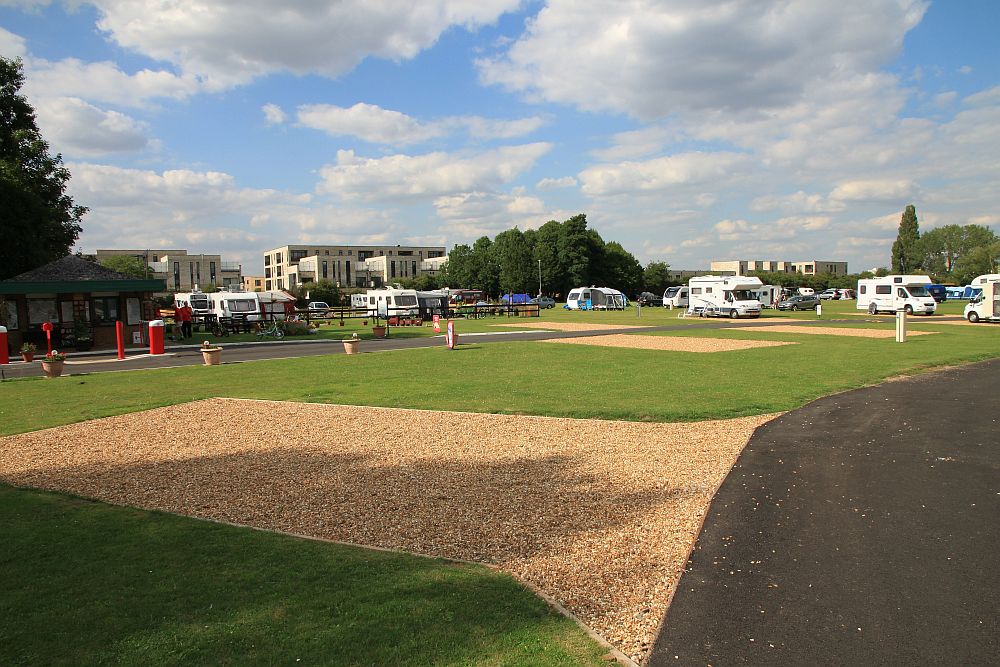 Tuesday 4th August. It was a lovely sunny day when we got up. I was moving a little easier today which is encouraging. We were off as soon as we had breakfasted and tidied up. First port of call was the motorhome waste point to empty the grey waste water. The C&CC really have stolen a march of the CC on the design and provision of such waste points. No need to pull off heavy drain cover before emptying the waste water, just drive over and let it drain through the grill. A fairly easy journey home with fairly light traffic. From the Bedford southern bypass we took the road towards Bromham so that we could use the A422 . This avoids both the M1 and all the road works at Magna Park. Years ago we would use this route when going east but it did entail going through Bedford in those days.
Wickham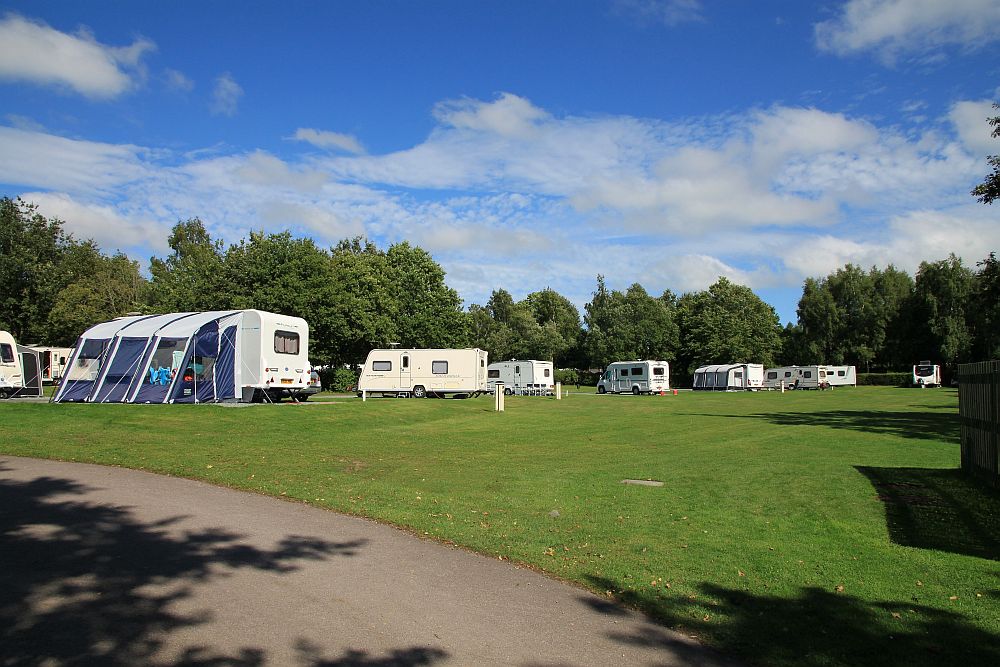 Thursday 20th August. Today we had heading south to the CC site called Rookesbury Park near Wickham in Hampshire. We have a busy five days ahead of us as we have a wedding on Saturday and potentially two dinner dates on Sunday and Monday. It had been wet overnight but as we left home it was drier but still dull. We stopped en route at our usual stopping place, Sutton Scotney Services where you can generally find room amongst the wagons. As a special treat I had a MacD's burger!!! We arrived at the site about 1.30pm just as the heavens opened. Fortunately there is not too much setting up with a motorhome. It's been raining on and off ever since!!!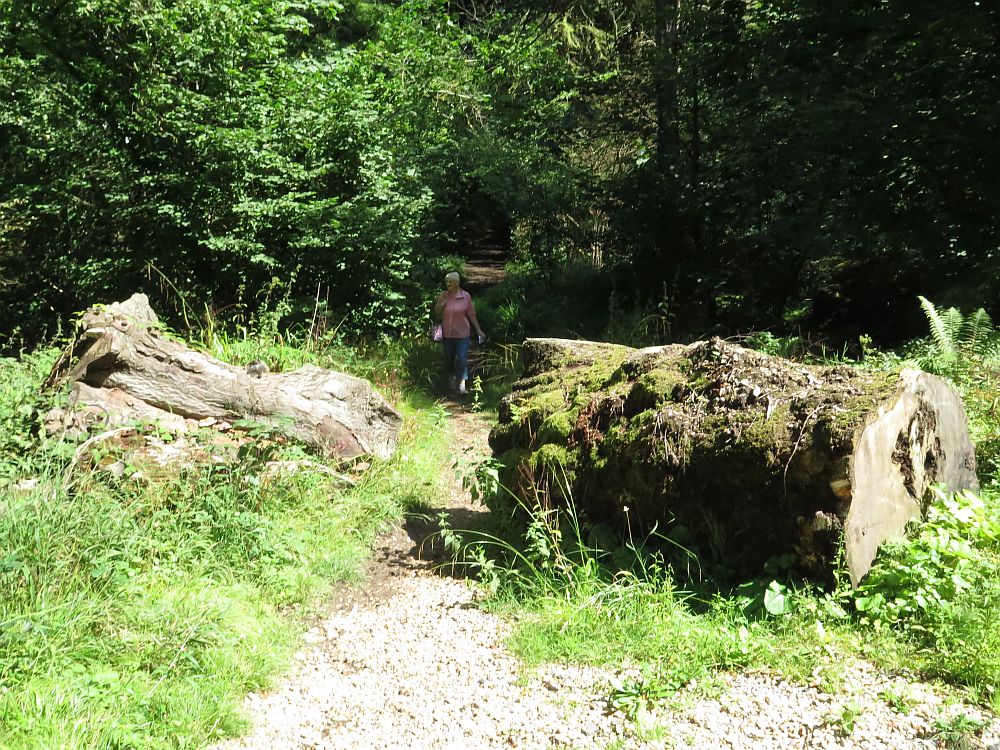 Friday 21st August. The day dawned a bit grey but it soon improved and developed into a lovely sunny day. We wanted to visit Wickham which is the nearest village. It had crossed our mind to take a taxi but given the nice weather we invested 10p (in aid of the Air Ambulance) for the instructions for a walk from the site to Wickham. I am always a bit cautious about setting out on walks I don't know I can finish but surprisingly it was not too bad and we made it to the village which I reckoned was a distance of just over two miles. The walk consisted of muddy bridleway, a gravelled path, roadway and the last stretch was along the disused Meon Valley Railway which has been converted into a long distance walk/cycleway. I am not quite sure what constitutes a village compared to a town but Wickham seemed more like the latter to me if the rather elegant square at its centre was anything to go by. There seemed to be a good range of shops and eateries available. We headed for the only coffee shop but this was full so we crossed the road to the Kings Head where we had a sandwich and a drink. This did not go quite as planned as the food seem to arrive in double quick time. My sandwich had granary bread when I asked for white but it looked very nice so I did not question it. Margaret's was a little different to what was expected but again looked very good so we accepted that also without question. As we tucked in another set of sandwiches arrive so clearly we had been given someone else's! We could not face the walk back but instead ordered a taxi only to be told that there was an out of area charge of £3 in addition to the normal cab fare!!! So a less than three mile journey cost £10 which we thought was a bit steep but we were prisoners of fortune. No doubt it will be the same tomorrow when we need a lift for the wedding!!!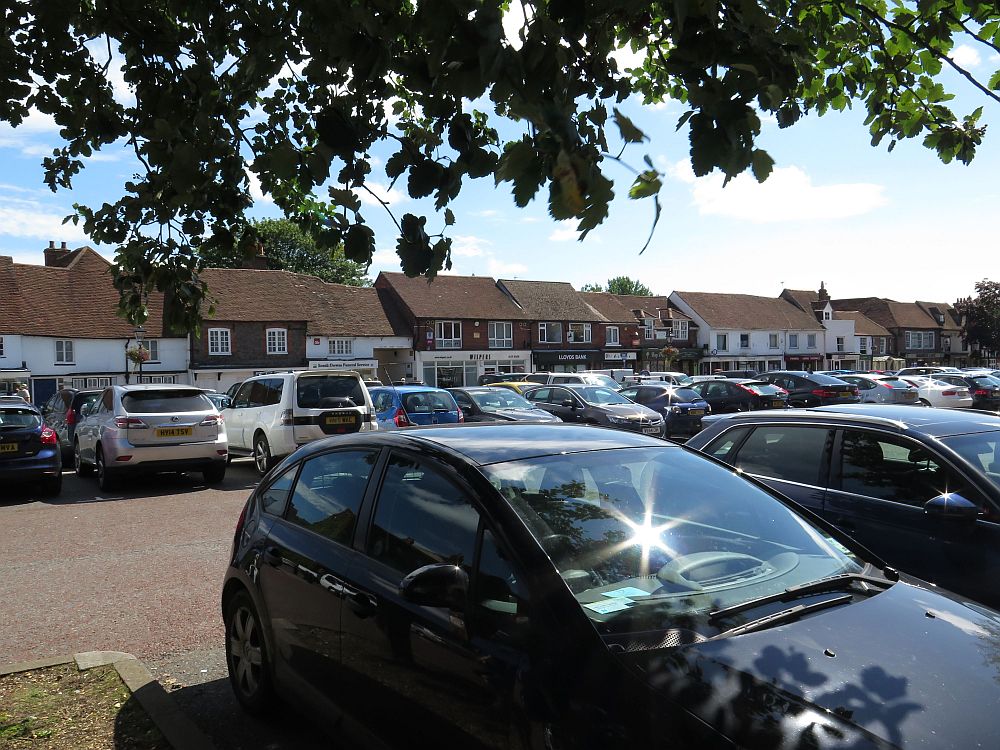 Saturday 22nd August. The day of the big wedding. Fortunately the weather was kind although given the projected heat, perhaps too kind!!! First task was to book a taxi. First attempt failed as I had no signal so I had to walk round the site but I managed in the end. The taxi arrived at 10.15am on time and whisked us off the De Vere at Shirrell Heath where the reception was being held. My nephew had booked a small coach to take about twenty of us to the church because there was limited parking. We got to the hotel early so we were directed by Reception to a waiting room with free coffee on tap!!! Once on the coach the truck sat nav decided to take us all round the houses but we did eventually get there in plenty of time for the midday service.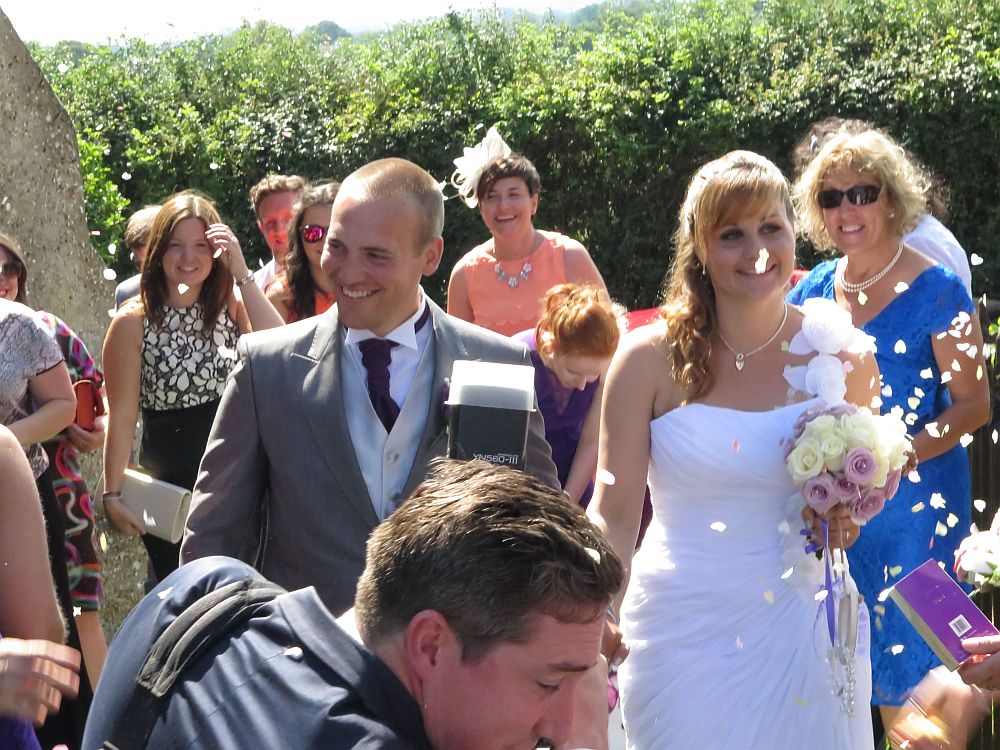 Danielle and Scott were getting married, Danielle is my great niece, my brother's granddaughter? Sad that my late brother was not there to see his granddaughter get married. After the ceremony lots of photos were taken before heading back to the reception at the De Vere. Nice cool drink when we arrived to fortify us for yet more photographs. Time was now getting on and Margaret and I had not eaten since breakfast at around 8.00am. Eventually we are directed to where the wedding breakfast was to be taken. One does, of course, expect a few speeches but always hope that brevity will be the key word, but unfortunately, they went on a bit longer than anticipated. However the highlight was a little girl called Lucy of about eight years old, stole the show. Not only was she funny and charming but she kept it short!!! I was getting really concerned about Margaret, who, apart from a couple of glucose sweets she had, had nothing to eat for nearly nine hours. Was Margaret the only diabetic person there? OK there were a few nibbles on the table but they were mainly salty things! The bread rolls were devoured like a piece of meat being thrown in a pool of piranhas!!! We managed to get our meal just before 6.00pm. The evening do I am sure went on into the night but we decided to leave before all that started and the hotel reception kindly ordered us a taxi which turned out to be the cheapest of the three we had used during our stay at Rookesbury Park.
Sunday 23rd August. We left Rookesbury Park as we arrived, in the rain. We only had 38 miles to go to get to Black Knowl, in the New Forest, but it can be a troublesome journey. We had been advised not to approach Lyndhurst from the M27 but instead to cut down through Ashurst and out to Brockenhurst that way. We had been in traffic jams around Lyndhurst many times before but today nothing, we just sailed through. When we arrived at the site we were met by one of the wardens who said he was fast tracking us through so he took my membership card and suggested I came back to pay once we had, had a cup of tea. The site is pretty full but the sun is now out.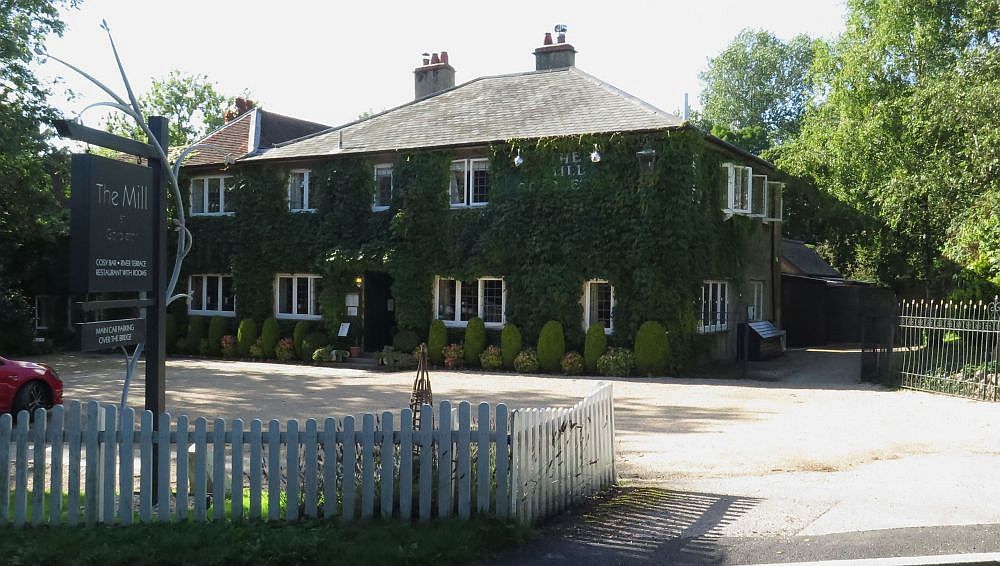 We are only here in Brockenhurst in order to collect a Christmas present. Margaret's sister Joyce offered to take us out for a meal but because of Margaret's operation this has been delayed. Joyce, husband Rob and son Bobby collected us from the site and took us to The Mill at Gordleton near Lymington. It's a very popular restaurant and we had a very nice meal. It has a delightful setting with the mill stream and some interesting sculptures in the garden. I discovered, too late, that there were a couple of CL's almost within walking distance of the restaurant. Unfortunately they were full when I tried to book but I have made a note of them.
Monday 24th August. Well it has rained almost non-stop today and I don't mean a gentle pitter patter but most of the time heavy rain. An ex colleague of Margaret and her husband who had moved from MK to Christchurch were intending to visit us today but given the weather we all decided that perhaps best to leave for another time. Just to illustrate how fickle the British weather is a couple of days ago we had temperatures approaching 30 degrees and today we did well if we had half that. We did wonder if we should have put the heating on but we braved it out!!!
Tuesday 25th August. Time to go home. Weather still dull but at least it is dry. We set off just before 10.00am. As we were driving towards Brockenhurst we spied what I imagine was a Galloway with massively long horns walking along the side of the road. Animals in the New Forest can be a bit unpredictable so I kept well clear!!! When we come south we always use the A34 both ways and usually it's pretty clear but for some, unapparent, reason the traffic was quite heavy and the outside lane kept slowing. Once past Bicester it was much easier going and we made our usually fuel stop before finally getting back home. Since our last fill up we had covered about 400 miles, it's one of the advantages of the larger fuel tank on a motorhome that you don't seem to be filling up every five minutes!
Shrewsbury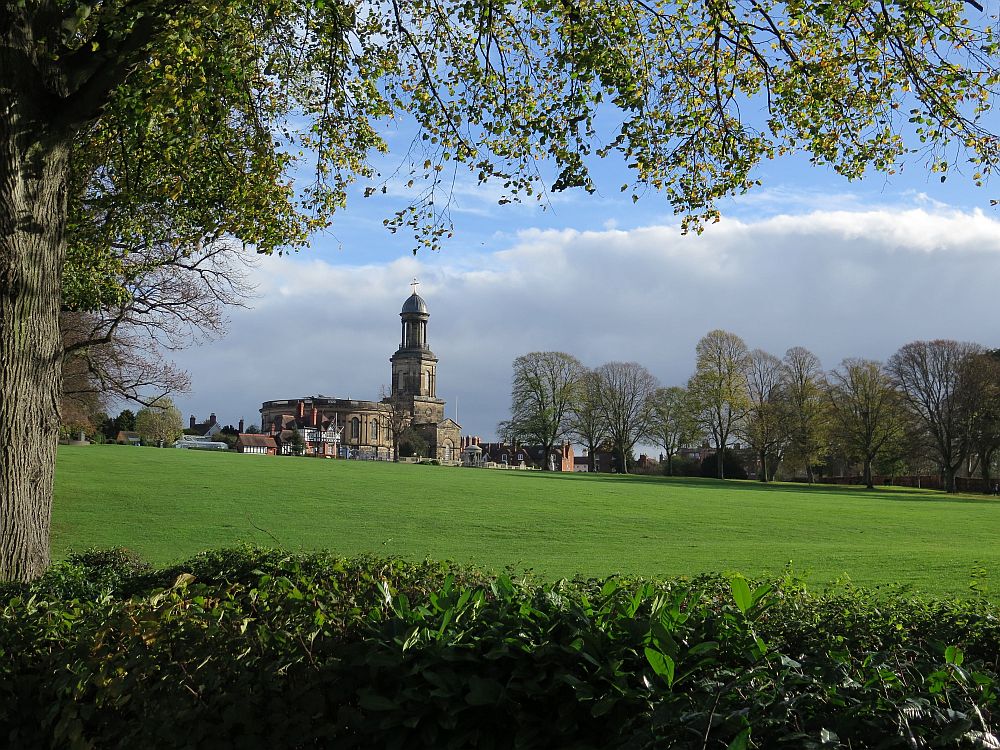 Sunday 15th November. Today we are off to Shrewsbury for a four day stay at the Oxon Hall Touring Park. Sunday is not our normal day of choice to start a trip but in order to get a four day stay we had to book Sunday to Thursday. Our worry about coming and going at the weekend is extra parked cars giving us more limited room to get in and out of the back garden and this was the case today and I had to park my car roadside overnight just to reserve some space from my neighbour's fleet of cars!! Trouble was when I tried to get the motorhome out there was not enough room to get it round the car so I had to move that first and then reverse the motorhome back into the close so we could close the gates and return the car to its spot on the drive. I am sure our neighbours were totally unaware of our difficulties!!
What was making Margaret a bit nervous about the forecast that was the possibility of very high winds and heavy rain. In fairness it was quite windy as we left home and when joining the M1 it was easy to be caught out by a sudden gust of wind. Fortunately it did not get any worse and better still, apart from a few spots of rain, it was a relatively dry journey. We made use of the M6 Toll and used the Caravan Club offer to get a 50% discount. Some people seem to object to the M6 Toll but I would like to see more roads like this as they are so much quieter. After a coffee stop at Norton Canes Services we set off on the final stage of our journey along the M54 before circumnavigating Shrewsbury on the A5 to Oxon Hall Touring Park. It's not often that we use commercial sites but Oxon Hall is part of the Morris Leisure Group who own about half a dozen campsites in the West Midlands and North Wales. They do give a discount to Club members which is just as well as their prices are on the high side! There seems to be some unusual rules like fines for driving over and damaging the grass!!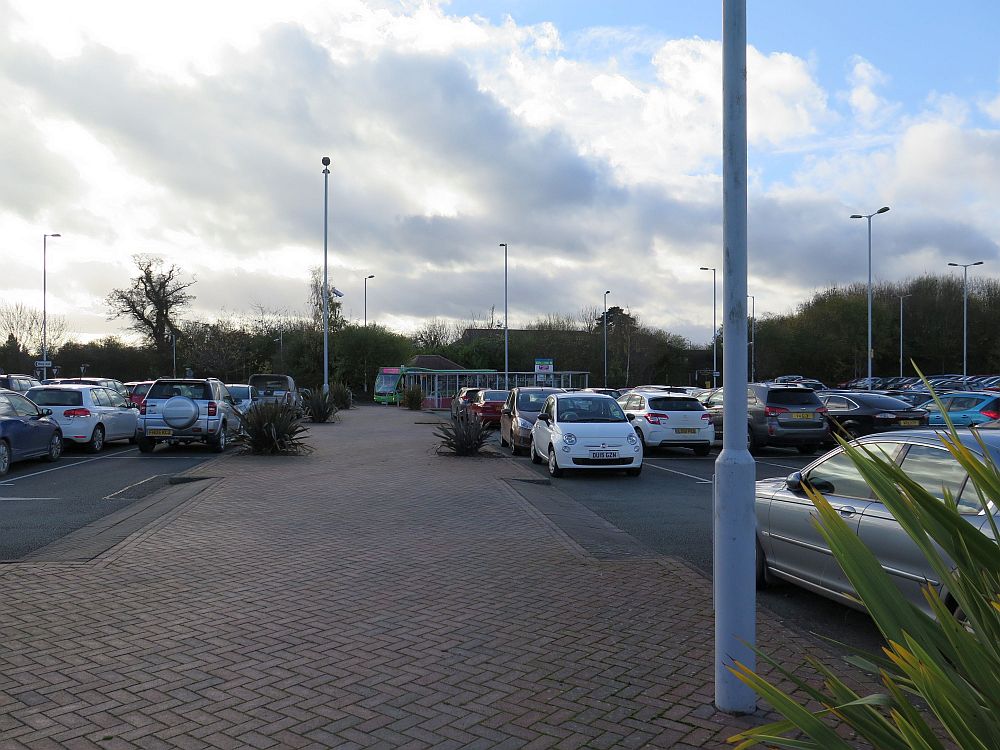 Monday 16th November. A bit brighter when we eventually got up and we did have some sunny periods during the day. However, unlike the previous couple of weeks which had unseasonably high temperatures, once the sun disappeared you noticed the cold. The campsite is almost next door to the Oxon Park and Ride where you can get the bus for the relatively short journey into Shrewsbury. Unfortunately, what I think will be an increasing trend, travel with a bus pass is not free but you do get a 50% discount on the usual price of £1.60 return so still good value. When catching a bus into an unfamiliar town we tend to wait for when the majority of people get off the bus and we get off with them!!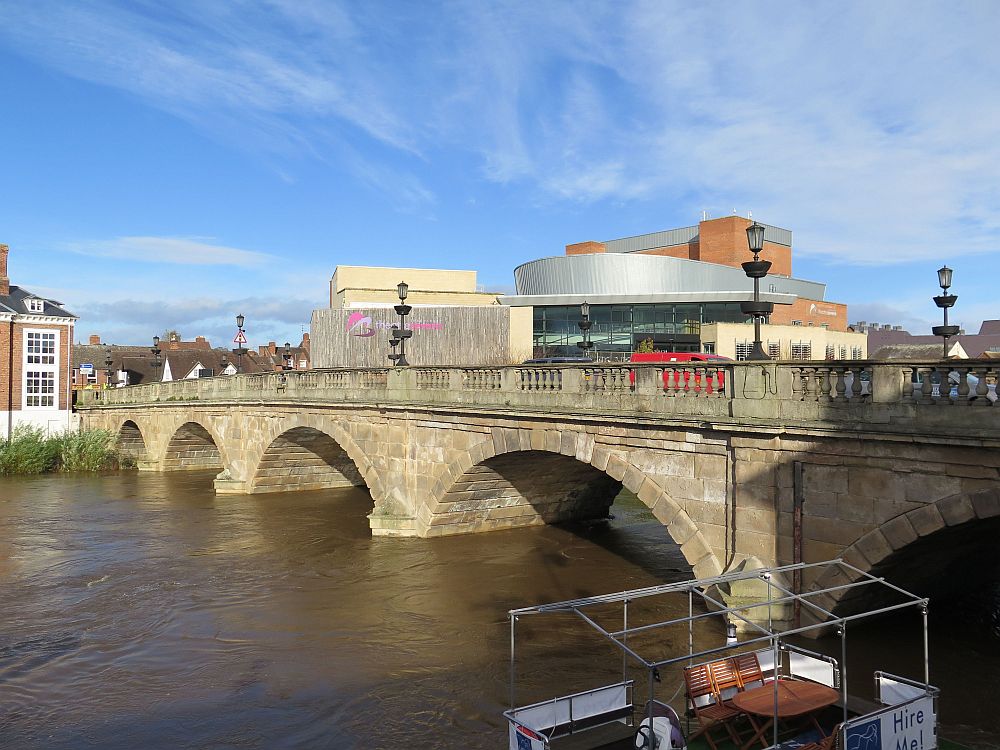 Shrewsbury is famous for two well-known people, at least. Perhaps most famous is Naturalist Charles Darwin who was born here. The second is Percy Thrower who was Parks Superintendent at the Municipal Gardens and was perhaps the first TV gardener. When I was young, still at school, I remember in the newspaper that my Dad had there was a strip cartoon where Percy Thrower would give tips of what needed to be done in the garden that week. The centre of Shrewsbury is a mix of, old, very old and new. Most of the old is contained within a loop of the River Severn. There are lots of little roads and alley ways that you can explore. We walked down to the river and through into Quarry Park which forms the tip of Shrewsbury along the river bank. The water was running quite fast and we could see on the opposite bank that the benches were about six inches deep in the water! The famous Shrewsbury School sits high above the river on the opposite bank. Overlooking the Park is St Chads church which as well as being a beautiful church is unusual for England in that it has a circular nave. Between the river and St Chads is a special garden called the Dingle with a lake and formal garden. Exiting the dingle you walk up to lovely park gates and to one side is the house where Percy Thrower lived. What a wonderful view he had over the park and down to the river, that's the sort of work you don't mind taking home with you! We set off back into town where Margaret wanted to visit M&S. Now as a brand they are pretty formulaic so quite what the difference is between M&S in Shrewsbury and M&S in MK I am not sure!! We started looking for the bus back to the P&R once we worked out where they went from.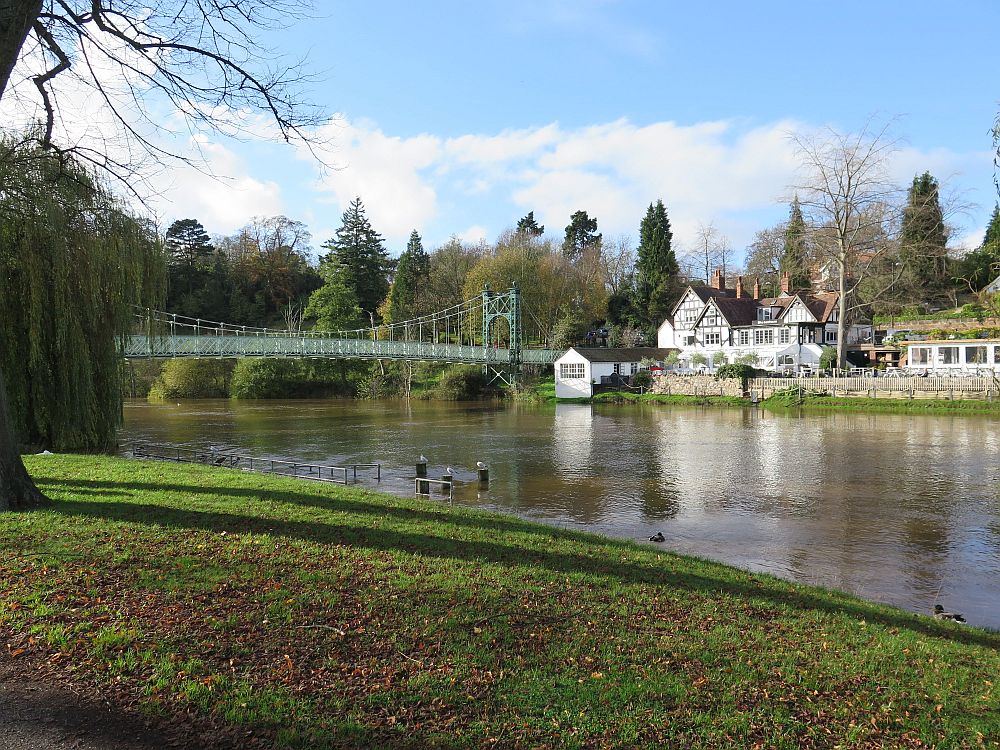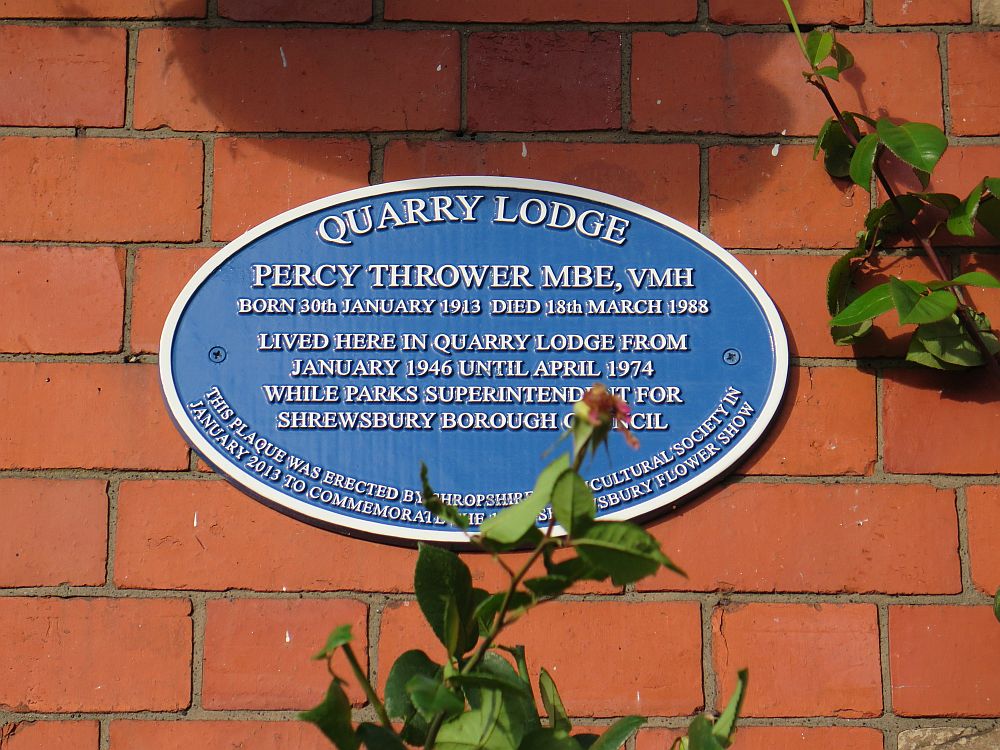 Tuesday 17th November. Although the weather forecast was not good we decided to go back into Shrewsbury today to see how far we could get round the river from the other direction. First stop was the Castle which is now a Regimental Museum. We decided not to go in but we had a quick look round the outside but did not fancy the climb up to the tower! By now it was raining and we were glad of our Berghaus Goretex jackets which we have got a fair amount of use out of unfortunately!!!We wanted to get down to the river but our first attempt failed as when we got down to the river bank the road we wanted to take was no longer there, it was under water!! We retraced our steps, uphill, and tried again to find another route. We came across a rather grand (sounding at least) shopping centre we had a look in but it was a bit disappointing. One of the bridges across the river, near to Shrewsbury School, is a toll bridge. Only 20p to get across in the car and a penny for pedestrians! We eventually found the old walls that run along past the Cathedral and further along past St Chads where we entered Quarry Park We walked down to the river and followed it along to the next bridge where we knew there was a Wetherspoons. Maybe not the best cuisine in the world but £16.99 for two steaks and a bottle of wine can't be bad!!! It had been pretty wet during our walk but would you believe the sun actually came out whilst we were eating our meal!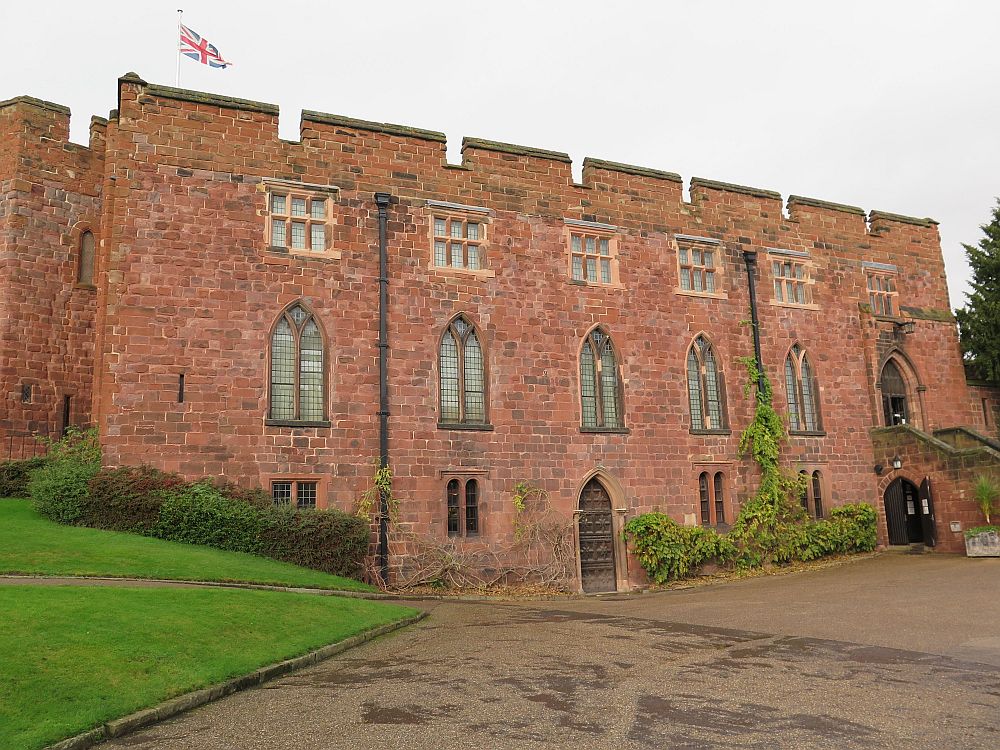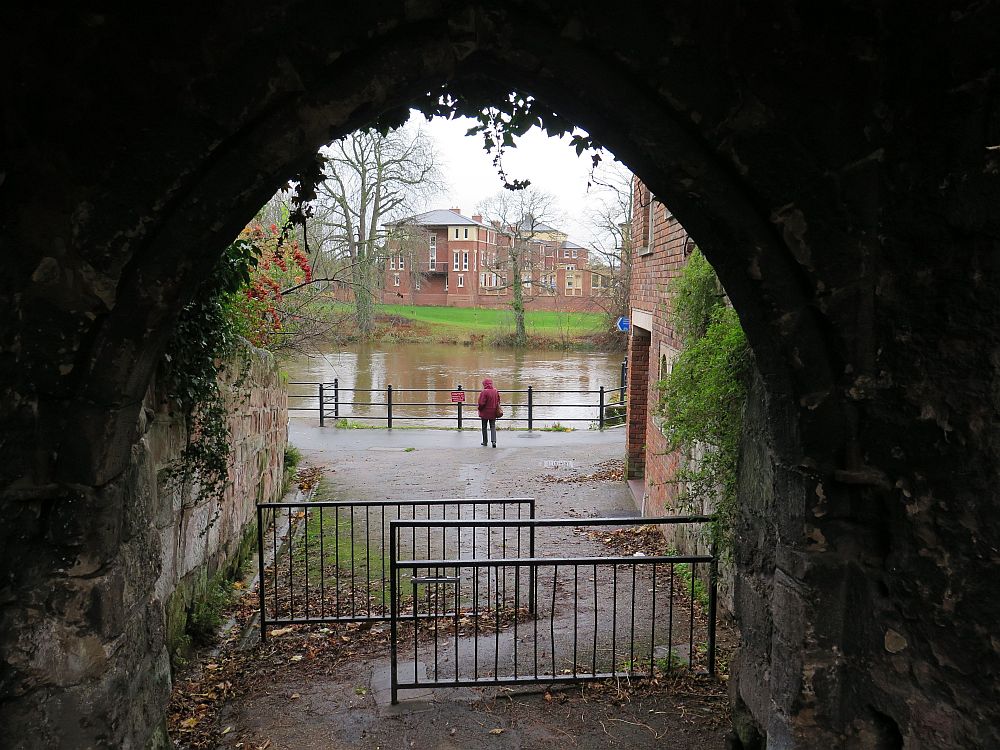 Back at the van the wind was starting to get up. We had been warned about a new storm called Barney. Strange that they have only just started naming storms in the UK and we seem to have suffered from all three so far named on this trip! Mind you Barney was the worse so far, the motorhome was really shaking when a gust hit the side of the van. We felt we couldn't use the satellite dish so I stuck our small Avtex aerial on the side of the van in the lee of the storm which fortunately gave a perfect picture, more by luck than judgement I expect!! Fortunately by about 10.00pm it had calmed down a bit.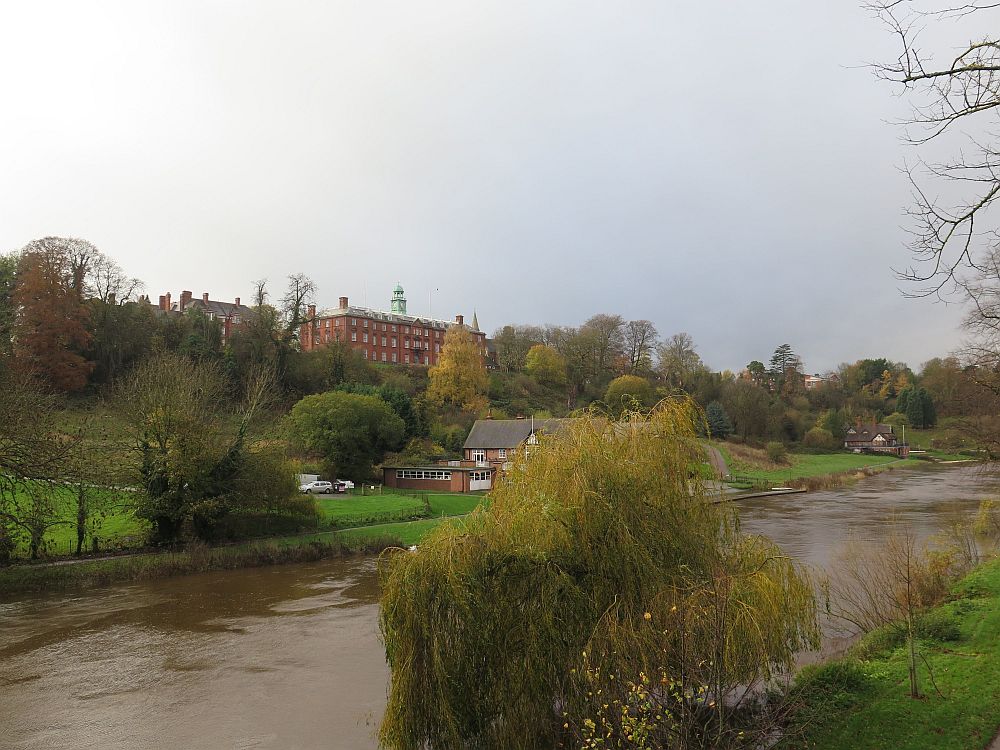 Wednesday 18th November. Surprisingly with all the wind we had yesterday evening there was little rain but as we soon discovered that was to come today with a very wet morning. It must not have been raining early this morning as the guys from the site were mowing the grass before 9.00am!!! None of the grass pitches seem to be in use but this weekend is the switch on for their Christmas Lights so perhaps they are allowing people to use them just for a couple of days. There seems to be very few units here, the site being only about 20% full, most seem to be in the adult's only section. Perhaps makes you wonder why they don't make the whole park for adults? Seriously if this was a Caravan Club site I imagine they would be disappointed if any of their sites had this low level of occupancy. Perhaps they are happy with the revenue but I would have thought this site should be nearer 50% full so it's either down to publicity or their prices are not attractive enough to encourage more customers.
After lunch the weather suddenly brightened up so we went for a walk around the site. The optimism about the weather was misplaced as it soon started to rain again! In addition to the touring section there is also a separate static section which is nicely laid out, interestingly they are all painted green! I suppose if you discover a place where you are happy to spend a lot of time a static is a good solution. I don't think we have reached that stage yet.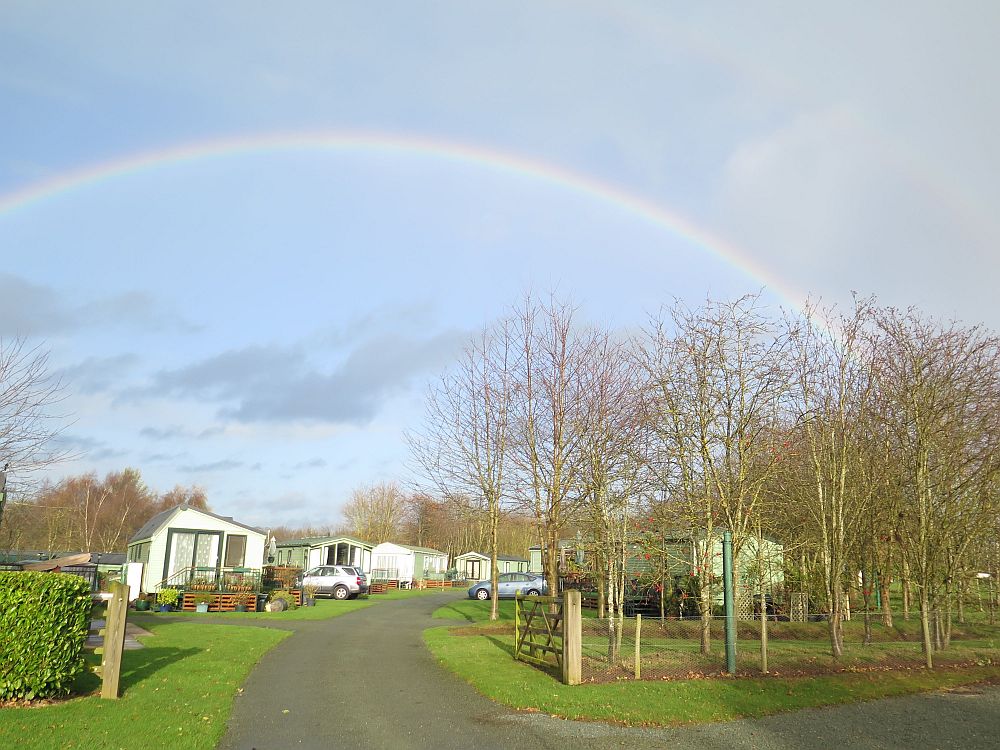 Thursday 19th November. We awoke to a dull day although not raining as we were about to depart. Unfortunately as soon as we were on our way it did start to rain and did not let up until we got home. We would have preferred to have used the M6 Toll again but given that on our trip here there were roadworks on the old A5 which caused delays on a Sunday we thought there would be no hope on a weekday so decided to take our chances on the original M6. It was pretty horrendous with heavy rain and high density traffic most of the way which required even more concentration. Another change was that we decided to leave the M6 at junction 1 and travel down to MK on the A5. This can be slow but strangely today it was fine. We saw a service station ahead but when we pulled in it seemed only to be for lorries and they were going through some payment booth. As we were only there for a comfort break I pulled off to the side of the road for a few minutes before being on our way again. We made our usual fuel stop before finally getting back home to surprisingly find no vehicles parked on the side, hurrah!!! If the motorhome sat on the road for more than 15 minutes that would be and exaggeration and it was soon safely tucked up in its parking space in the back garden, I doubt anyone noticed we had been there!!!
Longleat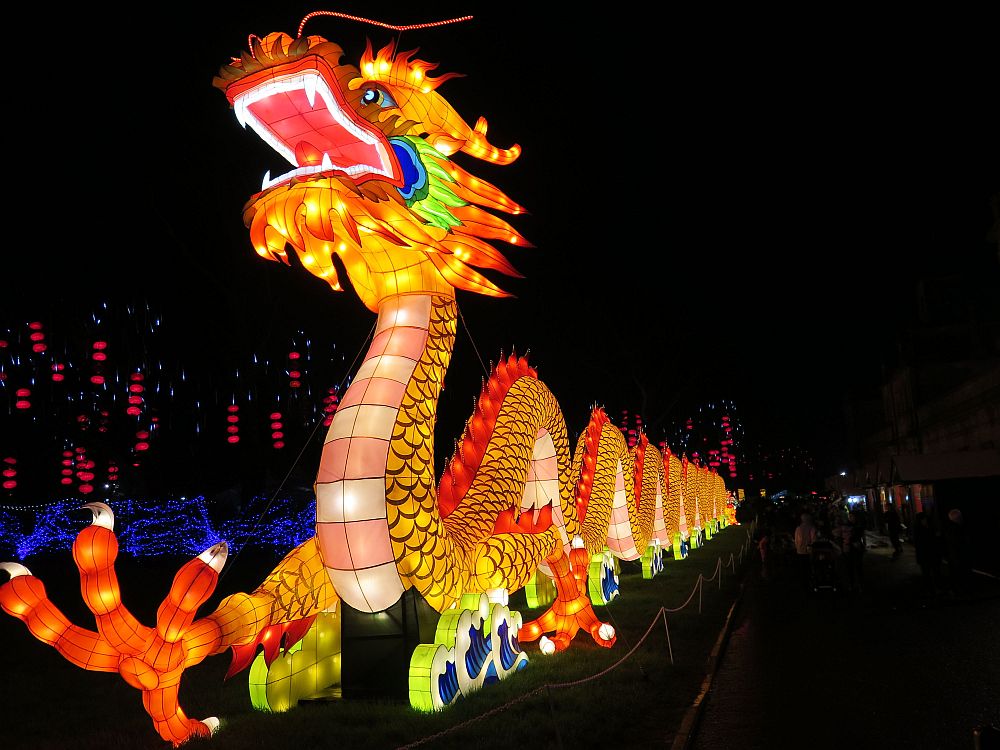 Monday 14th December. Less than two weeks before Christmas and we are off to Longleat Caravan Club for three days. The weather recently has been quite dull so none of those crisp frosty mornings we usually get at this time of year. The bonus has been that it is unseasonably warm with temperatures regularly in double figures. The arrival time at Longleat is from 1.00pm onwards, more of the reasons why latter. Our journey took us down the A34 to what we used to know as Bullington Cross. We were commenting as we drove that we have used this road ever since I learned to drive 45 years ago. First because of our interest in canals when we owned a small boat which we kept on the Kennet and Avon Canal and latterly since we moved to MK when we regularly went between Southampton and our new home. It is much better now as its all dual carriageway but in days gone by there were many sections of two way road including the bit right through the middle of Newbury! Turning west onto the A303 it seemed a good road until you get to Stonehenge where the road becomes quite narrow. It has been due to be upgraded to dual carriage way so many times and then postponed which has left it in limbo. Government needs to get to grips on this essential route to Exeter. We got to the final bit of the route along the A362 which eventually goes to Frome. We were looking for Lane End and the White Hart pub as it was from here we had to complete the final two miles of the journey to the campsite. It was with some trepidation that we turned off the main road as the final section is narrow with few passing places hence the requirement not to arrive until after 1.00pm. The route was well signed and fortunately we only met two vehicles. Having recently washed the van I was dismayed to see how filthy it now was going down those narrow roads.
Once we had booked in and set off looking for a pitch I was rather surprised to see how empty the site was. I think in total there are about 10 units here. When we have been to Chatsworth at a similar time of year it's always been reasonably full. We have yet to sample the attractions of Longleat so maybe we need to reserve judgement.
Tuesday 15th December. It has been wet and grey today but that did not deter from walking up to Longleat in the morning which fortunately is only a few minutes walk from the campsite. The first thing we had to do was exchange our online ordered tickets for real ones. Perhaps it's the time of year but there seemed very little to prevent anyone walking into the complex, not that I would encourage that! Caravan Club members can buy reduced price tickets online. You can also download money off vouchers for the gift shops and catering which are worthwhile.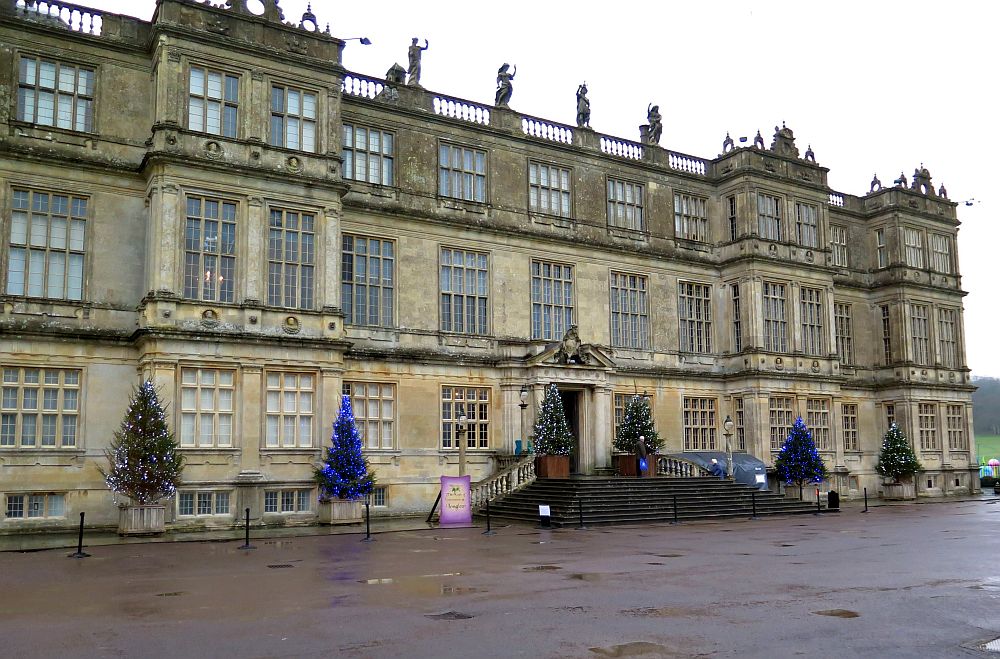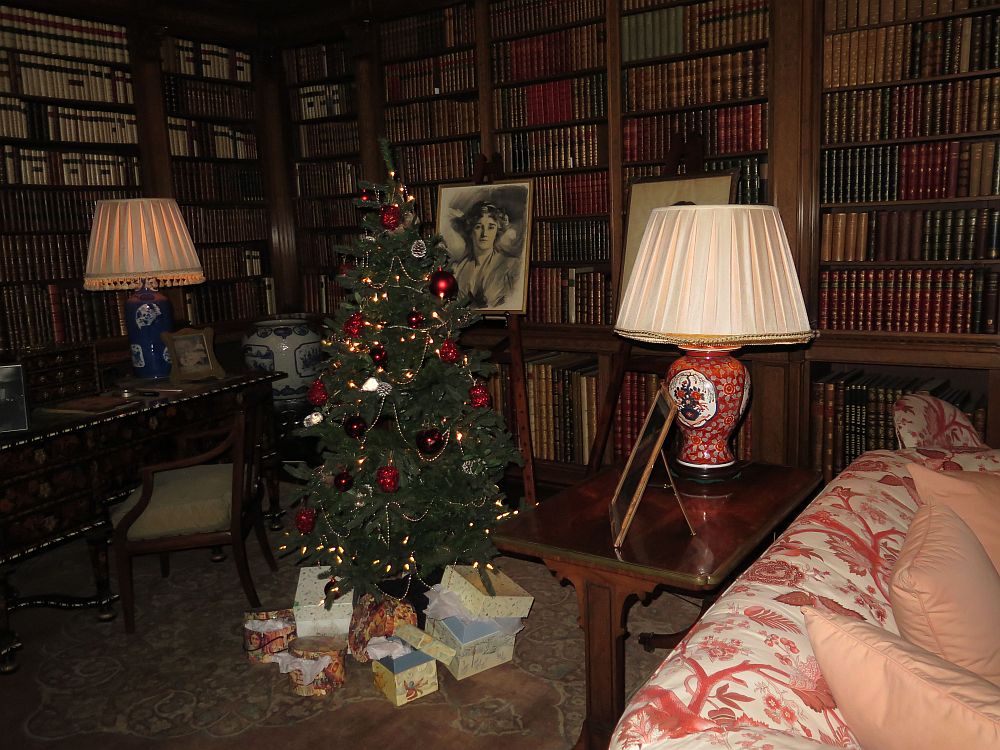 Initial thoughts on the House was that it is much smaller than some of the other great houses we have been to. It is the home of the somewhat colourful Alexander George Thynn the 7th Marquess of Bath, although I think the Estate is now run by his son. All the grounds surrounding the House were laid out with the Light Show stands which we would visit later. I wasn't sure we could view the house because I had read about guided tours but there was a route through part of the house that we were able to take. The route was set out in a series of nursery rhyme themes and Christmas stories with staff dressed up in costumes. After a coffee we explored the rest of the site looking at the shops. There are also animal areas where they can be seen up close and personal with the less dangerous types!!! The advantage of the CC site at Longleat is that you can nip back for lunch which we did in order to refresh ourselves for our second visit when it was dark. The Longleat Festival of Light is well worth a visit, clearly a lot of thought has gone into it. They also have a Chinese show which was quite interesting particularly the chap who changed facemasks somehow without any of us seeing how!! The light exhibition was set out all round the House and was very impressive.
The smaller pictures can be clicked on for a larger image.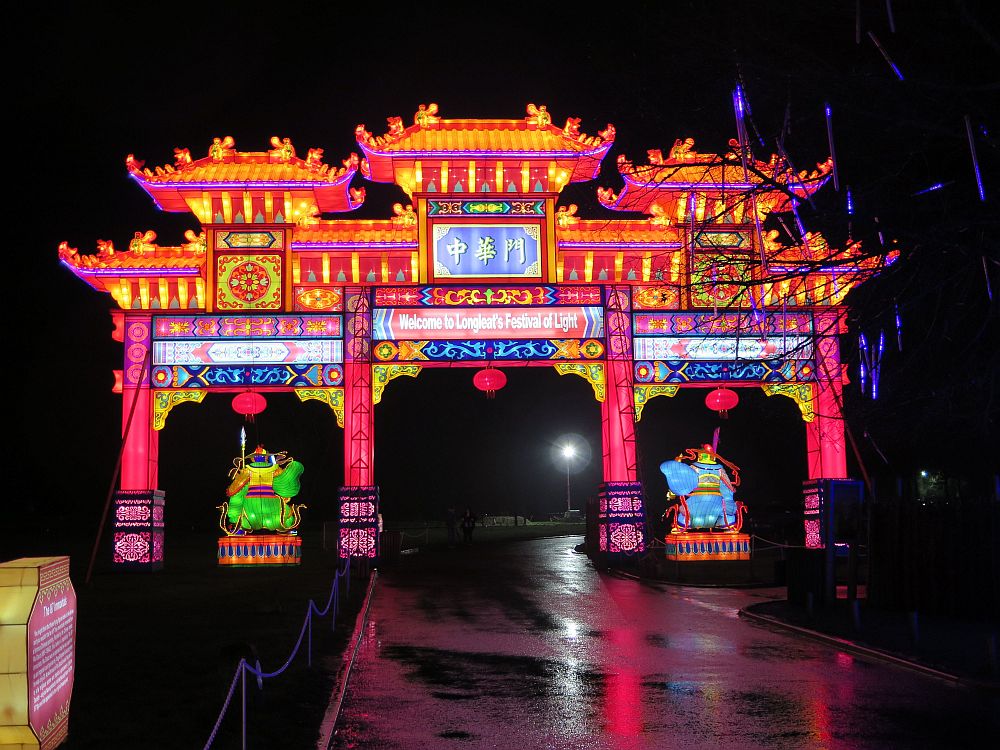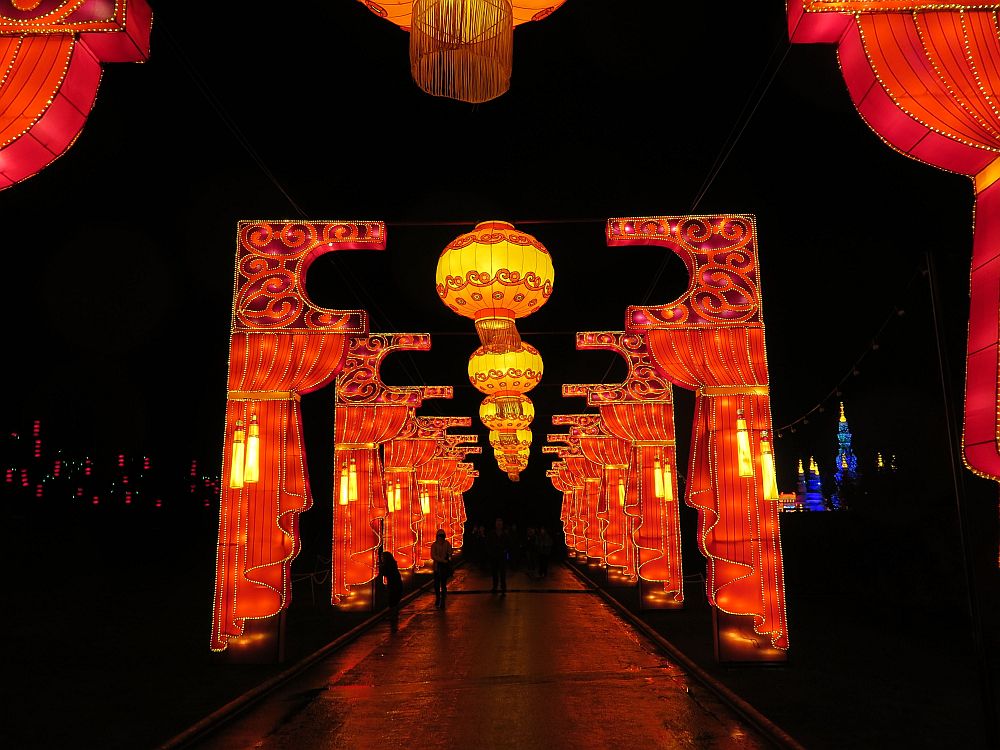 Wednesday 16th December. Our last full day at Longleat. Weather still dull with a bit of rain but it was a bit brighter in parts. We had a rest this morning but walked up to the House after lunch. Seemed a lot busier today particularly with more children around. We explored around the other side of the House and discovered the Orangery which is now used as a café. In front of the Orangery are formal gardens which I imagine can be viewed from the Big House! One thing that kids will enjoy, maybe even adults as well, is that you can get quite close up to the non-dangerous animals under supervision. We went back to see the penguins which are engaging characters. There is also a large walk through bird cage with dozens of what I assume to be parakeets. Members of the public could walk through the cage. The birds have learnt that as people come through the door they usually have a small pot of food so they mob everyone that comes through!!!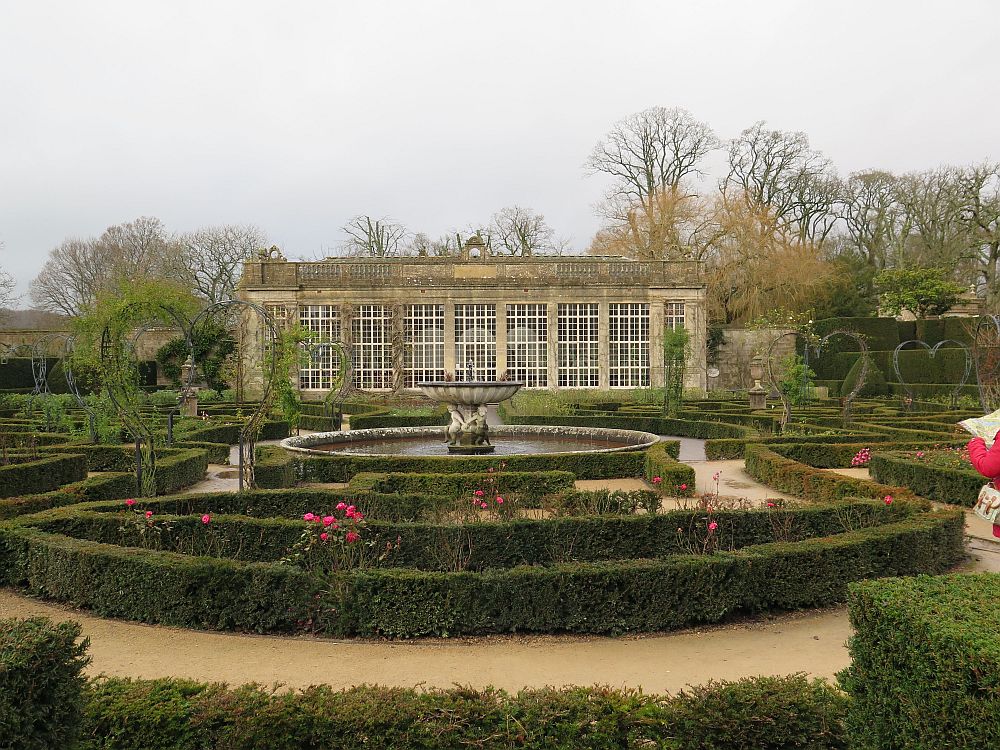 Thursday 17th December. We were up and ready surprisingly early today and left the site by 9.00am. The narrow road to the main road did not seem as bad the second time of using. There are parts of the road where clearly two vehicles would have difficulty passing but other parts are wider and you proceed fingers crossed that all drivers are sensible!!! We made good progress and traffic was not too bad. As on the way down we made a coffee stop at Tothill Services on the A34. It's a fairly small service area but on both visits we did not have a problem finding a space. On the way home the weather had been quite bright and still unseasonably warm with temperatures around 14 degrees C, I am sure it won't last!! As we neared home I filled up with fuel. When we got home there was room on the side of the house so I gave the van a quick wash as it had got covered in muck on the narrow road to the site, at least it sparkles now.
The visit to Longleat will be the last of the year. We have covered about 4000 miles this year, about half in the UK and the rest in France. Longleat was the 14th site we had stayed on in the UK which is more than we usually do as we would normally spend more time abroad.