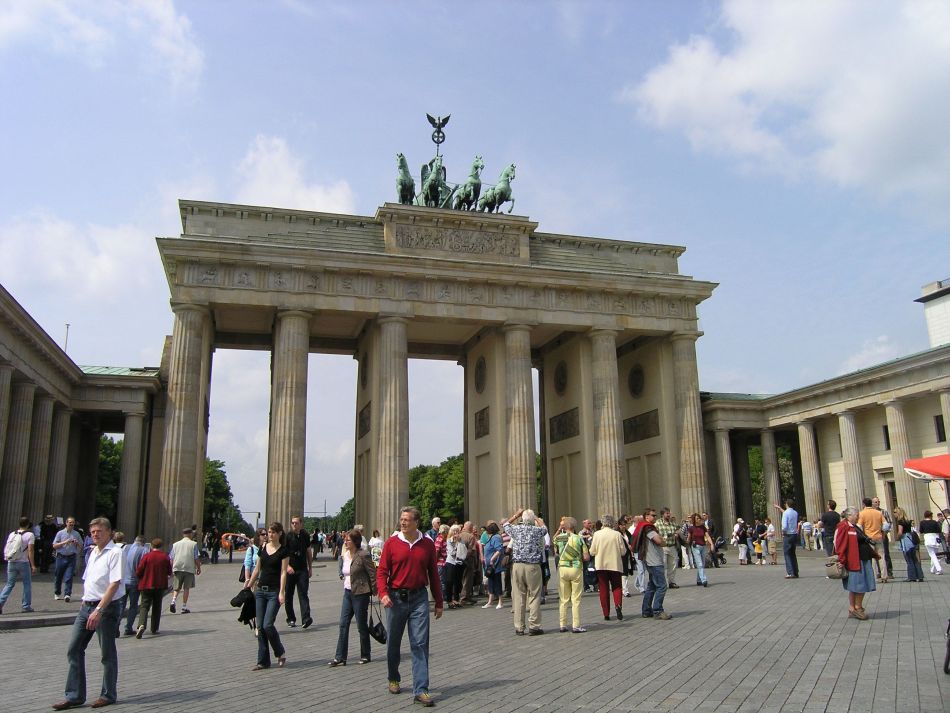 Introduction
After what seems like months of waiting we are about to embark on our first European trip since we both retired. When we were working everything seemed to be rushed and we got ready in double quick time. This time it just seems to have taken ages to get ready and when we got to the point where we felt we were ready we had forgotten what we had already done! Because we will be away for a relatively long time, two months, we have thought about what extras we would like to take with us. We have often envied the Dutch with their bicycles so we decided that it would be nice to take ours. With a caravan, not such an easy option as you have to carry them somewhere. Although the bikes have aluminium frames we ruled out the roof of the car as we would have needed a ladder! The Sorento, being a 4X4 has plenty of nose weight allowance so we settled on a rack that fits behind the tow ball. The short coming of this is that once the rack is in place you donít have access to the rear door of the car! In 20 years we have never taken a television abroad with us. However this does have a few frustrations. We enjoy watching F1 Grand Prixís but have found it difficult to find somewhere to watch them. So for the first time we are taking the TV. But that was not the end of it. We have also purchased a satellite system in order for us to achieve this. I still find setting up the satellite something of a dark art! So at this point we thought we were ready, but then! It would be nice if there was somewhere to put all the loose bits and pieces which either clutter up the caravan, car or front locker. How about a roof box? What a good idea. Itís a nice colour match with the car and takes loads of rubbish!
So what follows is our story of the trip, I think the youngsters call it a Blog! In some sections you will see groups of small photographs, these go under the rather interesting name of thumbnails. Each of the small pictures can be double clicked to provide a larger picture.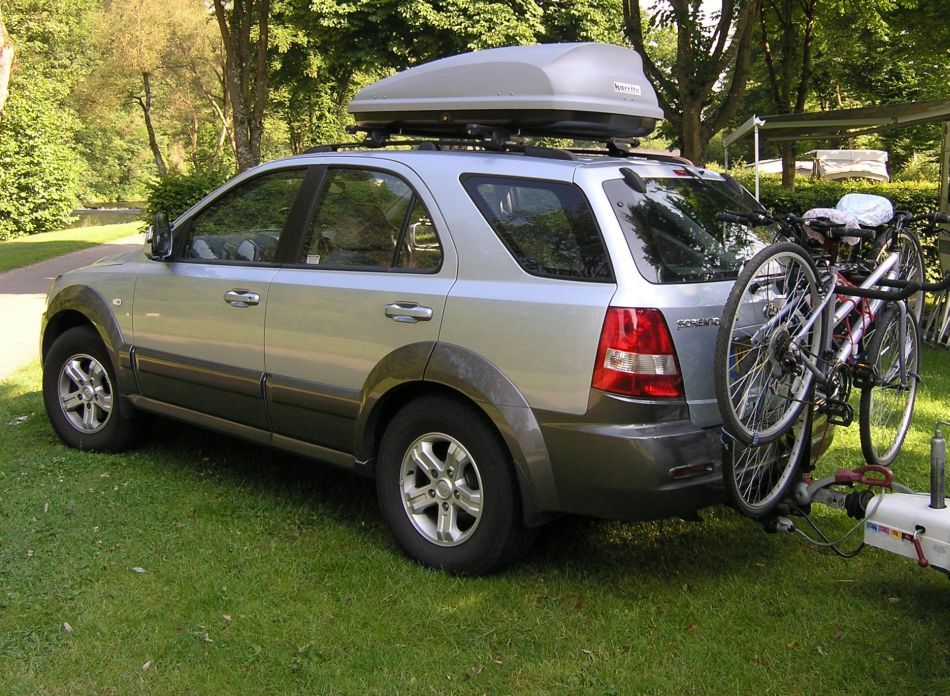 Tuesday 29th April 2008 and having added the last Ďjust in case itemí we are ready. Time to get van out of back garden but discover an unknown car parked on side of house so immediately have to think of alternatives. Strange really nothing has parked there for months! Decide best option is to take up entire close with car and caravan. The bikes onto the rack are the last thing to do, apart that is to the check the house one more time! By 10.45am we are on our way towards the M1 and junction 14. A short stop at Toddington to check everything is OK. M1 widening work is coming on well and hopefully will make a difference. 35 miles from home and we turn onto the M25. Everything OK at first but then everything comes to a standstill for no apparent reason. As quickly as the jam forms it disappears. Second stop at the Dartford Services. A bit of a pain to get in and out of but they have a nice caravan area which tends not to get full of cars as itís a little way from the shops and toilets, however two lorries parked but plenty of room for us. More roadworks just after the Dartford Crossing. Traffic on the M20 OK and at Folkestone we take the Canterbury road to our overnight stop at the CC site called Black Horse Farm. We arrived in bright sunshine which was a bit of a contrast from the rest of the journey including sleet before we left home. As we are not leaving until mid morning we are put on the main part of the site inside the barriers. The overnight area is full by early evening.
The map below shows the route we would eventually take on our trip.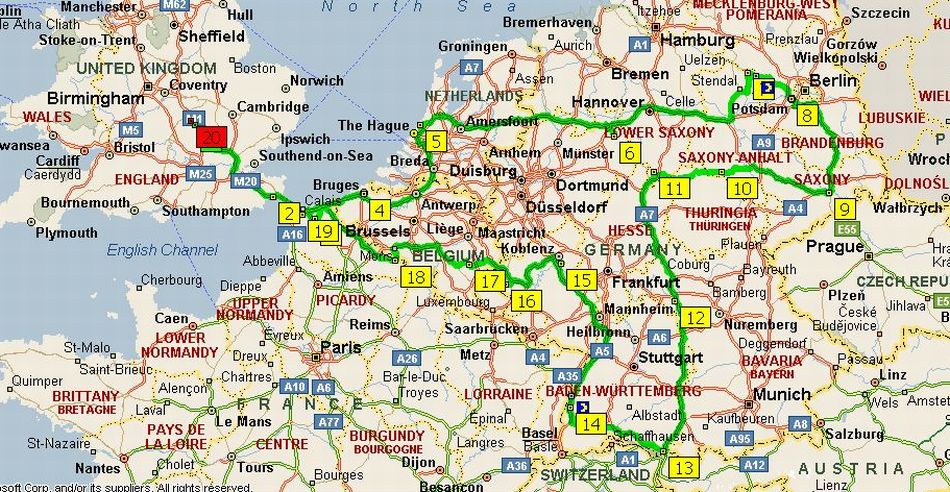 On the following day there was no point in being up early as we did not need to leave the site until around midday. Sodís law being what it is we were up really early, especially for us! The weather was cold, wet and miserable, well we were on holiday! Having got fed up with waiting we left the campsite at about 11.30am and headed out to Eurotunnel about 8 miles from Black Horse Farm. When we arrived we were two hours early. Chanced our arm and proceeded to automatic check in. So there was me, rain droplets on my glasses and the booking confirmation in a food bad to keep it dry Ė donít worry about me, no amount of rain has made me shrink! Through the persistent rain I could see on screen that I was being offered a crossing at 12.20, two hours earlier than booked at no extra charge, that seemed like a win, win! Memo to Eurotunnel, please provide a roof for the auto book in. The Shuttle was a few minutes late but we were hardly in a position to complain. We emerged from the other side of the tunnel in bright sunshine and before we knew it, we were heading east on the A16. Unfortunately the sunshine was just a tease and it soon got dull and started to rain. It was raining when we got to Chateau du Gandspette and by the time we got to our pitch the heavens had opened with avengeance. No sooner had we set up and the sun was out! We made a short trip to the local supermarket for a few supplies and to fill up with diesel. That was something of a shock. The difference in price between France and the UK was about 11p. At last years exchange rate that would have been a 20p difference at least! The sun remained out for the rest of the afternoon and into the evening, it made us feel we were on holiday.
The 1st of May and if itís Thursday it must be Belgium, to paraphrase an old Hollywood movie! As we left Gandspette we had another massive journey ahead of us, 55 miles according to TomTom. Well it turned out to be 64 miles once we had gone round the houses! Camping Klein Strand was well signed when we found the signs! We were soon checked in and set off to our allocated pitch but we misread where we should have turned. Not a very successful day so far. Having surprised myself at my reversing skills we found the pitch but did not like it much as it was at the end and in a corner amongst the statics. Margaret went off to reception to find us a new pitch. There were several empty pitches but most were bear patches of mud. Margaret and I were communicating by telephone, her from Reception and me blocking up the campsite roads. We agreed on a different pitch, or was it a swimming pool! Our arrival has coincided with a Bank Holiday and the site is pretty full. Eventually we set up on our pitch but it was the best of a bad lot. Two days before we were on a Caravan Club which was open all year and made proper provision for the vagaries of the weather. Here we are on a campsite which is open all year but makes no allowances for the same weather. Why does common sense fail to prevail? This site desperately needs all weather pitches. Rant over! Anyway Klein Stand is a large complex which not only has a touring section but a much larger mobile/static section. Whilst the pitches are of a decent size the site seems crowded. If the sun had been out for a few days prior and during our arrival I am sure I would be in a different frame of mind about the site. On a brighter side itís the only site I have been on with a Chinese restaurant!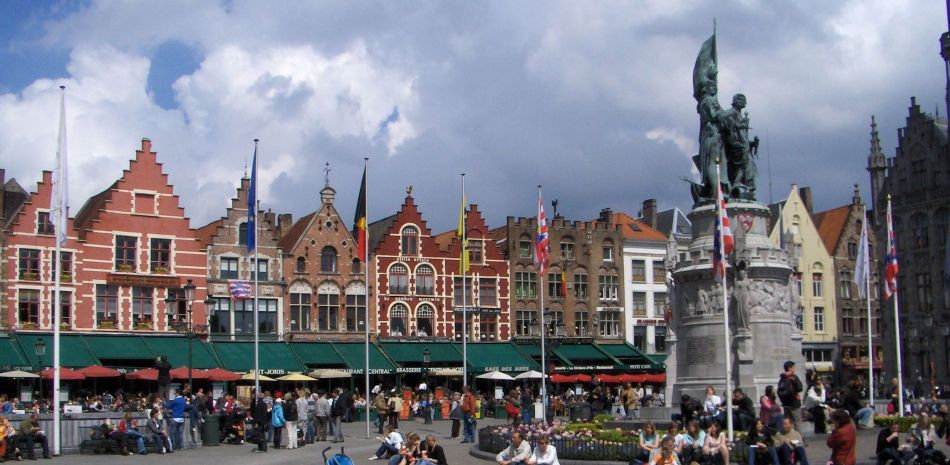 Its Friday and at least the weather was a bit more cheerful and that tends always to make things, even wet pitches, look better. Off to what the Brits call Bruges but I suspect should more correctly be called Brugge. Because we had the roof box on the car we had to find a surface car park which proved to be difficult. After a couple of circuits of Brugge we decided to venture into the City and take a chance with the narrow roads. Fortunately we quickly found a spot not far from the Centre. This is our second visit to Brugge and we found it amazingly busy compared to our first visit. No doubt this may have been something to do with Thursday and Friday being Bank Holidays. The coach park we passed on the way was certainly full. Brugge is quite compact and is easy to walk round. The main attraction seems to be the massive Belfry that faces out onto a large Market Place. The city is famous for lace and chocolate and there is certainly plenty of the latter to tempt you! We saw a small supermarket so we went in to buy some milk. We found what we thought was fresh milk and went to the cashier. To our surprise she asked us if we were English. On confirmation of this she told us in perfect English that in fact it was sterilised milk and not pasteurised. Clearly a problem that has presented itself before. Back at the site we called into the shop looking for fresh milk but only UHT. We asked the shop owners who said they only keep it in season. Mischievously I said that I didnít know milk had a season, his wife thought that quite funny! Apparently the Belgiumís much prefer to buy UHT, itís only the English and Dutch that ask for fresh milk.
We have been blessed with a lovely day today, even quite hot at times. Strange incident this morning the guy in the English registered motorhome on the next pitch poked his head over the hedge and spoke to me in French! Whilst I understood what he said he seemed a bit surprised when I told him I was also English. After all there were a few clues, like a right hand drive car and an English caravan. It was a hire motorhome so perhaps he was not that well versed in all things camping. However no points for observation. We decided to have a jaunt on our bikes with a ride into the small town of Jabbeke. I can appreciate Belgium as a good place to cycle as its flat! Mind you we did get some funny looks because we were wearing helmets! There seemed nothing remarkable about this neat little town, although it does have a very imposing church. It was from here that we could have and perhaps should have caught the bus into Brugge. I did achieve something today in so far as I finished Alistair Campbellís book ĎThe Blair Yearsí, a fascinating insight into behind the scenes and politics of New Labour.
We set the alarm for 7.00am, and on a Sunday, to give us time to heat the water for showers. The temptation is to switch it on and just go back to sleep! We thought we were up pretty early but we were by no means the first to leave. I do sometimes wonder what planet the people that plan some campsites are on. When we arrived we had to pay a Ä30 deposit for a barrier key which also doubled as payment card for taking showers and washing up. Because you need the key to exit the site before you settle up it creates all sorts of congestion at the entrance. Despite this we were on our way by 10.00am. I thought I would stop at the first service station on the motorway to top up. Trouble was you had to register with the cash desk before filling up, according to a note on the fuel pump! When I went over there was a massive queue so I decided to reverse out and go onto the next service station. At the next one I faced a different dilemma, it appeared to only take cards. Having heard all sorts of stories about French fuel stations not accepting UK cards I wondered if it applied to Belgium as well. Anyhow I took courage in both hands and inserted my card. I then got a lot of words in Flemish come up in the screen. In the next bay was a Belgium motorcaravan so I decided to ask for advice, fortunately he spoke very good English and helped me through the transaction. We were soon on our way. It was a nice day and so not surprisingly traffic was quite heavy, although as usual for a Sunday there was little commercial traffic about. We had to navigate around Gent, Antwerp and Rotterdam on our journey. There seems to be a lot of speed cameras in both Belgium and Holland. I may have been caught out myself as we came off one motorway to join another and the speed limit reduces to a rather silly 30mph. I saw a flash but at this stage I donít know if it was me that set it off! We arrived at Camping Koningshof during the early afternoon thanks to TomTom! We found our pitch which was one of five in a group, a bit tight but OK. Our Dutch neighbour, who reminded me of Rick Moranis, the Canadian actor, came rushing over to help. As kind as that was I said that we had a mover and we would be OK. A short while later we were surprised to be joined by a French car towing a Bailey caravan. Margaret was on the case with her internationalise language, a sort of loud English. Checking they had enough room to get their van in only to discover they were English. It transpired that they lived and worked in France. Their previous French caravan had been stolen by travellers so they were advised to buy an English van as that was thought to be relatively safe! As an added bonus the site shop sells fresh milk.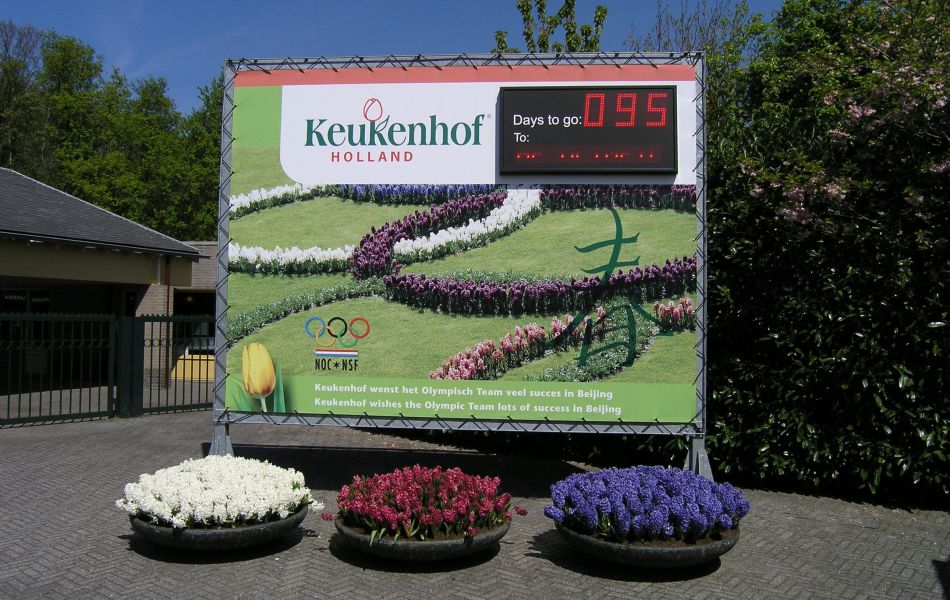 Monday apparently is a Bank Holiday here in Holland, although everything seems to be operating as normal. Someone said it was National Day which might explain all the Dutch Flags everywhere. Because it was a Bank Holiday we were in two minds as to whether to visit the Keukenhof Gardens today but it was such a lovely day we decided that we would. Keukenhof is only about 8 miles north of Camping Koningshof so not far to go. We were able to buy tickets at the campsite but still had a small queue to buy the parking ticket when we arrived. We have visited many gardens in the past but it is fair to say that not many hit you with such a kaleidoscope of colour, and everywhere you look. The gardens only have a short opening season each year and in 2008 they close on 18th May. We spent some times wandering around the garden and then sat down to watch a film about gathering the tulip bulbs. The thing that struck me was how mechanised the process was and also what a large business it must be. You could spend days walking around the gardens and I am still sure you would not see everything. On the site there are several Pavilions which are used for different functions. One had an exhibition of Orchids and another had demonstrations of flower arranging. There are plenty of places to eat. One thing that irked me a little was the need to pay to use the toilets having paid over Ä30 to get in to park! Any number of words canít really describe the gardens but I hope the photos I will add later, when we get home, will give a better impression. Back at the site we have not been able to use the satellite as we have tall trees in the way of reception. In some ways this is not really a bad thing but I wonít be saying that when it comes to watching the next Grand Prix!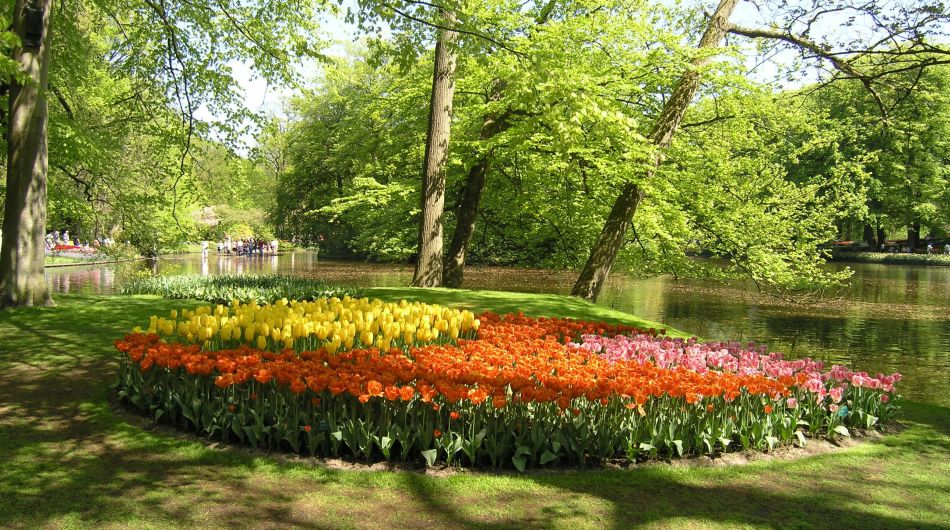 Below is a glimpse what is in store for you if you decide to visit Keukenhof, click for a larger image.
The following day we went out to a nearby town called Voorhout, firstly to fill up with diesel and secondly to visit Campoworld which is a large caravan dealer as we needed one or two bits. They certainly had a very comprehensive caravan accessory shop but prices were very similar to the UK. Itís also interesting to have a look at the caravans they sell. I have to say we saw few that we thought were any better than our Eccles. They may be built like tanks but some of the internal finishing and dťcor leaves something to be desired. After lunch back at the van we decided, as it was such a lovely day, to cycle out to the coast which in truth is only a few kilometres away! Did not get far before I realised I had a problem with my handle bars so we had to return to the site to correct the problem. After our false start we made our way along the canal towards Katwijk. Holland is really the place to ride a bicycle as everything is designed to encourage you to ride. Itís difficult to imagine how many bikes there are and how many people use them as a normal means of transport. Plus hardly any Lycra in sight! I appreciate the geography lends itself to riding a bike but the numbers are phenomenal. Strangely it was uphill to the beach which considering a lot of Holland is below sea level I should not have been surprised! The beach was packed as the kids are still on holiday. On the way back it was either the wind into our face or our aging bodies protesting but it did not seem so easy. They say it keeps you fit, fit to drop maybe! In readiness for us moving on in the morning we have packed as much away as possible. Here at Koningshof we have had the benefit of free internet which has been a boon and allowed me to upload things to my website.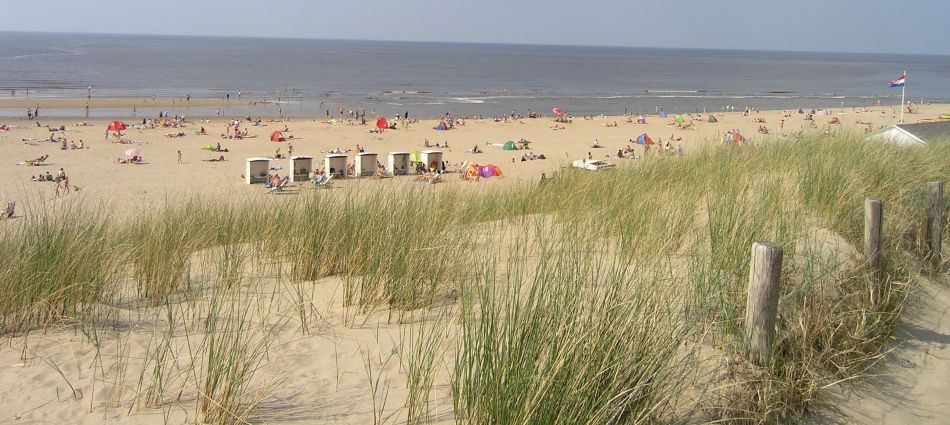 Wednesday 7th May and time to leave Holland and move into Germany. We have a site in Berlin booked in 8 days time so we had to decide where to stay in the mean time. What we did was to look at a map of Germany and draw a straight line across to Berlin and then looked for sites in between. We came across a campsite at a place called Lemgo which seemed difficult to resist! Firstly we had to get there which involved a trip to the very edge of Amsterdam, including under one of the taxi ways at Schiphol Airport, before heading east across Holland and into Germany. In both Holland and Germany the speed limits for UK cars towing vans is 80kms per hour. This can be a bit of pain but it seems to do wonders for towing economy! It was the longest journey of the trip so far at 221 miles. The first 200 were easy but the last twenty on quite tight roads and to cap it all TomTom took us through the town but we got there. Camping Park Lemgo is a bit like a small French Municipal with a mixture of touring pitches and permanent statics. It seems that they are doing some work to upgrade the site and it will be interesting to see how that develops. We arrived immediately behind a Swedish couple and we were both ushered to our pitches by Frau Incharge and given precise instructions where we were to pitch. Now I am sure Frau Incharge is a very nice person but she seems not to speak one word of English and tends to prattle on in German at length, totally disregarding the fact that your scribe has difficulty translating more than one word at a time and slowly at that!
The next day we set out to explore the delightful little town of Lemgo. It has a good selection of shops. The main church is being renovated and looked as though it had been completely shrink wrapped! One thing that impressed me about Lemgo was the number of buses. Itís not a large place by any means but the provision of public transport seems excellent. Perhaps something for the UK to learn from if we are serious about getting people out of cars. We had lunch back at the site. We have a few more people here today. Frau Incharge however does seem to pack them in closely. We had been a bit naughty by not going right up to the hedge so have a little more room than some but not as much as others. The town has excellent cycleways so we decided that we should explore more. We actually rode all the way round and discovered a couple of supermarkets in the process. When we got back I had a chat with the new young owner of the site and he was telling us what his immediate plans to upgrade the campsite. Unlike Frau Incharge he speaks really excellent English and he even mentioned the war!!!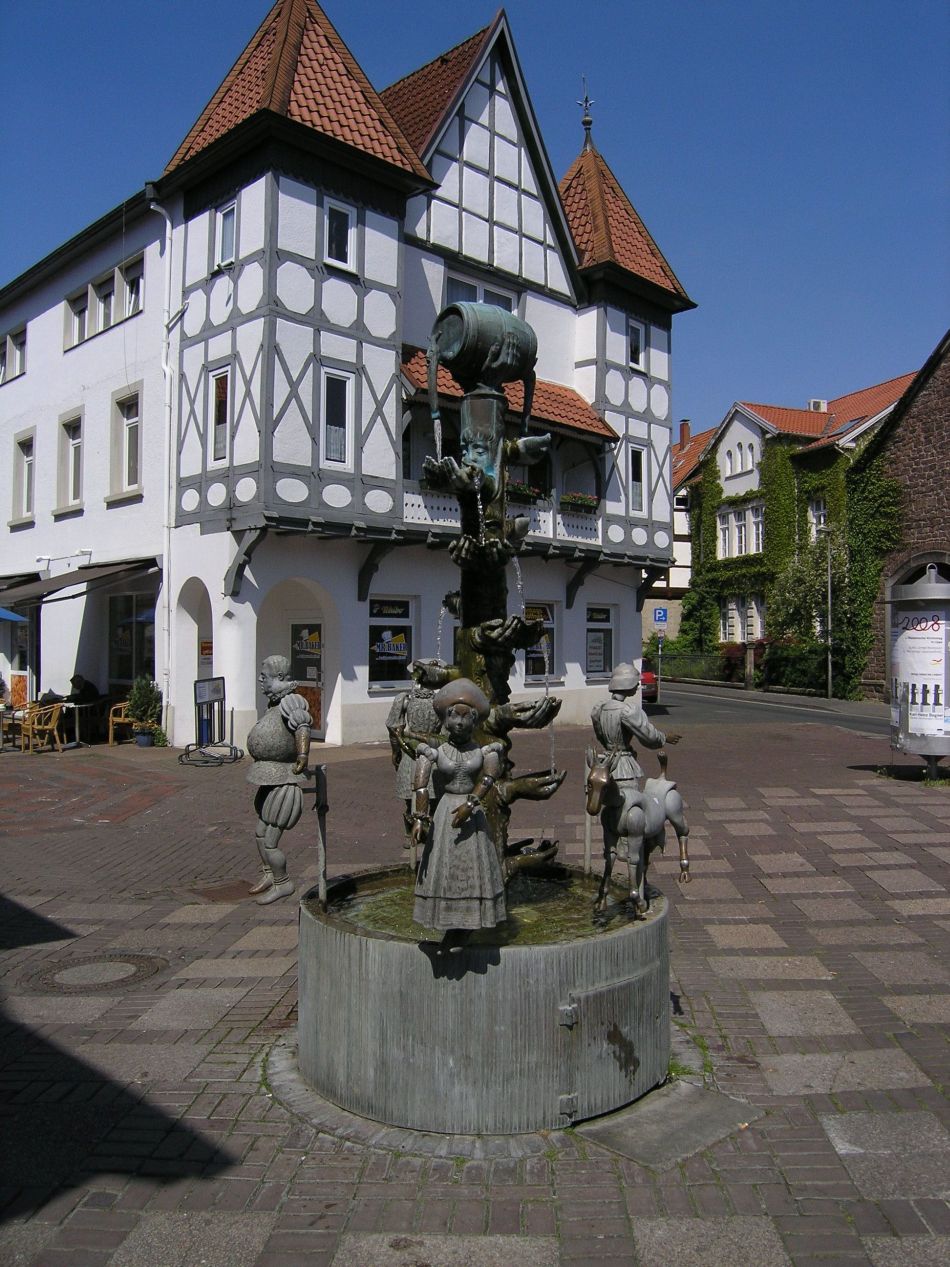 On the Friday our first task was to go and find a supermarket to top up supplies. We had discovered a couple on our bicycle ride of the day before. When we arrived in the car park I was surprised to find a superbly restored Morris Minor Traveller in bright red parked nearby. It was left hand drive as well! We had discovered that, Hameln, famed for the story of the Pied Piper was not too far away and it seemed to, good an opportunity, to miss so after lunch we drove out to the town. In the main Hameln is modern but the old town in the centre has many reminders of its past and is well worth a visit. Most parking is multi-storey with only limited surface parking which again caused us difficulties because of the roof box. Once parked we set out to explore and soon spied the Tourist Office who kindly supplied us with a walking map. Now whether the story is fact or fiction doesn't really matter as its a good yarn anyway! When we got back to the campsite there were even more arrivals and we now felt decidedly boxed in! In fact the Dutch lady next door to us, who only speaks a little English, expressed her concern that in 35 years of camping she had not experienced units so close together. Our Swedish neighbours, who we are parked next to us, speak really good English and are very nice. They know England very well although they have not taken their van there.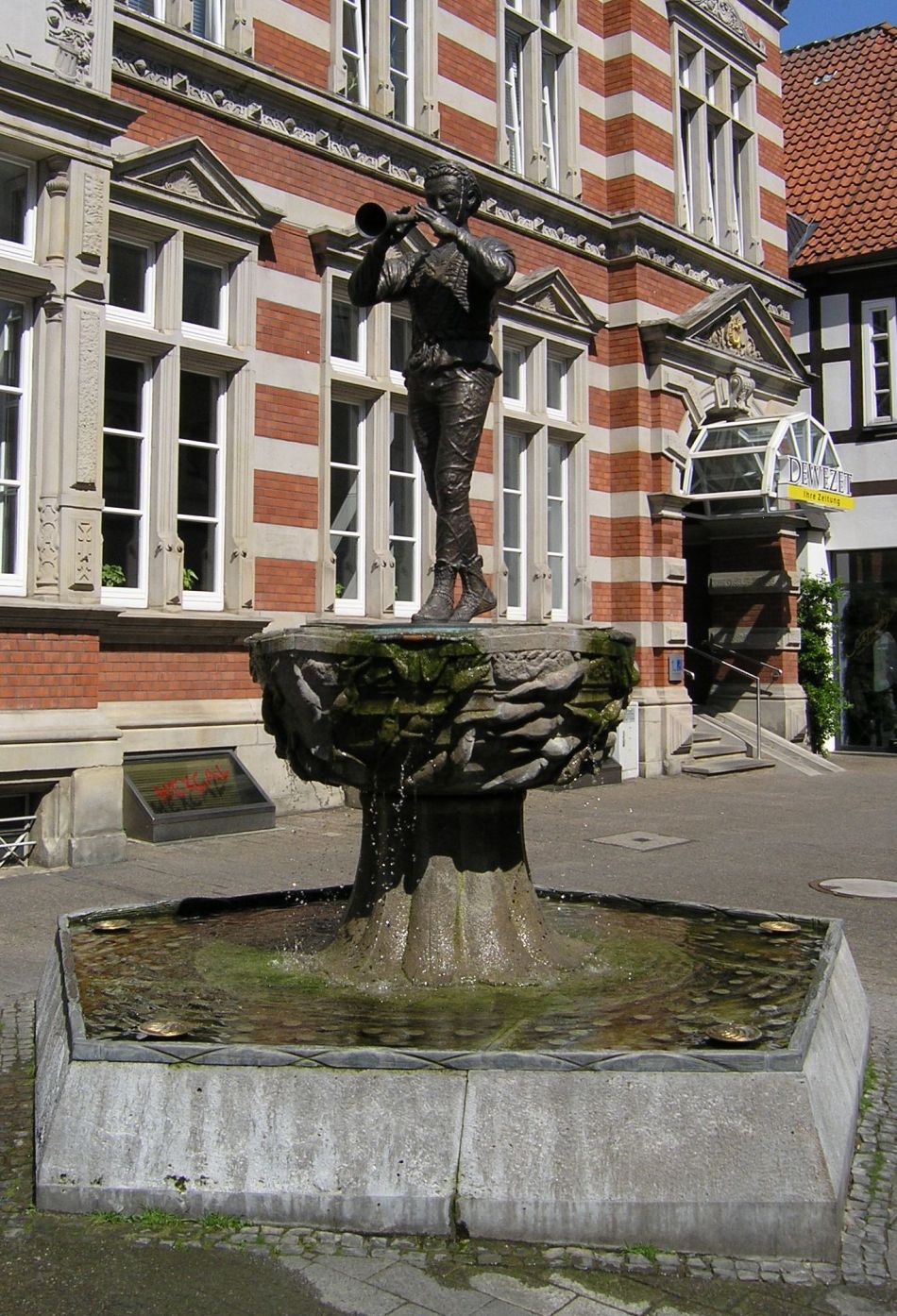 A pretty lazy day today, although it was the qualifying for the Grand Prix! Mind you when we got up we were aware of a cacophony of noise from a group of youngsters who belong to some families who started to arrive yesterday afternoon and as far as we could tell the last caravan arrived about at 10.00pm in the dark and more surprisingly it was reversed a couple of hundred metres! I donít always get it right in day light. Anyway, I digress! The trouble with male teenagers, in the presence of a young female is to exhibit a tendency to show off. That is when the testosterone starts to flow and they become loud and uncontrollable! Short of setting a mine field around the caravan itís difficult to know what to do. Fortunately even testosterone subsides in time and the noise and running around eventually ended. During the afternoon we went off on our bikes to explore a bit more of Lemgo including the Wasserrad and Schloss Brake. We also discovered that riding on cobbles was not very comfortable! Having taken the long way round to get back into the centre of town it was interesting to see everything, except cafes, closed. They clearly do not have such liberated rules on shop opening as we do in the UK, but is that a bad thing? We discovered on our way back that the campsite by the road is also owned by the same person as the one we are on. His problem is that there is a canoe club between the two sites which is making it difficult to combine them. Unfortunately the promised WiFi has not been installed. Whilst I can use my mobile phone for e-mail it becomes rather expensive to use the web by this method. The good news is that The EU Commissioner for Telecoms is investigating the cost of data roaming and texts with the possibility of forced reductions if the telecoms companies donít co-operate.
Sunday morning and our immediate Dutch neighbours left first thing this morning and were returning home to Holland. They also had a Reich Mover and they explained that they had experienced a lot of problems with it which seemed similar to the difficulties we have had. Fortunately the testosterone boys have been below the radar today! We have decided to move on tomorrow after 5 nights here in Lemgo. We thought it best to top up with diesel as we have discovered that motorway service stations in this part of Germany can be few and far between. Mind you we did wonder whether normal fuel stations would be open on a Sunday but fortunately they were and of course like in the UK they sell lots of other things as well, no doubt circumnavigating the strict shop opening hours. Another interesting thing is the price of diesel which is only a pence or two below the UK price and there seems little difference in the price whereever you buy it, unless of course I have not yet found a cheaper source. Back at the site we negotiated with Frau Incharge the use of the washing machine which cost us Ä2.50 which is not bad as campsite charges go. The event of the day was the Turkish Grand Prix and for the first time abroad we were able to watch the ITV version rather than having to put up with it in a foreign language and a questionable presentation of the event. A very good drive by Lewis Hamilton and more points for Red Bull, so a pretty good race.
Another Monday and another Bank Holiday! How many do they have, do they ever work? It is, however, strange towing a caravan on roads with only cars as they travel at far higher speeds. As we were getting ready to leave a Dutch neighbour came over to watch me loading the bikes on the towbar mounted bike rack. He had a Hobby caravan with a rear mounted rack, which is not uncommon in Europe. Our journey today is about 200 miles and will take us deep into the old East Germany although I doubt you would ever know. At Magdeburg we left the autobahn and headed north to Havelberg, which as the name suggests is on the Havel River which joins the Elbe nearby but in the other direction it goes all the way to Berlin. The Baltic coast is less than 150 miles further north! We managed to time our arrival at the site just as it reopened after the not unusual 2 hour rest period in the middle of the day. The lady at reception did not speak much English but we managed. Unusually I had to pay upfront for our 3 day stay. We were shown to a pitch over looking the river and the town. I think it must be a first to have an English van on a campsite in Europe without any Dutch present! Once we had set up I tried in vain to set up the satellite but I fear we are too far East to get UK programmes although we can pick up some programmes which I have never heard of before. It seems we would need a dish almost twice the size of the one we have. Our German neighbour kindly came over to see if he could help but to no avail.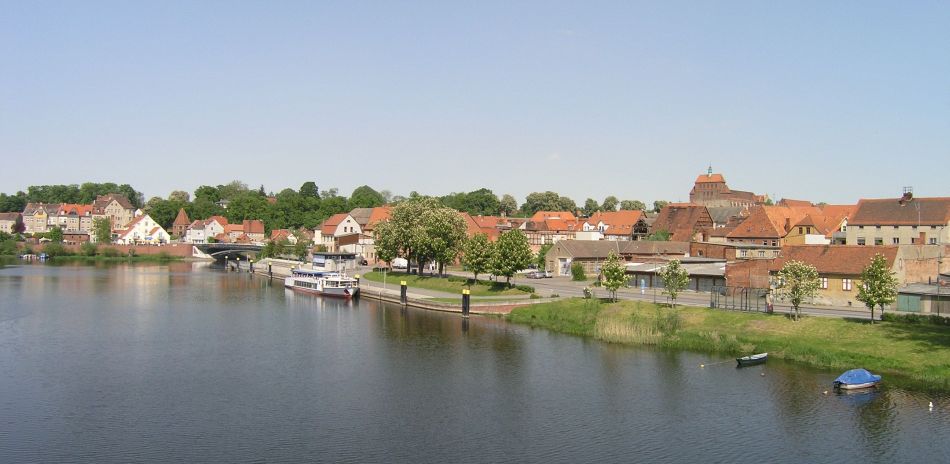 This was the first day since we left the UK where we awoke to a dull morning, no rain, just dull. Fortunately it brightened up into a nice sunny day but with a chill in the wind compared to the very hot temperatures of the last two weeks. First priority was to find a supermarket as we were needing more supplies. I thought I would try and pay by my cash card and was surprise that the cashier use the magnetic stripe rather than the chip. Suffice to say it would not accept the card so it was cash again. There is a free WiFi connect on this site, or W-Lan as they call it which has allowed me to catch up with a few things. A lot of the people that have been here over the weekend have left today but they have been replaced by a steady trickle or new comers, but no Dutch. After lunch we cycled into Havelberg. The old town is actually on an island as is the campsite. Unfortunately more blessed cobbles! Itís a nice little town. Higher above the old town is the Dom (Cathedral) which has a very imposing position on what must be the only hill in the area. To get there we had to push and carry the bikes up the hill so we were keen to find a more suitable way down. As we were leaving something caught my eye. It was a red star on top of an obelisk so we stopped to investigate. Around the obelisk were quite a few flat plaques all with writing in Russian. Clearly something to do with last war by one of the dates. Further down the hill we past a graveyard. This is usually more Margaretís forte than mine but over the wall I could see what looked like some war graves. We found a creaky old iron gate and went in. They were all German names and the dates they died seemed to cover the period of late April to early May 1945 so one imagines they were killed in the Russian advance into Germany towards the end of the last war.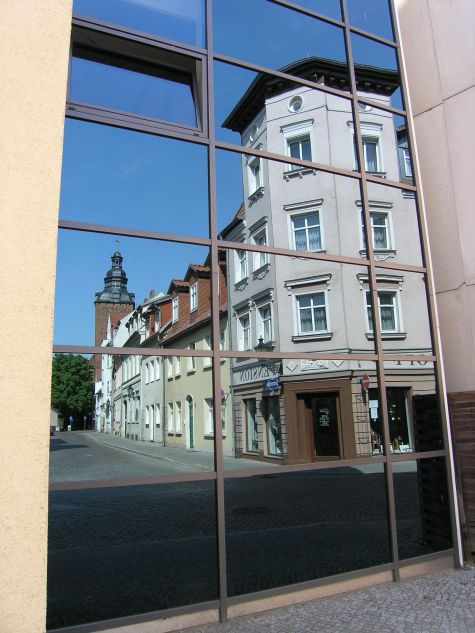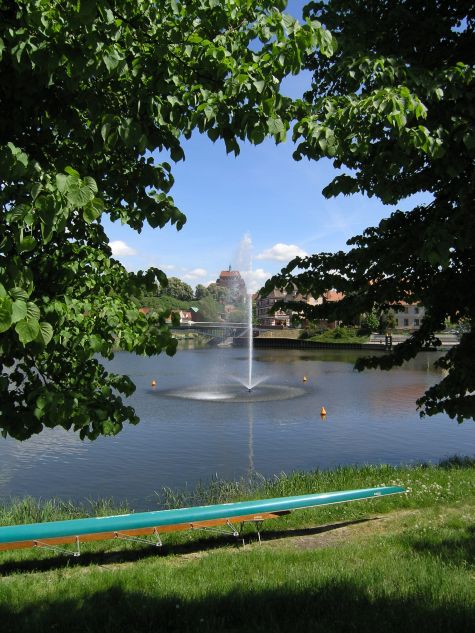 Wednesday 14th May was our final day at Havelberg. First thing was to fill up with some diesel. There was a Shell garage just out of town. Interestingly I had no problem using my Visa card although you still have to sign. The bad news is that at the current exchange rate diesel is virtually the same price as at home. After lunch and time for another bicycle ride. The funny thing about riding a bike, even in hot weather, is that it seems to have its own built in air conditioning. I find I get far less hot riding a bike than walking which is a bit strange. I had seen on the map that the River Elbe was not far away and there seemed to be roads on each side of the river but no bridge, but what looked like a ferry. Once we were over the main river bridge in Havelberg we turned into Elbestrassa which was a bit of a clue! A little way down the road we discovered a lovely cycle path of block paving (perhaps communist block paving!) which was shaded by trees. After some distance the road became cobbles and when the cycle path ended we had to negotiate the same cobbles, although it seems that cyclists have worn a smooth path on the edge of the road. Soon the trees opened up and we could see the river ahead. The Elba is a pretty wide river and fairly fast flowing. On the opposite bank we could see a coach and several cars waiting to cross. The ferry is a chain type and reminded me of the old Floating Bridge we had in Southampton when I was younger. As the ferry came across to our side of the river you could see the cables anchored in the river starting to take the strain as the current tried to push the ferry down stream. There was I taking photos to my hearts content, twenty years earlier I would probably have been shot! Back at the site I had to wash the car and the front of the van as we have gradually been covered in pollen from the tree behind us. As is normal practice now we take as much down and put it away in readiness for moving on tomorrow.
The next day it did not take us long to get everything packed away. Our German neighbours, who despite not speaking English had been kind to us, were also on the move. We helped them move their van so that it was easier to hitch up. Despite the odd misgiving we had really enjoyed our stay at Havelberg. As to our onward route I had to negotiate with TomTom as he wanted to take us on some very uncertain roads! After some playing around we eventually got him to take us the way we wanted. It was about 40 miles to the autobahn across an almost flat countryside although quite a bit of it was forested. In one of the more open stretches I was aware in the distance of two large ears appearing above the grass on the verge. I immediately thought of a Hare and when he decided to raise himself up on his haunches my initial thought was confirmed. Fortunately he decided against playing Russian Roulette on the road and went back into the field. Hares are handsome animals but they are also surprisingly large and can inflict quite a bit of damage on an unsuspecting car, and the Hare of course!
I should, perhaps, have mentioned that we were heading for one of the main destinations on our trip, Berlin. It had held a fascination with me because all of my life it had been in the news. First the Berlin Air Lift, John F Kennedy's ich bin ein Berliner speech and moving towards end game the coming down of the Berlin Wall. So the history of the past 60 years has mirrored my own progression though life, albeit at a distance. But we were about to experience it up front and personal!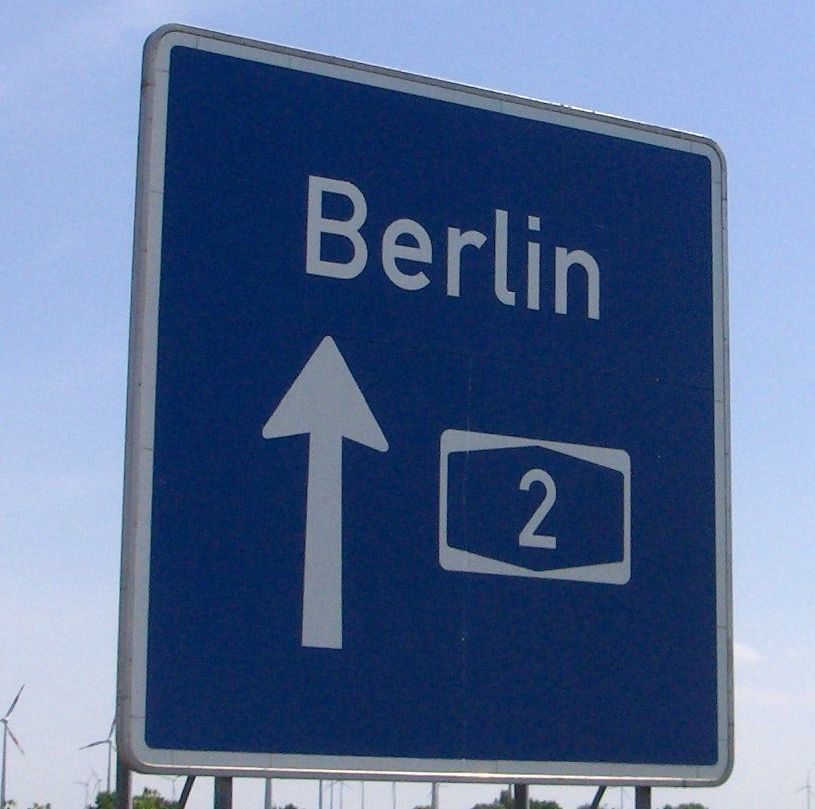 700 Miles from our departure point TomTom, thanks to Archieís POIís, got us right to the gate of the campsite. Camping Park Sanssouci is a large forested campsite where the pitches seem a bit packed in. We have found a spot where we face out onto the road so its reasonably private. After setting up and a bite to eat we wandered off to explore the site. There are one or two Brits here and a few Dutch but by far the majority are Germans. We purchased a map at reception and ordered some rolls for the morning. After a cup of tea we set off on the bikes to explore along the lake. The site is on the edge of Templiner See which is one of the many lakes around Berlin through which the Havel River flows. We rode up to Pirschheide to see where the tram for Berlin would leave from. The weather today has been a bit mixed and the early to mid afternoon was fairly dull. However it did brighten up in the evening, certainly enough for me to sit sipping an Asbach (German brandy) from my Stuart cut crystal glass, well one does have to keep up appearances! My Stuart glass was a retirement present from two of the girls at work Suzanne and Michele, bless them, they knew I would put it to good use!
On Friday after a few routine things in the morning we decided to try the WiFi out. The system here is somewhat archaic in so far as you have to borrow a dongle and load the software on your laptop. All this for Ä2 a day and no deposit on the dongle. Unfortunately WiFi is only available near to reception and as we are at the other end of the site we have to take the laptop to the signal. Itís one of the things I donít understand about Germany. They can produce cars and washing machines that are virtually indestructible but donít embrace the most modern technology, especially if it means providing a better quality of service! Perhaps I should just count my blessings that they at least have a WiFi service!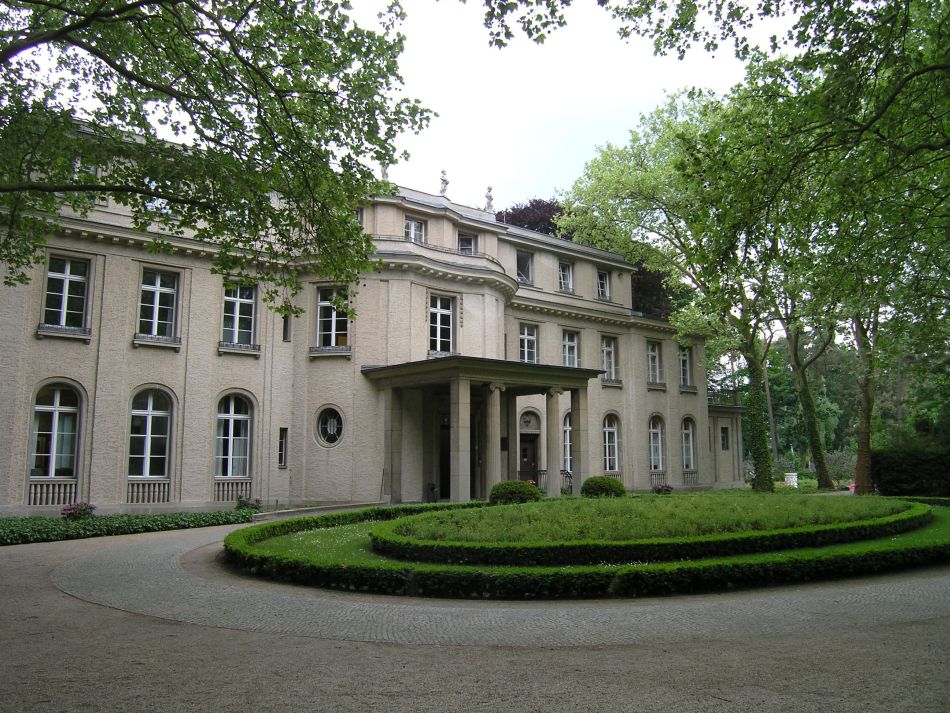 After lunch we were off to Wannsee which was to prove to be a much more sobering experience. First we had to get there. TomTom said that it was only 16 kilometres away. Whilst his direction was impeccable he was not to know that they had decided to dig up most of the roads between the campsite and our destination! At one stage this involved a detour in totally unknown territory. Eventually we managed although it was a bit daunting when the signs said we were entering Berlin! Wannsee is a popular destination for Berliners as it is another of the large lakes that the Havel flows through. It is reputed to have one of the largest inland beaches in Europe. However one could say the reason for our visit was to delve into the murkier past of Germany and involves a country villa, called Gedenkstatte Haus, on the shore of Wannsee and the Third Reich. A few years ago I watched a fascinating programme on the BBC with Kenneth Branagh in the lead, as Reinhard Heydrich, portraying the events of the Wannsee Conference in 1942 where senior members of the SS, including the infamous Adolf Eichmann. They were there to decide how to solve the ĎJewish Problemí as they saw it to be and it became known as the ĎFinal Solutioní. Decisions here, in a matter of fact way, resulted in the mass murder of Jewish people across Europe. The meeting was innocently called the Wannsee Conference. The house is now a museum and education centre which plots the events of the Wannsee Conference held on 20th January 1942 and what resulted from the decisions made. It gives a fascinating insight into what lead up to the events later in the Second World War especially for those of you interested in the study of history.
Saturday 17th May and it was time for a visit to Berlin proper. With the help of Frau Alsoincharge I managed to purchase transport tickets for our trip into Berlin. The campsite run a shuttle bus service to the local tram station at Pirschheide. So there we were with no idea which way the tram should be going, does it go direct or do we need to change. Fortunately a German couple explained to us the we had to change at Potsdam Hauptbahnhof. Even when we made a move to get off too early a voice from behind us said we needed the next stop! At the Bahnhof we found the platform and soon we were on the train to Berlin. What was interesting was that the announcements both on the tram and in the train station were in German and English. The Hauptbahnhof is certainly a fine modern building and walking around the concourse you will come across familiar names. The area immediately outside the station is a bit disappointing as itís just empty!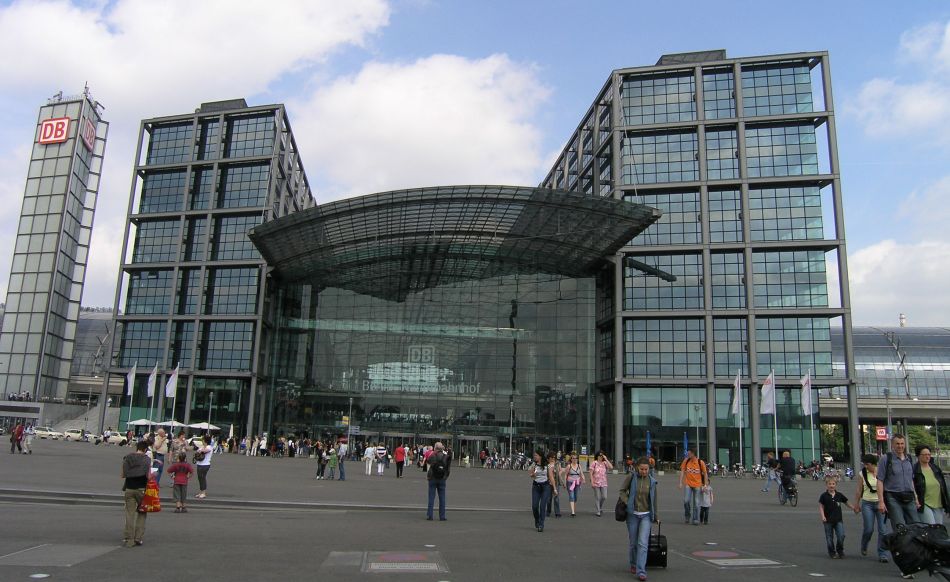 However this did allow us to see clearly our first destination, The Reichstag or perhaps more correctly called the Bundestag now. We were very keen to visit the Norman Foster designed Cupola Dome that now forms the centre of the old Reichstag Building. Whilst the Cupola is a major tourist attraction it also has a very practical purpose in that it provides light, heating and electricity for the functions of the building. When we got there the queue to get in was horrendous so we decided to continue to the other venues on our list. Fortunately the Brandenburger Tor or more commonly known as the Brandenburg Gate was only a short walk from the Reichstag. Having only known it from pictures it is without doubt a very iconic structure but it is not as large as you imagine. One could also take issue that the planners have allowed building right up the right and left flanks rather than allowing it to stand in glorious isolation. Without sounding too churlish Berlin is not as Grand as either London or Paris although I am sure it may well have been if you go further back in its history. What must be remembered is that two of the most iconic buildings the Reichstag and the Brandenburg Gate had the Berlin Wall running within feet of them from 1961 to 1989 which clearly did not allow the normal planning processes to prevail!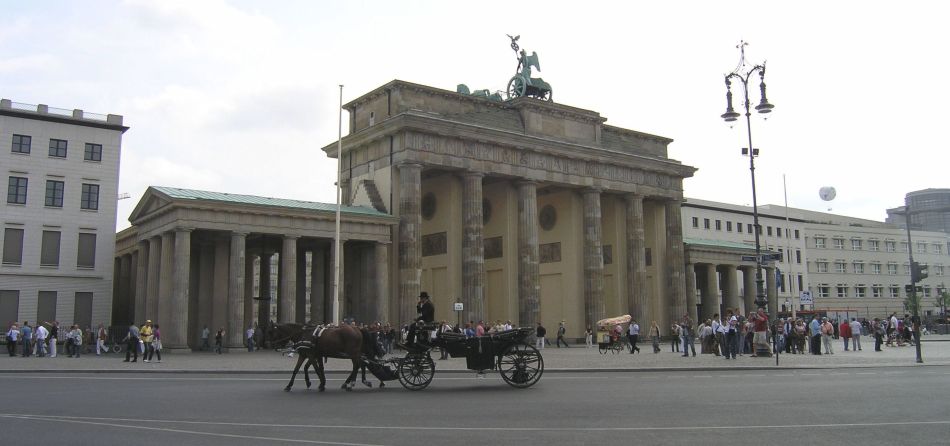 On one corner of the park opposite the Brandenburg Gate is a home made memorial to those that lost their lives trying to escape East Berlin. Apparently there were just over 5000 successful escapes but 231 victims who did not make it alive. According to the people that run the Memorial the Government want to remove it and perhaps this illustrates the difficulties faced in Germany that at some point, in order to have a totally unified country you have to bury the past, maybe not forget it but give less prominence to it.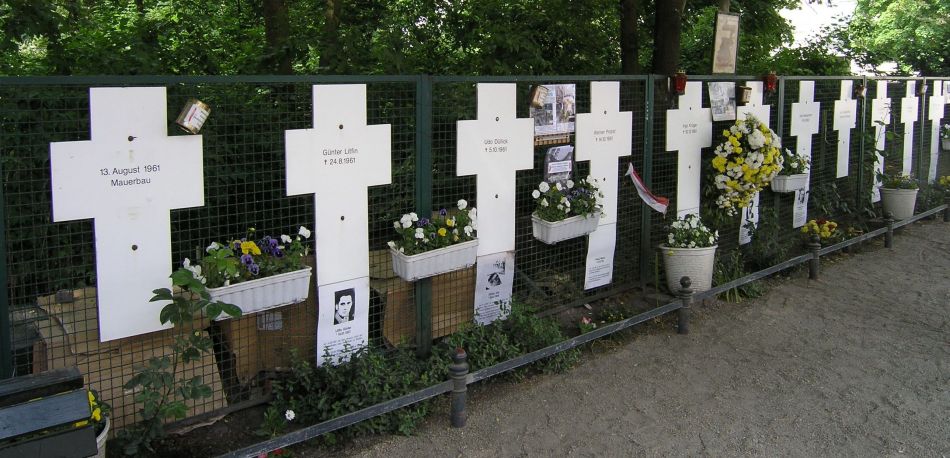 The other side of the Brandenburg Gate is the famous avenue Unter den Linden which is as grand as any other city. We did a right into Friedrichstrasse as we wanted to walk down to Check Point Charlie which marked the entry into the American sector. The Mauer (Wall) Museum is close by for those that want to explore the history of the Wall more. Feeling a bit weary by now we decided to make our way back to the main railway station and sit by the river to eat our lunch. We made use of our transport tickets to try out the U-Bahn.

Having recovered our energy we set off for the Reichstag again to see if the queue had gone down. It had a bit but was still very slow, but we had come all this way with this being one of the aims of the visit. We eventually realised the reason for it being slow. It was not the pressure of people but the stringent security you have to go through to get in. Easy to forget that itís the same as the Houses of Parliament! Once you get through the security you are whisked off to the roof of the building where, not only do you get excellent views out over Berlin it is where you access the Cupola. Was it worth the wait, most definitely? It is an amazing structure which you walk up on gentle walkways until you get to an open area at the top and you exit down walkways in the opposite direction. What made me chuckle was here we were in the most popular tourist attraction in Berlin but designed by an English architect, there has just got to be some irony there!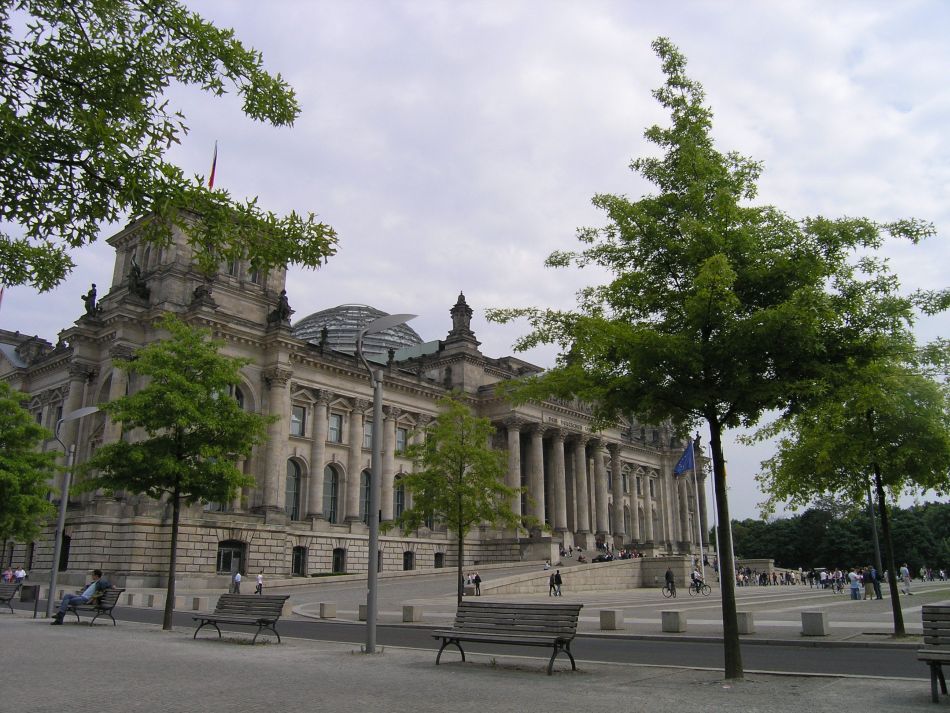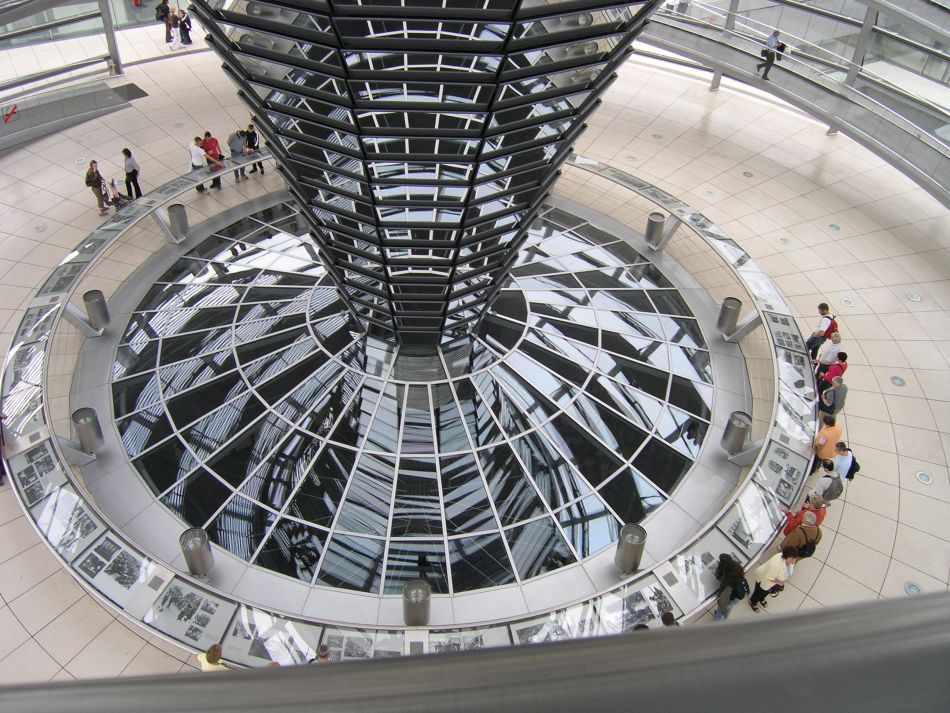 From here we wandered back to the station for our train back to the campsite. All went according to plan with the train and tram. However I must say how disappointed I was to find the trains covered in graffiti, so much so that where we first sat we could not see out the window. If its not graffiti its designs scratched into the windows. There seems to be graffiti everywhere. When we arrived back at the tram halt we had to ring the site for them to send the shuttle bus to collect us. So there we were, seven of us, two Dutch, three Germans and Margaret and I. So who phoned the campsite, yes you have guessed it the one with the least capabilities in the German language Ė me! Is it only us Brits who will take the initiative in such circumstances? So we successfully got that organised and the shuttle duly arrived. The thanks from our fellow travellers for getting it organised was deafening-not! In not a word, in future I will let someone else take the lead if indeed they are capable of it!
After such an exhausting day on Saturday, Sunday really was a day of rest. As it was dull and quite chilly it did not seem to matter. Somehow when you are on holiday it seems such a waste to do nothing! There are not many Brits on site although we were aware of a couple nearer the reception. I also noted that they had taken their awning down which is a sure sign of someone getting ready to move on. Unusually, in our experience, the couple had been walking round the site and stopped to chat. (It is a disappointing occurrence of foreign campsites that a lot of Brits wonít pass the time of day with their fellow countrymen) It turns out that they are also doing a trip around Germany of a similar length to ours. In fact they are being even more adventurous because they are planning to go to Prague. We were able to swap useful information on campsites and it was also nice to chat. Now when I said we did nothing that was not completely true if you add people watching into the equation. Firstly the German school holidays must be mainly over as we witnessed a mass migration of caravans which contained children! In there place seems to be the start of an ACSI rally which from past experience can be equally noisy. Then we had the arrival of a German motorhome opposite. It contained two late 30ís early 40ís adults and a cute little lad who was unlikely to be any older than 2. I know one should not jump to conclusions, although it is far greater fun if you do! It looked as if careers had come before children but I could be wrong. You can always tell when people are doing things that donít seem natural to them and you canít help feeling that they would have been more suited to a holiday in some far off beauty spot. As we watched then set up it was interesting to watch the child who clearly had the same amount of experience as the adults but somehow it seemed to come naturally to him. He knew where things were and where they should go. If it keeps him happy no doubt it will keep the parents happy.
During the first two and a half weeks of our trip we have been blessed with some really lovely weather. Apart from the first day here in Potsdam it has been quite changeable and today decidedly chilly which has come as something of a shock. Being Monday at least the supermarkets are open so first thing we went shopping as we leave here on Wednesday. When we came back Margaret did some washing. Hardly memorable news but when you are away from home for so long you do still have to deal with the more mundane! After lunch we went off on another bike ride, this time we went out of the back entrance of the site and soon had no idea where we were as we had run out of map! In such circumstances I always apply the right hand rule! Working on the principal that if you always turn right you will end up where you started. Sure enough we made our way back to the B1 which is a road we know and interestingly is also called Zeppelin Strasse, not that we saw any, Zeppelins that is! Mind you I am convinced there is a Dekota DC3 running a reinactment of the Berlin Air Lift as we seem to see it fly over several times a day. Back to the cycle ride, well Margaret thought it would be a good idea to follow a track through the woods as she was convinced it would take us back to the campsite. When I realised that we were on the wrong side of the railway it was clear that we were going nowhere! We struggled back to the road and made our way back. The ACSI rally seems to be gathering strength with more arrivals today. I am usually only a holiday reader so tend not to go through books that quickly. However I have finished my second book of the holiday which is by Chris Stewart and is called ĎThe Almond Blossom Appreciation Societyí. It is his third book in the series which started with ĎDriving over Lemonsí. They are all based on him setting up a farm in a remote part of Spain. If you like travel books I am sure you would enjoy the series.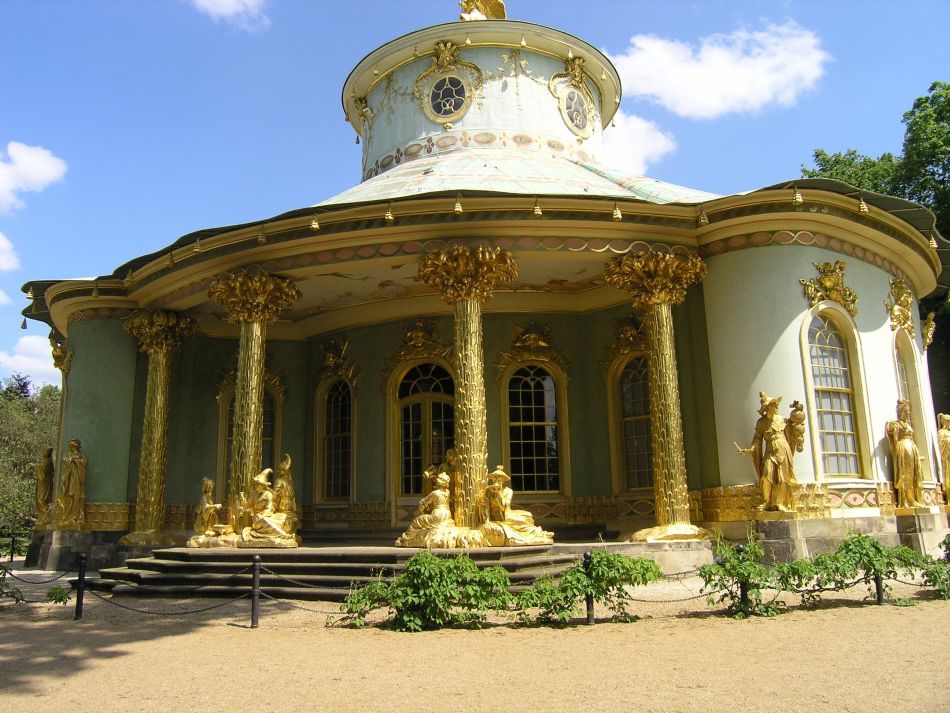 It was Paulís, our eldest son, birthday today so the first task of the day was to send him a text and also to send an e-mail which we had prepared with a picture of Norman Fosterís Cupola at the Reichstag in Berlin with a suitable birthday greeting. This was also our final day at Sanssouci and we wanted to visit Park Sanssouci in Potsdam. We had thought about taking the car in with the bikes on the back but parking was quite expensive. We therefore took courage in both hands and decided to ride all the way there from the campsite. For the experienced cyclist it may not seem far but as two sixty plus pensioners who have not seriously cycled for many years we were just a bit concerned. As it turned out we felt very pleased with ourselves that we achieved our aim and managed to return to the campsite in one piece! What we will feel like tomorrow is anyoneís guess!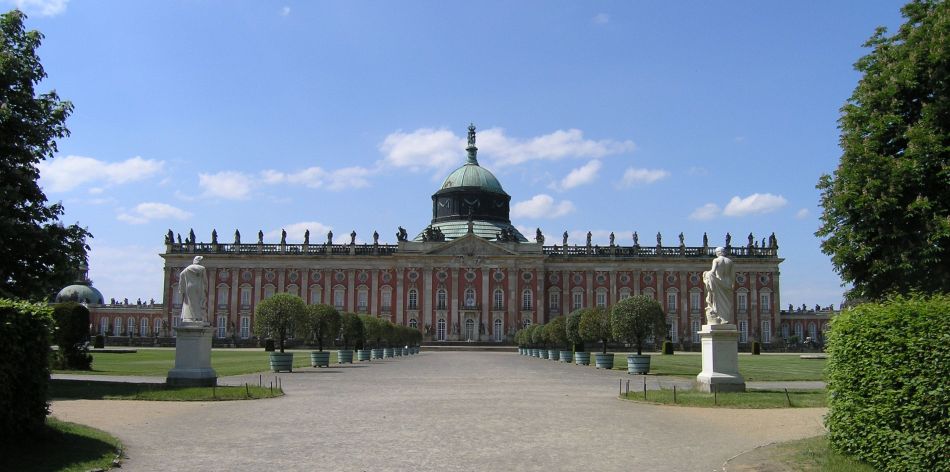 We had a fairly large scale map which we had purchased at Reception. As it turned out we were able to cycle most of the way off road. The first problem we encountered was that was we approached the entrance to the Park, signs seem to indicate that bicycles were not allowed. We continued further on and stopped to look at the map as we seemed to be going up a dead end. A lady across the way beckoned us on so we assumed that we could get out if cars canít. She was right and we followed the sign to the Park. We could see people on bikes emerging from the exit and there were no other prohibited signs so in we went. Park Sanssouci is ideal for bikes as its mostly level. We set off to explore. Sometimes the paths are between high hedges and when you get to an intersection you are treated to a view of some elegant building. We first came across the Orangery and then moved on to the Neue Kammern with the Windmill behind it. What we completely missed was Schloss Sanssouci! We headed away from it and found the delightful Chinesisches Haus with its ornate gilded statues and pillars. Getting back on the main route through the Park we spied a Grand building in the distance, so we cycled towards it. It turned out to be the grandest building on the Park, it was the Neues Palais. As an added bonus there were even toilets in the rear courtyard! Having by now realised we had missed the main attraction, although we had done OK, we cycled away from the Neues Palais in search of Schloss Sanssouci. We got there eventually and it is quite impressive with its cascading gardens which happen to be vines intermingled with open glass doors which are there to protect crops such as figs. We were intrigued at the entrances to the garden with what looked like giant bathtubs! There was one more place on our list before we set off for the campsite. Schloss Charlottenhof is what the guide books call a small Neo-Classical Palace built in 1829. It was indeed small compared to other buildings in the Park but it did have a more human scale. Time to leave the Park and retrace our tyre tracks. The bikes certainly helped us cover some ground in a reasonably quick way. I donít think we would have seen as much on foot as I think we would have got exhausted after a while. After a welcome beer and an unsuccessful attempt to use the site WiFi we packed away what we could in readiness for our departure tomorrow.
We awoke to a nice sunny day on Wednesday 21st May and once showered we sprang into our well ordered routine for packing everything up in readiness to leave. Once again our Dutch neighbours came over as we were loading the bicycles onto our towbar mounted rack. He clearly did not speak much English, but we were able to communicate the idea that you have to be careful about nose weight. We negotiated the long road out of the campsite to the main road. Someone had thoughtfully provided temporary traffic lights on the main road which meant we were able to pull straight out. Poor old TomTom really gets in a huff when you donít follow his instructions! He wanted to take us off on some very uncertain roads when all we wanted to do was to get to the A10! Almost as a punishment we found ourselves in a queue of traffic which took half an hour at least to get through. Once on the autobahn we started to make real progress. We stopped at a rest area and discovered something rather interesting, including a brochure in English. They charge 50cents to use the toilet but give you a voucher for 50 cents to use in the shop. So for the sum of 70 cents we had a Brat Wurzt to share between us. Fortified we made our way to Dresden. We were heading for at site at Mockritz on the south side of Dresden. TomTom wanted to take us through the centre of Dresden so we turned him off until we had passed the original junction! We wanted to approach the site from the new A17 Autobahn which heads off the A4 in the direction of Prague. When we turned TomTom on again he quickly picked up the new route. Campingplatz Mockritz is situated in a rather nice residential area of Dresden. The protocol at this site is to find a pitch yourself if reception is closed, which it is between 12.00 and 16.00. We were a bit surprised to find the site so busy. We parked the car and wondered off to find a pitch. We found one we liked but as I was about to leave Margaret and bring the car round, Fritz turned up with his van and promptly bagged that pitch. We found another but it seemed on a steeper slope but we managed. Frau Atreception clearly had none or little knowledge of English. When I arrived and exchanged greetings she was about to press the button that summoned an English speaking member of staff. I managed to persuade her that I could conduct the booking in process in German. However when I started to discuss the W-Lan she went pale. Fortunately a man in reception also spoke English and explained to her what I wanted. I have failed to connect to the internet and donít know whether itís meant to be site wide or only by reception. The sooner Mobile Broadband becomes available across Europe the better! I did at least manage to buy from her a ticket for the bus into Dresden which I assumed was more familiar territory for her. Once set up we went for a walk in the immediate vicinity of the site.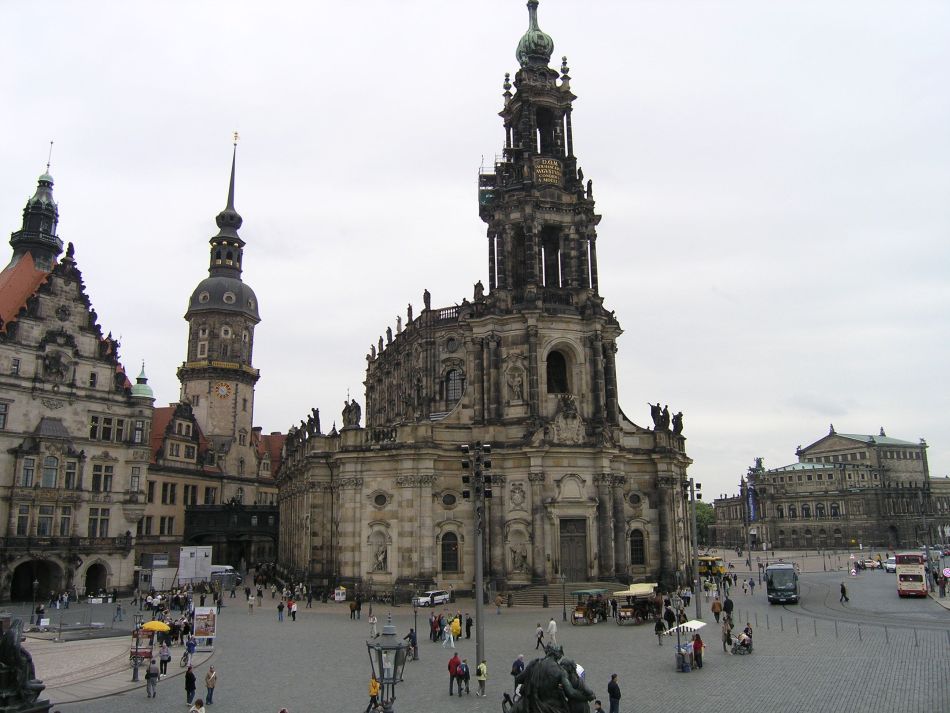 We only planned to have one full day in Dresden so although we did not rush this morning we did manage to catch the 10.51am bus into the City. As usual at the bus stop people were jockeying for position but I have got wise to that! Itís more important to work out where the bus will stop. This I did and not being the first to arrive I got on the bus first! It makes a change for all those time we have been first in the queue and last on. We were dropped off by the Hauptbahnhof and from there it was a fairly short walk into the newer part of Dresden. As with everywhere we seem to go they are digging everything up. I am quite a fan of modern architecture, well you have to be coming from Milton Keynes, but sad to say the modern stuff here leaves a lot to be desired. How can London and Paris managed to get a lot right but Germany in general not?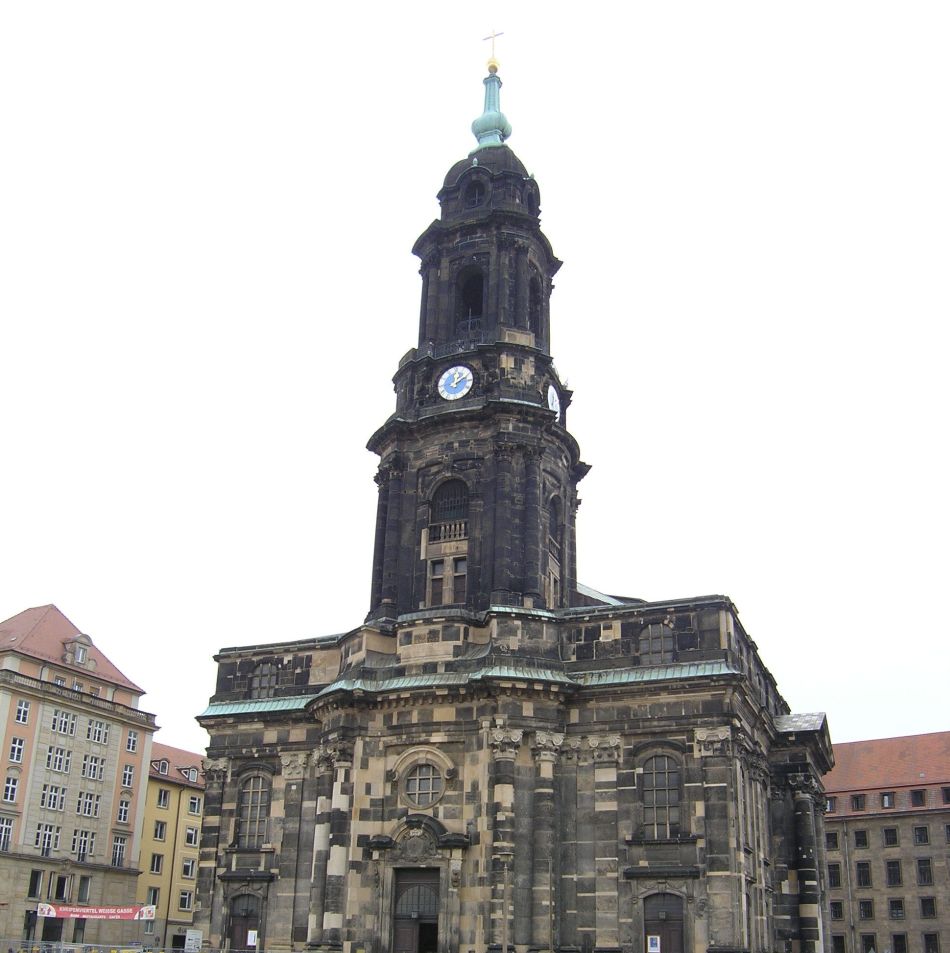 As we made our way through the modern buildings we saw a Karlstad Department Store so we went in to have a nose around. It was a cross between a Debenhams and a John Lewis. However on the top floor was a superb self service restaurant so we treated ourselves to coffee and kuchen. Fortified, especially having made use of their Looís, we went off in search of the old City. A lot of controversy surrounds places like Dresden and many other such towns and cities in Germany regarding the bombing strategy used by the Allies towards the end of World War 2. This strategy involved fire storming towns and cities not because of their strategic position but a as a means of forcing the German people into submission and surrender. With the benefit of hindsight this strategy has been questioned ever since. Fortunately many of the old buildings have been restored to their former glory for us to appreciate today. Interestingly any mention of the actions of early 1945 and the destruction is only mentioned very matter of factly. Once you get away from the modern and into the old quarter you can quickly appreciate how grand Dresden once was and I would certainly recommend it to be on any list of places to visit. Unfortunately the day of our visit was rather grey so the photographs might not give the best impression of this grandness. You should without doubt make your way down to the River Elbe and look back at Dresden and the many fine buildings that stretch out along the river. As we wandered on we came across a place called the Zwinger which conjures up all sorts of connotations, in no way dispelled by one of the tour guides who was clearly a transvestite! The Zwinger was in fact a Palace Garden with a high level walkway which gave a great view of the gardens. We find increasingly that after three or four hours we have had enough so we started to make our way back to the bus stop. But first we wanted to return to Karlstad as we notice they had an excellent food hall in the basement. For those of you who know the general mediocrity of German supermarkets will understand that to find such an oasis of quality was indeed a bonus. It was obviously well patronised so it begs the question why is there not a supermarket chain similar to Waitrose in Germany? Perhaps they canít afford to wait for our occasional visits to Germany for custom! So laden with our food shopping we made our way back to the bus for our return to the campsite. A tiring day but well worth it.
Friday and time to move on and a long tiring day as we made our way from Dresden across Germany to Dransfeld near Kassel. Our road atlas of Germany is a few years old. We did not think to buy a new one as we had TomTom and I had just updated his maps. When we ran the route through TomTom all seemed to be OK and he was taking us on the A38 from Leipzig to Gottingen which was shown as complete. Trouble was that it was not complete and near Merseburg we ran out of road! Trouble with TomTom he does not know this and wants to keep taking you back to the original route unless you can stop and re-program! Fortunately my back-up navigation system was soon on the case and we managed to find our way round some not so wide roads back to where the motorway restarted. So well done Margaret. Off we went on our merry way only for the same thing to happen again. This time we worked out how to read the signs and after a long slow section once again found ourselves back on the correct road. From what we saw there are some real engineering challenges in the building of this road but hopefully by the end of 2009 it should be fully open. We arrived at our site in Dransfeld about an hour later than planned. Camping Am Hohen Hagen is a quite steeply terraced site with the bulk of the pitches being taken up with permanent vans, as is quite usual in Germany. However at the top of the site there is a nice group of touring pitches with lovely views across the surrounding countryside. When we got to our allocated pitch but we it found occupied. There did not seem anyone around but soon a Dutch lady appeared and said they were unable to get on their allocated pitch and that here husband had gone to reception to sort it out. Off I trudged back down to reception. About halfway down I was stopped and asked if I was the English man! He explained that he was our new Dutch neighbour and would we mind using the next pitch along or did we want him to move. We were happy to use the next pitch. The reality was we were too tired to care!
Saturday turned out to be a much nicer day compared to yesterday when we had showers now and then. Drove into Dransfeld and discovered a new supermarket chain to us called Rewe. Nice shop but no beer or wine! Apparently itís not unusual in Germany for the drinks section to be completely separate from the main supermarket. In part this is down to the fact that Germans tend to pay a small deposit on any glass or plastic bottles. They also tend to buy their beer by the crate which involves an additional deposit. There are some examples of this practise that seem slightly absurd. For example in France I can buy a six pack of Volvic water shrink wrapped but in Germany it appears to be taken out of the shrink wrapping and placed in crates. I suppose thatís just the way they do business. Anyway we were surprised that Rewe accept credit cards which is also unusual in Germany. Not getting much luck with getting a satellite picture. Trouble is all the UK programmes from the BBC and ITV are broadcast on the Astra 2D satellite which has a fairly small footprint and we are still too far east to pick up a picture. Must buy a bigger dish. On the bright side the site has WiFi that reaches all parts.
Well a frustrating day of sorts. Firstly it was raining when we got up. After several attempts at trying to find alternative satellites that might show the Grand Prix which all ended in failure. I then resorted to the internet as I thought we could listen on Radio 5 Live. Guess what because of contractual obligations they canít be listened to if the access comes from outside the UK. In the end we had to rely on a couple of websites that give a text commentary on the race. From what we could judge it sounded like an exciting race and well done Lewis Hamilton for what must have been a Stella race. Letís not forget Mark Webber and another five points for Redbull! So the end of the day, including a lovely sun set, not so bad!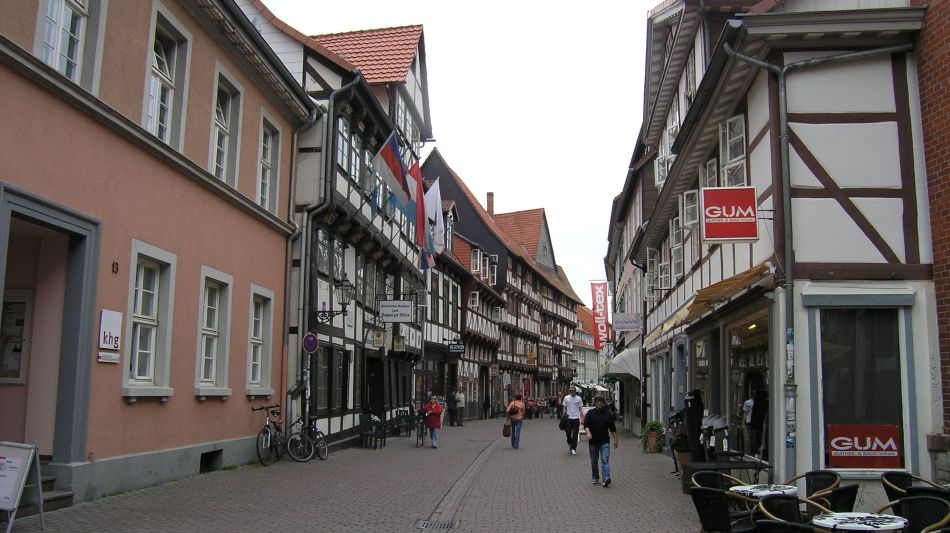 Monday already and I have to admit that since we have been at Dransfeld we have been a bit lazy but our stay here did follow a period of intensive activity what with Berlin and Dresden! We have been busy doing more routine things like washing and the weather has been a bit dull for quite a bit of the time. Anyway we did manage to escape the confines of the campsite this afternoon for a drive out into the countryside. Even out here we have come up against the dreaded Umleitung! Or to us Brits a diversion. The French and Germans make a habit of this. Rather than finding a local work round they send you half way across the country to get back on your original route! Rather odd for a country that thinks it has Green credentials! Anyway it is rather nice countryside so perhaps they did us a favour, at least we did not have the caravan on the back! We eventually got to Gottingen and would you believe yet another Umleitung. Eventually we got to where we were aiming for. Just as well as Gottingen is really quite a nice place. The old town is mainly pedestrianised which gives it a relaxed atmosphere. It is a nice shopping centre, including a Karlstad but we resisted the temptation for another visit. Had a senior moment as we were leaving the car park, I had left the rear door open. One young couple found this highly amusing-it will happen to them one day. Back at the campsite a German registered motorcaravan arrived. The driver came over and asked us how we were doing. Turns out that he was born in Switzerland but now lives in New Zealand. Small world!
27th May and we have been away from home for 4 weeks now so about half way through our trip. Got a bit of a shock when I looked out the window earlier this morning as there was an ambulance at one of the pitches. Fortunately I donít think it was that serious as we saw both occupants of the motorhome later in the day. This is our last day at Dransfeld so before doing some shopping we had a look round. Itís a fairly normal place with a mix of old and new with an interestingly styled church. I also noted a war memorial in the grounds. Looking at the dates of when people were killed during the last war by far the biggest toll was 1945, probably more than all the other years put together. At least the weather was a bit kinder to us today with some nice sunshine from lunchtime on. We have noticed an influx of Danish campers over the past couple of days but not sure what direction they are heading. After our evening meal we set about our normal routine of packing things away in readiness for moving on.
Travelling further south today to just below Wurzburg. It had become quite windy overnight but at least it seems be keeping the clouds away. We had filled up with diesel the day before and thought then that it was expensive but we were shocked to see that the price had gone up another 5 cents a litre overnight! As we were making our way along the B3 towards the motorway Margaret told me that one of the side lockers on the van had come open. I managed to stop to investigate. We donít seem to have lost anything out of the locker but it was a bit of a worry that it should spring open like that. We are using the A7 Autobahn almost all the way to our destination. This road traverses some spectacular scenery with quite a few steep climbs and declines. The traffic rules in Germany discriminate against lorries and caravans as there are strict over taking rules which restrict the use of the overtaking lane on two lane carriageways. So you can have the situation where you can have one slow moving vehicle holding back dozens of other lorries. It seems to me that the rules are biased towards those in cars that want to fling themselves along at the speed of sound! We were making good progress despite these rules so we had an extra long lunch break. The reason for this is that our intended campsite KNAUS Campingpark Frickenhausen, like many in Germany, close between 13.00 and 15.00 hours each day. As you never know how much space they will have at the entrance its best to time your arrival when they reopen. This plan was doing rather well, until, that is we joined the A3 Autobahn. For some reason, which we never worked out, was at a standstill. Because we were joining from another motorway we even had to filter in to the left. When we got moving a bit I signalled to join the main carriage way but where I wanted to join the barsteward lorry driver was having none of it, continually closing the gap so that I could not pull over. I noticed that the lorry in front of him had slowed and there was a bit of a gap so I just pulled round him and into the lane I wanted to be. So Hansís determination not to let me in backfired a bit, England 1 Ė Germany 0! During the day the temperatures had soared to the low 30ís and settling up was a bit of a struggle which involved at least two infusions of beer! This campsite also has WiFi but run by T-Mobile with costs to match. There seems to be an unfair variation between Ä8 for an hour and only Ä29 for a month, trouble is nothing in between. Up until now I had always liked Microsoft software when many derided it. However I have had quite few problems logging on to WiFi sites this holiday because of supposed security issues with Internet Explorer. Same happened when I tried to log onto T-Mobile. Out of frustration I decided to try Firefox, would you believe it, straight in! In the end I used my phone to connect which for e-mail is not too bad in terms of costs.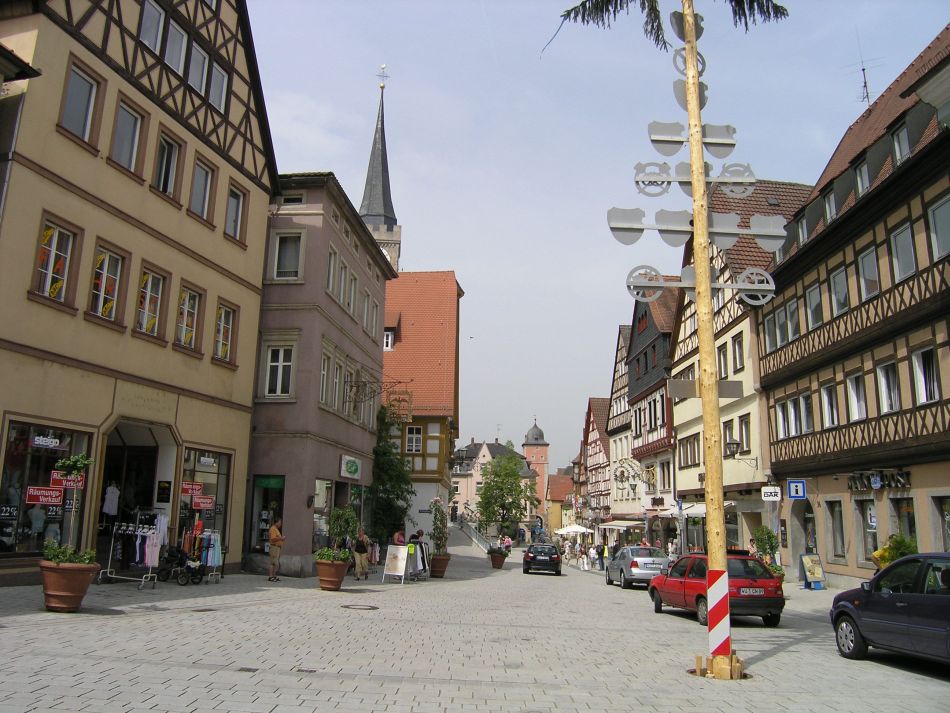 Having not used the bikes for a week we thought that we should make an effort despite the heat. We set off to explore Ochsenfurt which is on the other side of the Main from Frickenhausen. The old town is walled with an attractive centre which is semi pedestrianised. After cycling around the walls we made our way to the Bahnhof to check out tickets and trains for Wurzburg. The machine was a bit easier to understand from our experience at Potsdam and the fact that it also had an English button! Having rested as the heat was starting to evaporate us we made our way back to the river and along to the campsite passing the lady from reception on the way. The ride totally exhausted us so not much else was done during the rest of the day. Margaret did go and have a dip in the pool to cool off, she said it was cold. Later on I tried again at finding UK programmes on the satellite but not much luck for the mainstream channels although for some strange reason we seem to have ITV. I donít think I have mentioned barges. I like barges because they bring a river to life. The Main is a tributary of the Rhine which it joins near Wiesbaden. However going the other way it is joined to the Danube by a canal so its importance is perhaps even greater. But back to barges. I have seen comments in publications that deal with campsite reviews as reporting noisy river traffic. Barges are slow and seem to have asthmatic slow revving diesel engines but to me this is river music as they make their majestic way up and down the waterway.
Friday was still very hot but perhaps not quite so muggy. We decided that we would drive to Wurzburg rather than go by bus or train. Wurzburg is no different from the rest of Germany, its being dug up! We ended up at a large car park on the same side of the river as Fortress Marienberg which towers over Wurzburg. We made our way down the side of the river to the Alte Mainbrucke which takes you across the river and right into the old part of town. We stopped for a while to watch a barge go through the lock.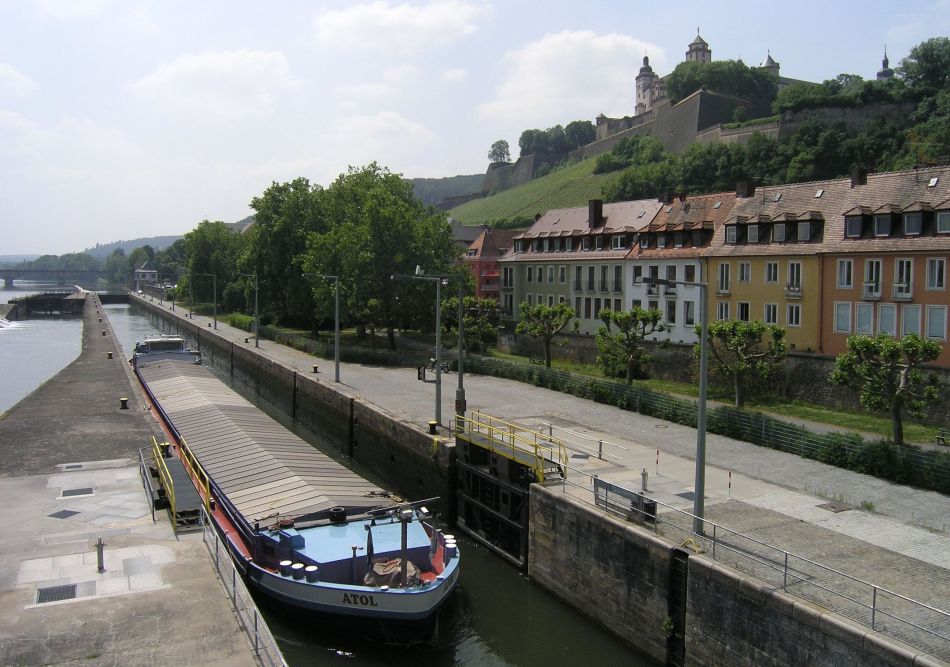 Wurzburg was another of those German cities that was virtually raised to the ground in the last war. Fortunately restoration work has been very successful. I stopped at a bookstall in the old town and they had a photo book of the destruction. In Southampton, where I was born, the centre of the town was destroyed by bombing but the destruction was no where near as complete compared to what happened to Wurzburg. The problem with hindsight is that it allows you to be judgemental which after the event is easy. I am sure at the time all people were interested in was bringing the war to a speedy end and who could blame them. We would have liked to have spent more time in Wurzburg but the heat was making us wilt so having had a reasonable look round we decided to make our way back to the car. Still lots more to do which will make a return visit worthwhile.

On the way back we stopped at a supermarket to stock up, although it was mainly mineral water as we seem to be going through a couple of bottles a day. Back at the site we broke open the beer to try to cool ourselves down, although Margaret went back to the pool. Sipping our beer we had no hint of the impending disaster that was soon to happen. We noticed that the sky was getting darker and we were quite prepared for a storm, in fact hoped that it would cool things down. The first hint that things where getting rough was the increasing wind. We thought that we had all eventualities covered with the Caravanstore as we had it well anchored down, unlike our Dutch neighbours! Margaret called me over to see all the seed pods flying off the trees. Then, without any notice a massive blast of wind caused one side of the Caravanstore to collapse, bending one arm beyond repair and also catching the side of the van causing a dent about six inches long. It happened so quickly that you were almost operating in slow motion as things happened in front of use. We folded chairs and tables flat and managed to get the rest of the Caravanstore safely packed away. It was certainly the most scary moment we have had on a campsite where we had little control of what was happening. I am not for one moment suggesting our plight was anything like that experienced by those countries that have suffered massive disasters recently but we did suffer that moment when things go out of control. Our luck was that it was only material things that were damaged. We will make an assessment tomorrow to see what, if anything can be recovered from the Caravanstore as it is our only means of shade.

On the Saturday we were hoping that there would be no repeat of the type of storm we had yesterday. It was still grey and as we had breakfast (a fairly late one) the heavens opened and there was quite a rain storm with thunder and lightning but no wind. Fortunately it did not last too long and we were able to go out and fill up with diesel in the dry. We hear reports about the price of fuel in the UK but since we set foot in Germany 24 days ago we have seen a steady rise in the price. Overnight I have been wondering if it is going to be possible to repair the broken Caravanstore. I was thinking that it might be possible to rejoin the broken arm with some sort of brace. I am working on that and will report progress if any! We do have a veranda pole that might work as an alternative but we will wait until the next site before we try it. Nothing I can do about the dent in the side of the van although it does not seem as bad as I first feared. We have decided to move on tomorrow. In the afternoon we rode the bikes down to the old Frickenhausen village it very pretty and yet again walled like so many towns and villages in this area.
Opposite our pitch is what I assume to be a longer stay German couple. Judging by the length of grass around the wheels of their car it does not look as if it has moved for a week or longer. Anyway they have a small dog which barks at everything that moves even if he gets threatened with a rolled up copy of Bild for his efforts! He is a Cairn Terrier and really quite an intriguing character. I was introduced to him today and his bark is worse than his bite as the saying goes. He reminded me of Dennis Healey as he had bushy eyebrows!
Quite scary really its 1st June already, so less than month to go to the end of our trip. Following our problem with the Caravanstore we have decided to leave Frickenhausen and continue south to Lindau which is situated on the shores of the Bodensee and right on the border with Austria. Travelling on a Sunday in Germany is almost devoid of lorries so progress was good even at the sedate pace required by German law. We have discovered that whilst Germany has very attractive countryside it does not vary that much and on the drive from say Berlin to Lindau you would not see the same variation as you would in France. However as we got near the Lindau the countryside did take on a more Alpine look. Helped by the distant view of snow covered mountains in the direction of Austria. Park Camping seems very busy and we are glad that we arrived just after lunch so that we at least had a choice of some good pitches. Itís not cheap at Ä23.50 a night but this seems about the best value in the area. We did cycle round the site to have a look at the lake and outside to just cross over into Austria and back again. The old border post is still there but I reckon itís only used now to sell the vignette required to drive on Austrian motorways. Back at the van we did a Heath Robinson job to repair the Caravanstore, making use of veranda pole we have strapped to the broken arm. How long it will last is anyoneís idea but we shall see.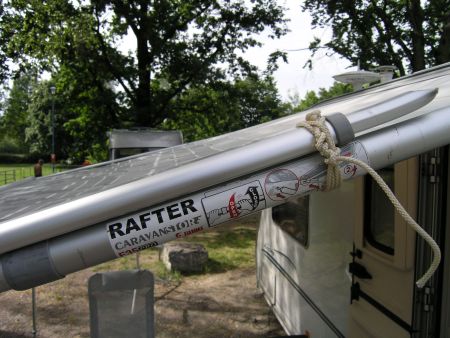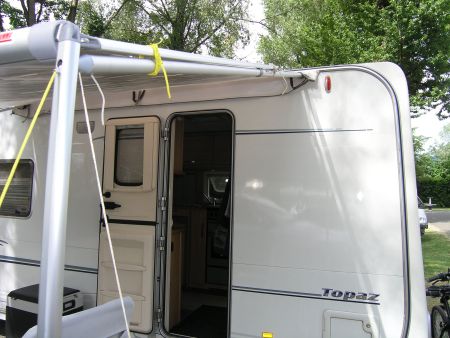 When we look out on Monday morning the Caravanstore was still up! We had a few house keeping things to catch up with in the morning. The site is still pretty full when we walked round. Mainly Germans but with a few representatives from Austria, Switzerland, Denmark and Holland. I have seen one other UK registration but not really had a chance to chat as they are some way from us. You would usually expect to see more Dutch on a site but it does not accept either Camping Cheques or the ACSI Cards which does tend to influence their choice of site. After lunch we rode out on the bikes round the Bodensee in the direction of Bregenz. Its pleasant cycling by the lakes because of a cooling breeze. As we were eating dinner it was getting very dark and we were concerned that we might have a repeat of a few days ago when we damaged the Caravanstore. Fortunately the wind was not as strong as before although the thunder and lightning was worse and went on for longer. Hopefully it will have cooled things down.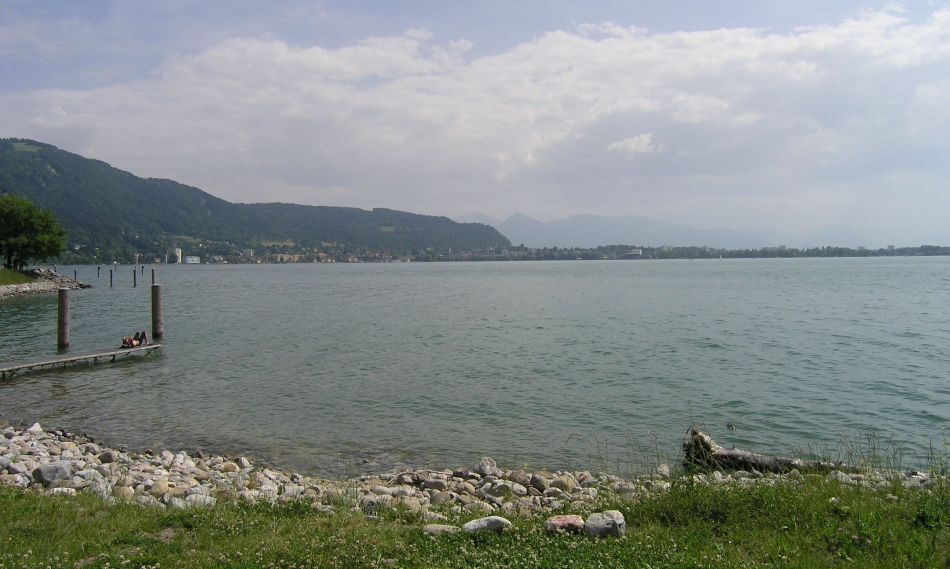 When we got up on the Tuesday the rain from the night before was still with us, although it was not very heavy and eventually stopped. We had seen on the News that there had been some serious flash floods less than a hundred miles from where we are. For some reason I was not feeling so good with similar feelings to having mild flu. The only thing I could put it down to was that I had been bitten quite badly by insects at the last site and I wondered if this could be the cause. We waited until after lunch before going out to do some shopping. On the way back I decided to fill up with diesel in Austria as it is much cheaper. The Austrians had obviously cottoned on to this as there are several quite large filling stations just across the border. In Austria you need a vignette to use the motorways but as we were on normal roads it was not necessary. Although I did get a bit worried as the police were checking vehicles as they re-entered Germany. Fortunately we were waved through! Back at the site we enjoyed a nice cup of tea with some gorgeous cakes we had purchased at the supermarket, well I did need cheering up! As eating cakes then produces a feeling of guilt in both of us, we took ourselves off for a walk around the campsite and to have another look at the lake.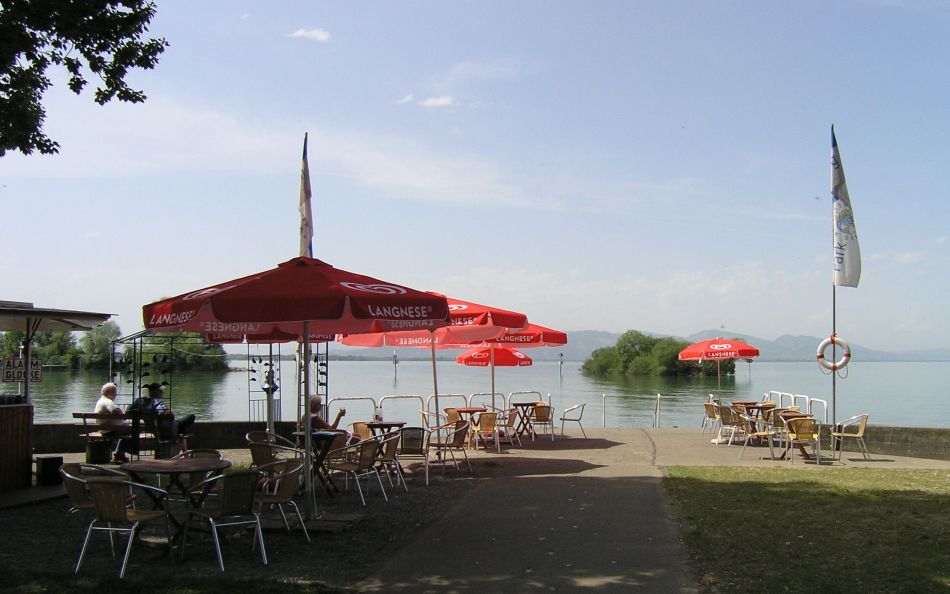 Itís been pretty wet here today so not much chance to get out and about. The rain did ease off a bit in the afternoon so we decided to drive out to Lindau. The old town is situated on an island in the Bodensee joined to the rest of Lindau by a road and rail bridge. We parked on the land side and walked across the bridge, had it not been so dull we would have been able to see the mountains of Austria and Switzerland in the distance. As you step into the old town you are transported back to a time when leisure was a serious business for the well heeled. Given the size of the place it has a large and very grand railway station and you can imagine the time before mass motorised transport when everyone arrived by train to embark on the pleasure steamers that plied the lake. Many places like this have a faded elegance but I felt that it still maintained a certain grandness. Our usual routine of putting everything away the day before we leave was only partially achieved because of the rain.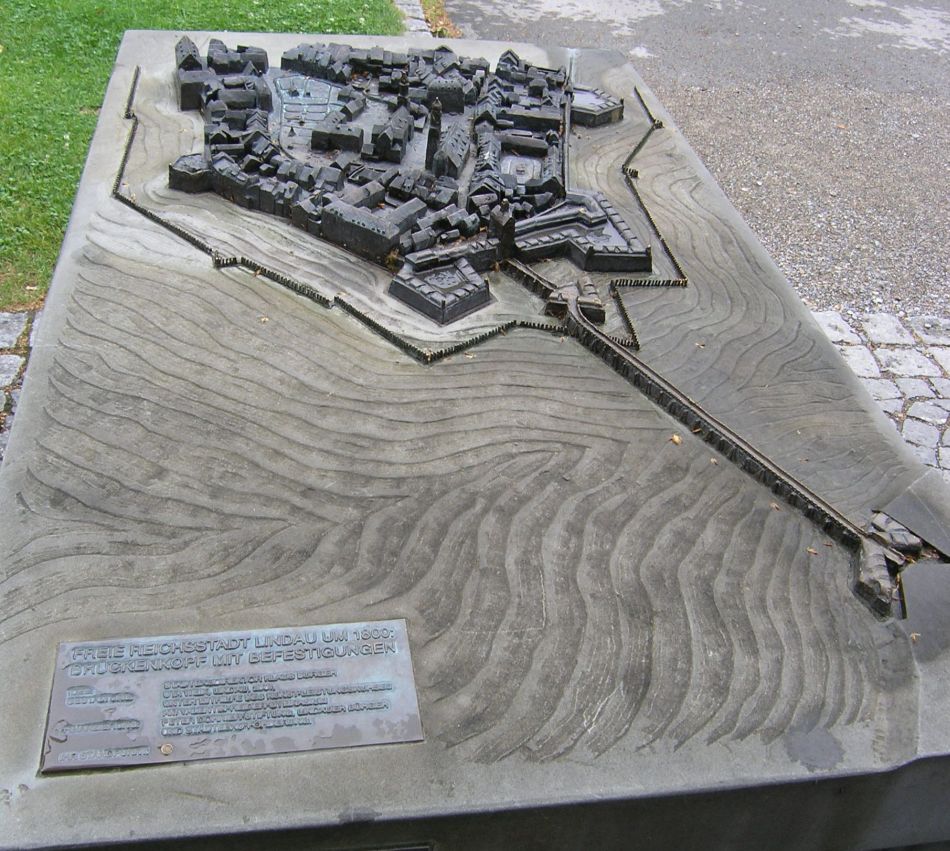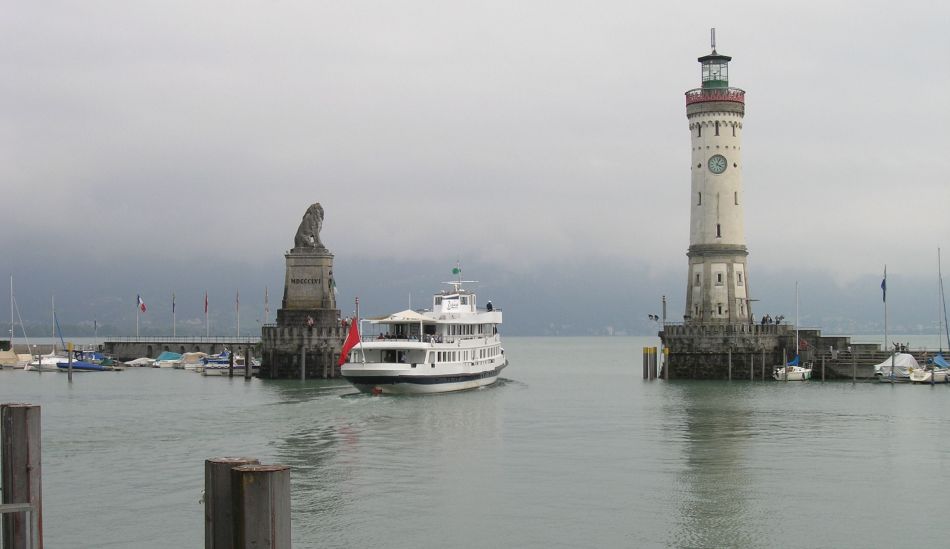 Thursday 5th June and no let up in the rain today as we prepared to leave Park Camping at Lindau. I am still feeling a bit rough but to cap it all Margaret slipped on some wooden planking today, near the shop, and is now feeling a bit sore. Things did not get much better as we left the site when I realised I had not shut the front clamp on the roof box! We pulled in and attended to that. Our route today is mainly across country with just a couple of short motorway stretches. I noted that even having completed 30 miles the Bodensee was still over to our left, so itís a pretty big lake! Being cross country our average speed was quite low. It was wet all the way but at some points I think we were going through low cloud. In the sunlight this would have been a spectacular drive, especially as you get over towards Freiburg. At one point we were at an altitude of over 900 metres. The German Autobahns are legendary but I donít think the same can be said for their other main roads which are often two way and they rarely seem to bypass towns. An example is Freiburg where you virtually go through the centre to get on the motorway system. One frustration of camping in Germany is that most campsites close for two hours between 13.00 and 15.00pm. You therefore have to plan your arrival carefully in terms of time, unless you know the site you may find there is nowhere to wait. We therefore had to idle away some time on a motorway service area. We arrived at Terrassencamping Herbolzheim just before they reopened after lunch and as luck would have it there was plenty of room. It seemed unusual to see UK cars on a campsite as during the previous four weeks they have been few and far between.
A pretty lazy Friday especially as the weather has not cheered up much. We did manage a walk round the campsite which goes up a side of a hill with the pitches on terraces. It was a surprisingly long climb to the top. It is also the first campsite in Germany on this trip with Eurocamp on. We did go out to do some shopping and called into a DIY store as its always interesting to see what they have in stock but I did feel the prices were a bit expensive compared to the UK.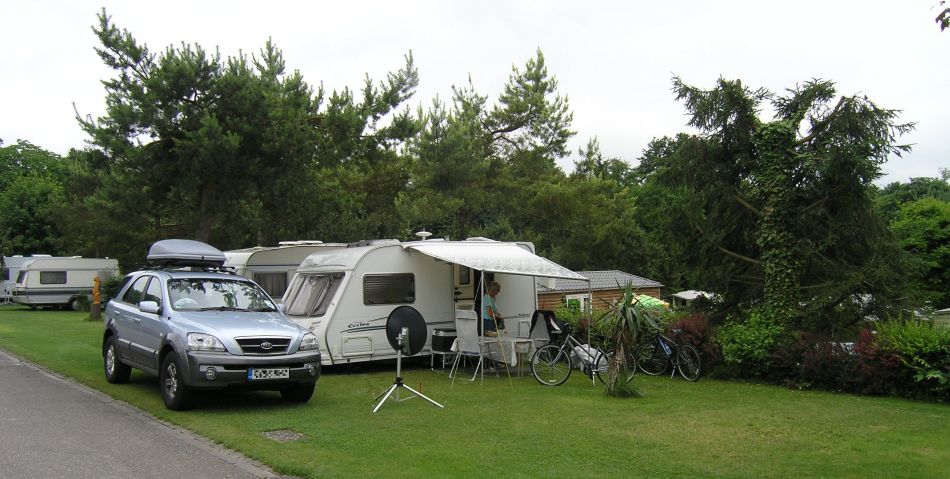 The site continues to be busy with empty pitches being filled as they are vacated. We rode the bikes into Herbolzheim today to have a look round. It seems quite a modern town. There are some older buildings but most seem new. On the way back we stopped to buy some rolls from the supermarket. Out of interest we rode back through a new housing estate and it was interesting to compare what we have in MK. Back at the site I had a long chat to one of the British guys here on site. It turns out that he owns his own CS five van site in Cambridgeshire. It was interesting listening to his reason for going with the CC&C rather than the CC. He left us with a leaflet so we can decide whether to give it a try, although officially it does not have any electrics. We thought that we had succeeded in getting most of the UK TV channels but most of them disappeared this evening. It could be the weather as I am aware that rain can interfere with reception. At least we were able to watch the Qualifying for the Canadian GP. I seem to be having similar problems with the site WiFi. I have to say that itís pretty cheap at Ä1.50 for six hours. However I seem to have a problem of only staying connected for a couple of hours then nothing!
Sunday and a day of three halves! When we got up no change, still dull. Then gradually improving with some lovely sunshine and quite warm. Then just as we were getting ready to watch the Grand Prix the sky darkened and we had a massive thunder storm. Concerned with what happened last time we took the sunshade down. Otherwise it was a pretty lazy day enjoying the sunshine. I did take advantage of the better weather to take some photos of the site. When we got to watch the GP it was a good result for Red Bull with DCís first points of the season and a podium to boot! Afterwards I went to look at the restaurant but it seems to have been turned into a television room given that itís the European Cup so does not look like a place you would want to have a meal in which no doubt will be very disappointing to Margaret!
Monday 9th June and it was the first day we actually awoke to sunshine here at Herbolzheim, in fact it turned out to be a very agreeable day although towards the evening thunder threatened again but did not really come to much. We re-erected the Caravanstore so that I could remove the broken arm. I had thought I would need to cut it off but as it turned out I was able to pull the remains of the broken part completely out. At least it looks better now when itís strapped to the veranda pole. We did something completely different today, we went to a McDonaldís!!! This was indeed a rare treat! It was not really the cuisine but to test their internet access as I read they were in partnership with T-Mobile. As I have signed up for a month at the previous campsite I thought I should give it a try. Whilst I was playing Margaret went off to buy us a cheeseburger and a chocolate milkshake for me. She reported that in the queue to be served she was behind a nun! Divine intervention or just a hungry nun we will never know! Anyway the internet worked although perhaps I needed to be a bit nearer. After our naughty feast we filled up with diesel for our journey tomorrow. It seems to have fallen a few cents a litre. Then onto the Edeka supermarket. Rather interestingly it had a note of apology, in English, on the door about not accepting credit cards. In fact it only takes the EC card, not even UK cash cards. It seemed a new supermarket and was obviously to a higher standard than the run of the mill German supermarkets. We got back to the campsite just as the lunch time curfew was ending. The site restaurant seems to have been converted into a television room for the duration of the European Cup. In fact the campsite was almost deserted this evening as it was Holland V Italy, which Holland won so things will soon turn orange, Hup Holland!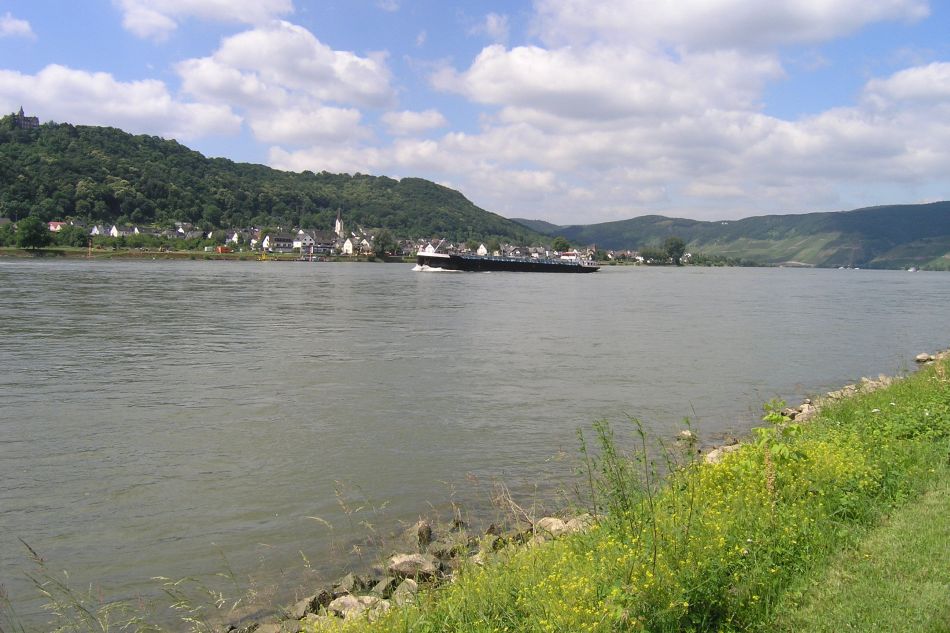 Time to move on and with a long journey ahead of us today although it was only 200 miles. We seem to hit a lot of roadworks and some slow moving traffic. Today we have moved from the Black Forest to the Rhine Gorge near Boppard. Getting down to the road that runs along the Rhine was problematic as we had to negotiate five kilometres of narrow, steeply downhill road. I think Margaret still has some finger nails left! In truth it was not that bad but we had to be careful. I mentioned barges before but they are on a different scale on the Rhine where hardly ten minutes goes by without one going up or down stream. Our site, Campingpark Sonneneck, stretches along the rivers edge for some way. Where as our previous campsite would have been perfectly at home as a UK Caravan Club site the same can not be said for Sonneneck. It will do for a few days. When we arrived we decided to take the bikes off the rack and cycle round the site to find a pitch. Whilst not directly on the river bank we do have a good view of what is going on.
By the next day we were starting to realise one thing we had not fully appreciated about being on a campsite on the Rhine, particularly in the Rhine Gorge, was the amount of noise generated by the adjacent railway lines. We have been on campsites before with railways running near to them but they have tended to be local lines which are not too busy. The railway lines along the Rhine form a main part of the German rail network and are therefore very busy with trains every 10 to 15 minutes and sometimes more frequently! I know it sounds as if I am whinging on but we have also been surprised by the strength of wind that blows along the valley. We were concerned enough to take the Caravanstore down, especially in its weakened state. Up until now we have been very pleased with the Caravanstore as itís convenient and does not require any additional storage whilst on the move. It has got me thinking whether we should go back to a sunshade. Dorema, the manufacturer of our previous sunshade make some nice models which have frames rather than three poles for support. Food for thought. Apparently Swift are investigating whether cassette style wind out sunshades can be fitted to their vans so I will also keep an eye on that development. During the morning we drove into Boppard to fill up with diesel. We found it a bit cheaper off the main road. We also did a bit of food shopping. A lot of the day has been spent looking at our options for future sites as we donít think we will stay here as long as originally planned. We need to now find sites that will take us back to Calais in sixteen days time without too much deviation. Where possible we also need to find sites that have a WiFi connection as we like to keep in touch. We think we have settled on our next site but still have more days to plan. Before we left home we had sketched out a route of where we planned to stay. After the first few sites we changed most of it! Having put the planning to one side we went for a walk through the campsite. The campsite must be in the region of a couple of kilometres long as it stretches along the banks of the Rhine.
We had decided that Thursday 12th June would be our last full day at Sonneneck. It was our intention to ride the bikes into Boppard today but just as we were getting ready it started to rain and the rain stayed with us most of the day. In this sort of weather itís not even worth going out in the car. One thing that does not stop for the weather is the river traffic. It is fascinating watching the barges as the beat their way upstream in almost slow motion. And yet in the other direction they seem to fly downstream. I can understand why people come here and sit on the river bank for two weeks. Just as we thought it was going to clear up with the sun just about coming through it went very dark and it looked as if we were in for a real storm. It just so happened that the Germany/Croatia Euro 2008 match had just ended in defeat for Germany!!!!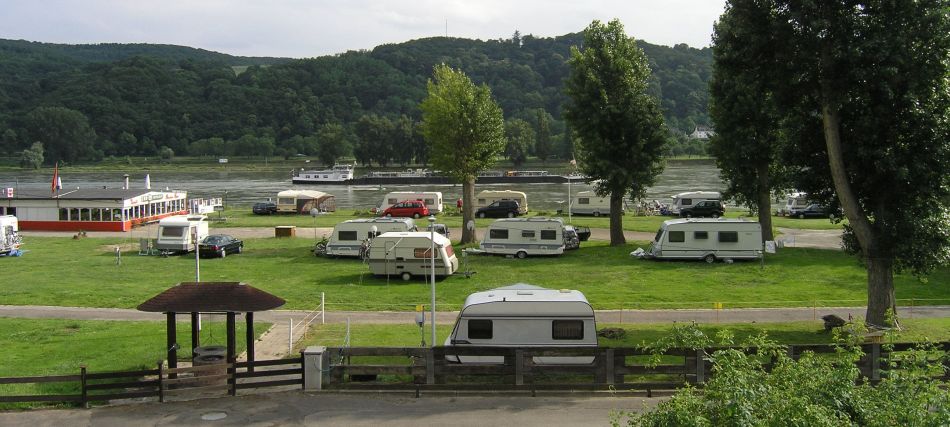 OK so itís Friday the 13th, who says itís not sensible to move on! I am no fan of Eastenders but perhaps Heather has a point. Went to empty the loo this morning, one of the jollier jobs when caravanning! There are double saloon style doors that swing both ways. I have no idea how it happened but one of the heavy doors swung back and hit me on the back of the leg just above the ankle. Some how my leg must have been slightly raised up as the door caught me in two places. I was in agony and somehow got back to the van and almost afraid to look at the result. It was not pretty, already swollen and bruised. Despite the discomfort we carried on getting ready to leave. Fortunately it was my left leg so did not affect driving, (automatic car). We set off for our next campsite which was about 100 miles away. (We had decided to leave Sonneneck earlier than planned because of the noise of the trains) After about 40 miles I was finding my leg increasingly uncomfortable. We stopped at a rest area and decided to strap it up. Fortunately we found some turbogrip in the van which proved to be ideal, plus the help of an ice pack. We carried on and by about midday we arrived at our next campsite PrŁmtal Camping at Oberweis. We have a nice pitch over looking a small river. After lunch we set about setting up the satellite dish. We were not having much luck and one of our Dutch neighbours came over to assist, or perhaps should I say take charge. After two hours of a scientific approach we still did not have the channels we wanted, so in the end we gave up! To cap it all we have suddenly been invaded by hundreds (at least it seems that way) of youngsters here for the weekend for what appears to be a football competition! Deep joy! There is supposed to be 80% WiFi here but I canít get it at the caravan so I have had to go and sit in the childrenís playground which for me is pretty traumatic. At least itís free so canít really complain.
Managed a reasonable nights sleep considering! Perhaps it was the silence rather than the regular DB trains. Leg was not too uncomfortable in bed but I was weary of putting weight on it when I got up. Anyway managed a shower and redressed the damaged area. Still not pretty but fortunately did not seem any worse. Apart from that the day dawned bright and sunny but since then we have had a wide variety of weather including heavy rain and hailstones. It has also been unseasonably cold. We needed to buy a few bits so went off in search of a shop. Nothing in Oberweis so had to drive the 10kms to Bitburg. I have discovered that if I sit at the corner of the football field, which is immediately behind the caravan, I can get a reasonable internet signal, so no more playground for me! The opposite has been true of the satellite which we again spent more time than was really worthwhile trying to get some UK programmes. I am beginning to ask myself whether itís all worthwhile bringing the television. I wonder if there is some magical instrument that I can buy that will tune it in immediately? Seems remarkable to think that in less than two weeks we should be back in the UK. I canít say the time has gone particularly quickly as we seem to have done a lot. The children that arrived en masse last night have been quieter than expected. We have seen groups of them wandering around with checklists of things they need to find, could be a prize somewhere for them.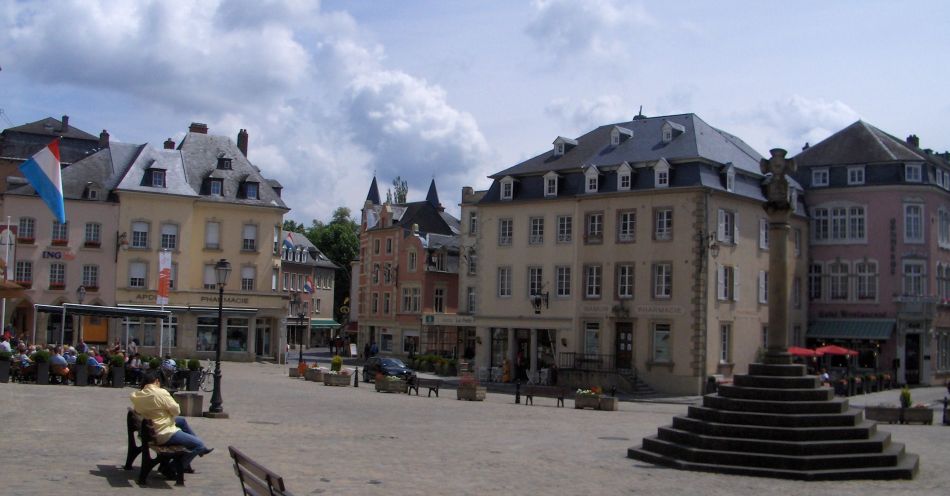 Sunday so we decided to have a little trip out to Luxembourg. We went down to Echternach which is right on the border. We first stopped at Echternacherbruck which is on the German side of the border and the location of one of the campsites we could have stayed at. Having had a quick look I think we made the right decision in going to Oberweis. The river forms the border and on the German side there is even a red and white barrier pole permanently in the up position. War surplus I expect! We managed to find a parking place near the bridge. We were not sure we should have been there as there was some sort of event going on which took up half the parking area. Echternach is certainly a delightful town with impressive buildings. This is our second brief visit to Luxembourg and the word Grand, as in Grand Duchy does seem to apply. After a good look round we had lunch by the river. On the way back to the campsite I was firmly instructed not to use the narrow cross country roads we used on the way to Luxembourg but to use the main roads instead! Back at the campsite all seems to be back to peace and tranquillity as all the little people made an exit early this morning, although in truth they had not been as much trouble as we expected them to be. Sitting in the afternoon sun, although there is still a chill in the air, I noticed a new arrival not far from us. It turns out that the people in question were at our last campsite.
Monday seemed a bit warmer which was good. The last couple of days, despite the sun, have been quite chilly. At long last we got the bikes out for a ride. In the morning we rode into the village of Oberweis. Whilst it is a pretty enough place there is not much there, although strangely it does have two service stations! We rode up to the church, which like many villages is the main focus point. Like a lot of German churches the church yards have lots of family graves which are all immaculately looked after. After some lunch we went the other way to the next village which was further away. Just as I was passing a field of maze I noticed a deer in the field. It was obviously totally unfazed by the attention as it was still there when we cycled past again 15 minutes later. Something we have noticed about German sites is that they seem to share their facilities with the locals. This seems a good idea as villages such as Oberweis would not justify such facilities on their own. We have made the decision to treat ourselves. No, we are not going back to McDonaldís! It is reported that this campsite has a really good restaurant, unlike many we have been on. I am pleased to report that they were right, although itís not worth going with a small apatite! The staff were friendly and most seem to speak good English and we were provided with a menu in English without having to ask for it. The restaurant was also very popular with the locals which is usually another good sign.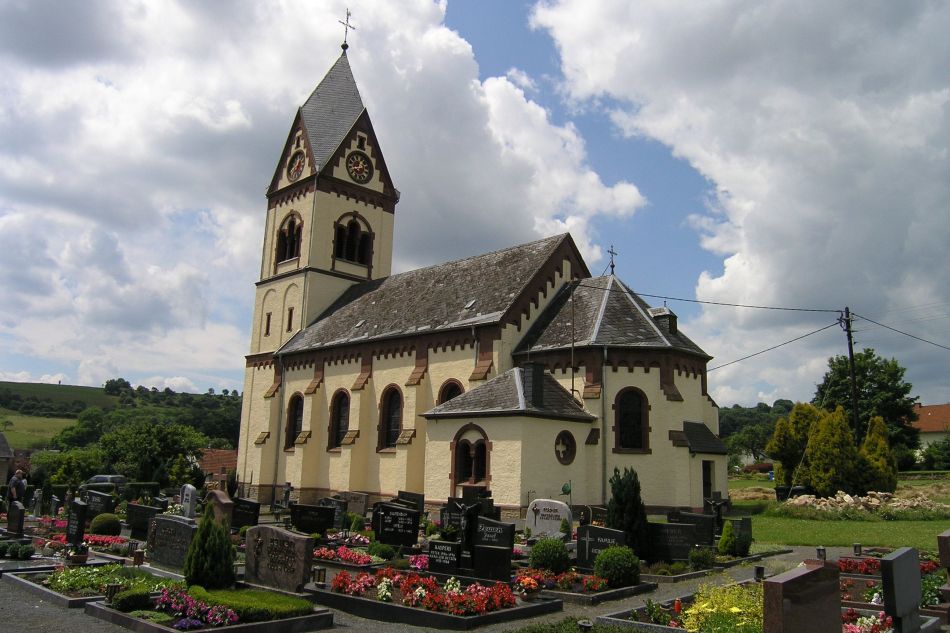 Thursday is our last full day here at Oberweis as we move on tomorrow. We have really enjoyed it here as it has been generally peaceful and the facilities are really good. We were chatting this morning about the sites we have liked best on this trip. The conclusion we came to was that the best sites are those that have to survive as a campsite rather than being a convenient base to visit a major tourist attraction. Our pitch here is just across the site road from the River PrŁm. We have delighted in watching all the varieties of birds that inhabit our little stretch of the river. A Heron even flew along the river past us the other day. After lunch we thought we should give Bitburg a visit as it is one of the larger towns in the region. As we have discovered on our trip, many German towns are of modern construction with some nodding of the head towards traditionalism. Given the massive destruction in the last war this is hardly surprising but it does mean there is a sameness about a lot of urban areas. One rather engaging sculpture in the town plays homage to the Gaeessestrepper which is an old town legend. Apparently during the 30 years war the town was besieged by the Swedish Army who were hoping to starve the inhabitants into submission. The inhabitants decided to dress their children in goat skins and paraded them on the town walls. The idea being to suggest to the Swedes that far from being short of food they had plenty. The Swedes were hoodwinked by this subterfuge and gave up trying to take the town. Readers will no doubt be aware that many such stories exist across Germany but at least they add some colour and romance to the towns concerned! Having done the tourist bit we filled the car with diesel in readiness for tomorrowís journey and did a last shop at a German supermarket until our next visit. Margaret has been pushing herself forward of late having decided that the prepacked meat was not what she wanted she took a queue ticket for the meat counter. Now she wonít let me wander off as she is convinced I speak German (I wish) and would be able to help her if she got into difficulties. The truth is that all I can do is smile sweetly and hope that gets me what I want Ė it generally works! Anyway she achieved what she wanted even at one point having some banter with one of the assistants that had served us with some fish!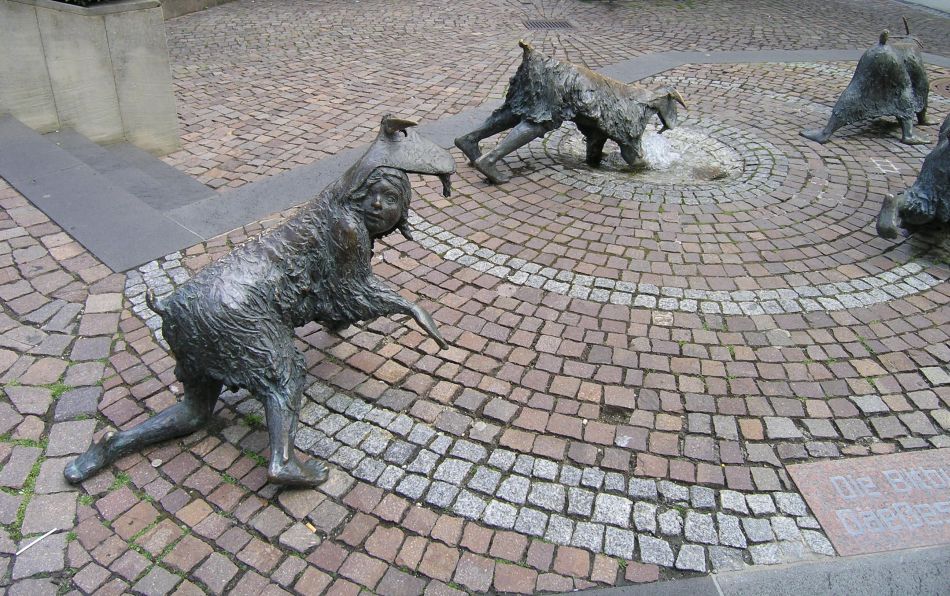 We made the short hop into Belgium today which completed our visit of six weeks in Germany. We have come to a site called Panorama Camping Petite Suisse which is deep in the Ardennes at a place called Dochamps. For those that thought Belgium was flat could not be more wrong. Itís hardly mountainous here but it is steeply wooded and from our pitch we can see a long way out across the countryside. Our main problem with Belgium is that we find it difficult to work out what notices say as they are all in Flemish which seems different to what the Dutch use. There are some signs in French which make it a bit easier. We got a bit of a shock when we went to fill up with water. When I initially turned on the tap the water was brownish. We later learnt that the site gets its drinking water from its own well and the brown is iron! I also have free internet access with a signal strong enough to get it in the van. Itís the French Grand Prix this weekend so it is important that we get a television picture. When my Dutch chum helped me (unsuccessfully!) at the last site with the satellite I notice that he was conscientious about getting the dish tripod level. So this time I followed his example. I also lowered the elevation as I was convinced it had been set too high. Amazing within minutes we had a picture and a little while later the UK channels. Picture is not absolutely perfect but we can play with that tomorrow. Does make you wonder if I could have found the channels at the last site if I had tried harder. I am sat here typing this with an ice pack on my injured foot. I have a lot of initial discomfort when I start walking on it having been off my feet for say half an hour. It gradually loosens up the more I use it, in fact yesterday walking around Bitburg it was not too bad. Perhaps in an old bugger like me it just takes longer to get back to normal!
Thursday was a really lazy day. The weather has not been that great with rain and clouds for much of the day, such a contrast to Royal Ascot! We decided that it was an ideal day to give my foot a rest. Funnily enough I found no dressing and flip flops much more comfortable than wearing shoes. I always envy people that can wear flip flops with what appears to be the greatest of ease. Perhaps itís because I did not grow up wearing them that I am not a natural. Donít think I will chance wearing them to the supermarket! On our trip around Germany we have often been on campsites where we are the only British campers. Now strangely on the campsite we find ourselves two of many Brits. This is not because Petite Suisse has become a top location on the camping map but because a motoring club, The Citroens Special Club, have come here for a rally. I have not yet found out much information but I will. Most of the cars involved, mainly it seems being towed on trailers by motorhomes are three wheelers. I am familiar with Morgans but did not realise there were so many other varieties of this genre. Just before we went to bed we were disturbed by a noise outside. Thinking that it might be another problem with the Caravanstor I hastened outside. Awning OK but rubbish bin had disappeared. I discovered it at the back of the van with the contents scattered over the ground. As I moved further round in the darkness I was aware of a tail! It was a fox which I had to shoo away as he seemed in no hurry to leave. The site warns campers that there are wild cats around but whether something has been lost in translation it was definitely a fox.
On Friday we intended to do some shopping but decided to incorporate our trip with a little tour round. We were going immediately after breakfast but got chatting to one of the ladies with the mysterious three wheeler cars. I was having difficulty with the association with CitroŽn. It was explained this way. All the cars have been built from kits, the association with the car manufacturer is the fact that they all use the CitroŽn Dyane engines. Apparently there are as many as 150 of these cars making their way to the campsite. We did eventually get away on our trip, first to Erezťe where there is a historical tramway, although it did not seem to running today. From here we drove on to Hotton where we were told there was a Dalhaize supermarket which we found with little difficult. We have used this group of supermarkets before and they are very good, it even sold Marmite! We decided to return to the van via La Roche en Ardenne which looked very nice and worth a return visit if we get the time. Back at the site even more kit cars had arrived and later on when I walked round they were everywhere, tucked in there, hidden there! The one I liked the best was the three wheeler arrived with German plates towing a sawn off CitroŽn Dyane as a little caravan.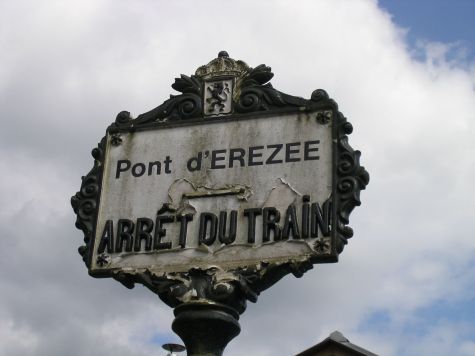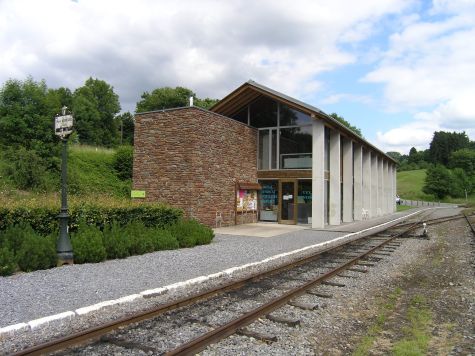 The longest day! Early this morning nearly all the kit cars left the site on an excursion, all 85 of them! New ones are still arriving. After we watched the qualifying we droved to La Roche as this would normally be our route to the motorway. When we came through yesterday we notice that they were resurfacing a bridge. Well today we discovered that there were several other roads also in the process of being dug up. This will force a rethink on an exit route from the site. After filling up with fuel we had a drive out through the stunning countryside that surrounds the site although we did get a bit confused by some of the road signing! We arrived back at the site in the middle of the returning kit cars that buzzed around like hornets. Itís an interesting observation of people involved in such pursuits that they really donít have a lot of time for anything other than their hobby. It seems to be an all consuming passion. I suspect that camping is a means to an end rather than being an interest in its own right. They have all been to a BBQ tonight and I suspect most of the Dutch were in the bar and probably now drowning their sorrows.
Over the last couple of days we have been well entertained by our chums with the kit cars even if it meant the campsite was not as peaceful as we hoped. They went off en masse this morning; fortunately they only come back in dribs and drabs! You might imagine that this display of eccentricity is a purely British phenomenon but you will be please to know that some of our European cousins are equally mad! Itís an interesting observation that given the age of most of the participants, they would have been part of the Meccano and Dinky toy generation which has just extended it into the autumn of their years! During the afternoon we watched the French Grand Prix. Not such a good day for Lewis. I am wondering whether he needs some sort of mentor. He is well scripted in what he says but it does not seem to translate into the right sort of action, almost as if he is trying too hard. Anyway Red Bull did well, another 3 points. We were surprised to see a large marquee being carried past our pitch and plonked down on the free pitch next to us. This did set the alarm bells ringing as we imagined that our eccentrics were going to party into the night! In some ways we were lucky (!) to have a massive thunder storm and very heavy rain. Only problem they made several attempts to lit BBQís right next to us so smoke was everywhere. One thing I find about people who camp to assist another hobby is that they donít show the same regard for others, like walking right up close to our van rather than walk round. Call me Mr Grump! Tomorrow we move into France for the last stages of our trip.
At least it dawned a lot brighter but the storm had left everything very wet. Even some of the gravel road ways had become rutted with the heavy rain. As we left the site we were caught up with the kit cars yet again departing en masse. Fortunately they were heading in a different direction to us! Talking of directions we were on a tour of Belgium today just to avoid a dug up town! Looking at the map we do seem to have gone around the houses but at least it was all on motorway. We are now just across the border into France in a town called Maubeuge at the Municipal campsite. Interestingly there are quite a few Brits here. I expect this is in some part due to it being part of the Caravan Club advance booking service. It is also only a little over 100 miles from Calais so and easy staging point at the start of a holiday. Our intention is to stay here two nights and then move on to a site nearer the Eurotunnel Terminal for our final two nights of the trip. Our preferred option was Gandspette but in reply to my e-mail they are fully booked unless we are willing to do without electrics which could be awkward so it looks like Bien Assise as an alternative. There are lots of other campsites in the vicinity but a lot are fairly ordinary. On a completely different subject I set up the satellite dish but this time I did not attach the signal strength finder, I just set it up on the tripod, after checking levels, and hey presto we had all the programmes we had at the previous site. Is this the way forward!
It's Tuesday 24th June and we had a discussion this morning about whether to stay here for and extra day and do out pre departure shopping at the local Carrefour or to stick to our original plans. It was not the largest Carrefour we have used so in the end it was decided that we stick to our original plan. We got completely lost coming out of the supermarket and had to make several attempts to find our way back to the campsite. Eventually we did manage but not without going through a red light first! In order to avoid a blue flashing light we escaped to Belgium! No not really but we did cross the border but only to fill up with diesel as its quite a bit cheaper than France. There has been quite a turnover of campers today but they have been replaced by newcomers.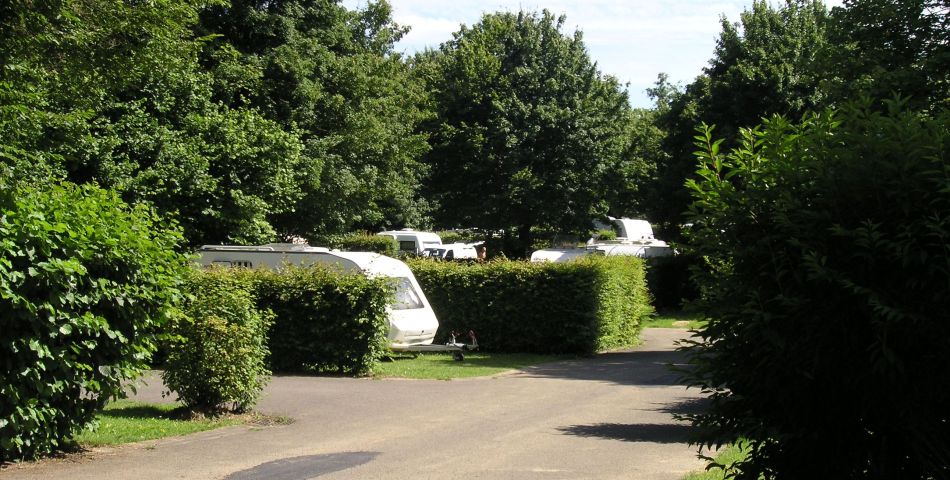 We left the campsite a fraction earlier than normal and were soon heading for the open road which were also surprisingly quiet. We were to encounter our first road tolls of the trip but they only amounted to about Ä16 so not too bad. Having been told that Gandspette was full we approached our second choice campsite, Camping La Bien Assise, with some trepidation. We managed to time our arrival just before they closed for lunch and we were in a queue! Fortunately they had a free pitch but it was very much at the extremity of the campsite. Although there were pitches free nearer the facilities I think they were keeping those for campers who had booked in advance which I felt was fair. Anyway the pitch we have is large and in a nice situation. We had lunch and then made several futile attempts at setting up the satellite. How can it be so easy in one place and impossible in another? There are even rumblings as to whether we should bother to bring it again; it would save me a lot of frustration. Just as well we are going home via the Tunnel. If it had been by ferry we may have flung it all overboard! Nothing like a bit of retail therapy to ease frustration but had we known that just added to the frustration. I forgot to mention that yesterday, when paying for my diesel, my Visa credit card was declined. Now this sometimes happens if the connection is not right. However when I tried to use it in the supermarket it was again declined which set alarm bells ringing. So back at the van I phoned Tesco and was told they had put a block on it because it seemed someone was trying to use my account fraudulently. Apparently an attempt had been made to buy something from Carphone Warehouse online and I expect they could not complete all the security questions. It would appear that someone had harvested my details from a previous online purchase, scary! Tesco fraud department are investigating and I hope to find out where the details came from! The campsite have a WiFi facility, but only near the bar, so I thought I should check my other accounts! After dinner I tried again, totally unsuccessfully, to get the satellite to work. In the end we packed it all away and went for a bike ride around the site and part of the nearby town.
Our last full day before returning home. This is the day we go shopping, so it was off to the Cite de Europe and the Carrefour. There was no point going to Tesco as I could not get any Club Card points. When we arrived at the shopping centre my immediate concern was whether we could access the car parks as they all had height barriers. Fortunately they were high enough! Having been away for so long the novelty of taking lots of unusual food stuffs back with us had waned a bit. (We were more enthusiastic for the ideal of doing a shop in Waitrose!) I should add that this comment did not apply to wine! However even here we had to be a bit more careful because of weight.
During the day we also did a bit of a tour of, local, not very well known, campsites. The one we found right in the middle of Ardres had quite difficult access and did not seem to have many touring pitches from what we could see. Later we went to Licques where there are two campsites again with limited touring pitches but at least they would make a change if you wanted a smaller site. The real problem is that we could do with a third campsite around Calais of a similar quality to Bien Assise and Gandspette. The trouble is that it takes a lot of investment to create that and clearly no one has yet come forward. Today Bien Assise had the site full notices up although my advice would always be to ask as they are often able to fit you in. Had a bit of a surprise today. A chap asked for me by name as he had recognised the car from the website. It turns out to be Dave Elcome who runs an internet forum. It was nice to have a chat and also to meet his wife Helen. Treated ourselves to a takeaway tonight as itís the same food as their restaurant and a bit cheaper!
Friday 27th June and going home day, alarm set for 6.00am (5.00am UK time!). We had mainly packed up the day before with the wine and beer well out of sight. We were ready to leave just after 7.30am. Far too early for our booked crossing but we wanted to try and get on an earlier crossing. Managed to get on about an hour earlier and just missed out on an even earlier one. One reason for trying for an earlier Shuttle was that a former colleague was having a leaving lunch today and although we would not get there for the meal we might be able to get there to say our goodbyes. We saw Dave E at the terminal and he was on the same crossing. I was envious of his short 40 mile journey the other side. Traffic was not too bad on the M20 and even the approach to the Dartford Crossing was OK. Once on the north side of the Thames we started to see messages that there were long delays on the M1 between junctions 6 and 10 (roadworks). We called into South Mimms Services just to have a look at alternatives. Margaret had wondered about going across to Aylesbury and onward to MK from there. South Mimms is at the bottom of the A1 and perhaps that route would be better. I phoned our son Simon who we knew was at home. He checked the various road traffic websites and no reported problems, so the M1 it was! Traffic was moving fine, albeit, on the slow side but no different from previous experiences. What ever way you look at it the journey from the Tunnel to MK is not that pleasant and we are always glad when it is over. We arrived home about mid day, Simon had already opened the gates and he helped me to unpack everything and take off the roof box. We did get to say cheerio to Mo and she seemed to appreciate the fact that we made an effort to get there. After 8 weeks there was a mountain of post to sort through with quite a proportion that was immediately recycled! It seemed strange being in the confines of a building after 8 weeks in the caravan but no doubt we will get used to it!
Retrospective
We had driven just over 3000 miles of which 2500 was towing the van. Fuel had cost around £700. We had stayed at 18 campsites most of which we just turned up and used either the ACSI Card or Camping Cheques. Interestingly only on one site did we find reverse polarity on the electrics. A few sites we booked via the Caravan Club as we discovered, too late in the day, that the first two weeks of May were main school holidays in Belgium, Holland and Germany. The pre booking actually saved us money. We have enjoyed most those campsites that are campsites in their own right rather than being near a major tourist attraction. It was fascinating to see Berlin, Dresden and Wurzburg, plus discovering many smaller places that are little known. German campsites have all been to a high standard. I donít quite understand why Germany is not more popular with British people who flock to France in their millions but seem thin on the ground here. You are more likely to find a local who can speak some English when the complete opposite is true in other countries except for Holland. Hopefully this Diary will encourage others to follow in our footsteps.
Margaret and David