Arrivederci Roma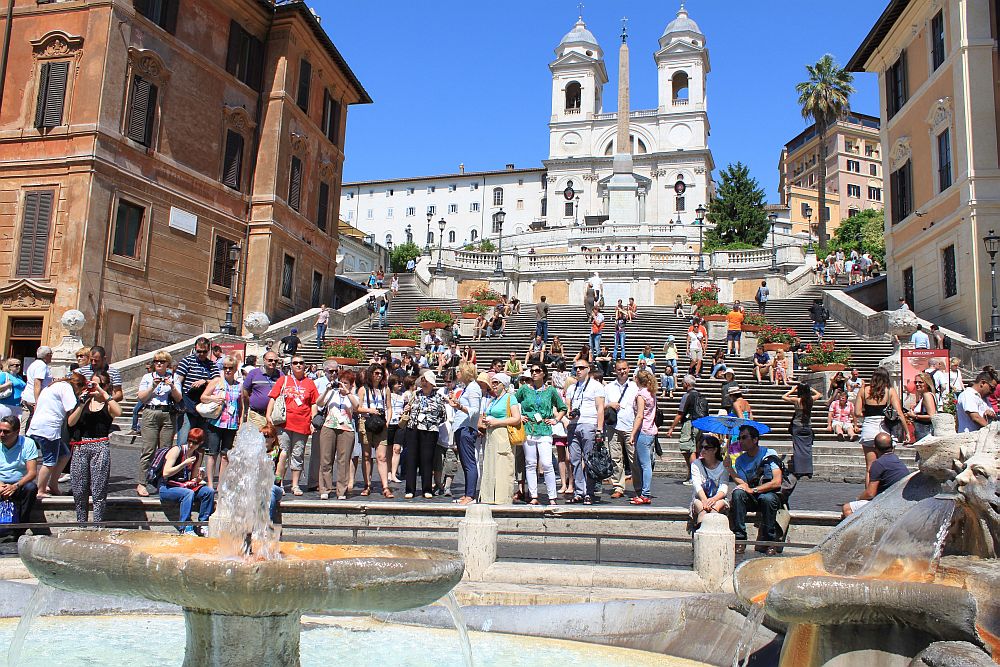 This trip seems to have been a long time coming, a year in fact as we did not venture across the Channel in the autumn of 2011. Itís only the second time out in the van this year. The first was to Broadway where we had absolutely delightful weather but for the month since then it seems to have rained every day. So much for imposing a hosepipe ban!!! We are intending to make our way down through France, Germany, Austria and Italy with Rome being the furthest point of the journey.
True to form Tuesday 1st May and we awoke to rain and we got soaked getting the van out of the garden and hitched up. At least we were in no particular hurry as we were only heading for the Caravan Club site at Bearstead near Maidstone in Kent for an overnight stay. It seems that ever since we retired, and no doubt before then, there have been road works on the MI and M25 as we have travelled south. Some of the, now finished, roadworks have made quite a difference so letís hope the newer ones have the same positive affect. Whilst for miles our speed hardly exceeded 50 mph steady progress was being made. As we approached the Dartford crossing even the sun was trying to break through. Best not to count our chickens, we have a long way to go!
We arrived at Bearstead about half past one, well past the formal first arrival time, or so we thought, apparently here its 1.00pm. Itís not a large site and has a mix of hardstandings and grass pitches. Prior to 2008 it was a private site and I remember staying here some years ago. The sun made a brave attempt to show itself and when out it was quite warm.
As the afternoon went on the day got sunnier and warmer. The poor chap next door had just got back from a day trip to France only to find everything closed because of the Mayday holiday. Clearly not a Socialist!!!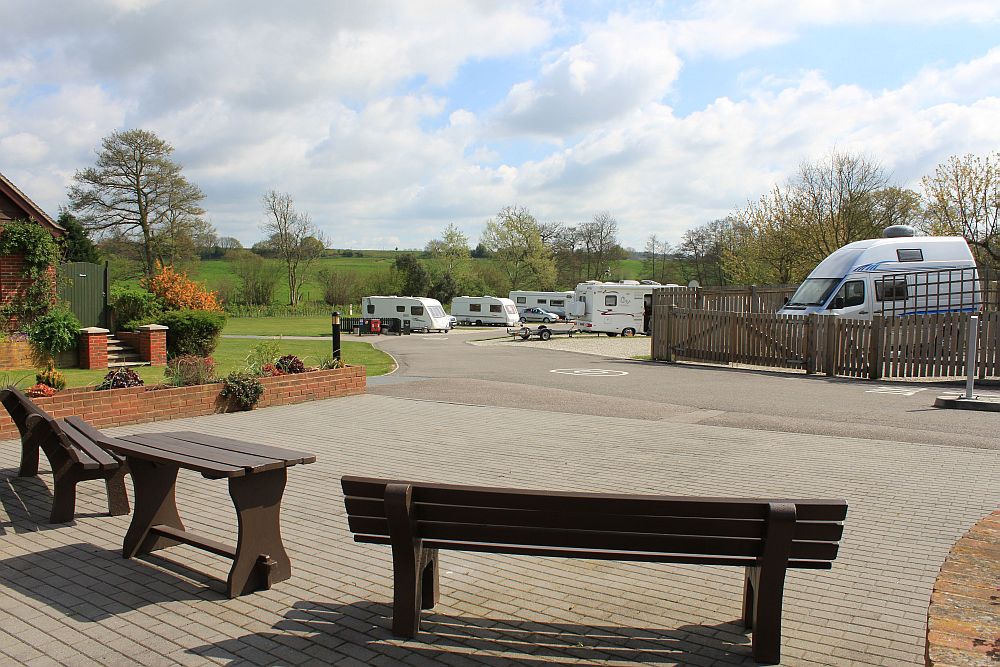 After the sunny afternoon of the day before it was too much to hope that the good weather would continue, it was indeed a false hope. When we were getting ready to leave it was just damp, not really raining. It is often the case that this neither here nor there rain is worse than the real thing. We left about 8.15am and headed for the Channel Tunnel which was about 27 miles away. We even managed to get on an earlier crossing although only by half an hour. I often use the filling station as we leave the Tunnel complex in France and we did the same today. I know some go off in search of a supermarket for the cheapest fuel but I was just pleased it was about 20p cheaper than at home, and of course it did not delay our journey. We paid Ä1.49lt and on the autoroute it was around Ä1.55lt. It is often difficult to convey to people who have never driven in France how easy their motorway system is, albeit at a cost. Just before 1.00pm we stopped at a small Aire for lunch. Another major difference to the UK. From the Dartford Crossing to the Channel Tunnel there is only one service station suitable for caravans, in France there would be one every 10kms!
Having been refreshed we set off again but after a short distance I noticed the offside caravan front and side lights were not working so we pulled into another Aire to investigate. The rear lights were working which suggested that it was either a lose connection or a blown bulb. I removed the front lens but could not get at the bulb but I noticed that careful handling made it come on so no problem with that bulb. Whilst I struggled with my penknife to take the screws out a French lorry driver shouted across to offer me a screwdriver, so entente cordiale is still alive! I did not take him up on his offer as I was just about managing. Hard to believe I have a car full of tools and I am struggling with a pen knife! The high level light was a different kettle of fish, the bulb had clearly blown and fortunately I had a spare in the bulb set I carry with me. So having restored the Blackpool Illuminations we set off once more. However we were starting to think that to reach our planned site at Ste Menehould it was going to be a longer day so we decided to divert to the former Municipal at Chalons en Champagne, a site we have used several times in the past. Hardstanding pitches and 10 amp electrics were also a plus point. Now they even take Camping Cheques which makes it a lot cheaper to stay there. Mind you I purchased a couple of small bottles of beer from Reception and immediately lost any gain I had made! I wonít say how much I paid just to save myself from the embarrassment! I have to say that despite three years in private ownership there seems no sign of any improvements being made to the facilities, particularly the toilets. The only sign of investment are about a dozen new mobile homes, which, given the site is in a residential area seems a bit strange. I also noticed that what I think was a school at back of the site seems to be boarded up.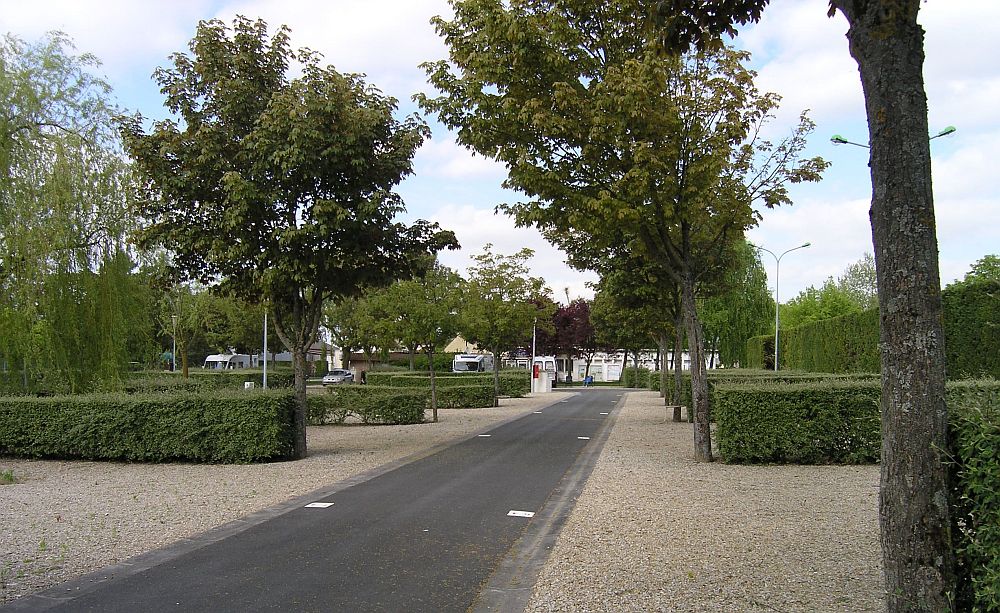 On Thursday as we were getting ready to leave Chalons it was not actually raining which made a change! We headed back out to the A4 and this and the A35 were the roads we spent most of our time on. Both roads have some very undulating sections with some fairly steep inclines and declines. Much is forested and it struck me looking at the colours of the trees that late spring can have as spectacular colours as the autumn. Most of our journey today has been through France with only the last 30 or so miles in Germany. We crossed the mighty Rhine near Iffezheim but considering it joined two major motorways, one in each country, it was no more than a two way country road. I appreciate that bridging the Rhine is a major civil engineering project, but, you would have thought that something better would be put in place. Interestingly the bridge crosses a weir and lock location so it was strange to see a massive barge at eye level waiting in one of the locks. A bit different to the Grand Union Canal! This was our longest journey yet at nearly 240 miles and we were pretty exhausted when we arrived at the site. The weather had gradually got warmer through the day and the afternoon it was in the low twenties. We are staying for two nights so hopefully time to recover! We had a bit of fun and games setting the satellite up but it was a case of resetting the elevation as Margaret always reminds me!
Friday and at last, a day of rest, or at least not towing. We were still up reasonably early and surprise, surprise we awoke to a beautiful blue cloudless sky and warm from the outset. After breakfast we set off in search of a supermarket with the help of TomTom. There is an Aldi at the end of the road but we prefer a Ďproperí supermarket and I have the REWE group POIís in the sat nav. After a few false turns we managed to park right outside the entrance. Having got what we wanted we went next door to the Jet fuel station to fill up with diesel, Ä1.509 a litre. Not yet sure what the exchange rate is as none of the sales have come up online yet. We Brits seem to be in the fortunate position of the pound going up against the euro, or is the euro going down against the pound. I am sure there is a subtle difference there somewhere! Anyway it should mean we get a bit better value this year.
Managed to catch the reports on the UK news about the local elections. Whether the results affect things for the longer term we will no doubt have to wait and see. After a light lunch washed down with German Pilsner we thought we should go out for a bike ride. There are always plenty of cycle paths and if not it seems acceptable to use the pavement providing there is not a sign to the contrary. We followed a path that took us to Grotzingen station where there seemed to be a plentiful number of trains going to various locations. Had we been staying longer I am sure we would have gone into Karlsruhe to have a look round. A lot of parking in big German towns is under cover and because we have a roof box attached to our car it can make it difficult to take the car.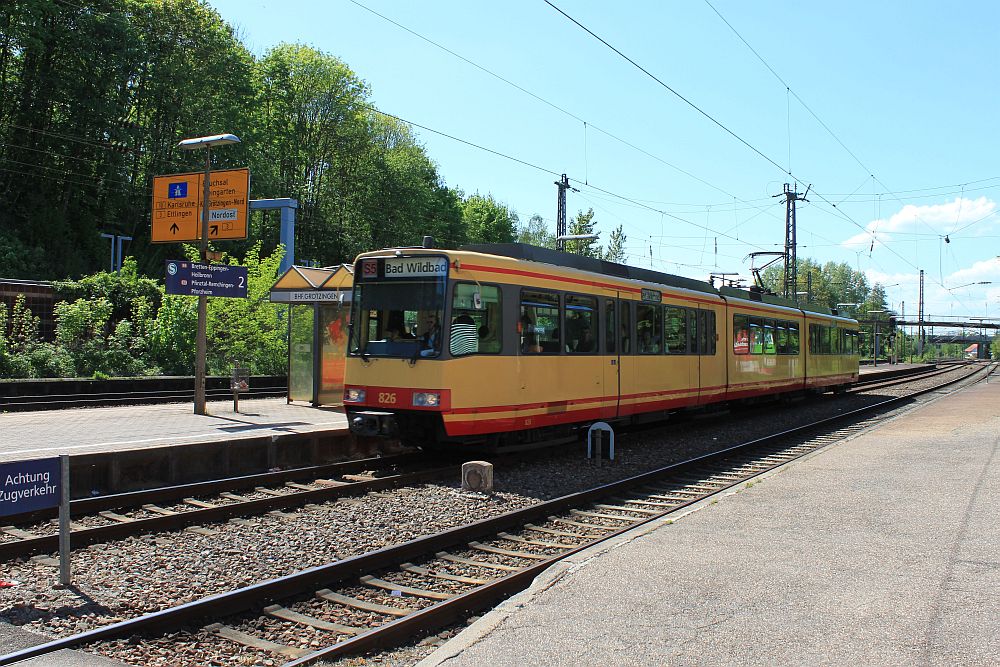 AZUR Camping Turmbergblick where we have been staying whilst near Karlsruhe is a typical German site with a mix of semi-permanent vans and touring pitches. Quite a large part of the site is given over to touring units Today, being Friday, it has been quite busy with some clearly here for the weekend whilst others, like ourselves, are using it as a transit stop for visits elsewhere. There are quite a few motorhomes here including a largish group who are all together. There are even a couple of Brits here in motorhomes. Had a short conversation with one couple but the other one clearly did not want to converse as I walked by.
Saturday and back on the road today. We were up and ready quite early for us and left the site before 8.00am. Just as well really as we have one of the longest journeys of the trip today. Unfortunately after the most beautiful day yesterday the grey weather had returned and whilst not actually raining when we left you could feel it in the air. All that was to change as soon as we got on the autobahn when it started to pour which coupled with the spray made visibility poor as well. We are using the A8 and A7 autobahns down to the Austrian border today. There seems to be a myth that continental motorways are quiet at the weekends because they are fewer lorries on the road. Well if today is a typical Saturday the roads seemed much busier than during the week! We were puzzled to know where everyone was going. Now I donít know this as a fact but the road got much quieter after we passed what seemed to be a massive shopping centre just south of Stuttgart!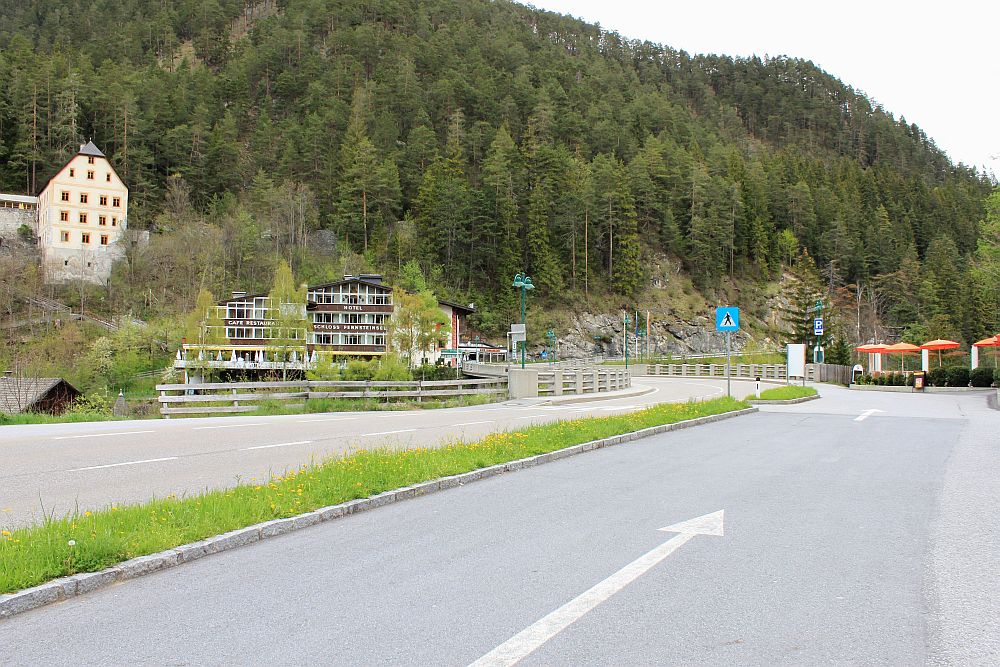 We have crossed the Fern Pass twice before, once in each direction but in different years. At long last the A7 extension from south of Kempten to Fussen is now complete. It also now bypasses the old border crossing at Ruette where I was intending to purchase an Austrian motorway vignette. Where the A7 ends there is a new tunnel and immediately through the tunnel is a rest area where the vignette can be purchased but because I could not see a clear exit route I continued on. For anyone passing this way you can exit back onto the road you need. A little further on I stopped at a garage called OIL frie and flott where I managed to purchase one. As soon as you mention mountain pass in the same breath as caravans some people get a bit nervous. All I can say is that lorries and coaches use this route so there should not be a problem. Itís not as if itís a particularly steep road but it does constantly twist and turn and as such is quite slow which might put some people off.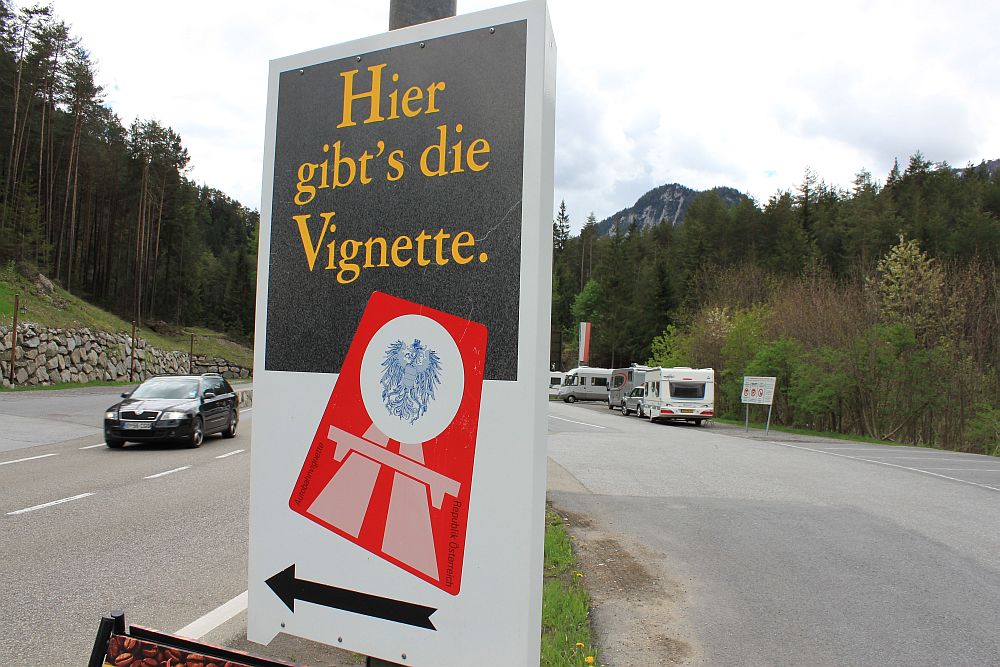 Activ Camping Prutz is just across the river from the town and to get to it you have to cross a bridge planked with wood. Itís not wide enough for a car and caravan to easily pass and you can guess what happened! Yes we met a car coming in the opposite direction! He pulled over onto what was a raised planked pavement to let us by. I was concerned when I could see my offside caravan tyre rubbing along the wood, so before we move off I will need to make an inspection. When we arrived at the campsite there were a couple of guys doing some gardening. One of them explained we should find a pitch and report to reception in the morning! There was plenty of choice but we selected a pitch against the road which runs past the site, always a risk because of noise but it did not prove too bad.
Sunday and we awoke to church bells reverberating around the narrow valley where Prutz is situated. The end of the dong always has a slight echo. I made my way to reception to be greeted by a delightful young lady with excellent English. It all seemed fairly laid back with no cards retained. I also purchased some internet time which was much better value here at Ä3 for 24 hours.
After breakfast we walked into Prutz. Being Sunday there was not much going on, even the restaurants did not seem to be getting ready for Sunday lunch. We did find a bank with an outside ATM where we were able to withdraw some cash. We noticed a biggish SPAR supermarket which strangely showed that it opened on Sunday from 7.30am to 11.00am. I like the way that countries such as Austria use natural building materials like wood. We found the church which was the source of the bells and of course Margaret had to explore the churchyard! Weather wise it was still very changeable and we had quite heavy rain during the afternoon and early evening which enforced a lazy day. More newcomers today to replace those that arrived yesterday and departed this morning.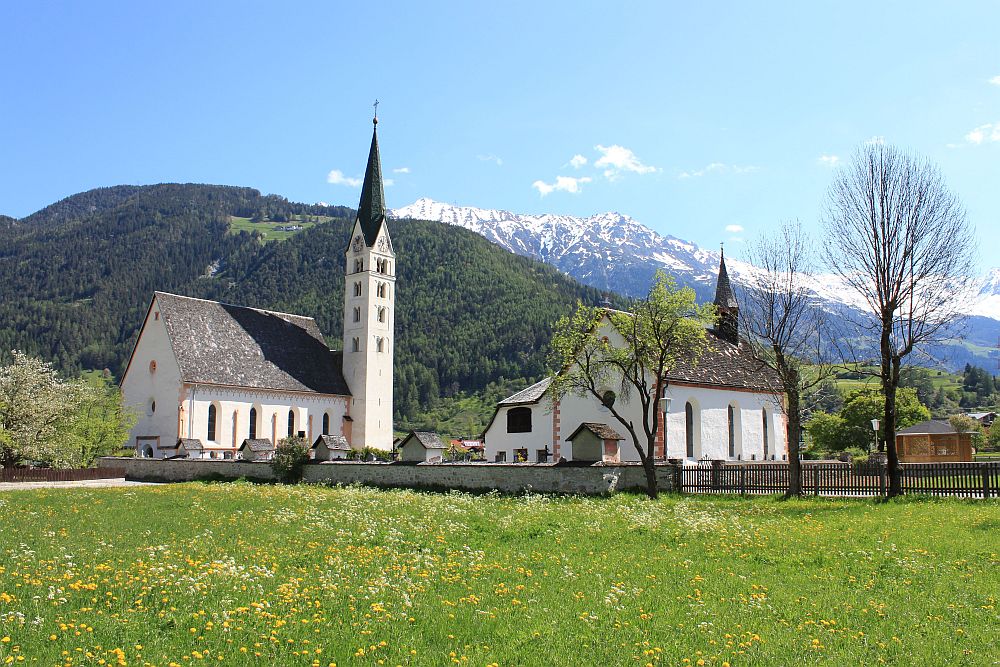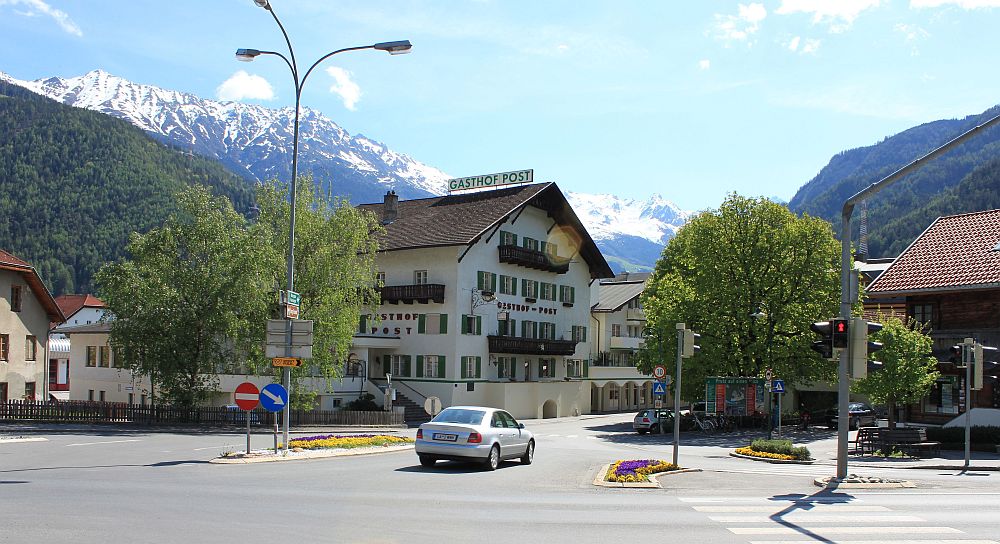 Monday and the weather was better today, although it could not be classed as warm! First job today was to fill up with fuel and then do some shopping. We did not have to travel far as both were virtually opposite the campsite, albeit with the River Inn in the way! We do have SPAR shops in the UK but they tend to be the corner shop variety but here is Austria they pass for reasonably sized supermarkets. Canít say that the prices were that good with many things being cheaper in the UK. However what really impressed me was the staff. We must have spoken to four different people and they either spoke English well or had some knowledge. It put me to shame! Prutz is hardly on the international play boys list so hard to imagine that English is much needed. Clearly they have a better educational system than we do!
After a coffee break back at the van we set off to revisit the Fern Pass as we wanted to see it from a non-towing perspective. We only went back to the top of the pass and took a few photos en route. There is one really twisty bit otherwise the road is as good if not better than many of the roads we encountered on our trip to Scotland last year. On the way back we decided to give the Landeck Tunnel a miss and search out the old road. This took us through Zams and Landeck. I am not sure that it would be a route I would want to take a caravan but it was scenic.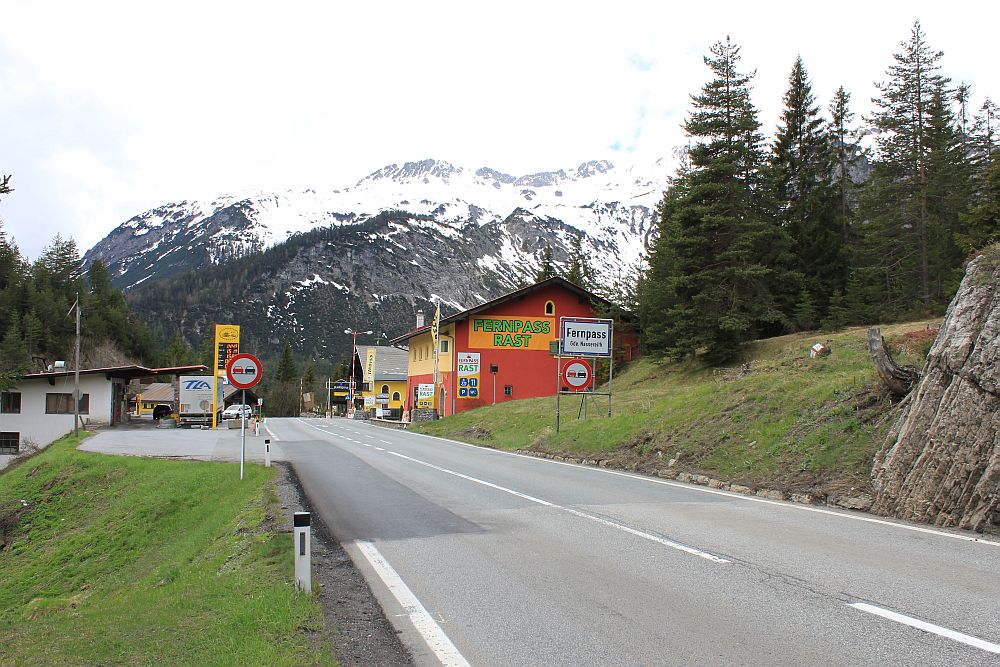 Tuesday, a much nicer day today sunny all day and quite warm at times. After breakfast we walked back into Prutz to have another look round and to buy some rolls for lunch. Later we went for a bike ride along the river, so all in all a pretty lazy day. There have been a Dutch couple pitched next to us for a few days and we have chatted a couple of times. Apparently they were meant to move on after an overnight stay but he has not been well with a suspected chest infection and he went to a local doctor today. He did drop a bit of a bombshell when we were discussing where we were going next. It was our intention to use the Reschen Pass as our way of getting to Italy. I have wanted to do this route for some time. The bombshell was that it is currently closed for most of the day as they are carrying out some repairs on the road near Nauders. There is a diversion in place but it is unclear whether it is suitable for cars towing caravans. Lorries are having to queue and are being let through in batches, now and then. Had we known this the day before we could have driven up to have a look. The sensible option would be to go back to the Inntel Motorway and use the Brenner Pass. This will add another 35 miles to our journey but I think we would rather do that than risk either being held up for hours or risking roads unsuitable for caravans. Fortunately we donít have a particularly long journey to out next site and I expect the road will be faster so in the scheme of things it might not be a massive inconvenience. We have also had to change the next site as the one we had chosen will not, according to their website, be open by the time we arrive. I had initially gone by the dates in the ACSI Book!
Friday and time to move into Italy. Although we were up early and ready to leave we did not know if we could have run the gauntlet and get to the road works on the Reschen Pass in time to beat the 8.30am closure so that in effect made the decision for us and the Brenner Pass it would have to be. I am disappointed that we could not use the Reschen but not really anything we could do about it. We made good progress towards Innsbruck but once on the Brenner motorway it seems as if it was open season for roadworks. I appreciate that it is far more difficult to undertake this work during the winter but progress was slowed quite a bit. It was also strange that many of the trucks on the Brenner were trundling along at 40mph. Obviously Ferrari donít build lorries! There were signs telling caravan owners not to overtake but I am afraid that I ignored that in a couple of instances! We had paid Ä8 to use the Brenner and a further Ä11 for the motorway toll in Italy which did not seem too bad. At Trento we left the motorway and joined the SS47 towards Padova. TomTom decided that he did not recognise some of the roads despite them not being new but he recovered in time to get us to our next campsite, Camping Spiaggia. Although when we arrived the owners were having their lunch under the shade of a tree. A very pleasant lady got up and booked us in and invited us to go off and select a pitch. By mid-afternoon we had everything set up, even had the Caravanstore out as it was so much hotter, we decided to go on a bike ride around the lake. We seemed to have arrived at some medical emergency as there was an air ambulance on the shore of the lake, a road bound ambulance arrived shortly afterwards. There are about half a dozen campsites along this end of the lake, several next door to each other. There also seems to be some rather nice restaurants but the prices seem quite expensive.

Our original intention was only to stay two nights at this campsite but we have decided to stay another 3 nights and leave on Monday. We have nothing booked, except for the last two nights of the trip back at Calais so it was easy enough to juggle the extra days. There were a couple of factors that helped make the decision. Firstly we seem to have good satellite reception here and as itís the Barcelona GP this weekend it would be a shame to move elsewhere and not get a picture. We would also be travelling at the start of the weekend which has the potential to be busy.
We had a pretty lazy day today, although we did fill up with fuel at Ä1.70 a litre! We also did some shopping. There was an odd occurrence today, I was either in the caravan or outside and I heard a strange noise like the pressure being released from an espresso coffee maker. I only realised later that the sound was that of air coming out of my front bicycle tyre. When I investigated there was a small split right next to the valve. I have patched it up but think a new inner tube might be required!
Friday 11th May. Well the patch did not work so one of todayís tasks was to source a new inner tube. We thought we would have a drive round the lake so just extended our trip to visit a shopping centre at Pergine we had seen the day we arrived. The supermarkets donít seem to dabble in anything other than household and perhaps a bit of gardening unlike their French counterparts who seem to sell everything. However there was a DIY shed of sorts next to the shopping centre. I had only realised this once I had exited the centre so had to turn round and go back. Margaret is convinced that the chaos theory is alive and well in Italy as the place was a bit of a mess to say the least! Anyway I found inner tubes but they had Italian connectors which are narrower and for those that remember more like the old fashioned valves we used to have years ago. So, in addition, I purchased a valve adaptor. Having completed our little trip around the lake I set to work once back at the van. The valve adaptor proved not to be much good so it was back to the drawing board with visions of carrying a bike with a deflated front wheel all over Italy!
I spoke to the lady in reception and she pointed me in the direction of a bike repair shop in Caldonazzo but he did not reopen until 3.00pm. This gave us time for a leisurely lunch. We set off into the town thinking that a bicycle shop would be easy to find. We passed a supermarket that we knew was nearby and had it not been for a few bikes immediately outside the shop we would have missed it! I had both the wheel and old inner tube in hand as we approached the shop. We were greeted with Buona Sera and beckoned into the shop down some stairs. If you were a cycling enthusiast this place would be an Aladdinís Cave. Strung out across the ceiling of the darken interior were hundreds of bicycle tyres. To the side racks containing inner tubes and other cycling paraphernalia. Now beyond saying hello, thanks and goodbye my Italian is not up to much so practical demonstration was required so I showed her the damaged inner tube and handed over the wheel. . The lady dealing with me could not immediately find what I needed so she called for help. Out of the shadows appeared a stocky man in red dungarees who was obviously the one that did the repairs and he put his hand on what was required immediately. I was concerned that the valve again looked a bit odd but was demonstrated by the lady in question it was indeed the correct size valve. Back at the van the new tube was fitted and put back on the bike and hey presto I am mobile again!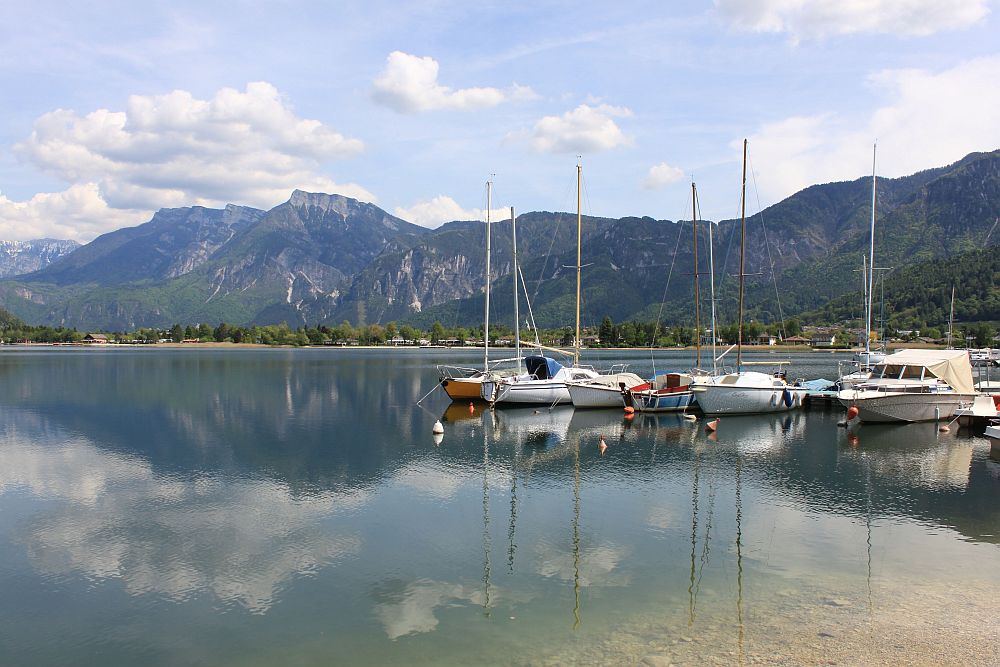 This is our third day at Spiaggia and we were interested to see what might happen at the weekend when some of the permanent vans are occupied. A few have turned up as well as a few tourers and motorhomes but the site is not full. For anyone that finds the likes of Lake Garda far too busy for them this area could well make a good substitute.
What a difference a week makes. This time last week we were still using the heating in the evening. Temperatures for the last few days have been nudging 30 degrees and only just cooling down at night. It does feel as if we are about to have a storm as its now (just before 5.00pm) spitting with rain and very muggy. Itís been a bit of a lazy day today because we wanted to watch the Grand Prix qualifying which takes a chunk out of the day. We did nip out this morning to buy some more bottle water as we seem to be drinking gallons of the stuff.
After the Quali we walked down to the lake as it was a bit cooler down there. We also walked along to the campsite we were originally going to stay at but which only opened today. Having watched this site all week it has been completely empty but today dozens or more Italians had arrived to set up for the summer, now looks a bit like a refugee camp!!!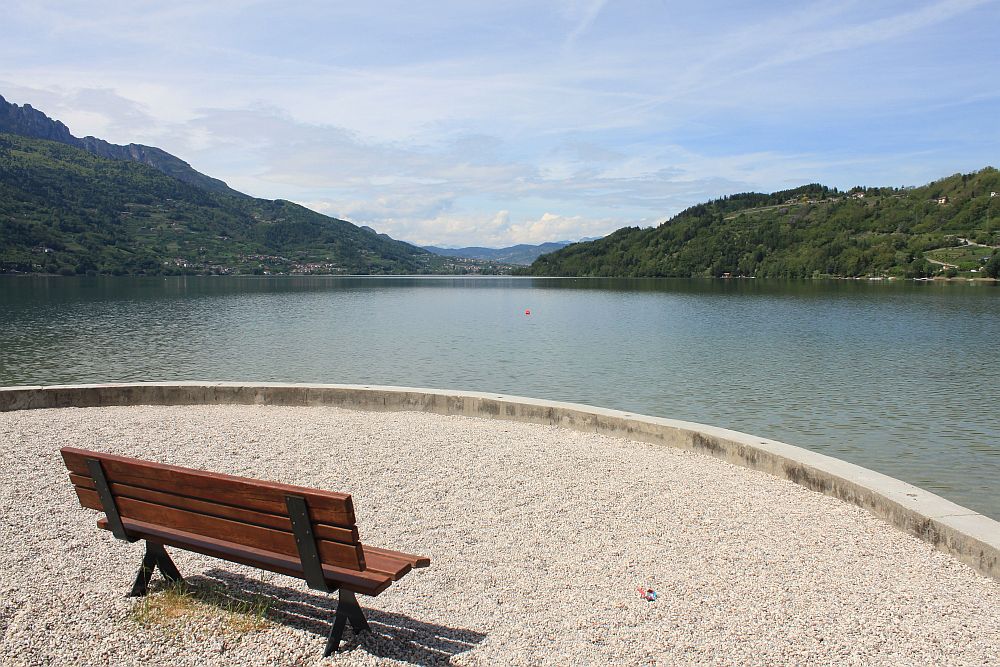 Sunday. Well, the expected storm never arrived although we could see big flashes of light coming from the other side of the mountains. However we were out of the van before 6.00am taking down the canopy as the wind had come up. As it happened we did not need the canopy as it has been cloudy most of the day but despite threatening it has not actually rained. It was not really an issue as we spent several hours watching an exciting Grand Prix with a first win for Pastor Maldonado and the first win for the Williams Team since 2004.
This has been a nice spot to spend a few days. Far less busy than Lake Garda. Tomorrow we move onto Venice.

After the indifferent weather on Sunday we awoke to a cloudless sky albeit not particularly warm. Having paid our dues of Ä80 for our five night stay we were ready for the off. Despite the journey being only 110 miles TomTom told us that it was going to take nearly four hours. This was going across country. When I re-planned the journey using toll routes it was still three hours so we stuck to our original route. When driving through France it is taken for granted that almost all non-motorway roads will be pretty good. Not quite the same is true in Italy. The SS 47 runs from Trento to Padova and we were using it for the first 50 miles before heading off to Treviso and then onto our destination at Punta Sabbioni. The early part of the journey through the mountains is pretty spectacular although you do have to concentrate on the road as it twists and turns. Once through the mountains you are constantly going through small towns and villages which is the reason for the longer journey times. The approach to Punta Sabbioni has certainly changed in the 20 years since we first visited this area, much of it for the better in terms of roads. In a way we felt at home because they now seem to have as many roundabouts as we do in Milton Keynes! Our epic if short journey ended when we reached Camping Miramare, a site we had used twice before in 1992 and 2000. We used a different site on our last visit in 2009 but were glad to be back. It is an unpretentious campsite with no embellishments like swimming pools or entertainment. We felt at home! The part of the site we were on had only opened today so we were the first in this section. Later we were joined by a German motorhome and then, would you believe an English couple with their caravan. Mind you the site has changed a lot since even our last visit with many more pitches. Once we had set up and had lunch we were off on our bikes to the sea and then back to the ferry terminal. They do have WiFi here with a new to me charging method, you pay Ä5 for your stay, regardless on that being one day or ten days.
I think secretly Venice is Margaretís most favourite place we have visited on our travels. We first came here 20 years ago and this is our fourth visit. We intend to stay for the best part of a week so we had to work out the best option for buying tickets to use the ferries across to St Marks and the Islands. The best option, albeit the most expensive, was to buy the seven day ticket at a cost of Ä50 each which in the end we decided to do. These tickets give us complete freedom during our stay to go as often as we wish. Decision made and tickets purchased we set of for the ferry which is about a 10 minute walk from the campsite. Itís always a bit of a scrum at the jetty with people jostling for position as though it was the last helicopter leaving Saigon!!! It was a beautiful day with a nice blue sky although there was a slight chill in the air which was to make walking around Venice a lot more comfortable compared to when itís very hot.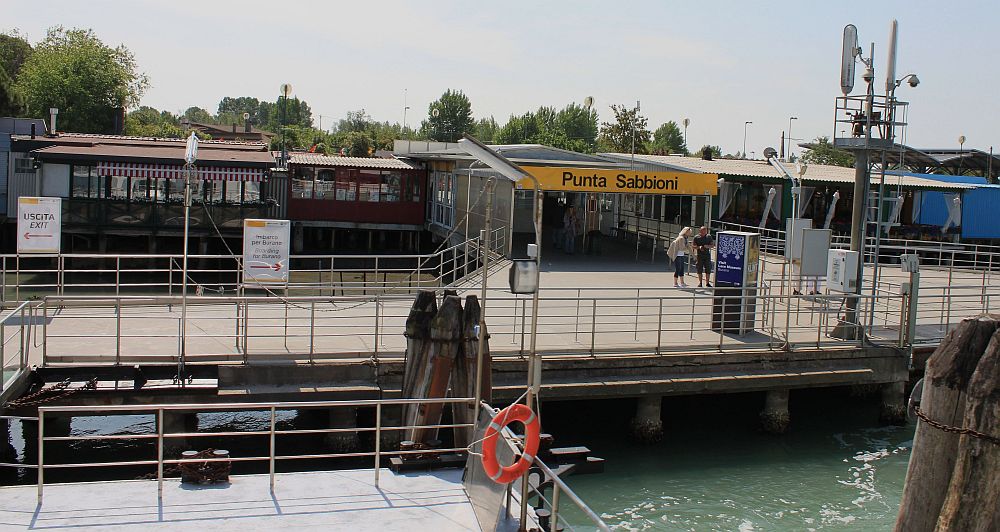 Once off the ferry we joined the throng on its way to St Marks or more correctly San Marco. I suppose we have always visited Venice at the same time of year given a few weeks either way and it is always crowded although apart from a couple of large school parties there were fewer children. San Marco is famous for its cafes and perhaps even more famous for its prices! But, as with all things like this the value is in the enjoyment someone gets out of the experience. In one corner on San Marco is an Art Gallery that had an exhibition of the works of Gustav Klimt the Austrian artist which we decided to have a look at. We have a couple of his painting on the walls in our lounge at home, not the originals you understand! Perhaps not on everyoneís to do list when visiting Venice but we enjoyed it. Back out into San Marco we headed off in the direction of the Rialto Bridge over the Grand Canal. I do wonder how this bridge survives as there are always so many people actually on the bridge. We had not wandered beyond the bridge before on the other side of Grand Canal but we decided to make our way towards the train station. The further away from Rialto you get the quieter it becomes and of course you discover more of Venice. We came across a lovely Market although by the time we were there some of the stalls were packing up. You have to weave your way through the maze of narrow alleyways and then suddenly you happen upon an open square, often with a church in it. We eventually found the station although I suspect we were approaching if from the opposite direction compared to most visitors. If you arrive by train itís difficult to imagine such a contrast when you step out from the station concourse into what must seem, to some, like a film set with Venice before you. A useful tip if in any large city the railway stations are a good place to find toilets which in many places, Venice included, are few and far between!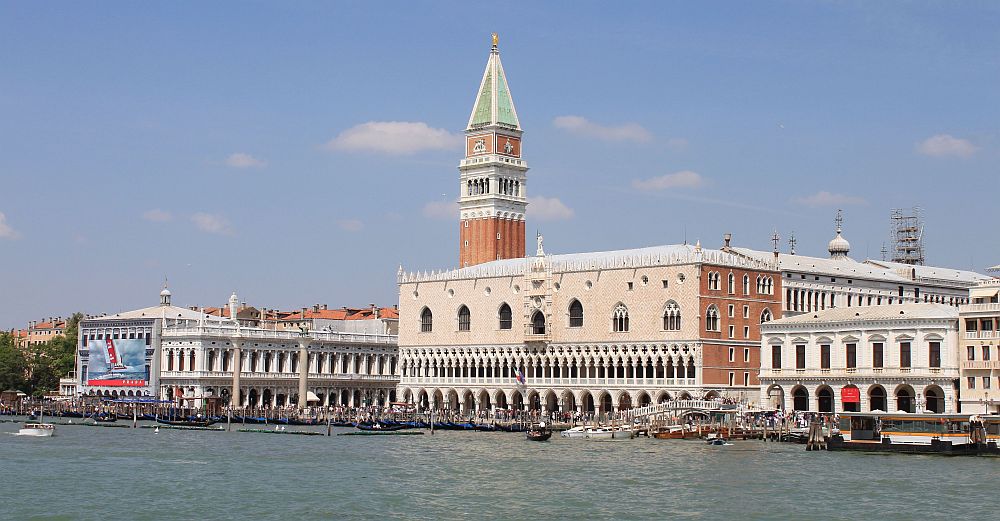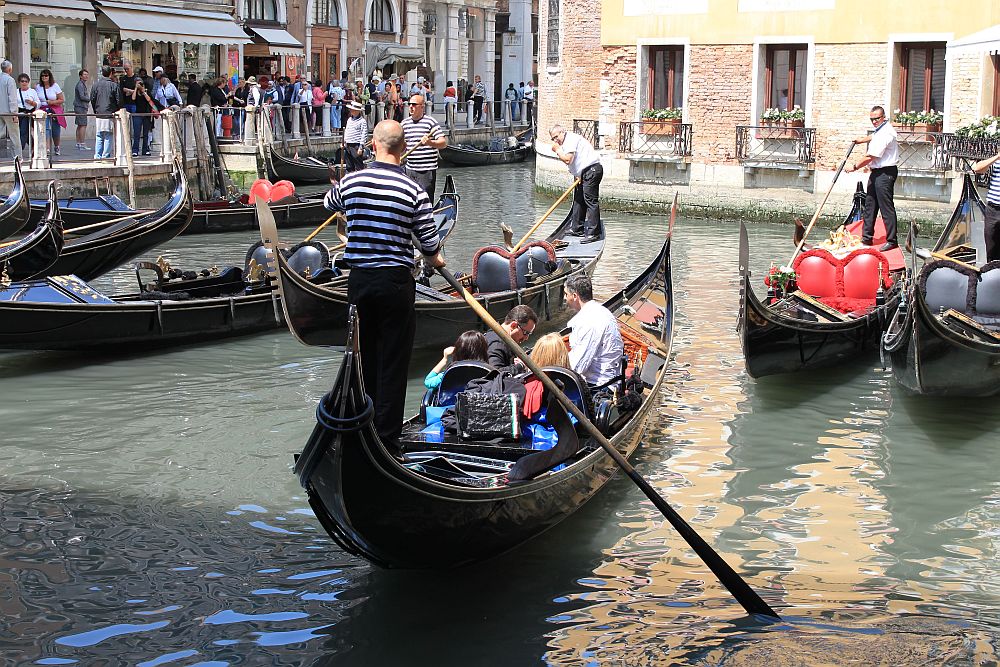 Time to make our way back so we got on the Vaporetto back to San Marco. We used the number 2 Line as it has fewer stops down through the Grand Canal. A slight pause for a gelato and we headed back to the ferry arriving with seconds to spare before it departed.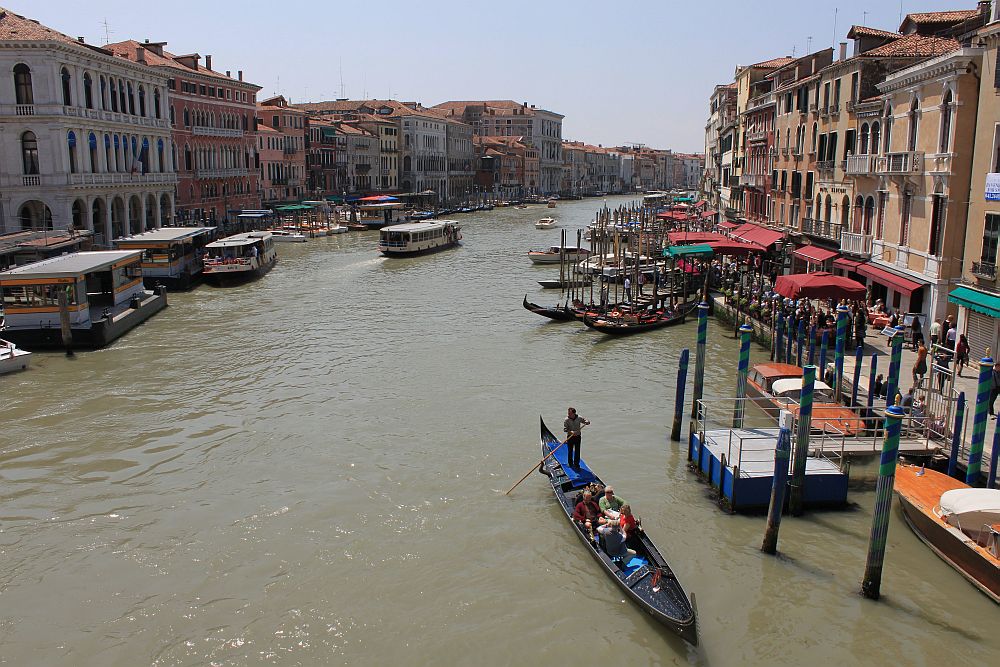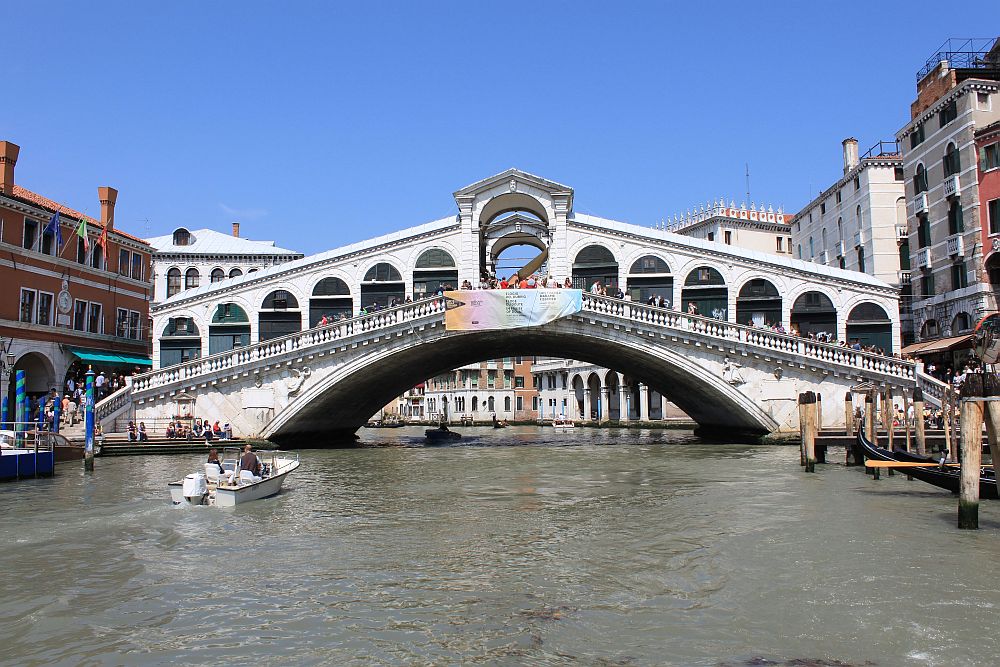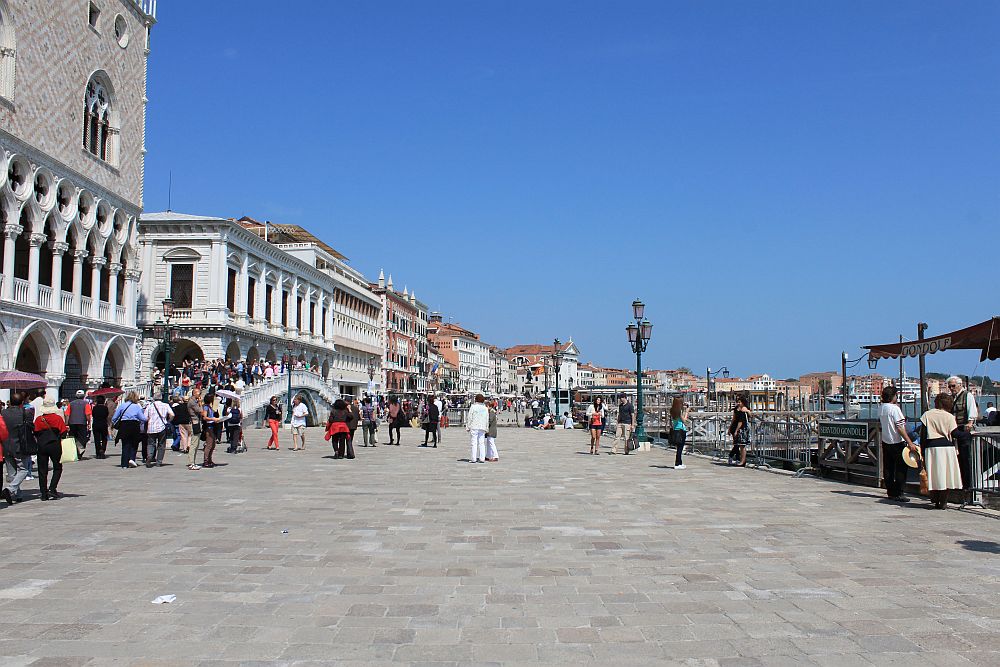 Wednesday 16th May. We knew the forecast for today was not good and so it proved to be. Before dawn we had heavy rain and high winds that persisted to well after lunch. It was also quite cold too, when we were on our way to do some shopping the outside temperature was showing as 8 degrees! It also meant that we were up at some unearthly hour taking down the Caravanstore. This may not have been entirely necessary but after a bad experience with our previous van some years ago we get a bit nervous about leaving it up in such conditions. It has got me thinking about what to do for the future. The Caravanstore has a lot going for it in terms of convenience, itís simple and straightforward. We donít want a full awning and are perhaps going towards the idea of a large porch/combi awning. We had a porch awning before but it was not really big enough but the likes of Trio and Isabella make some of about 3.5mts wide which might be better.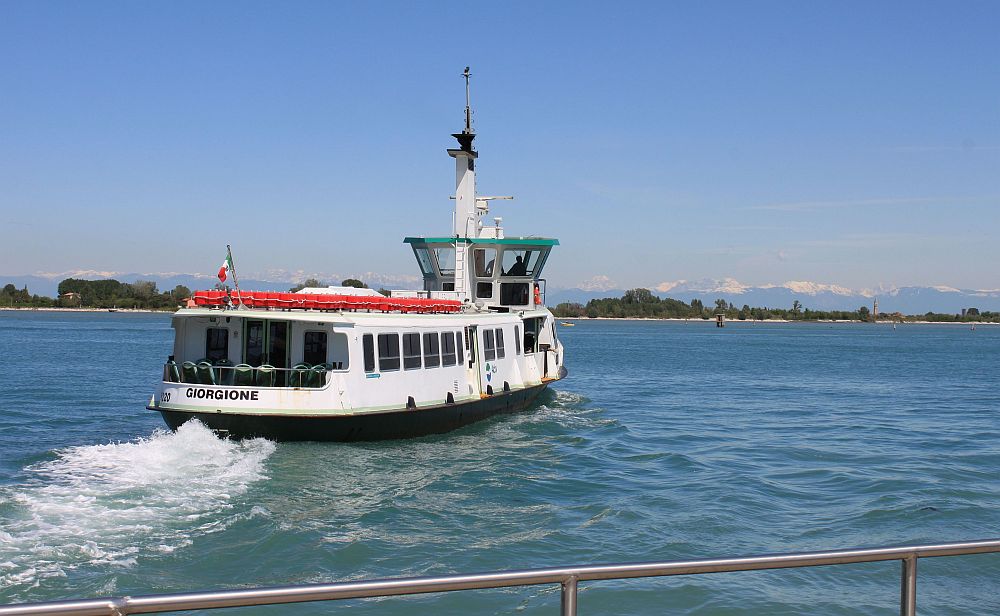 Fortunately Thursday dawned bright and sunny although it has to be said it was far from being hot. One thing we noticed on the walk to the ferry was that you could clearly see the Italian Alps in the distance so the rain had done some good! We are off to the Islands today and our first stop is Burano, famed for two things, lace and brightly coloured houses. I suspect that all but the most expensive lace now comes from further afield. Burano is a delight to wander around and is generally a lot less busy than Venice itself. Once we had finished our picnic lunch we had planned to go onto Torcello but we missed the ferry so instead decided to go onto Murano and try and get to Torcello another day.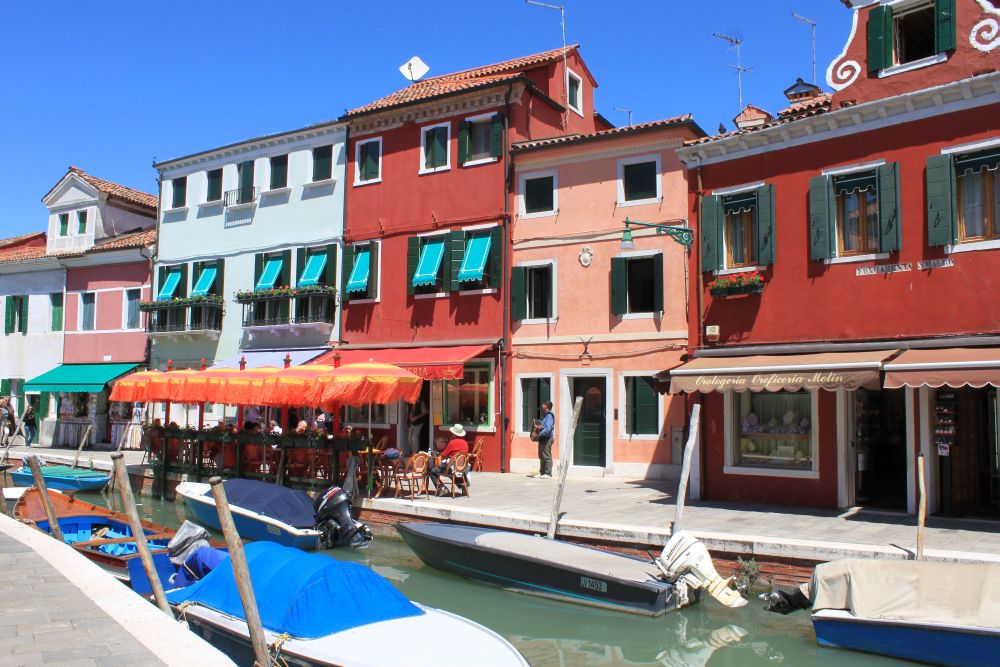 To my mind Murano is the less attractive of the two larger islands but the fascination is the glass for which the Island is famous for. I would accept that Murano Glass might not be to everyoneís taste as it is mostly very brightly coloured. It is also very expensive. There are also an amazing number of chandeliers on display in the many shops. Apparently Del Boy and Rodney have been banned from the Island! On a more serious note the glass in the cheaper souvenir shops and selling for a few Euros is unlikely to be made on the Island and like cheap lace probably comes from the Far East. Some shops actually say their glass is only made in Murano, in other shops the sheer price is an indication of originality. I did notice one shop had a note in the window encouraging customer only to buy genuine Murano glass and it went on to say that the imports were killing Murano. One nice touch about the Island was a couple of lovely glass sculptures as a way of promoting the glass made on the Island. Time to head back to the caravan but rather than retrace our route we returned to St Marks and from there back to Punta Sabbioni. Cruising around the Lagoon does remind me of the Norfolk Broads, particularly Breydon Water!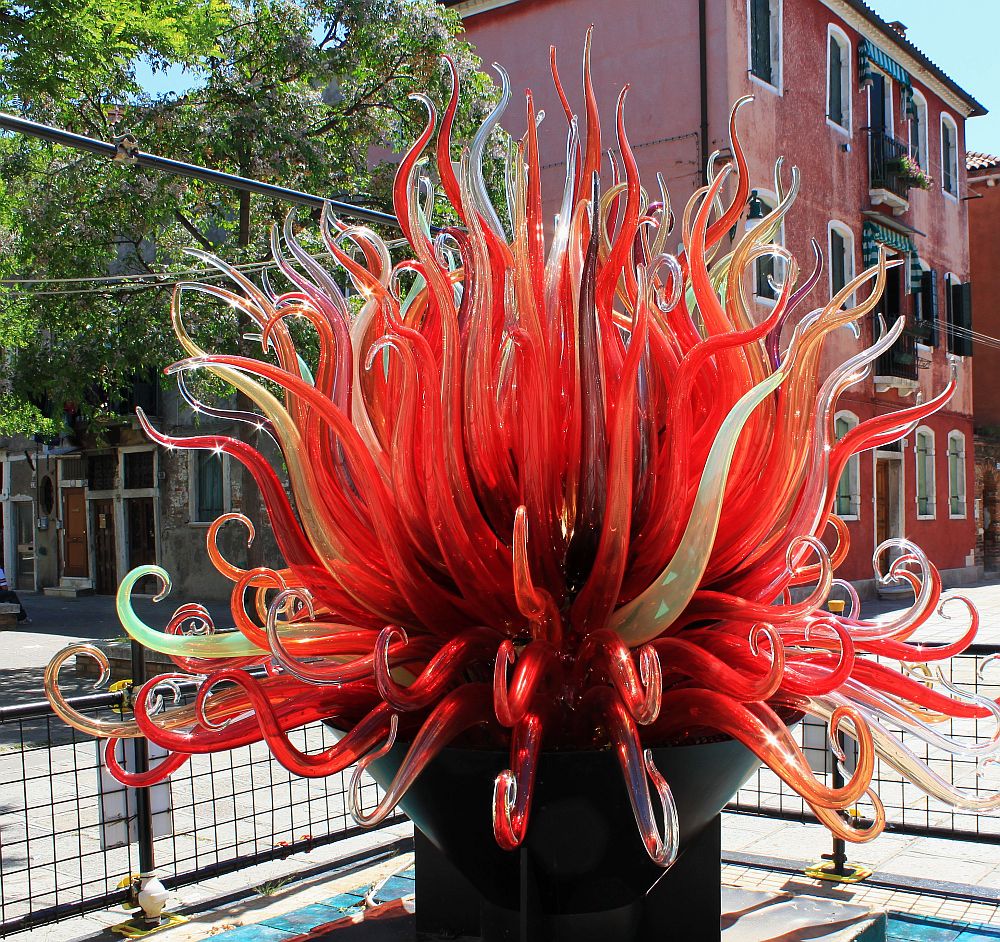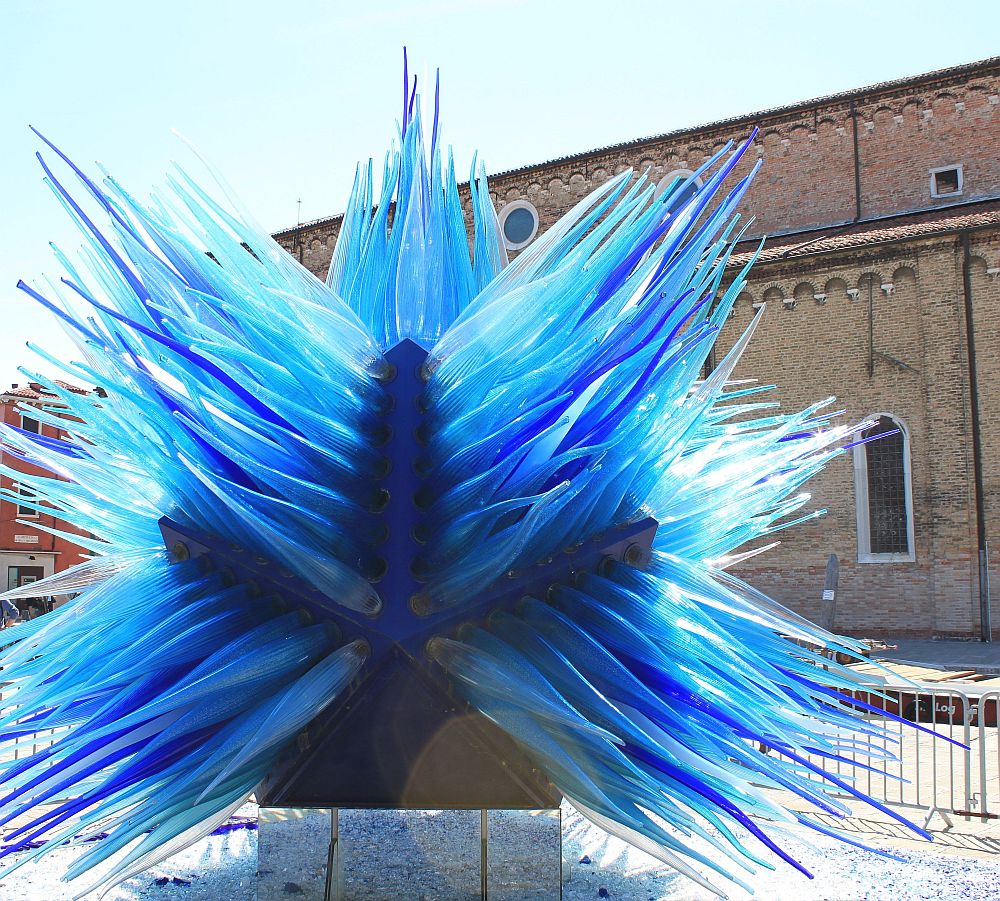 Friday, and another nice day but still not exactly hot! We spent a bit of time chatting to our English neighbours before we went out this morning. Our plan was just to go to the Island of Torcello which requires a change of boat at Burano. Torcello is reputed to be the oldest part of Venice with links back to Roman times and was the original Venetian settlement. With the exception of the Cathedral of Santa Maria Assunta, founded in 639, there is not a lot to see now although the island is popular with visitors and has a few restaurants and there is a Museum.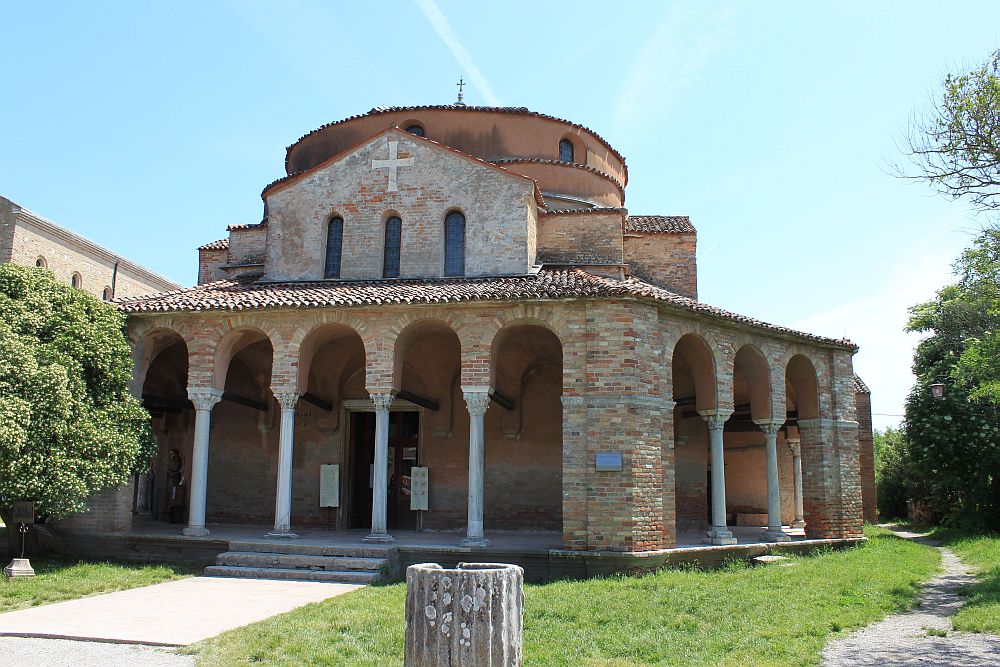 The Americas Cup is being held in Venice over the weekend which might explain why there are so many people around. A couple of times when we were waiting to get on boats you got the impression that people were getting on the back of the boat as the numbers getting off seemed to be far in excess of the capacity of the boat! As we were back at the van quite early we decided to go and do some shopping to give us a free day on Saturday. We heard yesterday that our son Paul had managed to get some tickets for the Rowing Finals at the Olympics in August. Spooky really as that was the only event we saw live at the Barcelona Olympics 20 years earlier! We now need to find a campsite within 20 miles of the event as it starts at 9.00am. The CC site at Henley is full, the site next door whilst reasonably price wants full payment before arrival and the C&CC site at Chertsey has space but is over £30 a night! We will have to sort something out in the next couple of days.
Saturday and a pretty lazy day after a few hectic ones as this is our last day here in Venice. However we did spend some time booking a site in the UK so that we could be relatively near our Olympic venue. Apparently there is no parking at the venue but Park and Ride facilities are provided at four points nearby which have to be booked in advance at a cost of £14.50. Having sorted the site out we went back to the van for a well-earned cup of tea. We also had to pay and the guy that took the money was the same guy that first booked us in 20 years ago! For a final look round Punta Sabbioni we went off for a bike ride along the Lagoon towards Treporti.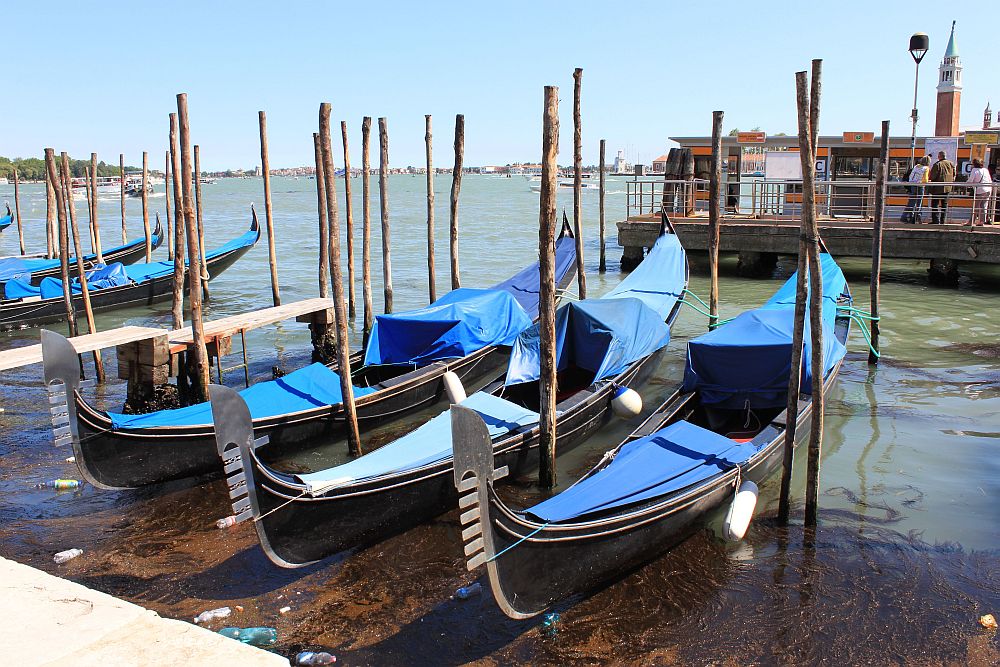 During all our visits to Venice we soon realised how dependent they are on water transport. Its not just transporting people but also goods. Even the Fire and Ambulance Services are water bound. What visitors mainly come in contact with are the Vaporetto water buses. These come in all shapes and sizes and their routes criss cross the Venetian Lagoon. My favourite is the launch variety featured in the headline picture below as they are sleek and fast. I thought a little montage of Lagoon craft, below, might be appreciated by some!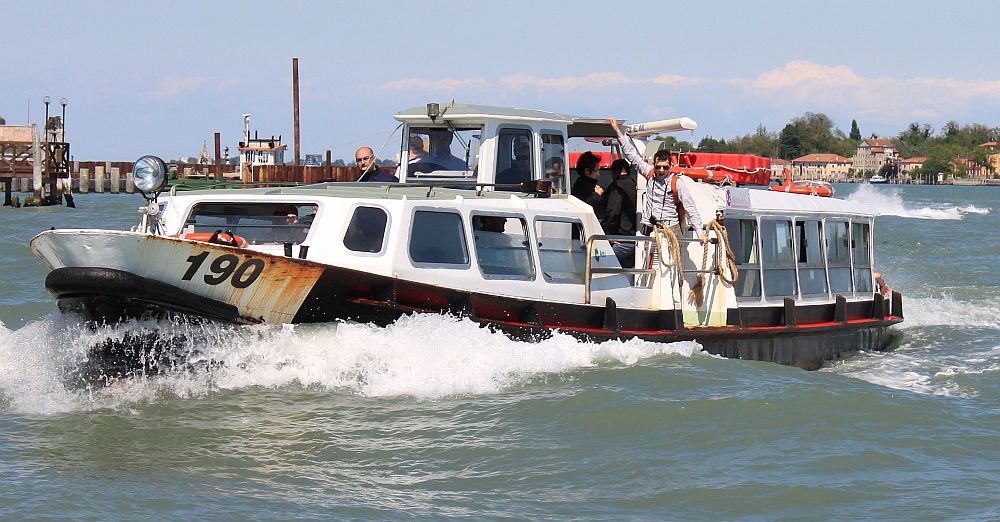 Sunday and time to move further south. As we were getting ready to leave a German guy who I had spoken to previously told me there had been an earthquake in the area we were heading for. It was a bit spooky because during the night I was aware that the caravan seemed to be moving, almost as though the corner steadies were not down and someone was pulling on the rear grab handle. I put this down to me having a dream of some sort but when he explained what had happened I realised it was not a dream!
We are heading for Ferrara which as it happens was near the epicentre of the earthquake. Although as the crow flies Farrara is not that far from where we were in Venice you do have to circumnavigate the Lagoon before you are making real progress. The day had started nice and bright but got more overcast as we travelled. The rain did manage to hold off until we had set up at Campeggio Comunale Estense but itís been raining on and off since we arrived. During the early afternoon we felt the van start to shake, we were in an aftershock situation. It is the most strangest of sensations, almost as though the van was on a big plate of jelly! I suppose it went on for less than a minute but it seemed longer!

Monday and any prospect of looking around Farrara went out the window as it has rained since yesterday evening and not just drizzle! The site is very soggy and the pitch has at least an inch of water. We did have to go out to fill up with diesel. As it was such a horrible day we decided to visit a shopping centre we passed on the way to the fuel station. On the return to the campsite I cut across the grass to park next to the caravan. No sooner was I out of the car when the warden was standing next to me telling me off for driving across the grass. Suddenly thought I was on a Caravan Club site! During the afternoon the rain did actually stop so I decided that I should at the very least try and get some photos of the old walls so I set off on my bike. Having taken my pictures I had one eye on the sky which once again was looking a bit dark so I made my way back to the van. The site is not that full today, perhaps people have been put off by the weather. After our meal the sky darkened again but this time we had a thunder storm and more rain. All this plays havoc with the satellite reception although some stations are fine but others fade out very quickly as soon as it rains. Be interesting to see how far south we can get a picture.
Tuesday and today we move further south. We had only planned to stay 2 nights at Ferrara and as it happens I donít think we would have wanted to stay any longer anyway. OK the weather has not helped but there was not really anything about the site that made you want to stay! I would not discourage anyone from staying but I suspect itís an overnight/short stay site. I went to pay and it came to Ä41 for the two nights, unfortunately under the Ä50 minimum amount if you wanted to pay by credit cards. I think sometimes we donít know we are born in the UK! Just to show how keen we were to leave we exited the site just before 8.30am, early for us! If we had stayed any longer we were concerned that Trench Foot might have set in!
TomTom navigated us out of Ferrara and onto the motorway. Bologna was interesting to go round as there seemed supplementary duel carriageways running alongside the motorway. The motorway between Bologna and Florence is something of a switchback where even some of the tunnels go round curves! Interestingly they are rebuilding much of the road which I imagine will be to a much higher standard. Given the civil engineering involved it could be a few years before it fully opens. The last part of the route was along non toll roads with a very variable quality of surface. We managed to get to Camping La Spiaggia before the lunchtime curfew where we had a pleasant welcome from the young lady on reception. We found a pitch down by Lake Trasimeno in the hope that it would be the best place to get a satellite picture. That proved to be the case providing it was not raining! The dish is at a very jaunty angle but it seems to work. We went for a short walk along the lake towards Passignano but not quite as far as the town which we will leave for another time. I may have spoken too soon about the rain because after some lovely evening sunshine it started to rain and that carried on overnight. As soon as the rain started the satellite picture started to break up making some programmes unwatchable.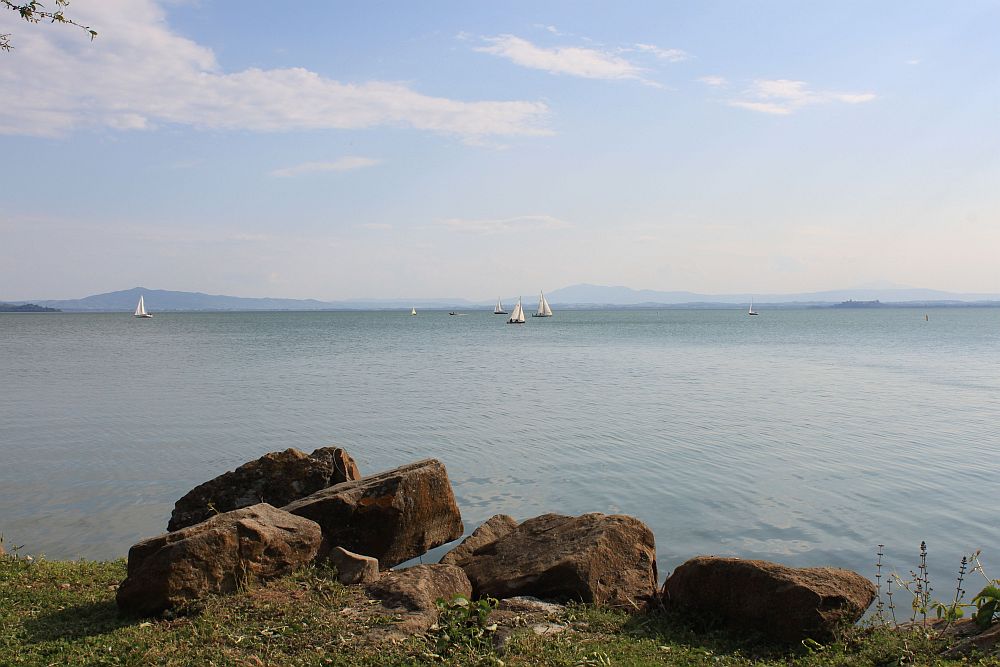 Wednesday dawned grey and damp and there seemed not much prospect of it improving. After lunch and starting to get a bit stir crazy we drove out and through the village beyond where we went yesterday. We then decided to drive to Perugia thinking that it would be easy to find our way into the city and find somewhere to park. Well I found it difficult to navigate as many of the road signs were so small it was hard going. We decided to call it a day and head back to Passignano. Perhaps we should have used the train which was the original idea but having stopped at the station to reconsider our plans I am not sure that we would have still been some way from the centre. Once back in Passignano we parked near the Lake so that we could have a look round. Standing in the car park I had the strangest feeling of dťjŗ vu and I am convinced I have been here before. In 2002 we did a coach tour of Italy and I know we had a stop on Lake Trasimeno and there was an ice cream shop across the road the same as today. Will have to hunt out the old photos when we get home. Filled up with diesel before going back to the campsite but prices are almost £1.70 a litre, no doubt because itís only a small town. Many fuel stations proclaim to be Ďself-serviceí when in reality they are serviced. Using the ĎPay at Pumpí machines often saves you a few cents on the price of each litre. Be careful though, not all will accept credit cards.
Thursday 24th May. What a difference a day makes! We awoke to a clear blue sky and it felt warm! This was the first nice day we had, had since leaving Venice so we decided that it should be a relaxed one. Margaret was struggling to dry a load of washing she did a couple of days ago so the fine weather was a great help, so much in fact she did another load just to take advantage of the drying conditions. Later in the afternoon we paid a visit to the local supermarket which looked very new. We are struggling with cuts of meat of which there seemed to be a poor selection of in any other than the largest supermarkets. It was still warm outside so we ate our evening meal outside today, not something we have been able to do much of this holiday.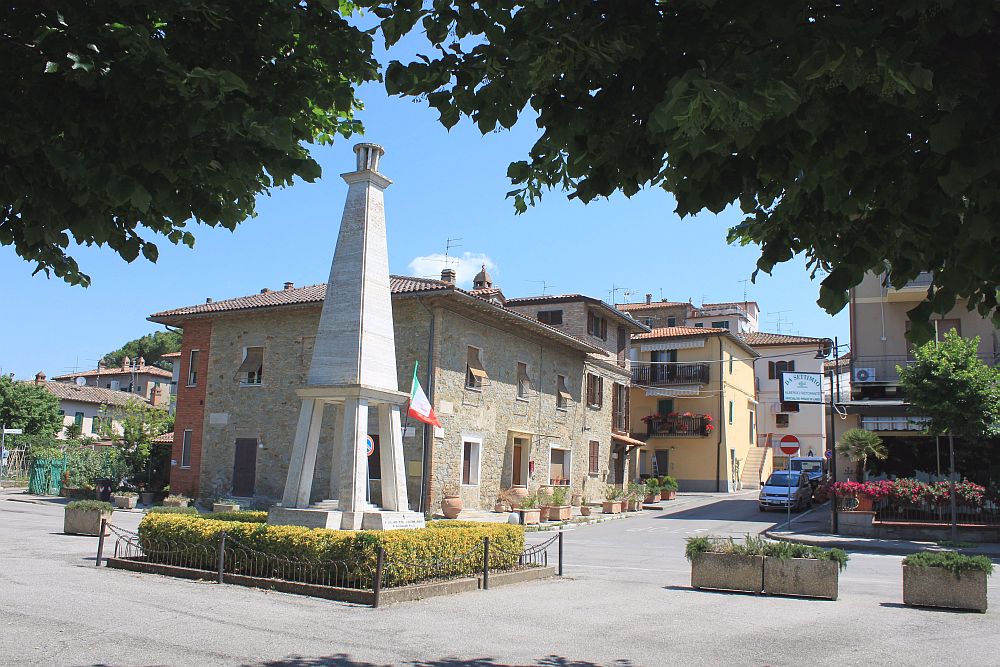 Friday. We decided to have a drive around Lake Trasimeno today. Initially we had to go back onto the SS75 expressway and come off at the first exit. The road climbed quite steeply at first and we missed our first planned stop at Monte del Lago but I donít think it was actually on the lake edge. A bit further on we came to San Feliciano where we found somewhere to park near the Lake. In a nearby car park there was a market in progress with about half a dozen stalls including one selling cheese which you could not miss as you walked by! The Island of Polvese is not far out in the Lake from San Feliciano and there is a ferry stop in the town that serves all three of the larger islands in the Lake. Moving further round the Lake on the S599 which hugs the shoreline although at a higher level. I have been known to complain that the Italians often donít provide stopping places on their lakes but Trasimeno seems to be the exception. On the western side of the Lake you join the main road going north which is further away from the Lake. About halfway along is Castiglione del Lago the largest town on the lake. Whilst you can access the lake from here the actual town, which is walled, is set on a promontory high above the Lake. The old town is not large but is pleasant to walk round with several places to eat or have a drink and quite a few souvenir shops with owners eager to drum up business! From Castiglione we made our way back to the caravan. The last quarter of the lake tour is on main roads which donít afford the best views of the lake.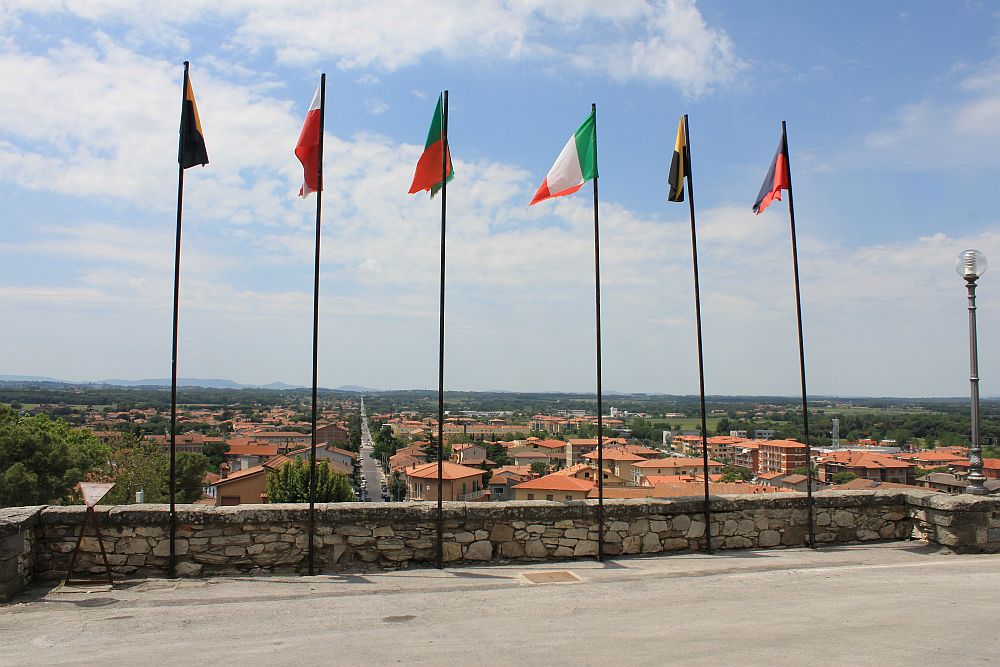 When we arrived at this site we were lucky enough to get a pitch with lovely views of the lake. Across from us on a grass area next to the lake was a Dutch caravan. Yesterday evening they towed their caravan off that pitch with their sunshade still attached so they were clearly going elsewhere on the site and I later saw them near the swimming pool. Earlier today our English neighbours with a motorhome also changed pitches. The reason became obvious when two young couples turned up and set up tents and gazebo to be joined later by a third couple. I would say they are all in their late twenties so not teenagers. They have not been particularly noisy but there is perhaps the opportunity for that to happen, time will tell.
Saturday. A very lazy day today as it was the Qualifying for the Monaco Grand Prix. Mark Webber on Pole as Michael Schumacher has a 5 place penalty. Mark has won at Monaco before but does not always have the best starts so fingers crossed. Odd that the two oldest blokes on the grid should be first and second in qualifying!
Interesting being on a campsite on the weekend as it something we rarely do in the UK. Time to observe fellow campers! Our series of young Italian campers have been well behaved which is good. Right across Europe you will find Dutch campers, even if there are no others the Dutch will be there. The only problem is that some, not all, seem to take over. Usually this takes the form of parking their cars on adjacent pitches and only remove them if pressurised to do so! Take our neighbours who do have a large caravan and car but also have one of the largest pitches on the site. They parked their car on the pitch behind as did the people on the other side of them. Well this evening a motorhome arrived and wanted the pitch with the parked cars on, not quite sure why as there are other empty pitches! Anyway there was almost a sense of disbelief from our neighbours as they had to move their car. I just donít understand the mind-set of people who just think of themselves, but then I am British! A couple of interesting units arrived today. They were Kangoo type cars with what I can only describe as tent pods on a roof rack. Now given the average roof rack weight allowance is often not more than 100kgs I was wondering how they overcome this. Perhaps they are specially adapted vehicles? It seems a novel idea and I have seen similar things before. I supposed if you are used to living upstairs it would not seem unusual!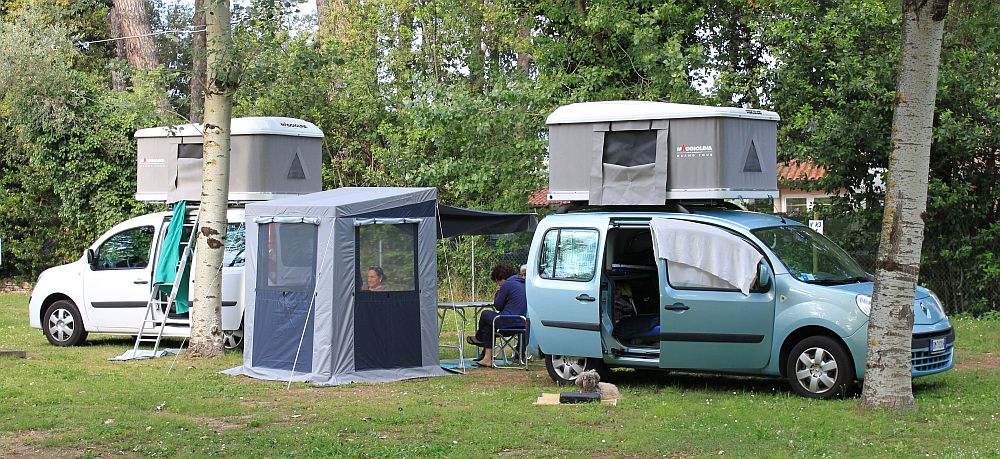 Sunday and our last day at Camping La Spiaggia as we have decided to move onto Rome tomorrow. Mind you it was another lazy day because we had the Monaco Grand Prix. A pretty exciting race won by Mark Webber from pole. It was a bit nail biting towards the end as there were only seconds between the top five but glad to see Mark win. As is usual we started to pack everything away and as there is nothing on TV tonight of any interest we will be putting the satellite dish away soon. The internet access at this site has been free so I suppose a bit churlish to complain about it! Itís fine during the day but once they close reception at 8.00pm it tends to go off line. The couple that run the site accept there is a problem and the lady gave me the impression that she was fed up with having to contact the telecoms company. I have a sneaking suspicion that when they lock up for the night they do something to the connection, unless of course they are having to reset it through the day but once they leave it fails shortly after.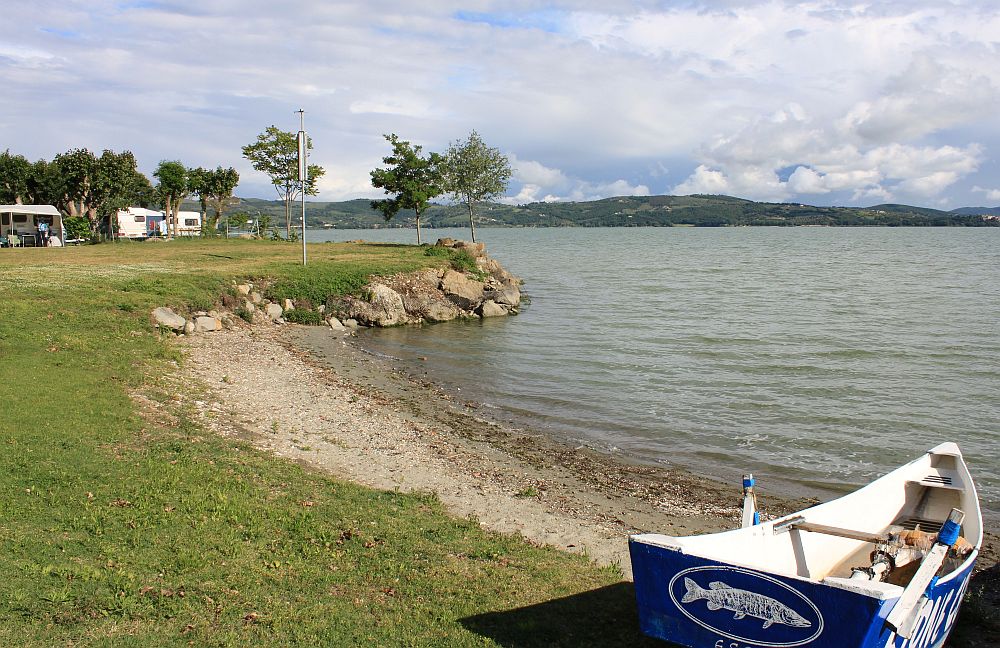 Well it was raining when we left Lake Trasimeno and raining when we were setting up at Camping Tiber in Rome, although there were some dry periods on the journey! Until we got nearer Rome the roads were reasonably quiet. When we arrived at Camping Tiber a car was exiting the site so I missed the instruction to cut across to the other side where the booking in parking was. I had to pull into a parking area which required a reverse out! Anyway the lady at reception was very pleasant and booking in did not take long. I tried to buy some internet time but was told there was a problem as they were doing some sort of audit. After we had set up and had lunch we went back an hour or so later but still there was a problem. As we were given the impression that it would soon be resolved we had a walk outside the gates and noticed a Garden Centre of sorts which we decided to have a look round. It was another Aladdinís Cave, you could buy wine by the bottle, by the litre or the equipment to make your own! Still no luck at reception for either internet or a washing machine token that Margaret wanted so we returned to the van for a cup of tea and I went back later when they had resolved their problems. Unfortunately the internet is not site wide as claimed in the ACSI book but only available around the bar area. I did manage to get an hour to check some things online and have time to do more tomorrow, hopefully.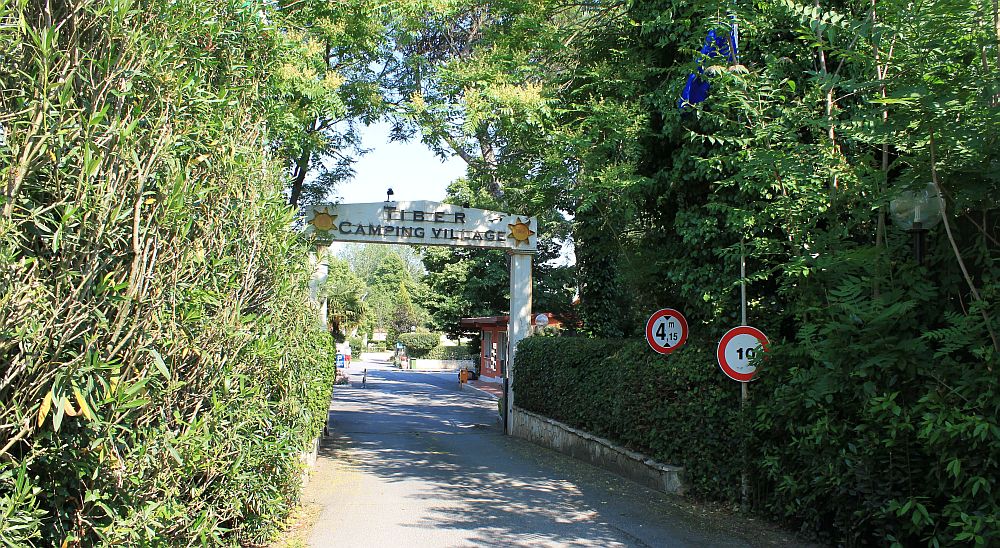 Tuesday was a lost day, we did not lose the day but we got lost several times. I should explain, we needed shopping so used TomTom to direct us to the nearest shopping centre. We have found that the signing is far from clear when coming off and going onto the Rome ring road and it is easy to take a wrong turning which we did. At one point we were taken in a complete circle by TomTom along some very questionable roads with barely room to get the car through! The same thing must have happened to a Dutch guy behind us as we saw him take the same route as we did! I have no idea how but we eventually made it onto the ring road and found signs leading to a big shopping centre. Interestingly there was a massive Auchen store on two floors. We parked and set off for the store as we needed some serious shopping thinking that from todayís experience we donít want to do a revisit! At least the underground car park was high enough for us with the roof box on. Once parked in this massive car park we set off to find the shops. Having gone up several floors we eventually found Auchen and proceeded to have a look around but we could not find any food, it was then we discovered it was on two floors! Given that Auchen is one of the largest French supermarket groups I half expected to find a lot more French products but apart from some cheese it was very Italian. At least at long last we found a supermarket with a decent selection of meat. The shopping completed we made our way to the till. The cashier had run out of change and was about to go off and get some when she asked me if I could help. She needed to change a Ä10 note so I provided a Ä5 note and some euro coins. The only problem was that rather than give me the Ä10 note she put it in the till! She realised her mistake and soon rectified it. With the shopping paid for we set off to find the car. We had made a note of where we were but we seemed to have ended up in a different part of this labyrinth of a car park. We were in the red sector when we wanted to be in the blue sector. We eventually found the car and prepared to find our way back to the van. Even getting out of the car park proved not to be straight forward! Whether by luck or judgement we somehow got back onto the ring road and made our way home.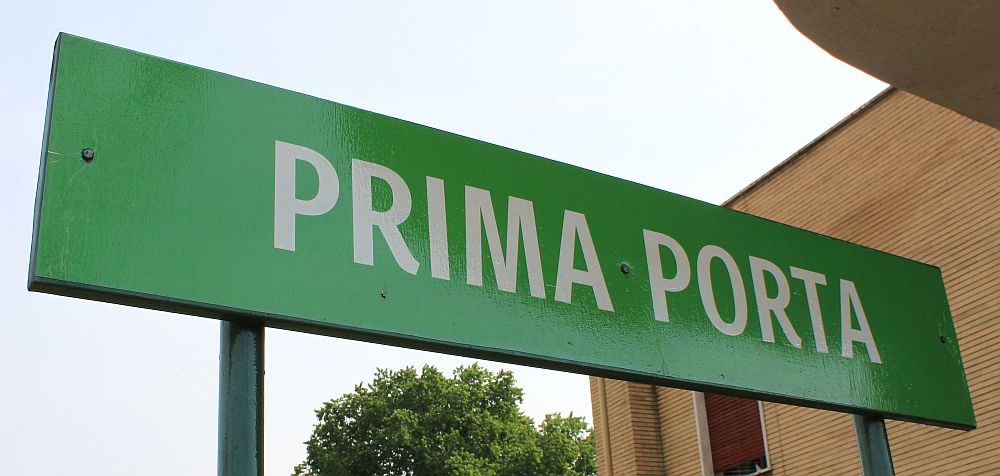 Wednesday and today we are venturing into the City of Rome. We have purchased tickets from reception although I am a bit uncertain about them because each ticket (we need four between us) is valid for 100 minutes from the point of validation, i.e. before you start your first journey. The idea being that you can take a suburban train and then have enough time to get on a Metro service on the one ticket. In the end it turned out very well and at Ä6 for four tickets not a bad price. The campsite run a free shuttle bus service to the local station, Prima Porta. The station and surrounding area are a bit of a dump but it looks as if they are building a new station next door. Likewise the trains leave a lot to be desired being completely covered in graffiti and not particularly comfortable or clean! London and the UK are years ahead. Itís about a 20 minute journey into Flaminio Station which is in the north of the City Centre, however you can connect to the Rome Metro from here to get closer to some of the more popular tourist attractions. We decided that we would do a sort of circular walk to take in some of the main attractions and leave others for perhaps another visit later in the week.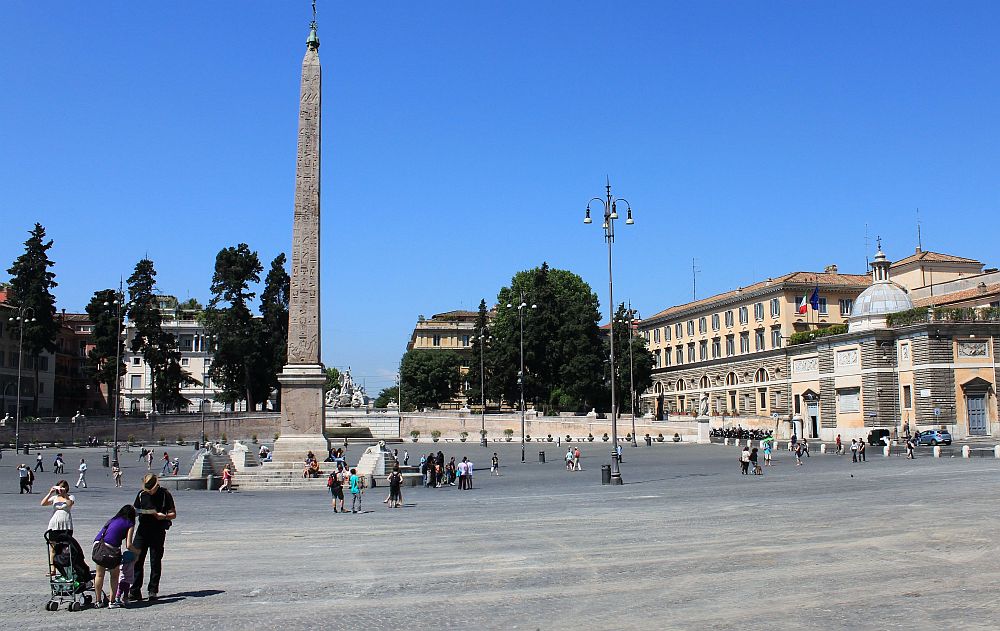 Almost outside Flaminio Station is Piazza Del Popolo which covers a large circular area. From here we walked out to the Tiber so that we could follow its banks to the Vatican. I think the traffic in Rome is the most manic I have experienced in any of the large cities we have visited. Likewise the parking of cars would bring tears to most Brits. The concept of leaving a gap in order to allow someone to exit is non-existent, cars are parked bumper to bumper and sometimes touching. I think the Smart Car owners have the right idea as the reverse against the pavement thus making for an easy getaway! One final thing on traffic, there are lots of light control pedestrian crossing in Rome where you think you have the right of way, some cars and particularly scooters and mopeds have a different view and you can often find that you are half way across a road when you find a car or moped trying to nudge by you, so take care out there!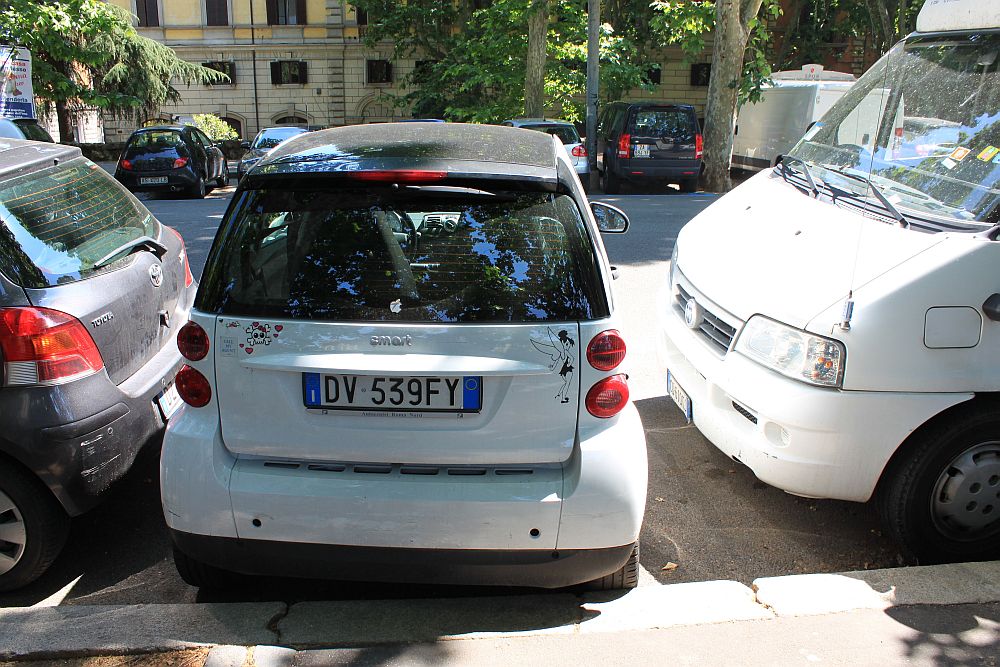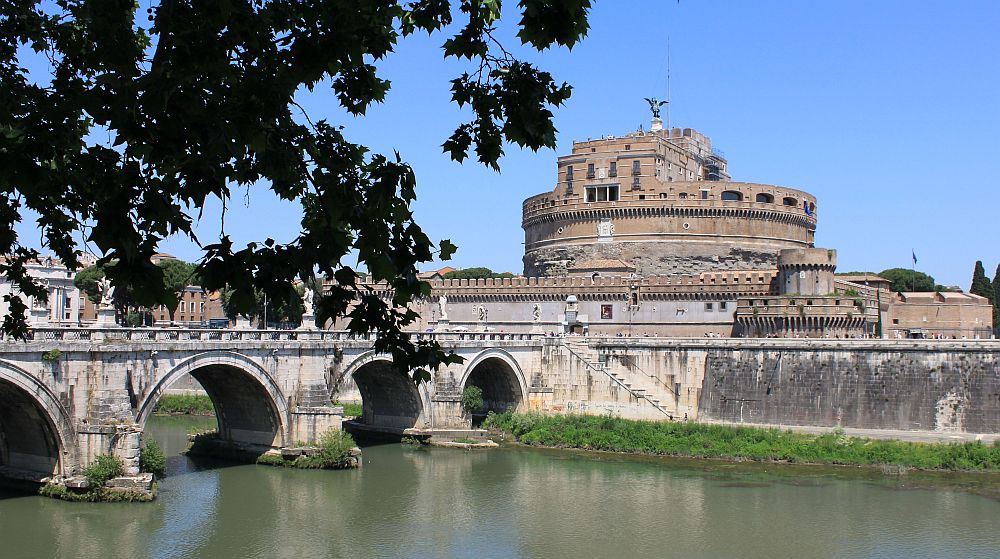 It was a pleasant walk alongside the Tiber with views of the opposite bank and famous buildings like the Castel San Angelo and it was here that we crossed the river. There is a shady park next to the Castle idea for a bit of a rest. From here we walked along to St Peters and its Piazza. Unfortunately could not get into the square or St Peters as there was an event going on.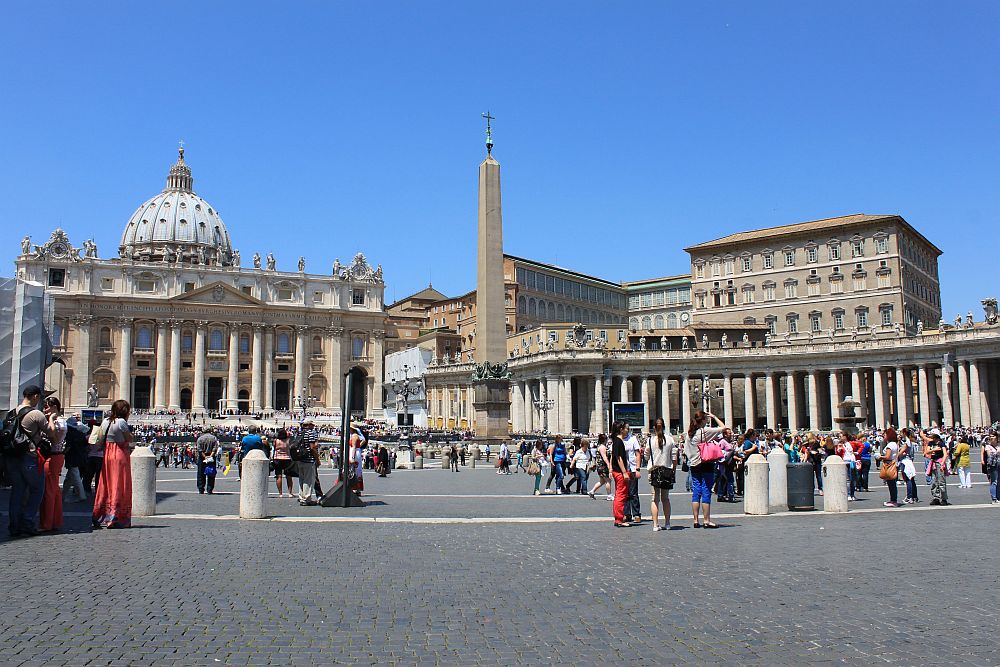 After lunch in the shady park we carried on our tour, this time to the Pantheon. This is a large circular former Roman Temple and now a church. It was rumour that it was stripped of a lot of its marble to be used in St Peters. The most unusual feature of the building is the round hole in the roof of the building, itís meant to be there. The sun shines through this hole and illuminates different parts of the inside walls as the day goes on causing an interesting affect.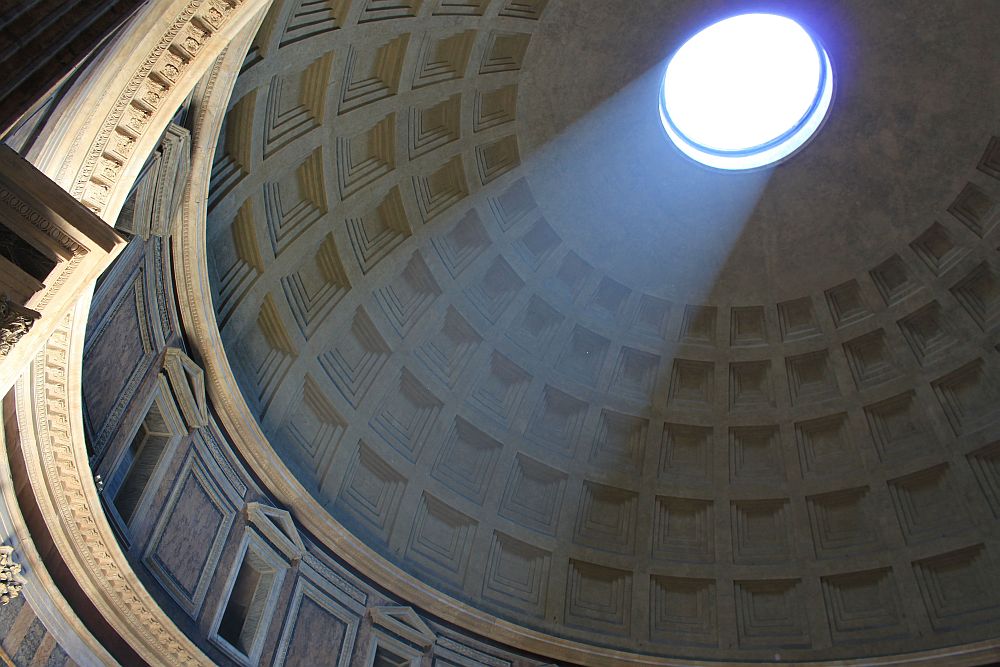 From here itís a fairly short walk to the ĎThree Coins in a Fountainí Trevi Fountain. I expect people are surprised when they see this for the first time as there is so little public space around the Fountain and itís hemmed in by building on three sides. Despite that it gets very crowded.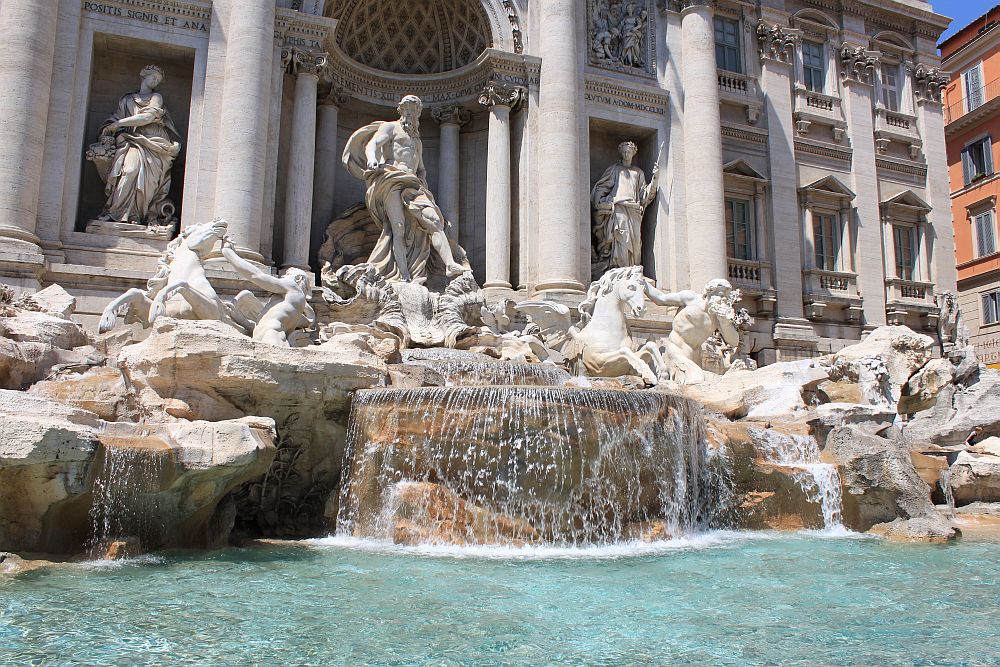 Moving on we were heading for our final visit of the day the ĎSpanish Stepsí but by now we were so thirsty we nipped into a MacDís for a long cold fizzy drink. Refreshed we set off in search of our next quest. Given that Rome has almost too many famous attractions and sights they are, in the main, poorly signed which makes a reasonable map essential. We were given a free one by the campsite reception which has served its purpose. We found Piazza Di Spagna and the famous steps leading up to the church called Trinita dei Monti. We climbed all the way up and felt that we had done enough for one day. There was a Metro nearby which we took back to the station and from here back to Prima Porta and the pick-up by the campsite shuttle bus. An exhausting day but worth it.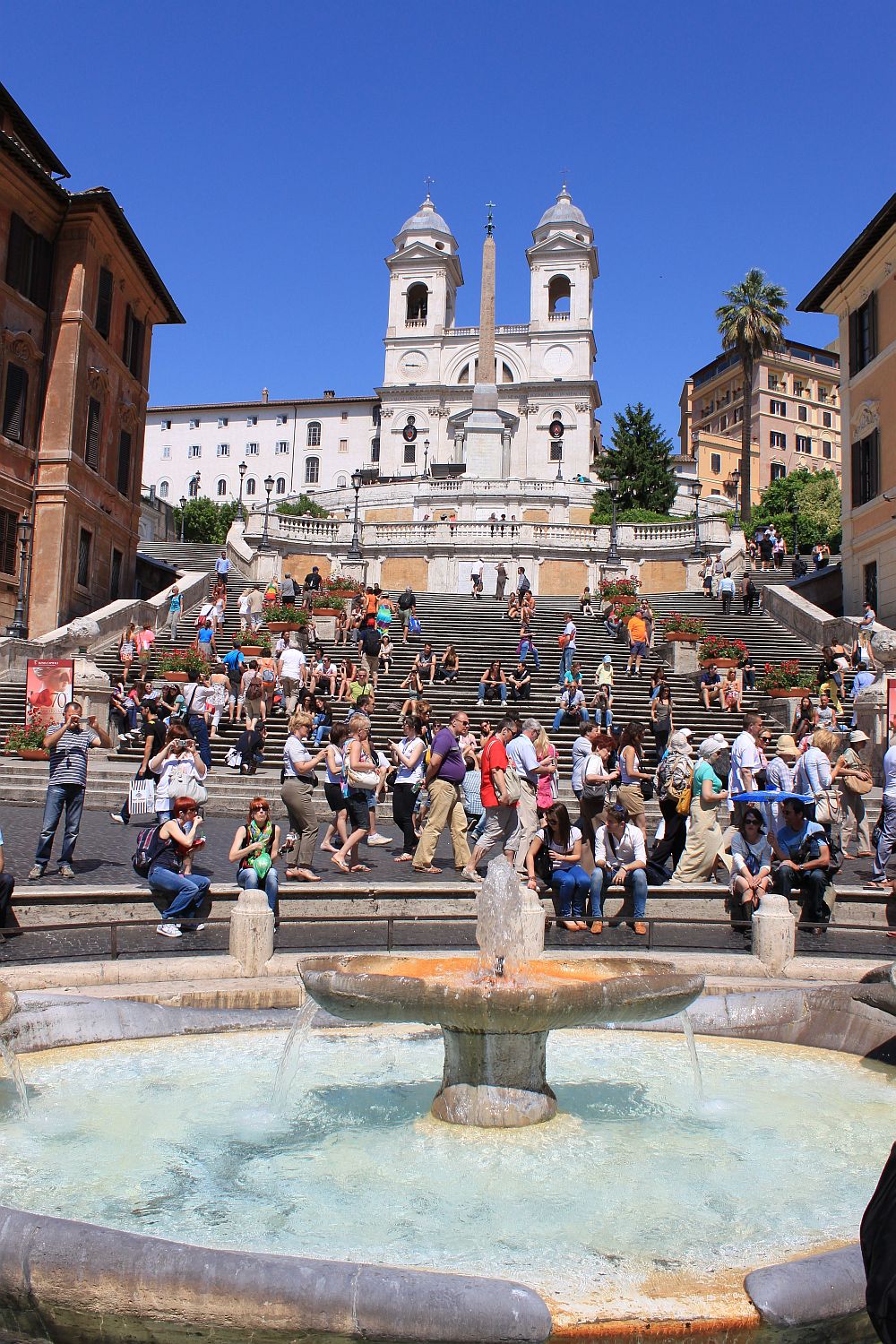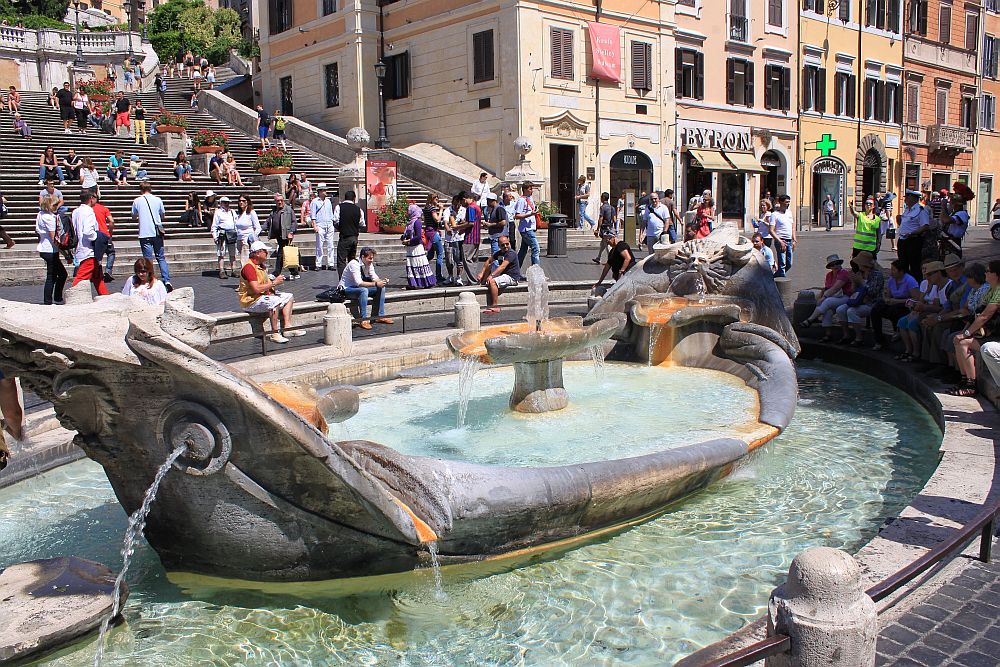 After yesterdayís adventures we had a pretty lazy morning but decided to go out in the car after lunch. The idea was to drive out to Tivoli which sounds nice but turned out to be much less nice! We gave up in the end having climbed the long winding road to the town. There was just too much traffic and the opportunity of a quiet drive in this area of Italy does not seem to exist. On the way back I stopped to buy diesel which was more expensive than it was at home before we left! Fuel stations are strange in Italy. There are often two prices one for the service side and another, usually cheaper, for the fill it yourself and pay at the pump although this type of pump does not always accept credit cards. When the fuel station staff fill up a tank they usually fill up to an even monetary amount rather than round it up to the nearest litre. The last couple of times I have persuaded them to depart from tradition and fill up to the nearest full litre.
The camper van that was next to us for the last couple of days left today. We got chatting to them and despite the Dutch registration it turned out that they were a family of Americans from Seattle. The parents and their twelve year old daughter were on a world tour for a year and for the European leg decided to purchase a motorhome on a buy back scheme. Also going on at the campsite have been a couple of rallies. The largest with the ACSI has been here since we arrived and there was a smaller one for DCC (German Caravan Club) which seemed only to stay a couple of nights before they melted away! From new signs that have gone up there is another one due in the next couple of days.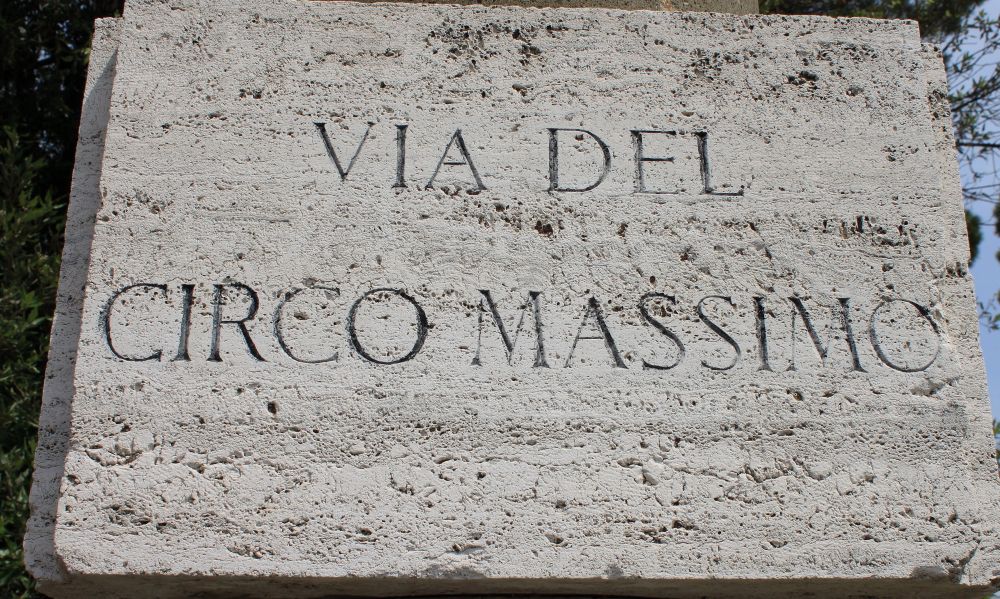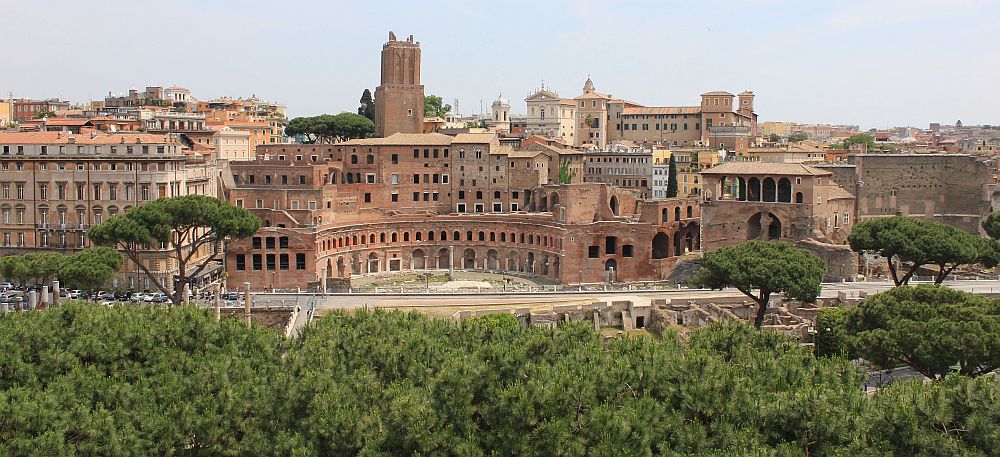 Friday and back into Rome for a day that will be difficult to forget, but more of that later. We got the Metro to Circus Maximus and started to walk around the extensive ruins of Roman Rome. This part of Rome is very different to where we were a couple of days ago. Although we could see plenty of ruins we could not see any access to them as they all seemed to be fenced off. Mind you there were signs of archaeological digs everywhere so that might have been the reason. As you walk round you even see the odd Roman ruin amongst the modern.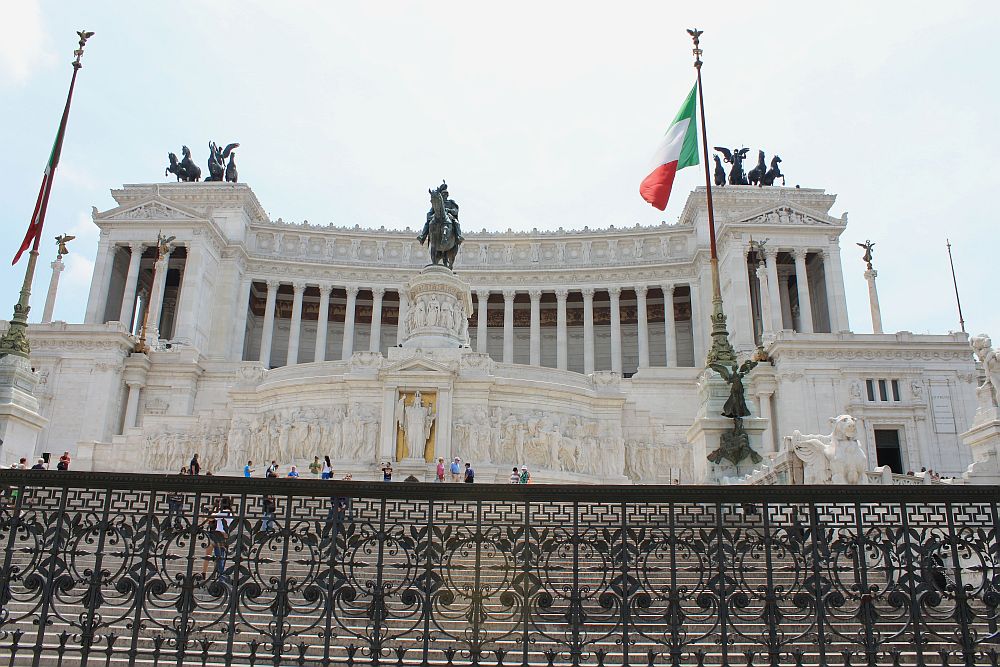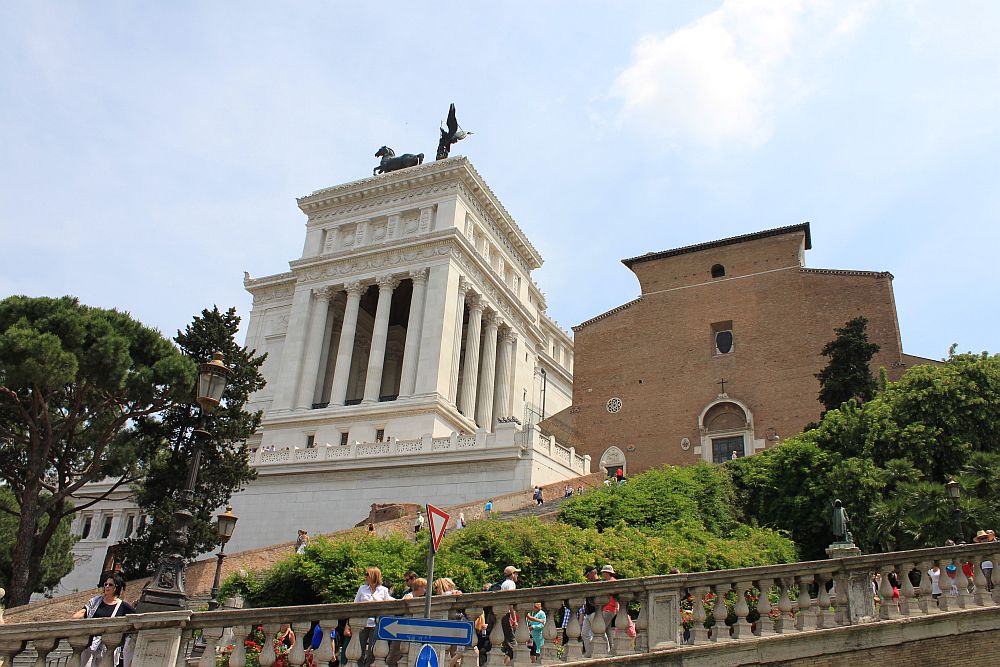 We eventually got to the Monument to Vittorio Emanuele the King that, with others, helped to unify Italy 150 years ago. Although a hundred years old the monument still looks pristine. It is a pretty steep climb up all the steps to the viewing areas of the monument but you are rewarded with superb views out over Rome. For a payment you can go even higher. There is also an interesting museum illustrating the history of Italy which is worth a visit, even if only to cool you off from the heat of the city. After leaving here we made our way along the Via dei Fori Imperiali the road that leads down to the Colosseum. Apparently there is a big display going on tomorrow to celebrate the unification of Italy. As you might image the area around the Colosseum was absolutely crowded so we made no attempt to see inside but instead walked around the outside. At one point we came across a Bride and Groom having wedding photographs taken with the Colosseum as a back drop.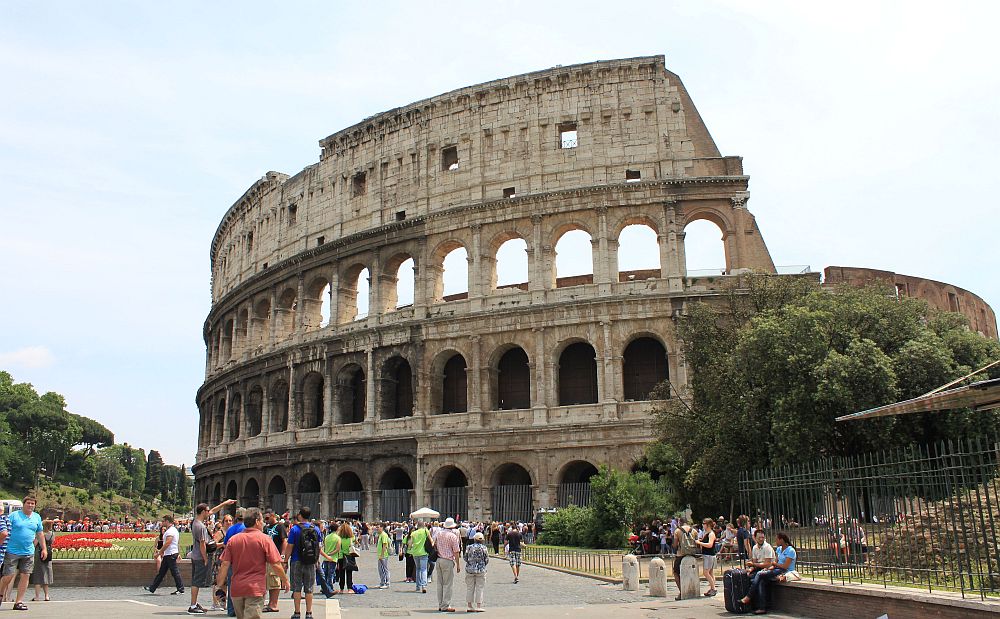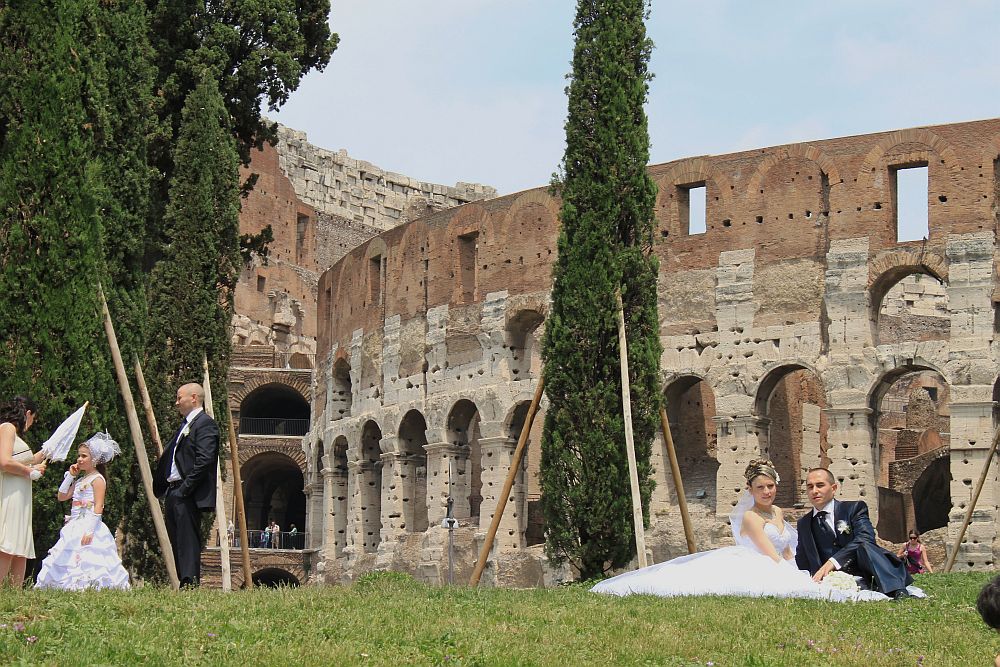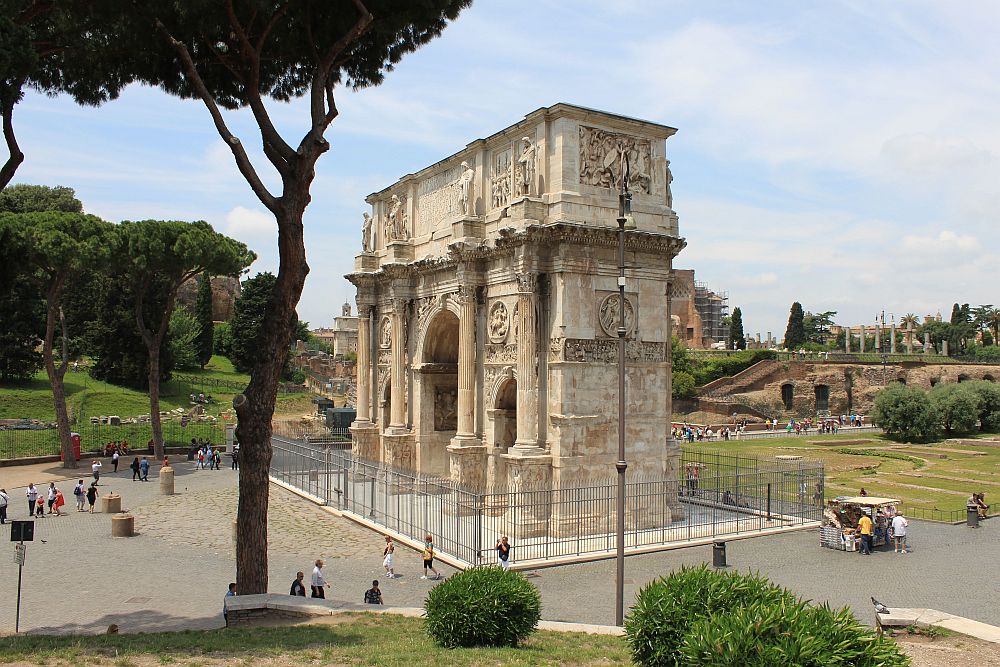 Having completed the circuit we sought out the Metro station as we had, had enough so thought we would make our way back home. This is where our troubles began. The Metro Station was very crowded and all the guide books warn you to take special security care in such circumstances. I carry my wallet in a bum bag but positioned under my right arm if you see what I mean. At the barrier I stepped to one side to get the tickets out of my wallet and secured the wallet back into the bag. Did someone see me do this? It was very crowded on the platform and the train almost full. We were walking along the platform and as Margaret was getting on the train I was aware of a group of women rushing past me. A few seconds later I realised my bum bag zip had been opened and the wallet stolen. It was a sickening feeling and you instinctively know that despite what security you think you have in place it completely failed and you feel so stupid. The real problems now began because not only did I have my own cards in the wallet I also had second cards on some of Margaretís accounts, both sections of my driving license had also gone. Fortunately Margaret had the passports so at least we still had them. When we got back to Prima Porta my immediate thought was that we might run out of money if all the cards were blocked so we found a cash machine and withdrew Ä500 to at least tide us over. I contacted one of my sons who made the initial contact with the card companies but, quite rightly they needed me to phone as well. I also phoned Red Pennant although they were sympathetic there was little they could do. Their advice was that it was pretty important to contact the police which means another trip into Rome tomorrow! I phoned the DVLA who were very helpful and for an extra £5 I could have a copy of the document faxed through to the campsite, although several hours later it had not arrived so I wonder if I should not have included the first zero of the number? I did remember scanning my original driving license when I changed to a photo license so hopefully Simon my son can e-mail me a copy tomorrow and perhaps fax me a copy as well. I think the cardinal sin that I broke was having everything together in one place and if this helps anyone reading this all well and good. I had always considered myself conscientious in my approach to personal security but todayís experience has blown a complete hole in that. Whilst many will say that I was just unlucky I have learnt a few lessons today.
Saturday 2nd of June. Back into Rome this morning to try and find the place to report our crime. We were on the 9.30am coach to the station but when we got to the station there as a large queue of people up the stairs to the ticket office. They were mainly a large group of Malaysians who arrived at the campsite yesterday. Strangely for our Continental chums they were patiently queuing! I knew many of the group spoke English so I asked if they were queuing for tickets to which they answered yes. Hopefully not appearing rude we made our way through the throng to the platform just in time to get on the train. Two things puzzled me, why were they not told to buy their tickets at the campsite and why were all the Dutch and Germans standing around waiting for something to happen. Just shows it takes the Brits to get things organised!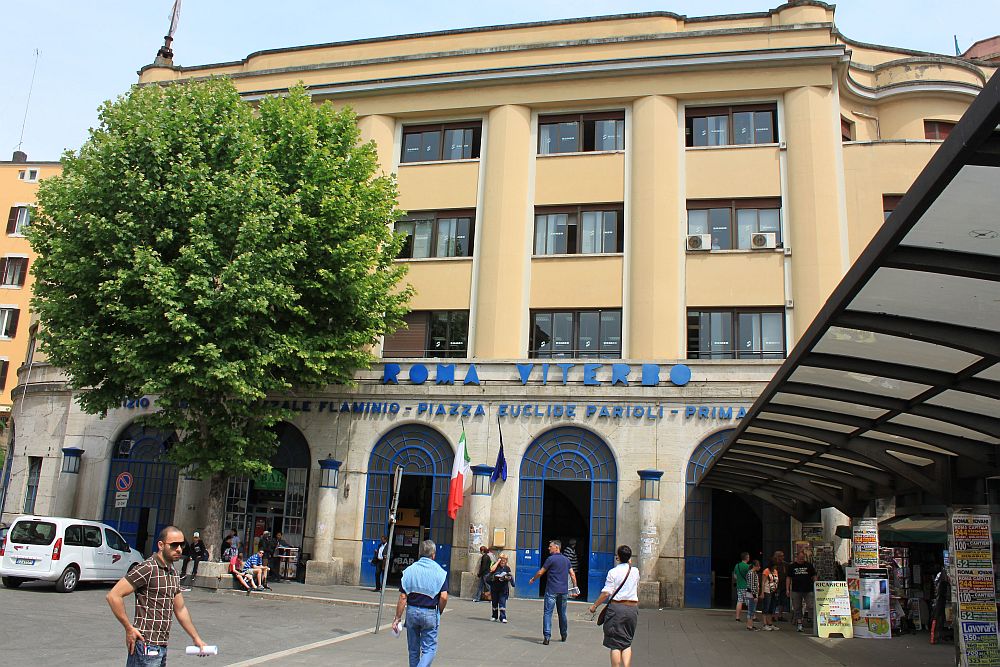 On arrival in Rome we knew roughly where we needed to be and fortunately we only had to use one main road, Via Del Corso, to get to our destination. Rome certainly has a different flavour on a Saturday with not so much traffic and more people just walking which made it feel much more relaxed. There is a big military parade in Rome today so that might have had some impact on the general state. Via Del Corso is a very long road starting at Piazza Del Popolo to the large Vittorio Emanuele Monument. The office we needed to attend was at the bottom of this road. We asked several police officers where we should be and their instructions did not help us a lot. It would have help If I realised we needed the Carabinieri rather than the police. We were by a cafť and I saw a couple of officers so I asked again. This time the officer took me outside, carefully placing his cap on his head as he walked us outside, and showed us exactly where we needed to be. The office was not really more than a large hallway off the main road. We had to wait until the officer had finished a phone call and the welcome was initially stern rather than friendly. He gave us a form to fill out which had to be done in capital letters. We did eventually get a smile from him when he liked the idea on me sticking an Able Label on the form with our address. We now had our stamped form which will hopefully help us if we get stopped or when we make a claim back in the UK. It was a hot journey back to the van, four hours for one form!
Back in MK Simon had traced a scan I had made of my driving license on my computer at home when I changed to a photo card. He sent this to me by e-mail and by fax to the campsite reception. The DVLA fax had also arrived. The reception staff were really helpful in collecting all these papers for us. At least I now have a driving license of sorts should I be asked for it. Simon also ordered a new EUHC Card. I think we have done as much as we can to get everything back on an even footing. Unfortunately there are some things we canít now do and the next two campsites we had planned to visit have had to be changed as we have no access to our Camping Cheques so will have to look at other campsites, starting tomorrow as we are moving on. Also the only form of identity I now have is my ACSI Card (fortunately retained by the campsite!) and a passport. So itís possible I will have to get used to the idea of depositing my passport with campsites as much as I donít like the idea. Not in the best mood to celebrate the Queens Diamond Jubilee but we did put out our Union Flag!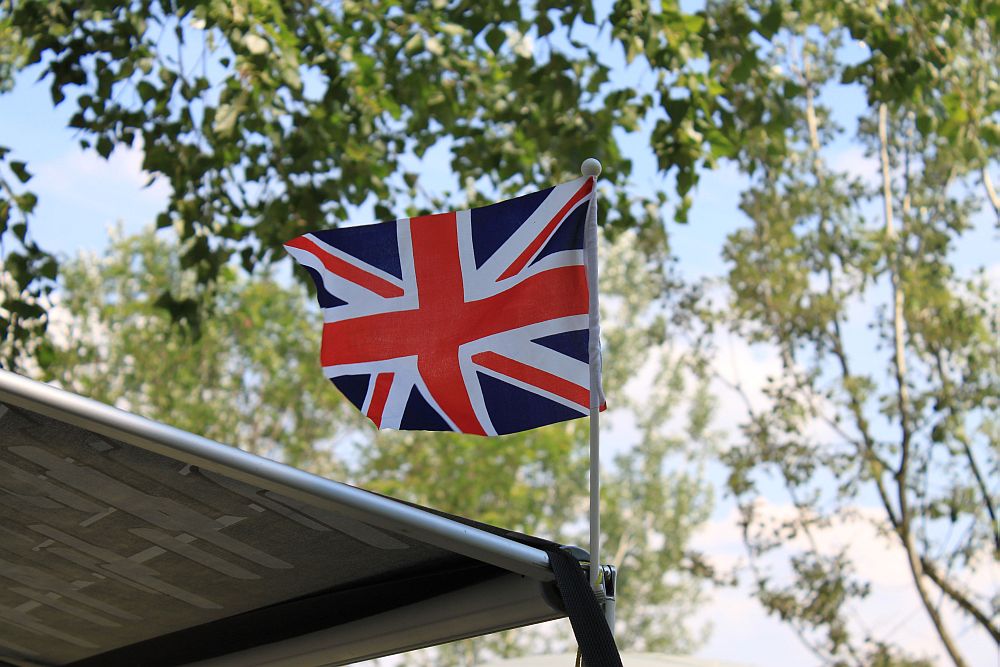 I am not sure I will ever persuade Margaret to return to Italy south of the main lakes and Venice. Given our experience I suppose you canít blame her. Itís not only that one incident that has caused both of us to come to that view. We have found Rome, away from the main attractions, a very grubby place. The roads are often poorly maintained as well as poorly signed and the level of traffic makes it always impossible to have a leisurely drive out from the campsite. On one drive out from the campsite Margaret could not understand why every so often there were young ladyís sat by the side of the road until I reminded her that the profession they belonged to was at least as old as the ruins in Rome! In contrast Camping Tiber has been an oasis of green and calm so I would not put people off coming here.
Sunday 3rd June and we are leaving Rome and heading further north. We managed to exit Prima Porta and get back on the Ring Road without getting lost! The journey up the A1 was fine and not too much traffic. We even managed to find the campsite, Camping Village Mugello Verde without too much trouble. This is the first campsite we have arrived at to find a cat asleep across the reception desk! We had not realised that this site was on such a hillside which made getting on the not over generous sized pitches quite difficult. We managed in the end but it was hot work.
Monday and we awoke to a grey sky. In the morning we went to the nearby town of San Piero a Sieve for some shopping. We had not been back at the van very long before it started to rain and rain, we also had thunder and lightning. Several more vans arrived today and a couple seemed to have difficulty settling on their chosen pitch although they did all eventually manage.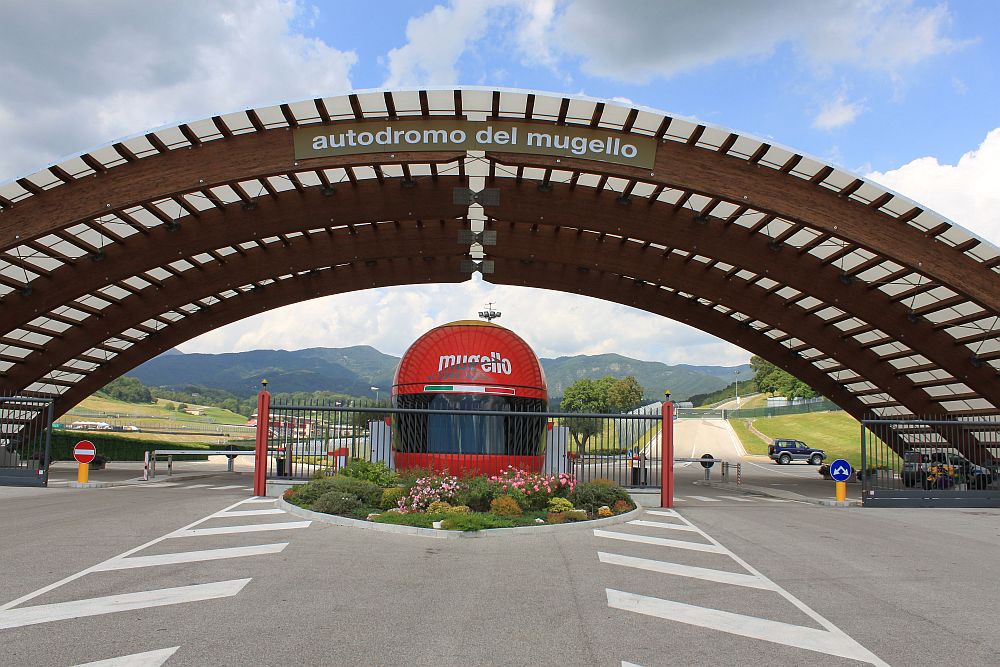 Fortunately the sun was out today unlike the heavy rain of yesterday. A fairly lazy day as Margaret wanted to watch the Diamond Jubilee celebrations. At least we have a good satellite picture here on all channels. The site does not seem that busy with not many more than 12/15 units here each of the nights we have been here. In the afternoon we drove out to the Mugello Racing Circuit. It is owned by Ferrari. It is used by the Grand Prix teams as a testing venue and our son Simon has been here several times with Red Bull. We drove back through Borgo San Lorenzo which is the largest town nearest to the campsite.
Wednesday, we have decided that this will be our last day here at Mugello. Campsites are odd things, our initial thoughts on this campsite were not overly impressive. That view remains on many of the facilities but the situation and general peacefulness has been much more agreeable. Whether itís still the after effect of what happened in Rome I donít know but we donít seem to be very motivated to get out and about. Having said that we did take a ride out to have a look at a local lake although I think it may well have been a reservoir. However there were several viewpoints which is a bit unusual for Italy. We are intending to move on to Lake Garda. However this week coincides with the German school holidays and Lake Garda is a very popular destination. I did phone our propose campsite who couldnít give me a clear cut answer as the whether they will have space but we are going to take a chance and hope we get their early enough to find a place, fingers crossed!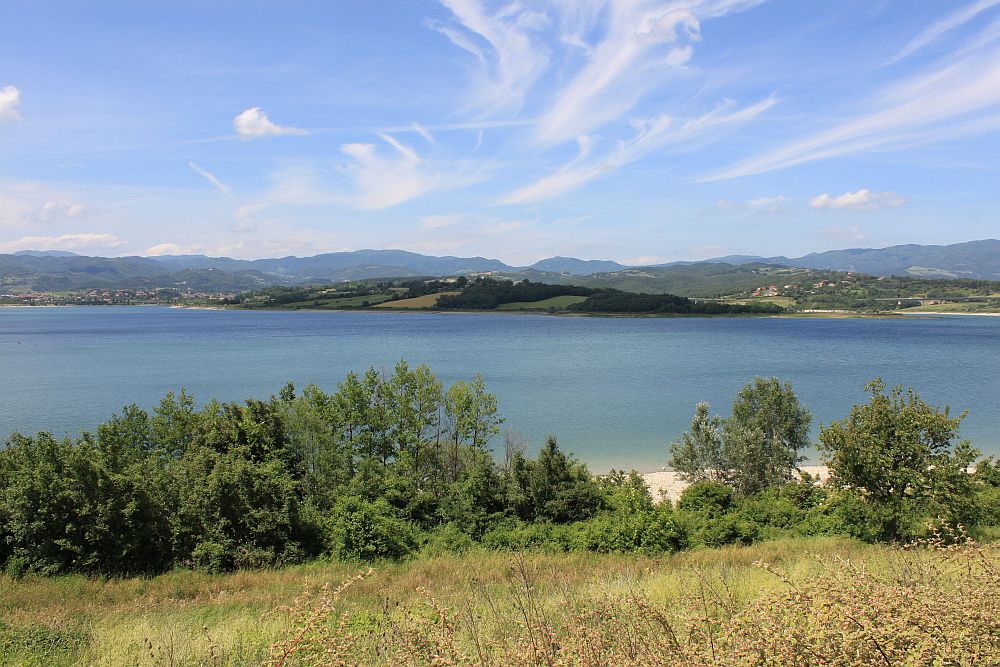 Thursday and the early part of the journey went quite well, at least until we came off the motorway at Lake Garda. After the toll booth it was mayhem as vehicles could not exit onto the roundabout and there were people jostling for position. It seemed to clear after a while and we were on our way. We then made the mistake of following TomTom without due regard and got into terrible trouble ending up on roads that were no more than tracks. Somehow I managed to extradite myself without doing damage to either car or caravan although I did seem to annoy a few impatient locals as I blocked the road. We got back on the main road and followed the instructions in the ACSI book which we should have done in the first place. Camping Cisano was very busy and we were marshalled into a waiting area and told to wait for the golf cart that would show us suitable pitches. Off we went and we could see how busy it was. We eventually found the pitch which looked OK and we were taken back to reception. It was suggested that we take the van to the pitch, set up and come back later to register. We had to negotiate some tight site roads and missed a tree by millimetres! We put the van on the pitch one way, did not like it so went in the other way and eventually got it level although the back is only a few inches off the ground. Our Dutch neighbour sympathised with our difficulties and I could see his van was well chocked up. Then trying to position the car in too small a space I scraped some bushes all along one side which will need some attention. I am beginning to think that this holiday is jinxed! To cap it all Margaret has discovered that she has made a small miscalculation in the number of tablets she needs to the end of the holiday by just a few days. We will try and see if a Pharmacy will sell over the counter. Apparently a doctor calls at the site on a daily basis so we could get a prescription from him but no doubt that will cost us? I purchase some internet time which was very expensive and pretty poor to boot. The only place you can get it successfully is in the car park! The only plus point for this campsite so far was the delightful young lady who booked us in! Later on wandering around the site I got chatting to a Scottish couple a few pitches away. He was struggling to get his sun canopy up because one of the clamps had broken. With a self-tapping screw from my toolbox and the drill we use for the corner steadies he managed to affect a temporary repair.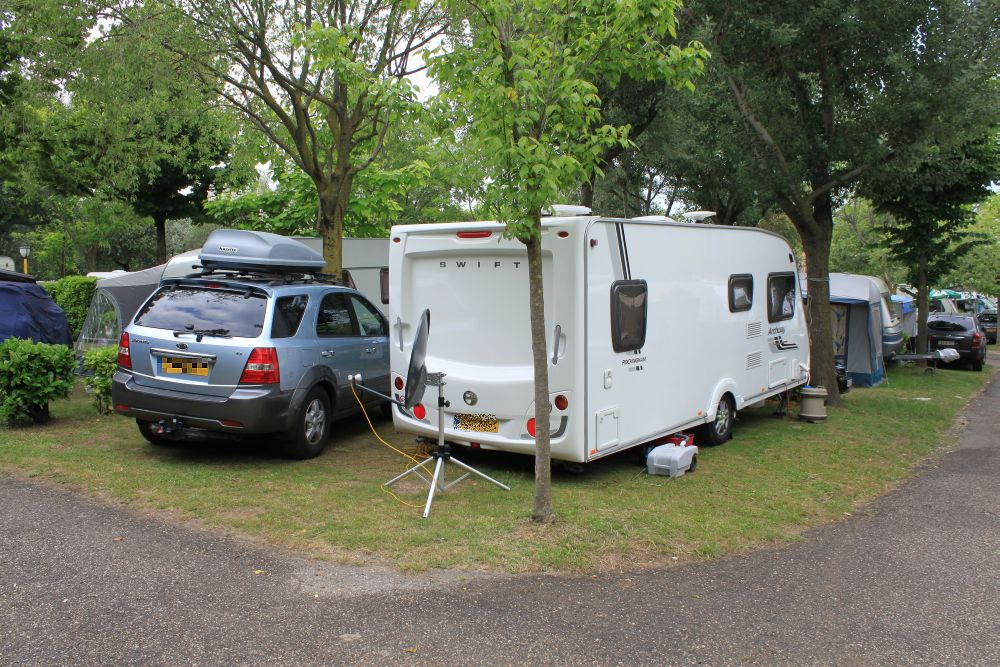 Friday and not so nice today with intermittent rain, itís odd in that itís quite bright, and warm. There are signs of people packing up today and by mid-afternoon there are a few empty pitches appearing. This morning after breakfast we set off in search of a Pharmacy to see if we can do anything about Margaretís need for additional medication. I have heard that in Italy a lot of drugs that would be prescription only in the UK are available over the counter. We drove to Bardolino where we had seen a Pharmacy which was fine but trying to find somewhere to park was another matter! We did eventually find a place. I asked the charming Pharmacist if she spoke English which she did and far better than she was willing to admit. I explained the situation saying that we were not sure whether we needed to see a doctor first. At first she frowned as though this would be a problem but fortunately Margaret had a copy of her repeat prescription from her own doctor. The Pharmacist was more than happy with this and set off to find the required medication. The next concern was what was the cost going to be. She scanned the three items and asked for Ä7.50 which would be a complete shock for anyone from England where we would pay that much for each medication!
Pleased with our success we went back in the direction of the campsite but wanted to explore the road that runs alongside the site as we had seen a caravan exit that way as we left earlier. The main reason for this is that most of the roads along the Lake are congested most of the time. Having followed the route it looks a good option. We then went onto have a look at Lazise and this seemed even busier. It reminds us a bit of the N98 near St Tropez. We realised that it is a busy holiday week so perhaps from Sunday it will quieten down. This campsite has an internet service of sorts. Not only is it very expensive it does not seem to work very well. There is also no provision for anyone to sit down to use it where the strongest signal is. Itís almost as though they are paying lip service to the idea of offering a WiFi. Being away for so long we rely on the internet to undertake all our financial business. Itís also nice to keep in touch with people by e-mail.
Saturday dawned a lot brighter. Margaret was a bit concerned about one of the diabetic medicines as she uses a slow release form but the tablets she got yesterday donít seem to say that although they are of course the same medical content. To be sure a return visit was in the offing! We thought it might be sensible to get some cash and we had seen a cash point next to a Lidl supermarket. However when we got there it was not working. Does this surprise me? Not really as we have found other instances of infrastructure failing when the main support structure is closed! The traffic along this road was still busy but at least today it was moving. Still no parking at the Pharmacy so I double parked and off Margaret went to check out her tablets. The upshot was that they donít do a slow release version in Italy, apparently, despite the same company making both the Italian and the British tablets!
The rest of the day was quite relaxed but not for the Dutch and Germans because both their teams are playing tonight in the Euro 2012 football, although not against each other. The Dutch really go to town but that orange does nothing for their complexions! We had no need to watch as we could tell what was happening from the sounds they were making!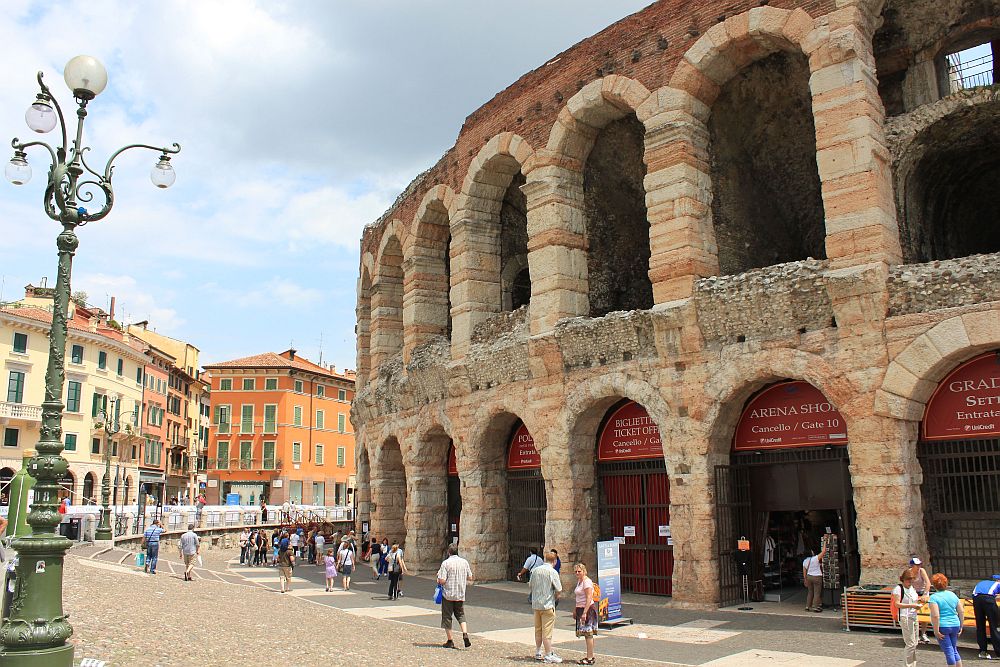 Sunday. We thought as it was Sunday it might be a good day to visit Verona as there would hopefully be less traffic. This was what we found to be the case but being in a strange City it is still challenging. We were heading for the Arena where they hold the operas. Unfortunately a lot of the parking is underground which is a bit of a gamble with a 4X4 with a roof box! We found ourselves heading back out along a lovely wide boulevard when we found a surface space. We had no idea how far it was from the centre, as it turned out it was not that far. I was about to put some money in the meter when an older guy who was just about to get on his scooter told me that parking was free on Sunday.
We walked towards the centre and we could hear explosions. As the Carabinieri were just standing around we assumed it was nothing untoward! It was actually a military re-enactment, which certainly caught the attention. By the time we got there we could see the Arena in the background so we made for that. It is not a particularly large Roman amphitheatre but probably an idea size for putting on operas. Prices for watching the various operas in the seated areas range from about Ä49 to Ä198, but the unreserved stone steps can be as little as Ä15, apparently you are well advised to take a cushion with you if using this area. The Arena is very well preserved and can be viewed for a modest entry fee when the operas are not being held. During our visit they were busy erecting the scenery for the first opera of the season. We liked Verona but were glad we went on a Sunday, I am sure on weekdays it is as busy as any other Italian city.
Monday and our last day at Camping Cisano. It was very wet first thing but when the rain stopped it did seem to clear the air a bit. In fact on a walk along the lake this afternoon we could actually see across Lake Garda whereas on previous days there had been a heat haze. We wandered along to Cisano which has a nice lakeside area. After the walk we called into reception to pay our fees. We had to pay the local tax in cash but paid the main site fees by credit card. Not sure I understood why that should be! It seems that several others are getting ready to leave on Tuesday. Unlike most of the other sites we have been on there have been several Brits here during our stay. In fact we had something of a ghetto with five Brit units in close proximity!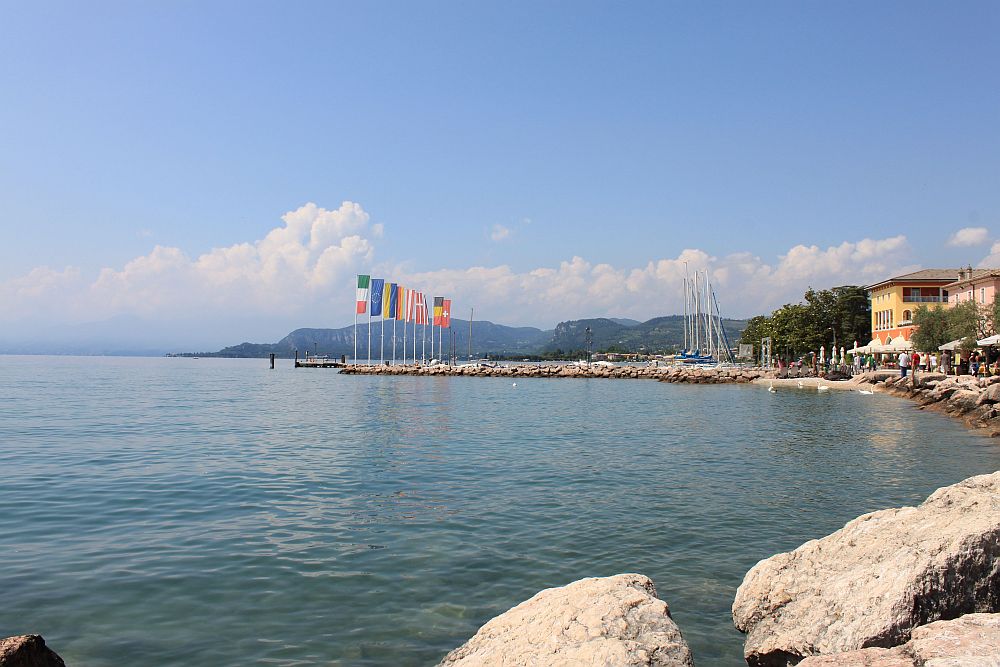 I do wonder if the Pop Band, Wet,Wet,Wet got their name from a journey similar to ours today? From the moment we got up to almost the time we went to bed it has been raining continuously. We towed from Lake Garda to Camping Natterersee near Innsbruck today. At some points of the Brenner motorway we were actually driving through low cloud! We manage to find a Service Station selling the Austrian motorway vignette. We arrived at Natterersee to find a very different campsite to the one we had last visited in 2000. They still had us on their computer for that visit and the previous one in 1992! With the ACSI Card you are only entitled to use a standard pitch which is not that generously sized so we chose to take the option of payingÄ1.50 a night more for a comfort pitch which is larger and is serviced. Unfortunately every pitch was waterlogged so we will have to see how well it dries out. They are supposed to have 80% WiFi here and although I can pick up a signal at the van there is just no throughput which is frustrating considering I have paid Ä25 for the week we intend to stay it is looking as though it was an unwise investment. One problem is that once issued and logged in you canít log out of the system. So it would not allow me to swap between wireless adaptors. When I went and explained this to reception the young lady did give me a second ticket for free which I have used with my signal amplifier but with no more success I should add. I have to say that I find it very frustrating when campsites offer a WiFi service only to find that it does not work very well. Letís hope itís only a temporary problem. On a more pleasing note a guy walked by me today, stopped and came back and asked if I was David Klyne. His name was also David. Apparently he recognised me from the little cartoon I use on newsgroups. Well spotted as at the time I had the hood up on my waterproof!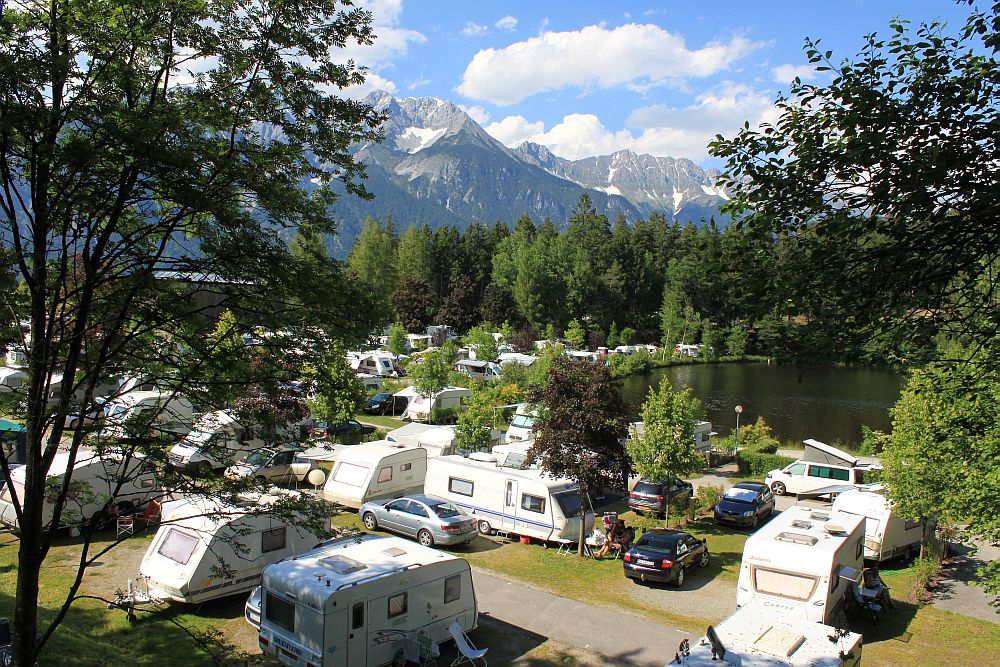 We donít usually do a lot on our first day at a new campsite as we are usually still setting things up and taking stock. Margaret did some washing, in fact two lots. Nice to have some proper Miele washing machines. The weather has been better today but not without the odd shower. Clouds have never completely cleared the nearby mountains. The internet has been working better today although it canít be classed as the fastest service in the world. This afternoon we walked around the site to re-familiarise ourselves with the site we had not visited for twelve years. We ended up in the reception area where another Brit was clearly having difficulty getting connected to the internet. I sympathised and tried to make a few useful suggestions but I was told that he (had?) worked in IT and knew what he was doing. When I asked if using Internet Explorer might help in getting connected I was told in no uncertain terms that anyone who used Windows or Internet Explorer was an idiot! Having used both for getting on for 20 years I suppose I must be an idiot! Likewise I suppose my son, who is an IT specialist and the multibillion pound company I worked for are equally idiots for using Windows software! Perhaps he was angry with himself that despite his expertise he was unable to get connected! Ever the optimist I imagine he will be in a better frame of mind once he gets connected. Returning to the subject of Camping Natterersee or Camping Paradise Natterer See as they like to call it now it has undergone a major transformation since our last visit. Many of the pitches are now fully serviced and there are now a variety of sizes, most of them of a good size. The most noticeable change has been the replacement of the original reception building. For those that have not been to this site you originally had quite a tight turn in to the site under an archway. Since that was built caravans and motorhomes have got bigger and it became less easy to negotiate. Access is now much, much better. Included in the new building are new toilets and showers and they are really something to behold and I reckon there are not many campsites in Europe with such fancy facility blocks. Some might consider them a bit OTT but they are lavish. Usually toilet blocks on campsites are not places you wish to linger in having completed your business but this block actively encourages you to do so by providing a seating area!
Thursday and we thought we should have a day out. The weather was much better today but only around 20 degrees but nice to see some blue sky! Margaret has always been a fan of Swarovski Crystal and by coincidence their factory is about 15 miles from the campsite. They have something called Kristallwelten or Crystal Worlds which is a visitor attraction. We clearly misunderstood what it was all about as it turned out to be a gallery of art using crystal as one of the elements in the art. Some of it was quite interesting and some of it quite surreal. When we got through the exhibition there was an information desk so I asked about a proper factory tour but was apologetically told that the donít do them as the manufacturing process is considered to be something that is secret to them. She did add that many people ask the same question! There is a cost to view the gallery but if you just want to visit the shop there is no charge. Given the prices of some of the things on display, a small statue Ä18000, just as well I donít have a credit card at the moment! On the way back to the site we did some food shopping.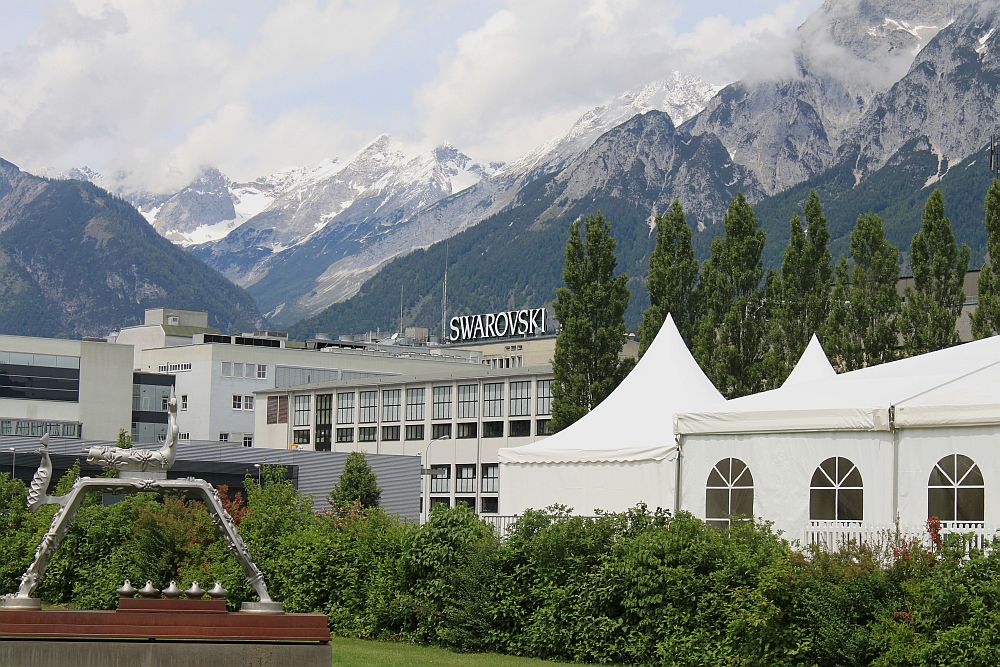 The campsite was virtually full this evening, so much for low season camping! New arrivals are shown to their pitches by a member of staff that zooms off on a Segway! There was great excitement this evening as the site owners decided to move two new mobile homes through the site, itís the sort of thing that brings out the small boy in older men! Down at the restaurant they had a Brass Band playing.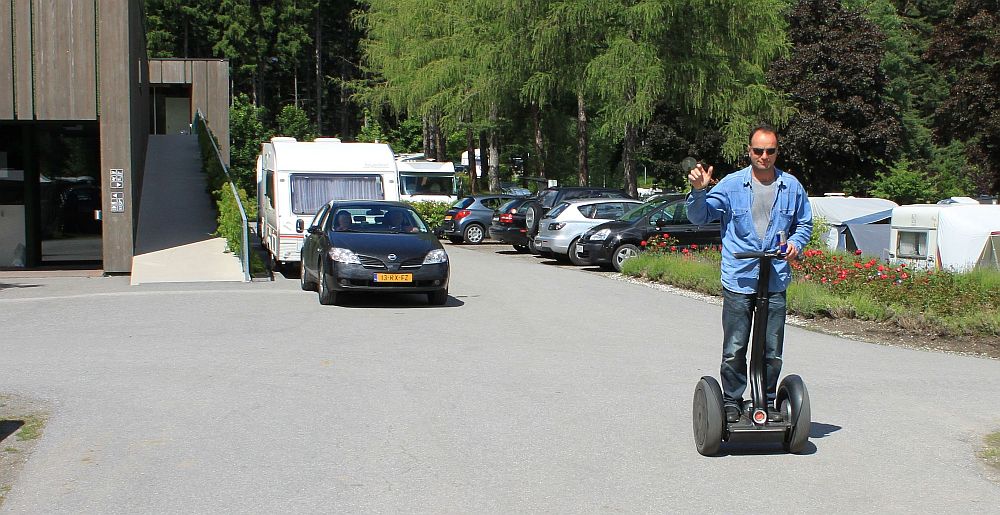 Friday. There is a public bus service that runs from the campsite directly into Innsbruck. We were given a card on arrival which entitled us to free use of this bus so today we decided to take advantage. We were not ready for the 10.30am bus so we decided to go after lunch. It was quite a white knuckle ride down into the City in a vehicle that was really a bit big for the local roads! It dropped us off at the station in Innsbruck and from there it was a relatively short walk to the old town. We had been to Innsbruck many years ago and I think we must have missed the Altstadt as it is quite attractive. As we have seen elsewhere in Austria the shops have rather nice hanging shop signs and even Big Mac had a very tasteful sign. We walked down to the River Inn which is a very fast flowing river although they donít seem to make the most of it in terms of walking along the river. From here we made our way to the Imperial Gardens before heading back to the station and the bus.
Got talking to another Brit who claimed he had been gassed in his folding camper some years ago. Threading cautiously I asked if he had needed medical help but he said no he just woke up with a thick head. I do think when people are robbed they look for reasons why they did not wake up and usually come to the conclusion (wrongly) that they were gassed. Often an explanation encouraged by the Police with pretty scanty evidence to prove it!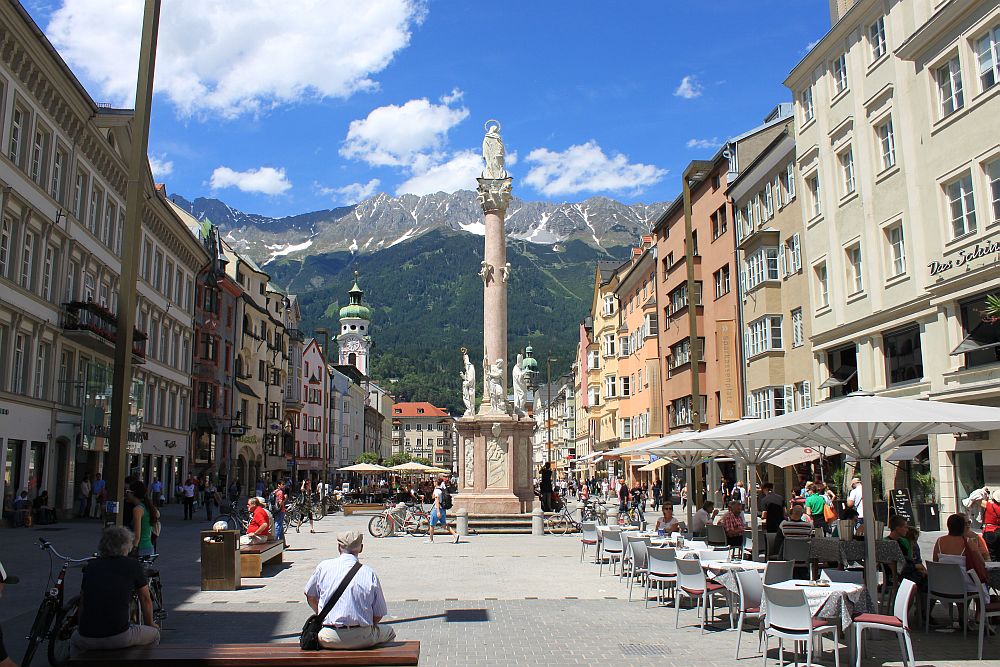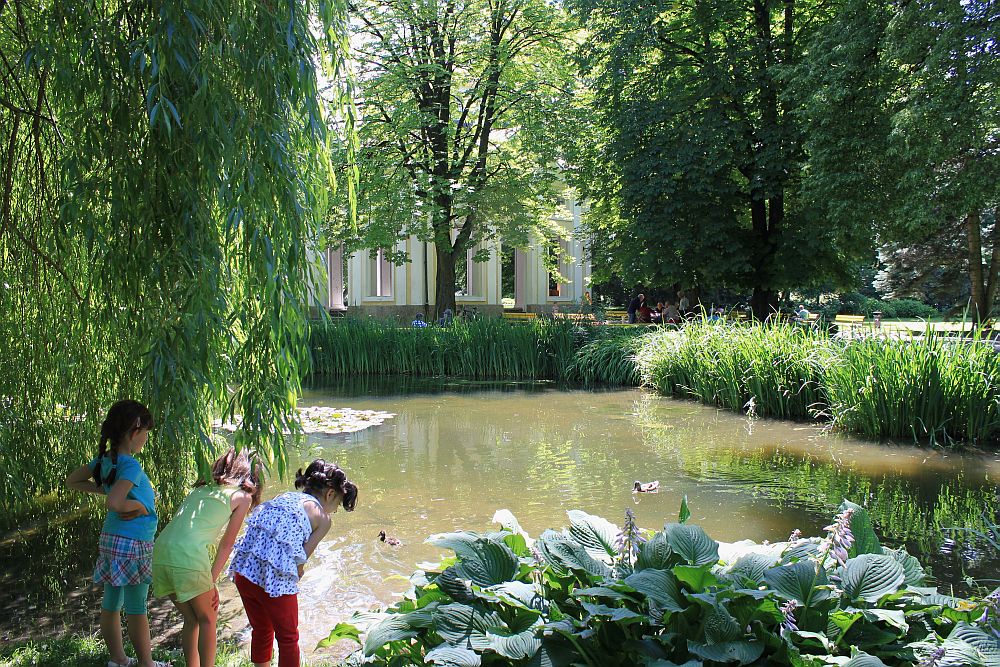 Saturday. It has been a beautifully hot and sunny day today with hardly a cloud in the sky until later in the day. They have a clever screen outside the toilet block which shows the weather radar and predictions for the week ahead. We did nip out to the next door village of Mutters for a bit of weekend shopping and to fill up with fuel at around £1.10 a litre which seemed good to me. Saw it a bit cheaper in Innsbruck but hardly worth the drive to save a couple of cents.
The campsite is again packed to the rafters and we are beginning to think we were lucky to have a choice of pitches when we arrived. The guy that directs people to their pitches whizzes around on a Segway. First time I have seen that on a campsite.
Sunday and another lovely day so not much incentive other to have another pretty lazy day, too hot to really do anything! It could be another Dutch game tonight by the amount of bunting going up! Germany are also playing today but they donít seem to go to the same extremes, perhaps they know they have won it already! A few have left today but even more seem to have come. Two French motorhomes were taken up to the high terrace but came down again and left the site. They do seem to be fitting them in where they can. Perhaps not a site for an overnight stay, especially if you intend to arrive late. The caravan opposite us is Austrian and I assume husband and wife plus two small dogs. They have had a series of visitors over the past couple of days including what I imagine to be children and grandchildren. The strangest thing is that they donít seem very demonstrative with any but the two youngest grandchildren. The adults in the party seem hardly to be spoken to! I suppose having time to just stand and stare would make amateur physiologists out of us all!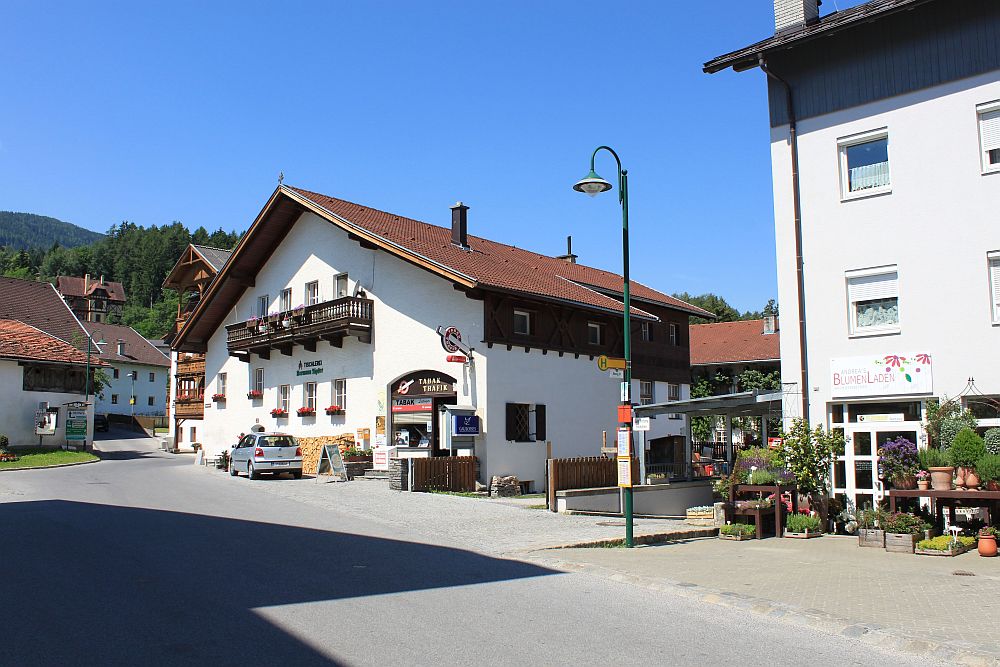 Monday and our last day at Natterersee as with some regret we have to leave tomorrow. First thing, well first thing for us, we went back to Mutters for a bit more shopping. En route we stopped at Natters to use the cash machine. It worked no problem but gave out Ä100 notes which we have never had before. Just hoping we wonít have any problem changing them! Got myself a bit of a bargain at the supermarket. I am rather partial to Asbach German brandy. The supermarket had an offer of two bottles at Ä10 a bottle, normal price Ä12.99. Been very hot again today so during the afternoon had a walk round the site and found a cool spot overlooking the lake. As we were packing the Caravanstore away we noticed lots of people showing an interest in our pitch. One English guy even asked if we were leaving tomorrow as he was crammed onto half a pitch. When I walked up to reception tonight they had a sign on the door saying they were full. Our stay here has worked out at about £18 a night by the time you add on the taxes and the pitch upgrade. Still cheaper than the average CC site! We have had an older German couple opposite us during our stay. They started packing up tonight and we almost got the impression they were going to leave today but whilst the car and van are hitched they are still there. Obviously an early departure seems likely!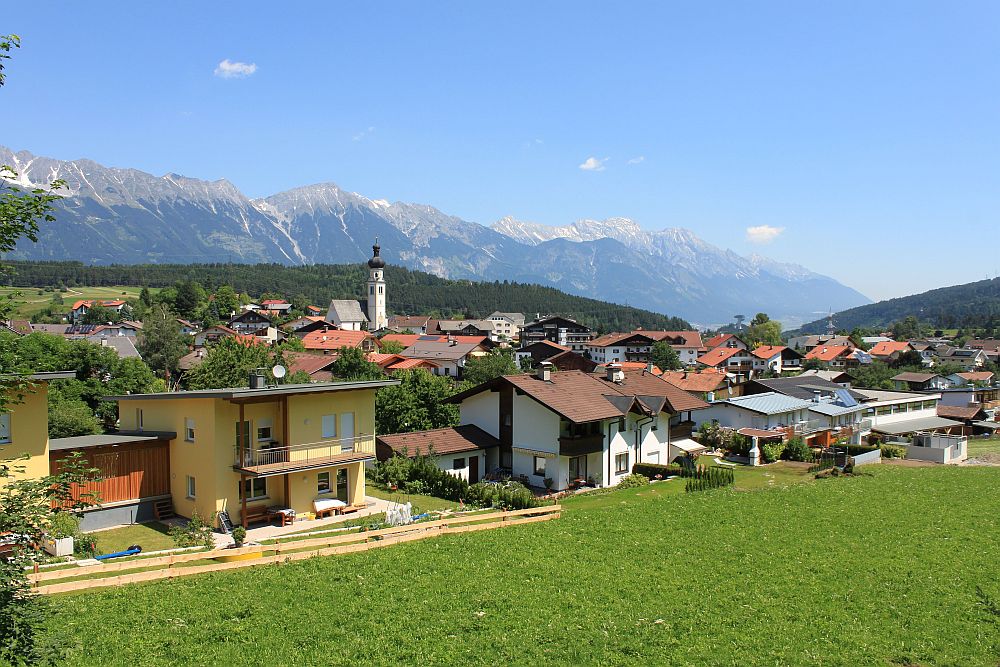 Tuesday and we were up by 7.00am and our neighbours had already left! So much for the 7.00am curfew. We were away before 9.00am on what was one of our longest journeys of the trip, a bit shy of 200 miles. The route we took included navigating around Munich, a route we have not done for many years. Fortunately we did not have any hold-ups. This is the problem with trying to get to campsites that close for two hours from 1.00pm. It was touch and go whether we would make it but we did with minutes to spare. The pleasant young lady on reception spoke good English. We handed her the ACSI Card and on the back I have put an address label and she noticed that we came from Milton Keynes. She had been to a Take That concert at the Bowl in MK. This is about the third time in the last few years the person on reception has been to MK, small world.
Camping Waldsee is a typical German campsite. There is a relatively small touring area and the bulk of the units are permanent caravans. Having said that it is set in a Pine Forest on the shores of a small lake. When we got out the car we were hit by the smell of pine. Later on we were hit by a totally different smell but still connected with wood! The German couple opposite us have what I can only describe as a wood burning Cadac. On lighting up we had to close all windows and vents to keep out the stink.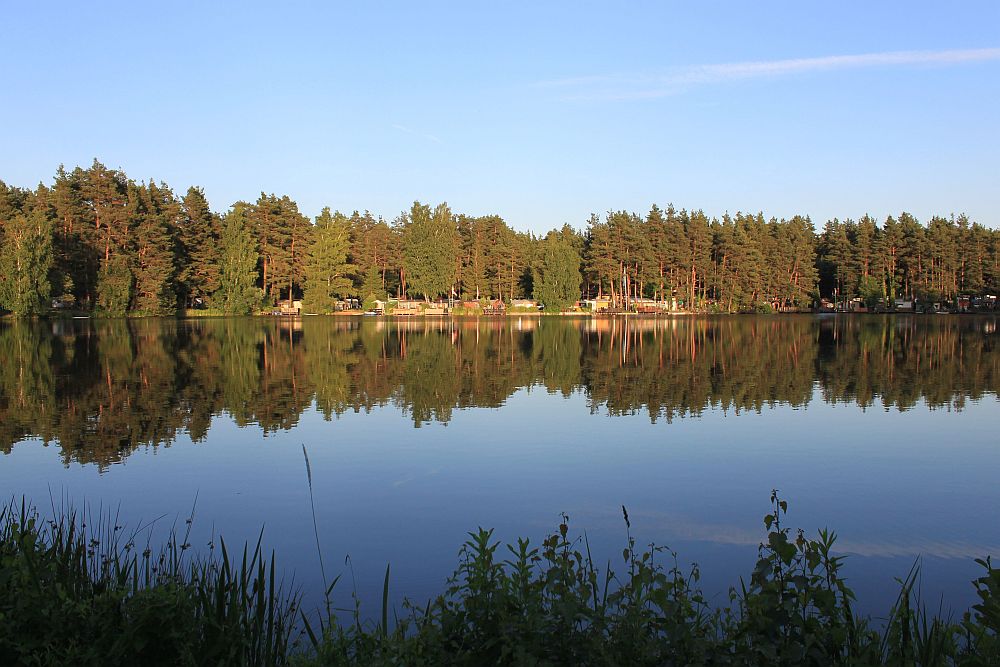 Wednesday 20th June. We seem to have developed the habit of having a lazy day following the journey between campsites and that was true of today. The weather has not been particularly bright and we have had the odd shower which would not encourage us anyway! After lunch we did managed a bike ride, the first one for some time. We rode into the nearby village of Wallesau, there is not a great deal there as is often the case in the middle of the countryside. We then followed a track that runs along one side of the campsite through the forest which seemed to go on and on. Not wishing to exhaust ourselves we retraced our steps back to the campsite. We must have been away and hour.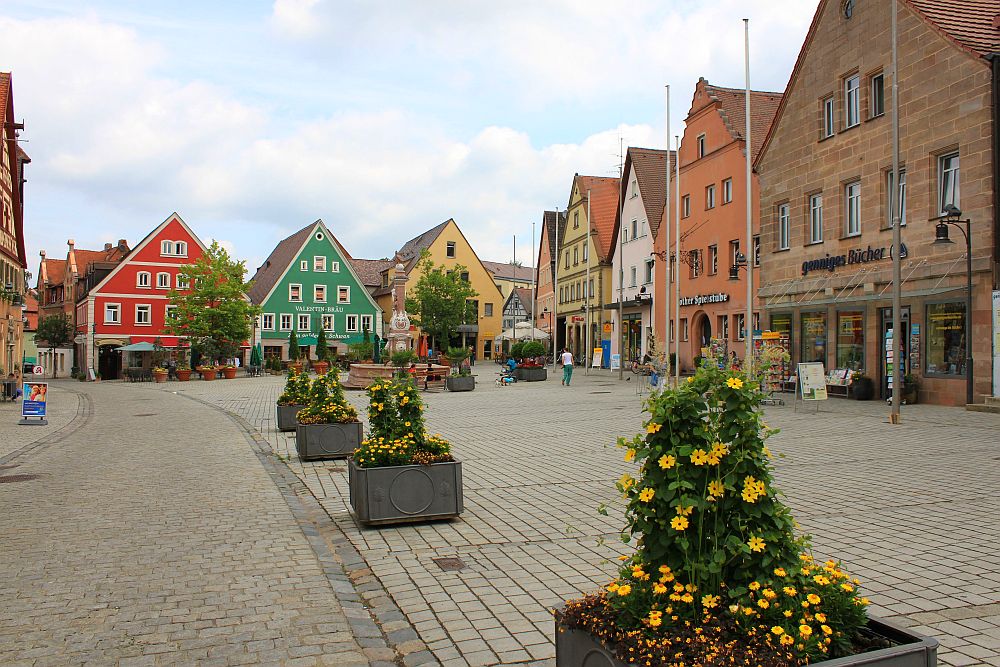 Thursday 21st June. We had a drive out to the nearby town of Roth. The journey was also useful as a means of getting back to the main road with the caravan when we leave this campsite. Roth is a pleasant enough little town with a nice central Square. We wandered into a Book Shop only to be approached by one of the assistants who spoke English. She did her best to sell us something but without success! After our tour we found a REWE supermarket for some shopping before returning to the campsite but missing the 1.00pm deadline by minutes so we parked outside until the site reopened. This is the one thing we dislike about German campsites. It would also seem that some of their potential customers do as two days running we have seen outfits arrive during the lunch time closing period and just turn round and go away. Now this could be because they have had an opportunity to get a proper look round the site before committing themselves or it could be that they were unwilling to wait. Today we decided that we would stay here until after the weekend and leave on Monday however we now wonder if we have been a bit rash. The reason being is that two German couples arrived today with 5 dogs between them and one couple have positioned their van looking directly onto our pitch so we have no privacy. I just donít know how anyone can be so thoughtless! We had originally tried to put our van across the pitch but levelling would have been a problem. We have to reconsider that.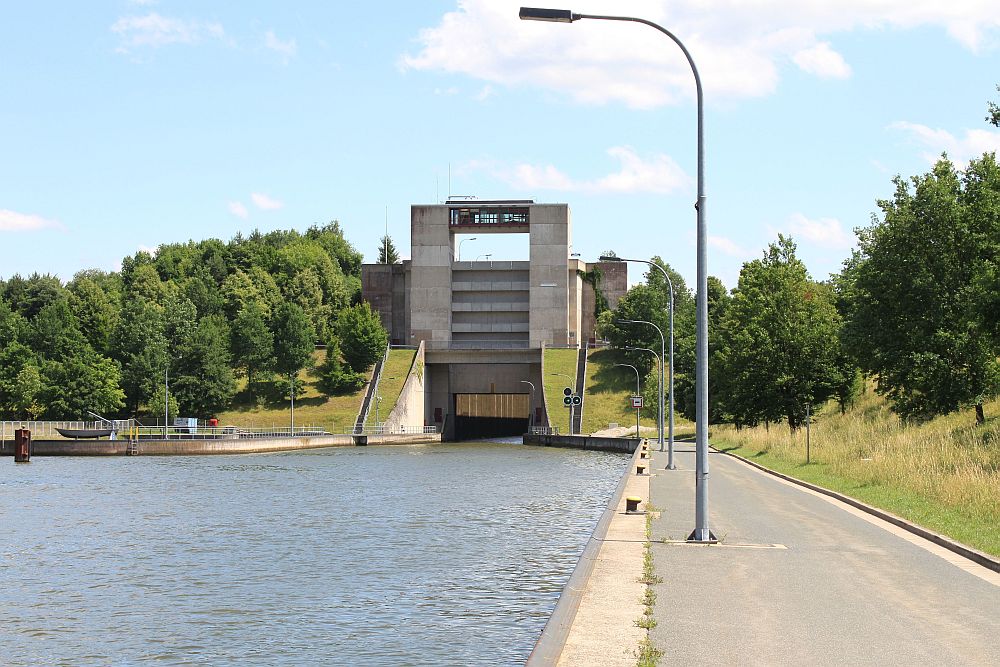 Friday 22nd June. After a night of rain and the occasional shower of fir cones from the trees above we were not quite sure what the weather would do during the day. As it happens after a dull morning it did gradually get brighter. After lunch we drove out to Rothsee which is a large reservoir which has many car parks around the lake. I was a bit surprised that all the car parks were pay ones. To get to the Rothsee we had to cross the Main Donau Kanal and we did a short detour to have a look at the lock, Schleuse Eckersmuhlen. We could not get really close to the lock but it looked long enough to take the QE2! We just missed two cruisers going through the lock but unfortunately no barges. We drove a bit further around the lake and then retraced our route back to Hilpoltstein where we stopped to have a look round. Another typical neat and pretty small German town where all the roads in the old town had been made to look as if they were pavements!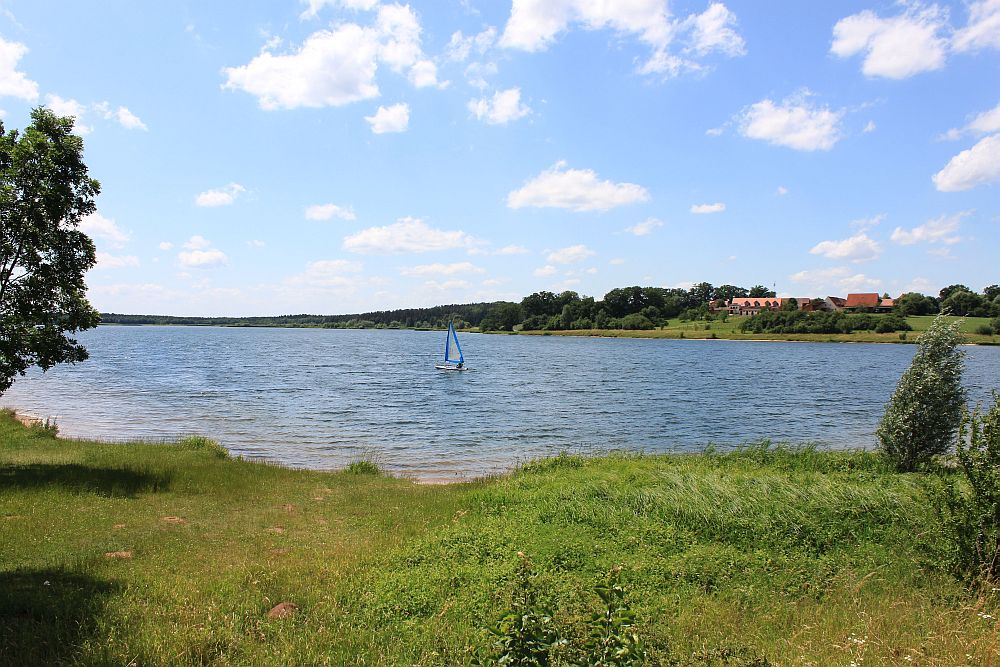 Back at the campsite it seems that ourselves and a couple of Dutch units are very much in the minority. The only arrivals today have been Germans and clearly they are not here for a peaceful weekend as unfortunately tonight the are playing Greece in the quarter finals of the European Championships a game they won convincingly which does nothing to discourage their sometimes vulgar behaviour. I am sure it would be the same if England were playing and we were on an English campsite. If it had not been a Grand Prix weekend I think we would have moved on. We are still being BBQíd at both sides. Unfortunately our stay on this site has rather reinforced the perception that Germans can be very self-centred with little regard for others, even fellow Germans!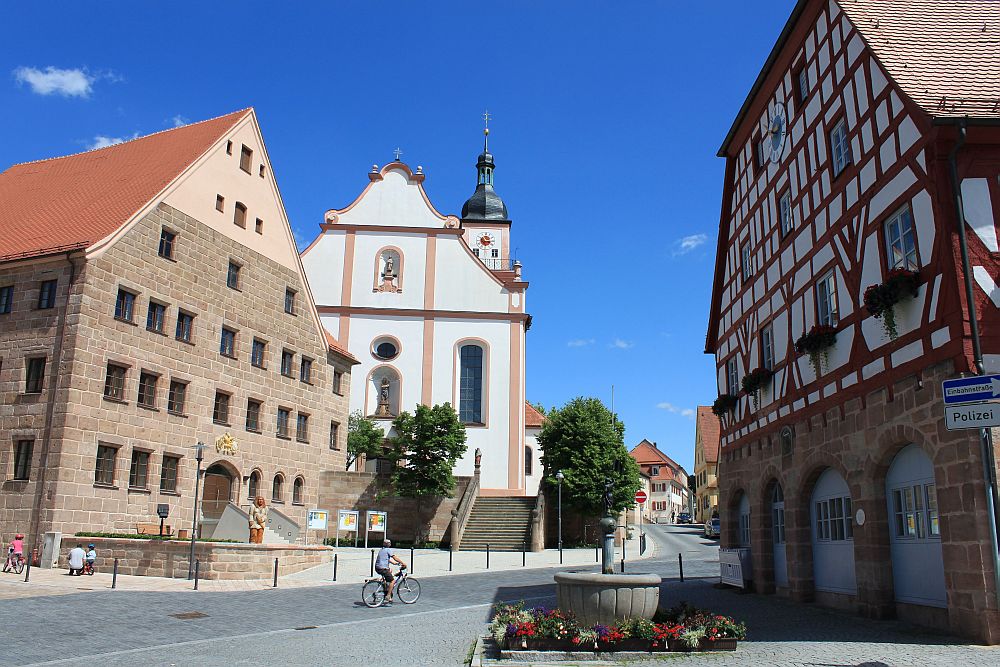 Saturday 23rd June. There have been a few more arrivals today and the two pitches next to us are now occupied. We watched the qualifying and another pole for Sebastian Vettal. Afterwards we went out on the bikes and tried a different track through the forest. Our bikes are more designed for road use so grip and comfort suffer a bit. I suppose we could invest in better bikes but in truth we donít use them enough to warrant that. Mind you I often find Margaret eyeing up electric bikes which could be the answer but I think weight would be a problem.
Our neighbours were out most of the afternoon and only came back after we had finished our own meal. We still had to put up with the smoke and smell of their BBQ, beginning to feel like a kipper! I appreciate they are perfectly entitled to do what they want but we have found the last few days quite dispiriting and perhaps we should have been prepared to move on rather than stay and stew. At the risk of sounding very snobbish I had not appreciated that there seems an element of German society that you would steer away from if you had the choice. Perhaps I am missing Caravan Club sites!
Sunday 24th June. This is our last day at Camping Waldsee. Sodís law of course, all the neighbours who have made the last few days uncomfortable have packed up and left today, leaving Camping Waldsee as a perfectly acceptable campsite! Unfortunately we could not enjoy the peace and quiet and smoke free environment as it went a bit grey later in the afternoon and rain threatened. We did watch and exciting Grand Prix which Alonso won but not before Hamilton, Vettal and Grosjion went out but at least Mark Webber came in fourth after starting 19th on the grid.
Monday 25th June. After some overnight rain it dawned a bit dryer although still grey. We had to pay this morning because there is an extra charge for all electricity used over the 4 Kw daily allowance, we seemed to have gone over this figure by just over two Kw per day. We were away from the campsite a little after eight thirty and we were soon on the motorway heading west. Within two minutes of being on the motorway we were caught up in a dreadful tailback which meant that in the first hour we travelled about 30 miles! This was important as we were trying to get to our next campsite before it closed at 1.00pm. There were more difficulties to come with two more holdups, often caused by the smallest of roadworks. Perhaps it was because it was a Monday which is the first day after the weekend when lorries can generally use the roads. We gave up on our quest to get to the site early and decided to have lunch and rest at a small parking area. We eventually got to our campsite, KNAUS Campingpark Bad Durkheim, at about 2.30pm and there were already five caravans in front of us. We found ourselves a pitch in an area that only had about half a dozen units, two hours later it was full. I expect many will move on tomorrow seeing as some have remained hitched up.
Tuesday 26th June. A day of recovery and sorting out. Margaret did some washing first thing as the day weather wise looked OK. I am not sure how many non-German visitors they get to this campsite but there is nothing in alternative languages, even how to acquire tokens for the washing machine. Even the rules and regs handed out when we booked in were only in German so letís hope I donít do anything wrong! The previous campsite we were in which probably get far fewer non-German visitors at least made an effort. It is also very frustrating to have this closedown for two hours in the middle of the day which you are constantly having to plan around. We did move the car out of the site but the parking is some way from the entrance. There seems to be a serious short fall in the perception of what the customer wants, perhaps they have a phrase saying the customer is always wrong!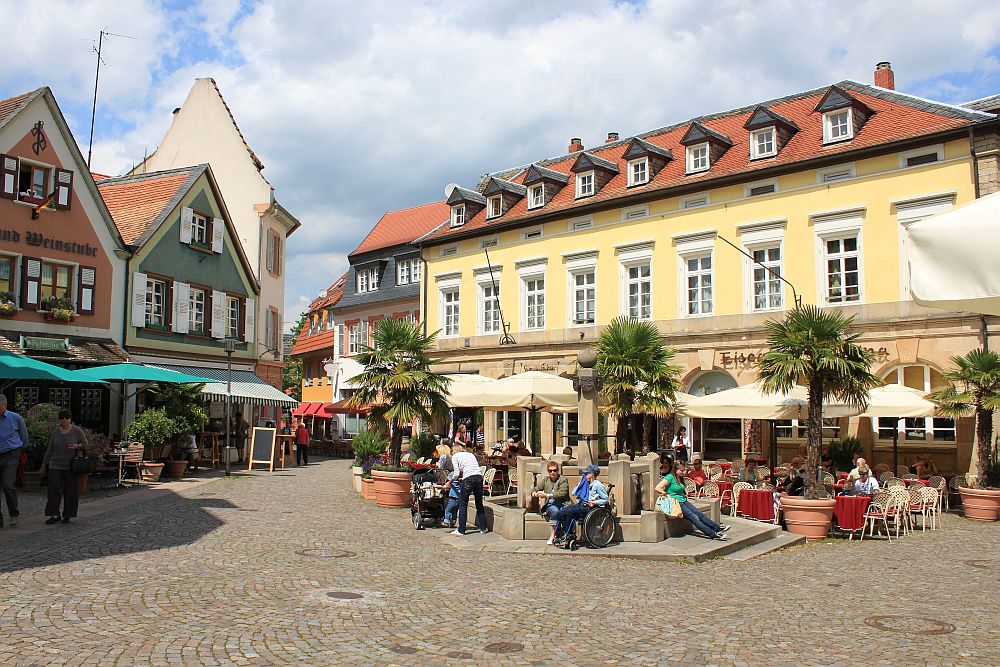 After, our, lunch we drove into Bad Durkheim to have a look round. Firstly there was an impressive free car park which was a good sign. Being a Spa town there is lots of green space in the form of a lovely town park. There are lots of large hotels which is not uncommon in Spa towns. Bad Durkheim is surrounded by vineyards and the town is very much the centre of local wine production. The town itself looks quite modern although there are some older parts. Whether this is because of recent history I am not sure but still worth a visit.
As expected the site emptied out this morning but a fresh batch of campers have arrived this afternoon. Opposite us is an older German couple and he has spent hours trying to set up his satellite dish (know the feeling!). I discovered he spoke English so I offered him my signal finder but this did not work and I think he has a problem with his co-ax lead which seemed of pretty poor quality.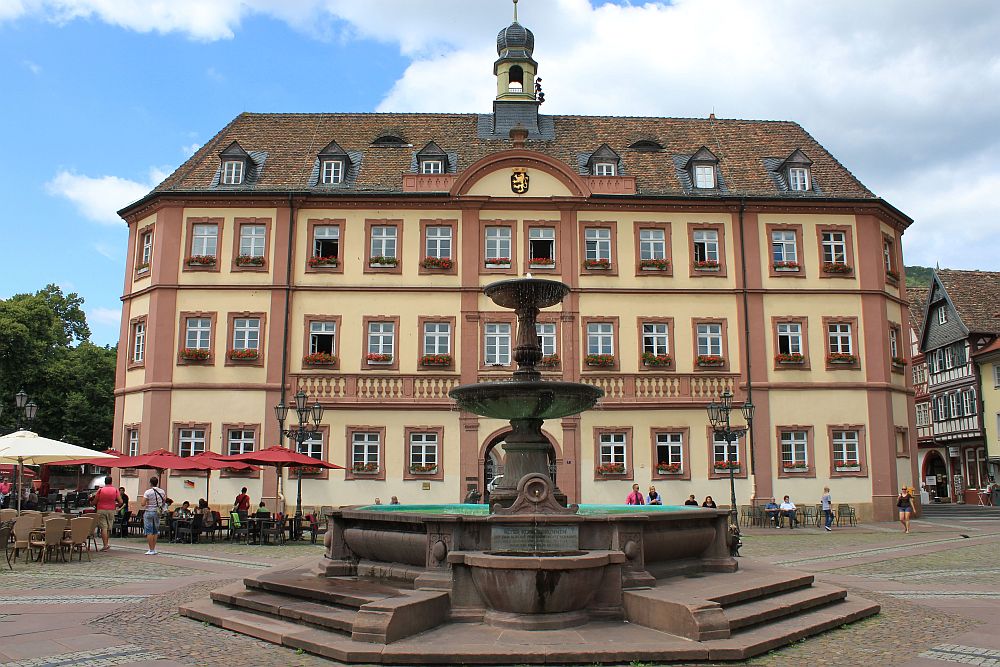 Wednesday 27th June. This is our last day in Germany as tomorrow we head for France. Today we decided to have a circular ride out in the car. The first leg took us to a place which was called, would you believe it Frankenstein! What really surprised us was the number of paper mills in this area. We then followed the road to Neustadt which is a mix of Harlow New Town and Winchester! The old was very attractive but the new not so and I suspect some of the new will soon be redeveloped. The completion of our triangle was back to Bad Durkheim but before returning to the site we headed towards the motorway to see if it would be a short cut. It was a complete no,no with the caravan but none the less an attractive route through wine growing country. Going by how substantial the churches were along the route there must be money in wine growing! One last job was to fill up with fuel. The first place we tried was closed, extended lunchtime the curse of Germany! We found another where we were more successful. As it was too early to return to the campsite we decided to visit a large DIY store we had seen. Interesting to compare prices with the UK some things were very much more expensive whilst other things a bit cheaper.
Thursday 28th June. We left a bit later today but were still away before 9.30am. Fortunately the journey was without hold-ups and we made good progress. I had adjusted the average speed in TomTom to 50 mph as we were finding that the arrival time was getting progressively behind time. Today it seemed to work quite well. Someone on one of the caravanning newsgroups had warned that there were road works in Metz and as we came off the motorway I missed the turning so had to do a U-turn. Not just the prerogative of Tory Governments! I am still not quite sure how we go to the site but relieved when we arrived at the Camping Municipal Metz-Plage. Another country, another language. At least this one I understood a bit better and managed to check-in in French, albeit of a fairly limited nature. The site was quite busy when we arrived not long after mid-day. We found our pitch and actually had the van in three different positions before we could get it level. Almost up to the point of darkness units were arriving and the site must be full. There were caravans on pitches that should not be pitches. One thing we have noticed this year, more than other years, is how full some of the sites we have used have been. The vast majority seem to be Dutch and I suspect most, like us, are heading home.
Friday 29th June. It was a pretty rough night with thunder and lightning and heavy rain. It was also very humid which made it more uncomfortable. It was still dull when we got up and it started to rain again en route to the supermarket. There was a dual purpose to this trip as it was also a means of finding out how we could extract ourselves from Metz giving all the road works. I think we were lucky as the main storm did not happen until we were actually in the supermarket. There must have been a lot of rain as the campsite was sodden when we got back. I have to say how wonderful it was to be in a proper supermarket after weeks and weeks of putting up with tiny shops with little real choice. Also the fuel was cheaper, around £1.06 a litre, bet itís not as low as that back home! Given the wooded nature of the campsite I was surprised to be able to get a good satellite picture, worth it even for the last 5 minutes of the Germany v Italy game! At least England left the competition not having been beaten in normal playing time. It did mean I had to put the dish quite near the road although still on my pitch. When we returned the dish looked a bit odd with the cable disconnected from the LNB. Clearly someone had given it a whack as the LNB was also slightly damaged. Fortunately I was able to get it working again, just as well I had another F socket!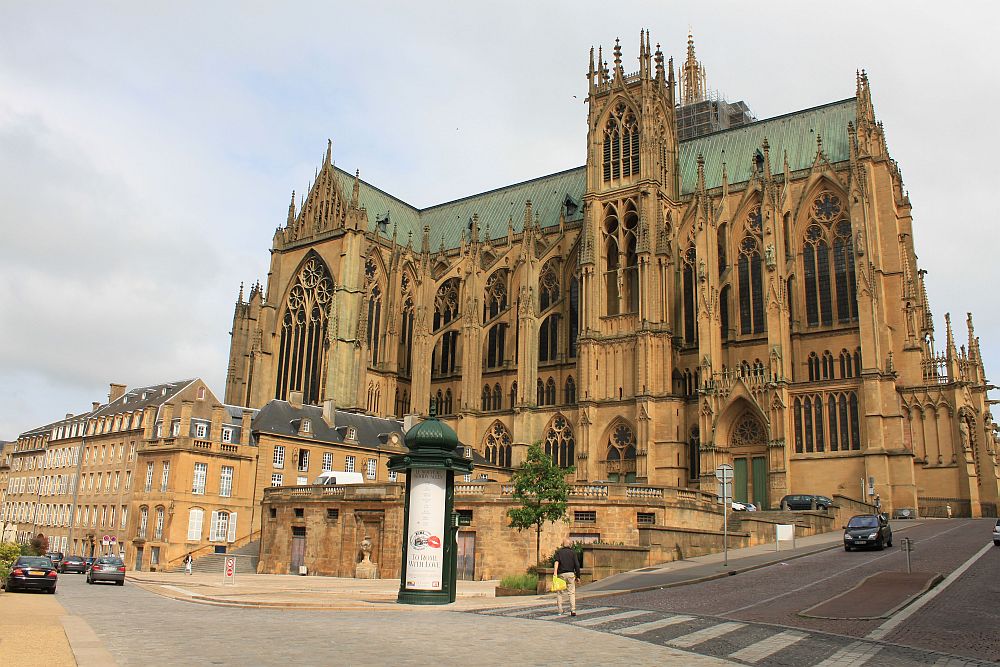 The weather got brighter during the afternoon so we decided to have a walk into Metz, the centre being very near to the campsite. Itís a very solid looking city with sandstone being the material of choice. The Cathedral was impressive from the outside but quite austere on the inside although the stained glass windows were nice. Across the road is a Covered Market with lovely food stalls. Just the sort of place you would find Raymond Blanc! For the past two days we have had another English couple on the next pitch in their motorhome, Carol and George. A very pleasant couple, it was nice to have someone to chat to.
The last day of June and we have been away from home for two months now. We left Metz this morning quite early as we imagined it would be chaos if we left it any later. Canít say that we particularly enjoyed the site as it was just too crowded. It could be everyone returning home before the school holidays start. I am sure we would have felt happier about the site had units not been crammed in to every spare space. Having said that we had a decent sized pitch and the City of Metz is well worth a visit. It was a relatively straight forward journey once we had negotiated the deviation in Metz. We arrived at Camping au bord de LíAisne in Guignicourt before midday. This site was previously a municipal but is now in private hands and I would imagine there has been a lot of work already done. We chose a massive pitch down by the river. Rather amazingly I think this is the only site we have been on this trip without any Dutch onsite, although that changed later. However unlike Metz the site did not become overbearingly full and as the pitches are larger you at least have a feeling of space.
Sunday 1st July. Many of the people that arrive yesterday departed today and not so many have arrived. A pretty lazy day today although we did go out for a walk into the town this afternoon. We thought we would like to walk along the river as we had seen others doing this but when we go to the gate from the campsite it was locked so we started to double back to the site entrance only to be stopped by one of the French people on one of the seasonal pitches. He asked if we wanted to Ďsortieí the camping and when I said yes he gave us the number for the combination lock, which was nice of him. Centre Ville is not very large but has a substantial church and a nice Marie with a small square in front of it. We walked back along the road to the campsite. It was a beautiful evening and it seems to stay light here a lot longer than further east and south. Off to our final site in France tomorrow.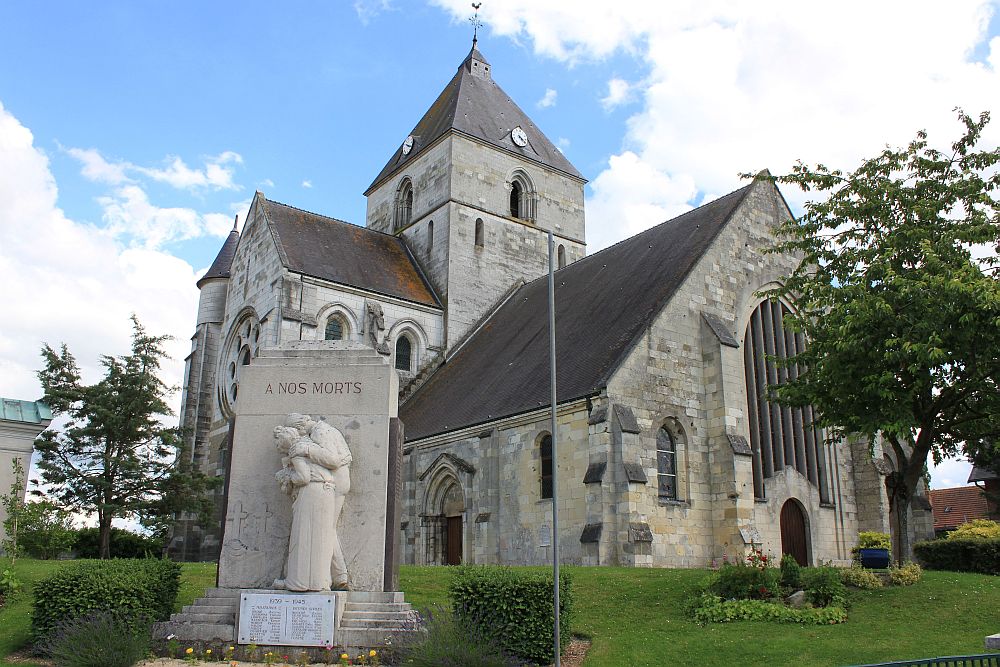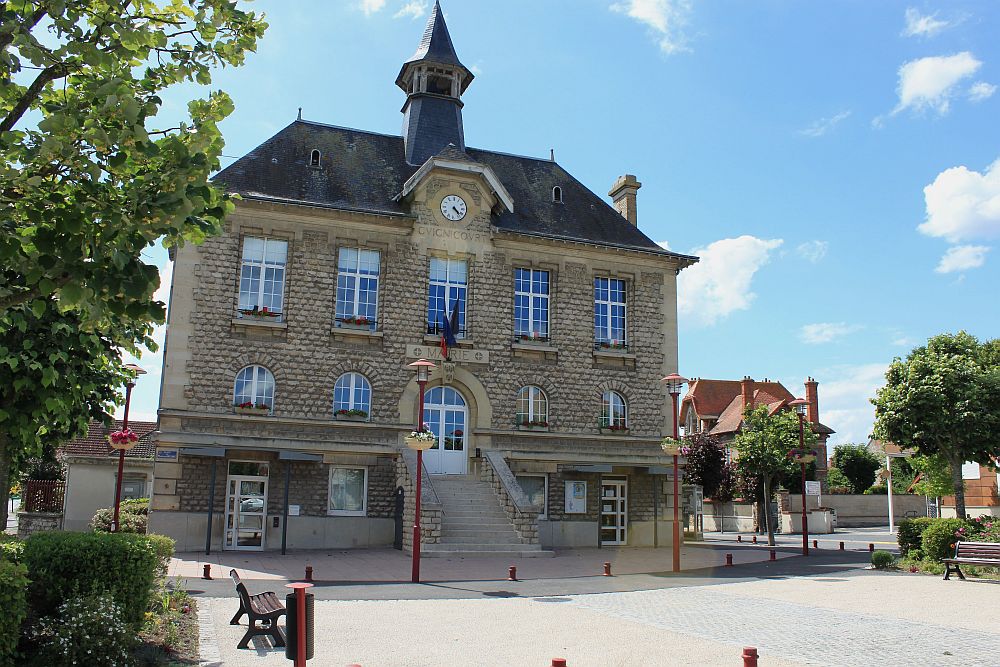 Monday 2nd July. Today we travelled 160 miles north to a campsite not far from Calais. It was a very easy journey with little traffic on the roads, no doubt a far cry from our journey in two daysí time around the M25! The campsite we are now at, Les Epinettes is new to us but it seems to be popular with some on caravan forums. At Ä13 a night in high season you canít really complain! However itís one of those campsites that canít decide where its market is. 75% of the site is taken up by mobile homes and seasonal pitches with only the minority being available for touring units. I suppose it would be too much of a gamble to give more of the site over to in transit units which has to be balanced against regular income provided by the more permanent element. Perhaps the answer is to increase the size of the site but with new houses being built up to the site boundary on one side maybe this is not possible. Even if they increased their nightly charges to Ä20 a night they would still be much cheaper than some of their main competition.
Tuesday 3rd July. Our last day in France so we had to do the obligatory shopping trip to Carrefour at the Cite de Europe. Having said that it does not have the magic it once did and the throng of UK visitors that filled the Mall of years gone by is no longer there. I thought the supermarket looked a bit tired although I noticed they are introducing scanners so customers donít have a long queue at the till. Seems a bit late in the day as Waitrose have been using them for years. Not so many people have arrived at the campsite today and like last night there is still space.
Wednesday 4th July and the day we head back home. It was only about 6 miles to the Eurotunnel, I think the nearest we have camped to it on the French side. Our Tunnel crossing was booked for 10.50am but we got there early and managed to get on one an hour and a half earlier. In no time we were heading north on the M20. Usual delay at the Dartford Crossing. Some people have suggested that it is time for a totally automatic system with people being billed directly via number plate recognition. Whether it will ever happen I donít know but it is without doubt that having to go through toll booths is causing congestion. After the Crossing things improve a bit because the road widening works on the M25 are completed and a 4th lane certainly makes it easier. The only problem was that we kept seeing signs warning of long delays on the M1 between junctions 6 and 9. We stopped at South Mimms for a comfort break, I had to toot a car that was parked in one of the remaining caravan places despite there being plenty of parking spaces elsewhere. As we left the Service Station my navigator got a bit confused between the M1 and A1 and before we knew it we were heading north on the A1! It was a sort of happy accident as we were able to cut across to the M1 via St Albans thus missing some, but not all, of the hold-up. We were home just after midday, having been away for nine weeks. Mind you still a lot of things to be sorted out after our episode in Rome!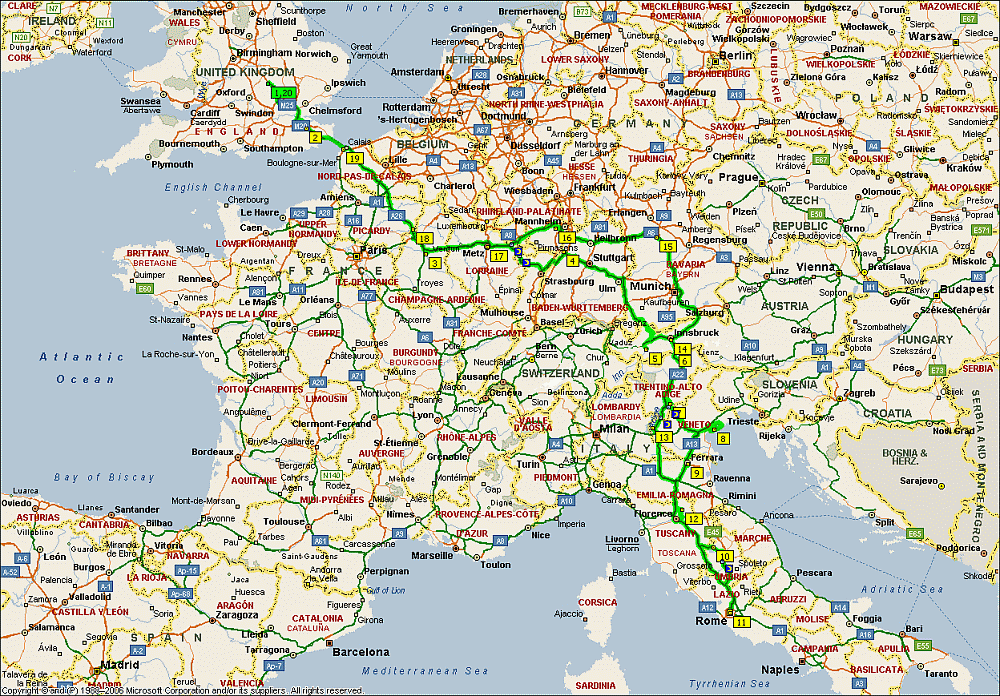 For those of you that like statistics we towed a total of 2896 miles plus about another 500 miles on trips out. We spent just over £900 on fuel. We were away for 64 nights and campsites cost £976. Where possible we took advantage of the ACSI Card discount scheme which meant we spent on average about £15 a night once extras like tourist and environment tax, and in one case metered electricity had been added to the bill.
Because of our difficulties in Rome it would be easy to imagine that such an incident would over shadow the whole holiday. Whilst it was difficult to get it out of our minds we did our best not to let it spoil the trip. Would we do it again? I think it would take some persuading Margaret to go much further south in Italy than the lakes. I think sometimes we can have what I call a 'Tuscan' view of Italy with charming villages and countryside but going further south we came to the conclusion a lot of it is best viewed from a distance! Whilst Rome is a beautiful City a lot of the surrounding suburbs are quite shabby as are some towns. Added to this the roads are often very busy and Italian drivers not as forgiving as we are perhaps used to in other parts of Europe. The strange thing is that some years ago we went to Sorento, near Naples, not with the caravan, and loved the town and the Amalfi Coast so perhaps I am being a bit harsh.
Writing this final part of the Blog it now nearly a month since we got back home. Most things have been sorted with cards replaced etc. Natwest, Nationwide and Partnershipcard were very good in that they allowed us to continue to view and use our accounts online. Nationwide even allowed Margaret to continue using her cards despite the second cards on the accounts being in my stolen wallet. Without them we would have been in real difficulties. Tesco on the other hand blocked access to viewing the account online so it was a matter of guesswork as to what we owed. As might be expected I have written to them on this issue! Government departments and organisations often come in for criticism but I have to say I was impressed with the way the DVLA helped me get a copy of my driving license by fax to the campsite in Rome, all this hours before the 4 day Jubilee Bank Holiday. Strangely the only outstanding issue is that of insurance for what I had stolen. We had taken out holiday cover, as usual, with the Caravan Club's Red Pennant insurance which is not the cheapest option by some way but reputedly the best. Whilst I understand that insurance companies have to safeguard themselves against fraud but from an honest customer point of view this can came across as annoying nit picking. I have had to provide a second lot of information to the assessors some of which I would have thought was common sense but there we go! I should perhaps read the T&C's a little more carefully in future to check the depth of cover. As an example calls to the Red Pennant Assistance Centre are covered but not the more essential, and more expensive, calls to banks and card companies. This is not a dig at Caravan Club staff at HQ because when I rang the Club they were sympathetic, albeit there was little they could do. They offered advice which I was grateful for and even rang me back to see how I was getting on. When annoying things like this happen you do start to wonder what would happen in a real emergency! I suppose the answer to that is that you won't know until you need them in such circumstances. Having said that there are many stories of where RP have come up trumps when the chips are really down, so I will hang onto that thought!