In search of Edelweiss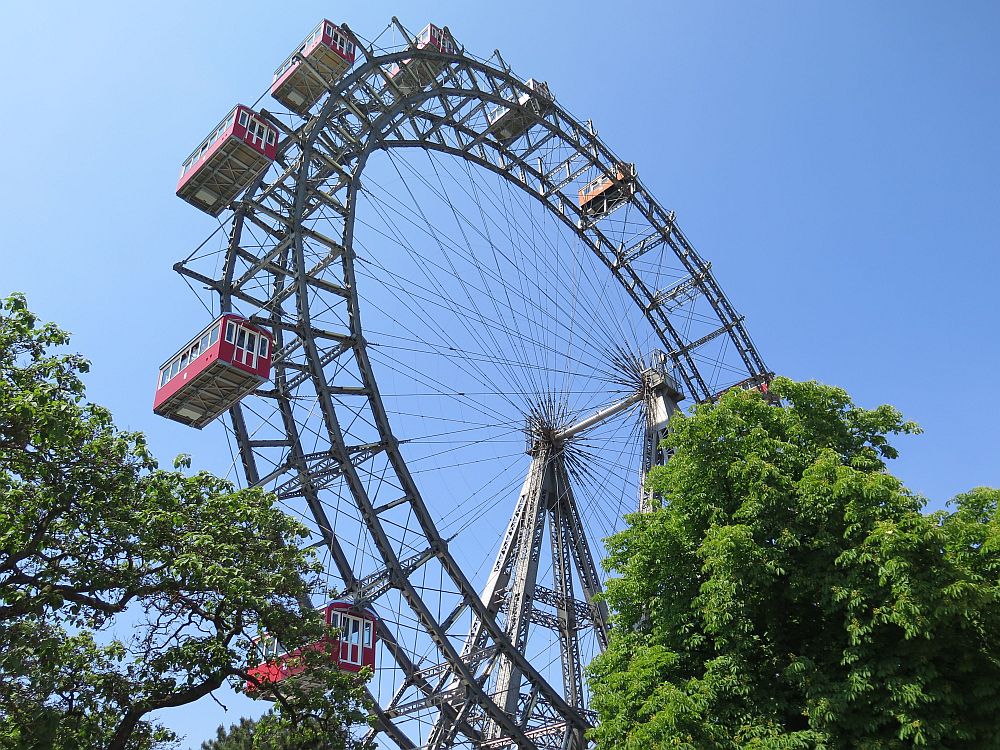 Tuesday 3rd May. We set off today on our first long trip to Europe for nearly three years. OK we had a month last year as a bit of a taster. We seem to have been getting ready for ages and I sometimes think it was easier when we were at work and time was always in short supply!!! At least it was dry and sunny when we got up and there was not much to do and we were on our way before 11.00am. Progress was not so bad down the M1 but the M25 was very slow. We stopped at the Dartford Services as usual. I was interested that next door to the caravan parking there were bays with electric points for charging refrigerated lorries. I thought this seemed to be a good idea until a lorry came and plugged in and the noise was horrendous. Just imagine spending the night in the caravan next to that. You would have thought it might have been better planned.
We eventually got to Black Horse Farm. In all the years we have been using this campsite I have always been a bit surprised that the reception block was more like a shack. All this is about to change with a new reception building under construction. It did mean that quite a few of the ferry pitches were out of action.
Wednesday 4th May. For some reason neither of us seemed to have a very good night's sleep so when the alarm went off at 6.00am we were far from rested. Serves me right for booking an early morning crossing to save a few pounds. We are starting to realise that what might have been the norm twenty years ago does not really apply now so some rethinking needs to be done? Our (my) initial plan was to get off the Tunnel and head for Ste Menehould, a distance of just over 200 miles. Over lunch we decided that we would head for Peronne at, Camping du Port de Plaisance, and stay a couple of nights there to gather strength for the onward journey. The journey down the A26 is always a pleasure and it always seems as if it has been built entirely for your own use. OK they allow an odd car or lorry to appear to make sure you know that the end of the world had not happened!! Different matter when we headed onto the A1 which is the main route to Paris and it was pretty busy we only had to go to junction 13 before turning off the motorway and across country. When we arrived at the site there was no one in reception, which only opens in the morning and evenings at this time of year, but there was a notice inviting you to find a place and book in later. We found a spot where we might get a TV signal. When she arrived the lady on reception was charming even giving me a card to get free WiFi. When we left Black Horse Farm, whilst the sun was out, it was still quite cold. Fortunately the sun stayed out and it got a lot warmer, almost hot!!!
The Canal du Nord runs along one side of the campsite and is still used by quite large barges.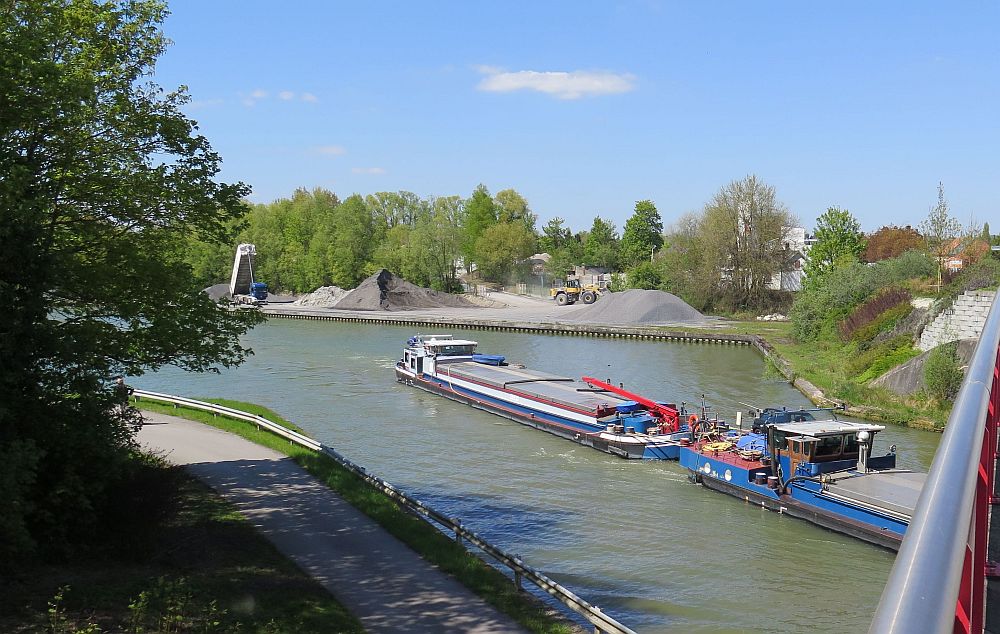 Thursday 5th May. Another lovely day and we are staying at Peronne for another day. Slight hiccup with our showers today which were almost in cold water!!! Because we only have 6amp electrics I can only run the water on the lower level setting and if you also want heating, still cold overnight, it gives the heating priority. I decided to use a combination of electrics and gas. Trouble was I am using a different type of gas cylinder and I don't think I had the valve open fully!!!
We walked into Peronne today which is about a mile and a half from the campsite. It has quite a nice centre but otherwise it looked a bit run down with many closed premises. Also lots of businesses just did not seem to be open. In the old Castle there is a museum dedicated to the local battles in the First World War which raged here abouts. On the approach to the town are some large lakes and we saw a small flotilla of Dab Chick chicks and also a group of Mallard chicks being guided by their parents.
The site emptied out this morning with only a couple of us staying put. We noticed one car and caravan arrive around 1.00pm and they pitched up for lunch and then left the site. Can't see that happening on a Caravan Club site!!! The site has about 90 odd pitches and we had what I call beach syndrome when a small camper van with an almost empty site at their disposal came and plonked themselves down right next to us!!! We obviously have magnetic personalities!!! Fortunately it thought better of it and moved to another spot.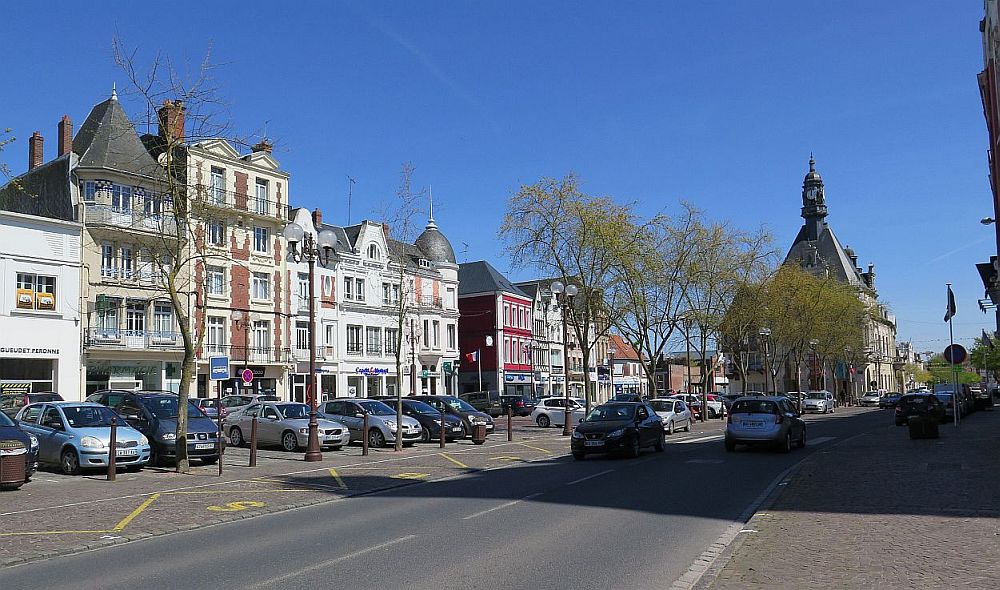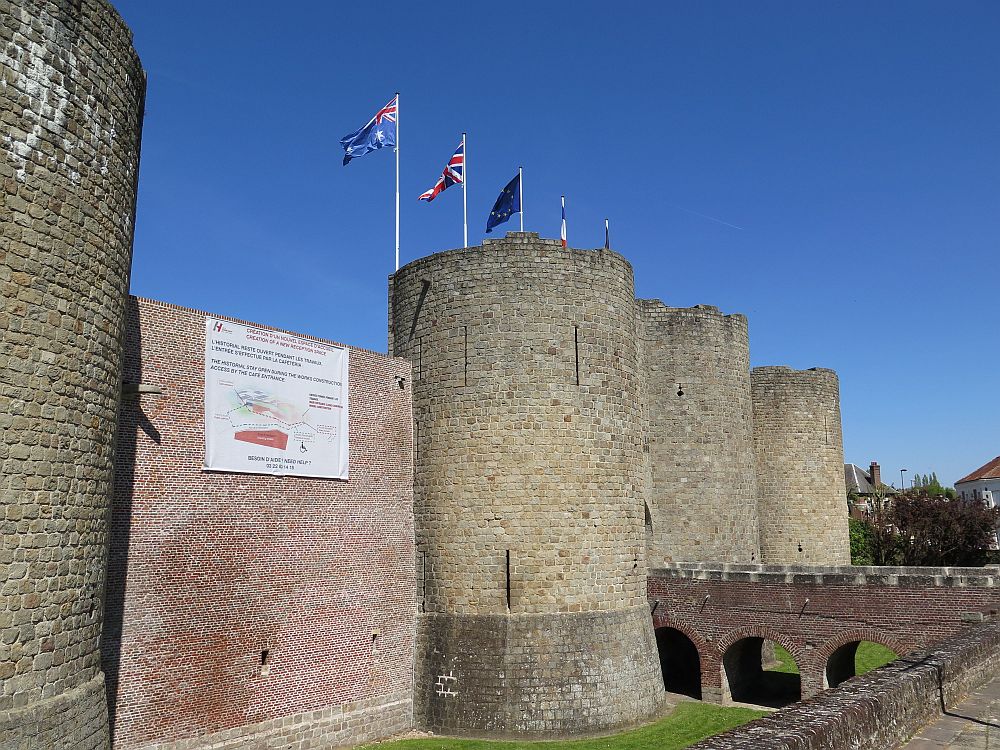 Friday 6th May. It dawned another lovely day today although not so warm first thing but by the afternoon easily into the twenties. We left Peronne today to continue our journey eastwards towards Germany although we are not there yet. The first part of the journey took us along what used the be called N roads, or Route National, but with the ever increasing number of autoroutes they have been demoted to D or Department roads. Although these roads are punctuated by small towns and villages from time to time you do get the impression of being in real France. At St Quentin we joined the A26 south. There seemed to be a large number of Belgium registered cars on the autoroute being driven, as always for Belgium drivers, with some urgency. We headed out east on the A4 which suddenly became a lot quieter so perhaps a clue that our Belgium chums may have been heading south?
We pulled off the autoroute and headed for Ste Menehould as we knew there was a Super U there with plenty of parking for a motorhome. It seems only a few years ago that all but the largest supermarkets in France closed at lunchtime but now it's fairly rare to find. As per usual we go one at a time to the supermarket leaving one of us with the motorhome. I usually purchase the water, wine and beer. I even included some chocolate as of late this has been off the agenda as I have been on a bit of a regime. I will have to do more walking to compensate! I even remembered my gentle telling off at a supermarket in the South of France last year when I dumped a six pack of Volvic on the till point. This is no longer allowed, I suspect for sensible health and safety reasons. Each pack has a removable sticker which you peel off and hand to the cashier. With my part of the shopping done its Margaret's turn. I lock the van and wander off to look at the fuel station. Last time we were here I had to back out as I didn't think I could get through the exit. This time I had a proper look and reasoned I could. I did manage to get through the gap but not without scrapping one tyre against the kerb.
When we left this morning the plan was to go to Verdun but we thought we would give a second glance to the small site in Ste Menehould, Camping Domaine de la Grelette, last time we tried it was still closed. This time the gates were open and I could see a couple of units already on the site although no sign of life in reception. There was a French guy in the washing up area who was very helpful and we had a sort of 50/50 English/French conversation the gist of which was that the "management" did not arrive onsite until the early evening. There were no instructions posted at reception but on the gate a telephone number which I rang and I established that we could pitch where we liked and someone would be on site at around 6.00pm. Just as we were about to start our dinner someone arrived so I trundled off to reception. In fairness it's such a small site that it was no distance at all. The conversation was a bit surreal as if we spoke in French he did not seem to understand me and it was only marginally better in English but we managed in the end!!! Having been relieved of €32 for two nights I went off to finish my meal.
Saturday 7th May. Another lovely start to the day and still warm. This morning we walked into Ste Menehould which is not far from the campsite. Whilst there seems to be a good range of shops there are also quite a lot closed up. It seems that France is still suffering a downturn in prosperity which seems to have gone on for a good few years now. We went as far as the river at the far end of the High Street where we sat for a while. On our return we stopped at a café for a coffee. The coffee was delicious although quite small but that might have been a good thing as I am not supposed to drink strong coffee!!! It's interesting that France has not seen the invasion by the likes of Starbucks etc. and yet you see any number of McDonalds and KFC's. We called into the Super U again so that we could look round together, inevitably we ended up with a bag full of shopping!!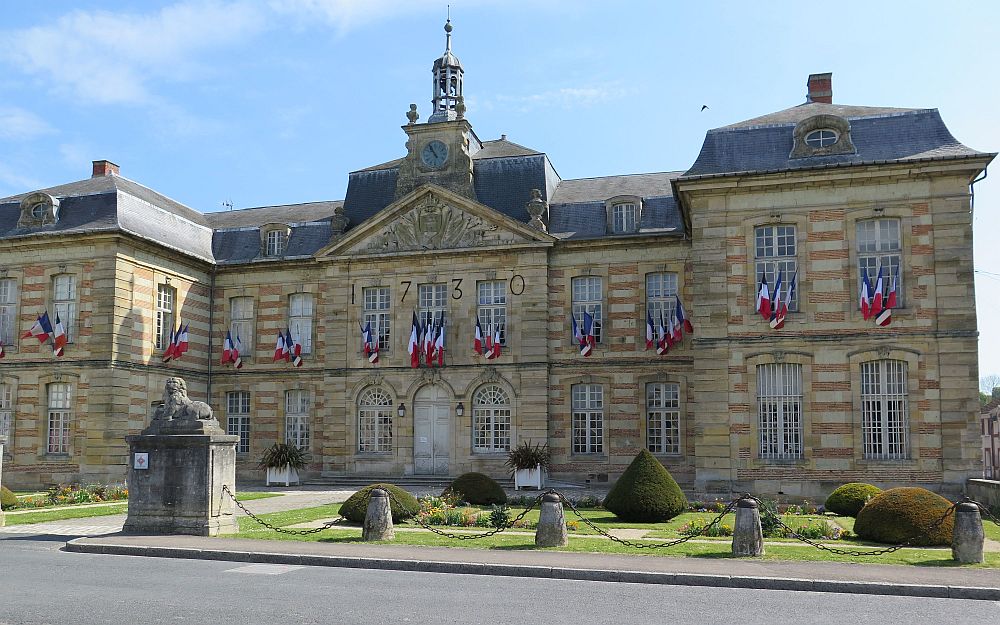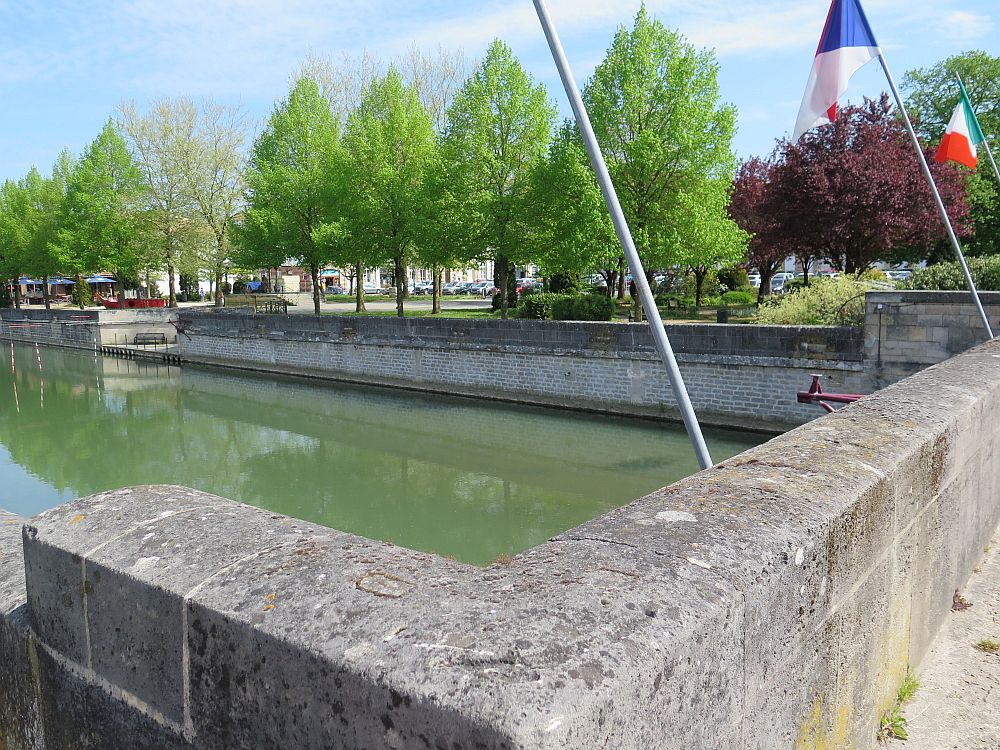 When we arrived back at the site the number of units had increase by a third by the presence of a French motorhome who happened to have parked next to us despite an almost empty campsite, that magnetic pull again!! We then relaxed in the sunshine for the rest of the afternoon under the sunshade.
Sunday 8th May. We are celebrating William Shakespeare's special birthday and as far as today is concerned the best interruption I can put on the day is a Comedy of Errors!!! The good news was that it dawned another beautiful day and if anything temperatures were even higher. Overnight, or at least before we got up more people seem to have arrived and occupied the static accommodation. Yesterday evening a French camper van turned up and the guy asked me about reception and I told him there were telephone numbers to ring but generally they turned up at around nine in the morning. I suppose being Sunday there was no sign of anyone at reception and despite trying the camper van left and it gets you thinking how many people do the same? This guy genuinely wanted to pay but there was not even a letter box to post the fee through. I suspect the site is increasing depending on the income of the statics which I expect are booked and paid for online and the odd camper/caravanner not paying is of no concern?
Since we have been away we have discovered that the tap on the kitchen sink is leaking, not massively but enough for it to be a concern. I went to unlock the habitation door and nothing happened. Fortunately this can be done manually but this problem has happened before. The cab doors are fine which rules out a battery in the key fob as being a problem. When we return home the van has to go in for two major issues to be sorted out to which I can now add another two. When we caravanned we had the odd issue with the vans but never as many as we have had with the motorhome costing three times as much!!!
We had a fairly long journey today into Germany. As we approached the German border (no obvious controls in place) the bleeper went off on the tyre monitoring system. Not losing any pressure but getting too high. I pulled off the motorway and found an empty supermarket carpark. Thank goodness for Sundays abroad! I could see nothing wrong, even when I held my shaving mirror behind the wheel to check. We got going again and all was well for a while. Just past the German border we discovered the A6 was closed and there was a diversion in place. Not really our day so far. We were heading for Ladenburg and the Camper Stop there only to discover it was full!!! So plan B had to come into operation but what was plan B? I knew that Neckargemund was not far away so I plumed for Camping Friedensbrucke where we had stayed some years earlier. This change also involved driving through the centre of Heidelberg!!! It was interesting as we drove along the river for miles and everyone and their granny was out on the banks of the river enjoying the sunshine. Fortunately when we got to Neckargemund they had room for us and we even decided to pay the extra two euros fifty for a riverside pitch! I can't claim to have seen all the rivers in Germany but I am convinced the Neckar is one of the prettiest not dissimilar to the River Thames.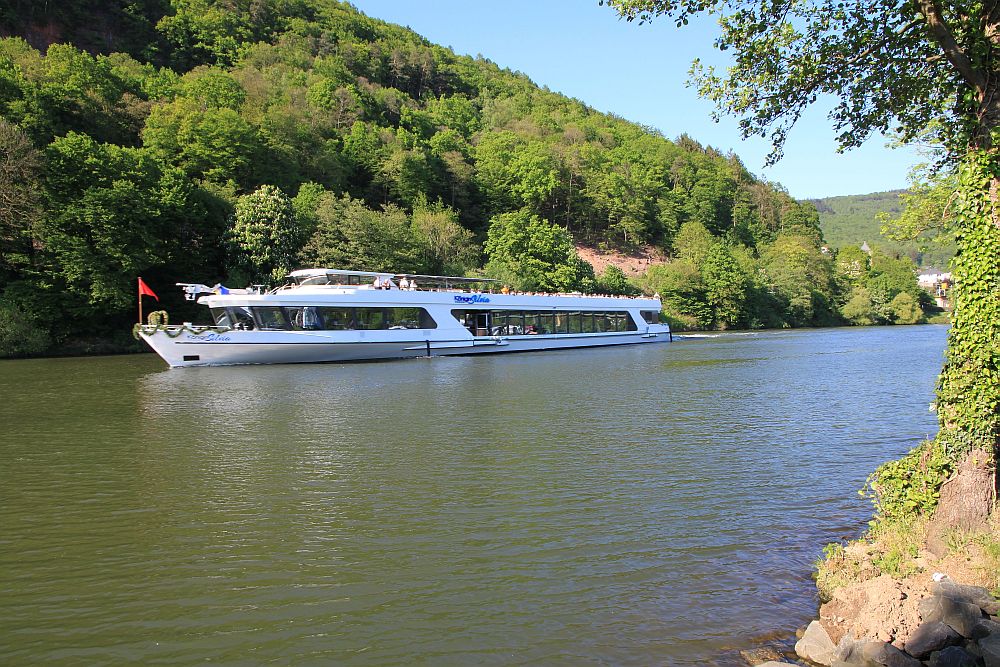 Monday 9th May. Another lovely day here at Neckargemund. Unfortunately not such good news on the door front. We have discovered that the key will not lock the door from the outside although it can be done from the inside by manually pushing the locking flap closed but you obviously have to exit via a cab door. The dilemma now is to decide what to do, if anything? If it gets no worse we might manage.
Habitation doors aside we did walk into Neckargemund this morning to have an explore. It seems quite a busy place in parts, I suppose due to being close to Heidelberg. We purchased a couple of post cards, not something we usually do but whenever we are in this part of Germany we like to send one to some friends back in the UK as Anne comes from Stuttgart which is not far away. Back at the campsite I had another look at the door but did not want to go too far in dismantling it just in case I got into more difficulties.
Tuesday 10th May. Not quite so nice weather wise today, in fact, in the afternoon it rained. The lock situation had been playing on my mind so I decided to give Red Pennant a ring and spoke to Roseanne. Previously I had done a search for local motorhome dealers and discovered that there was one about half an hour away. I explained the problem to Roseanne and she suggested that she should contact our local dealers, White Arches but she would also contact the German company. In a very short length of time I got a call from Craig at White Arches and we talked through the problem. He seemed surprised I could not manually lock the door with the key and it seems I was using the key the wrong way!!! Apparently it should be turned to the left to lock rather than the right!!! My excuse is that I don't recall ever locking the van manually before. Craig did say that he would book the van in for a more wide ranging repair of the electrics in the door when we get home. He suspects there has been a break in the connecting wires that has stopped the locking mechanism working. A little later Roseanne phoned to check on progress. She had rang the German company who had apparently said they would be happy to look at the door but as they don't carry spares its possible they wouldn't be able to undertake a repair.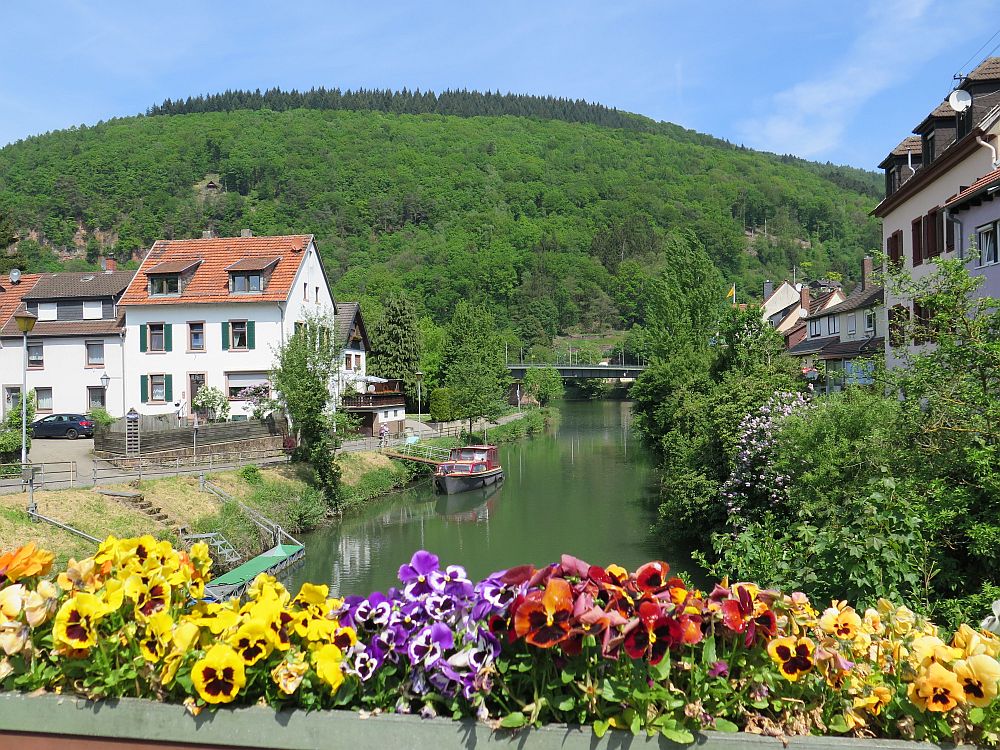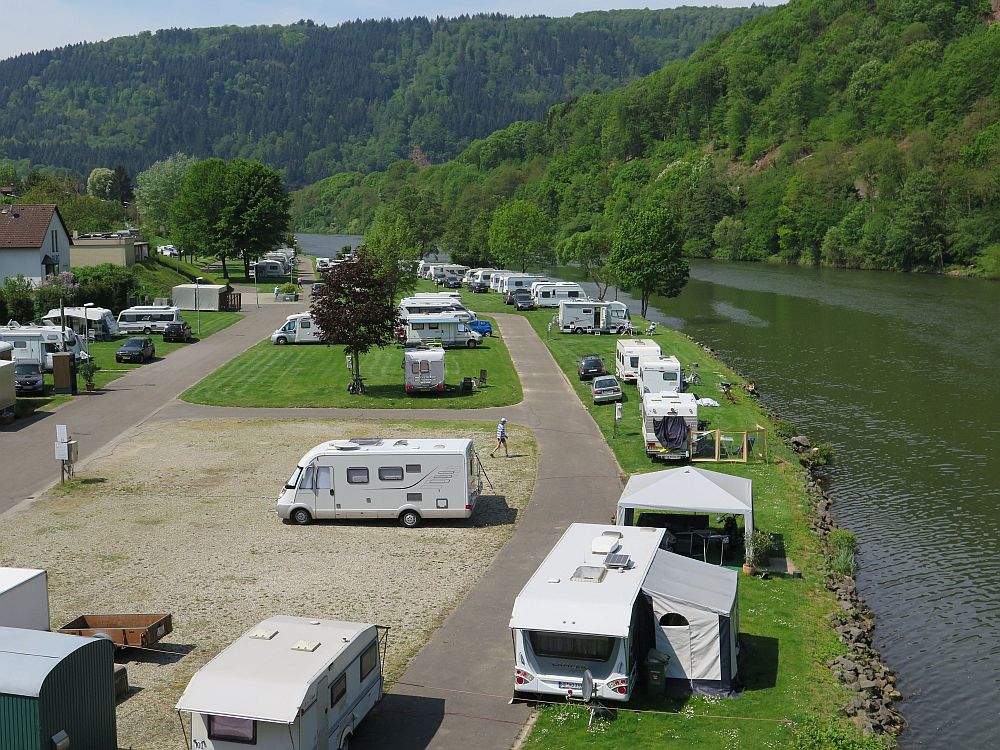 Somewhat relieved that we now have a proper method of locking the habitation door we set our minds to other things. We had been away a week and still not used the electric bikes. We needed some shopping but the shops were a bit far to walk and carry stuff back so it seemed an ideal opportunity. It seemed so easy just to whiz up the steep access road to the bridge and cross the river with little effort on our part. In fact the most exercise we get is lifting them on and off the bike rack! We chained them up outside the supermarket which must have seemed strange to any of the Germans watching our efforts as they just seem to leave their bikes anywhere without locks. We could do with a tad more storage space although I did have my rucksack which was hardly used. By the time we got back to the campsite it had started to rain a bit so we just put the cover over them whilst we had lunch.
We are moving on tomorrow. We will have to start getting used to paying for sites with cash as it seems unlikely we will find many sites in Germany and Austria that accept payment by card. Some of the sites we will be using won't be the cheapest as many are not in any of the discount schemes. At home we are so used to putting everything on a credit card and paying it off at the end of the month it seems so strange to have to carry so much cash. But when in Rome as they say!
Wednesday 11th May. We continued our journey south today. With the rain yesterday Margaret was a bit concerned that it might cause a problem with traction when we left the pitch. There was a bit of slip but we managed OK. The weather had cleared up and whilst not as sunny and hot as the past few days it was pleasant enough. The initial part of the journey was across country to Sinsheim on the A6. En Route I took the opportunity to fill up with fuel. People in the UK often complain about the M1 and the M25 and speak of them as every journey is slow moving. Having used both motorways quite frequently I would contest that view. However here in Germany, certainly on week days hold ups are par for the course on a daily basis. Whether it's just volume of traffic or poor management of roadworks/delays it's hard to say but the reality is that they are difficult to avoid. Eventually we got to our overnight stop just to the north of Augsburg. I was a bit concerned about some of the reviews I had seen about Camping Bella Augusta. Fortunately the reality was much better. I suspect many would have complained about the closeness to the motorway but fortunately the touring area is the furthest away. The facilities were certainly very good and we both used the showers so they must have been good.
Thursday 12th May. A bit dull when we got up this morning and not as warm. We head into Austria today to Salzburg. It did not take us long to hit a hold up and that was to be the story of our day, hold up after holdup. We travelled 140 miles which took the best part of five hours and even allowing for the odd comfort break that is slow going. The problem often is that you start queuing before you have any idea what is causing the problem. The ironic thing was that we were making quicker progress through the roads of Salzburg than we had on the open motorways!!!
We eventually arrived at Camping Nord Sam, a campsite we last used some 24 years ago. Initial impressions are that not a lot has changed with regards the pitches. They do now have WiFi which was unheard of all those years ago. We found ourselves a pitch as per the instructions at the gate. We even had the opportunity to sit outside with a cup of tea as the sun was struggling to come out. A bit later we walked along to the nearby SPAR supermarket for a few bits. Back at the campsite we booked in and provisionally said we would stay three or four days. We had another little explore outside the site and went to look at the restaurant suggested by the guy on reception. By the time we had started our evening meal it had started to rain which was amplified by water dripping of the trees.
Friday 13th May. I think someone should have reminded me of how much it rains in Austria. Since about 5.00pm yesterday evening it has been raining non-stop and over 24 hours later it is still raining. Not just drizzle but real serious rain!!! I have even put the canopy out part way to provide some shelter from the wet. As you can imagine it's been a pretty lazy day. In order to prevent us going completely stir crazy we decided to walk along to the restaurant recommended by reception for a meal. They managed to fit us into the corner of the bar where we had our very nice meal. The main restaurant was hosting a party. It's not a particularly big restaurant anyway. The young lady who welcomed us spoke a little English which was a great help. I suspect it's mainly used by the locals rather than having a big tourist trade. When we said we had been recommended by the campsite she seemed very pleased.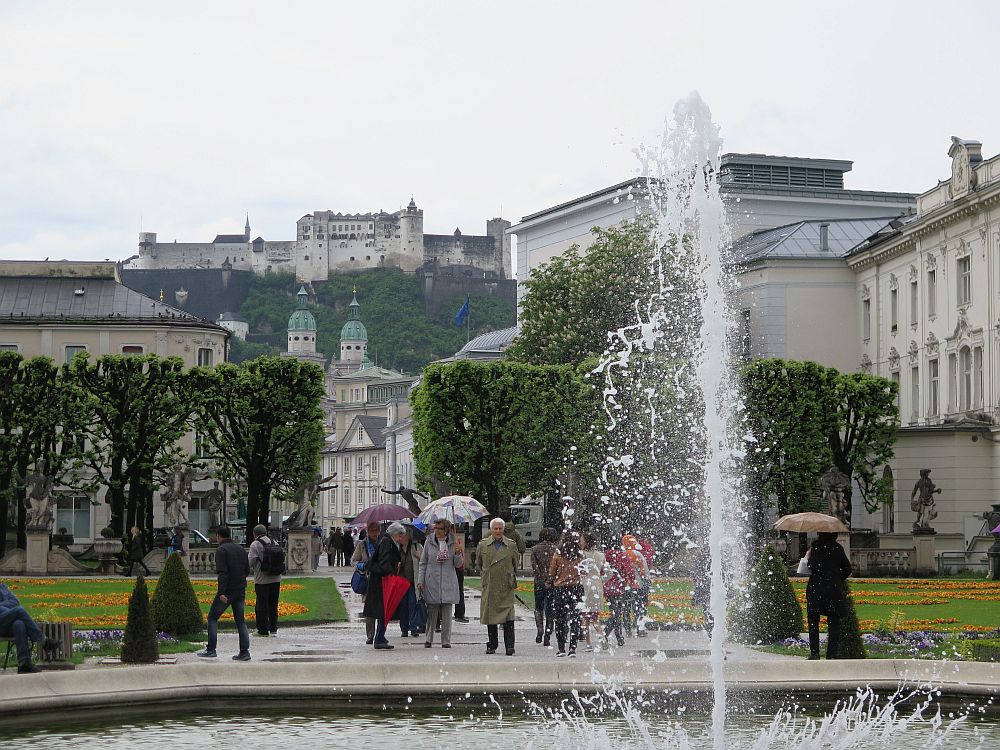 Saturday 14th May. Did I mention the rain? Well it was still going on when we woke up. By late morning it did start to ease so we made the decision to chance a trip into Salzburg as we had already purchased the bus tickets! The rain had all but stopped as we walked the few yards to the bus stop. We got off at the Hauptbahnhof and we walked from here to the centre as we did 24 years ago. It didn't seem so far then but it seemed further than we remembered! We found the Mirabelle Gardens famous for that scene in the Sound of Music where Maria and the children run up and down the steps. Despite being 50 years since the film was released it is still a big draw for tourists, a surprising number whose parents weren't even born when the film was released! It's strange in a way that the Austrians have only just started to accept the story and it has only as recently as 2011 been performed in German as a stage show in Salzburg. Different views abound as to why this was ranging from the Nazi associations to a degree of snobbery about it being a worldwide success everywhere except Austria.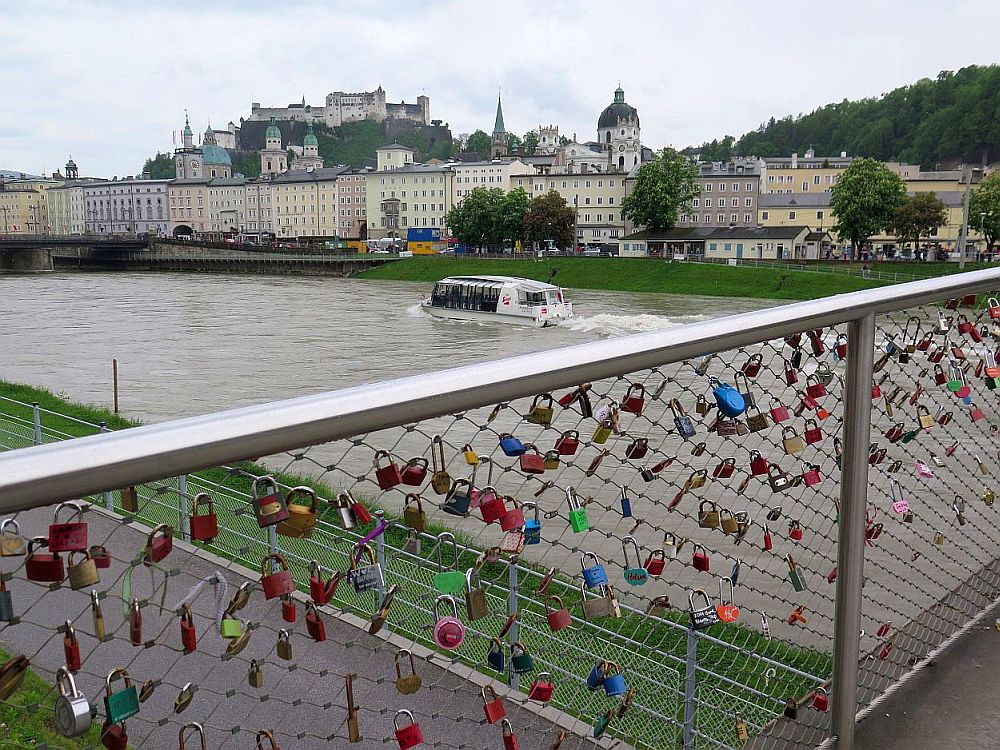 By now it had started to rain albeit only lightly as we walked towards the river which seemed to be in full spate, mind you not surprising given the amount of rain we have had. We crossed over a footbridge which like others we have seen is festooned with padlocks. We made for the Getreidegasse which is a pedestrianised street in the old town famous for its ornate shop signs, even MacDonald's!!! We then wandered through the centre having a bit of a sit down in a church. We were not really sure where we were going but eventually we ended up on a main road and a bus stop. We knew we had to get back to the Hauptbahnhof and luckily we saw a trolley bus just down the road. Everything was seamless because as we pulled in alongside was a number 23 bus waiting to take us to the campsite. By the time we got back to the campsite the sun was out although it only lasted a few hours before the rain was back!
Sunday 15th May. A late night last night as we watched the Eurovision Song Contest. I managed to find it on an Austrian terrestrial TV channel. I am not quite sure what draws us to this strange spectacle each year as clearly it's rarely the music!!!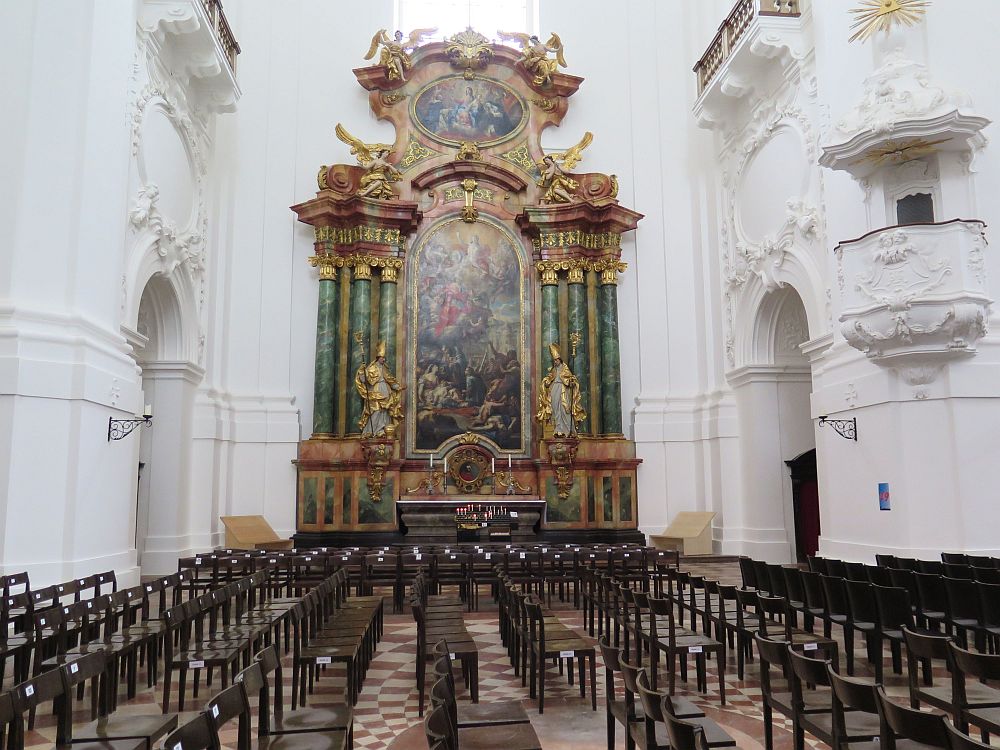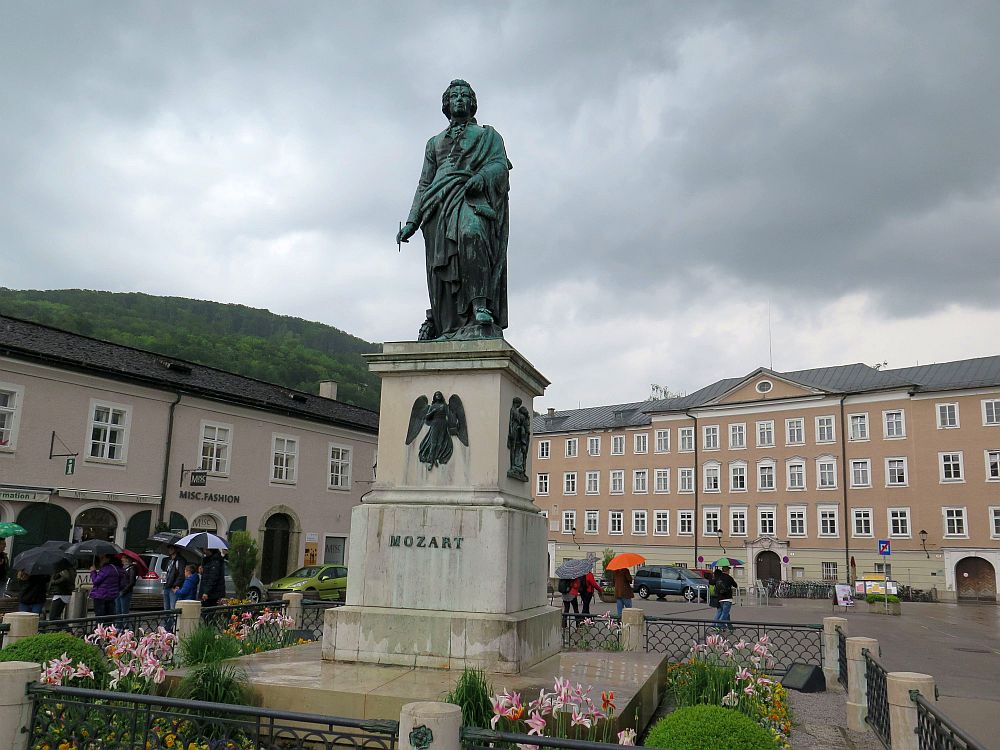 Unfortunately Sunday has only been a marginally better day weather wise than the rest of the time here in Salzburg. There were a few sunny periods but far more rain, it has also been very cold and only managed to creep up to 10 degrees centigrade by lunchtime!!! We did manage to watch the Spanish Grand Prix which I also found on terrestrial TV but this time on a German channel. Salzburg is almost surrounded by Germany on two sides so you have the choice. Interesting race with the Mercedes putting themselves out on the first lap. Good race for Red Bull with Max Verstappen winning his first Grand Prix at his first race for the team. In a brief bright period we managed to get the canopy put away, otherwise a pretty lazy day. We move on tomorrow after four nights here in Salzburg. Originally our intention was to continue east towards Vienna stopping at a couple of places en route. The plan then was to head south via Graz and onto Villach. I think we have decided to do it the other way round so we will head towards Villach in the hope of finding some better weather.
Monday 16th May. Ground Hog day albeit 24 years later!!! We left Camping Nord Sam this morning after what can only be described as three wet days. On leaving the campsite our first stop was the SPAR a short distance from the campsite. We pulled into the car park which was eerily empty, parked the motorhome and locked up. Margaret got a trolley but we couldn't get in the store as it was locked up. We knew it was Sunday yesterday but why was it closed today? A quick check on the phone we discovered it was a Bank Holiday or whatever they are called in Austria. We did the same 24 years ago when we rocked up at an IKEA only to find empty car parks and the shop closed. We had to wait almost twenty years for the IKEA to open in Milton Keynes, which of course is open all year round come bank Holiday or high water!!! We were running low of food and we were also a bit low on fuel.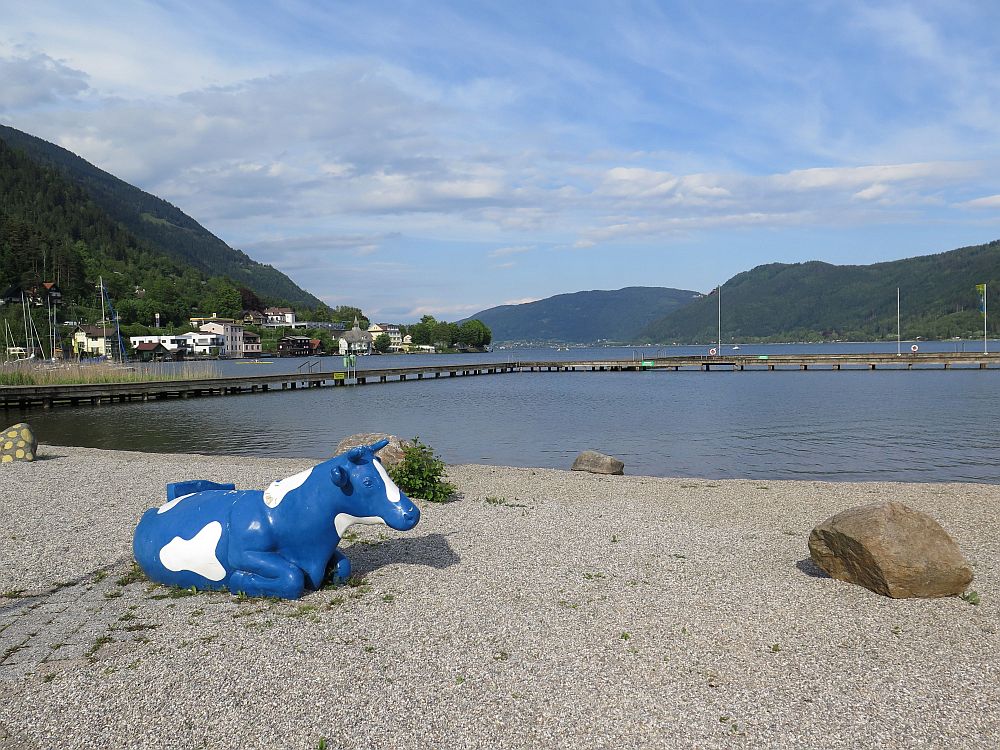 Today we are heading for a site near Villach. From Salzburg we are heading south on the A10 autobahn which is all new to us. It is a magnificent route across the Tauern Mountains which form the dividing line between north and south of Austria. It is 119 miles long and there are twelve tunnels on the route and like the Brenner motorway it attracts an addition toll to the usual motorway vignette. I had to bite the bullet and fill up with fuel on the autobahn although in fairness it was slightly cheaper than I would have paid at Tesco at home. Despite crossing a mountain range I did not get the impression that it was challenging from a driving perspective.
We arrived at Camping Bad Ossiacher See during what would normally be the lunch time closure but reception was open and the lovely lady on reception told us to have a look round the site to select a pitch and come back and book in. It is a big site with nearly 300 pitches, some being near to the lake but we decided on one further back in the hope it would be more sheltered. On booking in we were told that whilst the ACSI base price was €17 a night the actual nightly charge would be €22.70 by the time all the local taxes and environmental taxes were added. We have come across this before in Austria so it was not such a big shock. The lady furnished us with lots of information on how to get to various places and gave us a local map. Later when I was fetching some water she came out of the office to point out a Mallard duck which was nesting on one of her plant pots and apparently there were 13 eggs!! This site, at least at this time of the year, is clearly used as an overnight stop judging by the number of units left hitched up.
Tuesday 17th May. It's been a nicer day today weather wise although not warm early on the sun was quite hot by the afternoon. Given that yesterday's public holiday rather thwarted our shopping intentions we had to remedy that today or risk running out of some essentials. It was a bit far to walk and carry back shopping so we went on the electric bikes. We managed to get what we wanted and will return when we leave the site to get heavier items. Fortunately everything we purchased went in the panniers and my rucksack. As we had the bikes off the back we used them again after lunch to ride around the lake to Annenheim. We made a stop en route to check out the train times as we are thinking of visiting Villach whilst we are here and its only ten minutes on the train. We also found where the Lake steamers leave from so another option if we want. We came back past the campsite and rode on to the village of St Andra and followed the cycleway as far as it went which was the steamer point across the lake from Annenheim.
Camping Bad Ossiacher See is a large campsite on the shores of the lake. Whilst it is far from full at this time of year the site restaurant seems to do a good business as the site seems to be used a lot as a stop off point to, I imagine, Italy. High above the campsite is Burg Landskron which is a ruined castle which was originally built in the 14th century. Apparently there is a restaurant up there now but I suspect access without a car could be difficult, could always try the bikes!!!!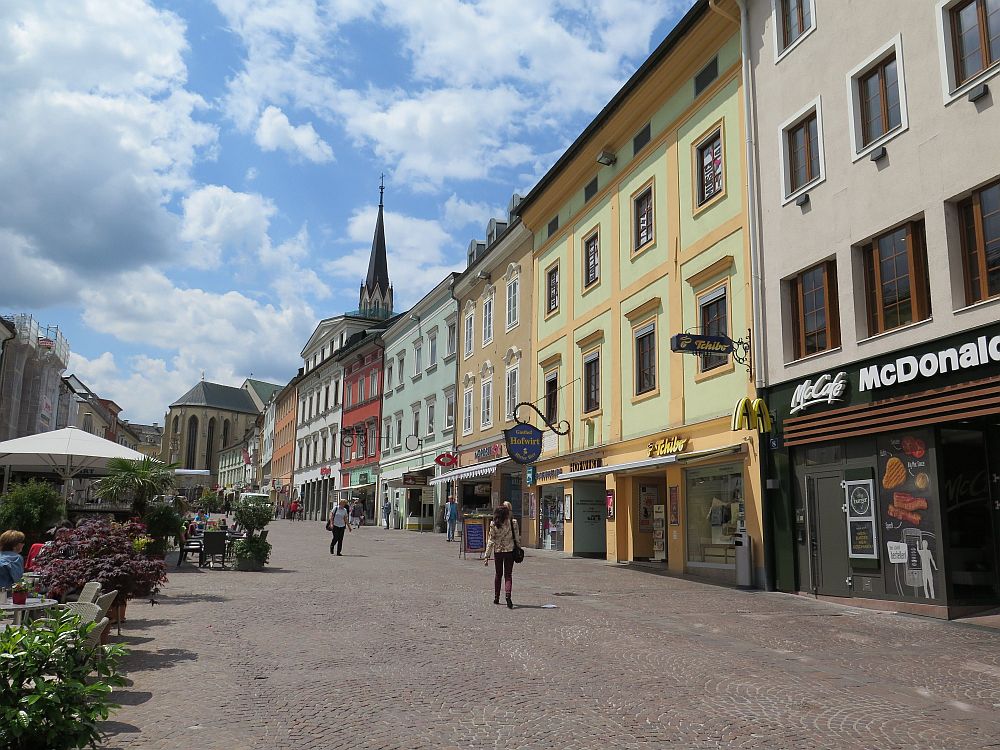 Wednesday 18th May. Another nice day today weather wise. We took a trip into Villach today. We went by train from Annenheim Bahnhof which is about a 10/15 minute walk from the campsite. It was easy to buy tickets from the machine as you could select the English screen and you could pay by credit card so nice and easy. Whilst we were waiting for the train I watched the lake steamer arrive. There are three services a day and you can either stay on board or get off and on at different places. The train journey only took ten minutes. The Hauptbahnhof in Villach is surprising big for what is not a particularly large town and looking at the map there seems to be another couple of large stations in the town.
The walk into the centre was much shorter than we found in Salzburg which was a bonus. The River Drau runs through the centre of Villach and it seems there are trip boats on the river. We walked up through the old town and spied a café which looked rather nice so we enjoyed our toasted sandwich and affelstrudle washed down by a cappuccino watching the word go by. It wasn't bad value either. Margaret wanted to have a look in C&A as she misses not having them in the UK any longer. I wanted a new battery for my DSLR camera but they seemed so expensive compare to what I would pay at home, even for a generic one so that will have to wait! Fortunately my Canon G16 is still OK. At the campsite we had been given a brochure on a walk through the town which we followed back down to the river and along the other side. We passed a large school and noticed not a uniform in sight. Interesting contrast to the UK where school uniforms are now more often the rule. No evidence of anarchy as far as I could see!!!
We made our way to the station for the train back to the site. Unfortunately we got a bit confused and there was no one around to ask, at least that is our excuse for getting on the wrong train!!! We asked the lady opposite to confirm that we were on the right train and she said no and kindly looked up on her phone for the correct details. We got off at the first station to make our way back to Villach. Just as well it was not an intercity express!!! What confused us was the train numbers, we got on the S1 when we should have got on the S2. Rather confusingly they both go to St Veit but the one we got on goes around the south of the lake whilst the one we needed goes round the north!!! We eventually made it back to the right station and onwards to the campsite. More people seem to be arriving on site as the week goes by and some seem to be staying rather than overnighting.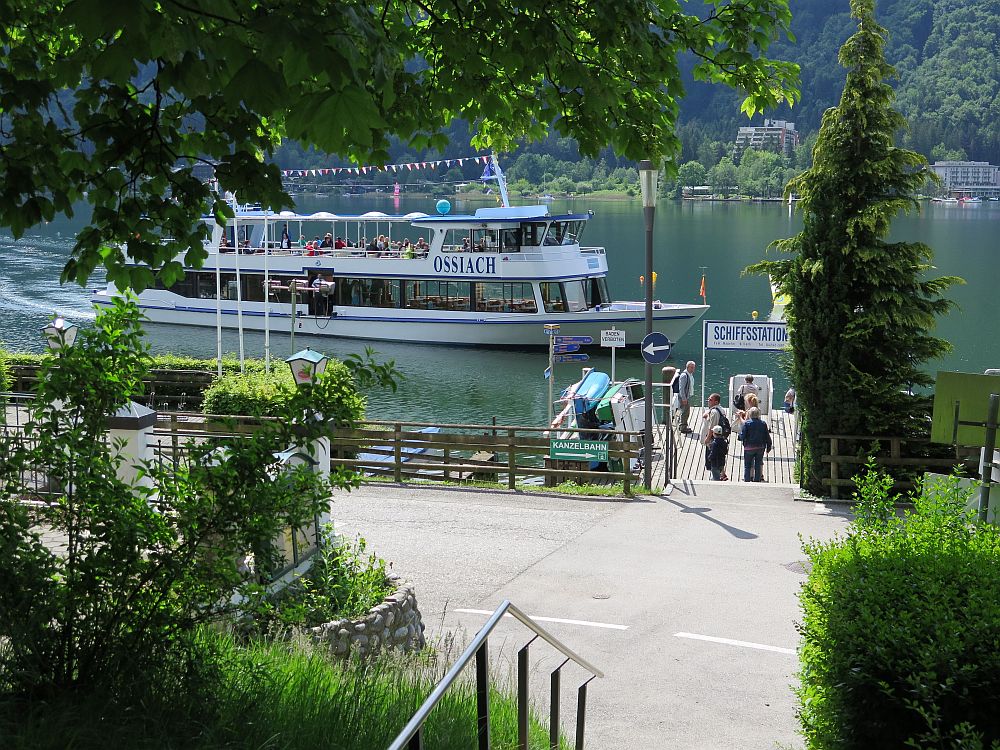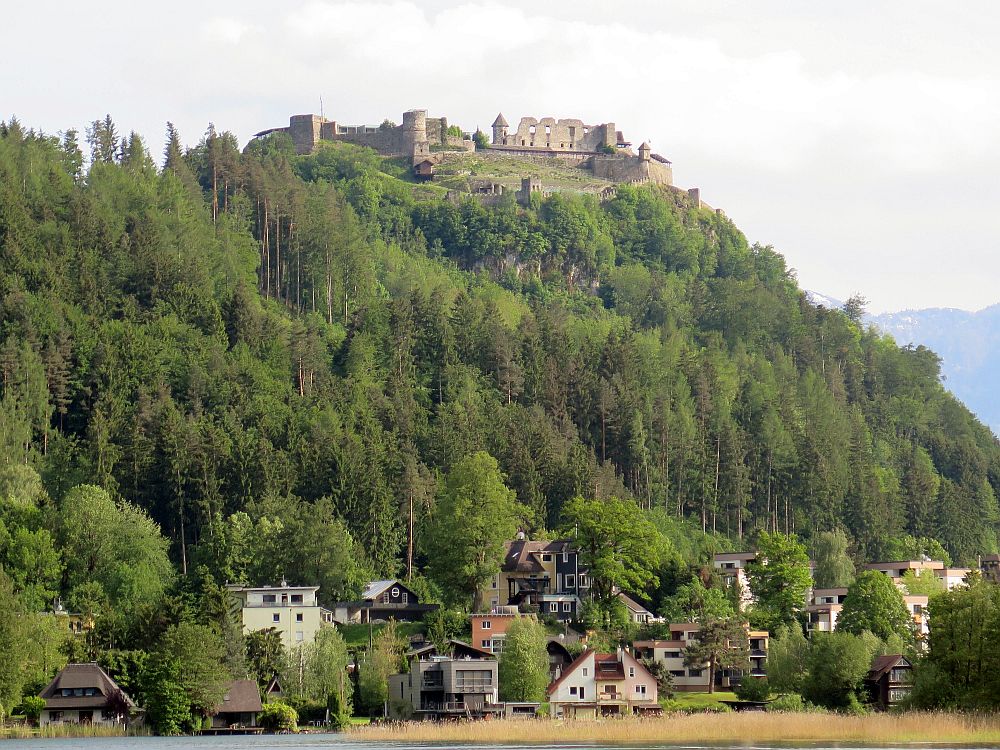 Thursday 19th May. A pretty lazy day today. The intention had been to take a steamer trip on the lake but it's been pretty grey all day, although only a little rain, it did not seem sensible to spend all that money on the trip. We have free internet here but it often slows down a lot in the evening so we spent some time having a look at our next stop whilst we had a reasonable connection.
Friday 20th May. We left Ossiacher See today and headed for Graz which is about a hundred miles further east. First job after leaving the site was to do some shopping and this time we used a Hofer which is the Austrian brand of Aldi. Not particularly impressed and they wouldn't accept our credit or debit cards. Interestingly they have a fuel station with self-service pumps, just wondered how you pay for fuel there!!! Traffic on the A2 wasn't too bad and we made reasonable progress. We lost count of the number of tunnels we went through, many short ones but a few quite long. The autobahn climbs over quite a distance although this is well engineered and didn't cause any problems. On arrival in Graz we had to cope with the usual city roads but Archie got us to our destination safely. No one on reception when we arrived so followed instructions of finding a pitch and sign in later. I think this has previously been a municipal campsite called Camping Central but has recently been converted to a Stellplatz, although they still accept caravans but not tents.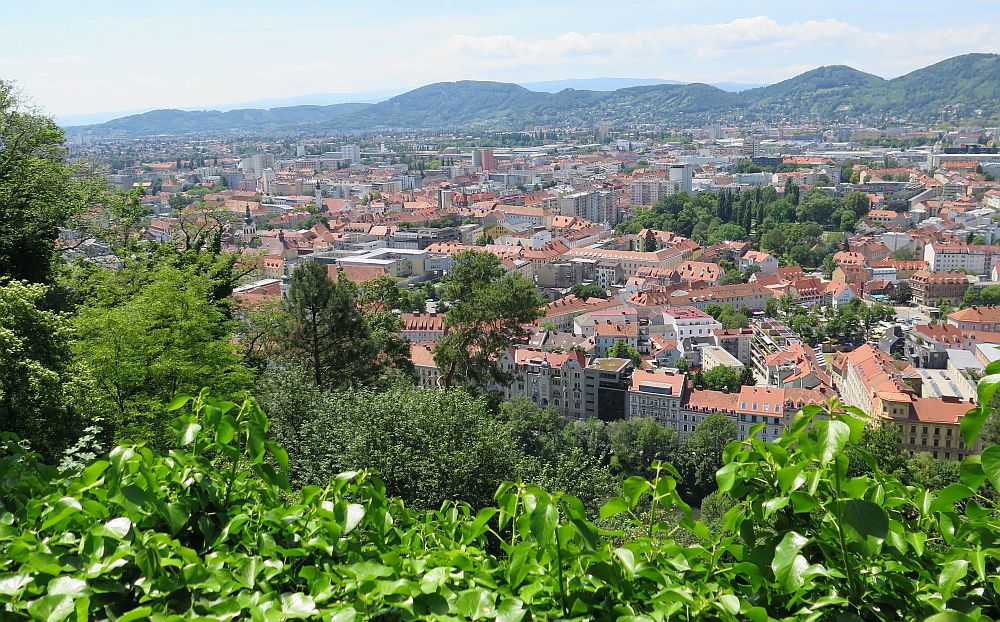 Saturday 21st May. It has been a beautiful day today with sunshine and nice temperatures, probably in the mid-twenties. We ventured into Graz today which is, apparently Austria's second City after Vienna. Reception had given us a transportation map and marked the points where we needed to get on the bus and alight at the city centre. We have found that where possible it always seems a better deal to buy a Tag Karte or 24 Hour ticket as this allows you to use any services within a designated zone. A bit like buying a Travel Card when visiting London. It was a fairly easy purchase on the bus and the driver understood what I wanted. Five Euros each for unlimited travel on the buses and trams. Our destination was Jakomini PLatz which is the main transport interchange in Graz. Screens in the bus show journey progress and even an announcement in English at the end of the journey.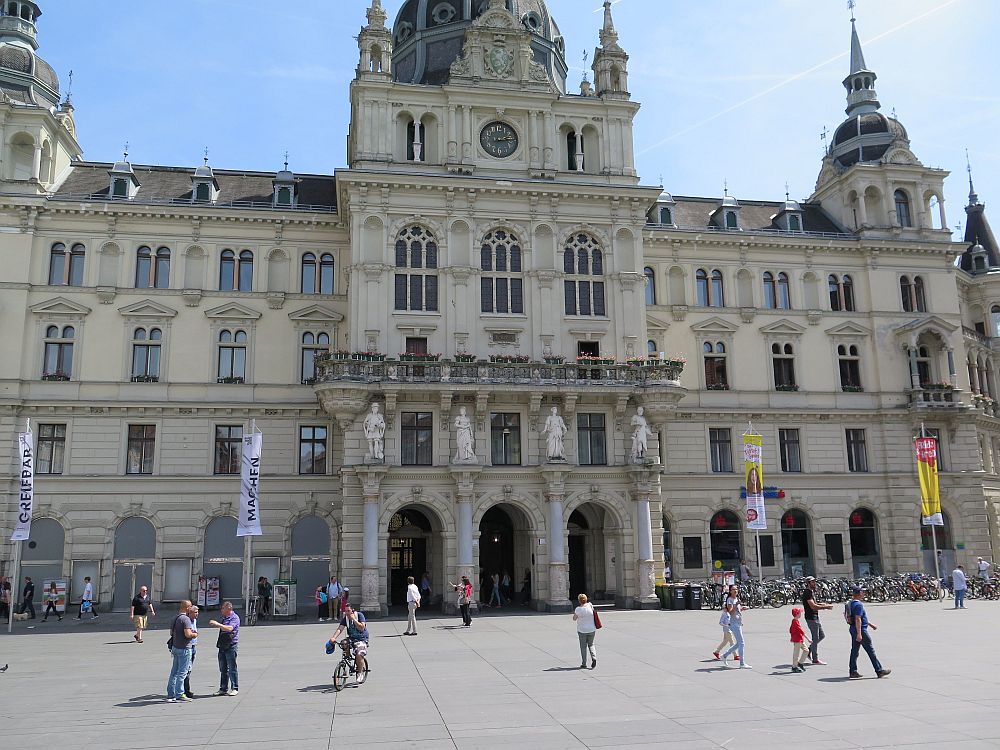 Once off the bus we headed towards Schlossberg which is a fortified position high above the city and our Tag Karte was valid for the funicular railway that takes you to the top. En Route we passed through the Haulptplaz which is a big square outside the rather impressive town hall. There was some sort Ceremony going on with people with sashes and an oompha band. Unfortunately the queue to get up to the Schlossberg were quite long and only 58 people at a time could use the railway so we decided to have a wander and return later. There was a strange bridge across the river with a manmade island which we discovered was actually a café/restaurant so what better place to have a coffee and a bite to eat!!! Refreshed we made our way along the other bank of the river and did a U turn back to the Schlossbergbahn, fortunately by now there were only a few people waiting and we got the railway up to the top where we had commanding views over Graz. Having admired the views and had a wander around the fort admiring a large statue of a lion which was put there in memory of an Austrian office who with his men held off the advances of Napoleon's superiors forces, at least number wise, until a truce could be negotiated. Back down the railway and this time our tickets would not scan so the man in the booth gave us a couple of regular tickets that worked. They say don't look down, with some justification in this case as the railway is extremely steep and the river running by at the bottom. Also surprised to see a passing loop for trains. Whether this is a counter balance thing I am not sure. Back at river level we hopped on a tram to the main interchange. Thinking it might be a bit early to be heading home, although that was not what my knees were telling me we walked back up to Haupltplatz admiring the rather nice shops en route. Interesting to see how many shops there are selling traditional Austrian clothes and they are not cheap. This has some connection with the elections here in Austria of a new President and the forerunner represents the far right and all the unpleasant connotations which I will leave to your imagination. It seems that Austria is suffering angst because they don't want their own culture to be diluted by people of different cultures coming in great numbers. It should be said that Austria has a relatively small population compared to many in Europe so perhaps easy to understand if not exactly PC!!!
By now we were flagging so we made our way back to the bus. We had not been going long before a youngish man and a women got on the bus dressed in fairly normal clothes. She said something to me which I did not understand but then said in English (is it that obvious) tickets please. So our mysterious passengers where real life ticket inspectors, no uniform like 'On the Buses'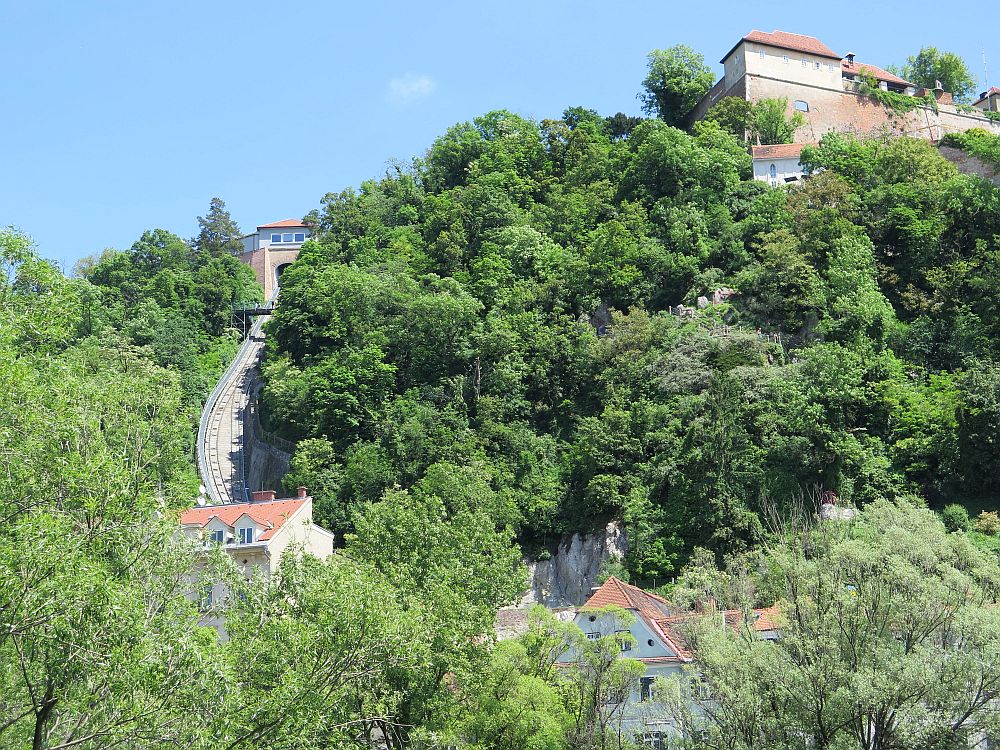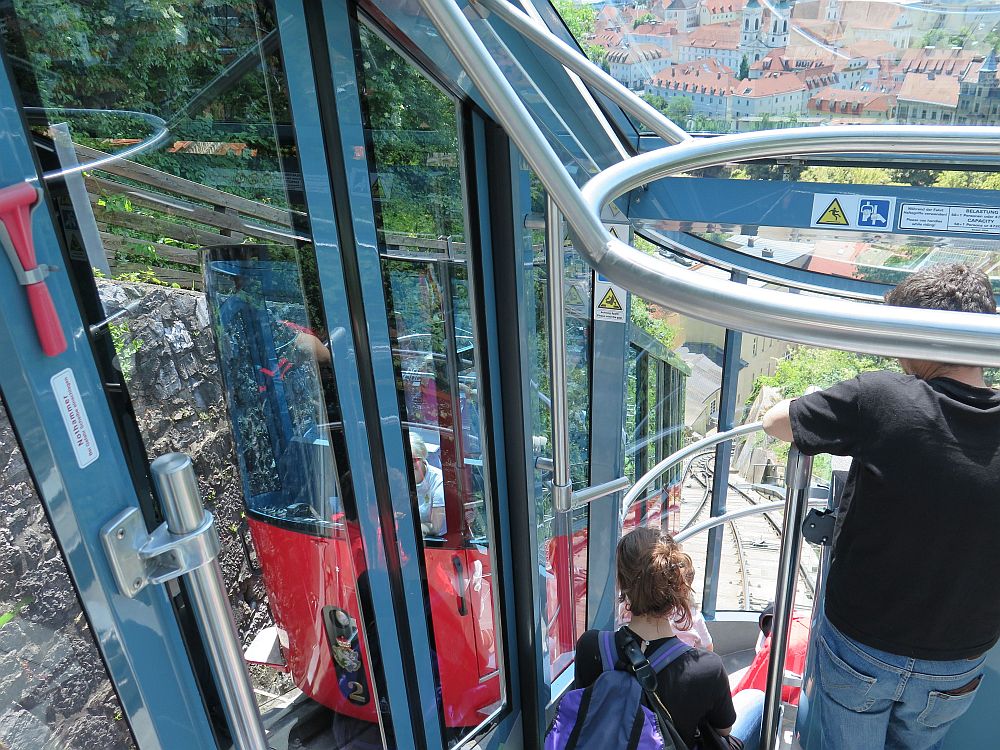 Sunday 22nd May. It's been a beautiful cloudless day today with warm temperatures only kept from going even higher by a nice breeze. It's been a domestic day today which after three weeks on the road things needed doing. It has also been fairly lazy as well as we enjoyed the sun. We decided to stay on here in Graz for a third day and will leave for Vienna tomorrow. Vans have come and gone today as I suspect is the case with this sort of location. There was a massive motorhome parked at the end of our row and as it drove past I am pretty sure it had a garage for a car. Don't think we would get it in the back garden!!! Just had a peak at the price list online, starting prices just shy of €186000. That would be an impressive lottery win in its own right!
Monday 23rd May. Another lovely day today as we prepared to move onto Klosterneuberg near to Vienna. We travelled east of Graz and then north to Vienna. The journey was fine and traffic mainly light until we got to Vienna. However there seemed to be lots of coned off motorways with not much going on. They also seem to cone of miles of motorways and the actual work covers a very short distance. Having fought our way through the Vienna traffic and more roadworks we eventually arrived at Donaupark Camping at Klosterneuberg. What a contrast to most sites we have been on this trip, we were offered the choice of three pitches when we arrived. One was a bit short for our van, another was already occupied and the third was Hobsons Choice!!! It wasn't too bad and plenty long enough but not that wide. Our Dutch neighbours had to move their bikes and chairs to give us room to get on the pitch. Apparently they are part of a rally of about fifteen units and they are due to leave tomorrow. By late afternoon the weather was on the change and the wind was increasing and by just after ten it had started to rain.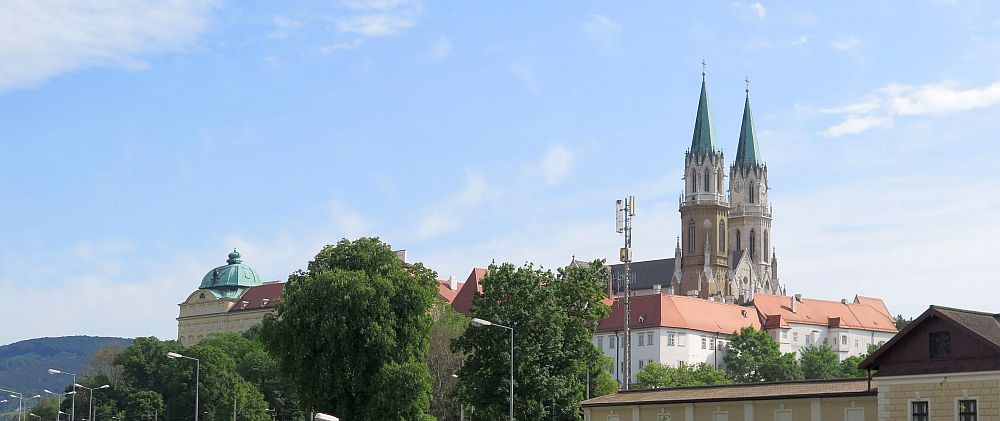 Tuesday 24th May. Well the rain continued overnight and it has been very windy. However it did clear up a bit from lunch time until the evening when it started to rain again. Although we have only been here a day we were a bit concerned about getting off the pitch should the campsite become even fuller. This morning I noticed one of the drive through pitches had become available so we decided to move. The Dutch group had left so there was plenty of room to manoeuvre off the pitch. The new pitch has much easier access but is not so wide so we are pretty close to the motorhome next door and the caravan the other way.
It brightened up after we had lunch so we walked into Klosterneuberg. First stop was the station to check out where the trains leave from to get to Vienna. We then walked up into the town. Klosterneuberg is famous for its imposing Monastery which apparently is equally famous for the wines it produces. It was a fair climb up to the church which forms one end to the monastery. The church, which you could only glance at through a wrought iron screen, was very decorative. We wondered further along the site and entered another building and you could get a sense of the grandeur. Having got up to the high ground the monastery was built on we had to get down and find our way into another part of the town before going back to the site.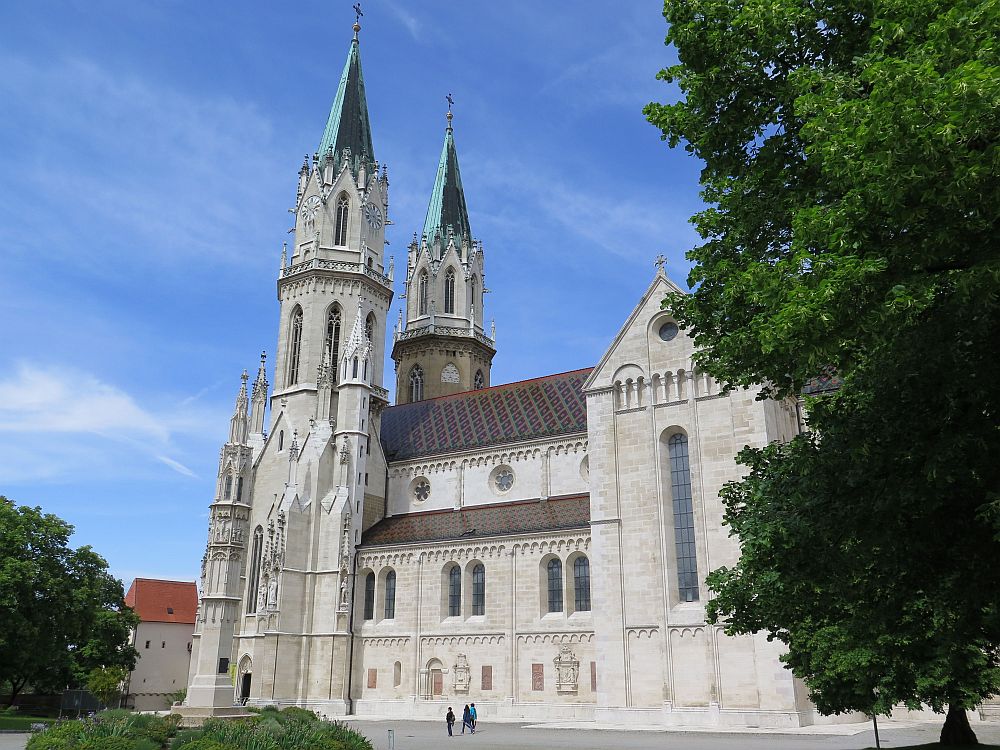 Wednesday 25th May. More rain overnight although it had more or less stopped by the morning but still with a strong wind. We had thought about Vienna but would prefer better weather. By lunchtime it had again improved and the sun was out so we decided to go in search of the Danube on the bikes this time. I had mistakenly thought that Klosterneuberg was actually on the river as in being nearby but the reality is that it's about a kilometre away. We turned back from our original route (no proper maps) and then discovered a path down the side of the campsite that lead us right to the river. The Danube is very wide and seems to be flowing quite fast. Can't say it's particularly attractive in the way the Neckar was. We knew there was a big supermarket to the west of the town so we headed in that direction. There was a nice cycle route until we got near to the supermarket when the path wound steeply uphill. We almost managed but the last section was too steep so we got off and pushed. I suggested to Margaret that she use the throttle to ease the bike up the hill. Trouble was that she still had it on the highest setting and it took off dragging her behind. Next thing I know she is in a pile on the ground!!! Very frightened that she might have hurt her chest but so far so good.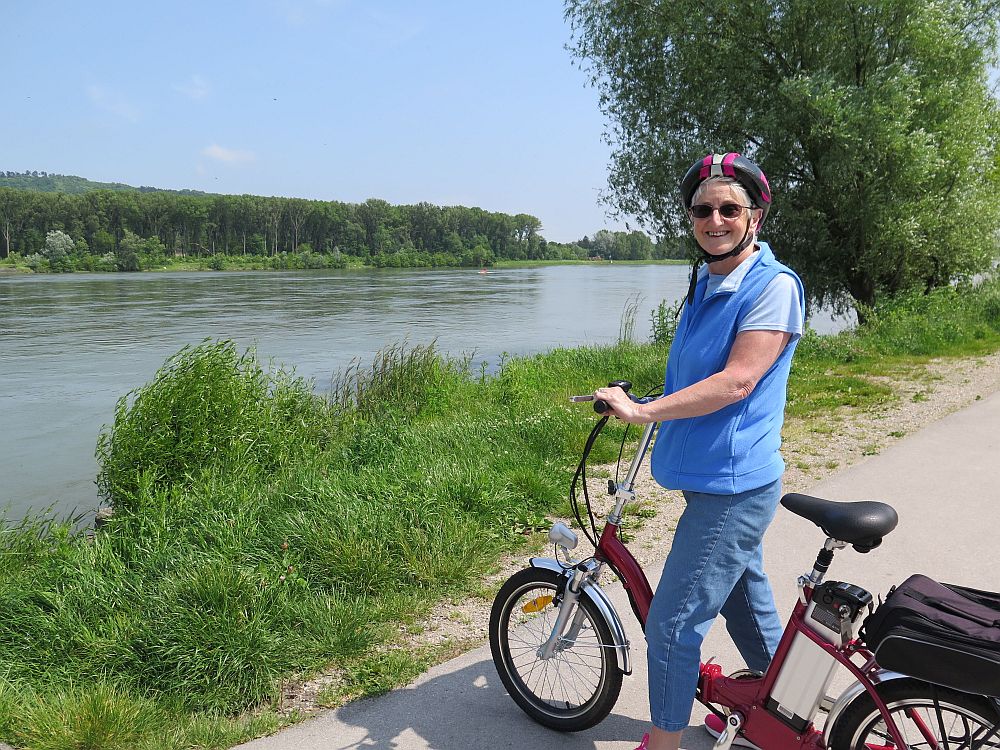 Back at the site we were surprised the see a UK registered motorhome but clearly owned by someone from New Zeeland going by the badges on the van. Apparently the couple come to the UK, buy a new motorhome and at the end of their trip ship it back to New Zeeland where they sell it on.
Thursday 26th May. Would you believe it yet another public holiday today, I think it's the second or third one we have had since being in Austria. Fortunately we had made a note of it this time so as not to be caught out, well almost. Despite the day starting quite dull there was a promise of a sunny day later which turned out to be the case. As this is our last day here we decided to visit Vienna today. We just about managed to get the 11.05am train. There would have been more time in hand had I got had such a tussle with the ticket machine. For some reason the screen with the English instructions kept freezing so I remembered which ones were which and used the German screen. We got the tickets just as the train was coming into the station!!! It only took about ten minutes to get to Heiligenstadt station where we joined the U-Bahn. This involved buying more tickets but these would give us access to the whole of Vienna's transport system. So fully equipped with our new tickets we set off on U1 to the Schonbrunn Palace. As we left the station there was quite a throng of people making their way towards the Palace no doubt swelled by the bank holiday crowds. We were not too bothered about having a tour of the Palace as we prefer to make our own way round buildings. When we heard there was a three hour delay for the tours we set about finding how we could visit the gardens which there is normally a charge for. The nice lady on the information desk told us we could view them today without charge which was a bit of a bonus. They have a beautiful rose garden and it's the only garden of that type which I have visited with an overwhelming scent of roses, it was lovely.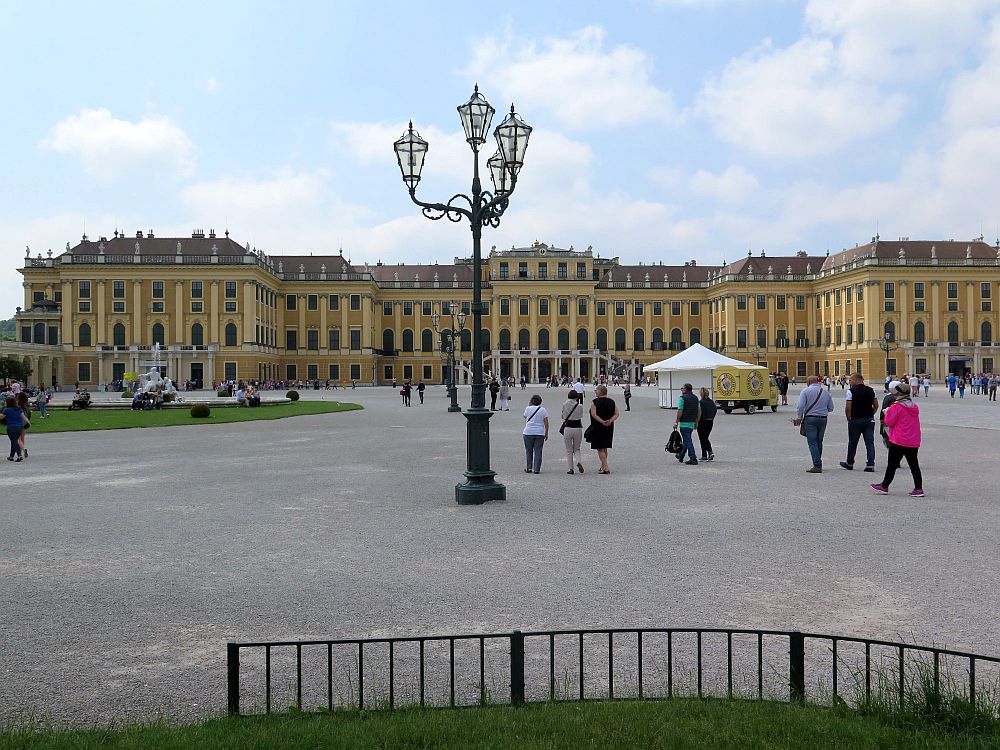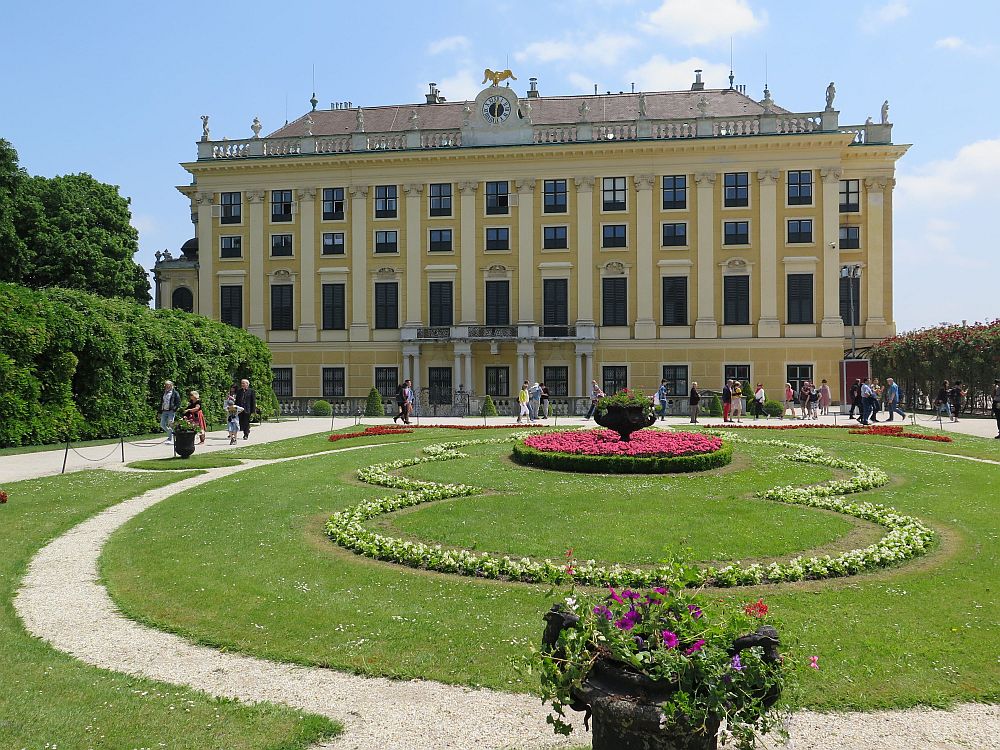 We thought we might need something to eat so Margaret spied a stall selling Bratwurst. It was quite fascinating to watch how they produced your sausage in a roll. The bread is about half baguette but thicker in size. One end is thrust down on a metal rod to create a cavity. Next the sauce or mustard is added, if required and finally the sausage is rammed into the roll. Hey presto a meal in a roll and ready to eat and all for five euros each!!!
Fortified by our Bratwurst we were ready to tackle the U-Bahn again. This time we were heading for the Prater, which is a pleasure park similar to the likes of Alton Towers and its ilk. In 2016 the creation of the Prater celebrates its 250th birthday from the time the land was given by Josef 11 to the citizens of Vienna. Famous for the Reisenrad Ferris Wheel with carriages that rotate and reach a height of 65 metres. Originally constructed in 1897 to celebrate the Golden Jubilee of Emperor Franz Josef 1. It is, of course, also famous for being used in several films including The Third Man and one of the James Bond movies. By now we were getting pretty exhausted so time to make our way back to the site. The only change in our journey was to use the bus from Heiligenstadt Bahnhof back to Klosterneuberg rather than the train.
Back at the site a nice cool beer was the order of the day. A little later whilst walking around the site I came across two UK couples, almost more than we had seen in one go since leaving home. The site is full to the seams and my concern, because it's a holiday weekend that we can get into our next planned site tomorrow.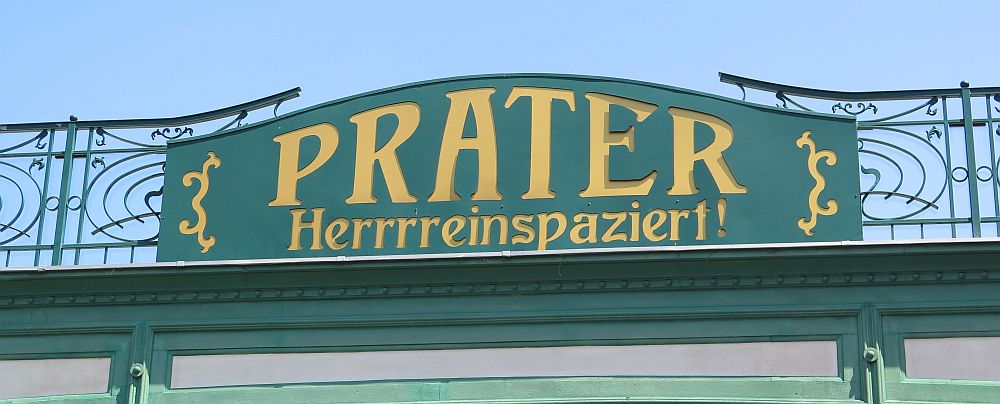 Friday 27th May. After leaving the site this morning our first task was some shopping at the Interspar. I managed to find a space but the car park was pretty busy. I stayed with the van as Margaret went off for the shopping. Interesting to watch that few shoppers came out with a trolley rammed with food, most seem to have much less shopping. My turn to go and buy the drinks. I have to say that the cheap mineral water sold in many of the supermarkets here is pretty horrible. Interspar being a bit more upmarket sold a better range and I was able to buy 2x6 packs of Evian Water but boy did I pay for the privileged by a factor of three!!!
On the road again and heading back to Vienna as we needed the north bank of the Danube. It wasn't too bad today traffic wise. During our travels in Austria we have found Austrian drivers really excellent and thoughtful to other road users. That is until today when we were approaching a junction slip road and the car in front pulled off. The car was just ahead of us and approaching the point where the slip road swung away to the right. Suddenly a car overtook us and pulled into the slip road not realising that the other car had slowed and there was nowhere for them to go. I had to brake very hard to miss shunting three and half tons of motorhome into her and pushing her into the car in front. She had clearly totally misjudged the length of the slip road and could have caused such a nasty accident had the road been busier. Had she pulled into the slip road from behind me she would have had a clear view and could have adjusted her speed accordingly. Almost frightened to look at the playback on the dash cam!!!
The campsite we were heading for Donaupark Camping Krems is right on the river Danube. It is only a small site and one of the UK couples we were speaking to yesterday said that it was very full so we were concerned we might not get a pitch. Fortunately when we arrived they were able to fit us in for three nights.
Saturday 28th May. It was a very hot day today although during the evening we had a thunder storm and some rain. We walked into Krems today. It's a surprisingly grand place and also a busy shopping centre and there was a rather nice market up by the main church, interestingly mainly selling plants. It was so hot that we were done in after a short while in the town so made our way back to the site via Hofer for some shopping. We sat around for the rest of the day as it was really too hot to do anything. The pitch next to us has been empty all day although it has a reserved label on. Late afternoon a Swiss couple turned up in their motorhome although as it turn out he was actually French. We had a nice chat to them.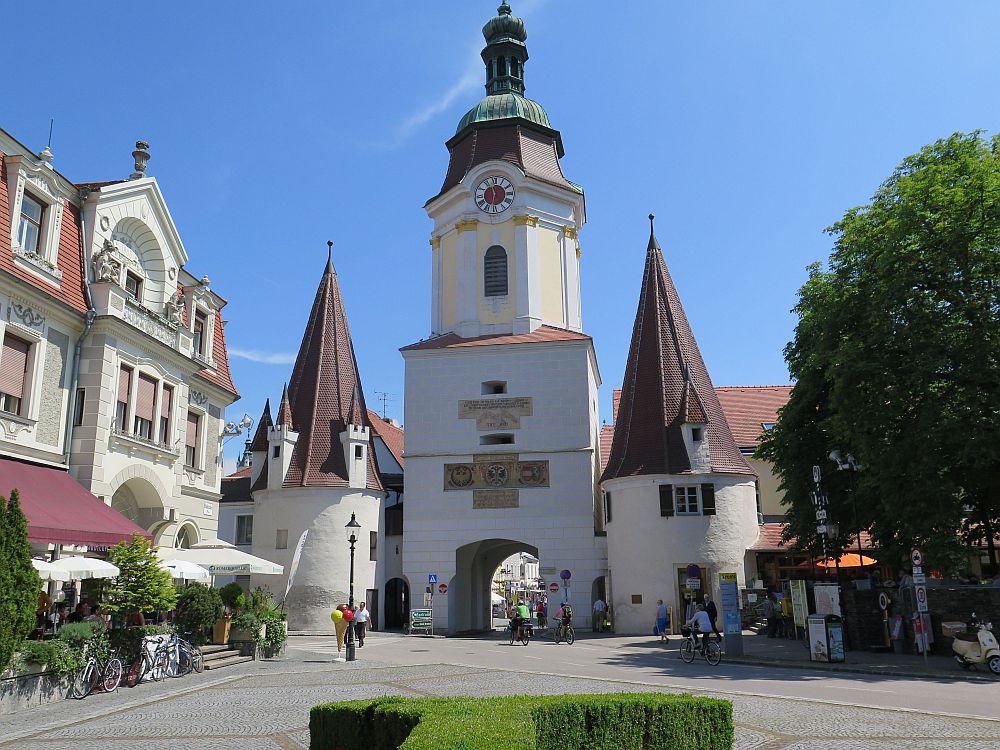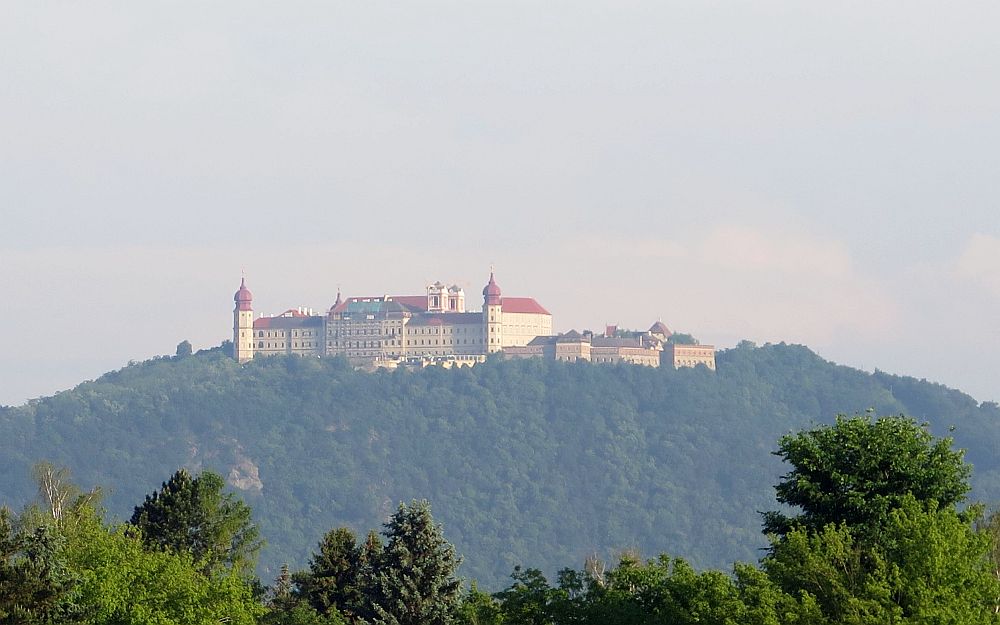 Sunday 29th May. The day didn't start particularly bright but did improve in the afternoon to better than forecast. After lunch we went for a bike ride along the Danube and also back into Krems. It is interesting watching the barges fight their way upstream against what is an obviously strong current. Even the river steamers have to head up stream to moor and they seem to be treading water mid-stream as they fight against the current. Our last day here today before we move a little further on upstream. Hopefully the site won't be quite as full but judging by what happened here today I am not sure. All the weekenders left but their places were quickly taken by new campers. I don't think the site is quite as full but there aren't many spaces. I noticed a couple of UK registered motorhomes in one corner of the site but without being too obvious there was no ready way of striking up a conversation, often the case when people travel in pairs!
Monday 30th May. The weather was a bit indifferent as we left Krems today although it did improve later in the day. Whilst we were at the motorhome service point an older Dutch guy got talking to us and said how grateful he was for the British troops who liberated his village and it was something that has never been forgotten.
It was only a short journey today of just under 50 miles from Krems to Grein which is still on the Danube but a bit further upstream. We travelled along road number 3 which is along the river for most of the way and a very attractive route. As I mentioned earlier I did not find the river particularly attractive around Vienna and perhaps the same is true at Krems. However as you head upstream the valley becomes narrower and more wooded and more attractive. There are several campsites on the river as you progress between the two towns.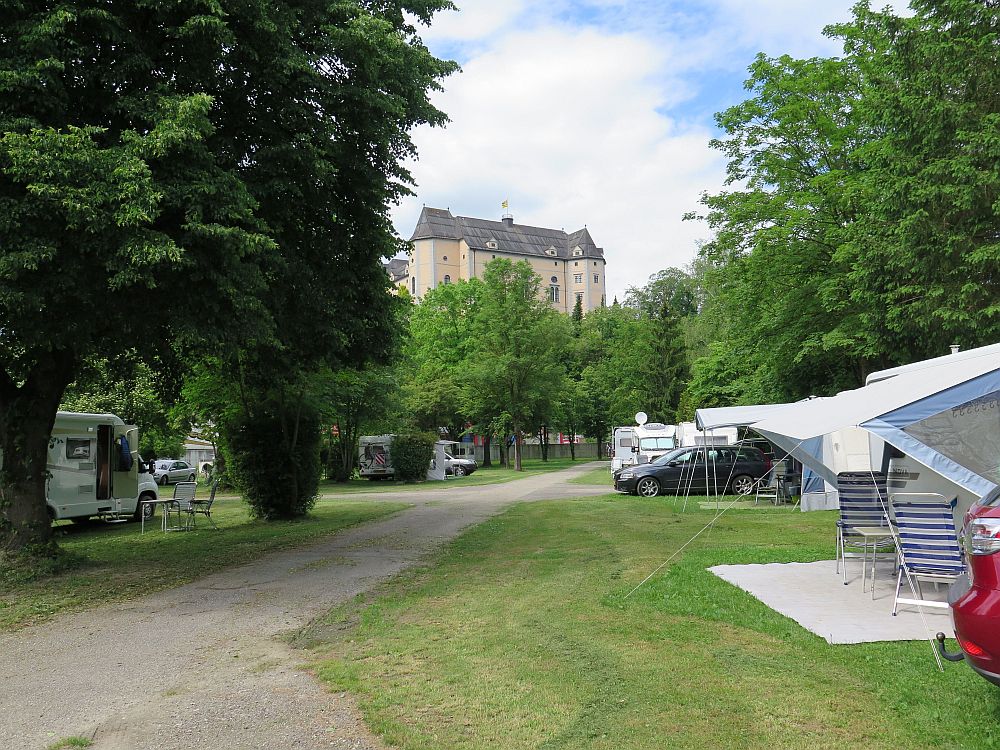 Camping Grein is immediately off the main road on one side and the river on the other. We arrived quite early, certainly before midday but there was no one in reception and nothing in English in terms of instructions. A site workman pointed in the direction of the bar next door and someone came out to attend to me. When I asked about the W-Lan I was told I needed to go back to the bar to get a passcode. The lady behind the bar started to write down the number when voices from behind started to say that it was only around the bar that it was free. Clearly they wanted people to spend money at the bar!!! Anyway the lady I was dealing with explained the number. However this interference from whom I can only think was the owner and his daughter, neither very savoury in my view, continued with the daughter saying come and have a nice beer whilst using the bar sort of thing. The older man said it was €5 a night for the rest of the campsite. I did point out to him that the ACSI Book says it's free. He then tried to tell me it was only at the bar which is not what ACSI says!!! I told him I would use my phone. I think the poor lady giving me the code was quite embarrassed, bless her. As it happens I got the code to work but the connection is not very good. Be interesting to see what happens when I go to pay!!! As you can imagine this did not endear me to the campsite!!!
After lunch we had a walk into the town and along the river, Grein has a nice situation as it's on a bend in the river. There was a little ferry taking people and their bikes across the river. When we got back they had been mowing the grass but no attempt to rake up the grass!!!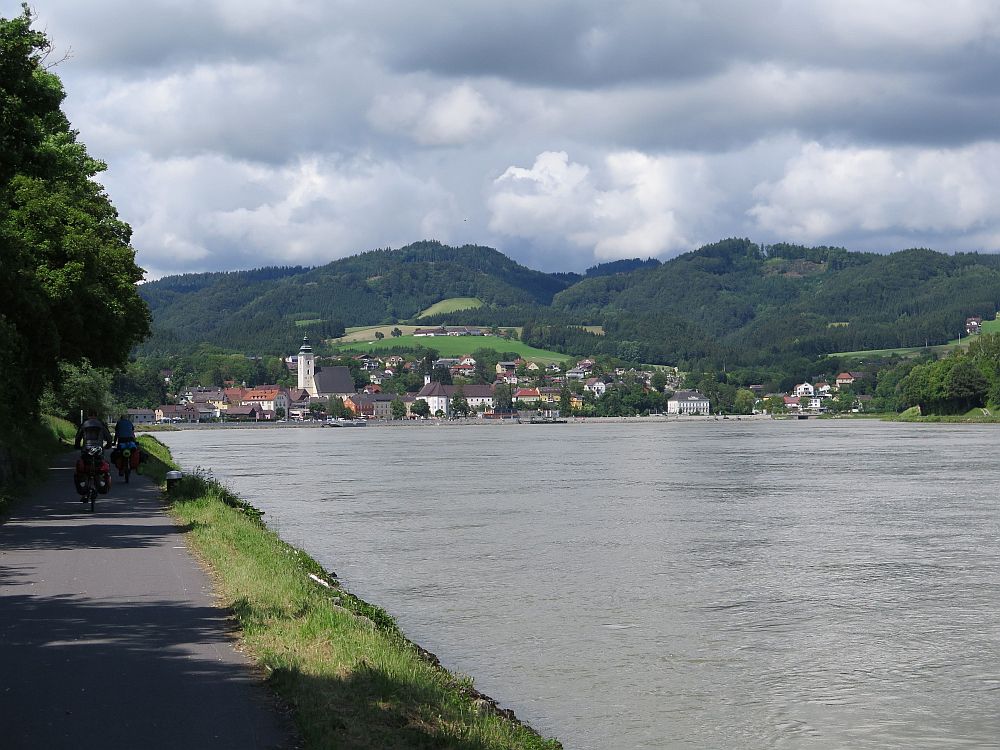 Tuesday 31st May. We had very heavy rain over night which seems par for the course over much of Europe at the moment. The immediate effect here at the campsite is that it has made the surface of the pitches very sticky and a couple of motorhomes have had difficulties getting off their pitches unaided. One got off with the help of six strong men but another needed help from a tractor.
Whilst we have been here we noticed a pair of Blackbirds attending to their nest in a tree across the road from us. They spent most of yesterday industrially gather insects and worms and flying off to feed their young. At the same time we had noticed a Crow hanging around but gave it no more thought. That was until this morning when we saw the Crow with a young chick in its mouth and Mr and Mrs Blackbird making quite a commotion and trying to fight the Crow off but I suspect to no avail. Whether all the chicks had just left the nest I don't know but we have not seen the Blackbirds since.
We had to wait until after lunch for the weather to look promising enough to attempt a bike ride. We are clearly fair weather sailors as many others on site set off first thing in the morning ignoring what the weather might throw at them. We had a nice ride along the Danube on excellent pathways. At the first bridge we noticed how the water was building up against the upstream pillar of the bridge pier. I was initially disappointed with how the Danube looked further downstream but the further upstream you get the prettier it becomes.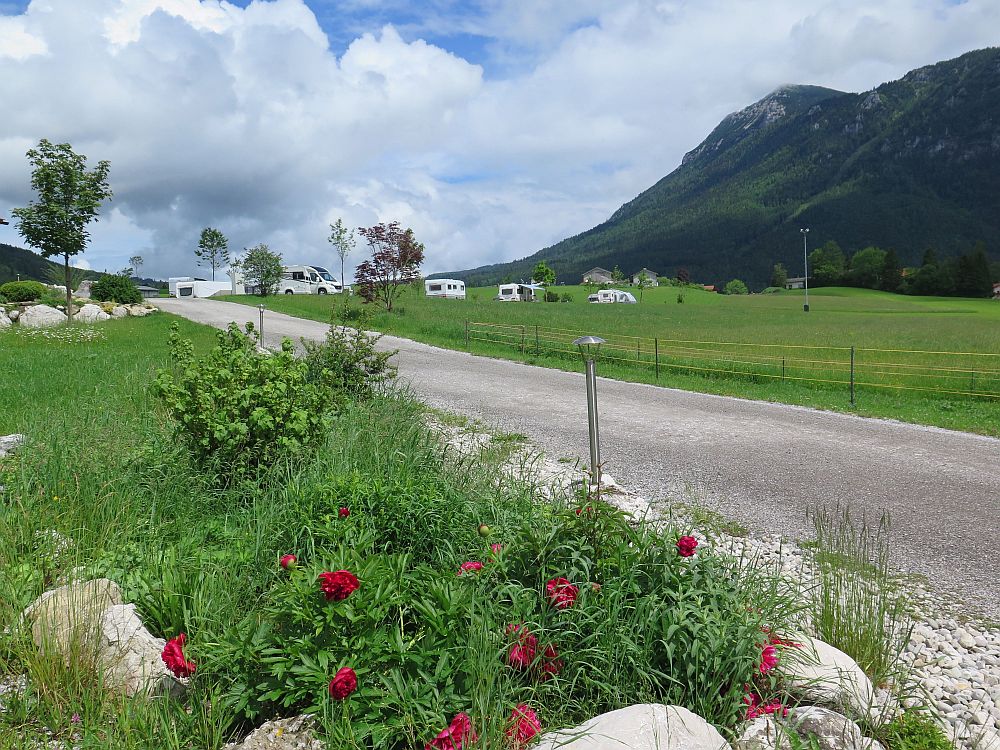 Wednesday 1st June. To say it rained today would be somewhat of an understatement. At least we managed to get off the pitch at Grein without too much drama. We are heading back into Germany briefly and staying at Camping Lindlbauer at a place called Inzell not far from Salzburg. I didn't realise the campsite was halfway up a mountain!!! We were attracted to the campsite because it has hardstandings and in the weather we have had that could be a bit of a bonus. Unfortunately, like a lot of German sites it's closed between midday and 3.00pm, although in fairness there were no barriers so we could have found a pitch. However the problem with that is that there are different types of pitches which might not all be allowed using the ACSI Card and electrics have to be switched on from reception as you only get a modest electricity allowance of two kilowatts a day which would probably only cover the fridge, charger and the odd kettle full of hot water. It is certainly a theme I have noticed this holiday in Germany and Austria where the headline ACSI price is only a part of the nightly fee. So, on this site you have a tourist tax of €2.10 per person a night, an environment tax of €2 a night, charges for electrics if you use over 2kws and WiFi at €3 a day so you potentially have an additional €12 a night on top of the headline price of €19 which could become €31 a night. You will excuse my scepticism but it seems the ACSI price is a lost leader and they pile on the extras to make it profitable?
Thursday 2nd June. Still wet when we got up this morning but gradually there were signs that some of the wetness was clearing. A good sign was when you could see the mountains!!! It did eventually stop raining so we decided to walk into the town. It's pleasant if ordinary and despite being not that large certainly has a good selection of cafes, banks and shops. We found a Norma supermarket where we did a bit of shopping. I am convinced that since we got the motorhome that my arms are getting longer because of having to carry shopping.
A local farmer had been muck spreading around the boundaries of the campsite which was causing quite a pong. The New Zealand couple that we had first met in Klosterneuberg were also here at this site and they were pitched almost in the line of fire and understandably not very happy so the moved further into the site. The idea being that they were going to try and negotiate to be able to stay on a more expensive pitch for the same price. As they left the site I imagine they were unsuccessful?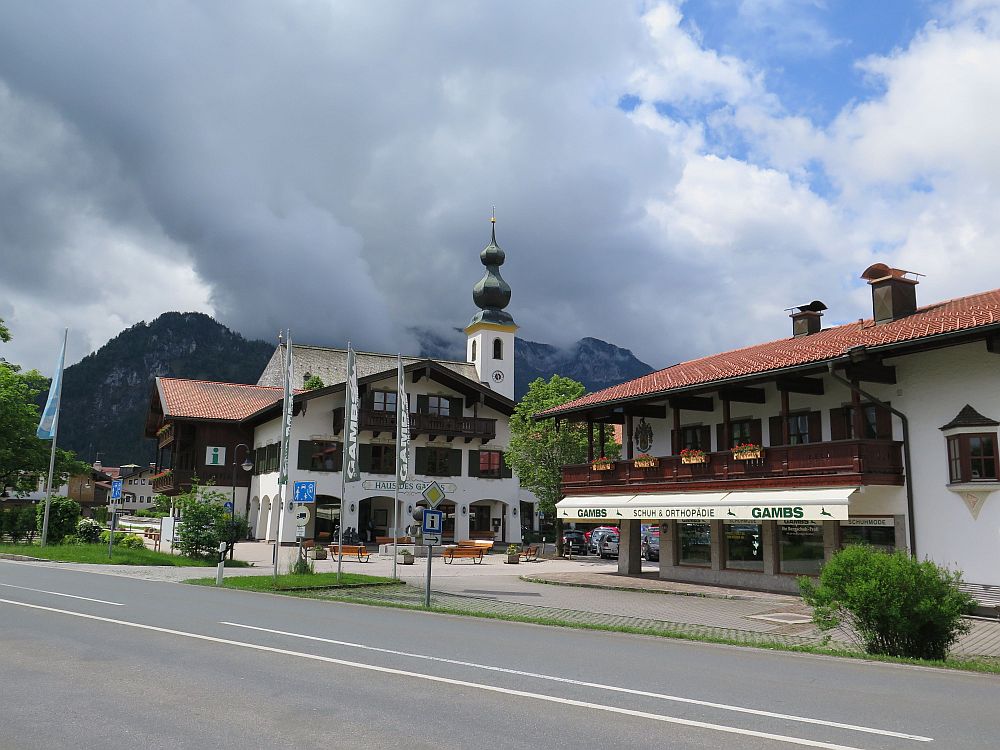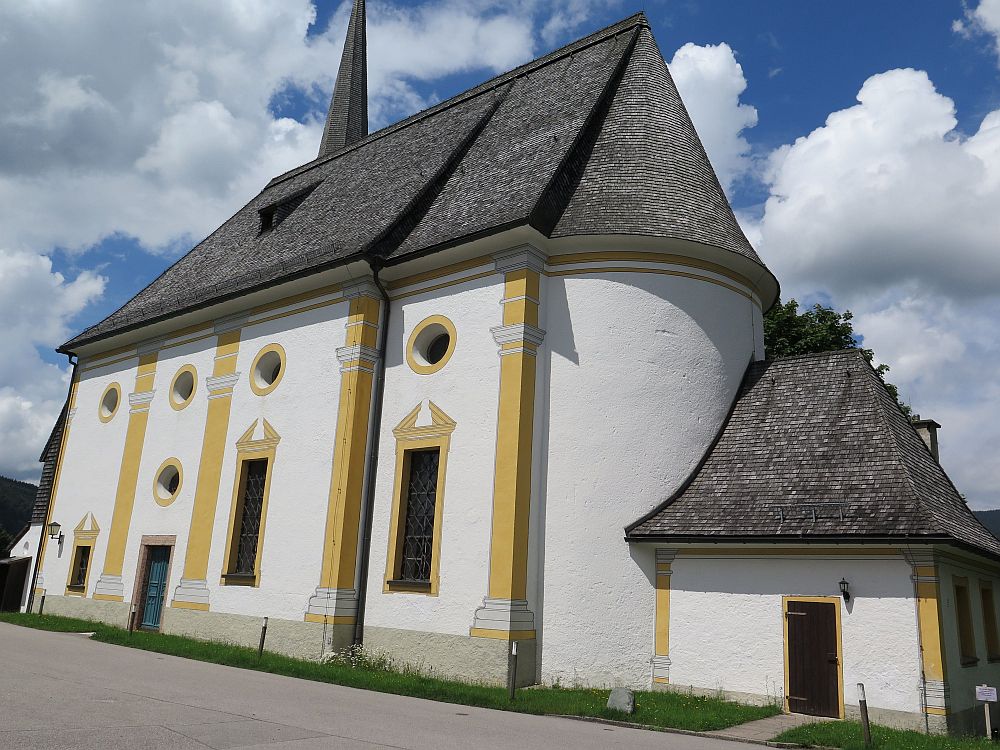 During the afternoon the weather did clear considerably with breaks in the clouds and some blue sky which was a welcome change. The site has quite an impressive setting surrounded by mountains on all sides. More people have arrived today although many seem just to be here over night which is strange as the site is hardly on a main through route. Many seem to arrive when reception is closed so what they do for electricity I have no idea unless they pre arrange with the campsite?
Friday 3rd June. Weather still not brilliant but much dryer today and a fair bit of sunshine but rain was always a prospect and we even had some thunder later. We made use of the bikes today. Firstly we explored the town cycling down to the large Max Aicher Arena which seemed to be closed. We ended up at the Edeka supermarket for a few supplies before making our way back to the site for lunch. Back on the bikes to explore a bit more. I can't make up my mind about Inzell. It's a nice enough little town, typically German but there are some very large apartment blocks, some of the restaurants seem to cater for far large customer numbers than the town can satisfy which suggests that it must be holiday based. Summer or winter, that is the question. My guess would be winter as there are no real signs of an influx of summer visitors although I am sure that will change in the main summer months.
We move on tomorrow, back into Austria for a few days. We have quite liked the location and facilities of this site we are on but just get the impression the customers have to fit in with the campsite management rather than the other way round. We have avoided using the electrics much so it will be interesting to see whether we have stayed within the two kilowatt allowance each day. We have even been using their showers rather than using the one in the van as we usually do.
Saturday 4th June. It actually dawned sunny this morning with fluffy white clouds shrouding some of the mountains. We were up and ready pretty quickly and headed down to reception for the dreaded bill for our stay. For three nights at an ACSI rate of €19 it came to €81.36! This consisted of €12.60 tourist tax, €6 environment tax and €5.76 for electricity plus the headline ACSI fee of €57. I had supposedly used 15 kilowatts of electricity. This surprised me as we had made every effort not to use so much electricity. The lady on reception invited me around to her computer to inspect the readings. Having checked later it seems that our fridge/freezer can use up to 3 kilowatts a day which would explain the high consumption. I am still not overly happy that we only got a 2 kilowatt daily allowance when the ACSI book says it should be 4.
We had about ten miles to do before we joined the motorway towards Innsbruck. However there was a diversion that took us through Traunsteiner. At least it allowed us to fill up with fuel although we caused chaos as we tried to reverse out!!! There seemed to be a blanket 60 mph speed limit on the Austrian autobahns which slowed everything down. We managed to find our site in Imst, thanks to TomTom although we did bottom out entering the side road uphill to the site. Camping Imst West is only a small site with perhaps fifty pitches. We found a spot, hopefully with ease of escape in mind if the weather gets worse. In the afternoon we walked round to the local shops, Margaret was made up as she actually found a shop selling Sherry which she enjoys the occasional glass of!!!
Sunday 5th June. Well surprise, surprise it rained almost continuously from late afternoon until this morning when it did eventually dry up at about 10.00am. Whilst it was hardly a bright sunny day it did seem as though it might be worth the risk walking into Imst. It was much further than we thought and uphill all the way!!! As a place it's neither new or old although there is a rather nice church at the top of the town. What is so strange about walking through Austrian towns on a Sunday is that they are empty with nothing going on and even restaurants don't seem to be open at least that was the case in Imst. However we did find the rather nice Regensburger Café/Konditorei, which was open so more coffee and apple strudel!!! At least on the way back it was all downhill. On the final leg we did a dog leg through one of the estates. All the houses looked as if they were all individually designed and clearly some money around. The odd thing was that in the middle of all these houses was a farm!!!
Back at the site newcomers are arriving all the time. Mainly Dutch and German. They all seem slightly bemused to find a British motorhome in their mist. They don't seem overly friendly other than the odd nod as they pass. I have a theory that those Dutch that holiday in Germany and Austria don't actually speak much in the way of English.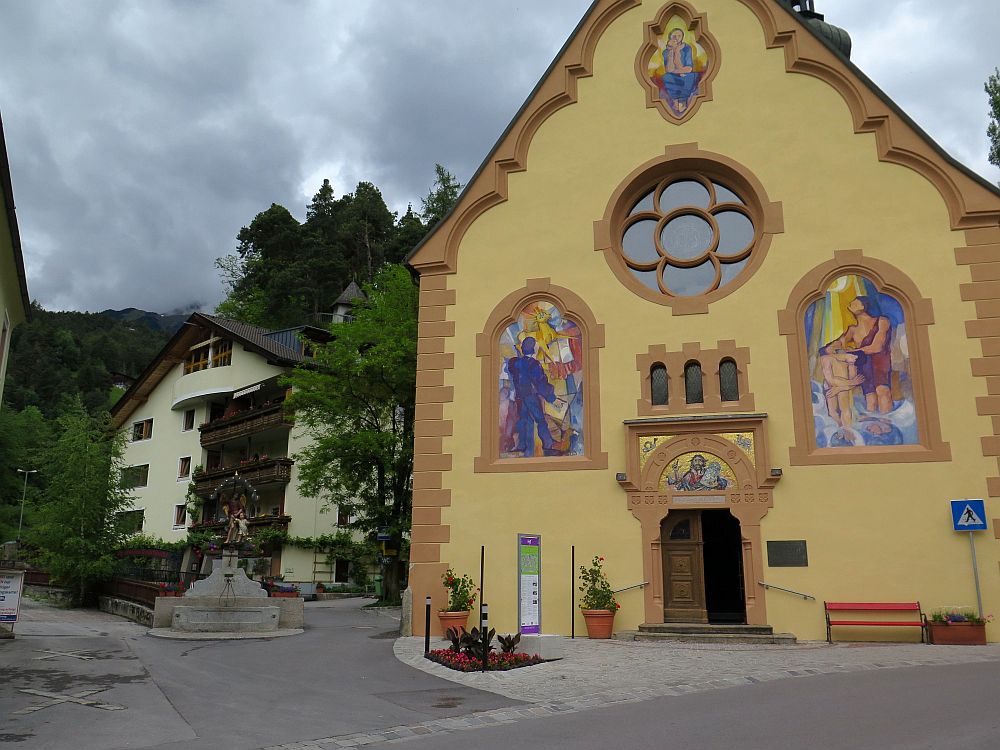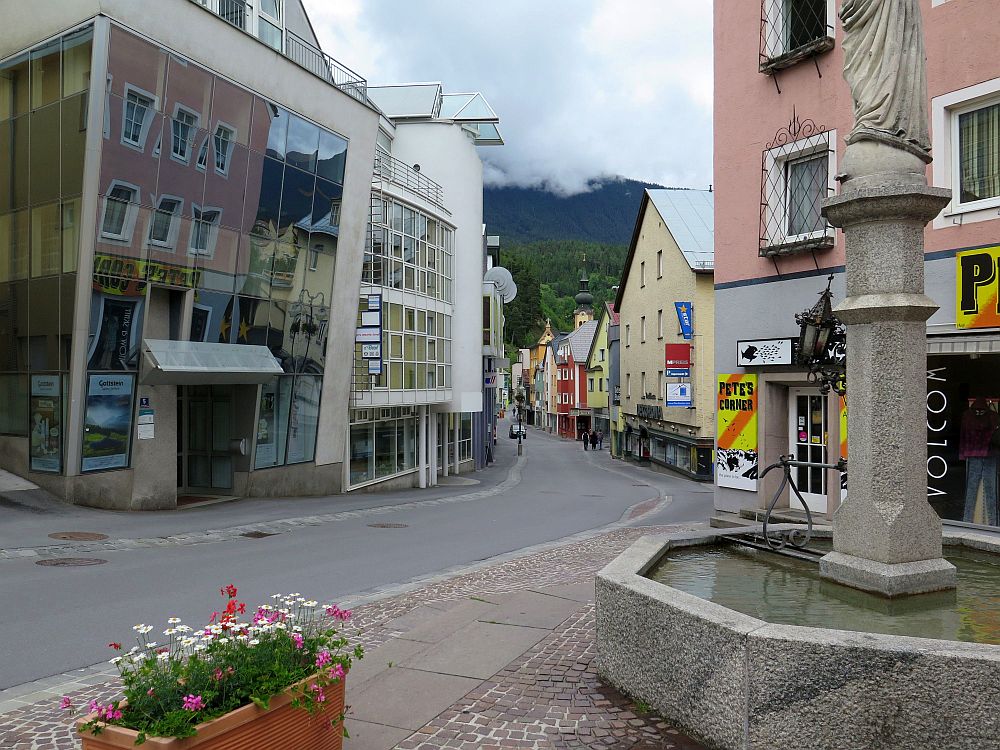 Monday 6th June. For a change we awoke to sunshine! Our last day here in Imst so we thought we should go and do some shopping so it was out with the granny bag on wheels, first time this year!!! We have the choice of three supermarkets close by but decided on the SPAR as it's the nearest. We do find the supermarkets here quite frustrating simply because of lack of choice, especially meat. The trouble is there is just not that choice and you do wonder what sort of diet the locals survive on. I think Margaret is looking forward to being back in France and a decent supermarket. Strangely the one supermarket group that does not seem very visible in Austria is Lidl, they are around but not in the same concentration they are elsewhere.
The rest of the day was spent around the van sitting in the sunshine and discovering new mountains that we had been unable to see previously. I went off to reception to pay this afternoon and no nasty surprises this time in fact the owner had been very up front about the local taxes when we booked in. €20 a night which is just under £16 a night so can't be bad. The site is pretty full tonight. Pitches in Germany and Austria are often not as generous in size as say on a Caravan Club site at home. You are therefore living quite cheek by jowl with your neighbours. I thought us Brits were a bit too television centric but the Dutch seem worse as getting the satellite dish setup is often the first thing they do. It's a bit like Come Dancing as they waltz around the pitch with their dish on a tripod trying to get the best position. Then a neighbour comes across and wipes out his iPhone because he has an App which will precisely tell his new chum where he should point his dish, in the nicest possible way of course!!! All we do is press a button and it's all done for us but whilst it might look good from the outside we are still a couple of hundred miles away from getting a UK TV signal so it's all a bit pointless. Talking of Pointless it's one of the programmes we can get on some obscure channel somewhere on Astra 28.2, all old repeats of course but if we are lucky we already know the answers as we have a faint memory from when we first saw the original.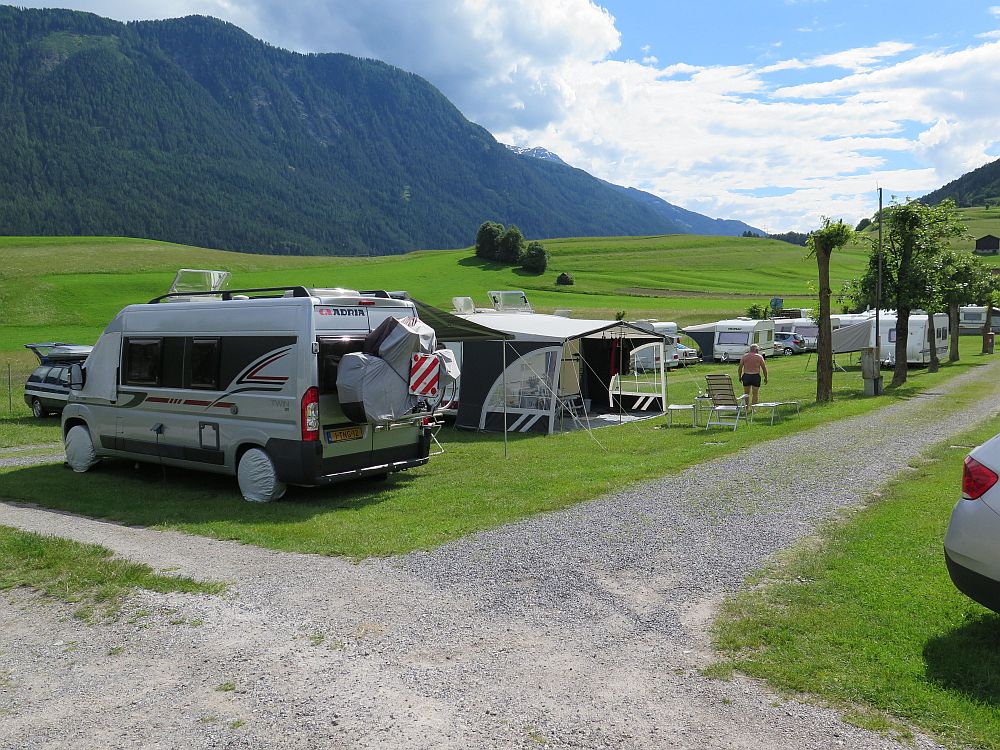 Having access to the internet has become as common as having clean water from a tap. Most sites now provide some sort of service but they are often frustratingly slow and more often than not intermittent in the service that is provided. I appreciate that it is not a fish and loaves exercise and the more people using the service will diminish the quality. This is illustrated by our current campsite which in all other respects is really good but I suspect requires extra investment in its WiFi provision. I expect they reckon it won't bring them any extra revenue as the site is full most nights and there is a limit on how much they can charge. I notice a lot of the Dutch have WiFi booster aerials on their caravans providing a signal to several devices (MiFi) this does nothing to help others struggling to get a signal. I suspect in future using the data from your mobile phone will become the norm and perhaps site WiFi will become a thing of the past?
Tuesday 7th June. An interesting day, one way or another!!! At least the day dawned bright and sunny which was encouraging. We made our way across western Austria and into Germany near to the Bodensee. Almost as soon as we left Imst we were going through our first tunnel, we soon lost count as there were many more. One of them was over ten miles long!!! In Austria you have to have a vignette to use the motorways but you also have to pay tolls on certain tunnels and this was the case today. The rational is that these very large civil engineering products are so expensive and difficult to build that the toll offsets the cost to the State. The toll today was about €10 so not really excessive. There are alternative routes but whether they would be sensible with a motorhome or caravan I am not sure.
We were heading for a site at Stockach but when we arrived they were closed although we had access to the site but a degree of wheel spin as we went up the steep track rather put Margaret off. They are supposed to have a motorhome Stellplatz which we went to look at but it just seemed to being used as a parking lot for the adjacent caravan/motorhome dealer so we didn't like that either! A quick check on TomTom and the ACSI book showed a site at Wahlwies which was only a couple of miles away. When we arrived it was another site closed until 2.00pm and this time a chain across the entrance. It seemed a nice enough site but it didn't have many flattish pitches free and of course we would have had to have waited a couple of hours for space to be guaranteed so it was back to TomTom and the ACSI book. Perhaps third time lucky we found a site on the Bodensee at Allensbach called Camping William. We still had to wait until it opened at 2.30pm but there appeared to be space so we decided to wait. The process was that we were shown free pitches on a plan which we had to go and select the one we wanted and report back to reception for the booking in proper. This is a site that meters electricity but at least we have a 4kw daily allowance which should ease the pain a bit? We had the wait some time before they came to connect us to the electrics and, of course, we are locked into the cabinet so we have to give them two hours notice of our leaving time so they can arrange to release us. It was interesting to watch the guy sorting the electrics. Our neighbour had an adaptor lead about five feet long. The guy knotted this and locked it all in the cabinet clearly to prevent anyone getting a way without paying for their electricity!!!
The information page, in English, given to us by reception extolls the fact that the campsite, and I quote, "We are constantly striving to design the time you spend with us as convenient as possible" This made me smile as I always think that customer service on German campsites is more geared towards the convenience of the campsite rather than the customer!!!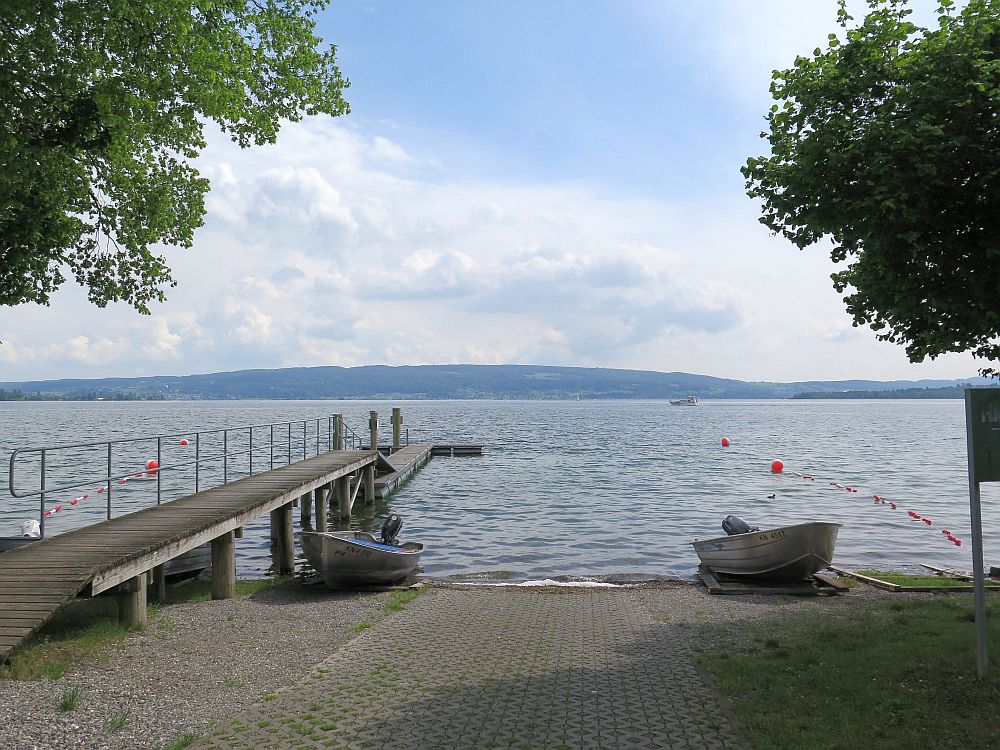 Wednesday 8th June. When we awoke it was pouring with rain and we also had thunder! It continued raining for most of the morning so it was an enforced rest day for us. It did dry up a bit during the afternoon but even sitting out was not warm.
I discovered a bit of a problem today. Because we had so long to wait yesterday for reception to open I switched the fridge/freezer over to gas. The trouble was that once we were back on electricity I had only turned the knob up one place to battery. This meant the fridge was not getting any cooling for about 24 hours!!! We have now put that right but we were concerned about the integrity of some of the frozen items which have been now thrown out. Normally when we arrive on site all we have to do is turn the control knob up one position and I think this is what led to the confusion, at least that is my excuse!!! It does also mean that we don't have to eat those horrible UK sausages Margaret insists on bringing with us as a stand by!!!
Thursday 9th June. More rain overnight and dull first thing but by late morning there were signs that it was brightening up. It provided an opportunity to get the bikes off the back of the motorhome and explore a bit. Apart from being directly on the lake Camping William is a bit out in the sticks. We cycled to Allensbach which is about four/five kilometres away. Typical pleasant little German town with neat gardens facing onto the lake where we sat for a while watching the world go by. From here you can take the Lake Steamers to various points around the lake. Apparently there is a cycle path all-round the lake called the Bodensee-Radweg, a 170-mile cycle path that is broad and flat but I think that would be a bit beyond! I can't say that we have used the bikes that much simply because the weather has been against us at those points where we could have made use of them. The batteries have lasted well but we decided to do a recharge back at the van. Margaret's was still showing full charge but mine had just started to reduce in charge but then I tend to use the power more.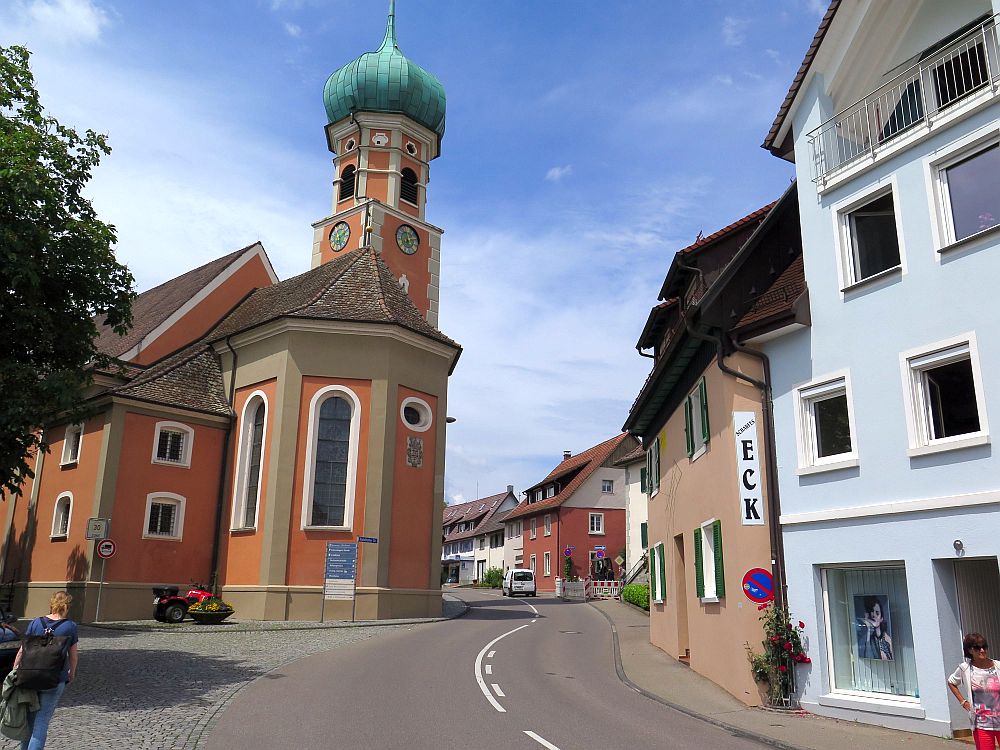 Friday 10th June. We are moving on today from Germany back into France. Typical of course but the weather was bright and sunny for the journey!!! Leaving the site was a bit complicated as they have to come and unplug you from the electrical box to work out how much you have used above your daily allowance. Timing was everything as we at least wanted to boil the kettle and do the toast before the power went off but also did not want to wait an hour for them to arrive. As it happened that part went well. First stop was the service point to empty the waste water and then we pulled through the barrier, as instructed, in order to pay the bill. Trouble was there was no one in reception so we had to hang around until the man eventually turned up. In the meantime people were arriving at the site at 9.00am!!! Eventually I managed to pay and had the pleasant surprise that I had stayed within my electricity allowance so no extra to pay. Also interesting that there was no visitor tax only a modest nightly environment charge. Given that on some sites in Germany this tax has amounted to €2 a night each it represents quite a saving. I suppose one could accept that the amount of visitor tax might vary but not to have it in some parts whilst others charge high rates is quite interesting.
Eventually we are ready to leave the campsite. The correct way is under a low bridge but at risk of losing an £1800 satellite system we decided to go the way we came. However yesterday, whilst out on the bikes, we noticed a no entry sign on the final few yards of the road. What the hell, in the light of no suitable alternatives we decided to proceed anyway. I can see why as there is limited vision but fortunately it was not a very busy road we were pulling out onto. The journey varied between motorway and some very scenic cross country roads towards Offenburg and thereafter to Strasbourg and Molsheim where we are staying at the Municipal Campsite. We crossed the Rhine and the border between Germany and France is in the middle of the bridge. Just over into France we, along with other drivers, were pulled in by the Police obviously some heightened security check as the European Cup starts in France today. Whilst the occupants of some vehicles were really being scrutinised we were just waved through. The same happened to us coming from Austria into Germany.
On arrival at the campsite the barrier was down and reception not open for another couple of hours. Difficult to stay there as we were blocking everything up. Fortunately a man turned up, gave us a site plan and told us to find a place and come back to book in later. We chose a pitch which gave us a clear view of the sky so we should be able to get UK TV programmes for the first time for several weeks. Trouble was no signal and a blank screen. Tried all sorts with the tuning but it was just not picking up the programmes. Had a walk round the site and saw a fellow Brit who was getting full UK programmes on a smaller dish so went back to have a rethink. As so often happens it turns out to be the simplest of things. I use a right angle connection between the satellite lead and the TV. With constant taking on and off it had become loose hence no connection. Once sorted we had all the programmes so a happy Margaret although that view might change as we now have three weeks of wall to wall football coverage so it could be a false friend!!!
Saturday 11th June. Yet more and more rain with thunder thrown in for good measure! About mid-morning there was a break in the weather so we decided to walk to the Super U which is virtually next door to the campsite. I checked the price of fuel which seems to have risen quite a bit in France, especially since the fuel strike although that is now over. The price here is about €1.10 which is only a few cents lower than in Germany where I filled up yesterday. Past experience was that Germany was always more expensive than a few cents difference.
It's interesting noting the difference between German/Austrian drivers compared to the French. I have found drivers in Germany and Austria quite polite in the way that they will stop for you crossing the road often before you make it obvious that you want to. Likewise on the roads they respect other drivers and anticipate that you might need to come into their lane. The French are very different. At crossings you have to be very assertive to make them stop to let you across the road. They don't appear to have any consideration for other road users the result is that subconsciously you start behaving like them which is a bit worrying.
The site was fairly full yesterday but there are not as many here today. Surprisingly there are five Brits here, almost as many as we saw in Austria altogether!!! The Dutch are here in numbers as they seem to be everywhere. The rain has only ceased occasionally through the day and the ground is getting increasingly wet and in parts water logged. Not sure how long we will stay but they do have a good deal, if you pay for four days the fifth is free. Our worry is that wherever we go between here and Calais the ground conditions might not be good.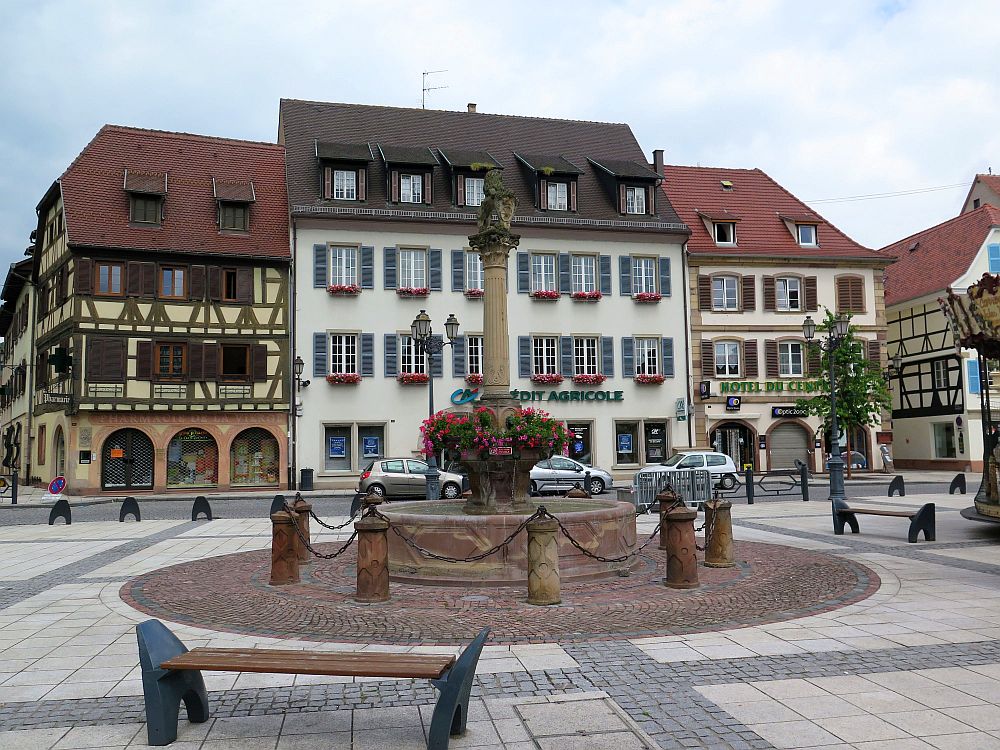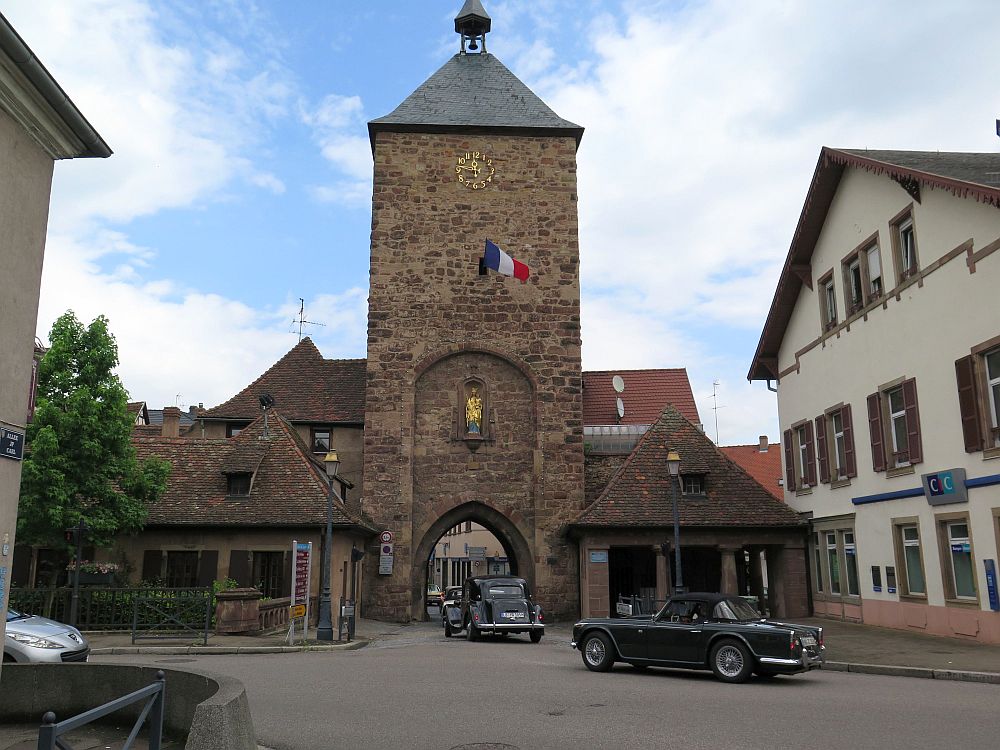 Sunday 12th June. The weather was a bit kinder today with some sunshine with dull periods and on and off showers. We took the opportunity to walk into Molsheim following the map given to us at reception. The town is famous for Bugatti cars being made there and there is a museum dedicated to the history of the cars. The main square is rather attractive. On the way back we happened upon a small park area alongside a river. On an island in the river as a large cage with Storks in.
Monday 13th June. We have decided that this will be our last day here at Molsheim. We could have stayed another day at no extra cost because of a four for five offer but we feel the need to be moving on. Weather wise still more rain early on but it did brighten briefly during the morning so we took the opportunity to give Margaret's granny bag another outing and walked back to the Super U. Now starting to think what we might need to take home.
Motorhomes are still having problems getting off the pitches which is increasing our concern of how we might fare when it's our turn. Strangely there is a motorhome next to us which goes out every day and returns in the evening which seems to manage perfectly well, what is his secret or is it just luck that he has a firmer pitch? There is a Swiss guy here with a caravan and he has volunteered to pull two motorhomes off their pitches with his quite small car which is a non 4x4!!!
We spent the afternoon looking at our options for our final week. We are desperately trying to find sites that have some sort of hardstandings. We are going to try a site at Vittel which is due west from here but we have a backup site nearby if that is unsuitable.
Tuesday 14th June. The good news was that we managed to get off our pitch with relative ease and unlike many others did not need any help. Today we feel that we have driven half way round France although in fact the journey was only 130 miles! Initially everything seemed to be going OK until we were instructed to take the D392, via the Col du Donon. When I see the word Col I immediately think of the Tour de France!!! Fortunately the climb, whilst twisty was hardly steep and only reaches an altitude of 718 metres above sea level. Had it not been pouring with rain it might have been an attractive route. We reached Roan-L-Etape only to find that the next section of the route required a diversion. This was where we thought we might be going round in circles. We did eventually make it to Vittel having travelled about 30 miles more than originally planned.
One reason for coming to the Municipal at Vittel, as mentioned earlier, was that it had hardstanding pitches. Now when I say hardstandings you must put out of your mind the type you would usually find on a Caravan Club site!!! In the case of this site it was more a case of compacted clay which whilst being pretty solid can still be messy underfoot. Also they did not extend the full width of the pitch. I went to check in and got talking to the very nice lady that appears to run the site. I explained I could not get UK TV because of a tree in the way. She was convinced we could but then suggested we move to a different pitch and hey presto we had TV. By late afternoon the sun made a very brief appearance but everyone seems to be getting fed up with what seems to be perpetual wet weather. Even the lady on reception was fed up. The strange thing is that all the sites we have stayed on, despite the weather, have being pretty full, difficult to explain why.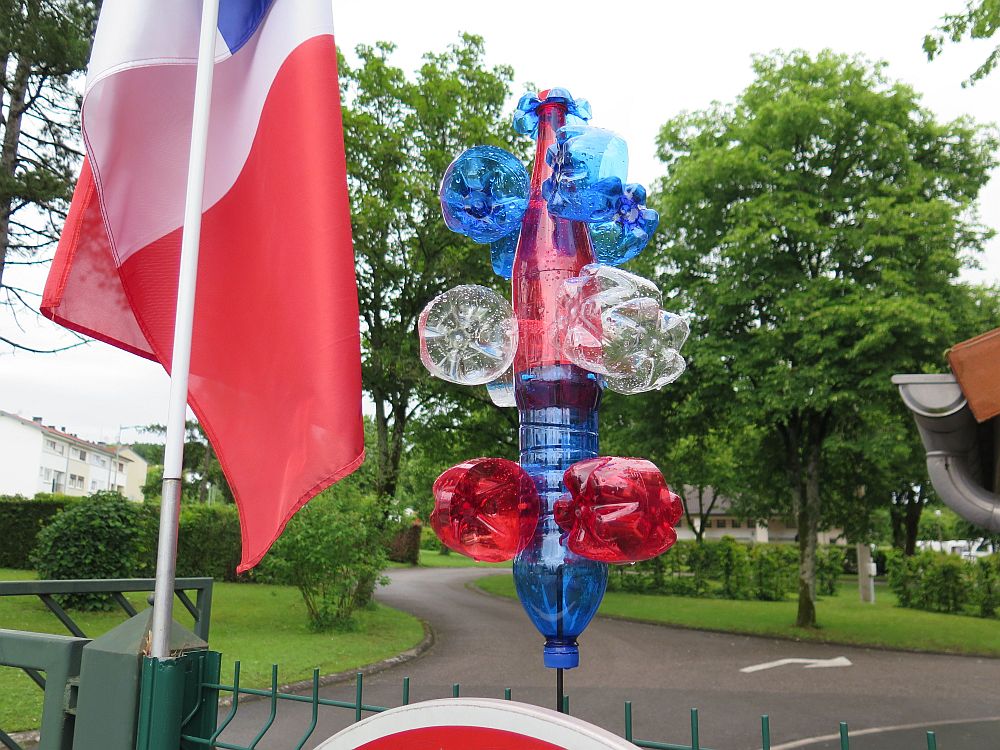 Wednesday 15th June. Yet another day of mixed fortunes with the weather. First thing it was raining but this started to clear and there were even signs of blue sky. This was enough for us so we decided to walk into town. We donned our waterproof jackets, which as it turned out was a sensible decision. Our route took us past the town's hospital which for all the accolades the French health service gets looked a bit run down from the outside but I am sure it's what happens inside that is more important to the patients!!! Further on and down the hill you come across the park and gardens that surround the Spa element of the town. It was at this point we heard a clap of thunder although fortunately it did not develop in to anything worse. Spa treatment, often a different meaning in the UK, still seems to be a popular here in France. I am not sure whether access is provided by the health service or whether it's paid for privately? Vittel is not only well known as being a Spa town it is also famous for its bottle water. There are a couple of interesting sculptures made out of empty water bottles. Like most towns in France Vittel seemed dead at lunchtime with the exception of a couple of Patisseries.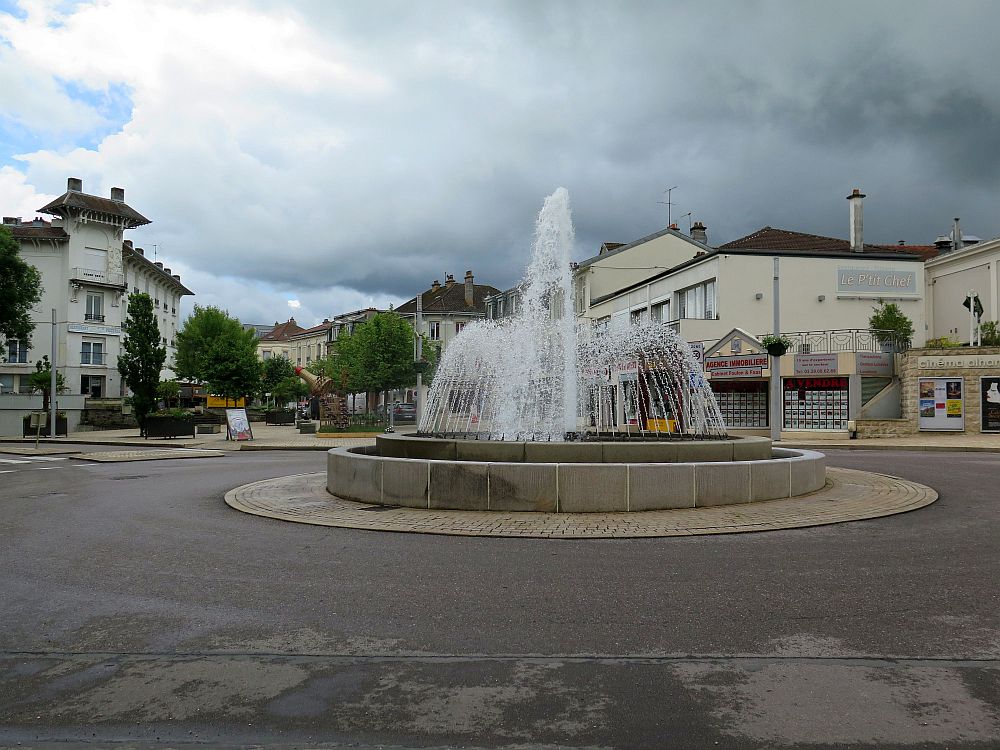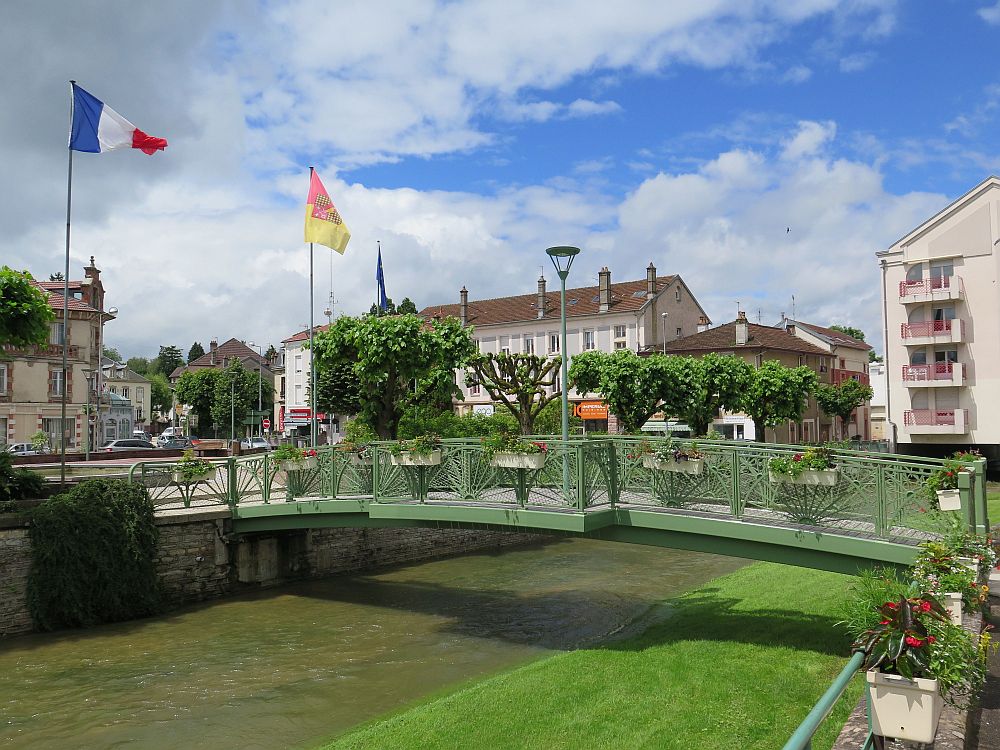 Thursday 16th June. After a brightish end to yesterday we hoped that it might translate into a better day today. I suppose it wasn't raining!!! It did brighten up as we made our way across country to our next site at Verdun. Initially the journey was on toll motorway to Toul. From here it was all on D roads which were quite good albeit some of the surfaces left a bit to be desired. On the approach to Verdun there is a Cora Supermarket, not a brand I am particularly familiar with but I thought it prudent to fill up with fuel. Access to the pumps was pretty tight and the gap out of the filling station only left inches each side. Given the popularity of motorhomes in France you would think the supermarket chains would make better provision. Some do of course, particularly with their newer fuel station but this one was quite run down. There have been all sort of industrial action in France which involved the supply of fuel which is fortunately now over. One downside is that prices have risen by about eight cents a litre since we first arrived. The good news is that we now, technically, have enough fuel to get us home!!
We got to Camping Les Breuils and no sooner had we set up but the heavens opened with torrential rain and thunder and lightning. This is our third visit to this site and I think the same thing has happen before! It's strange how French campsites don't just buy in to the need for all weather pitches. Whilst our pitch is quite firm it is messy which threads in everywhere. I am not sure this site is used for longer stays so people wanting grass lawns are hardly in the majority. Fortunately towards the evening the weather cleared and we had blue skies, regretfully I doubt it will last!!!
Friday 17th June. Your scribe is concerned that this seems more like a weather blog than one to do with a motorhome trip. In my defence I would say that we have never had a trip away in all the years of caravanning and motorhoming abroad that we have suffered such bad weather. Today again was no exception. Rain first thing but when it stopped mid-morning we made the effort to walk into Verdun despite the probability that we would have some rain. As it happened we were reasonably lucky with just the odd shower with the occasional sunny period.
Verdun is of course, famous for its heroic defence in 1916 Battle of Verdun during the First World War of the Citadel. Walking round the walls of the Citadel you can perhaps see why it was such a hard nut to crack for the Germans. The defence was in part successful because of the massive underground tunnels hewn into the rock which it made it even more difficult for an attack to succeed. It had been our intention to try and get in to see all these places but at the cash desk the girl told us there was a two hour wait which rather hit the idea on the head. Several school parties had arrived and I assume they had pre-booked. Mind you I suppose it's far more important for these kids to learn about their history compared to a couple of pensioners!!!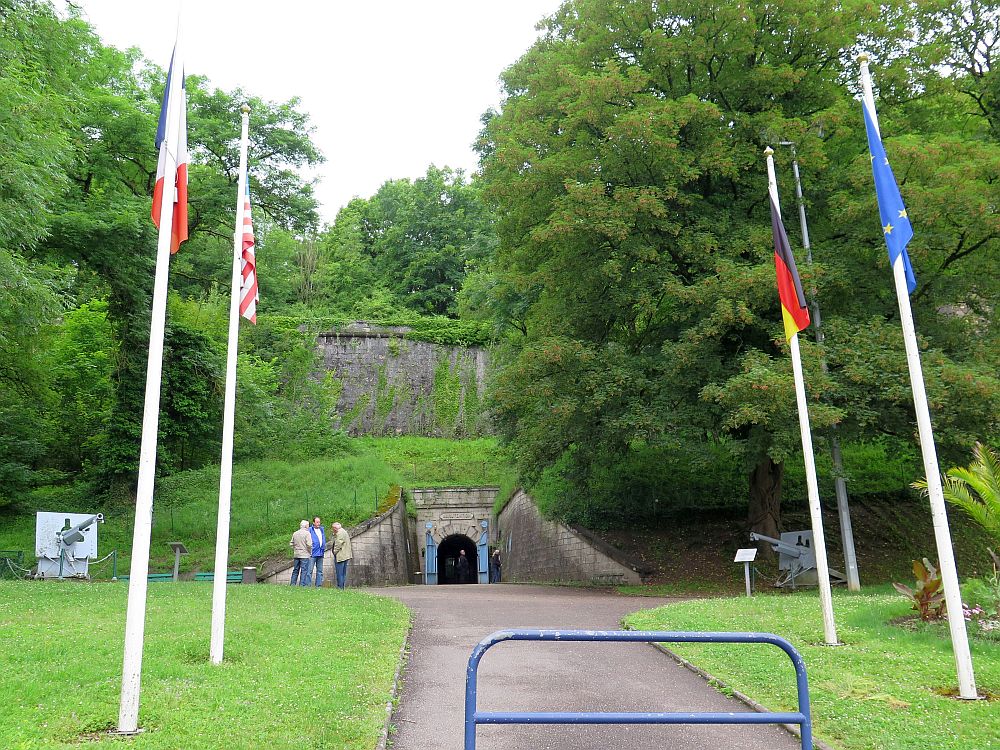 We continued into the City and the first place of note was the covered Market which seemed very popular with people leaving with boxes full of various goods from the market. Further on we spied a lovely looking Patisserie and noticed that it had seating inside so an opportunity for a coffee. I am always amused by the size of French coffees. The price list said Grand but I would say small. Nothing wrong with the coffee which is always excellent, although Margaret finds it a bit strong. I suppose in the UK we are so used to having a large cup of coffee be it in a Waitrose, a Costa Coffee shop or even in a local independent and yet this has not crossed the Channel or should that be La Manche!!! Refreshed we continued to the large monument called "A la Victoire et aux Enfants de Verdun" (To Victory and the People of Verdun). We did not climb the 73 steps but instead walked down to the river where there is a nice view looking back at the Monument. From here we started, what seemed, the long walk back to the campsite.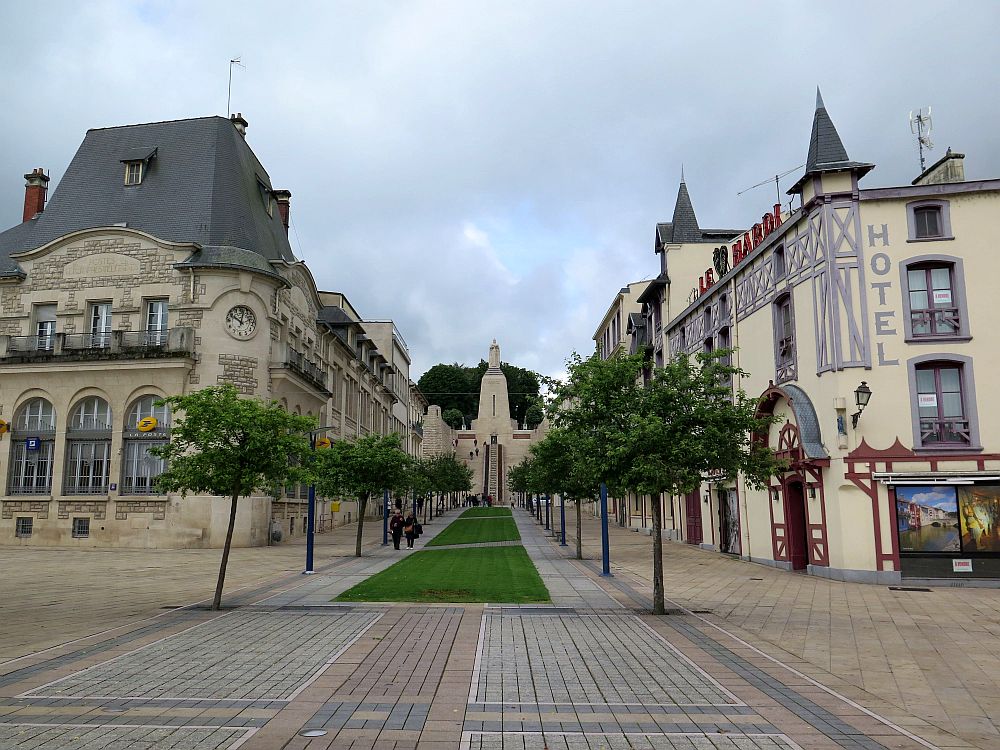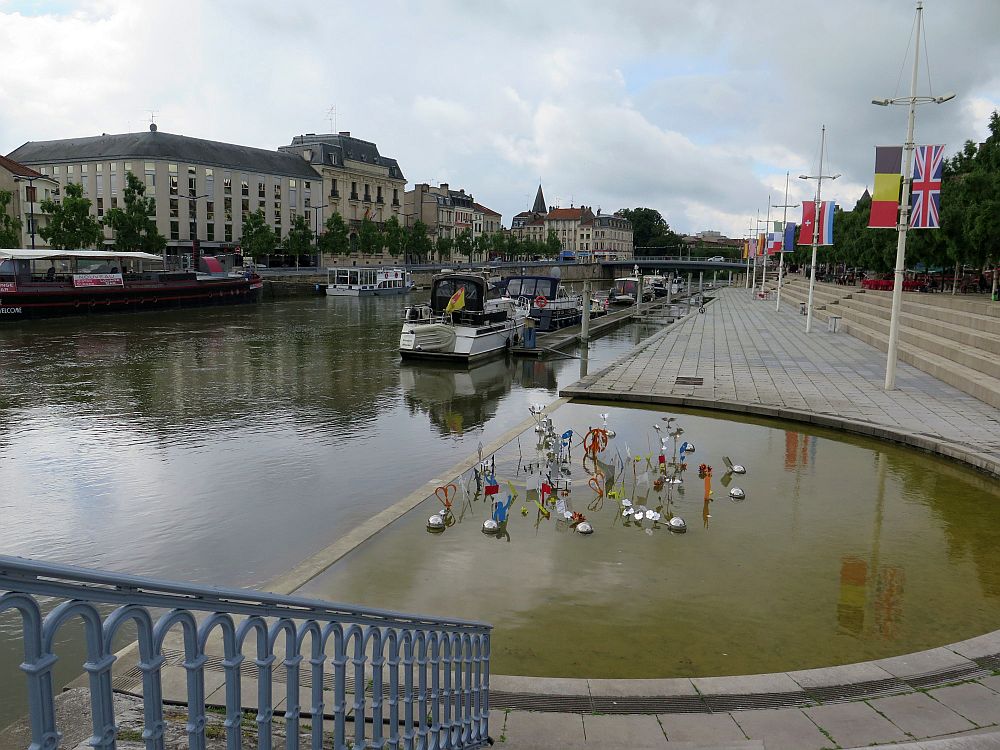 I think we got our timing right because just as we entered the campsite gates the rain started, gently at first but more intense within ten minutes. Walking past one of the pitches I notice a small hairy animal on the grass. Might it be a mouse or rat? Closer examination suggested a water vole as he was far too cute to be a rat. They also have a much thicker tail. He seemed at ease with me towering above him pointing a camera at him. They are usually such shy animals and I was concerned there might have been something wrong with him but when I went back a few minutes later he was merrily tucking into the vegetation. There is a pond behind our pitch and that is obviously where they live. Years ago, when we had a boat on the canals, we would often see water voles but I believe they are less common now so good to see "Ratty" alive and well. Later when I was going off to use the site internet I passed the pitch again and by now a German guy had pitched his tent. Ratty was still there but he had rather sinister company in the form of a cat. I think Ratty was moving too slowly to attract the immediate predatory instinct of the cat but there was clear intent. I commented to my German chum that we now have a Tom and Jerry situation which made him laugh!!! On my way back from using the internet there was no evidence of either Tom or Jerry so whether the story ended happily I have no idea, perhaps best we don't know?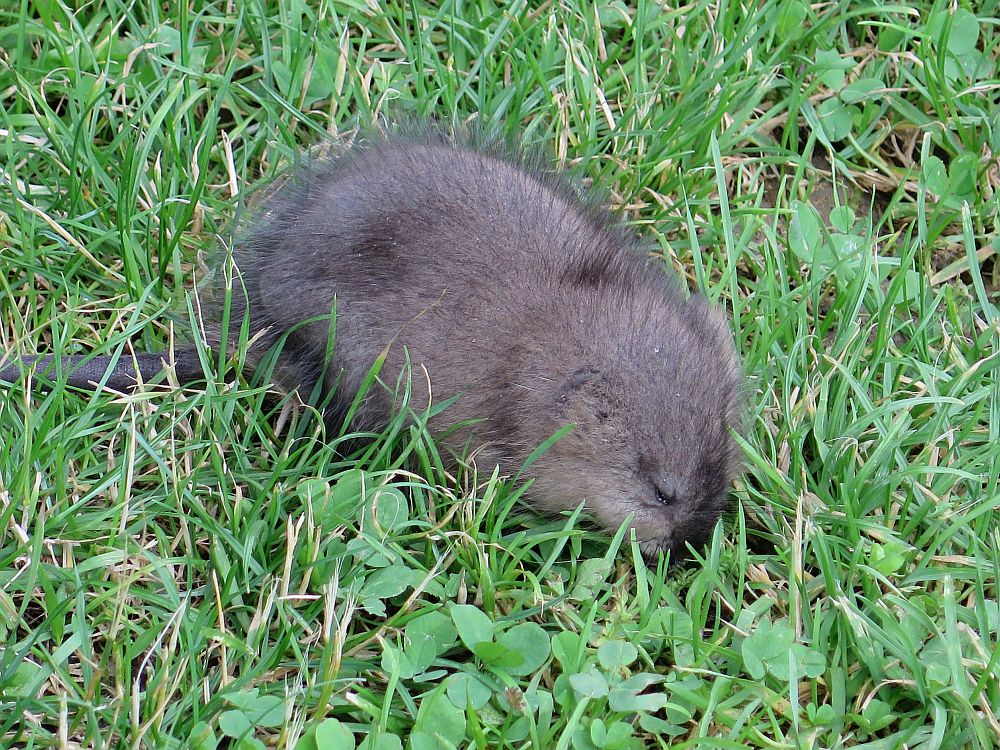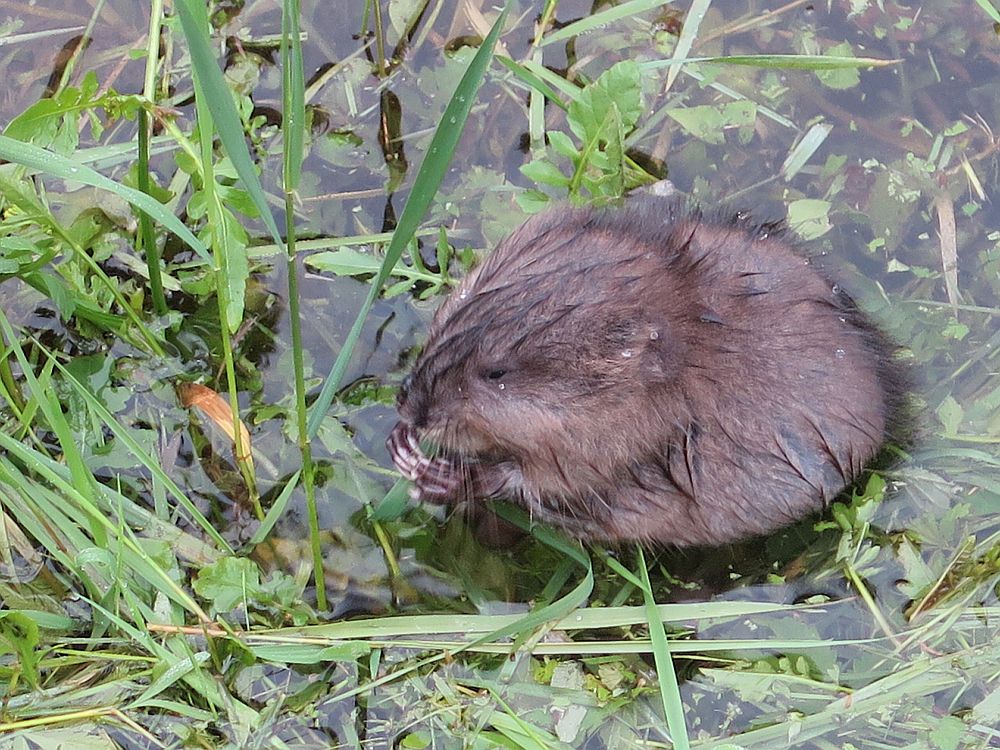 Saturday 18th June. Well surprise, surprise no improvement with the weather!!! Still dull and grey as we got up and prepared to leave. Margaret asked me to pour away the contents of a water bottle she keeps for topping up the kettle. As I poured it down the bank of the lake behind the pitch I could see in clear view Ratty or some relation munching away on the grass. I rushed back for my camera and took yet more pictures.
Today we were heading for Soissons which is slightly north east of Paris as yet another stage in our homeward journey. Initially we headed for Ste Menehould where Margaret went for some shopping at the Super U. I am amazed at the speed at which French people seem to drive round supermarket car parks. Continuing our journey we soon joined the A4 motorway towards Reims where we were headed off towards the old motorway route through the centre. This was to get us on the right road to Soissons which took us across country on non-toll roads. The Municipal at Soissons has the advantage that it has special pitches for motorhome which have a firm surface and we bagged one although in fairness the ordinary grass pitches seemed pretty solid. We discovered that there seems to be some sort of Eriba Caravan rally going on in the far corner of the site.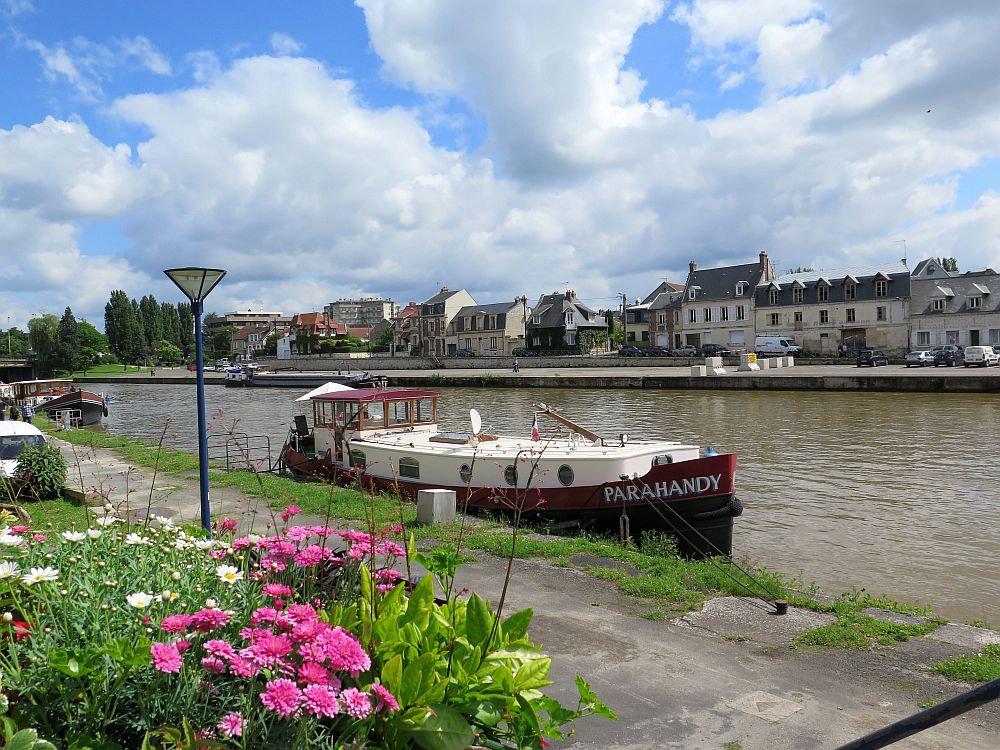 Sunday 19th June. Well would you believe it sunny and dry all day!! Time to get the bikes off the back of the van before they grow into the bike rack. We cycled into Soissons eventually cutting down to the riverside quay. I hadn't appreciated that the River Aisne was navigable but it clearly was as a barge came along as we rested on the river bank. We went partly up into the town but Margaret was a bit nervous about the amount of traffic so we headed back towards the campsite. On the way back we notice what turned out to be a large car boot sale which we wandered through. We carried on down past the campsite and found the river again but this time there was a lock. Better still there was another barge coming upstream. As far as I could see the lock seemed to work automatically although I am sure there was someone around or done through CCTV.
Back at the site we were getting ready to watch the Grand Prix coming from Baku for the first time ever. Rico Rosberg won the race from poll. It seemed a shame to be inside when we had a rare sunny day outside. I went to pay the bill for our two nights here and it worked at £10.20 a night. Even a CL back at home would cost more than that! This is a strange site but not unlike a few other municipals which are off the tourist track. People staying on site that are clearly not doing caravanning as a hobby. Warden hangers on which does not exactly made the stay comfortable.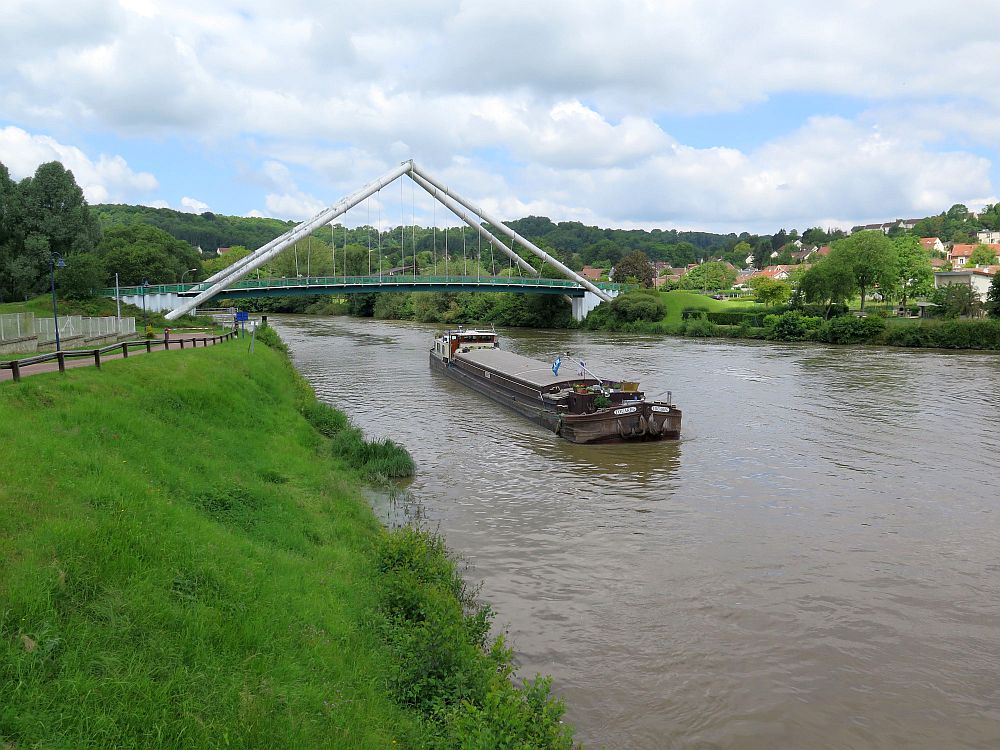 Monday 20th June. Apparently the first day of summer today, just a pity no one told the weather!!! It has been miserable today. It rained for most of our journey from Soissons to Rue in Northern France. This is our second stay at Camping de la Maye at Rue. The lady on reception does not speak a lot of English but I managed to ask her about the ground conditions and she suggested we park next to the motorhome service point which was on hardstanding. That seemed fine to me, perhaps not as attractive as being on a pitch but at least a degree of certainty that we will get off the pitch!! First job was to nip across to the supermarket to buy a baguette for lunch.
The reason for being here is that just across the road there is a Carrefour Market which is useful for last minute shopping. After lunch we went off with the granny bag to the supermarket. We actually found some Orangina Light or Zero as they now call it. By the time we added a few packs of that and a few (?) boxes of wine we realised that we did not have the capacity to get them back to the van. I loaded up the granny bag and left Margaret in the supermarket foyer whilst I set off back to the van with half a load. By the time I got back I was drenched! We eventually got everything back to the van and packed away. Even in the rain we thought we should have a look around the site. I counted about four touring units and as the day progressed no others turned up!
This is our last night in France, so back to the UK tomorrow. I phoned the C&CC site called Theobald's Park to book an overnight stop as we like to break the journey back to MK.
Tuesday 21st June. It's the Longest Day today and in a way it felt like it!! No surprise that it was pouring with rain again as we left Camping de la Maye to make our way back to the motorway. At one point on the A16 we had to put the fog lights on not because of fog but I think it was low cloud. Yesterday on the news we heard that there were long delays at the Tunnel, mainly because of a technical problem but also because of extra security checks. We were in a bit of difficulty as we didn't want to arrive too early as we couldn't be at our UK site until 1.00pm. As it happened we arrived for our booked crossing with no offer of an earlier crossing but when we were in the line the barrier went up and we were on the Shuttle before ours. Once back in Good Old Blighty we set off up the M20. Bit strange driving on the left having spent seven weeks on the other side of the road. Don't know why but it seems perfectly natural to be driving on the right, perhaps because it's my bum in the gutter? We stopped at Maidstone Services, surprisingly there was room, for a coffee break. Seemed a bit strange to have a large coffee! Thinking we still had time in hand we set off again on the motorway only to grind to a halt after a few miles, the reason was never apparent. Fears of arriving at Theobald's Park early had evaporated some time ago! Strange little site. C&CC sites seem to lack any character, a bit of landscaping wouldn't go amiss. BTW, forgot to mention the moment we disembarked at Folkestone the sun came out!!!
Walking around the campsite it was surprising to see how tame the rabbits seemed, either tame or uninterested!!!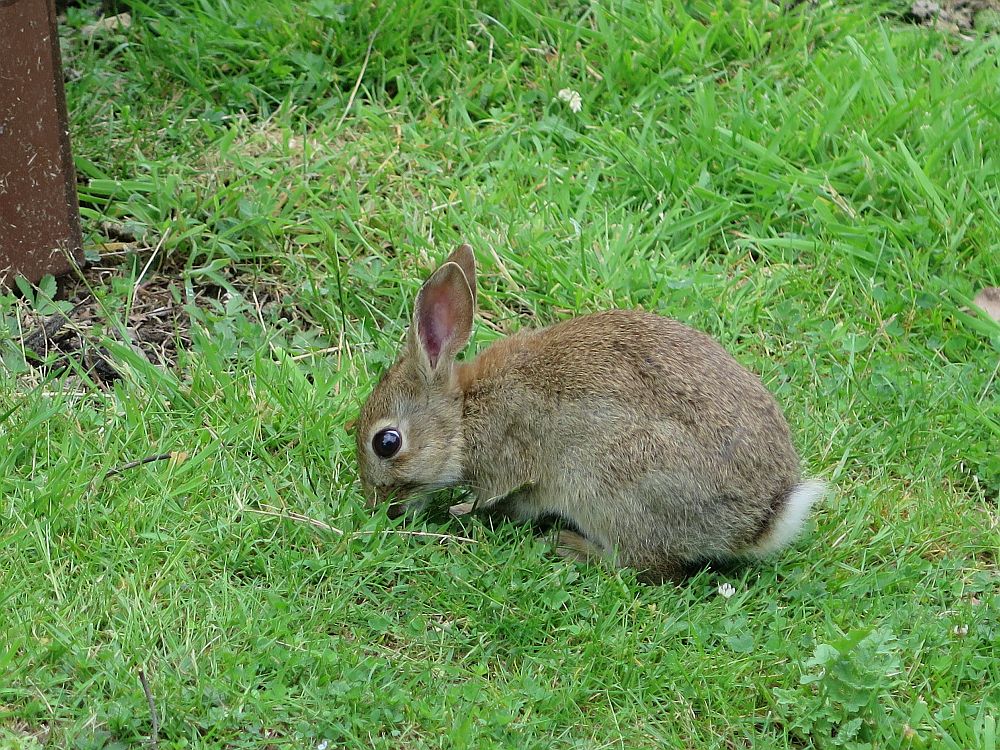 Wednesday 22nd June. The final stage of our journey. We decided to avoid the M25/M1 and head up the A10 and across to the A1M on the A414. Just north of Stevenage we headed across country to the M1 junction 13 and into Milton Keynes and home. Grey and damp today but we were home by around midday. When getting ready to put the motorhome in the garden I went to start the car and zilch, no power in the battery. It's the first time we have left it so long. Fortunately after a short while on charge it burst into life. I think we are both pretty exhausted and have not rushed to get everything out of the van. Lots of work to do in the garden, particularly the hedge which seems to have gone into overdrive!!!
Map of the approximate route taken on this trip.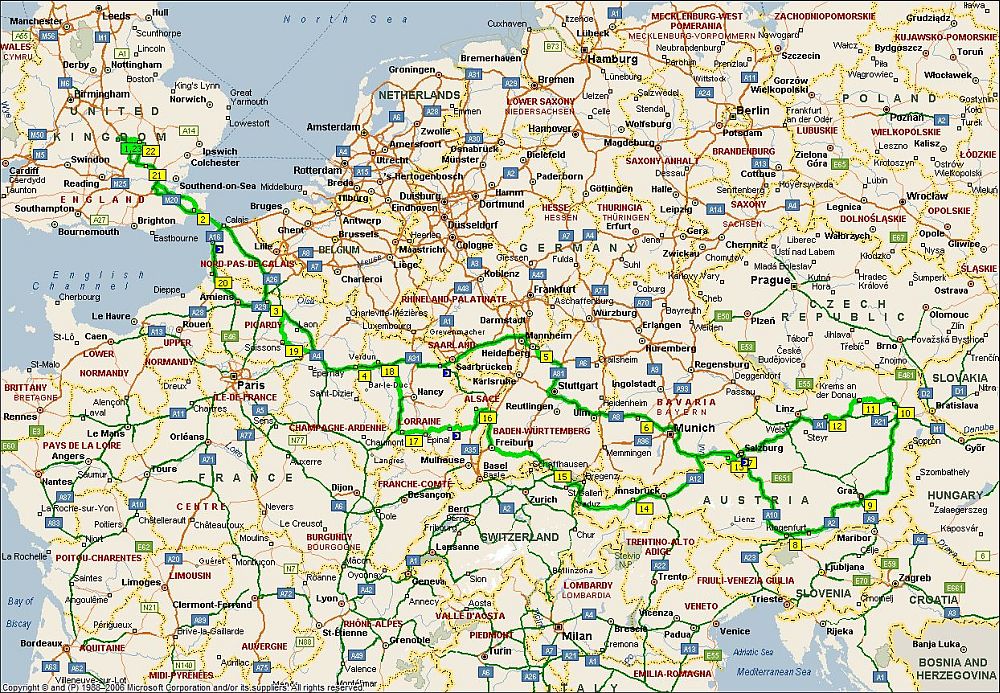 For those that like statistics. We were away for 50 nights and a total cost in site fees of £830 which worked out as a nightly average of £16.60 a night. No European sites were booked in advance. We travelled 2651 miles and used 443 litres of fuel at a cost of £401. We paid about £140 in tolls, this included tolls on French autoroutes, our Austrian motorway vignette and a couple of separate tolls for using long tunnels in Austria.